Learn how to make an impossible card, whether you're cutting it out by hand or with a cutting machine, using these easy impossible card templates.
Today I'm going to show you how to make what's popularly known as the IMPOSSIBLE CARD, which is a great companion to my shaker cards. You may also have heard of this referred to as a Hypercard, Illusion Card, or Gap card. I call it a super easy pop-up card! But I'm guessing it got its "impossible" name from the fact that it looks like it'd be impossible to make. If you look at an "impossible card" closely, you see a gap at the top and bottom, but neither appears large enough to account for the "pop up" part. Yet a basic impossible card template is made from just ONE SINGLE piece of paper. So how is it done?
So this is a bit of an illusion… it's a card with a twist. An impossible card starts out life as a piece of paper with two cuts down either side and one up the middle. In the center is a score line. Now if you just twist one side of the paper, the card flips around and forms a crazy shape. It's much easier to show than explain, so watch the video to see!
Now, most people just cut the impossible card out by hand with scissors or a trimmer, but my readers asked if I'd convert the impossible card template into an SVG cut file they could upload to a cutting machine, like a Cricut. So I have! In fact, I've made several different sizes and orientations, all with various overlays to go with them. The great thing about using a cutting machine is that the measurements are perfect every time!

Of course, I couldn't stop there… I designed a CUSTOM Impossible card. And as I had many requests for a birthday card, I've made a FABULOUS retro birthday impossible card. It's modeled after the famous Las Vegas sign. I made this for my Dad, who would have celebrated his 75th birthday in a couple of weeks if he'd still been with us. I love and miss you, Dad!
Much gratitude to many readers who requested this unusual card project (Kimberly B., Margaret B., Laurie, Nancy M., Jessica A., Patti S., Beth M., Sheila L., Sandra M., Vicki P.). Each person who contributed to this project idea received an extra entry for their idea. Note, the Great Maker Show & Tell Challenge giveaway has ended; however, you can see all the project tutorials created for the Challenge here!
Key concepts taught in this tutorial include how to use a spray box and glue paper.
See exactly how to make my Impossible Card in this tutorial video below:

So let me show you how to make this unusual Impossible Card! This post contains some affiliate links for your convenience (which means if you make a purchase after clicking a link I will earn a small commission but it won't cost you a penny more)! Read my full disclosure policy.

Materials to Make an Impossible Card
How to Make the Impossible Card
Step 1: Get my Free Impossible Card SVG File
My free Impossible Card SVG cut file (Design #116) contains four different sizes of my Impossible Card template that you can customize for any occasion and two sizes of the Fabulous Birthday Card. There is also a pdf version with 7 different sizes of the Impossible Card that you can print and cut by hand.
Get the free Impossible Card and Fabulous Birthday Card designs from my free resource library (you can get the password to the library in the form at the bottom of this post).
Step 2: Cut Out Your Design
If you're going to cut the card out on your cutting machine, upload the file to your design software. If you're not sure how to upload an SVG cut file to Cricut Design Space, watch this helpful video training series I made. If you're on an iPhone or iPad, here's how to download and upload SVG files to the Cricut Design Space app.
If you use the Fabulous Birthday Card, note that it comes in two sizes — A2 and 5×7. In this tutorial, I am making the 5×7 version, but the instructions are the same for the A2 version.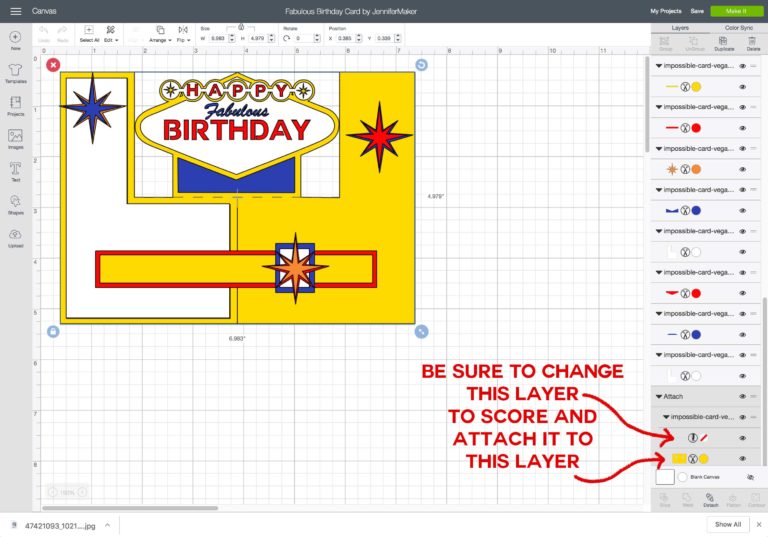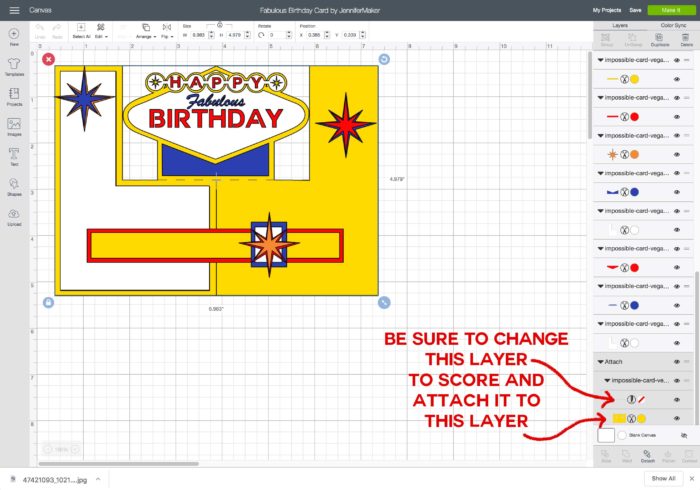 Note for cutting machine users: This one layer needs to be set to score. So either set that layer to score (see graphic above) or delete it entirely. If you convert that layer to score, you also need to attach it to the base layer. Be sure to ungroup first! If you're not sure how to score or how to set layers to score, please read my Cricut Scoring Tools & Tips tutorial.
Here's what your fabulous impossible card will look like after you've cut the pieces out: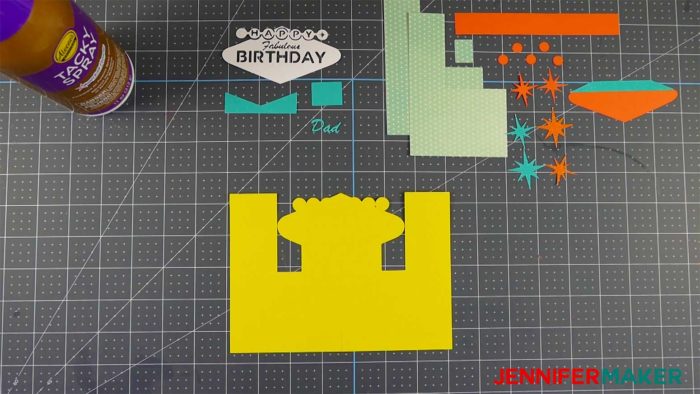 Step 3: Assemble Your Fabulous Birthday Card
Begin by twisting and folding your impossible card into position, right along the score line. (If you're not sure how to do this, watch the video!)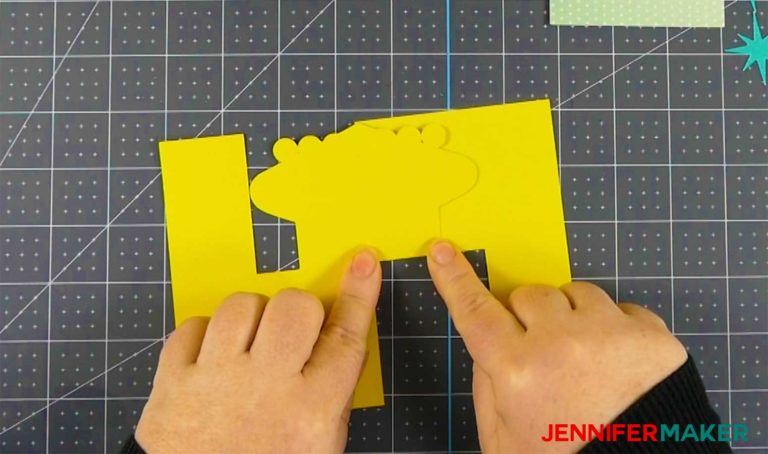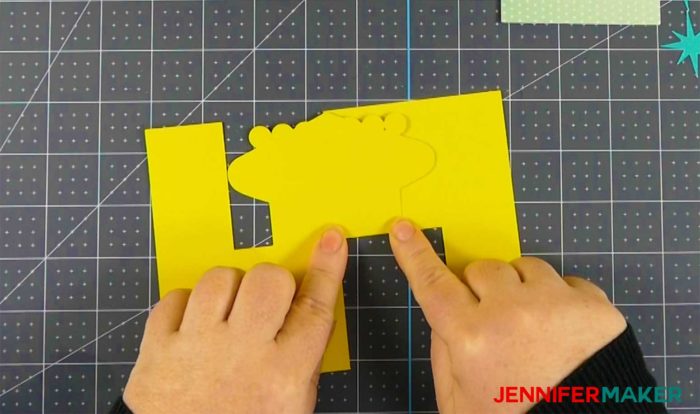 Put spray adhesive on the back of the birthday piece. Be sure to use a spray box to avoid getting adhesive anywhere other than your project. The video shows how to make a very simple yet effective spray box.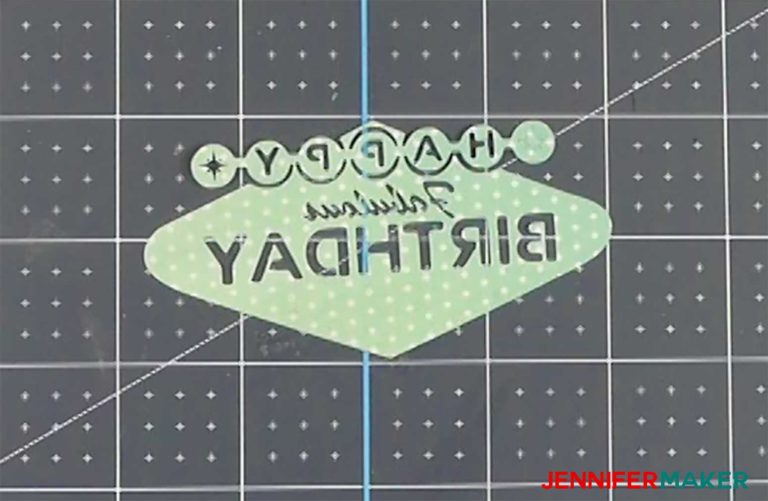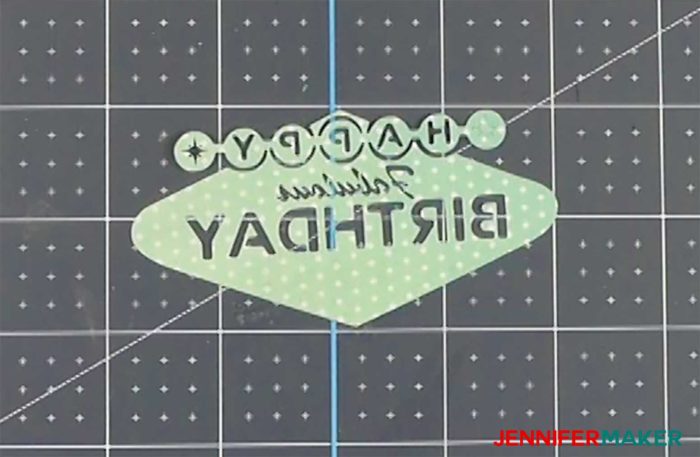 Now place your color pieces on the back of the birthday piece.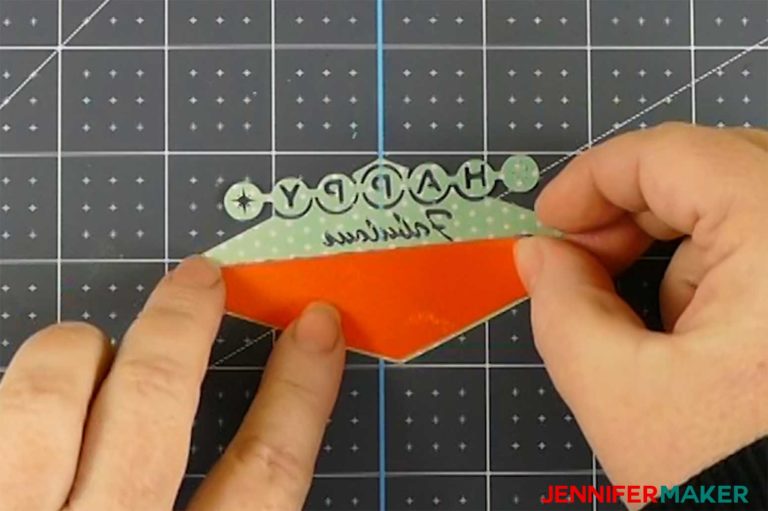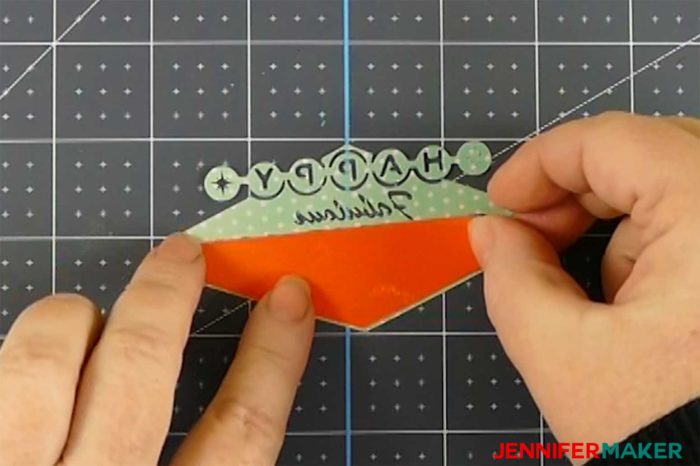 Your birthday sentiment piece will look like this when you've placed all the back colors.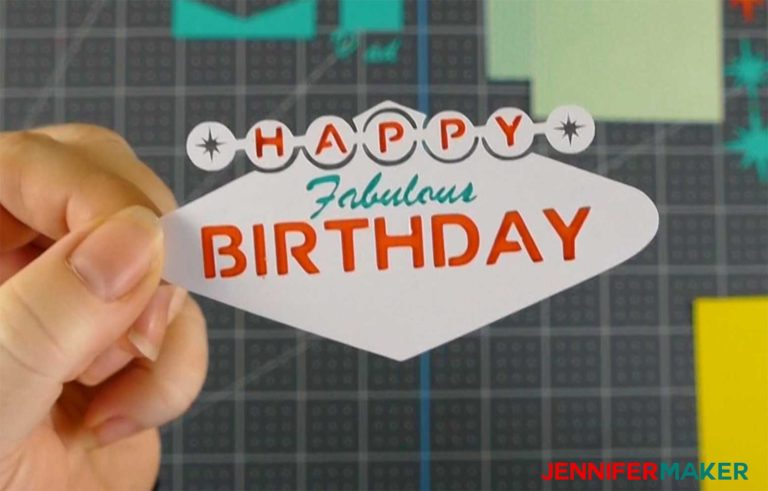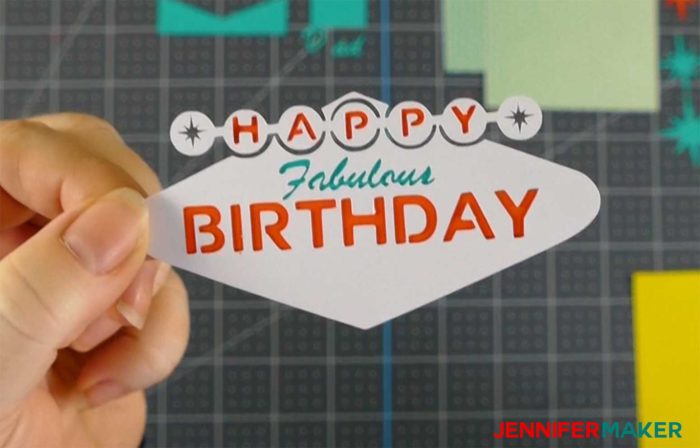 Put the birthday sentiment onto the impossible card.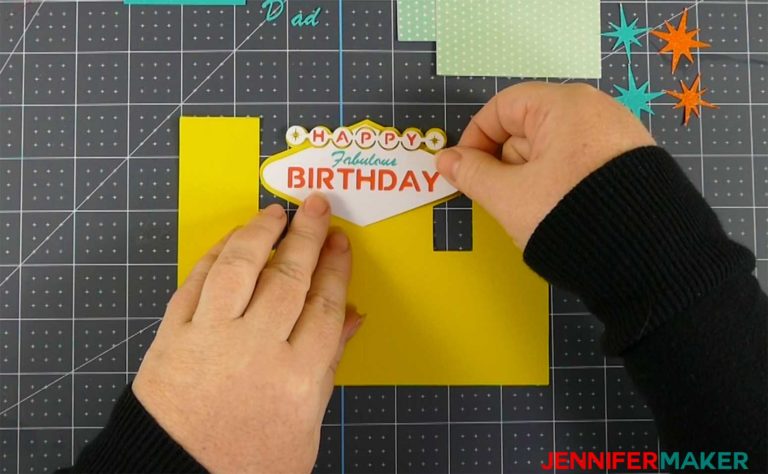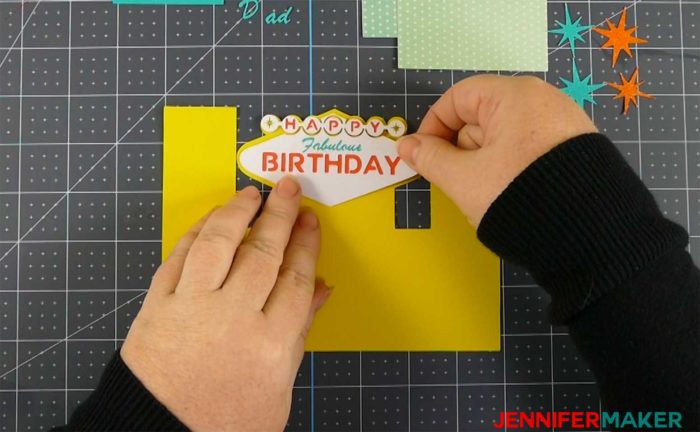 Glue down the side panels onto the impossible card, too.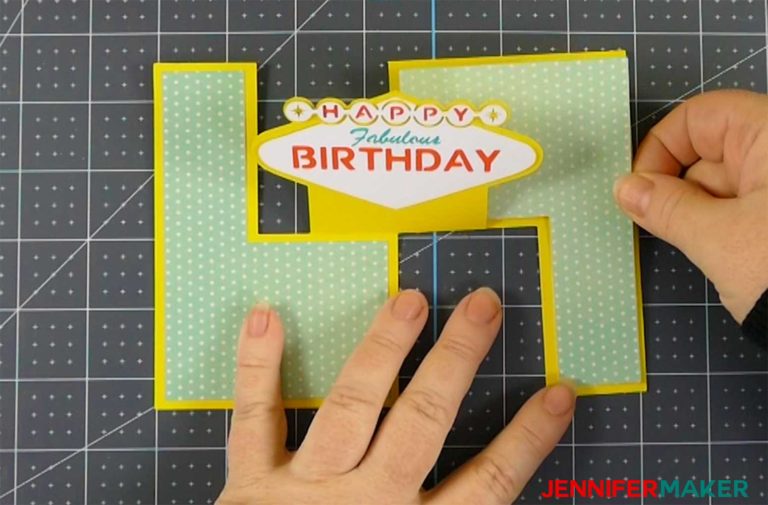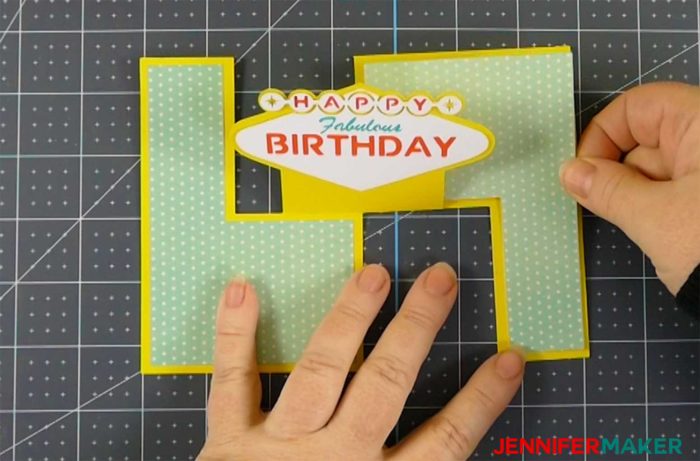 Straighten out your impossible card and add the brace across the bottom to keep it straight.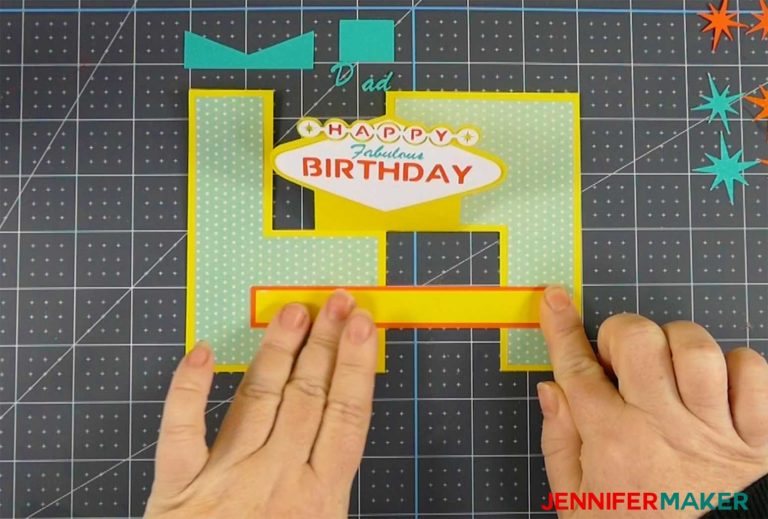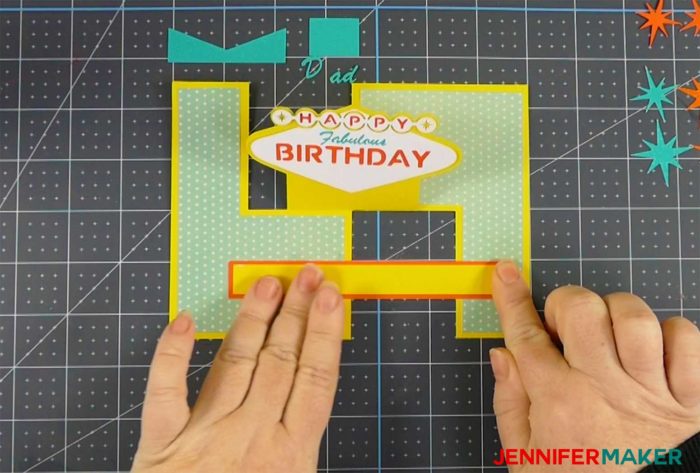 Put a Las Vegas sign star on your brace to decorate your impossible card. Add the other stars around as you please!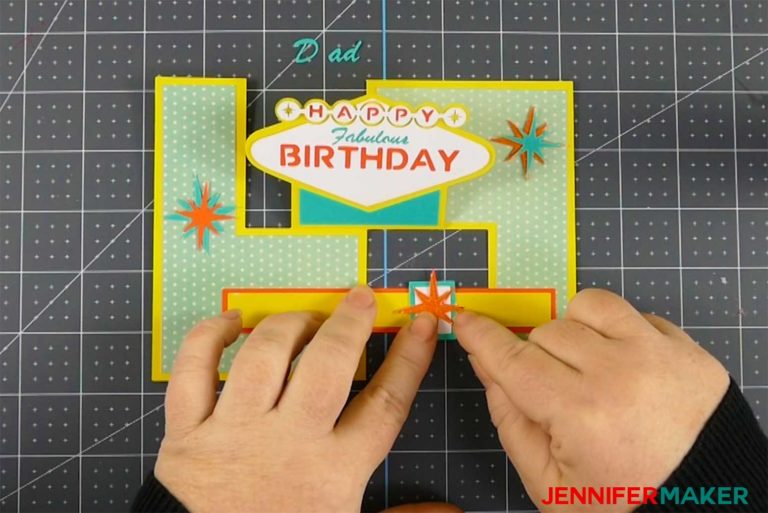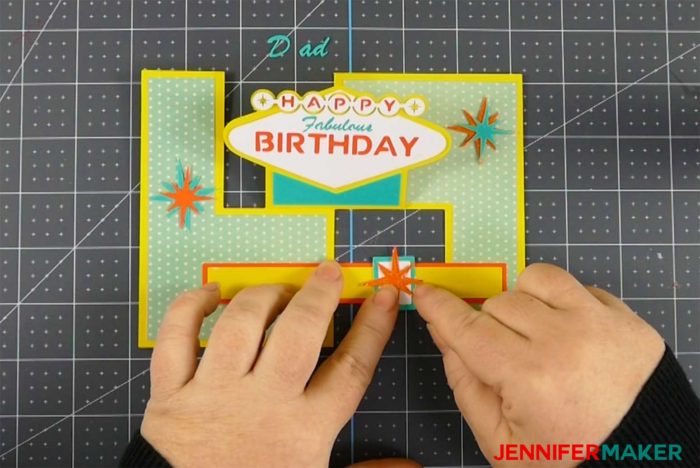 And here is the finished card … a Fabulous Birthday Impossible Card!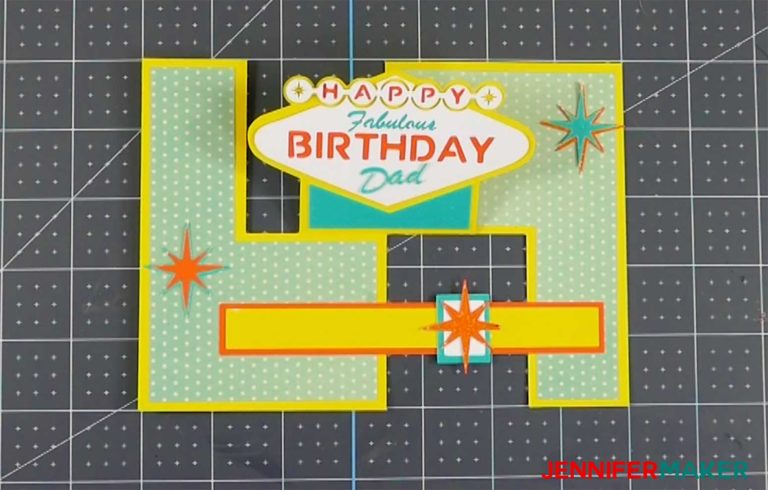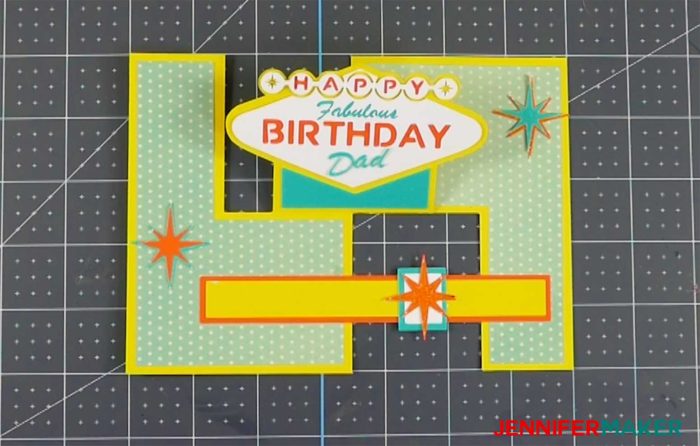 Get my free SVG cut files and patterns for the Impossible Card
This impossible card is a refreshingly simple and fun project, don't you think? All you need is a bit of paper and some glue and/or adhesive spray and you're good to go! And you can use the basic impossible card template to make all sorts of fun cards for your friends and family that will amaze and mystify them!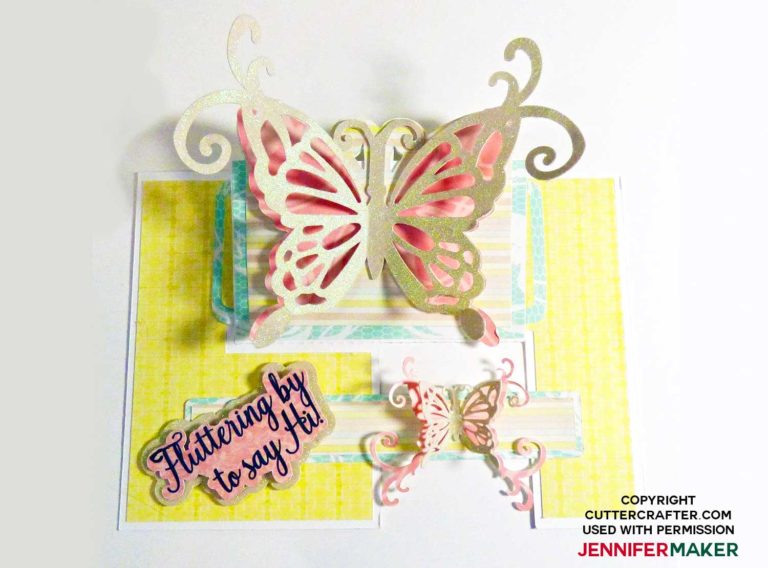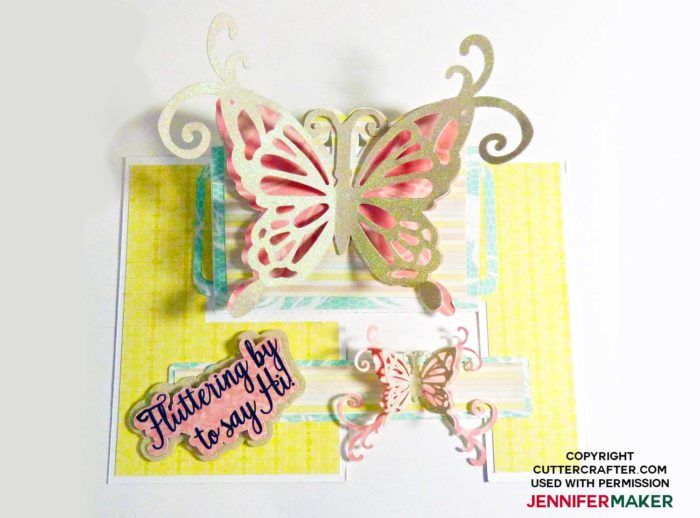 If you make one of these fun impossible cards, please share a photo in our Facebook group, or tag me on social media with #makershowandtell and #jennifermaker.
See all of the projects, tutorials, and free designs in The Great Maker Show and Tell Challenge! There is one for each day of the 25 Days of Christmas! This is my gift to you for the tremendous support, enthusiasm, and love you've shown to me and my little blog over the past two years. To "open" a gift, hover over the day's image and click the download icon.
[ess_grid alias="25days2″]
Love,