Make a colorful pop-up heart rainbow card for that special person in your life! These are great for Valentine's Day or even for LGBTQ+ celebrations!
This morning I'm making Valentine's Day cards for my two favorite people. Alexa loves pop-up cards and 3D papercrafts, so I've designed an eye-catching card I think she'll really enjoy. And as it turns out, it's really easy to make this pop-up heart rainbow card!
This pop-up heart card is really versatile, because you can use it in several ways: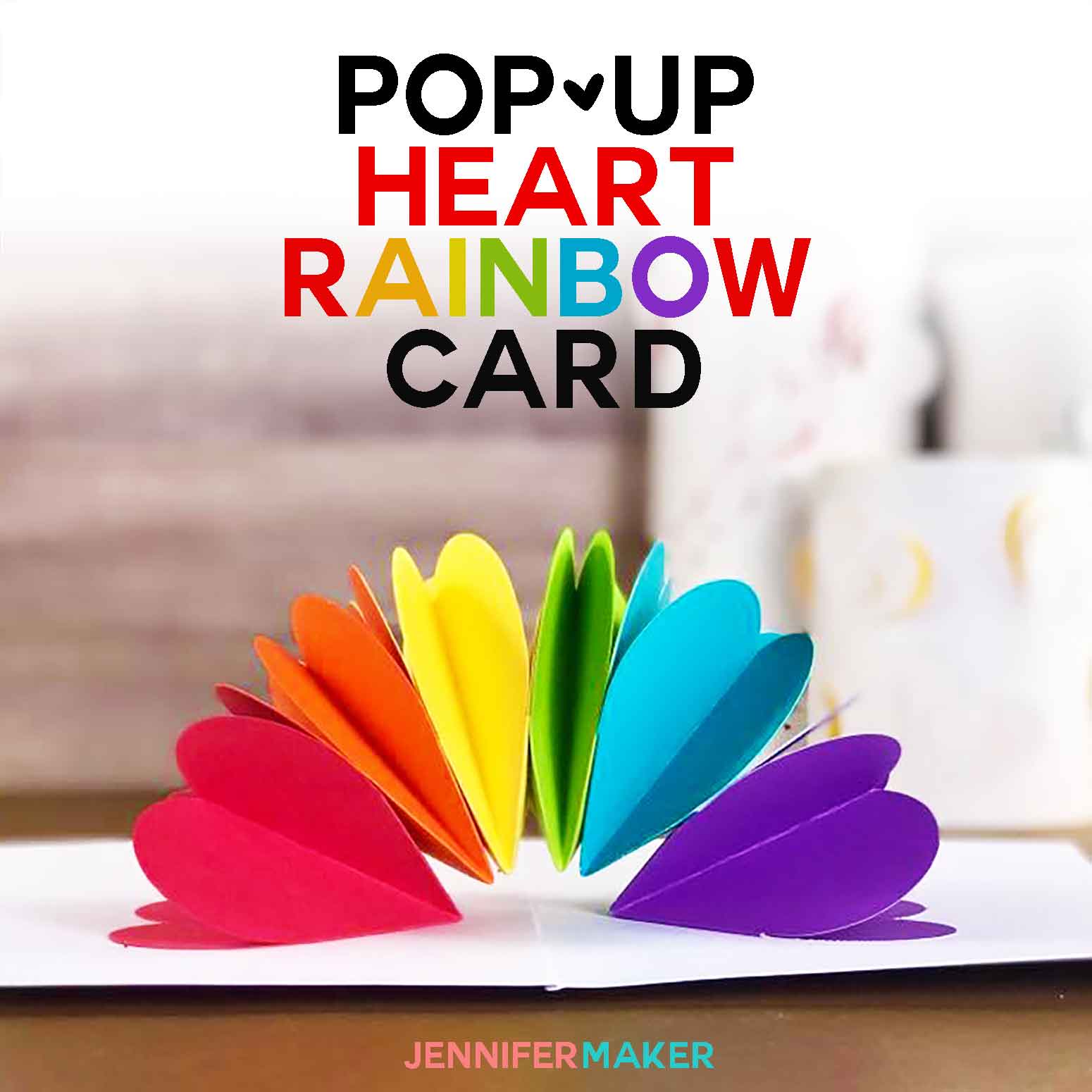 Make it in shades of red for Valentine's Day
Make it in green for St. Patrick's Day (the hearts look like four leaf clovers when opened up)
Write notes on the opened hearts for your loved one
Create a mini photo album with it by putting small pictures inside each heart piece
I'm excited to show you how to make this pop-up heart rainbow card! This post contains some affiliate links for your convenience (which means if you make a purchase after clicking a link I will earn a small commission but it won't cost you a penny more)!Read my full disclosure policy.
Materials for the Pop-Up Heart Rainbow Card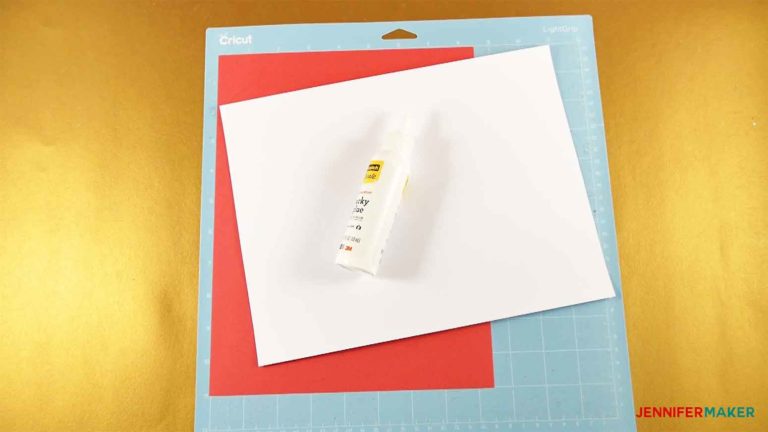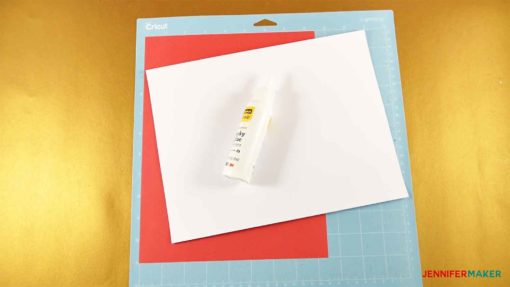 How to Make the Pop-Up Heart Rainbow Card
First, download Design #92 which is the pattern for this project from my free resource library. If you're going to cut it out on your cutting machine, upload the file to your design software.
Tip: If you're not sure how to upload an SVG cut file to Cricut Design Space, watch this helpful video training series I made. If you're on an iPhone or iPad, here's how to download and upload SVG files to the Cricut Design Space app.
NOTE: One layer is a SCORE layer. If you have a scoring stylus, you must change both to score, then attach both layers together before cutting. If you do not have a scoring stylus, delete the score layer before you cut.
Need help with the scoring lines? Check out my tutorial on Cricut Scoring, Grouping, and Attaching!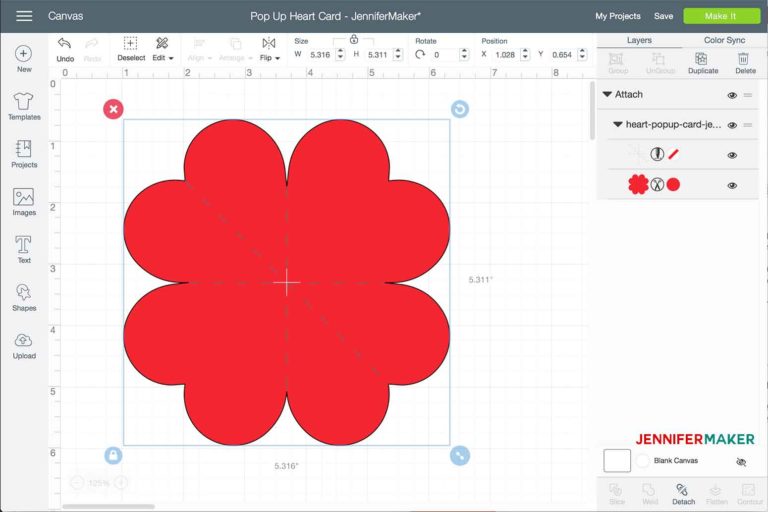 Cut out your cardstock to make six heart pieces. You can do them all the same color or do rainbow colors as I did. You can do this with scissors or a cutting machine! Here's what it looked like after I cut out the cardstock on my Cricut. You can see the score lines my Cricut made in this photo.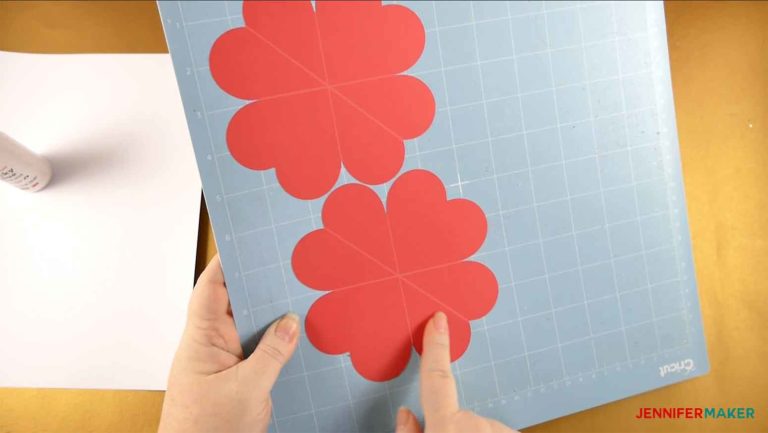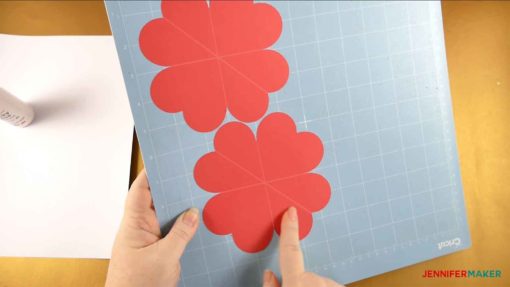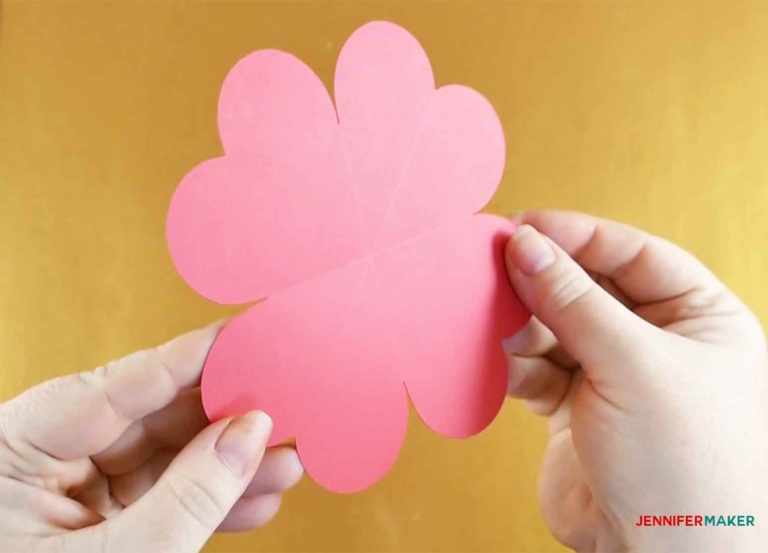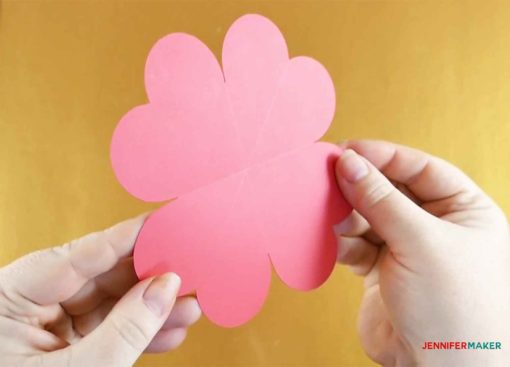 Fold your heart pieces. Begin by folding in half diagonally, like this: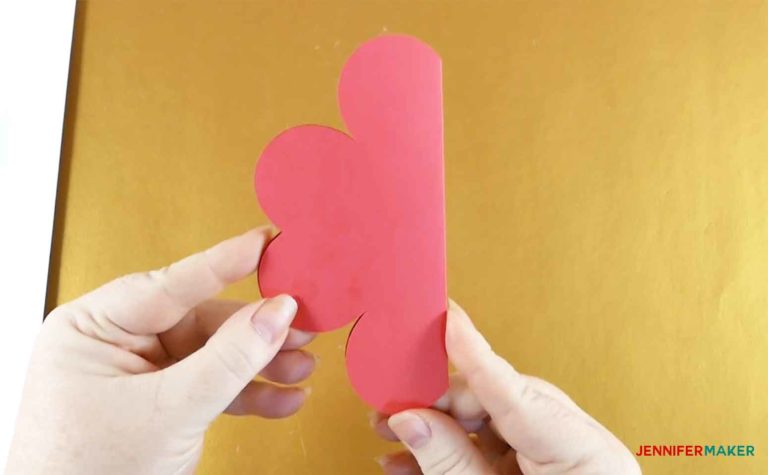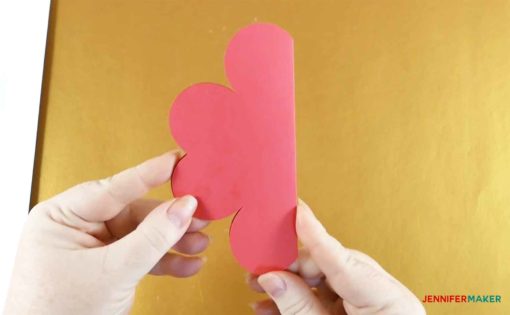 Now open it up and turn it over.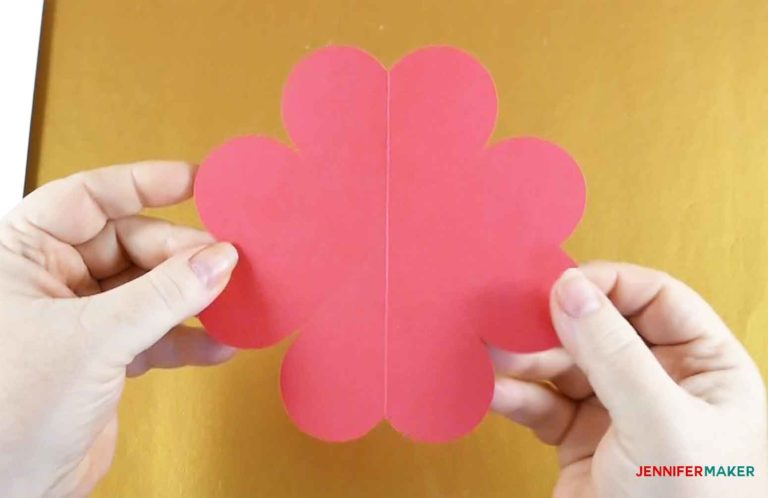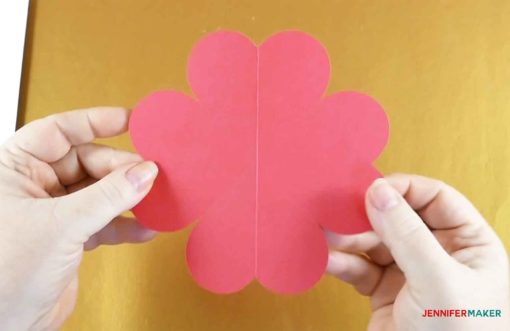 Next, fold the heart piece in half. Note that this is a different fold even though it might look the same in the photo below.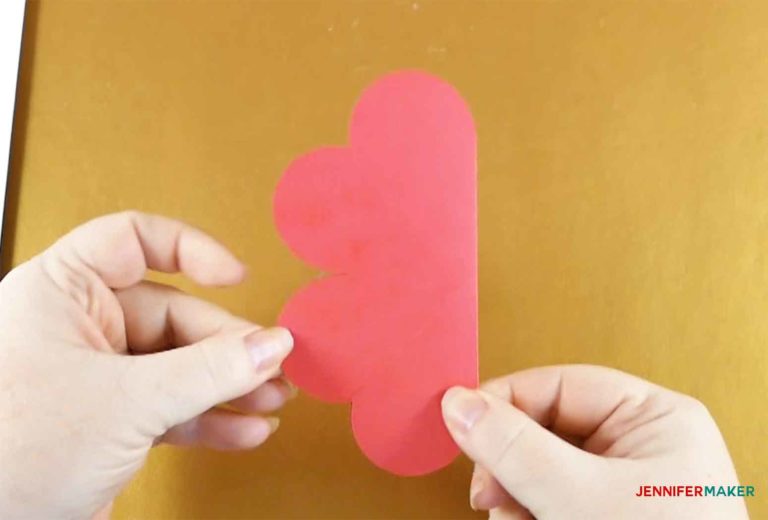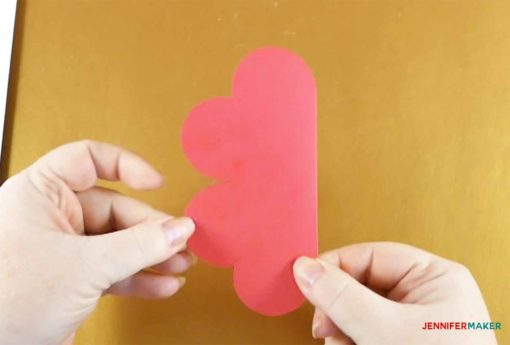 Open and fold in half the other way.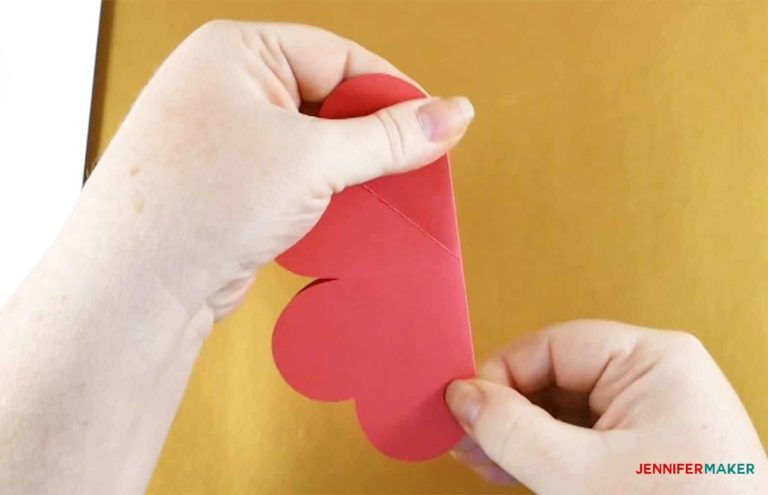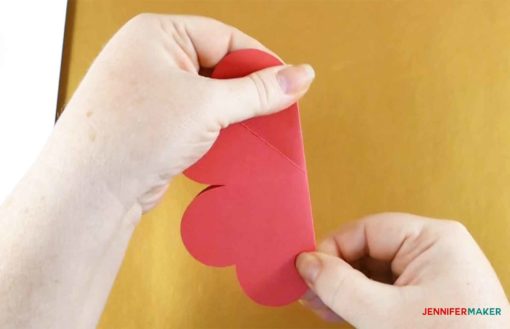 When you open up your heart piece this time, your folds should look like this: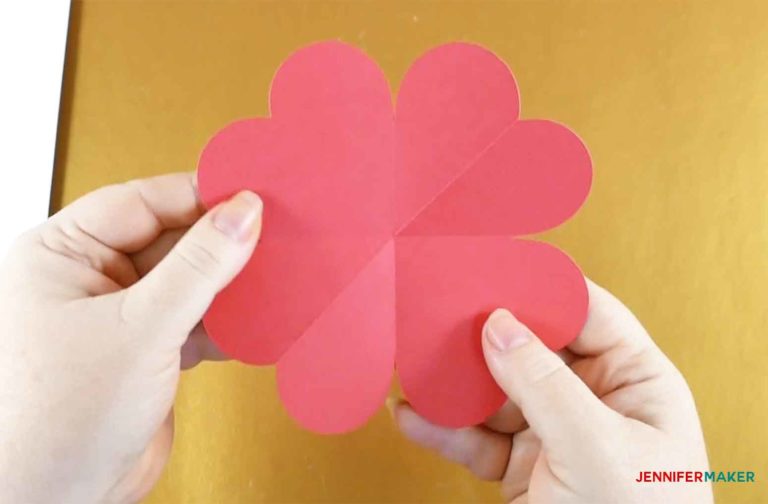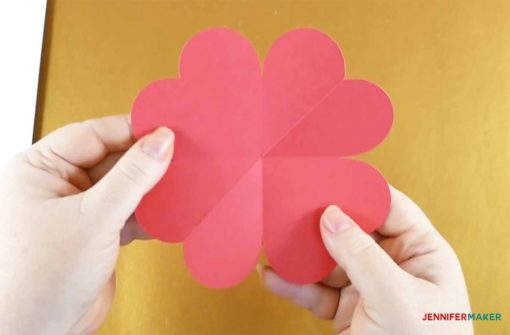 Carefully fold the entire piece up into itself. The first fold you made will fold in.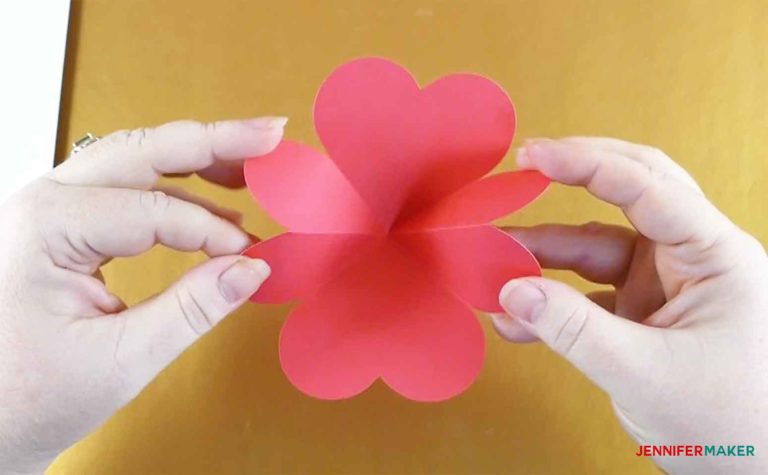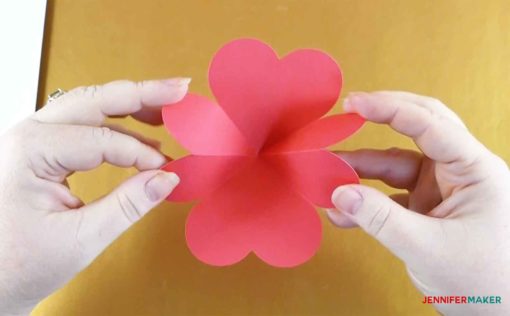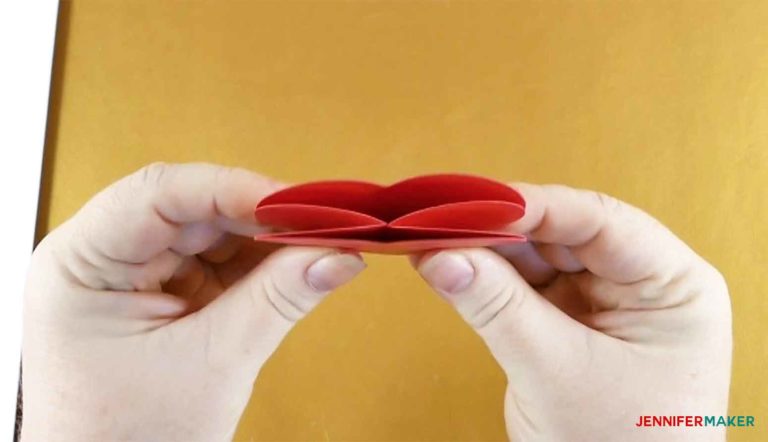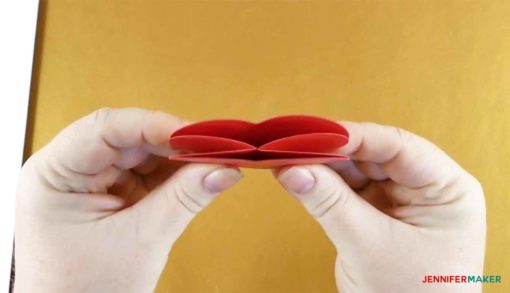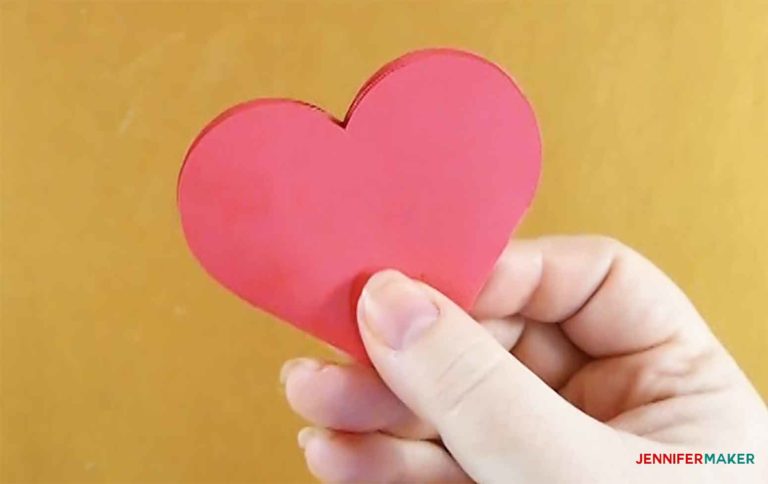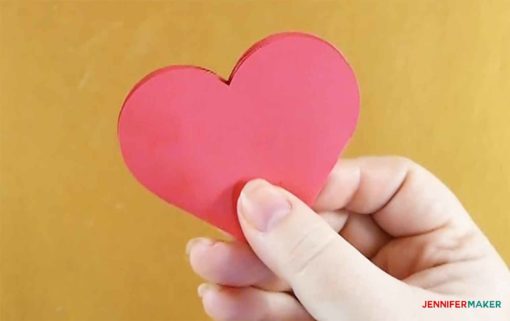 Now, repeat this for the other five heart pieces you cut out.
Next, put glue on one side of one heart, like this: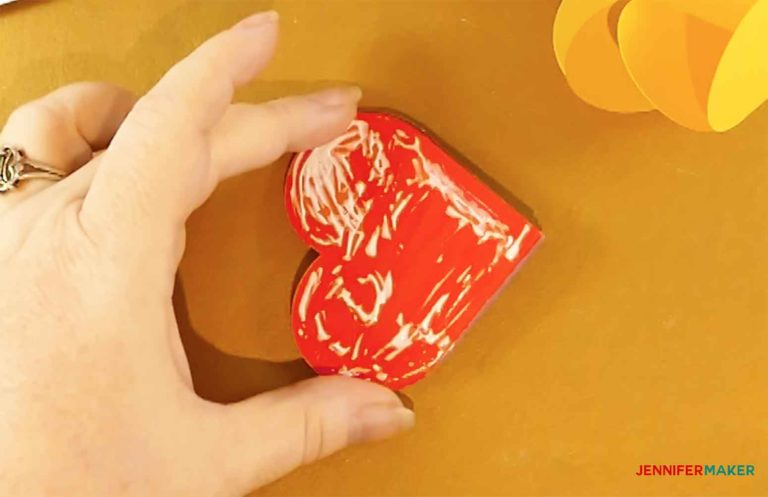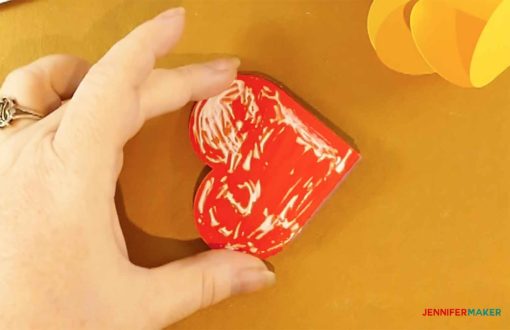 Place another folded heart on top of the glued heart, making sure all the sides, tops, and bottoms line up.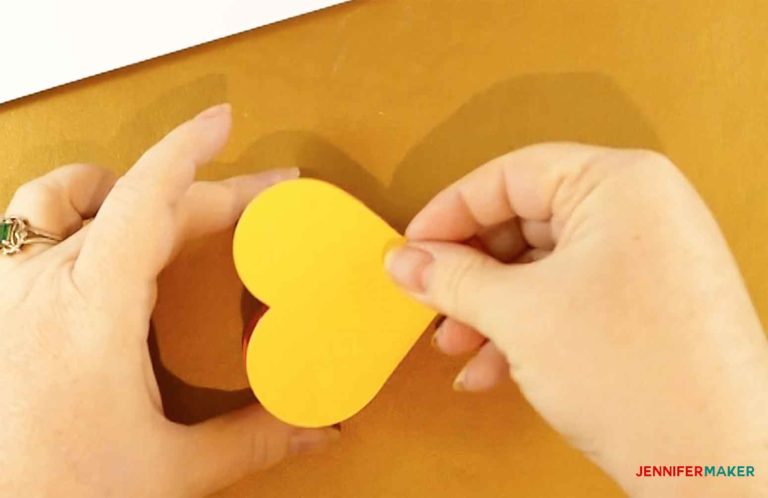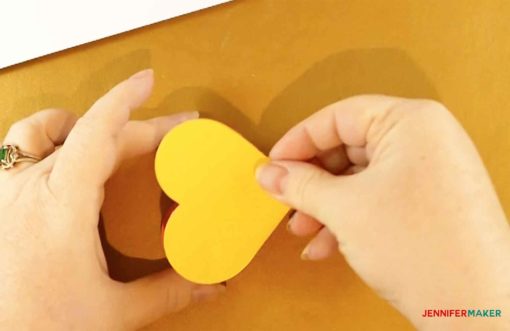 Continue gluing all of the folded hearts together.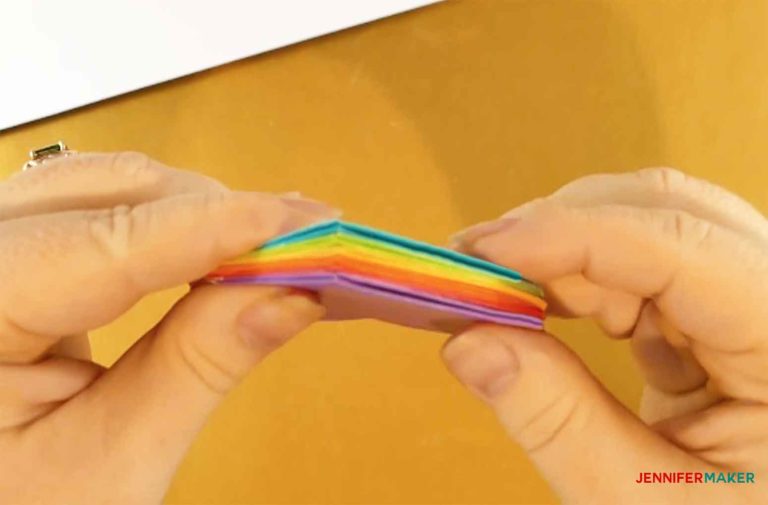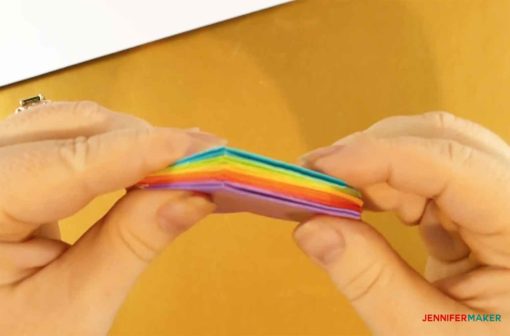 If you open up the hearts now (make sure the glue has dried), you'll see how pretty they look!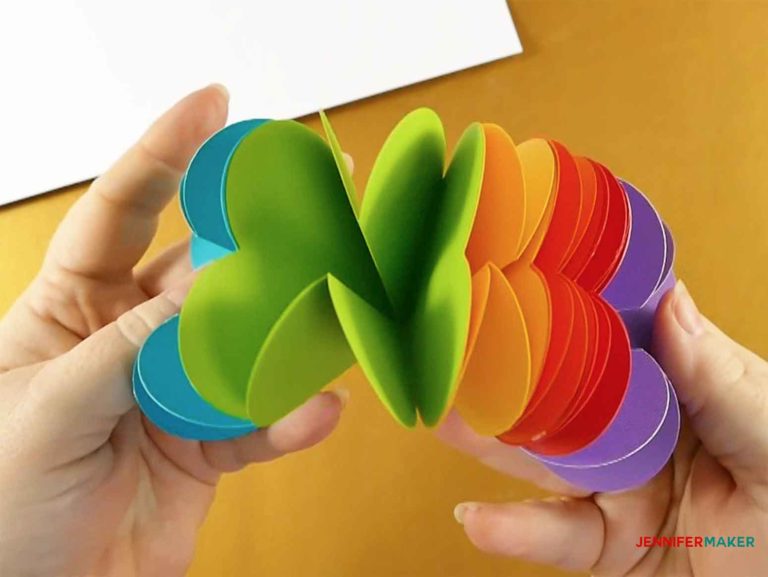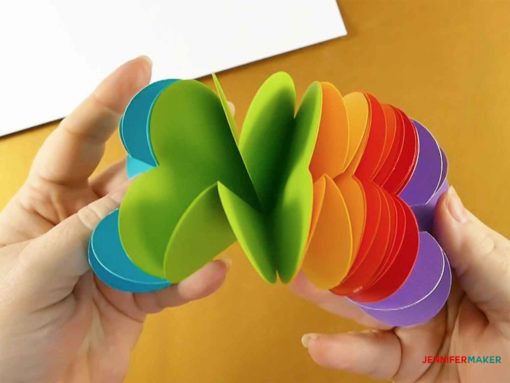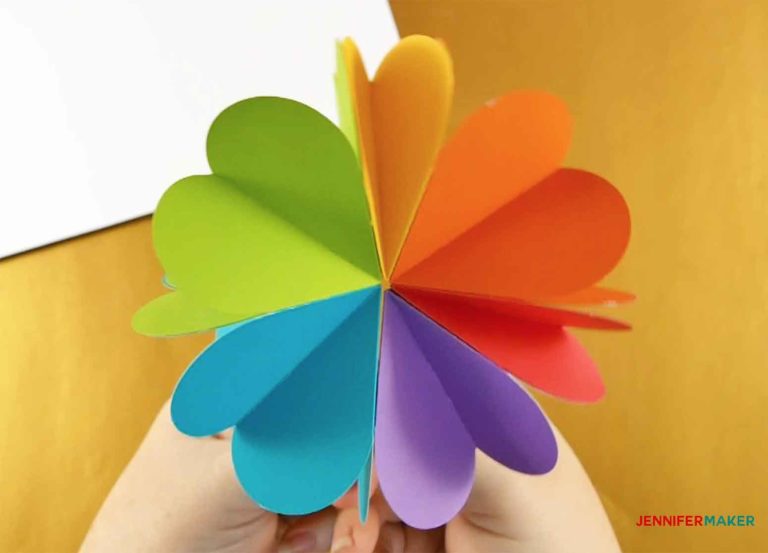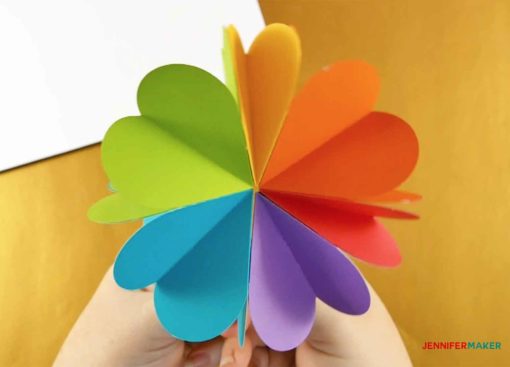 You could just leave it like this, but I think it's more fun to put it in a card. So get a piece of cardstock (I used white 8.5″ x 11″) and fold it in half.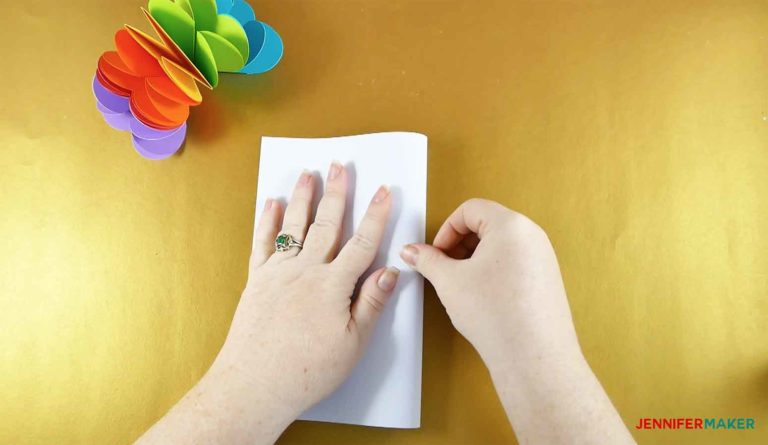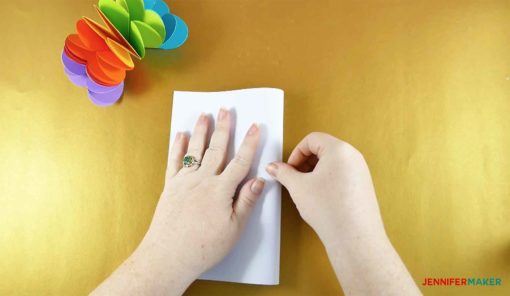 Now glue both ends of your folded heart assembly.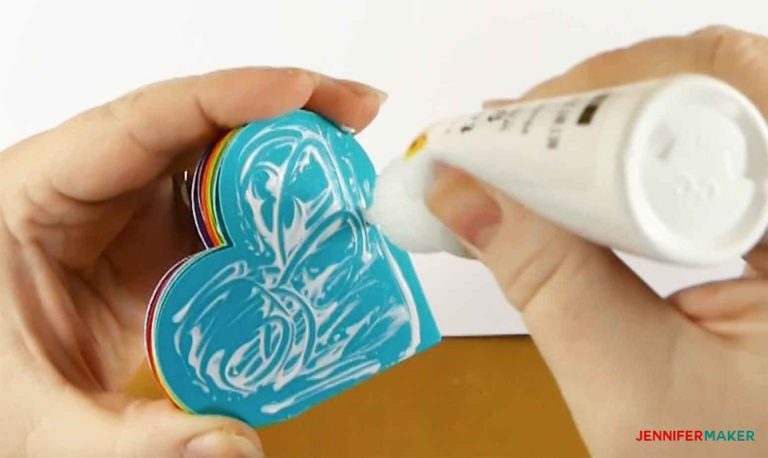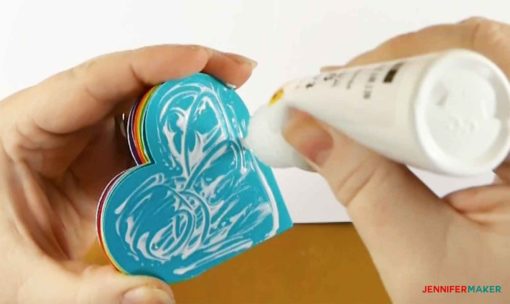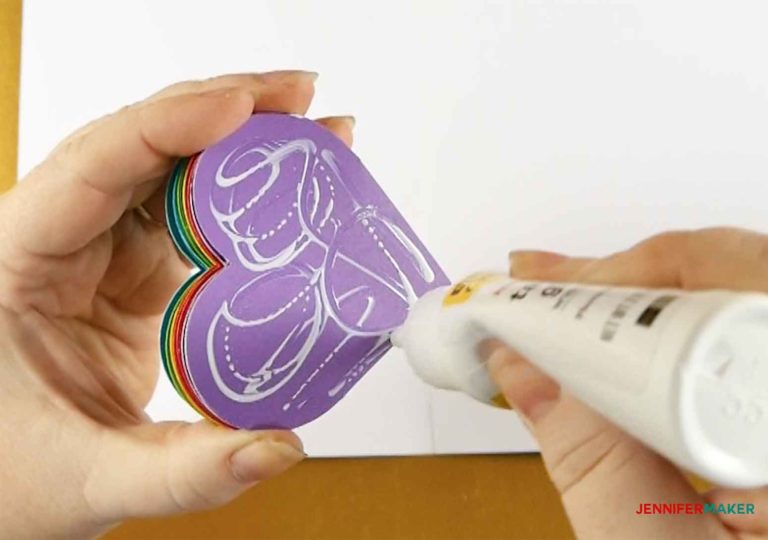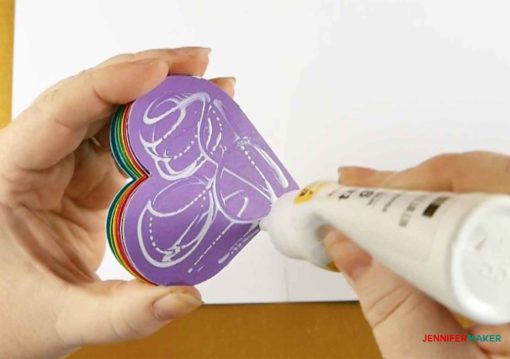 Open up the card (the white cardstock) and place the heart assembly about 1/4″ to 1/2″ away from the fold.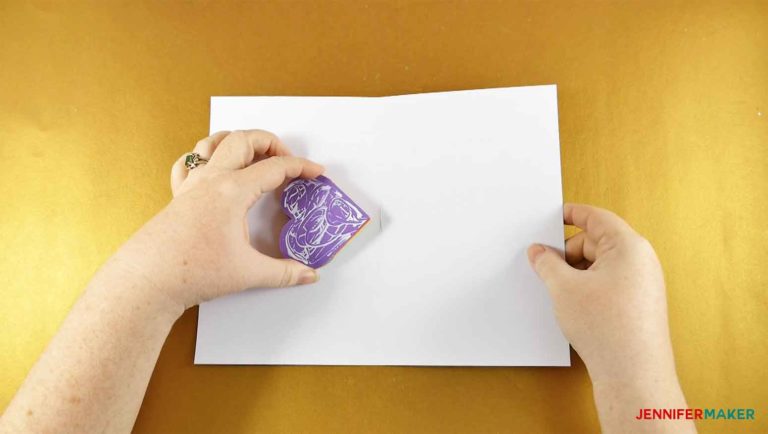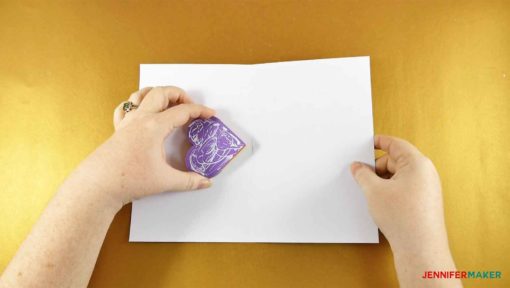 Now, close the card and press on everything until the glue is set.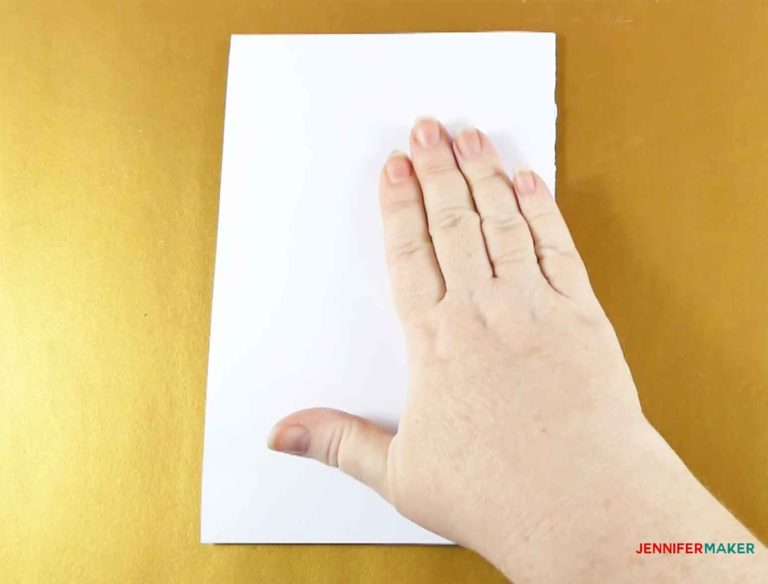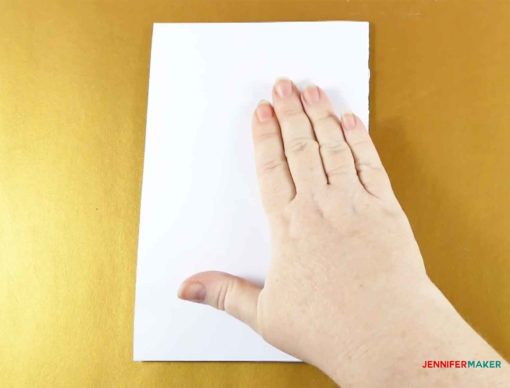 When the glue is dry, open up your card and pop up your hearts!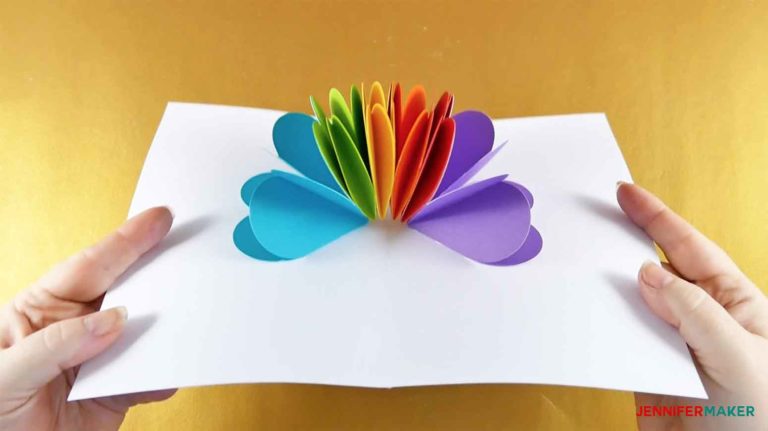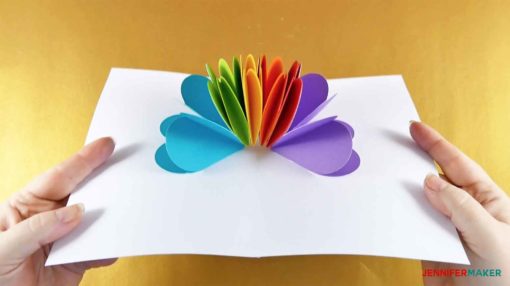 Isn't it just so pretty?
Tip: If you want your hearts to form more of an arch, don't glue the very bottoms (the heart tips).
And for fun, you could put little things inside each "pouch" the folded hearts make — maybe little notes or confetti? It could be fun!
Get my free cut files for the Pop-Up Heart Rainbow Card

I'd love to see your project! If you make one, please share a photo in our Facebook group, email it to me at hello@jennifermaker.com, or tag me on social media with #jennifermaker.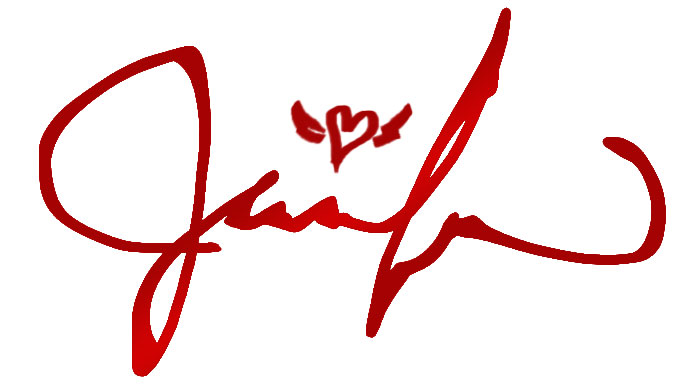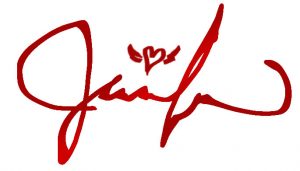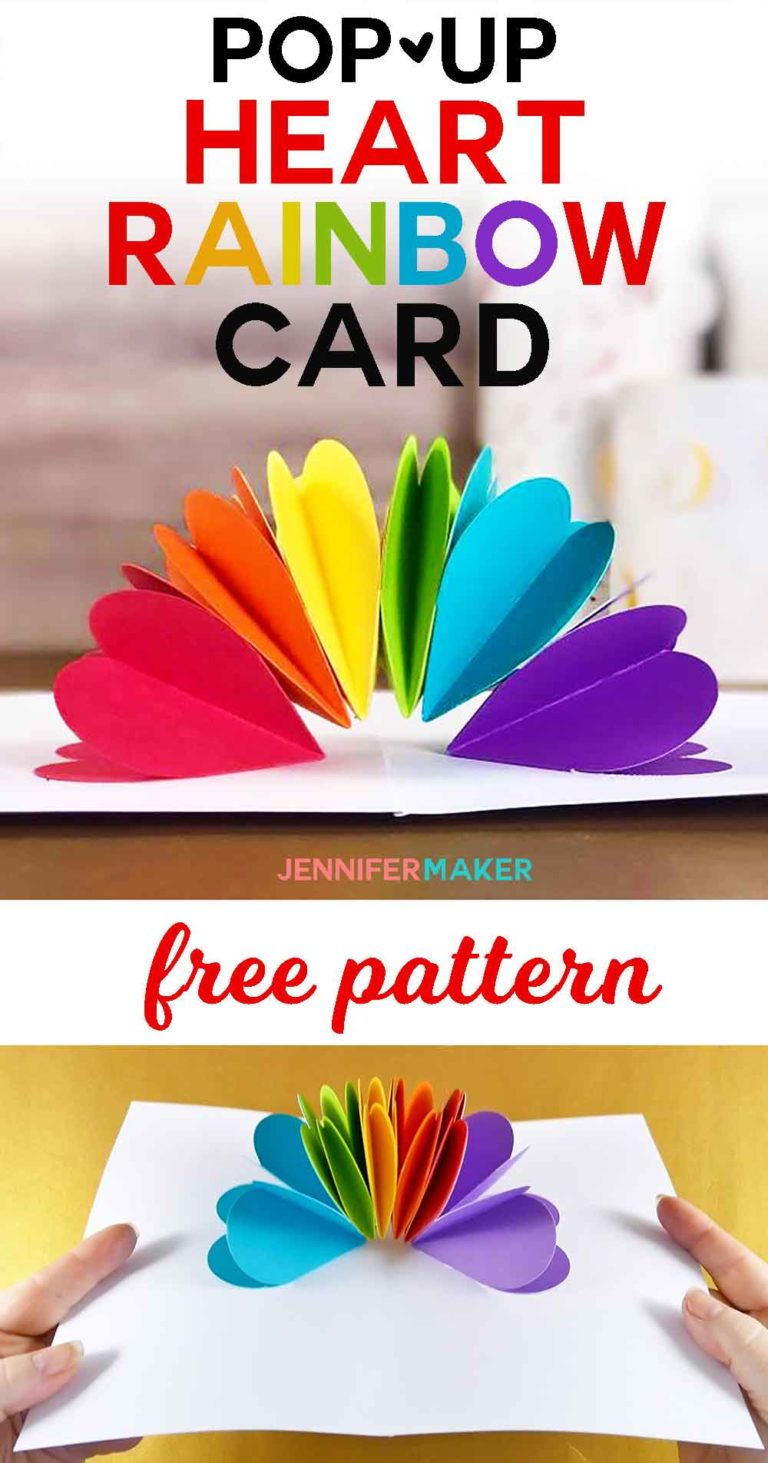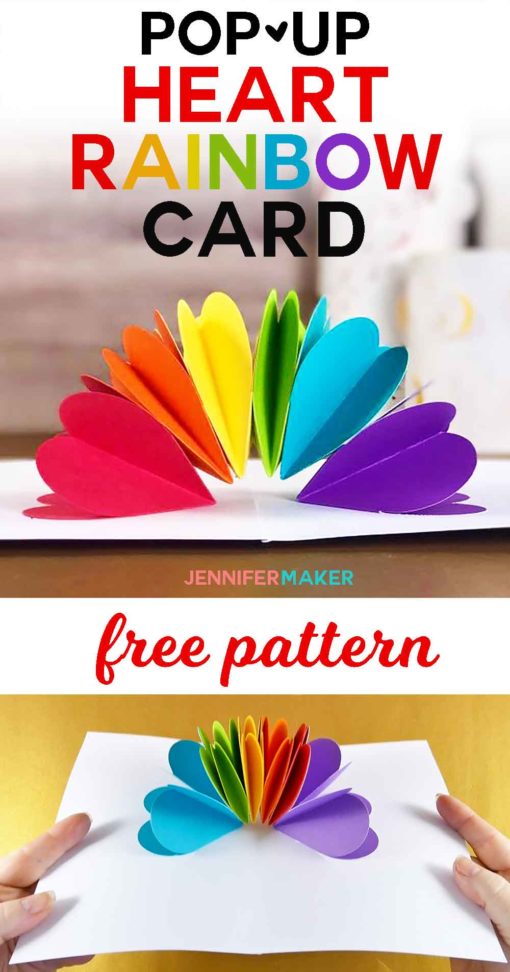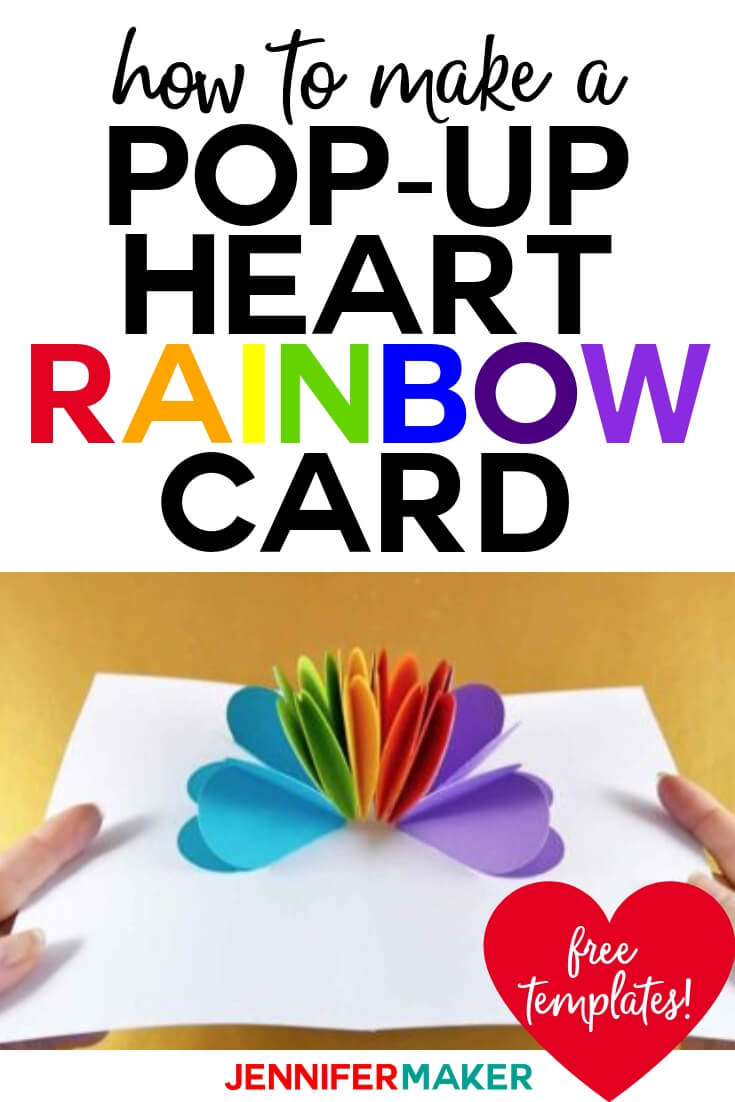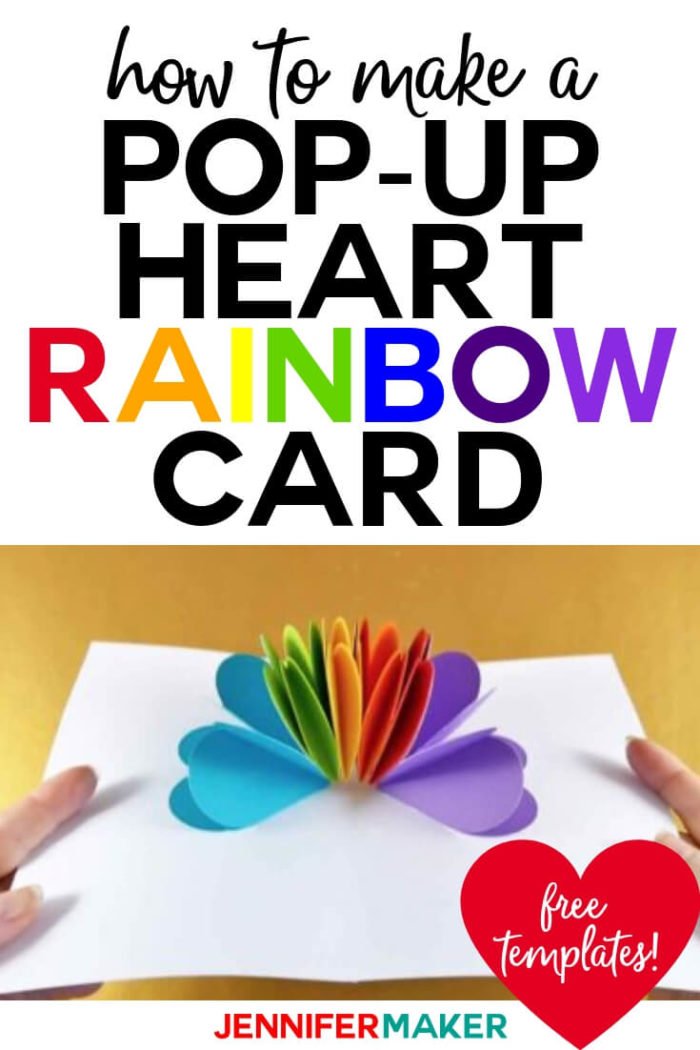 And if you need more ideas for your loved one, check out these other heart-themed projects on my blog: