Learn how to create beautiful winter pop up cards you can mail to someone special or display as eye-catching decor!
Making 3D paper paper projects is one of my favorite things to do. I just love how the added effect can bring a project to life simply by making it "pop up." These winter pop up cards were inspired by the upcoming season that always brings me so much joy. Little red cardinals remind us of loved ones who are gone. I think these pop-up cards would make great gifts for the winter season and those who receive them will be in awe that they were handmade by you.
Watch the full step-by-step video showing you exactly how to create your own winter pop-up card with a VIP pass to Maker Academy Weekend 2022!
As with most paper projects, the supplies for this pop-up card project are pretty simple. I used some different colored cardstock, white glitter cardstock, vellum paper for behind the house windows and door. I also used some LED fairy lights to put between the layers once the snowy pop-up card is on display. The lights are optional but they add such a beautiful effect to the pop up cards.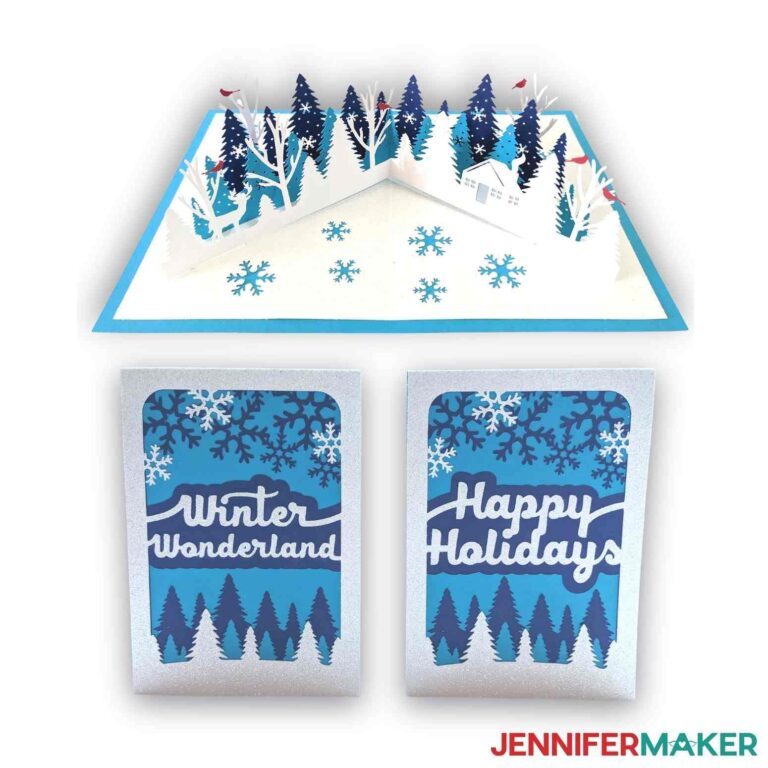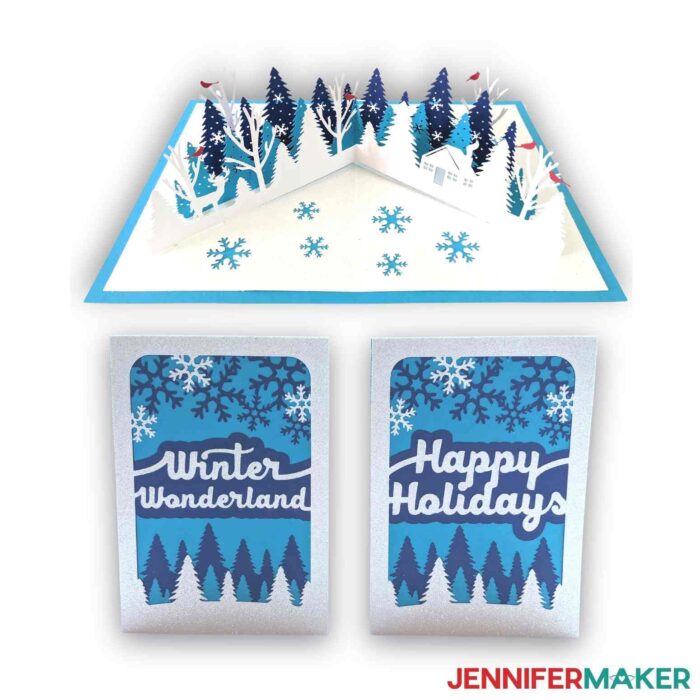 Other materials I used were a Green StandardGrip Machine Mat, Craft Glue, a Brayer, Cricut Fine Point Pen (also optional, for writing custom message inside the card or addressing the envelope), a Scraper, Spatula, a Weeding Tool for popping out small pieces from intricate areas, a Scoring Stylus if you will be using the files with score lines. If you add fairy lights, you will want some Zots Glue Dots to adhere the lights. Tweezers are also optional for attaching fairy lights between layers. Last but certainly not least, I used my Cricut Maker 3 but you can also use the Cricut Maker or a Cricut Explore Series machine.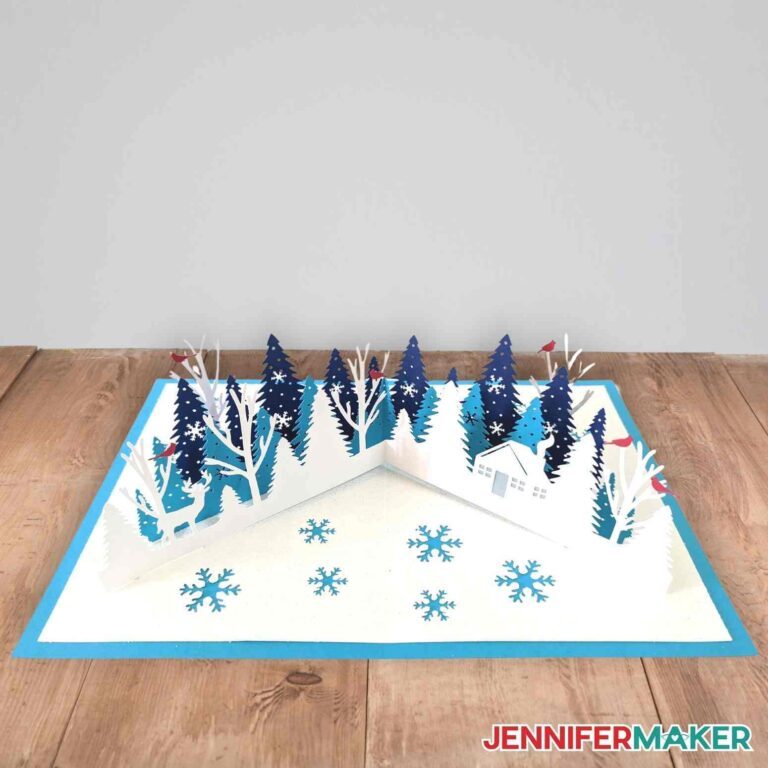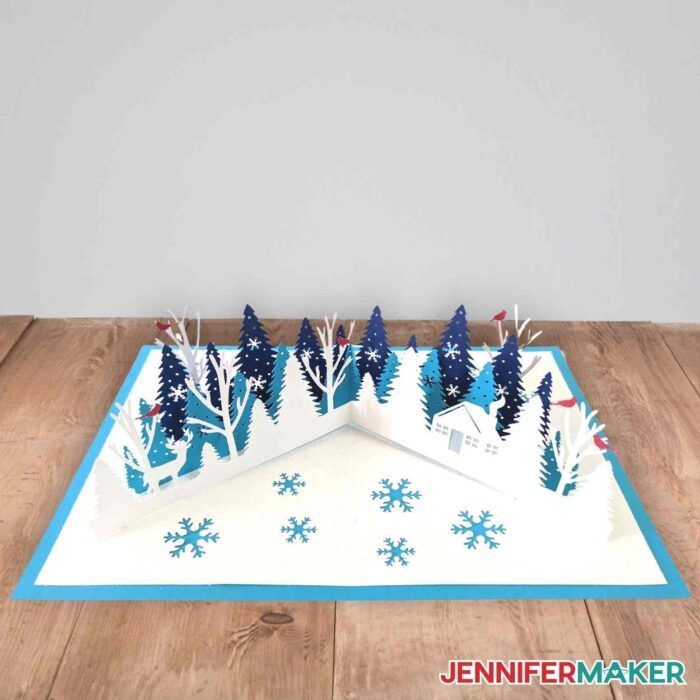 And yes, you can mail this winter pop-up card! I've included an envelope designed to fit it perfectly! I've designed this card to fold down to 5×7 inches, so it fits nicely in the A7 envelope for mailing, without the optional fairy lights. Here it is all lit up!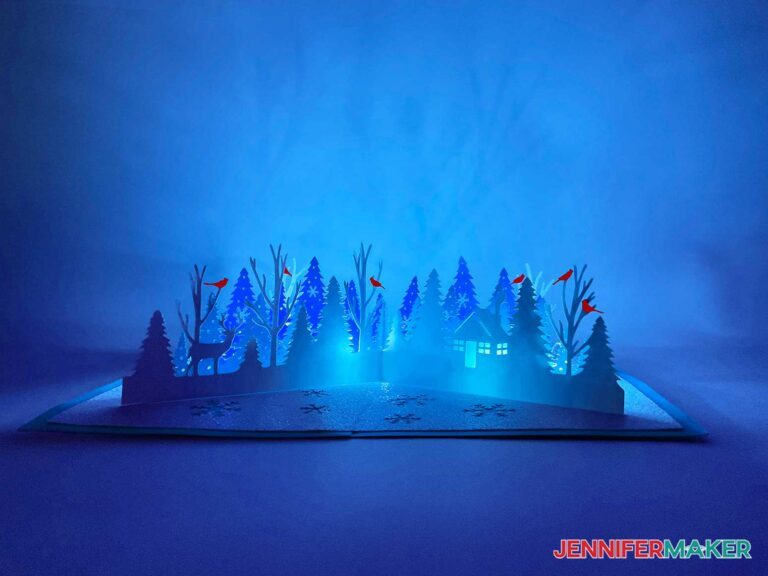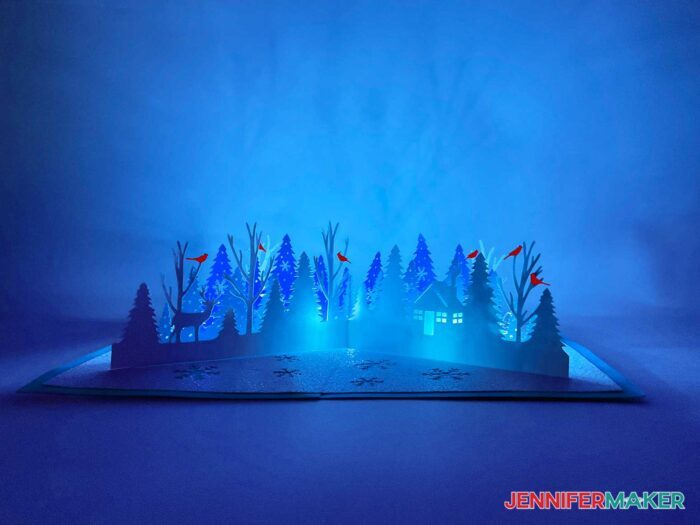 Here's a supply list of what you need to make winter pop up cards! This post contains some affiliate links for your convenience (which means if you make a purchase after clicking a link I will earn a small commission but it won't cost you a penny more)! Read my full disclosure policy.
Materials to Make Winter Pop Up Cards
View my Amazon shopping list with the exact items we used to make this project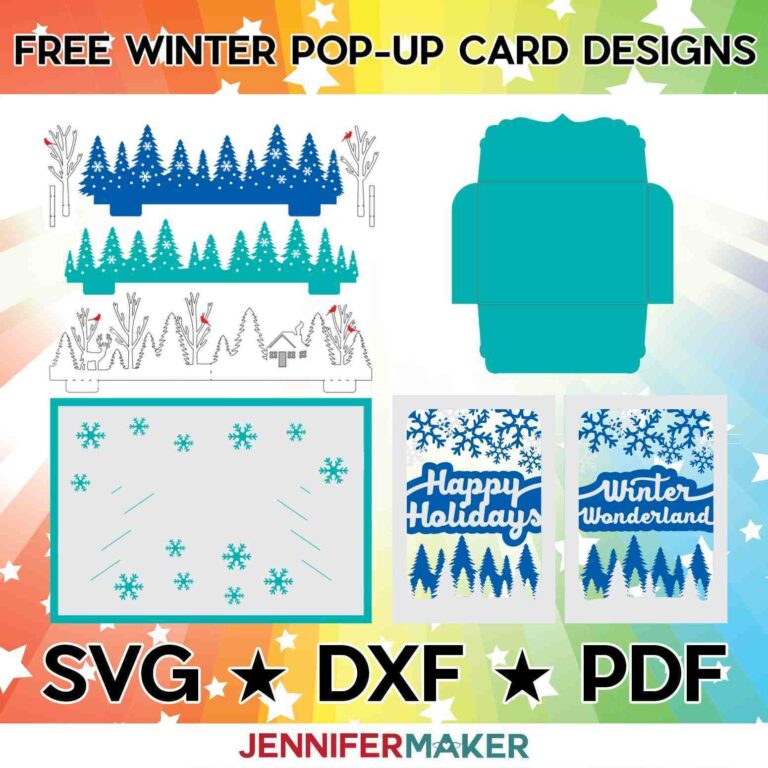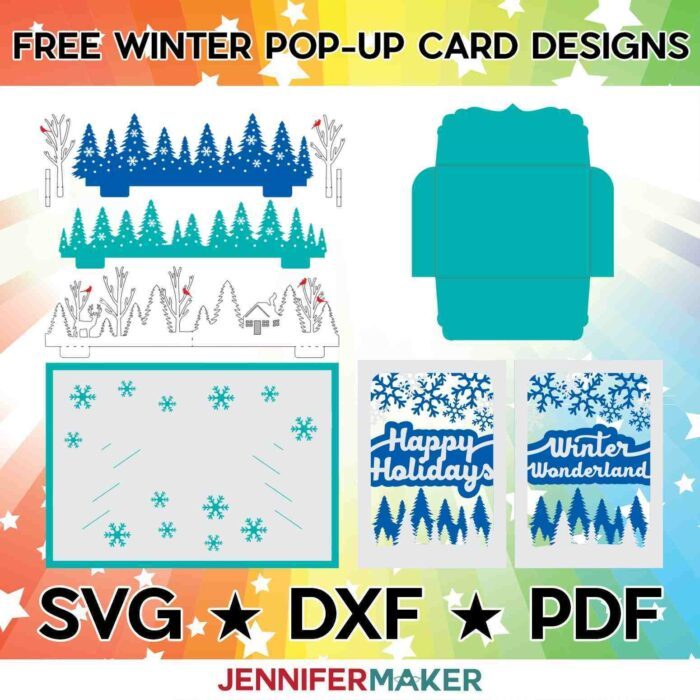 How to Make Your Own Winter Pop Up Cards
The detailed step-by-step assembly video on how to create winter pop-up cards debuted during Maker Academy Weekend 2022, held online November 3-6, 2022. Get an on-demand pass to watch all 20+ workshops, each with a printable handbook, transcript, audio files, design files, and support with a VIP pass below:


Look how beautiful the card looks from above. The colors go perfectly with the winter theme but you can pick and choose which colors you'd like to use. If you're ready to impress your friends and family with your card-making skills, this is a card you have to try out!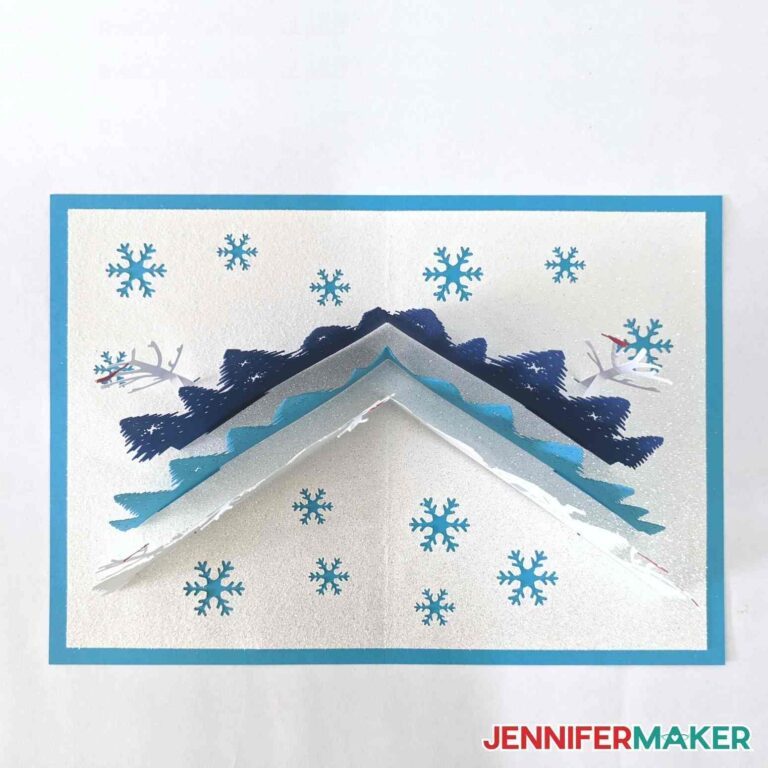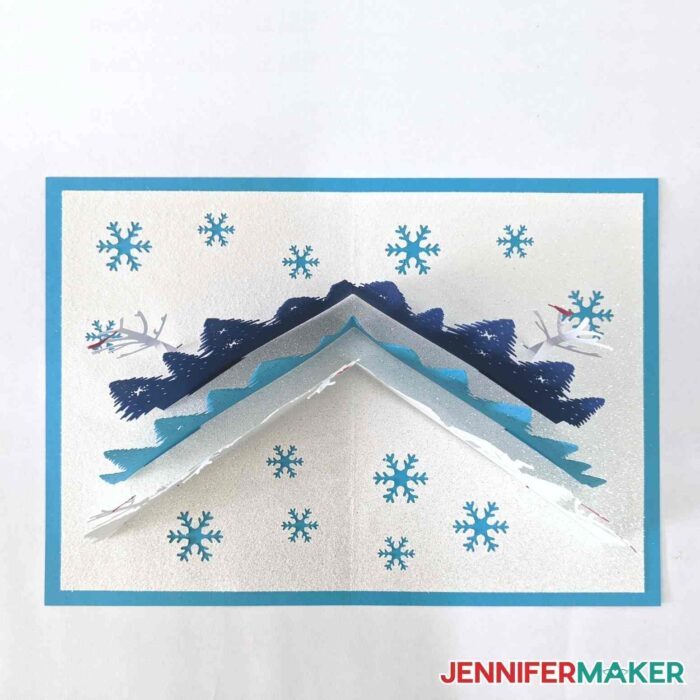 Answers to Your Questions About How to Make Winter Pop Up Cards
Q: Where is your tutorial for this project?
This is a special project we made for our free Maker Academy Weekend 2022 event! A complete and detailed step-by-step video premiered during the event November 3-6, 2022 — specifically, this tutorial video was available to watch for free for 24 hours beginning November 5 at 5:00 pm ET! You can get access to the full video, the printable handbook that details how to make this beautiful project if you get a VIP Pass to Maker Academy Weekend 2022, which comes with other perks and bonuses, too!
Q: Can you make this winter pop-up card with a Cricut Joy?
You can use any Cricut cutting machine to make greeting cards with pop up elements, BUT this design is too large for a Cricut Joy.
Q. What do I need to make my own greeting cards?
All you really need is some card stock, glue, and a way to cut out your design!
Q. How do you make a pop up birthday card?
You can make a fun hot-air balloon pop-up card with a pop up design by following my birthday card pop-up card tutorial.
Q. Will these pop-up cards cost more postage to mail?
Depending on your pop up card's dimensions, thickness, and weight, it may cost more than an average greeting card. I recommend measuring and weighing your card and envelope together and then checking with your mail service just in case. And if you use the LED lights, you'll likely need a bigger envelope, as the battery pack adds a lot of bulk.
Q. How do you use Cricut pens to make pop-up cards?
The Cricut Pens make writing on the inside of pop-up cards easy! By attaching the message to a cut layer, the Cricut will write your note in the correct spot. If you want to add a handwritten message—just make sure the ink is flowing first on a scrap of paper. My tutorial shows you how to add writing to this winter pop-up card!
Get my free SVG files to cut and assemble this beautiful pop-up card!
I hope you make this lovely card! I truly enjoy seeing what you make with my designs and how you use them! Please share a photo of your winter pop up cards in our Facebook group or tag me on social media with #jennifermaker.
Love,