Learn to engrave an acrylic nightlight with my easy to follow steps!
Engraved acrylic makes the most enchanting nightlights when lit up with LED lights. You all tell me you loved my earlier acrylic nightlights made with the Cricut Maker, so I've created four new nature-themed designs, made especially for Cricut engraving! I'll show you exactly how to prepare, personalize, and perfectly align your engraving for beautiful results every time.
Watch the full step-by-step video showing you exactly how to create your own engraved acrylic nightlight:
These pretty new designs engrave on the acrylic discs perfectly with the Cricut Maker engraving tool!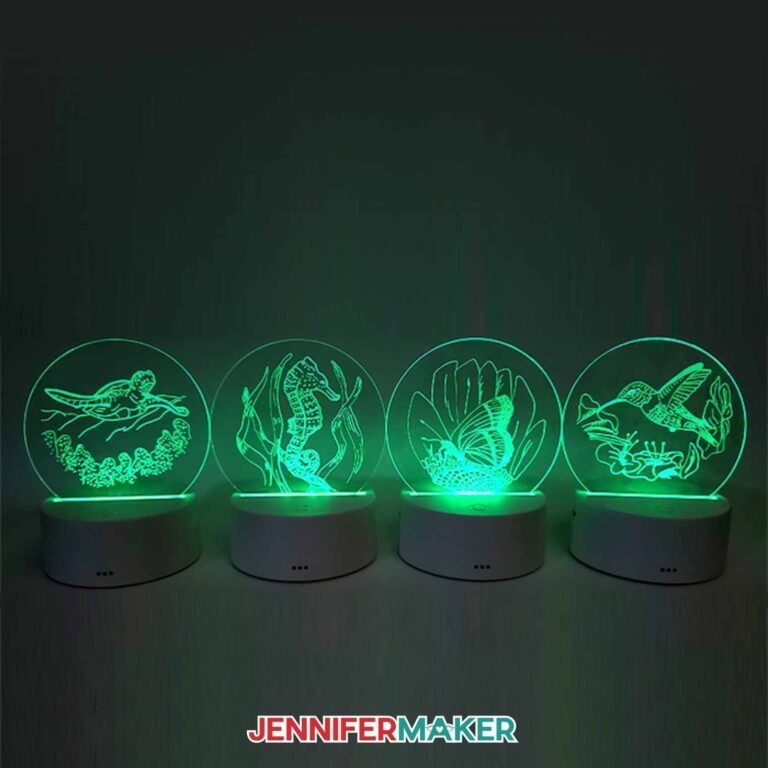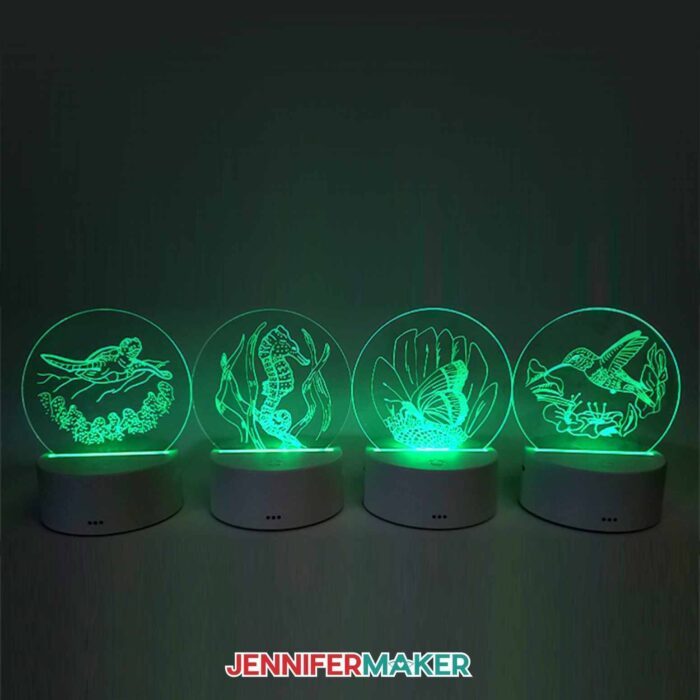 Cricut engraving does take some special tools and some patience, but these nightlights are so beautiful I know you'll love the results. For this particular project, you'll want a Cricut Maker line machine, the Cricut engraving tip, and a piece of acrylic thin enough to fit under the rollers (2mm or less).
Just look at how awesome this seahorse turned out!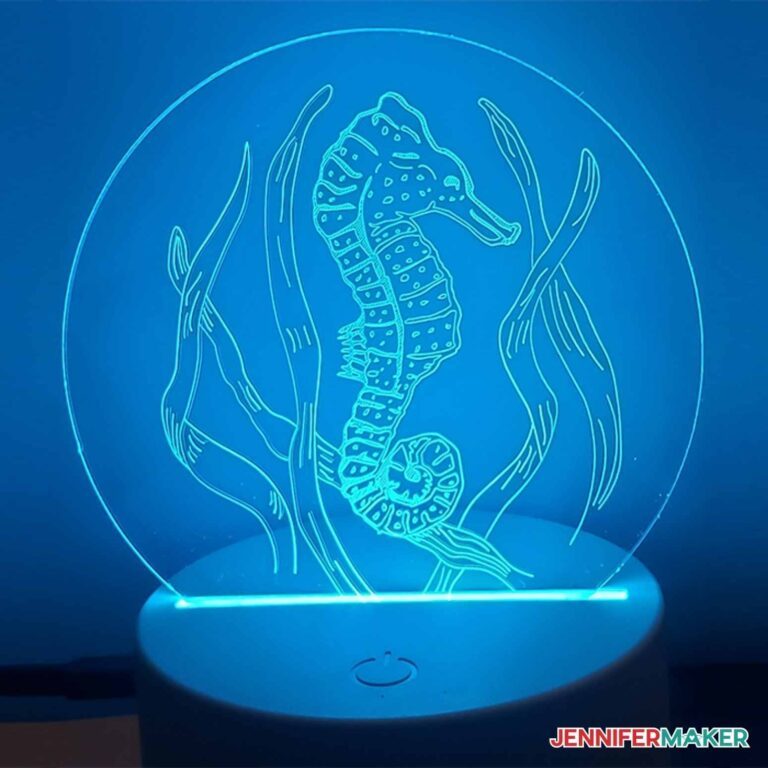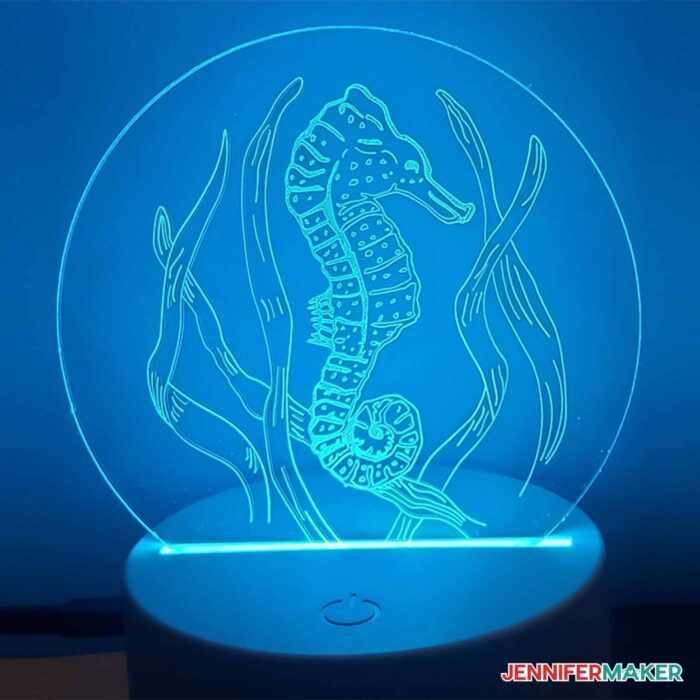 I just love these engraved acrylic nightlights and how easy they are to make with the right materials, tools, and techniques. I'll teach you how to position your acrylic in the right place, too. Once you finish engraving, you just pop it in the base and it's ready to enjoy!
I've created four designs for you to choose from that include a hummingbird, a butterfly, a swimming turtle, and a seahorse. You can either pick your favorite, or make the entire collection which is what I would do! Look at this beautiful hummingbird: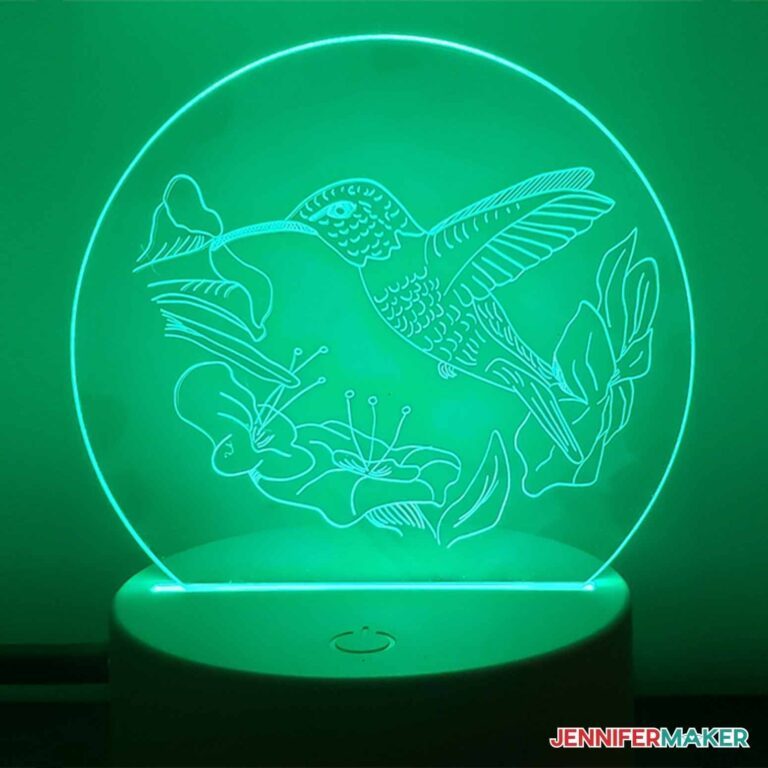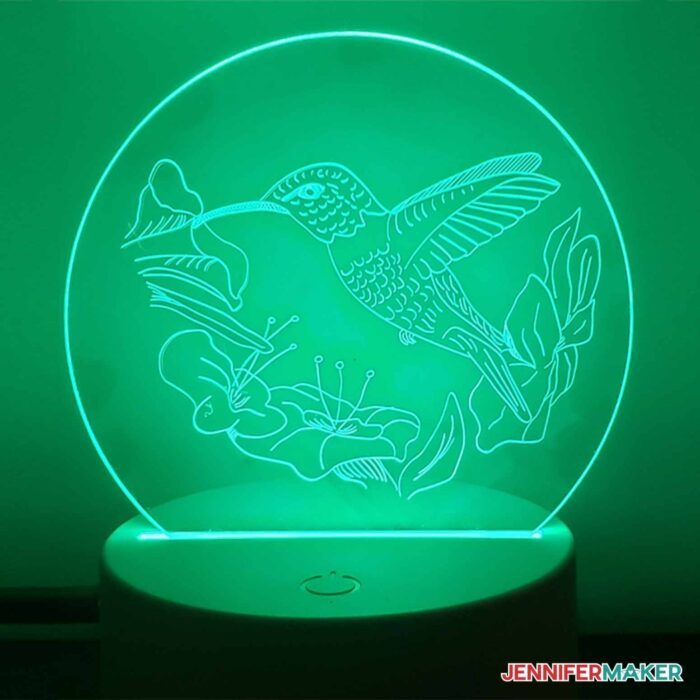 I'll also show you how to use a writing font in your Cricut Design Space project to personalize your nightlights with names or dates during the engraving process. I'll show you the best free Cricut fonts to use, as well as my favorite Cricut fonts available at an additional cost. This is a great way to make a truly unique gift this year.
If this is your first engraving project, be sure to also check out my Engraving Acrylic with Cricut Maker guide before you begin your first project.
Here's a supply list of what you need to make engraved acrylic nightlights! This post contains some affiliate links for your convenience (which means if you make a purchase after clicking a link I will earn a small commission but it won't cost you a penny more)! Read my full disclosure policy.
Materials to Make Engraved Acrylic Nightlights
View my Amazon shopping list with the exact items we used to make this project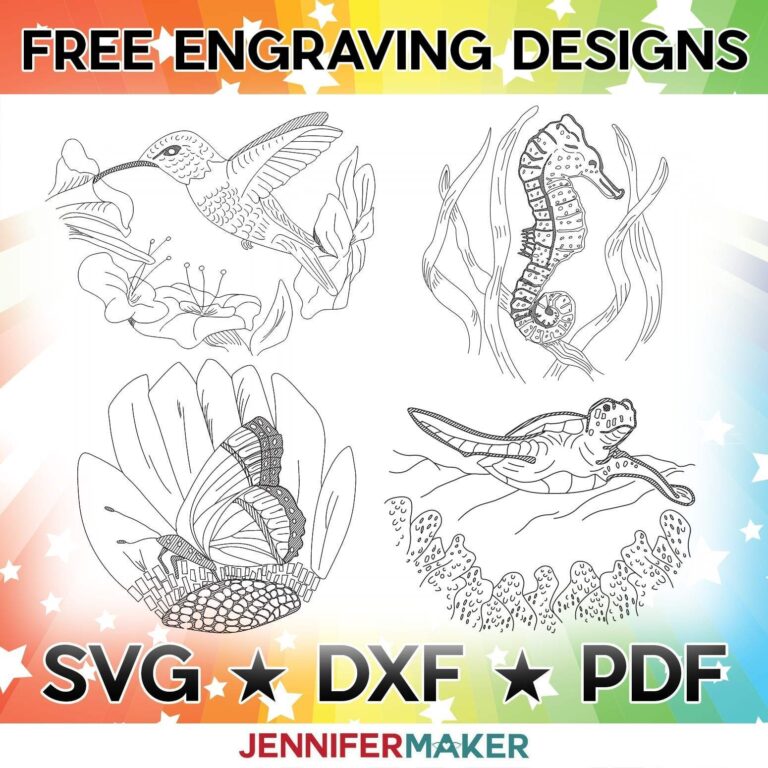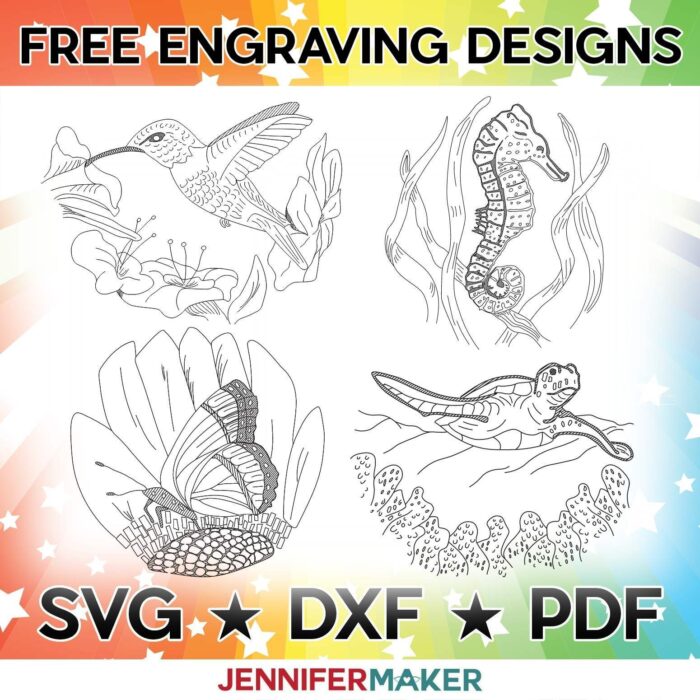 How to Make Your Own Engraved Acrylic Nightlight
The detailed step-by-step assembly video with the entire process on how to create an engraved acrylic nightlight debuted during Maker Academy Weekend 2022, held online November 3-6, 2022. Get an on-demand pass to watch all 20+ workshops, each with a printable handbook, transcript, audio files, design files, and support with a VIP pass below:


These engraved acrylic nightlights are lovely, and you can make them, too! Your Cricut Maker machine does all the hard work, thanks to the awesome SVG files I've made for your Cricut projects.
Check out this gorgeous sea turtle engraved acrylic design with the LED light on: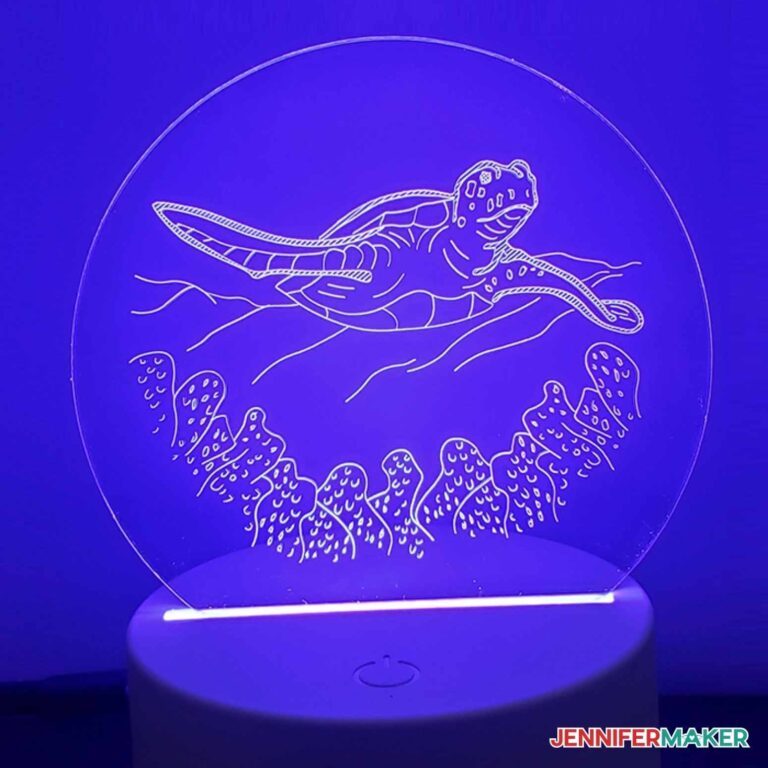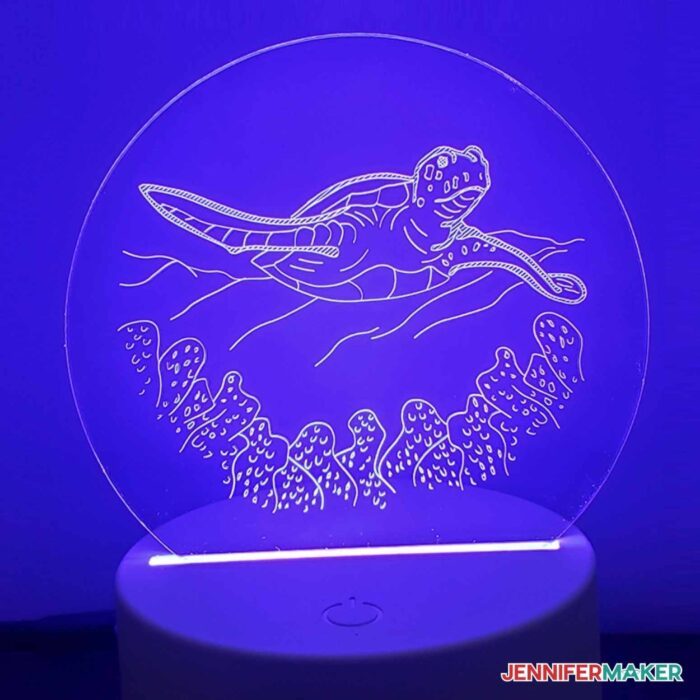 Here is the butterfly design with the green LED light – SO pretty! Cricut engraving is such a fun way to make a great gift.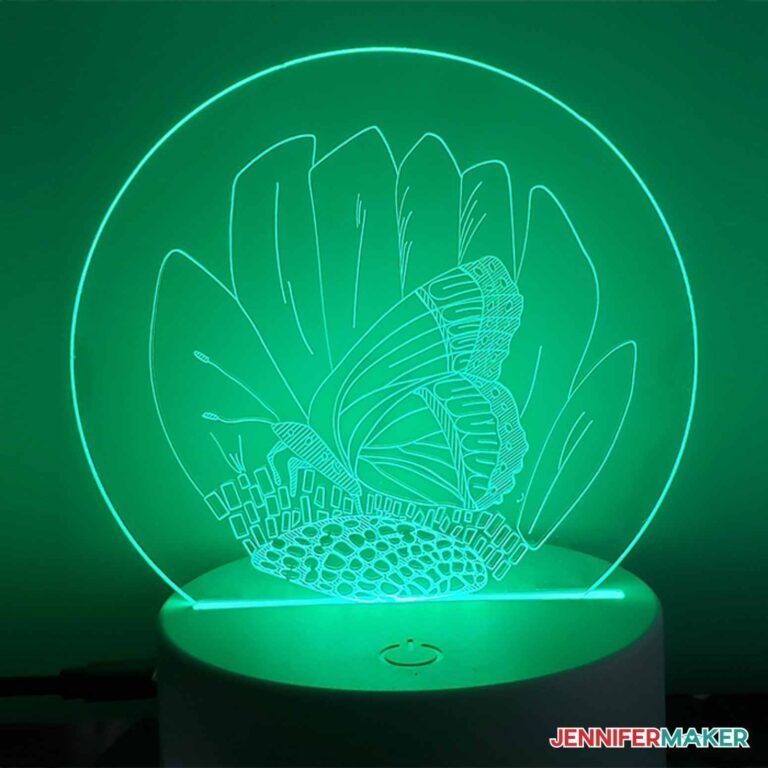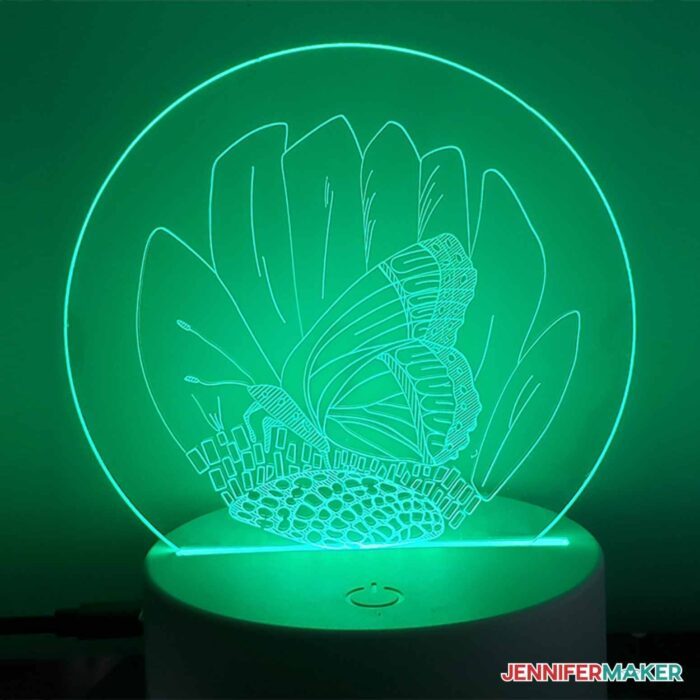 Answers to Your Questions About How to Make Engraved Acrylic Nightlights
Q: Where is your tutorial for this project?
This is a special project we made for our free Maker Academy Weekend 2022 event! A complete and detailed step-by-step video premiered during the event November 3-6, 2022 — specifically, this tutorial video was available to watch for free for 24 hours beginning November 4 at 2:00 pm ET! You can get access to the full video, the printable handbook that details how to make this beautiful project if you get a VIP Pass to Maker Academy Weekend 2022, which comes with other perks and bonuses, too!
Does a Cricut engrave acrylic?
Yes, a Cricut Maker can engrave acrylic 2mm or less when you use the Cricut engraving blade.
How do you get the design so clear when you engrave?
You may be tempted to not tape down your acrylic because you have a new StrongGrip mat that seems like it would be sticky enough, but always tape it down. If it moves for any reason, it can get caught under your rollers. Just tape it down and avoid this possibility.
How do I make my own design?
If you want to create your own design to engrave on acrylic, use a piece of aluminum flashing sheet to test the size of your design first. You can trace the size of your acrylic onto the sheet, then experiment with the placement of the design based on where the rollers were. This will help you determine how high and wide you can make your design.
Why did I get lines on my acrylic when I engraved?
You might have forgotten to move your star wheels. If you forget to move them, the Cricut will have less room to work with because the rollers take up another ¼" or so. That matters and it can mess up your design. So be sure to move them when you go to engrave a cookie spatula!
How thick of an acrylic disc can I engrave on with the Cricut Maker?
The Cricut Maker needs the acrylic to to be 2 mm — that's 1/16th of an inch — or less to engrave without scratching the surface. While some individual Makers can tolerate acrylic that is tad thicker, like 3 mm, not all can. Keep this in mind when viewing other people's projects and what they tell you they used. Also be aware that while we link to an acrylic disc that is 2 mm in this tutorial, the actual acrylic disc CAN change without our knowledge — it's the supplier who controls that, not us. So always double-check that what you're ordering is the correct size and thickness. We cannot guarantee the links we provide for your convenience in this tutorial, so please be cautious.
Can I engrave on the Cricut Explore Air?
The Cricut Maker Engraving Tip does not fit in the Explore Air machines because it is missing the gear-based adaptive tool system. While there is a third-party engraving tip out there, I have not tried it.
Can I engrave these designs on anything else?
Yes, you can engrave my digital designs on different materials, including soft metals like aluminum and other engraving blanks, but note that you cannot engrave on glass. You can also use these designs with Infusible Ink markers and pens!
Do you have other engraving project ideas?
Yes, check out my engraved ornaments, engraved dog tags, and engraved leather bookmarks for more engraving projects.
Get my free SVG files to create these amazing engraved acrylic nightlights!
I love seeing what you make with my designs and how you use them! Please share a photo of your engraved acrylic nightlight in our Facebook group or tag me on social media with #jennifermaker.
Love,