Learn how to Make a Shaker Card to say hello and send love! These shaker cards are so cute and easy to make with my easy template and tutorial!

It is always nice to send and receive a handwritten note or card. I love designing fun pop-up cards and unique cards like my Impossible Card. One card I haven't yet shown you is the SHAKER CARD! What is a shaker card, you ask? A Shaker Card is a card with a clear window filled with items — usually little sparkly things — that move about when you shake the card… and that's why we call it a shaker card! So I'm going to teach you how to make a shaker card the easy way with my step-by-step tutorial and design! I've even included the envelopes for these cards!
See the full step-by-step process for making these easy Shaker Cards in my video tutorial: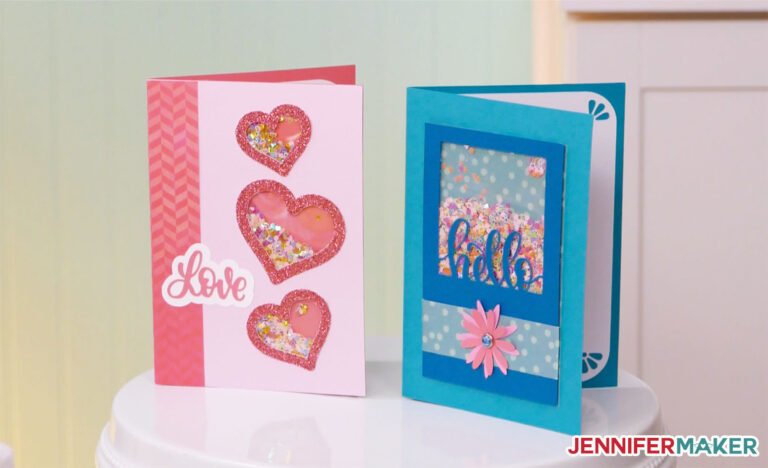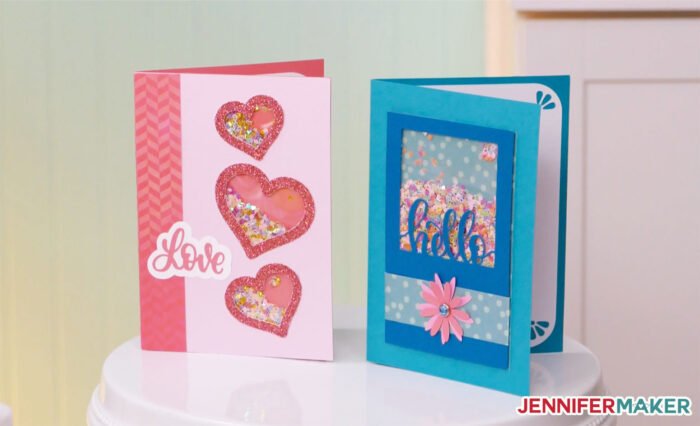 Aren't these cards so fun? These are a perfect sweet gesture to give any time of year! You can give these shaker cards for any reason – as a thank you card, congratulations or just as a simple thinking of you card. And changing the paper and shaker contents can give you a whole new look! You can see what I mean by the cards in the photo below — a wood-grained cardstock and tool-themed charms give this card an entirely different feel!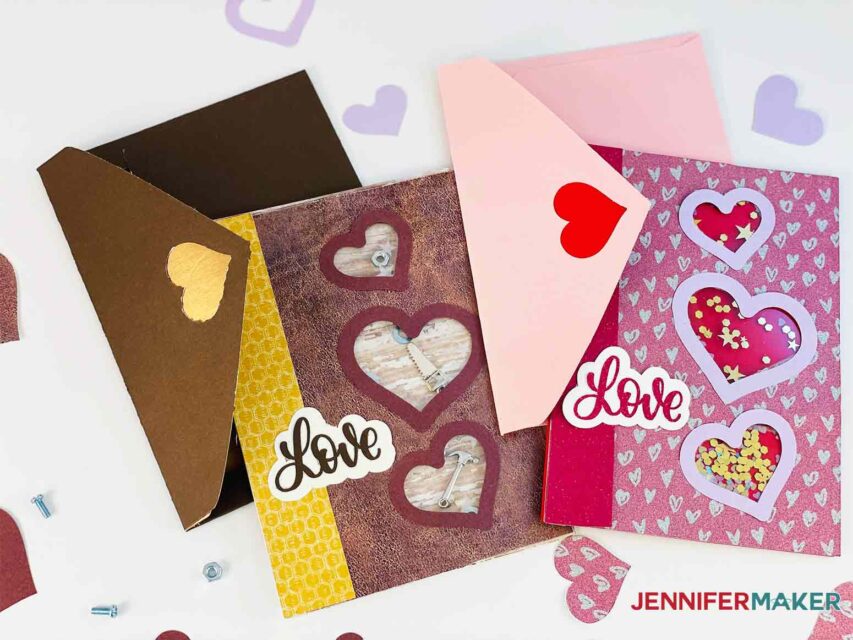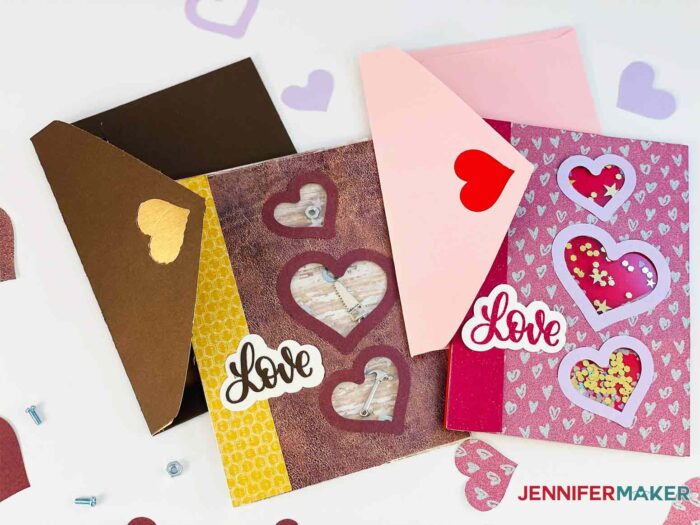 To make these shaker cards, you need cardstock in 65 lb. to 80 lb. weight. I used regular cardstock, but feel free to get fancy with special cardstock, like holographic foil Kraft board.
Adhesives are important for this project. Foam mounting tape is essential for creating the window with space for your shaker card contents. I also used double sided adhesive and tacky glue to attach other parts of the card. It is important to know that if you use a cardstock with a texture, like glitter, you may need to experiment with glues or even double-sided tape to find the best adhesive for your paper.
For the shaker card window itself, I used embossable window plastic for my card, but if you don't have any on hand, you can cut down a sheet of acetate or transparency film to work as well. In a pinch, you can use an old cutting mat cover!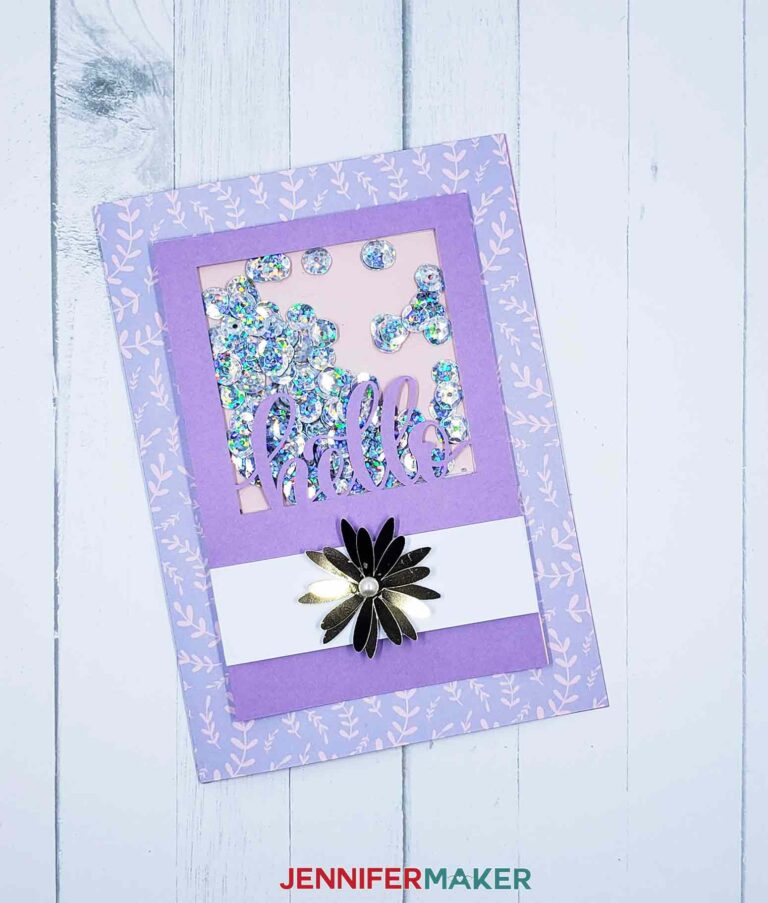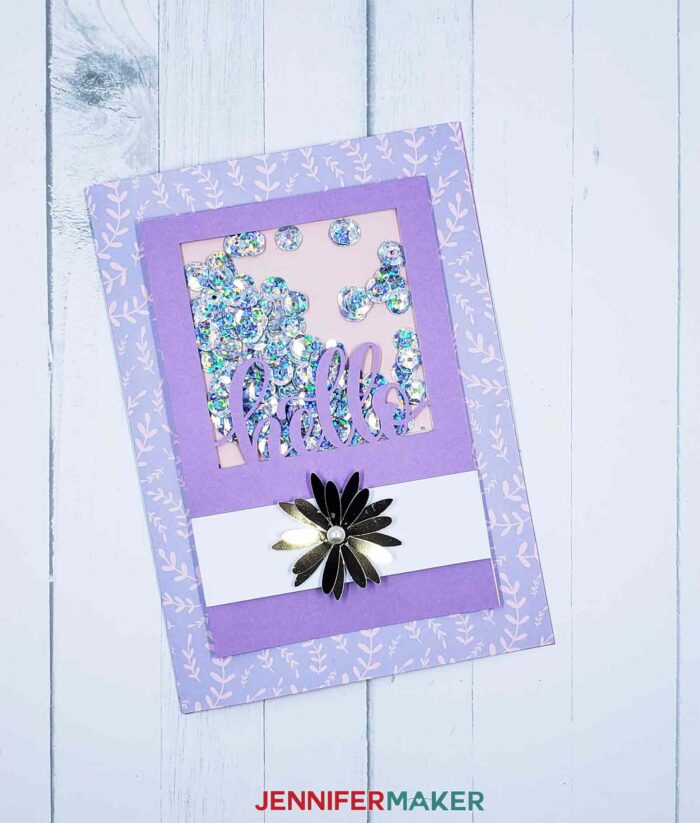 Glitter confetti is really fun to use in these cards, but any kind of confetti will work in these cards. You can also use chunk glitter, rhinestones, small pieces of party foil — really anything super small and shakeable will work! Here are some of things we tried: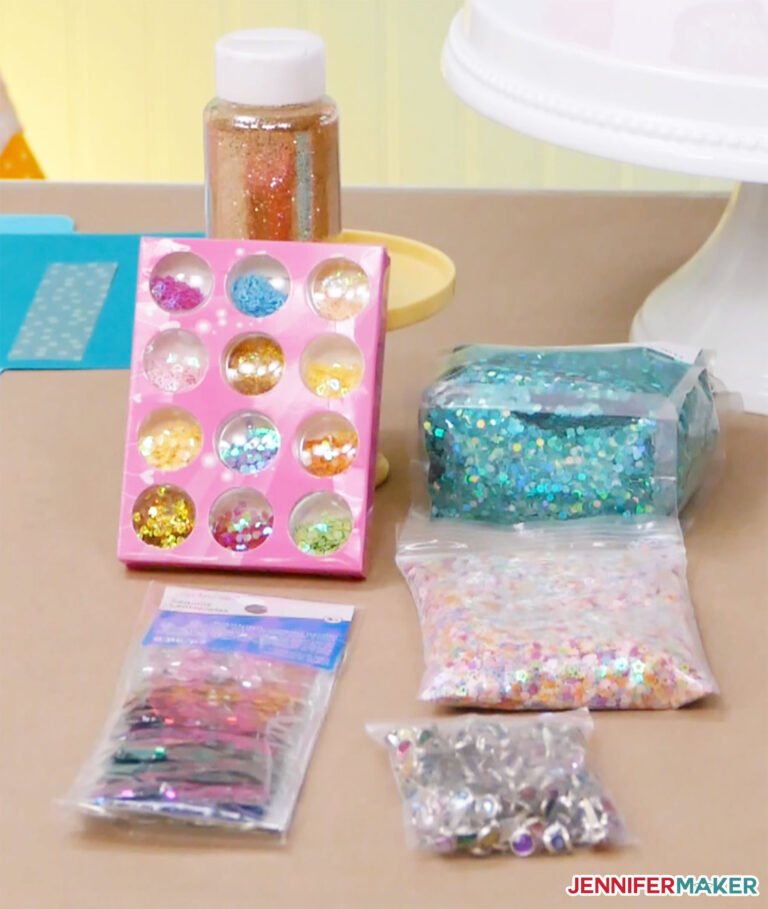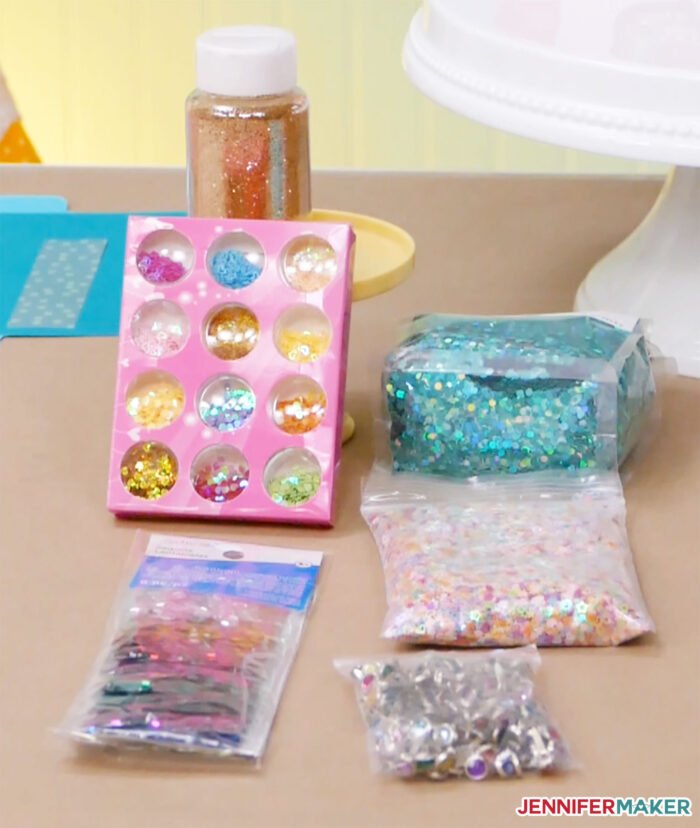 Need shaker card filler ideas?
Here are some other things you can put inside your shaker card:
rhinestones
pearls
cake sprinkles
Tic Tacs
tiny buttons
little pompoms
charms
pebbles
mica flakes
microbeads
googly eyes
little polymer clay shapes
custom confetti made from party foil
Let me show you how easy it is to make a shaker card! This post contains some affiliate links for your convenience (which means if you make a purchase after clicking a link I will earn a small commission but it won't cost you a penny more)! Read my full disclosure policy.
Materials & Tools to Make a Shaker Card
How to Make a Shaker Card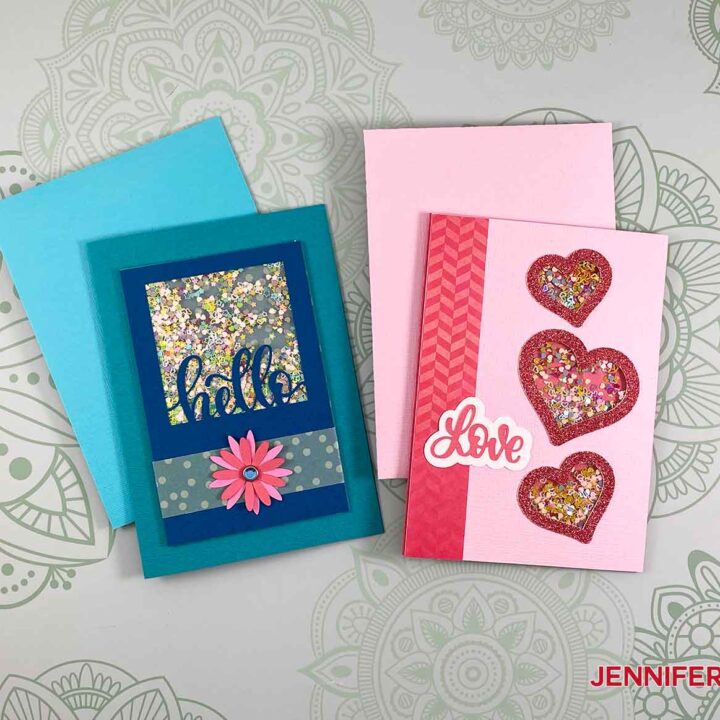 Love Shaker Card
Difficulty:
Easy to Medium
This project shows you how to make fun "love" shaker card.
Materials
One (1) contrasting color of 65-80 lb. cardstock or paper (small scraps from previous projects would be perfect)
Instructions
STEP 1: GET MY FREE SHAKER CARD DESIGN
Download my free shaker card templates from my resource library -- just go to the red bar at the top and look for Libraries, then either click Get a Password (if you don't yet have one) or click Enter the Library. You can find the pattern by searching the page for design 281 and then click it to download an SVG cut file for cutting with a Cricut or another cutting machine, or to download a printable PDF.

STEP 2: PREPARE AND CUT THE FILE
Let me show you how to cut the cardstock for this project on a Cricut cutting machine. First, upload the SVG cut file you downloaded in step 1 to Cricut Design Space. Here's what it looks like once it is uploaded: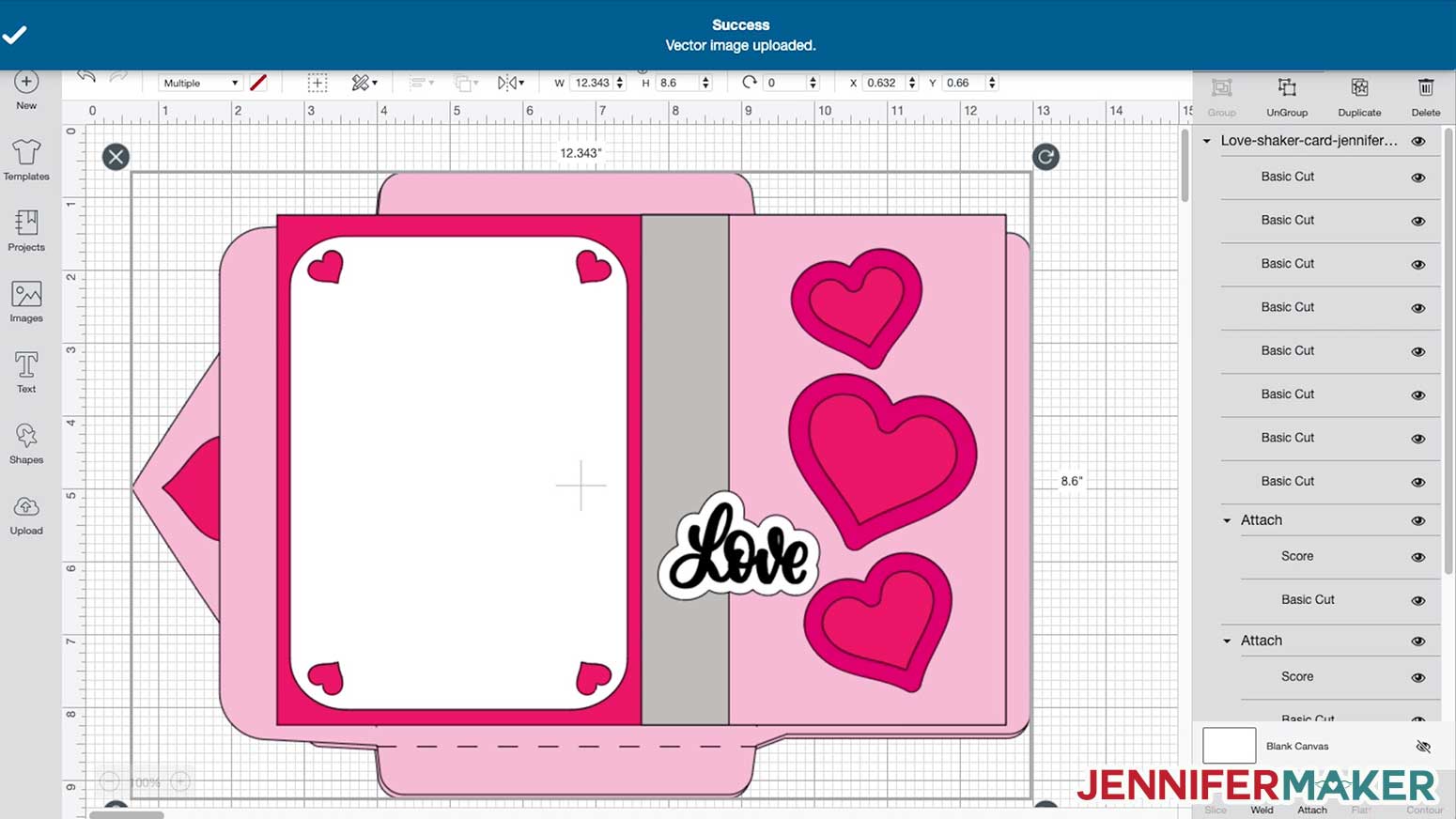 Tip: If you're not sure how to upload an SVG cut file to Cricut Design Space, watch this helpful video training series I made. If you're on an iPhone or iPad, here's how to download and upload SVG files to the Cricut Design Space app.
There are two different designs -- the hello card and the love card -- and I'll show you how to put the "love" card together in this tutorial!

After you've placed the design on your canvas in Design Space, click Ungroup in the upper right so you can work with your layers easier.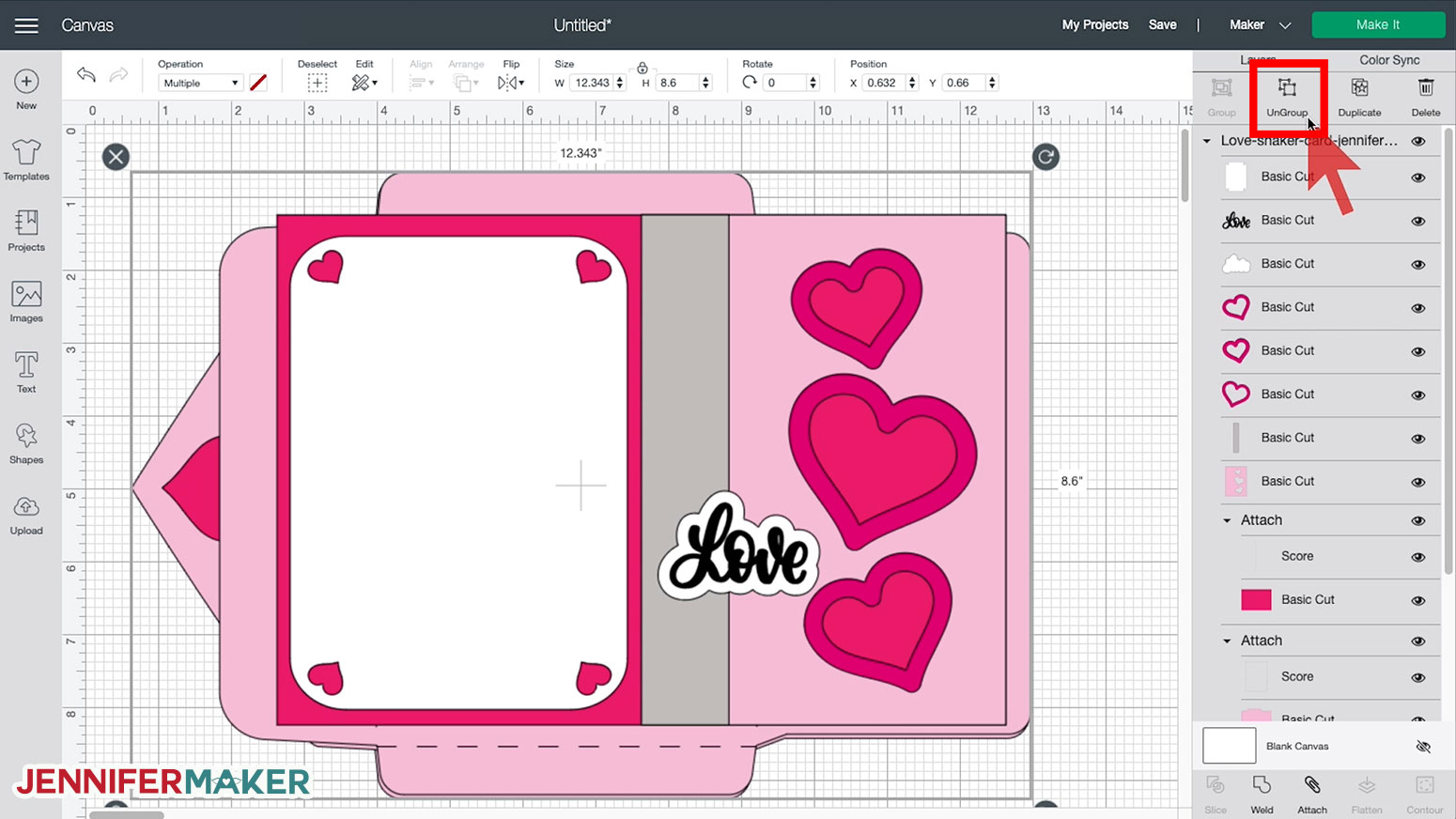 Now you could just go ahead and click the Make It button now — I've already preset the score lines to their base layers for you — but there are some things you can do to customize this design first! The white rectangle with decorative corners is intended for you to add a handwritten or machine-written message.
So if you want to use your Cricut machine to write a message, here's how you set that up!
Select the text tool.

Type your message in the box that displays after selecting the text tool. To put text on separate lines as I have, just press the Return key between the lines.

Next, select a font by clicking on Fonts in the upper left and clicking one to select it. If you want just single line writing fonts, click Filter to find just writing fonts, then click on one that looks good to you. I've chosen DJ Flirt for this card, which comes in a Regular style and a Writing style — you can switch between these two with the Style dropdown menu. If you choose a writing style, Design Space will automatically switch its type to Draw for you. If you chose a regular style as I have here (because I think the bubble letters look cute on this card), you'll need to manually change it's type from Cut to Draw in the Operations menu yourself. Also note that not all fonts are free and if there is a price, it will be displayed below the font name, but if you're a Cricut Access member, most of these fonts are included — learn about Cricut Access at jennifermaker.com/cricut-access.
Adjust the font size, letter space, alignment, and placement of the text layer on the white card until you are happy with it. You can use the alignment menu to center align the words, and use the resize handle in the lower right corner to chang the size for your words.

This last step is super important. Select both the white rectangle and your text layer then click Attach in the lower right corner of your screen. To select multiple layers at once, click on the first layer then hold down your shift key to select the second layer.

I've included two different envelopes for you to use. One can be cut using a 12x12 mat, while the other requires a 12x24 mat. Hide or delete the envelope layer you don't want to use.
You are now ready to cut your card. Click the "Make It" button in the upper right, click Continue, then select Medium Cardstock for the material. I changed the cutting pressure from default to more to be sure it cut all the way through.

Place your cardstock on your mat, place your pen in clamp A, load it into your machine, and press the flashing button to begin!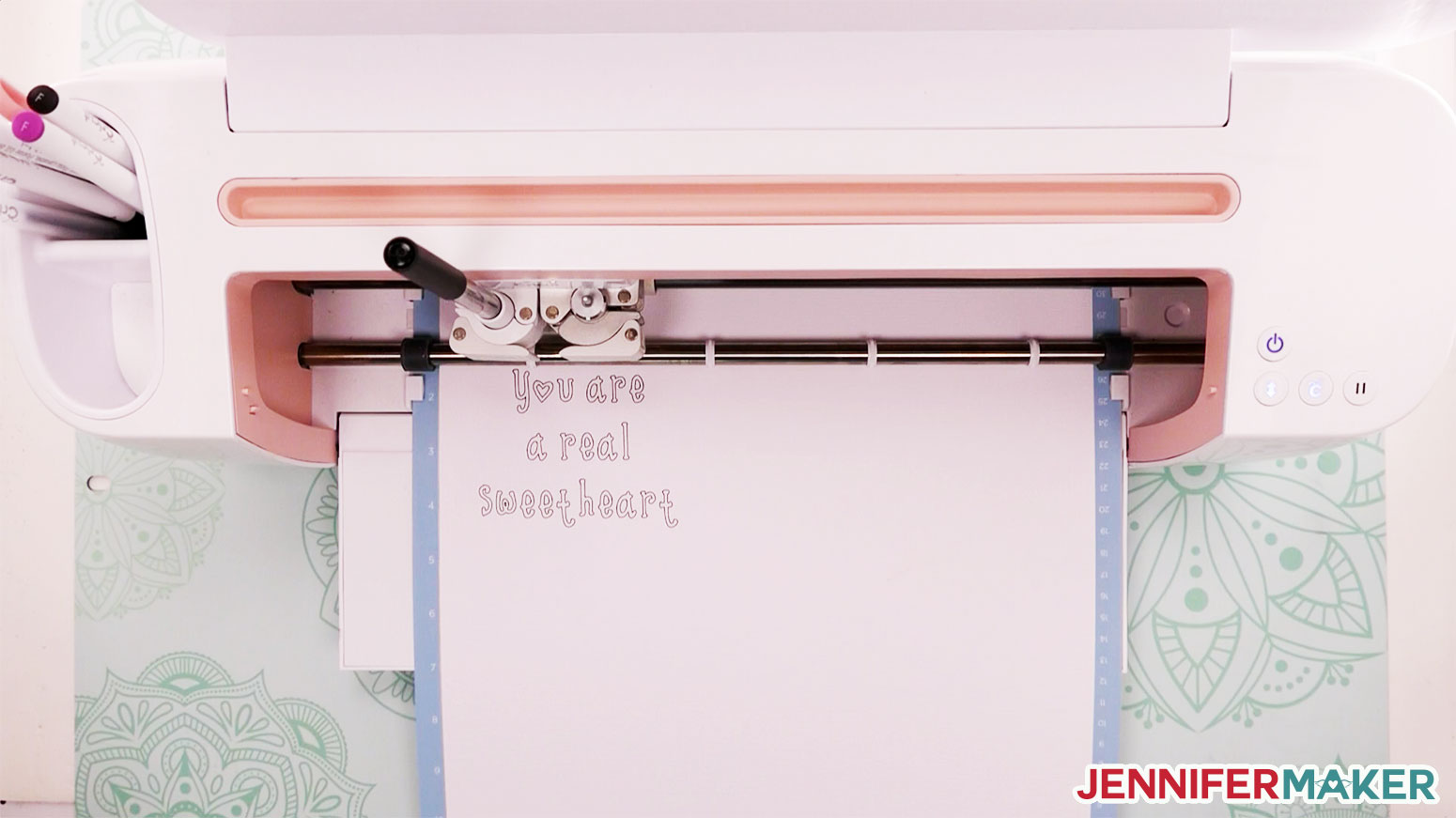 After you finish cutting your white layer, you'll want to replace the pen with the scoring stylus so it scores the other layers as necessary.
STEP 3: ASSEMBLE THE ENVELOPE
Now that you have your card and envelope pieces cut, let's assemble them. Find the large envelope piece and fold the cardstock on the score lines. I use the scraper tool to get a nice crisp fold.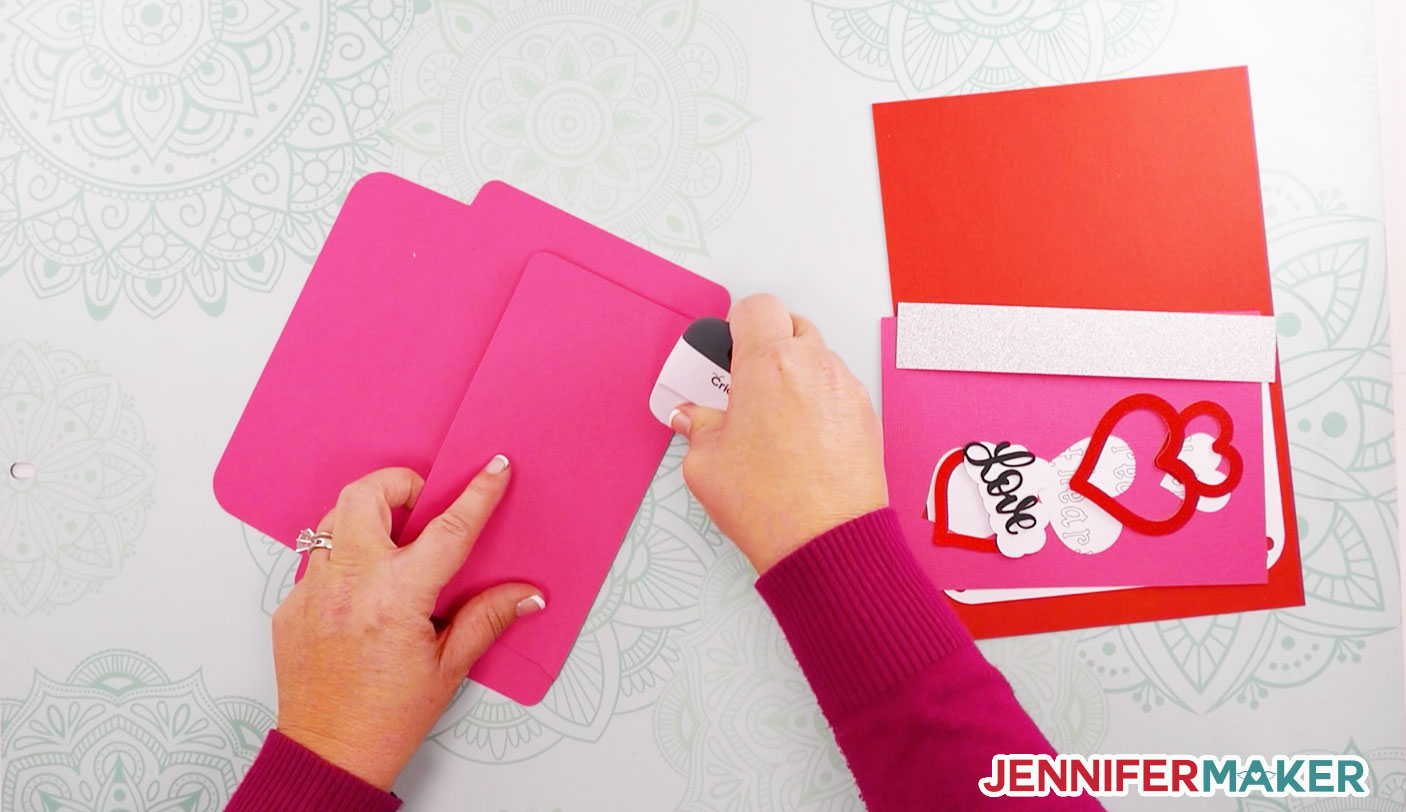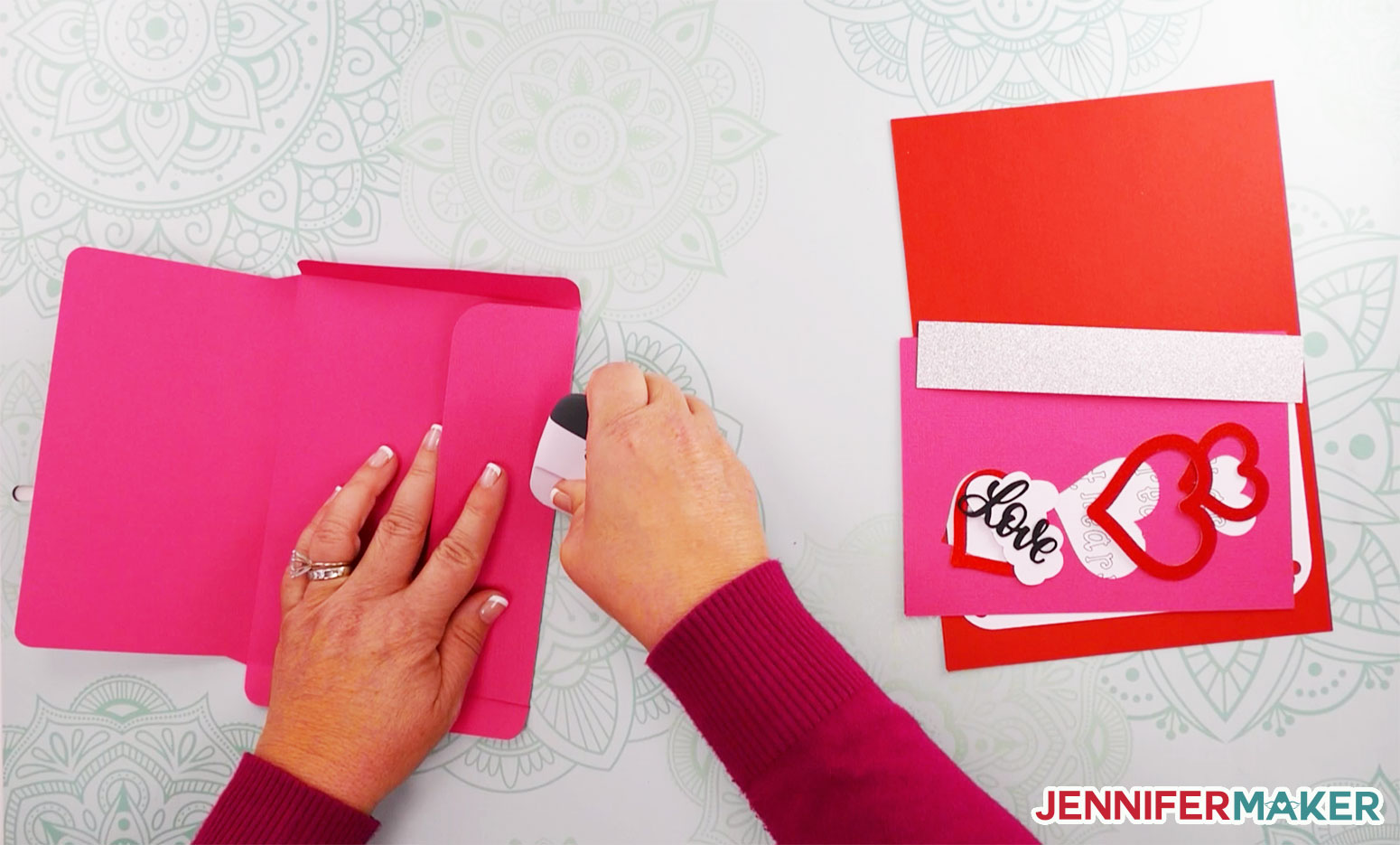 Next, add double-sided adhesive to each side of the longest flap.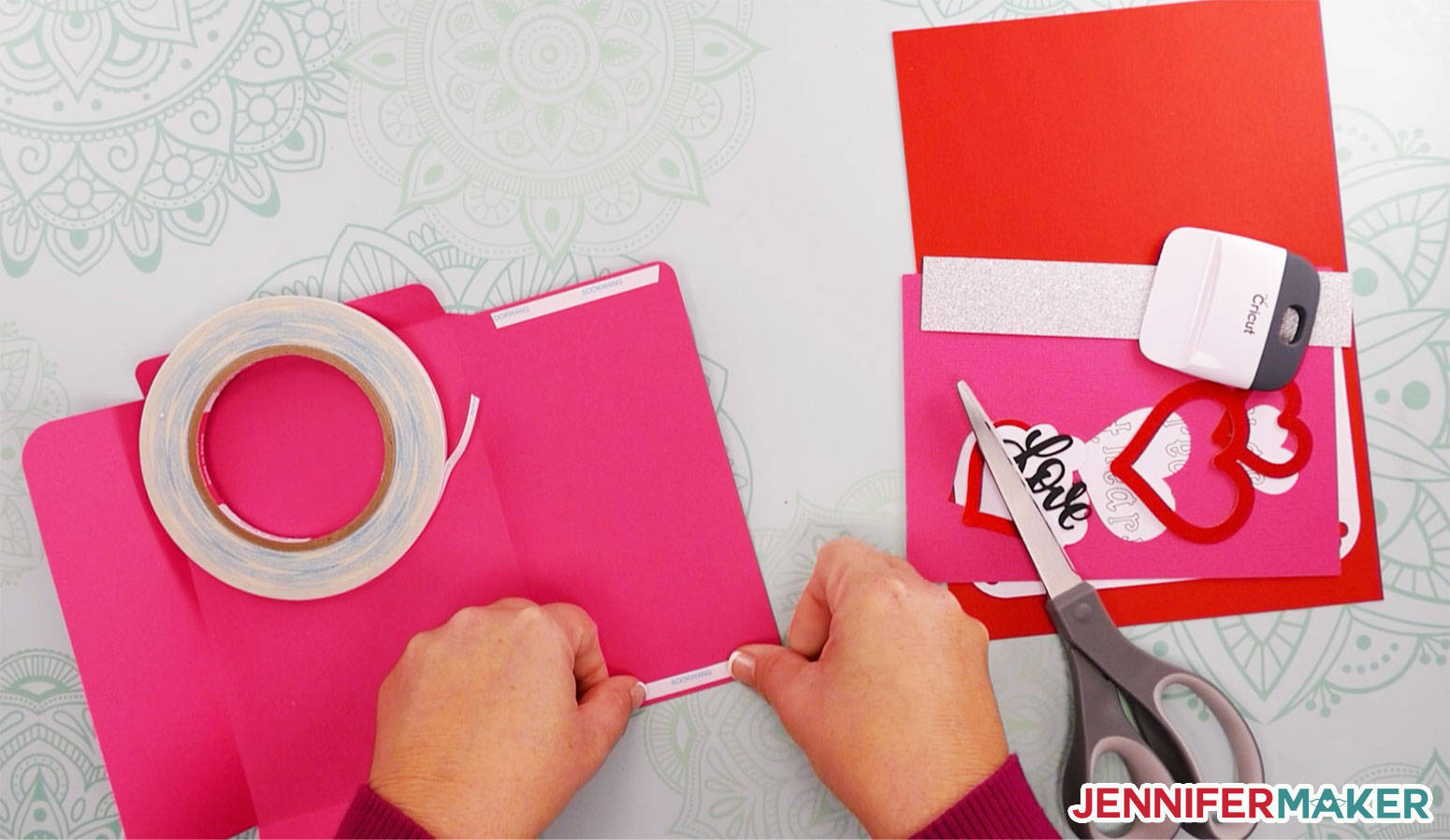 Fold the large envelope flap up.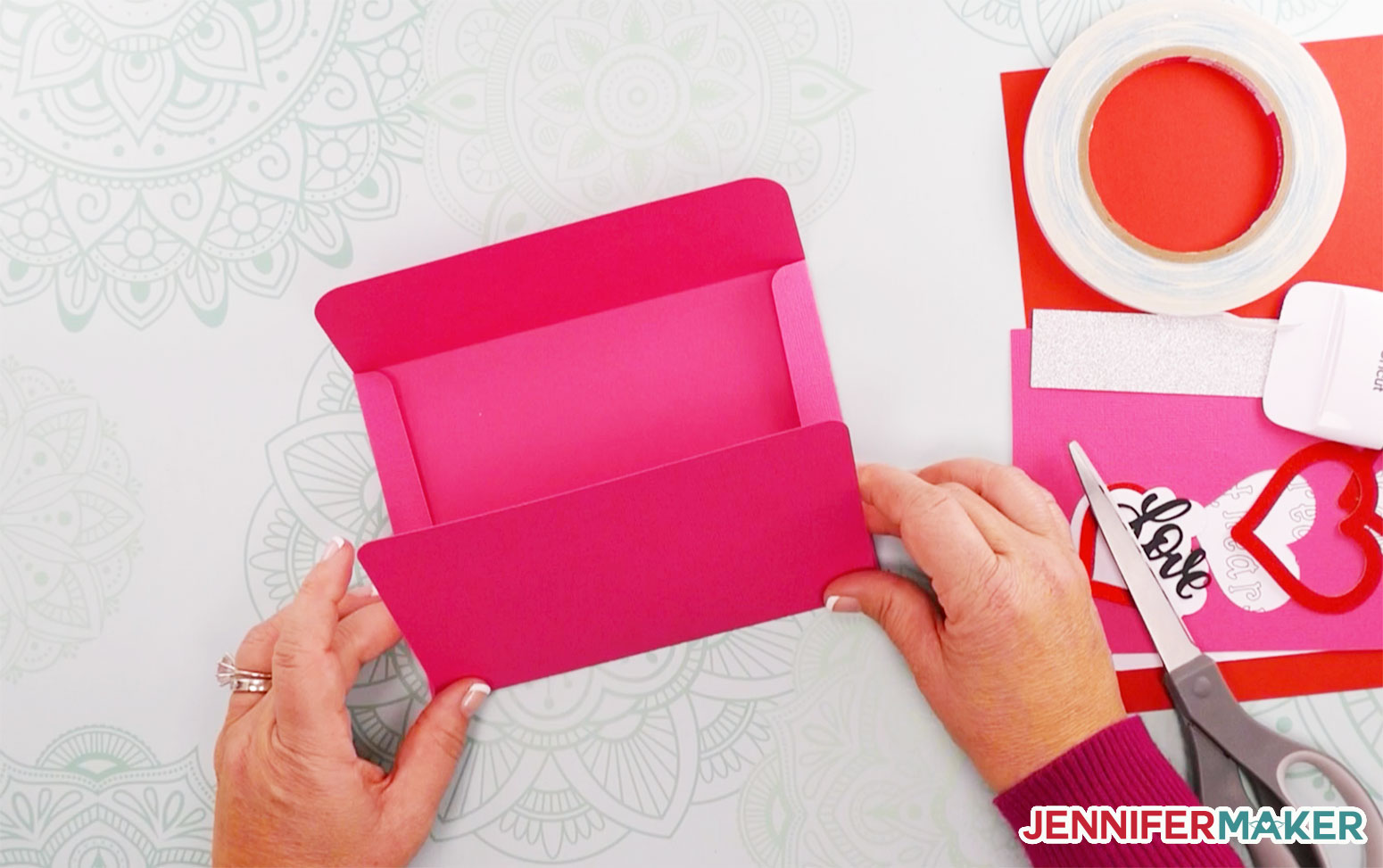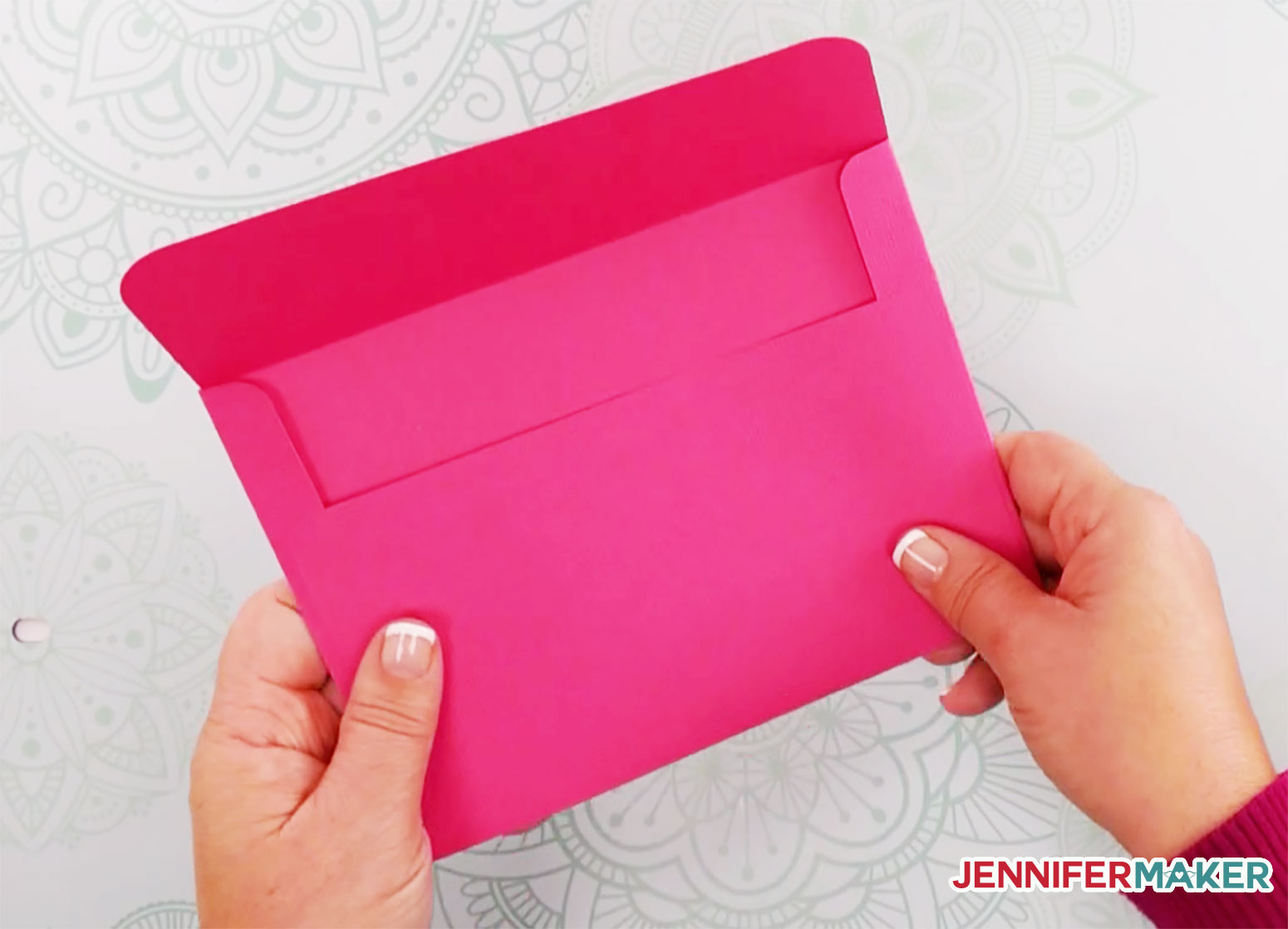 Tip: You can add a strip of double-sided adhesive to the top of the envelope and then add a piece of parchment paper over the adhesive. That way it is ready to seal when you want to use the card or it's ready for someone else to seal if you give the card away.
If you cut the larger mat envelope, make sure to glue your accent paper to the inside of the envelope.
STEP 4: ASSEMBLE THE SHAKER CARD
Glue the contrasting strip of cardstock to the left edge of the card's front.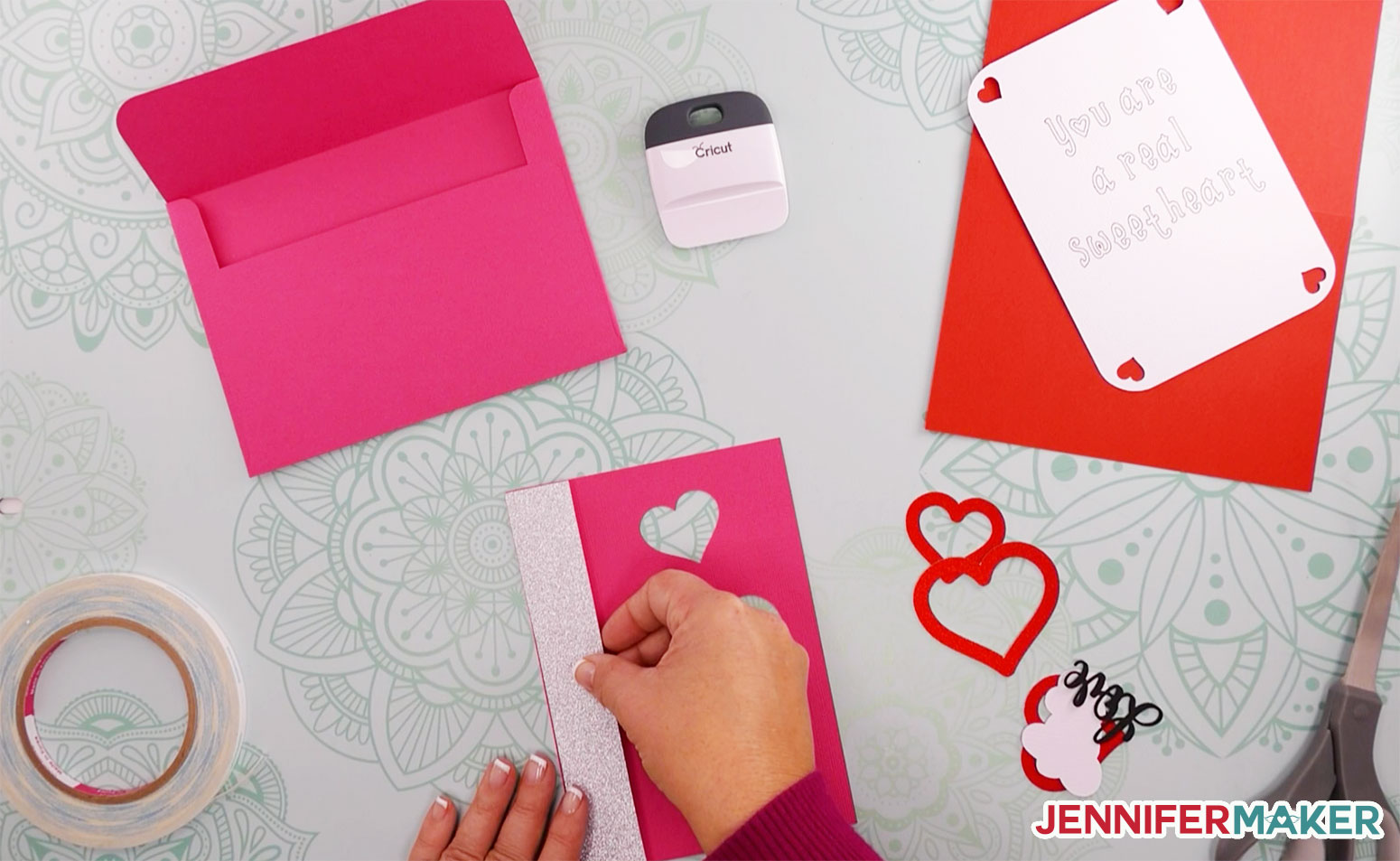 Take the three hearts cut in glitter cardstock, add adhesive to the back of each, then place on top the matching heart cut out on the shaker card.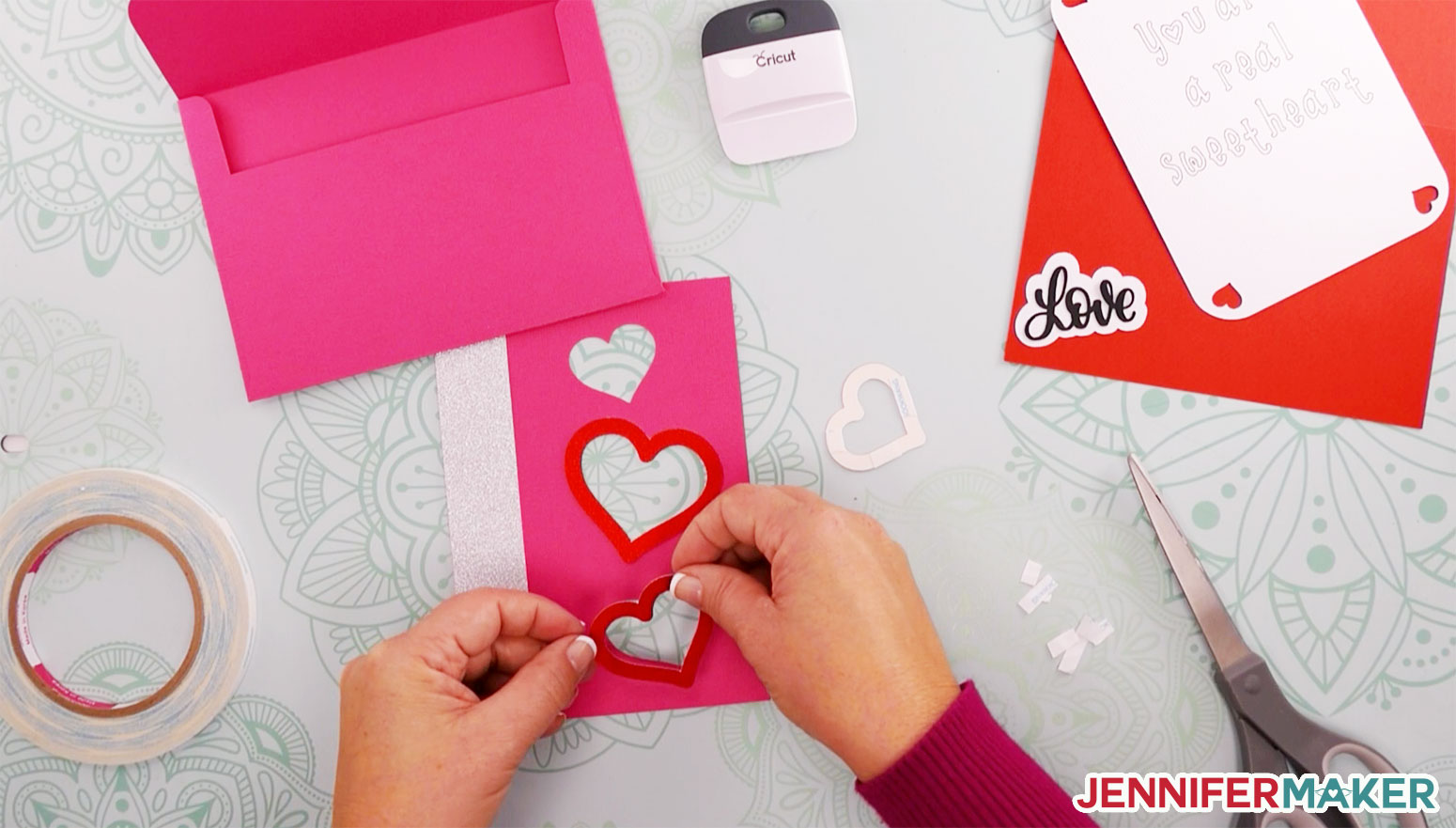 Flip your cardstock over and place clear acetate or window plastic over the hearts using double-sided adhesive tape -- do not use the mounting tape, as you want the acetate to be flat against the card here.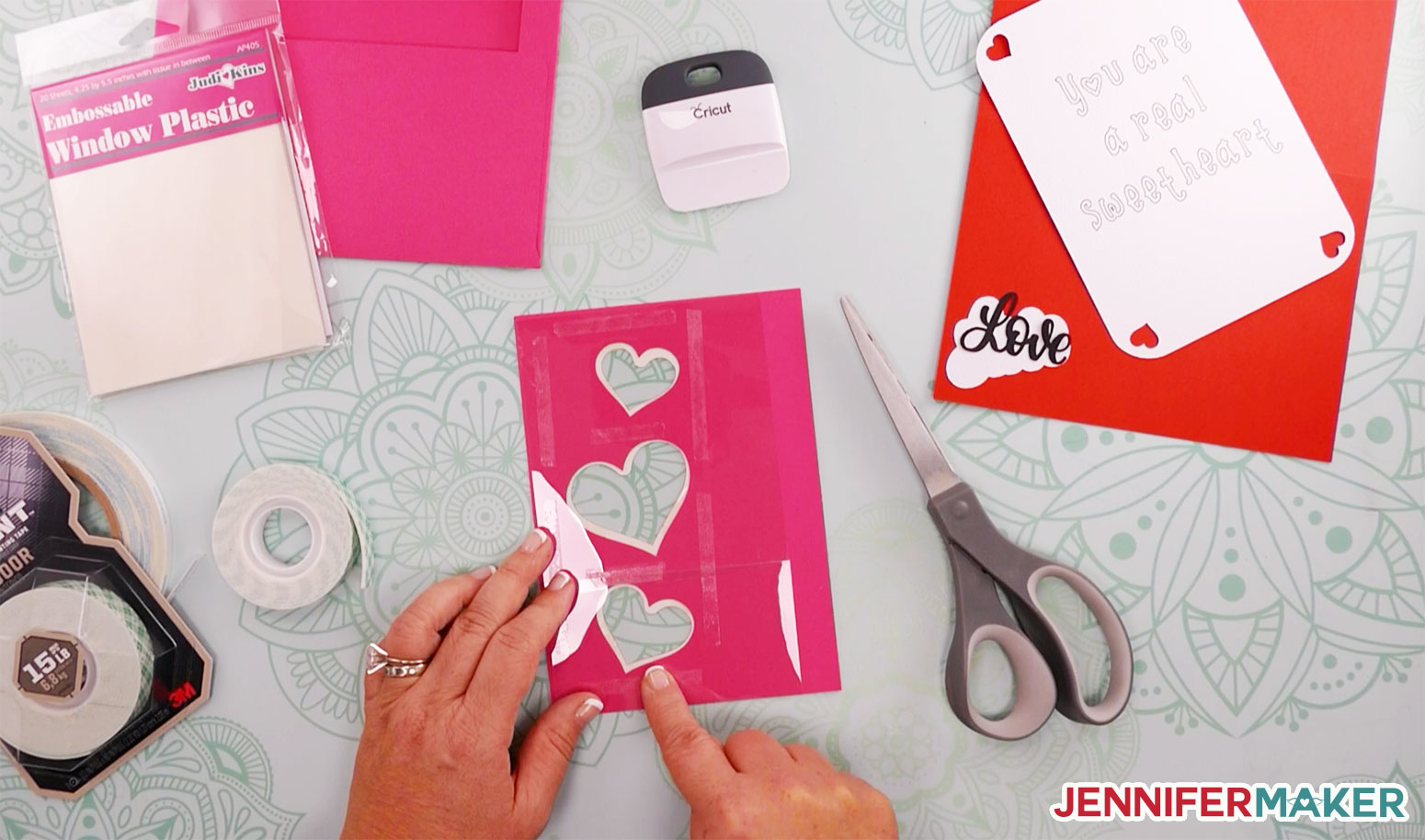 Next, cut strips of the foam mounting tape in half and place around each of the three hearts. You want to make sure that the tape ends all touch one another, forming a wall around the hearts, as this is where you will put the confetti/glitter and you don't want any to come out. Add a few pieces of foam tape to the right side of the card front as well.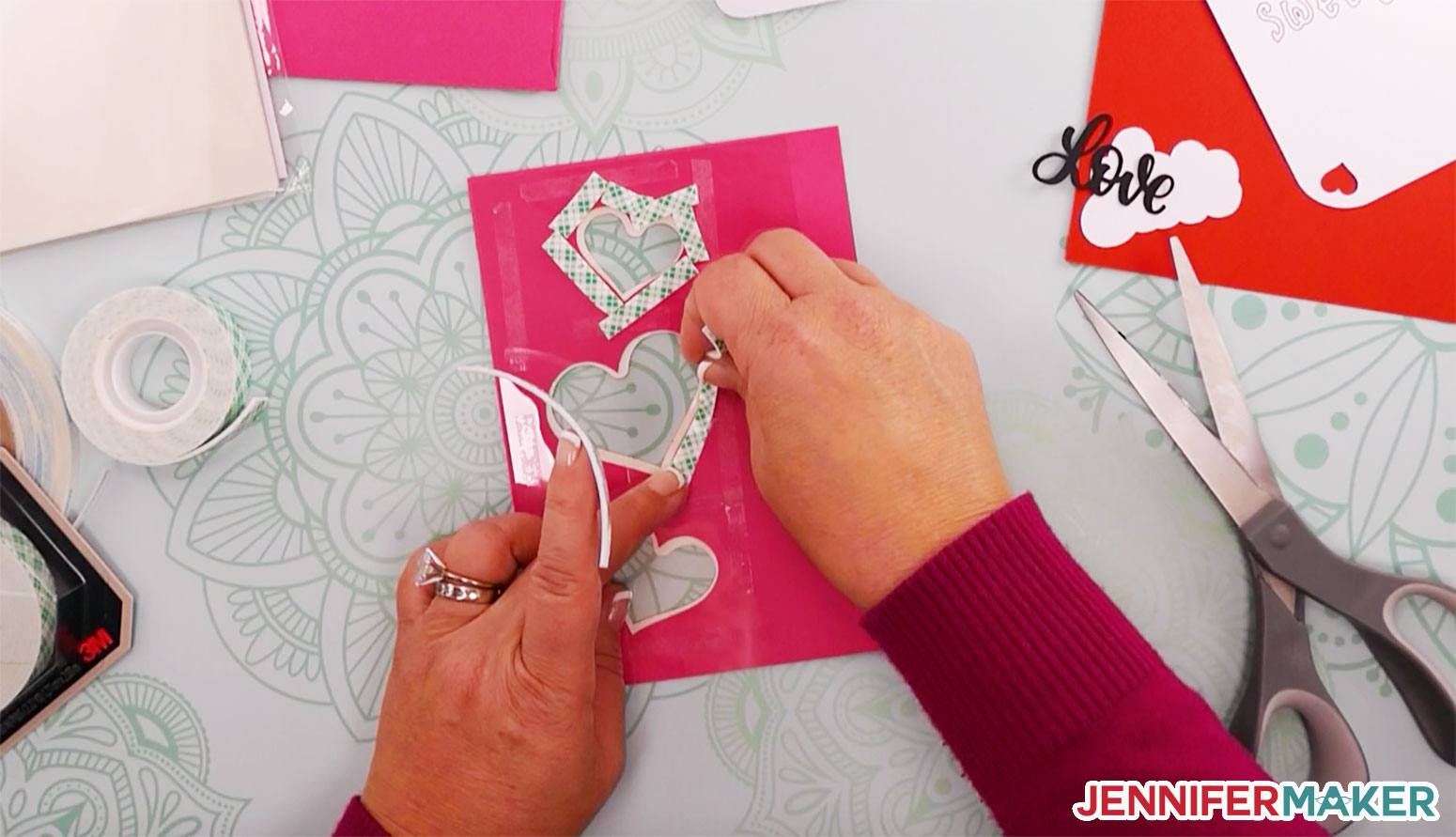 Fold the larger rectangle piece in half. This piece is the body of your card.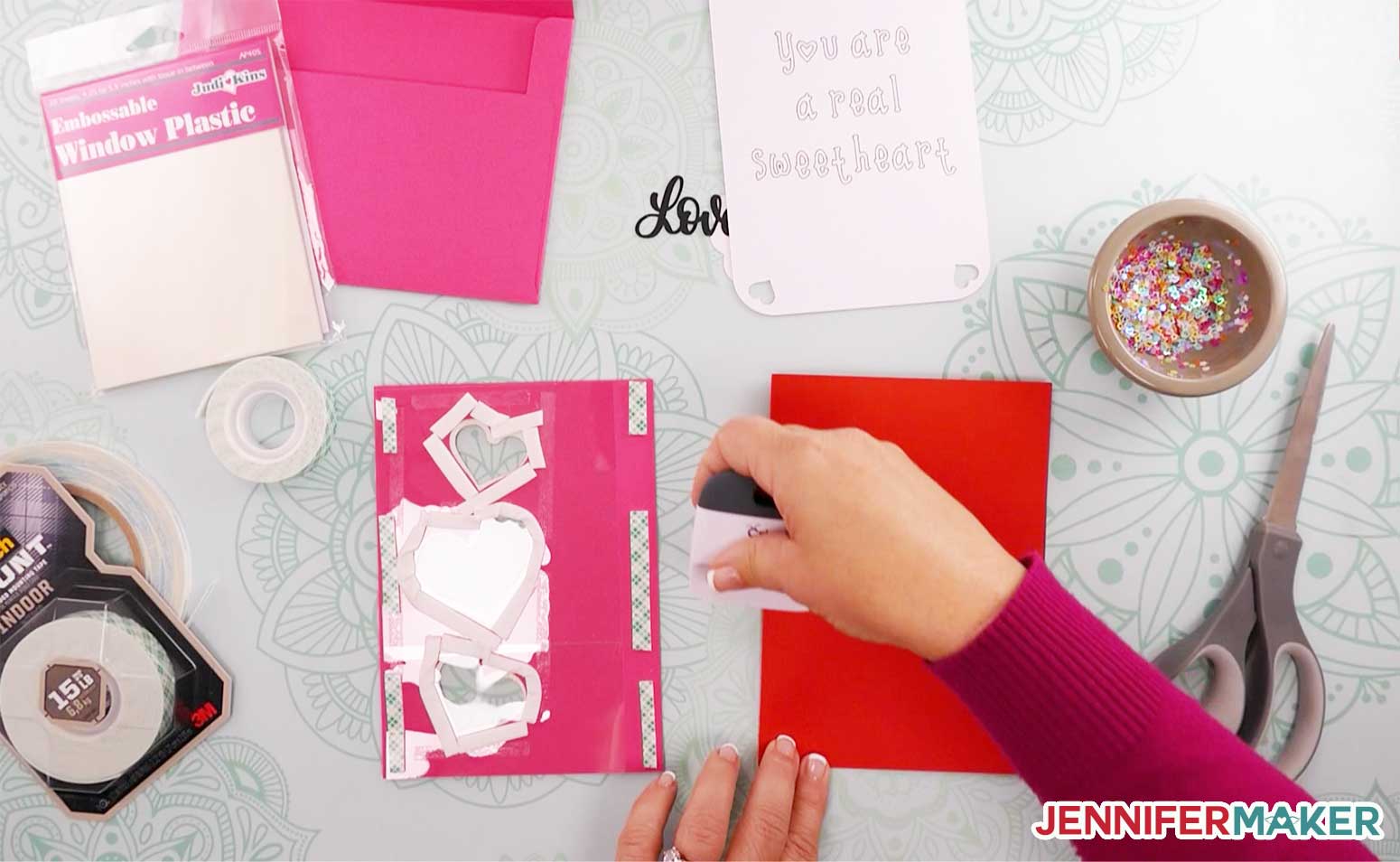 Now it's time to grab your glitter! I found it easiest to put the glitter into a small piece of folded cardstock and pour it into the heart sections on your shaker card. You could also use a small dish or spoon.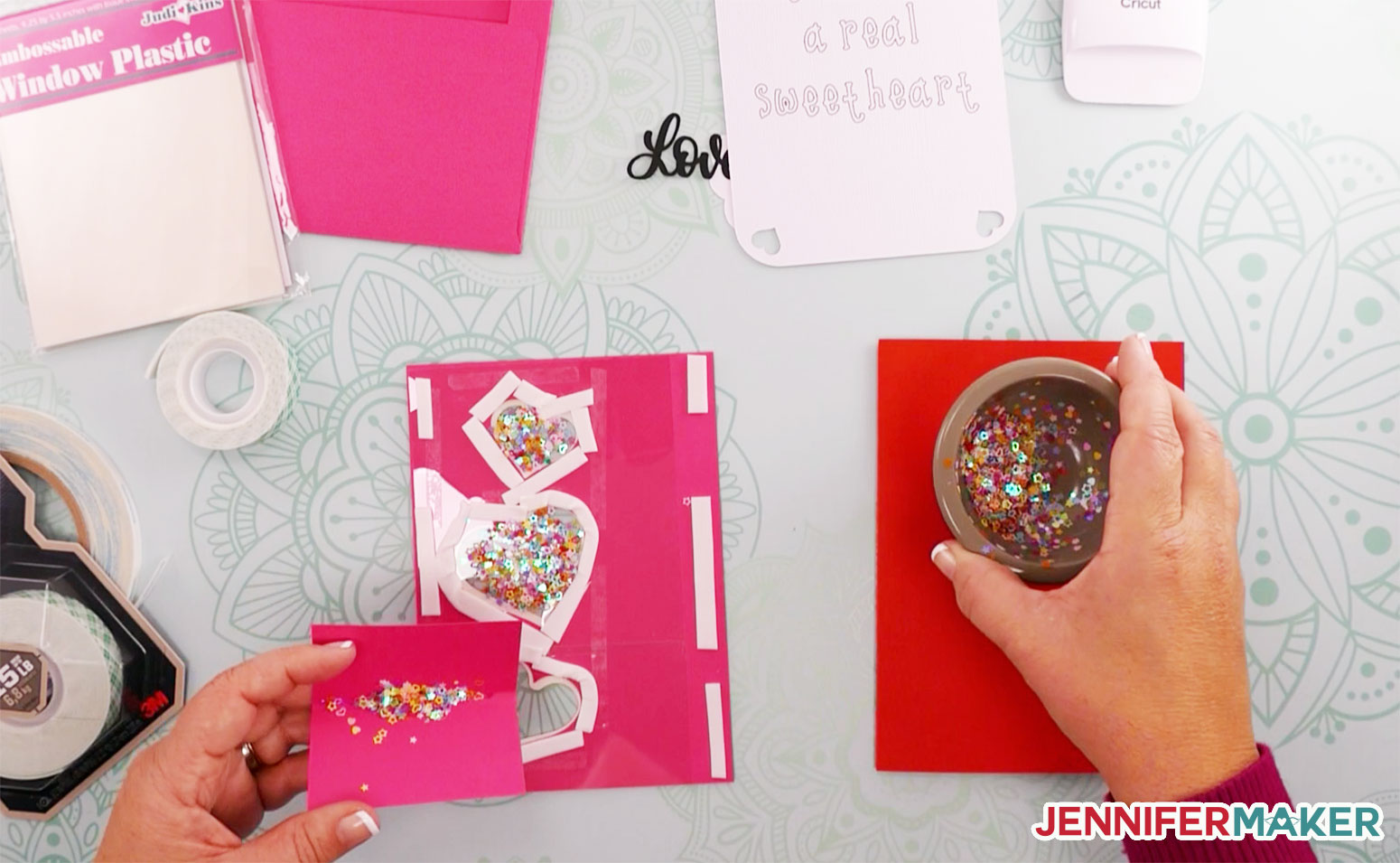 Place your folded card on top of the pink cardstock you just filled with confetti. Make sure the leading edge of the folded card is placed on the edge with the glitter confetti-filled hearts.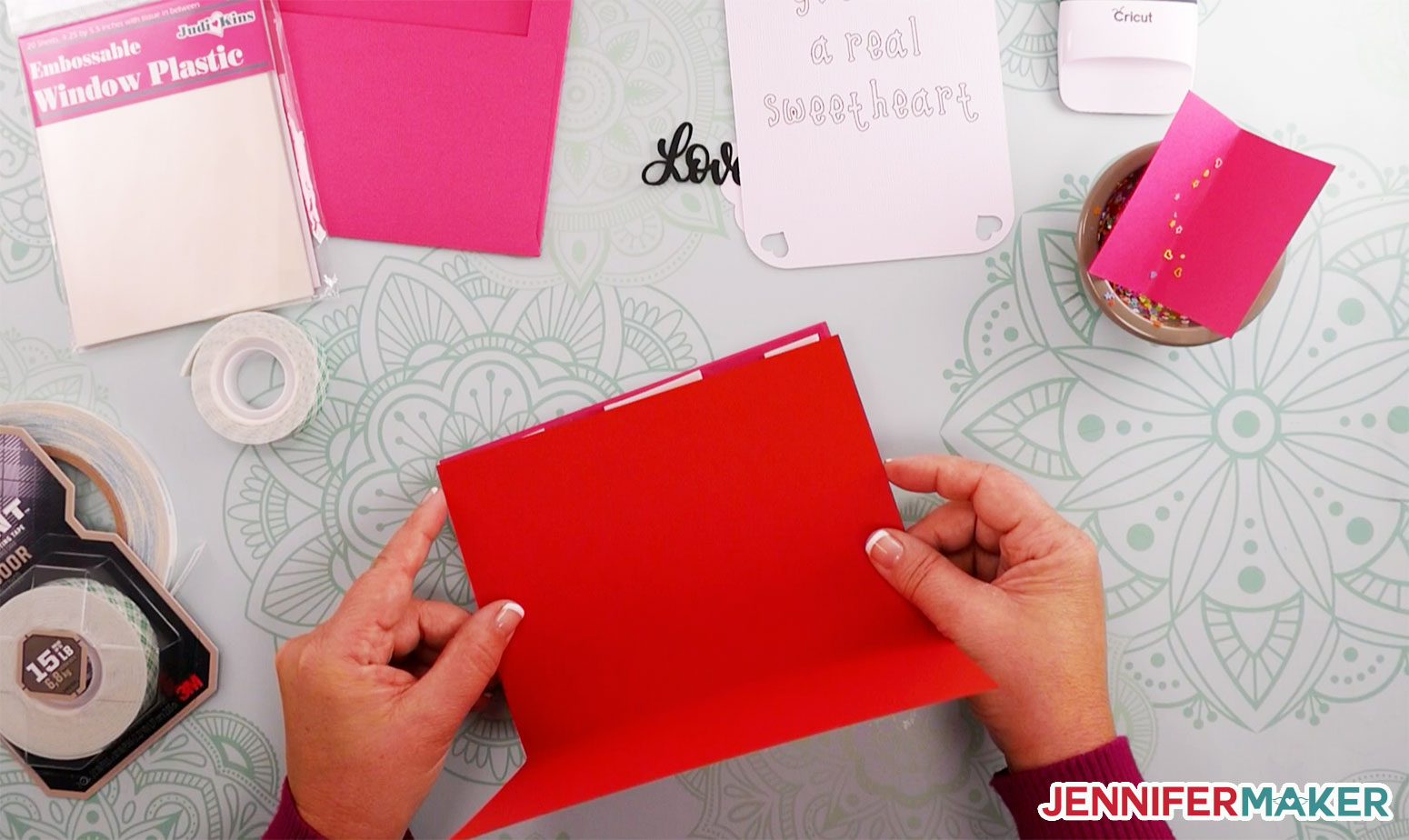 Open your shaker card and attach your personalized message insert to the inside with double-sided tape.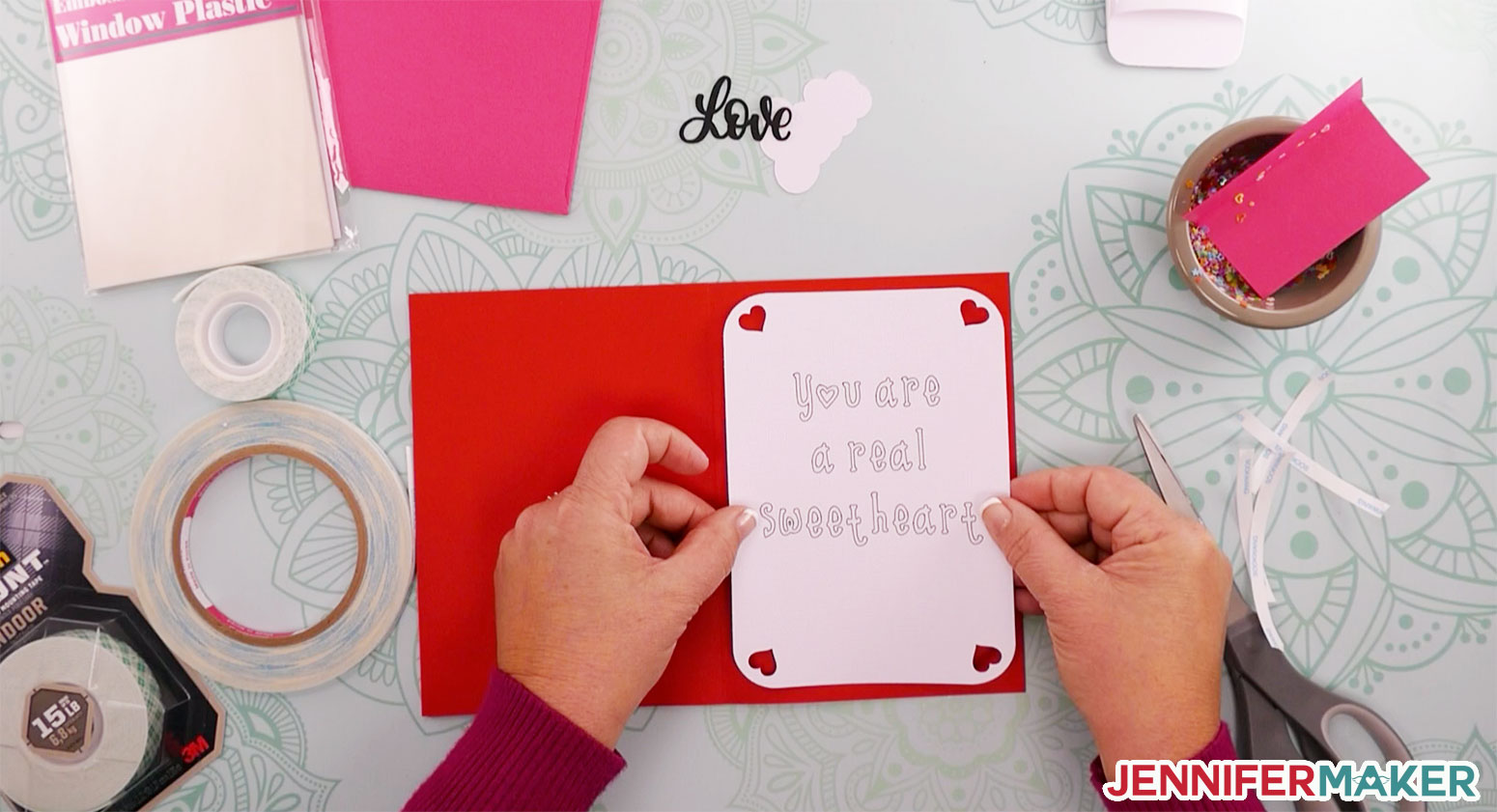 ]
Glue the word "Love" on top of the white cloud-shaped piece.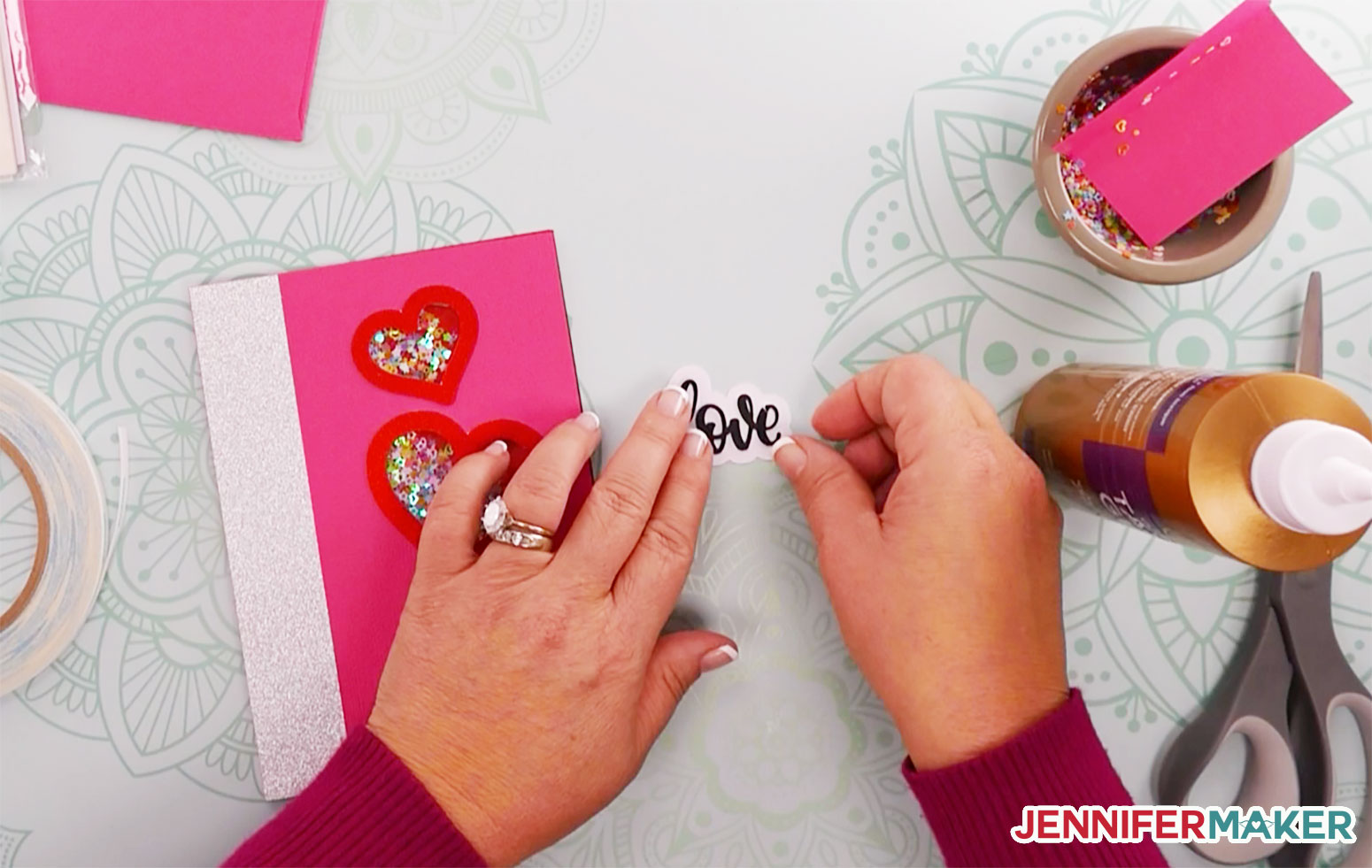 Attach the white cloud-shaped piece of cardstock to the front of the shaker card.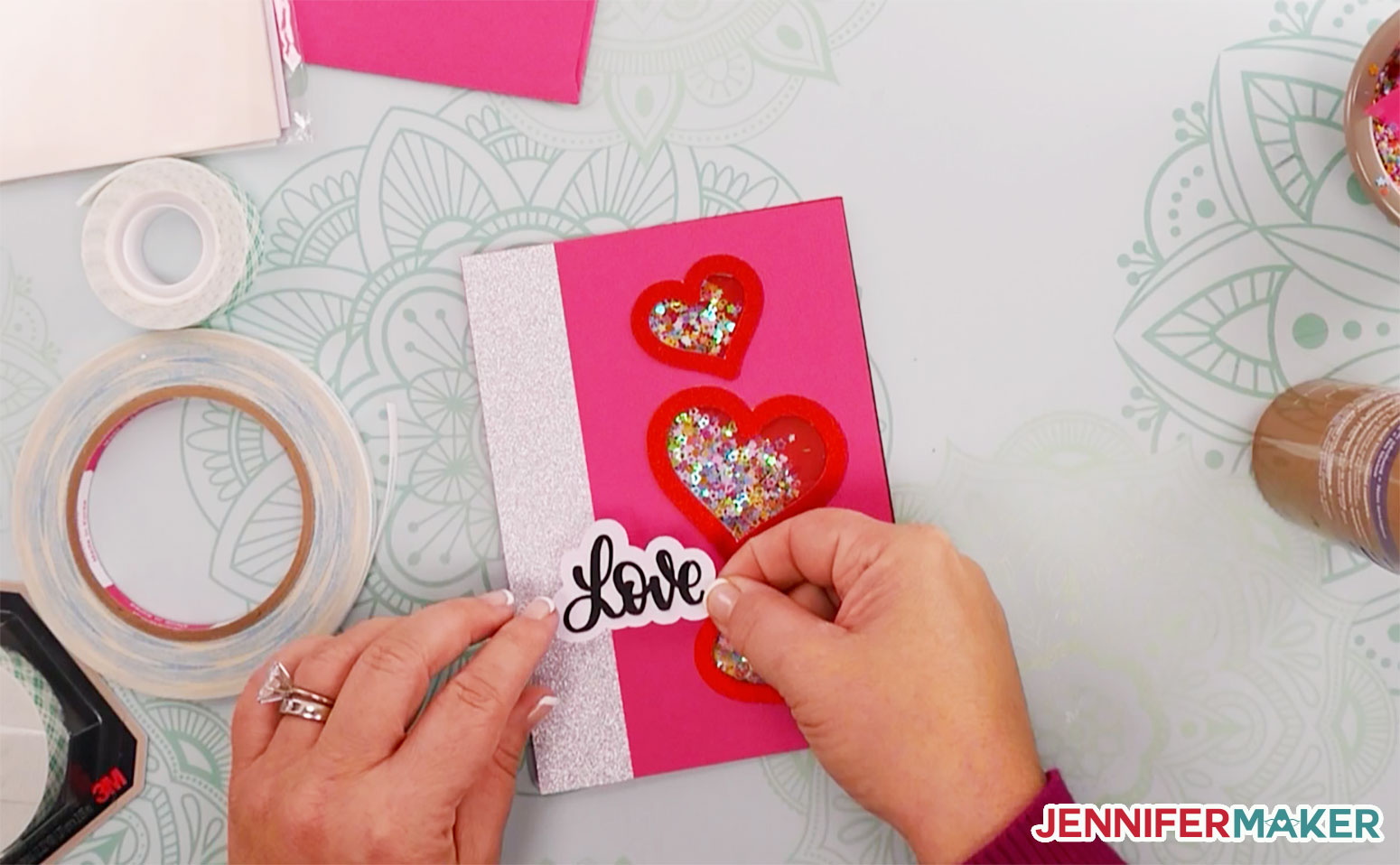 Your shaker card and envelope are all done! Give it a shake to see how it works!
Notes
Finished shaker card is 5" x 7" (if you make the Joy version, it is 4.5" x 6" when finished)
Special thanks to the JenniferMaker Design Fairy team, specifically design fairy Caitlin, for helping me design and assemble this awesome love shaker card.
Recommended Products
As an Amazon Associate and member of other affiliate programs, I earn from qualifying purchases.
Answers to Your Questions About How to Make a Shaker Card
Q: What can I use instead of acetate or window plastic?
Any clear plastic that is thick yet flexible enough to cut and be taped down works great. If you don't have acetate, check your stash for clear plastic covers on materials and re-use that instead!
Q: Can I use the Cricut Joy?
Yes, you can, but I do not recommend you simply resize the card as it would only be 3″ x 4.5″ when you're done. Instead, upload the files in the "SVGs for Cricut Joy" folder to Design Space as those will all fit. Note that you'll need to glue the two halves of the card together and there is NO envelope for this size (but you can buy or make a 5″ x 7″ envelope for it).
Q: Can I use regular glitter in the shaker card?
You can definitely use regular glitter but it might not shake as well and could get stuck all over the entire sheet of plastic. The bigger and chunkier the glitter, the better.
Q: I don't have a tape gun, what can I use instead?
You can use any double sided adhesive tape you have on hand! It does need to be flat, however — you cannot use the foam tape for everything in this project.
Q: Will this shaker card cost more postage to mail?
Yes, it will. I recommend using two stamps if you plan to mail the shaker card.
Get my free SVG files to make a Shaker Card
I'd love to see YOUR shaker card and all the colors and things you choose to put inside it! You can also personalize it by cutting your own confetti pieces using Cricut Party Foil. If you make a Shaker Card, please share a photo in our Facebook group or tag me on social media with #jennifermaker.
Love,