Learn to make refillable candy holders with Cricut for fun gifts.
Have you ever seen or heard about these super cute candy holders with clear, round bellies for holding treats? These adorable candy holders are made with a Cricut machine and I'm excited for you to check out the designs I've made. My collection includes designs for a snowman, a penguin, a rainbow, and a fox. They are perfect for giving away during the holidays and whenever you feel like giving a special someone a sweet treat. Although the cute animals are winter-themed, you can easily leave off the hats and gloves to use them any time of the year — and the rainbow candy holder can be used year-round and is great for brightening up someone's day!
Watch the full step-by-step video showing you exactly how to create your own refillable candy holders with a VIP pass to Maker Academy Weekend 2022!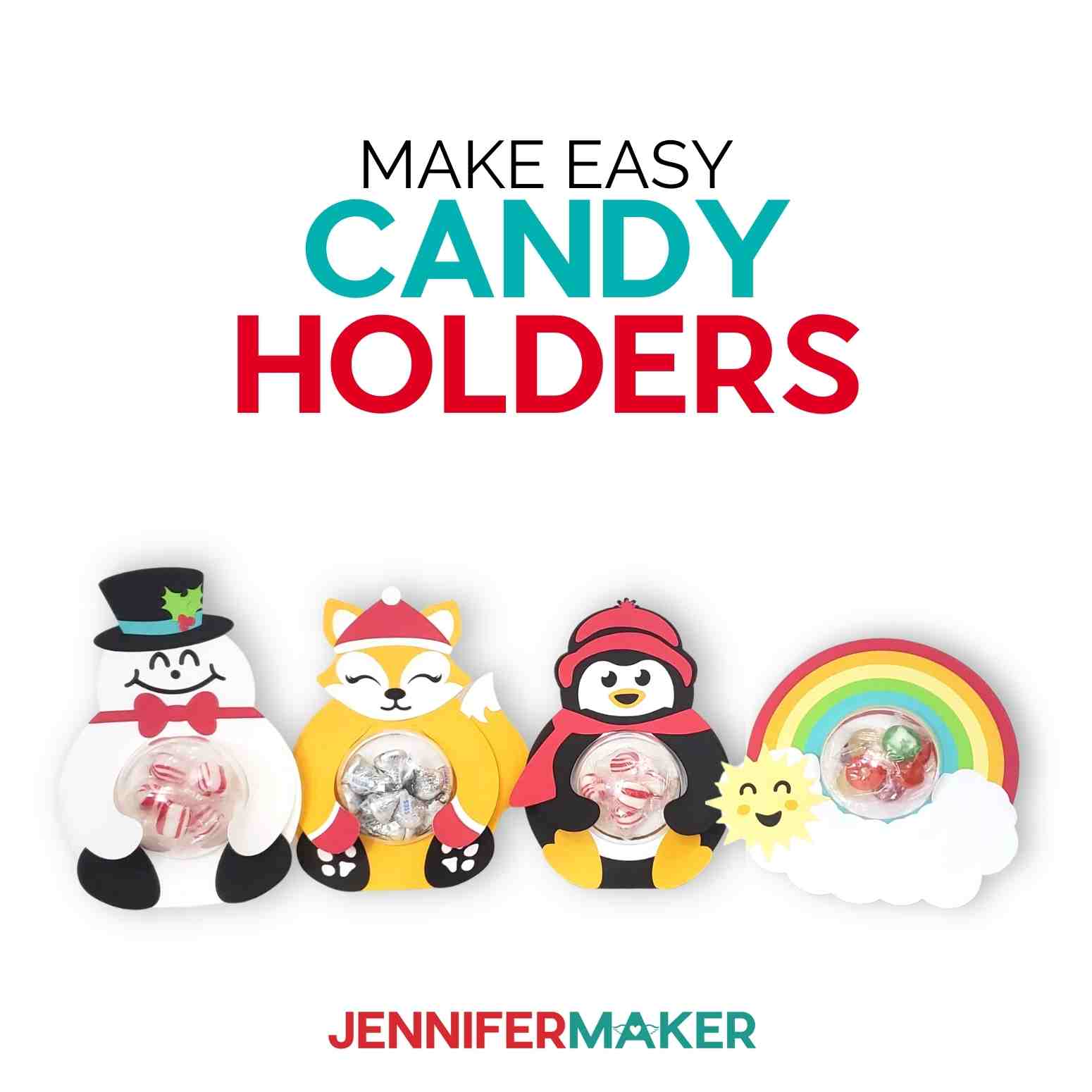 Crafting candy gifts is an awesome way to show someone you care for them. The great thing about this project is that it will also help keep costs down. Decorative candy holders are especially popular since you can make them pretty easily and everyone loves them! My new candy holders will make perfect party favors, Christmas treats, or even items to sell.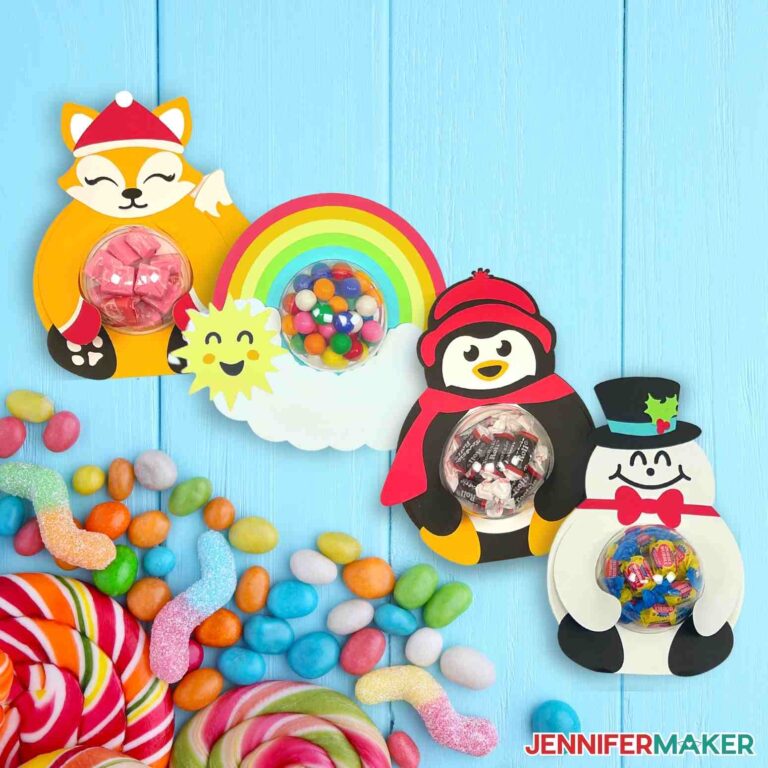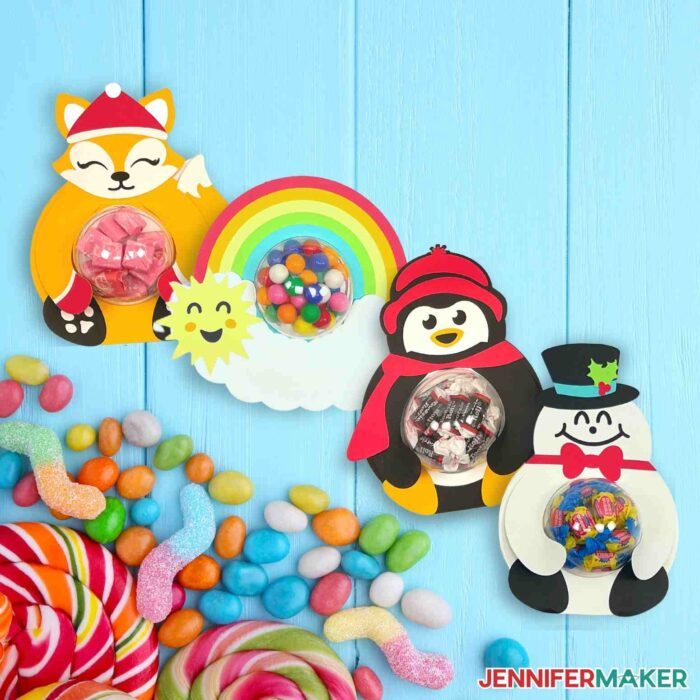 Aren't these just incredibly adorable? I love how cute they look and let's not forget the yummy treats you can place inside. Although these are mainly thought of as candy holders, you could also place other small treats or gifts inside. The possibilities are endless and I just know you will love them as much as I do!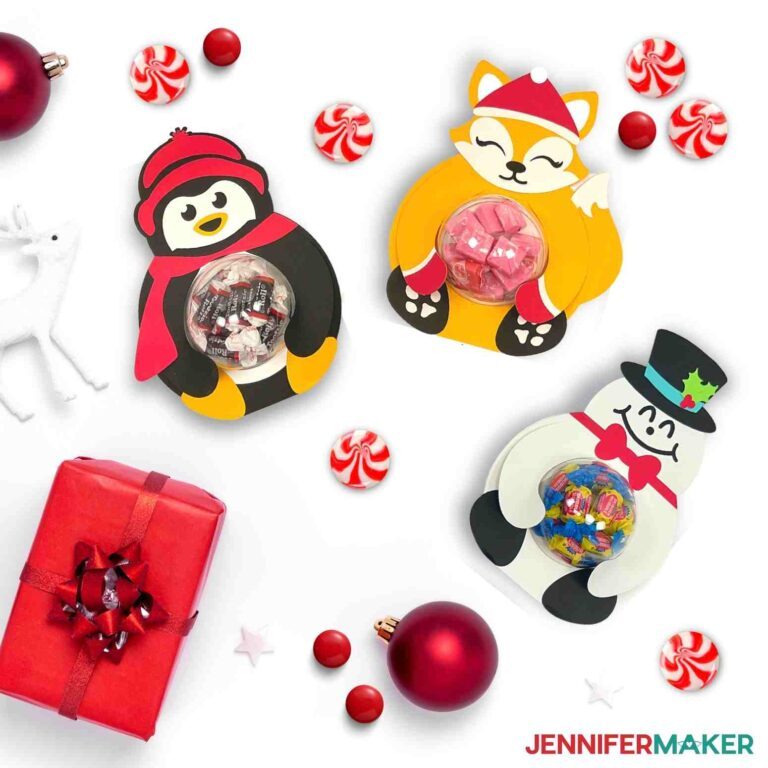 Here's a supply list for what you need to make candy holders with Cricut! This post contains some affiliate links for your convenience (which means if you make a purchase after clicking a link I will earn a small commission but it won't cost you a penny more)! Read my full disclosure policy.
Materials to Make Candy Holders with Opening Mechanisms
View my Amazon shopping list with the exact items we used to make this project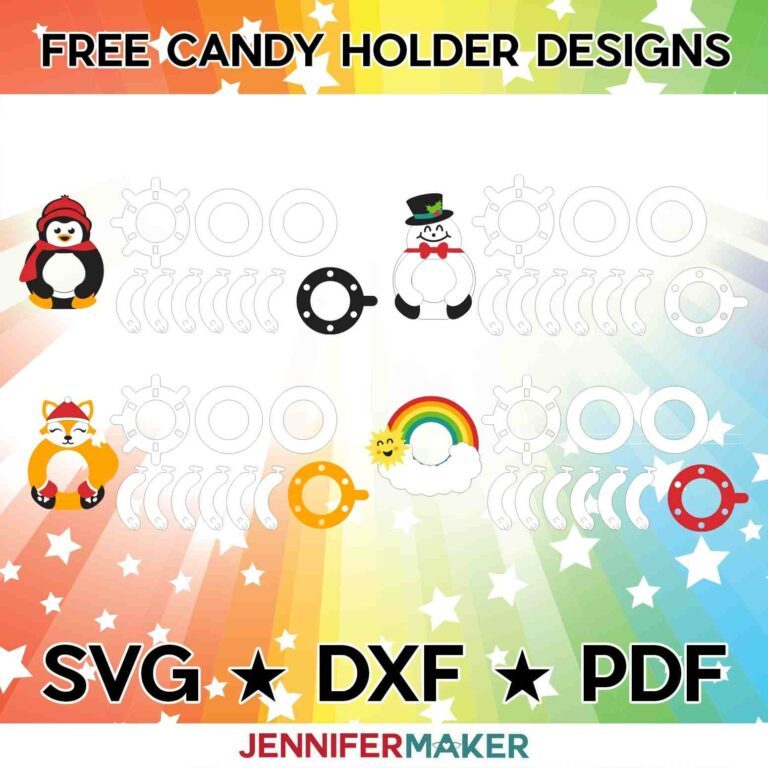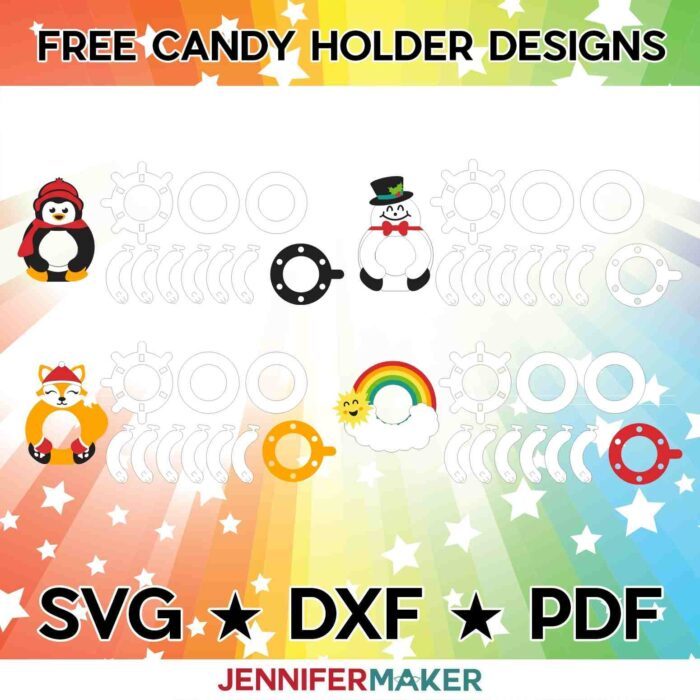 How to Make Your Own Candy Holders with Cricut
The detailed step-by-step assembly video on how to create candy holders with opening mechanisms debuted during Maker Academy Weekend 2022, held online November 3-6, 2022. Get an on-demand pass to watch all 20+ workshops, each with a printable handbook, transcript, audio files, design files, and support with a VIP pass below:


It's hard to pick a favorite when it comes to these candy holders but this rainbow design might just be my favorite. Look at the bright colors that just pop! I'm sure you'll make anyone's day with these.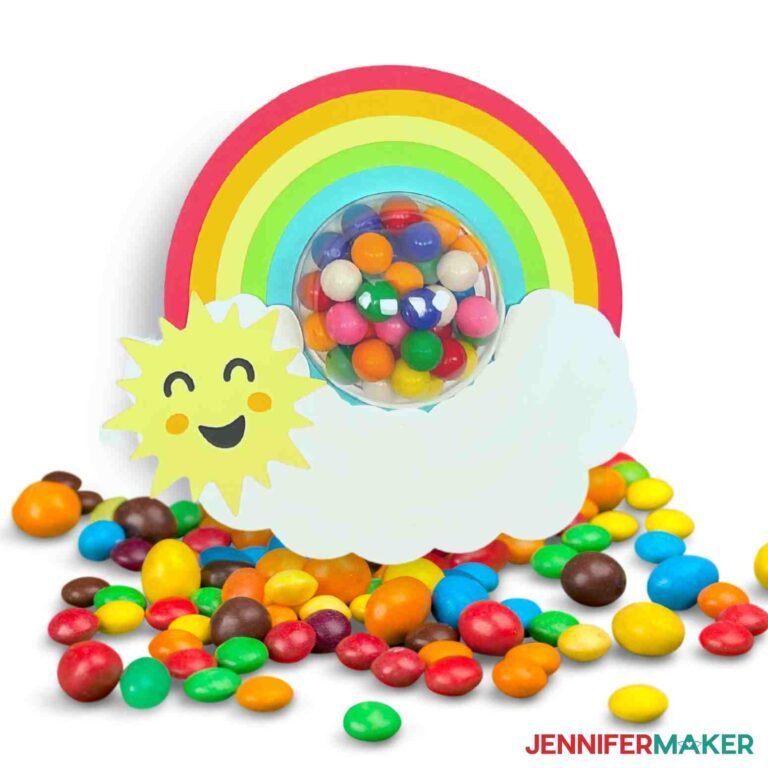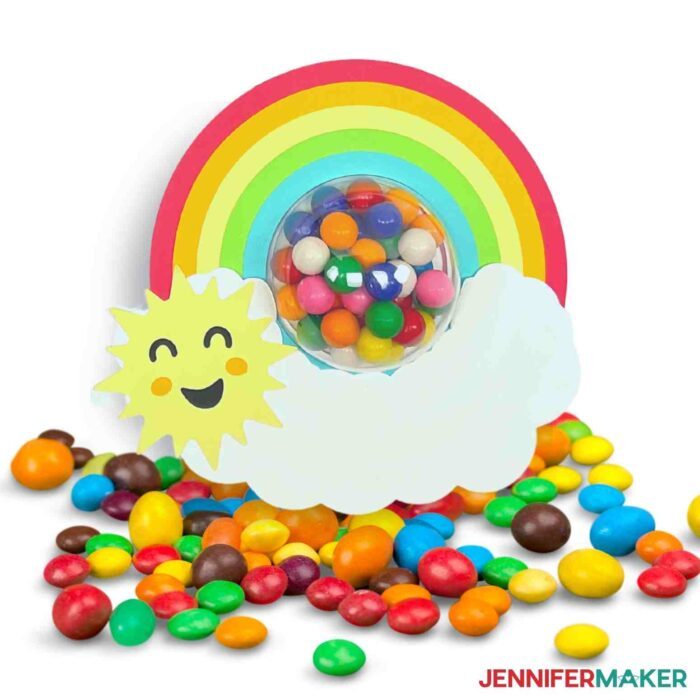 Which one of these adorable candy holders is your favorite?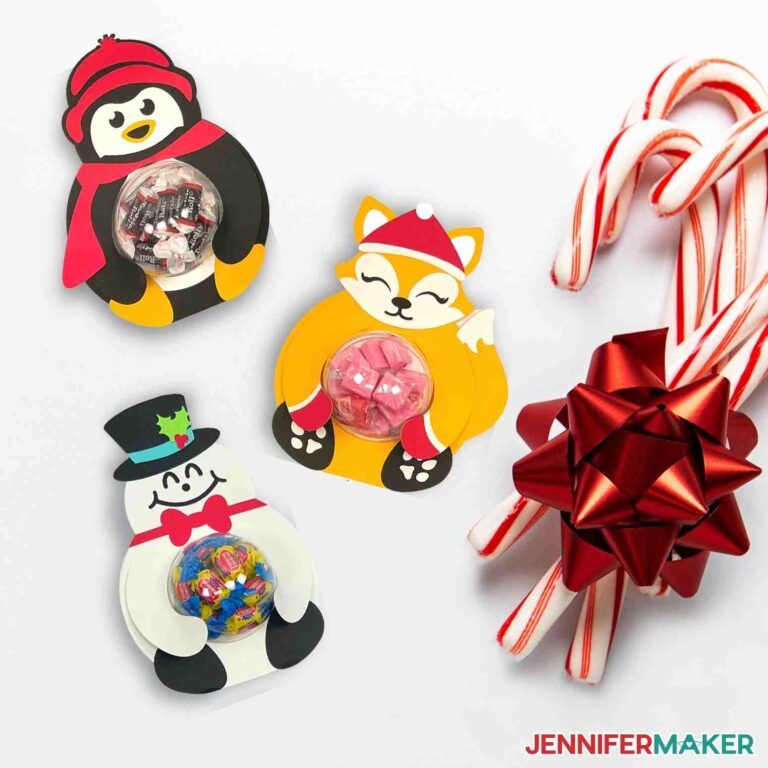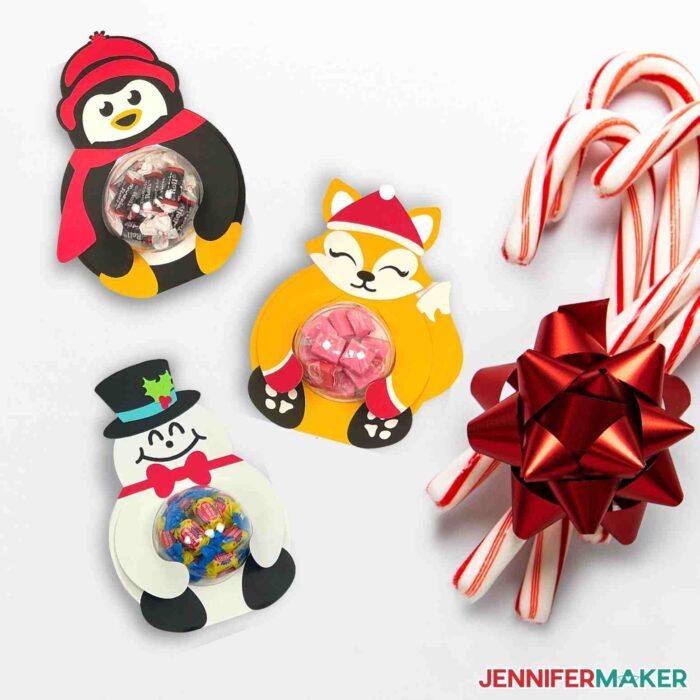 Answers to Your Questions About How to Make Candy Holders with Cricut
Q: Where is your tutorial for this project?
This is a special project we made for our free Maker Academy Weekend 2022 event! A complete and detailed step-by-step video premieres during the event November 3-6, 2022 — specifically, this tutorial video was available to watch for free for 24 hours beginning November 5 at 2:00 pm ET! You can get access to the full video, the printable handbook that details how to make this beautiful project if you get a VIP Pass to Maker Academy Weekend 2022, which comes with other perks and bonuses, too!
Q: What kind of cardstock do I need?
I recommend 65-80 lb. cardstock for these crafts. Thicker cardstock will be harder to cut and fold.
Q: Do I have to use those plastic ornaments?
You only need them if you're planning to add candy. If you don't want candy, leave it off and just add a name there.
Q: Can I make these candy holders on a Cricut Joy?
You can resize them to fit on a Cricut Joy and use a smaller ornament ball. A Joy-sized version will be included in the design, too, after we do more testing.
Get my free SVG files to create these adorable candy holders that open and close!
Which candy holder is your favorite? I love seeing what you make with my designs and how you use them! Please share a photo of your candy holders in our Facebook group or tag me on social media with #jennifermaker.
Love,