Wondering how the Cricut Maker compares to the Silhouette Cameo 3? I put these cutting machines head to head to compare features!

I am the proud of owner of both a Cricut Maker and a Silhouette Cameo, which I purchased myself and are the top-of-the-line machines from these two craft brands. Given that I love to share designs with free SVG cut files on my blog, I get many questions asking which machine is best to get. To put this question to rest and help you decide, let's compare each of these amazing little cutting machines to see how they stack up. Get ready for the showdown between Cricut Maker vs. Silhouette Cameo 3!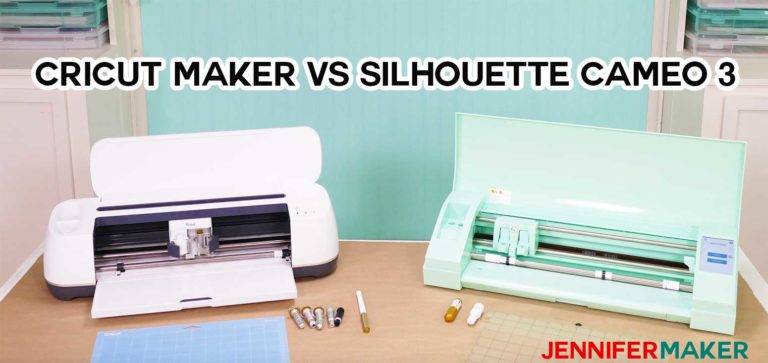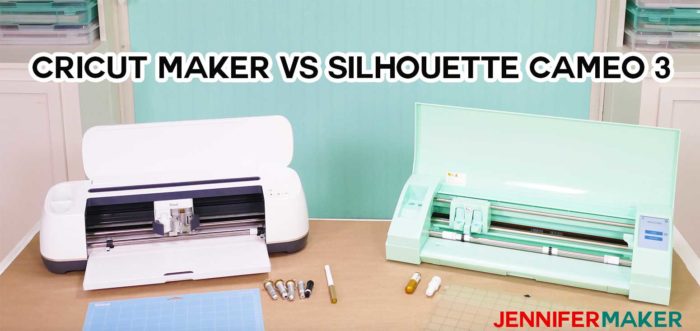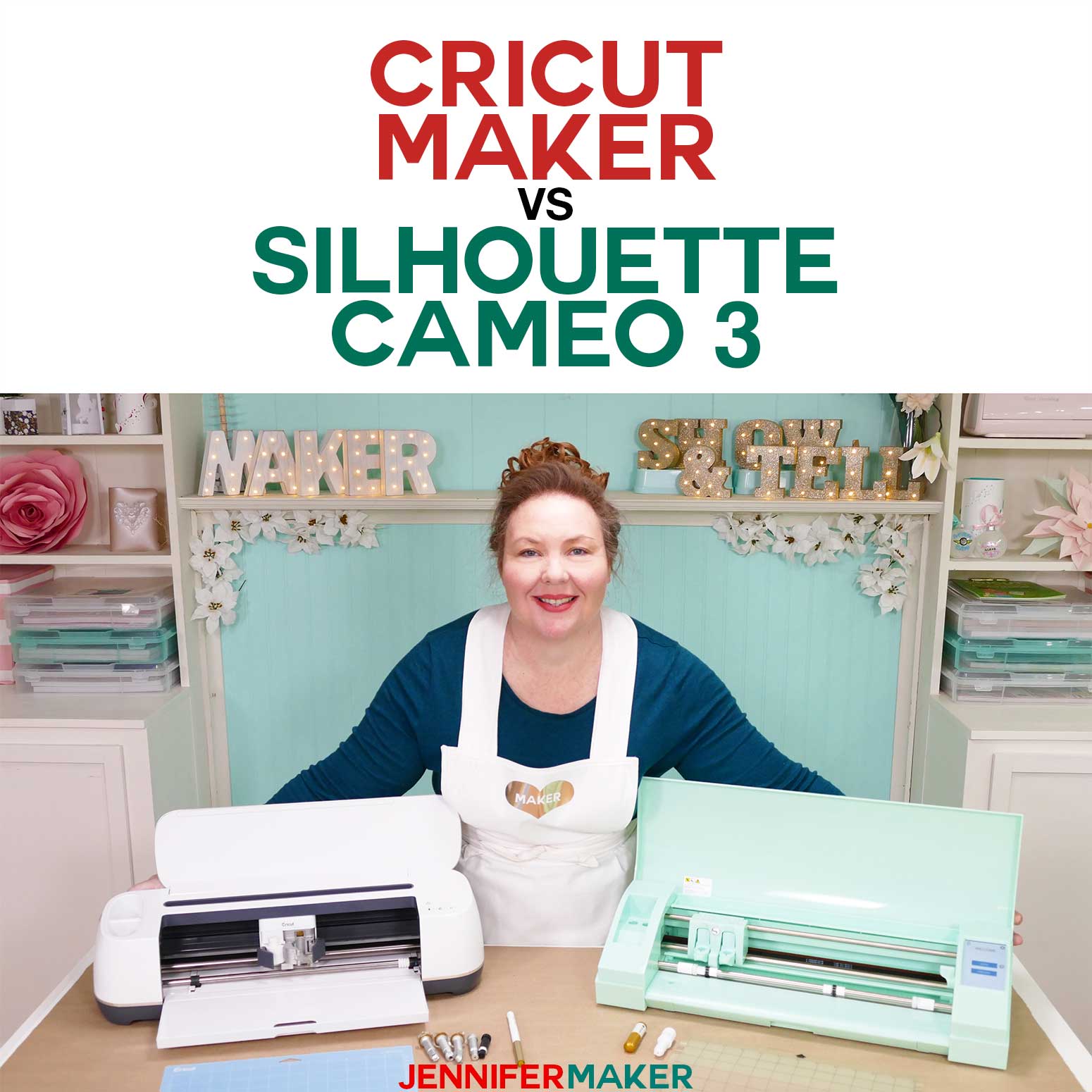 But before we get into the nitty gritty, let me introduce the idea of a cutting machine to those who may be unfamiliar with one. Modern cutting machines are really just very smart computer-guided cutting machines. Both the Cricut and Silhouette cut precisely and FAST, as they are actually smaller-scale CNC machines. They are truly one of the best tools that are available for crafters these days, and that is no exaggeration. Getting a cutting machine literally changed my life (you can read my story here).
Chances are good you know you want a cutting machine, but aren't sure which one to get. So let's compare the Cricut Maker to the Silhouette Cameo 3, both very popular machines right now. In fact, I'd hazard to guess these ARE the two most popular ones, based on my experience with crafters in my large Craft Room Organization group on Facebook.
First, let's do a visual comparison of these two cutting machines. Watch this video where I introduce both the Cricut Maker and Silhouette Cameo 3 and show you the physical differences with the machines themselves. (NOTE: In this video I forgot that the Cameo 3 has a nearly hidden, albeit small, center pull-out storage compartment. But it is there!)

Cricut Maker vs. Silhouette Cameo 3: How Do They Stack Up?
| | Cricut Maker | Silhouette Cameo 3 |
| --- | --- | --- |
| List price | $399 | $299 |
| Free and paid designs available | | |
| Rotary Cutting Blade | (This is what cuts fabric, felt, and crepe paper without the need for any backing) | |
| Knife Blade | (This is what cuts leather and wood) | |
| Scoring Stylus or Tool | (You can use both the stylus and the tool, which produces a better score) | (can only score with a knife tool, not a separate scoring tool) |
| Maximum project size | 11.5″ x 23.5″ (if using a 24" mat) | 12" x 10 feet long |
| Machine colors | Champagne/grey (standard color), rose, and blue | Lots of colors to chose from, including white, black, mint, pink, teal, and lavender) |
| Speed | Faster (1:50 minutes for a test project) | Slower (5:00 minutes for the same test project) |
| Design Sofware | (And VERY easy to use) | (Harder to use, and cannot upload SVG files without purchasing an upgrade) |
| Materials that can be cut (according to manufacturer) | Vinyl, paper, specialty patterned papers, cardstock, vellum, iron-on heat transfer material, fabric, felt, acetate, adhesive foil, cereal boxes, craft foam, EVA foam, extra heavy weight fabrics, leather, faux leather, suede, foil paper, freezer paper, habutai, Kraft board, chip board, corrugated paper, moleskin, metal (40 gauge thin copper), plastic packaging, poster board, suede, velvet upholstery, window cling, and wool felt (see the full list here) | Vinyl, paper, specialty patterned papers, cardstock, vellum, iron-on heat transfer material, fabric (when using their Interfacing products), some felts, wax paper, fun foam |
| Cutting force | 4000 gf (4k gf) | 210 gf |
Setting up the Cricut Maker vs Silhouette Cameo 3
Right out of the box, there's some huge setup differences between the Cricut Maker and the Silhouette Cameo 3. I had the Maker out of the box and set up within probably 10 minutes. The Cricut Maker comes with a simple little starter project and all the materials you need for it so you can hit the ground running. Setup is simple, fun, and gets you making things immediately.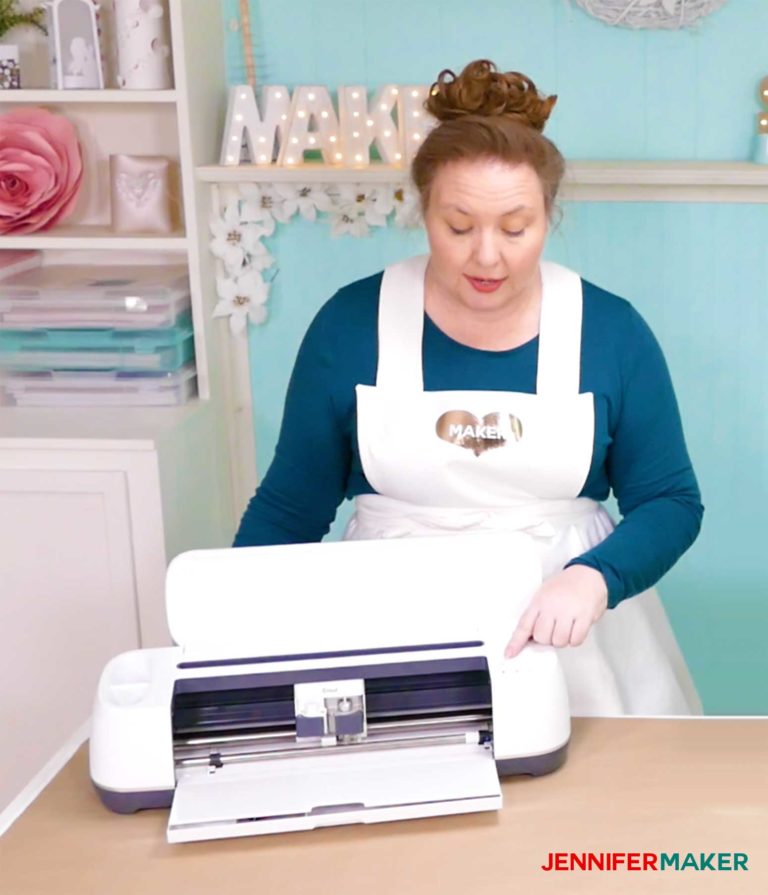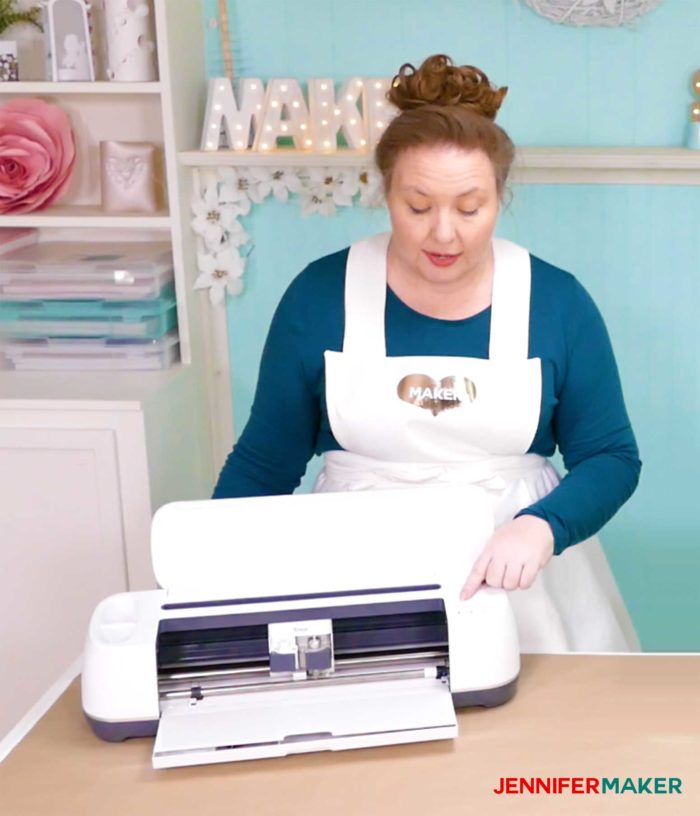 The Silhouette Cameo 3, on the other hand, was cumbersome to setup. It asks for WAY more information than we really need to be providing just to get the machine up and running. For example, you need to locate and enter a serial number. I didn't have to do anything like that with my Maker. And the Silhouette Cameo 3 comes with no starter project, nor did it even have one to suggest. If I were new to cutting machines, I would have been feeling a little lost and unsure of how to use my machine. I was frankly frustrated with the Silhouette Cameo 3 setup experience.
I did an unboxing video of my Silhouette and here's a still from that video — it shows you exactly how I felt when trying to setup my Silhouette Cameo 3 for the first time!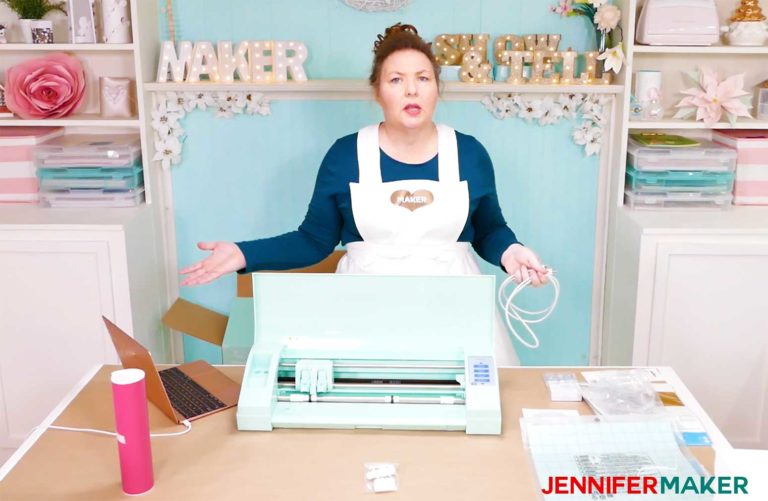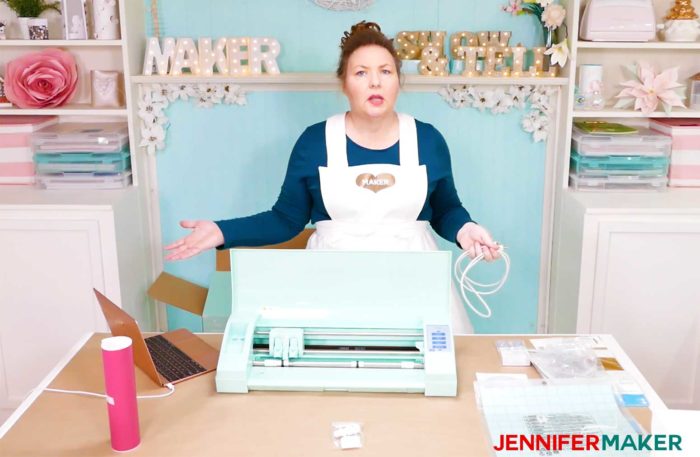 So for setup, the Cricut Maker wins hands down. It's super easy to get started and you can have your first project done within 15 minutes.
Is Anything Else Different?
Yes, indeed! Here are some more differences between the Cricut Maker and the Silhouette Cameo 3:
The Cricut Maker has a nifty built-in shelf for your iPad, iPhone, or other smart device, which the Silhouette Cameo 3 does not.
The Cricut Maker has a hefty 3 Amp. power cord that lets you charge your iPad, iPhone or other mobile device with the port on the right side while the Maker is powered on. The Silhouette Cameo 3 machines are lacking this helpful feature (they have an output of 1.25 Amps).
The Cricut Maker CAN use physical cartridges if you purchase and install the cartridge adapter, whereas the Silhouette Cameo 3 does not use physical cartridges at all. (I personally never use physical cartridges, but this might matter to some people.)
The tools storage area has a larger capacity on Cricut Maker (there are two compartments instead of just one on the Silhouette Cameo 3). The Cricut Maker has an additional large lift-up lid tool tray while the Cameo 3 has a smaller pull-out tray in the front.
The Cricut Maker is about 30 lbs, while the Silhouette Cameo is half the weight at 14 lbs.
The Cricut Maker operate with physical buttons, whereas the Cameo uses a small touch-screen built-in to the machine for its controls.
The mats for the Cricut Maker are thicker and feel more substantial, whereas the mats for the Silhouette Cameo 3 are thinner and feel flimsier.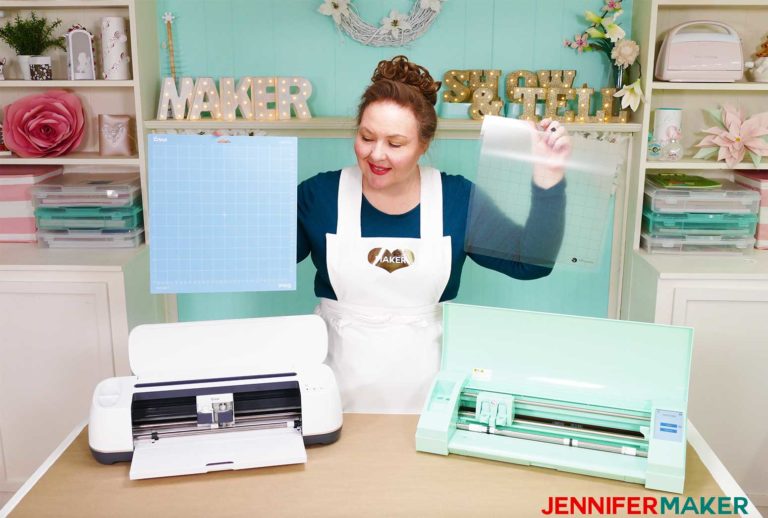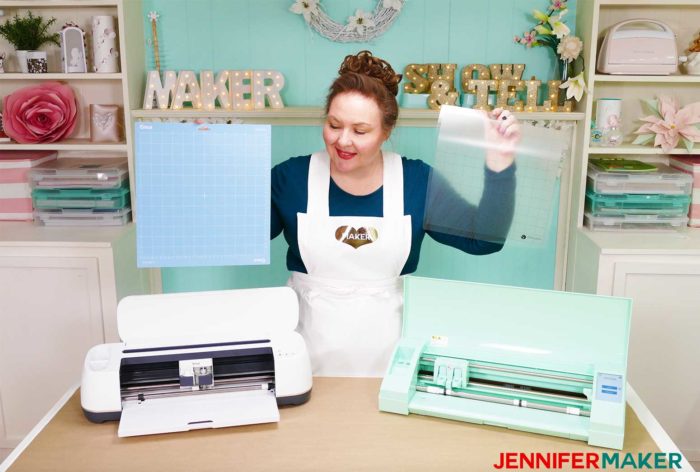 What's the Same?
Both cutting machines let you upload your own files, meaning you can use my cut files. (Note, however, that while the free Cricut Design Space allows uploading of SVG cut files, the free Silhouette Studio does not — you'll have to either upload DXF files or purchase an upgraded version of Silhouette Studio).
Both the Cricut Maker and the Silhouette Cameo 3 have wireless bluetooth technology (and both can also use USB if you don't have Bluetooth)
Both the Cricut Maker and the Silhouette Cameo 3 can cut paper and vinyl!
Both of these cutting machines come in a variety of colors.
Both use blades, cutting mats, and pens, though it should be noted they are not interchangeable between the two machines.
Which Cutting Machine is Best for Me?
In the battle of Cricut Maker vs. Silhouette Cameo 3, which is best? This will come as no surprise to anyone who knows me, but the Cricut Maker wins hands down. It does more, cuts deeper, uses more materials, is easier to setup, easier to purchase and use designs with, faster by a LOT, and it's just sexier looking. (I know that last one shouldn't really matter, but who doesn't like something cute to look at it in their craft room?) Here's a photo of my Cricut Maker where it lives in my room: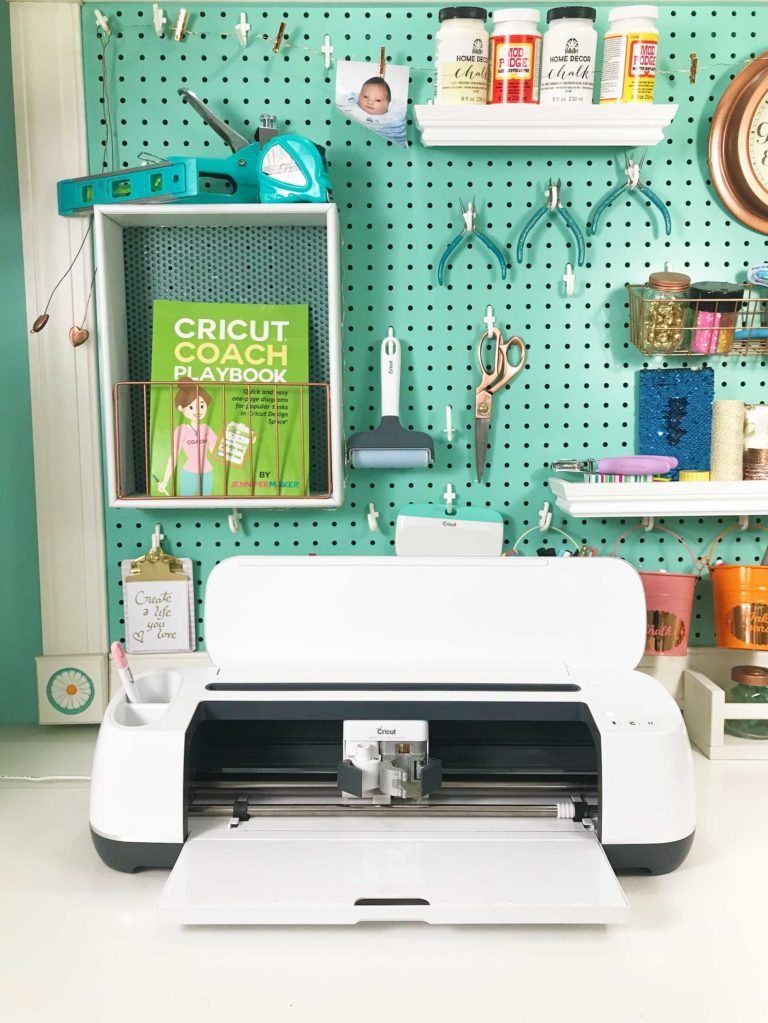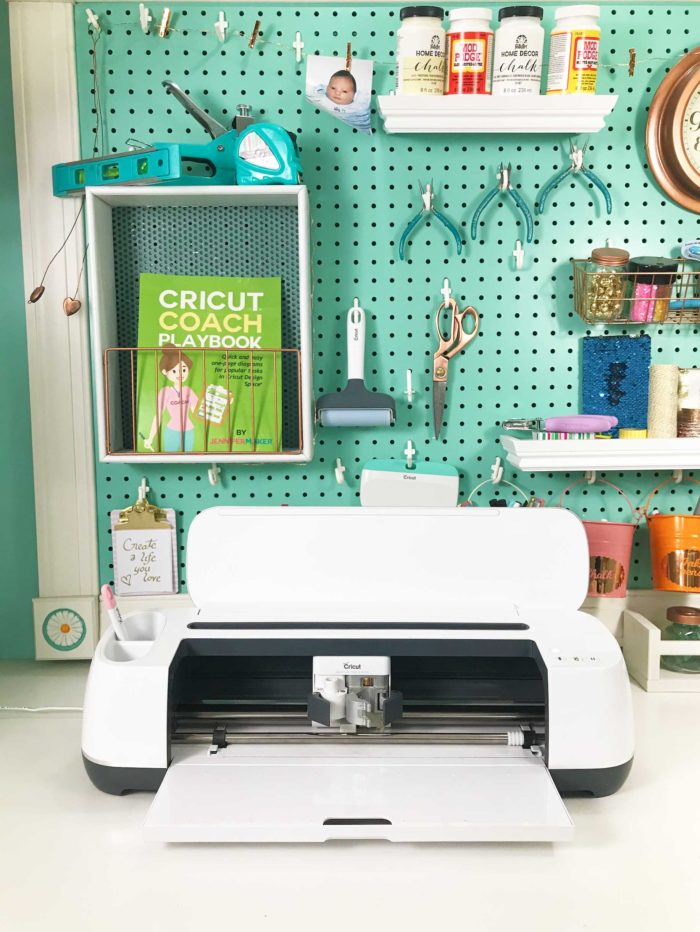 The real game changer for me is the ease of use. What's the point of having a machine like this if its hard to learn and use on a regular basis? The Cricut Maker is easiest to use and — bonus — does more and does it faster!
I wanted to love the Silhouette, and I know there are many fans of it. I just wasn't overly impressed. Perhaps if I'd found the Silhouette first, but I didn't. The Cricut was my first cutting machine, and a big part of that has to do with how readily available it is (it was available for sale in my local Joanns whereas the Silhouette was not), and that is another point in Cricut's favor.
I hope this helps you decide whether or not you need the Cricut Maker or the Silhouette Cameo 3. If you have questions, let me know!
Love,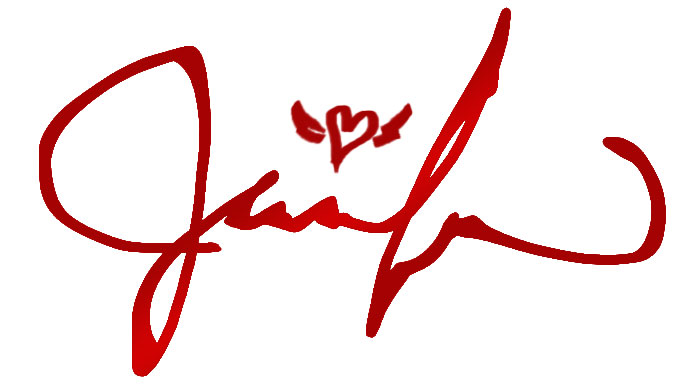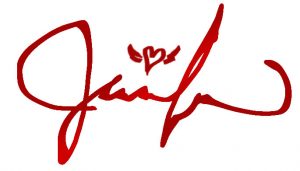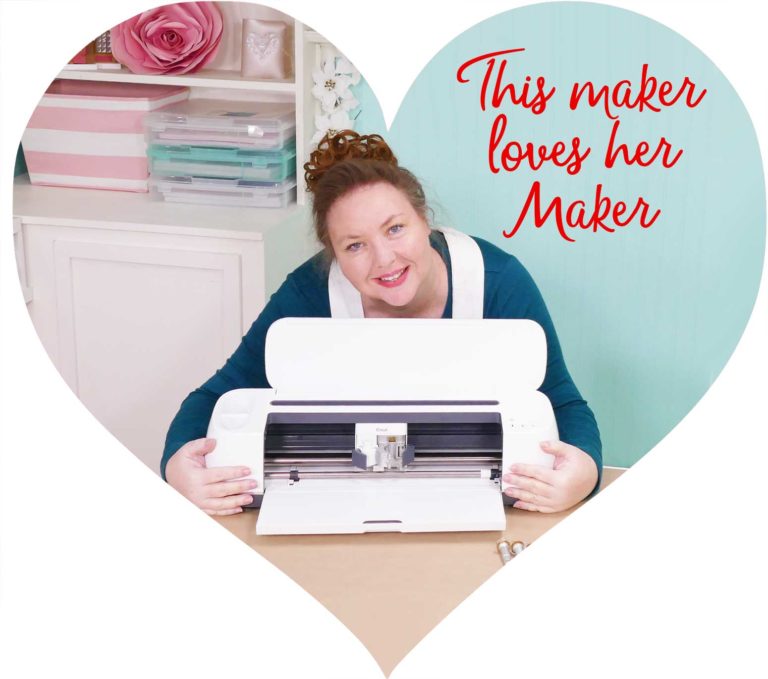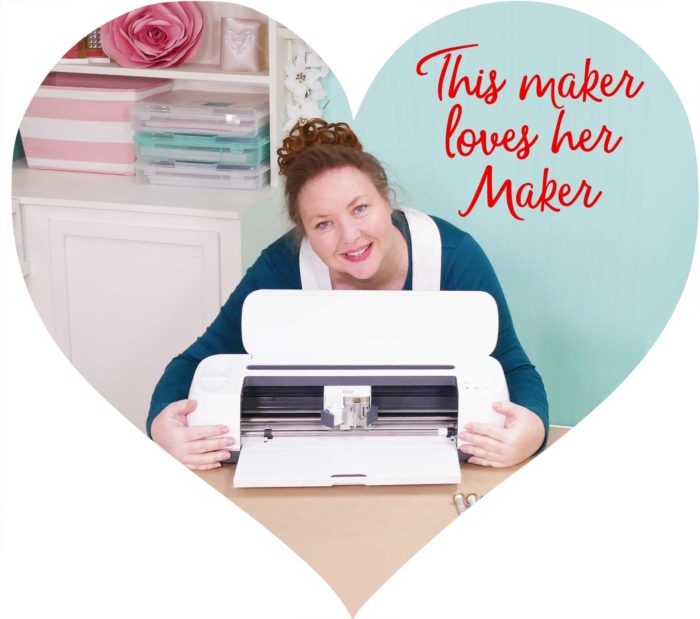 P.S. If you DO decide to get a Cricut Maker, check out these helpful posts I have to get you started making things in no time!
Here are some awesome Cricut Maker tutorials that will help you get acquainted with your new cutting machine:
And here are some Cricut Maker projects and tutorials I think you'll love!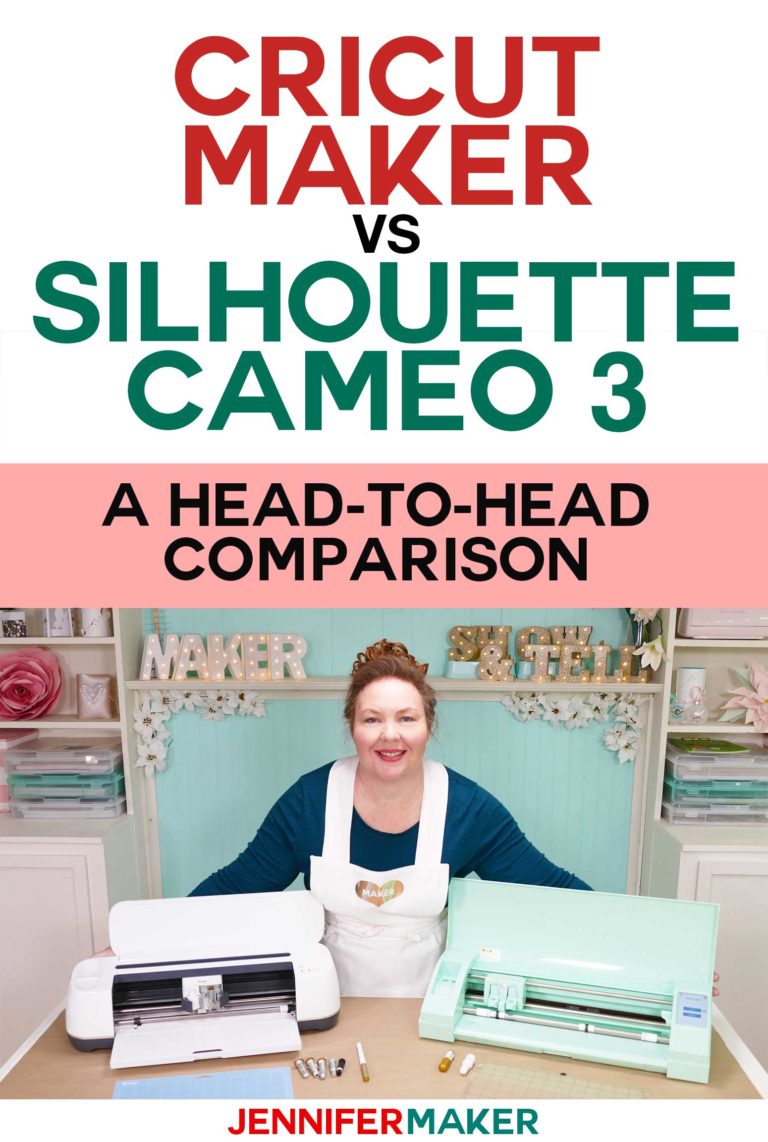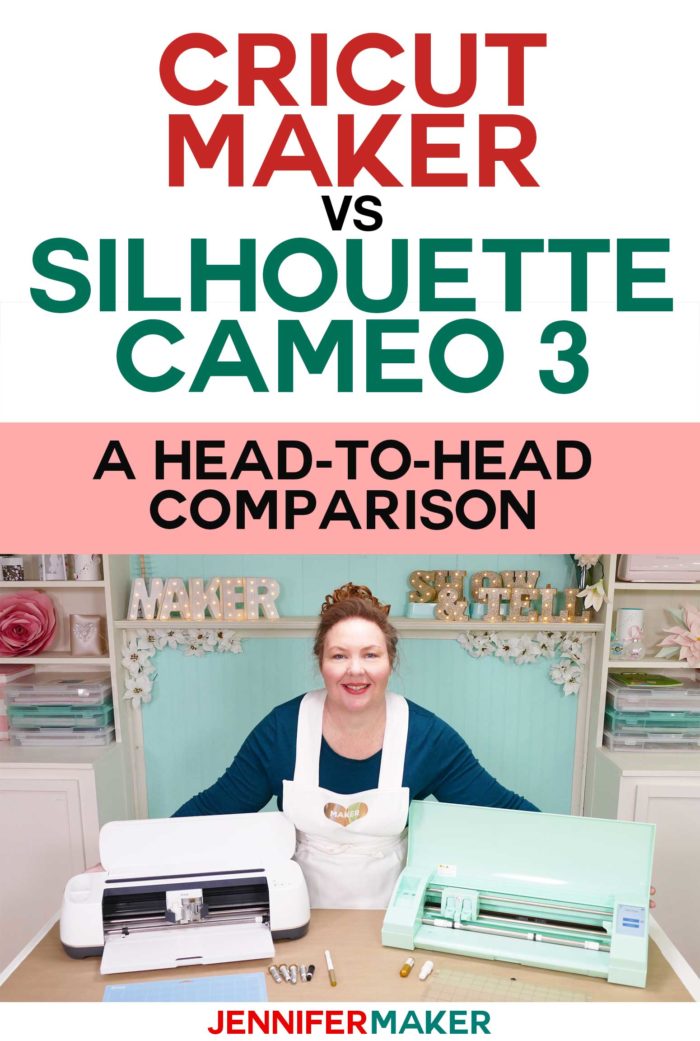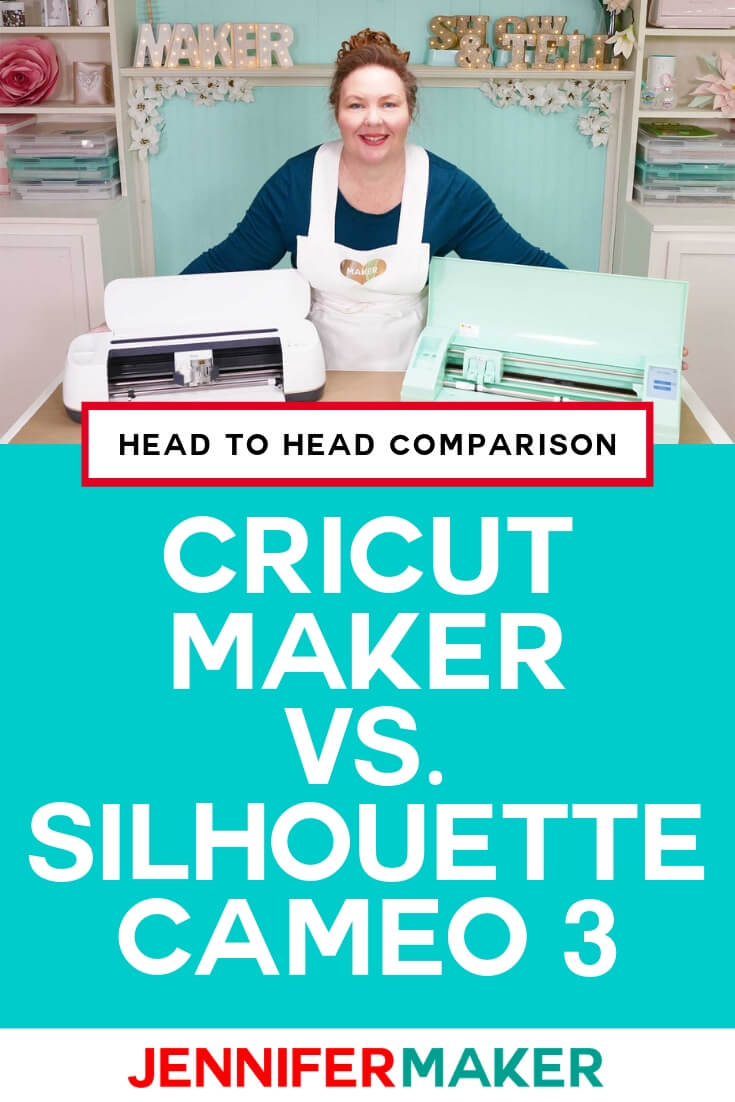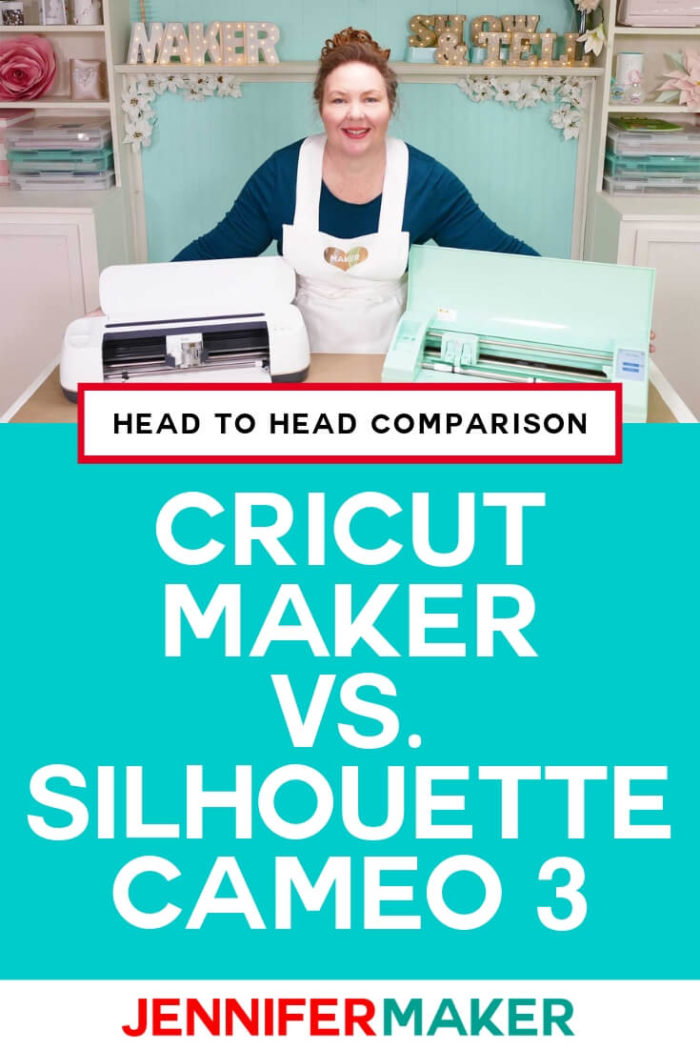 Comments submitted may be displayed on other websites owned by the sponsoring brand.
This is a sponsored conversation written by me on behalf of Cricut. The opinions and text are all mine.