Learn how to use pens in your Cricut to make gorgeous handwritten gifts and even address envelopes and invitations! Cricut writing is so much easier than you might think!
Your Cricut is more than a cutting machine … it's a crazy powerhouse of a writing machine! If you love the handwritten look but hate your handwriting (or the hand cramps that come with it), Cricut's got your back. Just pop in a pen, set your design to "Draw" in Cricut Design Space, and click that Go button. But it's not really THAT easy, is it? But almost! I'm going to share with you all of my Cricut writing tips, tricks, and font ideas so you can get compliments on your handwriting, too!
I created a video that goes over Cricut writing and pens here: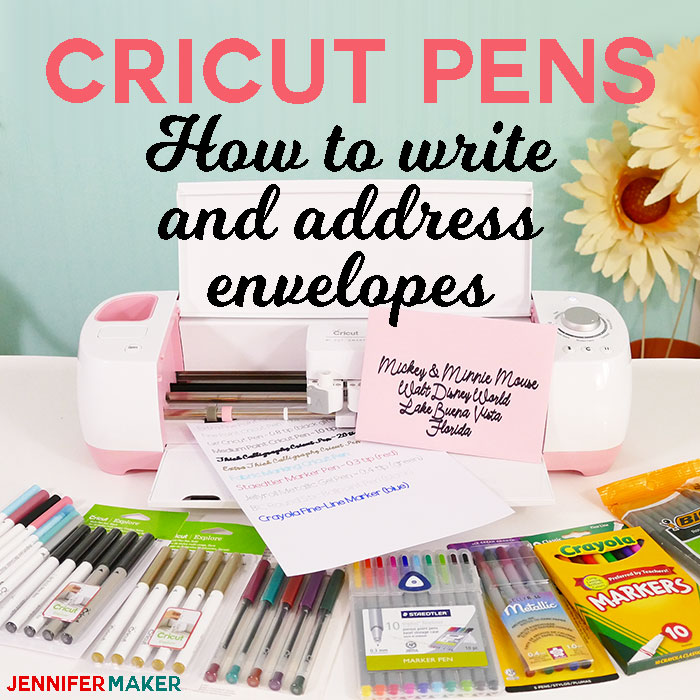 Let me show you how to use your Cricut to write! This post contains some affiliate links for your convenience (which means if you make a purchase after clicking a link I will earn a small commission but it won't cost you a penny more)! Read my full disclosure policy.
How to Create Text in Cricut Design Space
First, we need some text before we can ever start writing with our Cricut. To create text, go to Cricut Design Space, click on the Text icon on the left (it looks like a big "T"), type something you want written in the box that pops up, and then click anywhere outside the box to set it. For this tutorial, let's write "Cricut Rocks!"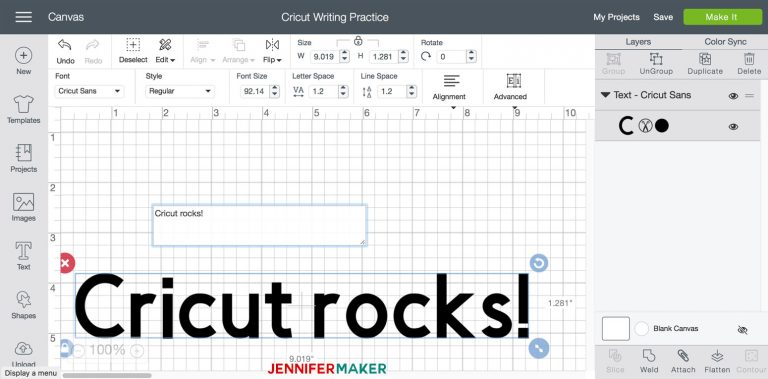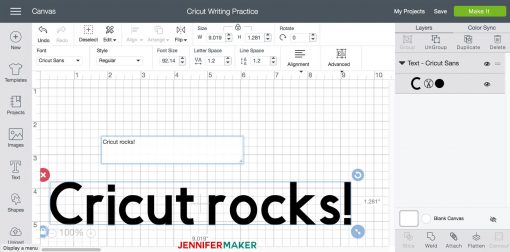 Sizing: Chances are it won't be the size you want it, so click the double-arrow icon in the lower left corner of your text box to make it bigger or smaller. You can also change your text's size by changing the size in the Font Size drop-down menu at the top of the screen.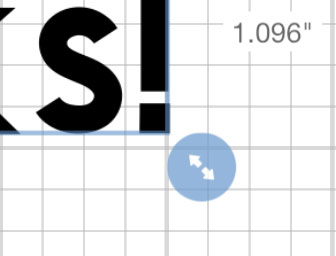 Choosing a Writing Font: To change the font, first make sure your text is selected (click on it) and choose a writing font from the drop-down Font menu in the upper left corner of your Design Space screen. Once you're in the font selection area, you can search your fonts or even choose to view just your computer's fonts or Cricut's font. You can also click the "Filter" label to see just your fonts, multi-layer fonts, single-layer fonts, and writing fonts. Since we're writing something, you want to be sure you choose a Writing font. Click the Filter label, then click on Writing to see all fonts appropriate for writing. Be aware that not all fonts are free, so choose wisely. I'm going to choose "Dear John," which is a font available free with Cricut Access.


Note on Font Selection: You can write with a non-writing font, but it won't come out as expected—the Cricut will simply draw the outline of the font, which is probably not what you wanted and definitely does not look handwritten. So pick writing fonts for your Cricut writing!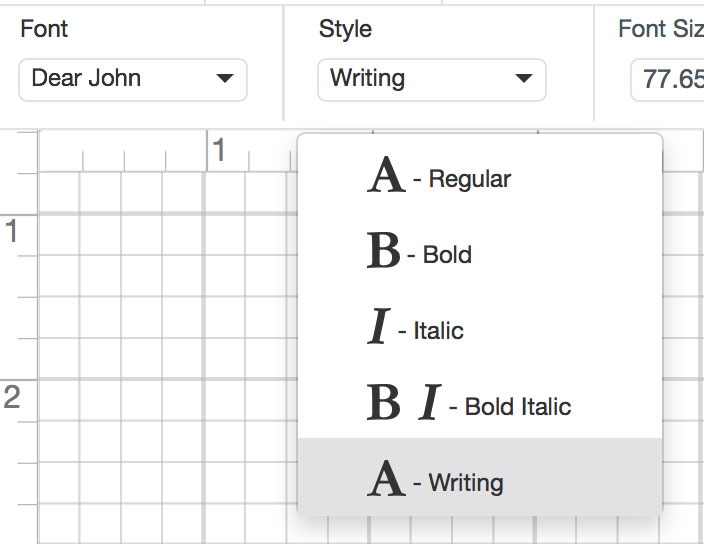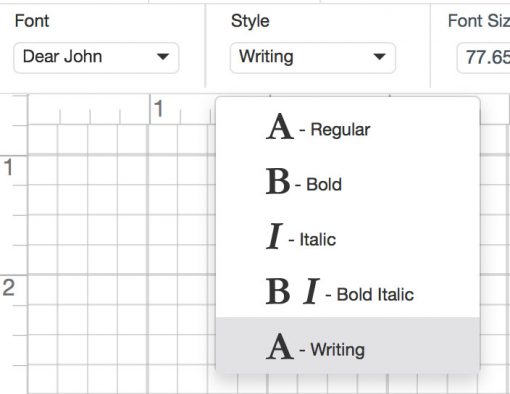 Font with Writing Styles: Many of the Cricut fonts have multiple styles which you'll see in the drop-down Writing menu. You want to be sure "Writing" is selected in this Style menu, whenever available.
Character Spacing: If your letters look too spread out or too tight, you should fix this before you write! Click on your text block and click the arrows on the Letter Space at the top of the screen until it looks right.




Character Spacing Tip: If you just can't get your characters spaced perfectly, click on the Advanced icon at the top of the screen, then choose Ungroup Letters. Now you can move each letter individually. Move the letters where you want them to be (hold down the Shift key to keep them aligned as you move), then select all the letters and choose "Attach" or "Weld" in the lower right to keep them all together.


Select Pen Color: You can change your pen color by selecting the square in the toolbar by the Linetype box. A new Color Chooser panel will appear—just select a new color from this panel to set it.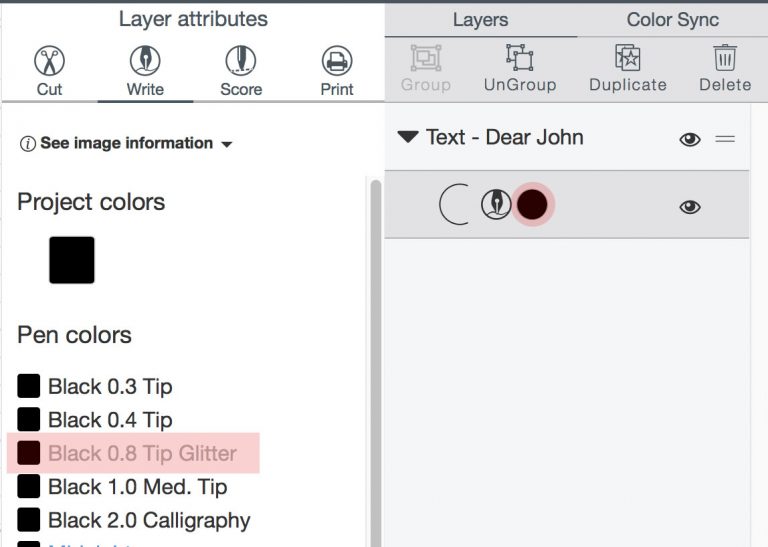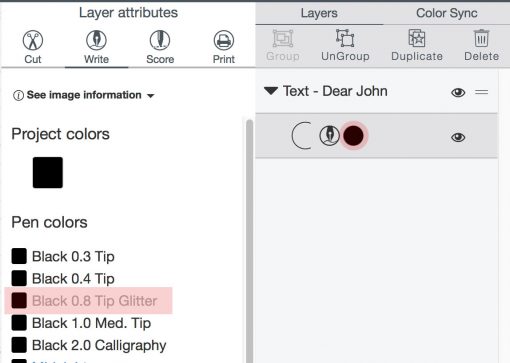 When you're happy with your text, click Make It to send it to your Cricut.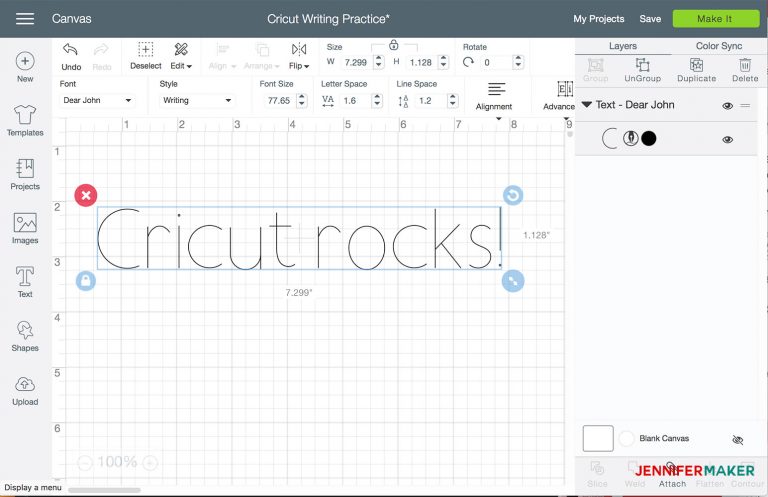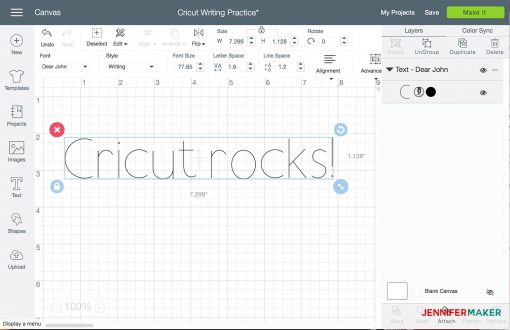 ---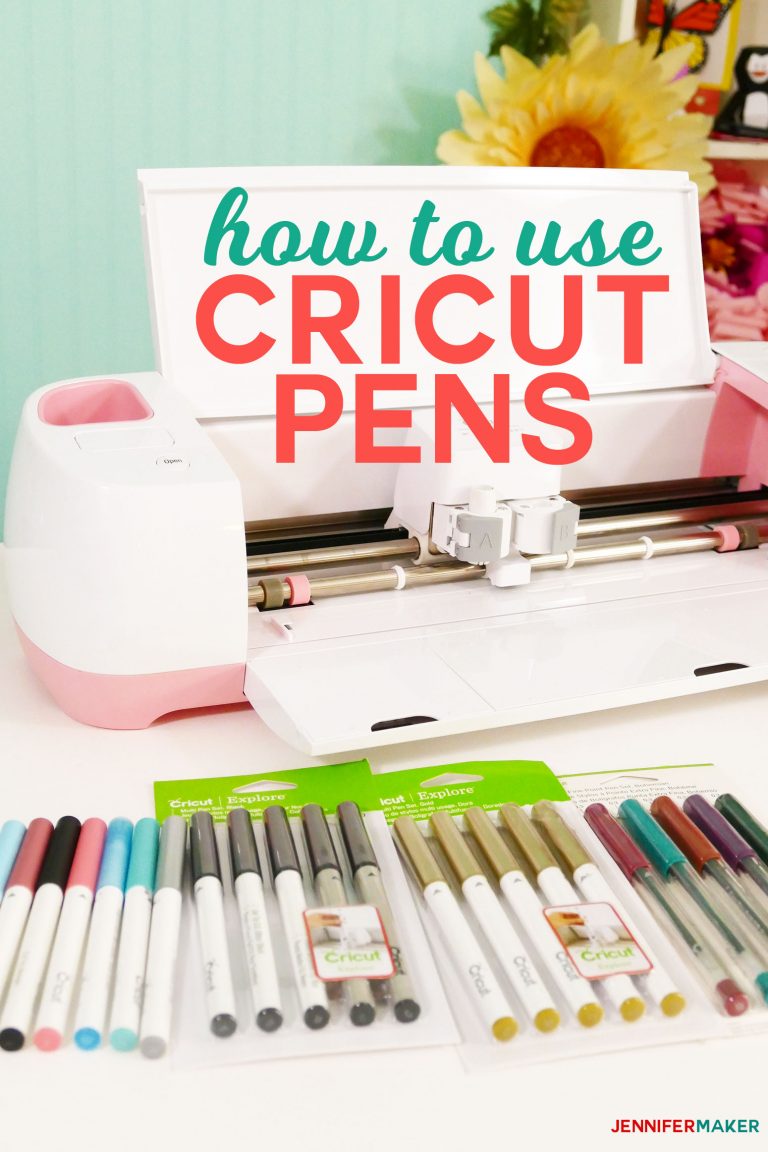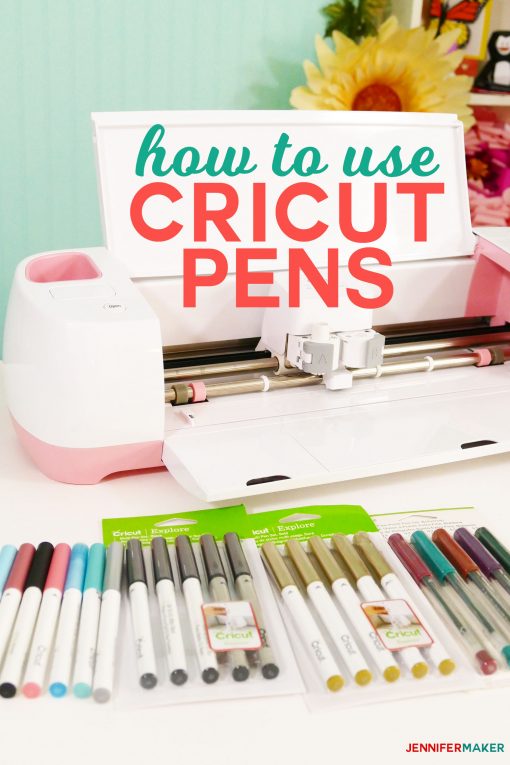 How to Get Cricut Writing with Pens
Once you have created some text in Design Space, it's time to actually get your Cricut to write it out for you.
Your Cricut comes with two tool clamps — clamp A and clamp B. Clamp A is for accessories, and this is where we can put pens. To insert a pen, simply open clamp A and insert the pen tip down while holding up on the bottom. If you're inserting a Cricut pen, you'll know it's in place because you will hear it click and the arrow will disappear. Be sure to close the clamp once the pen is in.
And did you know you can use pens other than Cricut pens? You can! Not all pens work, but I'll be showing which ones work for me in this video. Also, other brands of pens won't click in the way the Cricut pens do. So the best way to insert non-Cricut pens is to hold a craft stick underneath the clamp while you insert the pen. Allow the tip of the pen to just barely kiss the craft stick—then you'll know it's in the right position. Close the clamp, remove the craft stick, and you're ready to go!
Tip: Always test your pens on a scrap piece of paper before you use them in your Cricut. If they are new, they may need to be primed a bit to get the ink going, so you'll want to do that BEFORE your Cricut uses them on your project.
Now let's do some Cricut writing. I've prepared a test file in Cricut Design Space that will let us try out both Cricut pens and non-Cricut pens. I tested a variety of different pens on my Cricut Explore Air, Cricut Explore Air 2, and Cricut Maker, including:
Other pens I tried that did NOT fit in either my Cricut Explore Air or my Cricut Maker include Sharpie Fine Point Markers, Pilot Rollerball Precise v5, and Pilot G2 Gel Pens. I did get a BIC Mechanical Pencil to work once in my Explore Air 2, but it would not fit later on in my Explore Air or Maker. Note, however, that you may be able to use these and other pens that don't fit if you purchase the Ultimate Cricut Pen Adapter Set off Etsy—I've put a link to it in this video's description.
When you're ready, load your mat and press the Go button to begin writing. For my writing text, I set most of these pens to write in the same "writing" font called Dear John, which is a Cricut font that is a part of Cricut Access. The only two that aren't in the Dear John font are the two calligraphy pens, which are in Emiline, also available with Cricut Access.
Here are the results of my Cricut writing test: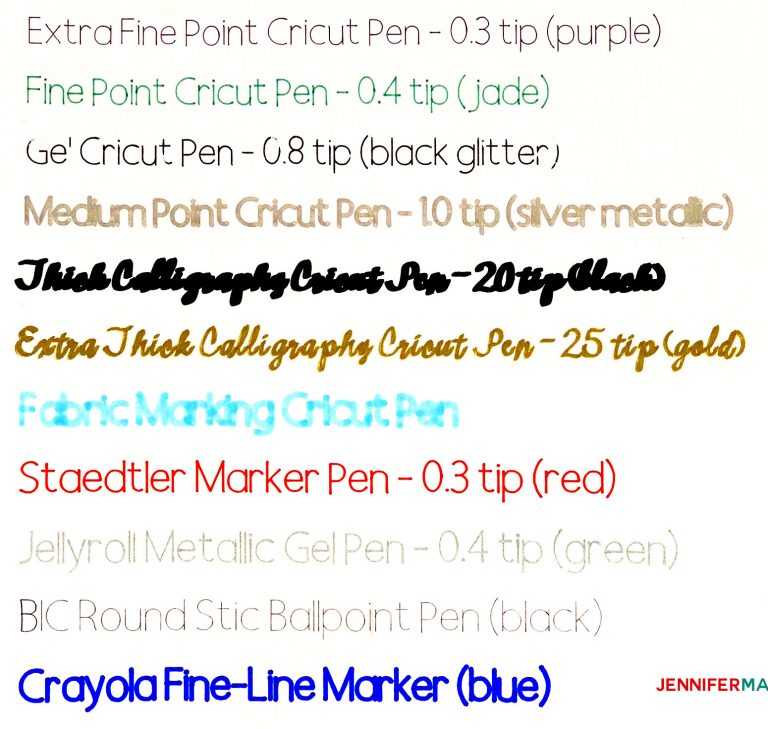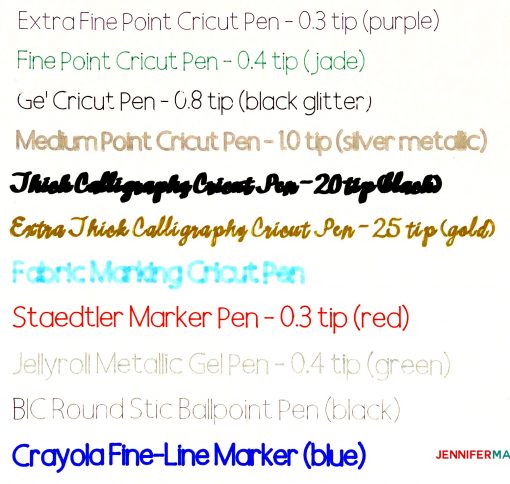 Finding the writing fonts that look good on the Cricut can be tricky. Your best bet is to use the fonts in Cricut Design Space that are designated as "writing" as they won't create "bubble" letters when the pen tries to outline a standard font. When searching for fonts, just click the "Filter" label on the far right then select "Writing" from the drop-down menu—now Cricut will only show you fonts that are good for writing with pens.
Now, what if you find a font you love but it's not available as a writing font? There is a way to turn it into writing if you really want! You can create text from it in Inkscape or Illustrator by tracing the text you want with a single vector line, which is what is needed for a proper writing font. So if you feel comfortable using Inkscape or Illustrator, trace your text in that pretty font and save it as an SVG file to upload to Cricut Design Space. Learn more about tracing an image or text in my SVG Design Course.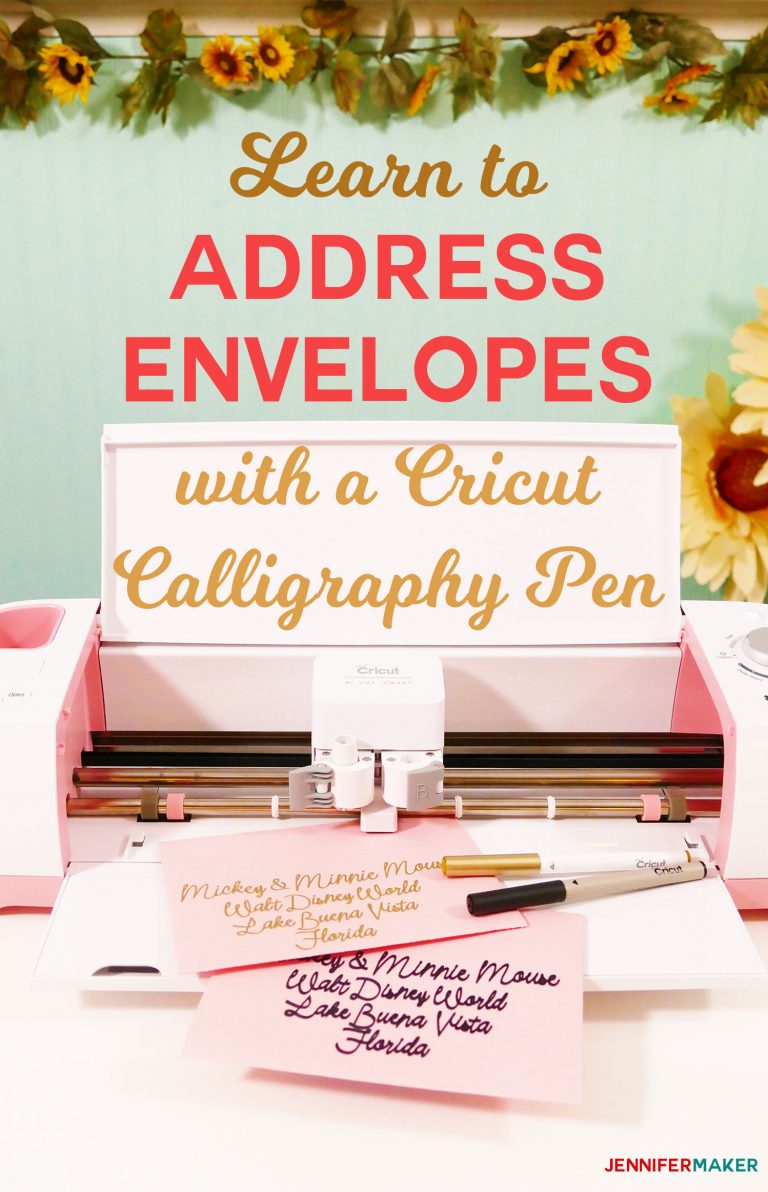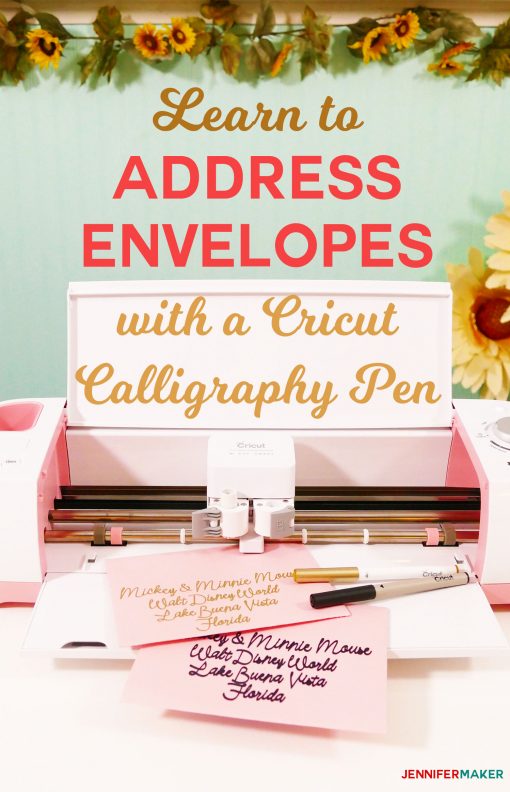 How to Address Envelopes with a Cricut Calligraphy Pen
Did you know you can address envelopes and invitations on your Cricut? You can! You can do it with any pen that fits, but I think that envelopes and invitations look the best if you use the Cricut Calligraphy Pen.
To show you what I mean, I've prepared a pretend invitation to my 50th birthday party. (No, I'm not really having a party, but I AM turning 50 this year!)
When you use your Cricut Calligraphy pen, you must put the tip in at a 45-degree angle to your machine so you get the pretty thick and thin lines associated with calligraphy. For the best results, angle your pen's tip so it's going off at an angle to the lower left corner of your machine. (If you put it going at an angle the other way, it just doesn't look as good.)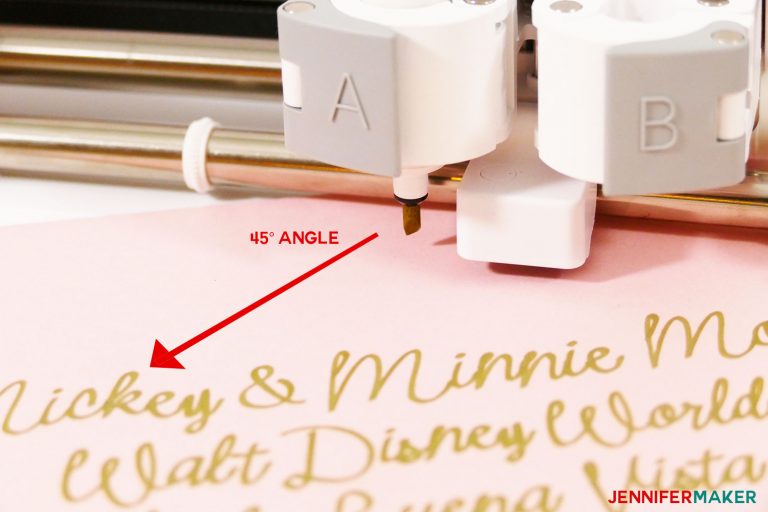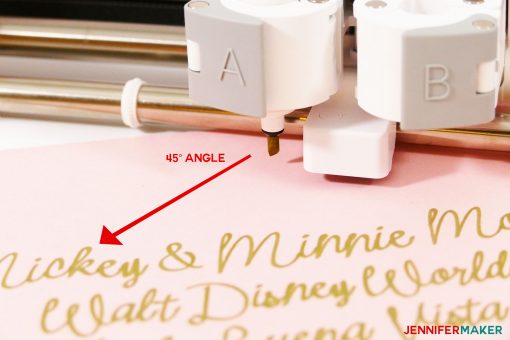 Tip: Use the arrow on the front of your Cricut calligraphy pen as a guide and point it at the left corner of your drop-down front panel.
It's also important to note that you need to position your text so it writes in the proper place on your envelope. You can do this by clicking and dragging your text when you get to the Mat Preview screen.
When you're ready, put an envelope on a cutting mat, load the mat, and press Go.
There we go! It's gorgeous, isn't it? And I wouldn't know this wasn't hand lettered if someone gave it to me.
I used the Emiline font for this envelope design.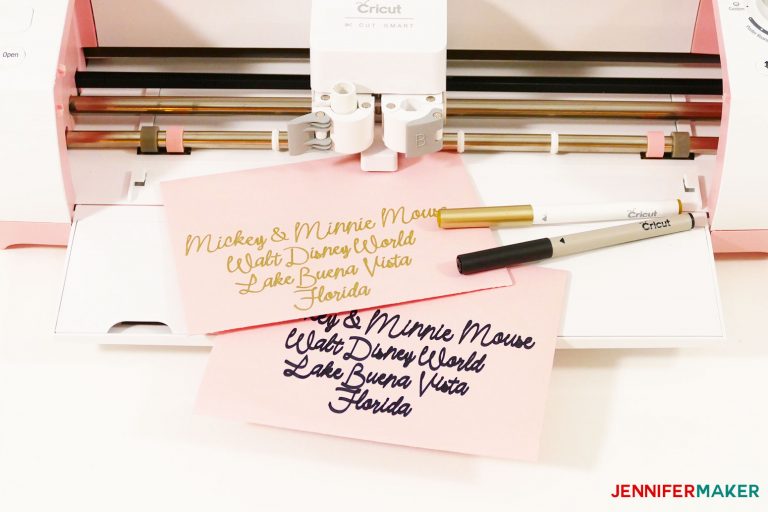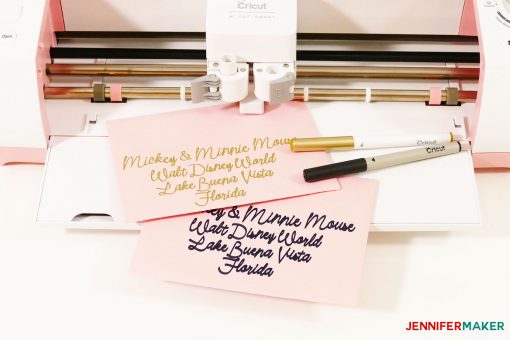 One thing to note is that to get this pretty look with your Cricut writing, I used one of the advanced features of Design Space. I selected my text, clicked Advanced, and then chose "Ungroup to Letters." This allowed me to move each letter individually so I could position it where it looked best. When done, just select all of the letters and click Attach.
I hope this has given you some helpful insight into how to write on your Cricut!
I'd love to see your project! If you make one, please share a photo in our Facebook group or tag me on social media with #jennifermaker.
If you'd like to learn more about Cricut, check out my Cricut Coach Playbook, filled with over 100 printable one-page diagrams that show you how to do all the popular tasks in Cricut Design Space!