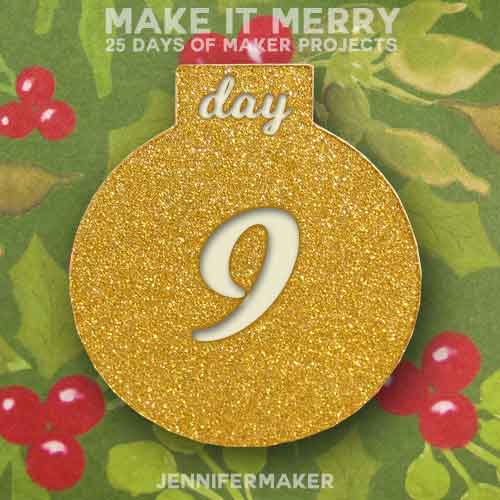 It had to happen eventually. I've admired the Rose Gold Leather at my local craft store many times. But I had no idea what to make with it, so I never bought it. Then inspiration struck and I rushed out to get it. So today, on Day 9 of my MAKE IT MERRY: 25 Days of Maker Projects, I'm going to show you how to make a lovely gift for someone special—a DIY leather journal with gorgeous cutwork and scalloped edges.
The inspiration for the idea came from the packaging for the Rose Gold Leather itself. There's a picture of a cutwork leather cover on it. I searched for a cut file for that specific design, but couldn't find it anywhere in Access or online, nor any reference to it anywhere, for that matter. So I set out to design my own journal cover with its own lovely cutwork, only even more detailed than the one pictured.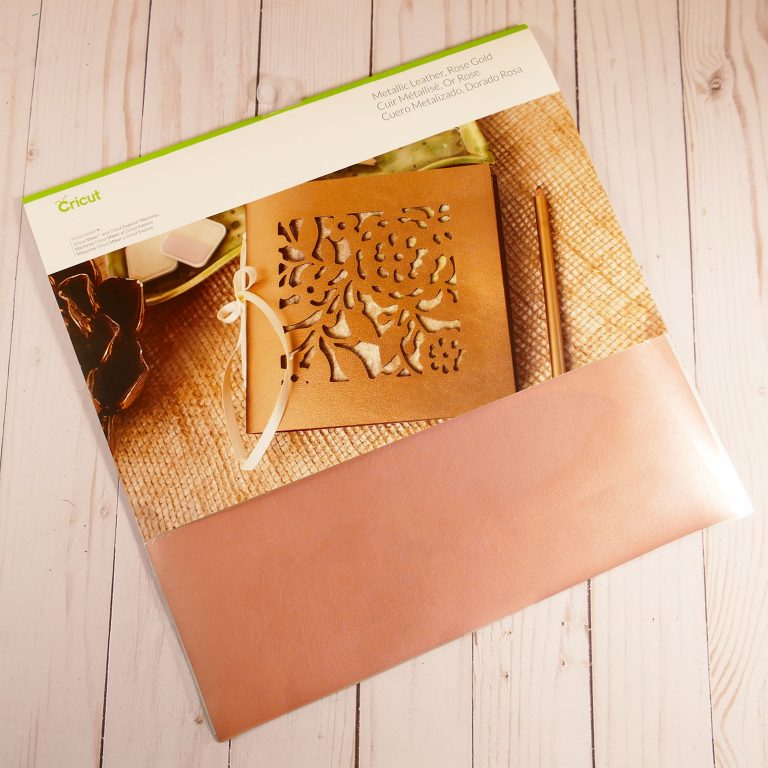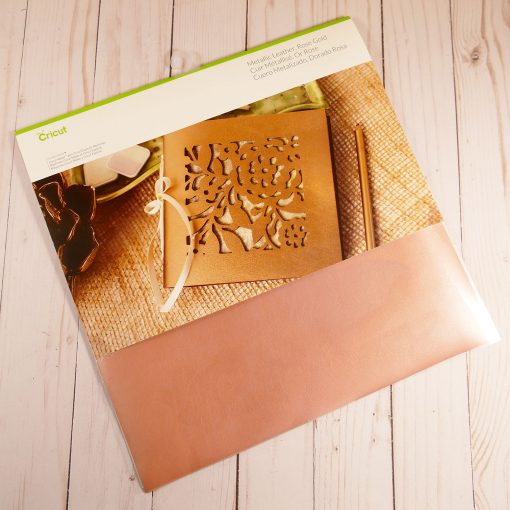 My design combines both roses and other flora (as a nod to the color of the leather) and a heart (my favorite symbol). I also added a scalloped edge because, well, it's very pretty and unusual.
This was also my first time cutting leather on my Cricut. (I have done some other more traditional leather work, like this leather-wrapped stone.) I learned a lot about how to cut leather, and I'm happy to say that I was successful and didn't waste my one precious sheet of leather. I did a lot of testing beforehand to be sure that my first leather cut went well, and I'll pass along everything I learned about cutting leather on my Cricut in this tutorial.
Several readers have made this journal already! Here are two pretty versions of my journal made with faux leather by AmyGonnaCraft: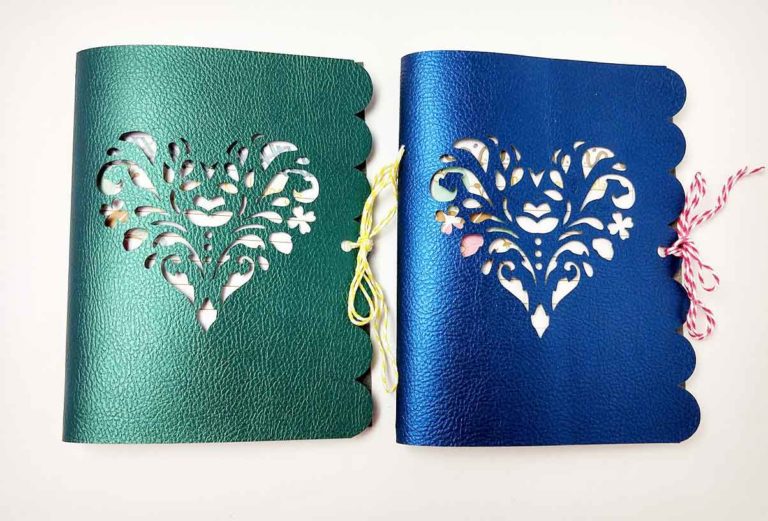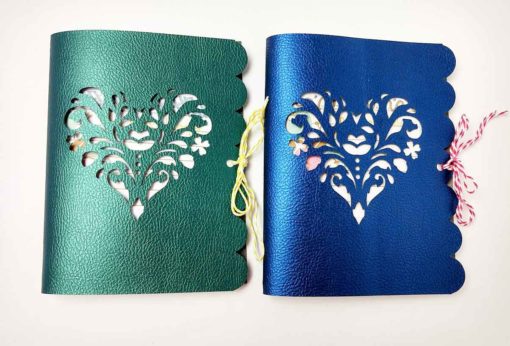 And here are two variations on this by Misty at CardsbyGeyda — one is a leather journal, but the other is the same pattern in paper to make a card!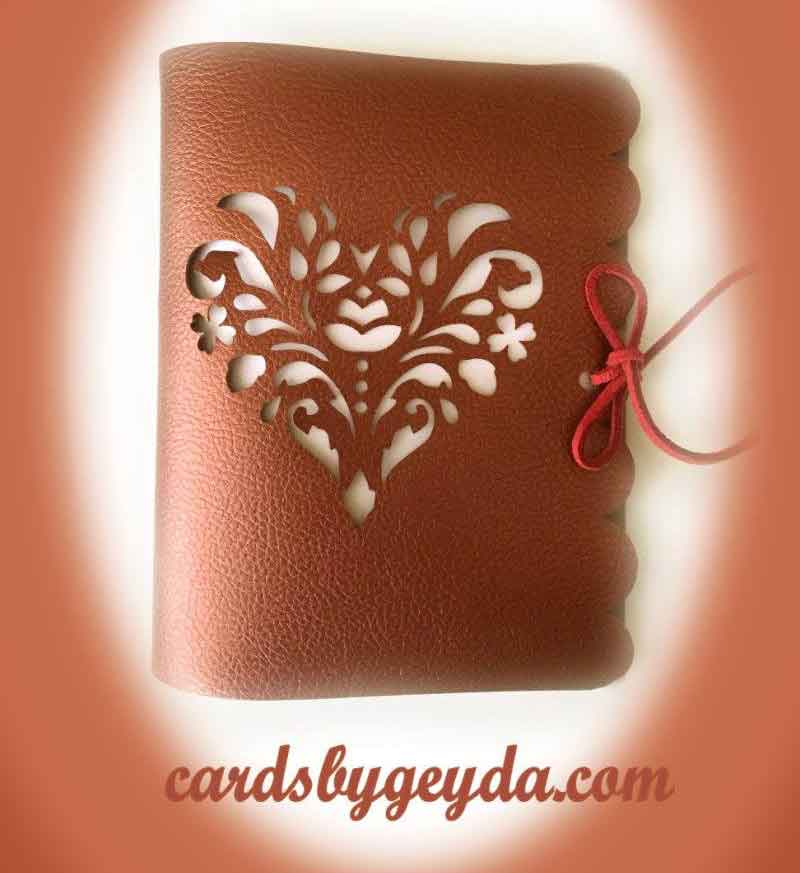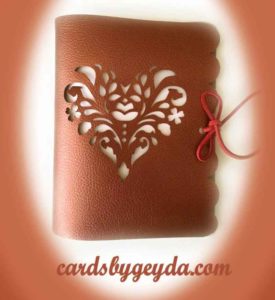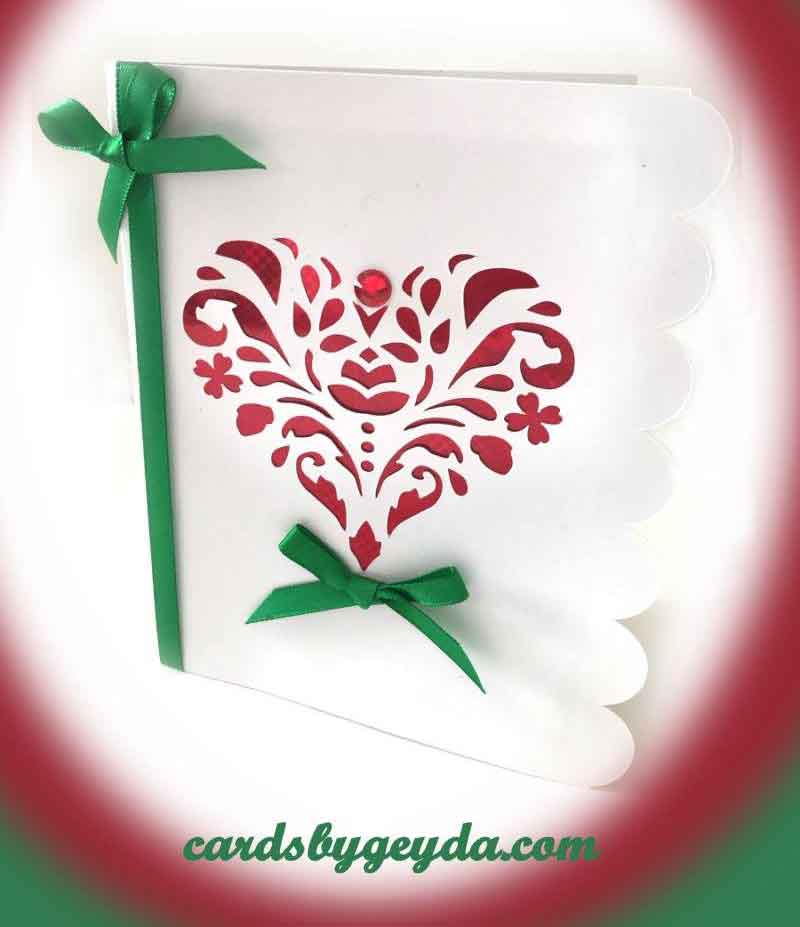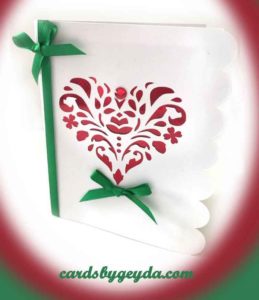 Let me show you how to make this DIY Leather Journal. This post contains some affiliate links for your convenience (which means if you make a purchase after clicking a link I will earn a small commission but it won't cost you a penny more)! Read my full disclosure policy.
Materials for the DIY Leather Journal with Cutwork
How to Make Your DIY Leather Journal with Cutwork
First, download Design #72 which is my free SVG cut file from my free resource library and upload the file to your design software.
Tip: If you're not sure how to upload an SVG cut file to Cricut Design Space, watch this helpful video training series I made. If you're on an iPhone or iPad, here's how to download and upload SVG files to the Cricut Design Space app.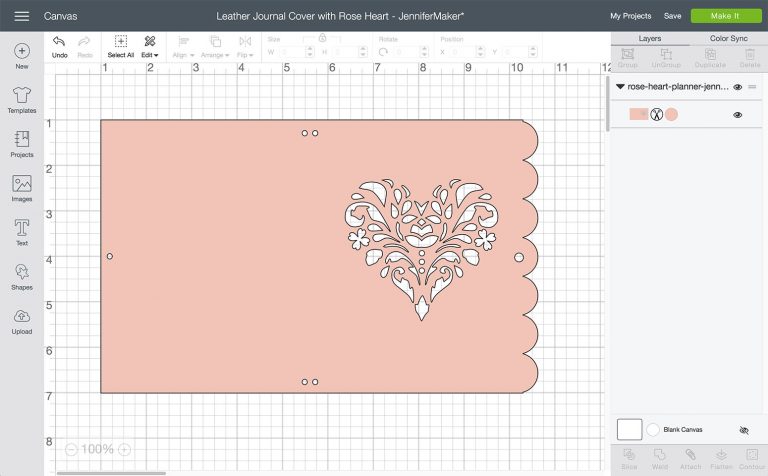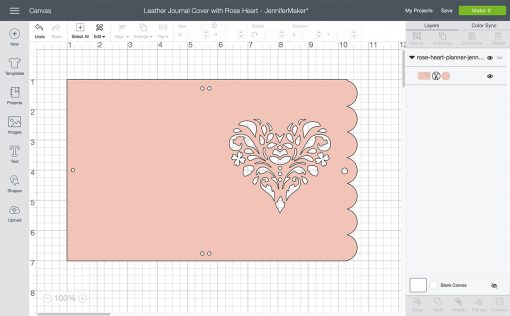 Click the Make It button to send your image for preparation. On the next screen, click the toggle next to "Mirror" — mirroring is necessary when cutting leather.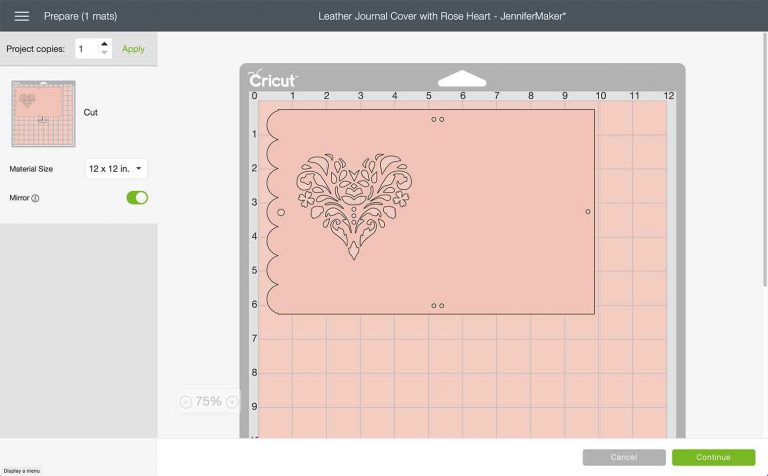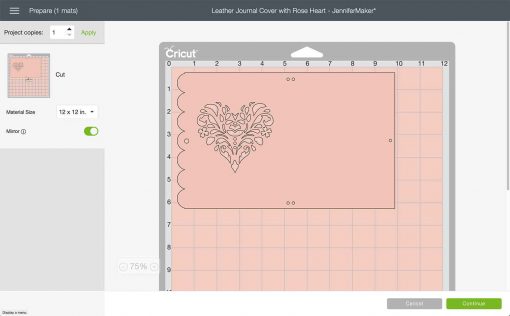 Change your Cricut dial to "Custom" (if you're using an Explore) and click the "Continue" button in Cricut Design Space.
Select "Metallic Leather" as your custom material, then click "Done."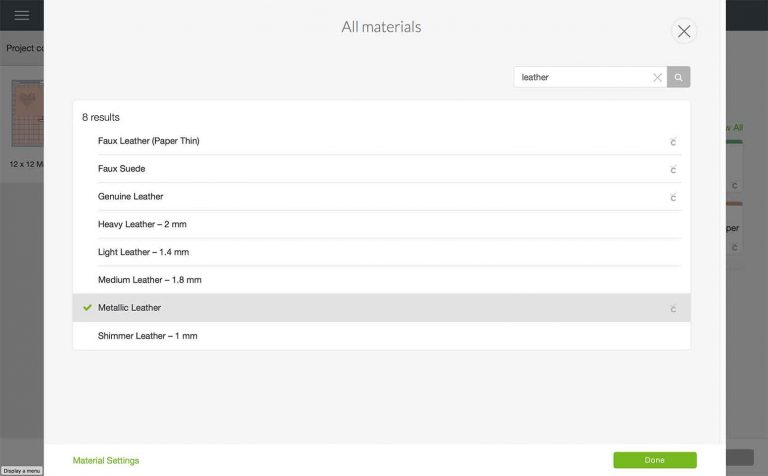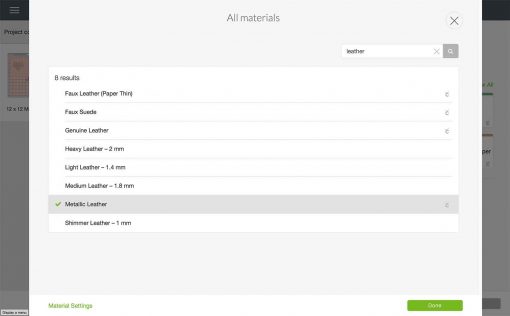 Change your pressure to "More" (just to be sure it cuts through your leather).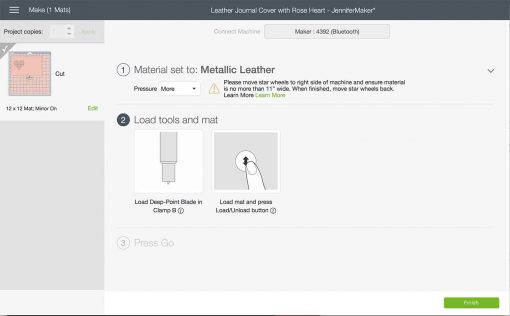 Move your "Star Wheels" (the white wheels on the front bar of your Cricut) all the way over to the right. Do this to avoid having the star wheels put marks on your leather.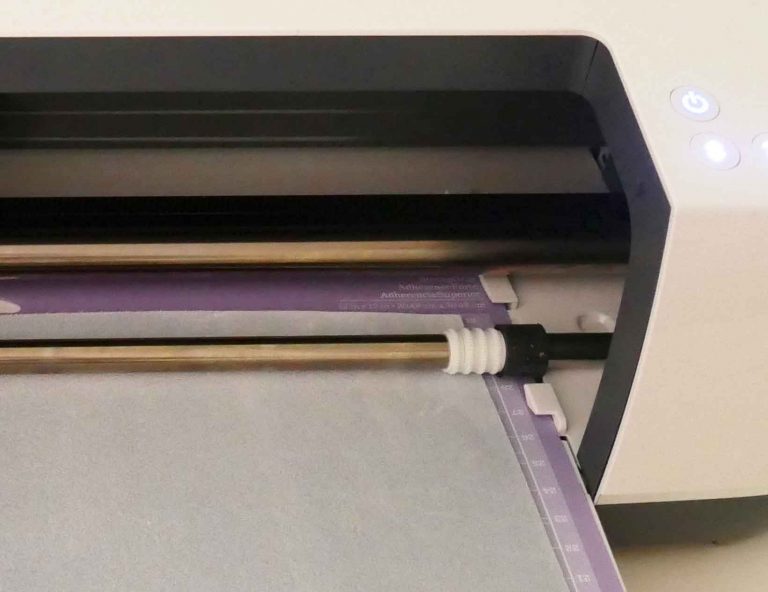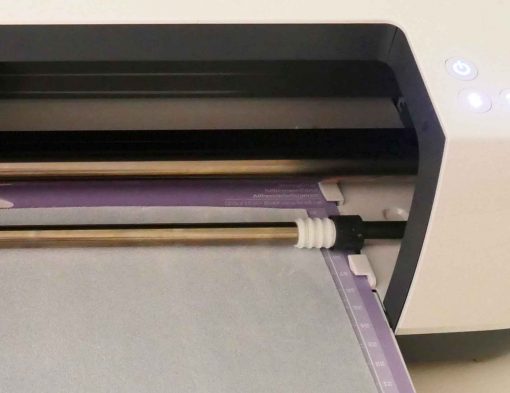 Insert your Deep-Point Blade into Clamp B on your Cricut.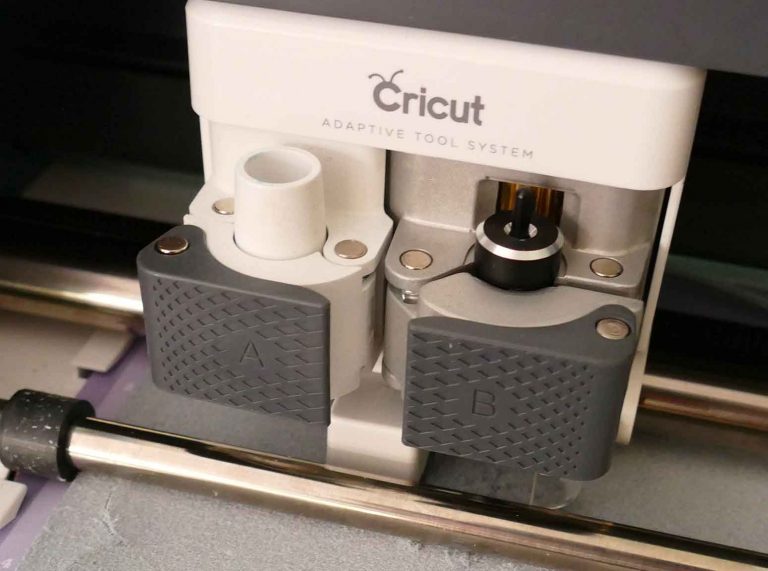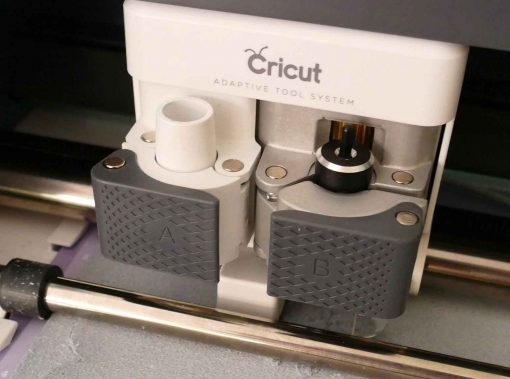 Cut a piece of leather 11″ wide and 7″ long. Cricut recommends this size to avoid getting grooves in your leather from the star wheels.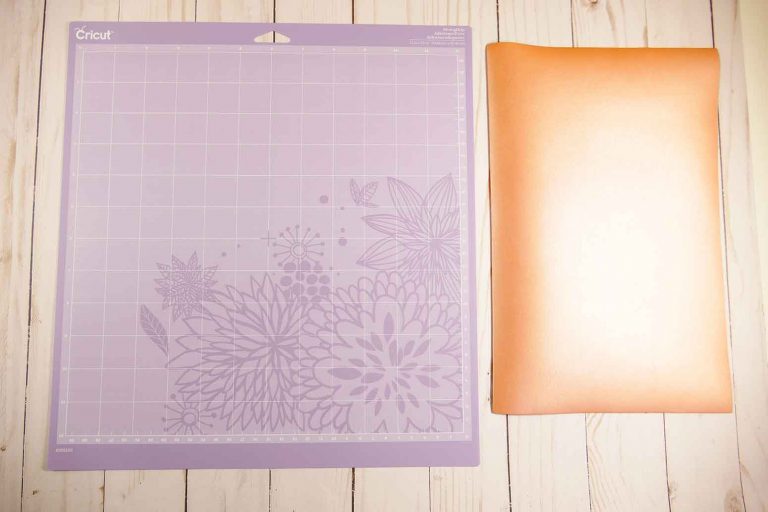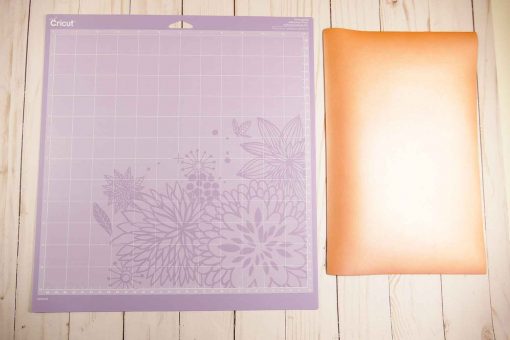 Put your leather on your StrongGrip cutting mat SMOOTH side down. I highly recommend a brand new mat. It's SO important that the leather stick to your mat, or it just won't cut out properly.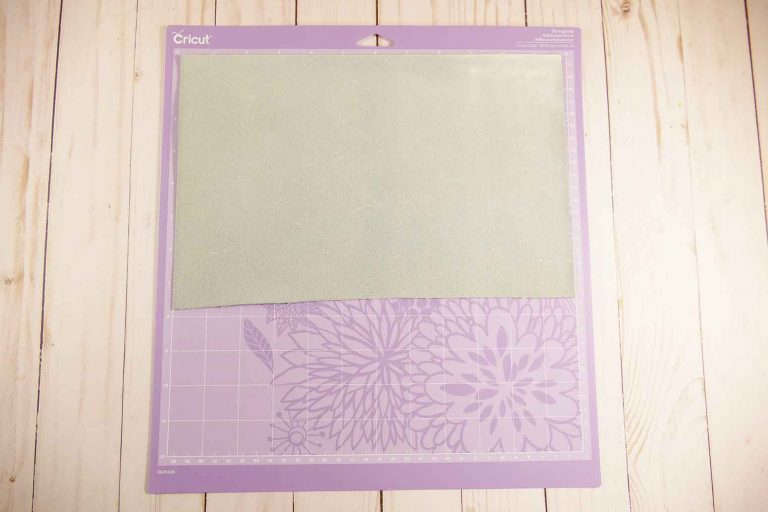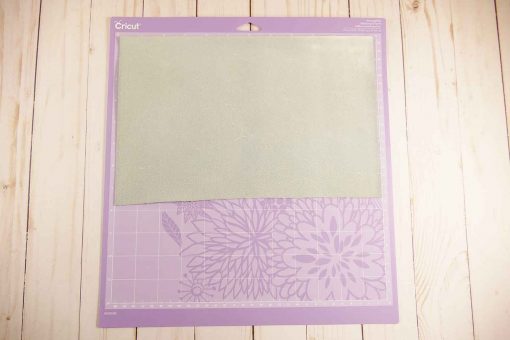 Load your mat and cut out your leather. Your Cricut will automatically go over each cut four times because you choose the "Metallic Leather" custom material. Note: If your leather starts to slip on the mat, pause the cutting and tape down the edges with tape.)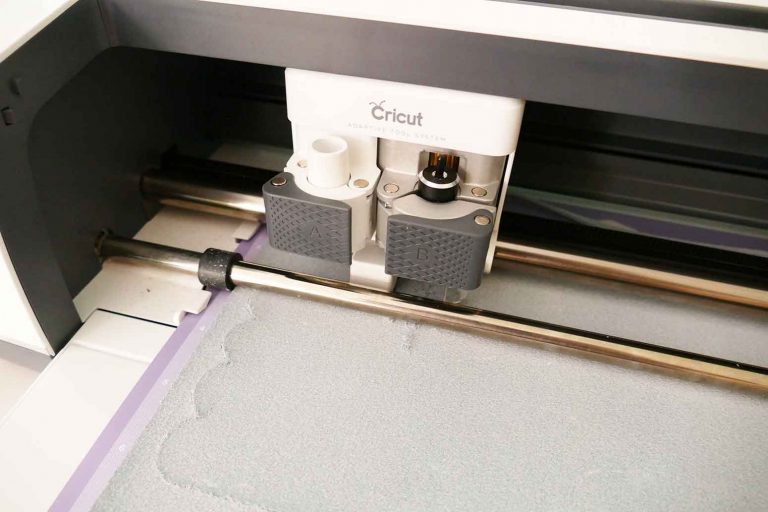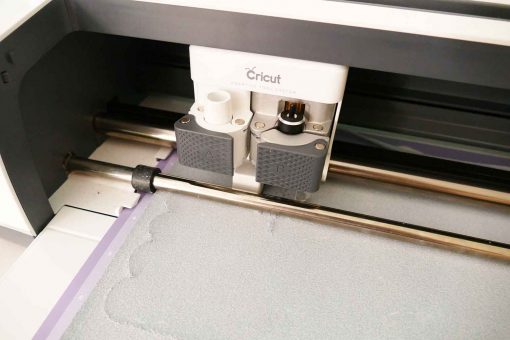 When done cutting, remove the excess leather by poking at it from the front. This doesn't take long. If you have any bits that didn't cut all the way through, just snip them off with some scissors.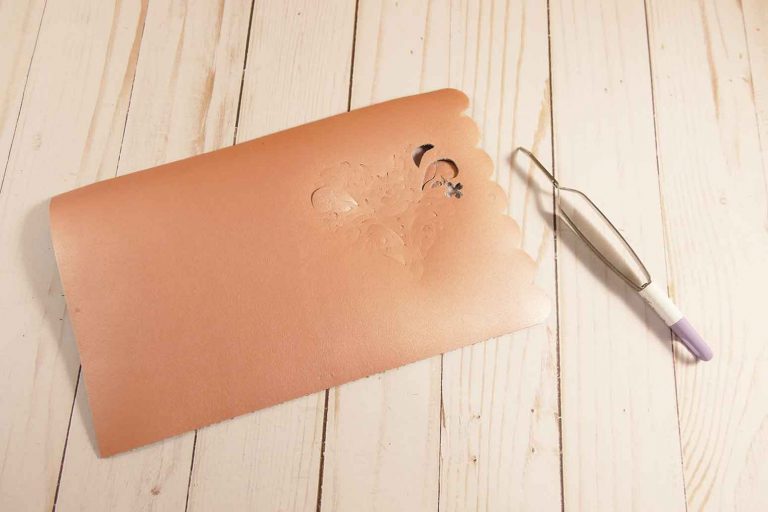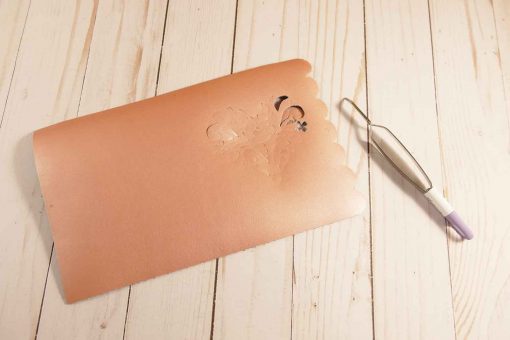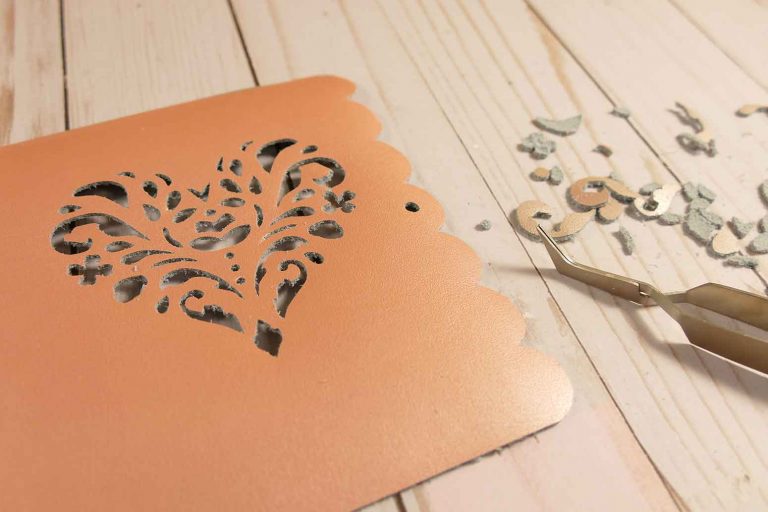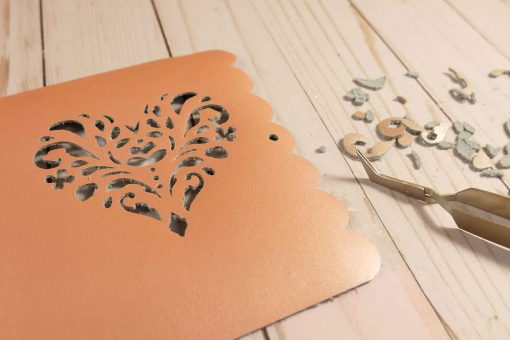 Here is the leather, all cut: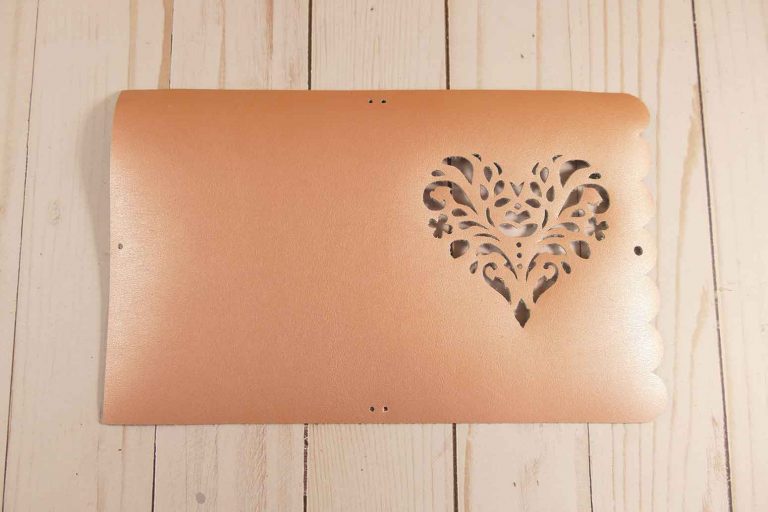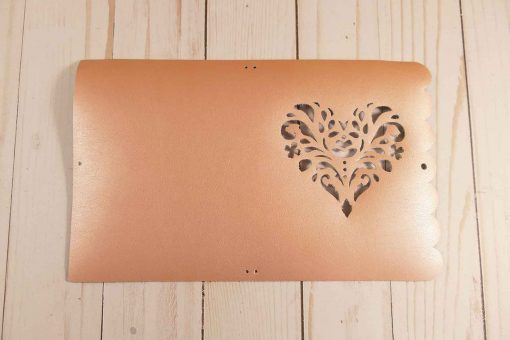 Get the entire piece of leather wet, soaking it in water for a couple of minutes.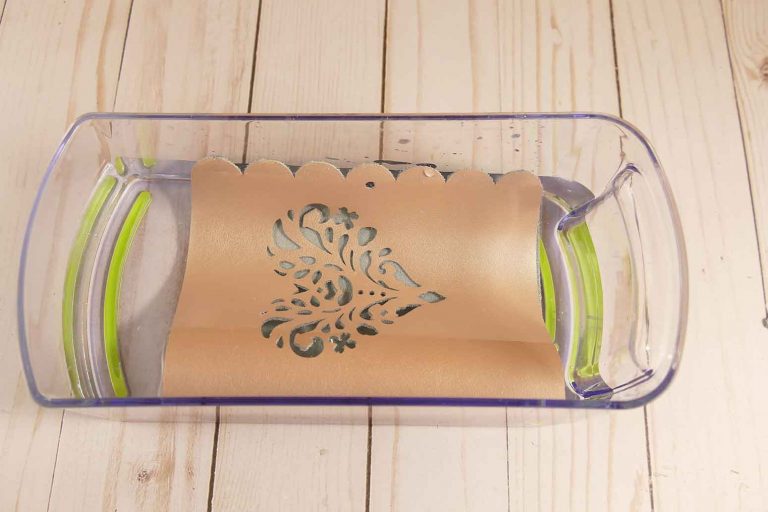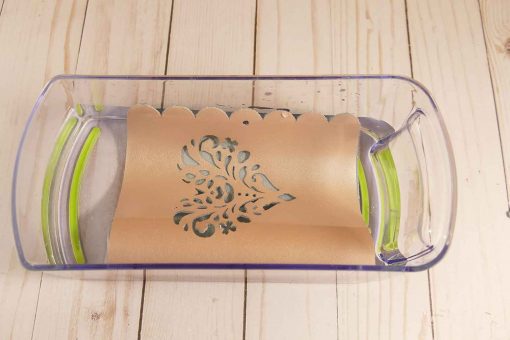 Fold the leather in half while it's still wet, matching up the holes on the right side.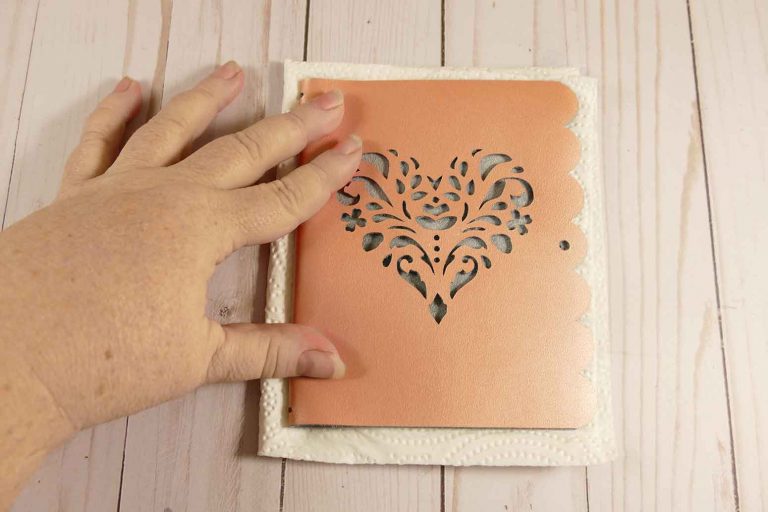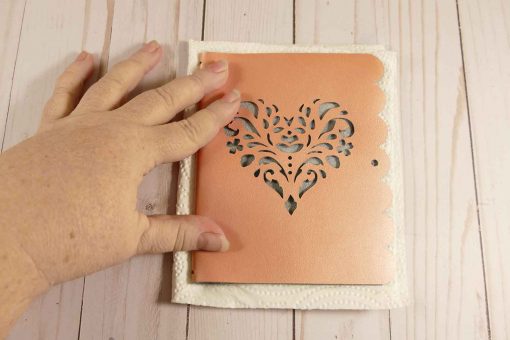 Place something heavy on the folded leather and leave it there for a few hours or until the leather is dry. This will help your leather stay folded.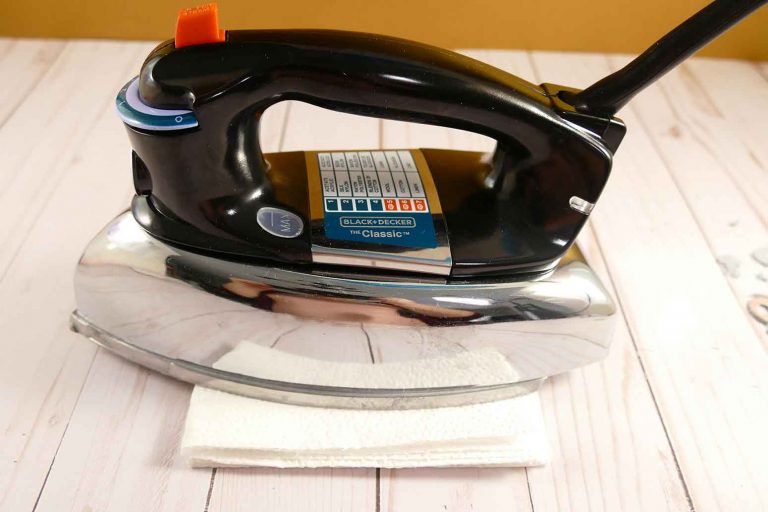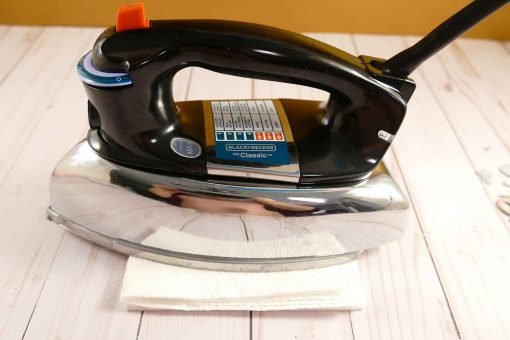 While the leather is drying, cut your letter-size paper in half long-wise.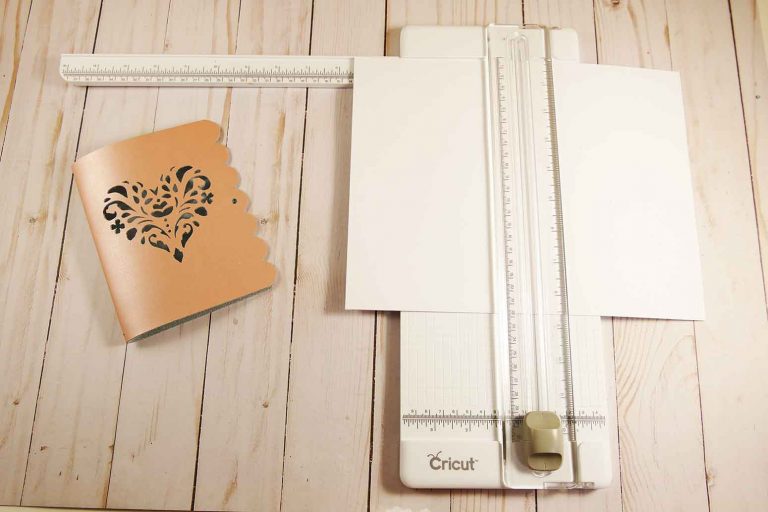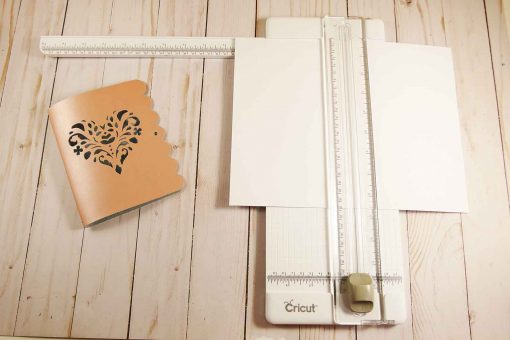 Now fold those cut papers in half, for a finished size of 4.25″ by 5.5″.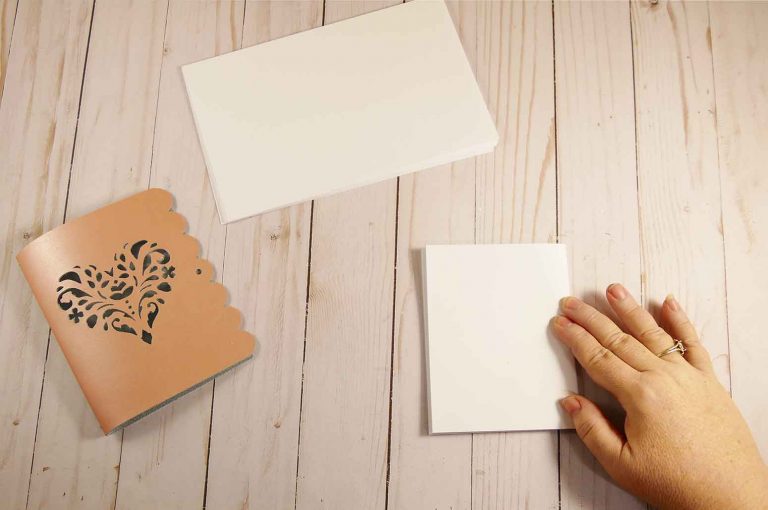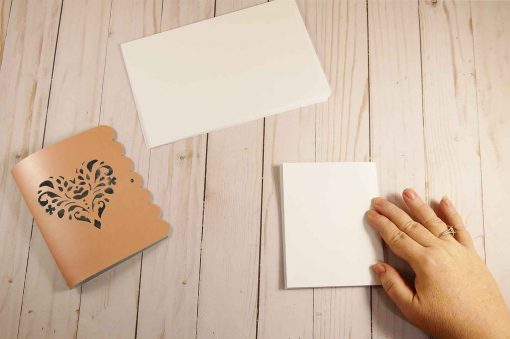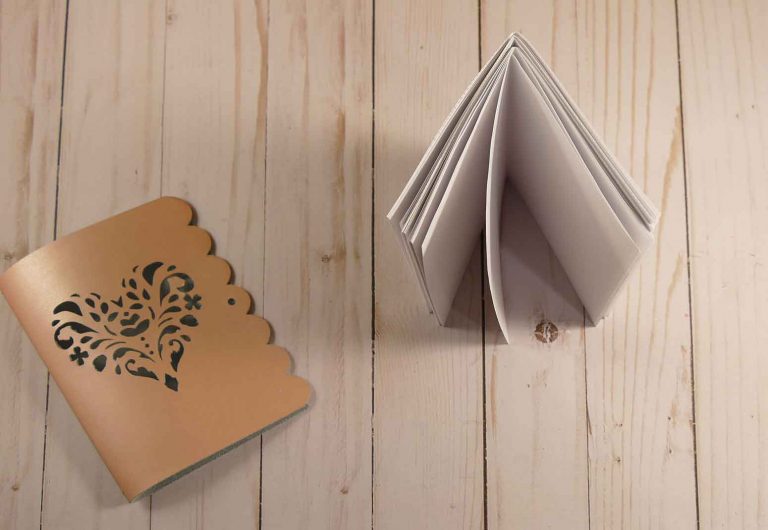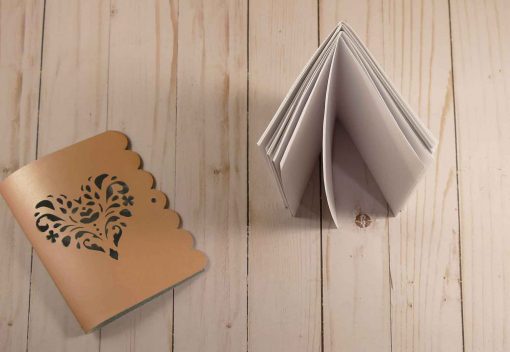 Cut off a piece of string about 18″ long and insert it into the holes at the top and bottom of the leather cover.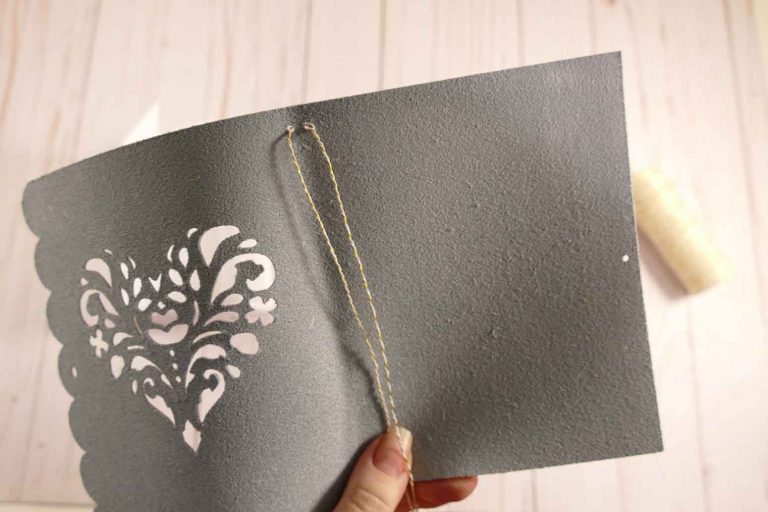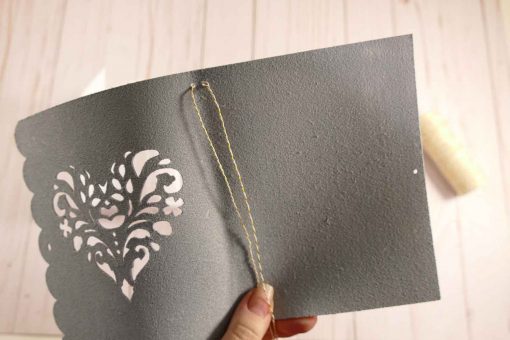 Slip in the pages and tie the string to secure the pages in your journal.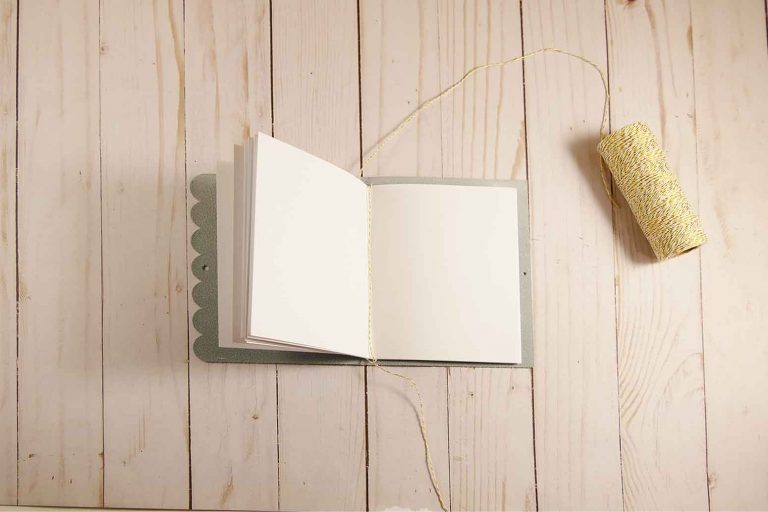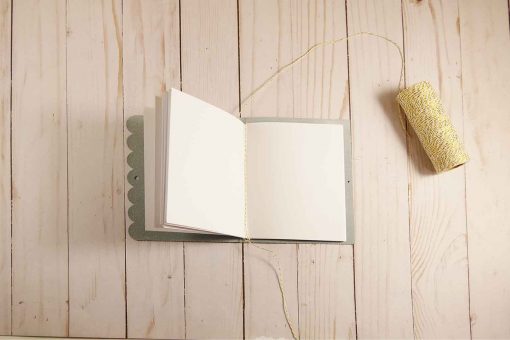 Now, cut off a piece of string about 8″ long, put it through both the front and back holes on the right side, and tie your journal closed.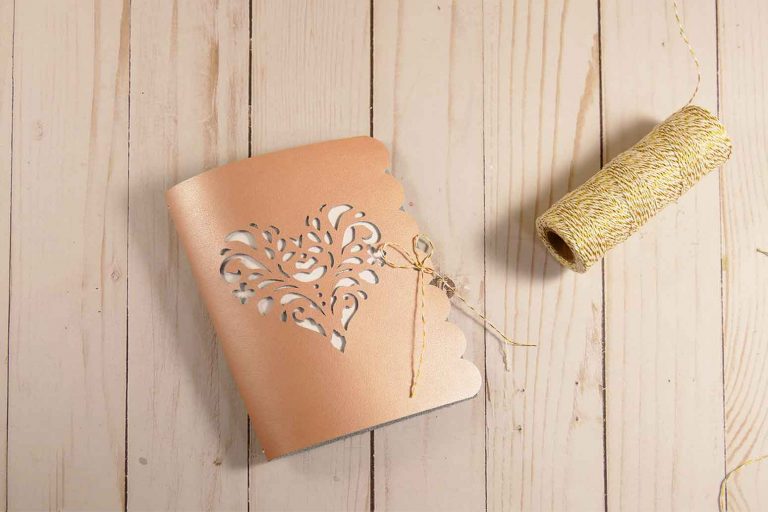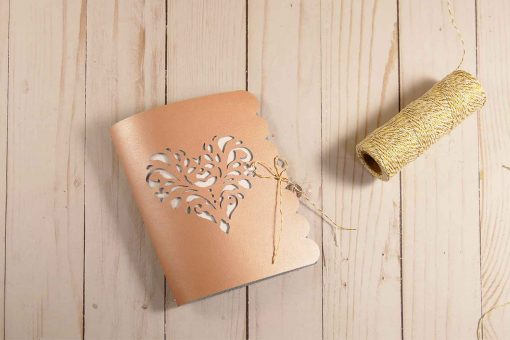 And that's it! You now have a beautiful DIY leather journal with gorgeous cutwork!!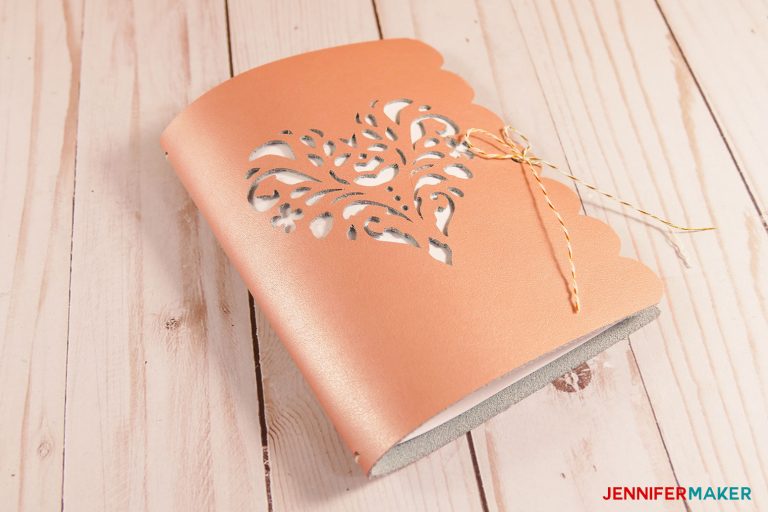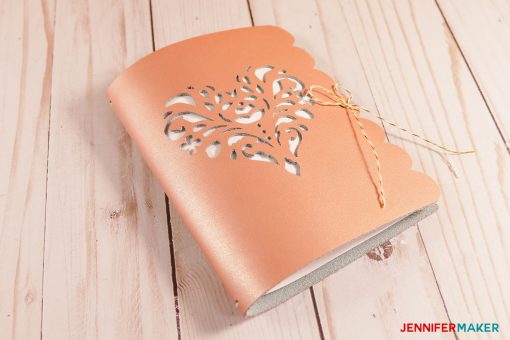 The finished size is about 5″ wide by 6″ high.
My Cricut Leather Cutting Tips
Works on both Cricut Maker and Cricut Explore (I tried it on both of my cutting machines)
Remember you need to use a Deep-Point Blade
If possible, use a brand new StrongGrip cutting mat—your mat needs to be as sticky as possible for the best cut
Don't get too crazy detailed on your cuts. I designed this rose heart specifically for leather. If your design is too detailed, it just won't look great.
Be sure to mirror your image before you cut.
Remember to move your Star Wheels all the way over to the right before you cut.
Put no more than 11″ (wide) of material on your mat to avoid having it scuffed up by the Star Wheels.
Get my free template and cut files for the DIY Leather Journal
This would make such a fabulous gift, especially for someone into journaling or rose gold! If you make a leather journal, please share a photo in our Facebook group or tag me on social media with #jennifermaker.
By the way, there is a matching heart cutwork box you might enjoy making to go with this journal, too!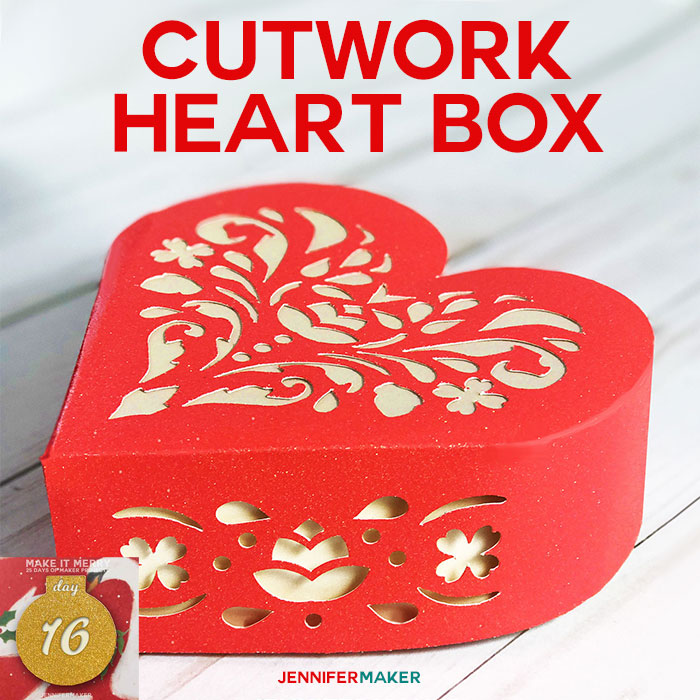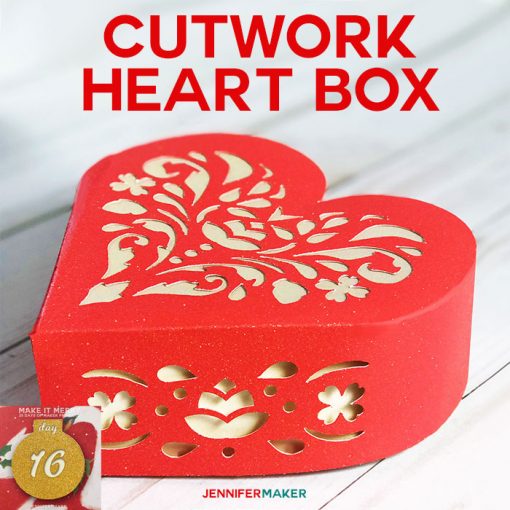 This leather journal was made during my MAKE IT MERRY: 25 Days of Maker Projects Christmas! Click the link to view all 25 projects.
Love,