Learn how to apply vinyl with the wet method to get perfect placement every time!
Whether you are new to the Cricut crafting world or a seasoned professional, you know that one of the most popular materials to make crafts with is adhesive vinyl. You can use vinyl to make all sorts of things from coffee mugs to decals for your wall! But if you've been working with adhesive vinyl for any length of time, you also know it can be tricky. It can be hard to weed, position, and lay flat without bubbles or creases because it's just so sticky. So today I'm going to teach you an amazing technique that will take the sticky hassle out of vinyl: the wet method. This trick will help you make a stunning shadow box with beautiful, intricate vinyl heart decals!
Watch the full step-by-step tutorial video on how to apply vinyl with the wet method: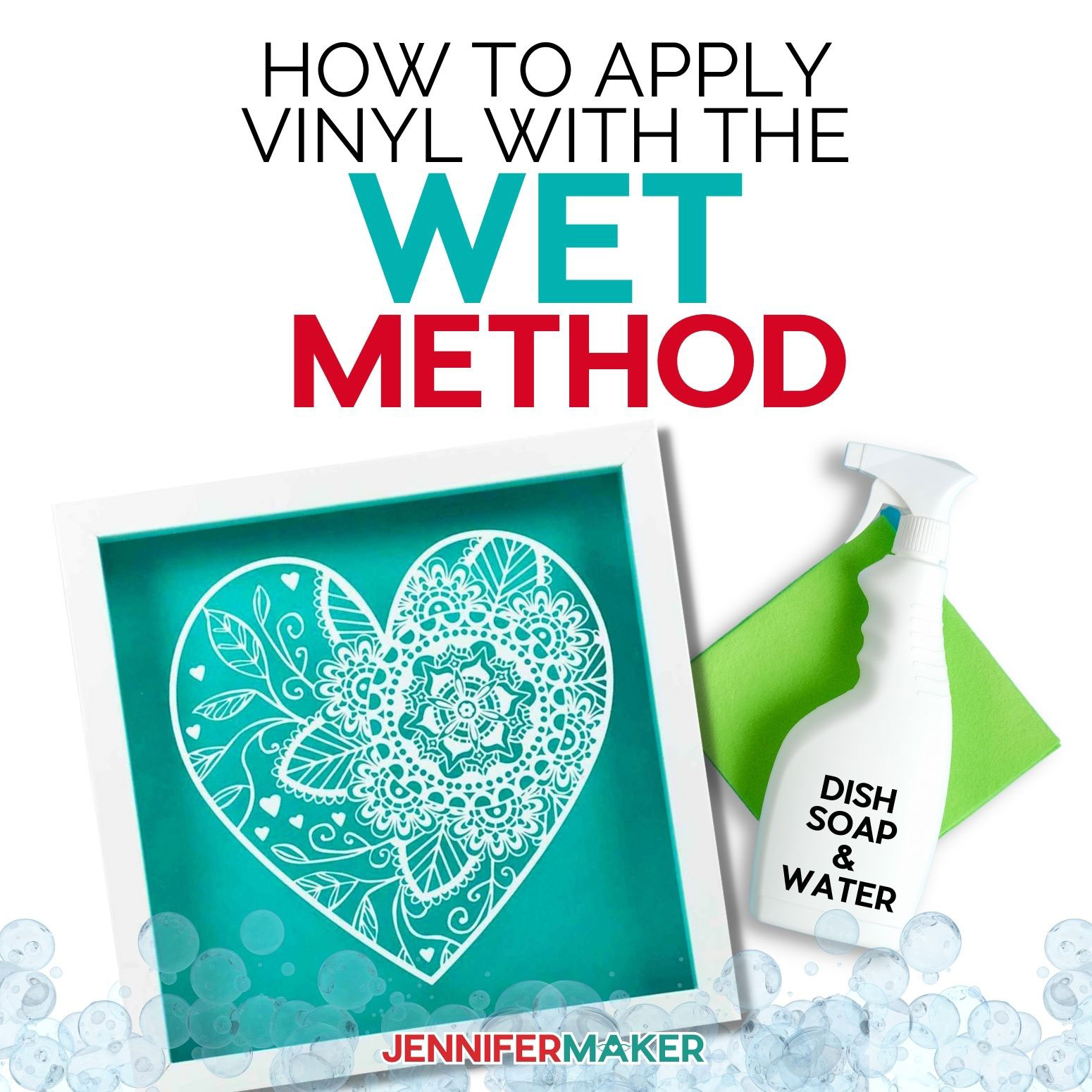 Depending on how familiar you are with vinyl, you may or may not know that placing adhesive vinyl on anything can be tricky. The vinyl immediately wants to stick, making it really hard to put it exactly where you want it. And when you do get it into place, it can be tough to push out all the bubbles and avoid creases. But there is an easier way … and all it takes is a little soapy water.
This soapy water trick is a game-changer for vinyl projects and I'm going to show you exactly how it works to make a beautiful shadowbox.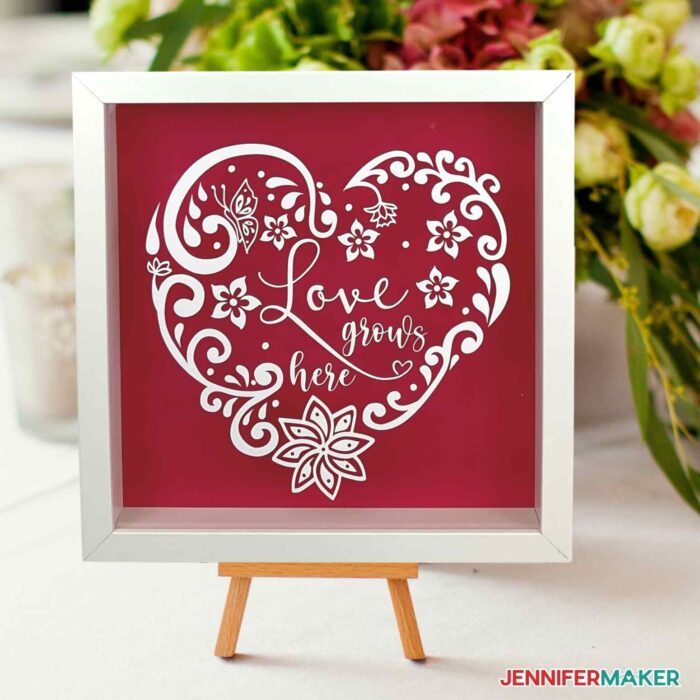 To use the wet vinyl transfer method, you'll need some permanent vinyl; any color is fine. If you want to make a shadowbox like mine, choose contrasting colors for you vinyl and background.
For your transfer material, you can use either regular standard grip transfer tape OR transfer paper. I will compare how both options to help you decide which is best for you!
And to make the magic happen you're going to need a spray bottle filled with water and some Dawn dish soap. I'll explain exactly how much soap to put in the bottle in this tutorial.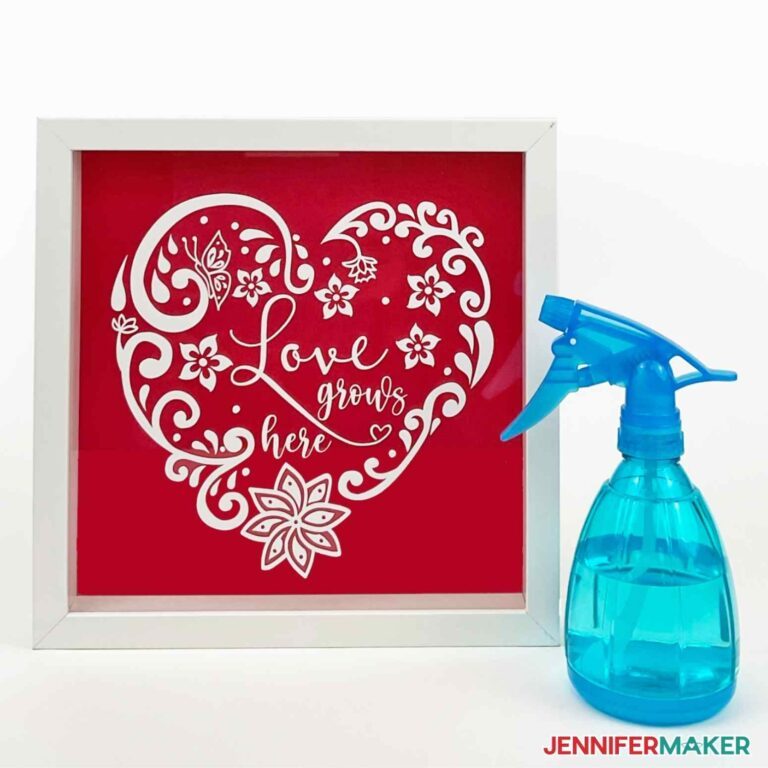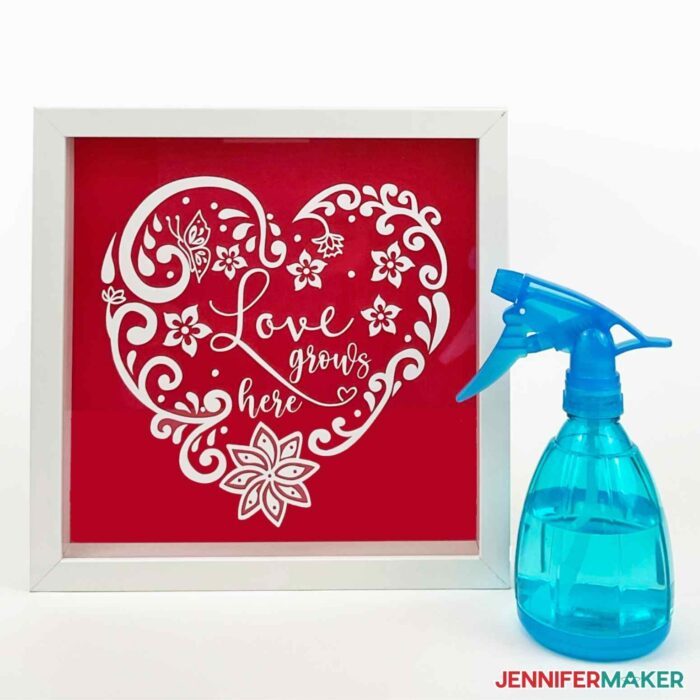 If you also want to make the intricate heart shadow box shown in this tutorial, you'll need a shadow box. I used a 10-inch shadowbox, but you can use any size you like. The wet vinyl transfer method works on any smooth, non-porous surface. "Non-porous" means there are no 'pores' in the surface that can trap air or water. SO it works on glass, hard plastic, or anything else really smooth that air and water can't travel through.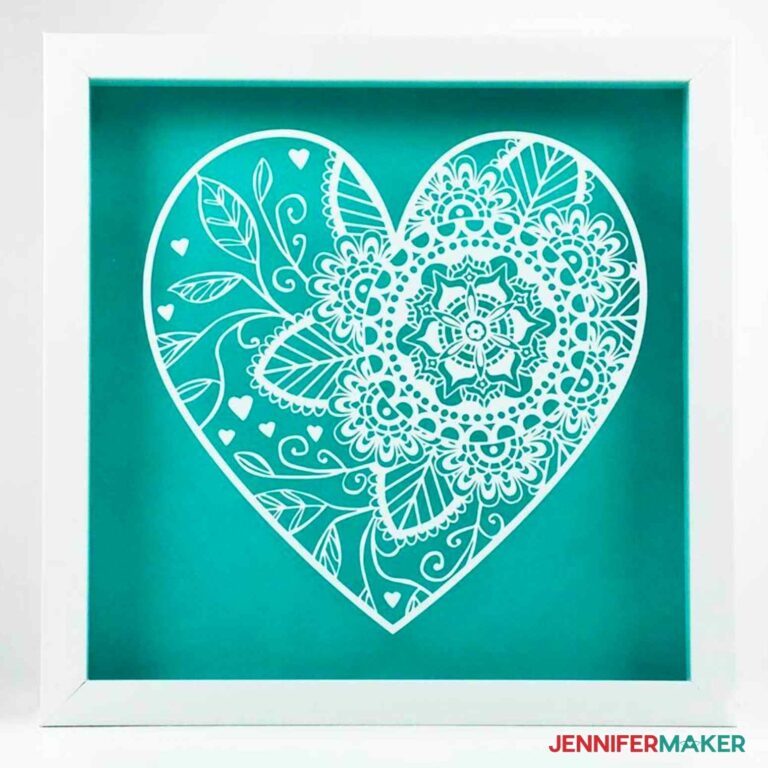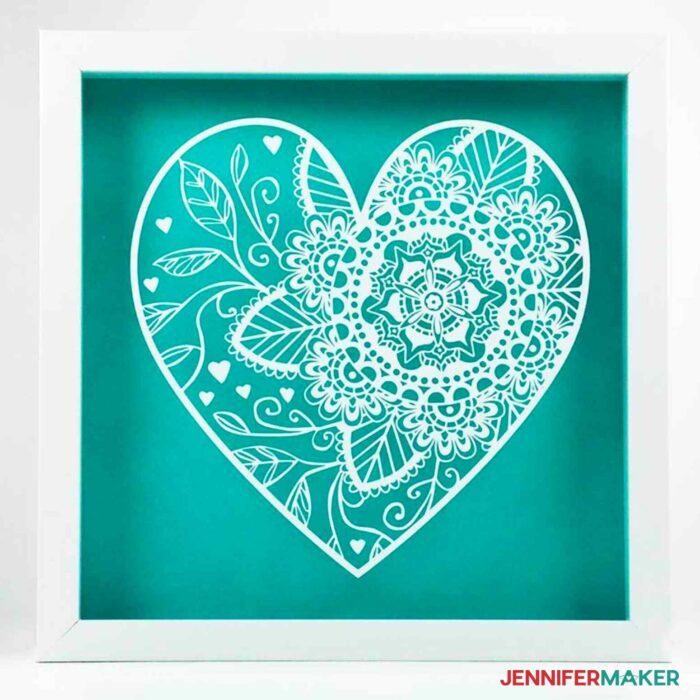 To cut the vinyl for our project, a Cricut cutting machine does a great job! You can use any Cricut that uses Design Space for this project! If you do use a Cricut, you'll also want a green machine mat, brayer, scraper, measuring tape, a weeding tool, and some scissors.
Since I chose to use white vinyl for my shadow box, I'm going to use my Cricut BrightPad to help during weeding. It's hard to see cuts on white vinyl, so this will help me see them better, but it's completely optional.
You'll also want isopropyl rubbing alcohol and a lint-free cloth to clean the glass of the shadowbox.
My gorgeously intricate heart designs are perfect for the wet vinyl method, and I'm sharing these SVG cut files for free! See the material list below for links to everything you need to craft along with me!
Ready to make these gorgeous and intricate hearts with the wet vinyl method? I'm super excited to show you how! This post contains some affiliate links for your convenience (which means if you make a purchase after clicking a link I will earn a small commission but it won't cost you a penny more)! Read my full disclosure policy.
Materials to Apply Vinyl with the Wet Method
How to Make an Intricate Heart Shadowbox with the Wet Vinyl Transfer Method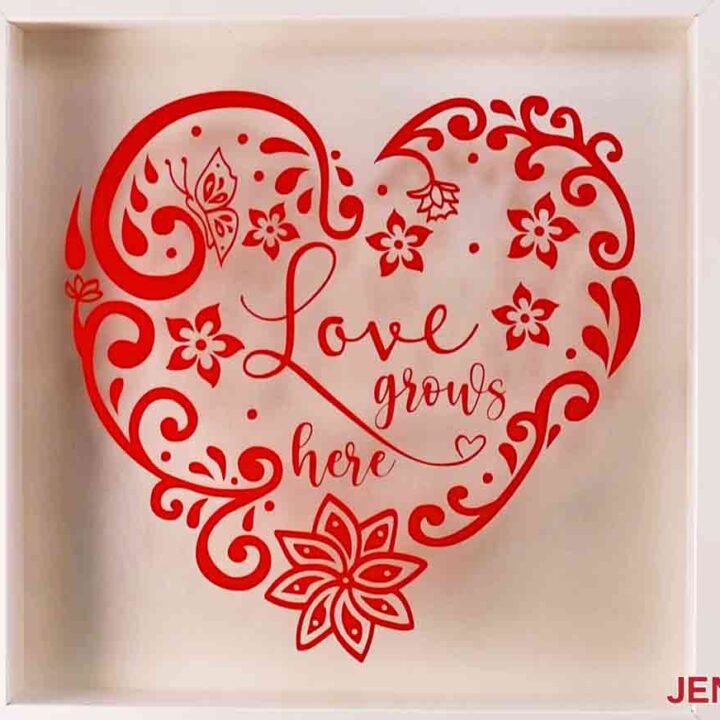 Intricate Hearts - Wet Vinyl Technique
Total Time:
2 hours
25 minutes
Difficulty:
Easy to Medium
Learn how to use the wet vinyl method to easily place detailed vinyl designs like my Intricate Hearts on glass with no bubbles!
Questions About Using the Wet Method for Applying Vinyl
What vinyl doesn't work with soap and water wet application?
Iron-on vinyl (aka heat transfer vinyl or HTV) doesn't work with the wet transfer method. Also, some vinyls use water-based adhesives, and if the vinyl you have is like that, it will not work with a wet application. Cricut vinyl adhesive is NOT water-based. If you do have a vinyl with a water-based adhesive, you can use a product like RapidTac to apply it in a similar way.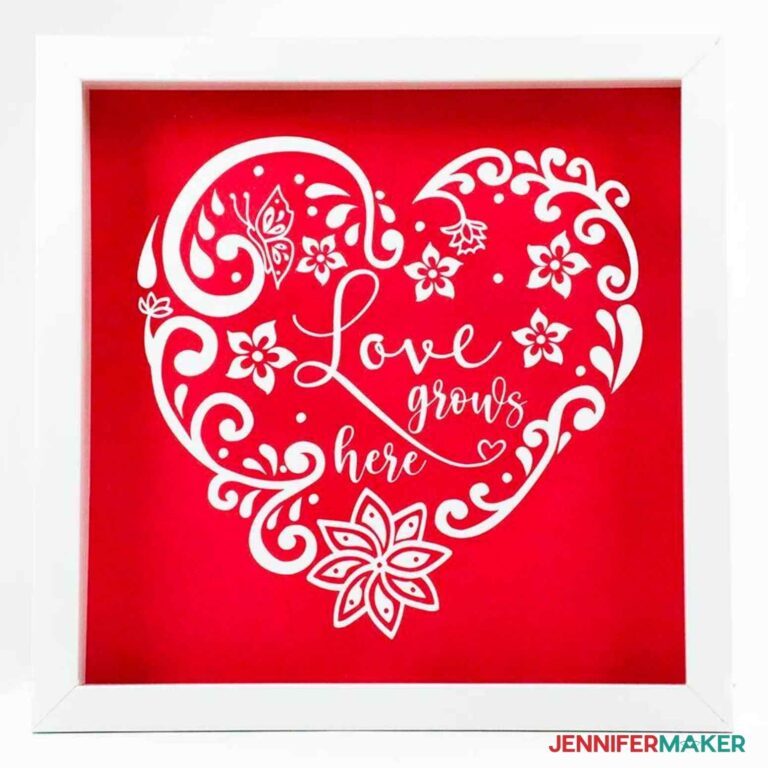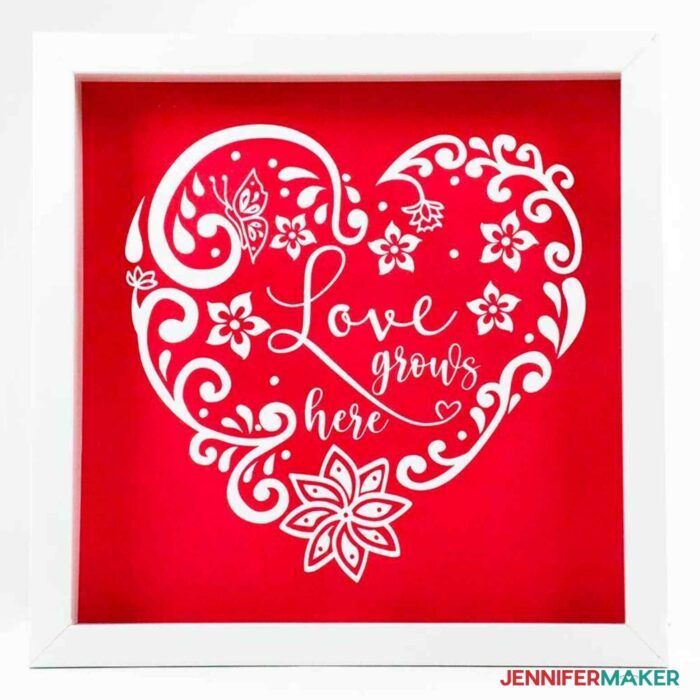 Can I use the wet method to apply vinyl to the inside of glass?
Yes! In fact, it's perfect for that because the wet vinyl transfer method eliminates bubbles, which are more of an issue when you apply vinyl to the inside of glass.
Where do I find Transfer Paper?
We got our transfer paper from Amazon and it worked great!
Do I have to use Dawn brand dish soap?
No, that's just what we used. We also tried a generic dish soap from Aldi and that worked fine. Any general-purpose dish soap should do the trick, as well as baby shampoo. Remember that if you use Dawn, use just one drop per 16 oz of water. And I recommend using other soaps sparingly at first as you just don't want your mix too sudsy.
What surfaces can I use the wet vinyl transfer method on?
The wet vinyl transfer method works on any non-porous, smooth surface. "Non-porous" means there are no 'pores' on the surface that can trap air or water. SO it works on glass, plastic, or anything else really smooth and that doesn't let air or water pass through it. You can use this method on glass, hard plastic (like stiff acrylic), stainless steel, sealed (and smooth) wood, painted walls, sealed tiles, and porcelain.
Get my free SVG files for the Intricate Heart Designs!

I'd love to see your vinyl projects using the wet vinyl method! If you make a shadow box or anything else with this method, please share a photo in our Facebook group, email it to me at [email protected], or tag me on social media with #jennifermaker.
Love,