Learn all about new Cricut LED Craft Lights, the Cricut Bright 360 lamps!
Wait, what? Cricut has lamps? ??? If this was your first reaction, you're not alone. The first time I heard about the Cricut Bright 360 lights, I was like … but what do they DO? Why would I need Cricut to make me a lamp? Yes, lighting is SUPER important for pretty much all crafting projects, especially task lighting. Yes, we can't do things properly without good light… and that goes for everything, from paper crafting and weeding to sewing and 3D modeling. But aren't there already good lights out there? Why do we need Cricut to make us a new light? So let's take a closer look at the Cricut Bright 360 lamps to see what makes them different from other lamps!
Watch this video to see the Cricut Bright 360 lamps in action and go head-to-head against the OttLite, Daylight Duo, Addlon, and NeatFi task lamps!
This post contains some affiliate links for your convenience (which means if you make a purchase after clicking a link I will earn a small commission but it won't cost you a penny more)! Read my full disclosure policy.
Thank you to Cricut for sending me these lamps in advance so I could review them for you. This means I received free products, but without any expectation of a favorable review. Please note that all opinions in this post are entirely my own, and I am not sponsored nor paid by Cricut to review them. As always, you'll get my 100% honest opinion on how they work and light things up. I will be entirely upfront and say I was a little skeptical that I needed a special Cricut lamp.
What does the Cricut Bright 360 Lamp do?
In a nutshell, this is a very bright LED lamp that casts an even light that is perfect for crafters. Cricut bills the Bright 360 as the "ultimate LED lamp" that lets us "see more and do more." The Cricut Bright 360 can pivot, rotate, and glide with ease, and we can position the light exactly where we need it with a gentle push of the hand to illuminate up to four square feet of our work space.
Is this is a floor lamp or table lamp?
Both floor and table lamps are available! The one that's best for YOU depends on your available space. If table space is at a premium, go with the floor lamp.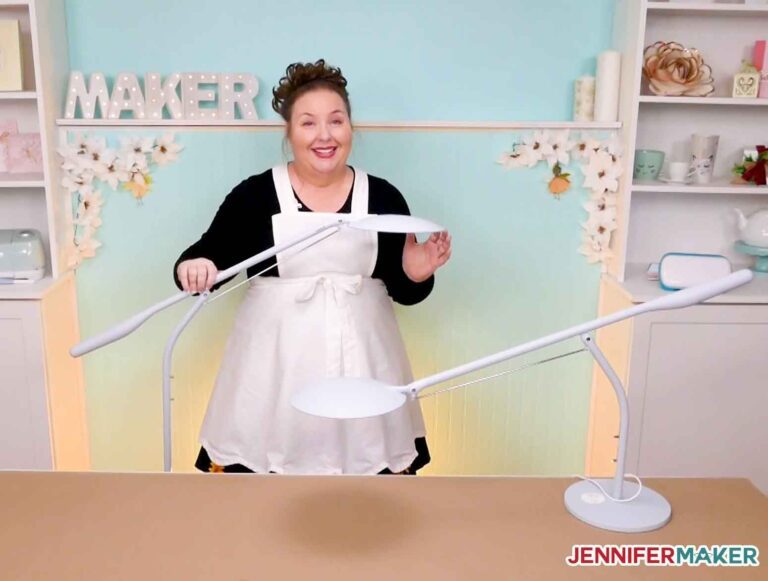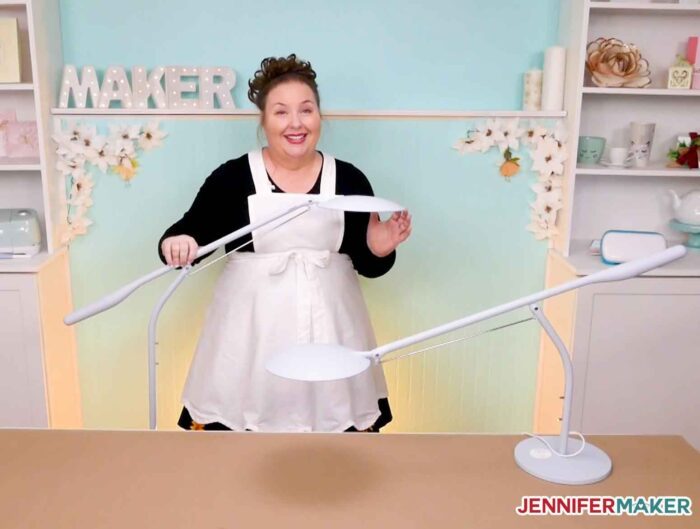 How much does a Cricut Bright 360 lamp cost?
The table lamp retails for $199 and the floor lamp retails for $247. I don't yet know what sort of discounts are available for these lamps, though I believe Cricut Access discounts will apply. Unfortunately, my Cricut discount code will not apply to the lamps, but here's my Cricut discount code if you want to buy other supplies and materials.
Just how bright does the Cricut Bright 360 get?
The table lamp adjusts to up to 1500 lux and the floor lamp adjusts to up to 3000 lux. "Lux" is a measurement of illuminance, or how intense or bright the light is that falls on a particular surface area. Lux is different from, say, "lumens," which is a measurement of the total amount of light being emitted by a source in all directions. So for task lighting, lux is a better measurement of how well it will illuminate what we're doing.
How adjustable is the Cricut LED lamp?
Adjustability is one the best features of this LED task light. It moves in every direction with four points of articulation. You can adjust the brightness in smooth increments all the way up to 1500 lux (table lamp) or 3000 lux (floor lamp). And you can adjust the color temperature from warm light to cool light. Just adjust the slider control as needed to set the lamp light to warm (2900K), daylight (4400K), cool (5200K), and everywhere in-between. K stands for "Kelvins," which is a way to describe the light appearance provided by a light source on a scale from 1,000 to 10,000.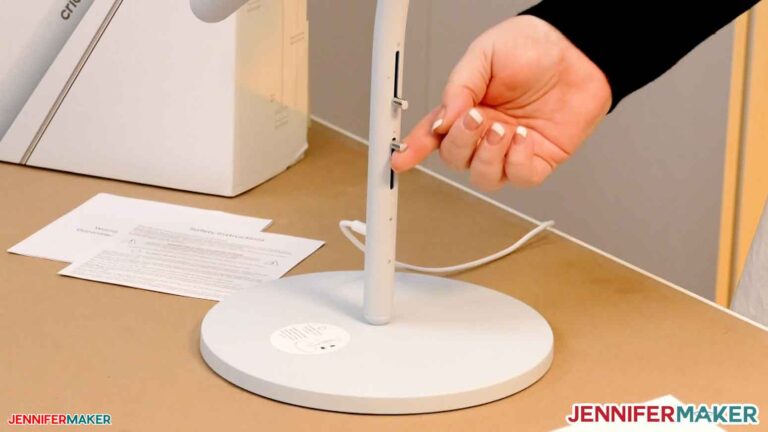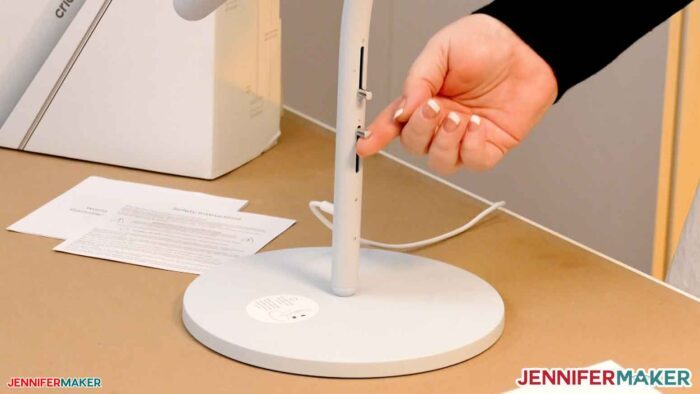 Does the Cricut Bright 360 offer true colors?
This is a BIG deal when it comes to craft lighting. And I'm happy to report that Cricut Bright 360 lamps offer full color temperature adjustment from warm white to cool white, and they cast an ideal, natural light. Cricut says the Bright 360 lamps give us "rich, accurate colors" with an exceptionally high CRI rating of 95. CRI stands for Color Rendering Index, and it is an assessment of how the color appears compared to natural sunlight. Most lights are not that good. In fact, the only other craft light I know of with a similar CRI is the OttLite (more on that later).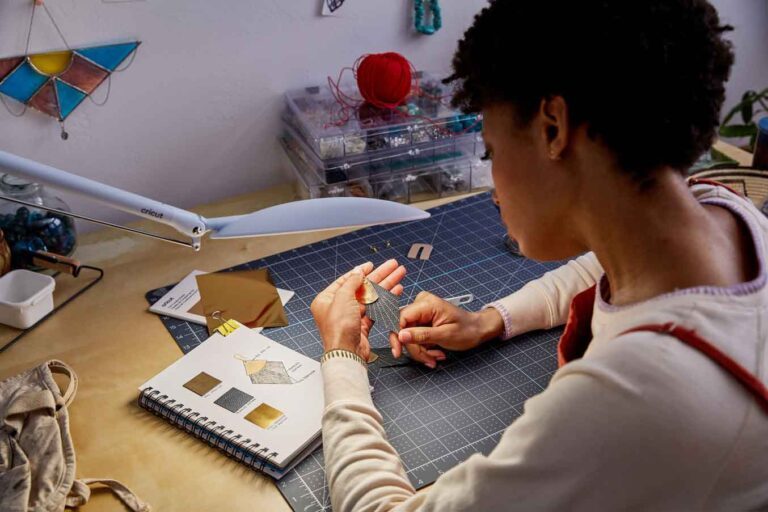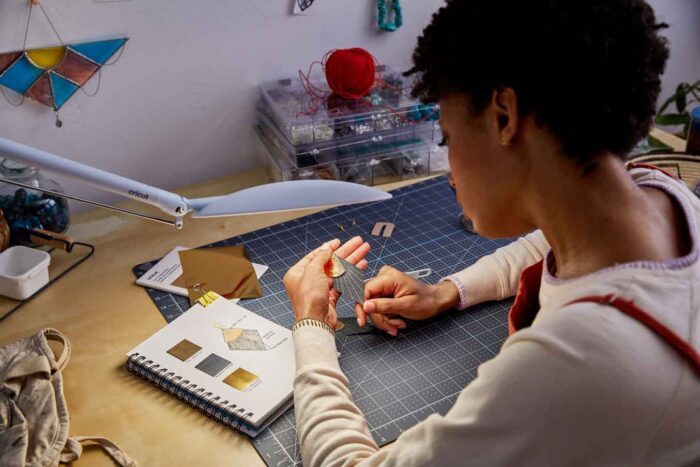 What kind of bulbs does the Cricut lamp use?
The Cricut Bright 360 uses long-lasting LED bulbs that are rated to last more than 40,000 hours. That would last over 13 years if you used these lamps for eight solid hours a day, every day of the year!! And you don't need to worry about changing them, because the LED bulbs are not replaceable—which is very typical for other broad-head LED lights like this.
What is the Difference Between the Cricut Bright 360 and the BrightPad?
The Cricut BrightPad Go is an LED lamp box that sits on a table. The BrightPad is designed for you to place crafts upon, rather than shine light down onto your work surface as the Cricut Bright 360 lamp does. You can use both together for some pretty kickin' light.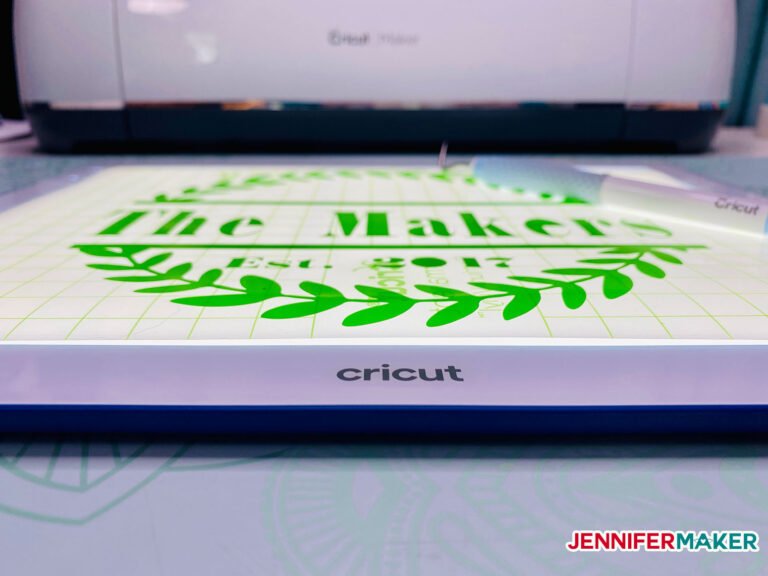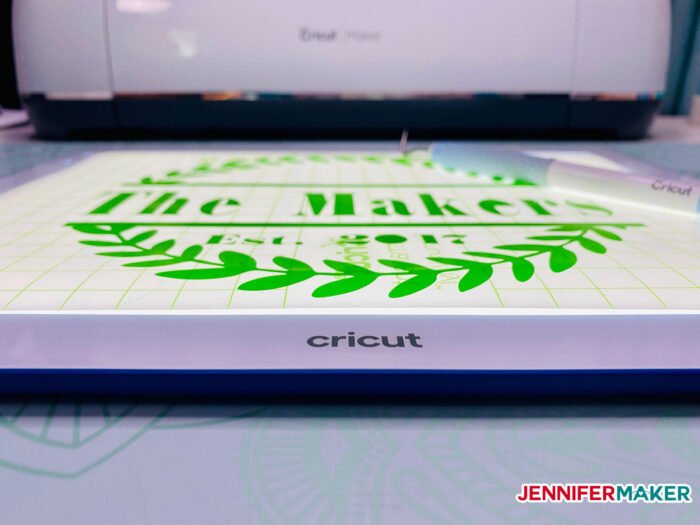 What color are the Cricut Bright 360 lamps?
The color is called "Mist" and it looks like a very light ice blue. It matches the color of the Cricut Maker 3 machine exactly. Here's the Cricut Bright 360 table lamp next to my Cricut Maker 3.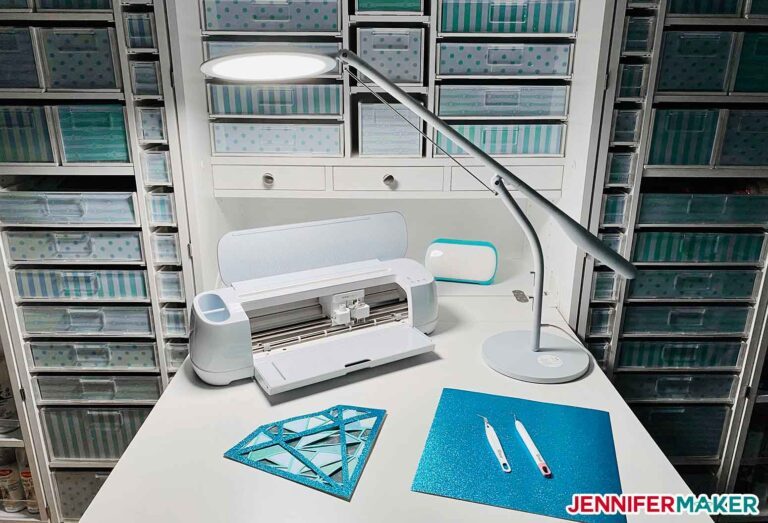 If you're wondering if other colors will one day become available, it's unclear yet.
Can I see the Cricut Bright 360 lamps in action?
Yes! Here is a video demonstrating how the Cricut LED lamps light up a colorful three-dimensional project. I used our pretty 3D Layered LOVE design to show different colors and how shadows appear under the lamps.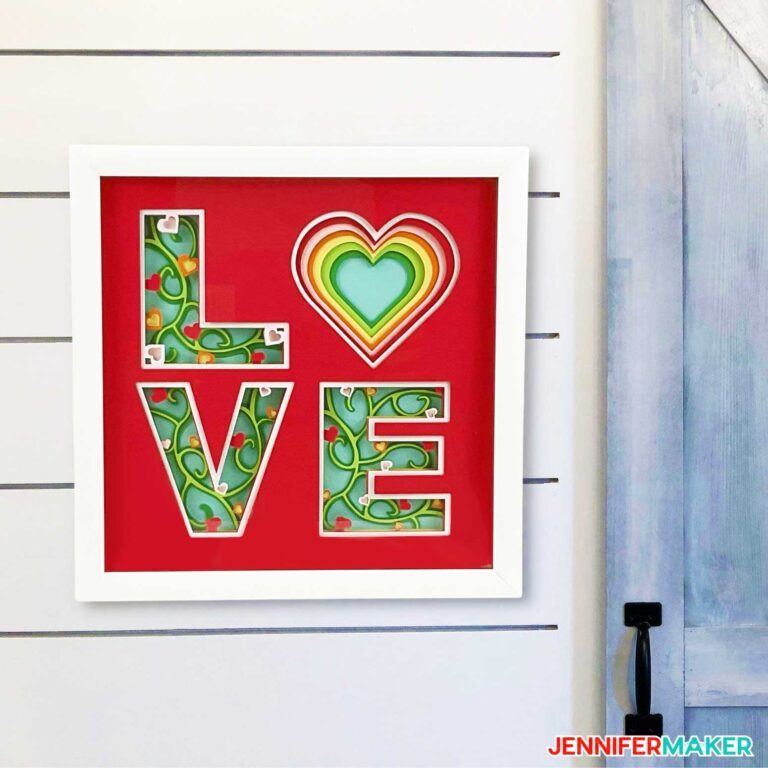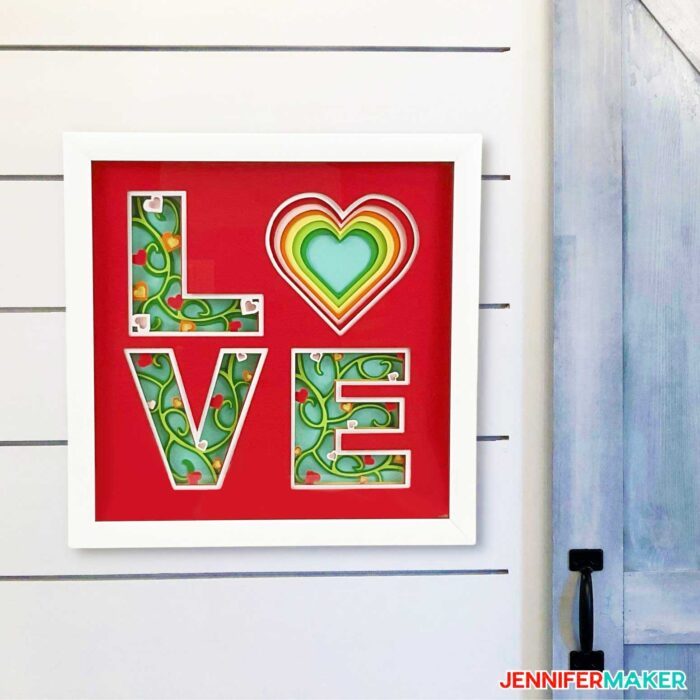 How does the Cricut Bright 360 lamp compare to OttLite and other task lamps?
Please watch my video to see them compared head to head! I will add photos here later today as well.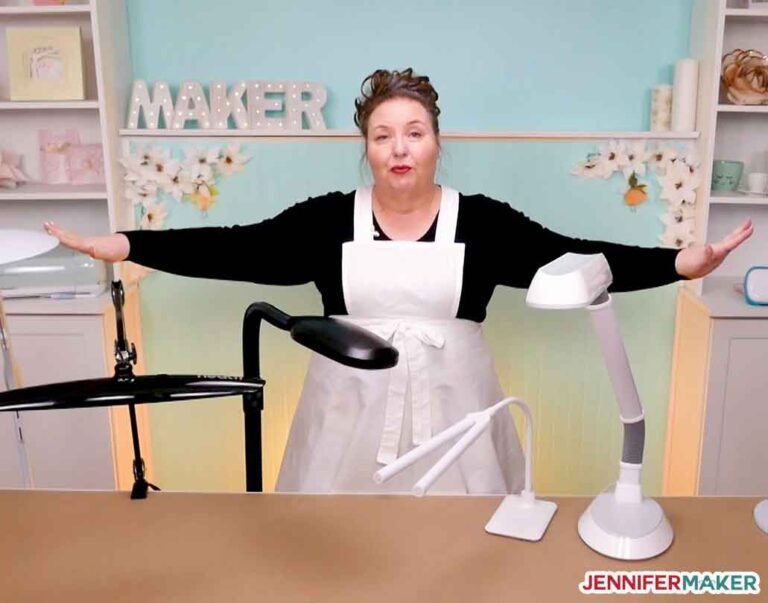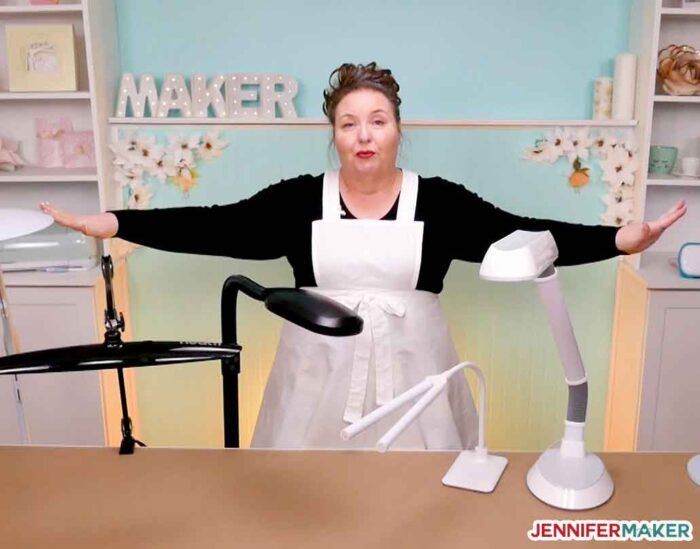 Cricut Bright 360 vs OttLite: Which is Better?
When I first heard about Cricut's LED light, I immediately thought of the OttLite, which is very popular among crafters. I've used OttLites before, and I've been okay with them — but, full disclosure, they are not my favorites. They use CFL bulbs (Compact Fluorescent Lights) which I'm not overly fond of. I prefer the light from LEDs, which is what I use almost exclusively these days. Still, I know some of you really like OttLites, which are known for having good color, so I compared an OttLite 18W FlexArm Table Lamp to the Cricut Bright 360 Table Lamp. Here's the side by side photos of what I saw with them: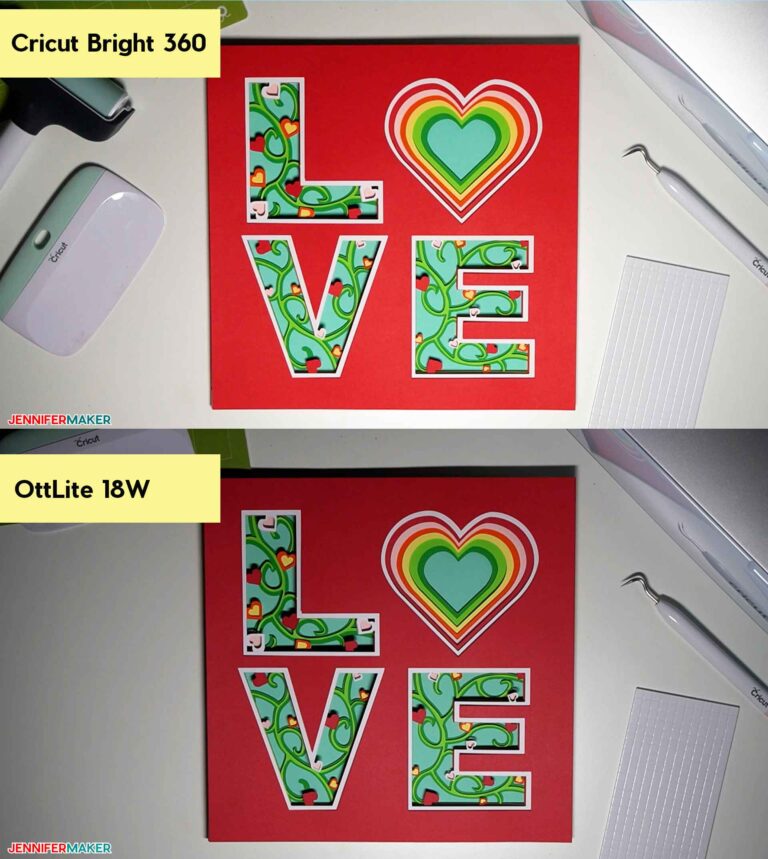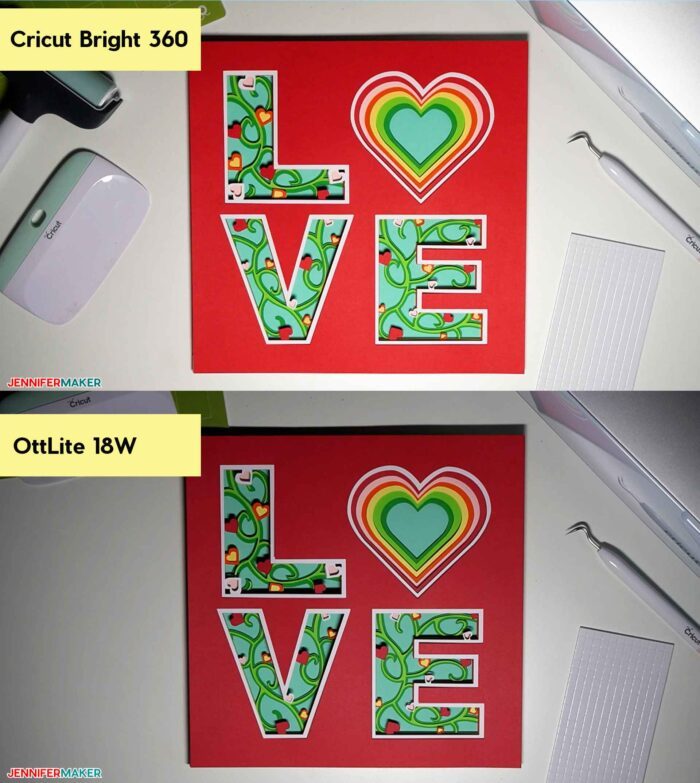 My verdict is that the color accuracy between the two lights was comparable — both showed the true color of the project really well. But the OttLite wasn't as bright, and it was less diffused light — so more glare and harsh shadows. This surprised me, since people love OttLites so much, but there you go!
Which is better? The Floor Lamp or the Table Lamp?
The best one is the one that works for you! To figure that out, think about the space where your lamp is going to live. A table lamp might suit your needs if you have space on your desk or table. If not, a floor lamp might be a better choice. These lamps have great reach, but keep in mind that you will need room away from the wall to accommodate the lamp arm, which can take up to 39 in (99 cm) of space at its longest reach. For this reason, I will probably opt for the floor lamp in my main crafting space so I don't have to put mine on my table.
Is it worth the price?
This is a tough question, because it's so relative to each person. In the end, my takeaway is that this is like the Cadillac of LED craft lights. So it's better, yes, and the value is there for the price, yes. But can YOU afford it or justify its higher price? That's up to you. We get what we pay for — lower price means lower quality. I could see this really clearly when I unboxed each of the lights I bought for comparison — it was a HUGE packaging difference, HUGE feel-in-hand difference. In retrospect, I wish I'd recorded that part for you to see in my video, but I didn't think it mattered in the beginning. The Cricut Bright 360 is a superior product, yes. If you can afford it and have a need for it, it IS worth the price.
Plus, if you take photos of your crafts to sell or share, you're going to find the Cricut lamp a HUGE bonus that will likely pay for itself quickly. The Cricut Bright 360 lamp is going to give you the professional photos you see people like me take. Bright, diffused light is the key to my awesome craft photos.
So, yes, I believe the Cricut Bright 360 is an excellent value for the price!
Are there any discounts on the Cricut Bright 360 lamp?
Cricut Access subscribers can use their discounts through the Cricut shop!
How do I get a Cricut Bright 360 Lamp?
The Cricut LED lamps are available in the U.S. and Canada only at this time. You can buy either the floor lamp or table lamp right now in the Cricut shop, Amazon, Joann, and Michaels. Plus all Joann brick-and-mortar stores will have them in stock beginning January 27th.
Got more questions? I'd love to help! Leave a reply here or ask over in my Cricut Crafters & Makers group!
Love,