Learn how to make your own DIY pantry labels with a Cricut … even use a Cricut pen to write beautiful and custom label names! You can make pantry labels on a Cricut Joy, Cricut Explore, or Cricut Maker!
I recently renovated my kitchen with beautiful glass-fronted cabinets, and I really want to put some canisters and jars in there. But the thing is I need to label them, because otherwise the ingredients are just too hard to tell apart. I HAD been using my Brother P-Touch labeler, but those labels are just NOT very pretty or big enough to read from a distance. So I'm going to use my new Cricut Joy to create my own DIY pantry labels that look good AND are easy to read, and I'm going to show YOU how to do it, too! (No Cricut Joy yet? No worries! I'll also show you how you can make these on a Cricut Explore or Maker!)
Watch the full step-by-step tutorial on how to make DIY pantry labels on YouTube: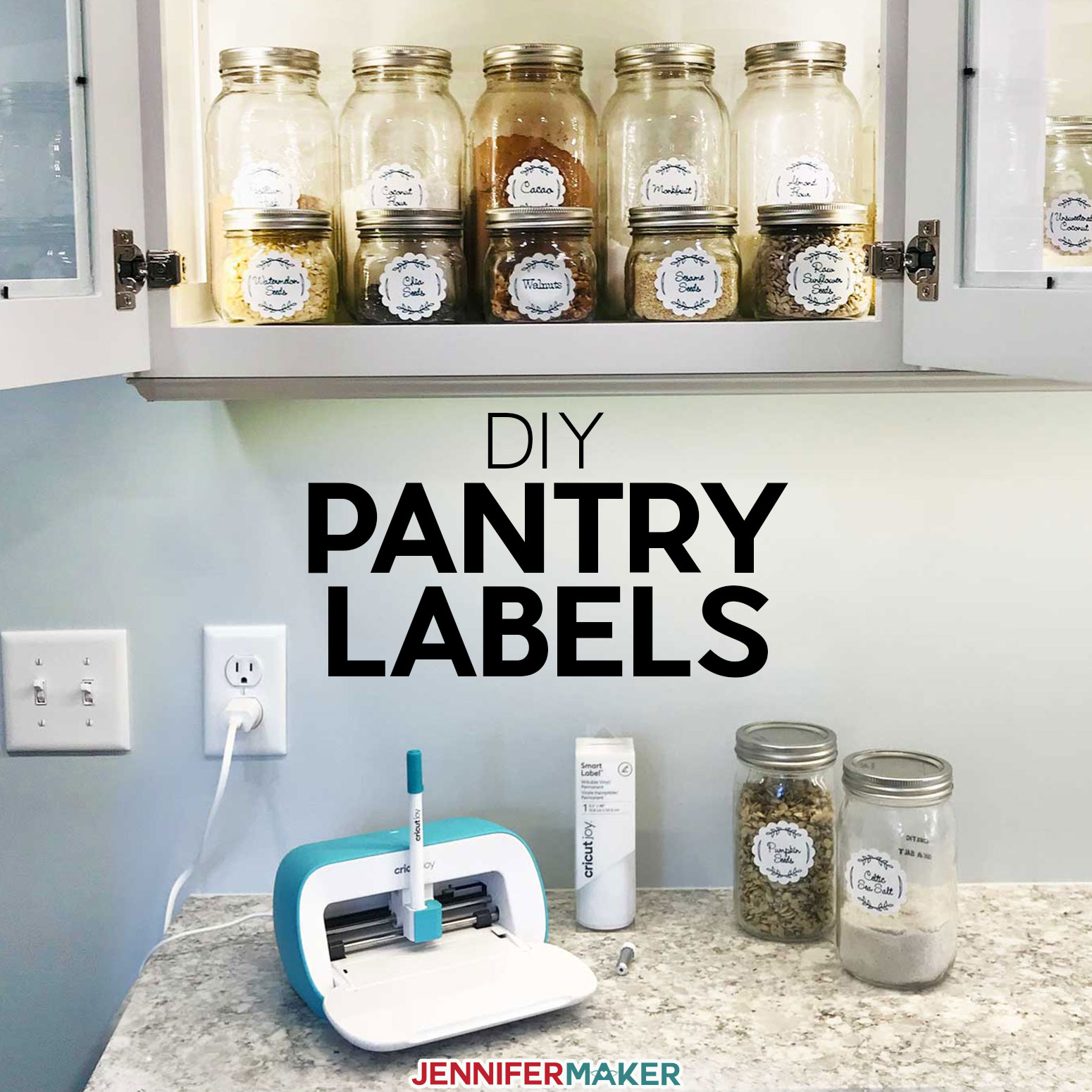 For this project, you want either full-sheet label paper or the Cricut Smart Label writeable vinyl on a roll. I prefer the Smart Label vinyl's look and feel, and it sticks better AND resists dirt and grease, too. You also need some canisters and jars to label — I'm using OXO Pop Containers as well as regular Mason jars in various sizes. If you use Mason jars, look for ones with smooth sides, as your label will stick to those better than ones with raised designs.
Now, I'm going to use my Cricut cutting machines to cut AND write my DIY pantry labels. You can make these on any Cricut, but in this tutorial I'm going to show you how to make them on a Cricut Joy and a Cricut Maker… but an Explore would also do. The advantage to using the Cricut Joy is you can use the Smart Label material without a mat, and it's easier to take the Cricut right into the kitchen with you as you label your things. Here's a photo of me using my Joy in the kitchen when I was testing out design styles.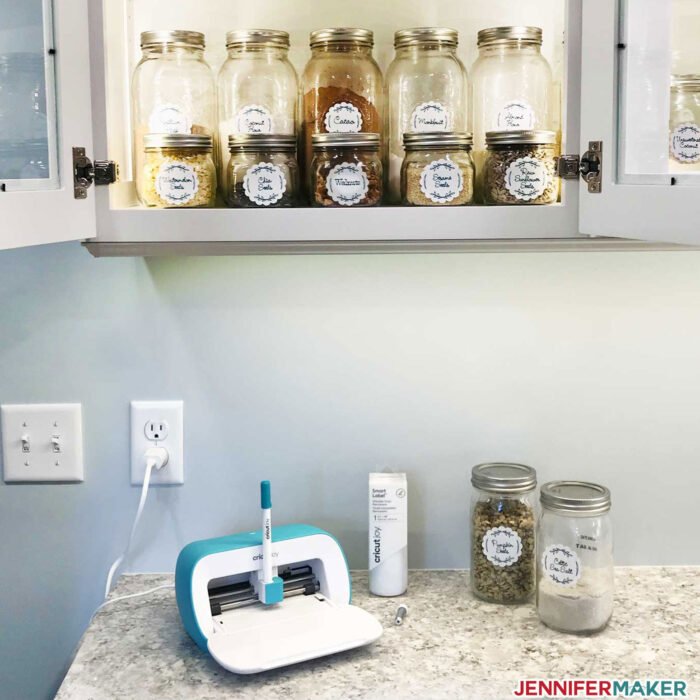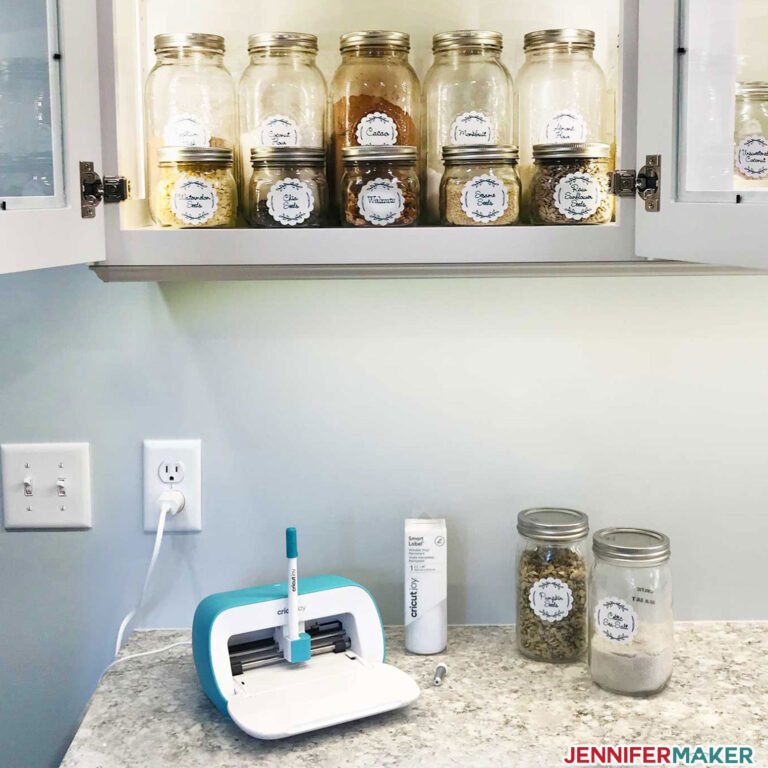 Oh, and you need a pen to write your pantry labels! I'm using a black fine-point Cricut pen, which is a .4 millimeter size. The size of your pen tip matters if you use my designs. Your Cricut can write and decorate your pantry labels with the pen right in the cutting machine and they look fabulous!
Last but not least, you need a design for your DIY pantry labels — it can be simple or fancy, it's completely up to you. I'm going to show you how to make three different styles — a super easy simple label, a big, easy-to-read bold label, and a fancy script label that is totally on trend. I'll also show you my tricks for getting the Cricut pen to fill in the fonts for bolder and more beautiful labels! (Hint: I've designed some special penwriting pantry labels with 55 common pantry ingredients for you, completely free!)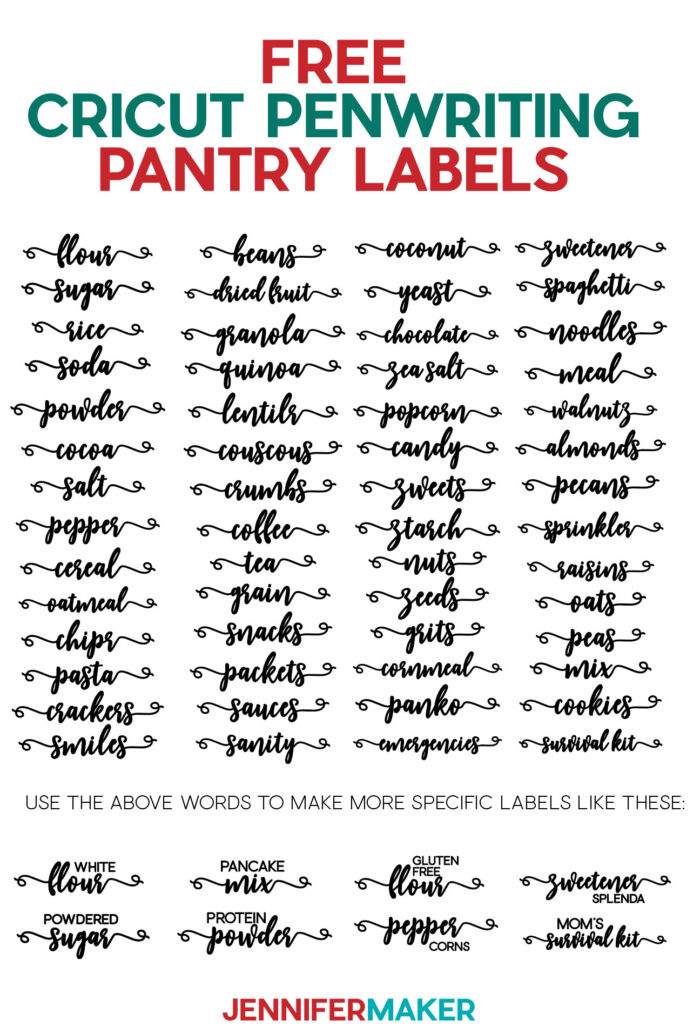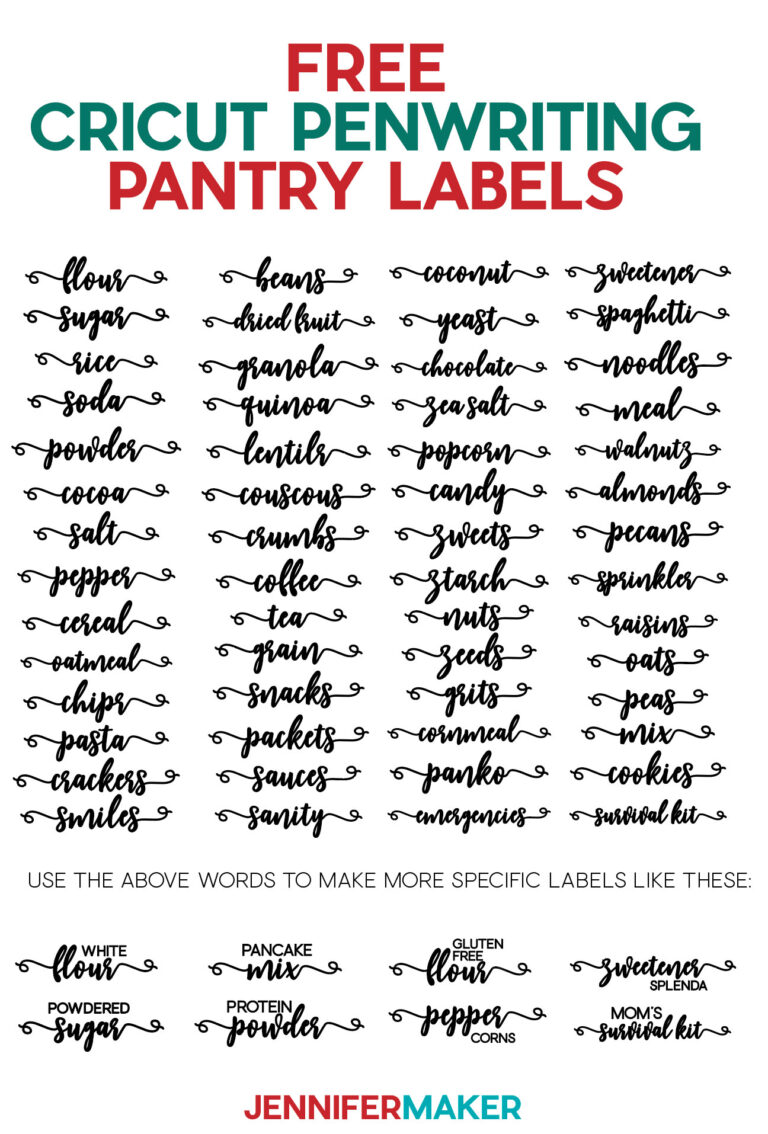 So let me start by showing you how to design pantry labels that suit your style and decor! Me? I like a little retro style, and that's probably what I'll use for the Mason jars I put in these cabinets: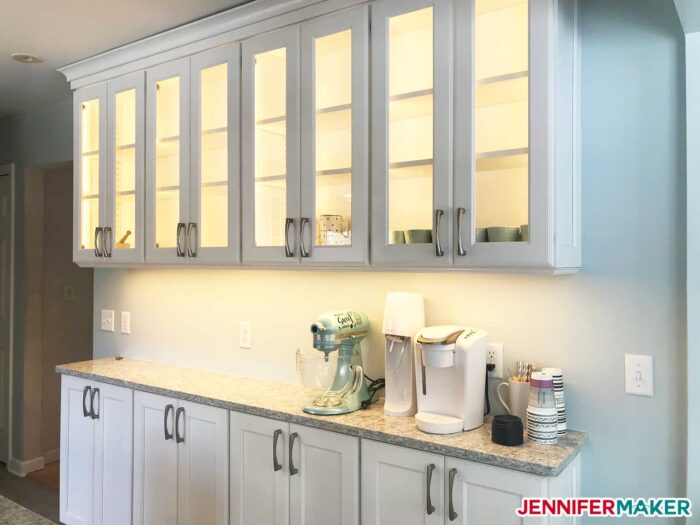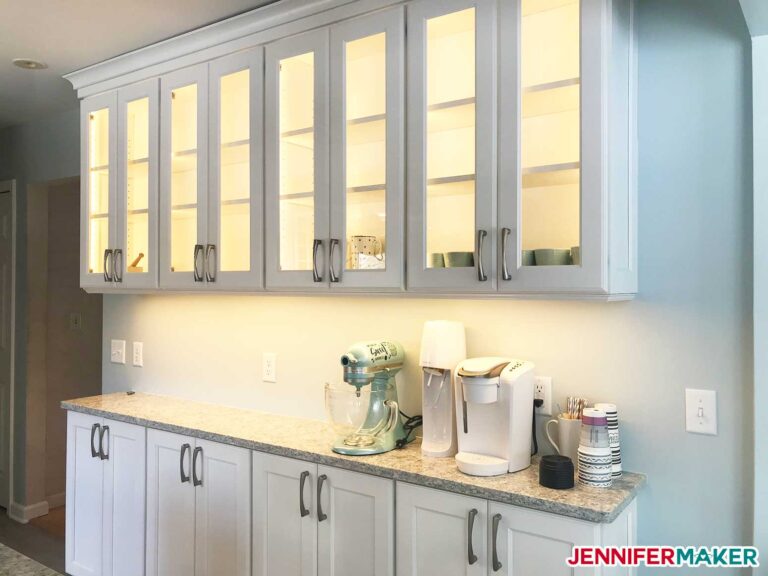 I'm excited to show you how to make DIY custom pantry labels using your Cricut Joy, Explore, or Maker! This post contains some affiliate links for your convenience (which means if you make a purchase after clicking a link I will earn a small commission but it won't cost you a penny more)! Read my full disclosure policy.
Materials to Make DIY Pantry Labels on a Cricut Joy, Maker, or Explore!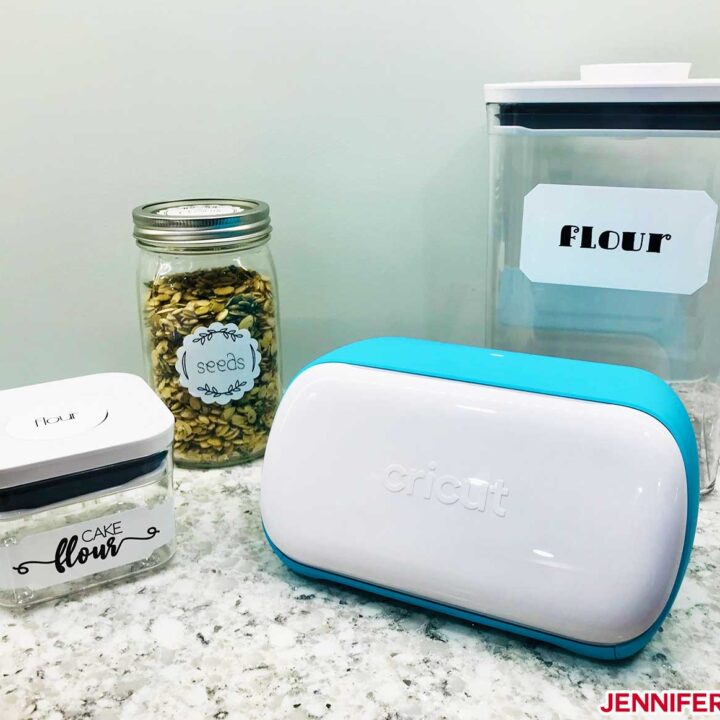 DIY Pantry Labels
Prep Time: 10 minutes

Active Time: 20 minutes

Additional Time: 2 minutes

Total Time: 32 minutes

Difficulty: Easy

Estimated Cost: Less than $1 per label

How to design, cut, and write pantry labels with a Cricut!

I'm really pleased with how my pantry labels have turned out, design wise. Though I can't decide if I like the scalloped labels or the fancy script labels … I'll just have to use them both!
And now that I've tried making these DIY pantry labels on different Cricuts and with different materials, I know what is going to work best for me. My vote is definitely for the Smart Vinyl, and I'm going to use the Cricut Joy because I can go matless and take it right into my kitchen. I'm super impressed with this little thing.
Get my free SVG files to make your own DIY pantry labels!
I cannot wait to see YOUR DIY pantry labels! Please share a photo in our Facebook group or tag me on social media with #jennifermaker.
Love,