Learn how easy it is to make layered 3D mandalas that look amazing! These mesmerizing multilayered designs look stunning but are surprisingly easy to make!
If you're anything like me, you've been seeing these amazing 3D layered mandalas all over the place recently. I have several on my blog, including my heart mandala, and my super cute Easter mandalas! For a fun twist, I have these really cute XO letters too! And the great thing is that these paper mandalas are surprisingly easy to put together! What makes them so easy is that your Cricut cutting machine does most of the hard work for you in cutting out the little details — all you have to do is stack them up and attach them together. 3D paper mandalas are really much easier than they look — which is half the fun! These 3D layered mandalas are part of our MAKE IT EASY Craftalong Challenge, filled with fun and EASY daily themed projects for your Cricut!
Watch the full step-by-step tutorial on how to cut and assemble 3D layered mandalas on YouTube:
You can make the 3D layered mandalas big and detailed, or small and simple. I've made them as big as 11.5″ wide and as small as 4.5″ wide. You decide!
All you need is basic cardstock and a way to keep them together, like glue or spray adhesive. If you want to get the 3D look, you use spacers in between the layers — you can use foam mounting tape, pre-cut adhesive foam circles or squares, or just bits of cut cardboard, craft foam, or layered cardstock.
The secret to getting a beautiful look is to apply the spacers to the underside of each layer — that way you won't see the spacers peeking through once it's all put together.
We've designed three different FREE 3D layered mandala patterns for you to try, and they're all very easy!
Here's the flower mandala — this one is 8 layers! The flower mandala design is from the "Layered Wooden Sculptures" project in Instructables designed by watchmeflyy, which is copyrighted under a Creative Commons 4.0 license. Note that we modified the design to work with layered paper. Our new design is shareable under a Creative Commons 4.0 license as well and can be downloaded freely here. Learn how to make this mandala in the video above.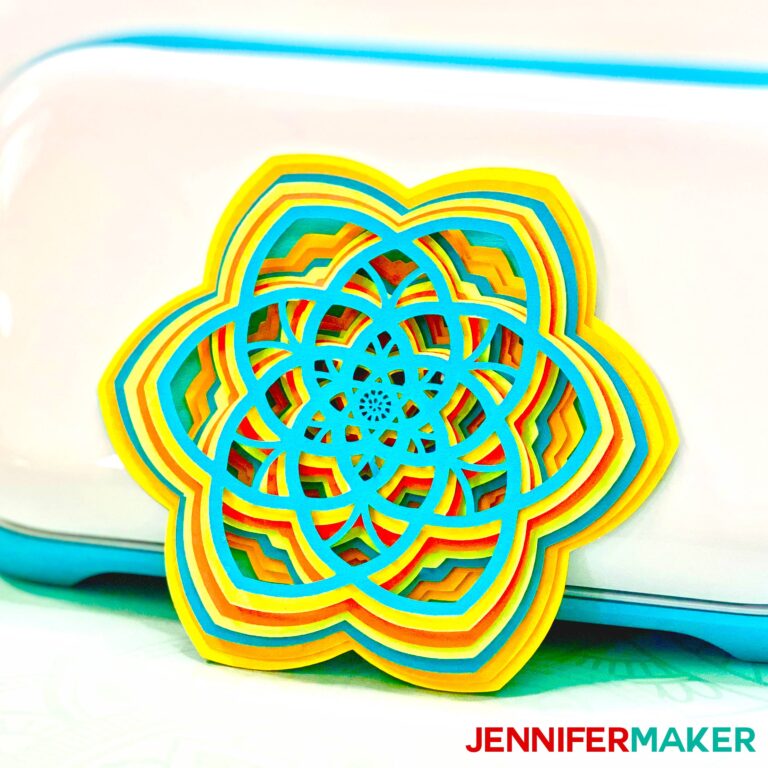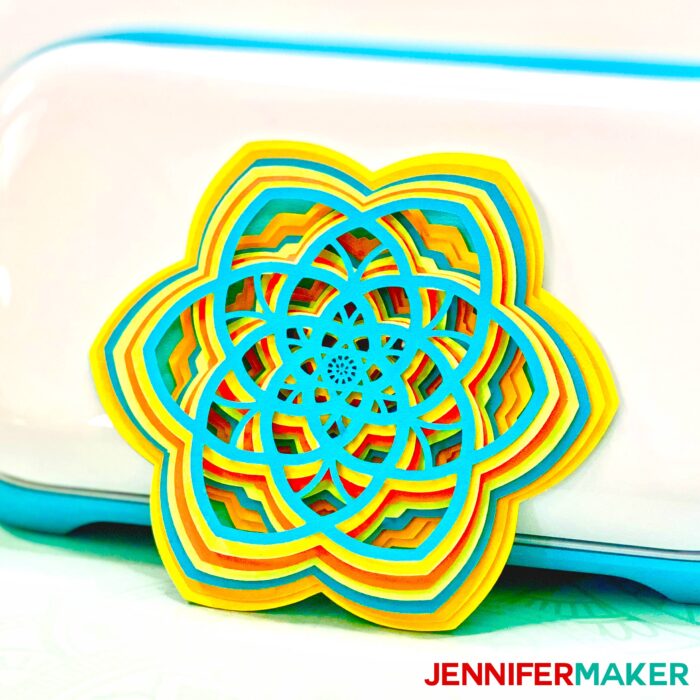 Here's the wheel mandala — this one is just five layers. SO easy! Learn how to make this one in the photo tutorial later in this post.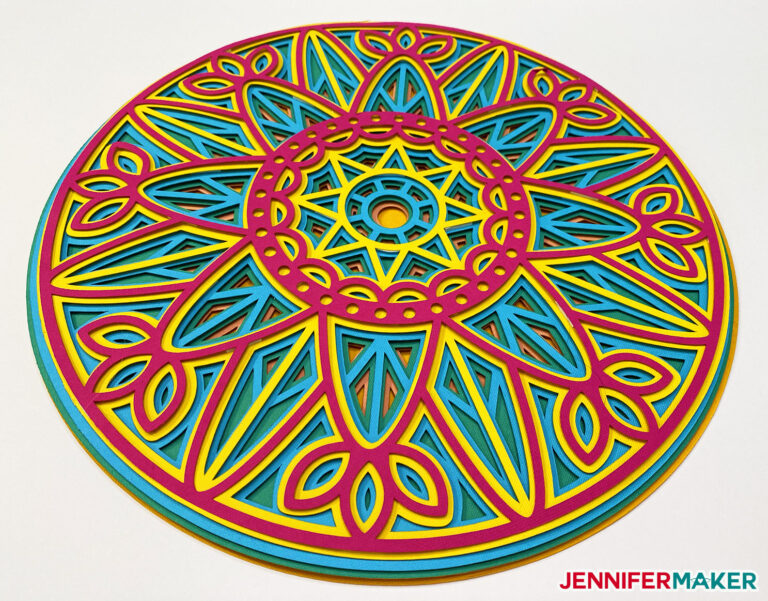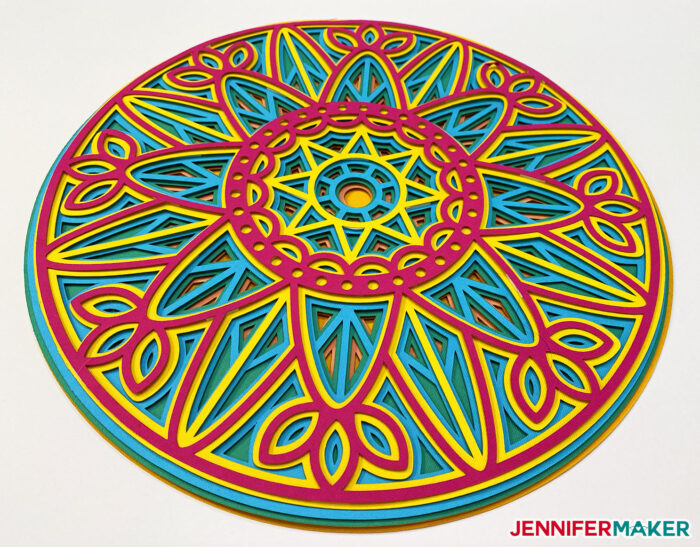 Here's a detail of the wheel mandala:
And here's the sunflower mandala, which is just six layers. All are free in my resource library!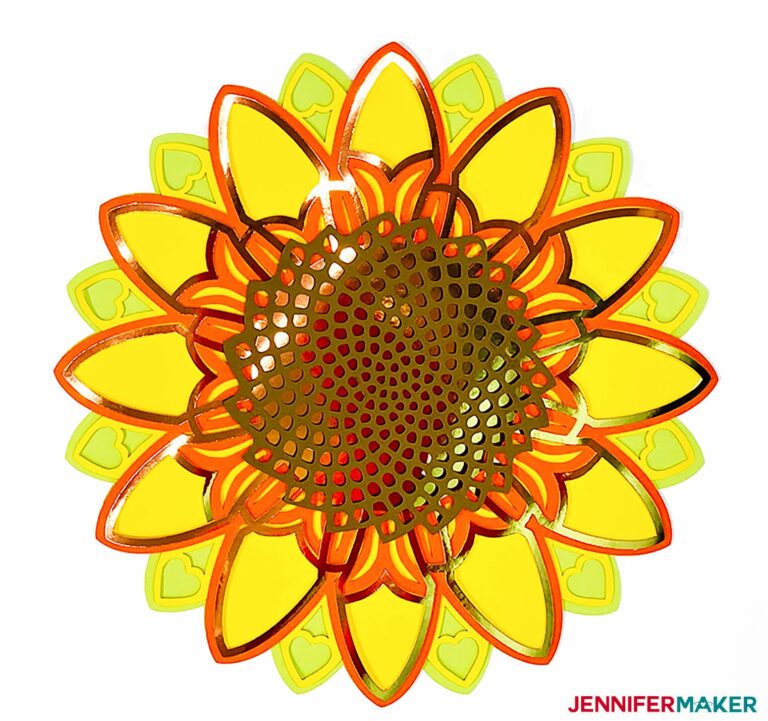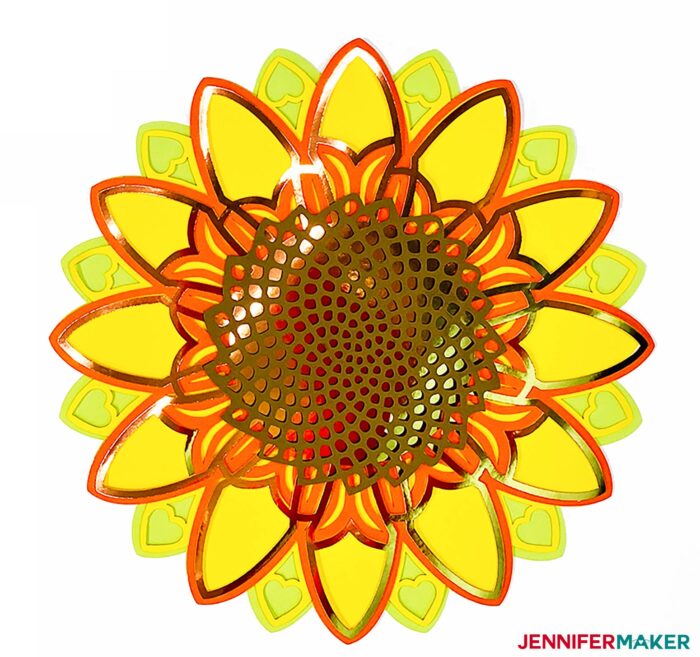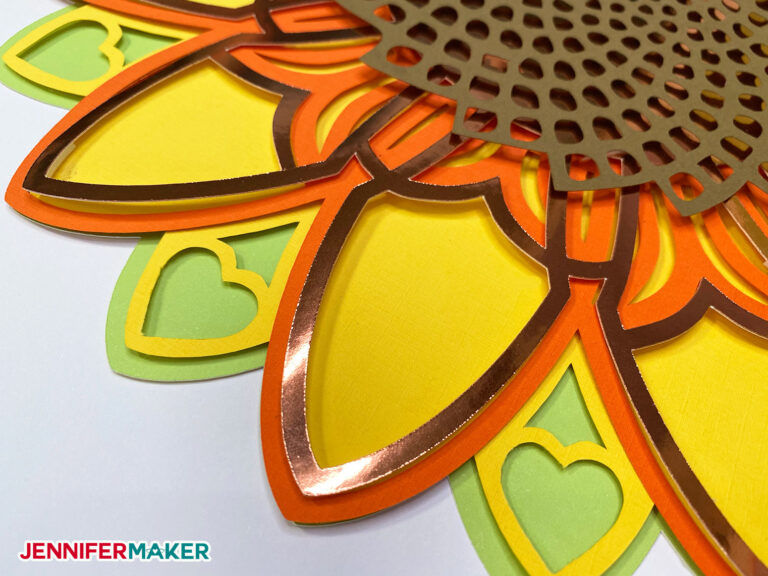 Let me show you how easy it is make 3D layered mandalas! This post contains some affiliate links for your convenience (which means if you make a purchase after clicking a link I will earn a small commission but it won't cost you a penny more)! Read my full disclosure policy.
Materials to Make a 3D Layered Mandala on a Cricut Joy, Maker, or Explore!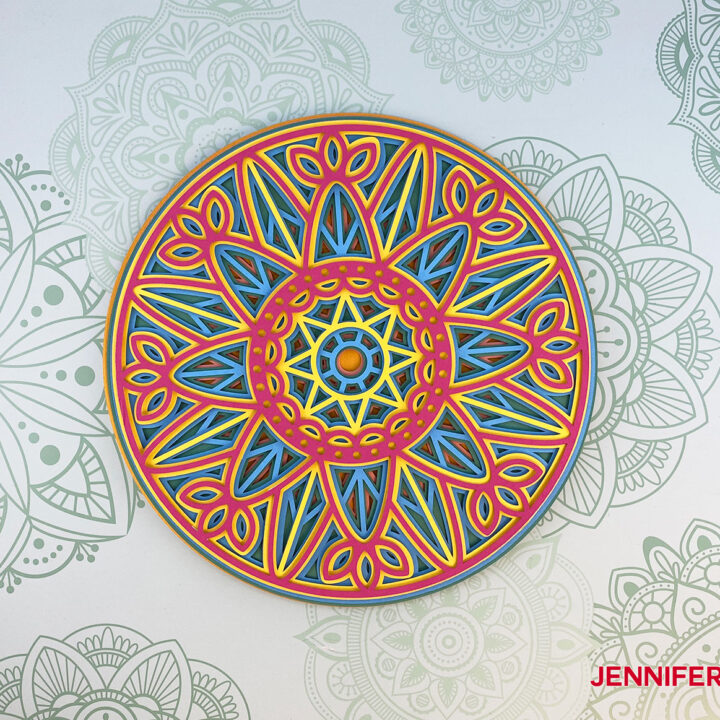 Layered Mandala
Yield: 1

Prep Time: 1 hour

Active Time: 30 minutes

Total Time: 1 hour 30 minutes

Difficulty: Easy

Estimated Cost: $6

Learn how to make this beautiful six-layered mandala from cardstock.
Tools
Instructions
STEP 1: GET MY FREE LAYERED MANDALA FILE
Upload my layered mandala SVG into Cricut Design Space. The design I use in this tutorial is the Layered Wheel Mandala (Design #192). This is what the file looks like when placed in Design Space.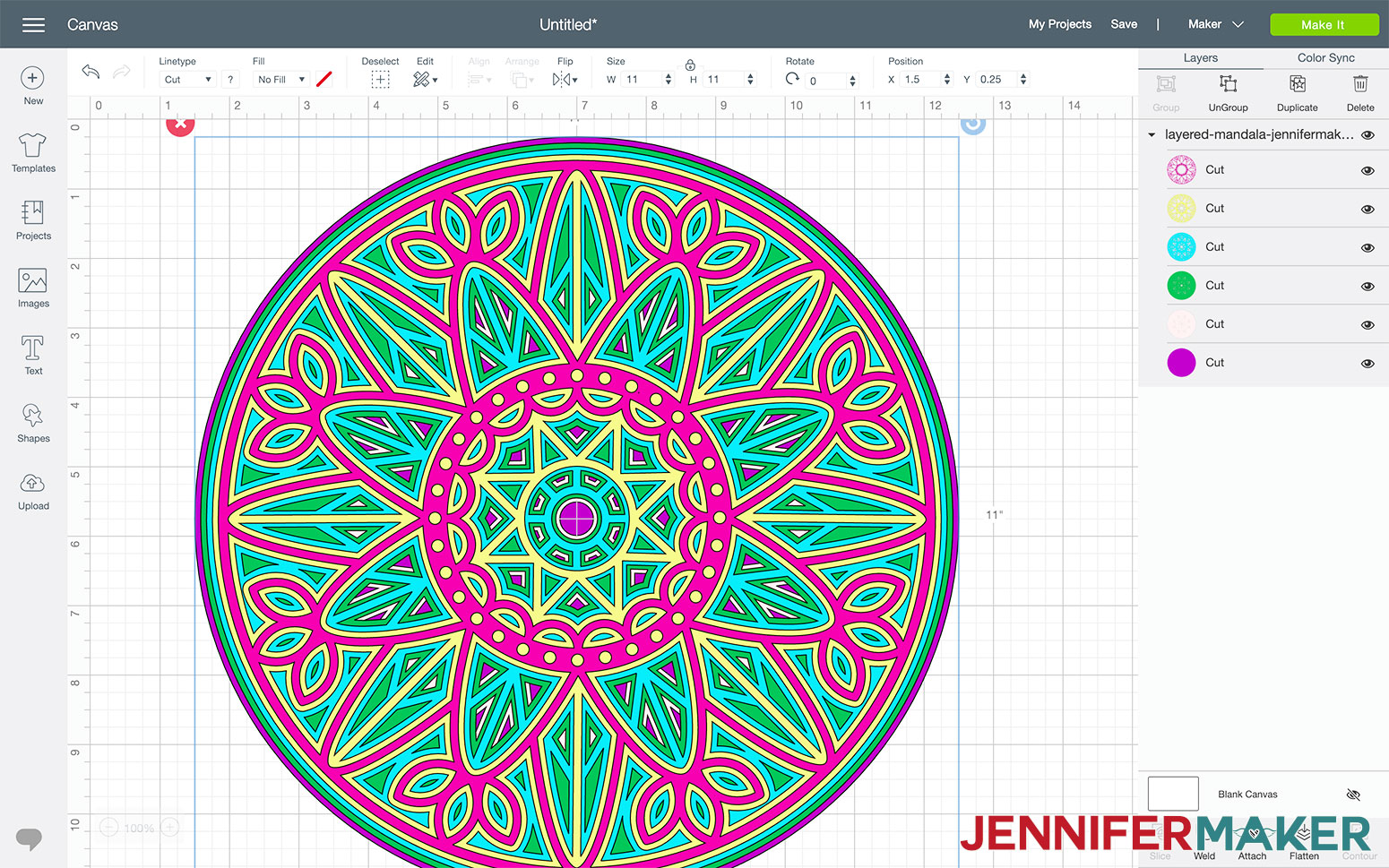 Adjust the size if needed. I've seen several similar designs displayed in shadow box frames. This design contains six layers for you to personalize with different cardstock colors.

Once you have the size adjusted to your measurements, you are ready to click "make it." For the material, select the intricate cut setting for cardstock. This setting worked perfectly for me.

As you cut your layers, each design will leave behind cut-out pieces on your mat. I used my extra large Cricut scraper tool to easily remove those pieces.

Tip: If you're not sure how to upload an SVG cut file to Cricut Design Space, watch this helpful video training series I made. If you're on an iPhone or iPad, here's how to download and upload SVG files to the Cricut Design Space app.
STEP 2: ASSEMBLE THE LAYERED MANDALA
Now that you have your six pieces cut, you'll want to apply double-sided foam adhesive to the backside of Layers 1 through 5. This is how I applied the adhesive foam to layer five.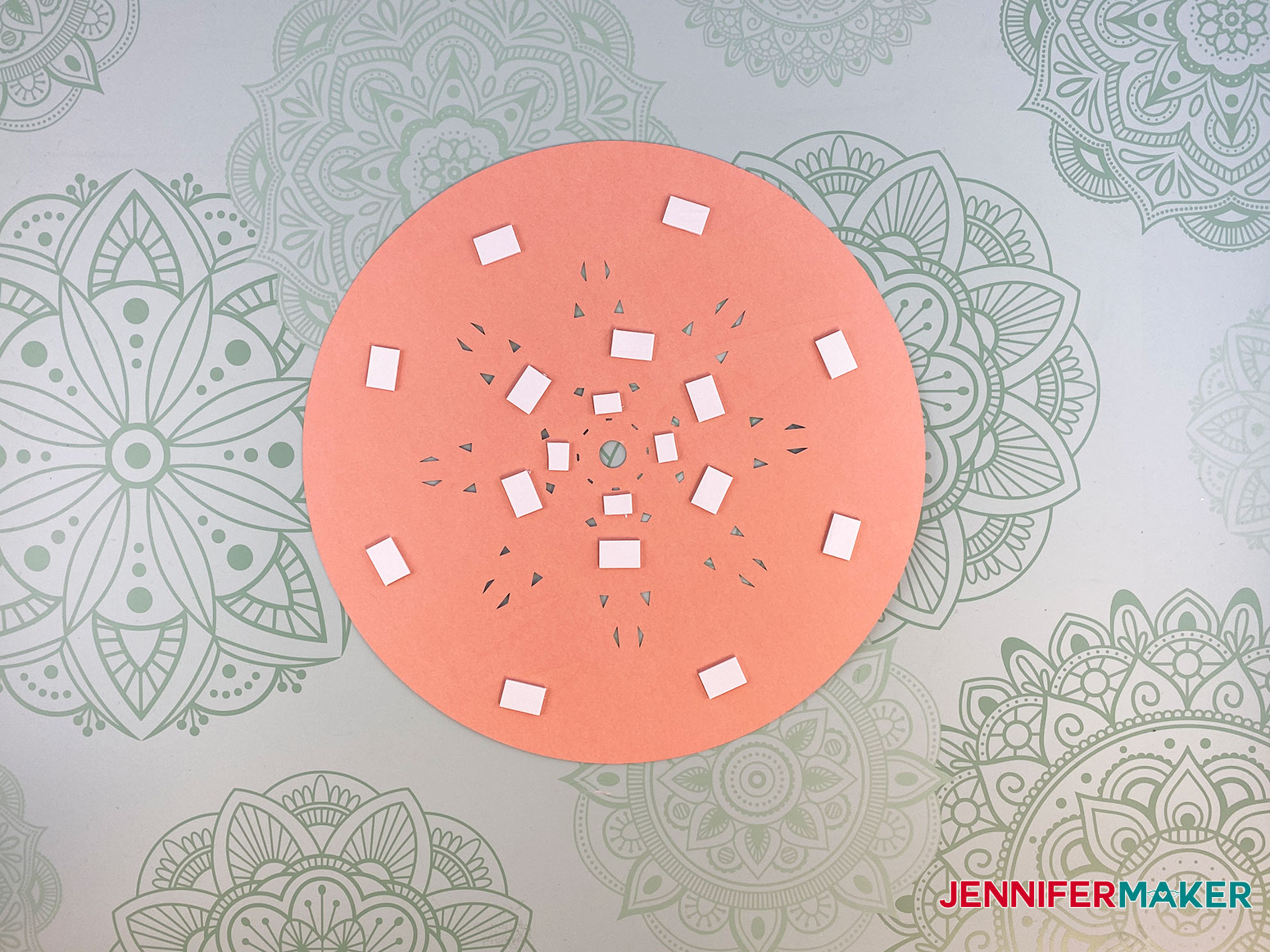 Center and place Layer 5 on top Layer 6. TIP: As you place the layers on one another, lay them down lightly so you can adjust your placement, if needed, then press to the underlying layer.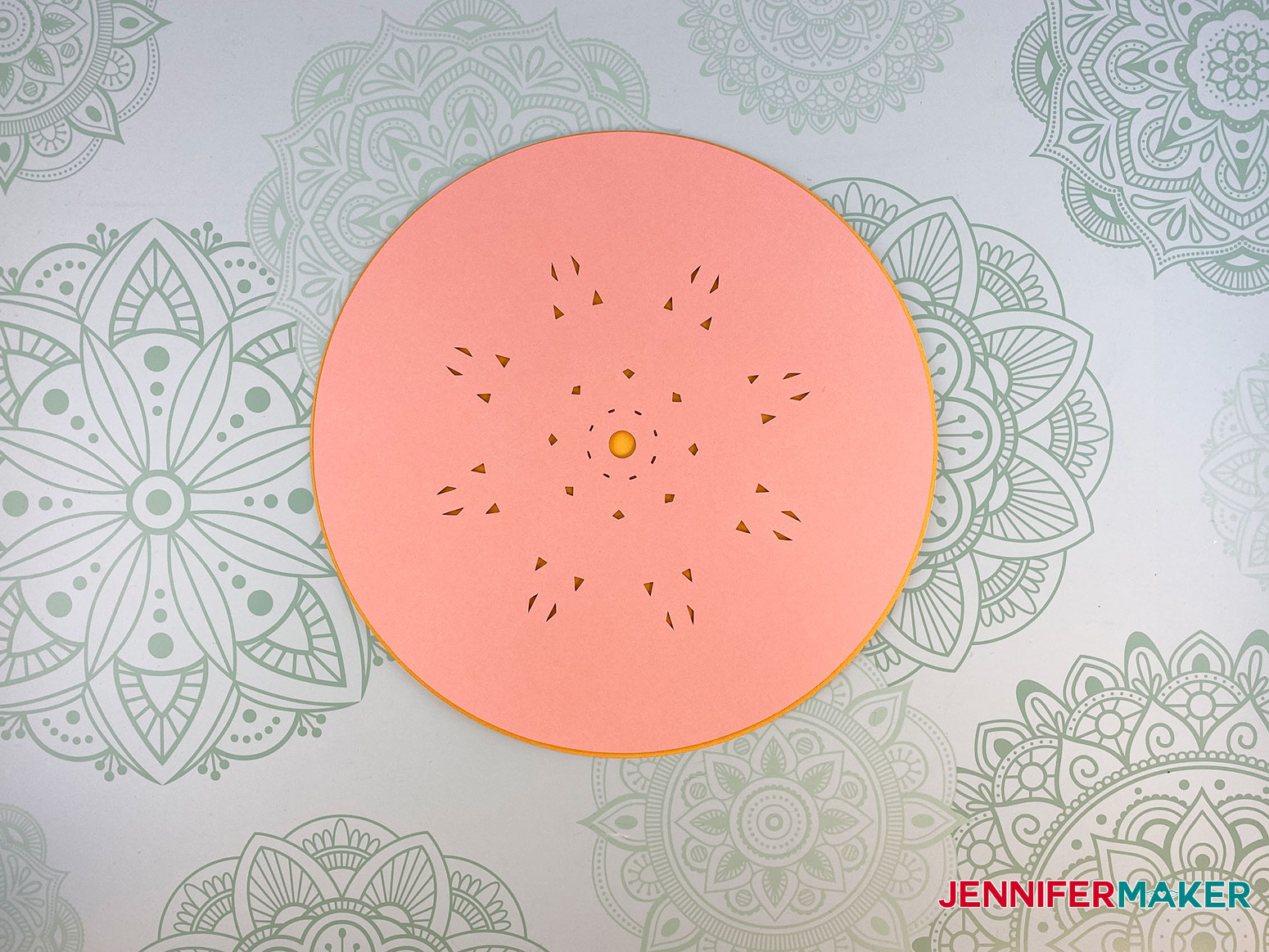 Add adhesive foam to layer four.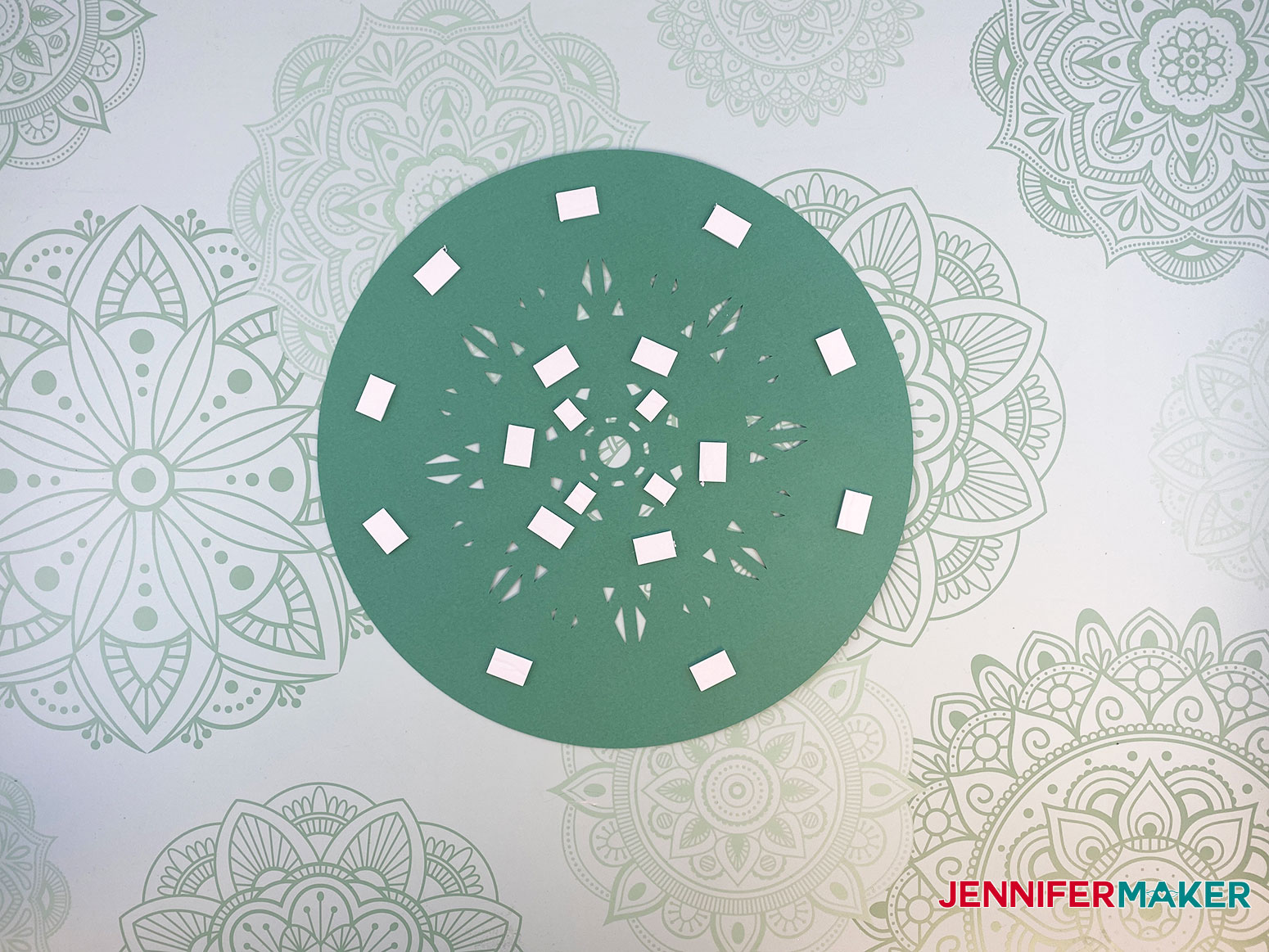 Place Layer 4 on top Layer 5.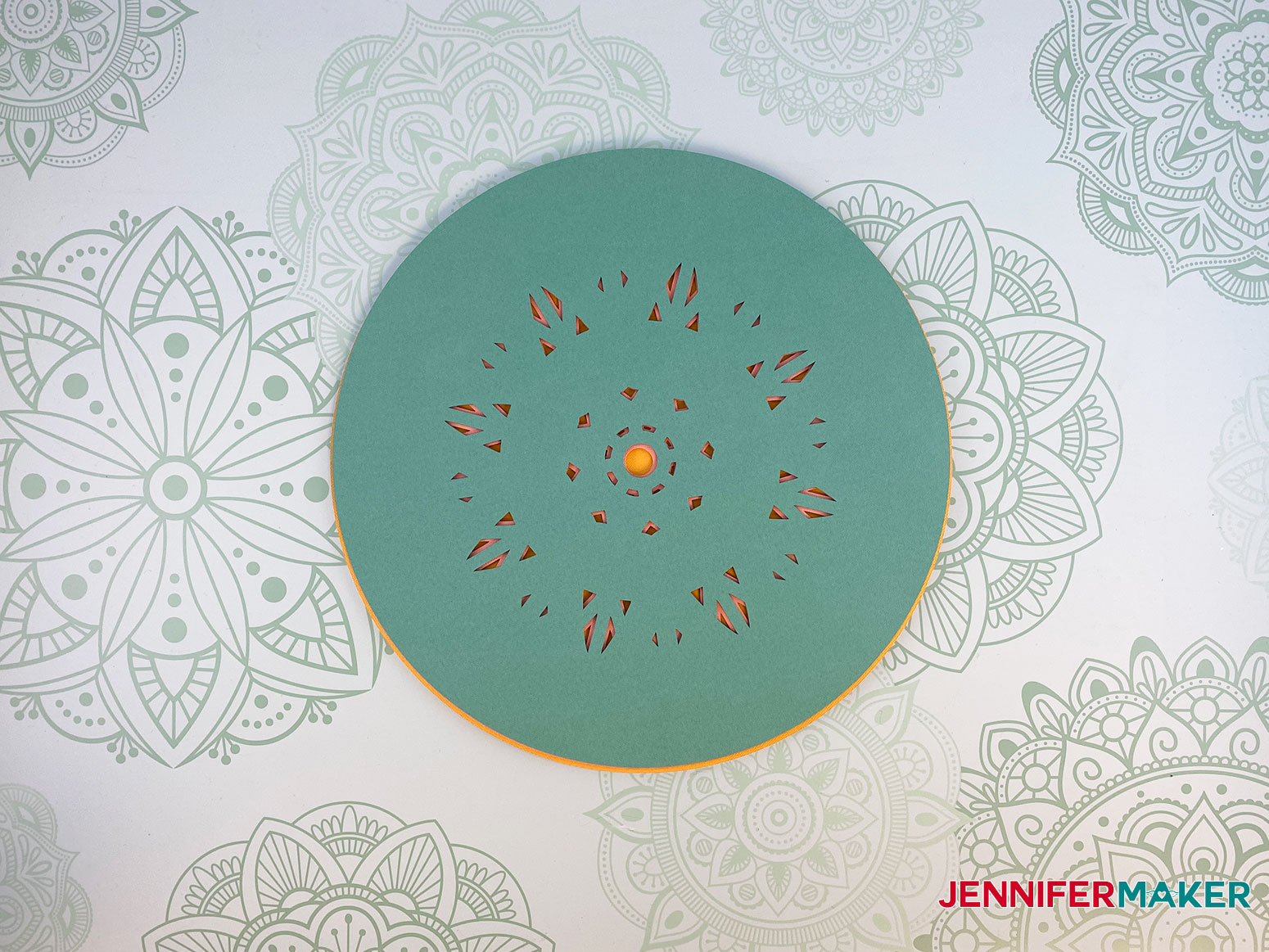 When you apply the foam adhesive to Layers 1, 2, and 3, you'll want to use a ruler and blade to cut the foam into small strips.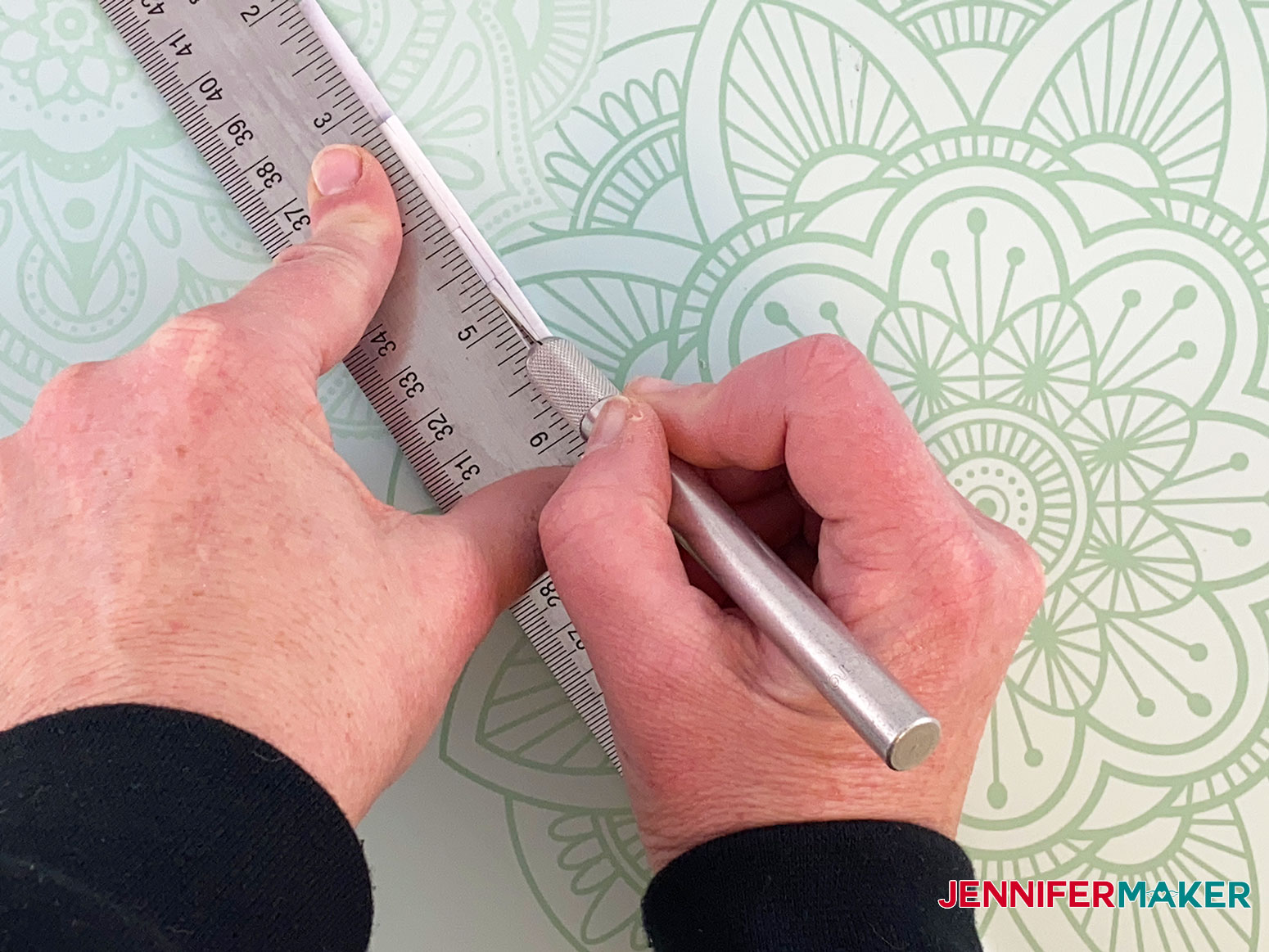 Continue placing the layers one on top of the other. Refer to the file in Design Space for placement. Below you'll see how I placed the foam adhesive on Layer 2.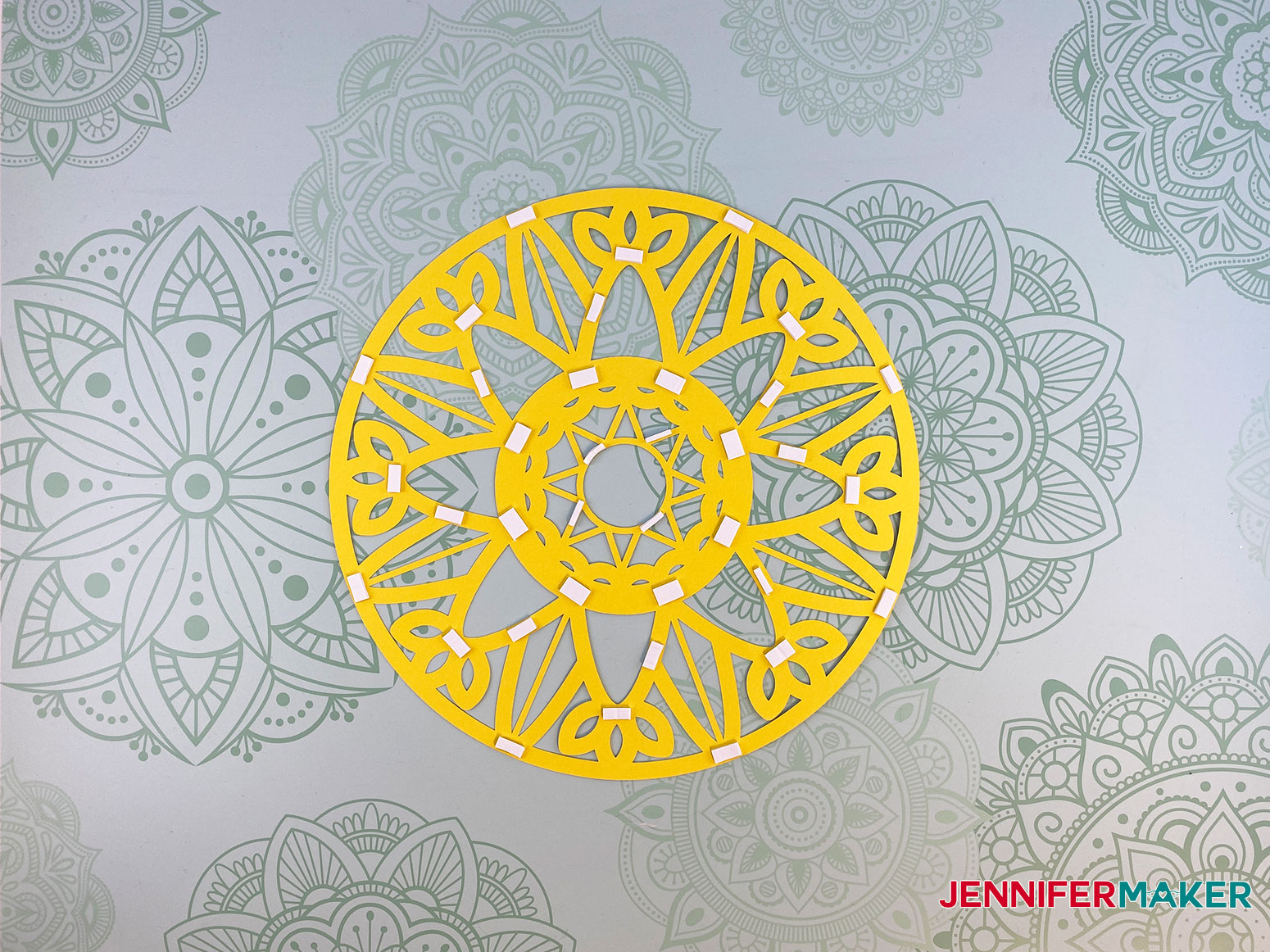 And here is Layer 1.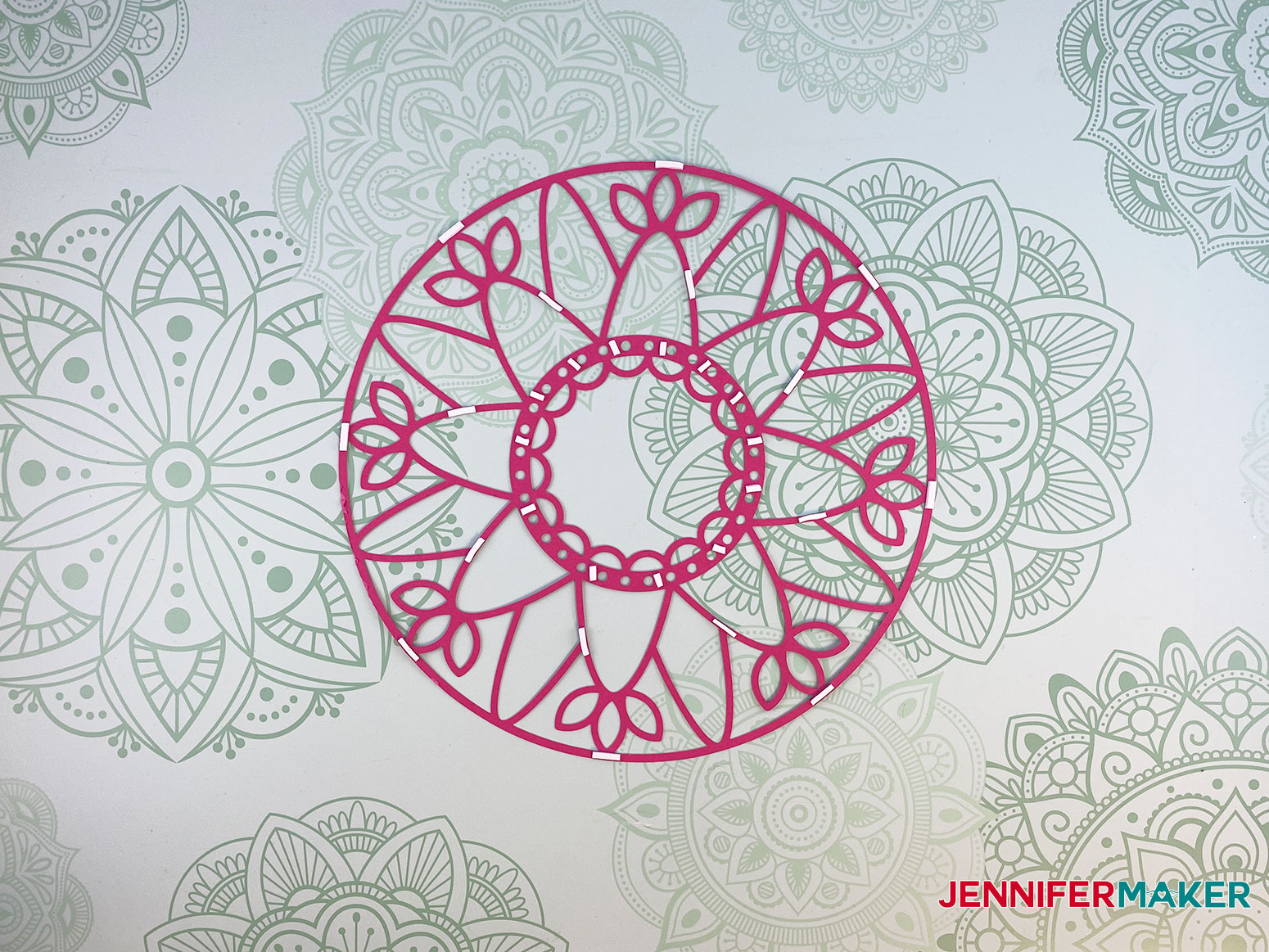 Here is my layered mandala fully assembled.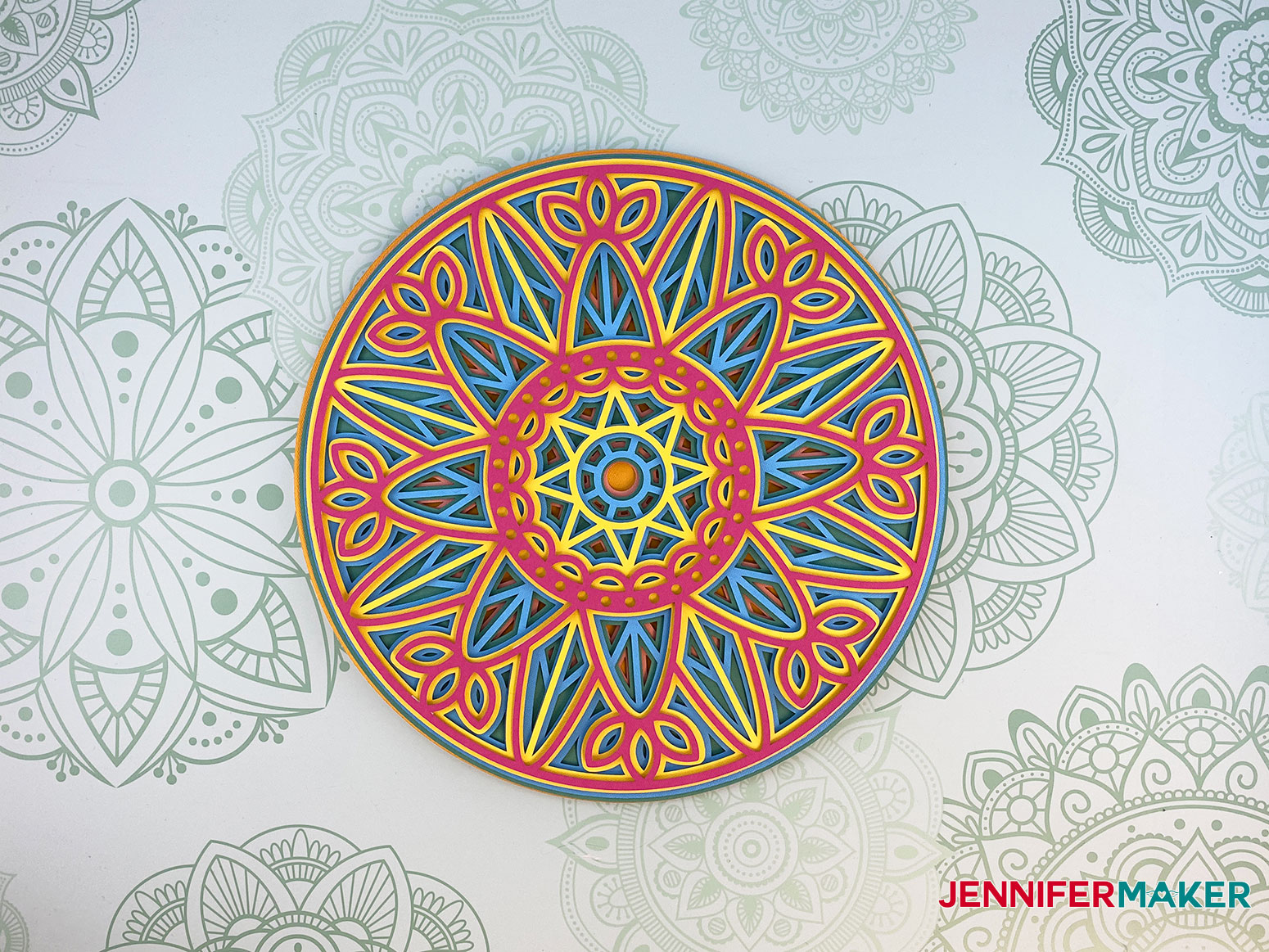 Notes
ACKNOWLEDGMENTS
Special thanks to the JenniferMaker Design Fairy Team, specifically Design Fairy Caitlin, for helping me design and assemble this awesome layered mandala.

These 3D mandalas are SO much fun to make! Once you start, you may not want to stop. You can find many more designs for sale on places like Etsy — here's a list of my favorite stores:
There are also some fun 3D mandalas available for sale on DesignBundles.net here:
Need more projects for today's theme?
Today's MAKE IT EASY Craftalong Challenge is to Uplift Us either with 3D papercrafts or something uplifting. If you are looking for other ideas, we have you covered!
Get my free SVG files to make your own 3D layered mandala!
I cannot wait to see YOUR 3D layered mandalas in all the colors of the rainbow! Please share a photo in our Facebook group or tag me on social media with #jennifermaker.
This project is a part of our MAKE IT EASY Craftalong Challenge with fun and EASY projects you can do to learn how to use your Cricut! You can share your photos in our daily challenge theme thread here!
Love,