Compare color, fit, feel, and care for the best shirts for sublimation!
I love making sublimation T-shirts because the colorful designs become part of the fabric – no peeling or wrinkling in sight! And you can easily add color using different techniques, even sublimation tie-dye! But if you don't use the right shirt, your project might have faded colors or lose its vibrancy in the wash. With so many options available, how do you pick the best shirts for sublimation? I tested out some of the most popular shirts available to see how they compare to save you time and money!
Want to save this project? Enter your email below and we'll send the project straight to your inbox.
See the full step-by-step video tutorial on the best shirts for sublimation and how to make your own: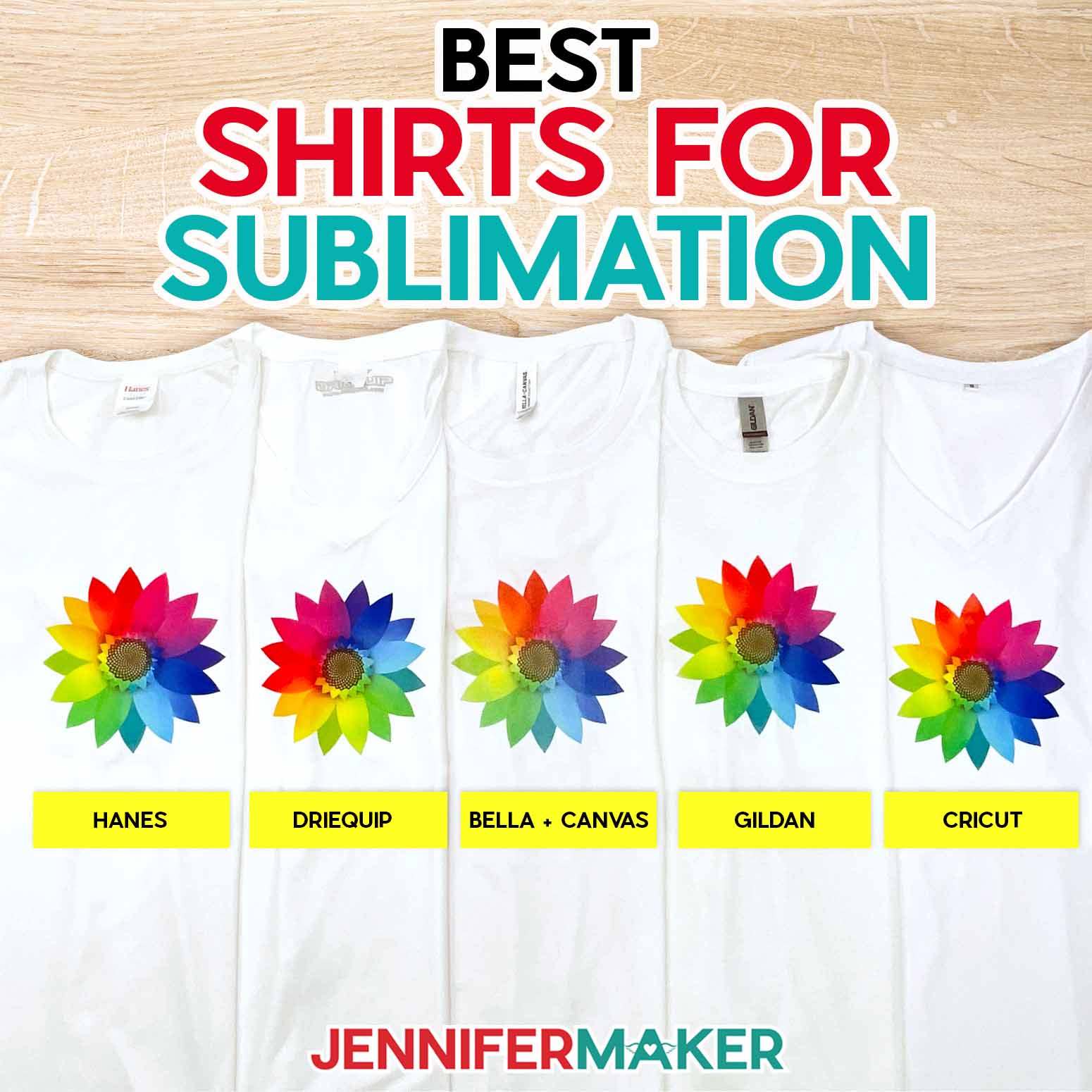 I asked for your input (thank you everyone who voted and shared ideas!) and picked the most popular results. The contenders are a good mix of 100% polyester shirts and blended options! We tested white shirts for now, but there are great techniques to try on dark shirts, too!
To test lots of vibrant colors, I printed several identical sublimation prints of my Subliflower. There are variables in the printing process, so use high quality sublimation paper and ink with your printer.
Then, I sublimated the design on to two of each T-shirt contenders. I put one of each pair through a first wash and dry cycle following the manufacturers' instructions, and kept one unwashed for comparison. All of these shirts are supposed to be washed in cool water and tumbled dry with low heat, but always check your shirt tag in case the garment needs different care.
I'm considering several performance metrics in my test:
Color, or how well the vibrancy of the design transferred to the shirt initially.
Fit, to gauge whether or not the shirt shrunk or held its shape after washing and drying.
Feel, the texture of the fabric before and after washing. And really whether or not I'd want to wear it!
And Care, to see how each shirt fared after being washed and dried. This category is really important, and the results surprised me a bit!
Hanes Sport Cool Dri Performance T-shirt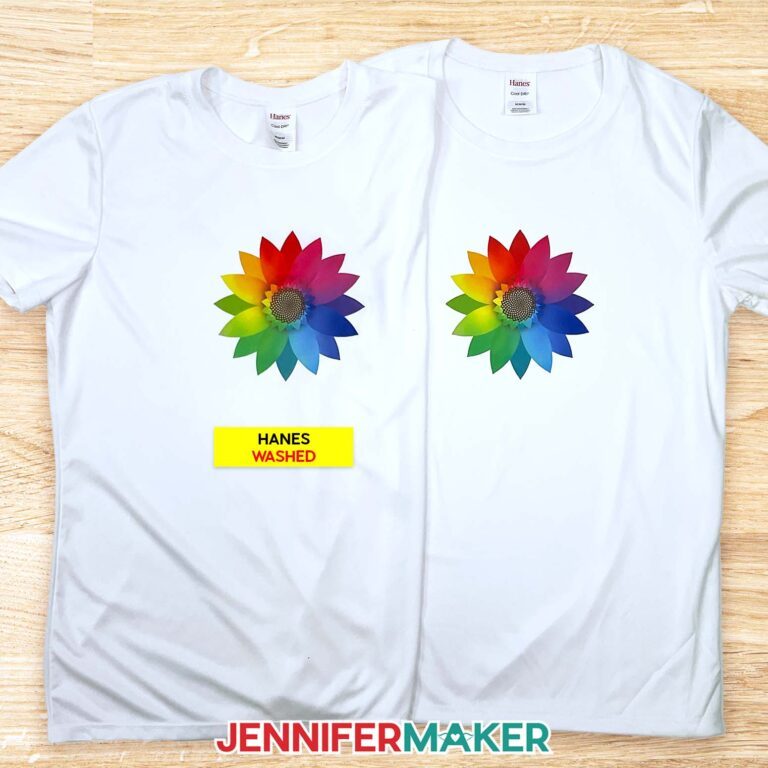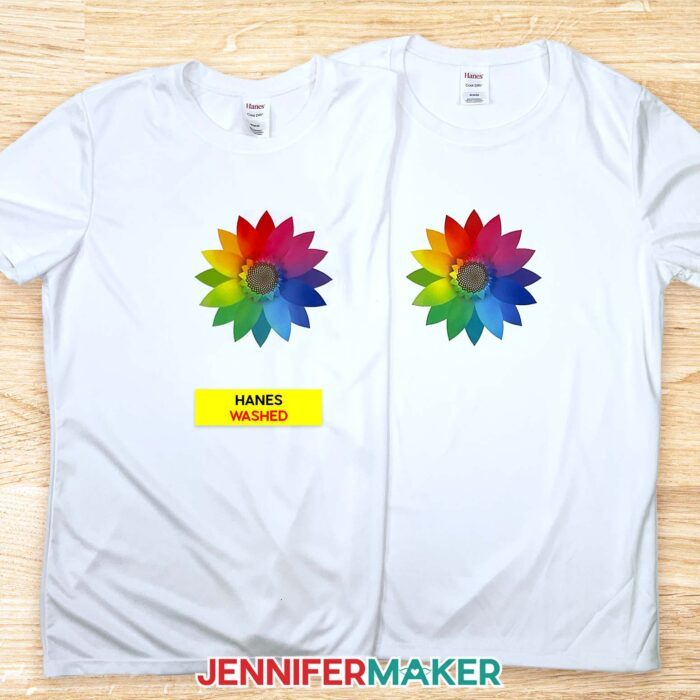 Right from the start, the Hanes Cool Dri shirts felt super slick, which I really don't enjoy for T-shirts. It totally makes sense since the shirts are 100% polyester, but they're almost shiny.
After I sublimated the design, the Hanes shirt looked great! The ink showed up so well! But then I noticed a distinct indent where the sublimation paper left a mark all around the design. I did another test with feathered edges around the transfer, but the mark was still there even after washing and drying, which is pretty disappointing.
Washing and drying didn't seem to change the feel, fit, or vibrancy, so it still looked good. The indent is still visible, but dropping the temperature and time a bit helped on a third test. Check out the video for the details!
Overall, I'd give the Hanes Cool Dri shirt 3/4 hearts. If you don't mind the feel of polyester and conquer the indent, it will probably be a 4/4!
Joe's Dri-Equip T-shirt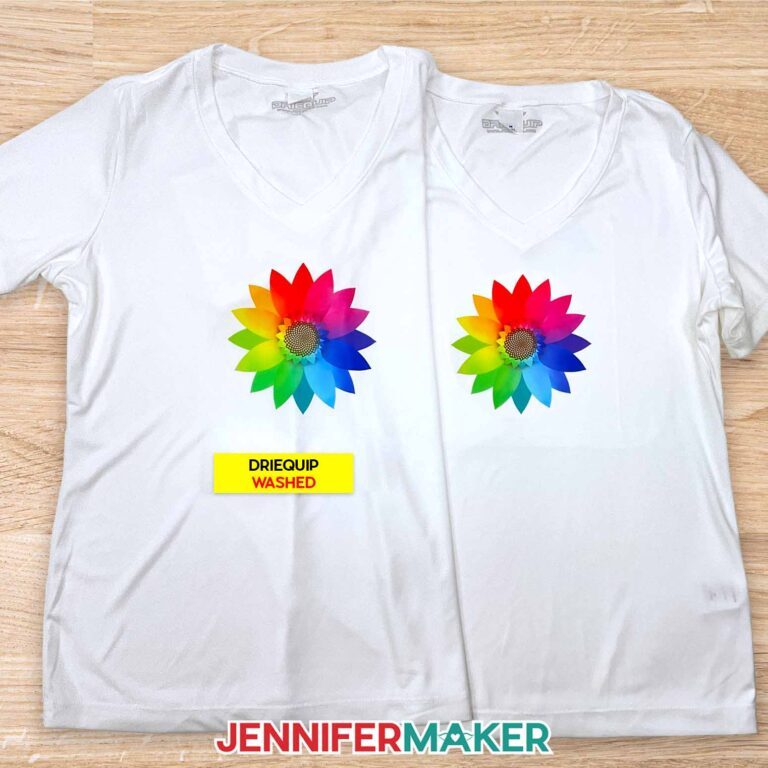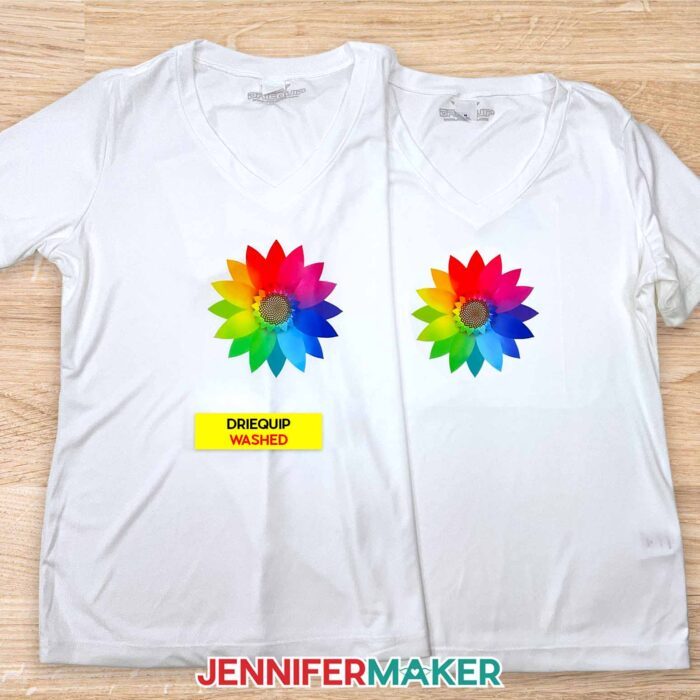 The Joe's T-shirt felt similar to the Hanes, definitely a good gym shirt with great moisture-wicking capability. But not great texture if you're more of a cotton fan. I just really don't like the polyester feel!
And again, just like Hanes, the Joes shirt shines for color transfer but the paper indent was clear even after feathering and a trip through the washer and dryer.
This shirt didn't change at all during the wash and dry, so this is a good option for shirts that will get a lot of wear and tear. But with the indent still there, it's not my favorite.
I'd give the Joe's T-shirt top marks for Fit and Care, but the feel and indent bring it down to 3/4 stars.
Gildan Performance T-shirt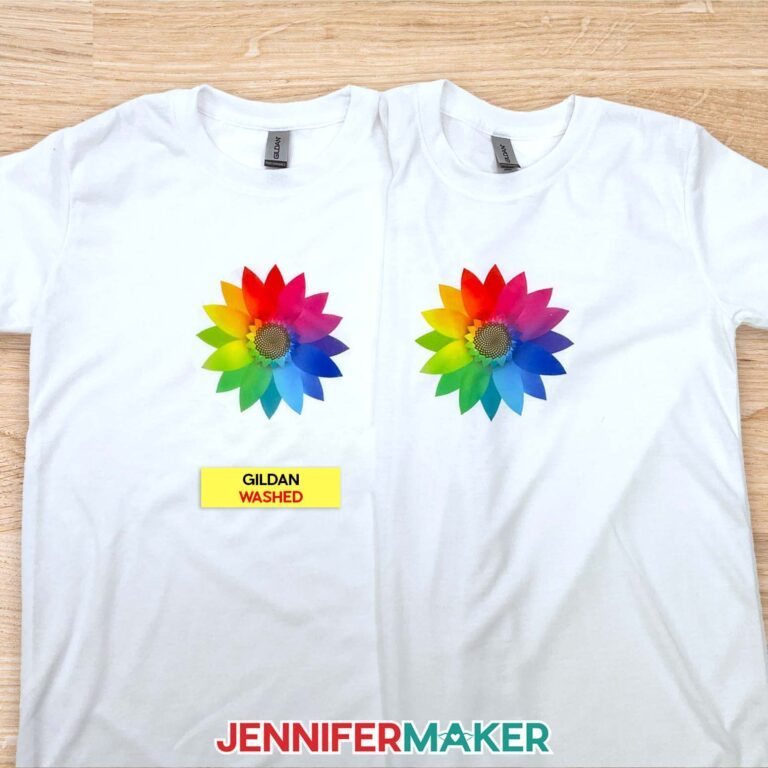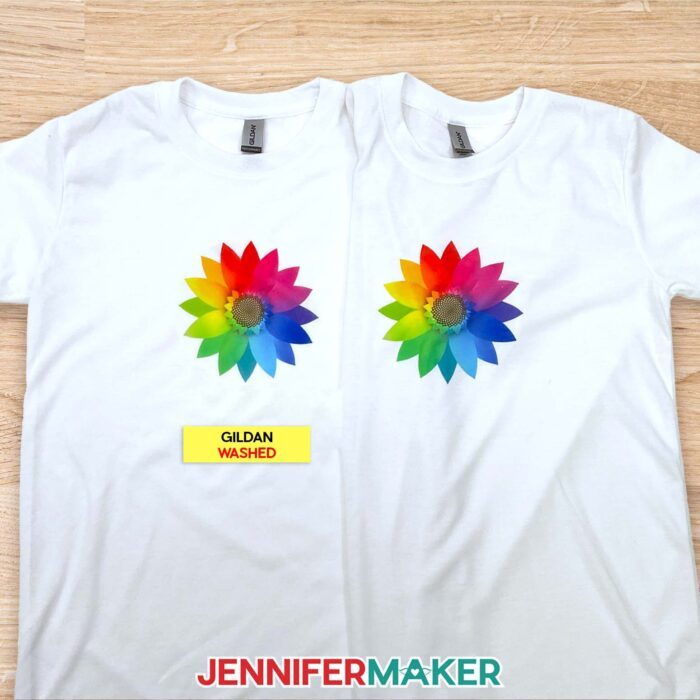 I was pretty excited to try the Gildan shirts, because they're thicker than the other ployester shirts and feel less slick. It almost tricked me into thinking it had cotton in the mix!
And then, I lifted the press and there was no paper indent! The fabric took the sublimation design beautifully and bounced right back!
However, the colors faded a tiny bit after the wash and dry test, so the Gildan didn't perform quite as well as the Hanes or Joe's shirts for Care. It did keep its size and shape, and felt pretty nice compared to the scratchier polyester options.
So since sublimation is all about color, I'd give the Gildan 3.5/4 stars, but I'd probably pick it over the other two options for the better feel.
Bella + Canvas Triblend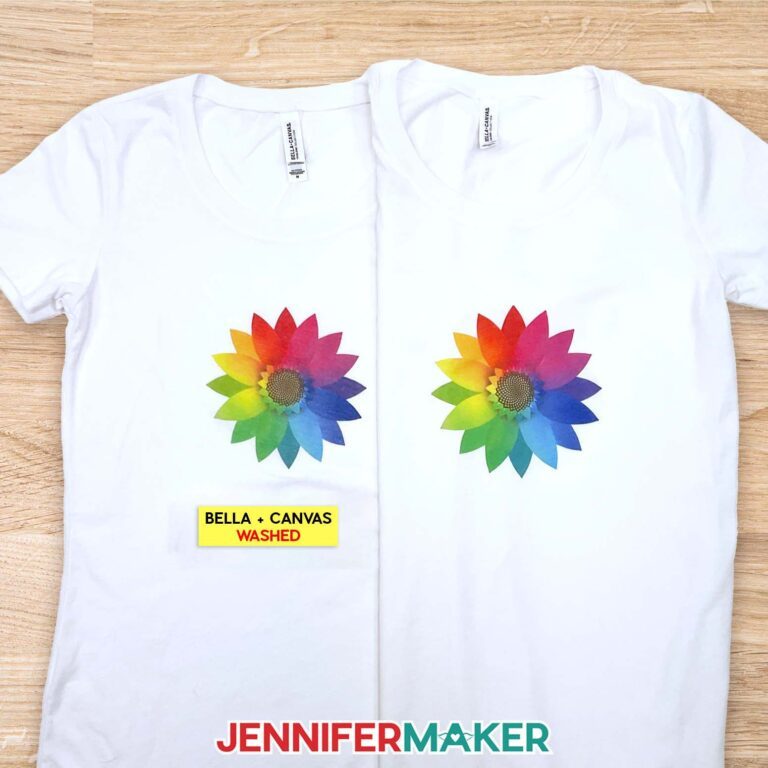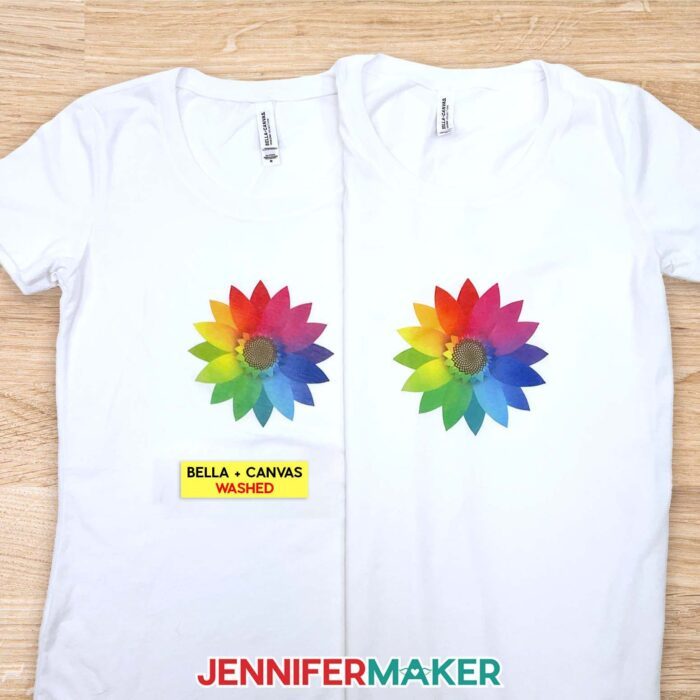 A lot of you asked for tests on blended shirts, especially the popular Bella + Canvas triblend. These aren't marketed as athletic or performance T-shirts and have a different fit than the others.
Sadly, the "triblend" part of these shirts is definitely noticeable when picking the best shirts for sublimation. The 50% polyester is just not enough to capture sublimation dyes as well as the other options. That's why I recommend sticking to at least 65% poly blend shirts — that 15% is surprisingly important in sublimation! Right after pressing, the design just wasn't as vibrant as on the other shirts.
Washing and drying didn't make the design fade much more, but the Bella + Canvas shirt did shrink a bit. That's unfortunate since they already run pretty small. Definitely order a size up, especially if you want to wear a tank underneath these thin shirts.
BUT, these are my favorite in the Feel category because of the cotton content. They're soft right from the package and get even nicer soft cotton feel after a wash. Bella + Canvas gets a 2/4 overall for sublimation, but if you're going for a vintage look or prefer cotton shirts, give them a try!
Cricut V-neck T-shirt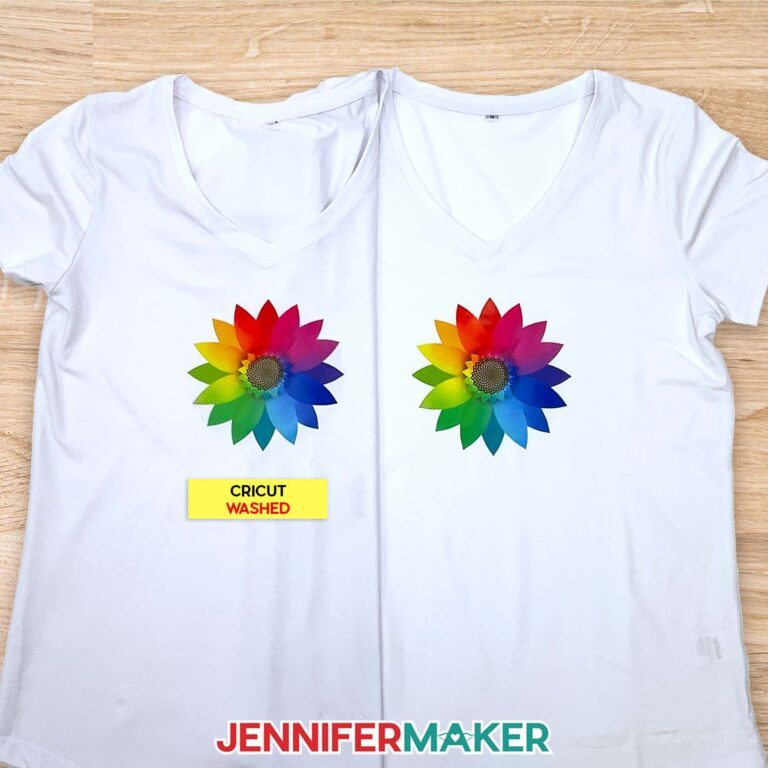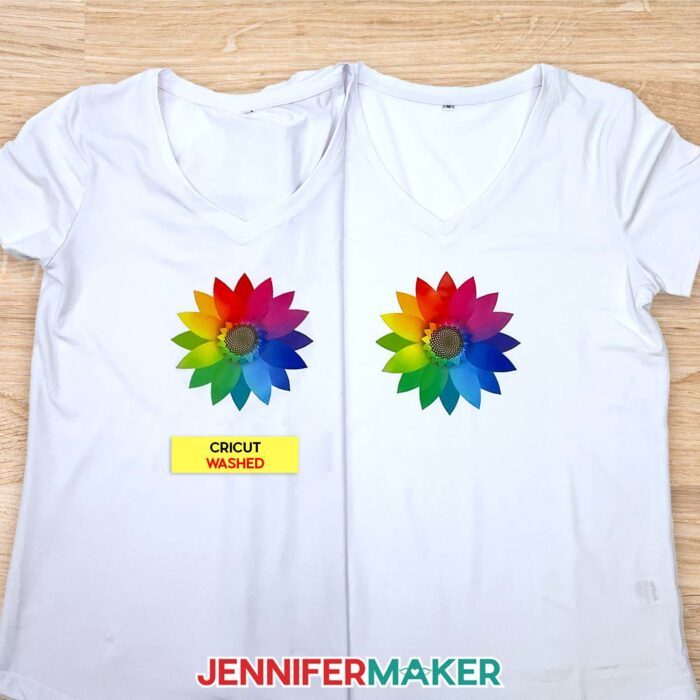 Overall, my pick for the best shirt for sublimation is the Cricut T-shirt (v-neck or crew neck)! Even though it's 95%polyester and 5% spandex, it feels almost like a cotton blend. It also feels more substantial than the other shirts and doesn't show the transfer paper's indent. The fabric takes sublimation ink beautifully since Cricut designed these shirts to work with Infusible Ink, which is a sublimation technique.
After a wash and dry, the Cricut shirt looks almost exactly the same. It didn't shrink or lose color, and it's actually a bit softer, and I bet these will last a long time. So they have the best results AND they're the least expensive option on my list! That's why I'd give the Cricut shirt 4/4 and pick it as one of the best shirts for sublimation! And since Cricut offers these shirts in many styles and sizes, they'd work well for sports teams with custom designs.
Ready to make your own sublimation shirts? This post contains some affiliate links for your convenience (which means if you make a purchase after clicking a link I will earn a small commission but it won't cost you a penny more)! Read my full disclosure policy.
Materials & Tools to Sublimate a T-Shirt
I tested several options to find the best shirts for sublimation, including:
For any shirt, you'll need:

How to Make the Best Sublimation Shirts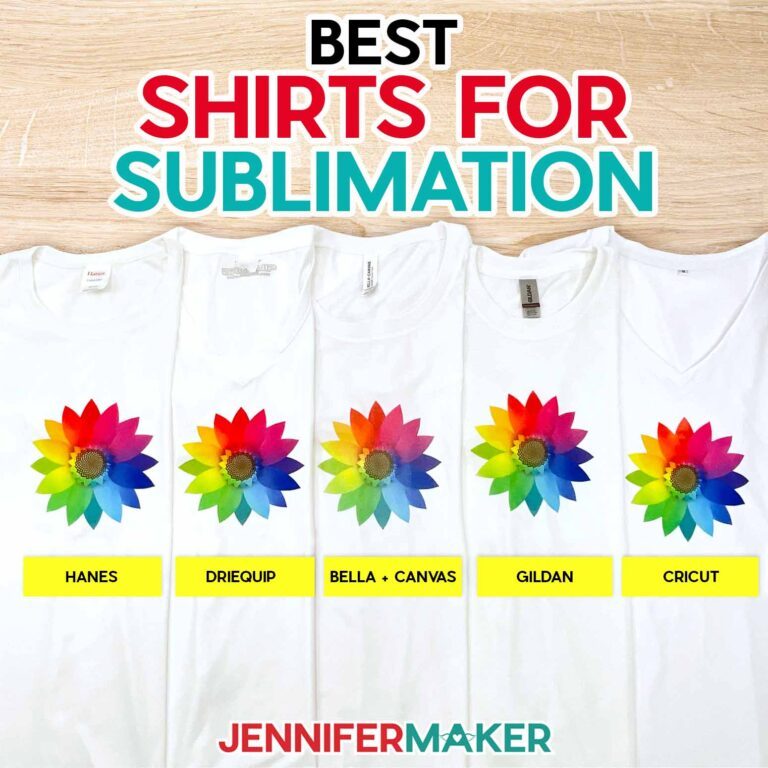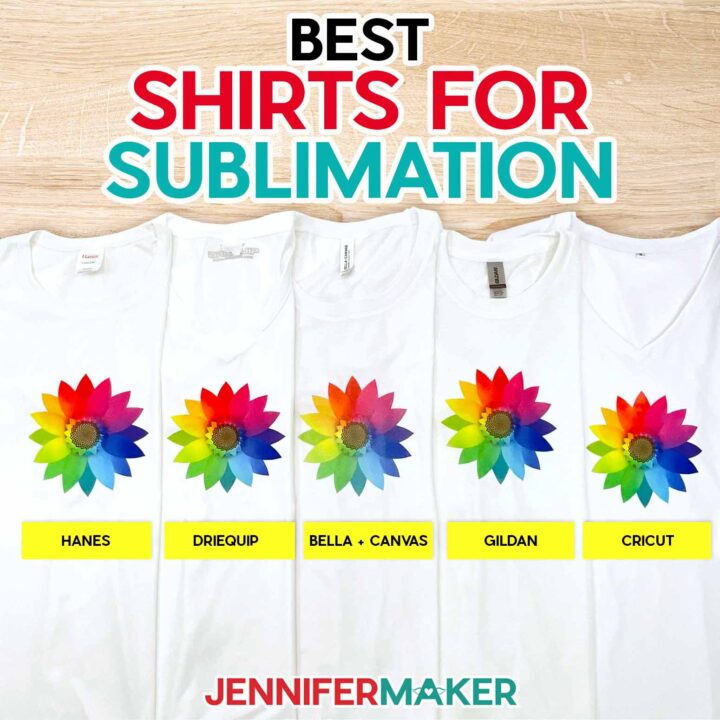 Best Shirts for Sublimation
Difficulty:
Easy to Medium
Estimated Cost:
$10 - $15
What are the best shirts for sublimation? Let's test popular shirts to find which are the best to sublimate on and how they hold up in the laundry.
Instructions
STEP 1: GET OR PREPARE A SUBLIMATION DESIGN AND PRINT
The first step is to download my Subliflower design from my free resource library -- it's design #485.

Open my Subliflower design files from my resource library.
Here is the Subliflower design on my screen.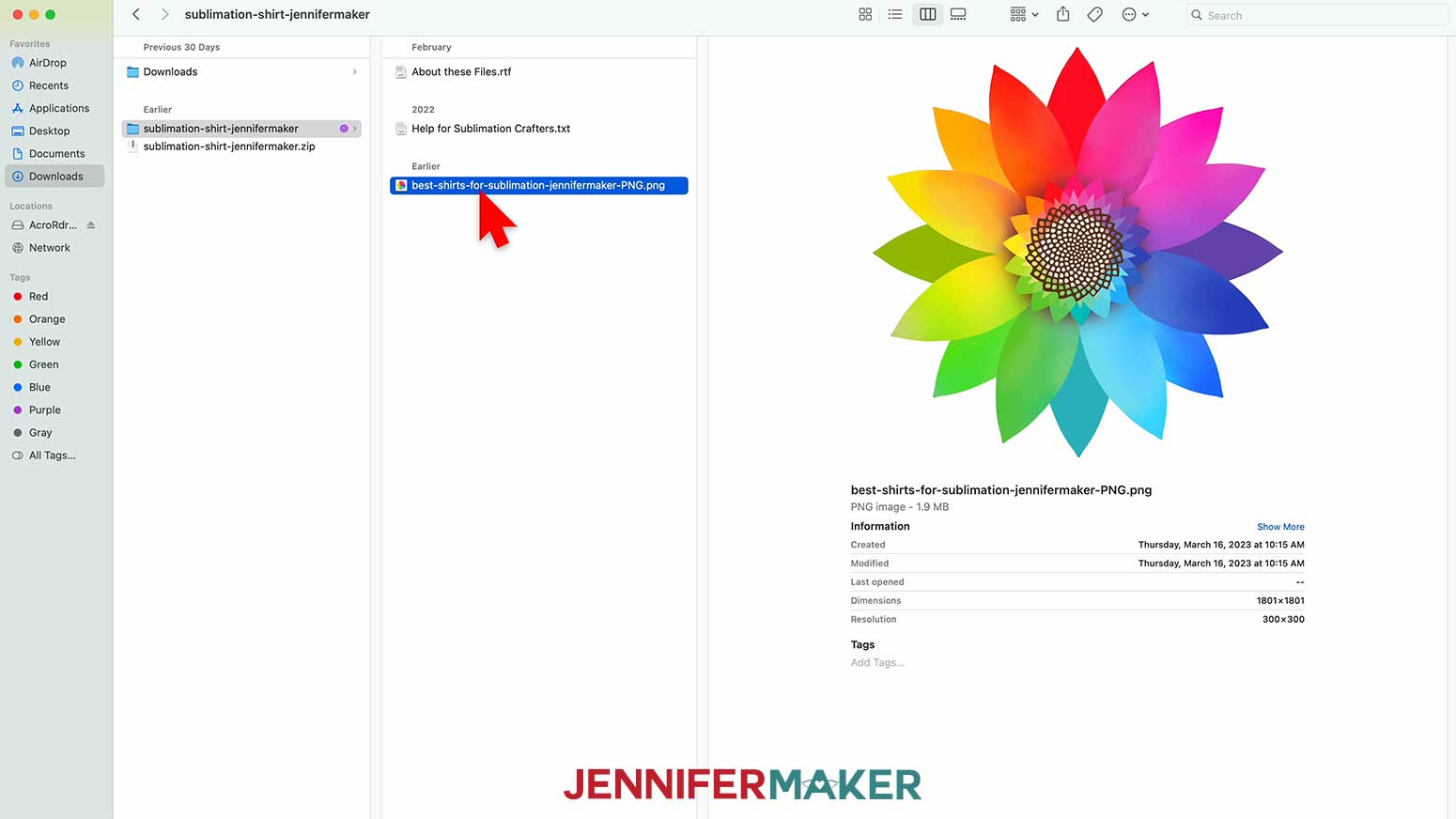 Open Google Docs in the Google Chrome web browser on your computer. You can also download and open the Google Docs app, but be aware that you won't be able to install or access any printer profiles from a mobile device, and you're also limited in features, so I do not recommend it on a mobile device. (Note: You will need a free Google account to use the free Google Docs software.)
With Google Docs open, click on "Blank" in the upper left corner to open a new document.

Go to the "File" menu and select "Page Setup". Change your margins to "0" and change your Paper Size to match your sublimation paper size. Mine is 8.5" x 11".
Go to the "Insert" menu, select "Image", and select "Upload from Computer". Locate the sublimation design you want to use (hint: it's probably in your Downloads folder), and click "Open". The image will appear and fill your page — it will not necessarily come in at the size originally designed.
Resize your image to fit your shirt, if you're struggling with placement, you can use both my T-Shirt Rulers and placement guides.

To resize, right-click the image, select "Image Options," make sure the "Lock aspect ratio" box is checked, and change the Width or Height field.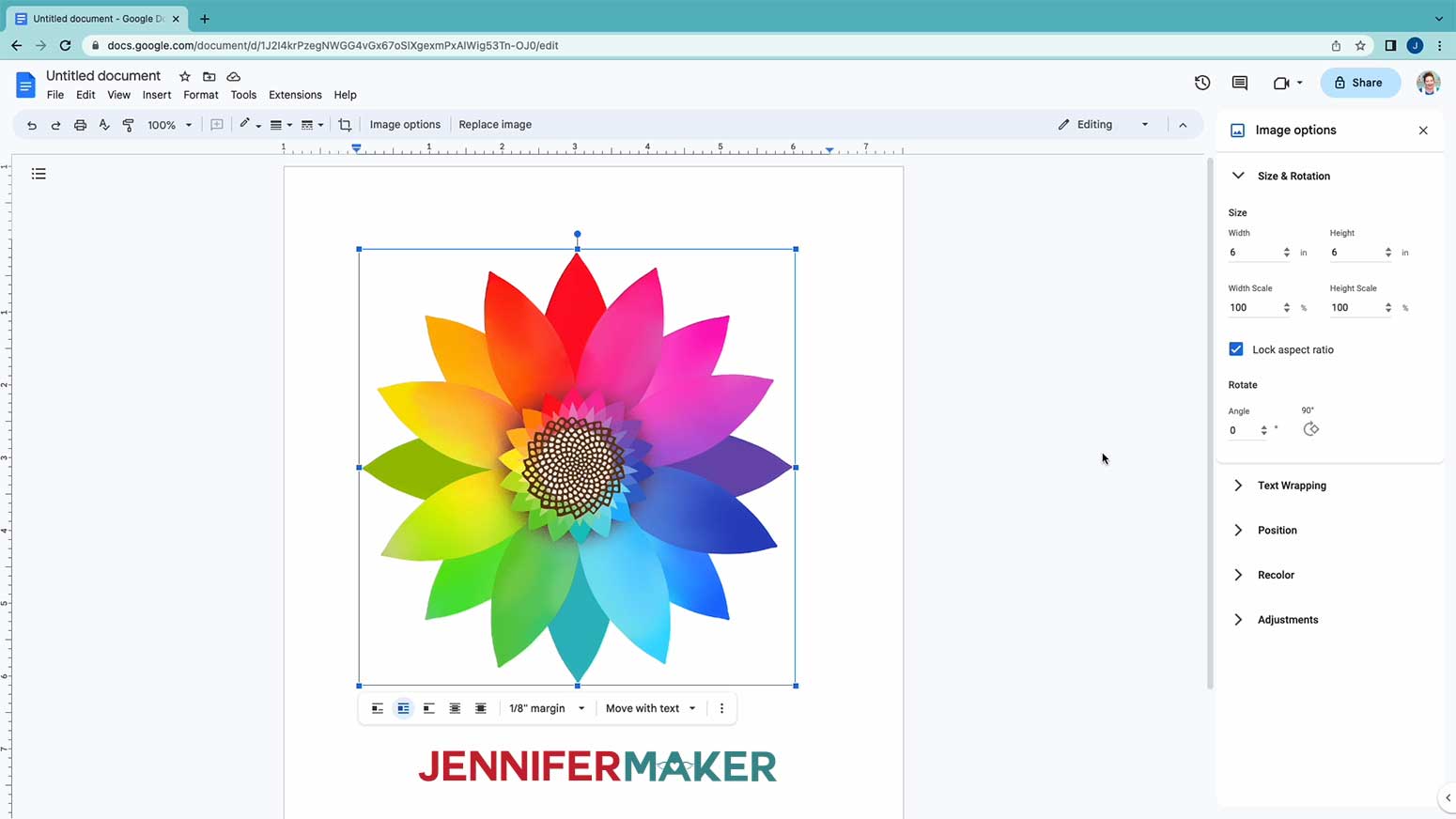 Adjust the image on your page by selecting it, then click on the second icon from the left in the menu below it, which means "Wrap Text".
Now, you can click and drag the image anywhere on your page. I recommend putting your design in the center of your page, as that ensures it won't get cut off at the edges and you have plenty of space for cutting/tearing edges if needed.


Print the design following my earlier Sublimation Design Printing tutorial.


If your design is larger than your sublimation paper and you need help printing, please see my helpful tutorial on How to Sublimate Large Designs


STEP 2: PREPARE THE SHIRT FOR SUBLIMATION
I'm using my EasyPress, but you can also use another type of heat press. If you're using different materials or tools, consult the Cricut Heat Guide to check your settings.
Set the temperature of your press to 385° F (196C°) and the time to 10 seconds.
Make sure you have proper ventilation by opening a window or turning on a fan.
Lint roll the t-shirt to remove any dust and debris.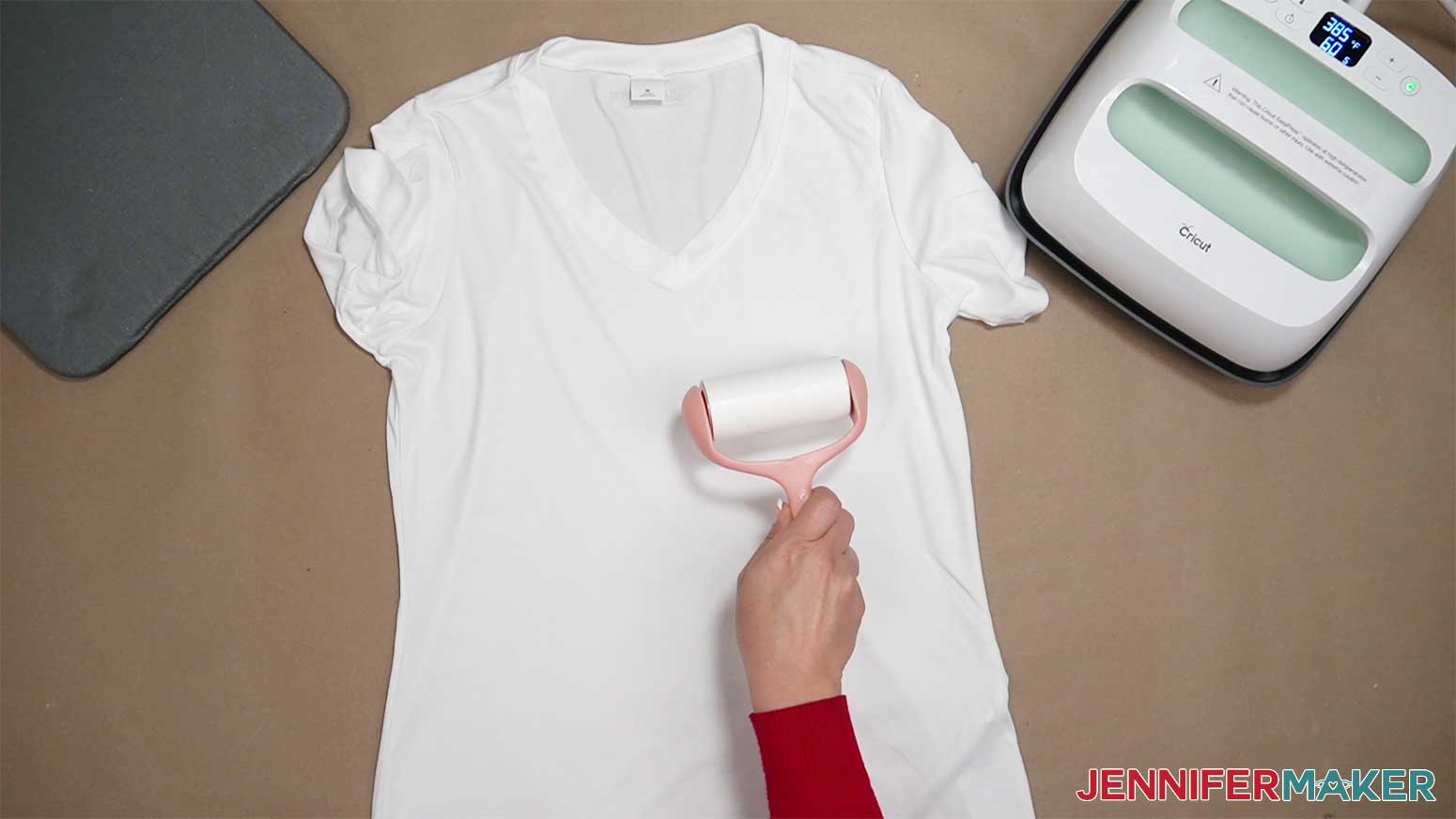 We also need to preheat the entire shirt before sublimating. When the press is ready, preheat your t-shirt for 10 seconds. This smooths any wrinkles and removes moisture. Working in sections helps
Place a clean sheet of white cardstock between the front and back of the t-shirt.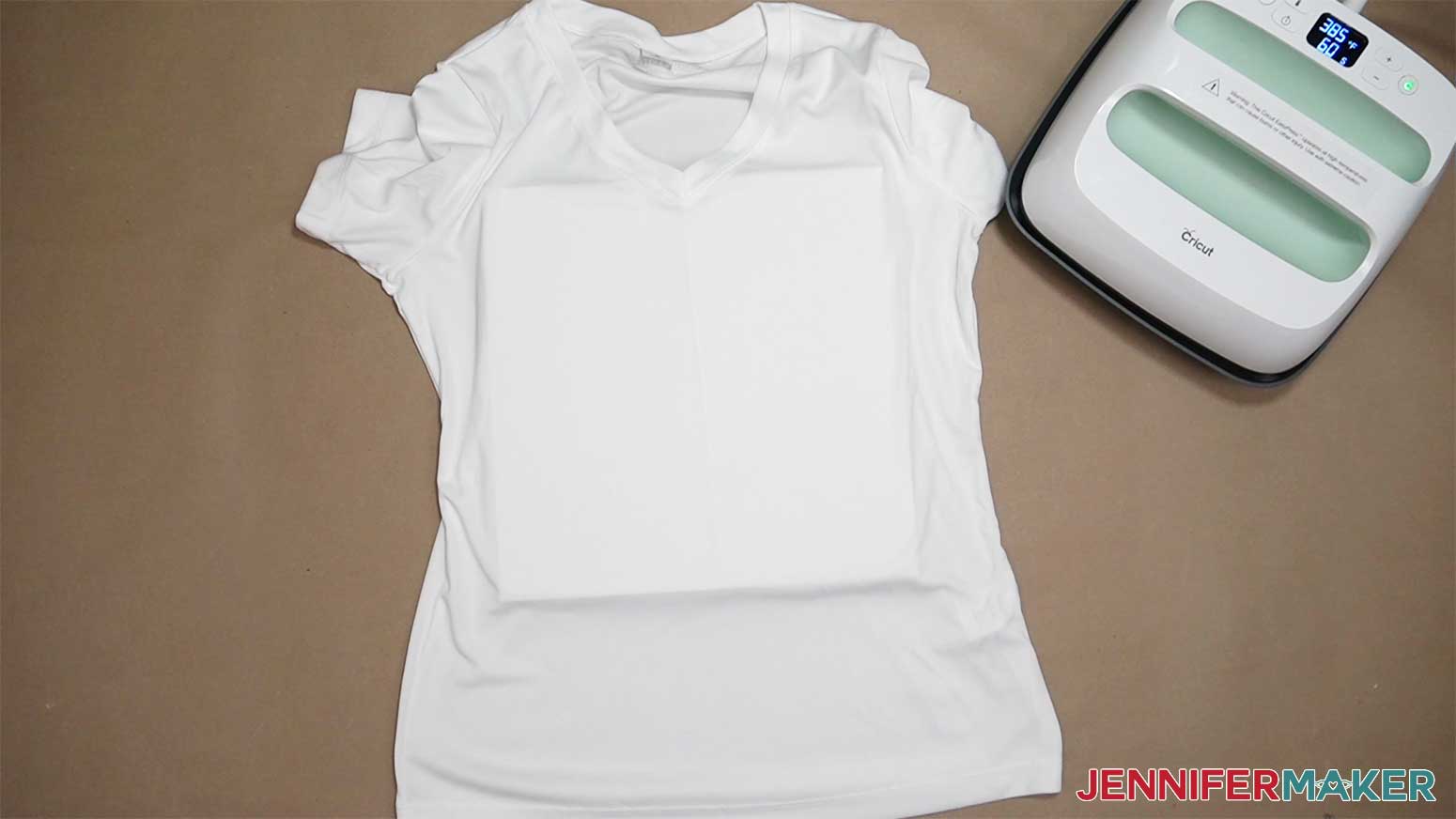 Make a note of which way is up on your print by marking it with a pencil on the back.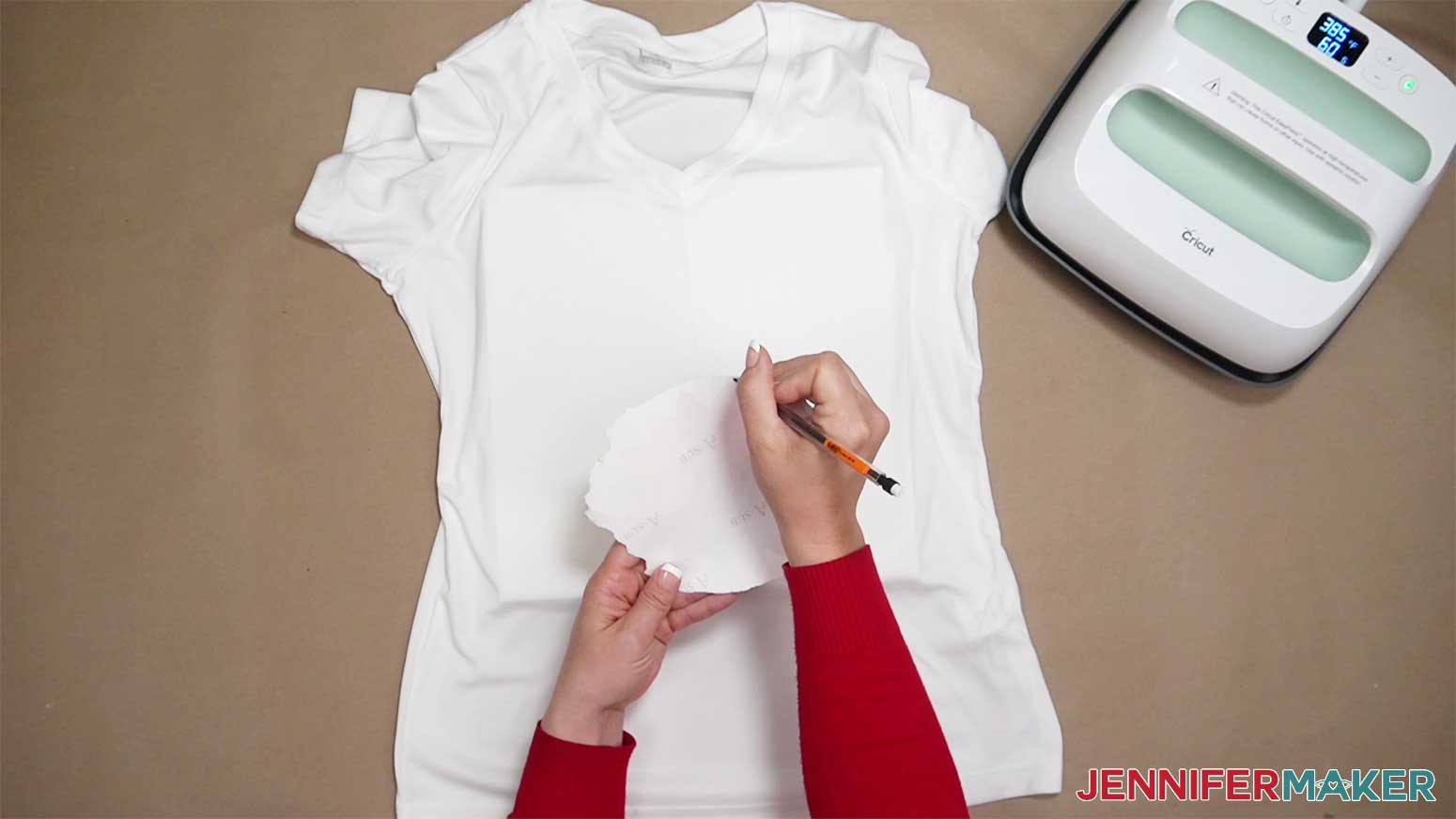 Using the t-shirt guide, find where you'd like to place the image. Position it face down and secure your print with heat-resistant tape.
Remove the guide, then adjust the inner cardstock to be under the design if needed.
Cover the project with white butcher paper and press at 385° F (196° C) for 35 seconds.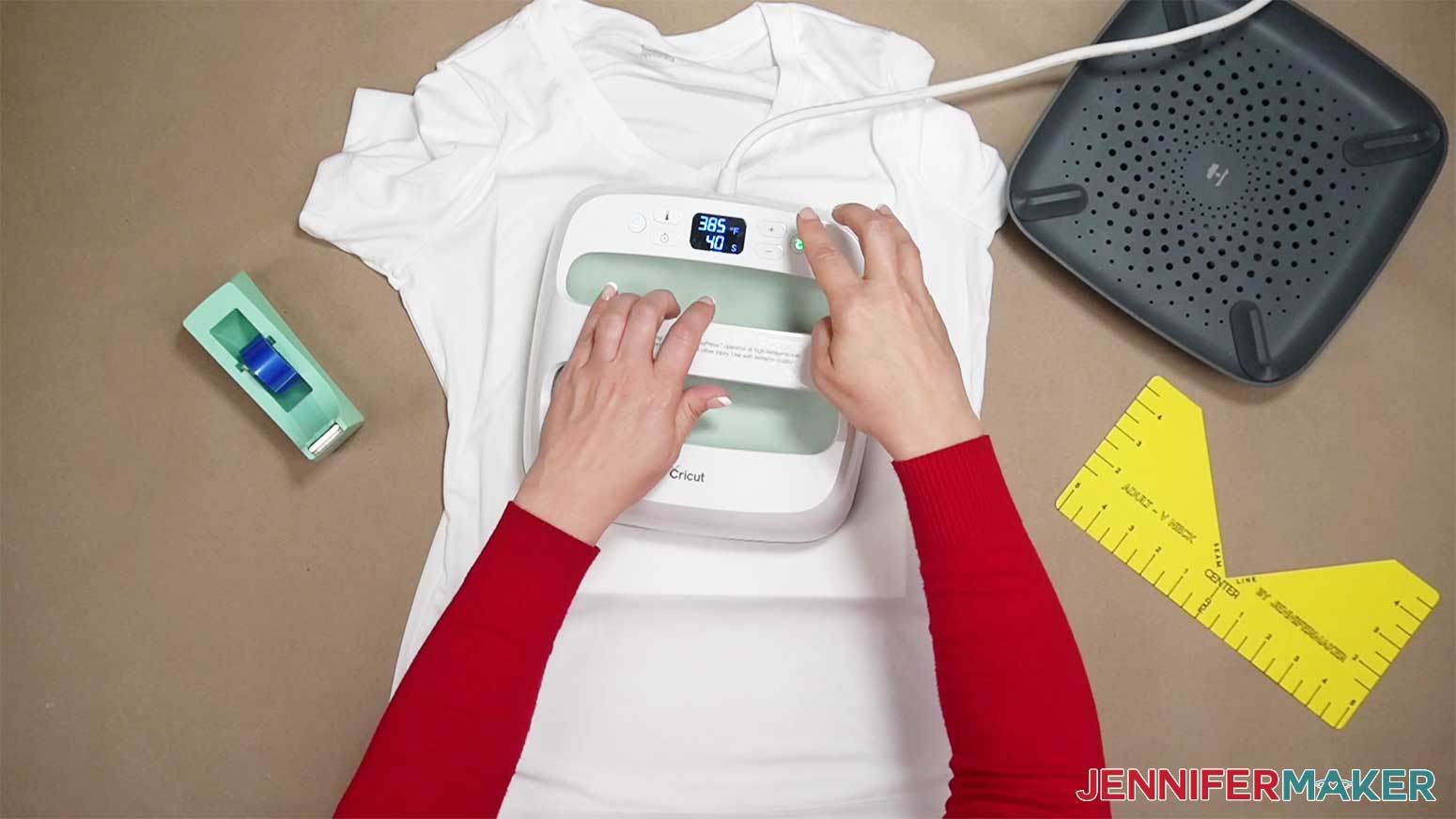 When the time is up, lift the EasyPress straight upward. You can remove the butcher paper, but to prevent ghosting, let the print cool for a few minutes to complete the sublimation process. After it has cooled, remove the tape, paper, and cardstock.
STEP 3: COMPARE BRANDS
We asked the members of our Sublimation Made Easy Facebook Group which brands of t-shirts for sublimation they'd like us to test out.
We graded each shirt based on 4 points,
Color - The brightness of the color on the shirt
Fit- Did the shirt shrink after washing
Feel - The texture of the fabric
Care - How each shirt fared after being washed and dried.

I washed all five sublimated shirts inside out, in cool water with a mild detergent, and tumble-dried them on low heat for 30 minutes.
Following the same steps for each shirt here are the results of the most popular brands requested by you!
Hanes Cool Dri -
Color - Colors are vivid both before and after washing.
Feel - Very polyester slick feeling, almost shiny
Fit - Shirt held its shape
Care - Wash cool, tumble dry low. Same silky feel after washing.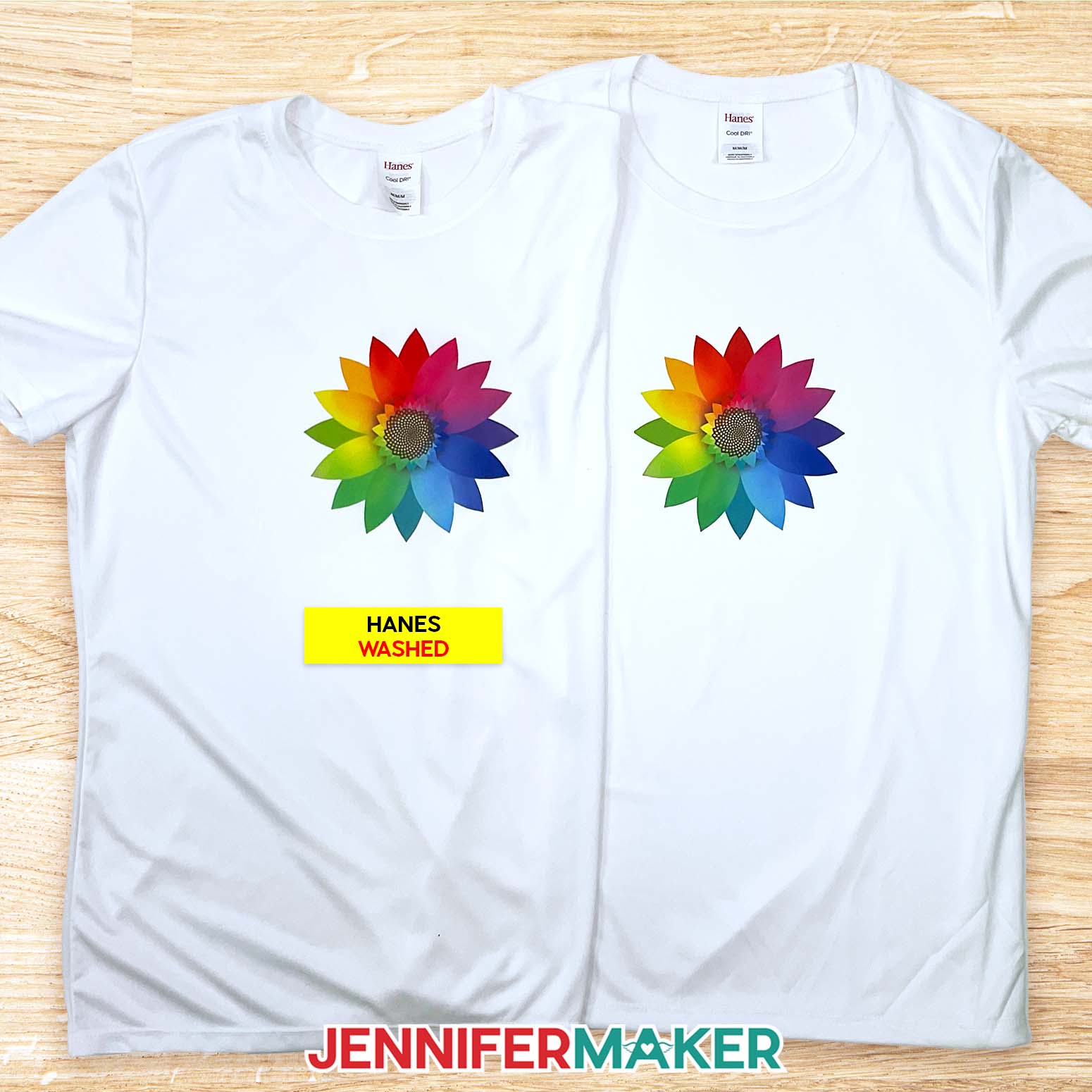 Gildan Moisture Wicking Polyester Performance -
Color - The colors are a bit washed out after laundering
Feel - Most "cotton" feeling of the bunch
Fit - Seems to have held its shape
Care - Wash cool, tumble dry low. Same feel after washing, not super soft but not scratchy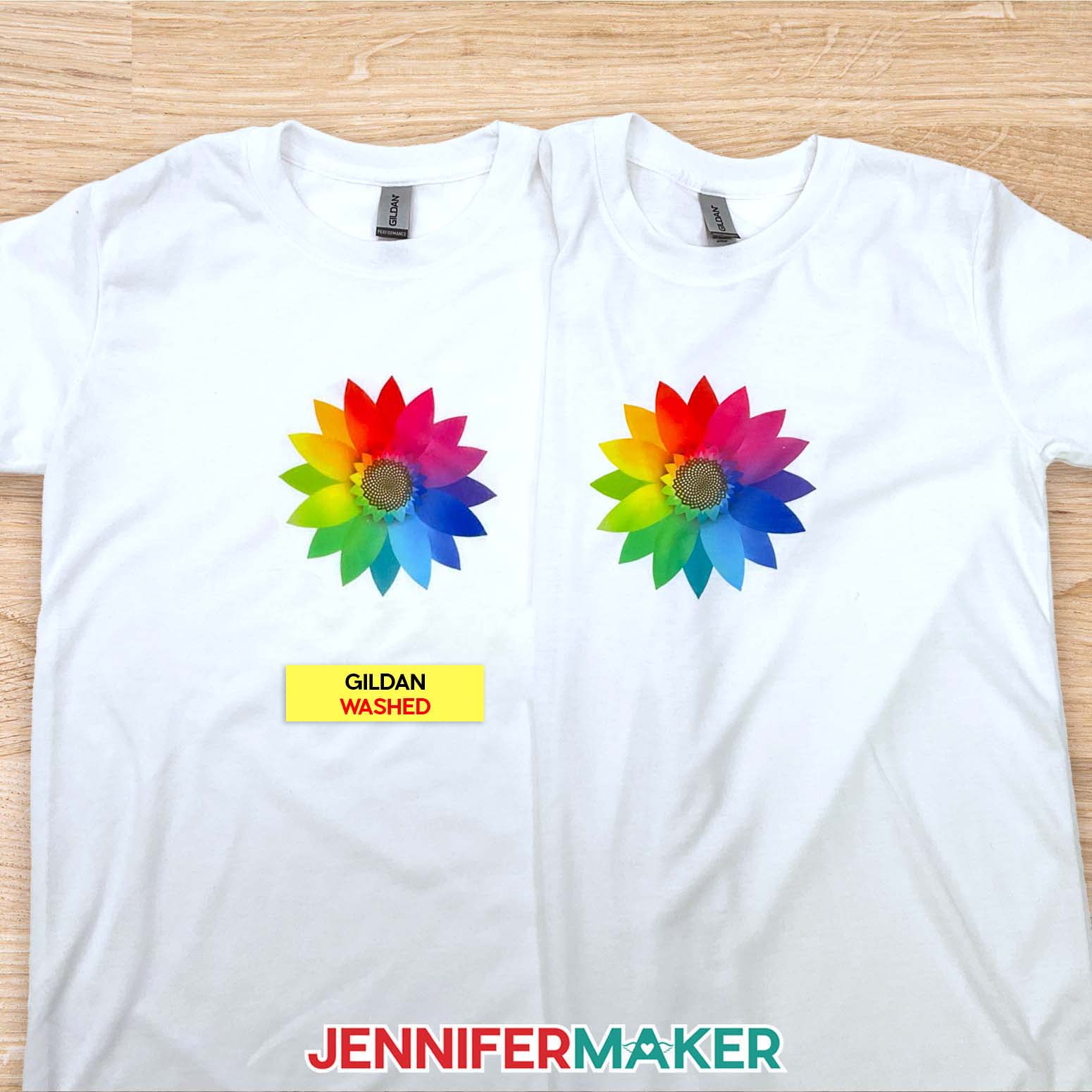 Women's Short Sleeve Moisture Wicking -
Color - Held color great, very vivid but also have a press mark
Feel - Very polyester slick feeling, almost shiny
Fit - Held its shape
Care- Wash cool, tumble dry low. The same silky feeling after laundering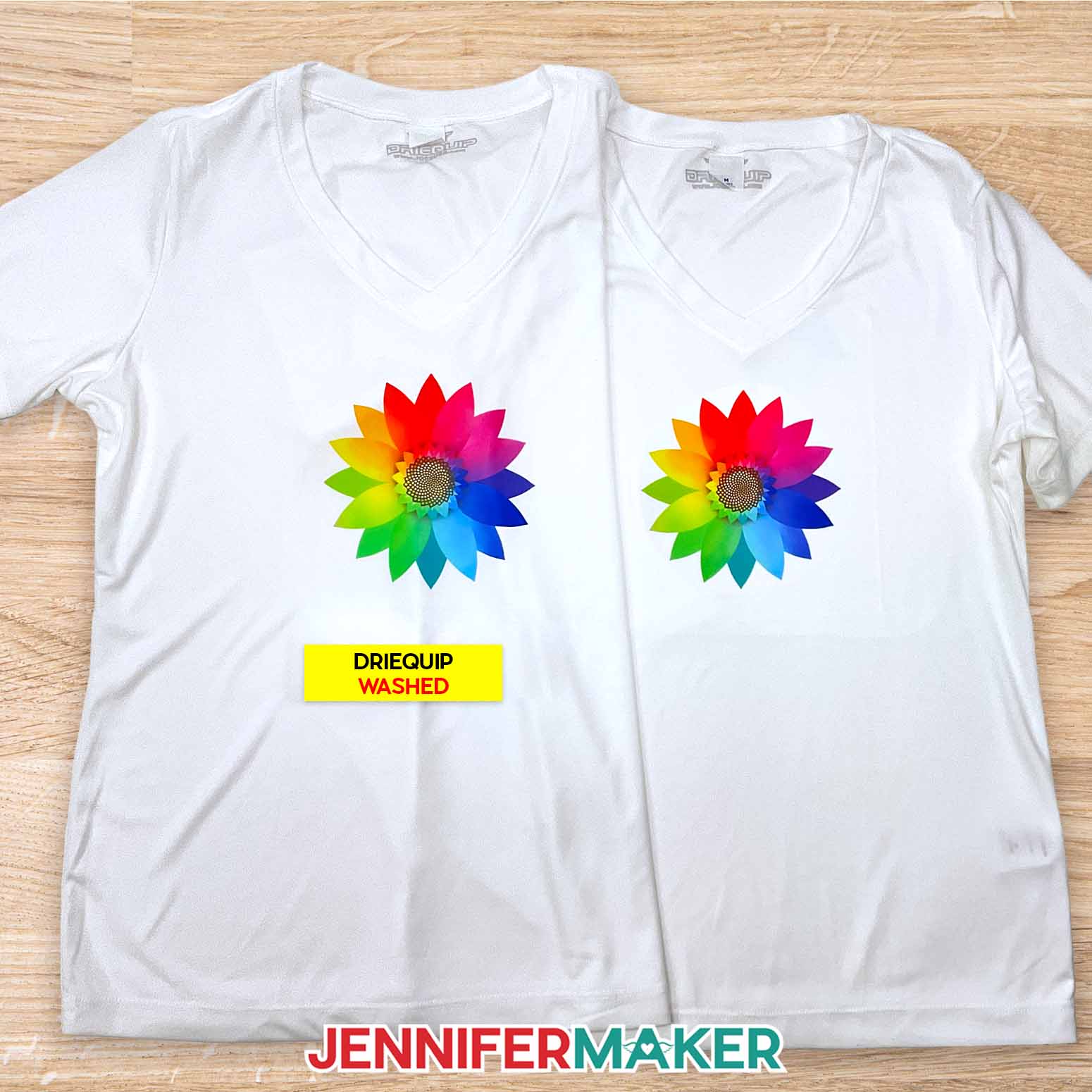 Cricut Women's T-Shirt Blank-
Color - Held color well
Feel - soft like a cotton blend and feels heavier than the other shirts, but in a good way.
Fit - Seems to have held shape
Care- Wash cool, tumble dry low. Actually a little softer feeling after washing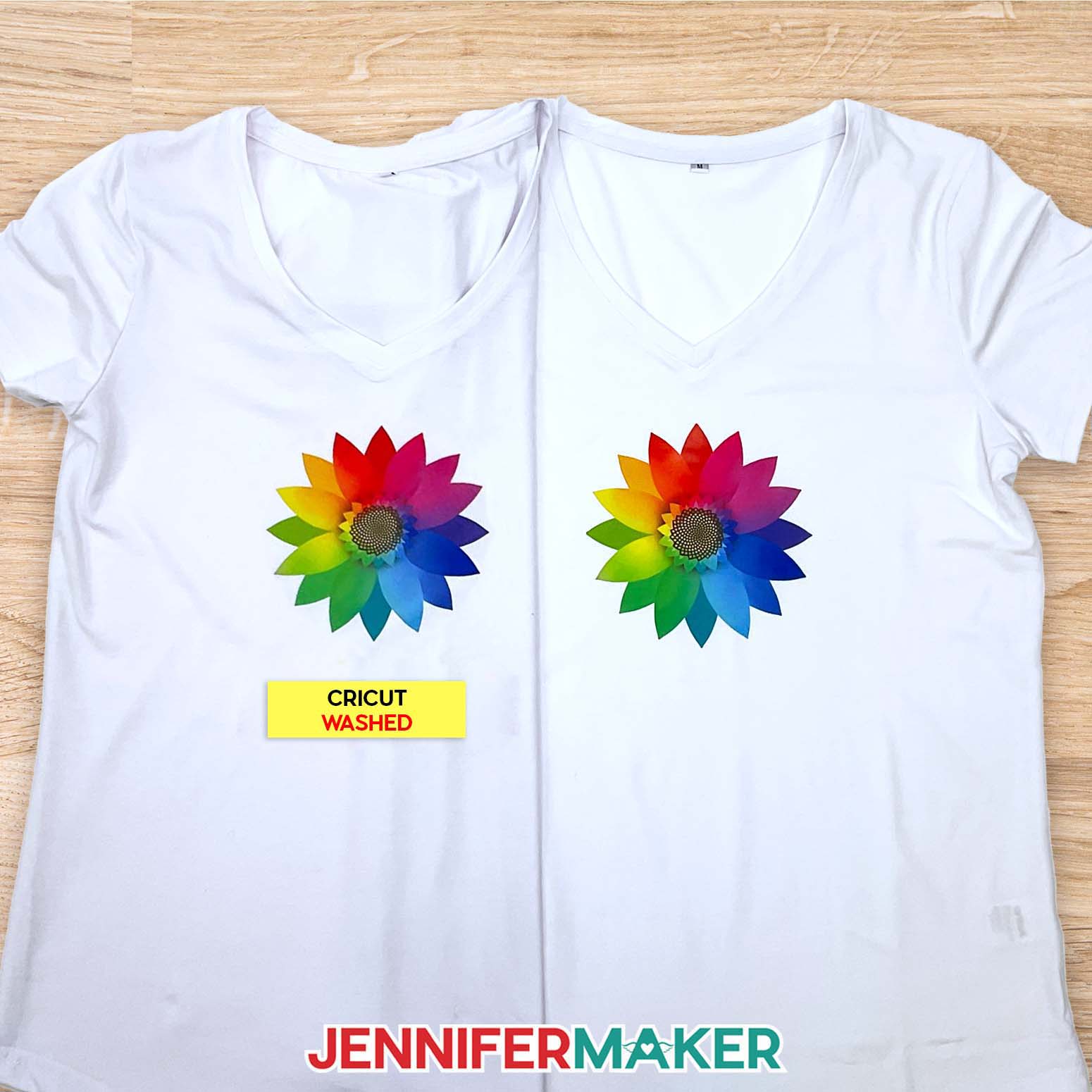 Bella Canvas TriBlend -
Color - The Bella Canvas didn't hold color very well. It's the most washed out of all the brands. Good for a retro look Feel - It's super soft but very thin
Fit- Amazon says these are sized small and to buy the next size up, I'd buy the next size up.
Care - Wash cool, tumble dry low. Soft after wash/dry, shrunk a little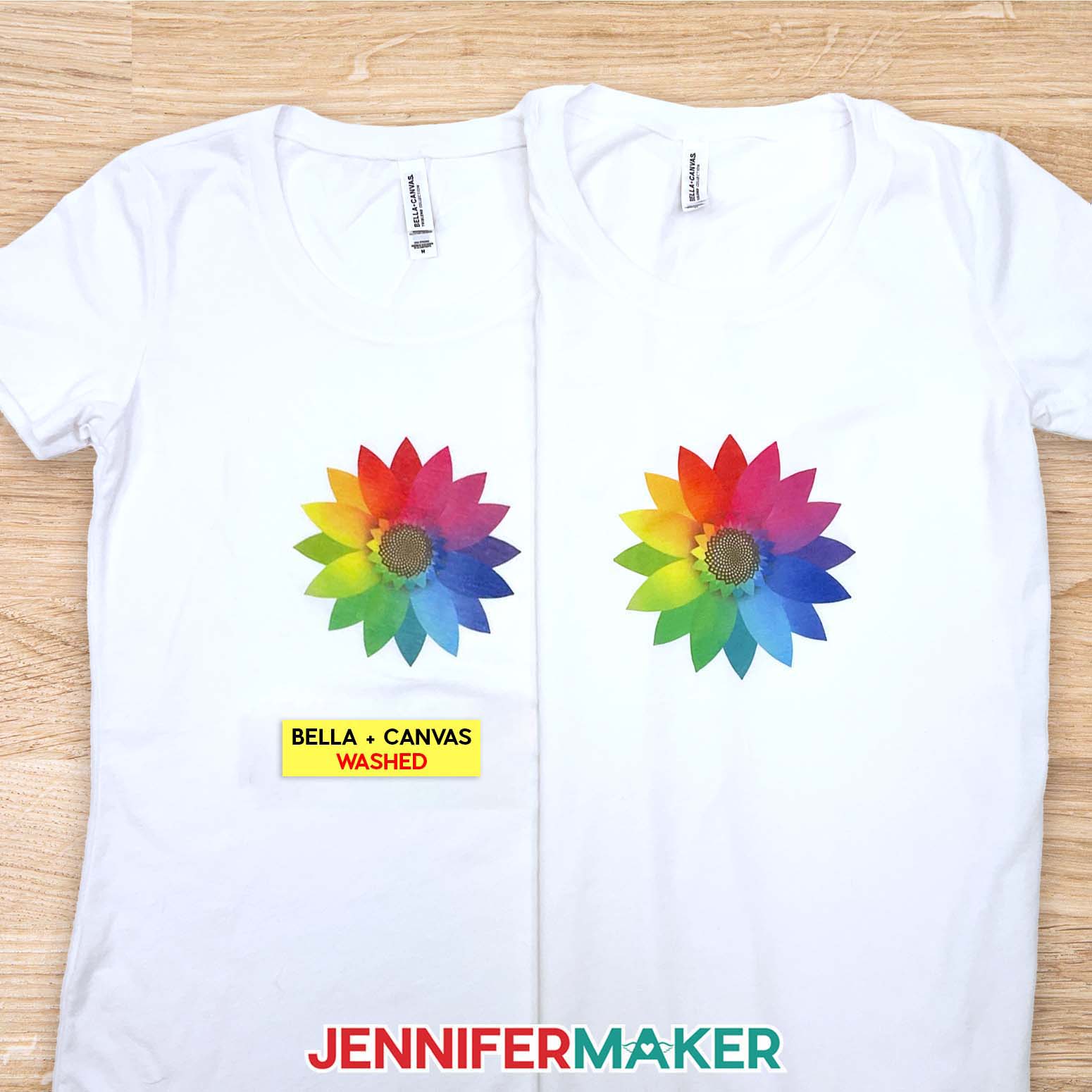 Conclusion
After pressing each shirt at 385° F (196° C) 40 seconds Hanes Cool Dri and Women's short sleeve T- Very silky polyester shirts seem prone to pressing marks but have the most vivid results. You may want to consider pressing them at 380° F (196° C) for 40 seconds instead.

Cricut Women's is best overall for feeling and colorfastness, followed by Gildan, both shirts have a thicker feel and weight to them

Bella Canvas - While SUPER soft, the TriBlend fabric didn't hold color well, but if you're going for a faded retro look, it's probably your brand.
STEP 4: SHOW IT OFF!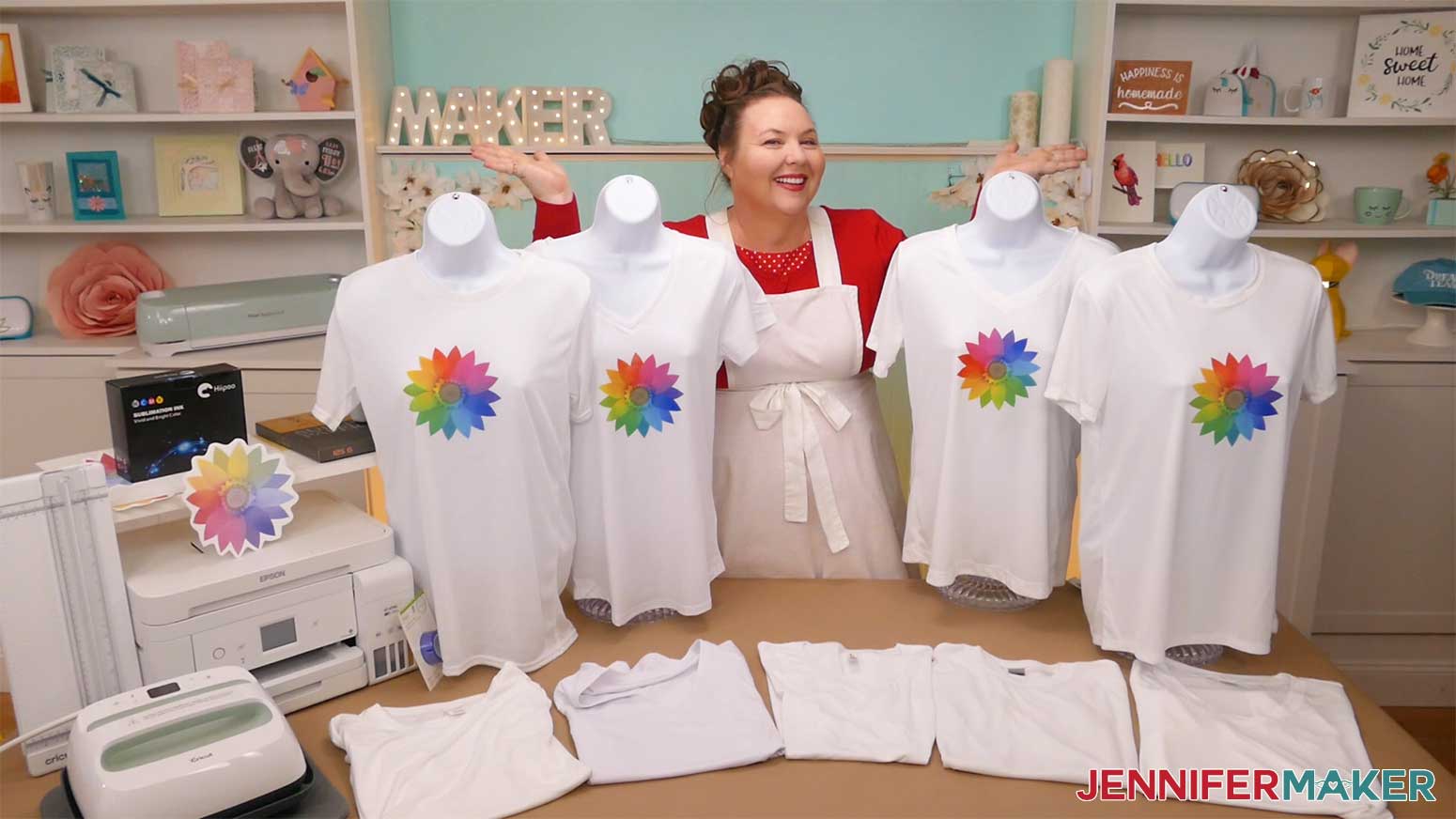 Answers to Your Questions About The Best Shirts For Sublimation
Q: What is the best shirt to sublimate on?
A: Using a high quality t-shirt with a very high polyester content for your sublimation process will give you the best results. best sublimation T-shirts
Q: Can you sublimate 65 polyester 35 cotton?
A: A 65/35 blend is a great option for some of the best sublimation T-shirts! They don't feel quite as nice as my favorite shirt (that would require more cotton) but they still take sublimation dye well.
Q: Can I sublimate on 50 polyester and 50 cotton?
A: I haven't gotten the best result with shirts that have less than 65% polyester. They are not the best shirts for sublimation!
Q: Can you sublimation 60% cotton 40% polyester?
A: I don't think 40% polyester fabric will work very well for sublimation, it's not enough to retain the dye.
Q: Are Gildan shirts good for sublimation?
A: Gildan offers shirts in many types of fabric, so it's important to check for adequate polyester content. But with so many options, you're like to find a light color you'll like, which helps sublimation designs look true!
Q: Can you sublimate on a 100 cotton tshirt?
A: If you (like me!) really prefer natural fibers like a 100% cotton T-shirt, try my DTF printing method!
Q: What color t-shirts are good for sublimation?
A: A white shirt is the best option for dye sublimation printing because any color on the surface will impact the finished result.
Q: What is the best fabric for heat sublimation?
A: Sublimation transfers best on 100% polyester, but the best materials will have at least 65% polyester.
Q: Can you sublimate on black t-shirts?
A: If you prefer dark colors or black shirts, you can try DTF printing, sublimating on vinyl, or screen printing!
Q: What do I need to start sublimation?
A: You really just need a suitable printer (not an inkjet printer) with compatible ink, paper, and a heat source! I have tips on selecting the best sublimation printer for your preferences and getting started in Sublimation Startup!
Get my free PNG files to make the best sublimation shirts!
I'd love to see the sublimation shirts YOU make with this tutorial! Please share a photo in our Facebook group or tag me on social media with #jennifermaker.
Love,