Learn all about sublimation printing and which sublimation printer is best for you and your crafting style!
Lately my craft group can't stop talking about the latest craft trend — sublimation printing — and I can't blame them! Sublimation printers can help us transfer beautiful and detailed full-color designs onto our projects. These machines use special inks and high temperatures to quickly and effectively print high resolution designs onto heat-resistant paper, which then solidify and become vibrant prints that you can transfer to T-shirts, coffee mugs, and more. Cricut Infusible Ink is effectively pre-printed sublimation paper, and it's amazing, but the best sublimation printer lets you print your own high quality designs for truly unique projects.
Want to save this project? Enter your email below and we'll send the project straight to your inbox.
Since so many of you have questions about choosing the best sublimation printer, I put together this easy-to-read guide and video that will answer all of your questions about choosing a dye-sublimation printer that is best for you!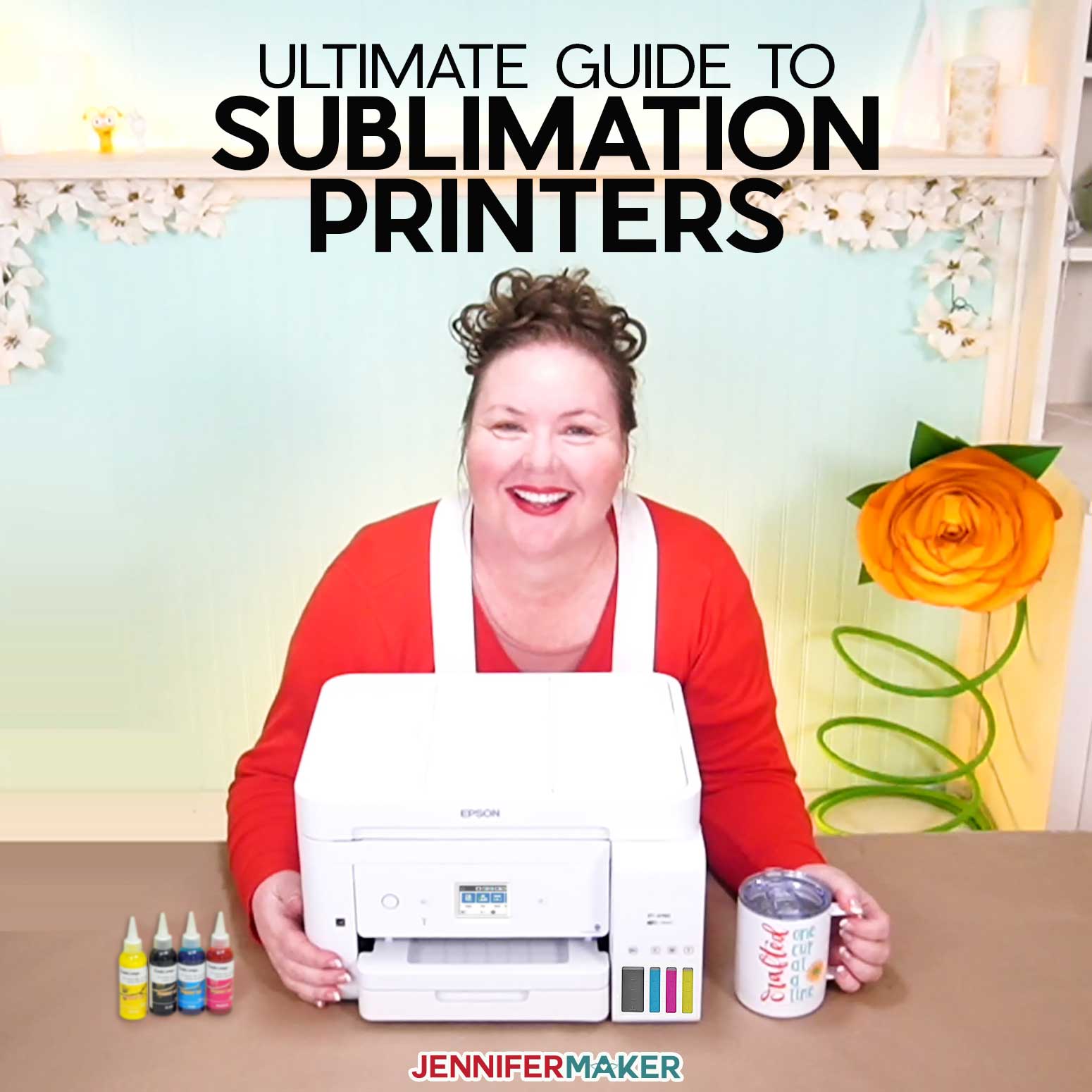 Get my free sublimation test "Subliflower" with color hex codes!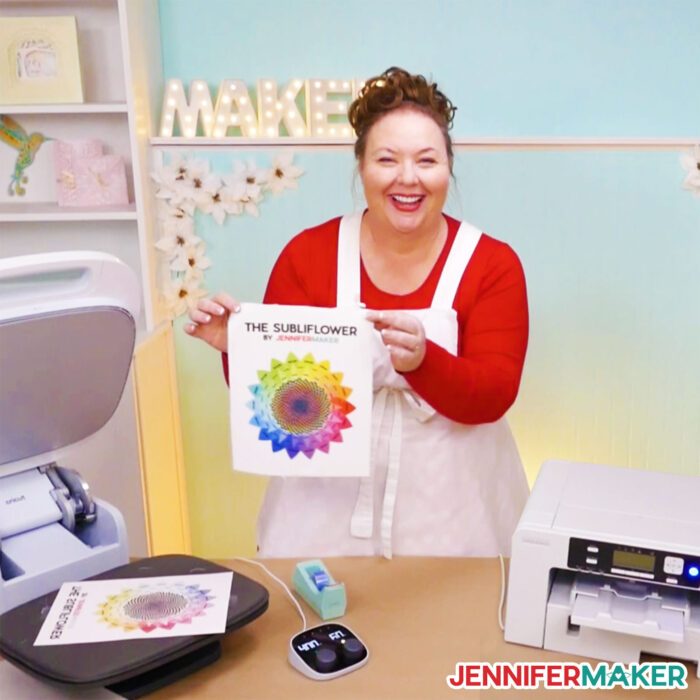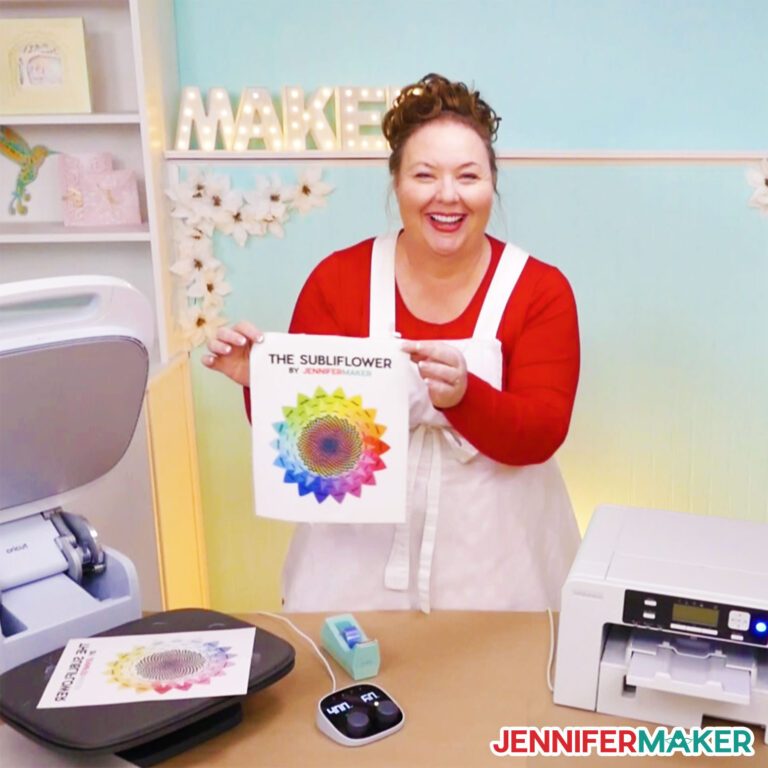 This post contains some affiliate links for your convenience (which means if you make a purchase after clicking a link I will earn a small commission but it won't cost you a penny more)! Read my full disclosure policy.
What does a sublimation printer do?
Sublimation is a print method that can duplicate a high quality and full color design with a special ink that can then be transferred to another object with a compatible coating. After the sublimation prints the design with special sublimation ink onto special sublimation paper, you use high heat and pressure to transfer the ink permanently to something else that has a coating that can absorb the ink, such as a polyester T-shirt or a coated ceramic mug.
After the dye sublimation printing process is cooled and complete, the design becomes embedded right in the object, and won't crack, peel, or wash away. You can put gorgeous, full color designs onto shirts, bags, mugs, and more with a sublimation printer and a heat press.
The shirt below was decorated with a transferred sublimation ink design made on an Epson EcoTank 2720 printer: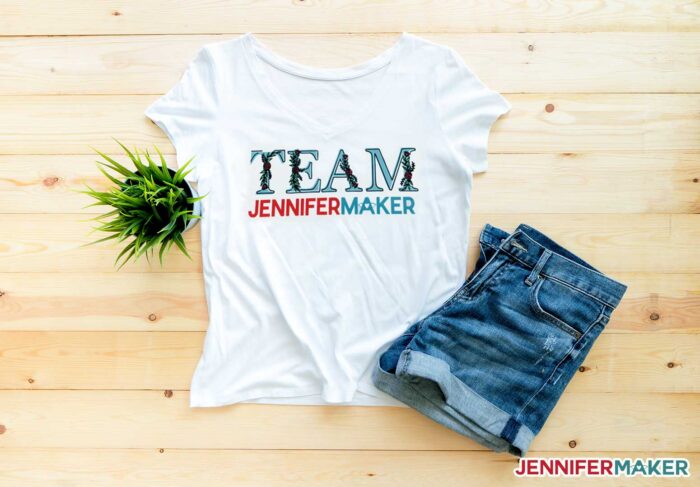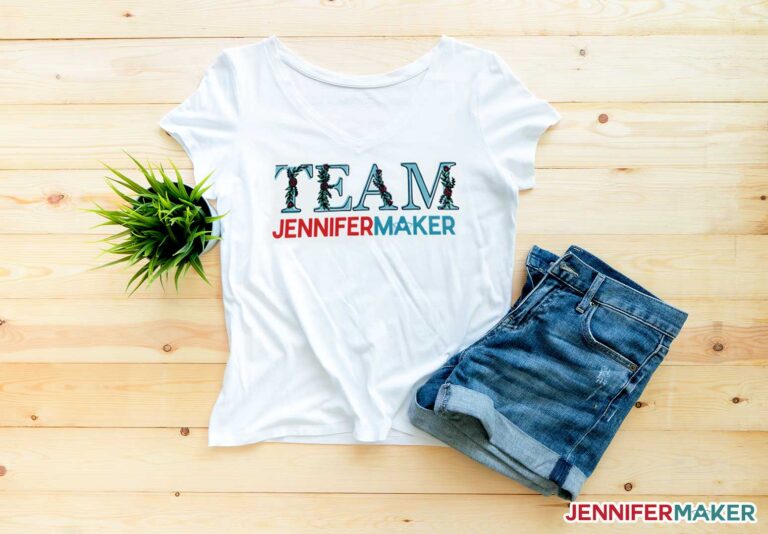 Can I sublimate with any printer?
No, you will need a special sublimation printer or converted inkjet printer along with special ink and sublimation transfer paper. You cannot sublimate with regular inkjet printing ink or regular paper. You need special ink and special paper.
What sublimation printers do you recommend?
You can go two ways when it comes to desktop sublimation printers — use a purpose-built sublimation printer (more money and more quality) or convert an inkjet desktop printer (less money and less quality).
The most commonly-used purpose-built sublimation printers are Sawgrass printers. Specifically, the Sawgrass Virtuoso SG500 (this is the newer version of the Sawgrass Virtuoso SG400) and the Sawgrass SG1000 (the upgraded version from the SG800 sublimation printer).
Another option is the Epson SureColor F170 Dye Sublimation Printer, which is a newcomer to the market and made for dye sublimation inks—unfortunately, availability currently seems limited on this printer, as I can't find it for sale on Amazon at all.
The most commonly-used converted printers are Epson printers, specifically the Epson EcoTank printers. (Yes, the same color inkjet printer that's sold all over the place.) The top EcoTank printer to convert is the Epson EcoTank 15000 due to its ability to print larger page sizes, rated second is the Epson EcoTank 2800 due to its low price point.
You can also convert the Epson EcoTank ET 3760 and the Epson EcoTank ET 4760 (that's the one I converted).
The main difference between the Sawgrass printers and the Epson printers will be quality and support. The purpose-built Sawgrass sublimation printers have a high print resolution. And you can get customer support if you have issues from Sawgrass when you run into issues.
If you go the conversion route, you're on your own because you've voided your warranty in the process of conversion.
IMPORTANT: Converting a printer is an "at-your-own-risk" endeavor, and we at JenniferMaker cannot be responsible for voiding your warranty, disabling your printer,'s ability to function or anything else. If you decide to convert an Epson EcoTank printer, you assume all responsibility for that action.
Ok, but what is the BEST printer?
Honestly, finding the right printer for you depends on your budget and plans for use. Most of my fellow crafters and team members are using a converted Epson EcoTank printer because it is affordable, and that makes it a great way to personalize on a more casual basis.
But small business owners planning to incorporate sublimation projects into their offerings may be happier with the purpose-built Sawgrass printers. There are even wide format sublimation printers that can print really amazing prints in a large format, such as the Sawgrass SG1000 or the Epson Artisan 1430 wide format printers.
That said, the best sublimation printer is the Sawgrass Virtuoso SG500, if you can afford it.
How do sublimation printers compare for ease of setup?
Wow, sublimation printers are expensive! What is the cheapest sublimation printer?
Yes, I agree — Sawgrass sublimation printers are expensive. The most affordable way to enter the world of sublimation printing is with a new Epson EcoTank printer and sublimation ink — the Epson ET 2620 is the most affordable. Here is an Epson EcoTank ET-2630 used by Vicki, a JenniferMaker team member: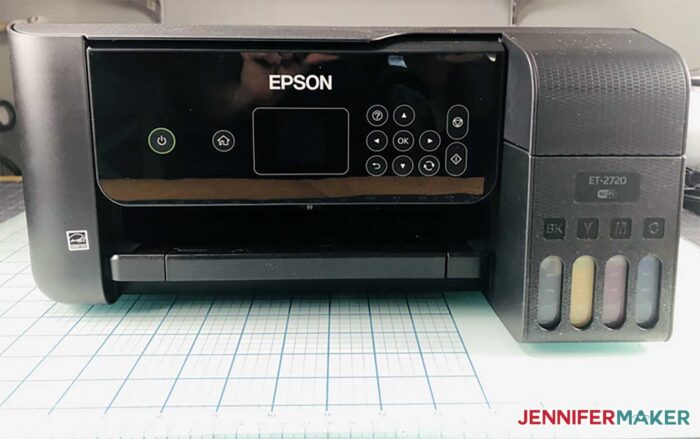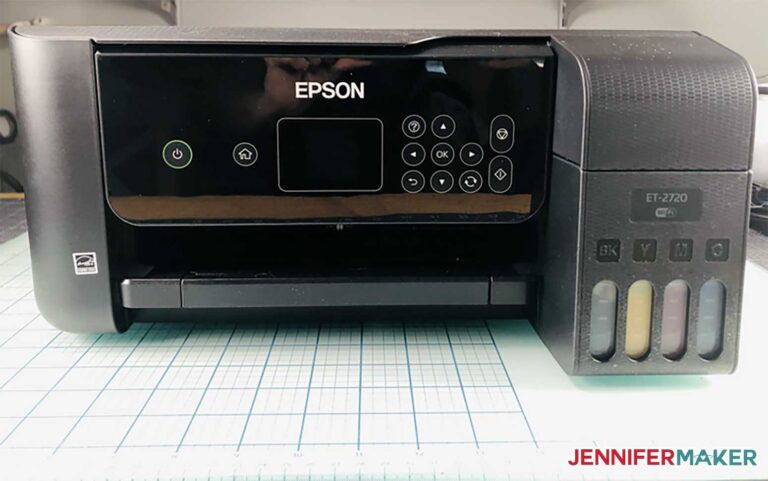 When you get your Epson EcoTank printer (any model number), it will come with ink which is NOT sublimation ink. You can save or sell that ink, but whatever you do, don't put it in your Epson EcoTank. Instead, put your special sublimation ink into your Epson printer. That's really all there is to converting an Epson EcoTank printer into a low-cost sublimation printer.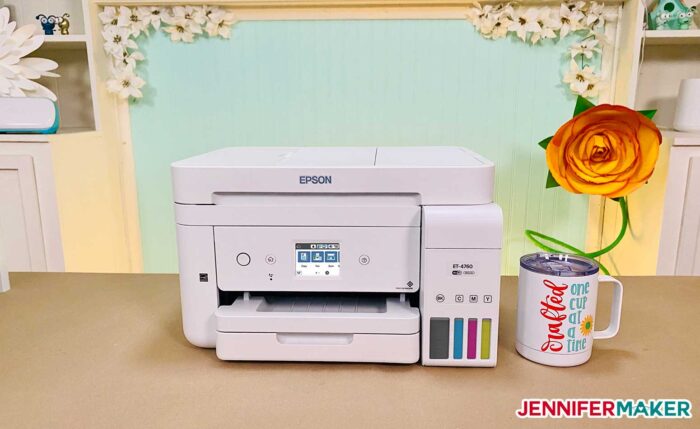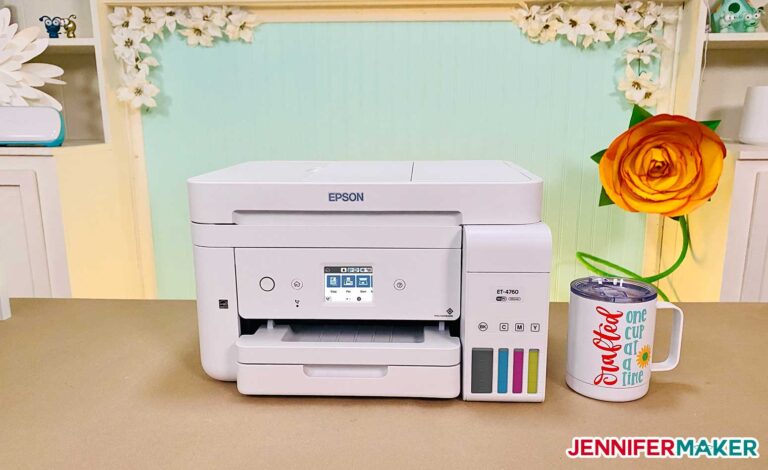 Important: Do not try to convert a USED Epson EcoTank printer, so one that you've already used for inkjet printing, into a sublimation printer. The Epson EcoTank is a tank-based printer and you cannot simply add sublimation ink on top of the inkjet ink that is already in the tank and expect it to work. Start with a NEW Epson EcoTank for the best results.
Tip: When you buy sublimation ink, it comes with syringes, which is what you'll use to fill your tanks. Be careful not to overfill your tanks — watch the ink level through the front of the machine and stop before it flows over.
Can I convert any printer to sublimate?
No, only certain printers can be converted to sublimation printing, such as the Epson EcoTank. Other lesser known printers you can use are the Brother MFC-J995DW, as well as the the Mitsubishi CP-K60DW (previous the CP-D70DW) which is a small format photo printer — while it prints high-quality photos, its small print size means I don't recommend it. If a small size doesn't bother you, however, the Canon Selphy CP1300 wireless is quite affordable and can also be converted to sublimation ink.
Note: Printers like the Epson Workforce WF-7710 can also be converted to sublimation printing, but these printers are phased out now and hard to find new. And they need empty refillable cartridges which are also hard to find. For these reasons, and the fact that you have to add sublimation ink with a syringe, I do not recommend Workforce printers be converted.
Important: Once you have converted your printer to sublimation ink, the printer warranty is void and you will not be able to use it as a normal inkjet printer again.
What kind of ink does a printer converted to sublimation printing need?
If you purchase an Epson EcoTank inkjet printer, you will need to purchase refillable ink cartridges compatible with your printer as well as sublimation ink compatible with your machine. Be SURE that what you are ordering and using is sublimation ink before your put it into your printer. Two brands we've tried are Hiipoo Sublimation Ink and Cosmos Sublimation Ink.
What brand of sublimation transfer paper do you prefer?
A-Sub is a very popular brand of sublimation paper that works great, producing high-quality images. Just like vinyl and other fun crafting materials, we recommend playing around with different paper until you find your favorite.
How do you get a sublimation print onto a craft project?
When you heat the sublimation transfer paper onto an item with a polyester coating, the ink changes from a solid to a gaseous state that embeds itself into the base material. When the ink cools, it returns to a solid and becomes a permanent part of the material.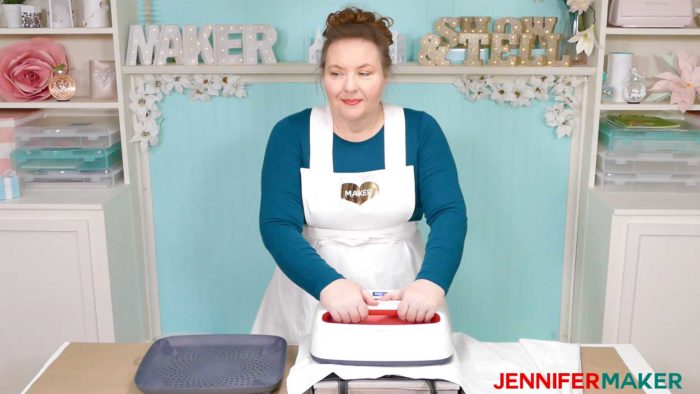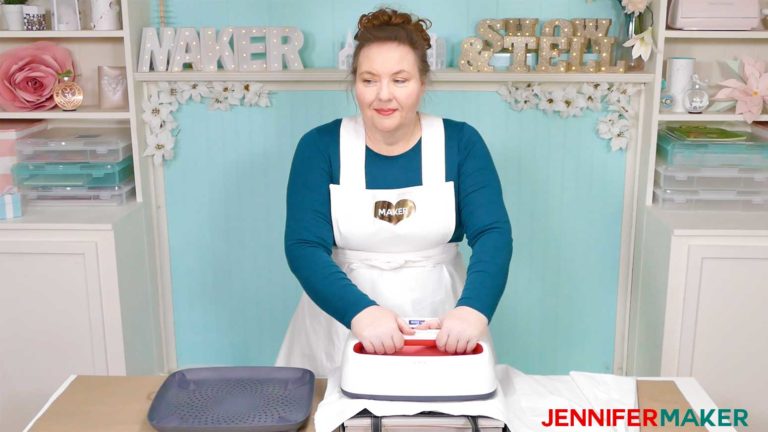 Can I use any heat press or heat source to press my sublimation transfers?
Most sublimation projects require temperatures from 350-400 degrees F. A household iron is not compatible with sublimation projects. You can use a Cricut EasyPress, however! To learn more about the temperatures, times, and pressures, see my Sublimation Heat Press Settings guide.
What kinds of things can I make with a sublimation printer?
You can make full-color, high-resolution designs — including high quality photos — that can be transferred to polyester T-shirts, mugs, home décor, promotional items, and pretty much anything made with polyester fabrics. These ADORABLE polyester shirts were made with a design printed on a sublimation printer (the Epson EcoTank 2720) by team member Vicki: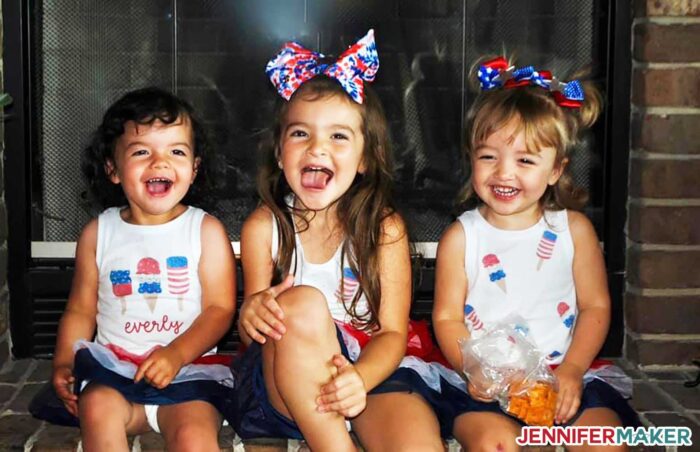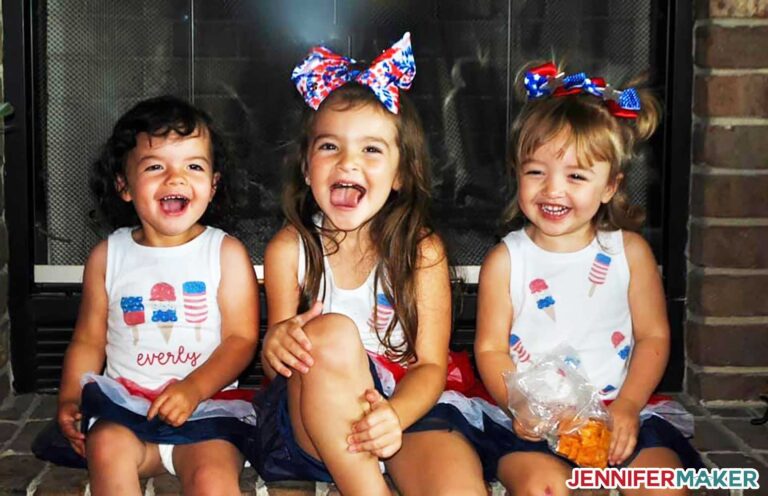 Can I sublimate on any T-shirt?
Your T-shirt material needs to have at least a 60% polyester count or higher. The best results come with higher polyester counts — higher the count, the more vibrant an image will appear. 100% polyester count will provide the most vibrant image.
Here's a video that compares different T-shirts and how well they sublimate!

Do I need to purchase sublimation blanks?
Sublimation blanks are specially coated and can withstand high pressing temperatures. One of the cool things about sublimation is that an item is poly coated or at least 50% polyester material and can withstand high pressing temperatures it can most likely be used for a sublimation project. Some popular non-blank items to sublimate are:
100% polyester rugs and umbrellas from Home Depot.
100% polyester makeup bags from the Dollar Tree
100% polyester blankets from Wal-mart
Check out my sublimation blanks guide here!
Why does my sublimation printer print my projects so lightly?
It is totally normal for your images to come out of the printer light. Once you press the project you the image will become vibrant and crisp.
Will my sublimation image fade after washing?
No. Sublimation colors remain vibrant just like the day you pressed them.
Can I only use white materials for my sublimation projects?
You can sublimate on whites, light grays, and pastel colors. Sublimation ink is transparent, so the color of your base material will be partially visible. And remember white is not a color your machine can print. If you have a project with an image you wish to remain white, you will need to use a white blank or white shirt.
I have heard you can sublimate on top of white glitter heat transfer vinyl, is this true?
It sure is! I tried it myself and it worked like a charm. You can also sublimate on white flocked HTV for a more matte look. Check out this tutorial to learn more about all the options for sublimating on cotton and dark shirts.
What are some examples of blanks you can purchase for sublimation projects?
Door signs, earrings, mousepads, luggage tags, passport holders, and bags, to name just a few.
Here is a white wood round with a sublimation coating made by team member Jen: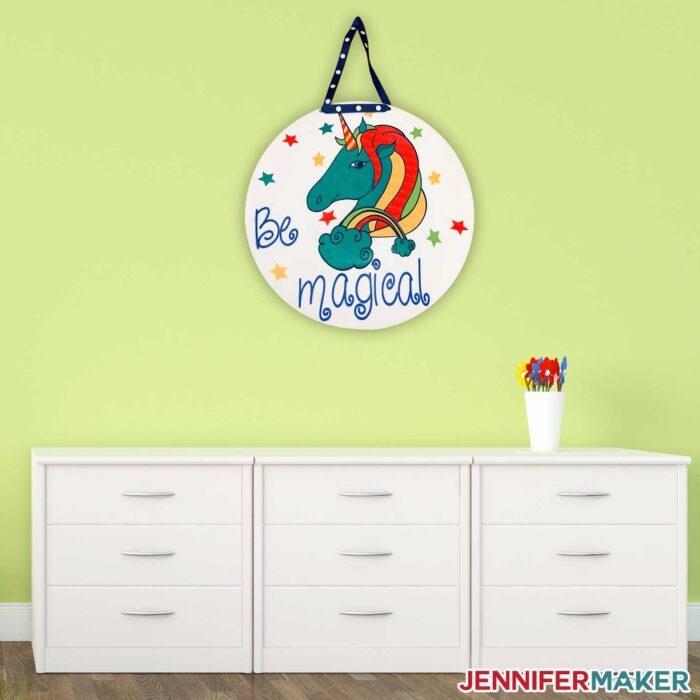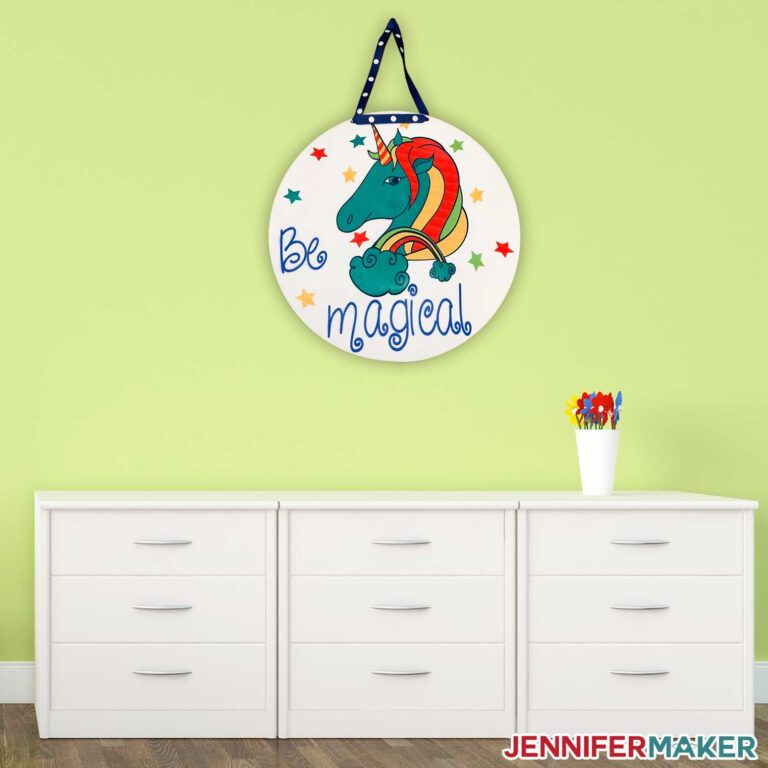 Can I sublimate a photo on a canvas?
You sure can! This is a great way to put your own prints onto a canvas. You will need to first coat the canvas with a polyester coating in order for the ink to have something to sublimate into. I also recommend you remove the canvas from the frame before pressing, as that will make a difference in how easy it presses and how good it looks. If you are unable to remove the canvas from the frame, you will need to add a pressing pad or towel to the back open area of the canvas.
Do I need to mirror my project image before sublimation printing?
Yes. Like iron-on and HTV designs, you must mirror your design before you press it.
Can I sublimate a tumbler?
Yes! You will need a sublimation tumbler and a tumbler press or convection oven to transfer a sublimation print onto a tumbler.
Why do I need butcher paper for my sublimation projects?
The butcher paper will prevent the ink from bleeding through a project onto your heat source. Also be aware that you're not going to want to re-use any butcher paper, as it can cause ghosting. Consider butcher paper to be a one-time-use only thing! I recommend a big roll of butcher paper like I use. (And no, you cannot use freezer paper or wax paper instead!)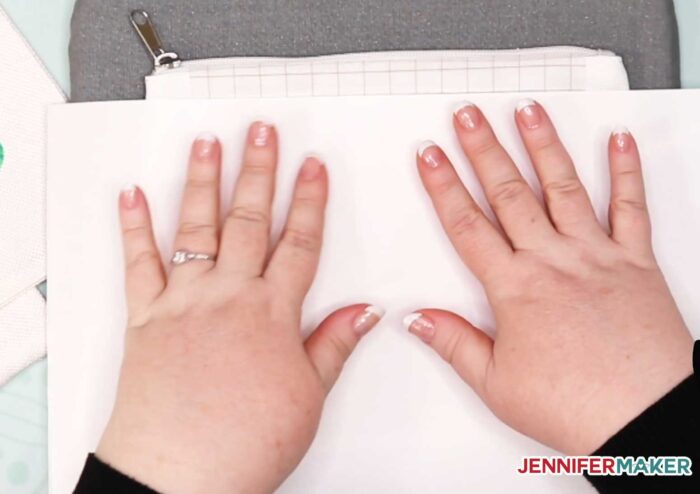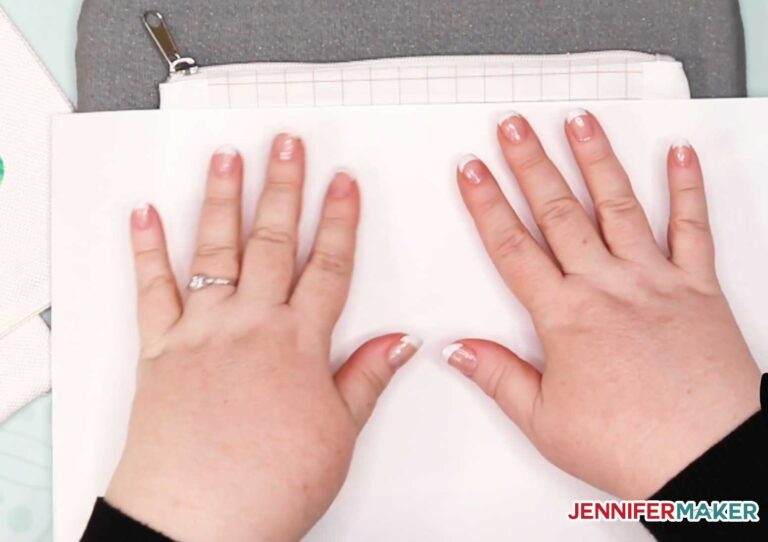 Why do I need heat-resistant tape for my sublimation projects?
This special tape will ensure your project stays in place while printing to prevent ghosting.
Will I need to weed my sublimation project after it is finished printing?
No, that is one of the beautiful features of sublimation prints. You just print, apply, and heat!
How is sublimation different from heat transfer vinyl (iron on vinyl)?
When you sublimate something, the ink is embedded into the material and cannot wash away or crack — it becomes a part of the object. When you use heat transfer vinyl (HTV), the vinyl simply lies on top of the item, and it can crack, fade, or come off entirely. This is true of screen printing as well — screen printing ink is a layer on top of the object, and is not embedded in the object like sublimation ink.
Are there any cons of sublimation printing?
Because sublimation ink is transparent, you really need to use a white or light-colored base material for the best results. Also, your white or light colored surface needs to either be made of polyester or have a polyester coating — so those that prefer natural materials like cotton will sublimation frustrating. If you want to sublimate onto dark or black things, you need to press white sublimation heat transfer vinyl onto the surface and sublimate onto that, and that kinda defeats the purpose of sublimation. And, of course, you need to buy or convert a sublimation printer. That's about the only drawbacks!
Is it worth it to get a sublimation printer, or just use Infusible Ink sheets?
Great question! If you want to transfer your own designs or photos in full color and have it last a long time, a sublimation printer is the answer. Is it worth it? This depends on how much you think you'll use your sublimation printer. If it's a lot, go for it. If it's not a lot, a better option may be to cut designs out of Cricut Infusible Ink, as you won't need a printer at all. I think if you're going to be doing this as a business or using it for commercial purposes, however, a sublimation printer is worth it. This shirt was made with Infusible Ink sheets: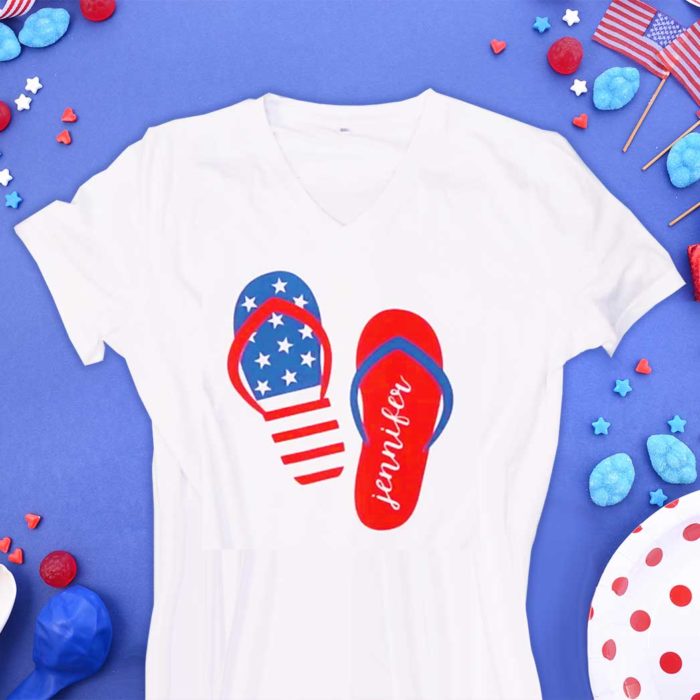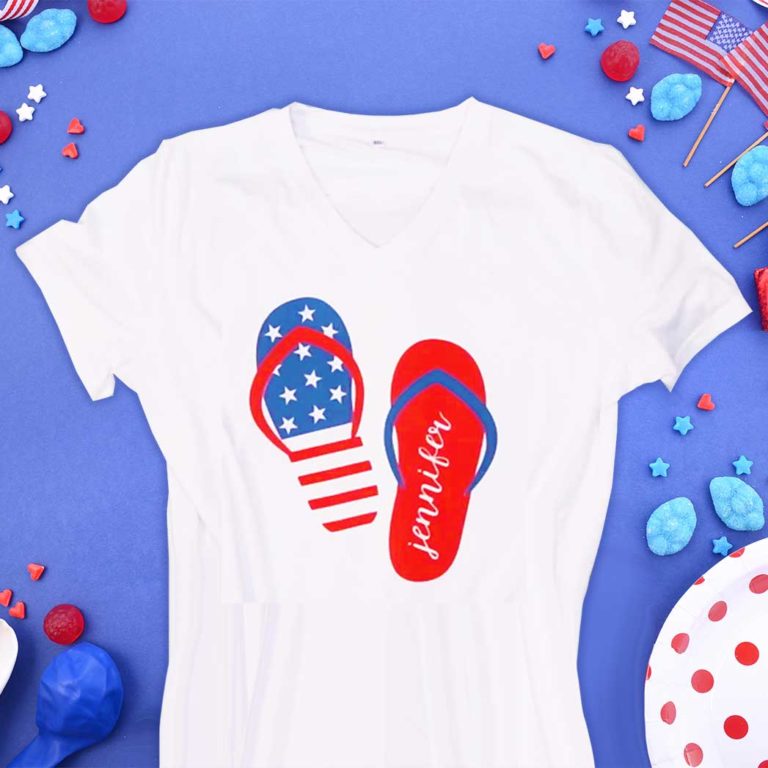 What sublimation printer do you have, Jennifer?
I have MANY sublimation printers. I first converted an Epson EcoTank-4760 printer into a sublimation printer. I chose the 4760 over the 2720 because I found it on sale at my local Best Buy and because it has a regular paper tray, unlike the 2720 which has just as a paper input area in the rear of the machine. Paper trays save time and material, and I'm a big fan of them! The 4760 also has a faster print speed, which I like.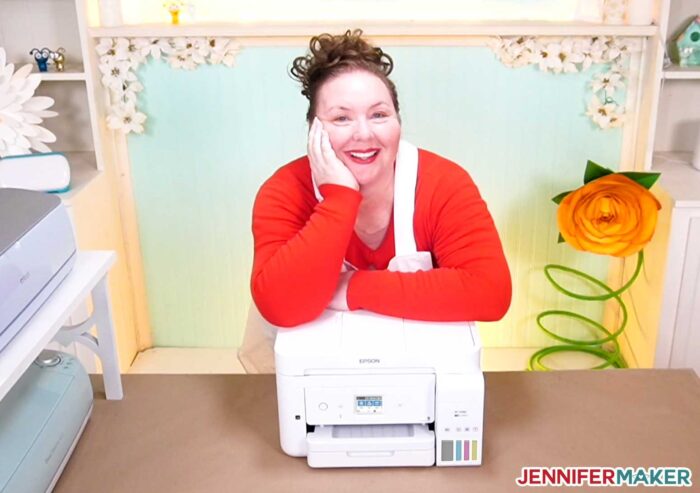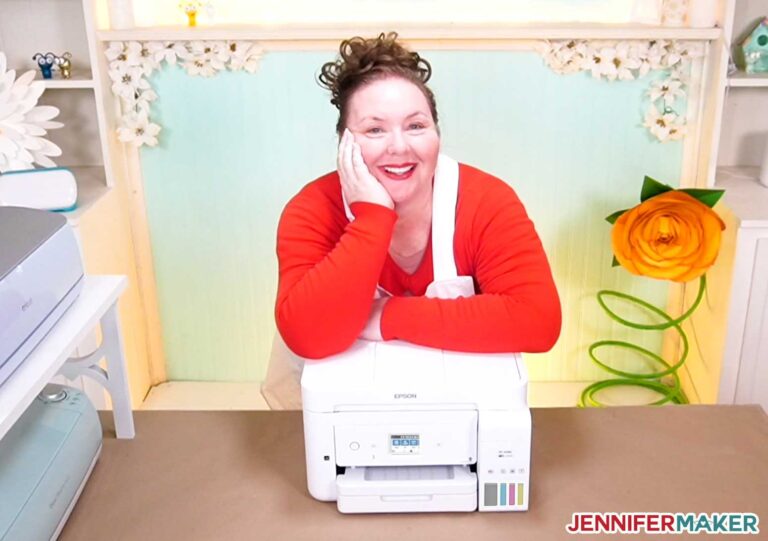 I also have an Epson EcoTank 2800, a Sawgrass SG500, a SG1000, an Epson SureColor F170, and an Epson Workforce.
How do these sublimation printers compare?
Check out my Sublimation Printers for Beginners Compared guide!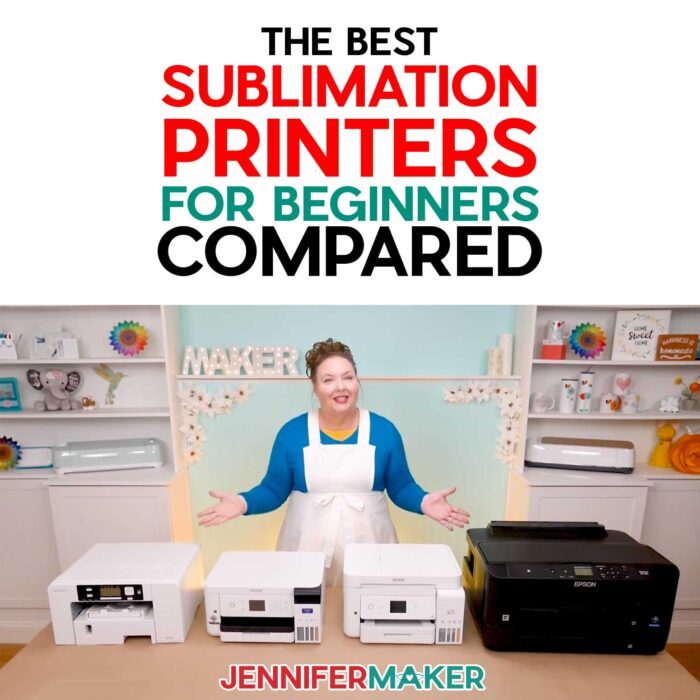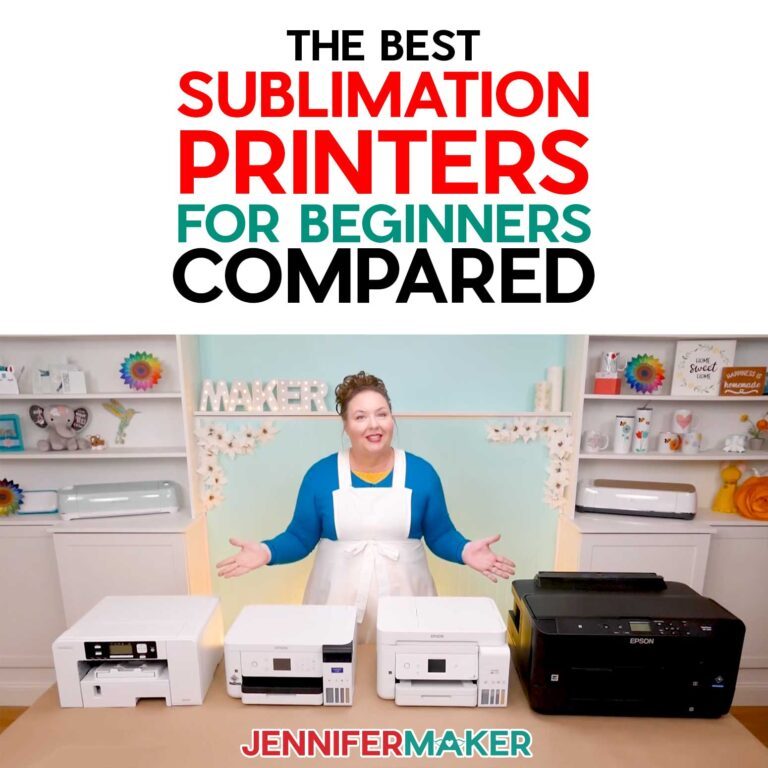 How do I learn more about sublimation?
Check out my Sublimation for Beginners Ultimate Guide for all the details!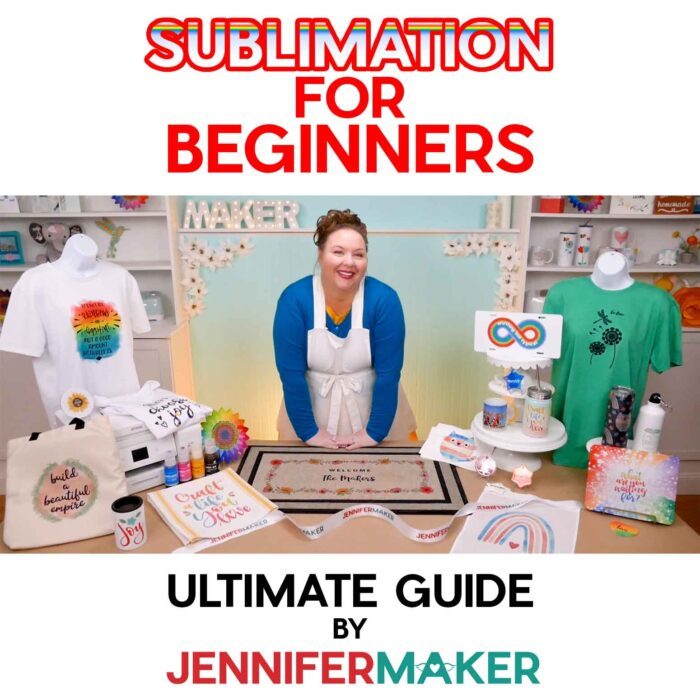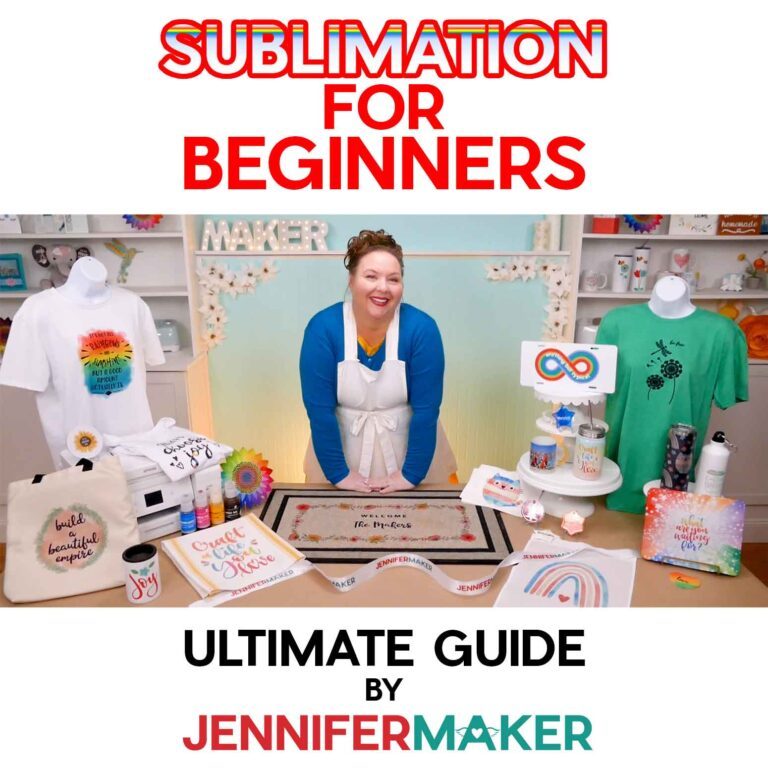 I hope you enjoyed this guide to choosing the best sublimation printer! If you know me, you know I am all about any tool that can take our crafts, and our lives, to the next level!
Tip: Here's my Amazon shopping list for sublimation printers and supplies!
Love,