Learn how to reverse weed vinyl and when to use my favorite tips and tools!

Cutting an intricate vinyl project with a Cricut is so exciting! Until you get to the weeding, that is. Weeding is not my favorite part of vinyl projects, and I know some of you feel the same way. That's ok! I'm going to share some of my favorite weeding tips and tools, especially the technique to reverse weed vinyl. This approach works really well for adhesive vinyl. I'll also share some tips for weeding iron-on vinyl with less hassle!
Watch the full step-by-step tutorial on how to reverse weed vinyl: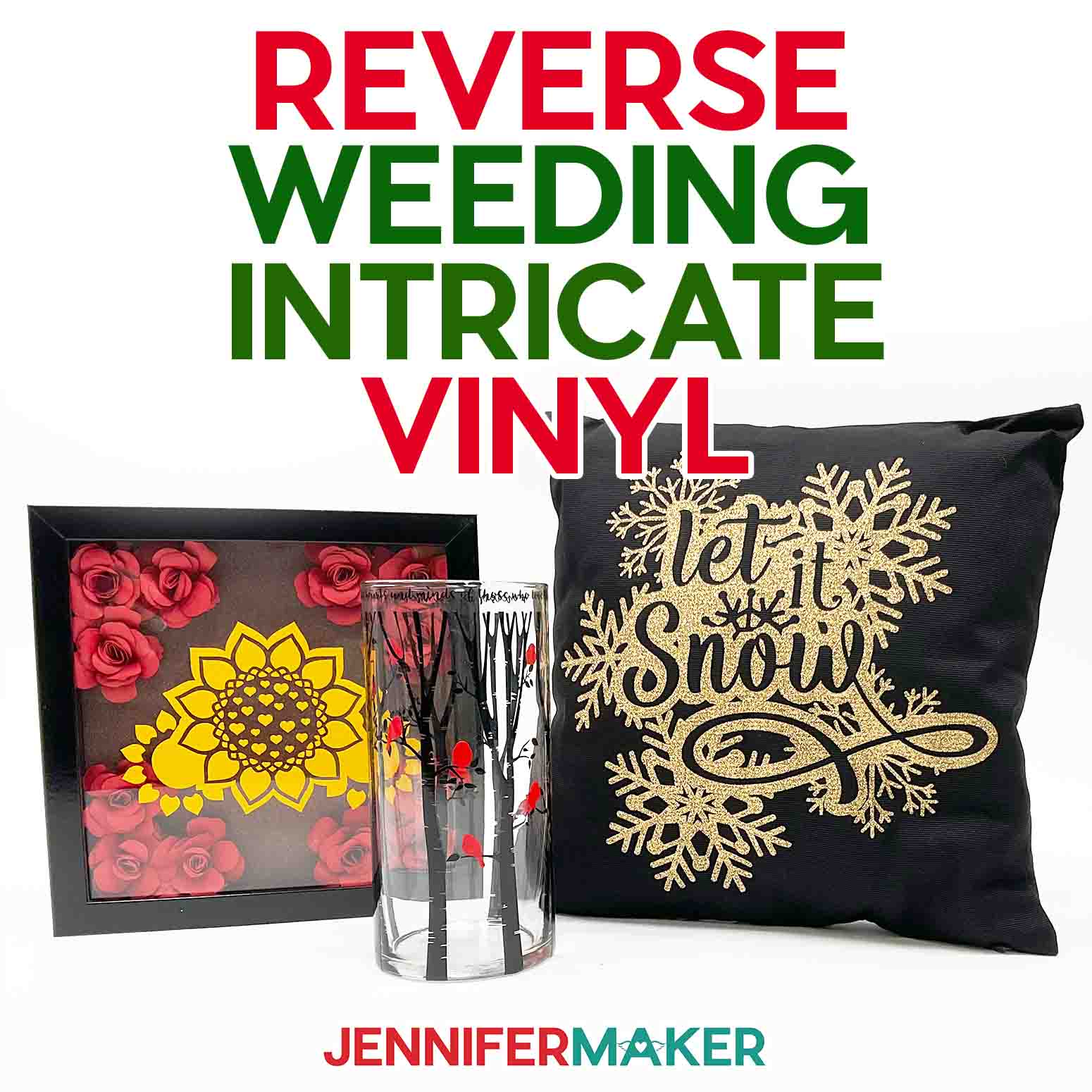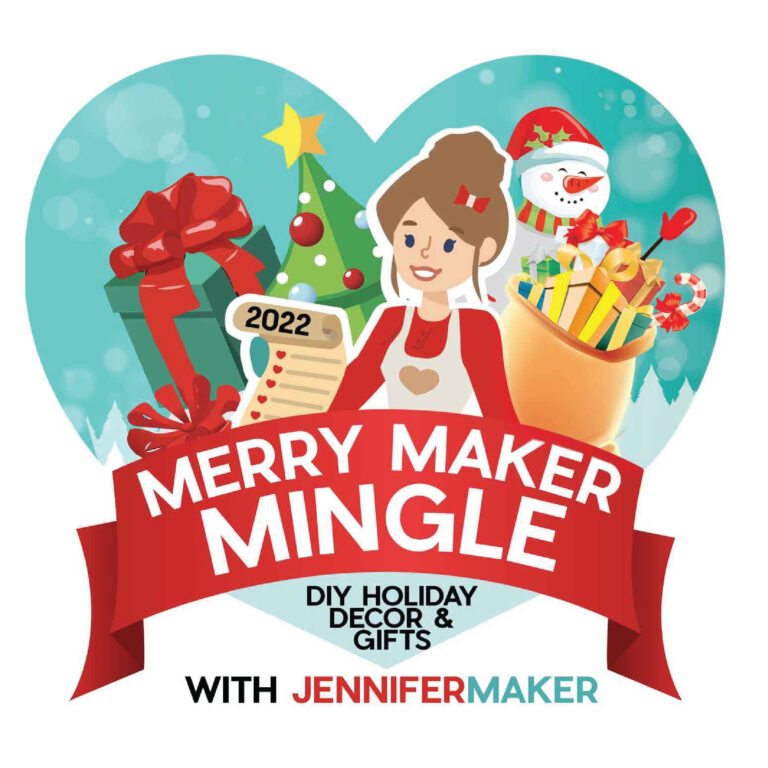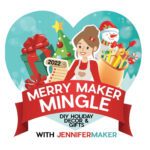 What is the Merry Maker Mingle?
This is an
annual tradition
here at JenniferMaker! Every day for the first 25 days of December, we gift you with a brand new project, design, tutorial, and video for something YOU asked us to make. On top of that, we host a giveaway with 25 days of prizes. Some of the amazing prizes are
Cricut cutting machines
, sewing machines, gift cards, and beautiful
print editions of our popular Cricut Coach Playbook
. You can even earn bonus entries for sharing photos of the daily projects!
Click here to learn more about the Merry Maker Mingle!
This is a Cricut Mystery Box project — it uses items from the Brights Sampler and the gold vinyls that you can get in the "Season of Gifting" mystery box (affiliate link) that came out December 6, 2022. Even if the mystery box is not available when you check, you can still purchase the individual vinyls, which are all linked below in my material list. Learn more about Cricut Mystery Boxes and their contents in my Cricut Mystery Box Guide.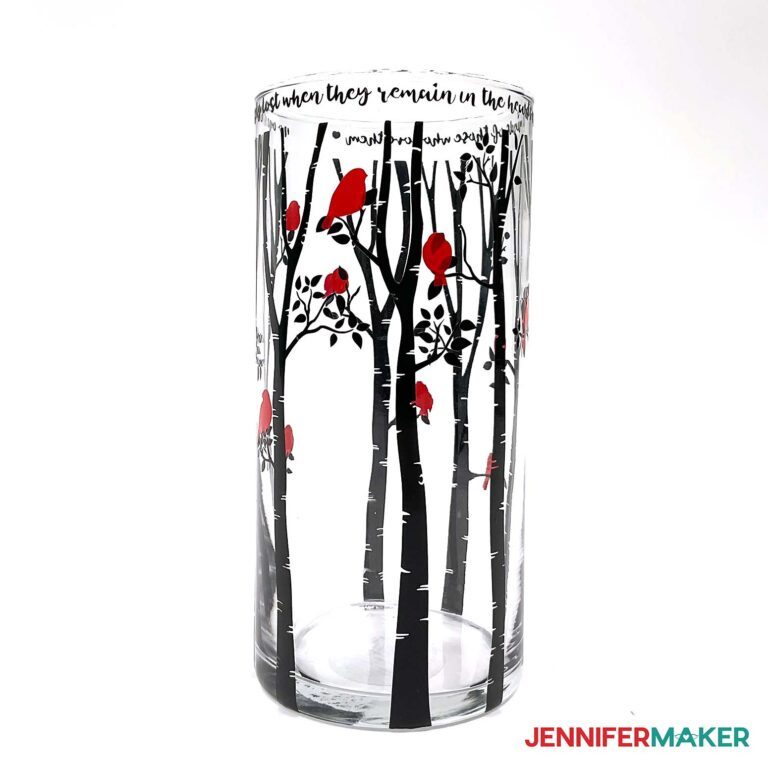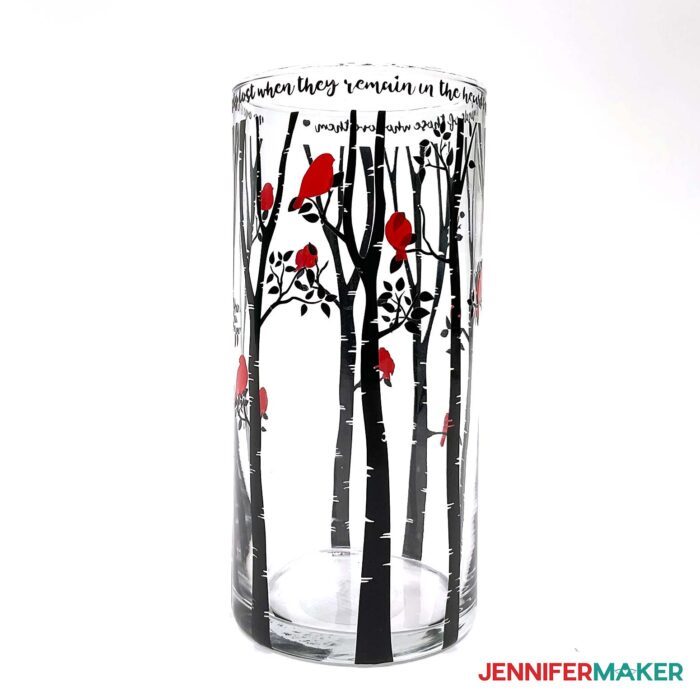 Since weeding is not my favorite part of crafting, I have lots of tricks! One of the best is to reverse weed vinyl, but I'll cover a few others in the video. Some also work for iron-on vinyl!
I like to reverse weed vinyl for detailed designs, especially those with letters and numbers. It's much easier to keep every little bit in place on the sticky transfer tape!
With some preparation, you can make weeding easier before you cut anything. If you're adjusting a file with intricate details– like the sunflowers in my free cut files download — don't make it much smaller than the original. Many designers test cut their files at a certain size before publishing them to make sure the work well. I know I do! But if you shrink it down a lot, the machine might not be able to create the same results for you. If you want to try, use scrap materials to make a test cut. Then you can practice your reverse weeding!
Or if you're editing a design, like adding a name, pick a font that you will be able to weed with my tips. Script fonts are pretty AND most of their pieces flow into each other. That can make words easier to cut so you're not lifting each letter while removing the excess. I'll show you tips for reverse weeding fonts with my cardinal rememberance design. We don't want to lose track of tiny pieces!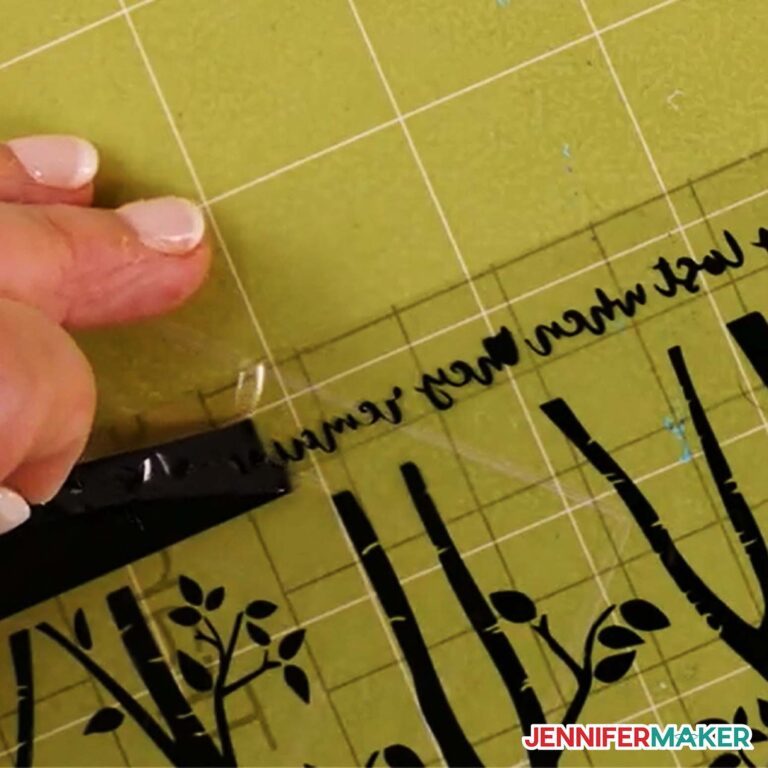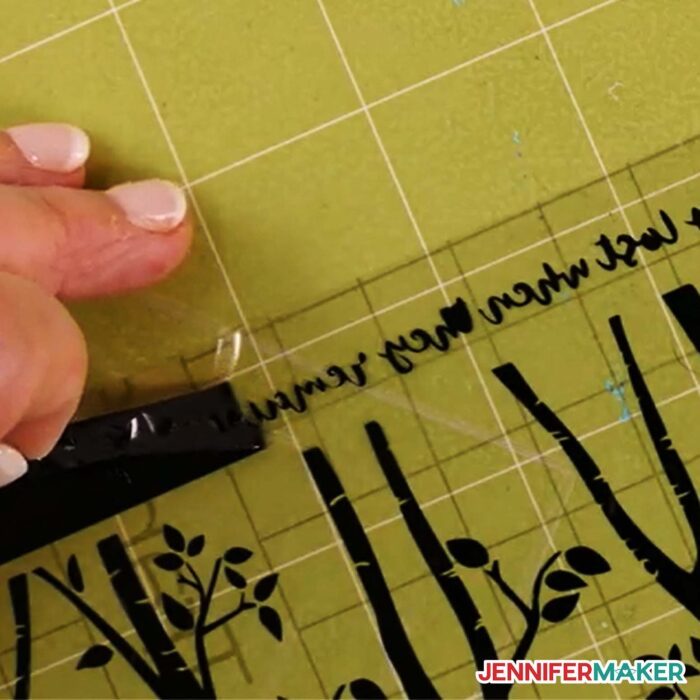 And I'll show you more tips in Cricut Design Space, like how to add a weeding box outside of the design.
When it's time to cut, I'll show you how to make my free design files with a Cricut Maker 3, but an original Maker or Explore will also work. Some parts can be cut on a Joy.
One of my best tips is to use high-quality vinyl. Some dollar store supplies work well, but I've seen mixed results for vinyl. I cut mine on a green StandardGrip machine or cutting mat with a clean Fine-Point Blade.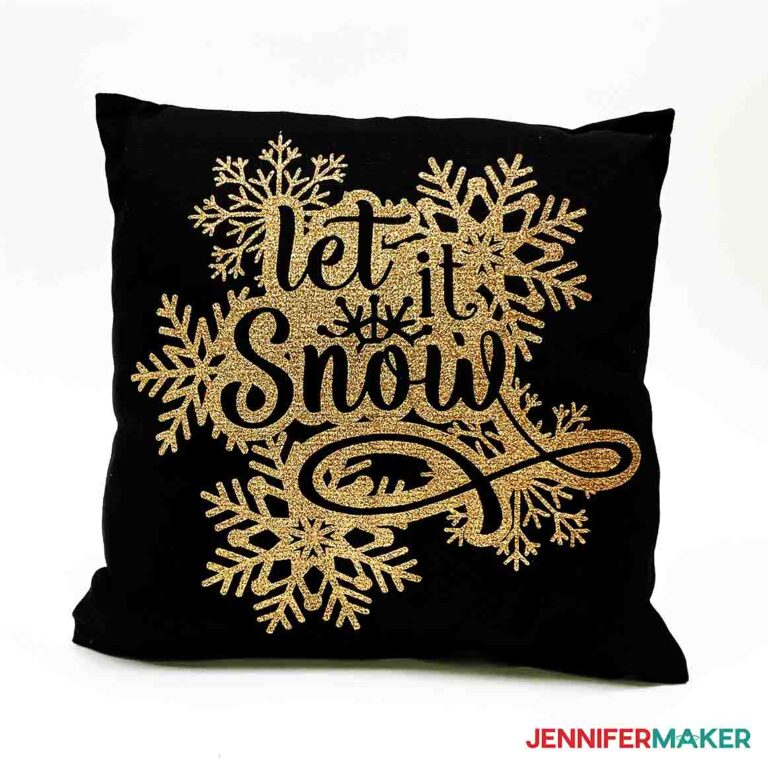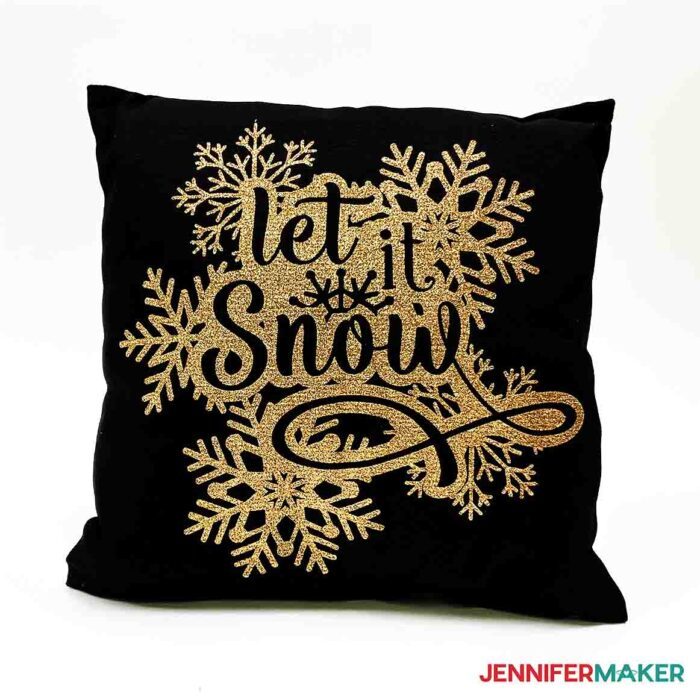 In addition to our usual craft tools, I'll share some of my favorite tools to reverse weed vinyl, especially if you do a lot of intricate vinyl projects. Of course, you'll need transfer tape to reverse weed! I use StandardGrip transfer tape, which has the perfect amount of stick to keep the piece of vinyl in place while letting us remove the excess material. That's the key to reverse weeding, after all!
Magnification and light can really help, even if you've moved the design from the static cling liner to the more secure transfer tape. For example, a light pad helps you see the cut lines, especially on white vinyl.
And once you start weeding, I'll show you the easiest way to keep the small bits from sticking back on the project. It feels very fancy yet functional, so watch closely for that tool!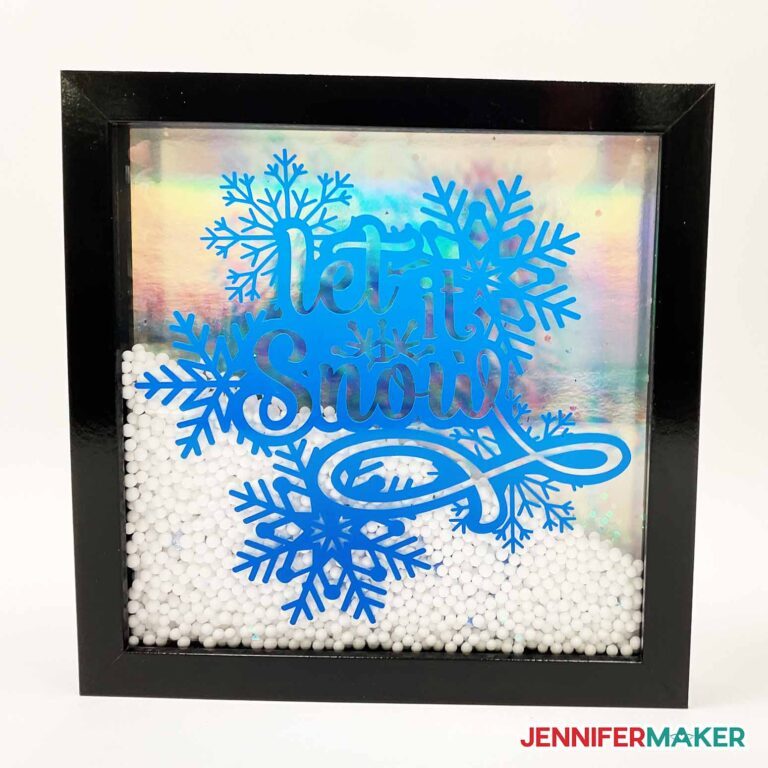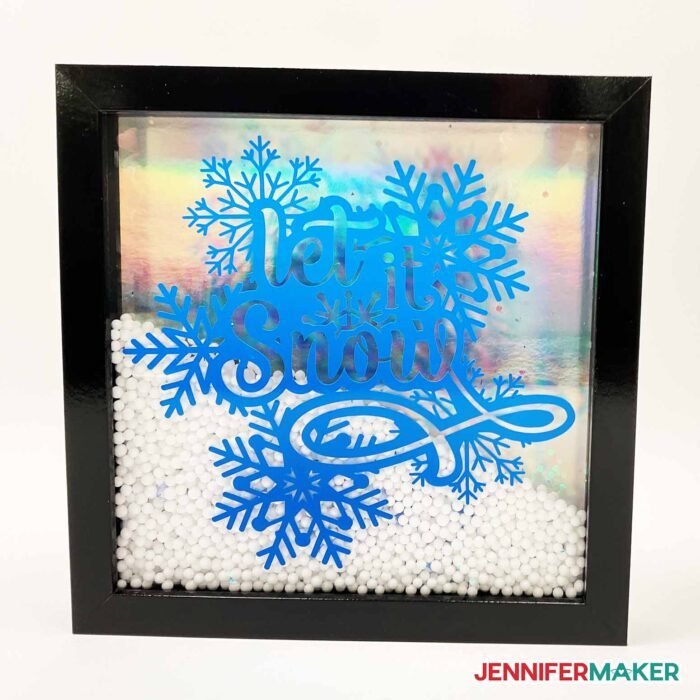 Let me show you how easy it is to reverse weed vinyl for your next intricate vinyl project! This post contains some affiliate links for your convenience (which means if you make a purchase after clicking a link I will earn a small commission but it won't cost you a penny more)! Read my full disclosure policy.
How to Reverse Weed Vinyl for an Intricate Vinyl Project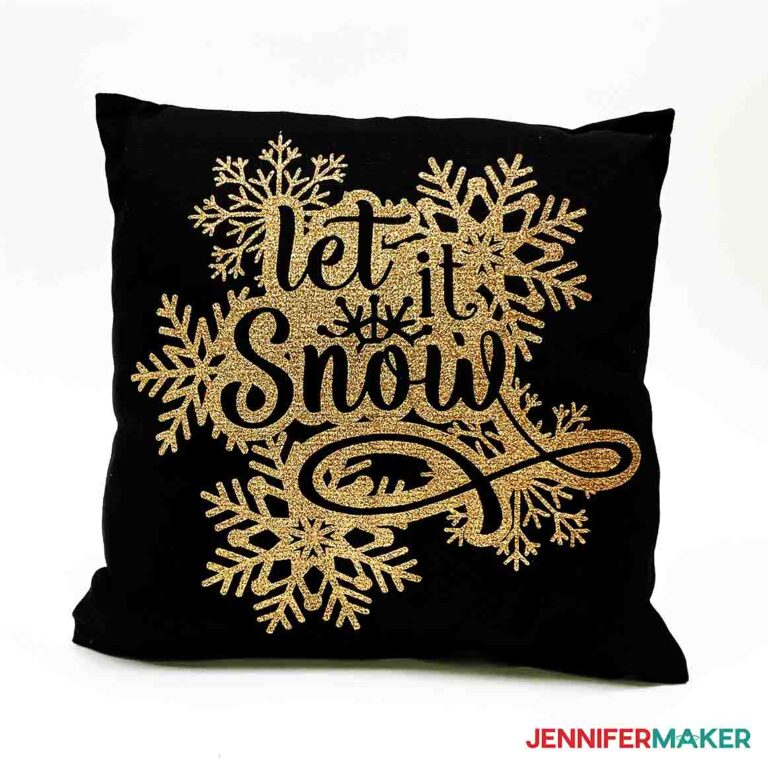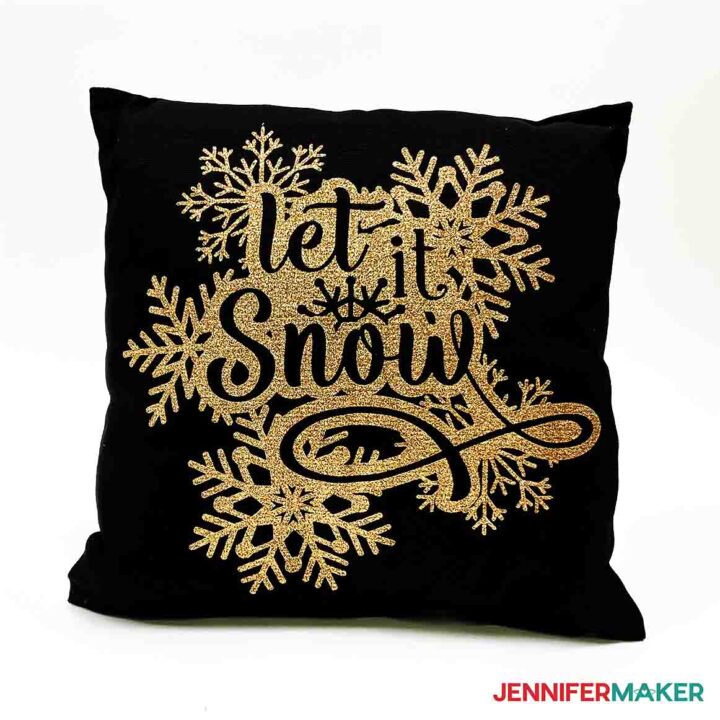 How to Reverse Weed Vinyl
Additional Time:
15 minutes
Difficulty:
Easy to Medium
In this tutorial I will show you how to reverse weed vinyl (adhesive and iron-on) and which vinyl projects are the best candidates for reverse weeding.
Instructions
STEP 1 FOR ALL PROJECTS: GET MY FREE INTRICATE VINYL DESIGNS
Go to JenniferMaker.com/449 and look for Libraries in the red bar at the top, then either click Get a Password, if you don't yet have one or click Enter the Library. You can find the designs on the page by searching the page for number 449 and then click it to download the ZIP file.

The download folder includes PDFs to cut by hand, and DXF or SVG files for use with a cutting machine. I'll show you how to use the SVGs with a Cricut.
In the SVG folder, you will find my beautiful Cardinal Remembrance Vase design, a sunflower, and a Let It Snow design.

Upload the SVG file of your choice to Cricut Design Space and add it to your Canvas.
Here's how they each look on my Canvas: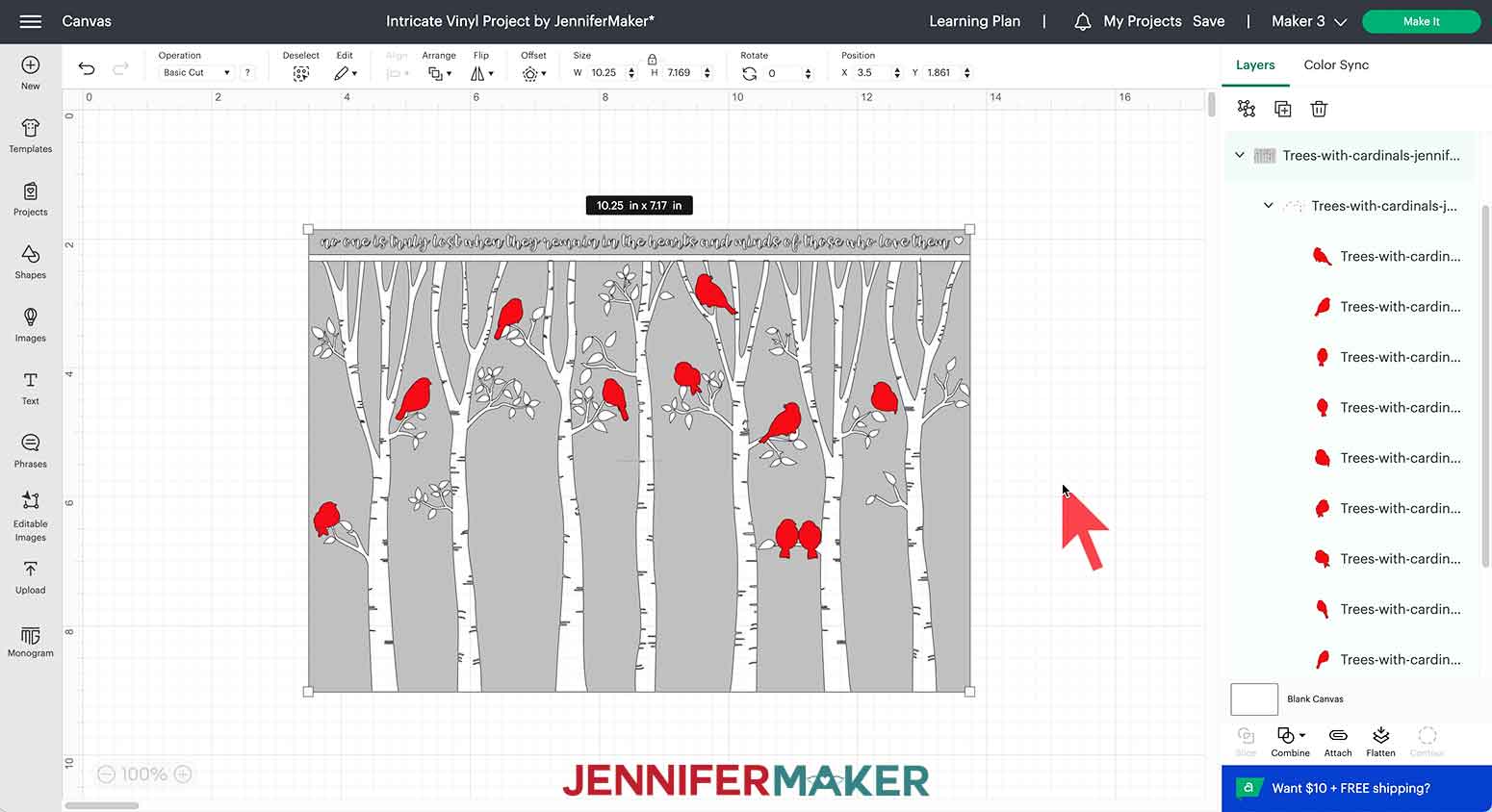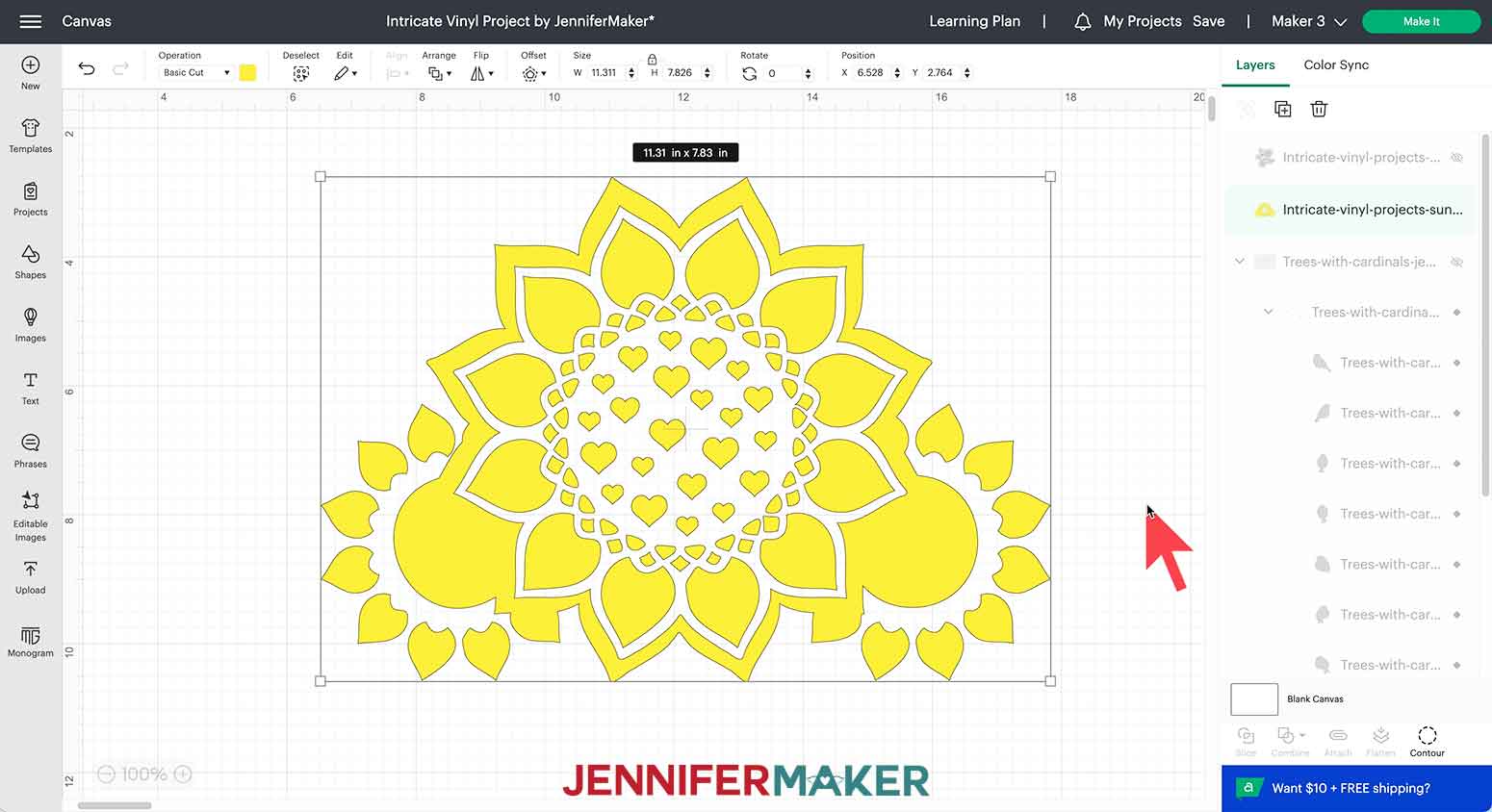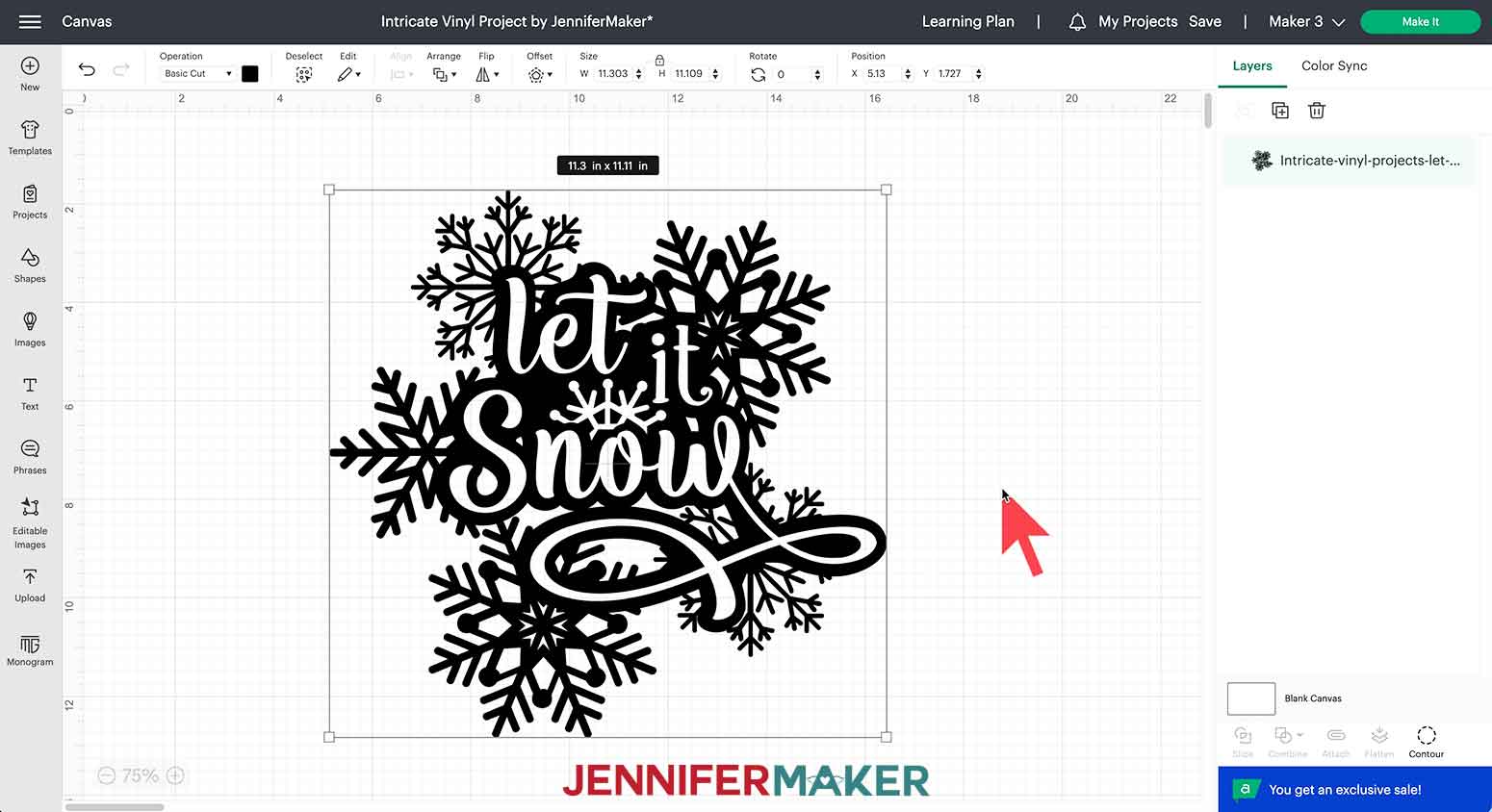 If you're not sure how to do this, go to jennifermaker.com/svgs to learn how to unzip and upload files.
STEP 2: PREPARE YOUR DESIGN
Project 1: Cardinal Design in Permanent Vinyl

Here's what my Cardinal Remembrance design looks like on my Canvas.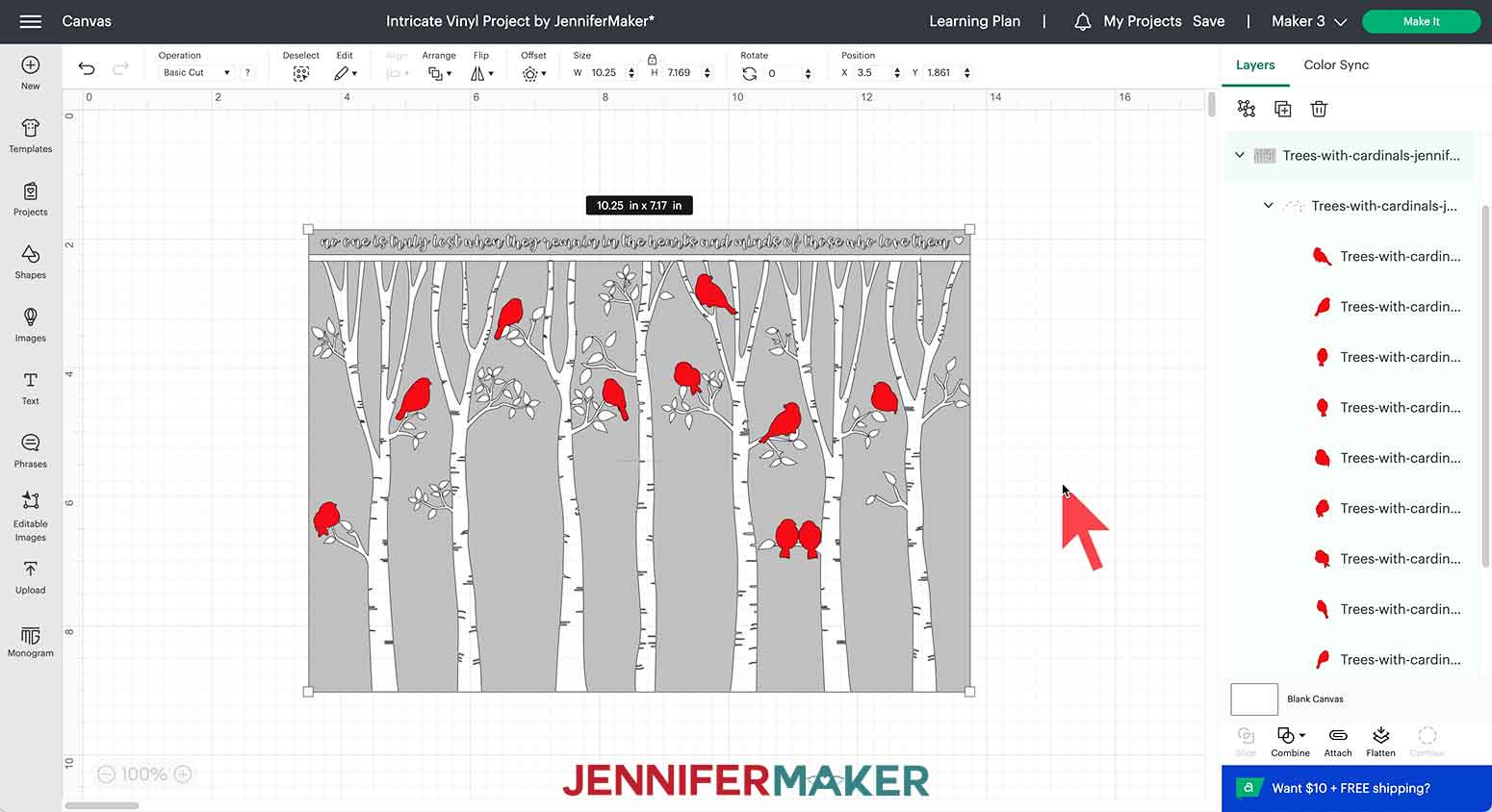 The design is sized for the vase in the materials list and I don't recommend making it smaller. If you want to make it any bigger, make sure the lock icon in the top menu is closed to maintain the proportions before resizing.
See the boxes around your words and trees? These are "weeding boxes" I added to the design to make it easier to weed. They're cut at the same time as the image, so you can work with less excess vinyl. They also make it easier to find a corner to start weeding easier and faster.
I'll show you exactly how this works by adding a weeding box around the cardinals – that way you can use weeding boxes around anything you want in the future!
Click the Ungroup icon above the Layers Panel to work with the layers separately. Then, hold Shift and select just the tree and word layers. Click "Attach" to keep them together during cutting.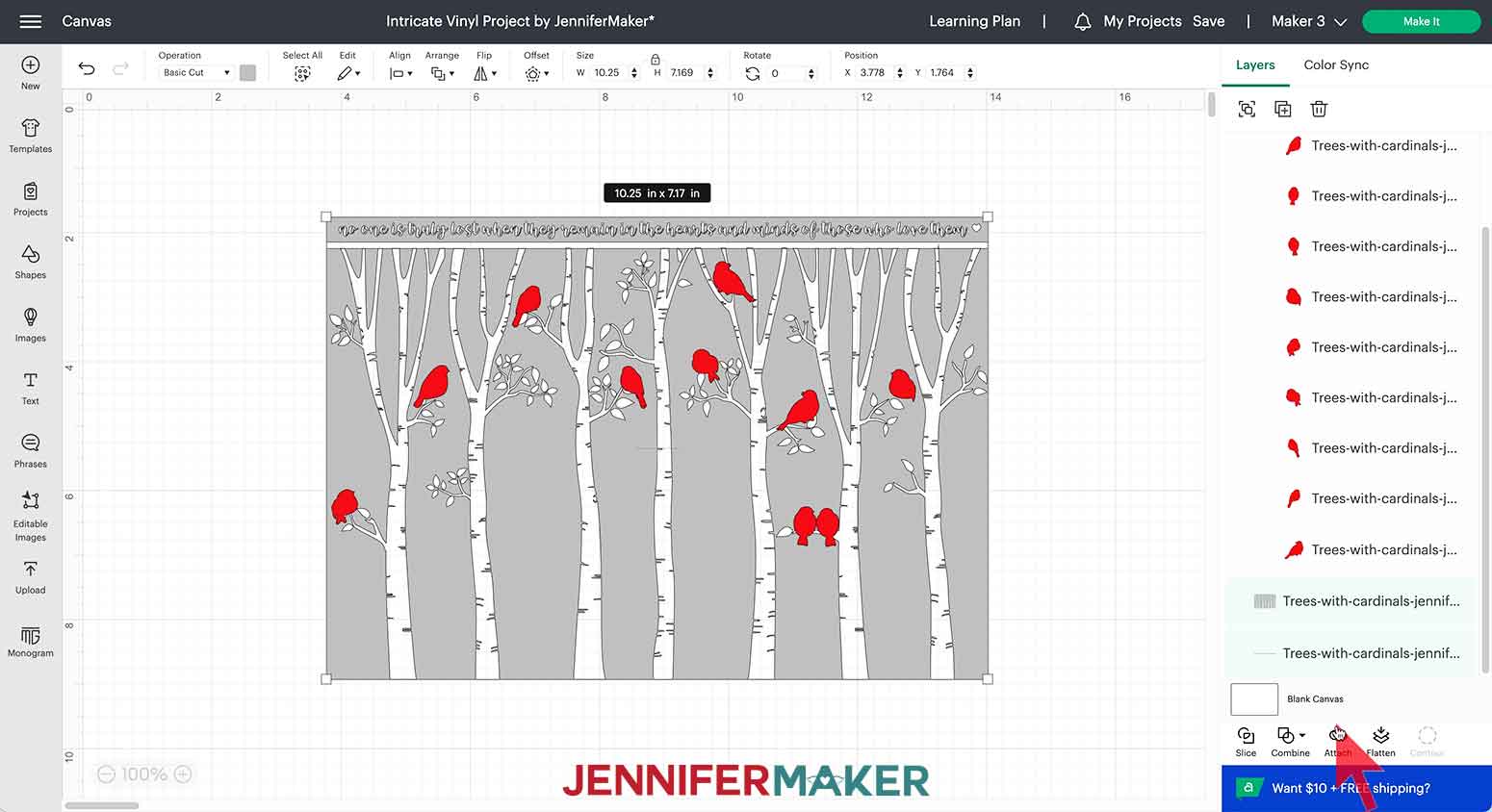 Then, click the eye icon next to the attached layers to hide them and make the birds easier to see.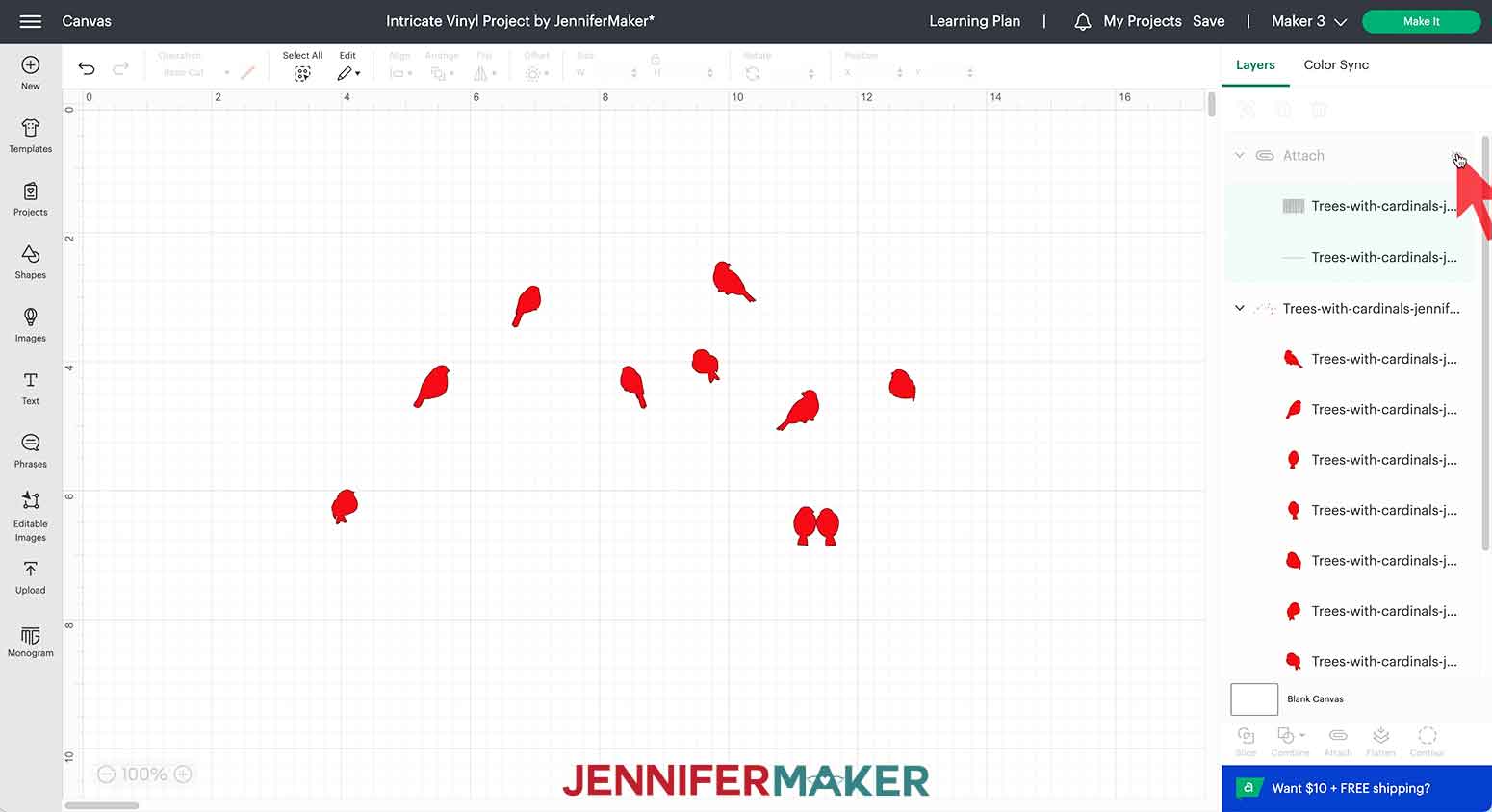 Select the layer with the birds and click Ungroup to separate them. Then, in the Align menu select "Align Bottom."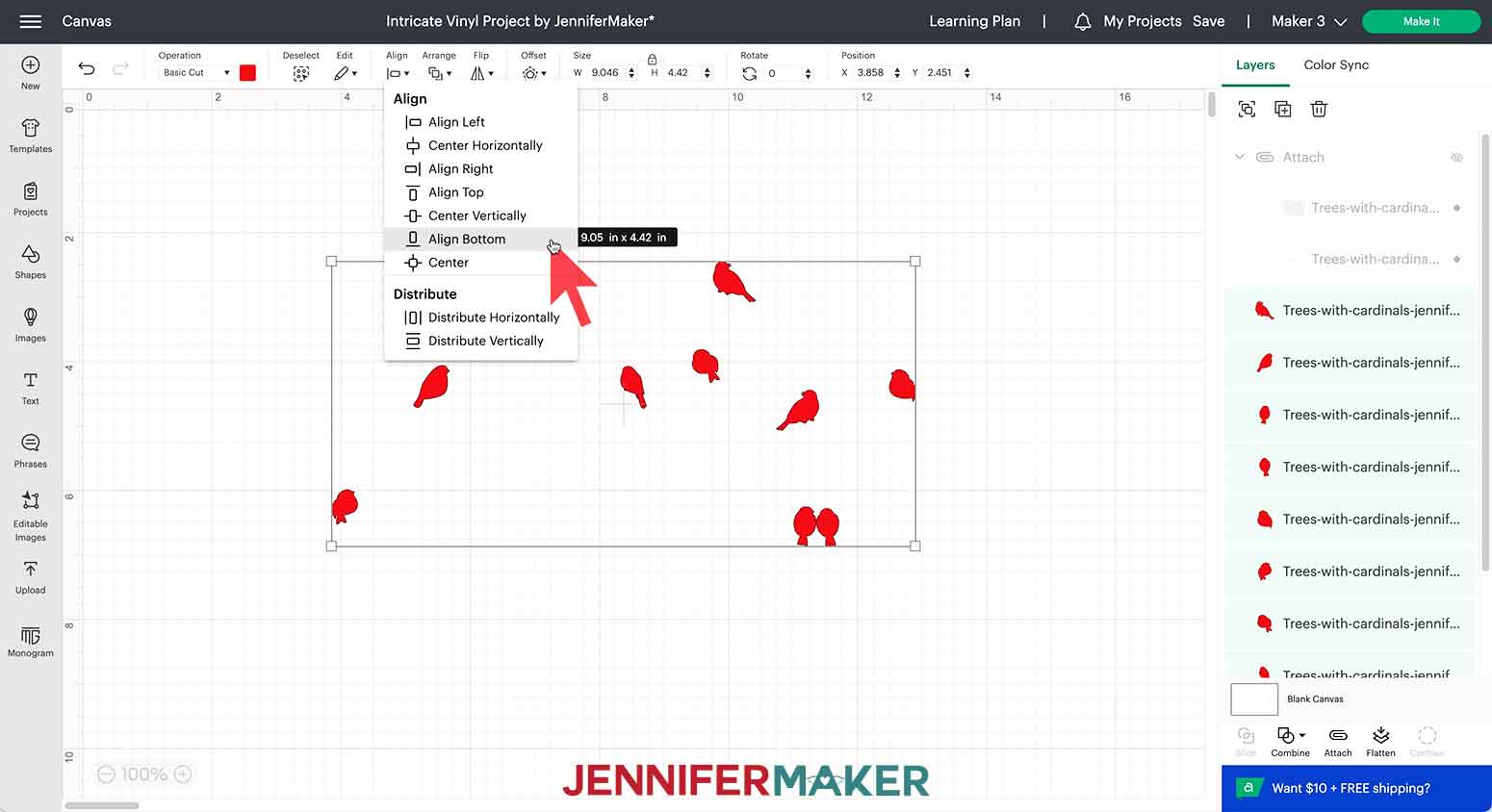 Finally, click the Align menu again and select "Distribute Horizontally" to create an even amount of space between each bird. This way they will all fit into a smaller "weeding box."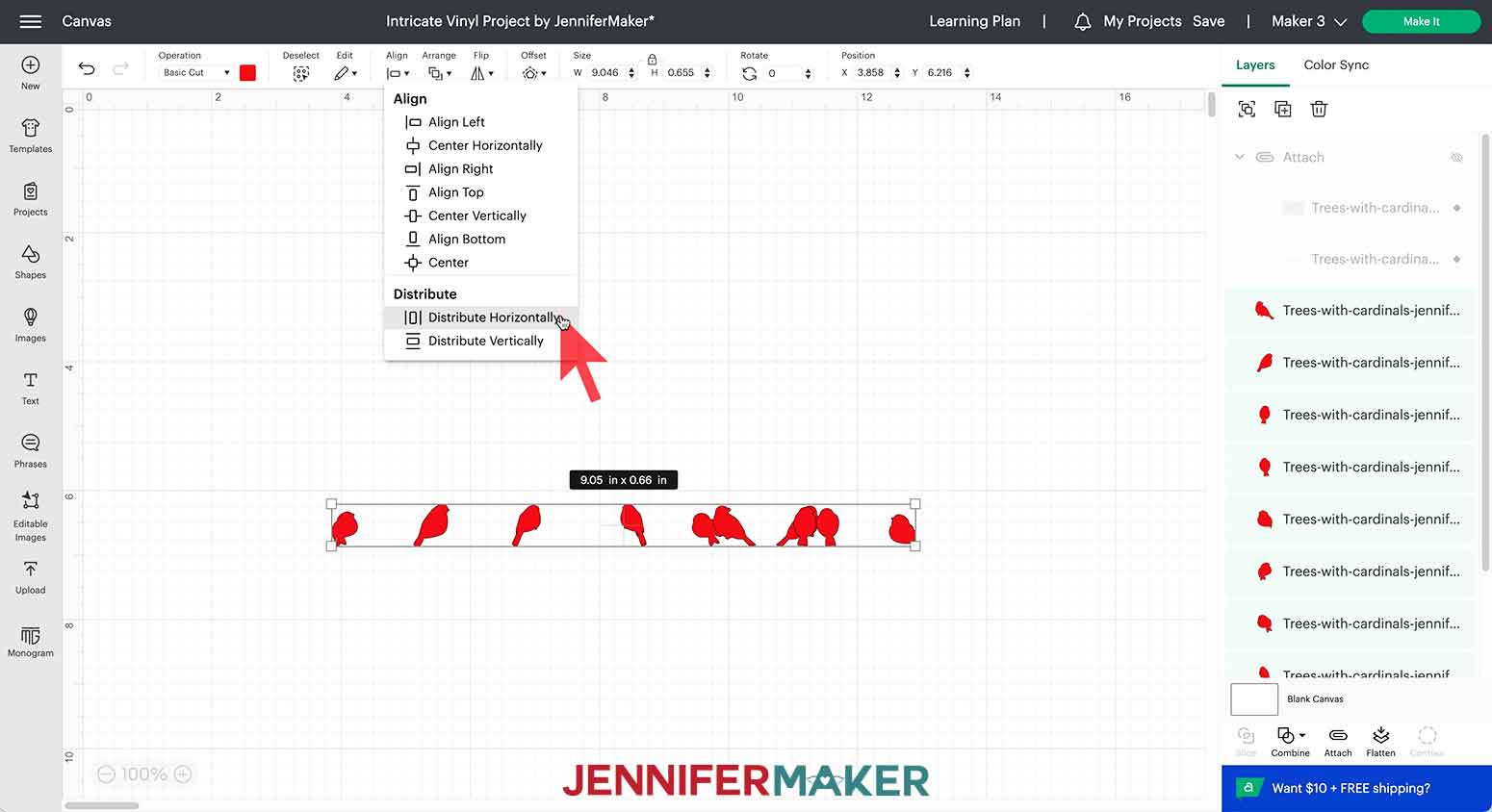 Click the Shapes icon on the left and select a Square from the Free area to add it to your Canvas.
With the lock icon at the top open so the square can become a rectangle, click and drag a corner of the shape so it
covers the cardinals. Use the Arrange menu to Send to Back so the birds are visible.

Adjust the rectangle so there is a bit of space all around the birds. Mine is about 10" wide and 2" tall.
Drag a bounding box around both the birds and the rectangle, then click "Attach" to keep them together during cutting. Now they have a weeding box, too!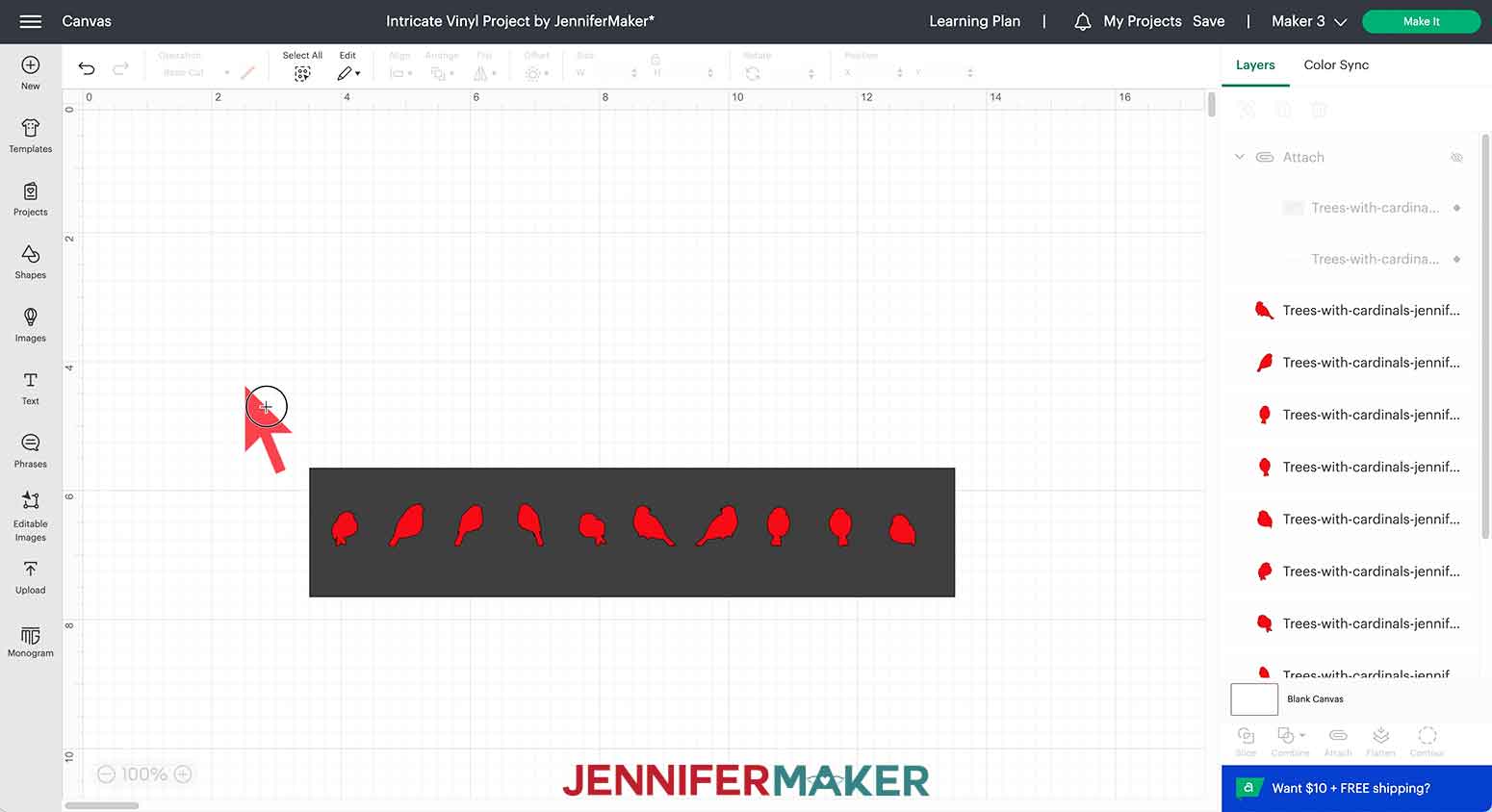 Use the Color Box next to Operation to make the birds and their weeding box red.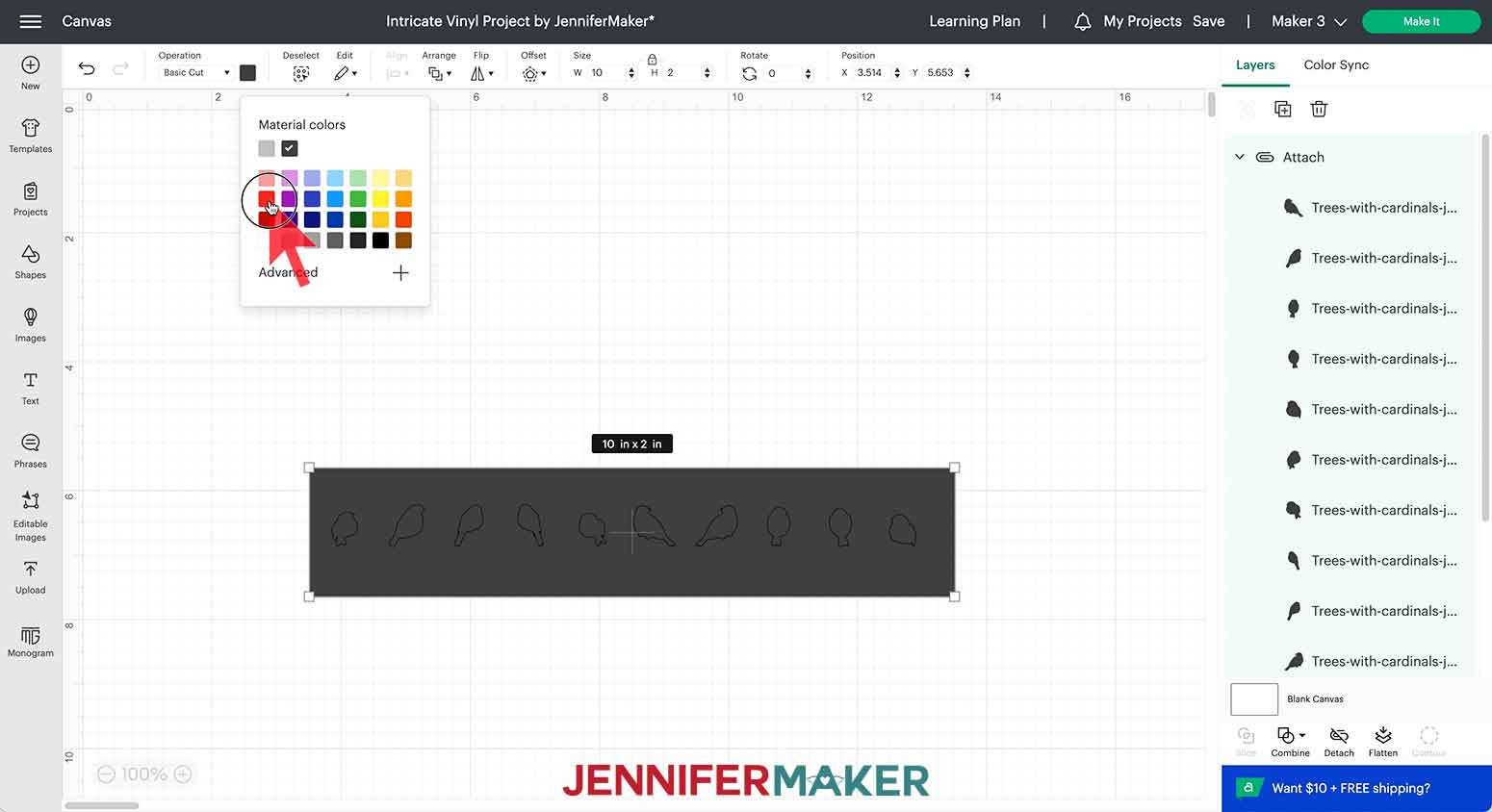 Unhide the trees and words and your design is ready to cut!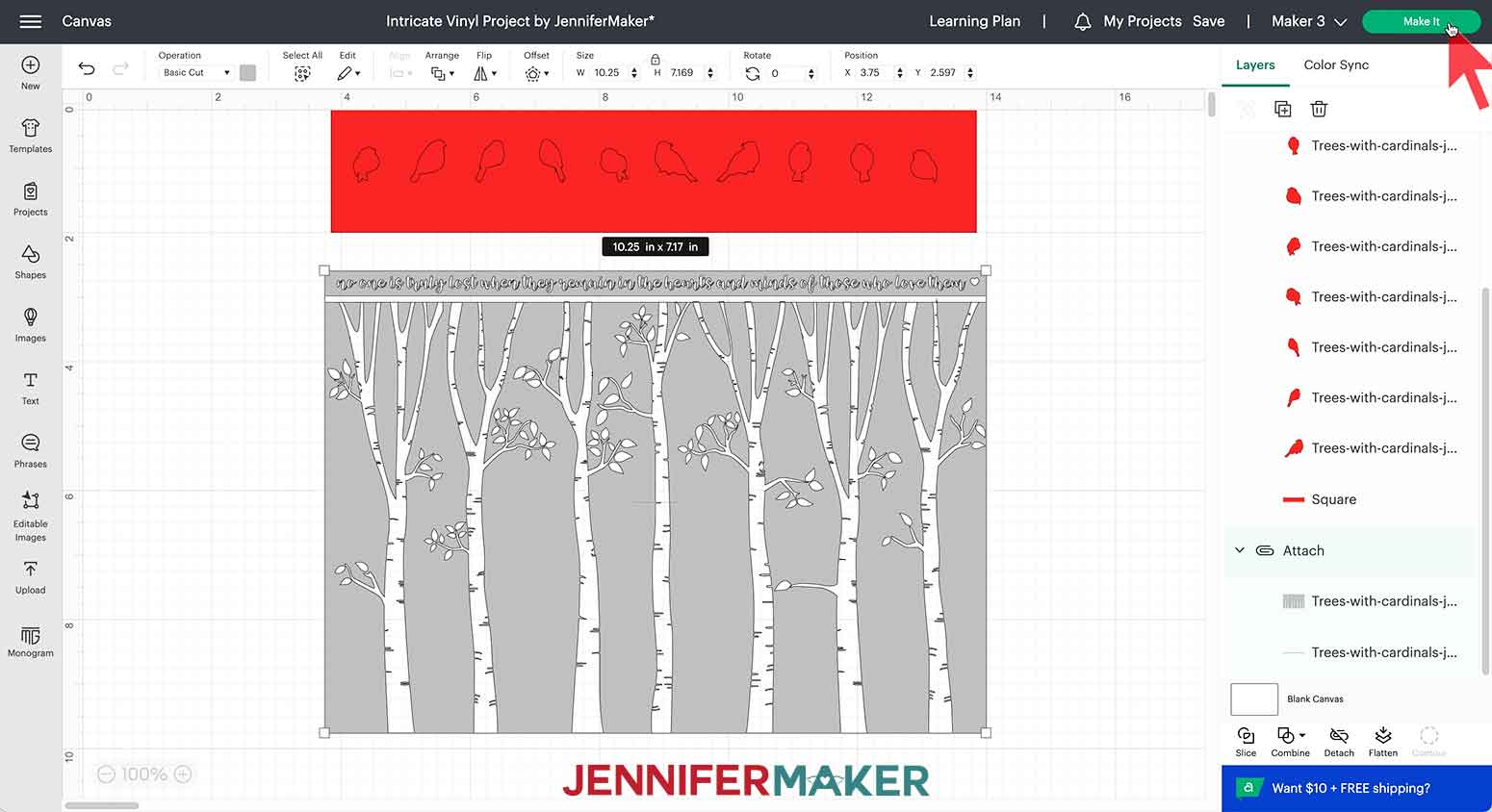 STEP 3: CUT YOUR PERMANENT VINYL DESIGNS
Check that the correct machine is listed in the top corner, then click "Make It!"
If prompted, select "On Mat" and "12 x 12" then "Confirm."
On the Prepare screen, make sure your layers look correct and the weeding boxes are in the right places. Then click back on the first mat and click "Continue."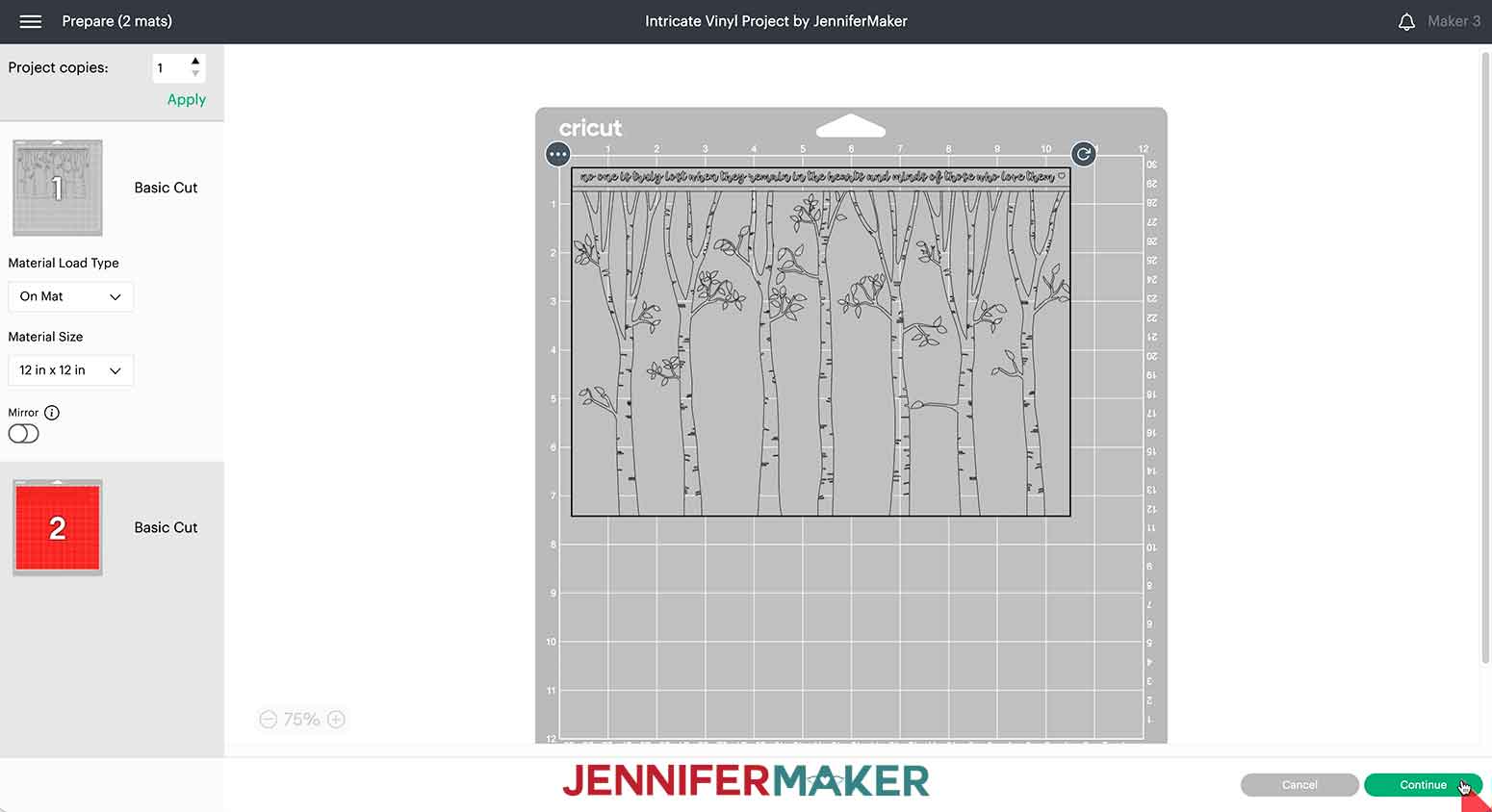 On the Make screen, set the Base Material to "Premium Vinyl - Permanent Glossy", which means permanent vinyl. Make sure your Cricut Fine-Point Blade is clean and in Clamp B as indicated on the screen. I always change my Pressure to "More" for a cleaner cut. Select "Remember Material Settings" since we are using the same material for both mats.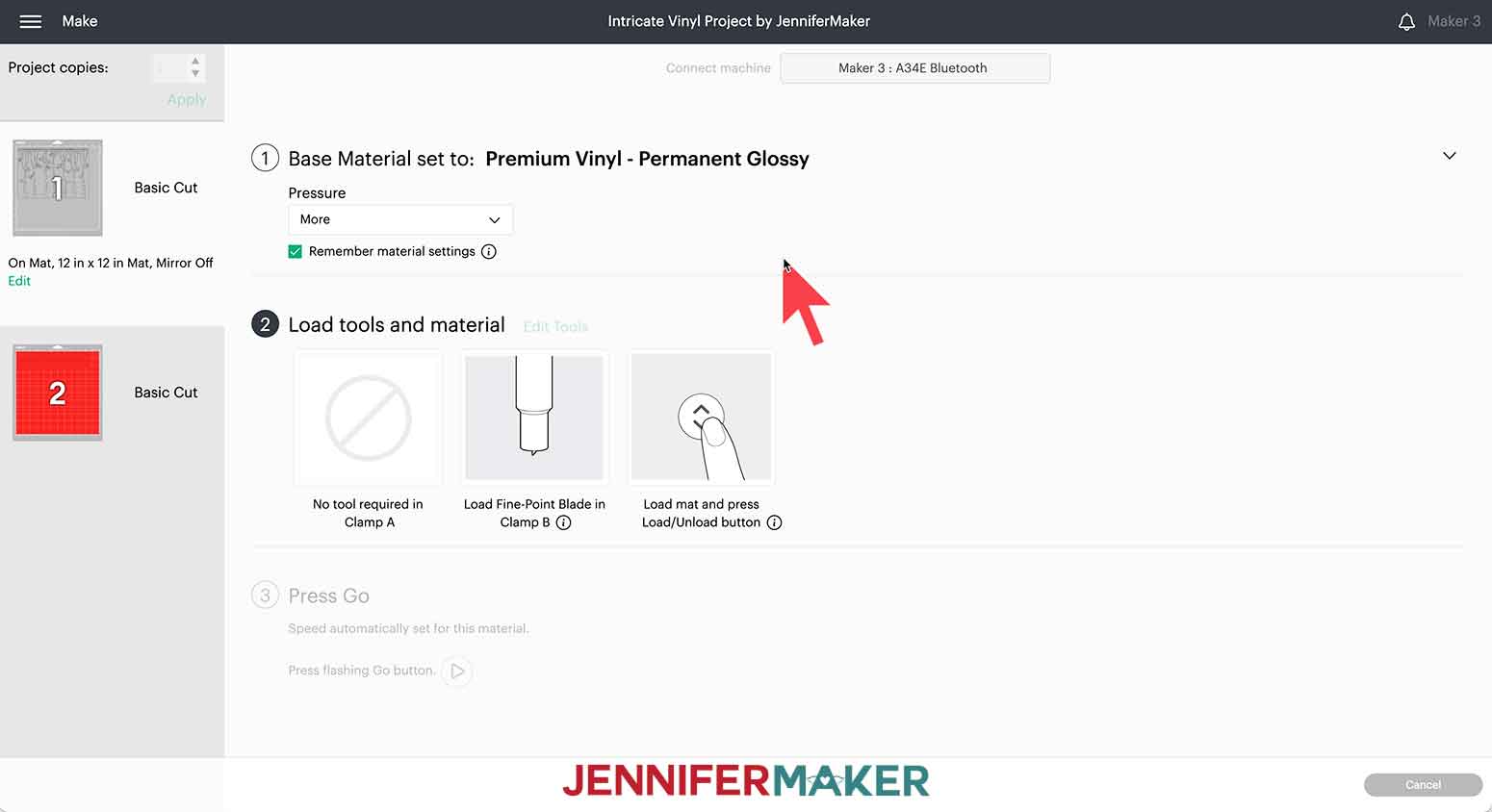 Put your first color of vinyl shiny side up on your green StandardGrip machine mat, making sure it covers the correct design areas visible on your screen. Use a brayer to get the vinyl as smooth as possible on your mat.



Then, load the mat into your Cricut and press the flashing button to begin cutting. When the cut is complete, unload the mat.
Repeat for the other mat.

TIP: If you have any trouble cutting the vinyl, check out my Cricut Tips & Tricks for Cleaner Cuts.
STEP 4: REVERSE WEED THE ADHESIVE VINYL DESIGNS
Now here's where we will do things in reverse. First, remove the excess vinyl around the weeding box. Then cut a piece of transfer tape slightly larger than the weeding box.
Now add it to the vinyl using the taco method. And YES, we're adding the transfer tape before we weed it! Bend the transfer tape so it's shaped like a taco, or a U shape, with the sticky part at the bottom. Lower it to the center of the design, then smooth the sides.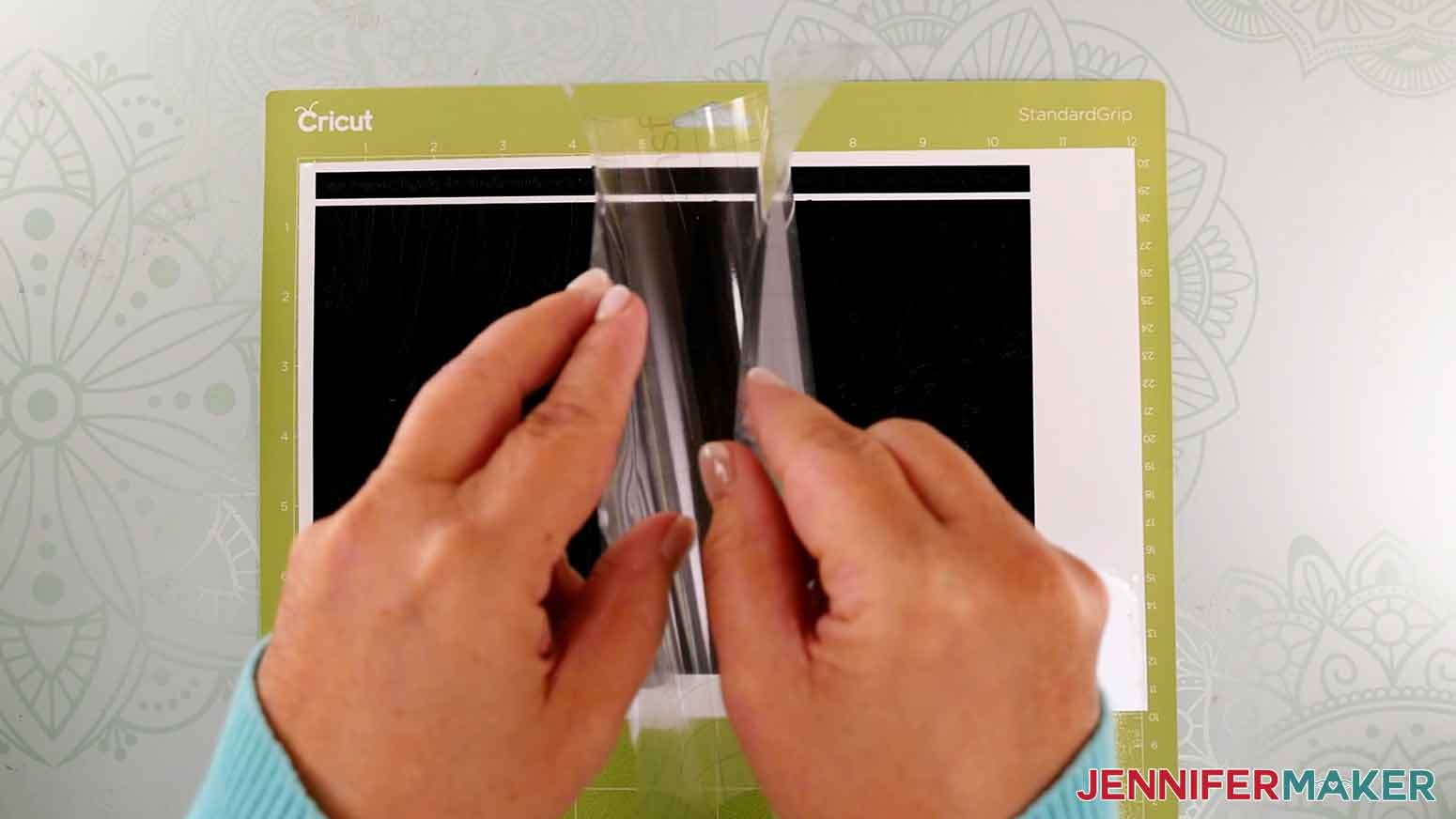 Use your scraper to remove any air bubbles and ensure the vinyl is well adhered to the transfer tape, this is also known as burnishing.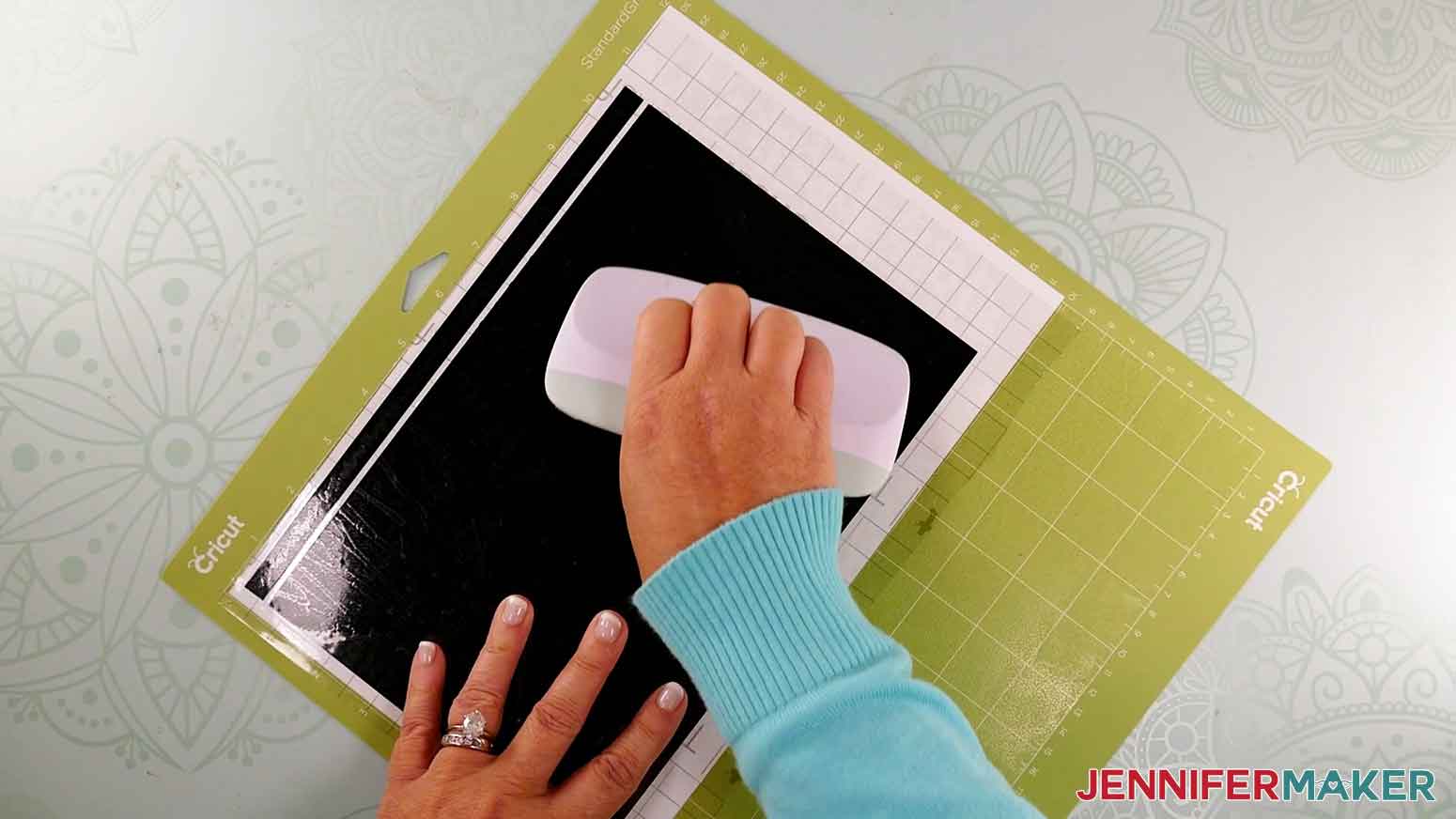 Now flip over the mat and gently remove the vinyl and transfer tape.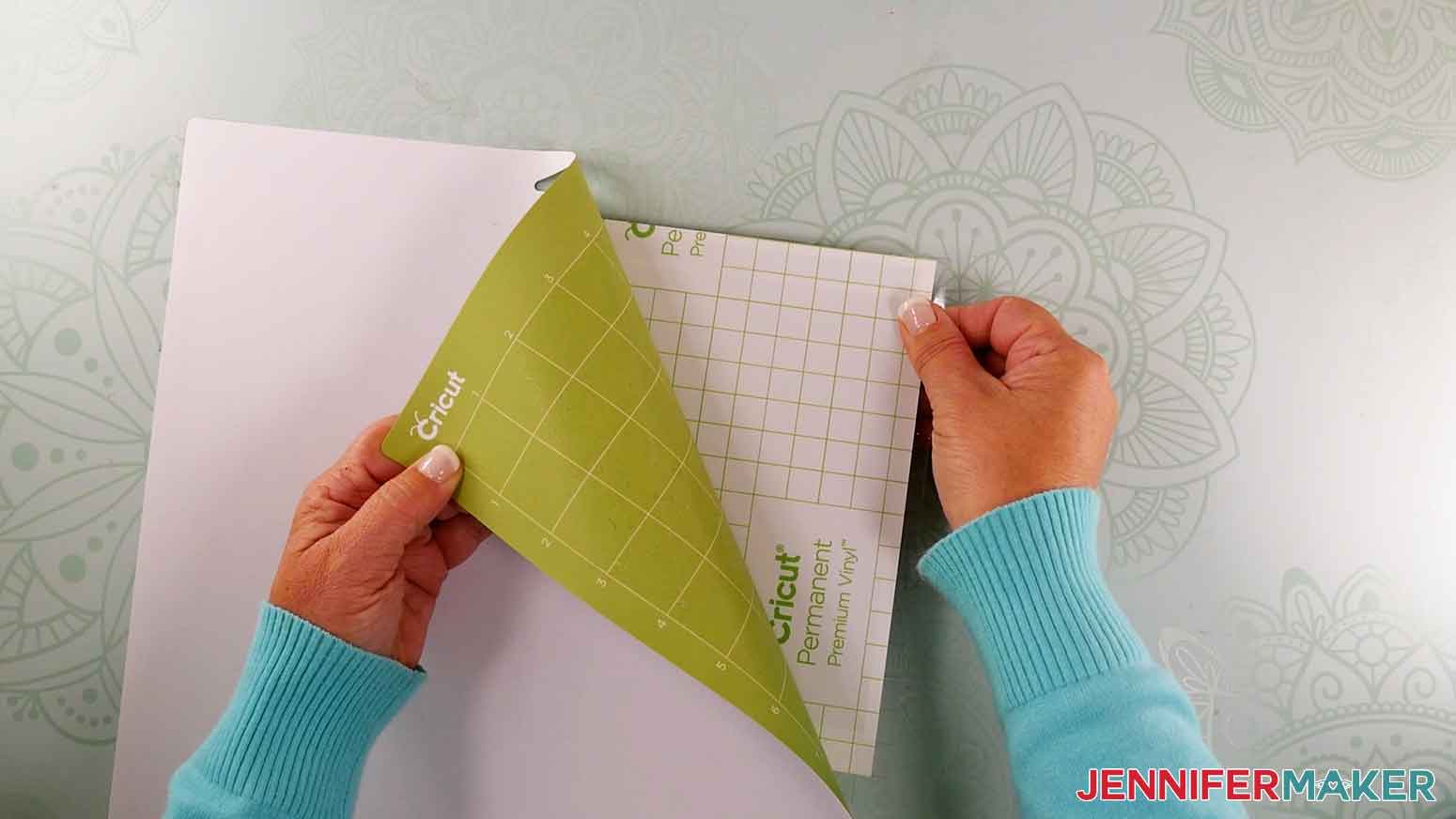 Burnish the back side again with the scraper.
With the transfer tape touching the work surface, slowly peel off the vinyl backing paper. Go extra slow to make sure all of the vinyl stays put. If little pieces pull up use the scraper tool or your finger to burnish them back in place.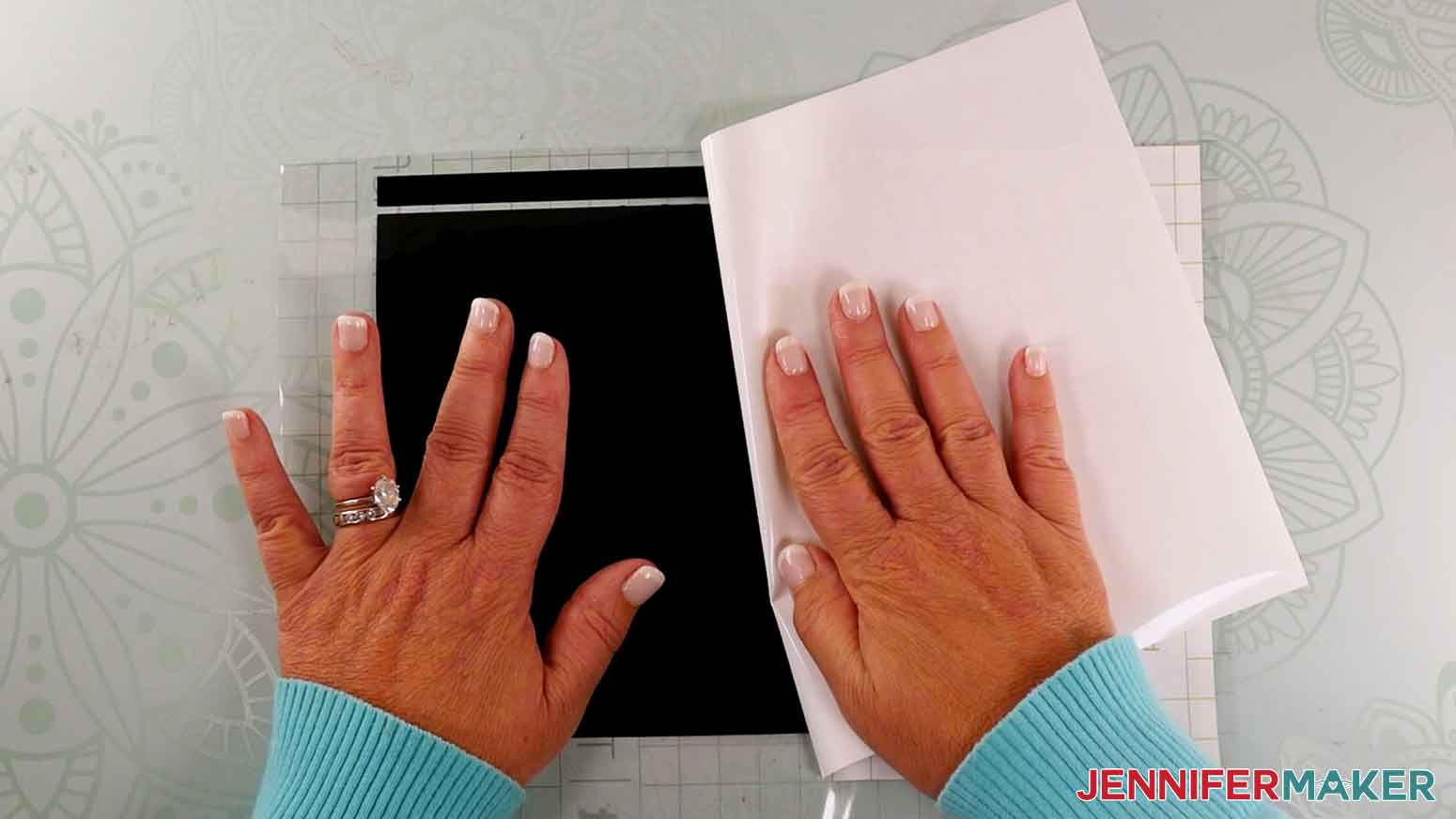 Now all we are left with is the transfer tape and the vinyl. And now we are going to weed off of the transfer tape.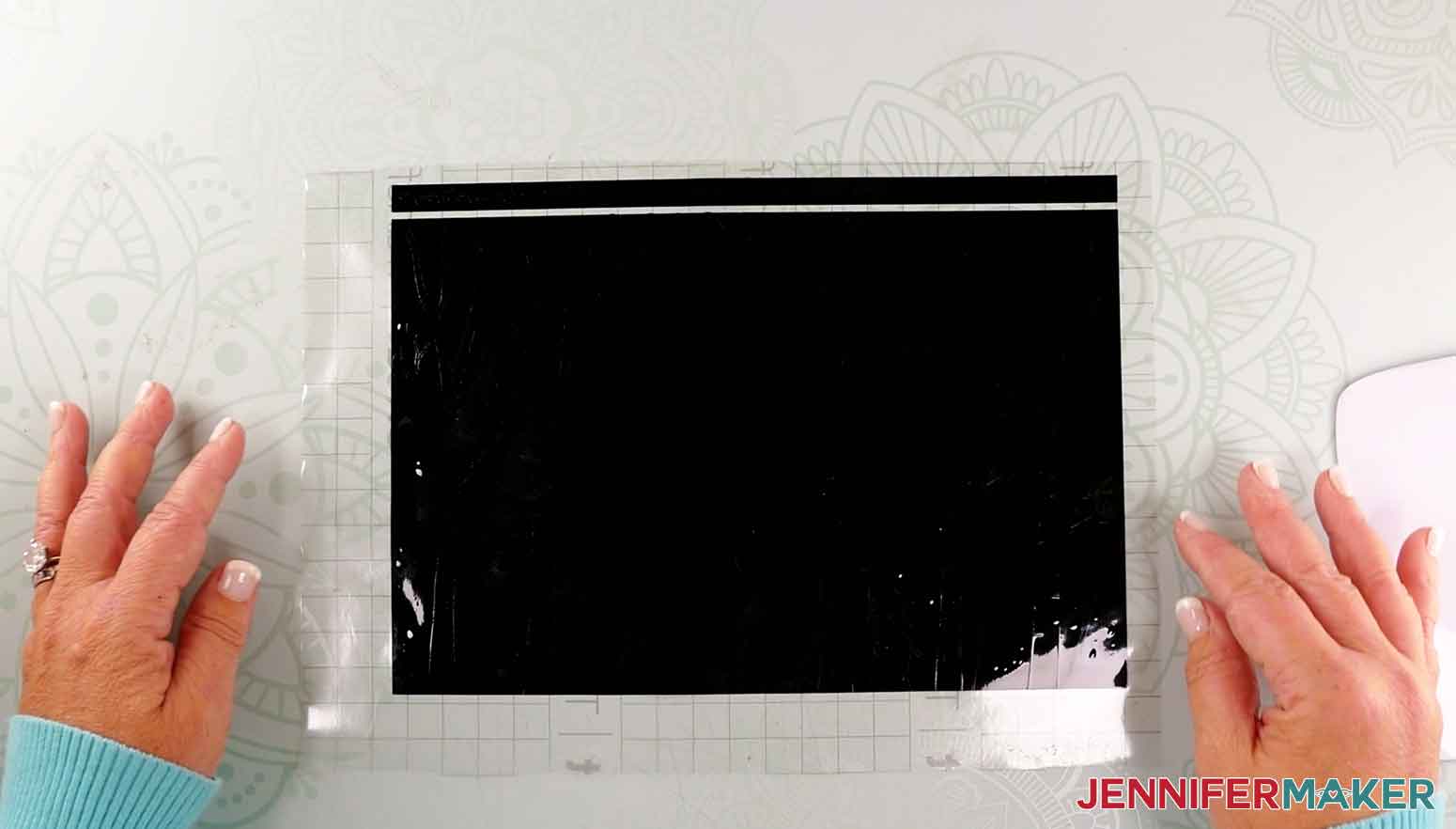 Here's a trick that will make this a lot easier. Grab a green standard grip cutting mat and we will use that to hold everything in place as we reverse weed.
Place the transfer tape on the mat with the sticky side of the vinyl facing up.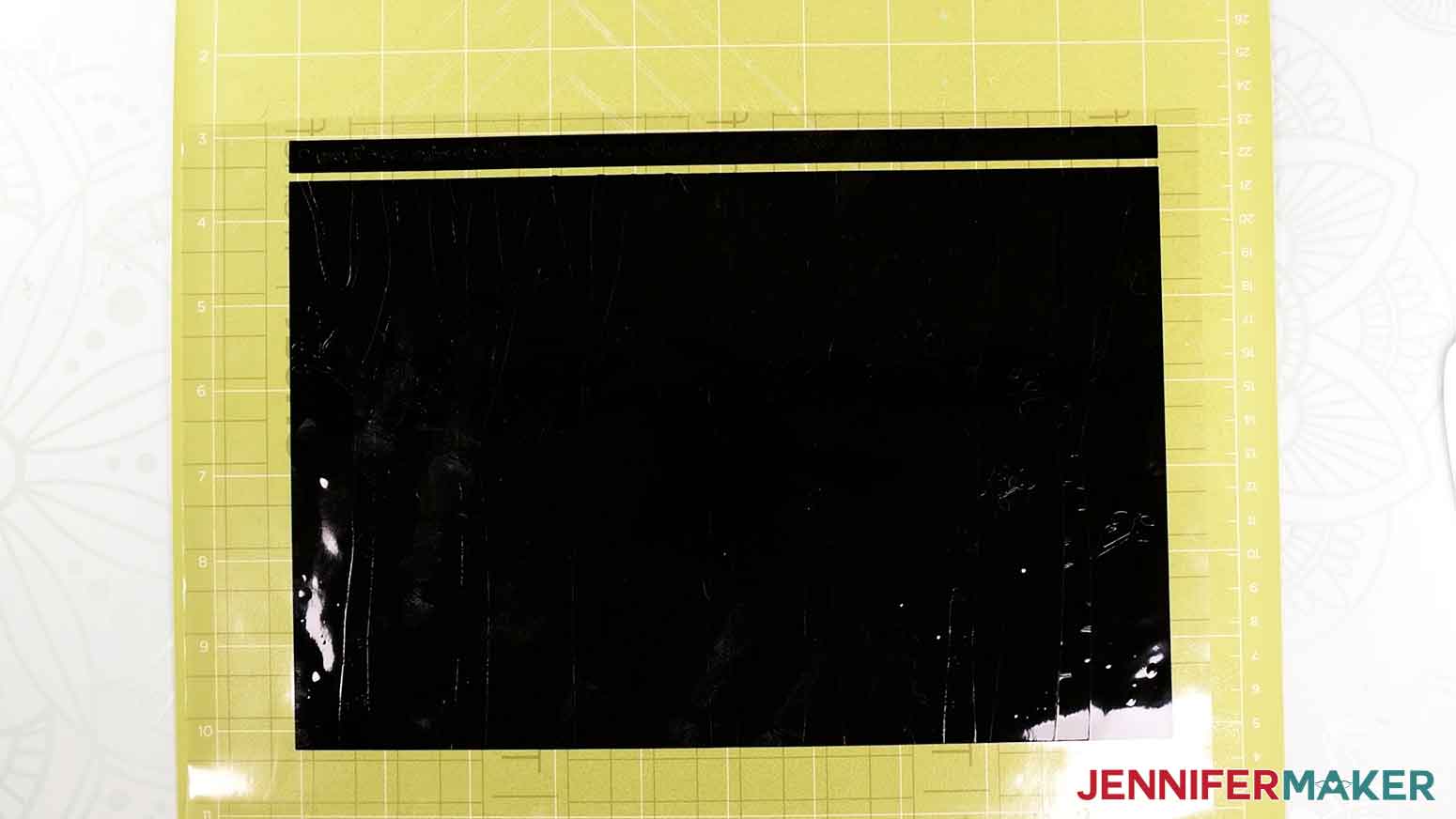 Remember, when we are reverse weeding, we are pulling off all the vinyl that is not part of the design or the excess vinyl. That leaves only the design on the transfer tape. The weeding boxes help too. Identify the corner of the weeding box and lift it with your weeding tool to remove the negative space. It helps to work in sections, trimming off excess vinyl once it's successfully lifted.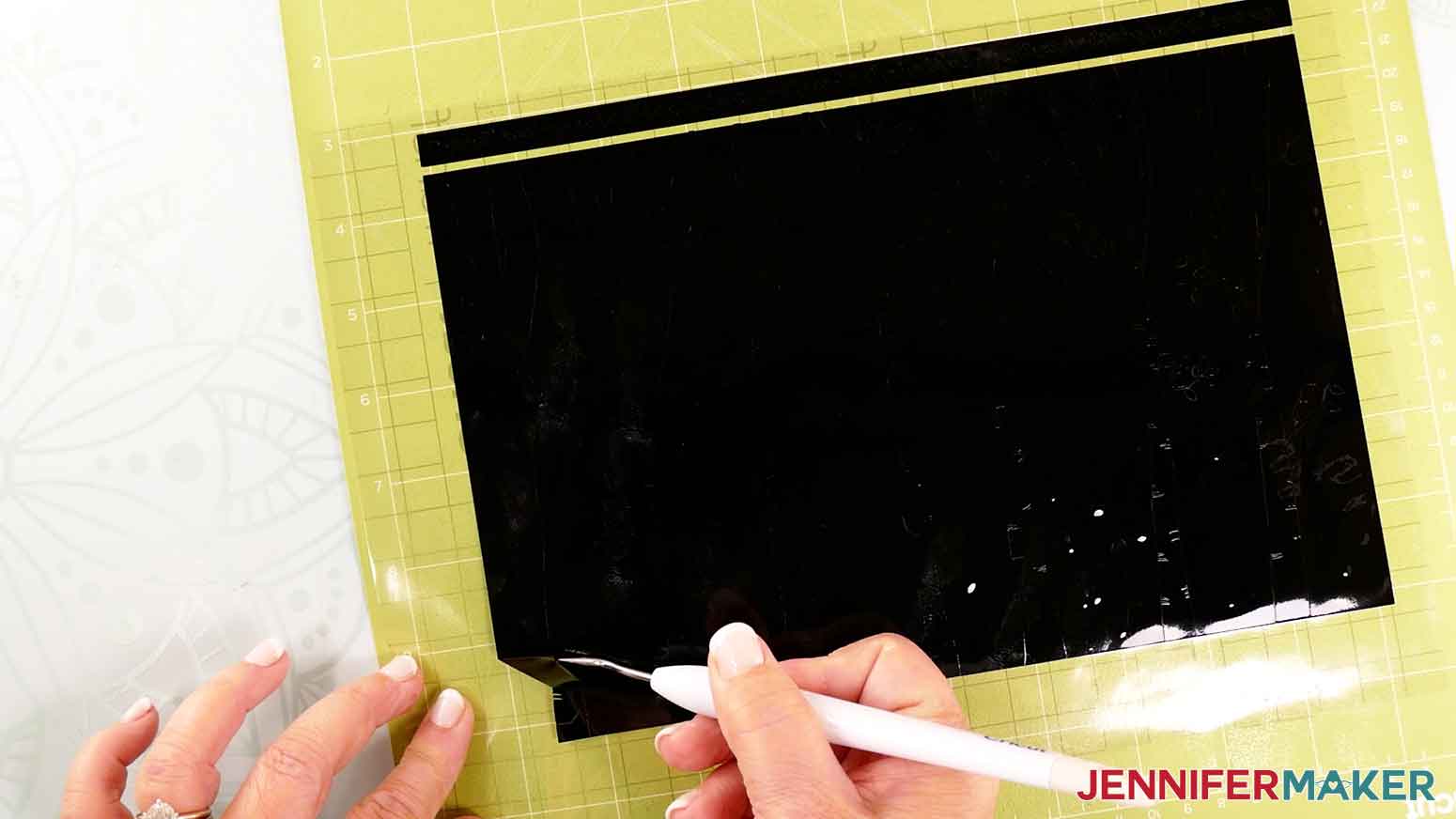 Since we're working with permanent adhesive vinyl and transfer tape you can see things get a bit sticky. Just take your time and try your best not to get too stuck to anything. If you do, gently pull away so you don't accidentally pull up part of the design that's supposed to stay put.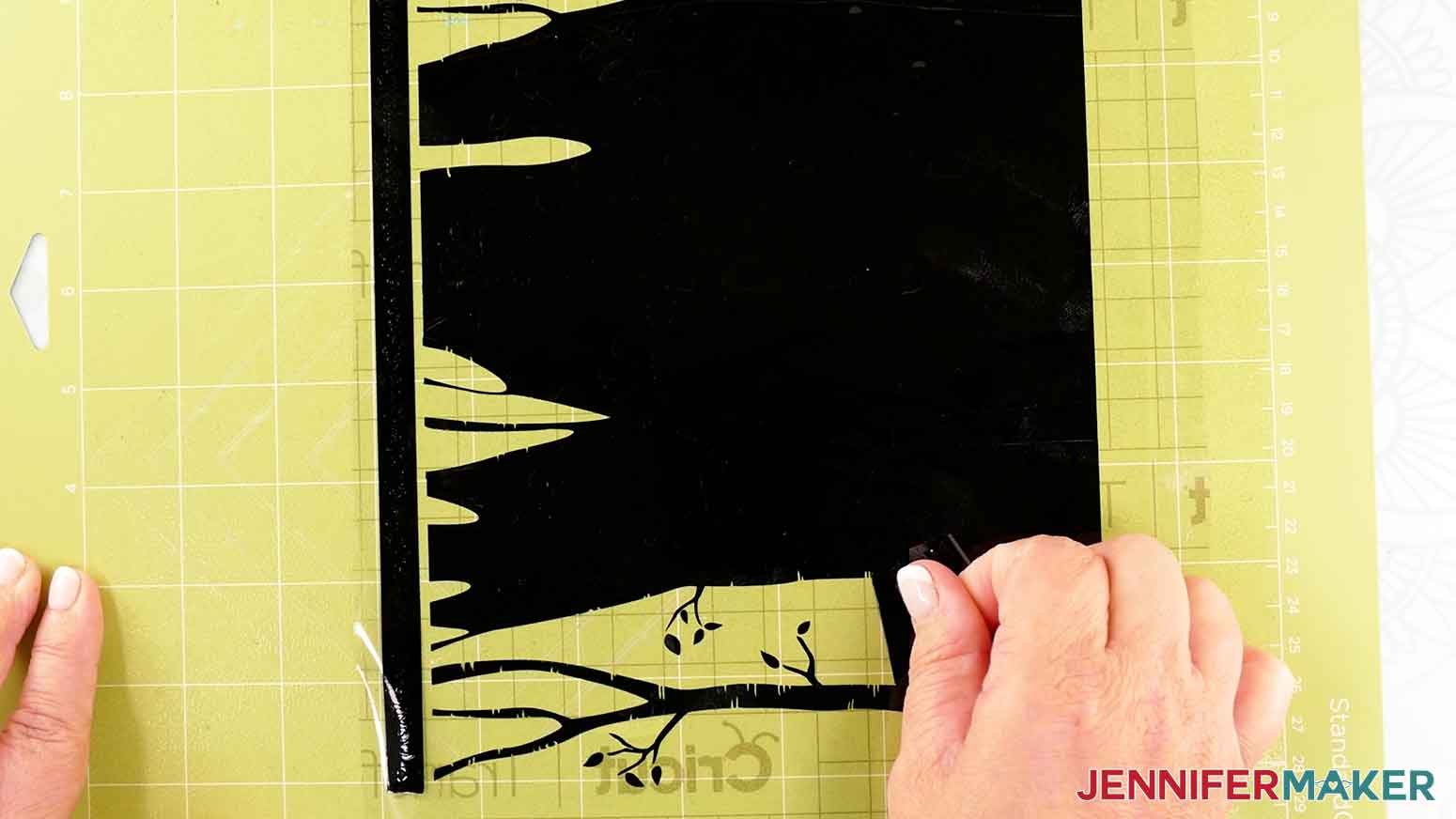 If any pieces come up that shouldn't, pat them back into place.
The letters are super tiny, so they will take a little extra patience to weed, but again, reverse weeding makes all the difference here. I also gently wiggle the vinyl as I'm pulling it up and use my scissors to cut away excess vinyl as I go. Remember to remove all the center pieces as well.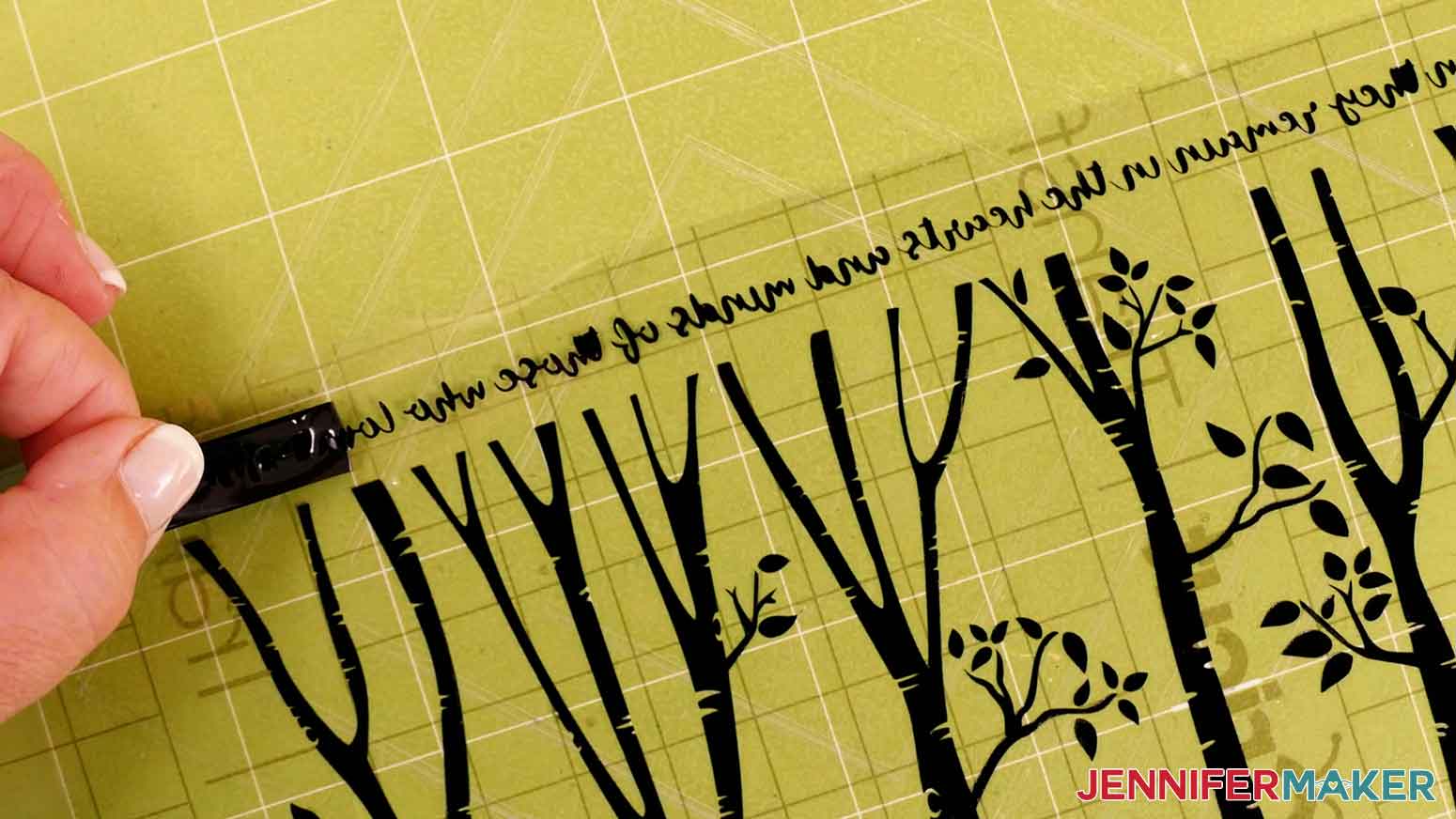 Once both mats are weeded gently remove everything from the mat and set each piece aside in a safe place where it won't get stuck to anything.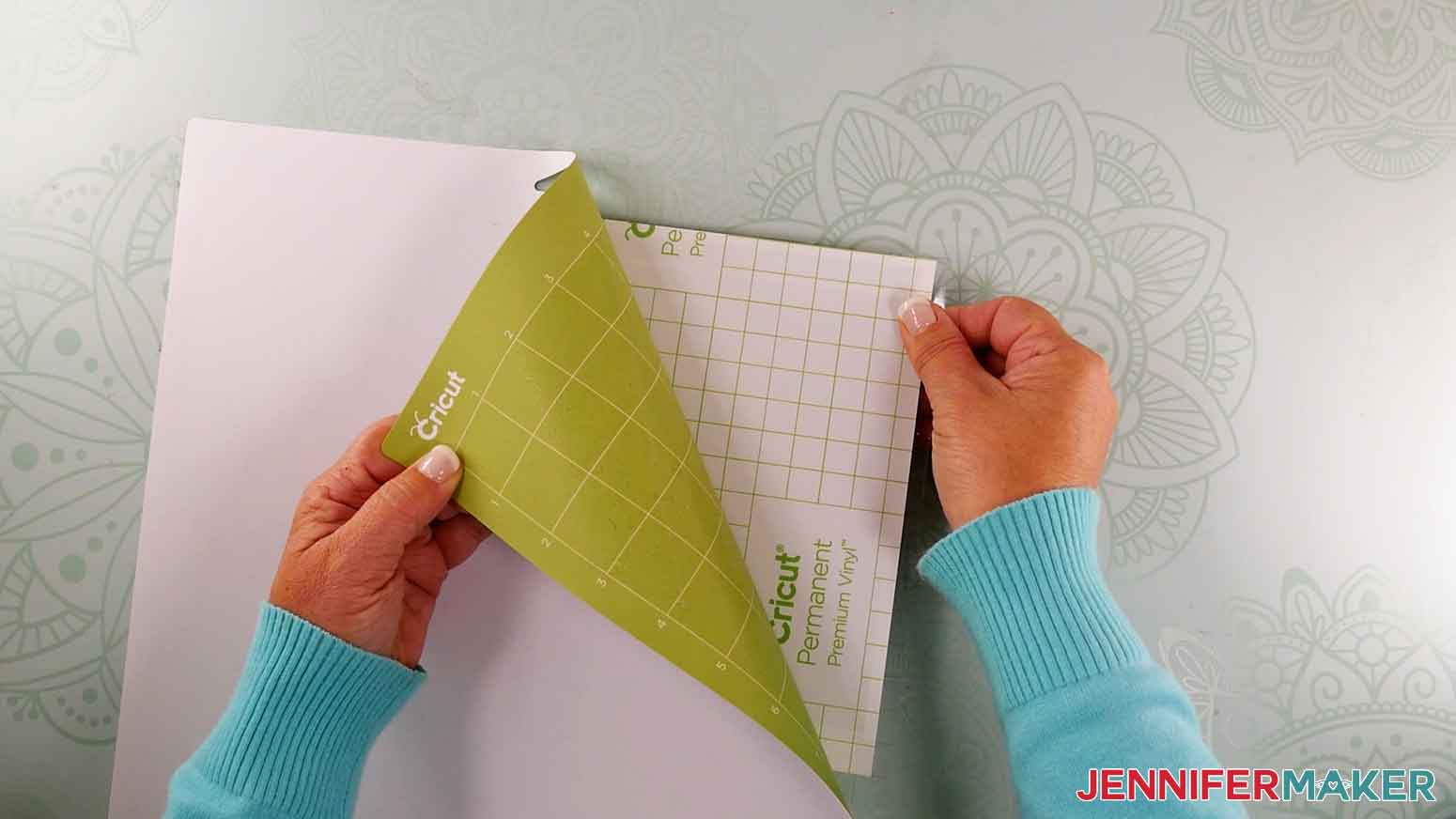 I'm putting these cardinals on a glass vase, so if you are also, be sure to wipe down the surface of your vase with alcohol and a coffee filter or other lint free towel. Lay the vase down with the opening at the top. Gently hold it in place with a lint roller or scraper tool on one side.
Grab your tree layer and, using the same Taco Method I showed you earlier,, hold the transfer tape on each side with the sticky side down. Make sure the roots are at the bottom!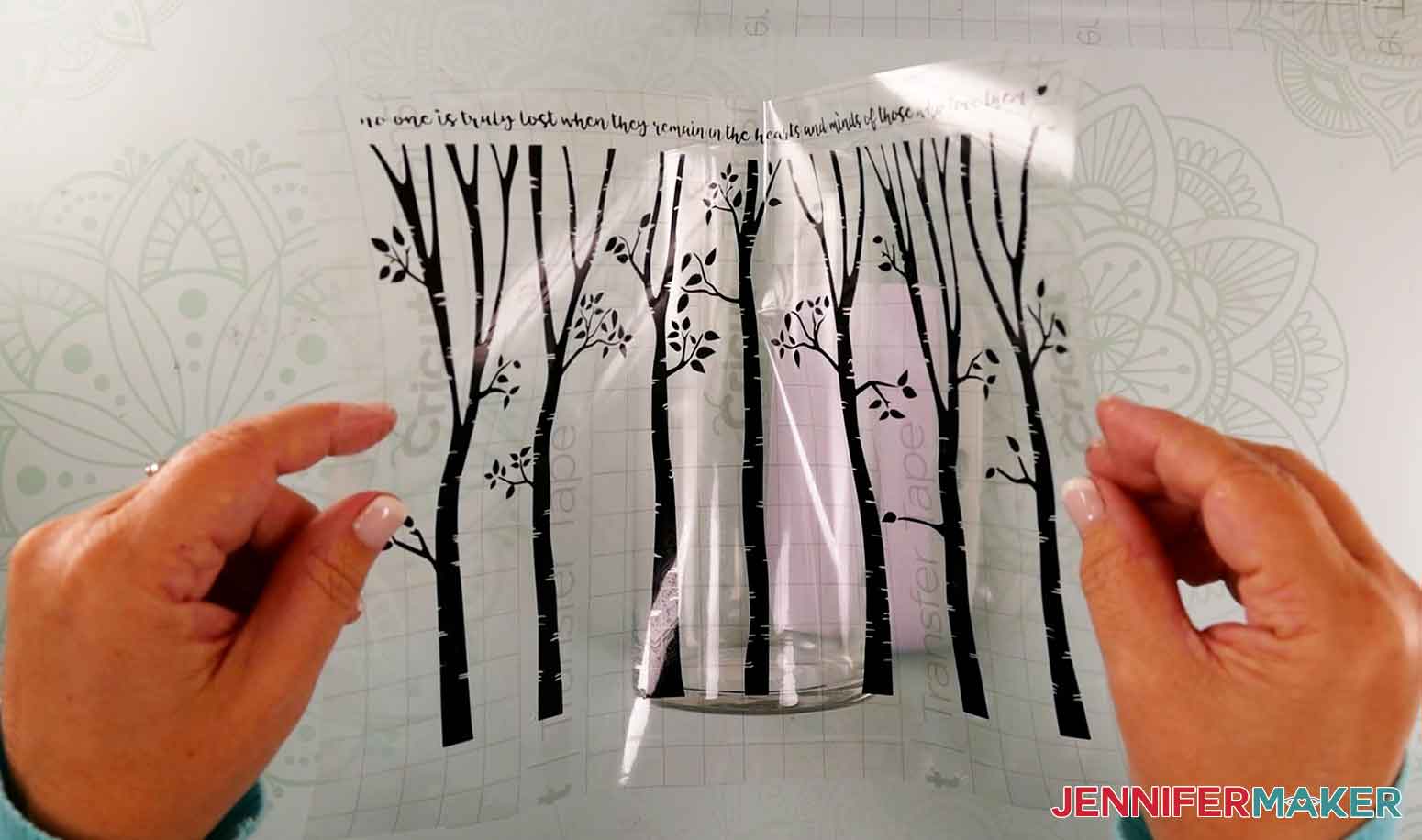 Gently rest the transfer tape's bottom taco shape on the vase. From the center press the vinyl down on the vase smoothing from the inside to push out any air bubbles, remember it's okay to move slowly.
You can use your fingers or a scraper tool for this step.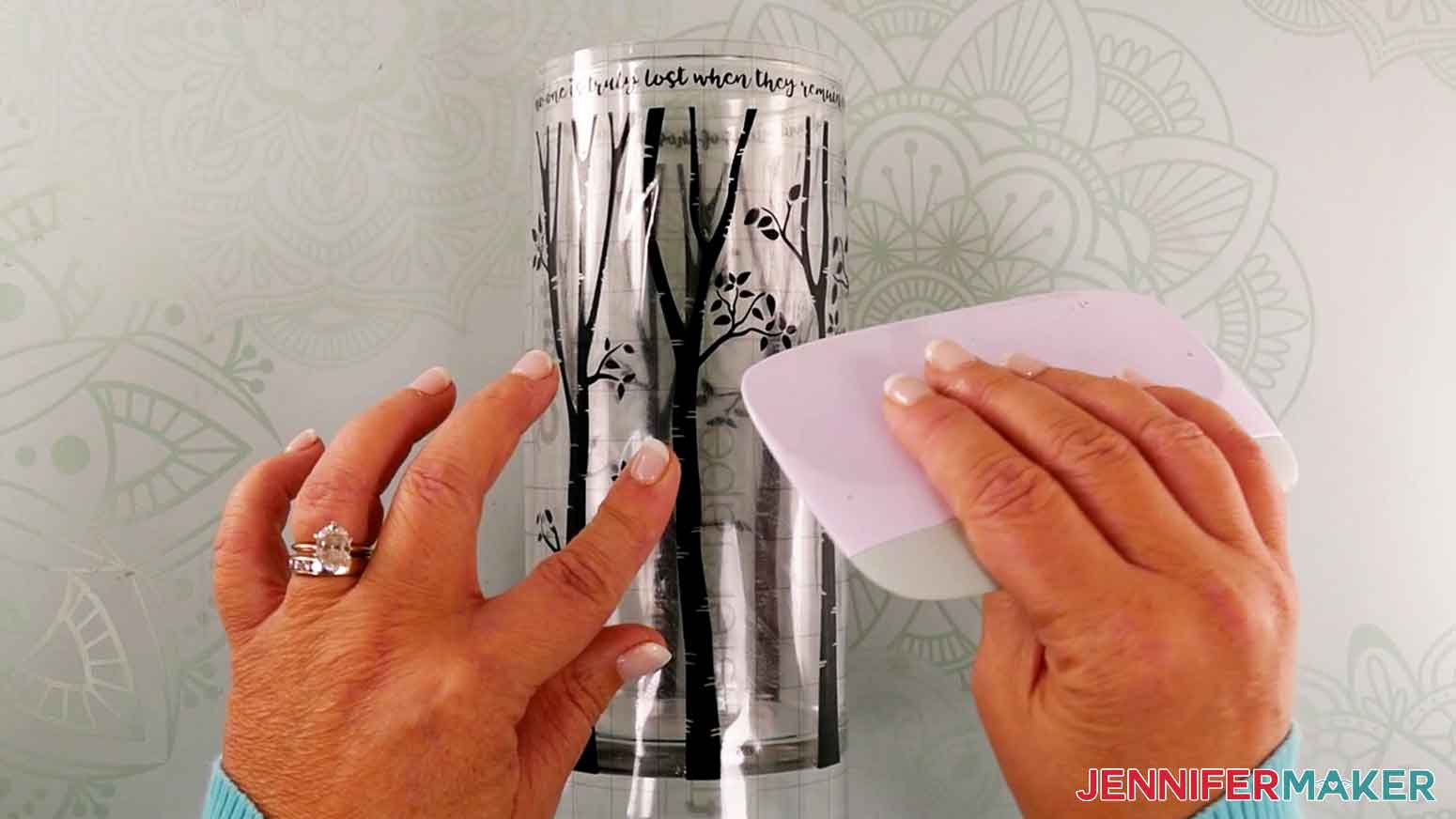 Once everything is in place, find the bottom corner of the transfer tape, then slowly peel it back to reveal the design.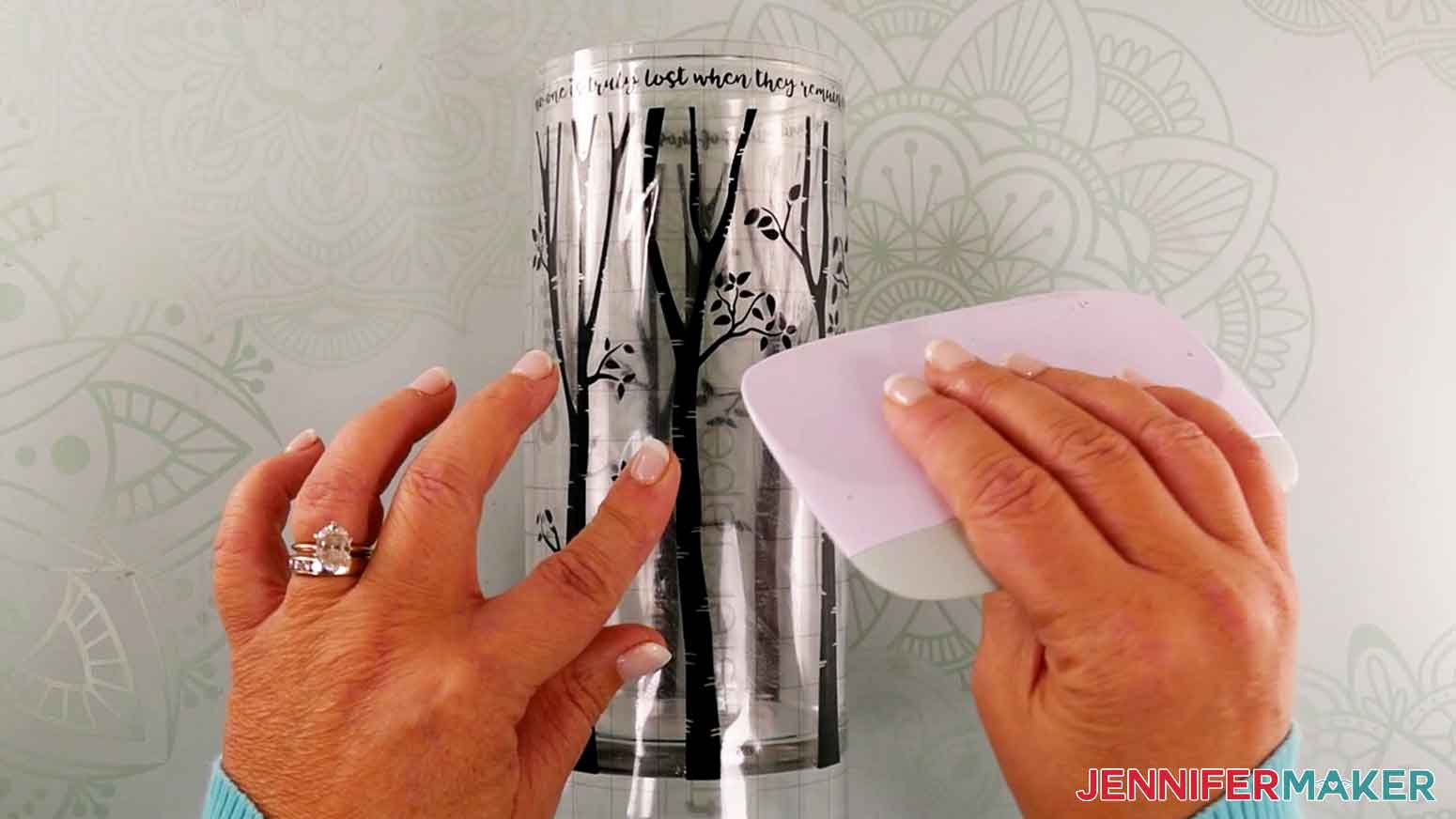 You can keep the cardinals all on one strip of transfer tape and place them one at a time or you can cut the tape so they're each on a small square.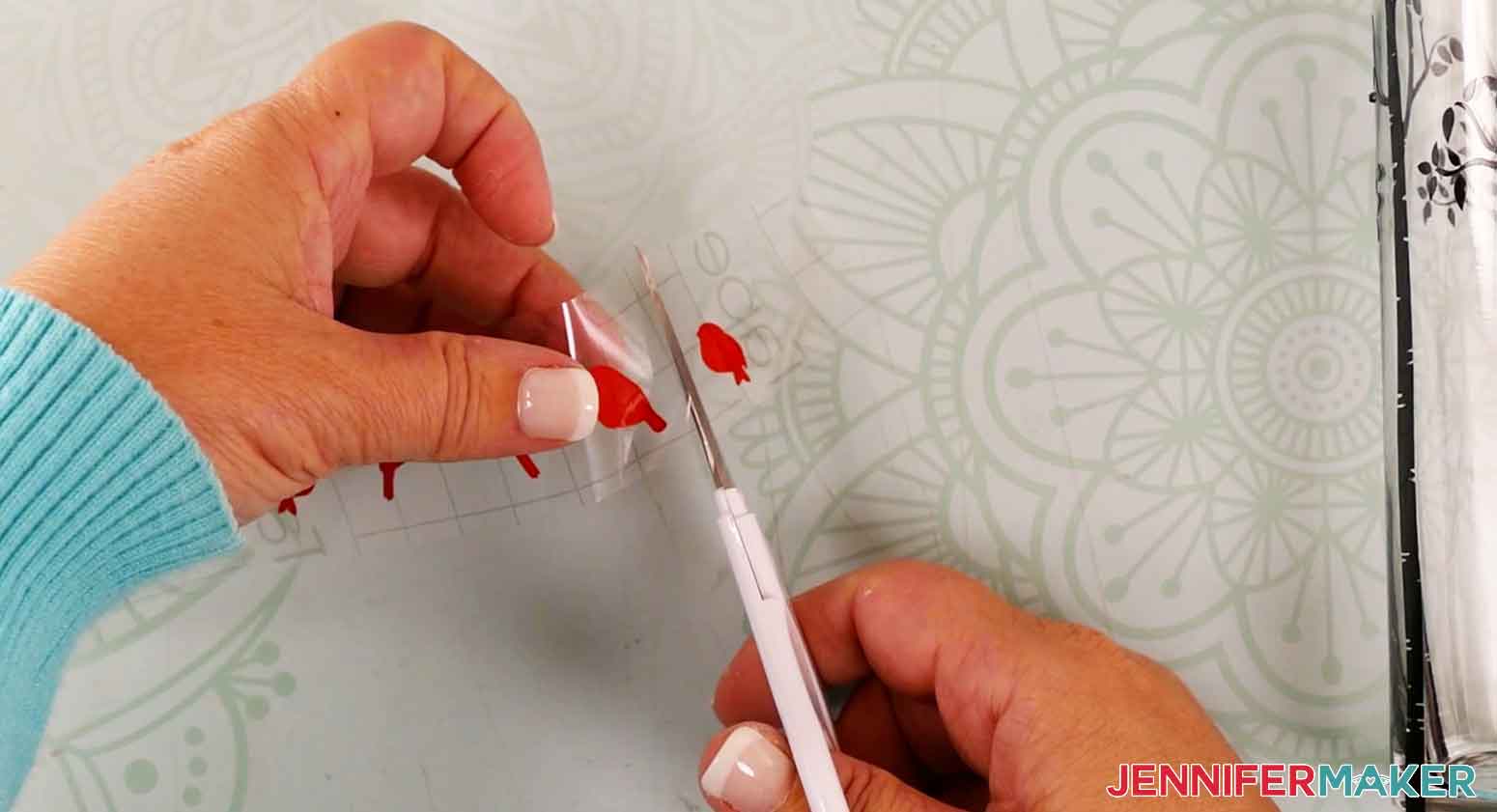 Place them wherever you like. I like to spread them out all around the branches. And feel free to add a few cardinals or all of them.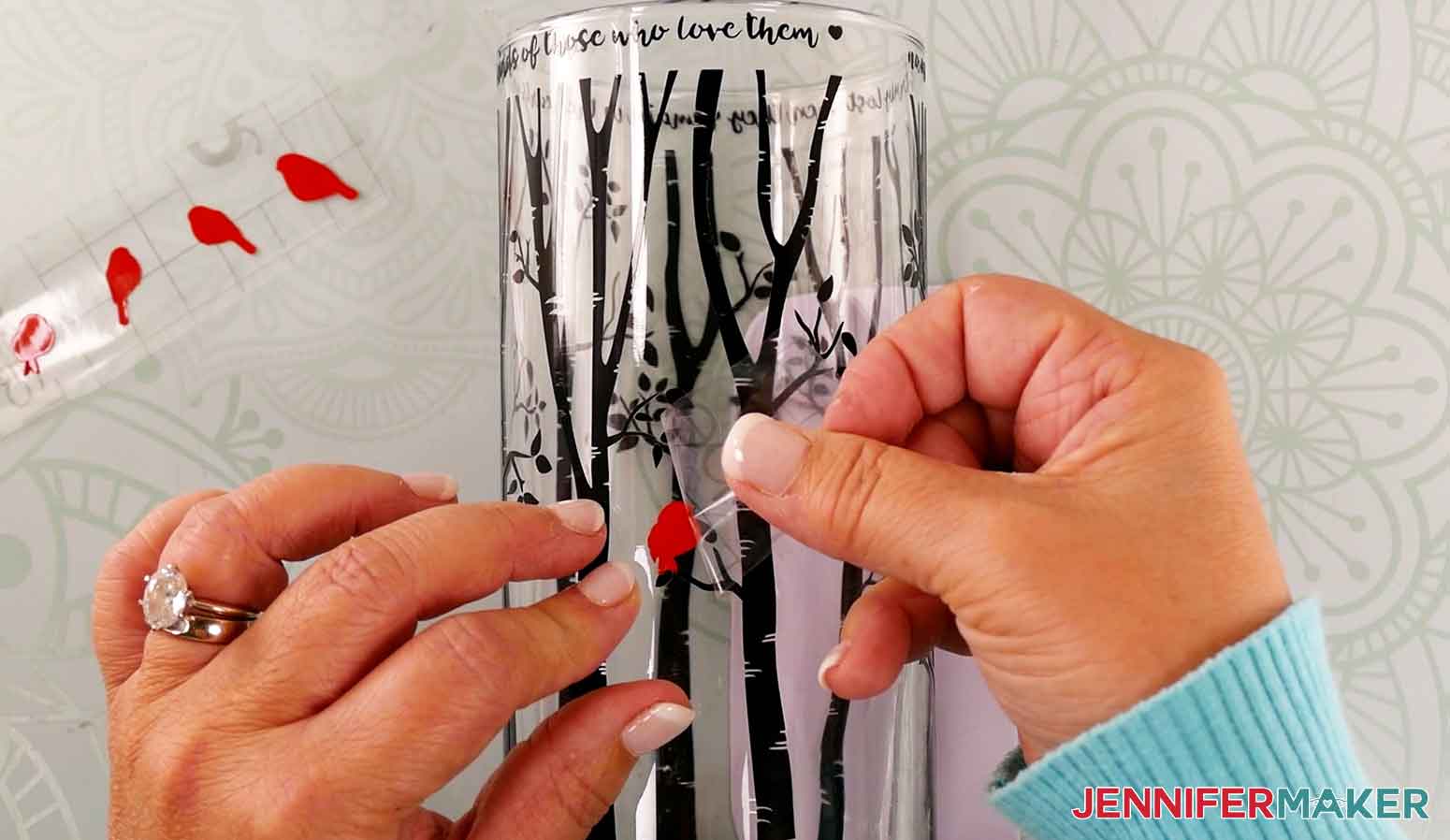 And you're all done!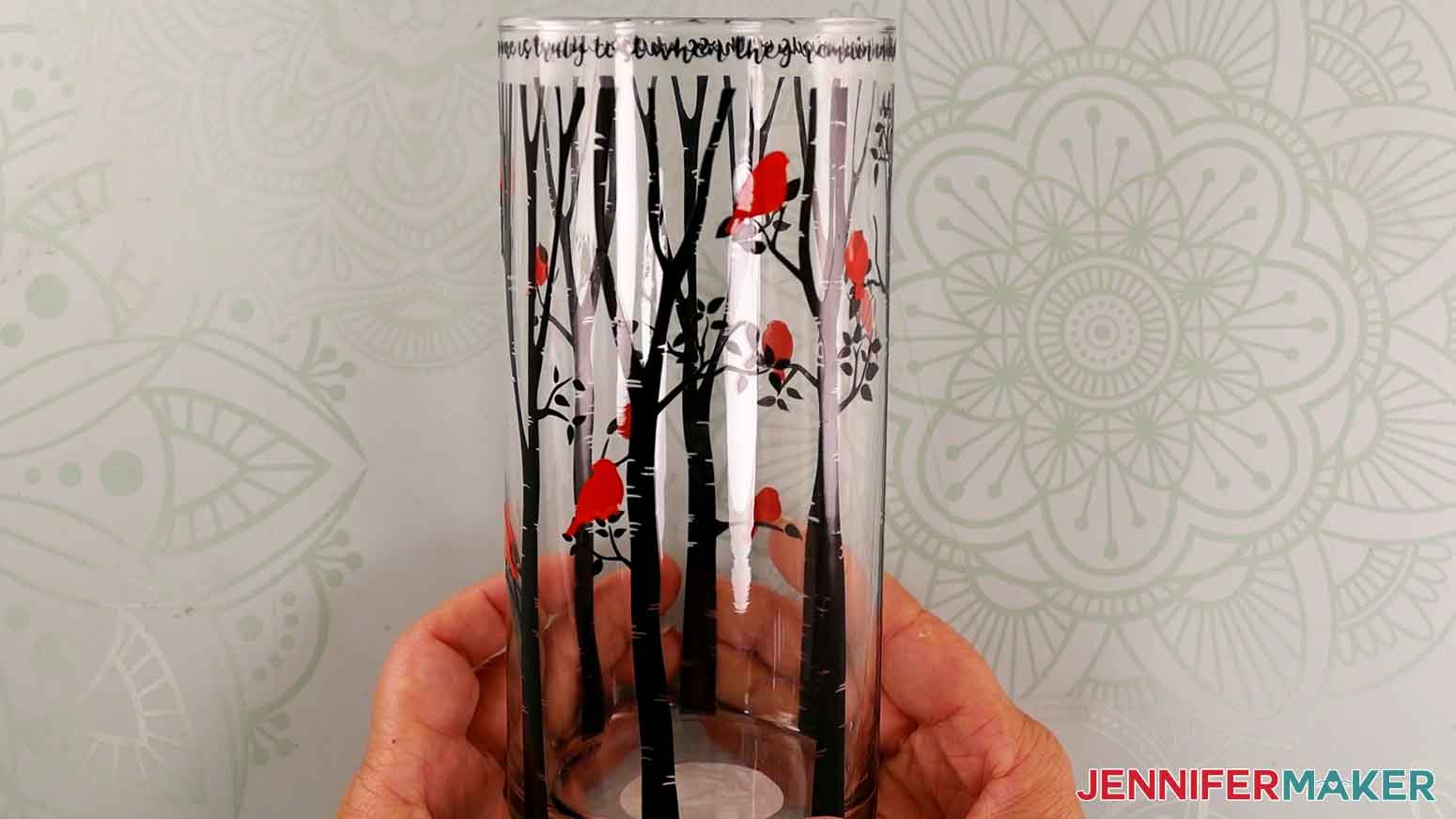 PROJECT 2: SUNFLOWER SHADOW BOX
Reverse weeding also works well for intricate vinyl designs like my bunch of sunflowers!
First, determine where on the frame's glass you'd like to place your decal and measure the space you'd like to fill. I'm using an 8" x 8'' shadow box so the inside measurement is about 7.5'' x 7.5''.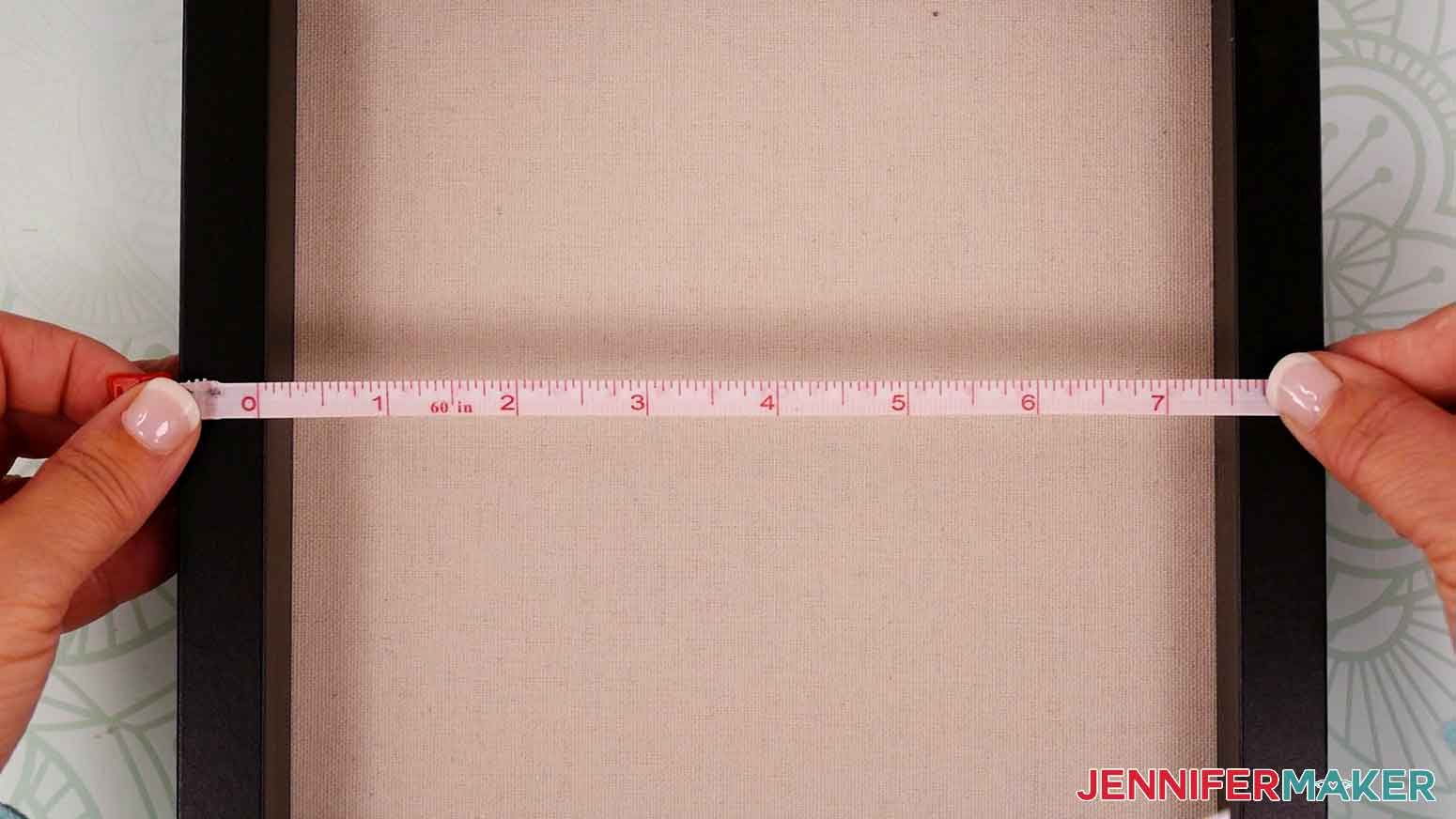 Back in Design Space, here's what my sunflower design looks like on my Canvas.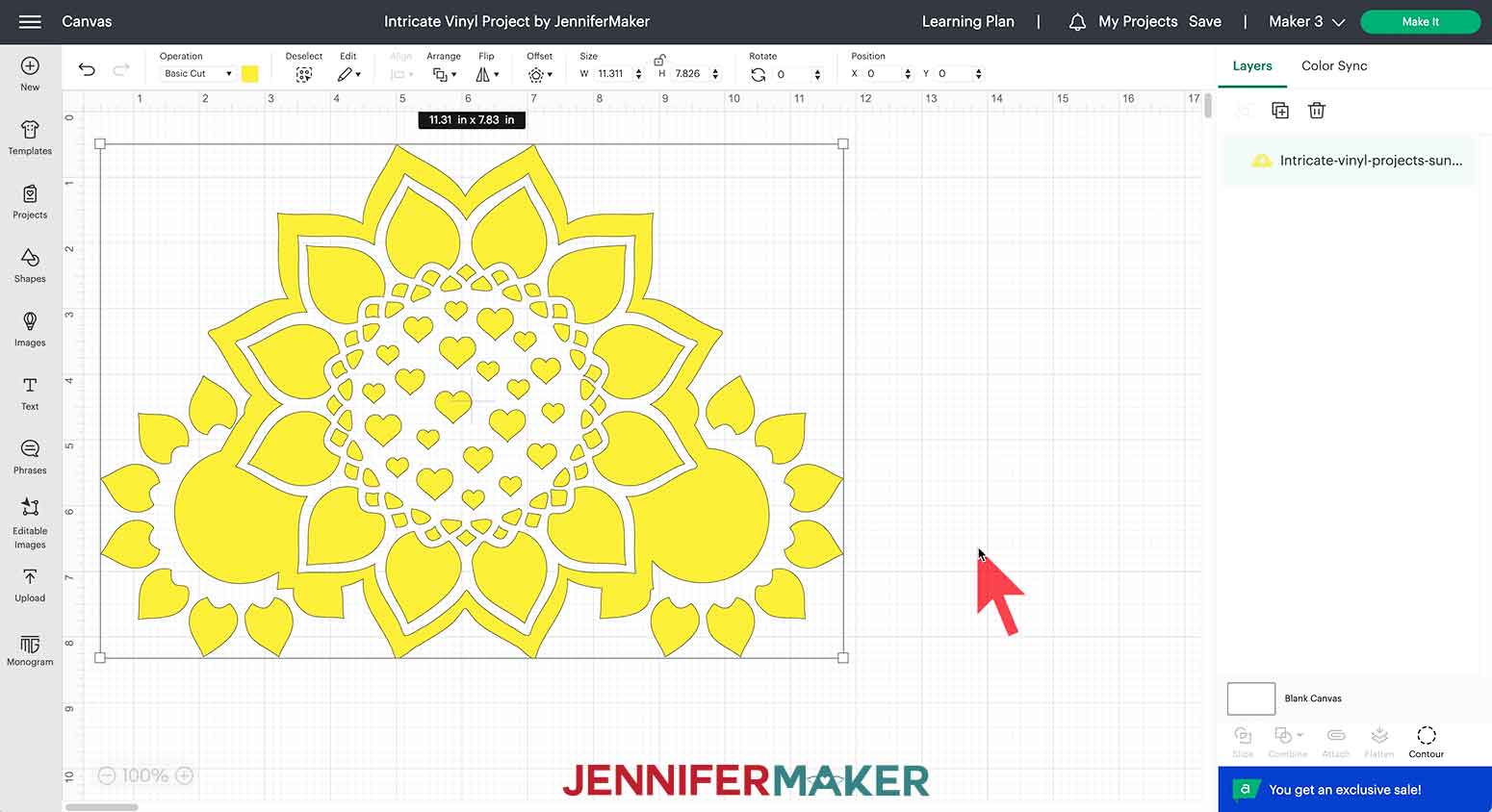 An easy way to visualize the finished product is to use a guide. From the Shapes menu create a square that is the size of the area you're working with. Mine is 7.5'' x 7.5''. Set the Operation to Guide so it's not part of the cutting process and move it to the back under "Arrange" at the top.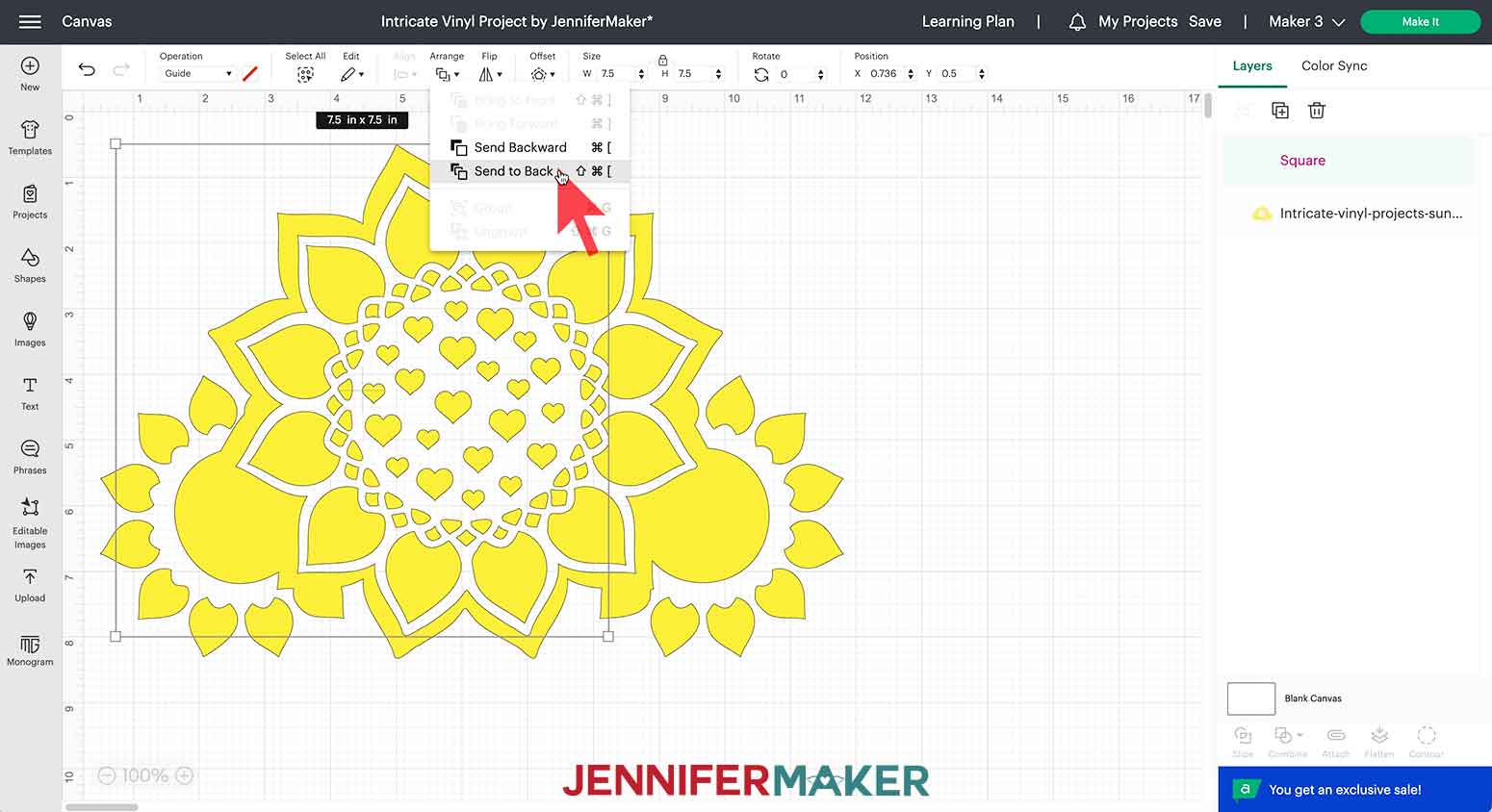 We want about an inch of space between the flower and the guide. With the lock icon closed to maintain the design proportions, type "6.5" into the width box to resize the design to fit the shadow box.
Select the sunflower and move it into the guide.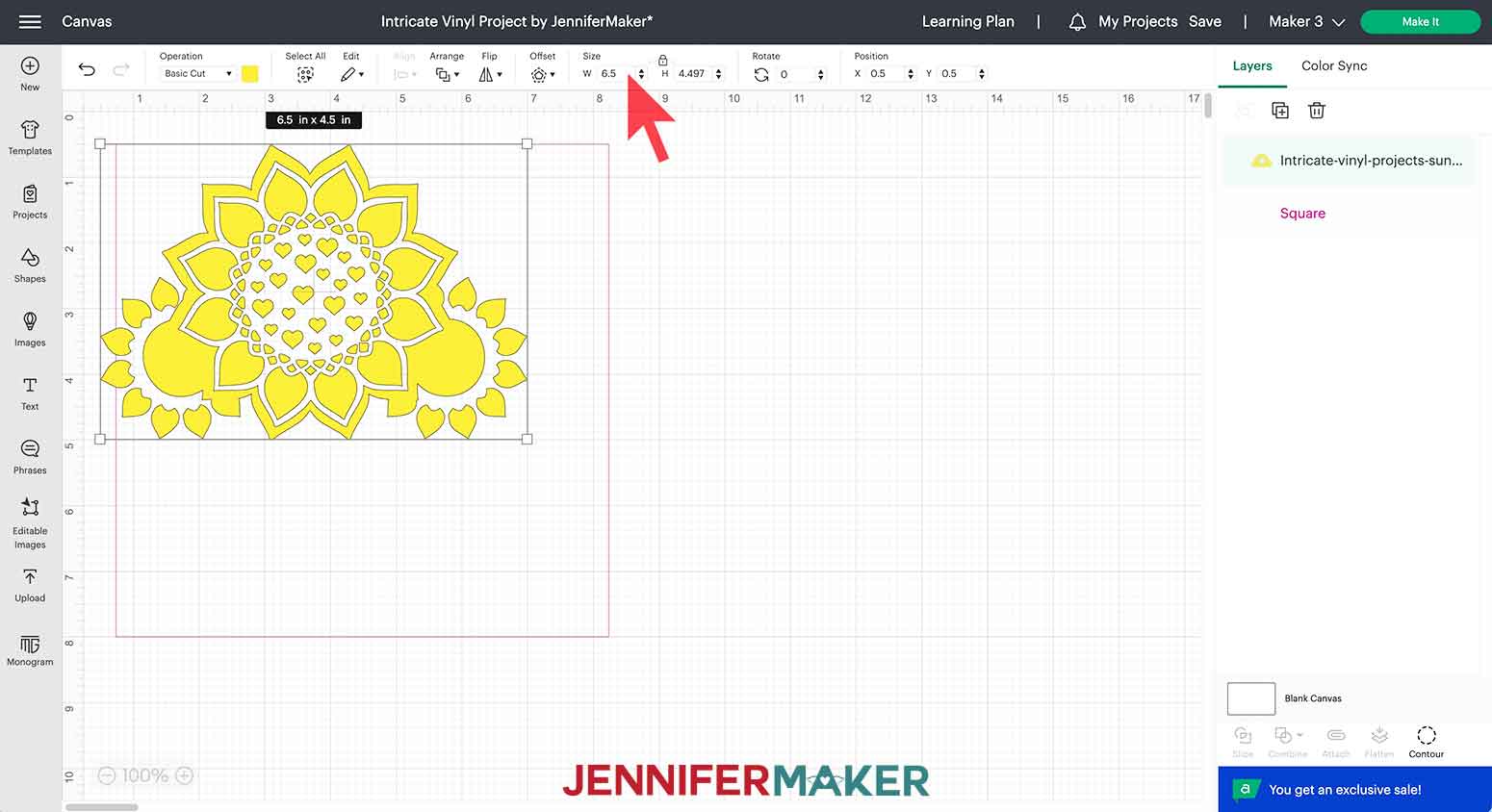 Since the design is oddly-shaped, making a square weeding box will still waste material. Instead, click "Offset" and type ".5" for the size with rounded corners and click "Apply."

Then select the flower and offset and click "Attach" so they'll cut together.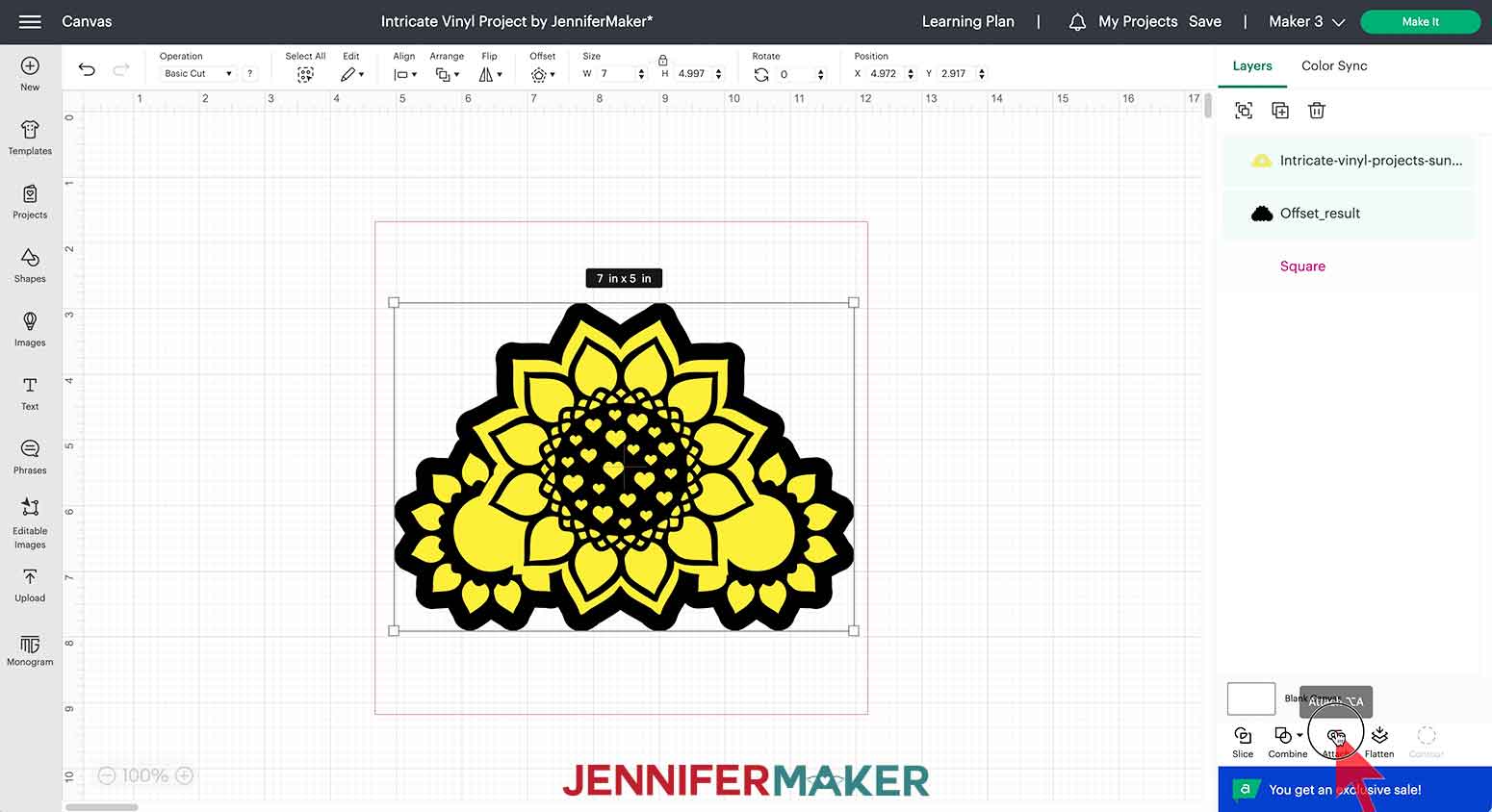 Use the color box next to Operation to change the color back to yellow and we're ready to cut!
Follow the steps from the Cardinal design to cut, reverse weed, and prepare your flower.
Then clean the glass on your shadowbox and add your design.

If you'd like to try a new technique for adding vinyl to glass you can give the wet method a go. I have step by step instructions on my blog at jennifermaker.com/how to apply vinyl with the wet method.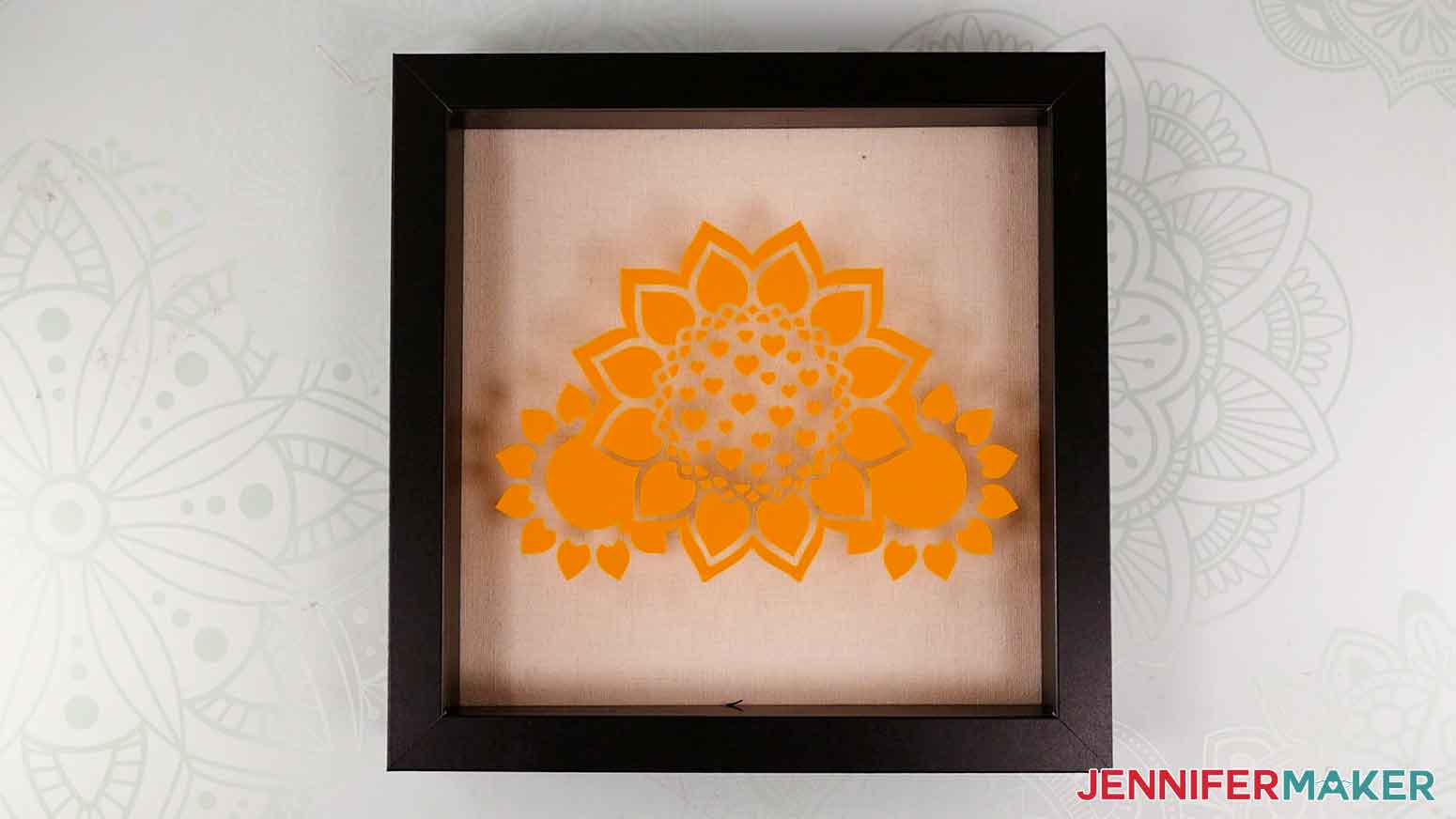 PROJECT 3: LET IT SNOW IN IRON-ON VINYL ON A PILLOW

For this next project we're going to use iron-on vinyl, which is NORMALLY reverse weeded, so we won't do anything different than usual. But, this design is more intricate than normal, so I'll show you how to weed an intricate iron-on vinyl design to cover all the bases.
Here's my "Let It Snow" design.
You can zoom out to see all of the design by clicking on the minus (-) sign on the lower left.
I'm going to add this design to a pillow!
We'll use a guide like we did for the sunflower to preview our design and make sure everything looks right.
Click on shapes again and add a square, this time we'll make it the same size as our pillow cover which measures 12 by 12 inches. Then change the operation to "Guide" and "send to back."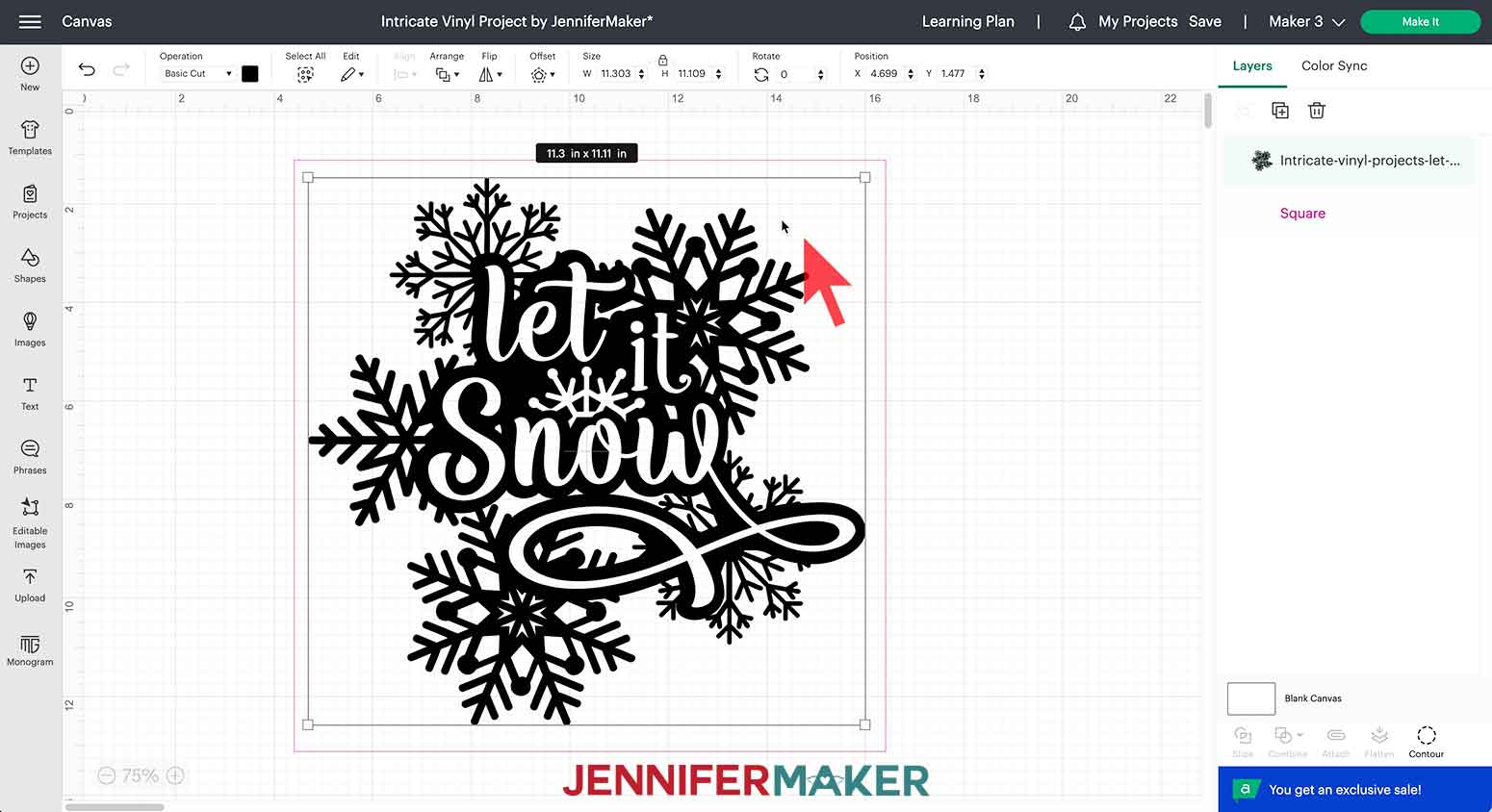 Drag the design into the square. With the lock icon closed to maintain the proportions, click and drag a corner of the bounding box until the design is the size you have in mind. I think 10 inches looks about right.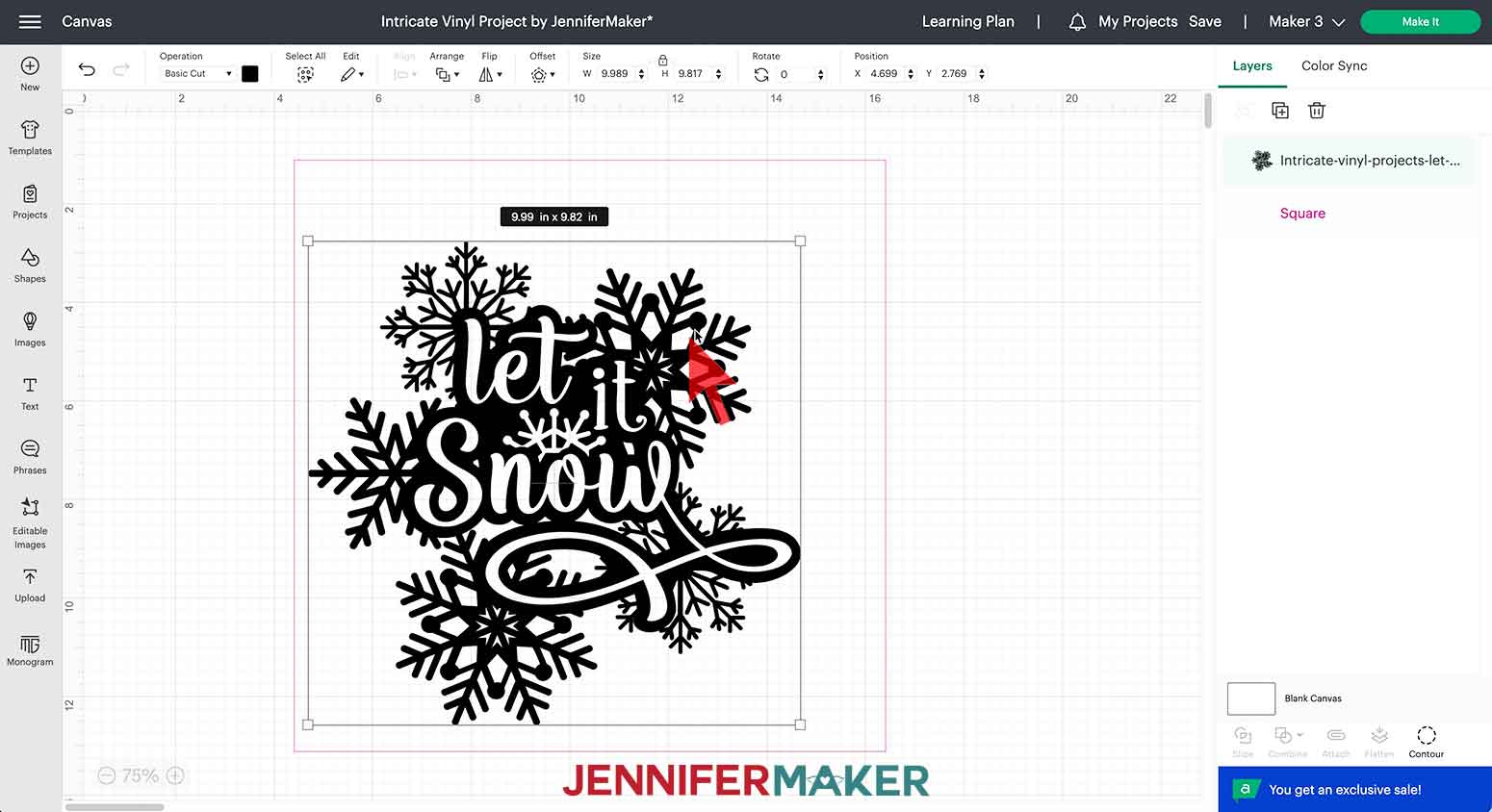 I'm going to use Gold Glitter Vinyl so I'm going to change my design to that color as well to get a preview. That looks great! We are ready to cut!
Click "Make It", Select "On Mat" and "12 x 12" then "Confirm."
On the Prepare screen, there is a toggle button labeled "Mirror" under the mat, which is really important for this iron-on vinyl project. We always mirror iron-on vinyl so we can cut and weed it in reverse!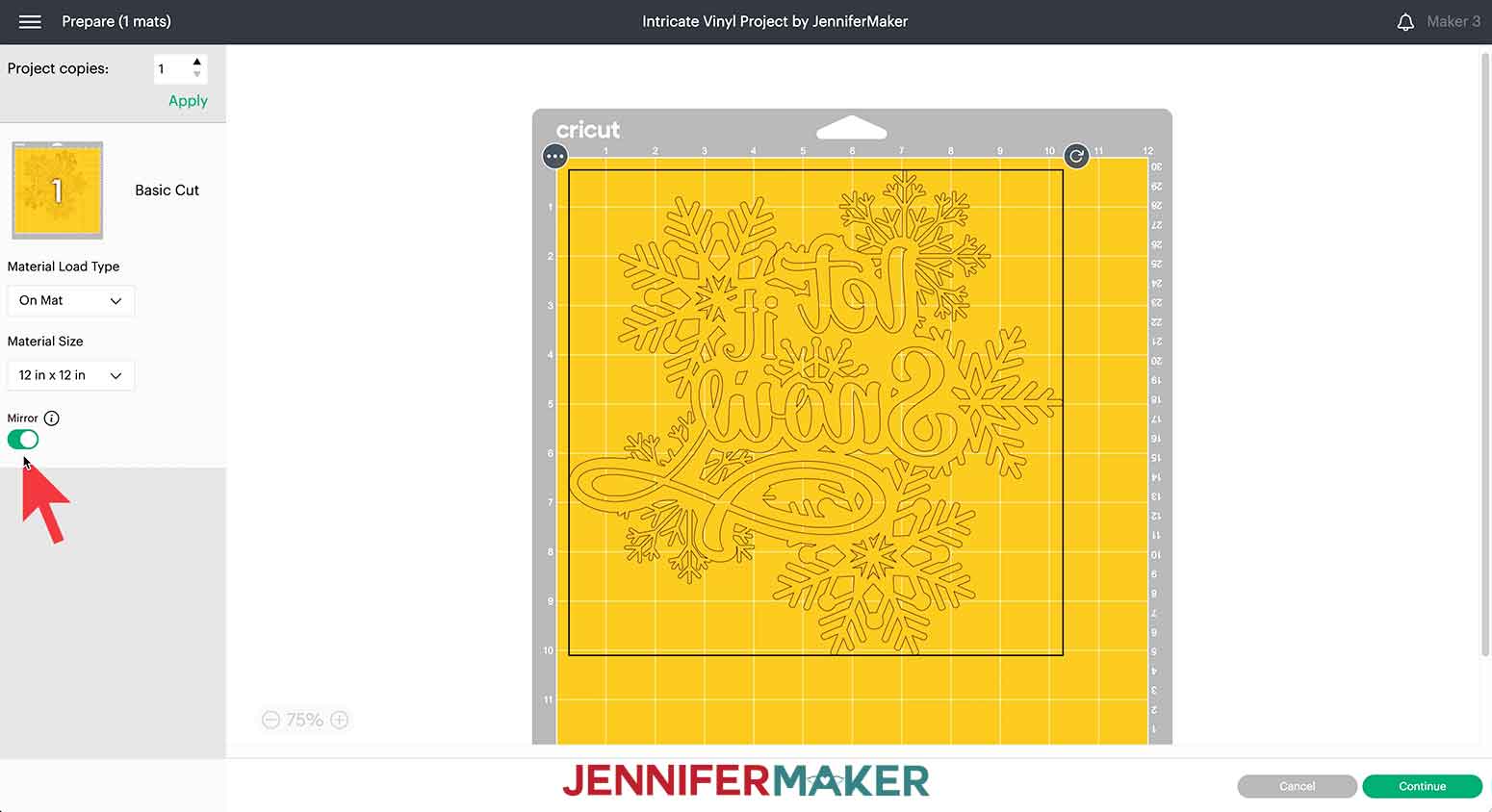 Iron-on vinyl comes adhered to a shiny, clear, heat-resistant liner that protects your design during the heat-transfer process. Unlike sticky vinyl, the adhesive side of Heat Transfer vinyl or HTV, faces away from the liner and the decorative side is visible through the liner. The heat source activates HTV's sticky side to adhere it to your item, while weakening its bond to the liner so you can peel it off to reveal the transferred design.
The liner MUST remain intact and stay between the heat and your item to avoid ruining the design and equipment. Because of this, it is necessary to load the HTV liner-side down so your machine can cut your design and leave the liner intact. The "Mirror" function transforms the design into a reflection so that it will look correct once flipped to be decorative side up. If you don't mirror your design it will appear backward on your base material. This is especially important if your design includes text.
Trust me, we've all made this mistake before!

So make sure to toggle the "Mirror" switch to "on", or green.
Click "Continue."
On the Make screen, choose your material, if it's not in the favorites you can click on "Browse All Materials" and use the search window to find it. And I always select "More" pressure to ensure the best cut.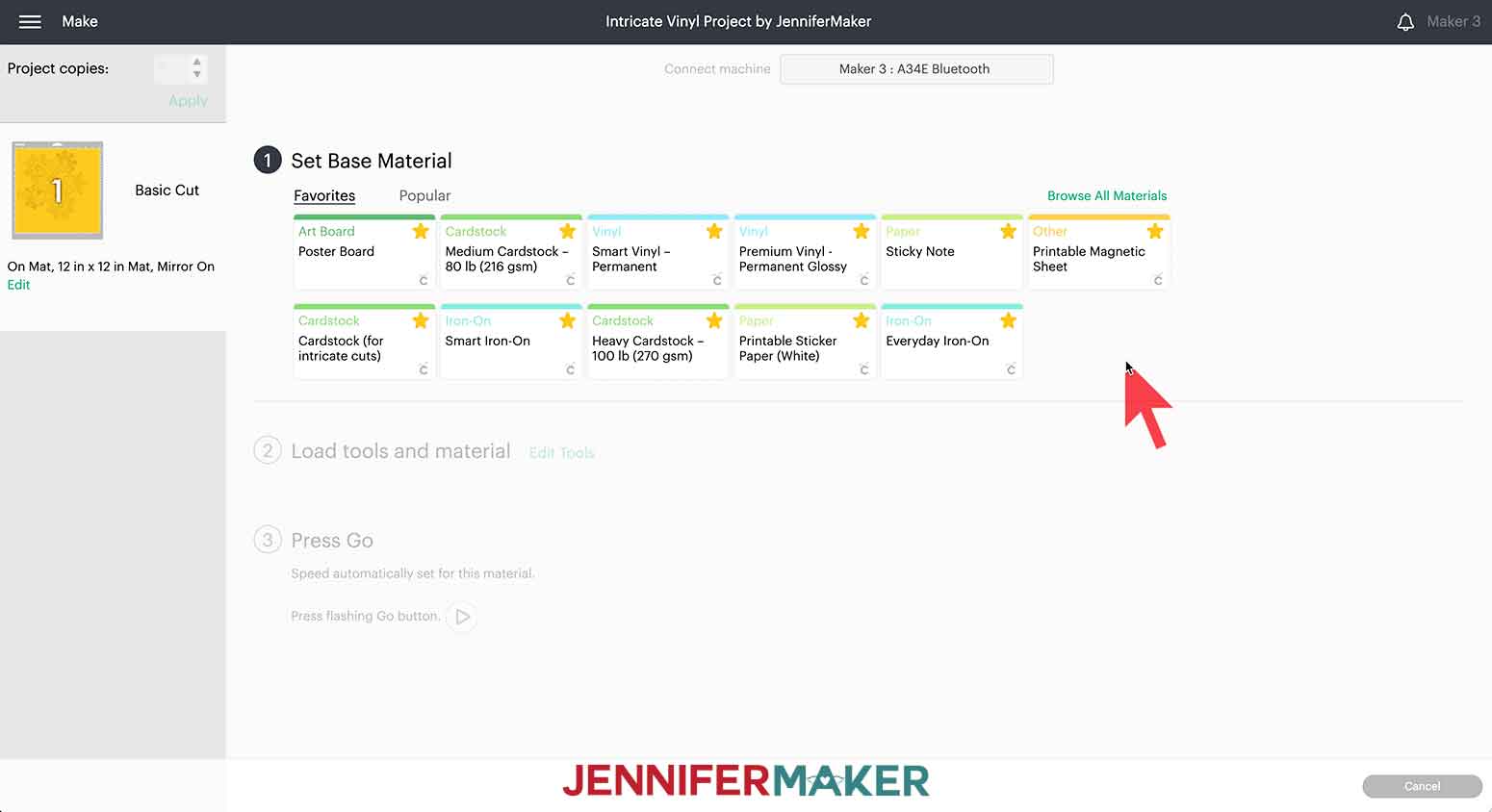 In case you forget to toggle "Mirror" on, you will be reminded on this screen as well. It also reminds you to place your iron-on vinyl SHINY SIDE DOWN on your green StandardGrip machine mat, so do that and secure it with a brayer.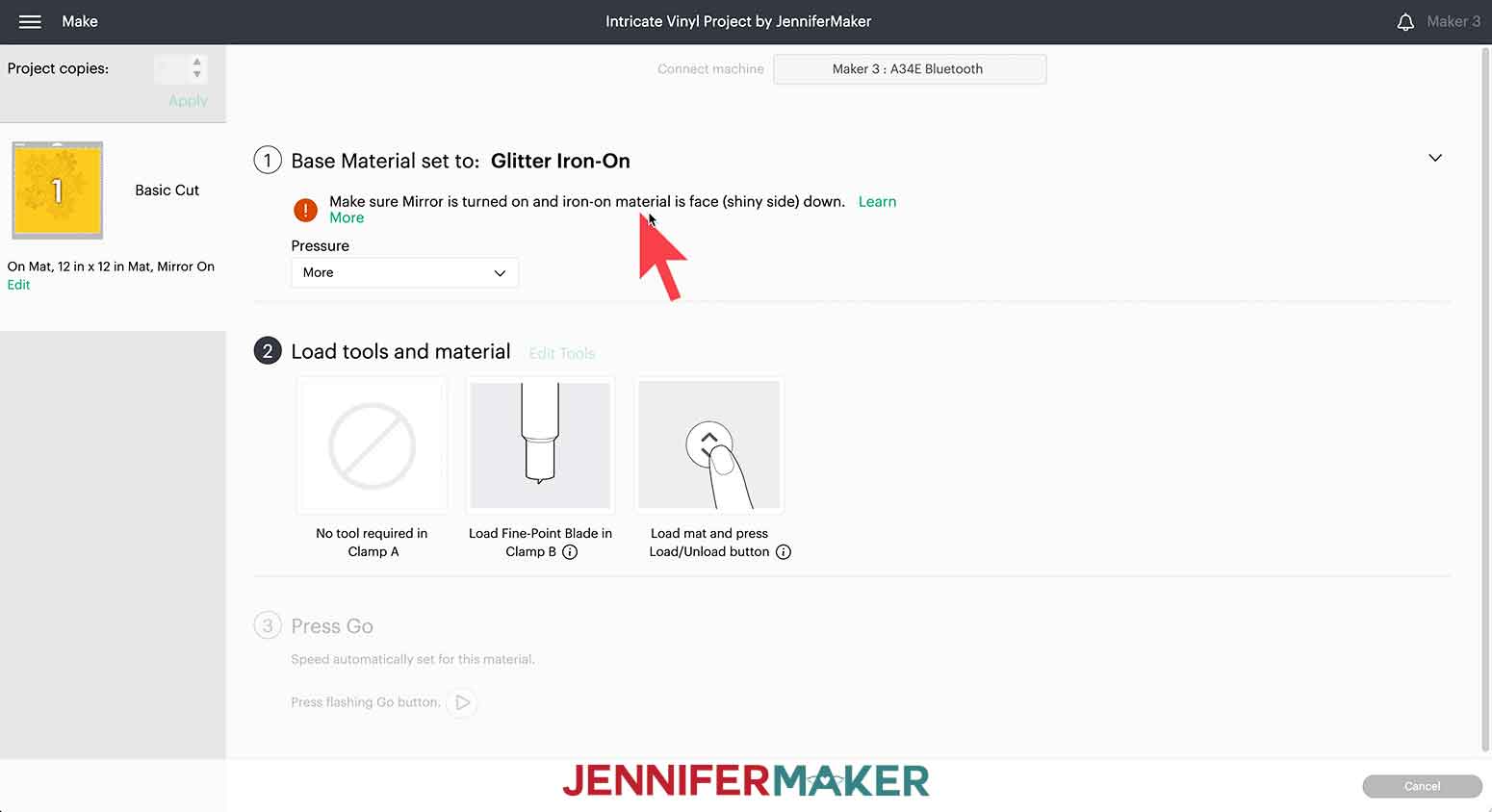 If you ever have any questions about cutting vinyl, I have put together a great resource to help. It's "The Ultimate Guide to Vinyl" and among other things it explains how to tell which side of the iron-on vinyl goes down on the mat. You can find it on my blog at "jennifermaker.com/vinylguide."
Double-check that the Fine-Point Blade is loaded in Clamp B, then load your mat into your machine and press the "Go" button.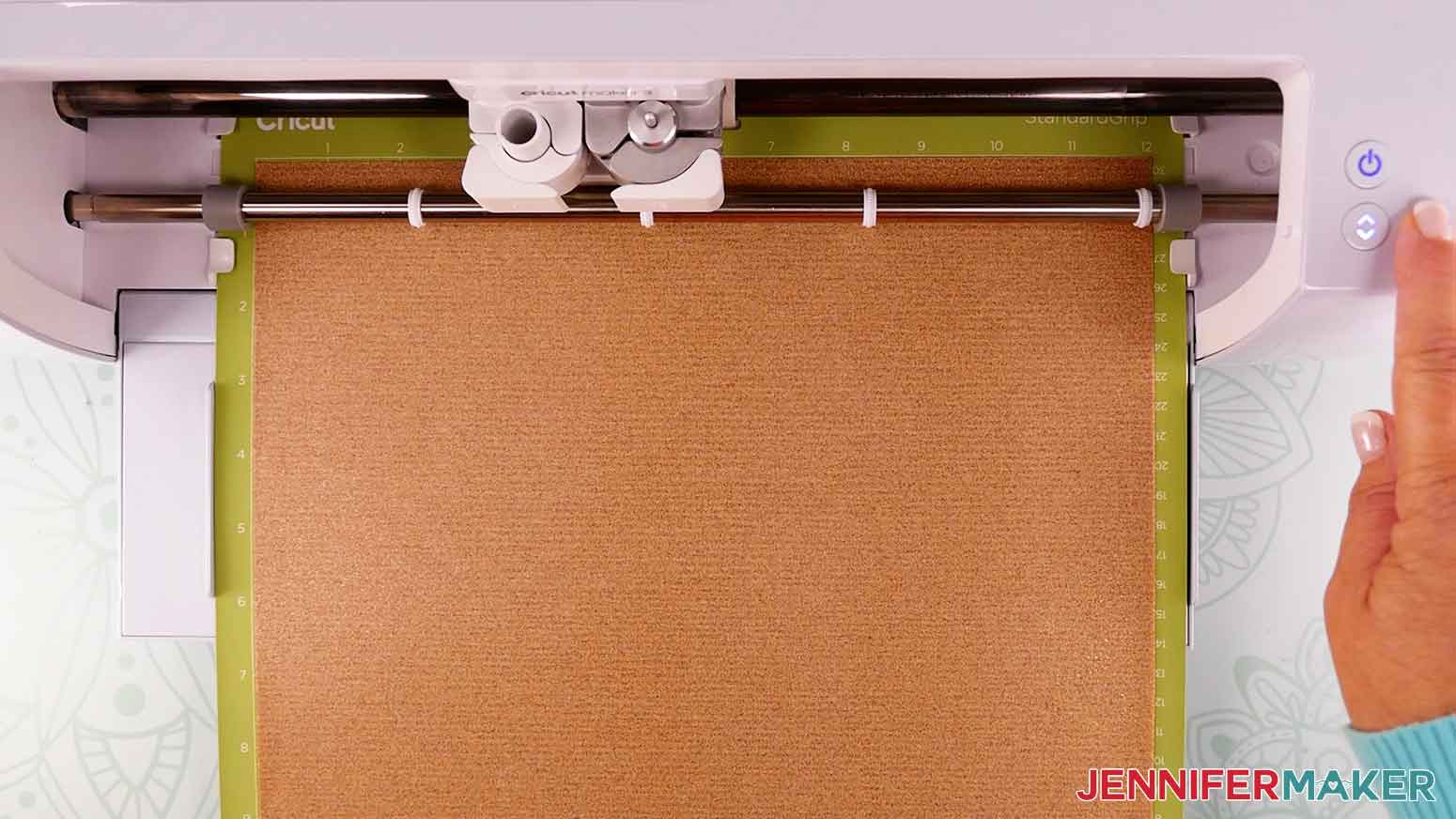 After unloading the mat, it's time to weed our design.

When it comes to wedding intricate glitter vinyl it can be tricky to see the cutlines in the vinyl. I like to use my Cricut BrightPad Go. This model is cordless and super lightweight so I can take it anywhere to weed. There are also five brightness settings which really helps reduce eye strain. Of course you can weed without a bright pad, but I think the light makes weeding glitter vinyl so much easier! I also used some painters tape to hold my design in place as I weeded.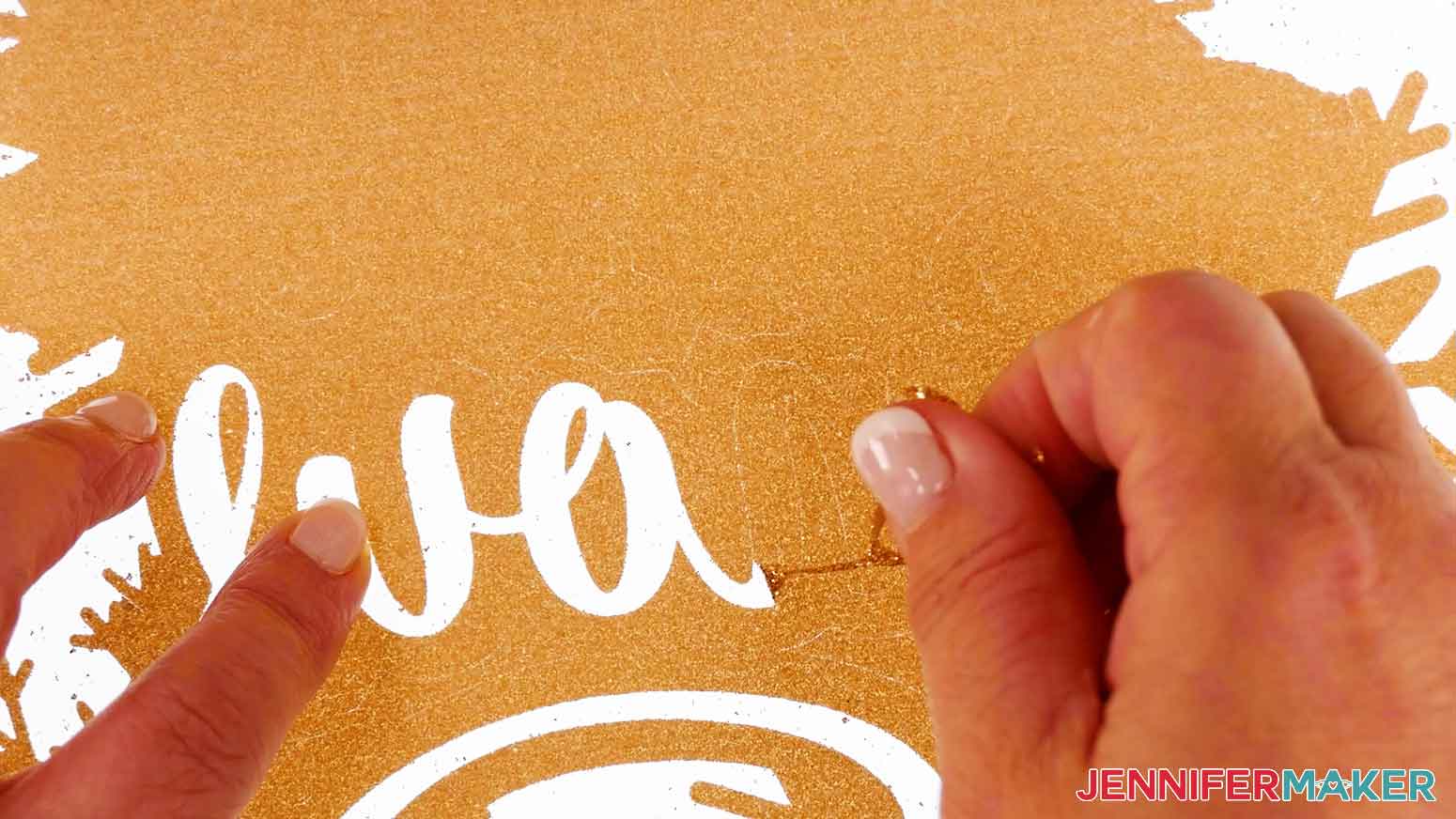 Here's what it looks like when it's all weeded!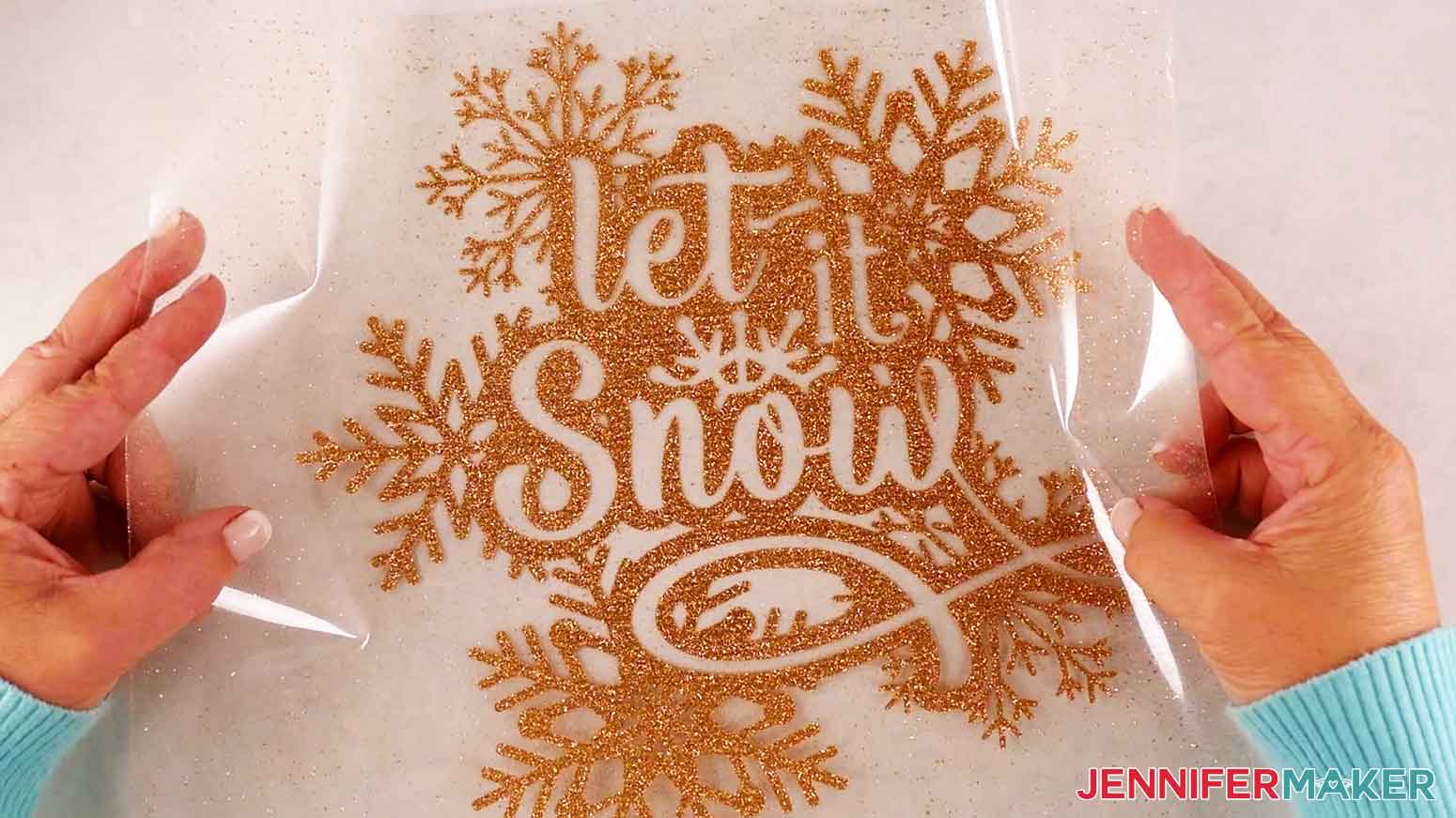 I pressed my "Let it Snow'' design on a pillow using my Cricut Autopress, but you can also use a heat press or regular iron. For step by step instructions on everything you ever wanted to know about heat presses check out my blog at jennifermaker.com/cricut heat presses.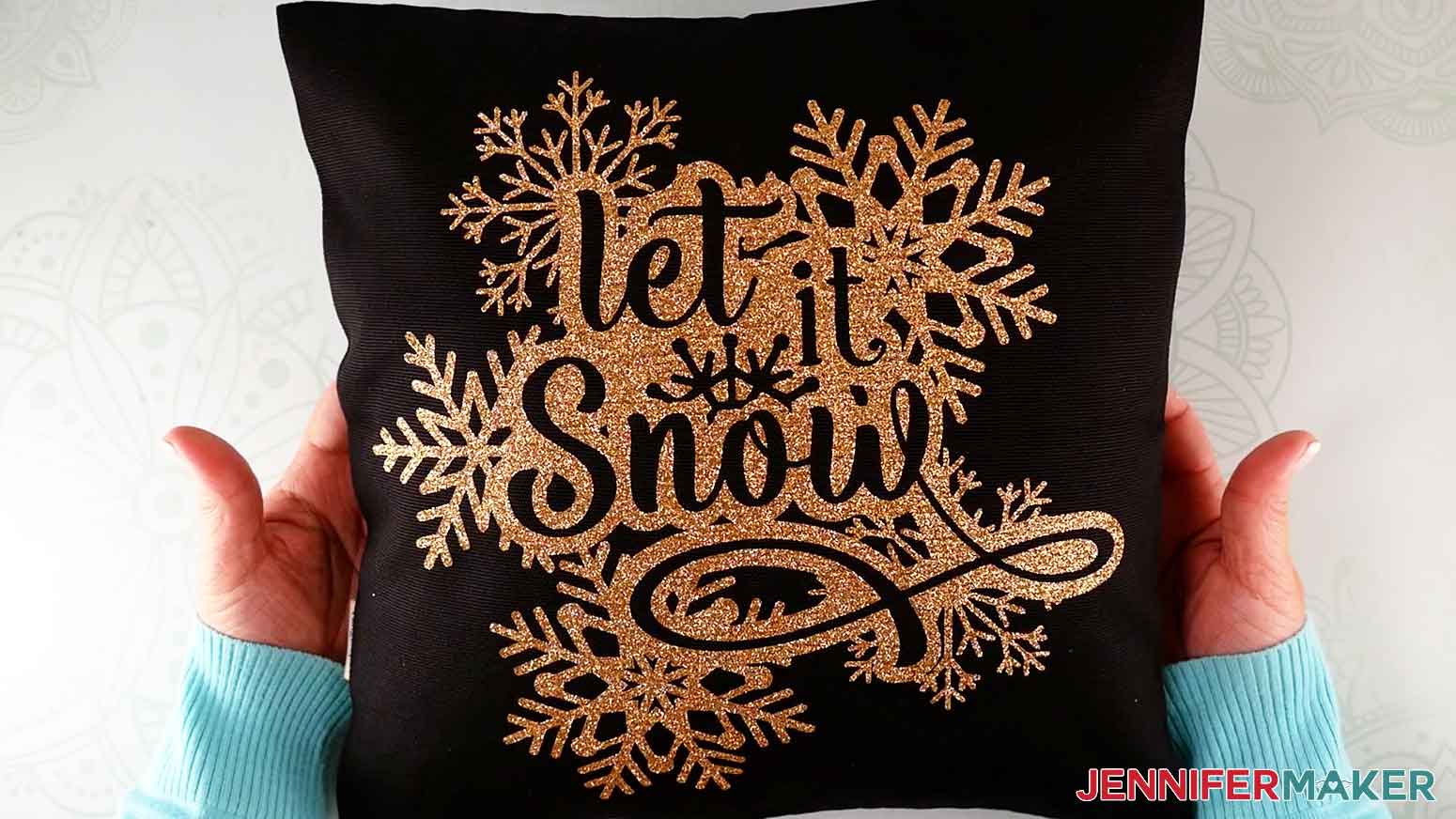 STEP 5: SHOW IT OFF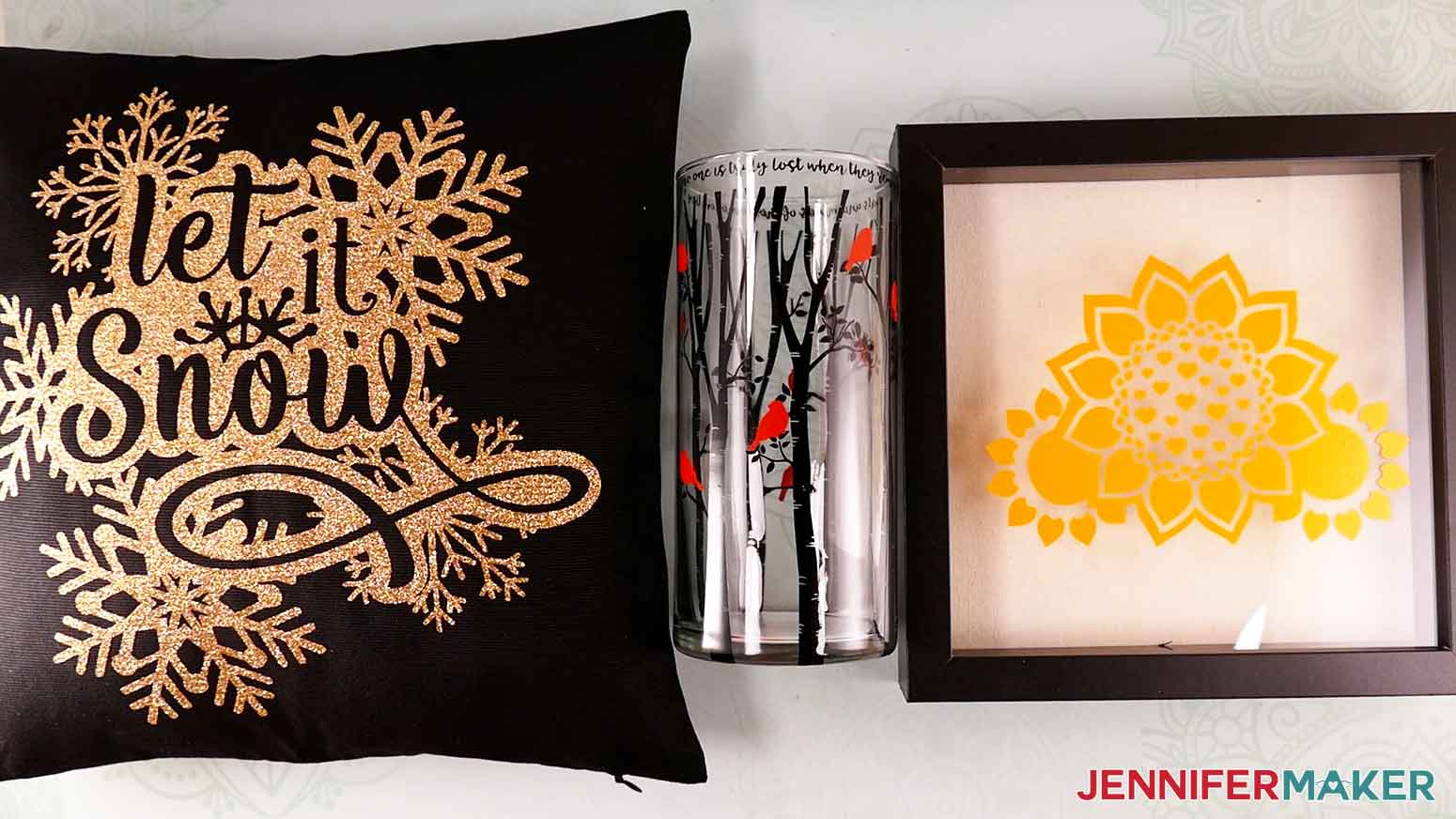 Answers to Your Questions About How to Reverse Weed Vinyl for an Intricate Vinyl Project
Q: What does reverse weeding mean?
A: Reverse weeding is when a crafter moves a cut but unweeded vinyl decal from its original liner to a piece of transfer tape or paper–which is much stickier–and then uses a weeding to to remove excess vinyl. The stickier surface keeps the design elements in place better than the original backing paper, but still releases the negative space easily.

Q: Can you reverse weed permanent vinyl?
A: Yes, I have tips on weeding permanent vinyl with intricate cuts in my tutorial on reverse weeding.

Q: Can you reverse weed iron on vinyl?
A: Iron-on vinyl (also called HTV vinyl or heat transfer vinyl) is essentially reverse weeded from its clear plastic liner, but you can use many of my tips to make it easier.

Q: How do you reverse weed glitter vinyl?
A: For even more tips on weeding glitter vinyl, see my heart mandala tutorial.
Q: How do you make small letters on vinyl weed?
A: I have a few tips for weeding letters, including one that uses a blade to break the removed vinyl into small pieces, which makes them easier to control. Don't forget the insides of the letters!

Q: How do you reverse weed stencils?
A: Instead of removing the negative area, remove the designs themselves for stencil projects.

Q: How do you weed vinyl?
A: Use a tool like a weeding hook to poke, lift, and remove excess material around a vinyl decal.

Q: What is the easiest font to weed?
A: Fonts with thicker lines and minimal details are easier to weed. And don't make them too tiny. Small vinyl letters are often difficult to weed, apply, and read!

Q: Why is it so hard to weed my vinyl?
A: There are many reasons you might have trouble weeding a vinyl project, and some of my best tips are related to getting better cuts with a Cricut!
Q: How do you store HTV After weeding?
A: I keep some large pieces of leftover clear plastic liner to protect the adhesive side of weeded HTV designs if I need to save them for later.
Q: What is Merry Maker Mingle?
Each day in December leading to Christmas, I present you with a brand new "gift" — a project to craft, make, or do. You can make these projects on a Cricut cutting machine or by hand if you don't have one. Most of our Merry Maker Mingle projects will come with a fun video with yours truly, a step-by-step printable photo tutorial, and a free pattern/SVG cut file. Sign up to get daily updates and prizes!
Get my free SVG files to Reverse Weed Vinyl for an Intricate Vinyl Project
I love seeing what you make with my tips on how to reverse weed vinyl and my designs! Please share a photo of your intricate vinyl project in our Facebook group or tag me on social media with #jennifermaker.
Love,