Learn all about bleaching shirts for sublimation!
Have you ever wanted to sublimate onto a shirt that's any color but white? Typically sublimation is limited to white or very light-colored surfaces, but I found the perfect hack. Using bleach to decorate T-shirts isn't just a fun way to add some cool effects — it's also a way to create a light-colored area on a shirt to let your sublimation design shine! But don't grab the bleach just yet! Bleaching shirts for sublimation takes some important steps and safety tips, so let's learn the right way to do it!
Want to save this project? Enter your email below and we'll send the project straight to your inbox.
See the full step-by-step video tutorial on bleaching shirts for sublimation: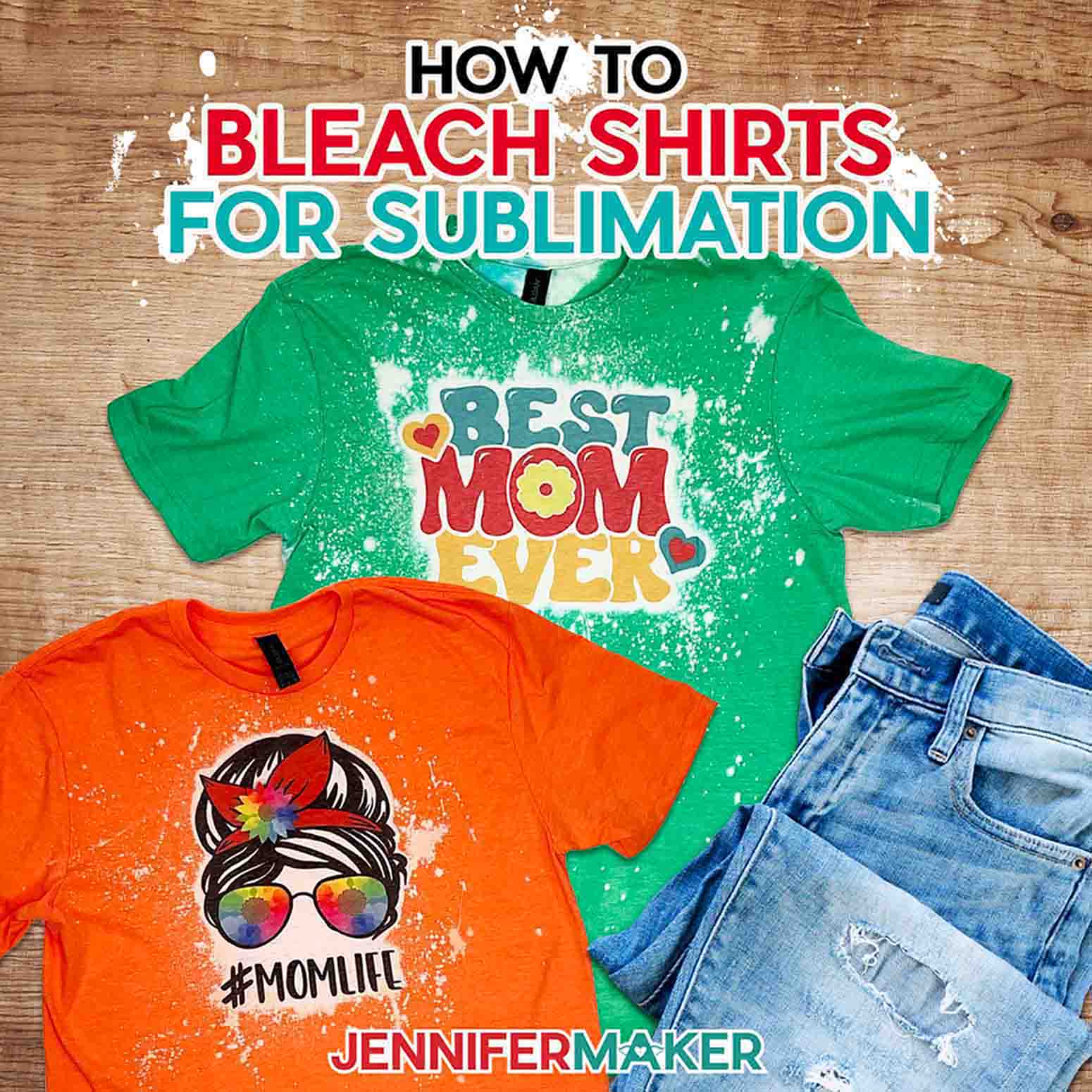 You probably know by now that I'm almost always in the mood for fun T-shirts, and will jump on any excuse to create a new one for my collection. Custom shirts are also a great way to create an ultra-personalized gift – like these super cute tees I designed for Mother's Day!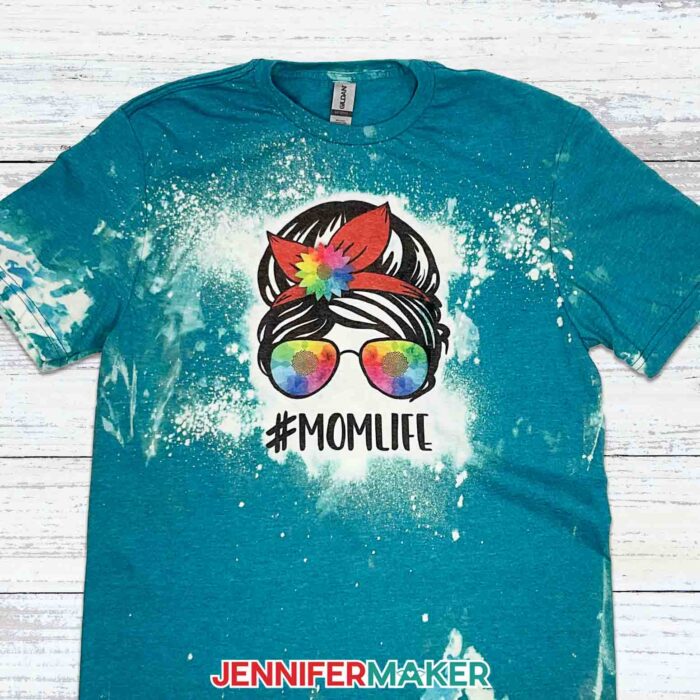 I love the effects you can get with bleach, and I also love sublimating to decorate shirts. I especially love consulting my new Sublimation Cookbook for super helpful recipes on how to sublimate all the things. But most of all, I love combining techniques to create unique NEW ideas!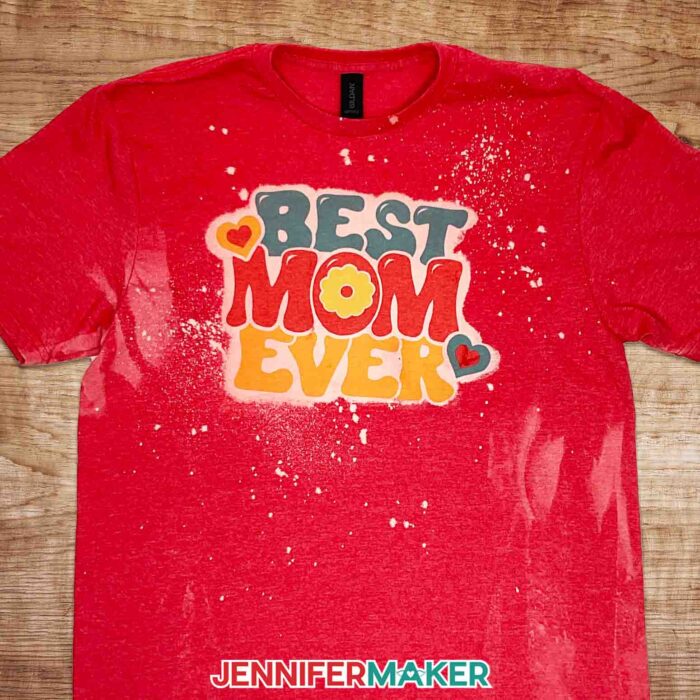 Bleaching shirts creates really neat, edgy-looking results, and no T-shirt turns out exactly the same. That's the beauty of it! This method is especially cool because usually you can only sublimate onto white or very light color fabric. However, bleaching allows you to sublimate onto any color shirt you want, because bleaching out the area you want to sublimate creates a nice light canvas to show off your design.
Best done outside on a sunny day, I'll show you two different ways to bleach shirts for sublimation. But don't worry — you can do this inside, too (with the right safety precautions). The first method I'll show you will create a bleached T-shirt with a design area for sublimation. The second method I'll show you actually involves sublimating first, and bleaching second. It sounds crazy, I know! I'll share which I believe to be the best option, and we'll compare the results!
I'll also show you my favorite unique effects you can achieve using household bleach — including using a paintbrush, cornstarch, a spray bottle, and even a scrunch method reminiscent of tie dye patterns!
Before you get started, make sure you have the right safety equipment, because bleach can be dangerous. Protective goggles, a respirator, a vinyl apron, disposable cups, paper towels, and gloves will make handling bleach safer, and working outside is the best way to address the fumes.
If you have no choice but to work inside, you must have excellent ventilation or you should not attempt this. Keep windows wide open and turn on a fan to help ventilation. You need maximum ventilation and you must wear a respirator. Garbage bags work to protect your work area, too! And have a bucket and a mixture of water and hydrogen peroxide (10 parts water, 1 part hydrogen peroxide) nearby to stop the bleaching process when the timer dings!
If you're familiar with sublimation, you know that you'll need a polyester shirt. But if you're familiar with bleaching, you know that bleach works best with cotton shirts. So, what's a crafter to do?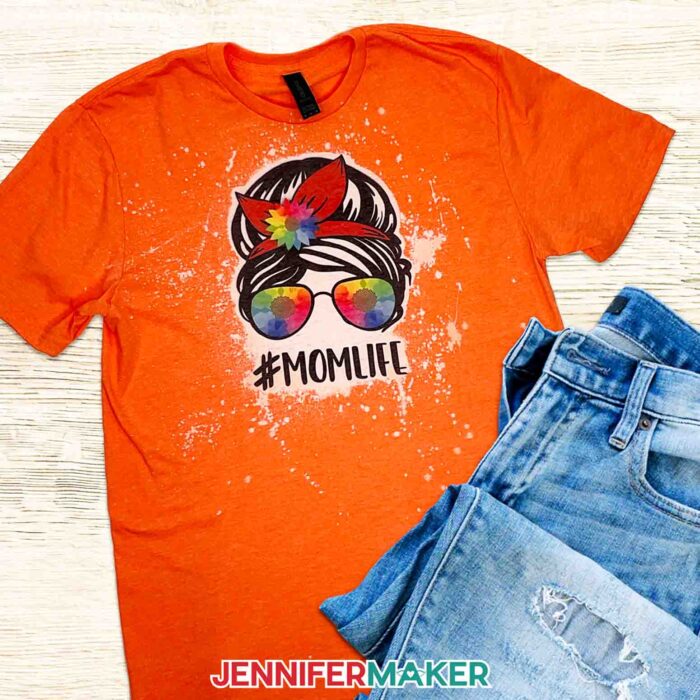 Don't worry, I have the answer! The most important thing, the key for best results, is using a shirt that's a polyester and cotton blend. But not just any cotton/poly blend, the best shirts to use when sublimating and bleaching are 65% polyester and 35% cotton. Seems specific, right? It may be, but it's also the perfect compromise between the two materials, with the high polyester content allowing for successful sublimation, and the cotton content is high enough to yield awesome bleaching effects!
Typically these perfectly blended shirts are heathered, like the dark heather shirts I link to in my materials list. I have heard that some of the shirts in these listings do not bleach well. Always check that the shirt is at least 65% polyester for results like mine. The fiber content isn't always the same depending on the color.
To create your bleached and sublimated T-shirt, you'll need a sublimation printer. This is a special printer designed to print sublimation ink — regular inkjet printers and ink won't work for sublimation. And remember, the printed design might look dull at first, but they brighten right up on the final project! And with a bleached area, the T-shirt's color won't interfere!
You'll also need a heat source like a Cricut EasyPress with a pressing mat, Autopress, or traditional style heat press. You cannot sublimate with a household iron, as it doesn't get hot enough.
If you don't have a sublimation printer, you can use infusible ink transfer sheets, infusible ink pens, order a sublimation transfers from makers online, or use heat-transfer vinyl instead! If you go the vinyl route, be sure to bleach first, then apply the design after. It works really well as stencils for negative space designs, too!
There are some other supplies you'll need like bleach, paintbrushes, a spray bottle, water/Hydrogen Peroxide mix, garbage bags, and more that you'll find in my materials list below. If you don't want the bleach to discolor the back of the shirt like the green example, put some foam board or cardboard under the front of the shirt.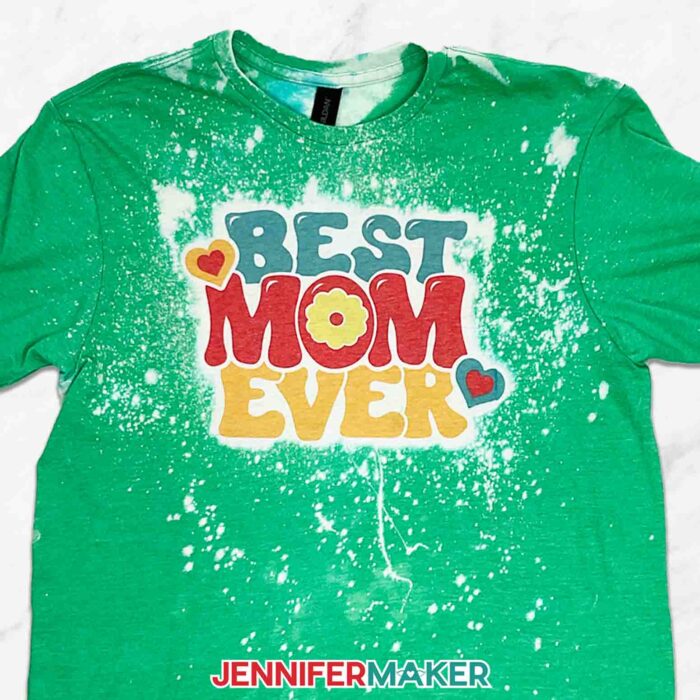 Ready to learn about bleaching shirts for sublimation? This post contains some affiliate links for your convenience (which means if you make a purchase after clicking a link I will earn a small commission but it won't cost you a penny more)! Read my full disclosure policy.
Materials & Tools for Making a Bleached Sublimation Shirt
View my Amazon shopping list with the exact items we used to make this project! (you can also watch my Amazon video that shows you what exactly each time looks and feels like here)
For bleaching:
Gildan Softstyle T-Shirt in Heather Galapagos Blue, Heather Red, Heather Orange, or Heather Irish Green worked well for my bleach sublimation shirts. NOTE: I have heard that some of the shirts in these listings do not bleach well. Always check that the shirt is at least 65% polyester for results like mine. The fiber content isn't always the same depending on the color.
Hydrogen Peroxide (important: only use this with bleach when mixed with water at the ratio of 10 parts water to 1 part hydrogen peroxide)
Optional – Foam Board to protect the back of the t-shirt (I used foam board from Dollar Tree) but, an old cardboard box cut to size will also work
Spray bottle (for bleach)
Respirator (R95 rated respiratory mask) for protection from fumes
Goggles for eye protection while bleaching
Excellent Ventilation – it's best to bleach outside, but if you must be inside, use a fan and wear a respirator
Gloves, such as long dishwashing gloves (to protect your skin when rinsing your bleached shirt)
Design #492 – My free sublimation & HTV design files are available in my free resource library (get the password by filling out the form at the bottom of this page)
For sublimation:
How to Make a Bleached Sublimation Shirt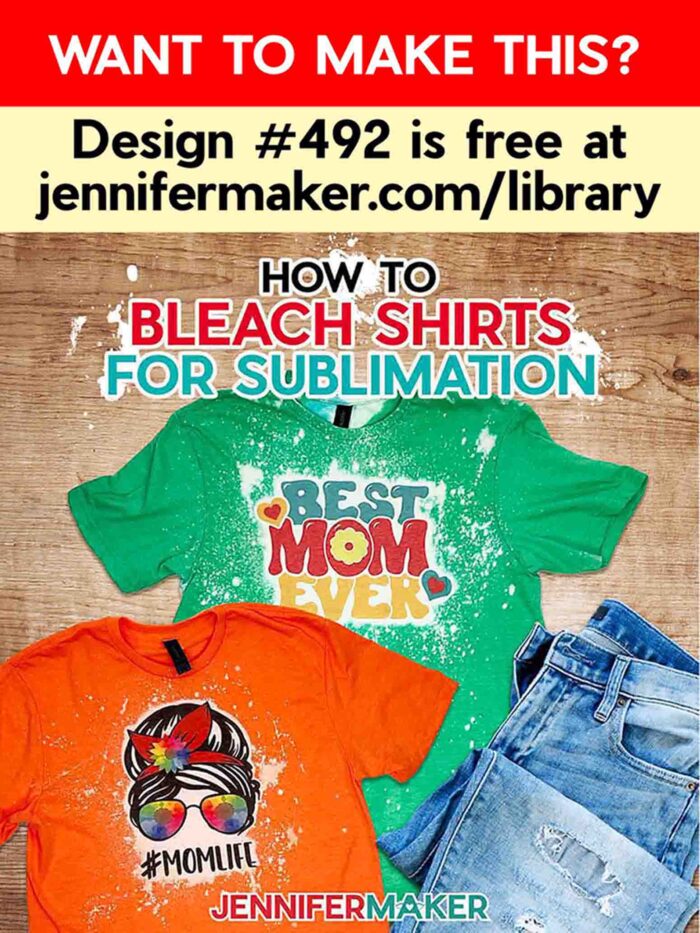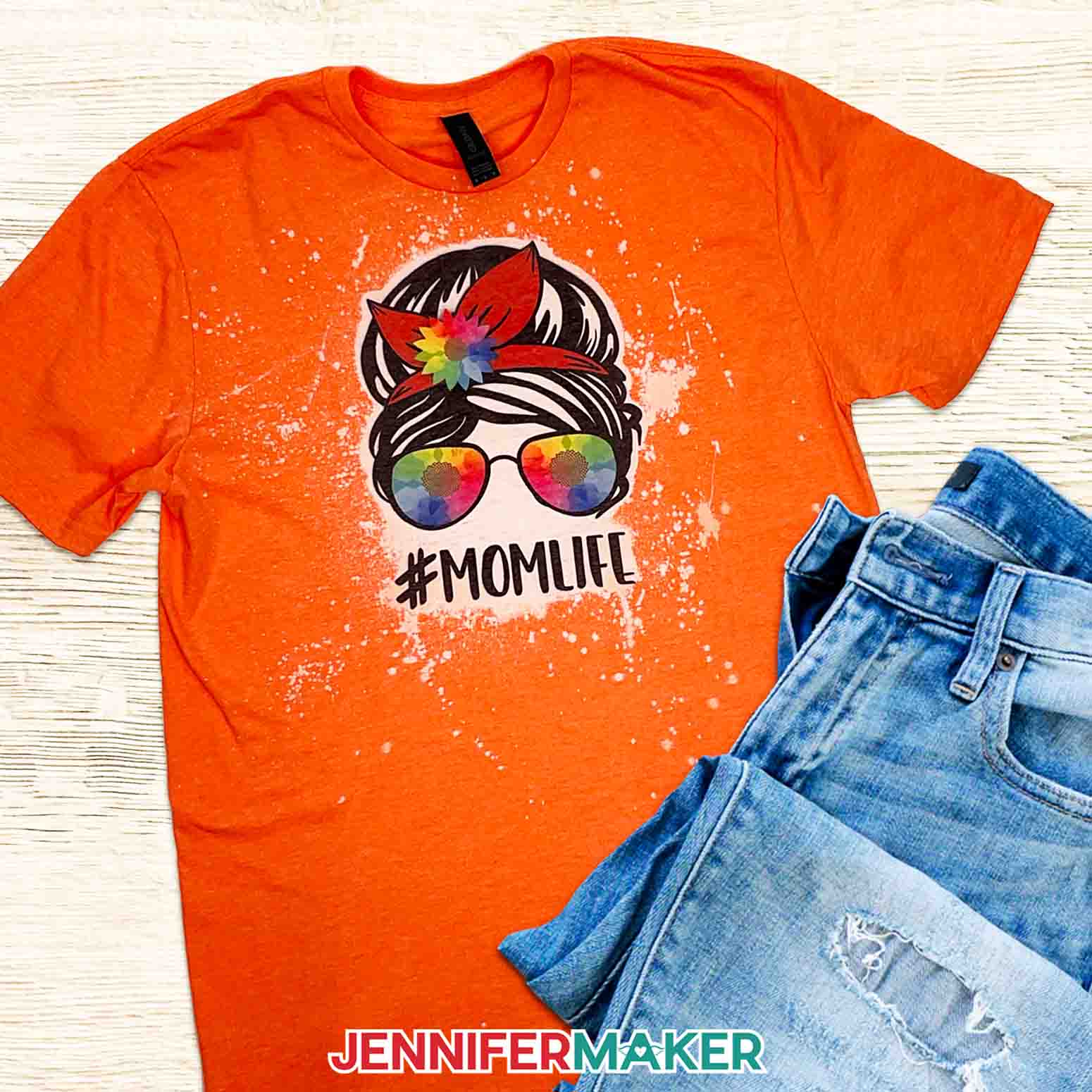 How to Bleach Shirts for Sublimation
Total Time:
1 hour
40 minutes
I'm using several techniques to bleach T-shirts. It's great to have some bleached shirts on hand to decorate with HTV or sublimation!
Answers to Your Questions About Bleaching Shirts for Sublimation
Q: Do you bleach shirts before or after sublimation?
A: You can bleach before OR after sublimation, and this tutorial will show you both ways. Which one is the best way? Personally, I found I got better results overall when I sublimated first and did the bleaching process second.
Q: What type of shirt is best for bleaching for sublimation?
A: When bleaching for sublimation, it's important to choose a shirt with high enough polyester count to hold the sublimation, but also enough cotton to bleach. I often find that T-shirts in heather colors contain the right blend of fabric really ideal for bleaching for sublimation. Shirts that are 65% polyester, 35% cotton are a great option. Always check the material on your specific shirt before beginning any project like this. Colors do matter! For example, black shirts might be slightly more yellow after bleaching.
Q: Do you use peroxide after bleaching shirts?
A: After your bleached shirt has lightened to your desired color, you'll want to dunk it in a mixture of peroxide and cold water, with 10 parts water to 1 part peroxide. This halts the bleaching process immediately. Your shirt only needs to sit in the solution for a minute or two, and then it's ready to wash in your washing machine.
Q: How long do you leave bleached shirts in peroxide?
A: Because the peroxide/water mixture stops the bleaching process immediately, you only need to leave your bleached shirt in the solution for a minute or so, until it's fully saturated. Then, remove it from the mixture and put the shirt in the washing machine by itself (unless you've been bleaching other shirts too, then you can wash them all together). Wash on cold with mild detergent, then hang dry or tumble dry low.
Q: How long should you let bleach sit on a shirt?
A: Depending on the shirt, it usually takes 5-10 minutes to see the lightening results of undiluted bleach when bleaching shirts for sublimation. You can leave the bleach on longer, but be warned that prolonged bleaching may weaken or damage the fabric, or cause it to wear out faster than normal.
Q: Can you over bleach a shirt?
A: Yes, you can over-bleach a shirt. Over-bleaching a T-shirt can cause the fabric to weaken, become damaged, yellowed, or even develop little holes. When bleaching shirts for sublimation transfers, your bleach should only sit on the shirt a maximum of ten minutes or so.
Q: Do I need to dilute bleach to bleach a shirt?
A: In short, no. You don't need to dilute your bleach, but you can if you want. Diluting the bleach makes the bleach thinner and more easily absorbed into the shirt, and it can help a clogged spray bottle of bleach to spray better and more evenly. It can however significantly impact the time it takes to achieve your desired results.
Q: Can you mix bleach with hydrogen peroxide?
A: No, hydrogen peroxide should never be mixed directly with bleach. It can create toxic gases that are dangerous. Do not mix hydrogen peroxide directly with bleach. You can only use hydrogen peroxide with bleach if you first mix the hydrogen peroxide with water in a ratio of 10 parts water to 1 part hydrogen peroxide.
Q: How long do you sublimate on a bleached shirt?
A: Sublimating on a bleached shirt follows the same time and process as sublimating on any other T-shirt. I recommend pressing with light pressure for 40 seconds at 385°F (196°C) if using the Cricut EasyPress, or 400°F (204°C) for 45 seconds if using the AutoPress.

Q: How can I learn more about sublimation?
A: Can't remember how long to press that sublimation blank? Not sure what order to stack your layers? Confused about how to get the best transfer? The Sublimation Cookbook guide can help, with step-by-step sublimation printing project recipes for over 150 different sublimation blanks. Each of these "recipes" show you exactly what to use, how long to press, how hot to press it, and how to take care of your sublimated project for long lasting results.
Get my free PNG files for Bleaching Shirts for Sublimation!

I'd love to see YOUR awesome results from bleaching shirts for sublimation! Please share a photo in our Facebook group or tag me on social media with #jennifermaker.
Love,