Learn how to use DTF film and transfer powder to safely make a cotton sublimation shirt at home!

Sublimation is SO cool, but the requirement to always use polyester is frustrating. A couple of months ago we talked about several different ways to sublimate on cotton, and I shared the cotton sublimation techniques that worked the best (and lasted the longest in the wash). So what if I told you I found ANOTHER way to sublimate onto 100% cotton and it didn't require putting any HTV onto your shirt first? You CAN do it by combining a special film (called DTF film) and transfer powder. In this tutorial, I'm going to show you exactly to sublimate onto a cotton T-shirt using the DTF method at home for Day 6 of our Merry Maker Mingle!
Watch the full step-by-step DTF T-Shirt Printing at Home tutorial at the link below: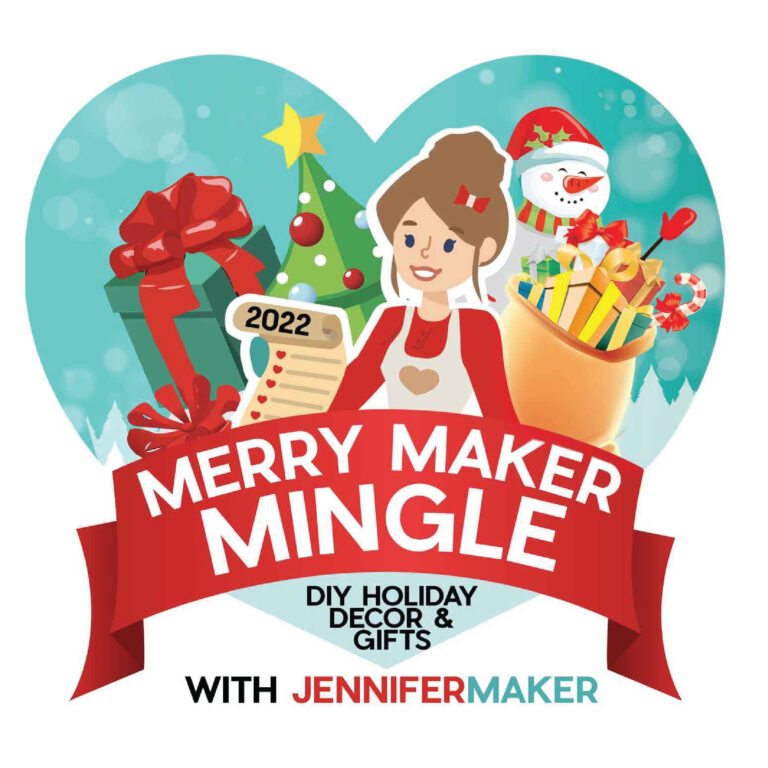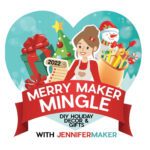 What is the Merry Maker Mingle?
This is an
annual tradition
here at JenniferMaker! Every day for the first 25 days of December, we gift you with a brand new project, design, tutorial, and video for something YOU asked us to make. On top of that, we host a giveaway with 25 days of prizes. Some of the amazing prizes are
Cricut cutting machines
, sewing machines, gift cards, and beautiful
print editions of our popular Cricut Coach Playbook
. You can even earn bonus entries for sharing photos of the daily projects!
Click here to learn more about the Merry Maker Mingle!
Let me show you how to sublimate on cotton with this DTF film and transfer powder hack! This post contains some affiliate links for your convenience (which means if you make a purchase after clicking a link I will earn a small commission but it won't cost you a penny more)! Read my full disclosure policy.
How to Make Your Own DTF Sublimation Shirt at Home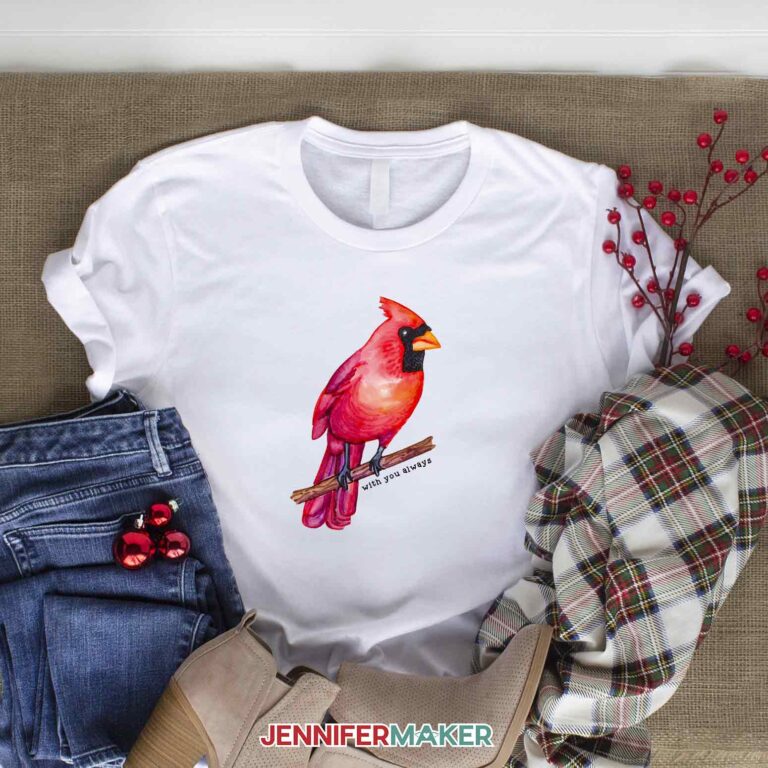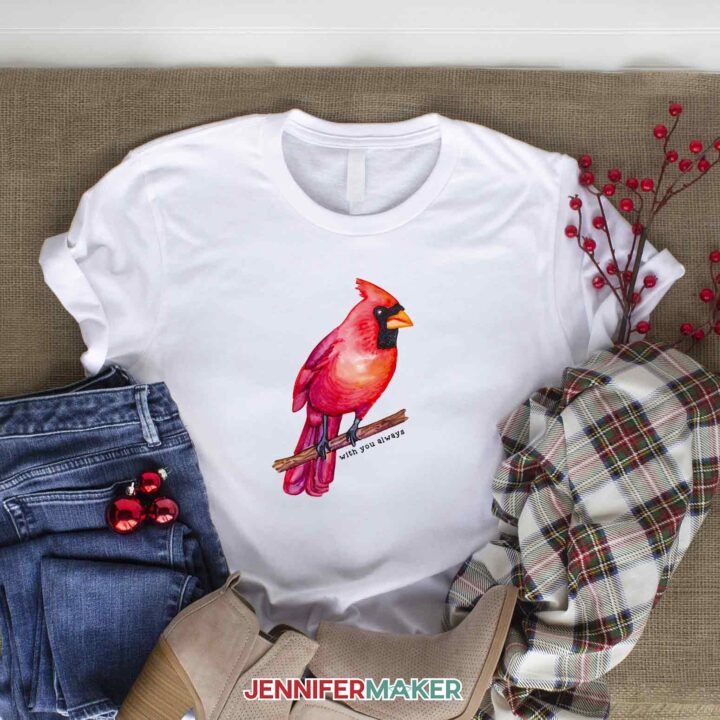 DTF Sublimation on Cotton Shirts
How to use DTF (direct to film) technology to sublimate in full color on cotton shirts!
Instructions
Step 1: Get a Sublimation Print Ready
* Find a Sublimation design you want to use. If you want to use my cardinal design, you'll find it in the library as design #446.
Step 2: Prep Your Area
* Get your film ready. Check to see if it feeds through your printer by printing a blank sheet. If it does not, tape it to a piece of copy paper at the top leading edge.
* Get your work area ready
Step 3: Print and Powder Your Project
* Put on your protective gear -- respirator, gloves, goggles, and apron, and be sure you have good ventilation.
* Print your sublimation design on the matte, non-shiny side of the film
* Immediately put powder on the ink and wipe off excess, then put powder away. Keep your protective gear on.
* Heat your powder/ink on the film. I did it by hovering my heat press set to 385°F over my film (without touching) for 10 seconds. You could also do it in a convection oven that you aren't using for 2-3 minutes at about 285°F.
* Cut your design out of the film with at least 1/2" margin around it -- this helps you avoid getting extra ink anywhere.
Step 4: Sublimate Your DTF Design
* Pre-heat your shirt and position your sublimation film FACE DOWN.
• Cover your shirt with butcher paper to protect your press from blow out.
* Press at 385°F for 40 seconds
• Wait until the film cools down, then peel the film off. Enjoy!
Answers to Your Questions About DTF Printing on Cotton
Q: What kind of sublimation paper do I use for DTF?
You want to print on DTF film, not sublimation paper, for this technique.
Q: What kind of sublimation ink do I have to use for DTF?
While there is special DTF sublimation ink out there, we are not using it in our printers in this tutorial. Instead, we are putting a special transfer powder onto our wet sublimation ink as soon as it comes out of the printer.
Q: How well does a DTF shirt do in the wash?
Great question! We're washing this shirt right now and we'll update you here as to its condition.
Get my free PNG files for the beautiful watercolor cardinal design.
I love seeing what you make with my designs and how you use them! Please share a photo of your sublimation projects with our cardinal in our Facebook group or tag me on social media with #jennifermaker.
Love,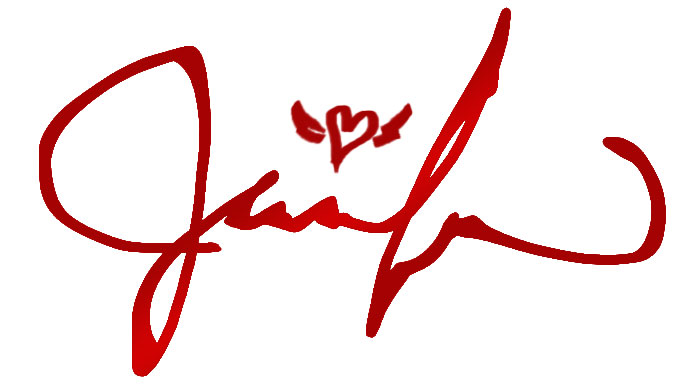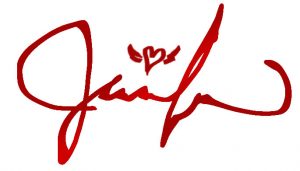 Want to remember this? Save this DTF T-Shirt Printing at Home Sublimation Hack Tutorial to your favorite Pinterest Board!