Ah, love is in the air. Each month this year I am designing a new paper lantern/luminary design. This month's DIY paper lanterns are inspired by many things—Valentine's Day, all of the upcoming weddings, and a special anniversary of my own. This design features many hearts flying up and around the lantern in swirls. Some hearts are simple, some are complex, some are broken, and some are full. But all hearts on this DIY paper lantern represent love and light.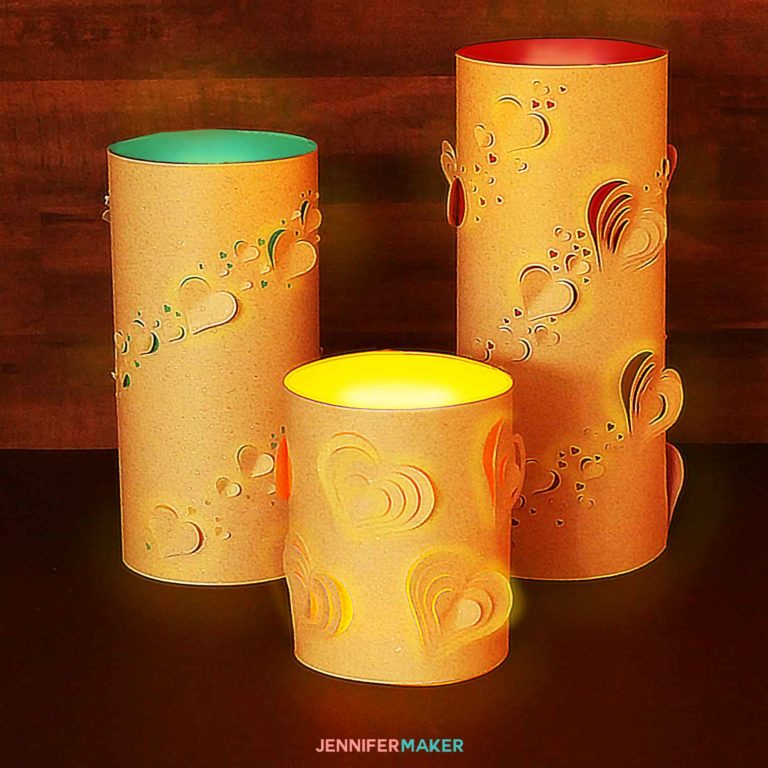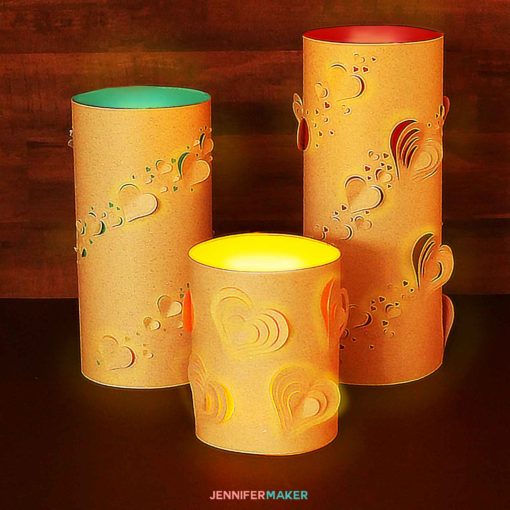 I think this would be a lovely DIY paper lantern for many occasions. Use it to honor the passing of someone you love. Use it as a knock-out centerpiece at a wedding. Or just display it on your desk as a reminder of all of your loves. The possibilities are endless.
Here is reader Megan Barrett's heart lanterns… so adorable!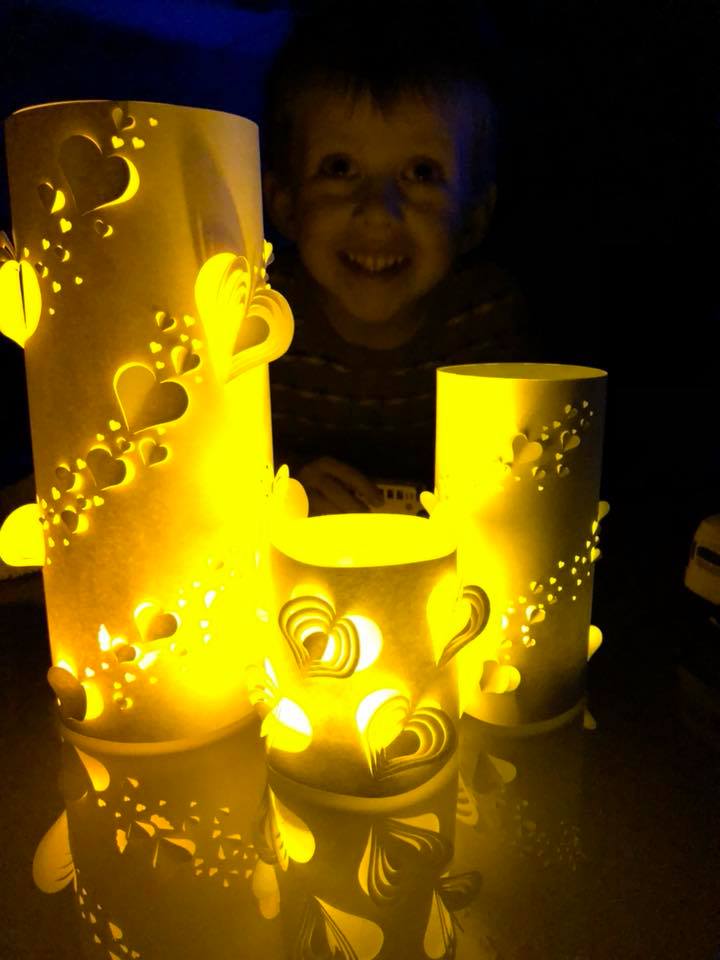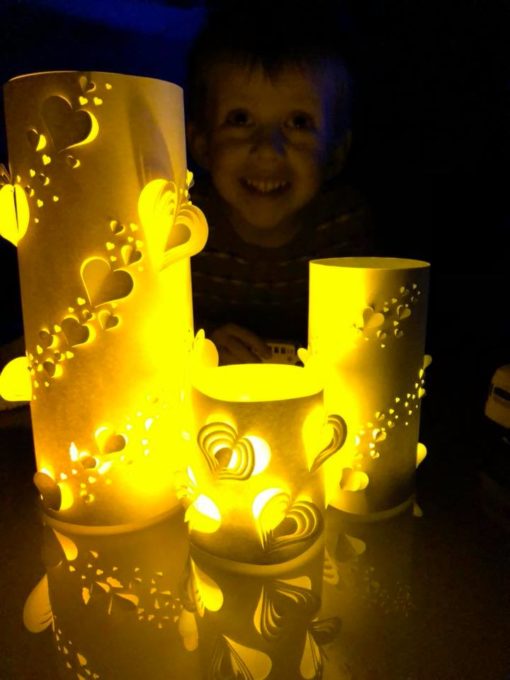 Here are two fun ways you can use this, besides just putting an LED tealight into it. The first is something I did right after I made it — I discovered that this lantern fit right over my aromatherapy essential oil diffuser. With it's color-changing LED, it's even better than a tealight! If you want to get this LED diffuser, I've linked it in my materials list later in this post.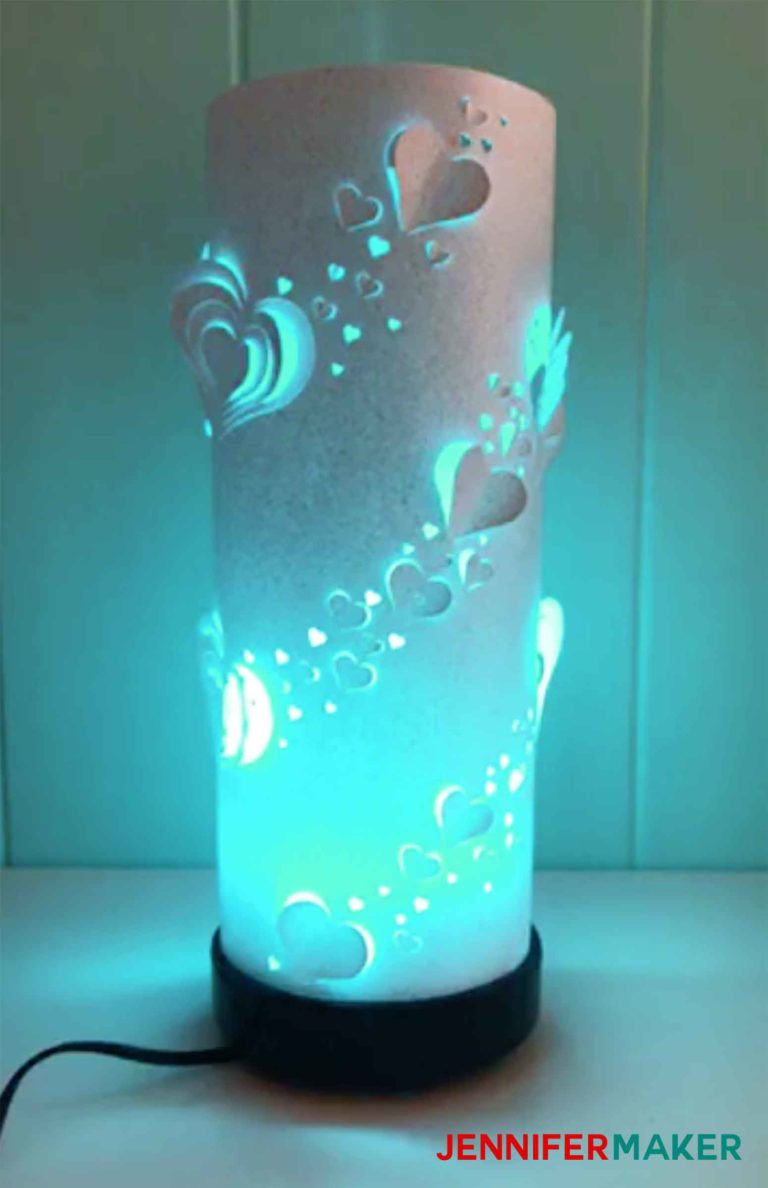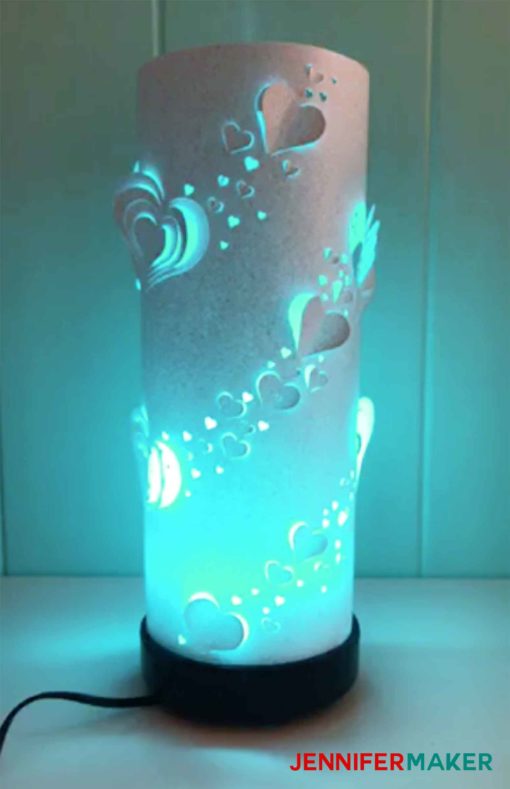 The second way was thought up by reader and supporter Sue Reeve, who got the idea to put it over a wine bottle—this would be a great way to gift a bottle of wine or bubbly!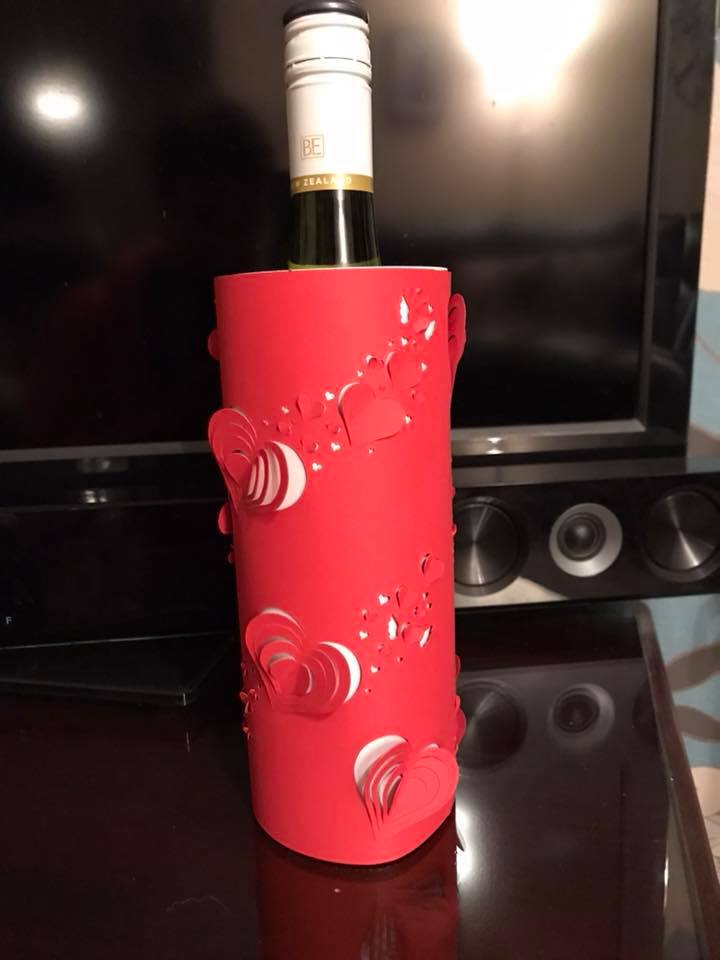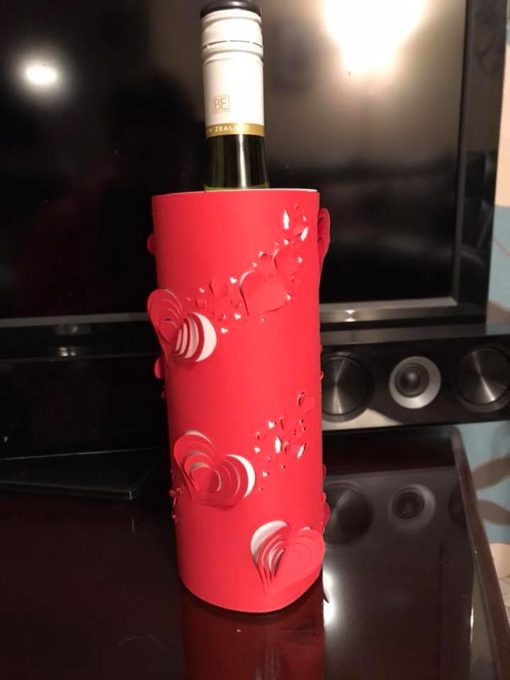 Like all of my lanterns in my "Make the Light" project, this DIY paper lantern contains a puzzle. If you solve it successfully, you'll unlock the two smaller variations of the DIY paper lanterns. So to get this deluxe version, download the basic version (the larger one) , upload it to your favorite design software (such as Cricut Design Space), and look carefully at the design. Four of the hearts have something different about them? What do they have? Type your answer (all uppercase, no spaces, one word only) at this page: Hearts in Flight Lanterns Access. (Hint: The word is plural, not singular)
So let me show you how to make the Hearts in Flight Paper Lantern! This post contains some affiliate links for your convenience (which means if you make a purchase after clicking a link I will earn a small commission but it won't cost you a penny more)!Read my full disclosure policy.
Materials for the Hearts in Flight DIY Paper Lantern
65lb. cardstock (I used white glitter cardstock)
Colored vellum (if you don't have any, paint your vellum with alcohol inks or just use regular copy paper, or nothing at all!)
Some sort of weeding tool (you can use a toothpick if nothing else)
Tacky glue or tape
LED tealights to put inside your lantern -OR- an LED aromatherapy diffuser (this one fits perfectly)
A way to cut your paper (I used a Cricut)
Design #91 – My free SVG cut file/pattern (available in my free resource library—get the password at the bottom of this post)
How to Make Your Hearts in Flight DIY Paper Lantern (Basic Version)
First, download Design #91 which is the pattern for this project from my free resource library. If you're going to cut it out on your cutting machine, upload the file to your design software. If you're not sure how to upload an SVG cut file to Cricut Design Space, watch this helpful video training series I made.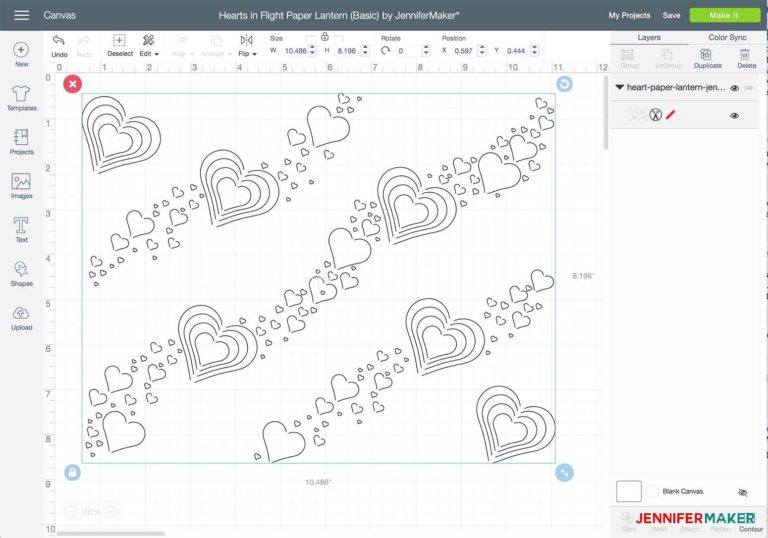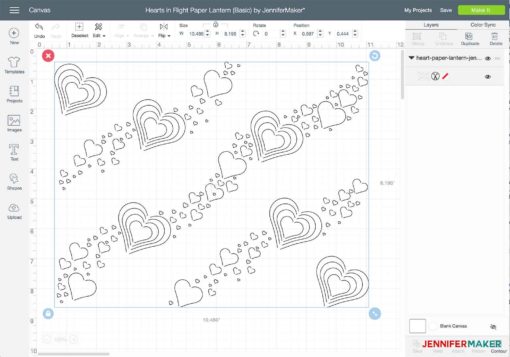 Cut out your cardstock. This is an easy project to cut on a cutting machine like a Cricut — there are no layers or score lines to worry about. Just upload and click Make It.
Note that that these lanterns are intended to be cut on a piece of 8.5″ x 11″ paper placed on your cutting made in the landscape position. If you do that, you don't have to worry about sizing or anything.
Once your cardstock is cut, you'll need to weed out all of the little hearts. For the larger hearts, carefully fold back each side so the hearts stand up off the surface of the paper. The easiest way to do this is to bend the paper a bit so you catch one side of the heart under your finger, then gently fold it up while pressing on the center of the heart. I used my Cricut BrightPad to weed—worked great!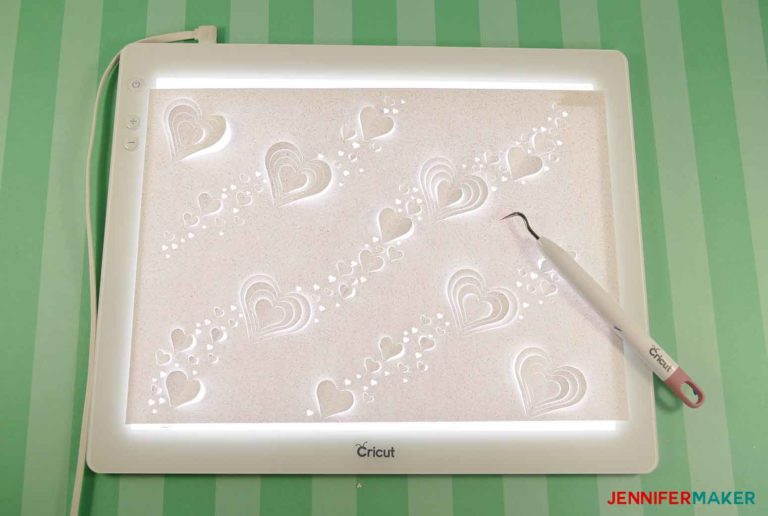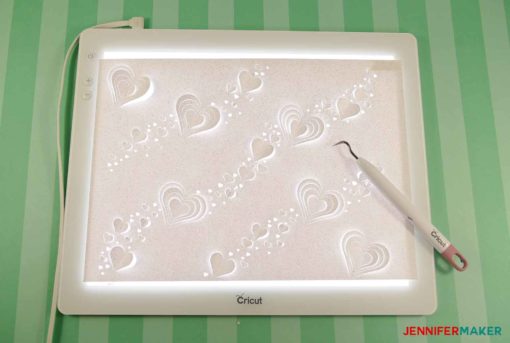 Once all of your hearts are either pushed out or bent up, gently bend your paper into a cylinder and tape or glue it closed. You may find it helpful to put the paper around something cylindrical while you do this, such as a candle or bottle.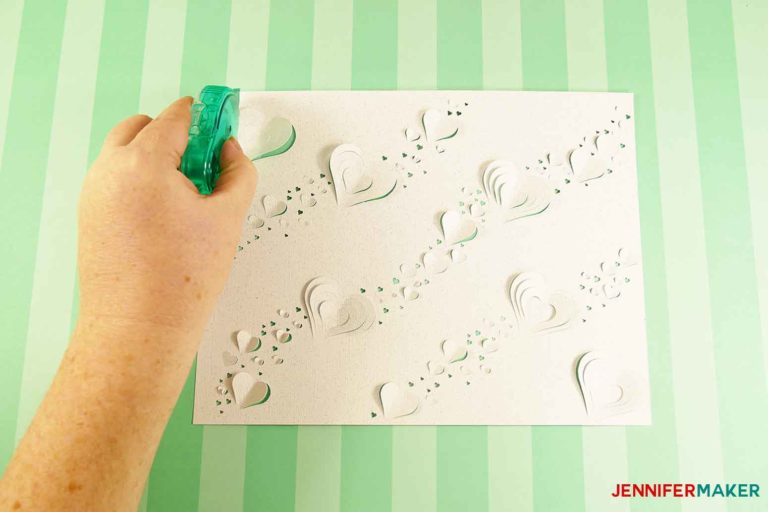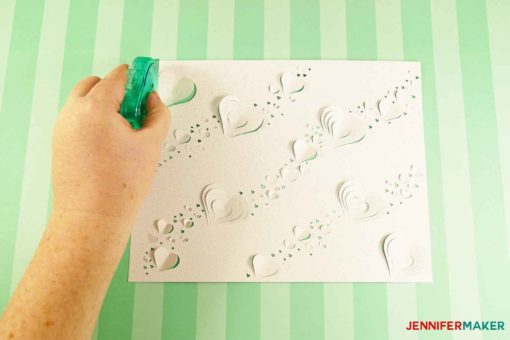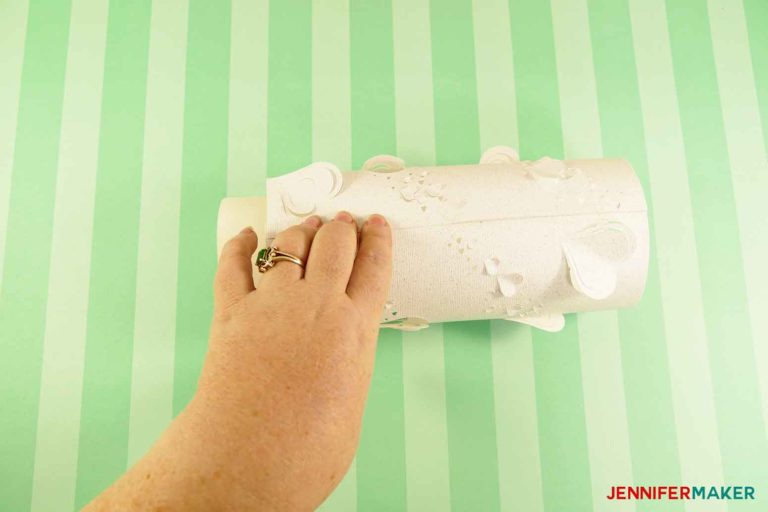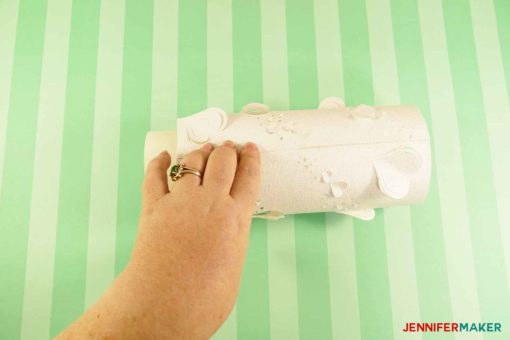 You can enjoy your DIY paper lantern as is now, or add some extra color by inserting an 8.5″ x 11″ colored vellum or paper. I like it both "naked" and with the colored insert!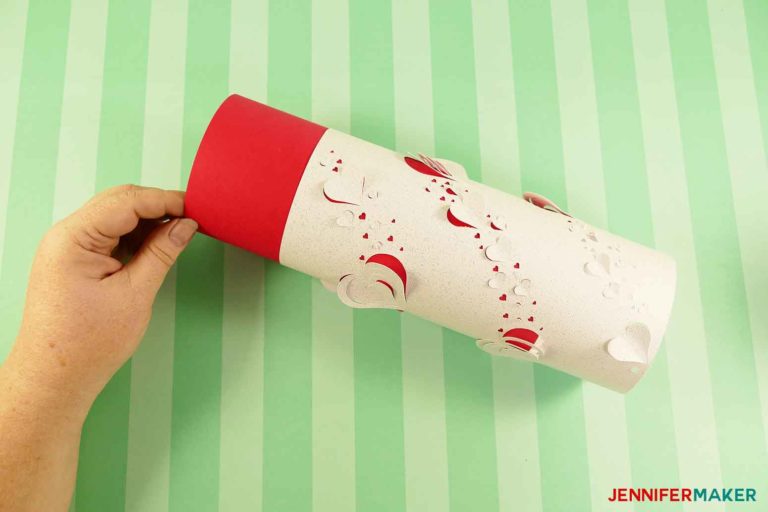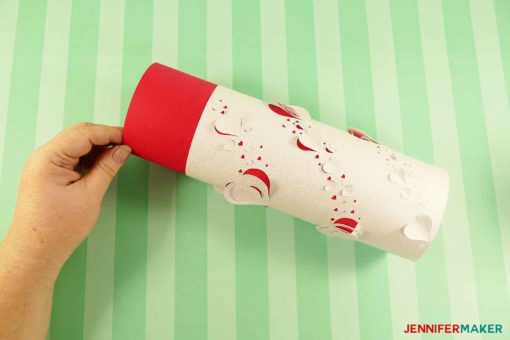 Insert an LED light and enjoy your hearts in flight!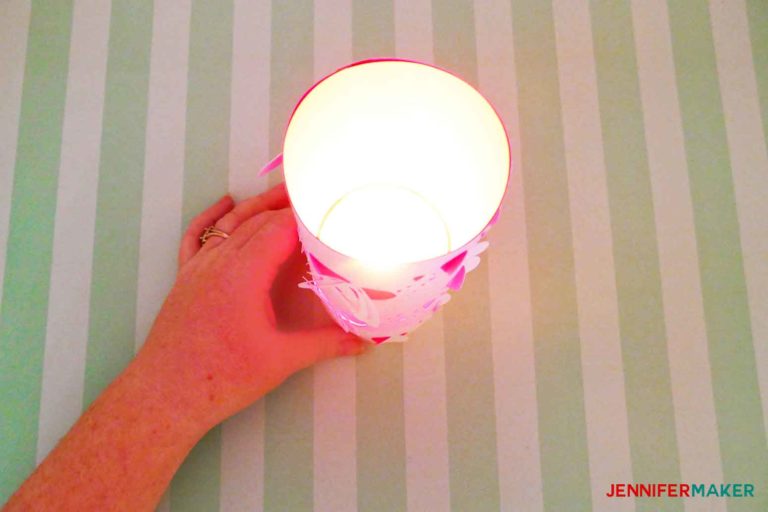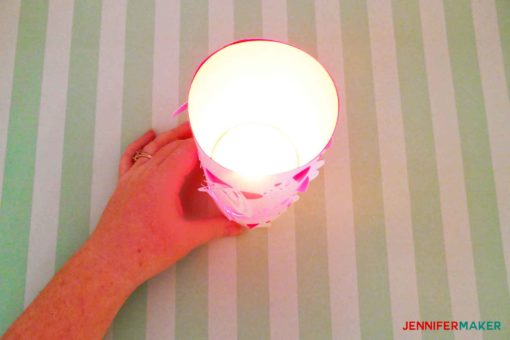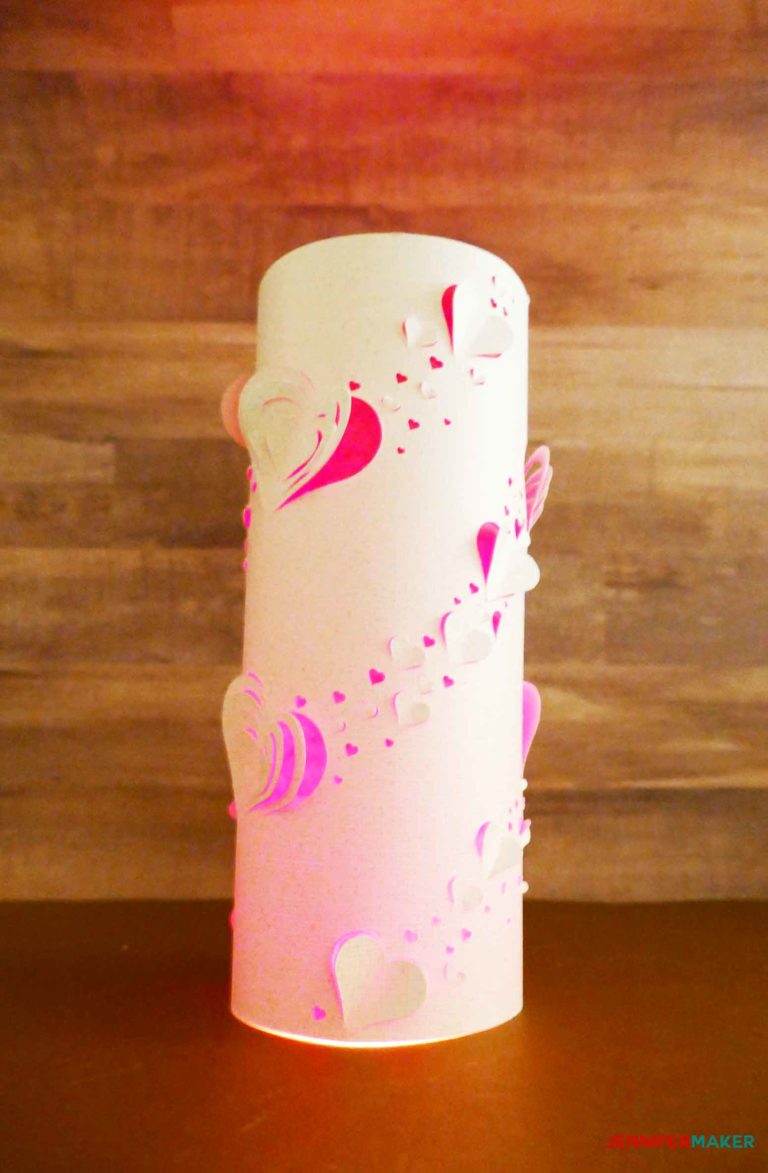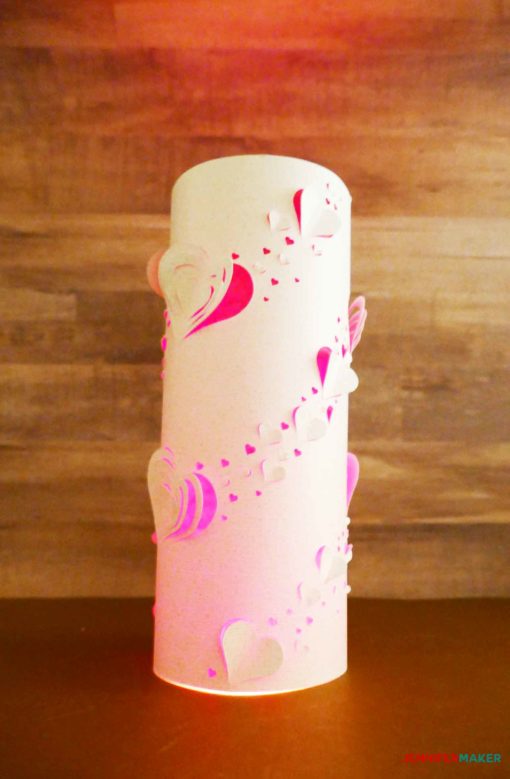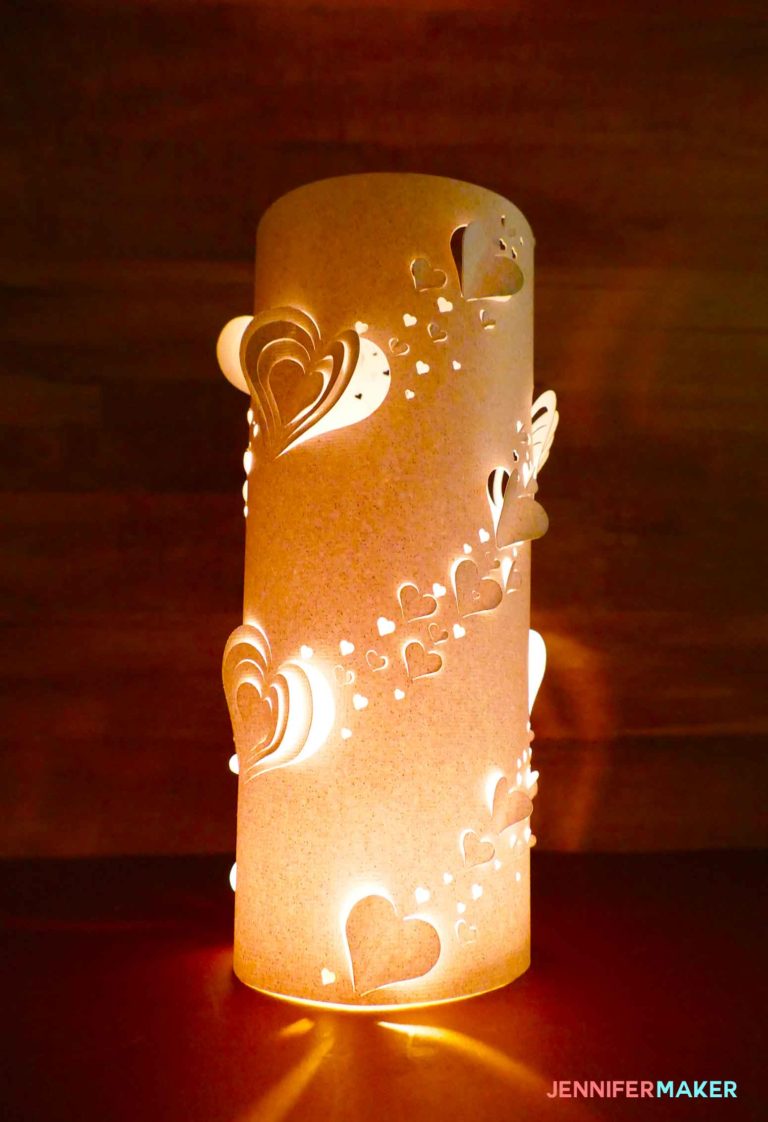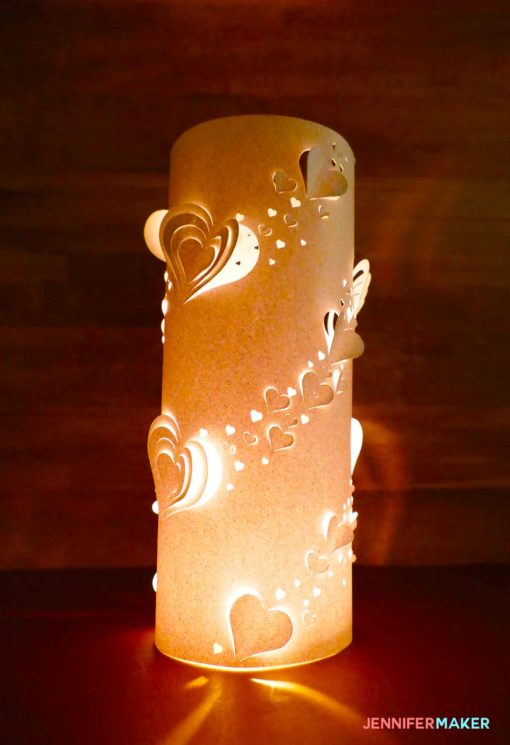 Get my free cut files for the Hearts in Flight DIY Paper Lanterns

If you make these DIY paper lanterns, please do send me a photo at [email protected] or tag me on social media with #jennifermaker. If you do, I'll add your name to my Master Lantern Makers list!