It's hard to get me out of my craft room these days. I'm always coming up with fun ideas on how to store my craft supplies and tools. I recently put up a large framed pegboard and it's REALLY improved the room. I just grin every time I see it. But now that I have this huge pegboard, I need fun and cute ways to store my things on it. Just a bunch of stuff hanging from pegs is boring! So I've come up with a way to store my ribbons with a DIY ribbon organizer — I love it, and I think you will, too!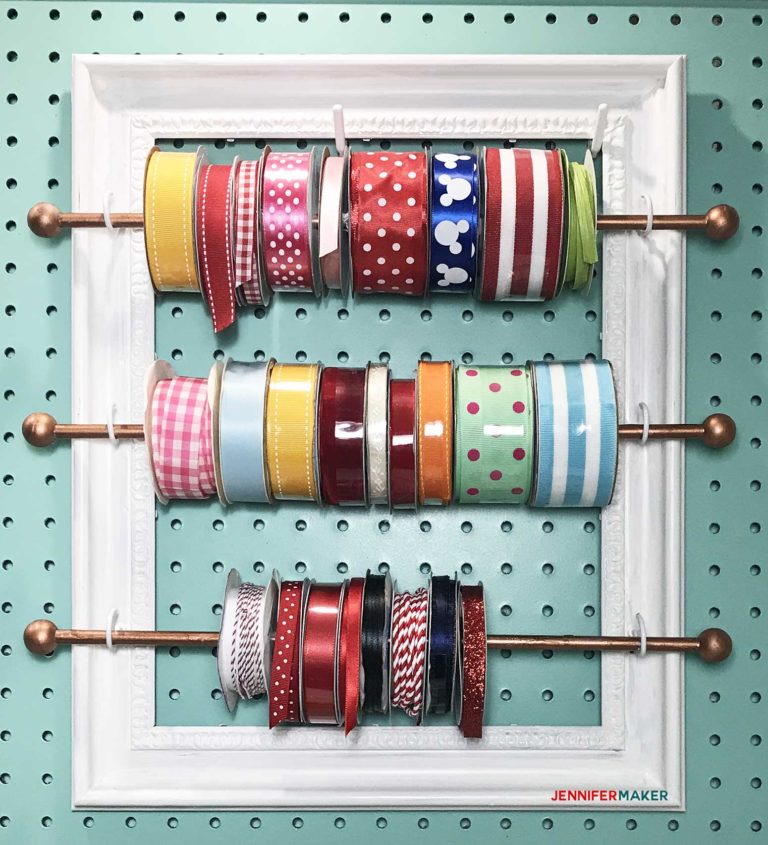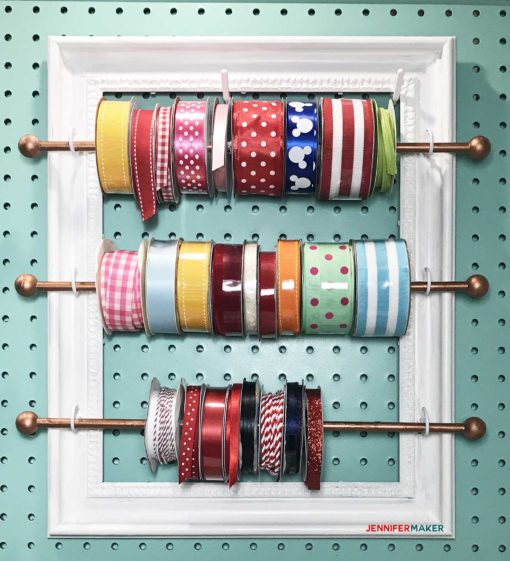 Here's how you can make your own ribbon storage frame! This post contains some affiliate links for your convenience (which means if you make a purchase after clicking a link I will earn a small commission but it won't cost you a penny more)! Read my full disclosure policy.
DIY Ribbon Organizer Frame Materials
How to Make a DIY Ribbon Organizer Frame
First, remove the glass, mat, and backing off your frame. Discard these or save them for some other project—you won't need them.
Screw in cup hooks on the sides of your frame. Be sure you can get your dowel rod in and out of your cup hooks. Also be sure to allow room for all of your ribbon spools when they are on the dowels. You'll note I have a good amount of space in between my dowels to allow for them to be removed easily.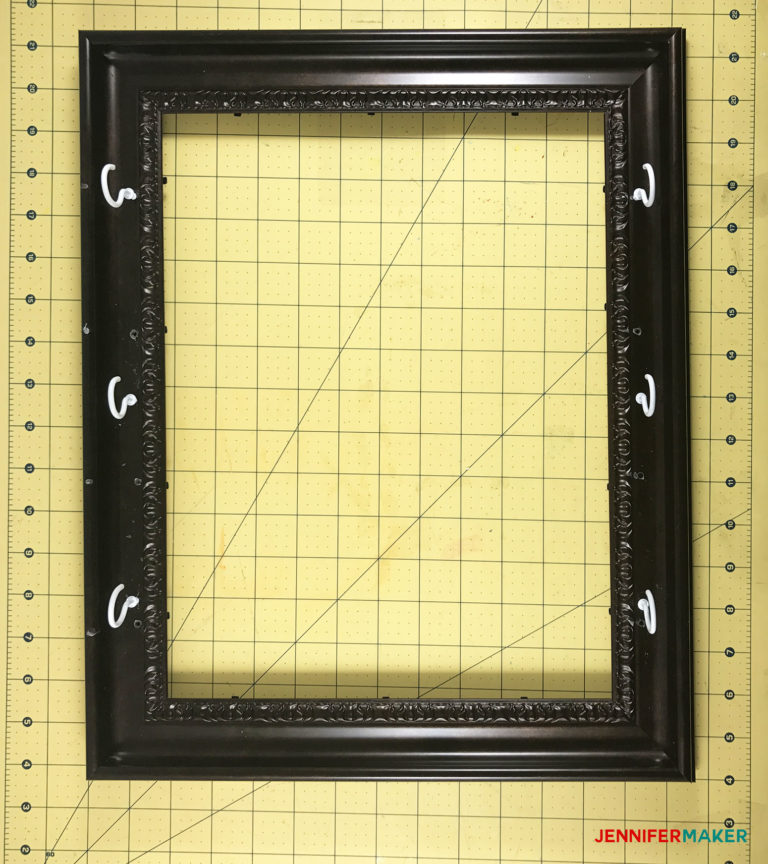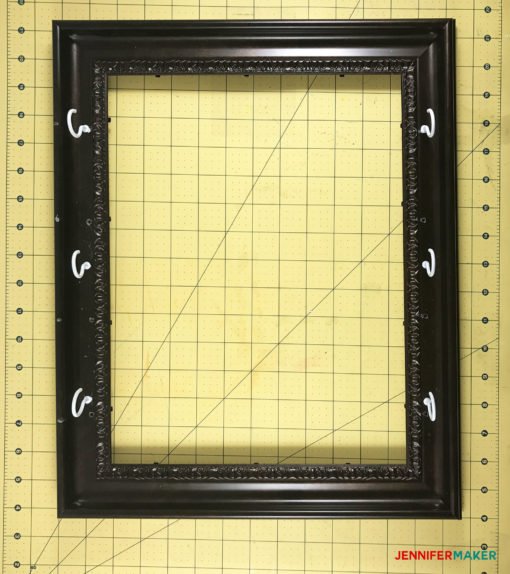 Now, paint your frame, if necessary. My frame was dark brown which wasn't going to work for the look I wanted. I had to use several coats to get it to be mostly white.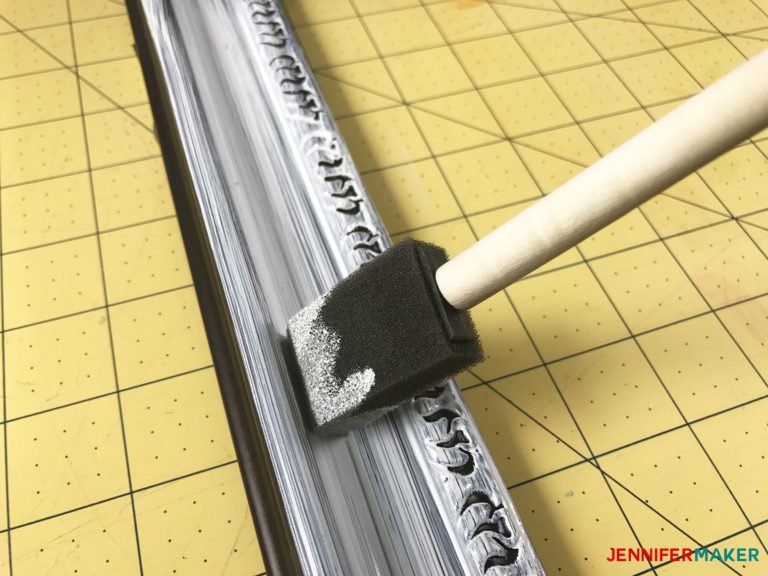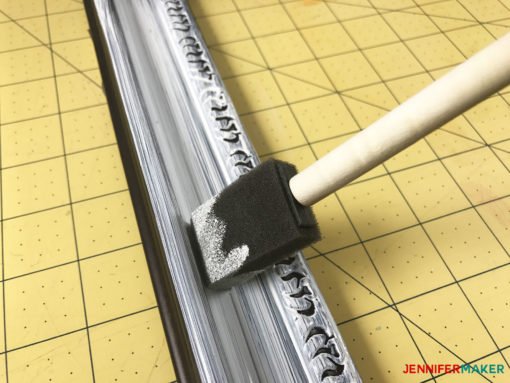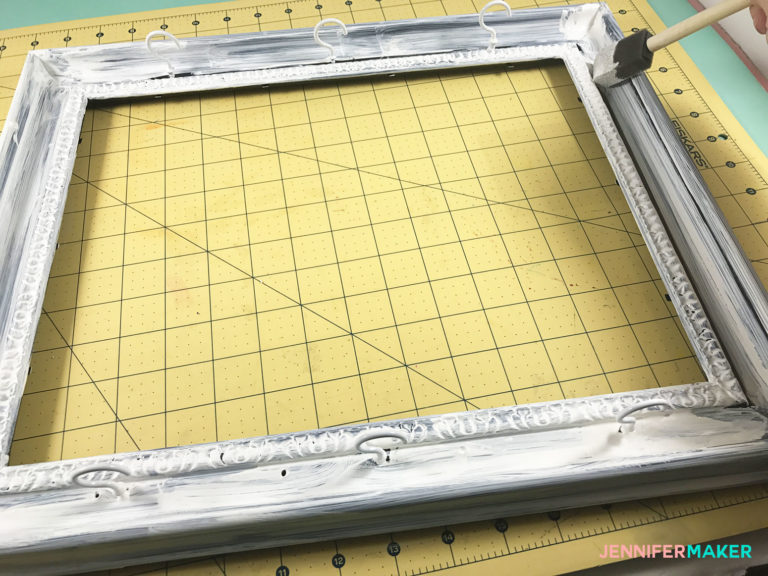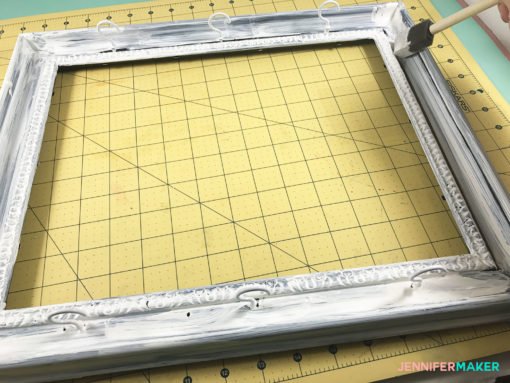 While your frame's paint is drying, cut your dowels to be about 1″ wider than your frame. If you have wooden dowels, use a saw. If you have a metal rods, you'll either want to buy them at the right size already or use a bolt cutters. I asked my guy (Greg) to cut mine for me — he used his angle grinder.
If your wooden balls fit on the ends of your dowels already, go ahead and pop them on. I glued one of the balls on one end, but left the other end unglued so I could take it off when I wanted to add/remove a ribbon spool.
Spray paint your dowels and balls, if you want, to match your decor. I'm using copper as my metal accent in my craft room, so I painted them all with copper metallic paint. Not sure which metallic spray paint to use? Check out my Copper Spray Paint Comparison Test to see the best ones!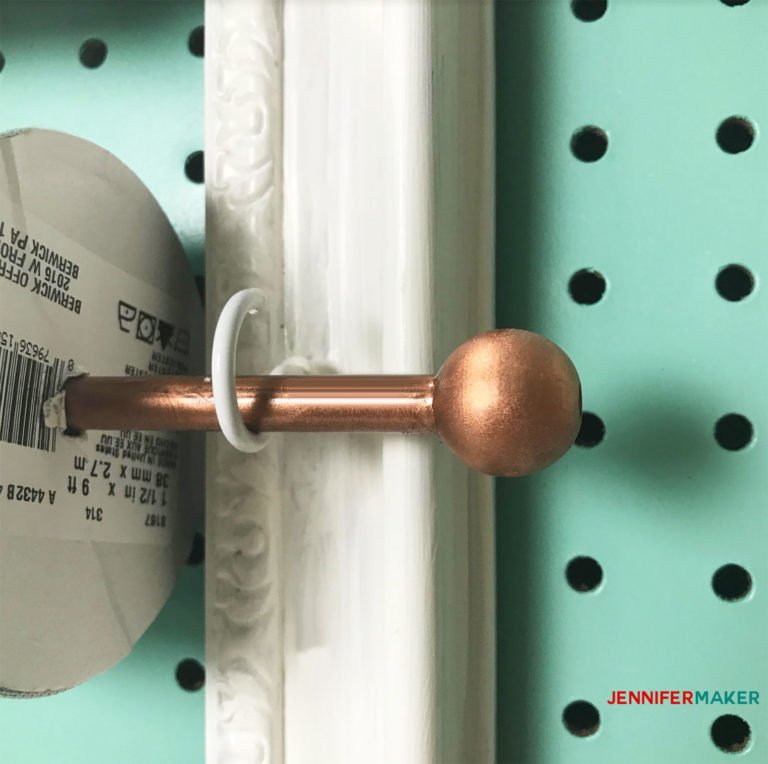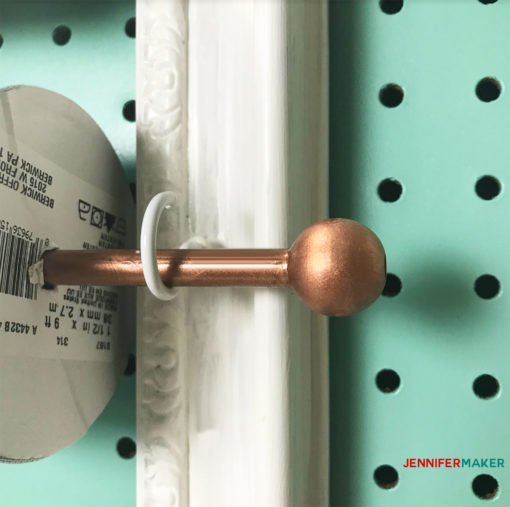 If you want to hang this on your wall, just put in a couple nails or drywall screws on your wall and rest your DIY ribbon organizer on it. If you want to hang it up on your pegboard, as I've done, just put two L-hook pegs in and rest the DIY ribbon organizer on the pegs — works like a charm!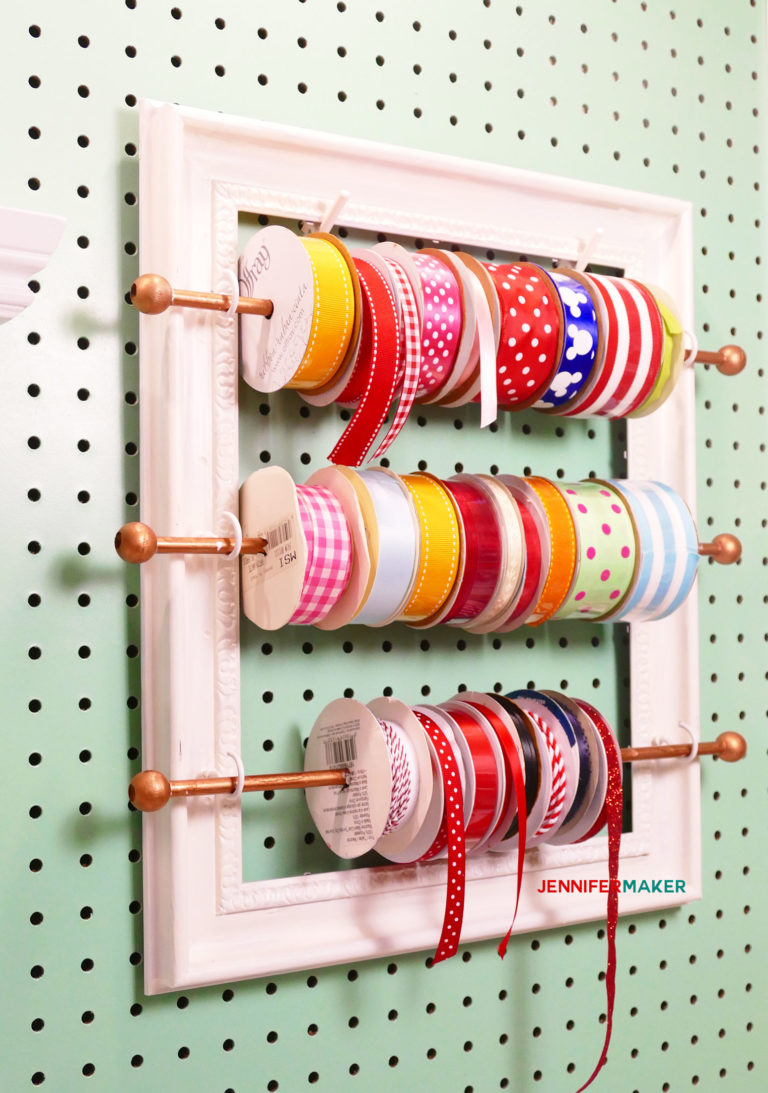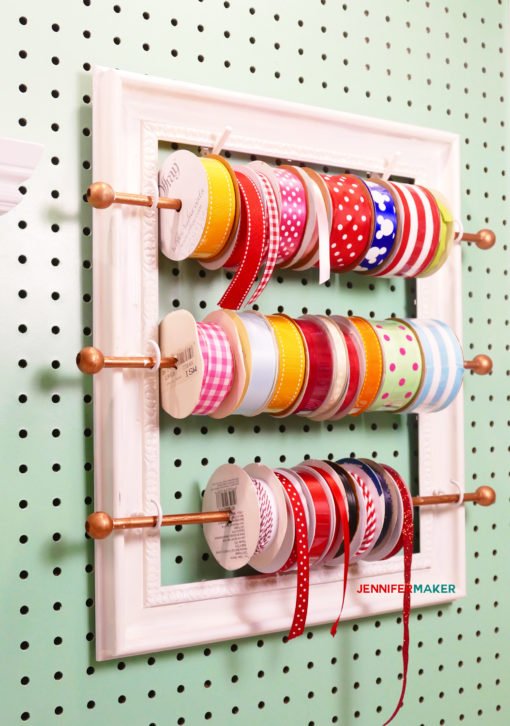 Tip: I recommend you tape the edge of your ribbon down to the spool or all of your ribbons will tend to unwind on you over time as you remove ribbon!
I don't really have a lot of craft ribbon, so this smaller size frame works for me. If you have more, you'll want a larger frame!
Here is my DIY ribbon organizer on my large framed pegboard!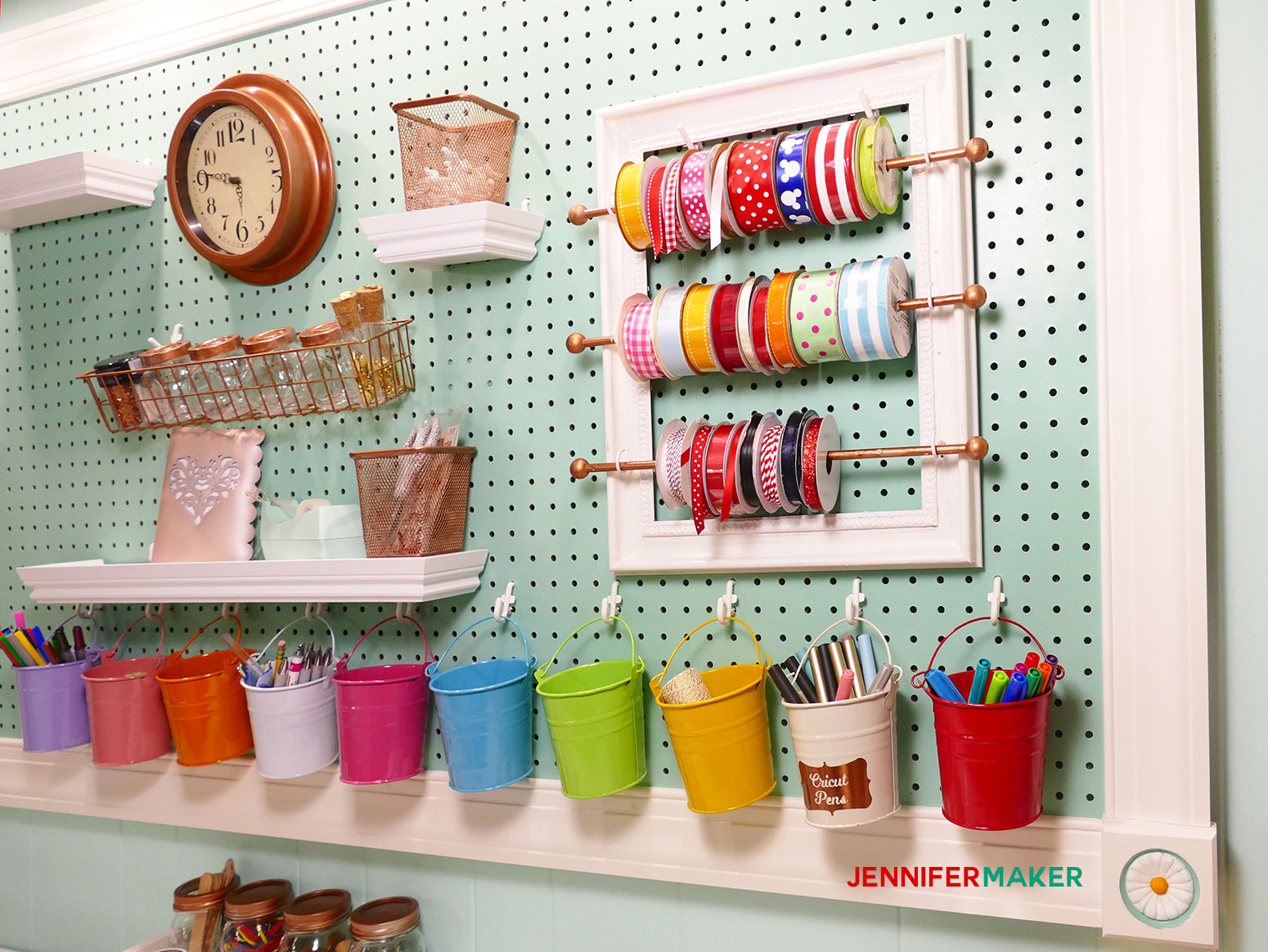 I'd love to see your project! If you make a DIY Ribbon Organizer, please share a photo in our Facebook group or tag me on social media with #jennifermaker.
Love,