Greg's parents live in Colorado, a very long way from Michigan. We only get to drive out to visit his family once in a while, but we do love to exchange gifts. This year I made a DIY map pillow with our locations marked by red felt hearts on a map of the U.S. A simple embroidered line marks the route we drive to see them. The back of the pillow is a quilting cotton with an air mail pattern. I saw a pillow with a similar design a while back on Etsy (I can no longer remember who made it). So this isn't my idea, but it's well worth sharing! You could give this as a gift to a long distance loved one, faraway friends, or just mark the route of a special vacation you took. I think this state to state pillow turned out really cute and I'm going to show you how to make one, too!
DIY Map Pillow Materials
Here's what you need to make your own DIY map pillow. This post contains some affiliate links for your convenience (which means if you make a purchase after clicking a link I will earn a small commission but it won't cost you a penny more)! Read my full disclosure policy.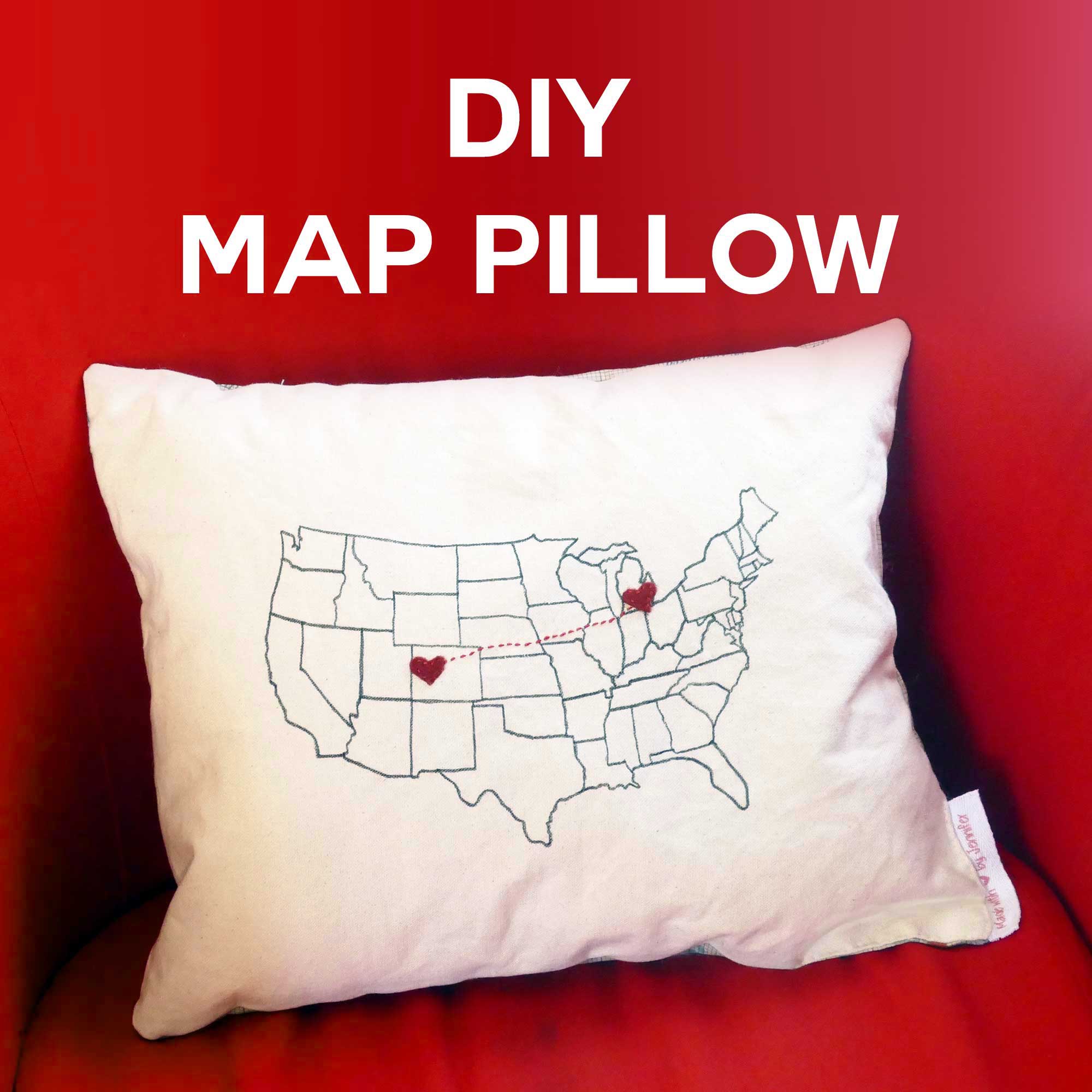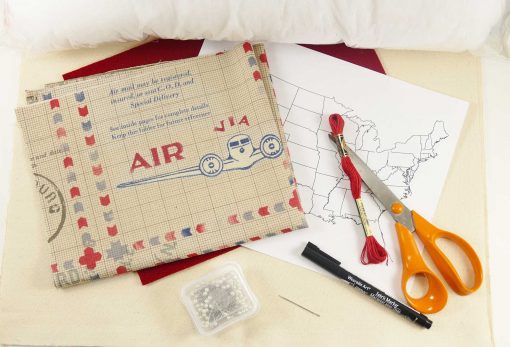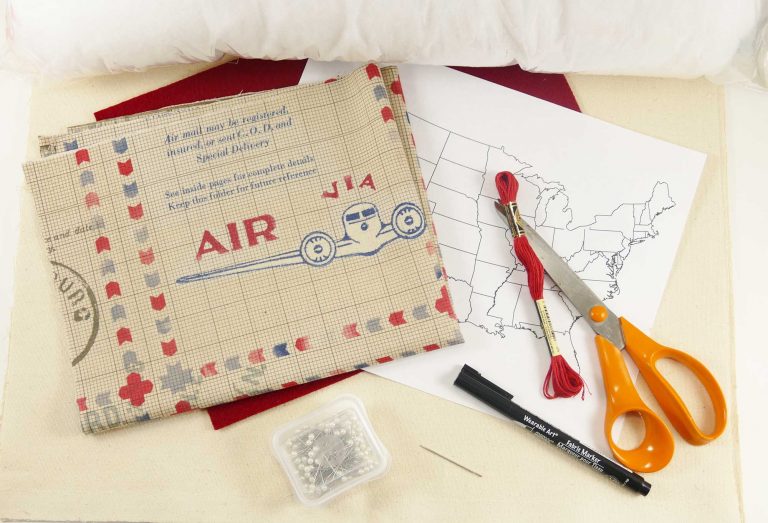 DIY Map Pillow Step-by-Step Directions
Step 1: Print out the map (Design #9) (free download in my resource library) onto regular paper, center it on one piece of your canvas, and pin it in place.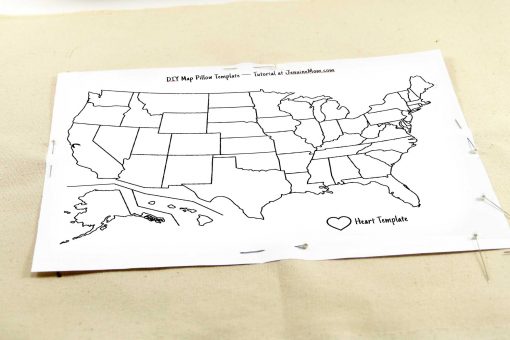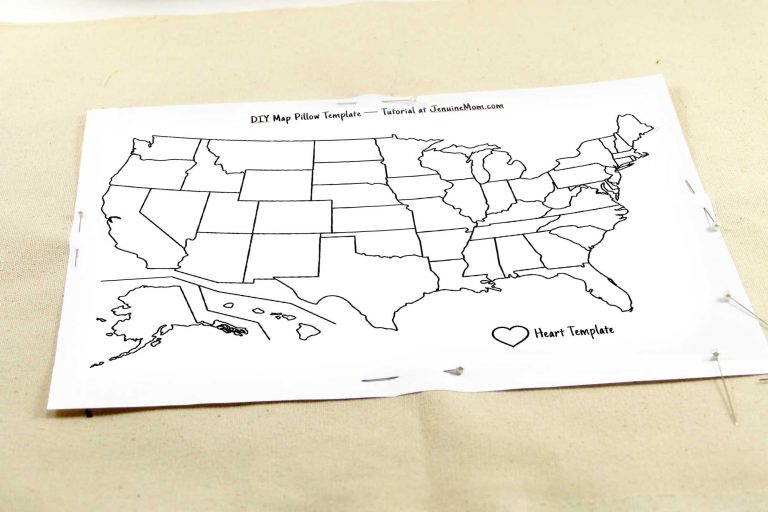 Step 2: Slide a piece of fabric transfer paper between the paper and canvas (transfer side down). Begin tracing onto the canvas by pressing down with good pressure on the lines of the map. Move your tracing paper around as necessary until you've traced the full map onto your canvas.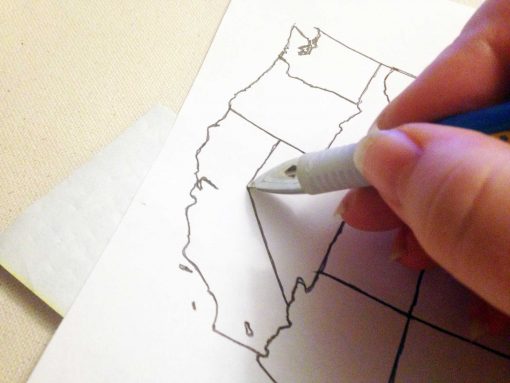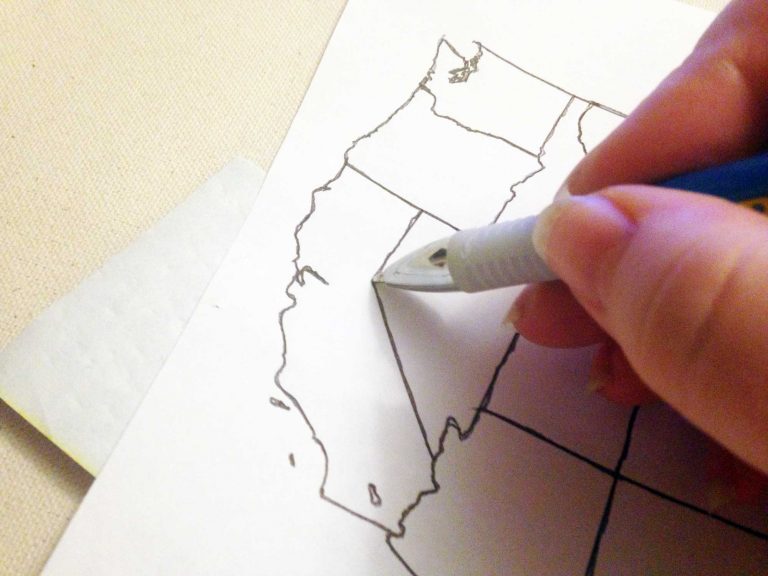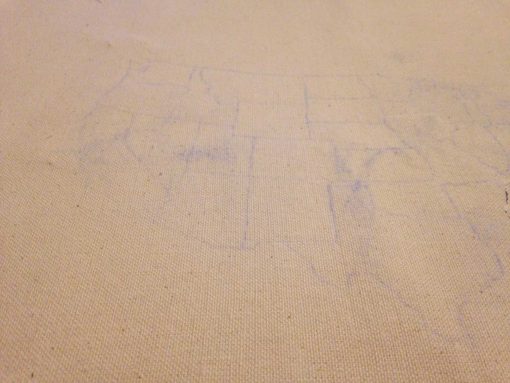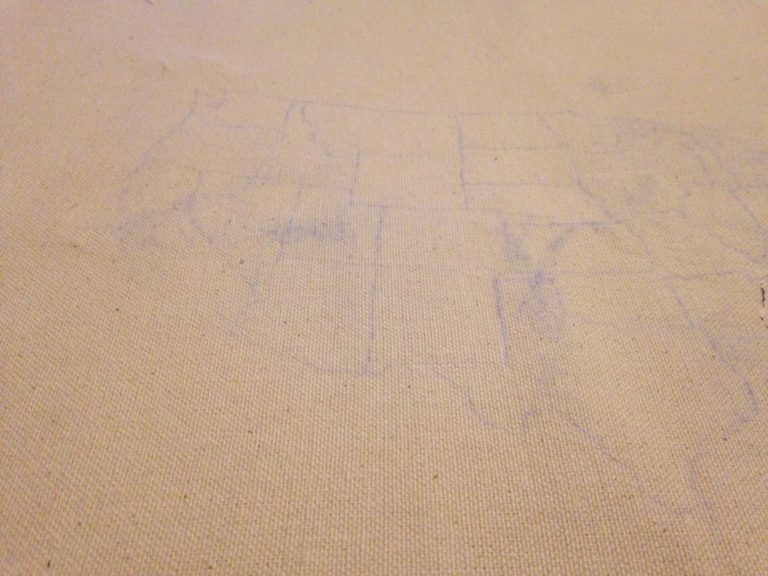 Here is my traced map in the photo above. You can see a few spots where I got too much of the blue tracing material onto my canvas — if this happens to you, don't worry. It washes right out.
Step 3: Trace over your lines with the black fabric marker. I went over mine twice to make sure they were dark and bold.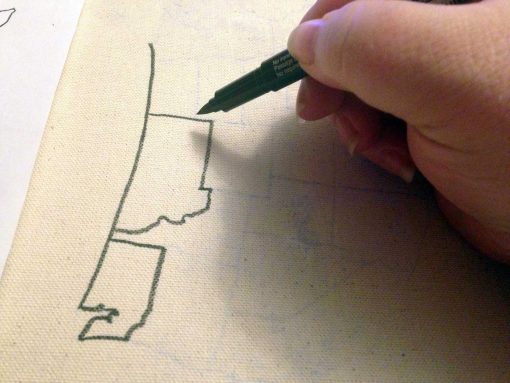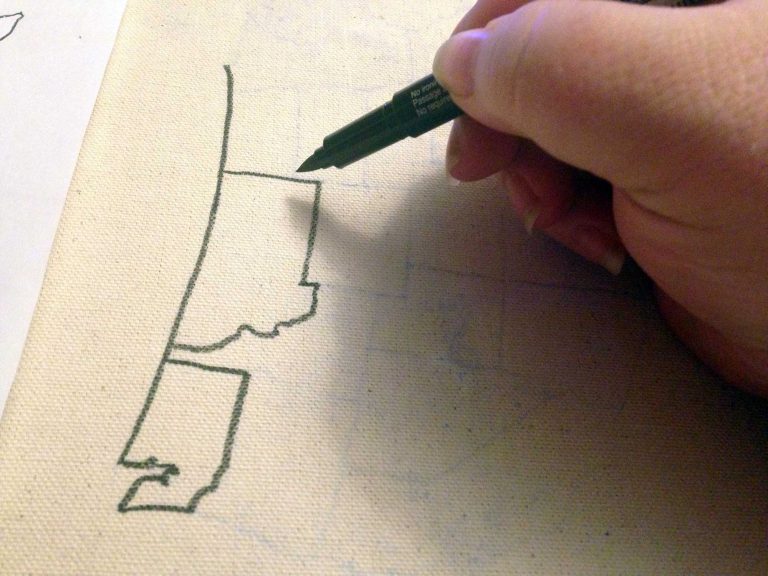 Step 4: Cut out small hearts from the red felt and place them where you want.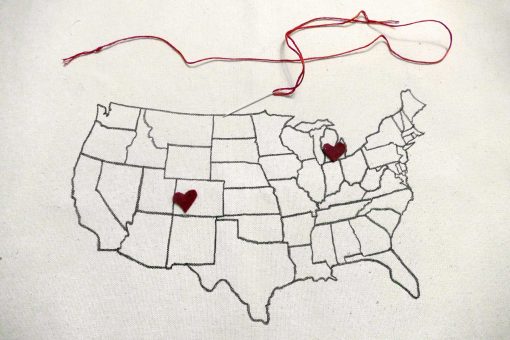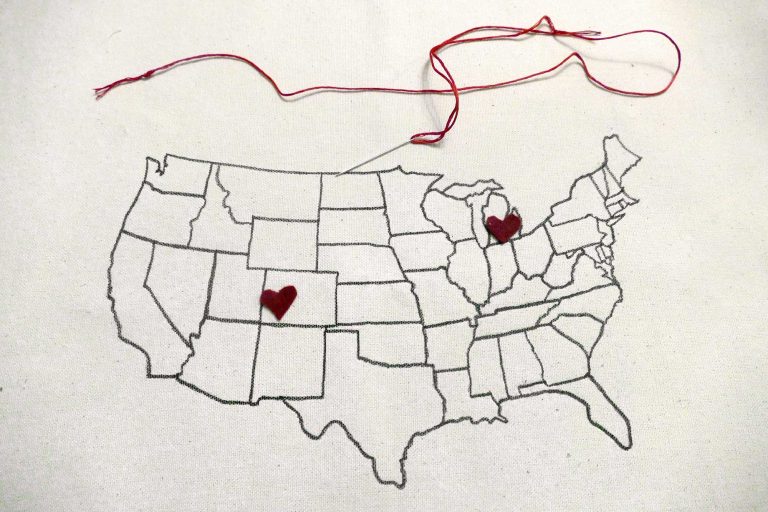 Step 5: Thread your needle with the embroidery floss, knot the end, and start sewing the perimeter of a heart with a running stitch. I recommend you start your stitches at the tip of the heart, then when you finish sewing the heart, you can go right into sewing the route. When you get to the end of the route, sew on the heart. Tip: If you drive like we do, look up the route so you sew it accurately. Alternately, you can get creative and sew the route in a curly-Q or curly-heart shape.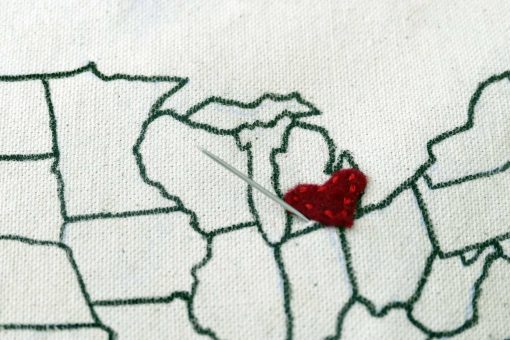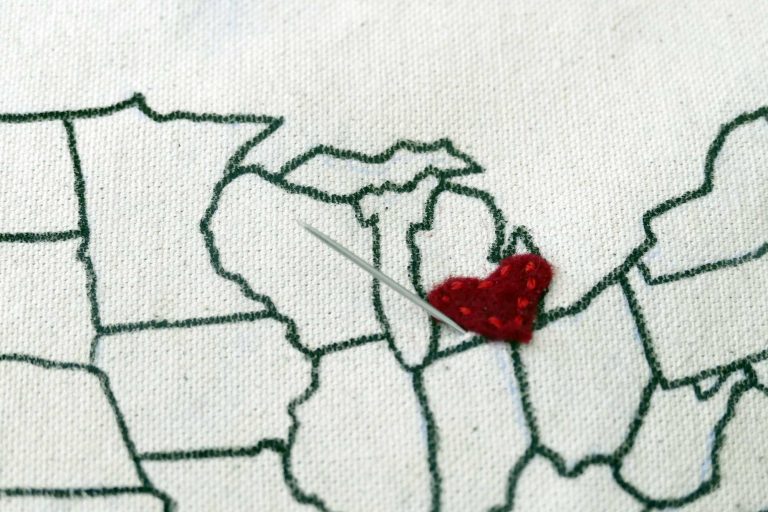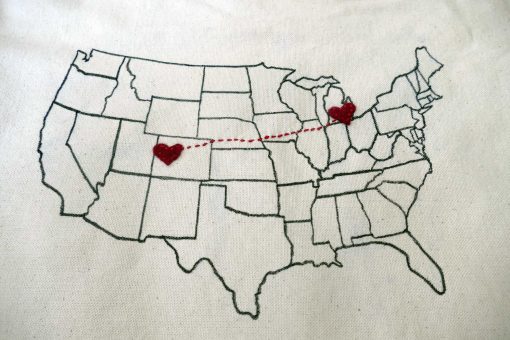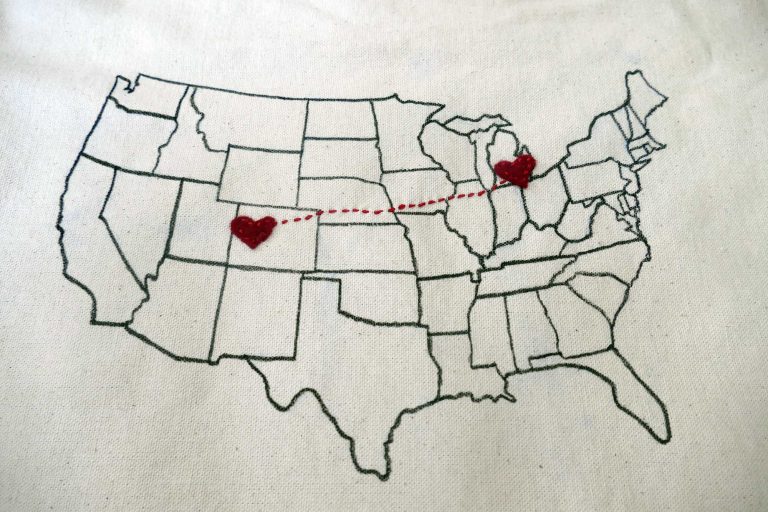 Step 6: When done, knot the thread on the back of your canvas and cut the excess thread.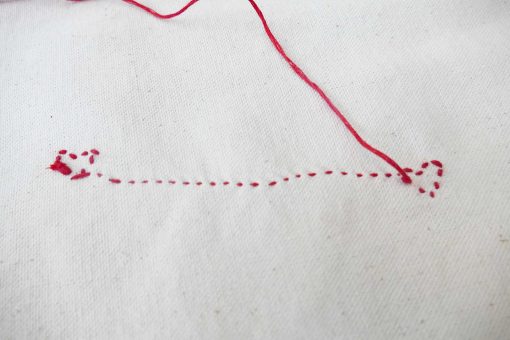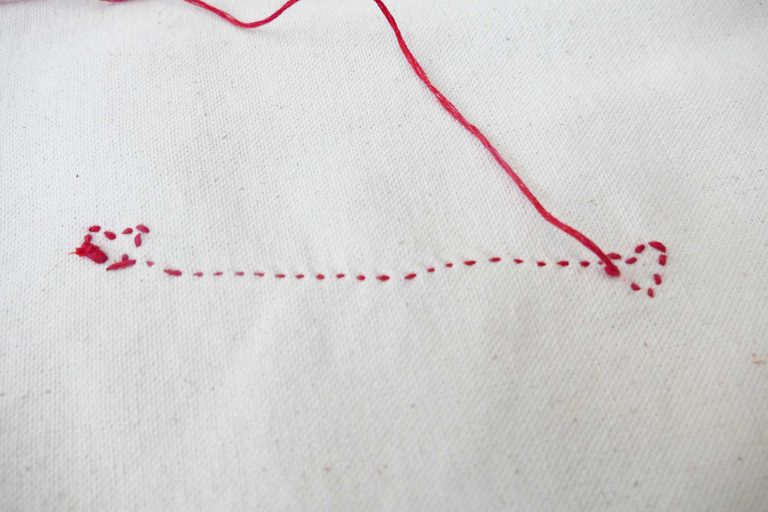 Step 7 (Optional): If you are using a decorative piece of fabric other than your canvas, sew it to the other blank canvas piece. You want to sew all four sides, wrong sides together. From now one, treat these as one piece of fabric. (If you're wondering why we do this, it's because the decorative fabric is likely not as thick and sturdy as the canvas, so we're adding the canvas to the back of it.)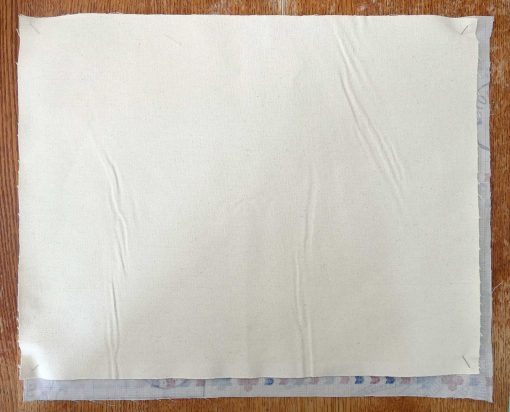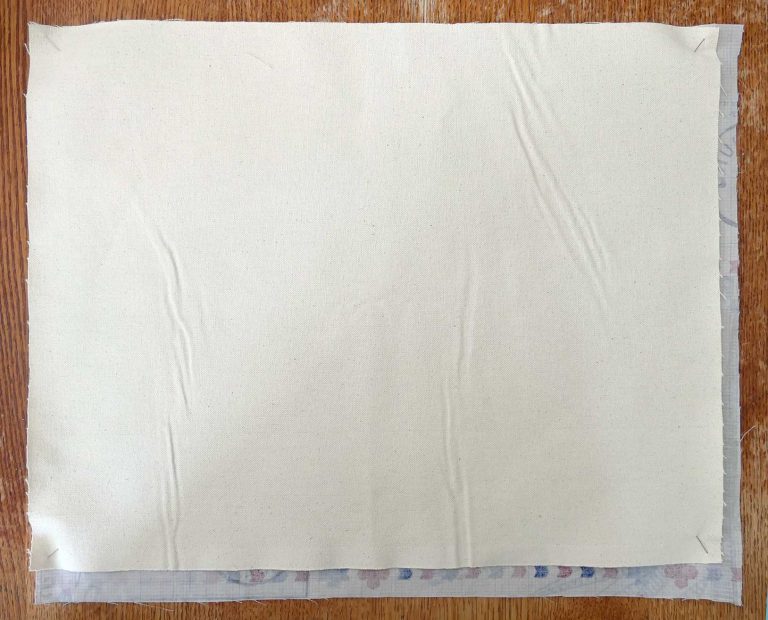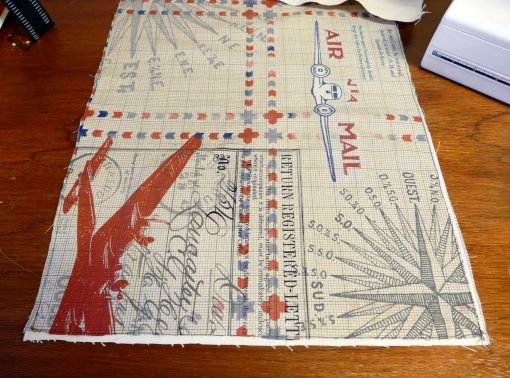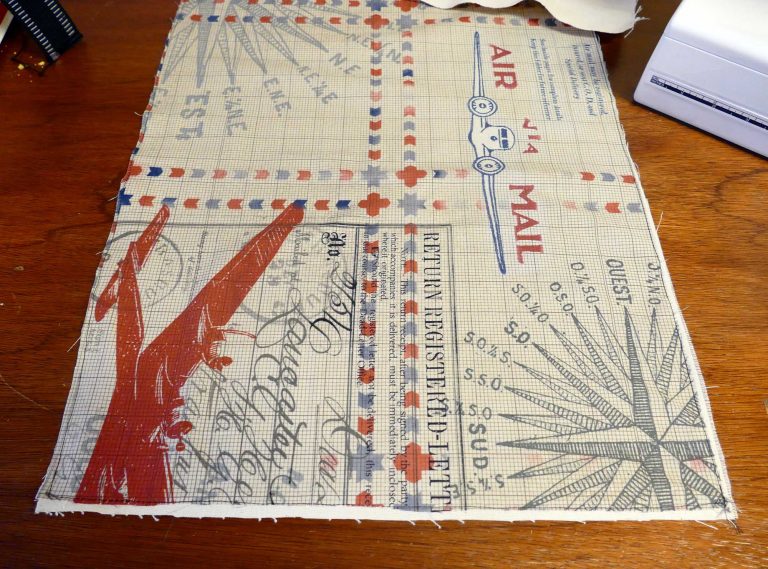 Step 8: Place the top piece of canvas with your map on your back piece, this time right sides together. So your map side should be touching your decorative fabric side. Pin in place and sew 1/2″ from the edge starting in the lower corner and going clockwise around your pillow. Stop when you get 5″ from where you started.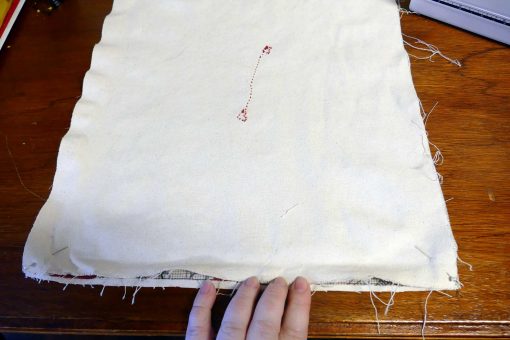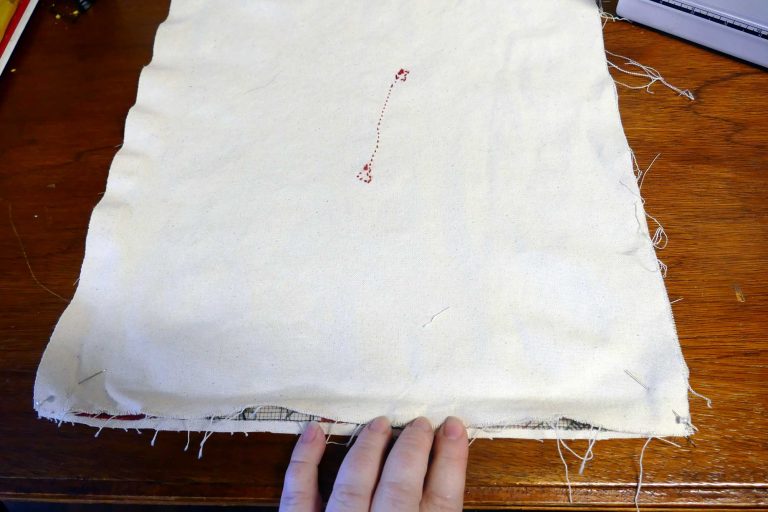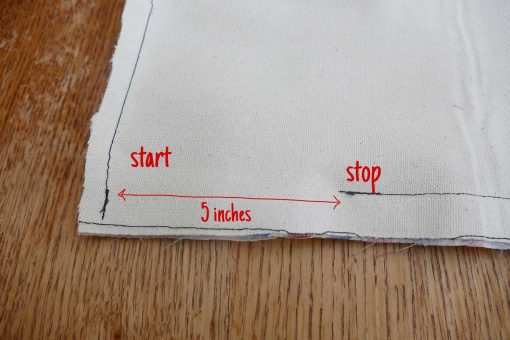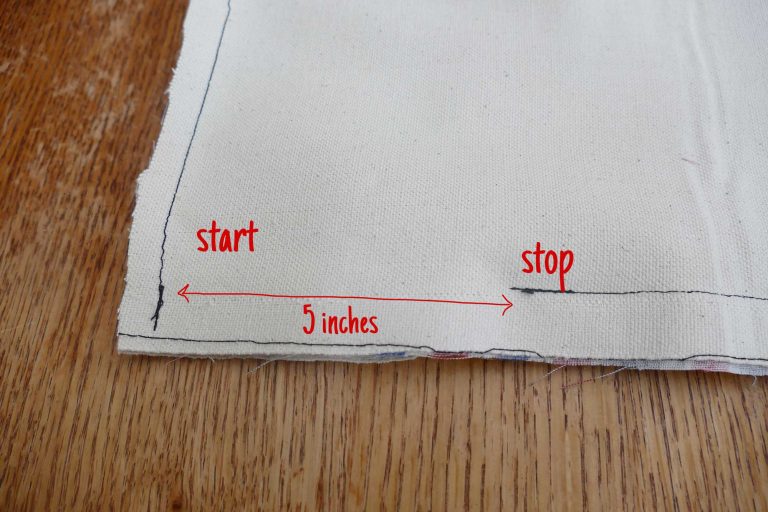 Step 9: Clip all four corners diagonally as shown, being careful not to clip into the stitches you made in the previous step. This will help your corners look sharper when you turn it inside out in the next step. Note: The outer line of stitches you see in this photo here are the ones I made in step 7 to sew my decorative fabric onto my back piece of canvas. and thus it was okay to cut through those.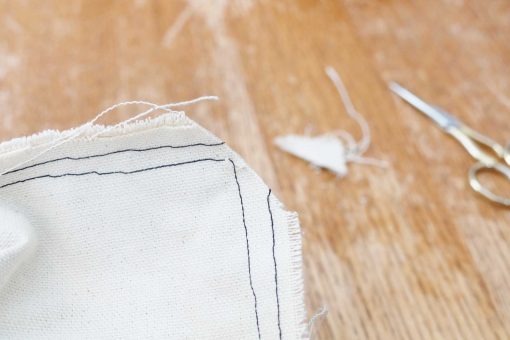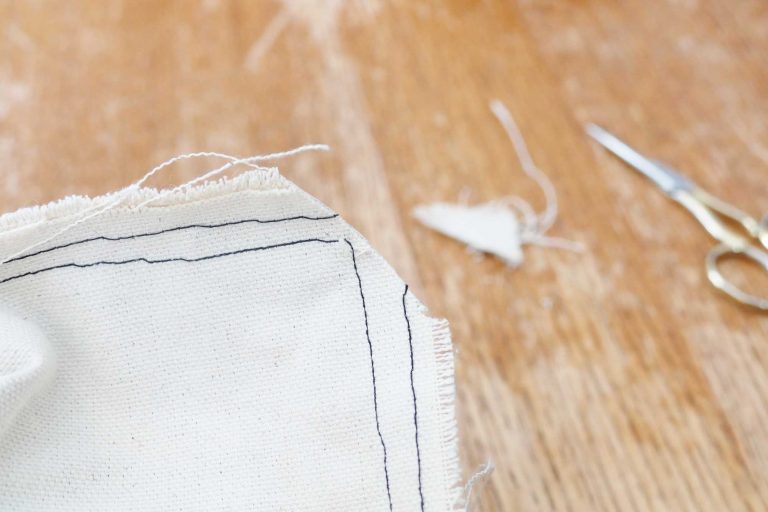 Step 10: Turn your pillow inside out through that 5 inch space you left. Poke each corner from the inside to get as sharp a corner as possible.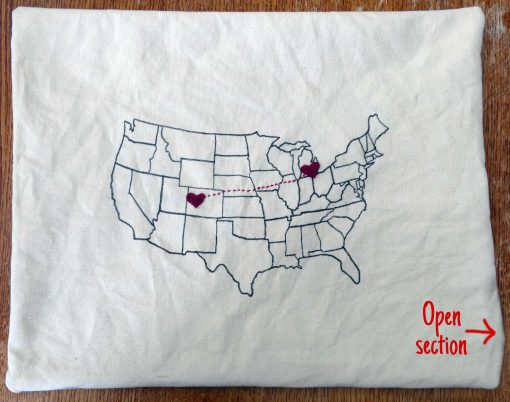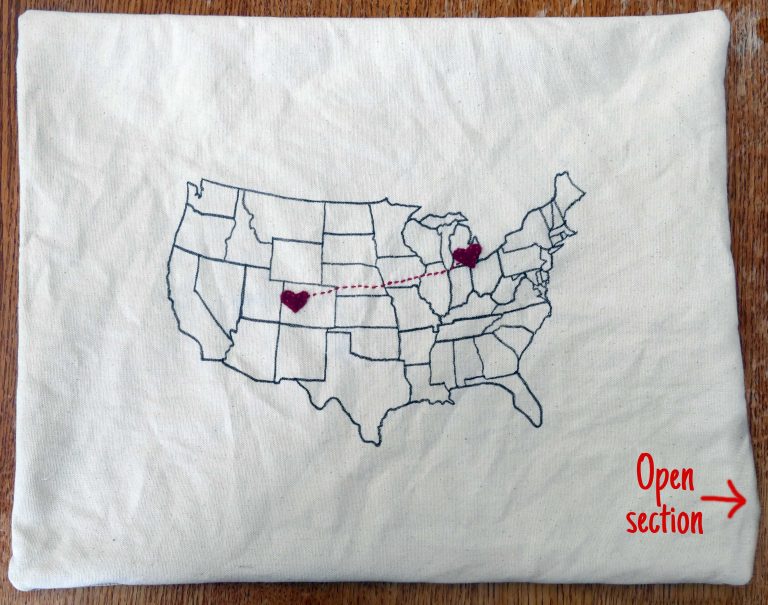 Step 11: Stuff your pillow through the open section. Be sure to get stuffing in the corners, too.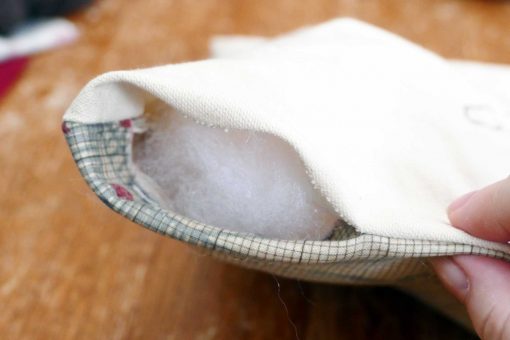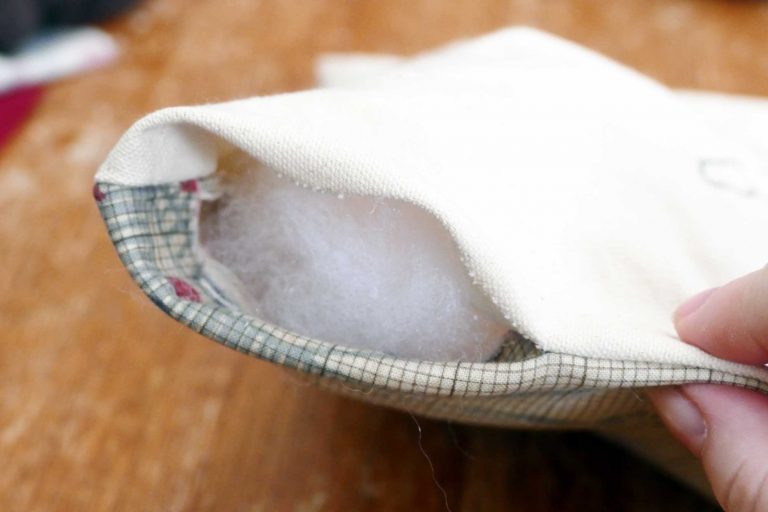 Step 12: Sew up your pillow with white thread. If you made a DIY fabric label, pin it in place in the open section and stitch it in as your close the pillow.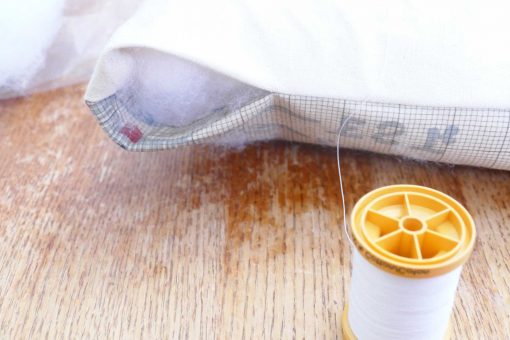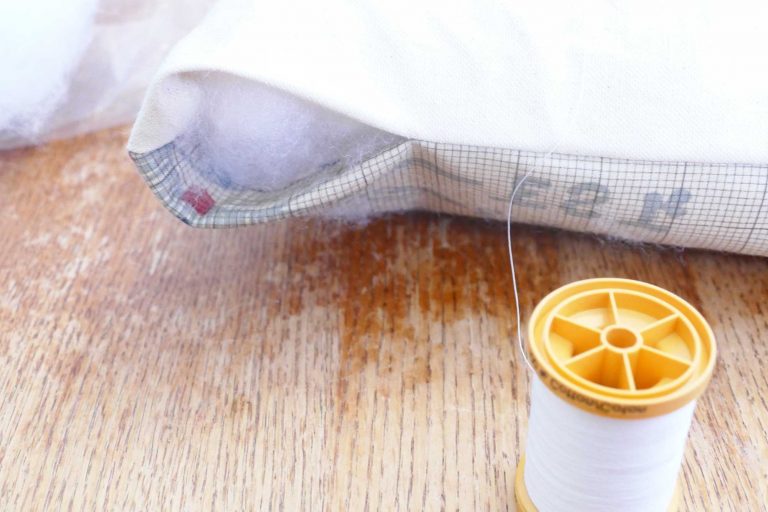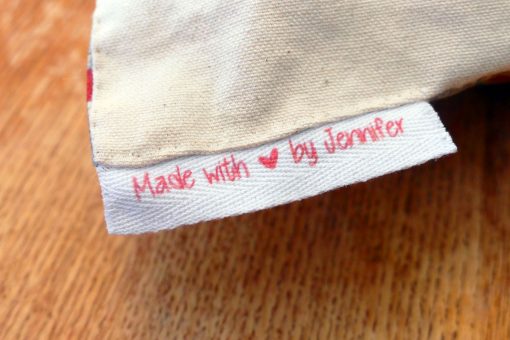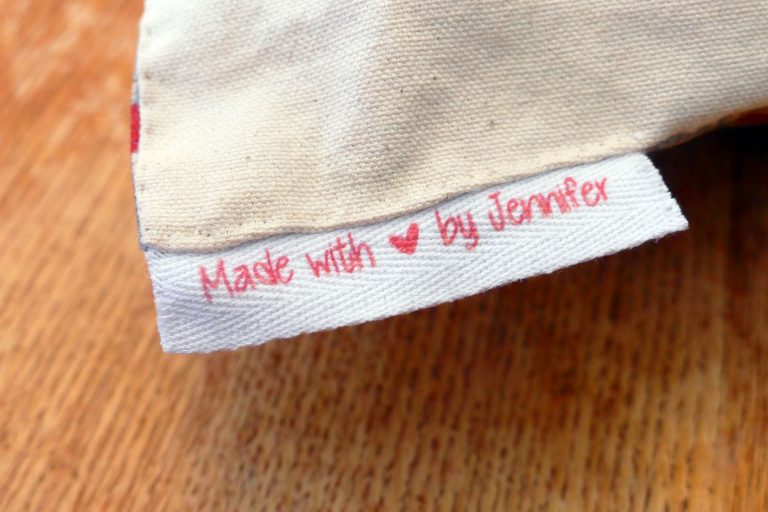 And you are done with your awesome DIY map pillow!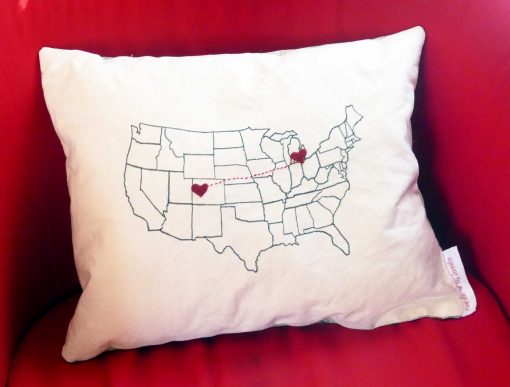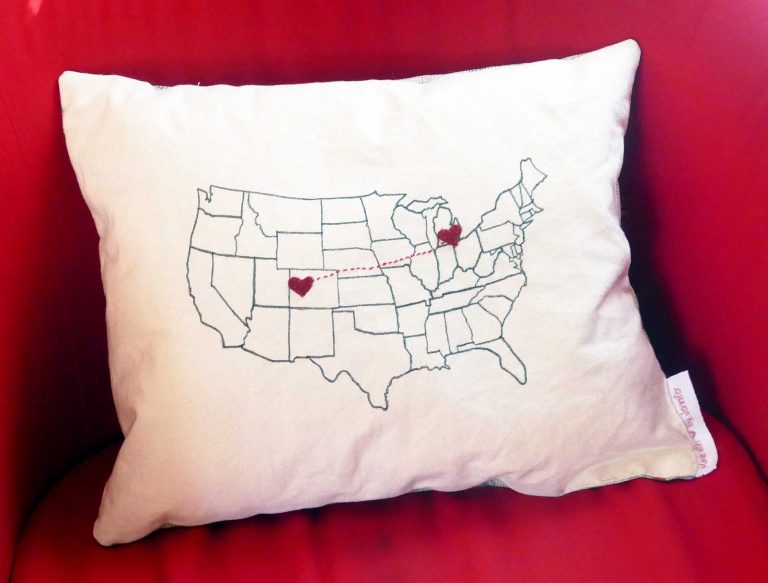 DIY Map Pillow Notes
You could use this technique to make world maps, state maps, and maps for other countries. Just look for the appropriate outline or template online and use that.
Another idea is to make a pillow that shows the places you've visited, or where your heart lives.
If you purchase your canvas and cotton at the fabric store as I did, you'll probably just ask for half a yard of each and this will actually net you enough for TWO pillows! There's enough fiber fill for two pillows, too.
These pillows make great gifts and conversation pieces!
Get the Map and Heart Template for the DIY Map Pillow
Love,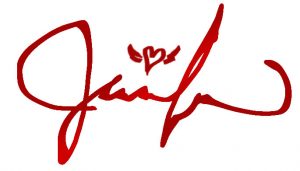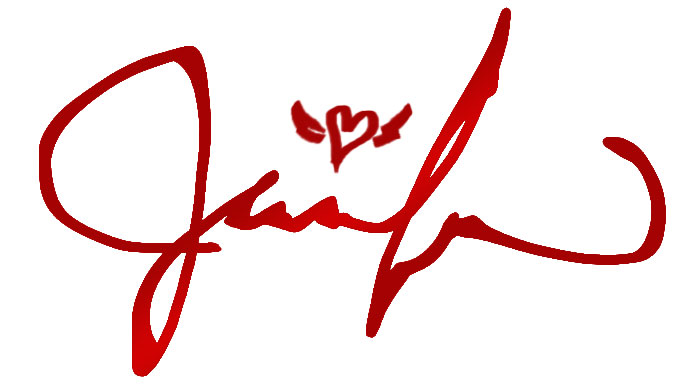 P.S. Check out my other fun DIY gift tutorials to help you make wonderful homemade and inexpensive gifts! I currently have tutorials on DIY teacup candles, DIY Sharpie mugs, DIY hand warmers, DIY "gold-dipped" crystal necklace, and DIY bath bombs!