Make your own DIY shadow box frames from Kraft board to display your projects!
DIY shadow boxes are perfect for displaying special collections, photos, and memorabilia. No more having to purchase shadowboxes whenever you want to get something framed. Not only are they easy to make, but they also add a unique touch to any home decor! I've designed these frames in two versions: a scored version and a no-score version. These shadow box frames are perfect to display literally anything that will fit such as these fun and easy Cricut mandalas.
Want to save this project? Enter your email below and we'll send the project straight to your inbox.
Watch the full step-by-step video showing you exactly how to create your own shadow box frames with a VIP pass to Maker Academy Weekend 2022!
Let's take a look at the materials we will need for all of these paper picture frame designs. First off, we'll need sturdy Kraft board for the frame pieces. For your front frame cover you can either use cardstock, kraftboard, or cardstock in different colors or textures like glitter! Here is a paper picture frame with a blue cardstock frame cover (the design inside is from my Cricut Mandalas collection):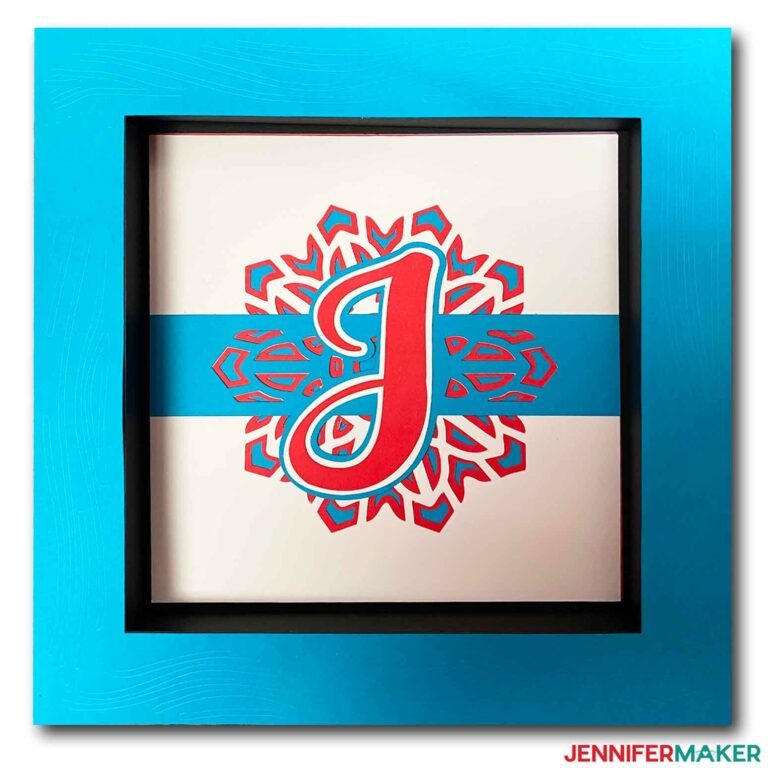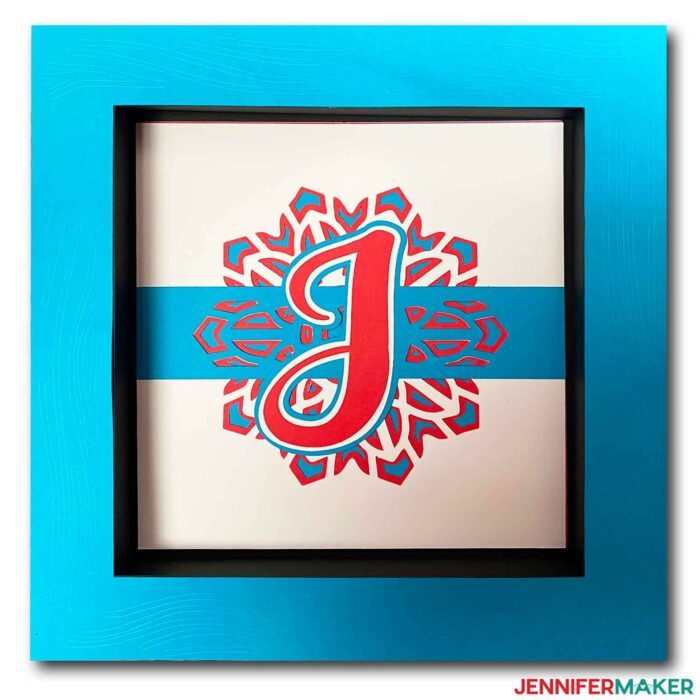 To keep the shadow box frames secured, we use good craft glue, like Bearly Precision Art craft glue. I recommend glue over double-sided tape, which may not be strong enough.
In order to add your items to your display you may want some 3D foam dots or another mounting adhesive of your choice. If you'd like to add some extra frame details you may want to have a Cricut Extra Fine Pen. Also, if you're using the "score" version of this project, you will want to use either a scoring stylus or scoring wheel.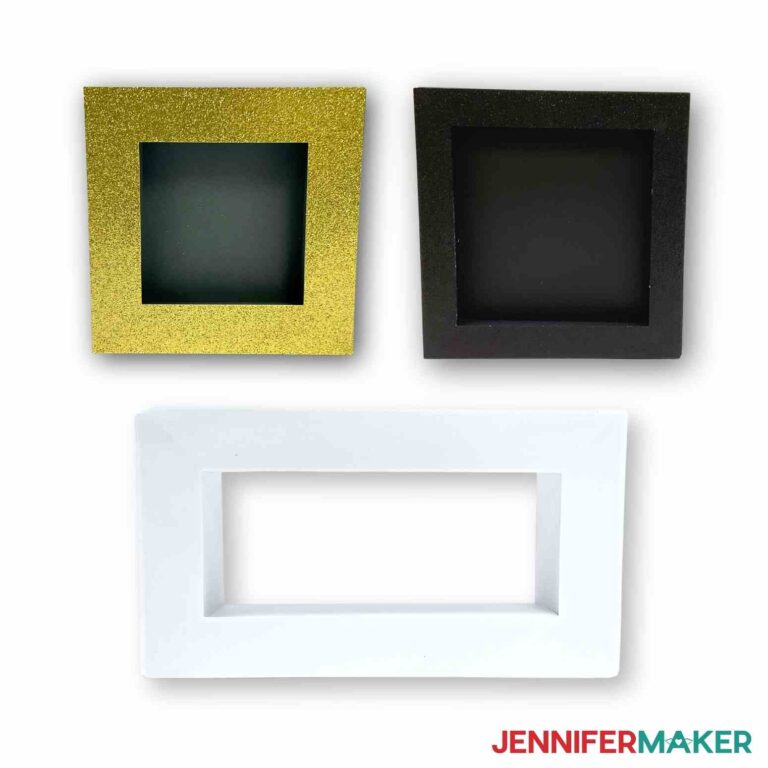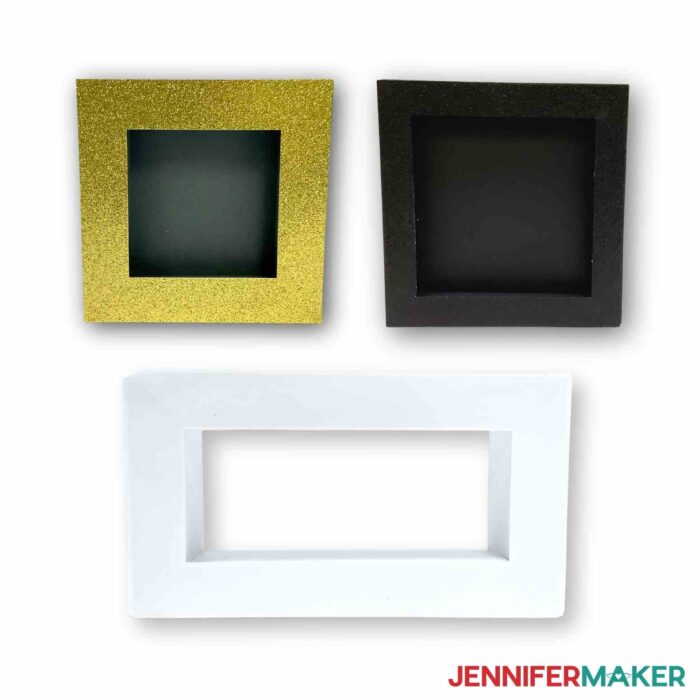 In order to reach the inside of the tubes you will want to use a bone folder or a chopstick. Also, a double-scoring wheel tip will come in handy if you have a Cricut Maker with a Quick Swap Housing. Other tools you will need include a weeding tool, ruler, brayer, scraper, and of course, a way to cut your kraft board or cardstock. I used the Cricut Maker 3 but you can use your the original Maker or an Explore series machine with a Fine-Point blade.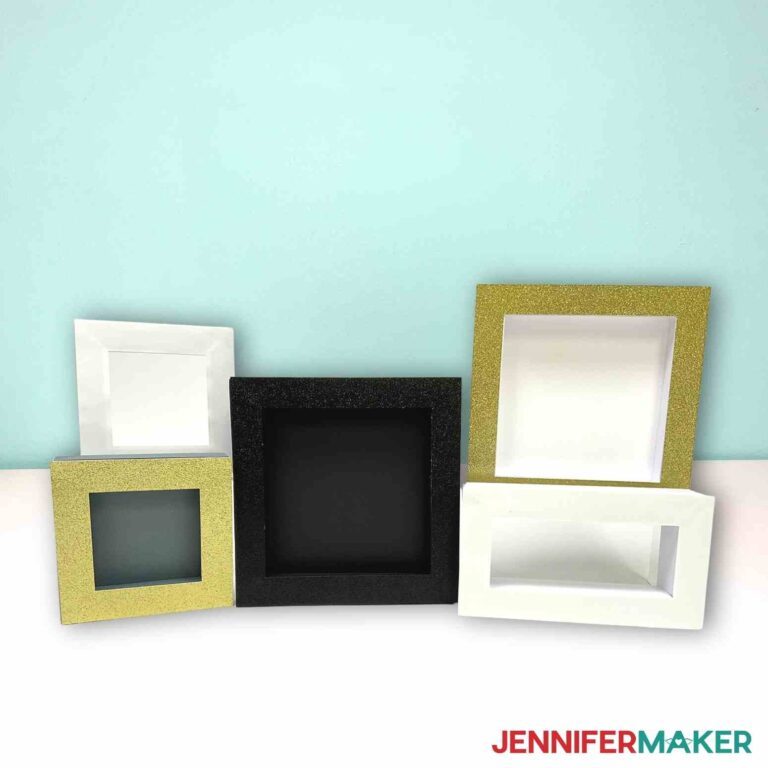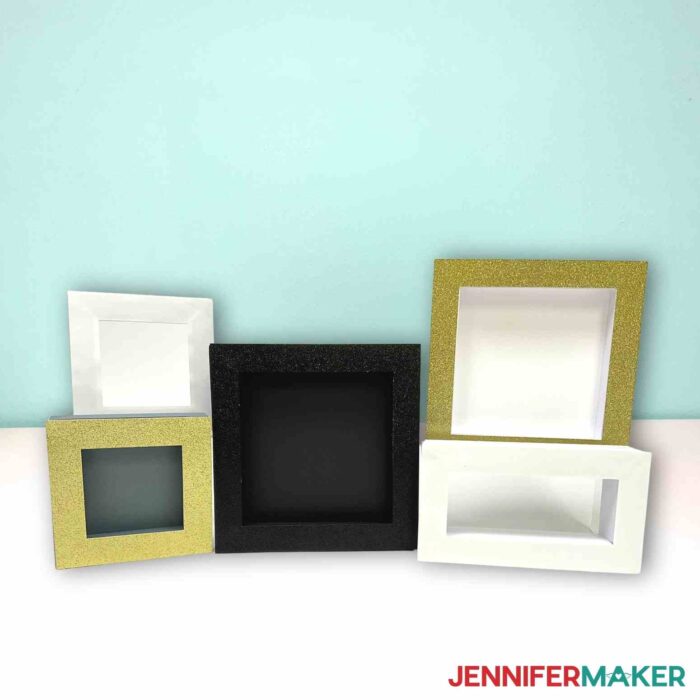 If you have crafts laying around and don't know what to do with them or how to display them, these shadowbox frames are perfect. They don't take too long to make and I bet that after you make the first one, you will want to keep making more!
Here's a supply list of what you need to make DIY shadow boxes frames! This post contains some affiliate links for your convenience (which means if you make a purchase after clicking a link I will earn a small commission but it won't cost you a penny more)! Read my full disclosure policy.
Materials to Make DIY Shadow Box Frames & Paper Picture Frames

How to Make Your Own DIY Shadow Box Frames
The detailed step-by-step assembly video on how to create shadow box frames debuted during Maker Academy Weekend 2022, held online November 3-6, 2022. Get an on-demand pass to watch all 20+ workshops, each with a printable handbook, transcript, audio files, design files, and support with a VIP pass below:


These turned out great and I'm really excited to see you make them! What are some things you may want to display inside of them? The possibilities are endless with a project like this one.
Answers to Your Questions About How to Make DIY Shadow Box Frames
Q: Where is your tutorial for this project?
This is a special project we made for our free Maker Academy Weekend 2022 event! A complete and detailed step-by-step video premiered during the event November 3-6, 2022 — specifically, this tutorial video was available to watch for free for 24 hours beginning November 6 at 12:00 pm ET! You can get access to the full video, the printable handbook that details how to make this beautiful project if you get a VIP Pass to Maker Academy Weekend 2022, which comes with other perks and bonuses, too!
Q: Can I resize the shadow box frames?
Yes, you can. First, measure the items you'll be placing inside the frame and then use my Resizing Tutorial to resize and cut your kraft board to size accordingly.
Q: Can I cut my paper picture frames from cardstock instead of Kraft board?
Yes, but they won't be as strong. But if the item you are putting inside is very lightweight, feel free to use a good cardstock instead.
Q: How do I add items to my shadow box frames?
Just insert your photos and memorabilia into the shadow box, keeping them in place with 3D foam dots or whatever is best for your project!
Q: What kinds of things can I put inside my DIY frames?
Anything that fits and doesn't exceed 1 lb. will work great in my picture paper frames. I like to use these for layered paper projects, paper flowers, paper ornaments, photos, and lightweight memorabilia (like tickets and shells).
Q: Can I hang my DIY paper picture frame on the wall?
Yes! I like to use Command strips on the back of my shadow boxes so that they're easy to hang on the wall, but you can also use ribbon, twine, or even traditional picture-hanging hardware if you prefer. I you do want to go with picture-hanging hardware and you're using Kraft board that's thinner than 1/8″, consider adding an additional layer of Kraft board on the back for stability before attaching your hanger.
Get my free SVG files to make your own DIY shadow box frames!
I love seeing what you make with my designs and how you use them! Please share a photo of your DIY shadow box frames in our Facebook group or tag me on social media with #jennifermaker.
Love,