Learn how to use Color Changing HTV to create dynamic T-shirts!
These 80s and 90s styles sure are making a comeback, aren't they? Summer will be here before we know it, and it's a time of year when the nostalgia really heats up. Color changing effects are a fun retro trend that I'm thrilled to see resurface! This should come as no surprise, since you all know I'm a big fan of color. When I saw Cricut's new UV-activated color changing HTV, I knew I had to try it right away. And it is so cool! In the absence of UV light, the vinyl looks white, but when it's exposed to sunlight or a blacklight, it turns a different color! How neat is that?
Want to save this project? Enter your email below and we'll send the project straight to your inbox.
See the full step-by-step video tutorial on how to use color changing HTV: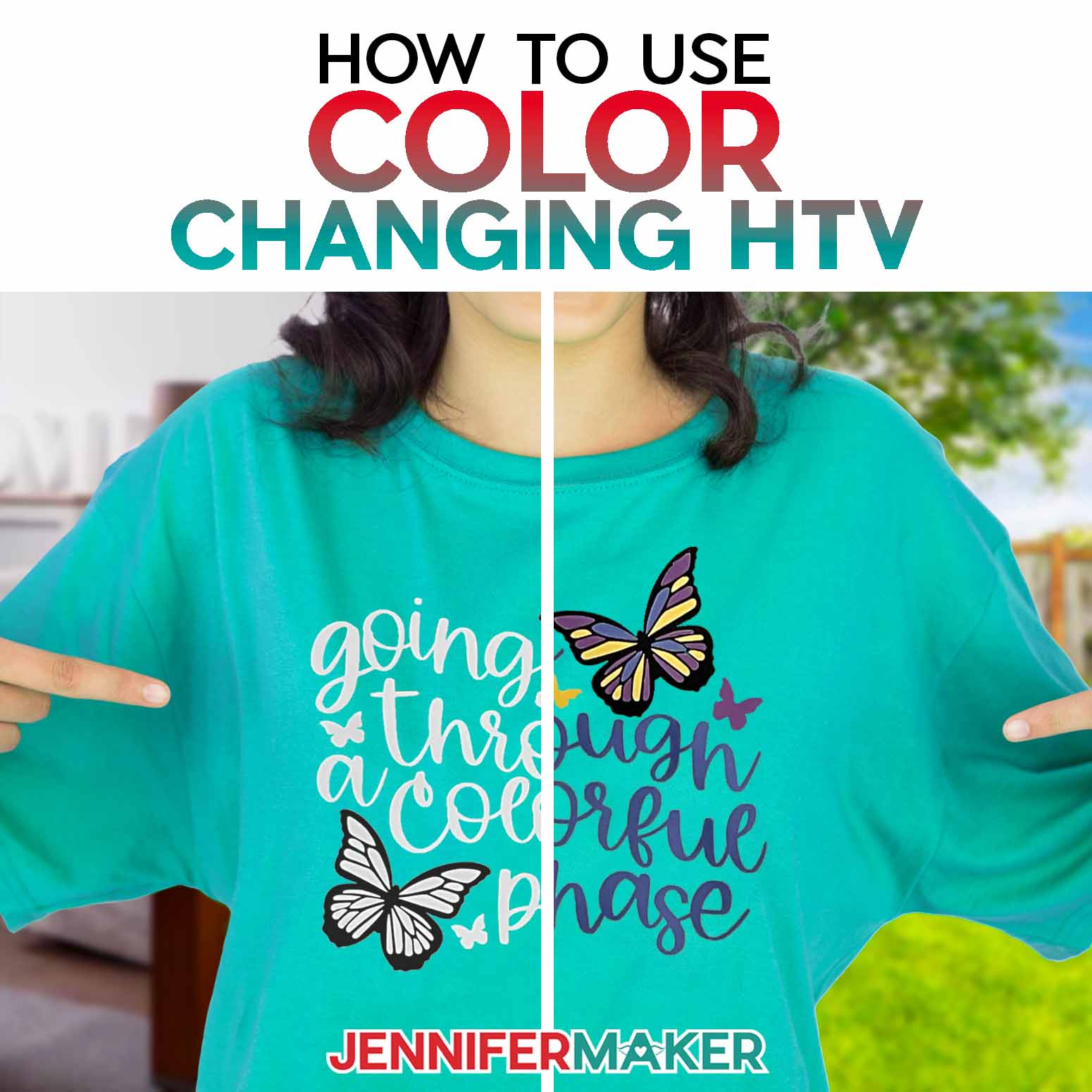 Today I'll show you how to make super cool color changing T-shirts with UV-reactive color-changing vinyl designs. I'll even show you how to layer your color changing HTV for maximum colorful effects! You can use your own design, but to demonstrate I've created two designs just for this tutorial. First, a cute butterfly design where "Going through a colorful phase" and the wings pop with color outdoors!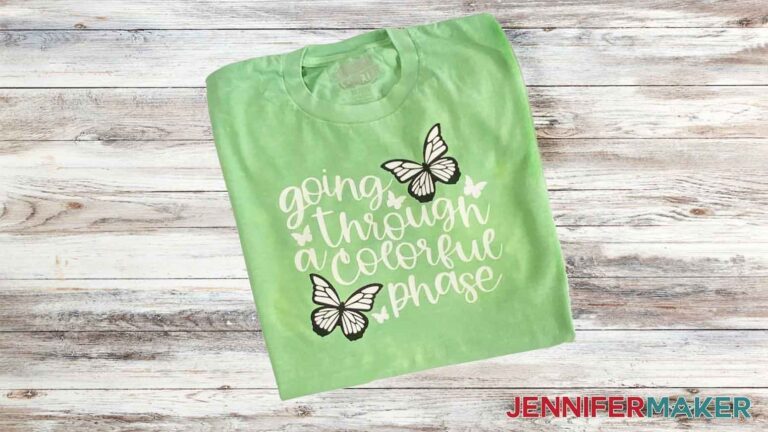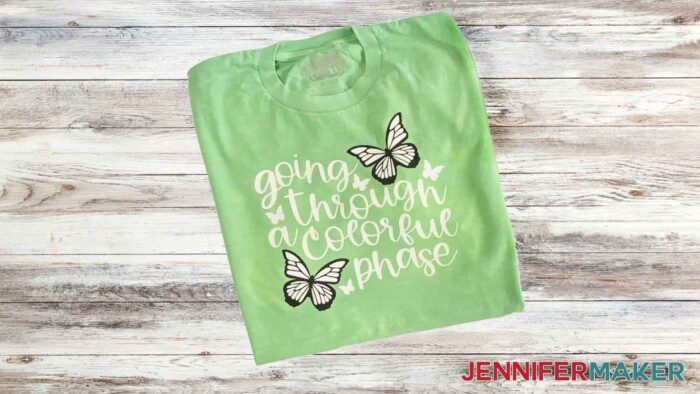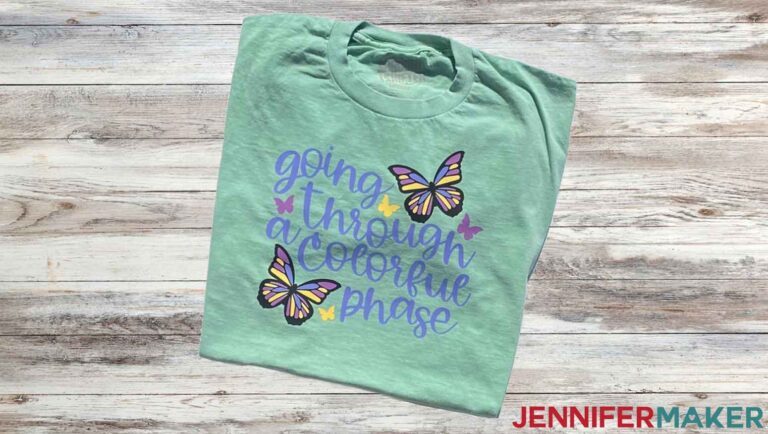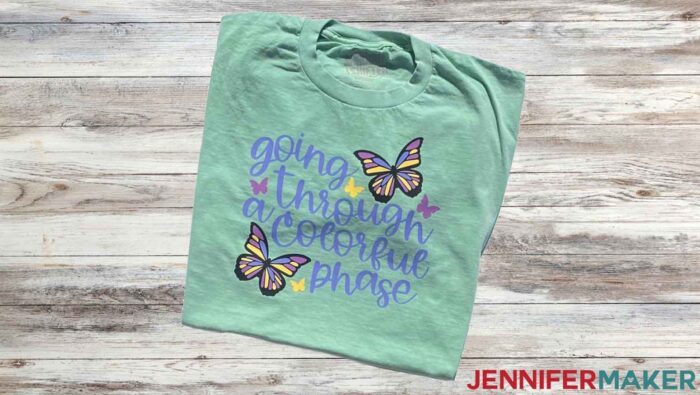 And a friendly "Oh the hue-manatee" for my fellow nature and wordplay lovers!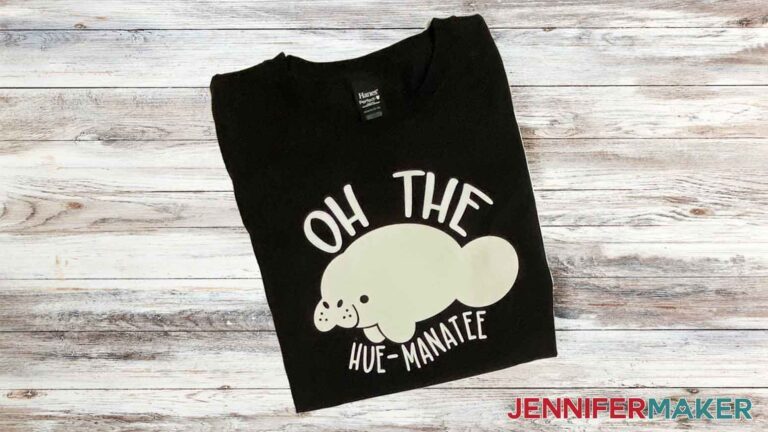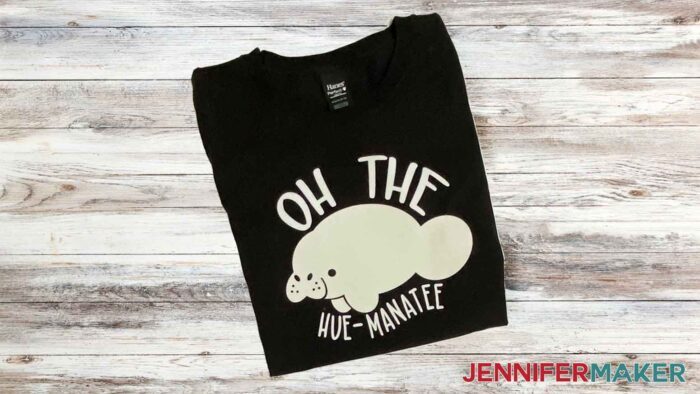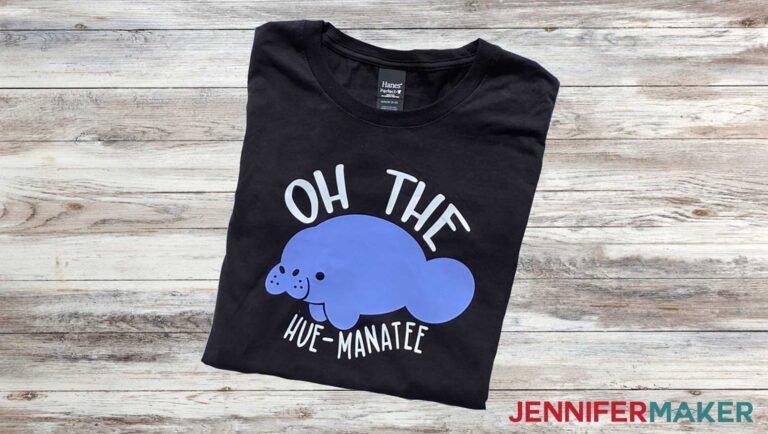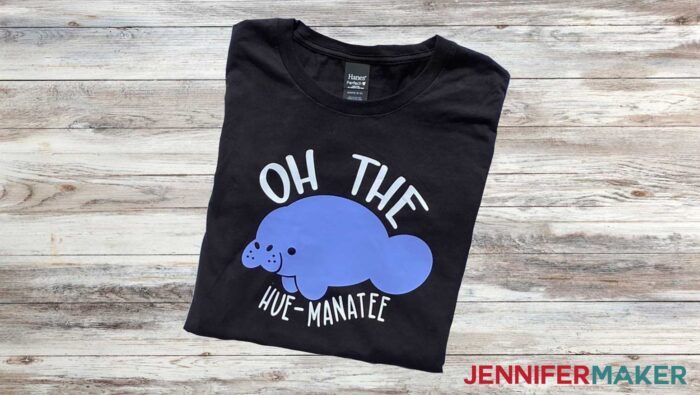 You'll notice these designs are multicolored! I thought, why use one solid color when I could mix it up for a more creative edge? I'll walk you through how to layer your HTV and apply it the right way, without overheating any of your layers. I'll demonstrate layering three colors of color-changing vinyl with one color of Everyday vinyl, and I'll teach you how to protect your heat transfers from the heat press with a used carrier sheet.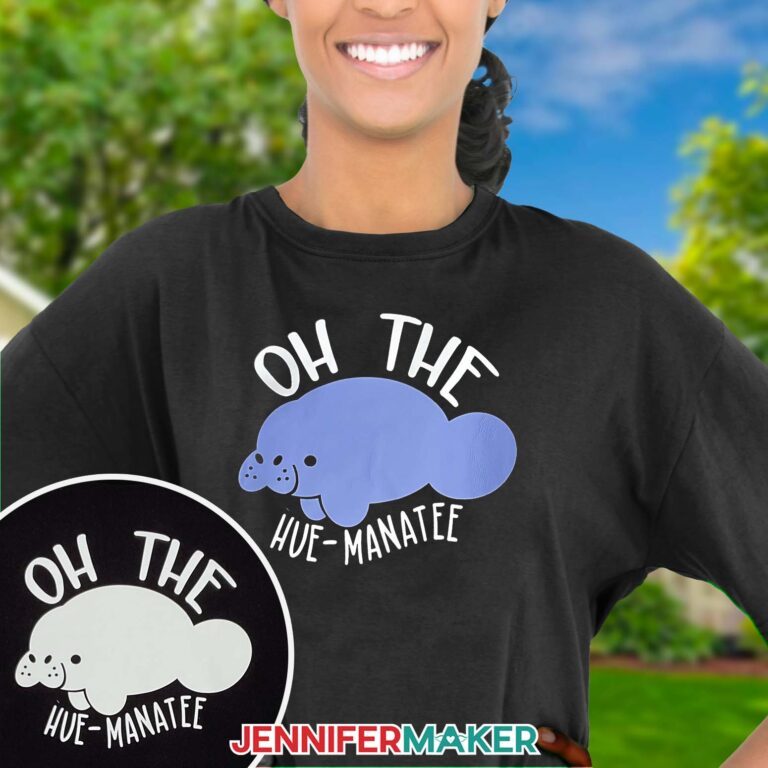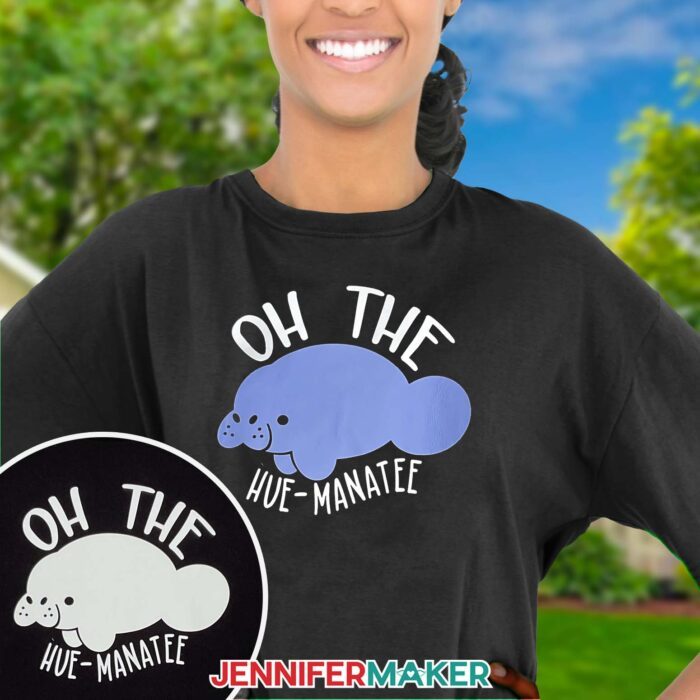 You can apply your color changing vinyl to any color shirt you like, just be sure that the material is safe for heat-transfer. And, the more color, the better!
Remember these? This shirt is made from fun color-shifting material that reminds me of a Hypercolor shirt, and is heat activated. What could be more fun than applying color-changing vinyl to a color changing shirt!
To cut your design, you'll need a Cricut cutting machine. This project will work on all Cricuts, even the Joy! You'll also need a heat source like a Cricut EasyPress, AutoPress, or even a household iron. Just make sure you keep that "steam" setting off!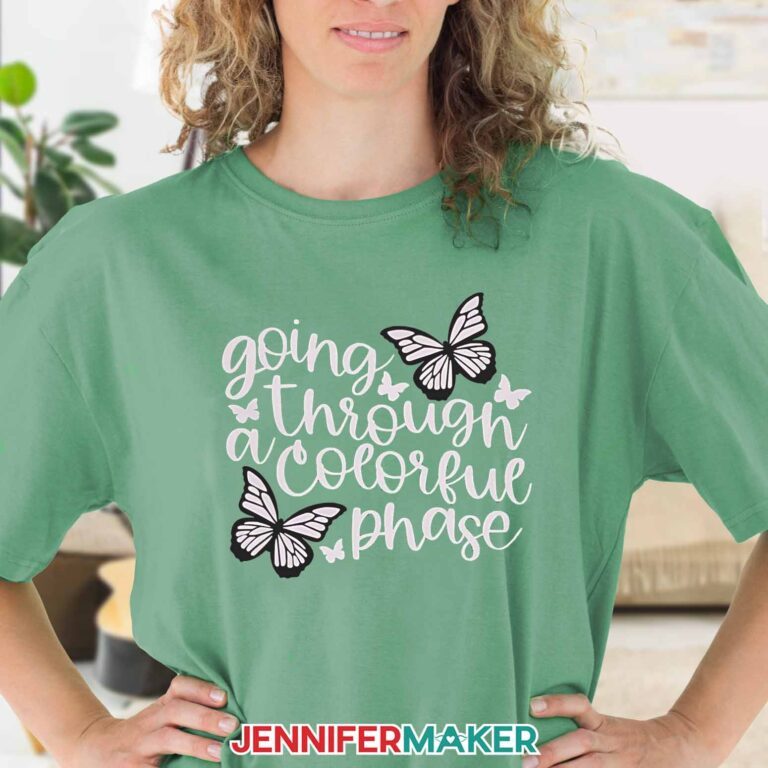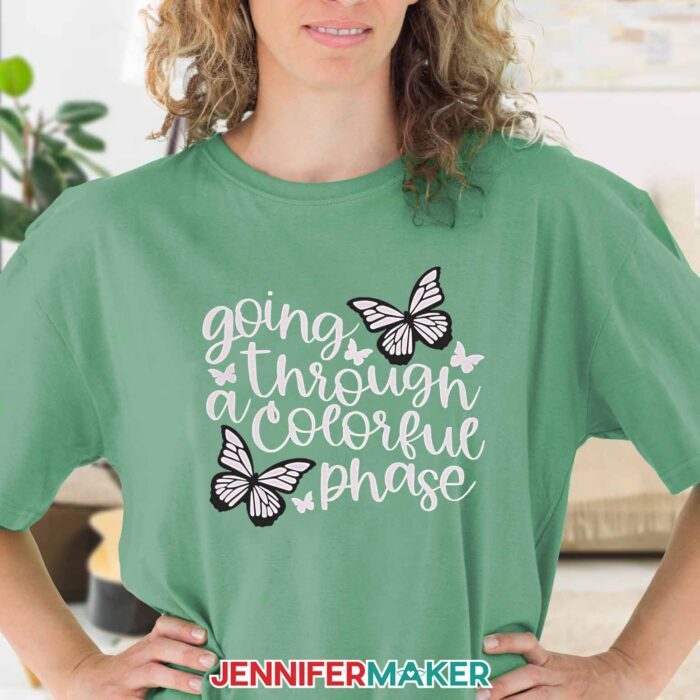 With a warmer temperature right around the corner, these shirts just scream summer and nostalgia — two things I love almost as much as crafting and teaching you!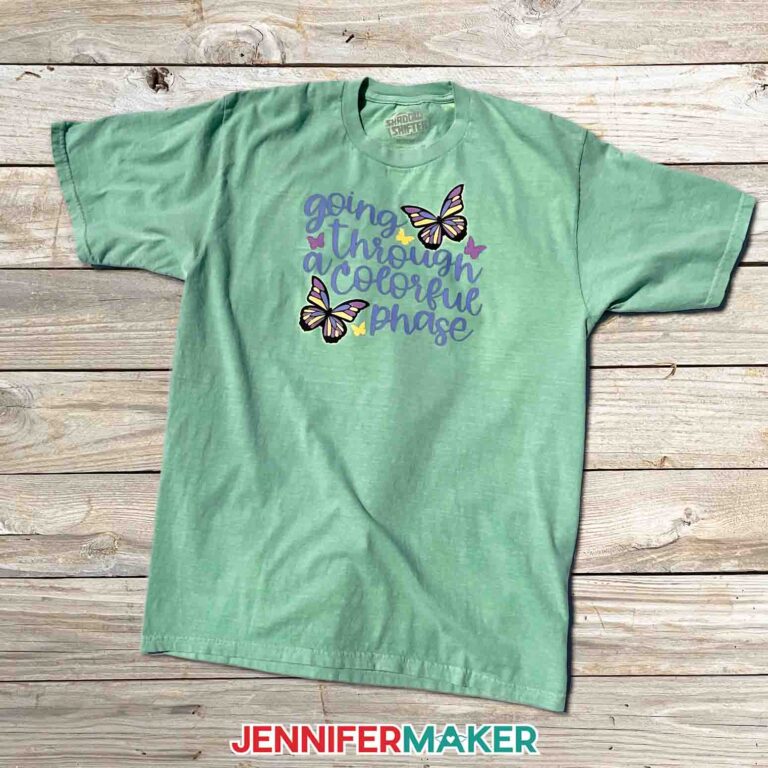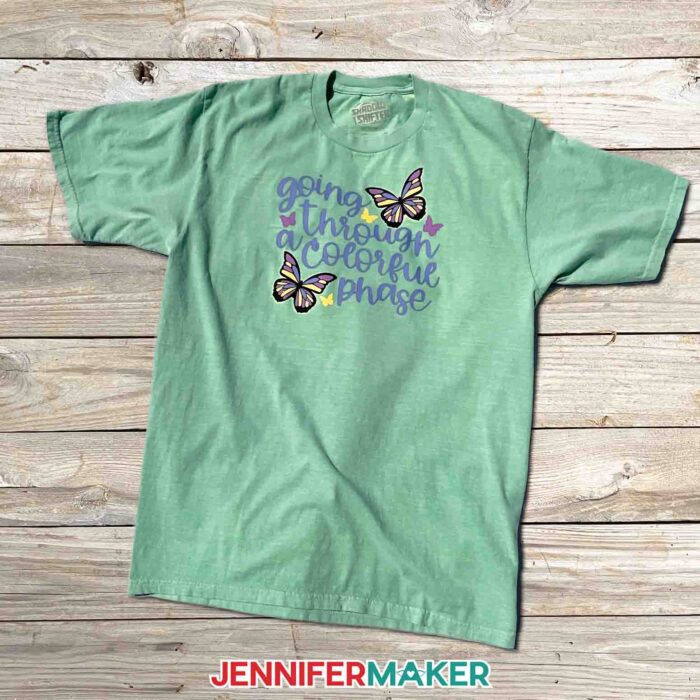 Ready to make your own incredible T-shirts with color changing HTV? This post contains some affiliate links for your convenience (which means if you make a purchase after clicking a link I will earn a small commission but it won't cost you a penny more)! Read my full disclosure policy.
Materials & Tools to Make Color Changing HTV T-Shirts
How to Use Color Changing HTV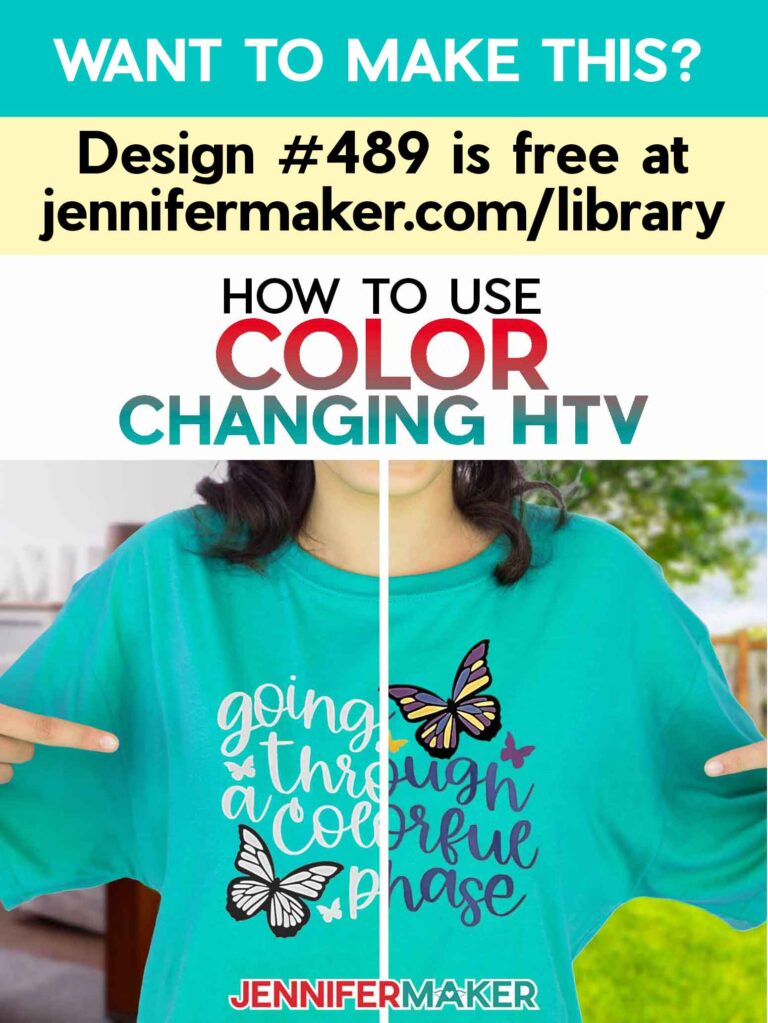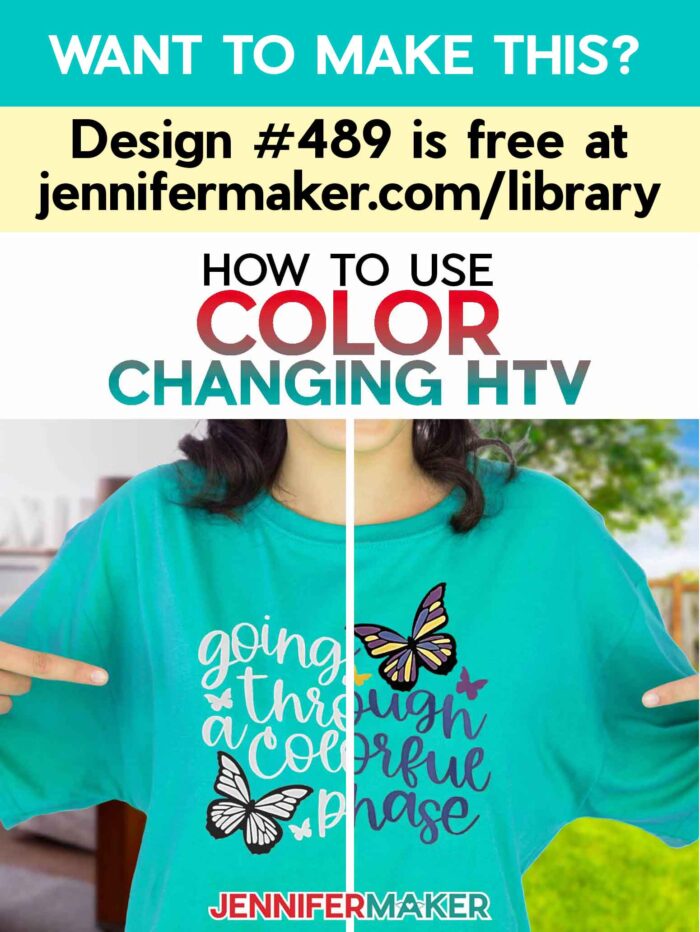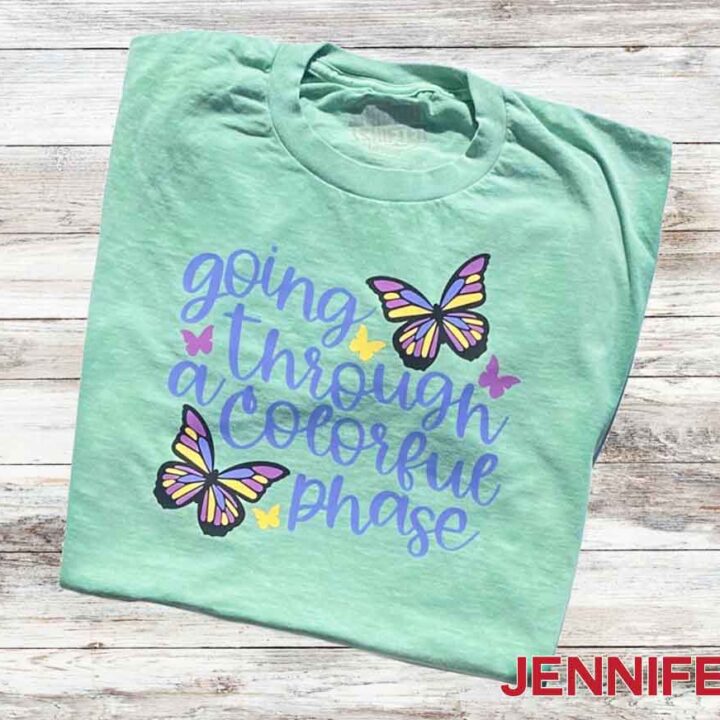 How to Use Color Changing HTV
Total Time:
1 hour
15 minutes
Difficulty:
Easy to Medium
Cut Cricut's new color changing HTV and apply it to a shirt! The UV reactive iron-on vinyl is white inside but shows its colors outside or when exposed to UV light.
Answers to Your Questions About How to Use Color Changing HTV
Q: How does color changing HTV work?
A: It's UV magic! Not really, but it kind of seems like it. UV heat transfer vinyl is white until it's exposed to UV rays from the sun (or a blacklight). Once the UV color changing heat transfer vinyl is out of the light, the color fades and returns to white.
Q: What is heat sensitive vinyl?
A: In addition to their UV-reactive vinyl, Cricut also carries other color changing vinyls like heat color-changing and cold color-changing permanent adhesive vinyl for use on any smooth surface. These are really fun to apply to cups, mugs, tumblers, and other hard surfaces that change when exposed to hot or cold temperature to show off the fun vibrant color change effect! When the temperature returns to normal, the permanent vinyl returns to its original color.
Q: What setting do you use on Cricut for color changing vinyl?
A: When cutting Cricut's color-changing heat-transfer vinyl, apply it to a green StandardGrip mat, glossy finish side down. In Design Space, choose the "UV Activated Color Changing Iron-On" material setting with the Pressure set to "More". When it's time to apply the vinyl to your shirt, use the Cricut EasyPress to apply 30 seconds of firm pressure at 315 °F. If you're using the AutoPress, press a 315 °F for 40 seconds. If you notice any rippling in your HTV, lay some butcher paper on top before pressing.
Q: Can you change colors in Cricut Design Space?
A: Yes, you can change the colors of your design in Cricut Design Space. Select the item you want to change and then click the color box at the top and select the color. All items of the same color will cut together on the same mat.
Q: Can you use iron on vinyl without a heat press?
A: Don't have a heat press machine? No problem! While an iron isn't suitable for some types of vinyl (like puff vinyl), you can absolutely use an iron to apply Cricut's color changing heat-transfer vinyl. If you're using an iron and cotton t-shirt, set it to the cotton setting. If your shirt is something other than cotton, adjust your settings accordingly. Always remember to turn the steam setting OFF!
Q: Can I use iron-on vinyl on polyester?
A: Iron-on or heat-transfer vinyl can be applied to materials like cotton, polyester, or cotton and poly blends. Use it to create eye-catching patterns for t shirts, tote bags, pillows, and other surfaces. This goes for all types of heat-transfer vinyl, not just the UV shift kind we're using here! When making UV light-sensitive color-changing HTV T-shirts, always check your fiber content before beginning your project.
Q: Is iron-on vinyl washing machine safe?
A: Machine wash or hand wash garments with HTV vinyl on cold with a mild detergent, then hang or tumble dry low. Following these care instructions will help lengthen the life of your T-shirt as well as your transferred image.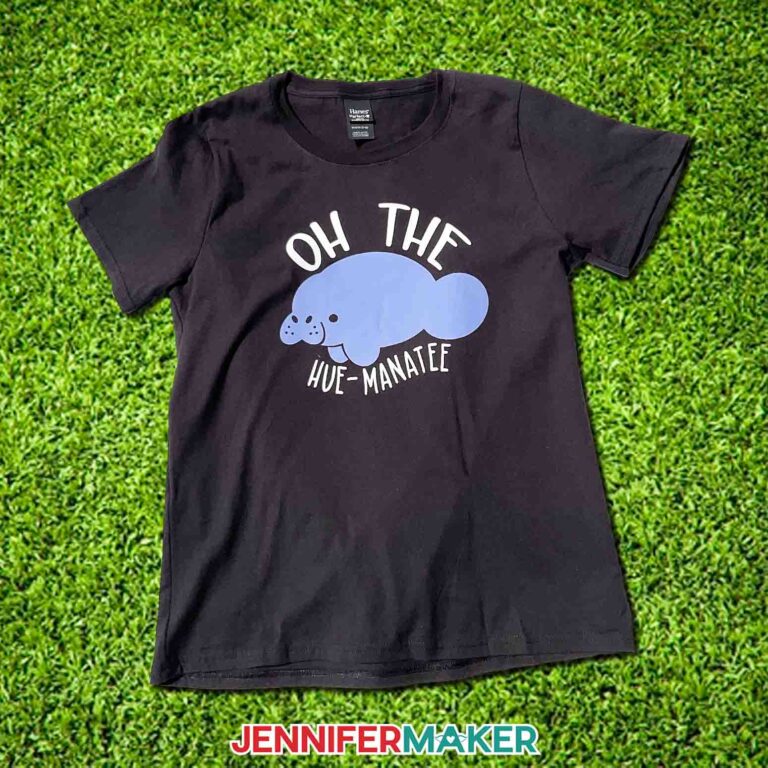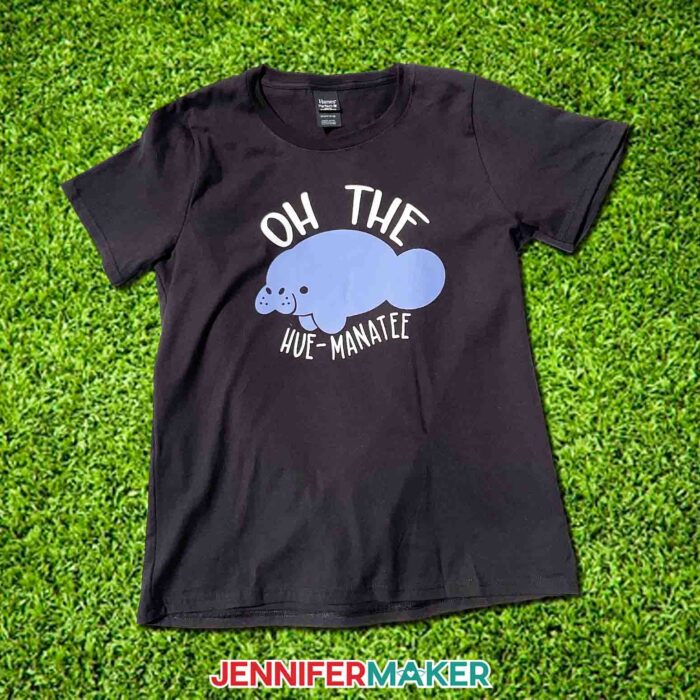 Get my free SVG files to make Color Changing HTV T-Shirts!
I'd love to see YOUR colorful creations using color changing HTV! Please share a photo of your finished product in our Facebook group or tag me on social media with #jennifermaker.
Love,