Learn how to layer vinyl on Cricut easily and apply it to a color changing cup!
I'm not sure how much vinyl you have layered or if you have ever layered vinyl, but what I'm about to show you is truly a game changer! Now before you say it, I know what you're thinking. Layering adhesive vinyl on projects can be tough. I know, it was hard for me when I first started attempting layered vinyl projects. You try to line up everything just right, but it's always off by just a hair and then before you can pull it back up and adjust it, the vinyl sticks and the design is ruined. It can be so frustrating. But, it doesn't have to be that way! I can teach you how to layer vinyl on Cricut!
Watch my step-by-step video tutorial premiering on my channel tonight at 7 pm ET / 6 pm CT.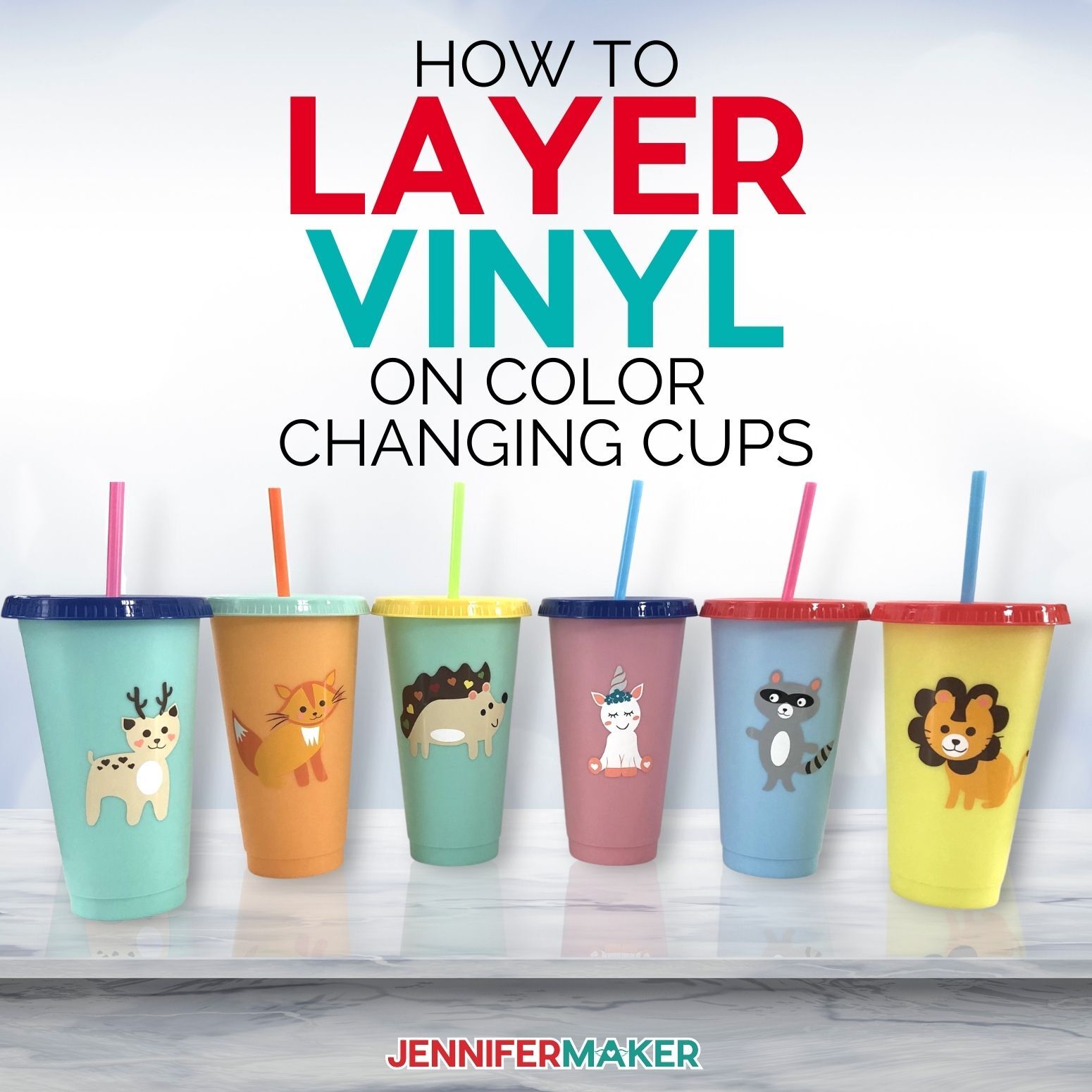 So there is a really cool hack that practically guarantees perfect placement every single time. That is exactly what I will show you. It's actually a lot easier than you might think and it will save you so much time and material!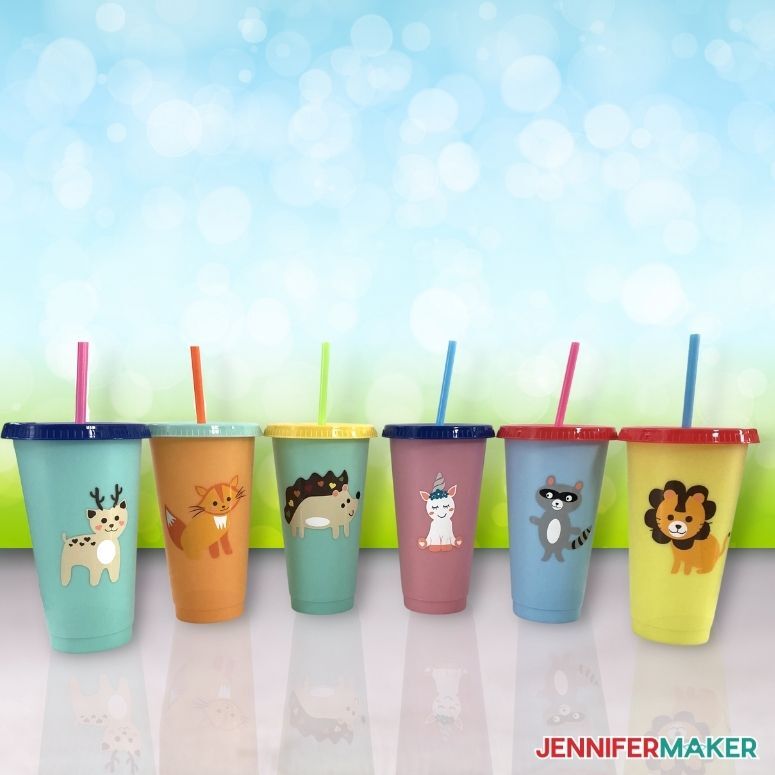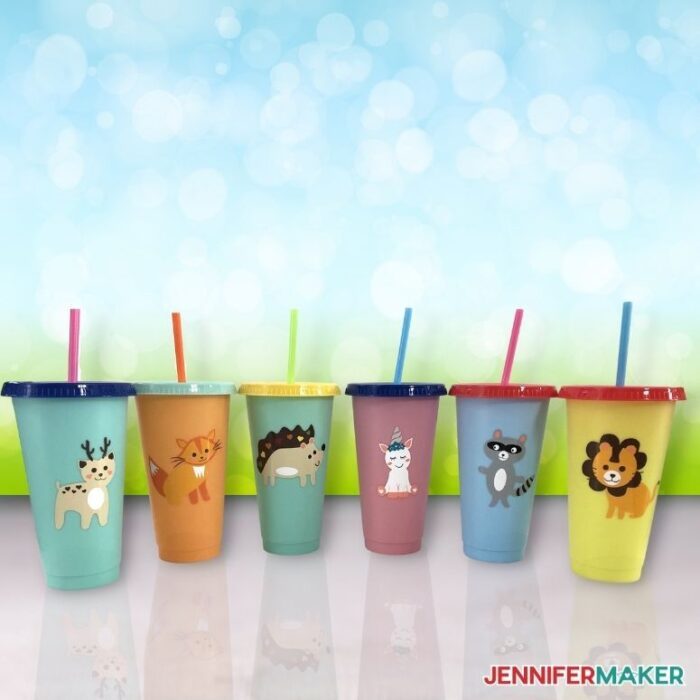 To start off, let's talk about the vinyl — for this tutorial, we're going to learn about adhesive vinyl, not iron on vinyl or heat transfer vinyl. So we need adhesive vinyl in an assortment of colors to make all the fun designs I've included for you. We will also need some standard grip transfer tape to transfer all of our designs. But you only need a little bit of a piece of transfer tape!
I cut my vinyl decal designs on a Cricut Maker 3, but you can cut these on any Cricut cutting machine including the Joy! A few other things you will need include the handy green standard grip machine mat, weeding tool, scraper and a brayer. Plus you'll want to have some scissors handy!
Oh, and let's not forget the material that makes the magic happen: parchment paper! I'm going to show you the easiest way to layer vinyl in this tutorial!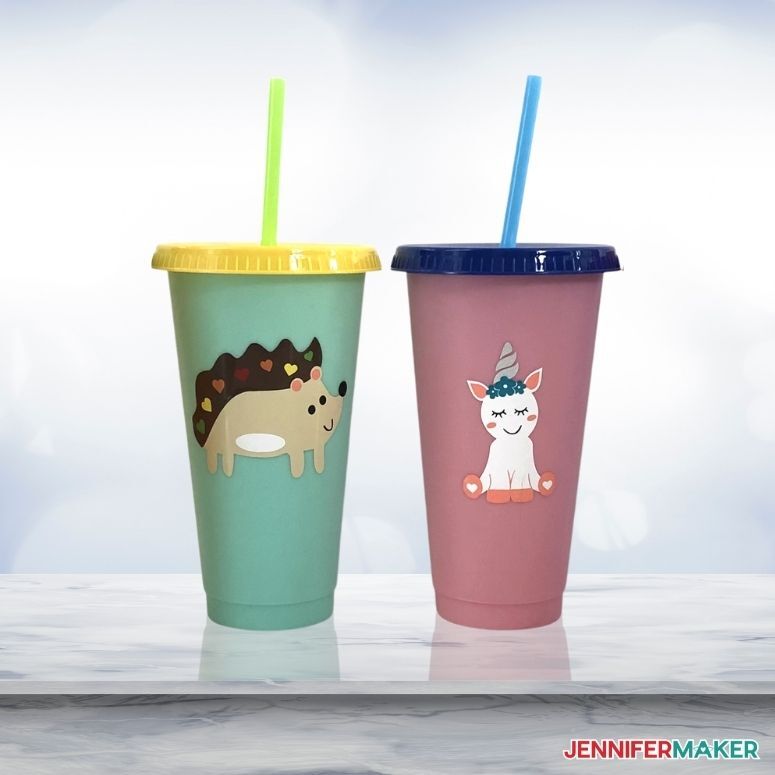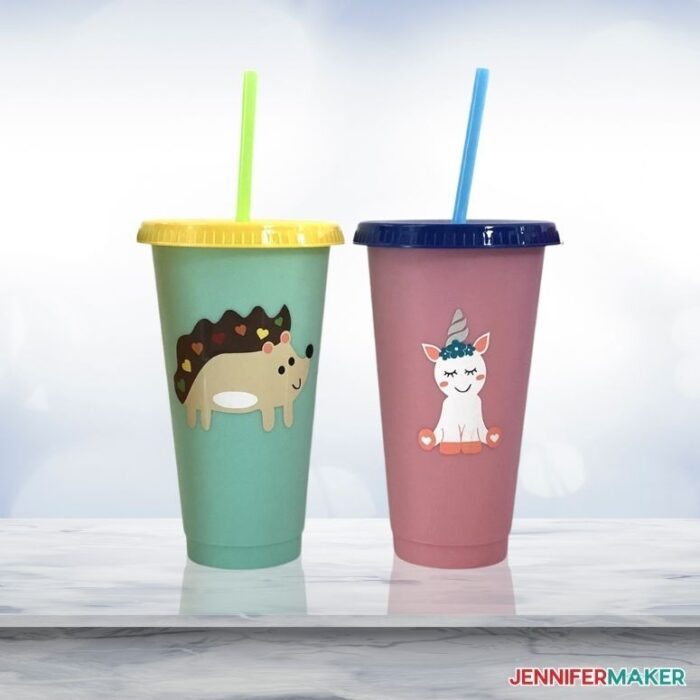 And of course we need something to put our layered vinyl decal on — how about some fun color-changing cups? I'm going to put my layered vinyl designs on these 24-ounce color-changing cups and they are seriously the coolest thing ever! Wait till you see what they look like when you add a cool drink and some ice!
Didn't they turn out so cute? As with most (if not all) of my projects, this would make a great gift for any occasion. You are also welcome to personalize your cup however you would like. You can add a name, change up the colors, and add any type of personalization you would like. The ideas are endless! Remember to hand-wash only so that your cup stays looking brand new for a very long time.
I can't wait to see all of your adorable layered vinyl designs!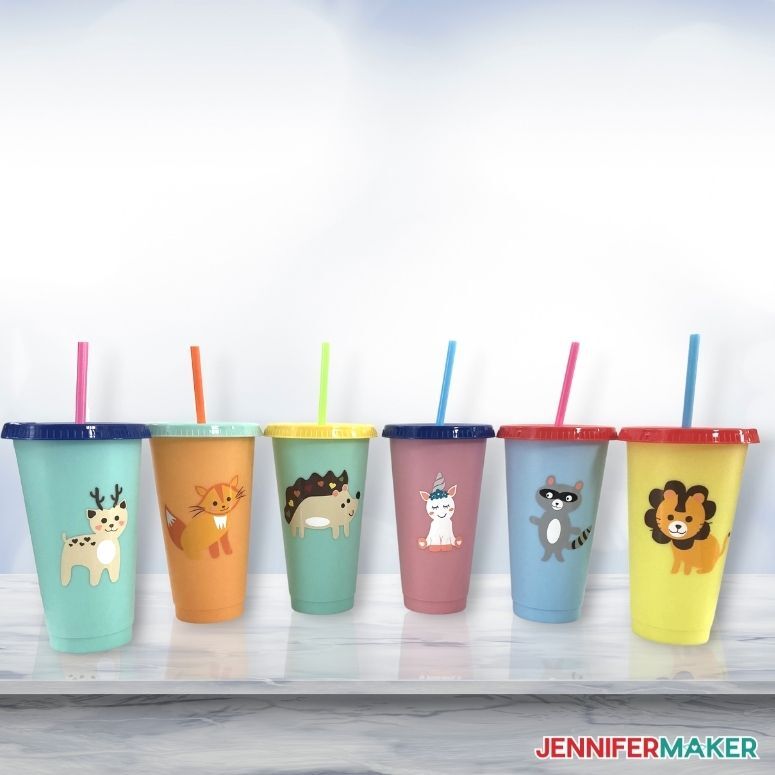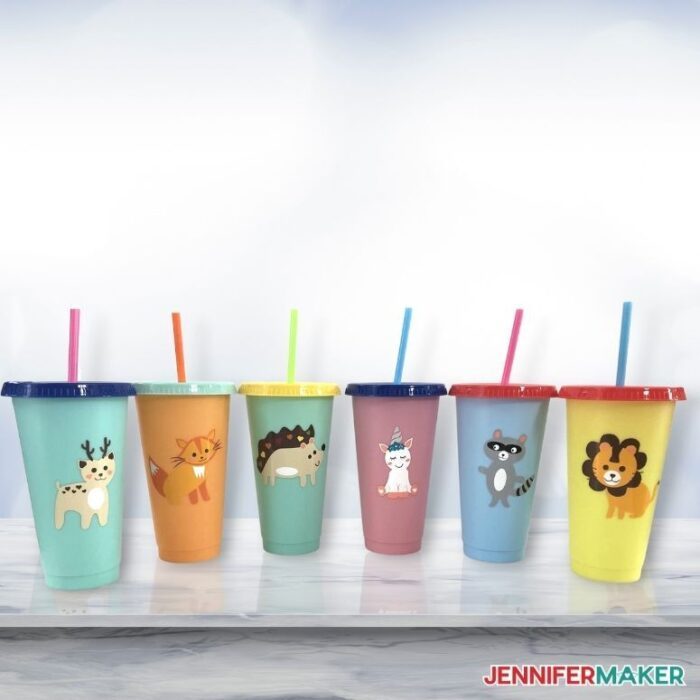 Let me show you how easy it is to make this cool layered vinyl project on a Cricut with my free designs and SVG file! This post contains some affiliate links for your convenience (which means if you make a purchase after clicking a link I will earn a small commission but it won't cost you a penny more)! Read my full disclosure policy.
How to Layer Vinyl on Cricut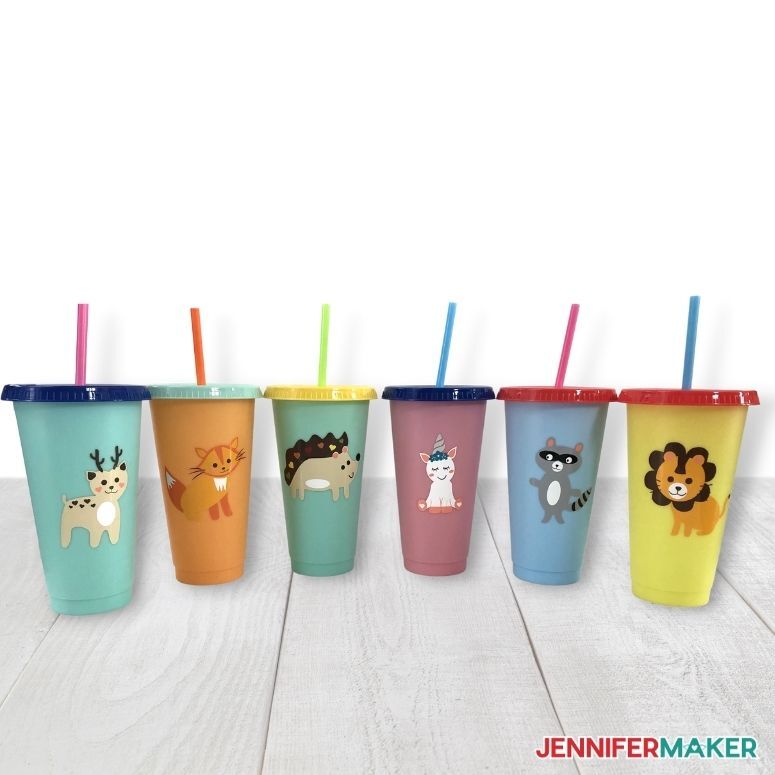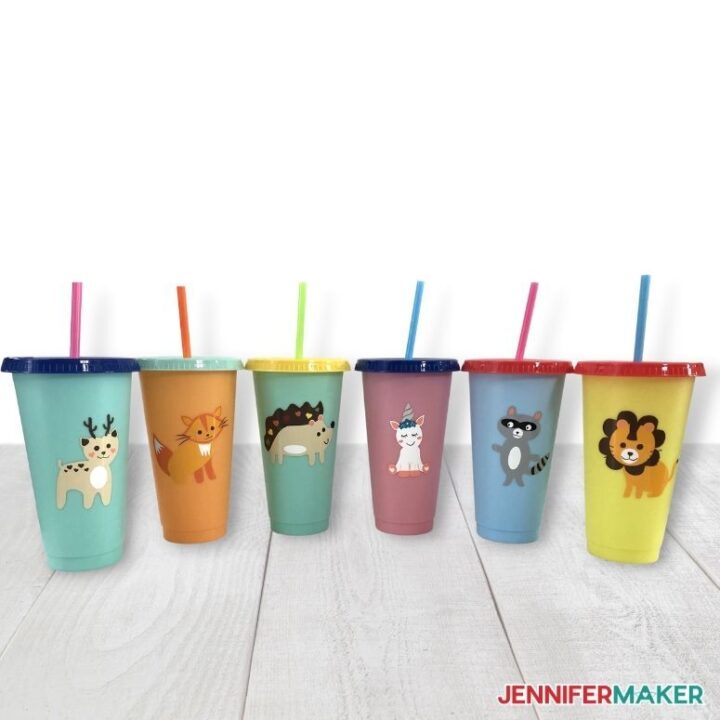 How To Layer Vinyl
Yield: 1

Active Time: 30 minutes

Total Time: 30 minutes

Difficulty: Easy to Medium

Estimated Cost: $5

Learn how to layer adhesive vinyl easily and apply it to a color changing cup!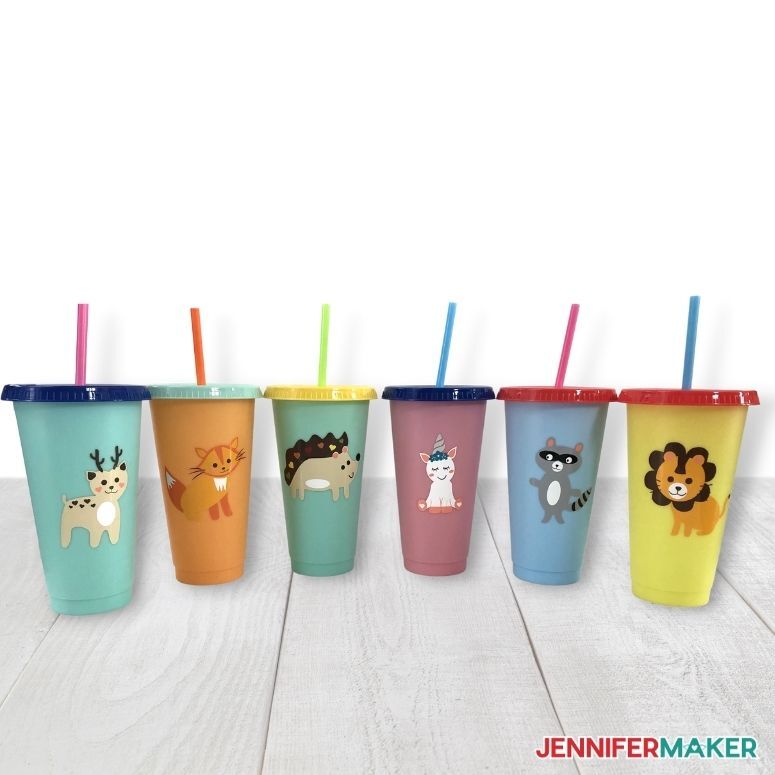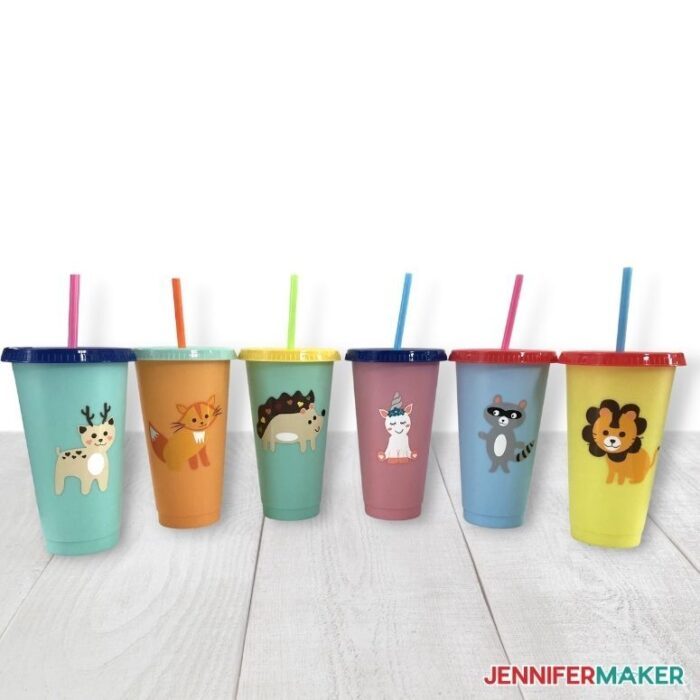 Answers to Your Questions About How to Layer Vinyl on Cricut
Q: Can I combine different types of vinyl?
Yes, you can … so long as you apply certain rules! Don't try to put any layers over Glitter, Mesh, or Flocked Vinyl. Just keep in mind that if you blend vinyl layers, even properly, the combination may not be as strong as those made with only Permanent vinyl.
Q: Can I cut this project on a Cricut Joy?
Yes, you can cut the vinyl for your layered vinyl project on a Cricut Joy.
Q: Do I start with the bottom layer or top layer when I layer vinyl?
In this tutorial, I show you how to start with the bottom layer and build up the layers onto it.
Q: What kind of vinyl do you recommend?
I use and love Cricut vinyl. It cuts and layers wonderfully!
Q: What else can I put these layered vinyl decals on?
There's many different projects you can make with these layered designs — try a water bottle, glass frame, acrylic keychain, or really any nice smooth surface!
Get my free SVG files to create beautiful Layered Vinyl Projects
I love seeing what you make with my designs and how you use them! Please share a photo of your layered vinyl project in our Facebook group or tag me on social media with #jennifermaker.
Love,