Learn how to create easy home decor you can personalize to match your home and style!
March is almost here, which means spring is coming soon! And I'm starting to think about HOME projects … cleaning, organizing, and decorating! So this seems like the perfect time to share some of my best home decor ideas with you! And one of my favorite things to do is customize off-the-shelf products to make them fit into my existing decor. It's easy to do with a Cricut cutting machine and a little vinyl or Infusible Ink, and YOU can do it, too!
To show you how to do this, Amazon Home invited me to share my easy home decor ideas with you in a video — click here to watch the video!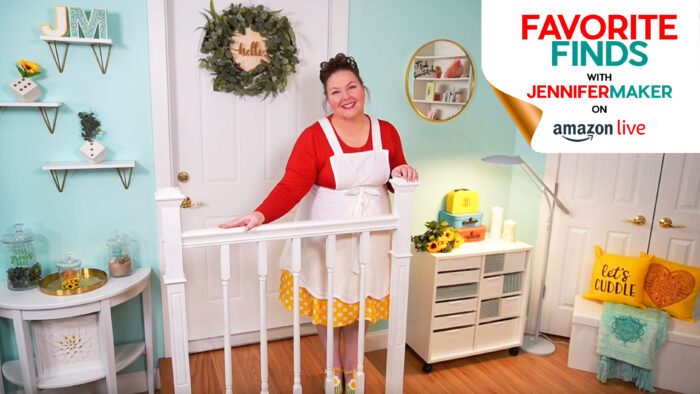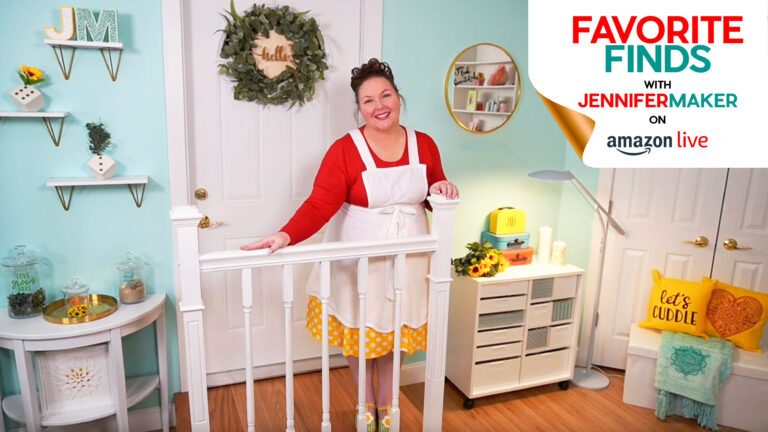 Ready to personalize your easy home decor with a Cricut cutting machine? This post contains some affiliate links for your convenience (which means if you make a purchase after clicking a link I will earn a small commission but it won't cost you a penny more)! Read my full disclosure policy.
Here are my easy home decor ideas!
Easy Door Wreath
First, a simple faux eucalyptus wreath that I found on Amazon. To personalize it to fit my style, I added a circle cut out from wood veneer on the back, because I wanted to cover up half-moon window in my door. I secured the wood with zip ties. Then I cut out the word "hello" in gold posterboard — the tails of the word are long enough to extend into the wreath, which holds it in place. (Note: My wreath is inside my door. If your door is exposed to the elements, I recommend cutting your word from wood instead and then seal it before putting outside.) This gives me a simple and sweet wreath that is tailored to fit my door's shape and my own personal style!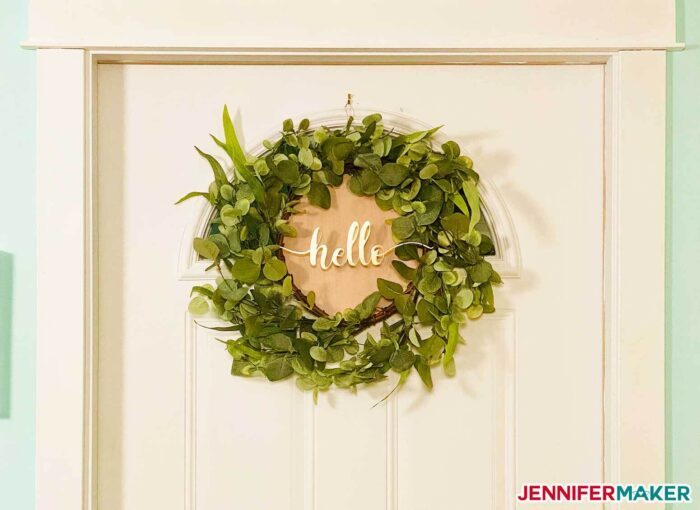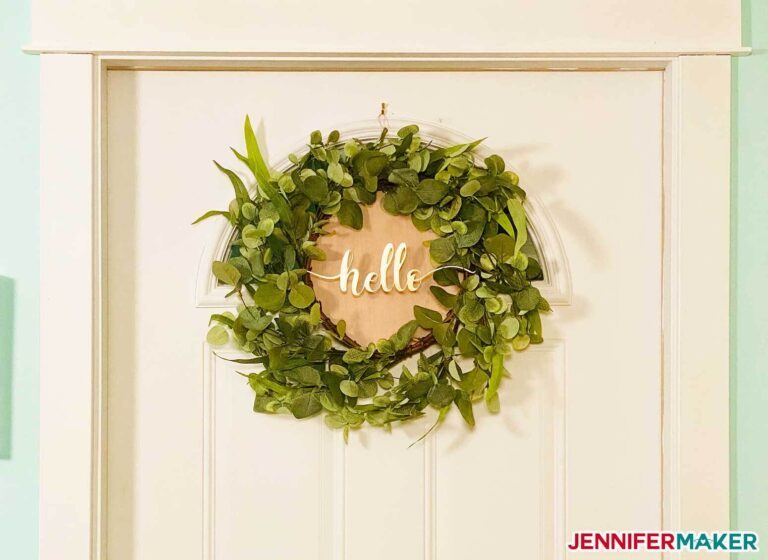 "You Look Beautiful" Round Mirror
This may be my favorite idea of them all! This is a simple gold circle mirror, and upon it I've added some black removable vinyl with the words, "you look beautiful" in the corner. Now anytime anyone looks into this mirror, they are reminded they look beautiful! This is so easy and fast to do! You could put ANY words you wanted on the mirror. My suggestion is to put them near the edge, rather than right in the middle, so the mirror remains functional.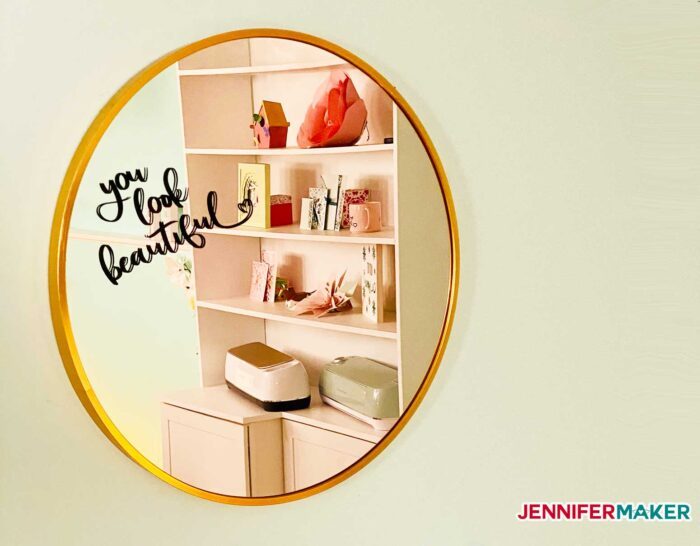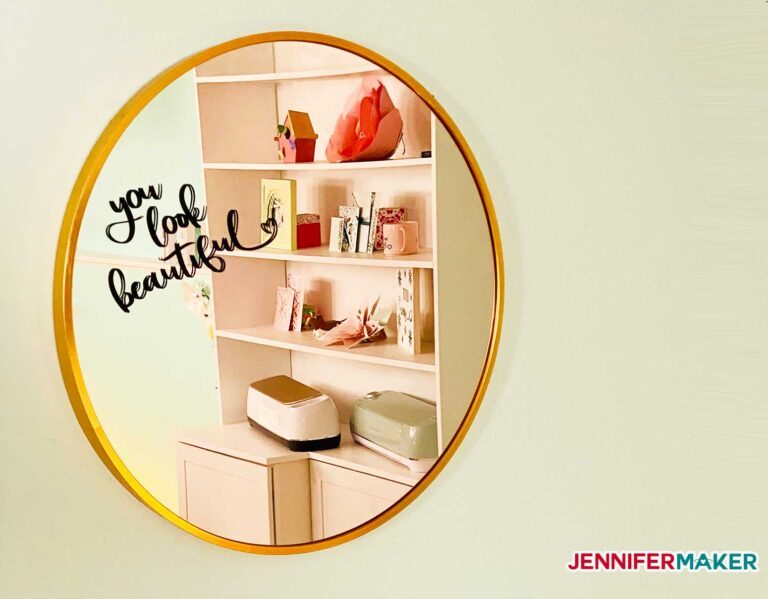 Apothecary Jars Filled with Happy Things
I love glass jars and have a whole collection of them in my craft room! I found these fun apothecary jars on Amazon and knew I had to have them for my entry way. I could have just filled them with any number of things, but I thought it would be fun to fill them with happy things that made me and my family, such as the sand and shells we collected on our summer vacation in 2020. In the other jars, I put simple faux plants in the bottom. To make them stand out, I added labels on the front to match their contents. The labels are simply permanent vinyl and really easy to personalize and apply with the Cricut!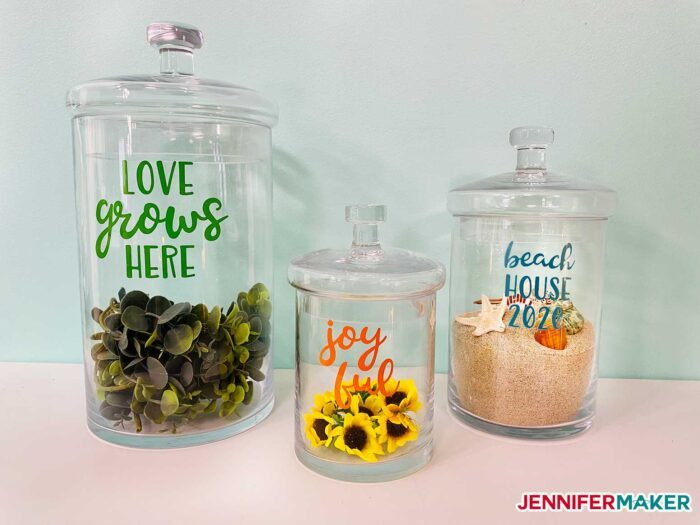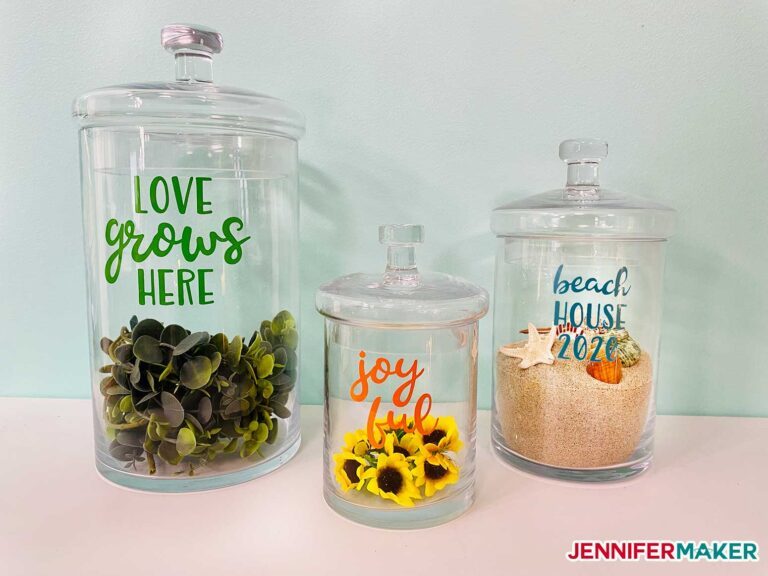 Cute Vases on Floating Shelves
Floating shelves are so versatile and on trend. And you can change their decorations up with the seasons if you like! I found these cute white and gold floating shelves on Amazon and I love their Art Deco style brackets. To decorate them, I added some simple geometric ceramic vases customized with gold removable vinyl, and filled them with silk flowers. And the letters "J" and "M" on the top shelf are from my recent 3D Paper Letters tutorial! So simple yet so fresh and inviting!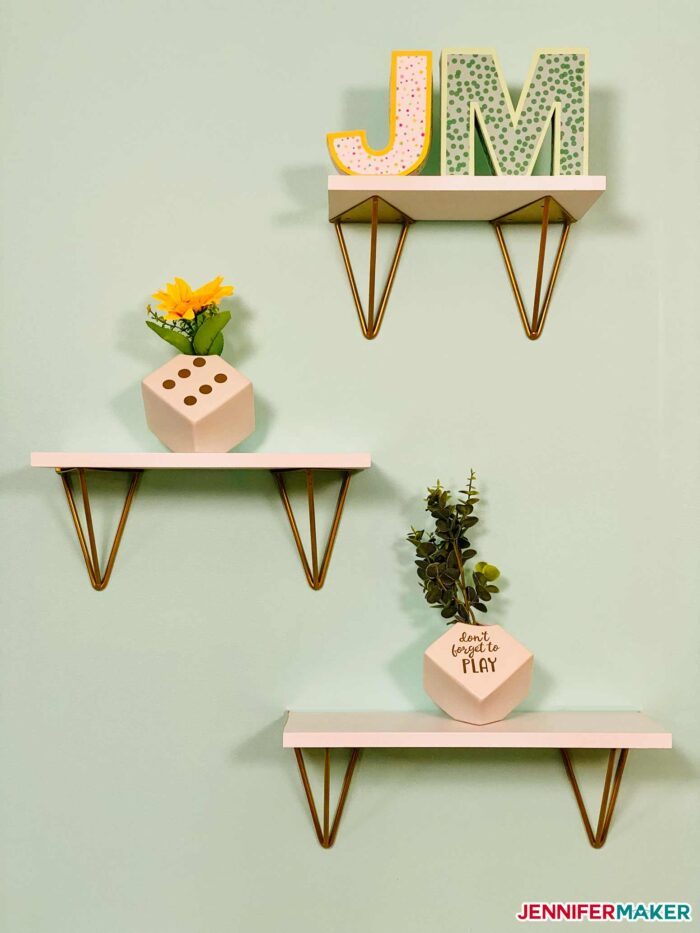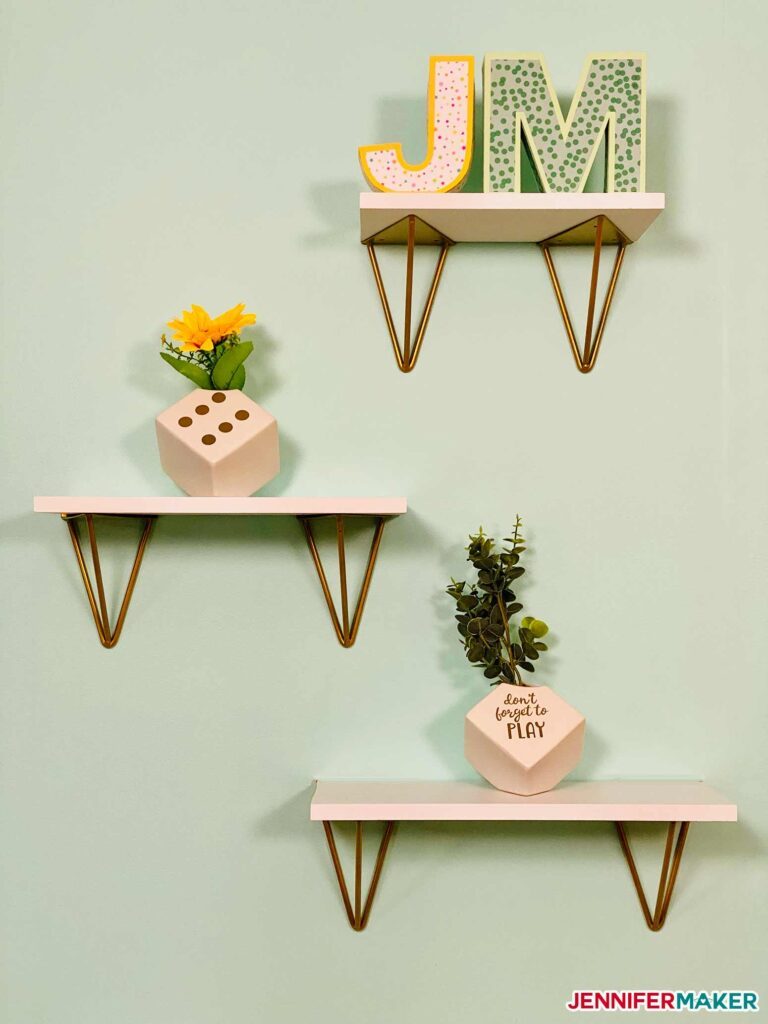 Personalized Throw Blankets
Living in Michigan, we have a lot of throw blankets around our home to help us stay warm and cozy. Most are fleece, which happens to be 100% polyester. So why not dress these up with some Infusible Ink, which is perfect for 100% polyester fabric. This was fun and easy to do! Just cut the Infusible Ink and follow the directions with the EasyPress to add it. The one on the left is dark "Bright Teal" Infusible Ink on a light green throw, and the one on the right is two layers of Infusible Ink (rainbow triangles and blank) on a yellow throw. Both blankets are available in other colors, but keep in mind that Infusible Ink works best on light colros like those I've chosen here. I LOVE how these turned out!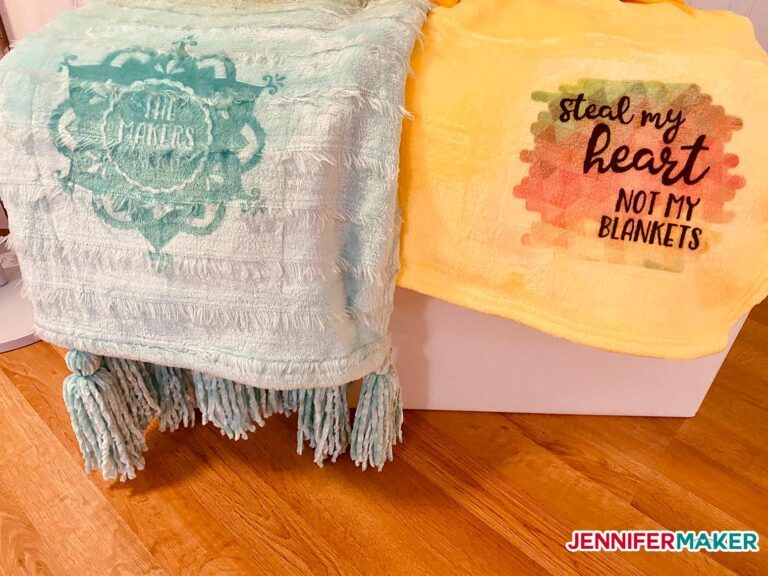 Throw Pillows with Custom Decals
I love throw pillows, but often struggle to find ones that are just right for my decor. And that's when I turn to just making what I want with a throw pillow blank and a bit of iron on vinyl. These two yellow throw pillows were so quick and easy to make. I used the Cricut Explore 3 and Smart Vinyl and was done in 15 minutes!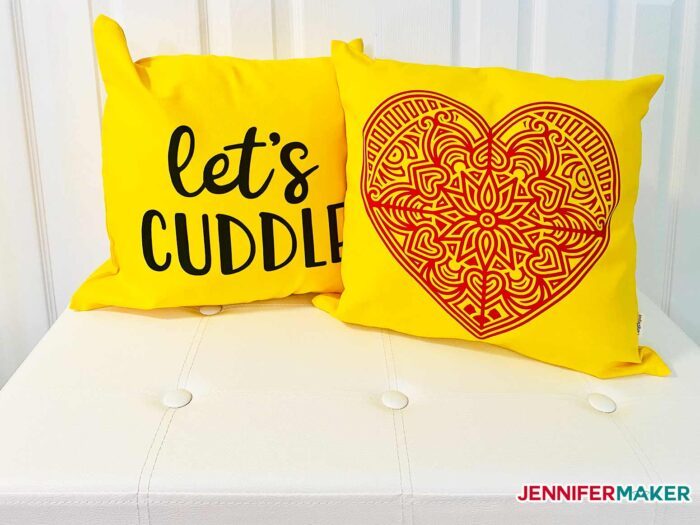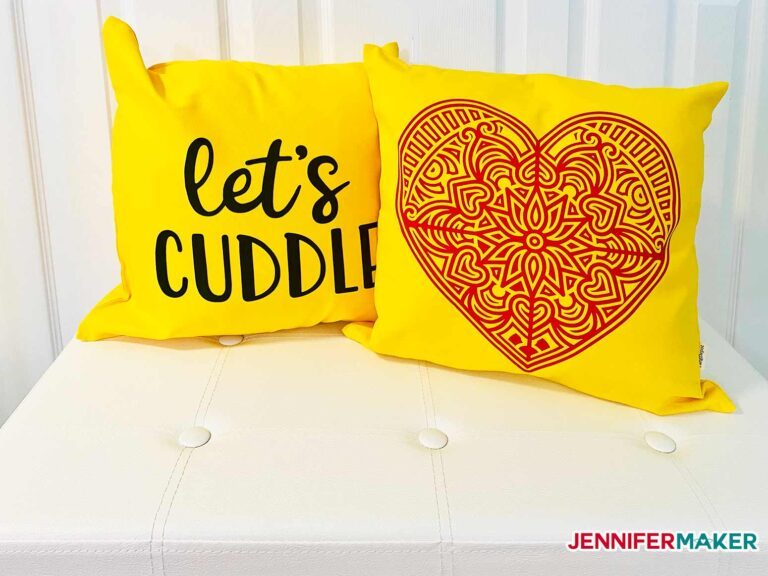 Paperboard Suitcases
Love to keep memorabilia? You'll love these adorable paperboard suitcases. They're fully functional and roomy, perfect for holding mementos, souvenirs, or anything else you might like to store. Add a little vinyl to the top or sides to label it and you have an instant conversation piece! These paperboard suitcases are available in a wide array of colors and patterns, too!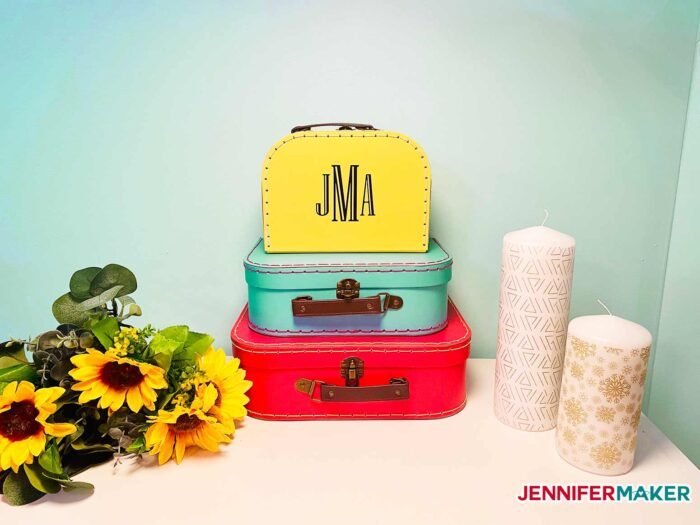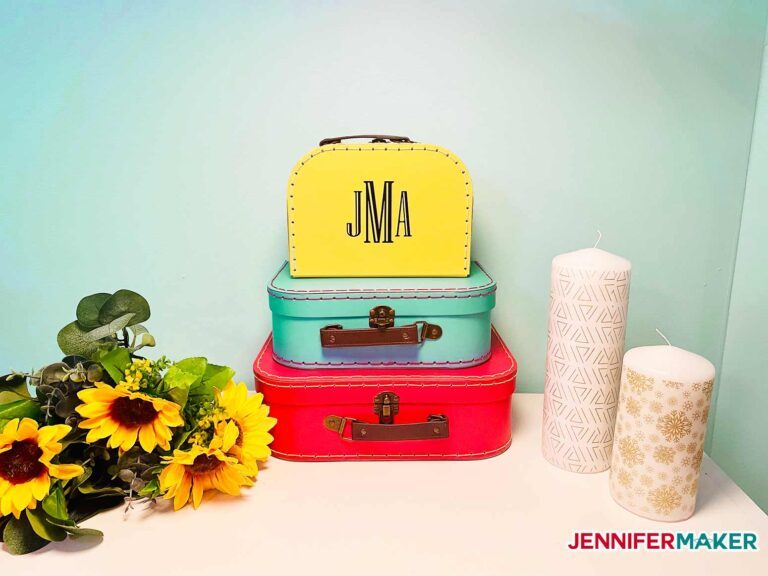 Watch tonight's video for MORE ideas!!
Answers to Your Questions Easy Home Decor You Can Personalize
Can I make these home decor ideas in different sizes?
Definitely! Just resize these to fit your item!
Get my free SVG files for Easy Home Decor!

Now, I'd love to see your home decor! If you make anything with these designs, please share a photo in our Facebook group, email it to me at [email protected], or tag me on social media with #jennifermaker.
Love,