Make a splash with these DIY personalized beach towels decorated with layered Smart Iron On and cut with the Cricut Maker 3 or Cricut Explore 3!
I have been having so much fun experimenting with various materials on the new Cricut 3 machines! Like the looong Smart Iron On that Cricut just introduced along with the new Cricut Explore 3 and Maker 3 machines. Oh my gosh, there is so much versatility with having the ability to make long cuts and I just had to try it on some beach towels for the summer! And look how cute these mermaid and seahorse towels are! I absolutely love how these DIY Personalized Beach Towels have turned out with Smart Iron On cut on the Cricut Maker 3.
Watch the DIY Personalized Beach Towels assembly video here: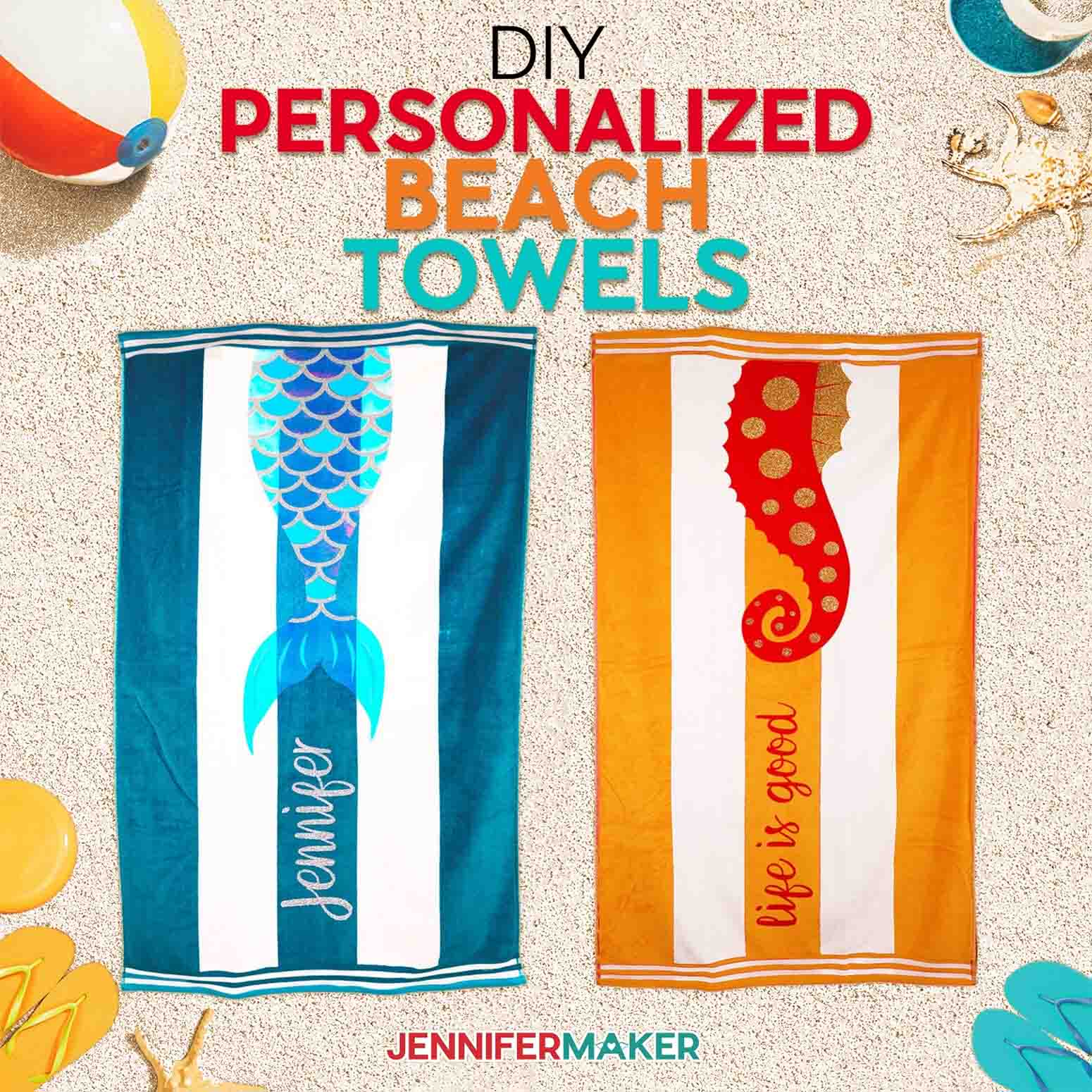 These beach towel designs have been created for towels that measure 34″x 64″. You will want to confirm the size of your towel before cutting your design to be sure your design will not exceed the size of your towel!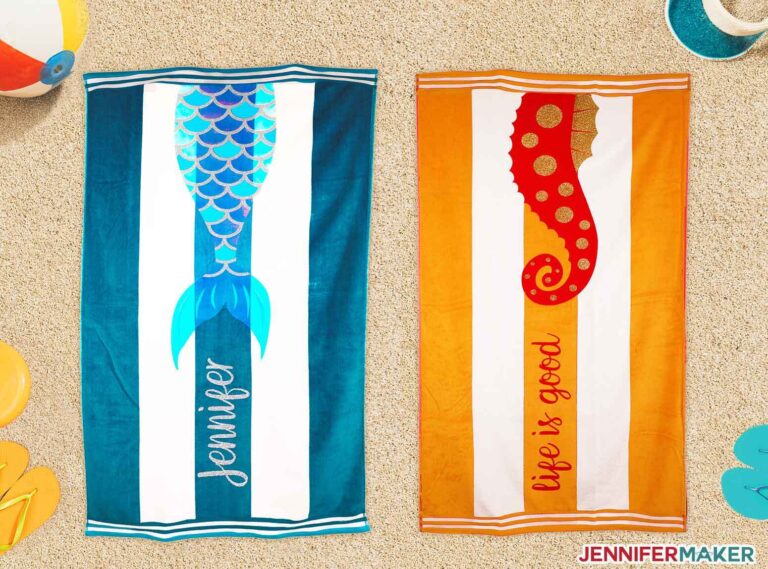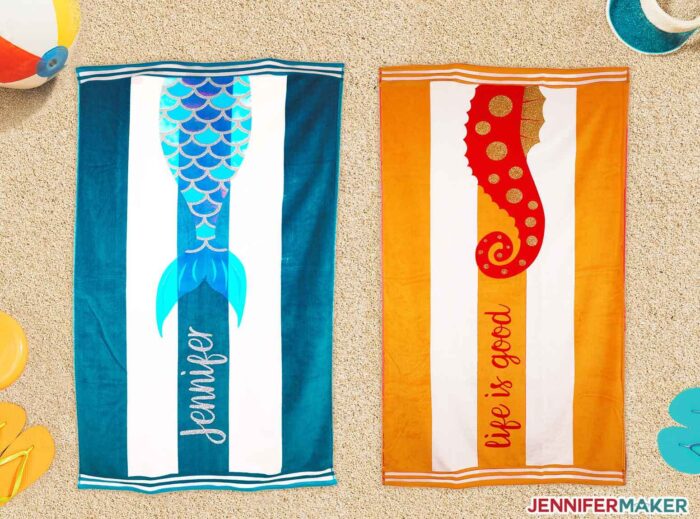 For the Mermaid design, you will need Smart Iron On in the following lengths, but please remember that your length will change depending on your length of personalization!
57.75" of Smart Iron On – Matte Blue (with the name "Jennifer" attached to the scales—your length will be different depending on name or word you use)
39.25" of Smart Iron On — Matte Red
35.25" of Smart Iron On Glitter in White (if you attach the scales and the fin pieces)
For the Seahorse design, you will need Smart Iron On in the following lengths:
56.5″ of Smart Iron On in Matte Red (with the "Life is Good" quote Attached to the seahorse body – your length will be different if you change the text)
29.25" of Smart Iron On Glitter in Gold
Of course, you can use whatever colors of iron-on vinyl (aka heat transfer vinyl) you want!
You will also need a weeding tool to weed your designs after you cut them. This is a great thing to work on while you wait for your Cricut Easy Press, or whatever heating element you will be using, to come up to the correct temperature!
Once you have weeded your design, you want to prepare your towels by preheating them with your EasyPress or household iron by applying light pressure for five seconds. Repeat this process on all parts of your towel that will have vinyl attached.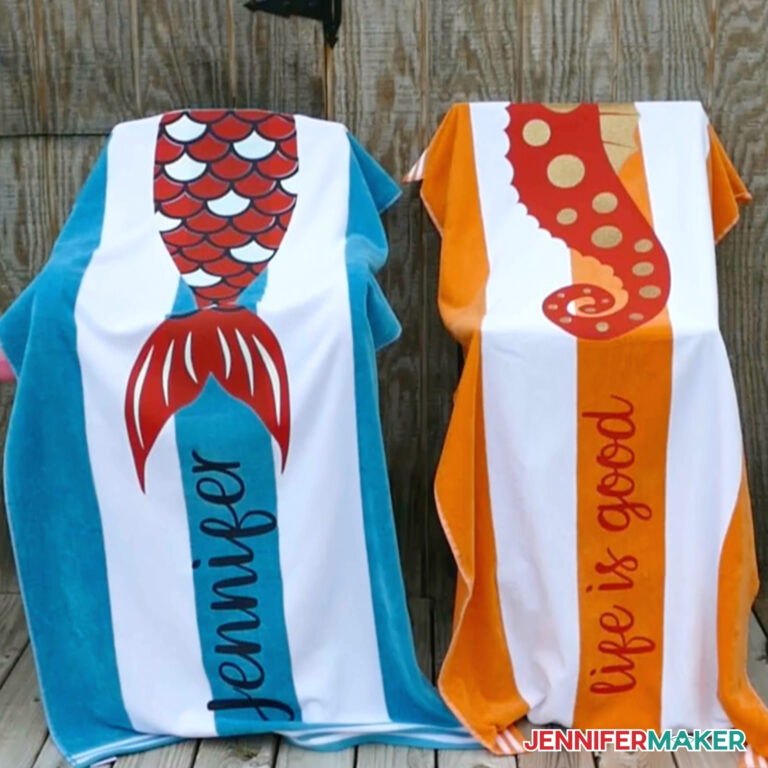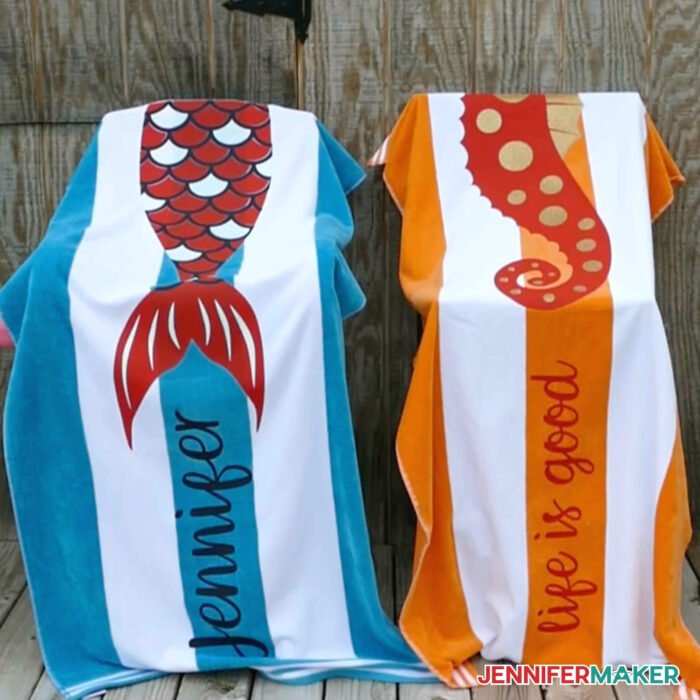 After aligning all the iron-on vinyl pieces for your DIY Personalized Beach Towels design, then you will adhere them using your EasyPress or iron. You want to work one layer at a time, using my step-by-step directions below. If you are struggling to remove the carrier sheet, reapply heat in very small increments of 3 – 5 seconds until it does come off!
After you've applied all the layers, you will want to cover your entire design with the large carrier sheet from your first layer and cover your entire design. Then you will heat each section of the Mermaid or Seahorse beach towel for 12 to 15 seconds with light pressure.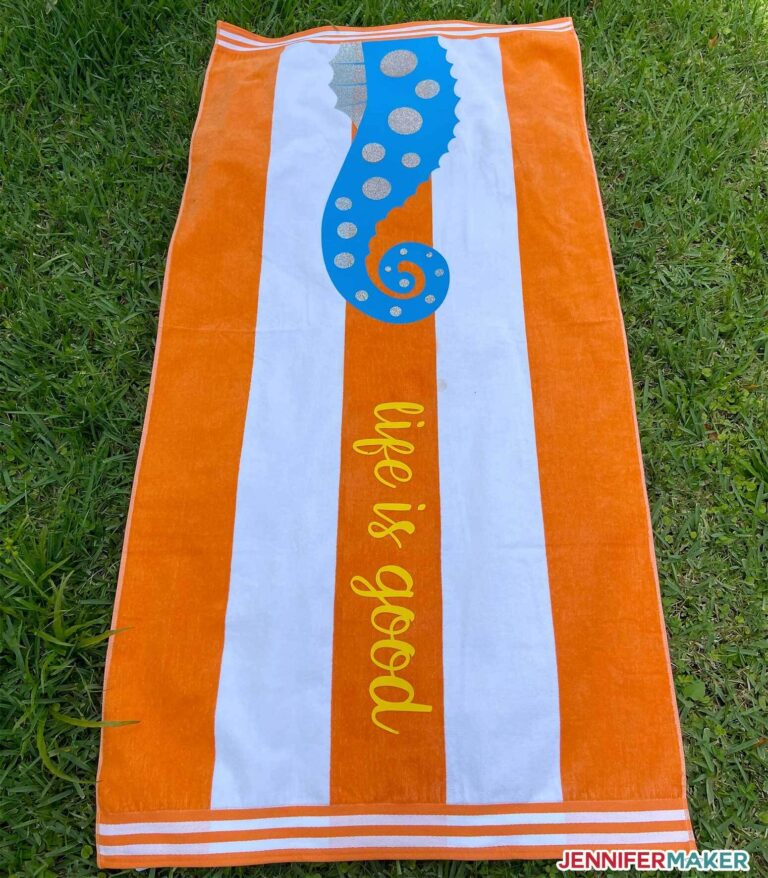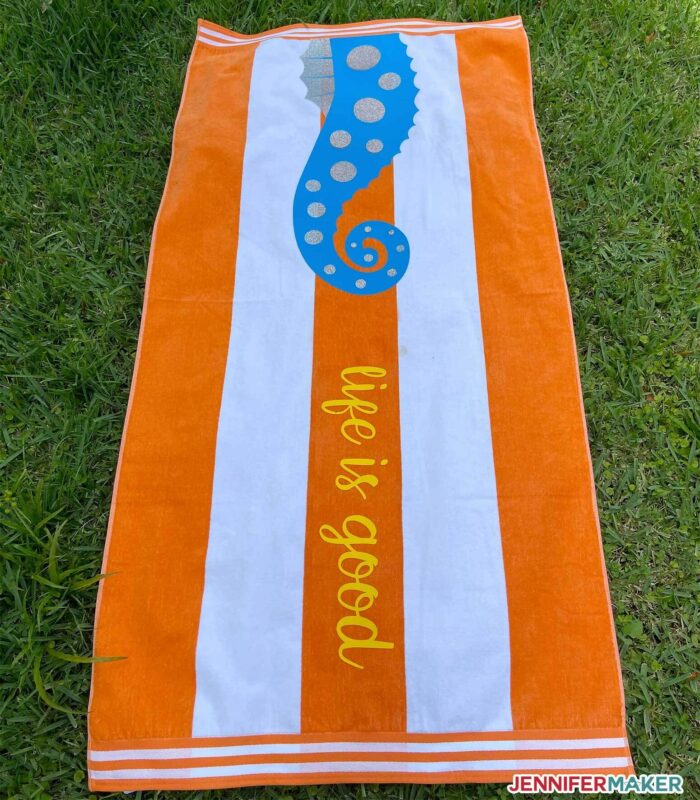 The text has only been tacked to the towel once, so next, you'll want to heat the text sections for up to 20 to 25 seconds to make sure it's fully adhered. If your text layer is Glitter vinyl, you can increase the temperature of the EasyPress for this section up to 330ºF. If your text layer is regular Iron-On vinyl, then you'll want your EasyPress to be 315ºF. For a household iron, you would pick a setting between Cotton and Linen. It may take some experimenting to find just the correct temperature, as individual irons do differ! Experiment!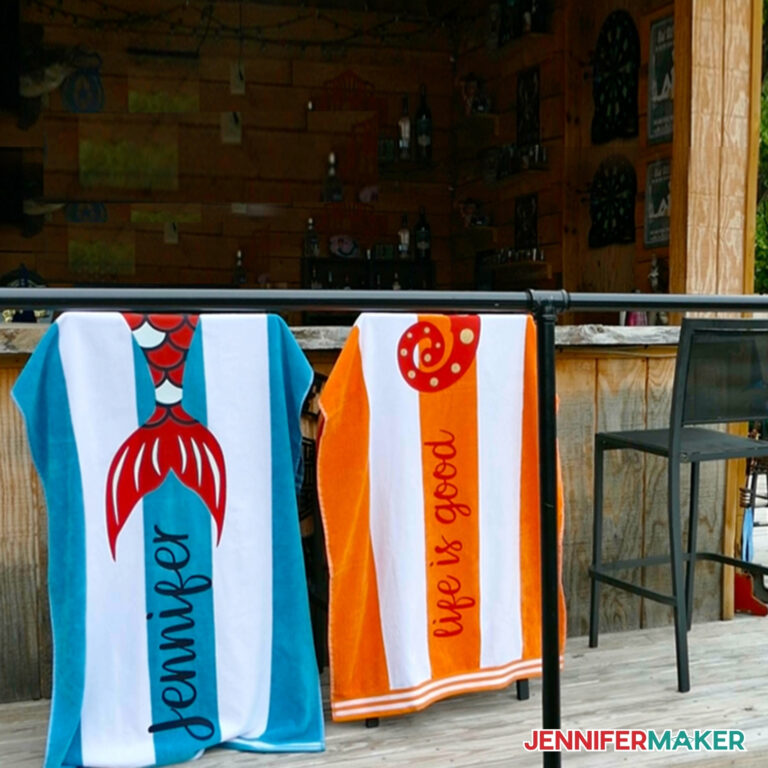 I'm going to cut this on my new Cricut Maker 3, but you could also do it on the Cricut Explore 3. And since I'm using a roll of Smart Iron On, I'm going to use and show you how to use the Cricut Roll Holder, too! If you don't have those, you can still make it with another cutting machine — look at my Vertical Sign tutorial to see how to piece and align your vinyl on the towel!
Let me show you how easy it is to make this wonderful DIY Personalized Beach Towels project! This post contains some affiliate links for your convenience (which means if you make a purchase after clicking a link I will earn a small commission but it won't cost you a penny more)! Read my full disclosure policy.
Materials to Make DIY Personalized Beach Towel With Smart Iron On
View my Amazon shopping list with the exact items we used to make this project!
How to Make Your Own Adorable DIY Personalized Beach Towels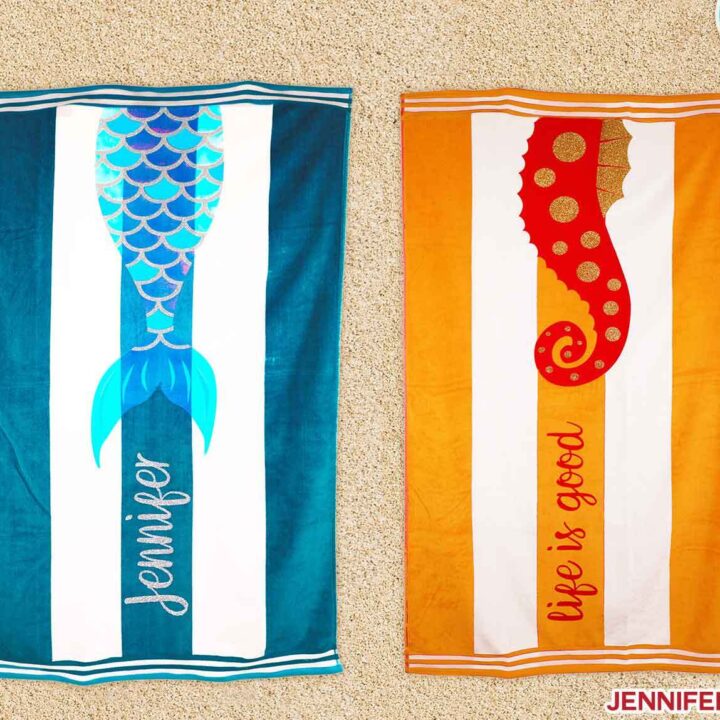 DIY Personalized Beach Towels
Total Time:
1 hour
20 minutes
Difficulty:
Easy to Medium
Make a splash with these DIY personalized beach towels decorated with Smart Iron-On Vinyl and cut with the Cricut Maker 3 or Cricut Explore 3!
Answers to Your Questions About How to Make DIY Personalized Beach Towels
Q: Do I have to use only these beach towels?
Of course not! Feel free to use whatever you have on hand, or find in a local store! You will be more pleased with your results using as thick a towel as you can find with as smooth a surface as possible, though. Iron on vinyl (HTV) needs a smooth surface to adhere well, and the "nubbier" towels won't be able to provide that! Please experiment with a small test design to see if you like the result! I always recommend a test cut and press anyway.
Q: Can I cut these on my Explore Air 2?
You sure can! Original Maker and Explore owners will be able to make their own DIY Personalized Beach Towels! You just cannot cut the entire design in one pass like the Maker 3 and Explore 3 do, so you'll either want to resize so it fits on a 12″ x 24″ mat OR slice the design up into pieces — my Easy Vertical Welcome Sign tutorial teaches you how to do this!
Q: What size beach towel do I need?
I used a beach towel that was 34" wide by 64" long for this project. You can always use one larger or smaller — just make sure that you re-size your SVG to fit! Not sure how to do that? I can show you here: How to Resize SVG Files in Cricut Design Space!
Q: Do I have to use an EasyPress, or can I use my household iron?
Using an EasyPress only makes this easier to do, since the vinyl pieces are so large. But you can certainly use your iron! Be very careful that your vinyl is adhering well, and feel free to go back and apply more heat if you need to.
Q: Do I have to use Cricut Smart Iron On or can I use any brand?
I love the Cricut brand and have never had a problem with it. As far as the Maker 3 and Explore 3, they are recommending that you stay away from other manufacturers if you want to cut matless. Cricut vinyl has gone through extensive testing to make sure it works properly with their machines without a mat, and, especially with a brand-new Cricut, I'm not going to take a chance on another brand of vinyl!
Get my free SVG files to create eye-catching DIY Personalized Beach Towels
I'd love to see YOUR DIY personalized beach towels and how you choose to decorate them! Please share a photo in our Facebook group or tag me on social media with #jennifermaker.
Love,