Create layered 3D woodland animals with interchangeable backgrounds!

I love seasonal decor because it makes refreshing your surroundings so very easy! That's my goal with these cute 3D woodland animals designs. Each animal SVG comes in a layered background to represent spring, summer, winter, or fall. Additionally, the animals are separate from the rest of the pieces, so they're interchangeable. These are like, dare I say it, paper Garanimals — the mix-and-match outfits kids wore in the '70s (yes, including me). I think you're going to LOVE these fun animal frames!
Watch my complete step-by-step tutorial on how to create 3D woodland animals: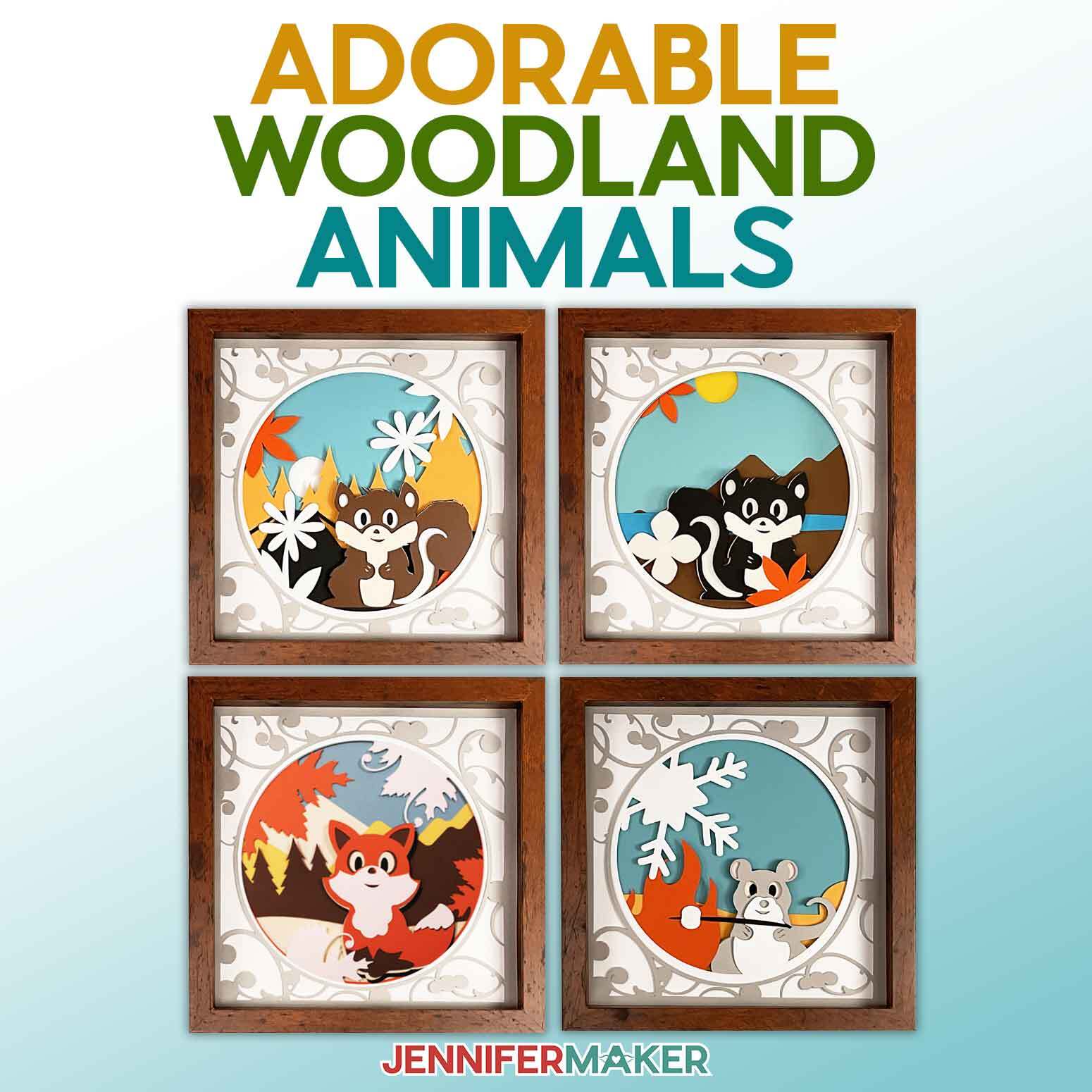 My 3D woodland animals are a great beginner Cricut project. But experienced crafters can experiment with different cardstocks or even create a new woodland creature.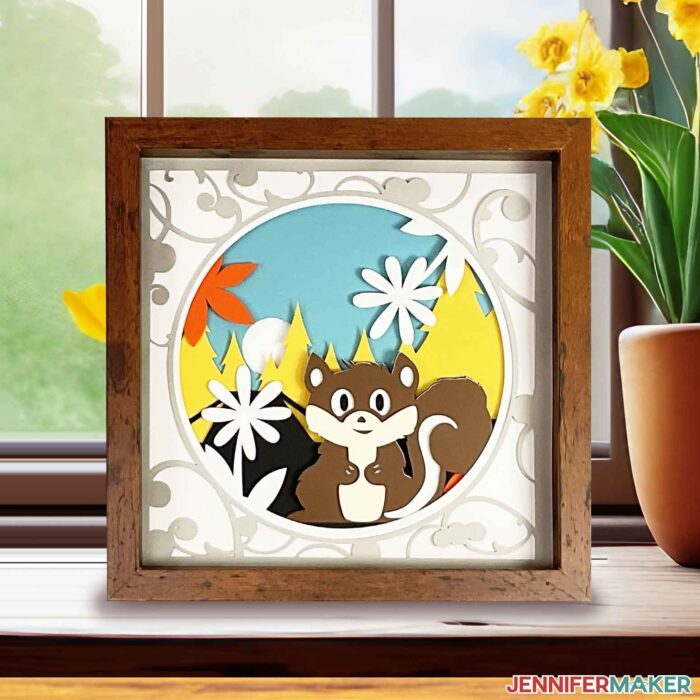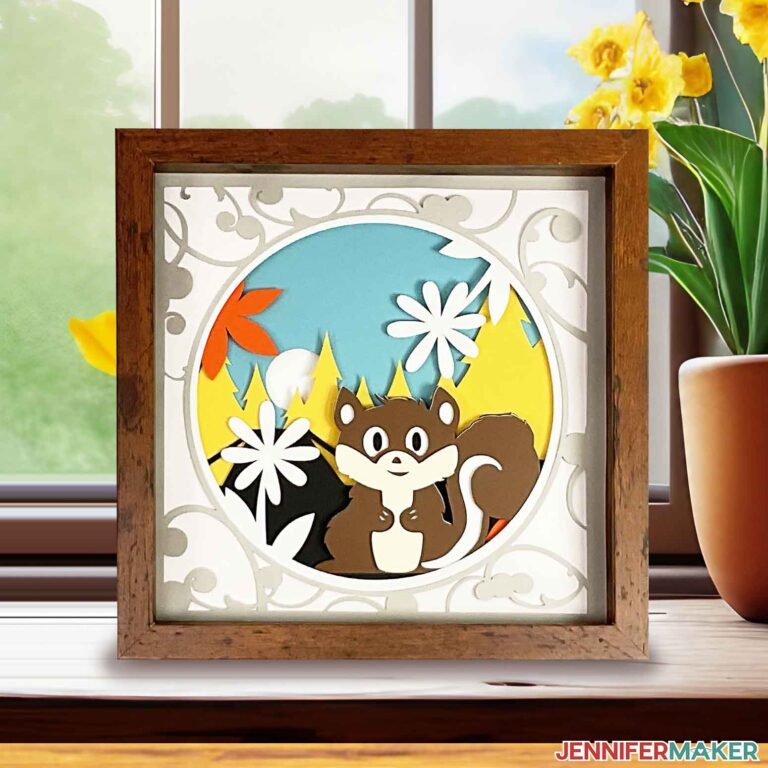 In the video, I'll show you how to add my crafty fox to the winter scene. Because my 3D woodland animals are interchangeable, you can use the same steps to create new combinations. Or, you can make the animals on their own, too. They'd be cute decorations for an animal-themed birthday party. You can make the whole menagerie of quirky woodland animals!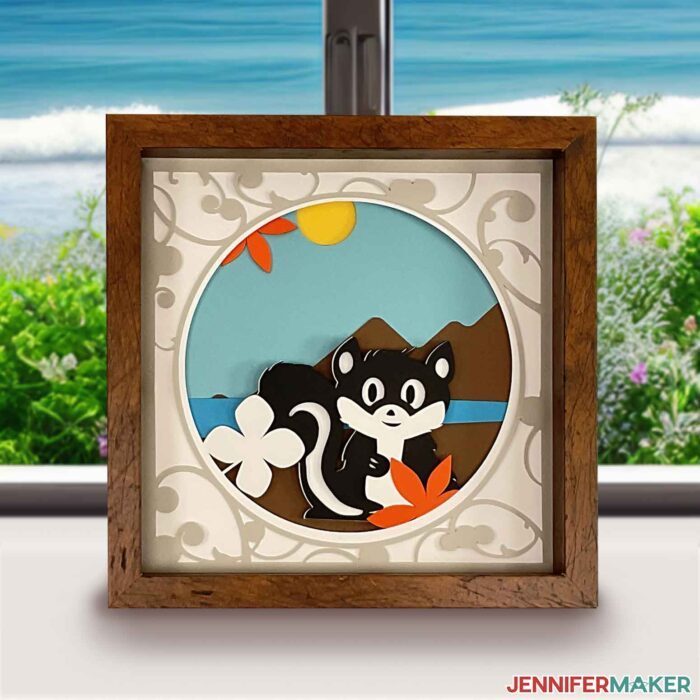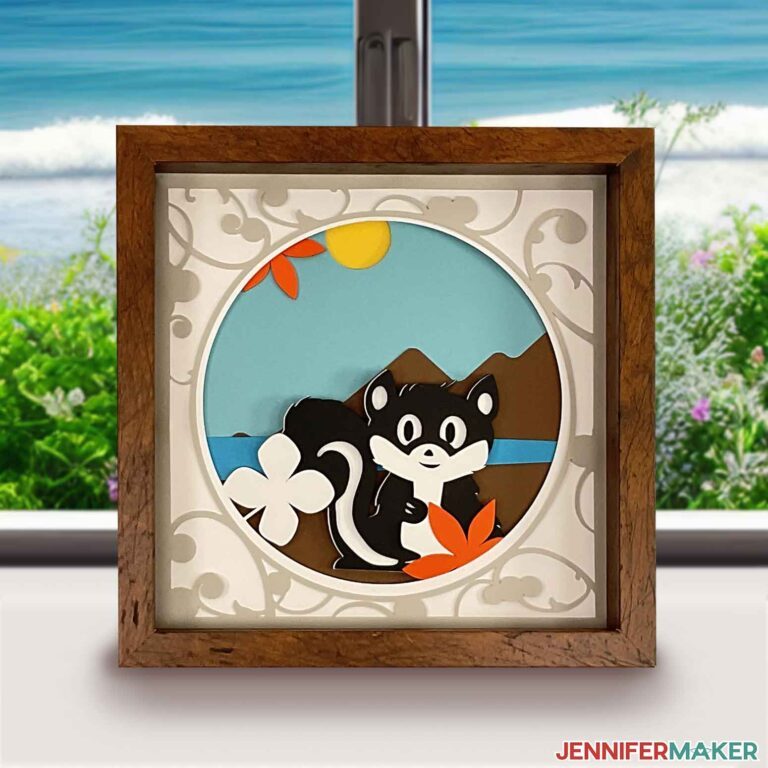 All you need is good-quality cardstock, adhesive foam dots, craft glue, and our standard papercraft tools below! Also, I'll show you tips on aligning layers in the assembly techniques section, too.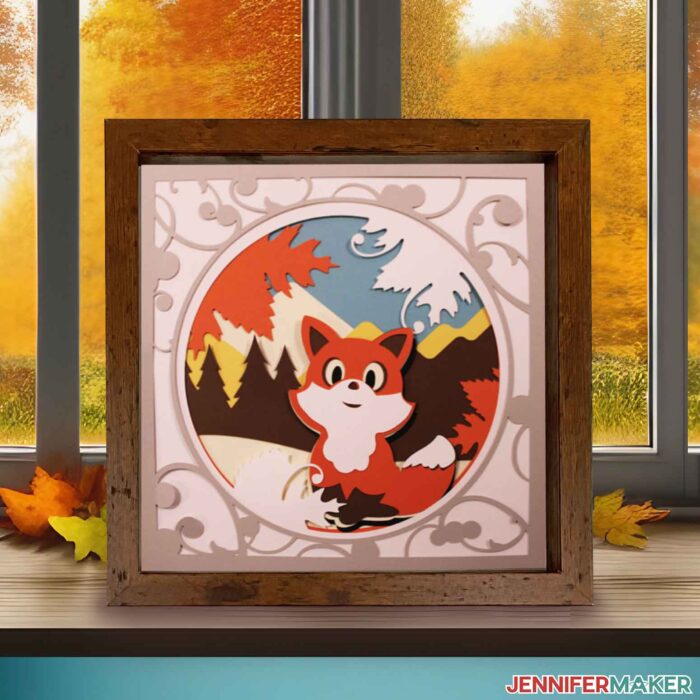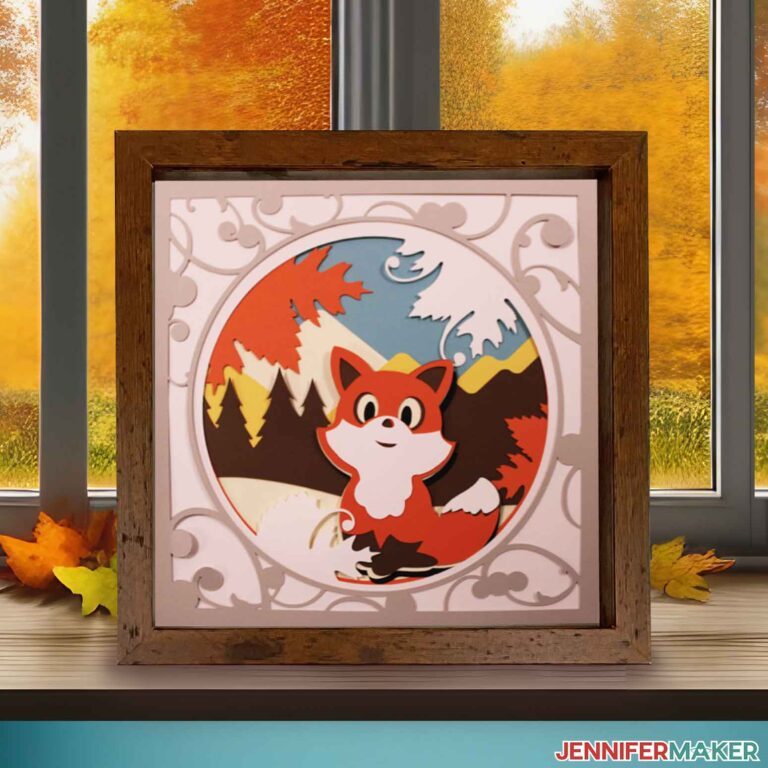 While you can print the included PDF and cut the layers with a craft knife, the easiest way to cut all the intricate design layers is definitely a Cricut. Basically, you'll need the fine-point blade, (that's the cutting tool that came with your Cricut machine) and a green StandardGrip mat. The layers are perfeclty-sized for the shadow box frame in my materials list. But the front layer is decorative, so the 3D woodland animals are pretty enough to display unframed!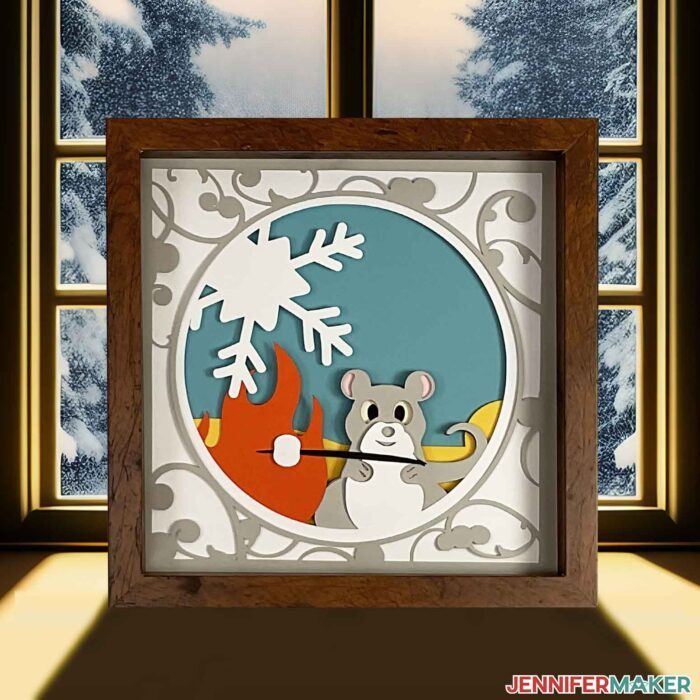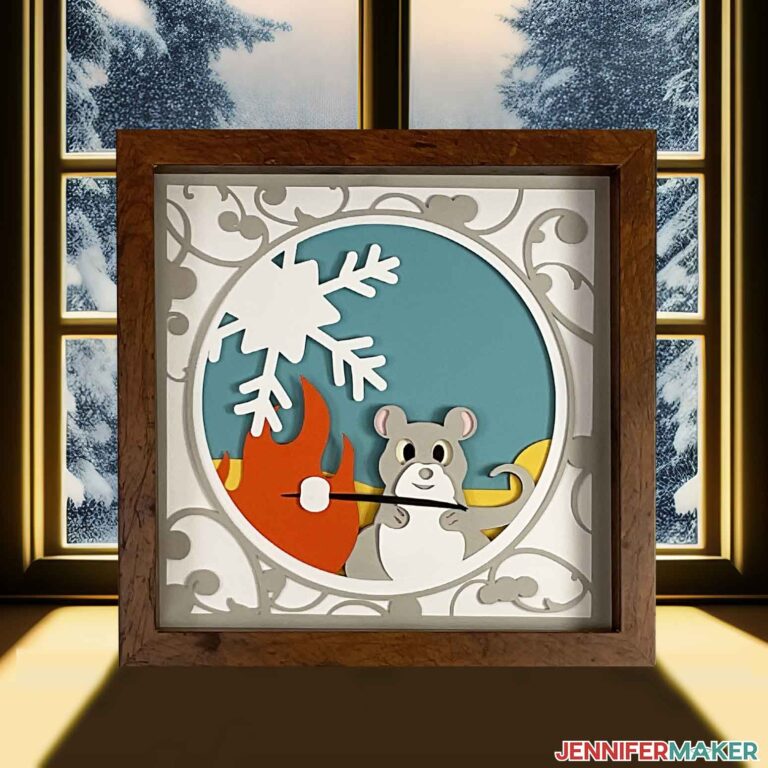 So, ready to make your own 3D woodland animals? I'm super excited to show you how! This post contains some affiliate links for your convenience (which means if you make a purchase after clicking a link I will earn a small commission but it won't cost you a penny more)! Read my full disclosure policy.
Materials for My 3D Woodland Animals

How to Make 3D Woodland Animals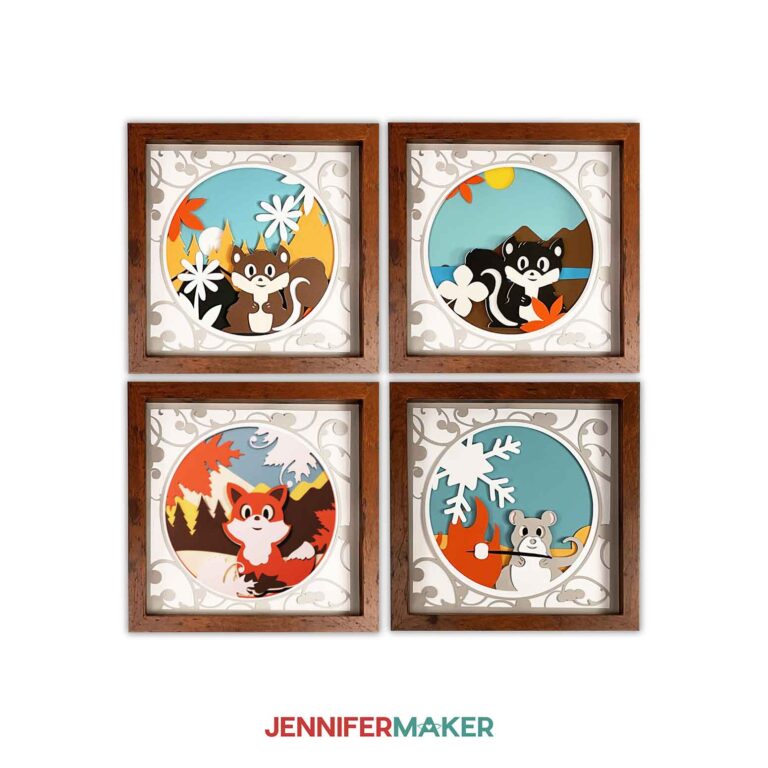 3D Woodland Animals
Active Time:
1 hour
30 minutes
Total Time:
1 hour
30 minutes
Difficulty:
Medium to Difficult
Learn to make a shadowbox with 3D Woodland Animals!
Instructions
STEP 1: GET MY FREE 3D WOODLAND ANIMAL DESIGN FILES
First, download my free 3D Woodland Animals SVG/PDF/DXF collection from my resource library -- it's Design #436.
The download folder includes PDFs to cut by hand, and DXF or SVG files for use with a cutting machine. I'll show you how to use the SVGs with a Cricut.
In the SVG folder, there are also folders for the full seasonal scenes or for the animals just by themselves. I'll show you how to make the winter mouse file, or how to replace him with the fox.
Upload the SVG file or files of your choice to Cricut Design Space and add them to your Canvas. I'll add the winter mouse from the Full Scenes folder and the fox from the Animals Alone folder.
TIP: If you are not sure how to upload an SVG cut file to Cricut Design Space, watch this helpful video training series I made. If you are on an iPad or iPhone, here is how to download and upload SVG files to the Cricut Design Space app.

STEP 2: PREPARE THE DESIGN FILES
This is what my Winter Mouse and standalone fox SVG files look like when uploaded to Cricut Design Space.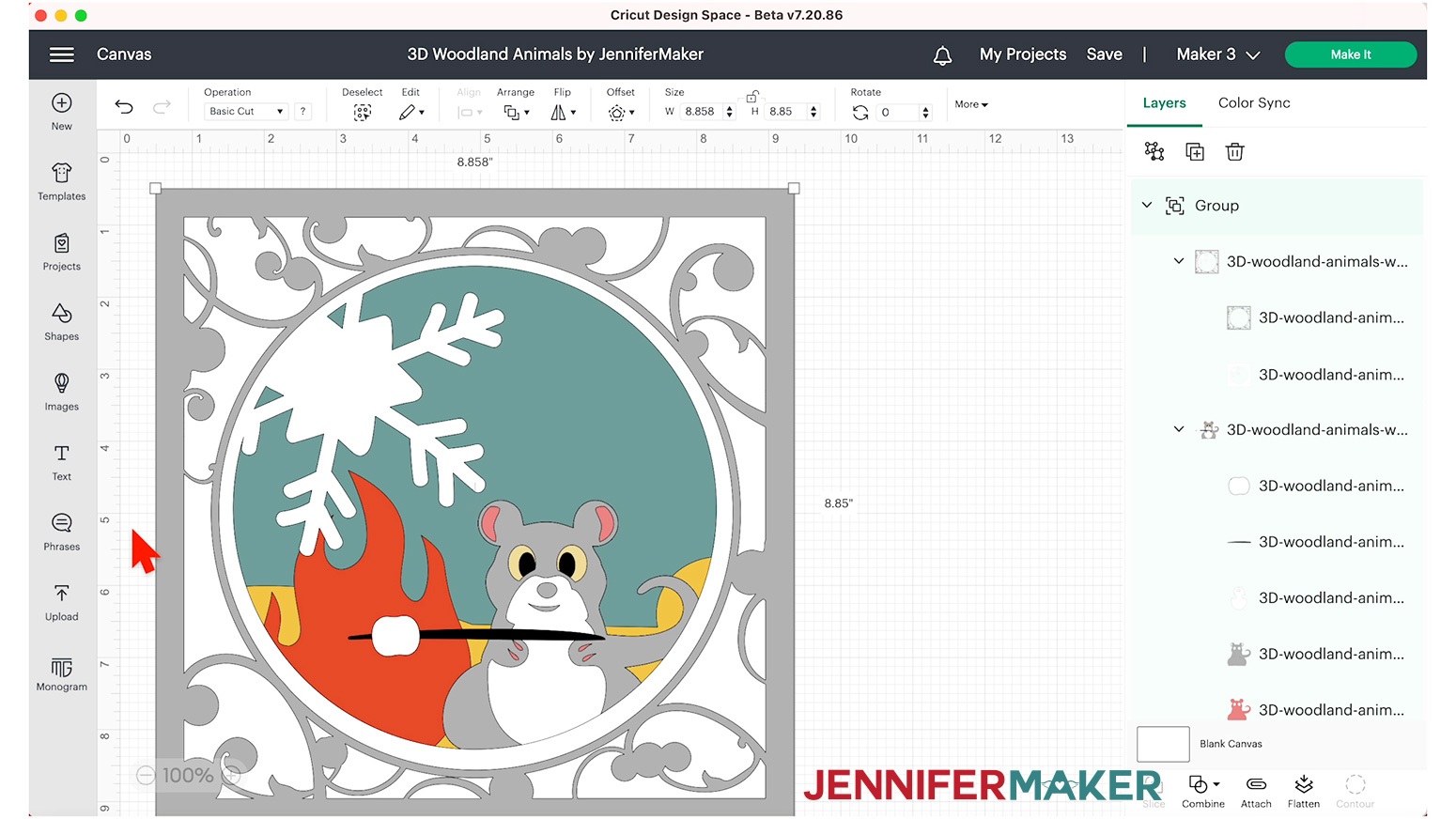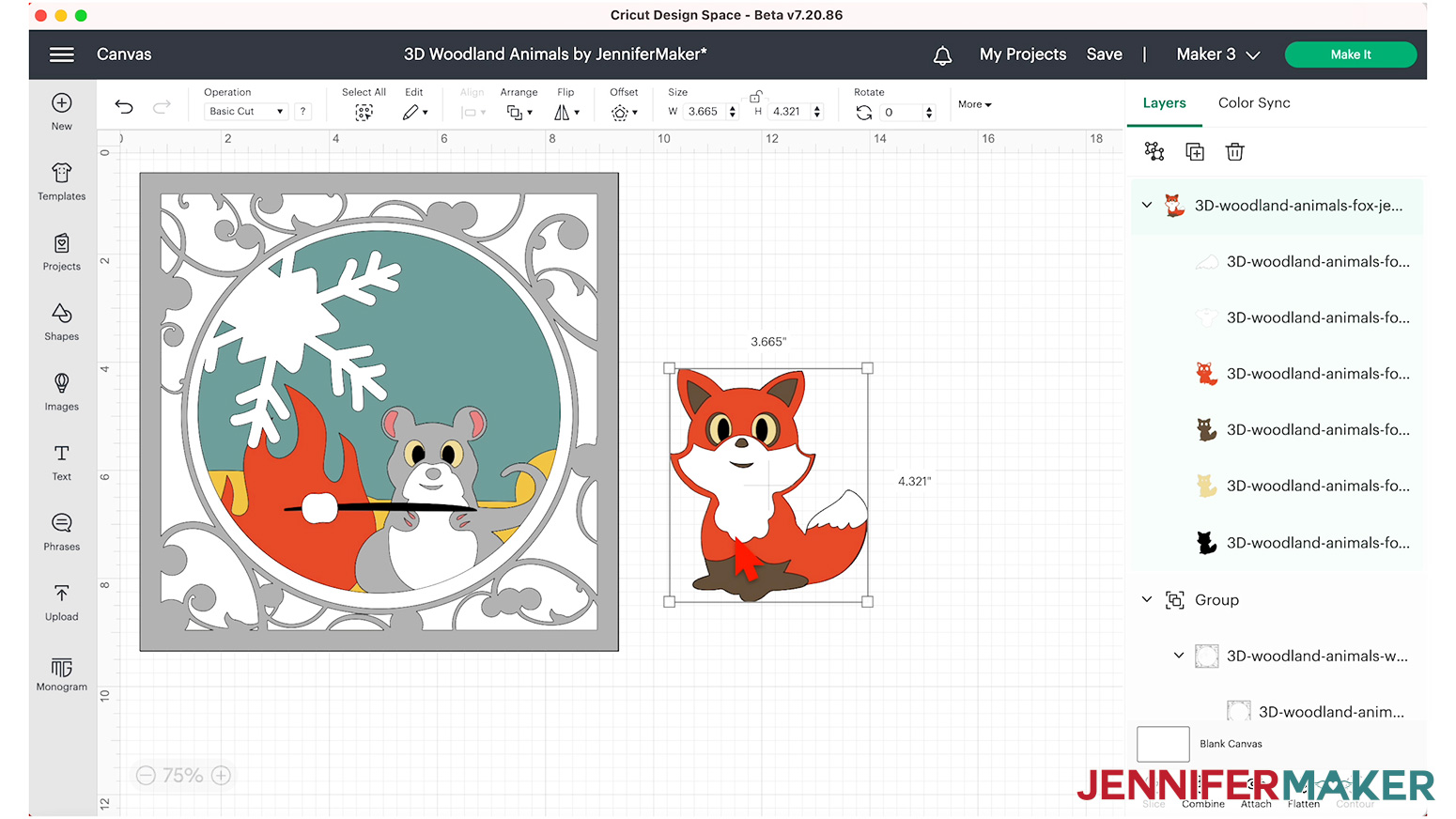 You can zoom out to see all of the designs by clicking on the minus (-) sign on the lower left. If you have more than one file on your Canvas, click and drag one to the side so they're both visible.
The full design is sized for the 9" x 9" frame in my material list. If you want to resize it for another frame, make sure the lock icon at the top is closed, then change the W to your desired size.
The animals are interchangeable, so we can replace the mouse with the fox.
Click the mouse design and select Ungroup at the top of the Layers Panel to work with the pieces separately.
In the Layers Panel, select the name of the group with all of the mouse layers.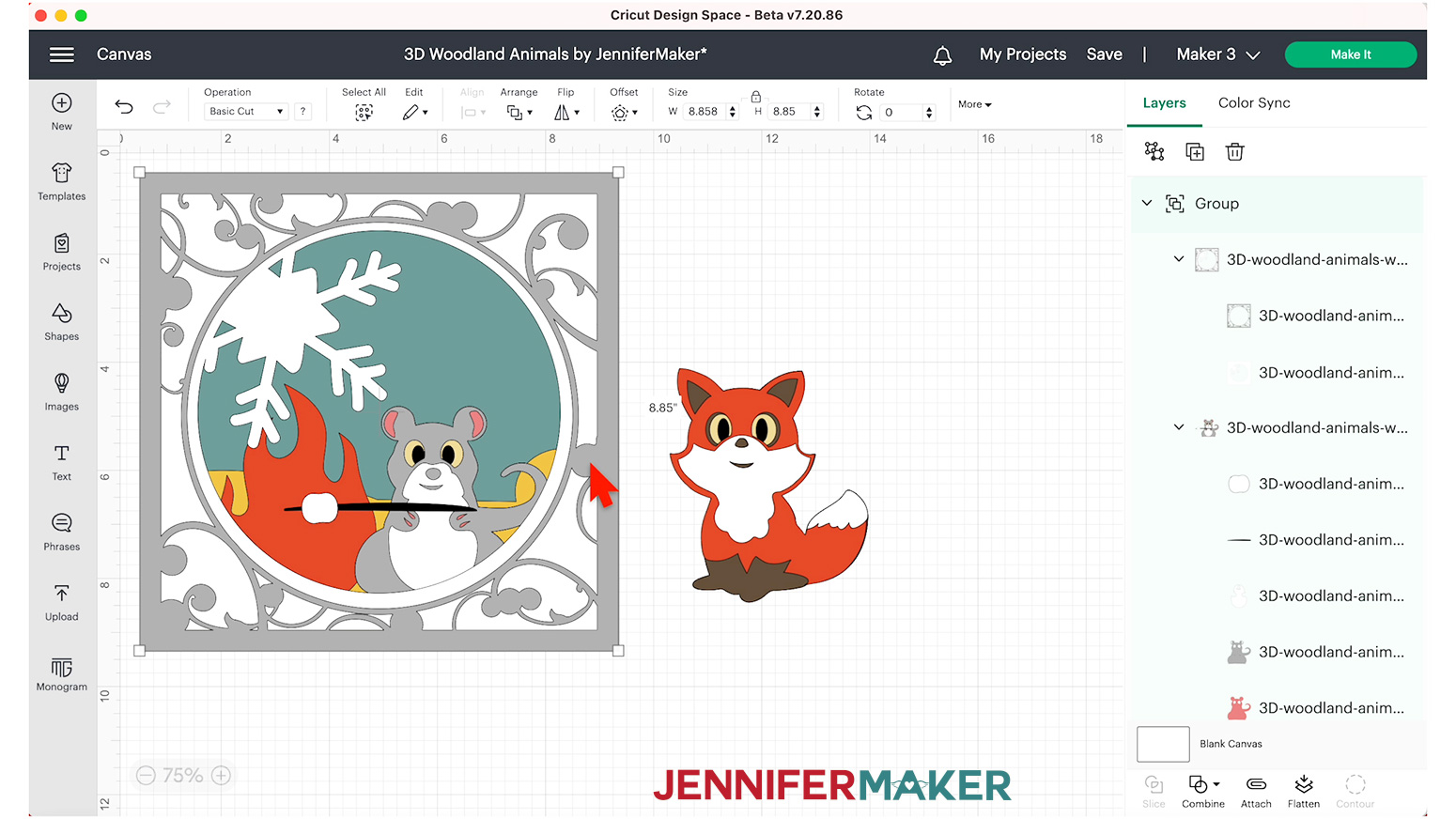 Then, click Delete.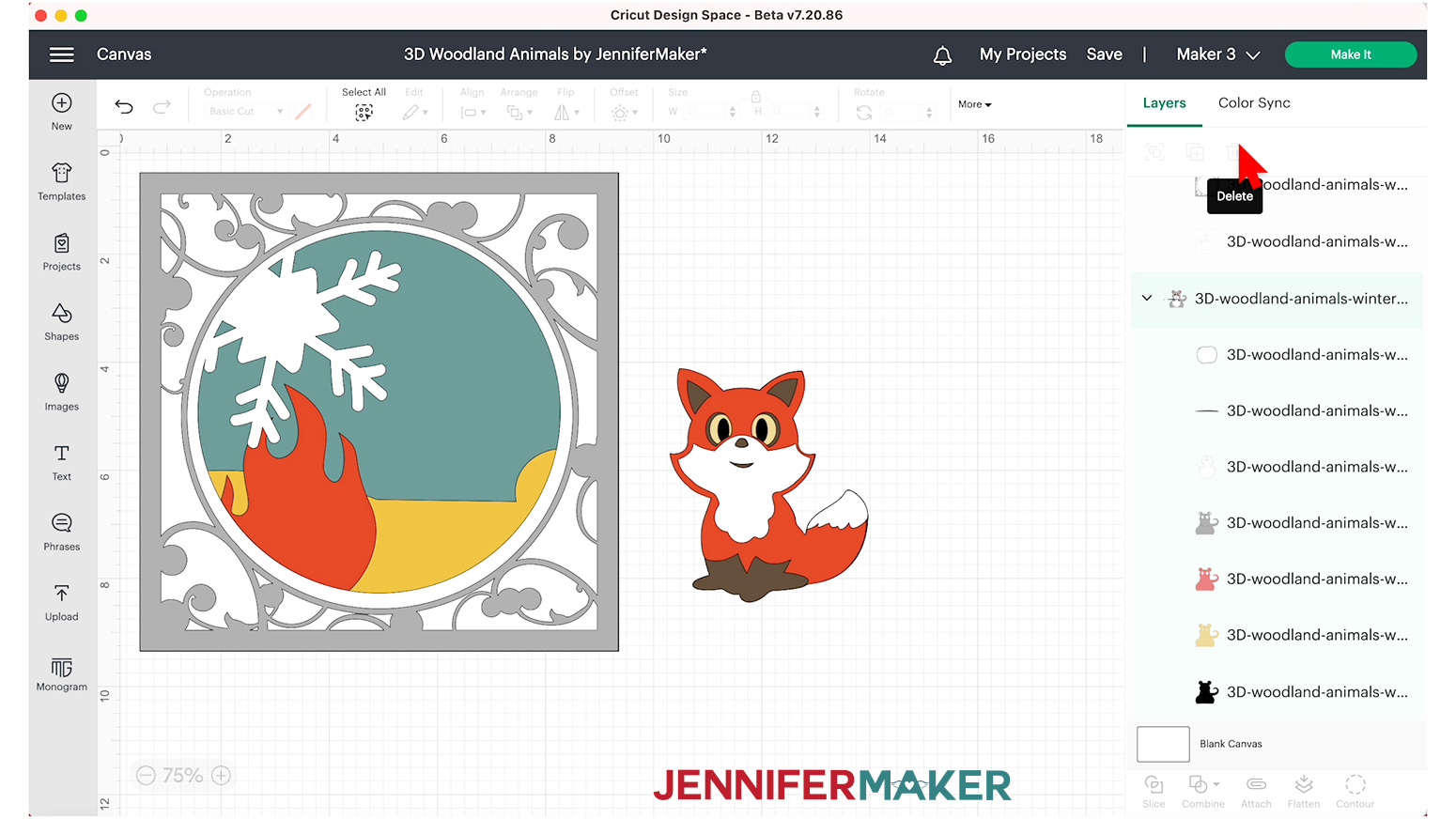 Now, you can drag the fox to where the mouse was to see how the final result will look. Move it to the right spot on the Canvas, then drag it between the two other groups in the Layers Panel. It will be super cute!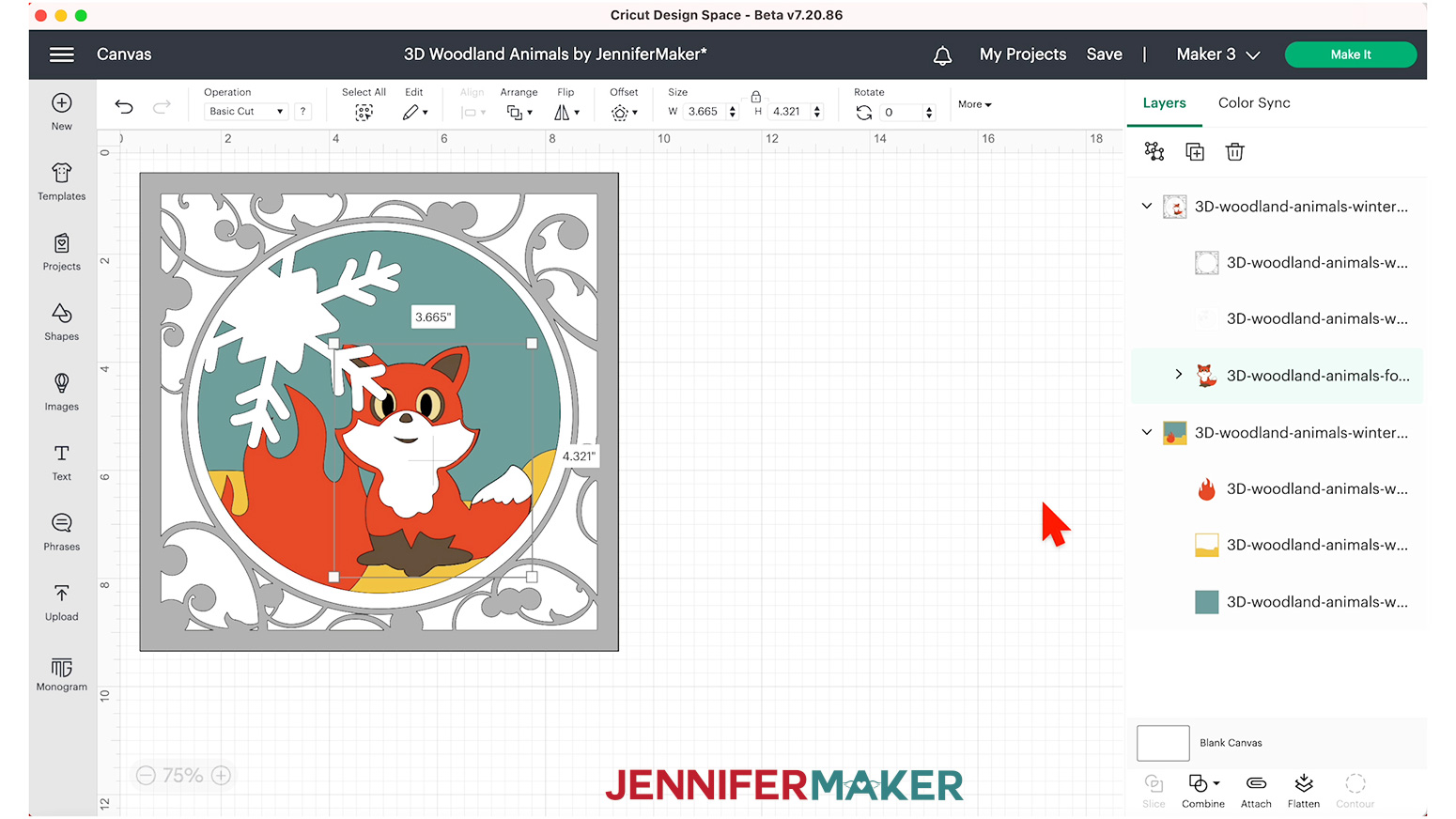 The design is ready to cut!

STEP 3: CUT YOUR DESIGN
Make sure you have the right machine selected and click "Make It."
If prompted, click "On Mat," "12 in x 12 in," and "Continue."
I used eight different colors of cardstock for my fox and winter background: white, gray, black, orange, brown, yellow, tan, and teal. You can choose whatever colors you like. Just be sure there is enough contrast between each color.
If you're using the same cardstock I am, make sure the Material Size is "12 in x 12 in" for everything.
Click back on the first mat and click "Continue."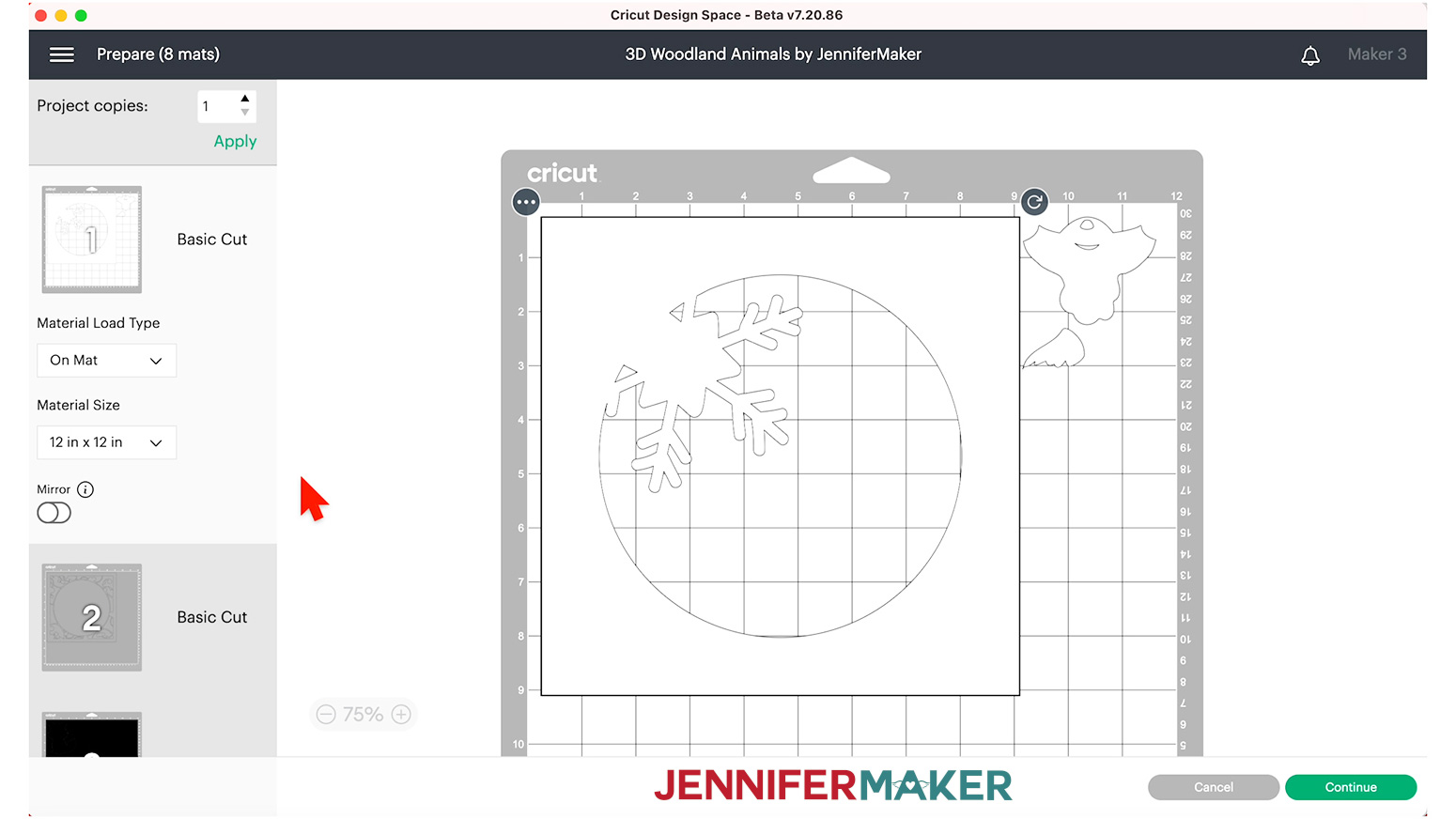 I used the "Cardstock (for intricate cuts)" setting for all my mats.
To find it, click "Browse All Materials" and type "Intricate" in the search bar. Then select the result, click "Apply."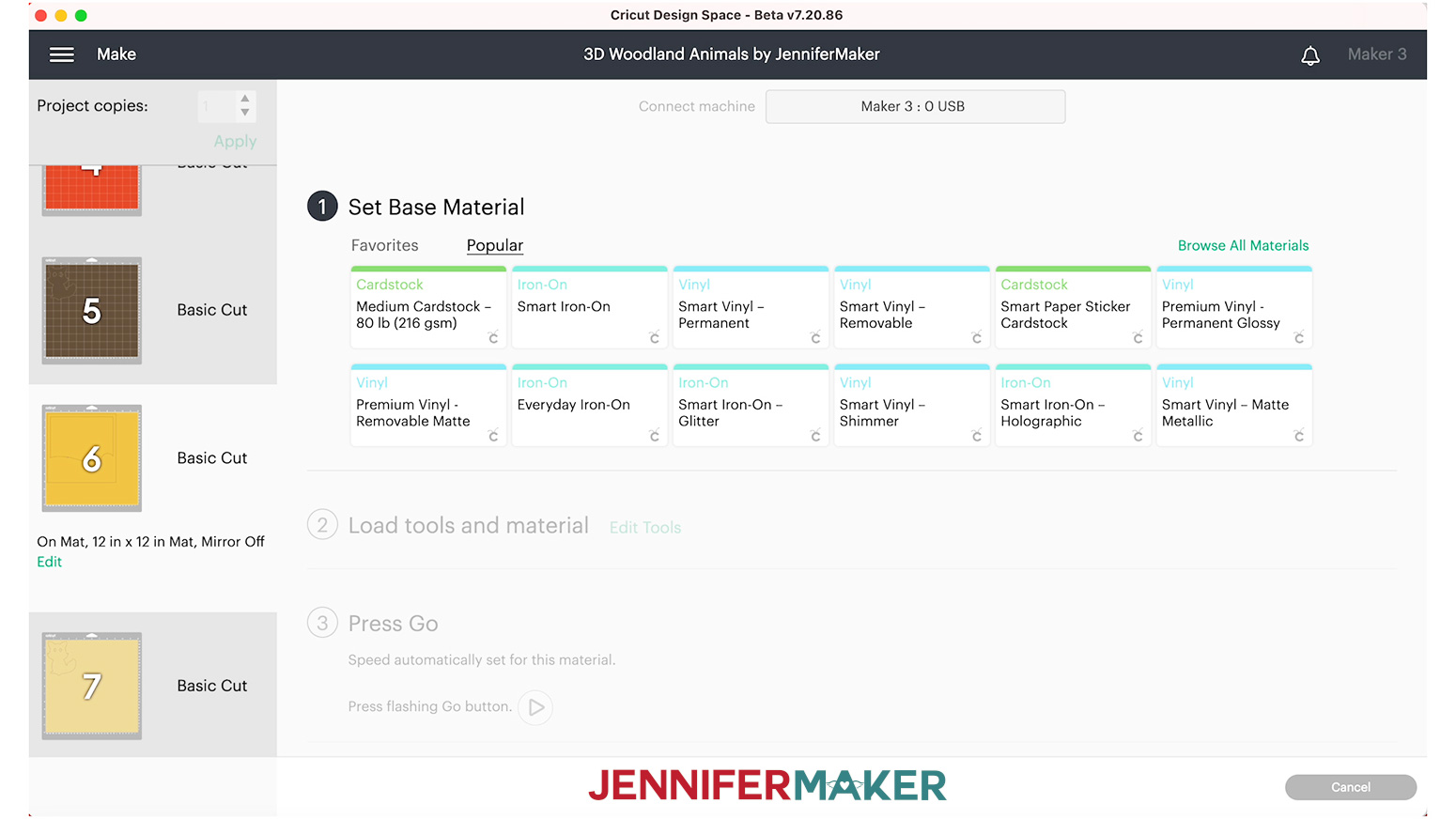 Leave the Pressure at "Default."
Design Space doesn't cut your mats in the same order as your design, so make sure you have the right colors in the order on the screen. See the Notes section for the order.
For more on how Design Space decides on the cut order, check out my tutorial on Mat Order.
My layers cut well on a green StandardGrip machine mat, but if you have trouble getting clean cuts try the blue LightGrip mat. Place your first color face up on the mat and use a brayer to make sure it's fully adhered. Check that your Fine-Point Blade is clean and in Clamp B. Then, load the mat into the machine and press "Go."
When the cut is finished, unload the mat, flip it over, and roll it back to release the cardstock. This helps prevent the material from curling and ripping.
Place the cut pieces to the side face up just as they are on the screen so their orientation doesn't get mixed up.
Repeat the same steps for the rest of the mats. The mats with intricate details will take longer to cut. You can slide your spatula gently under those pieces to remove them without tearing.


STEP 4: ASSEMBLE THE PAPER LAYERS
Here's what all of my cut pieces for the winter background and fox look like.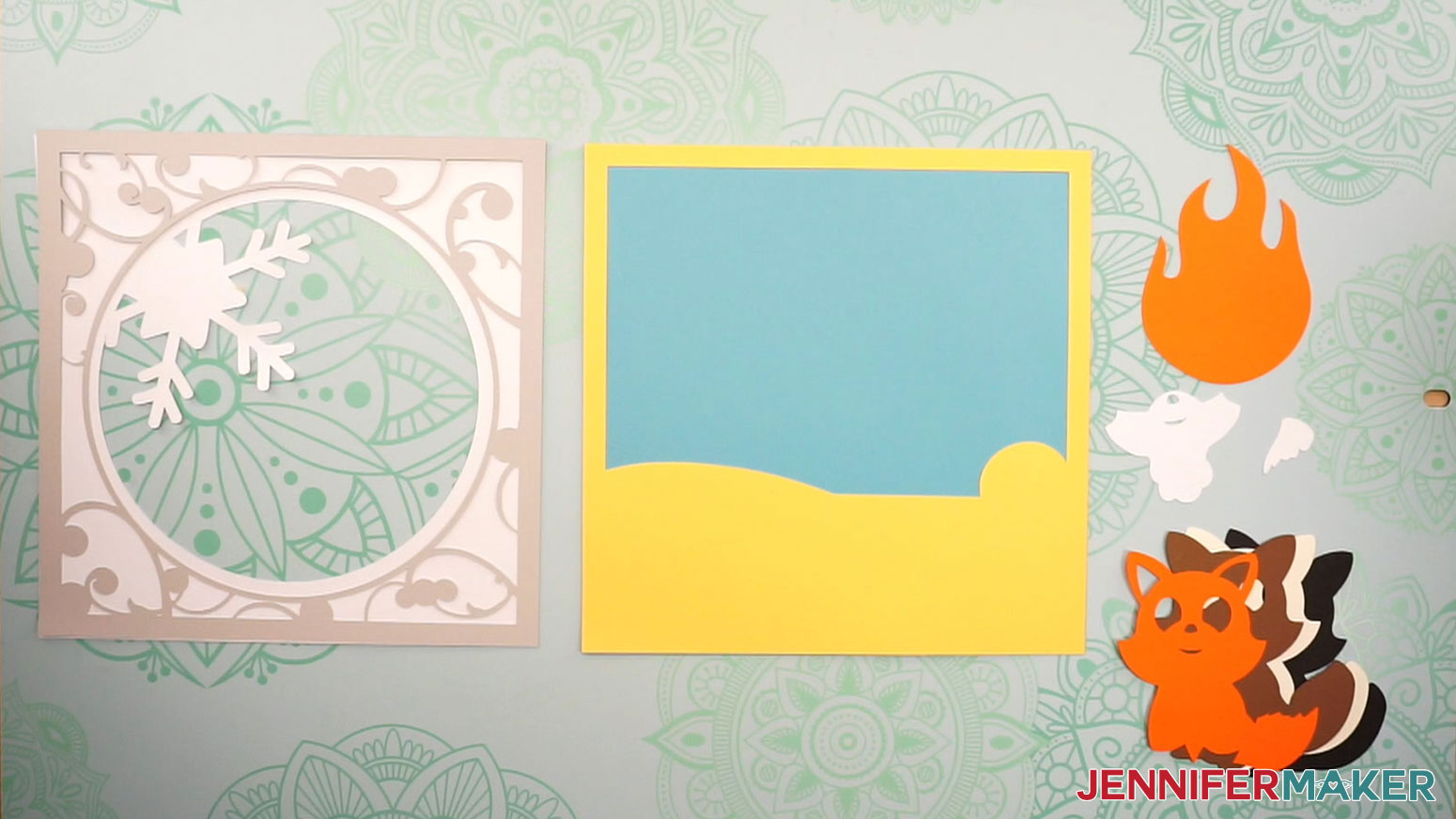 We'll assemble the project in three groups to make placing the animal easier.
Remove the backing and inner wooden piece (if you're using the one from my list) from the shadow box.
Clean the glass with alcohol and a coffee filter or lint-free cloth. Put the frame face down.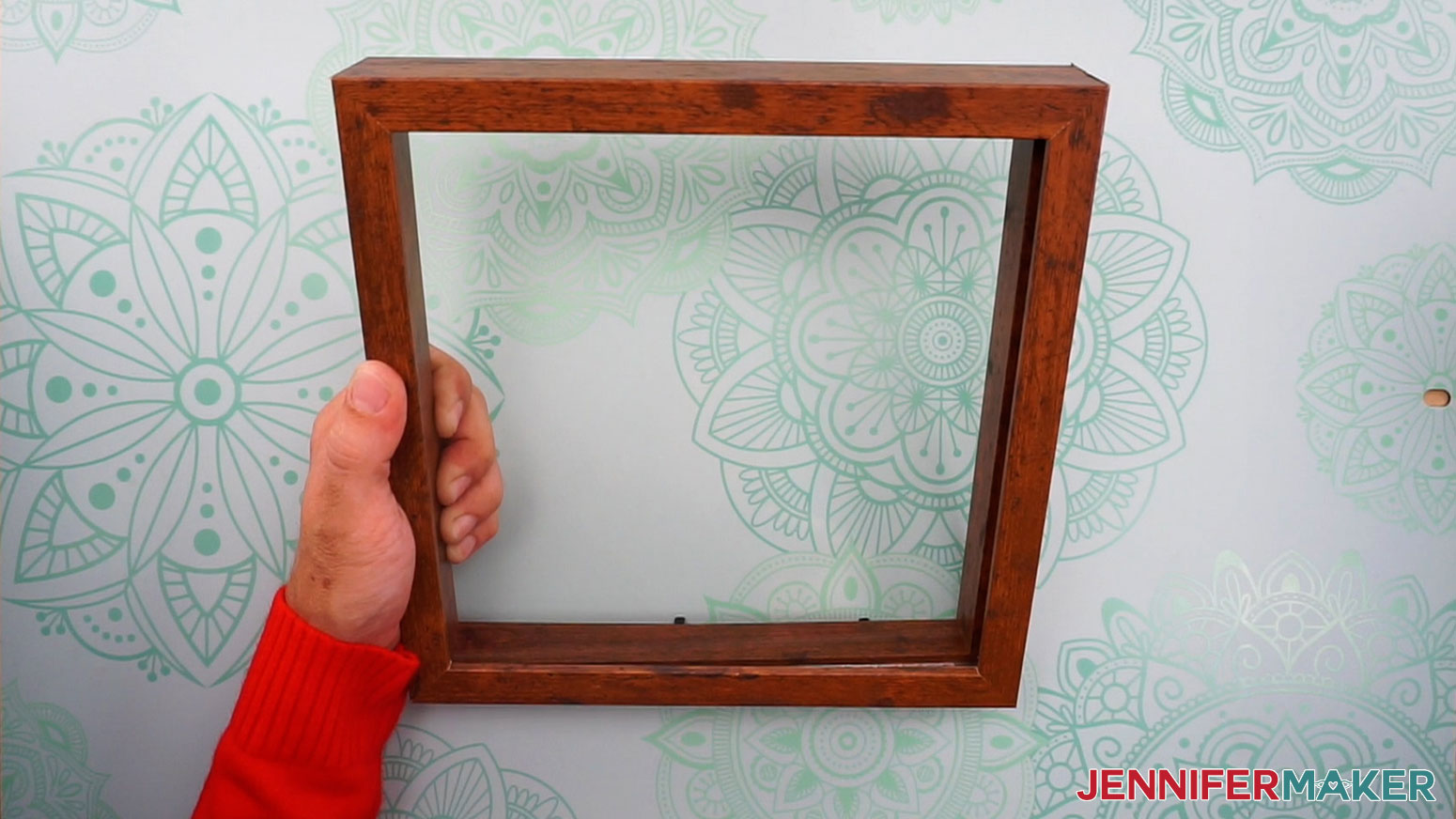 Back Section - Three pieces
Then, take the layers from the back section and place them on top of each other face down.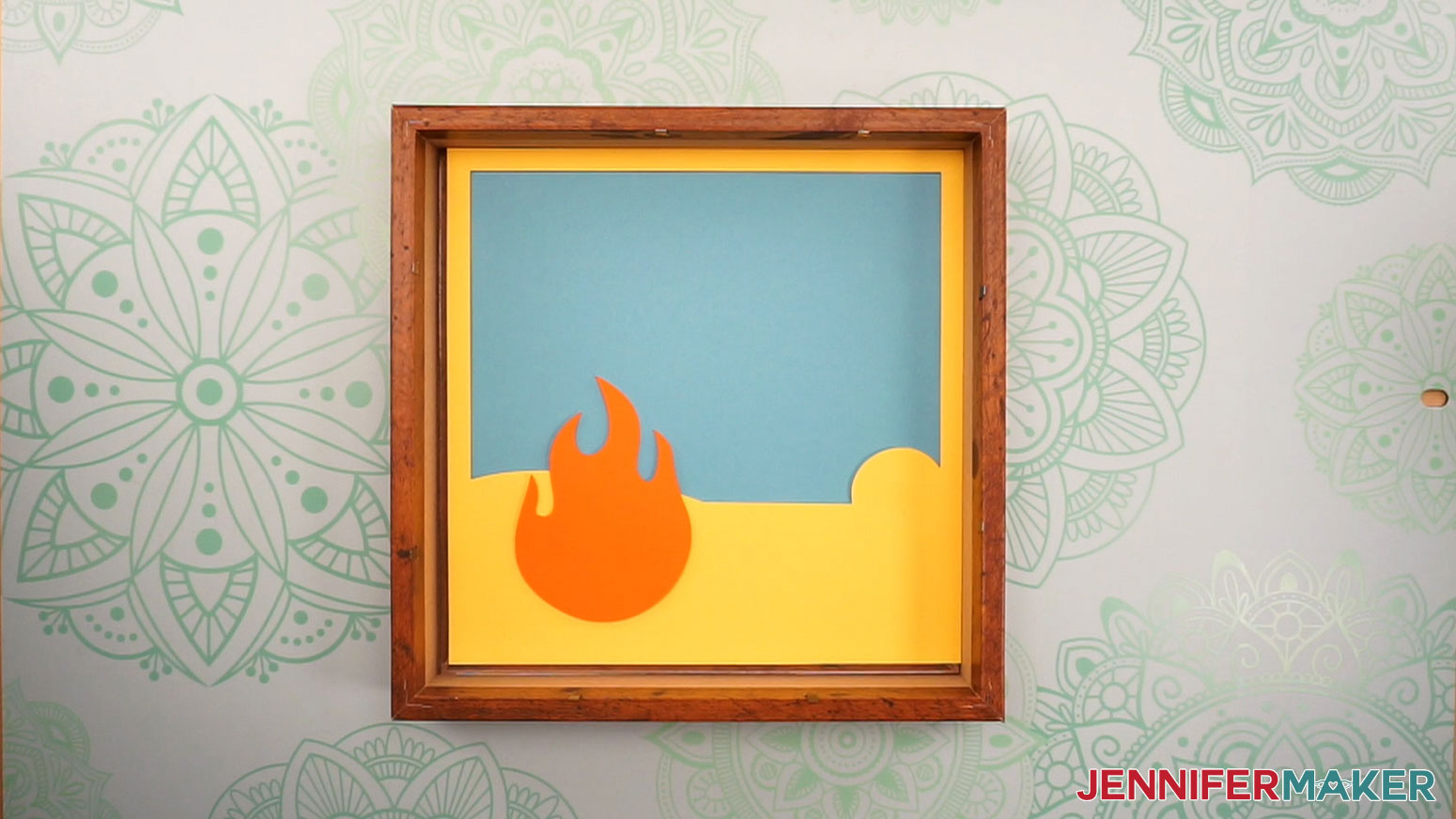 You can use a corner of the shadow box to line up your layers. First, place the background layer face up in the frame so it's tight with one corner.
Now, you will be applying the adhesive foam dots every few inches on the back of each next section. Start with the ground layer, then flip it over and place it on top of the background, making sure the corner lines up.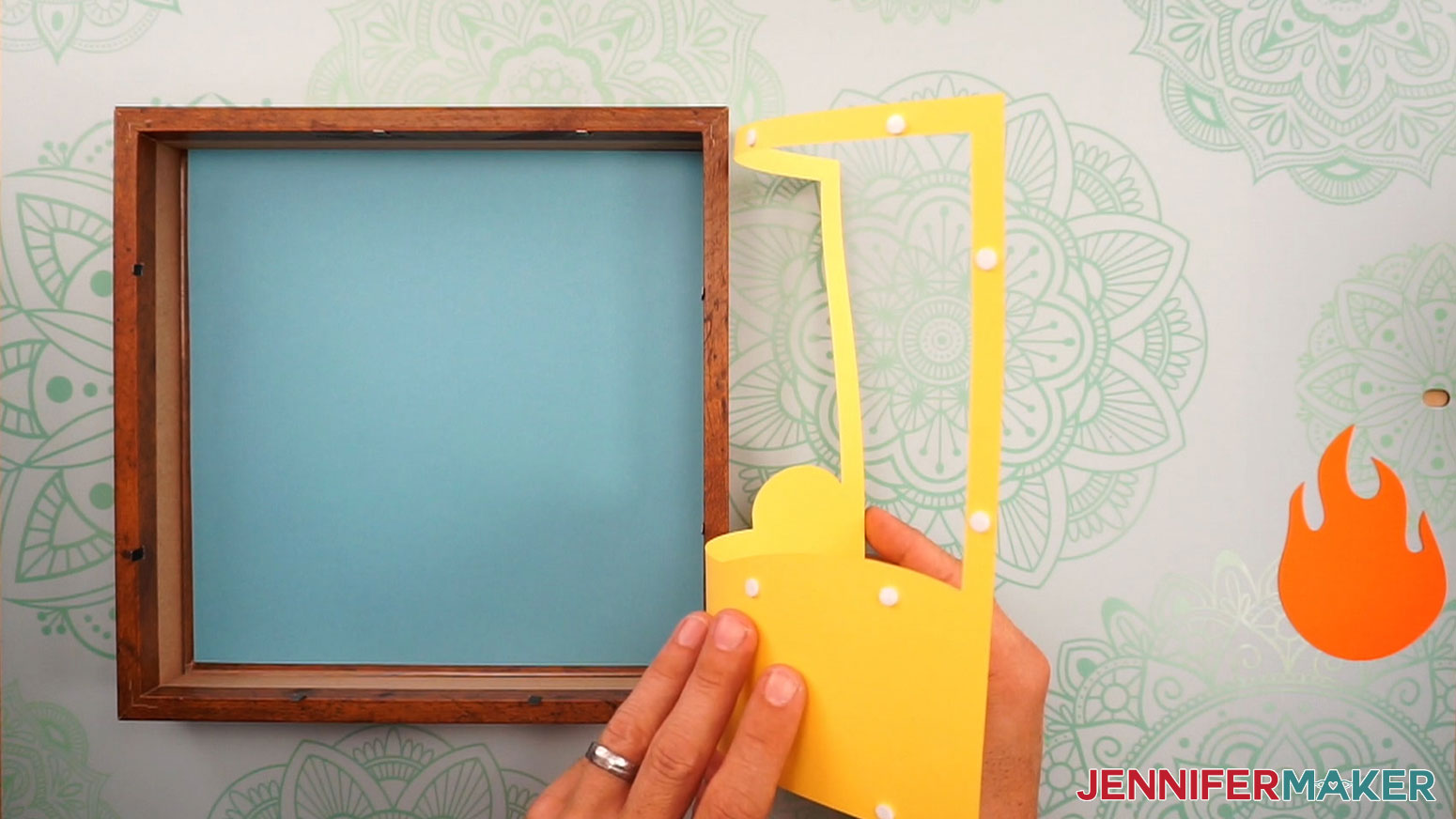 Then, add the fire piece.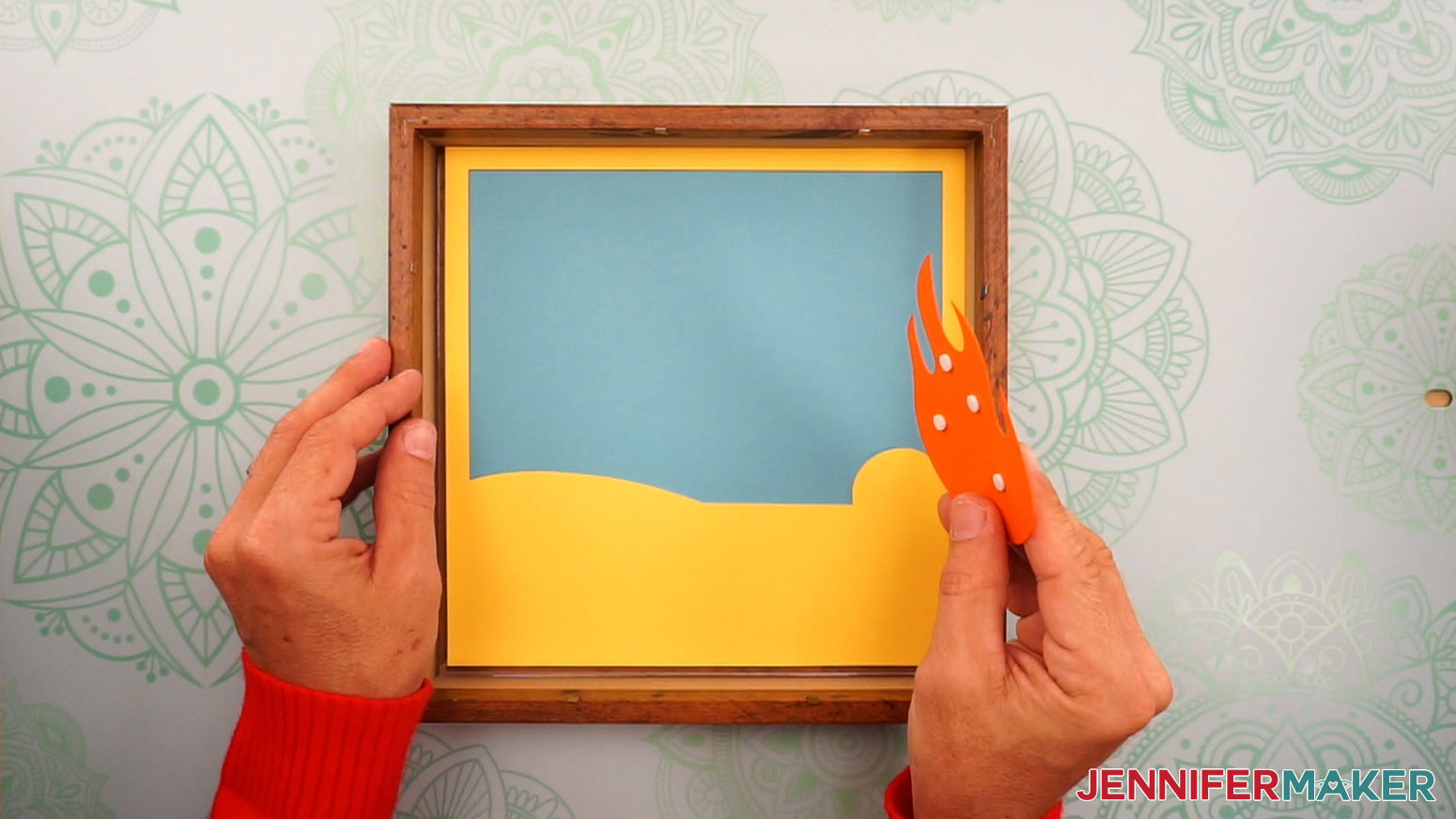 Animal Section - Five pieces
Then, repeat the process with the fox layers. Since it's an odd shape, you can't use the frame to align the edges, but the cheeks are a good spot to line up. I used foam dots for the larger layers and craft glue for the top white layers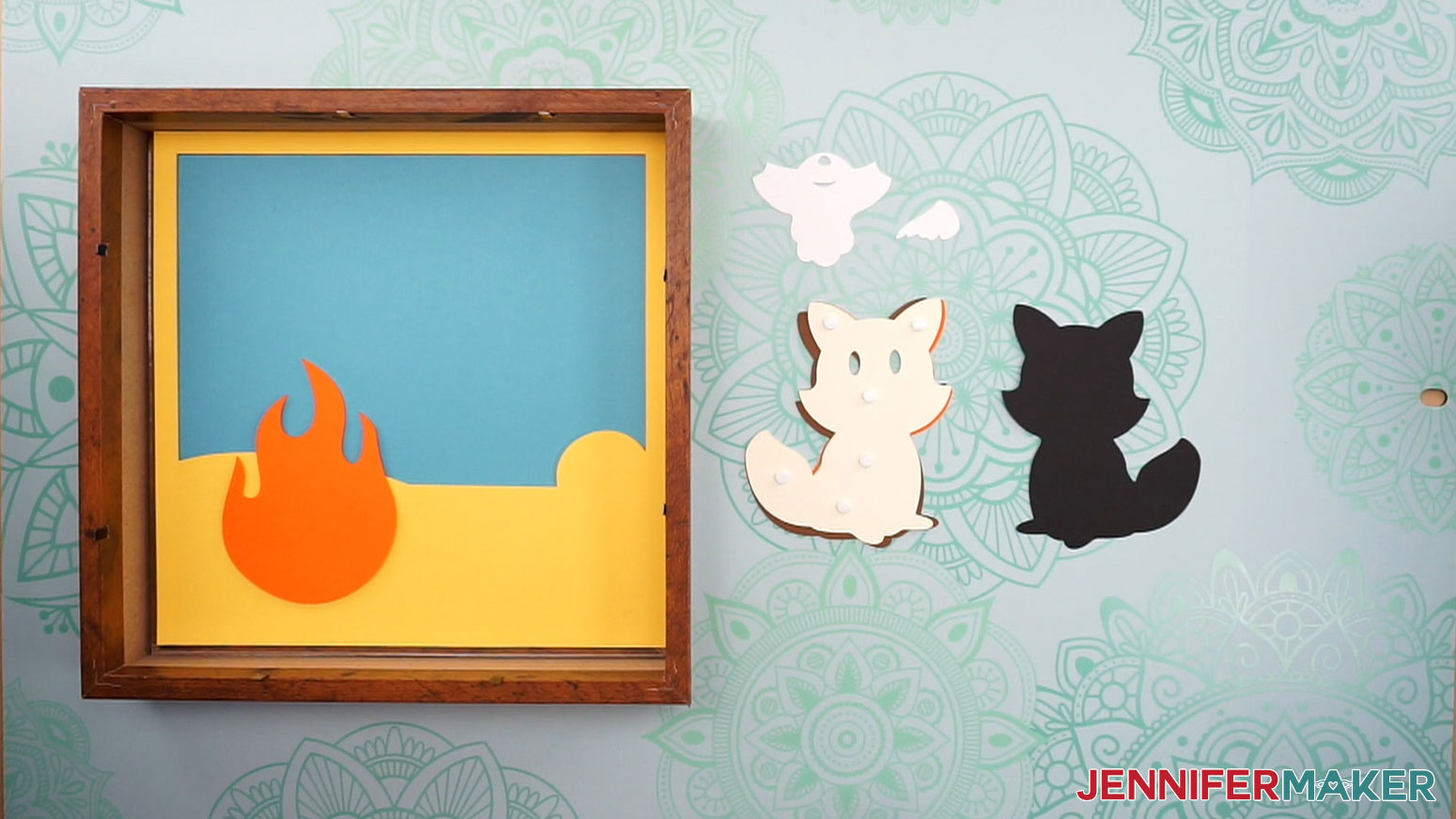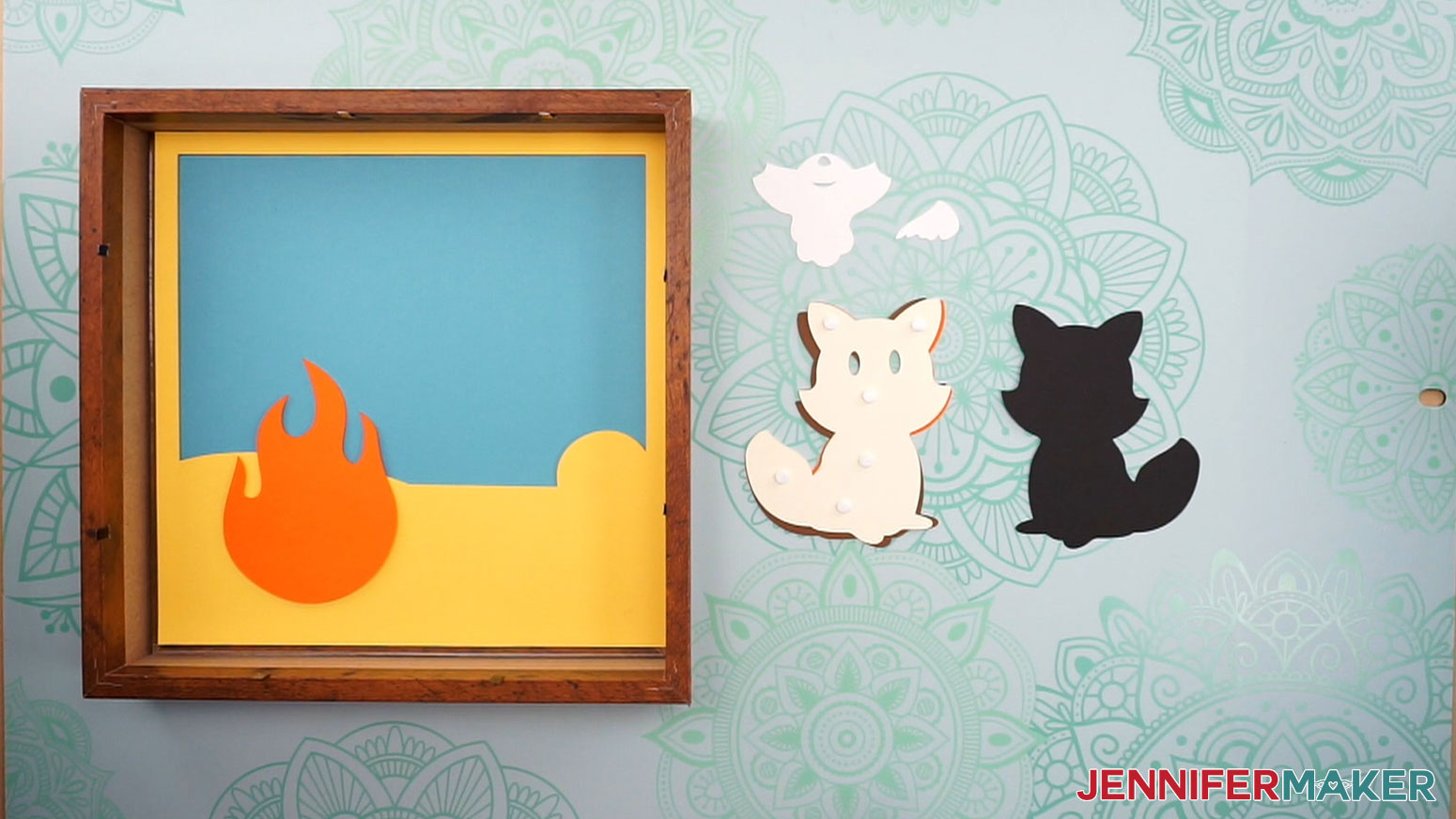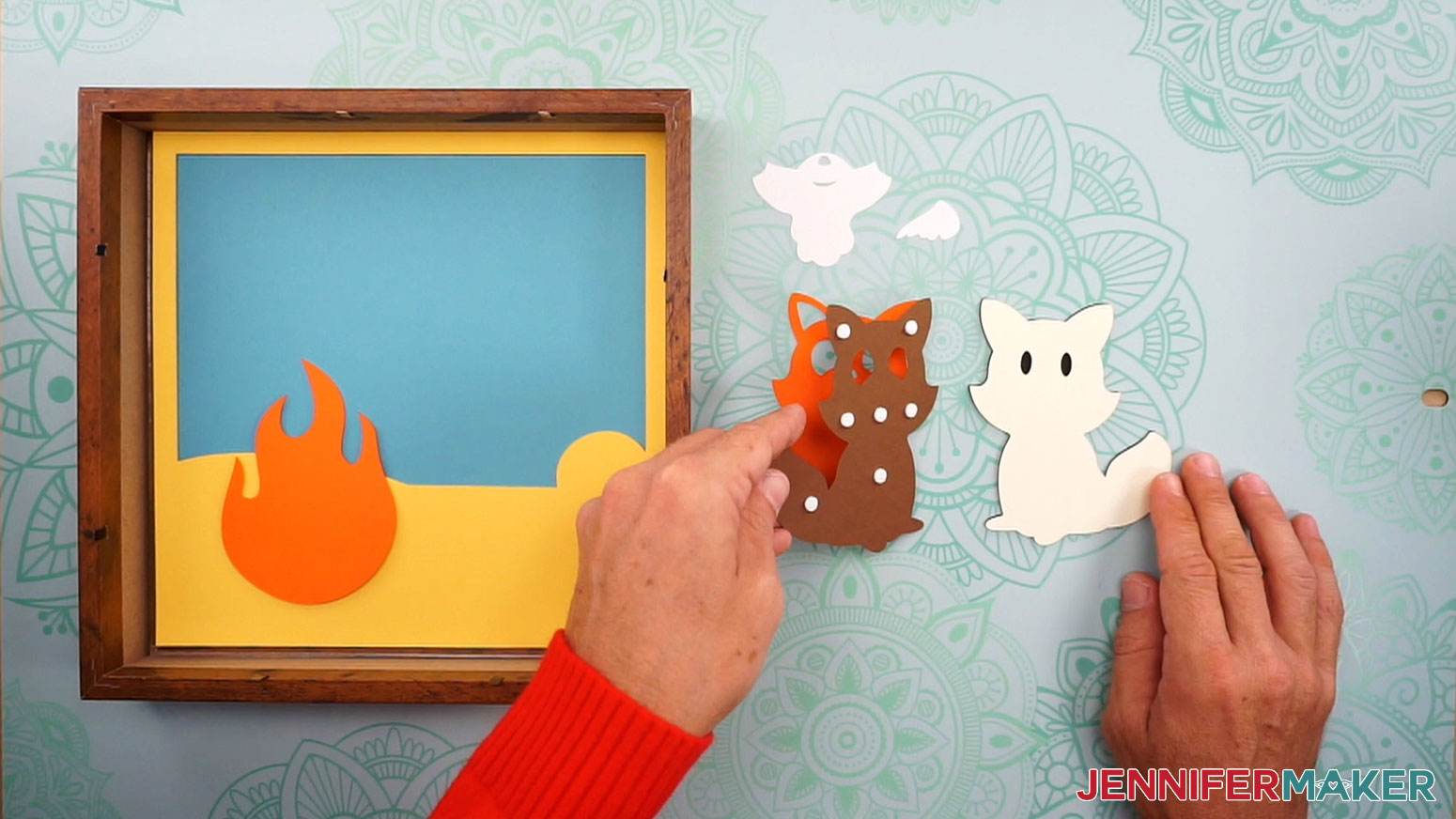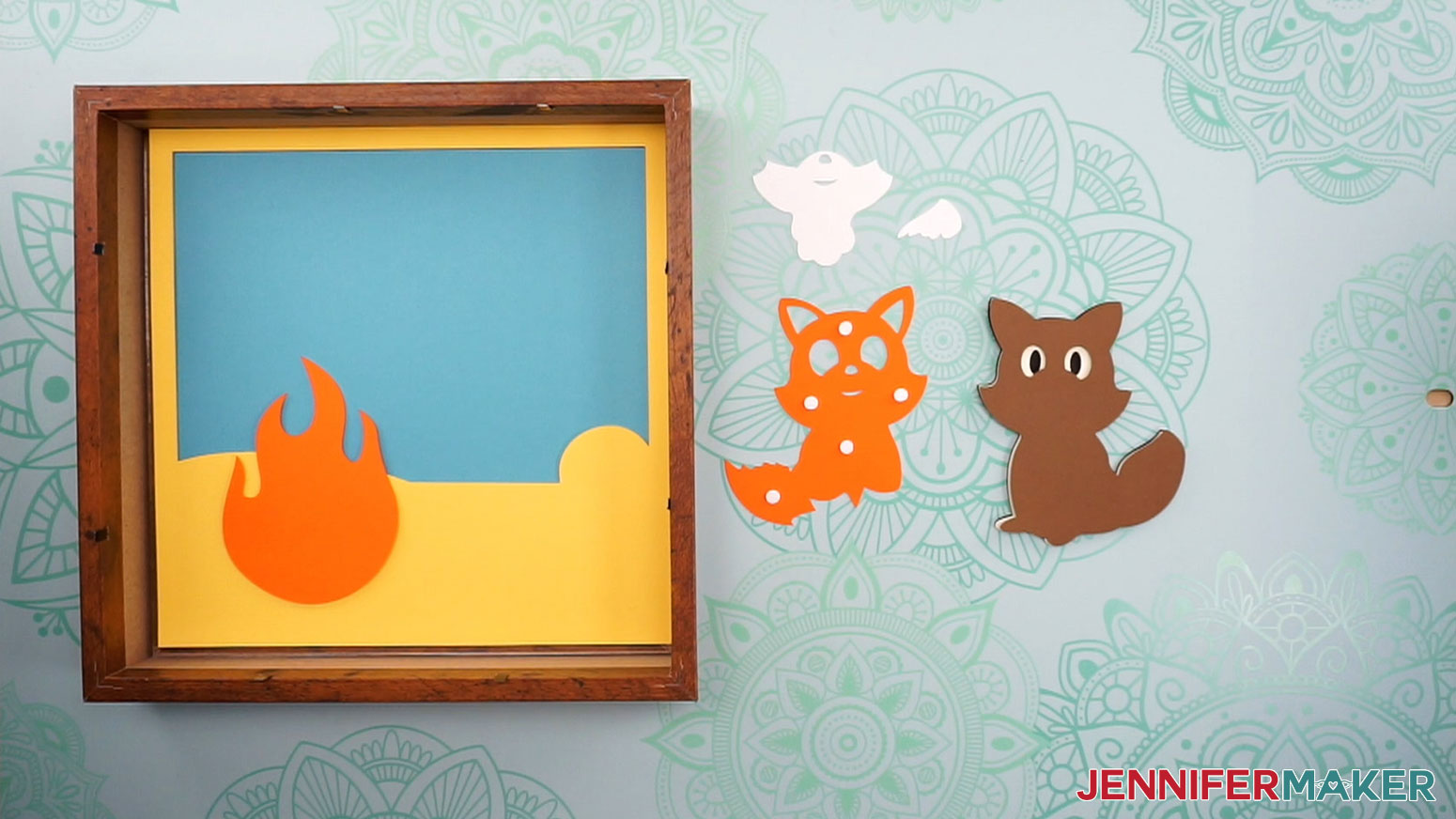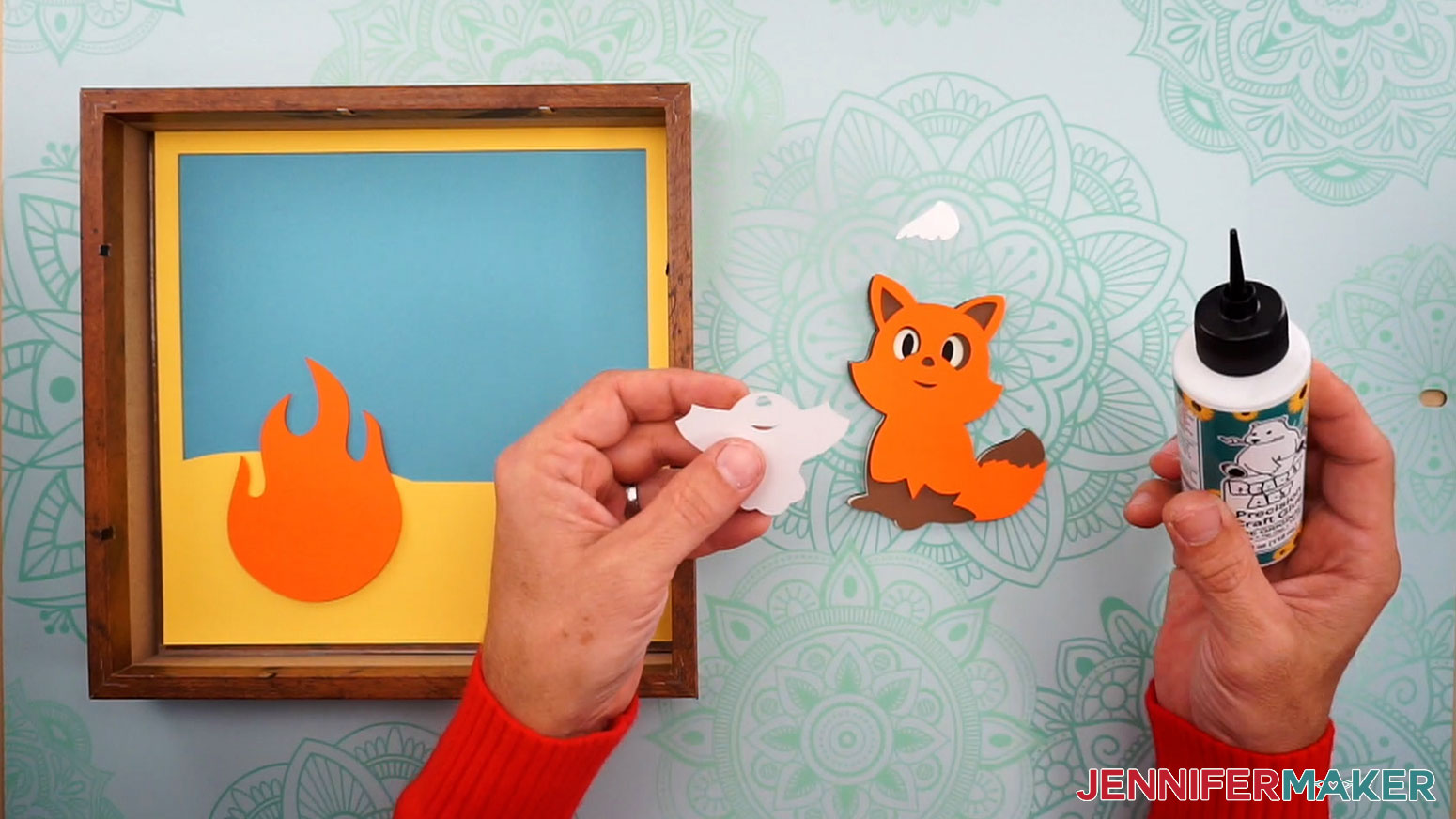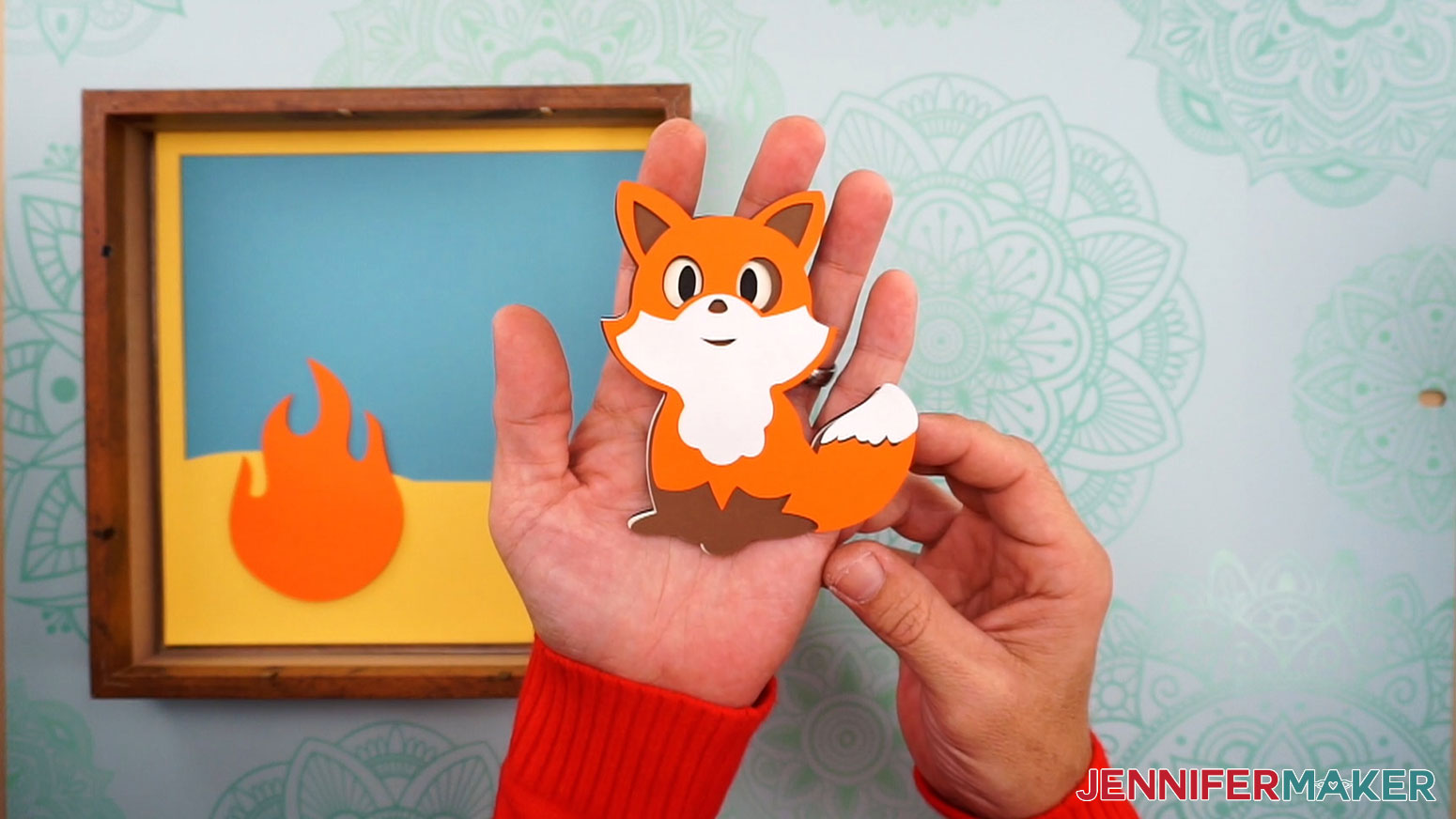 Front Section - Two pieces
Stack the front pieces face down side by side. You can remove the other layers from the frame to use the corner alignment method again, if you like.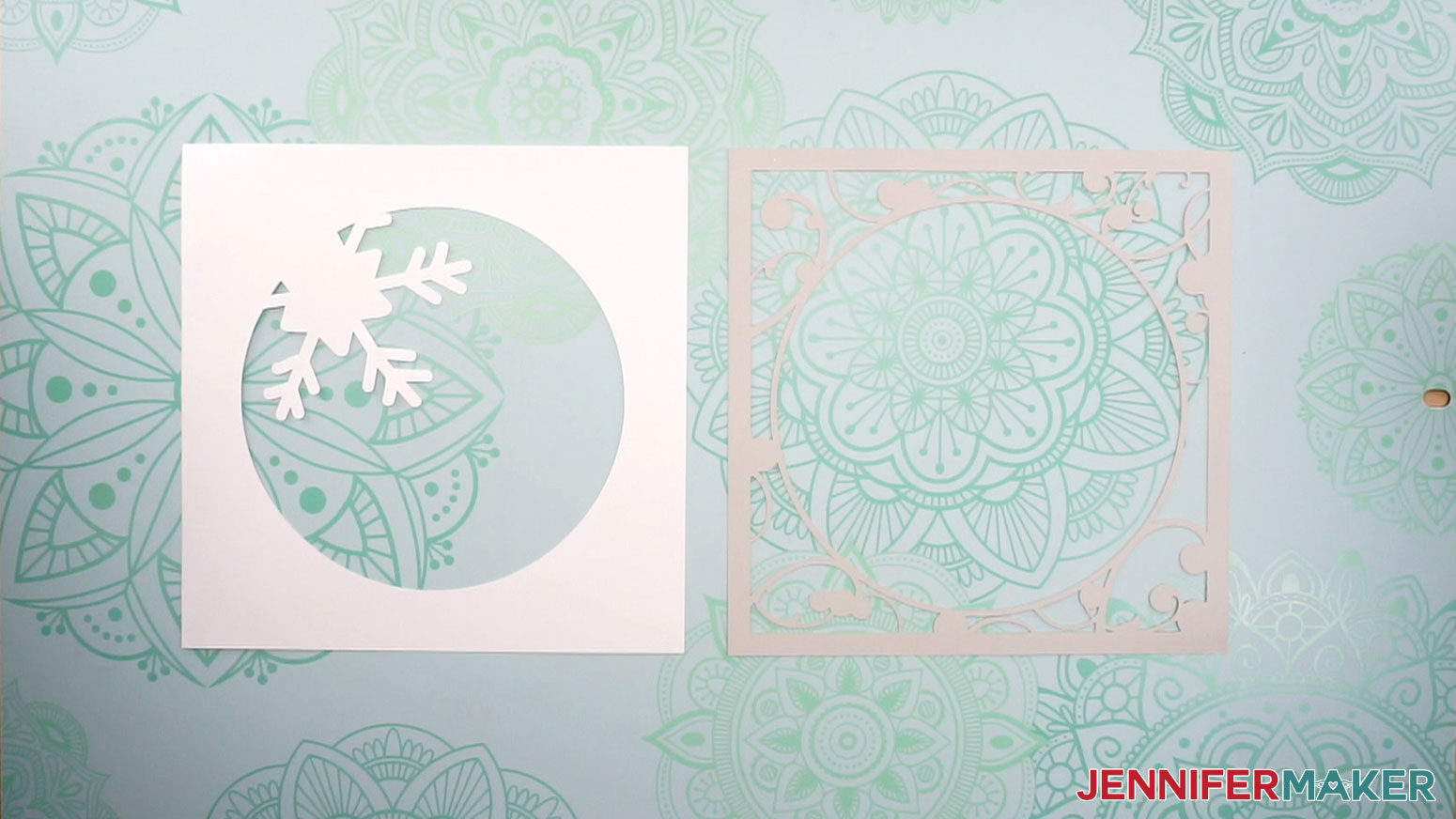 Apply the adhesive foam dots every few inches on the back of the front layer.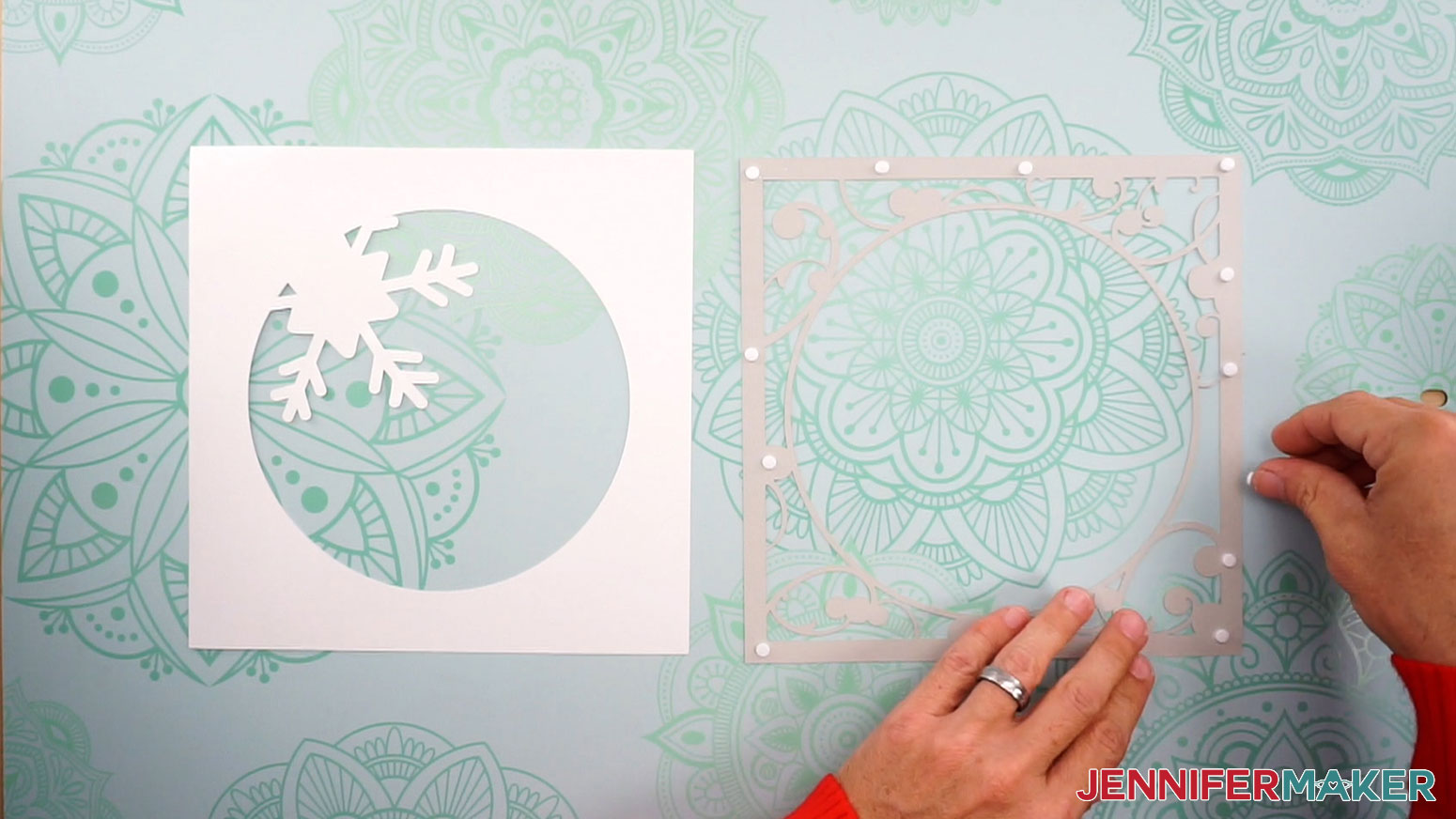 Flip it over and place it on top of the other layer.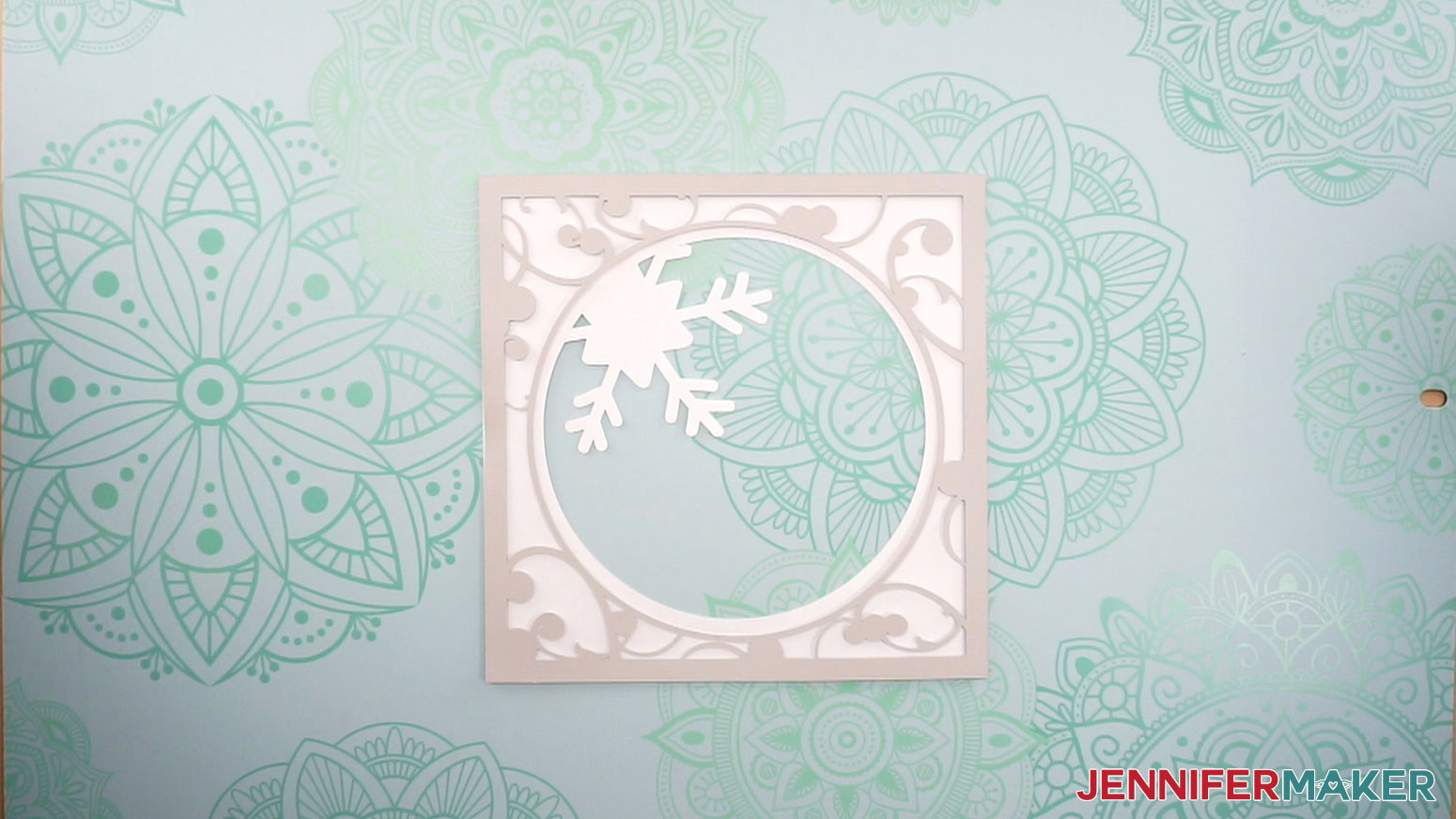 Put the Layers Together
Stack the assembled sections face up to get the layout you want. You can stack them in the frame to help with alignment if you like.
Note where the animal's back and top layers touch the next sections, because that's where you'll add foam dots to bring the layers together.
We'll attach the background and front layers around the sides, but check where they will touch, too.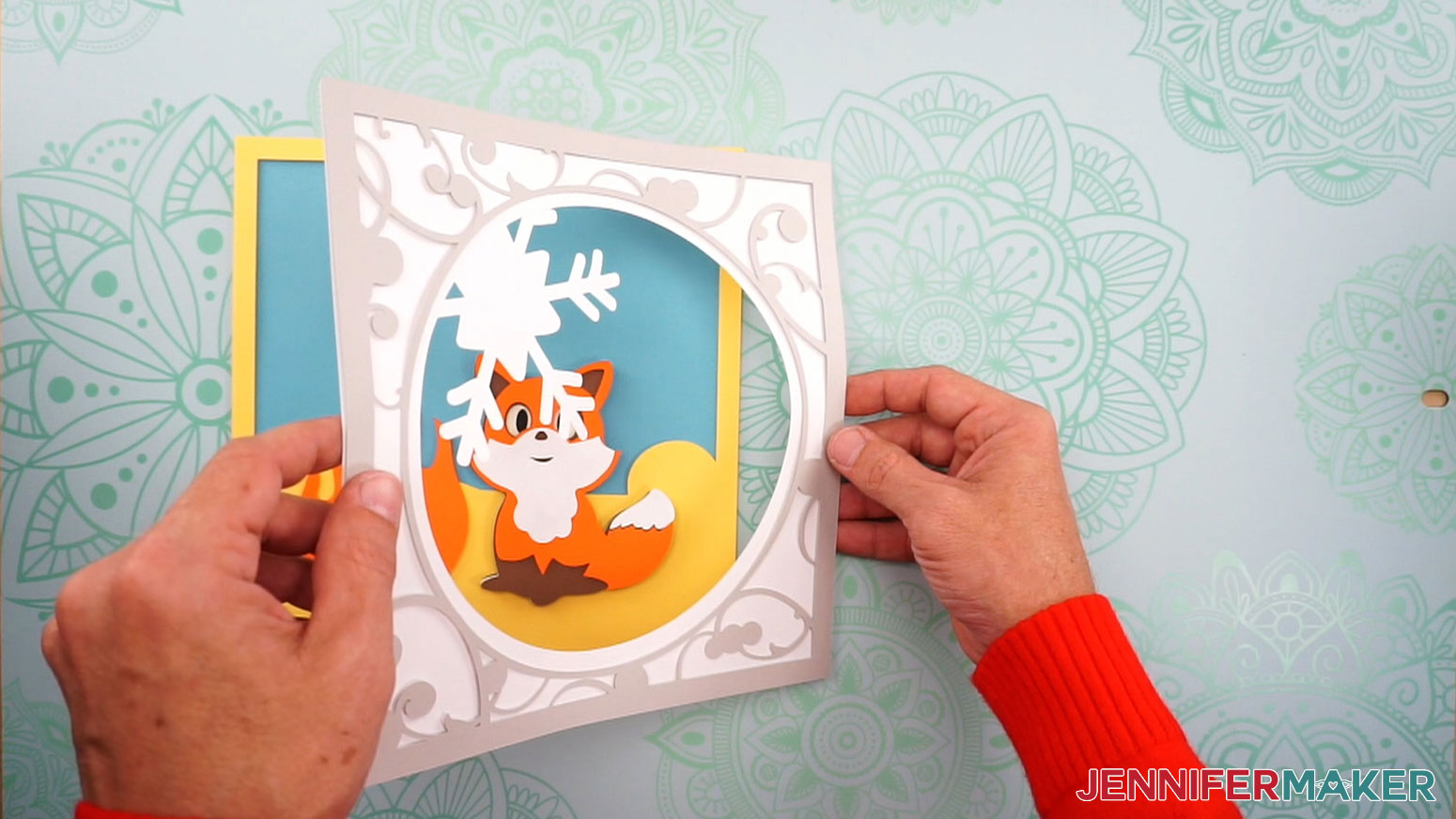 Remove the top two sections.
Place adhesive foam dots on the back of the fox, in the areas you picked.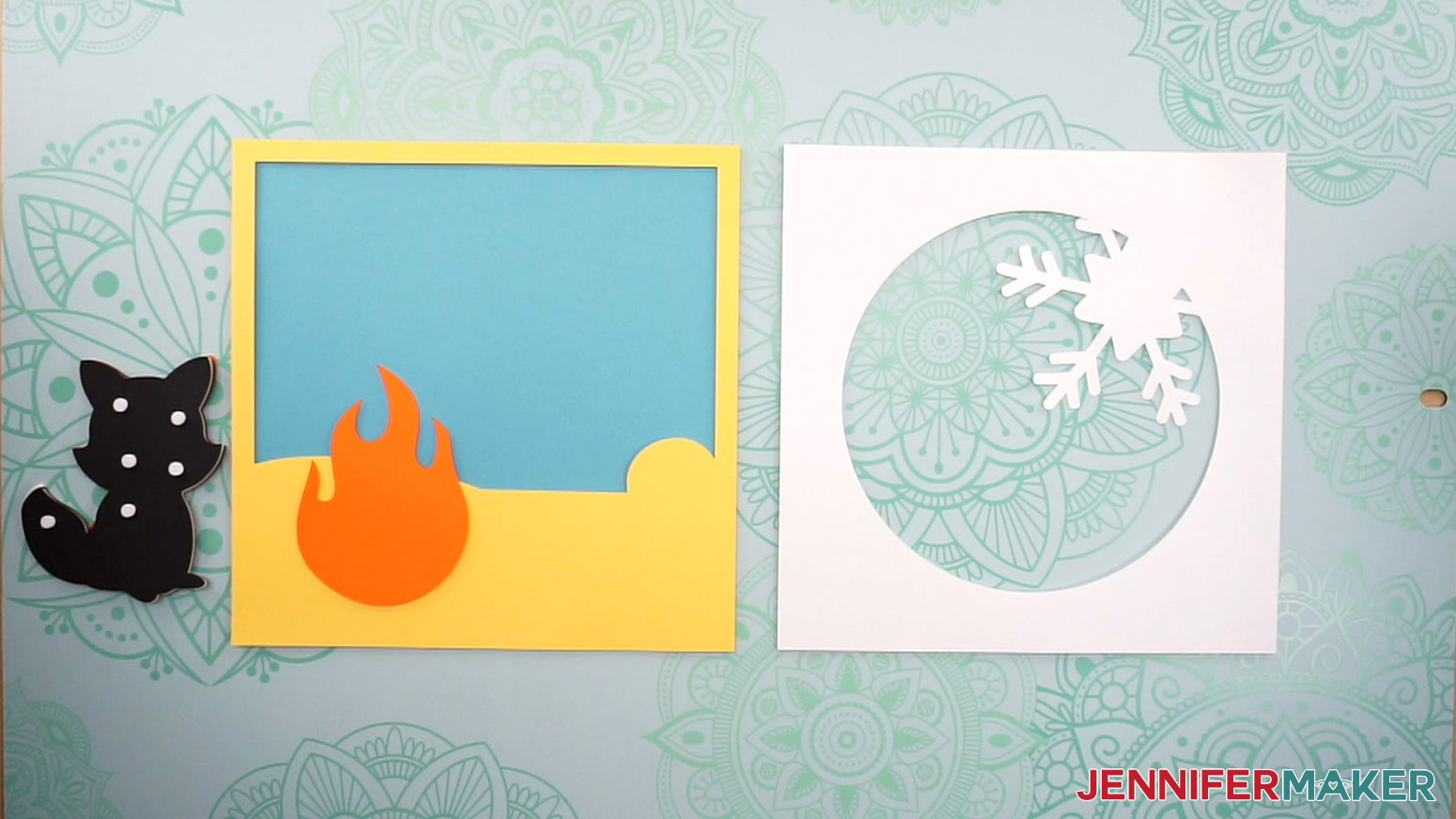 Place it on top of the background, using your screen for a reference. Only press down gently for now in case you need to adjust it.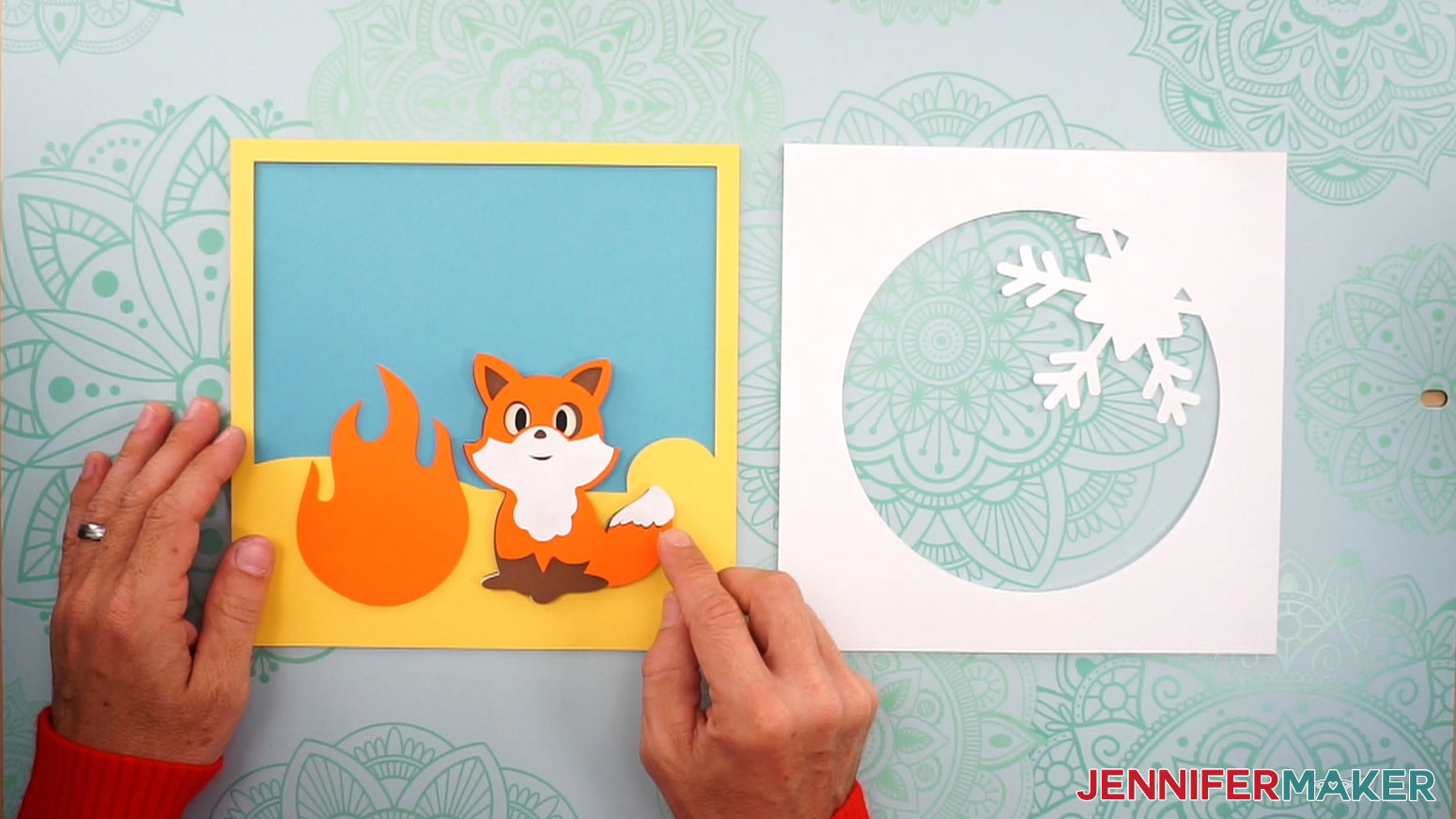 Now, place adhesive foam dots on the back of the top section. You might need to stack some foam pieces to make up for the space between some touch points.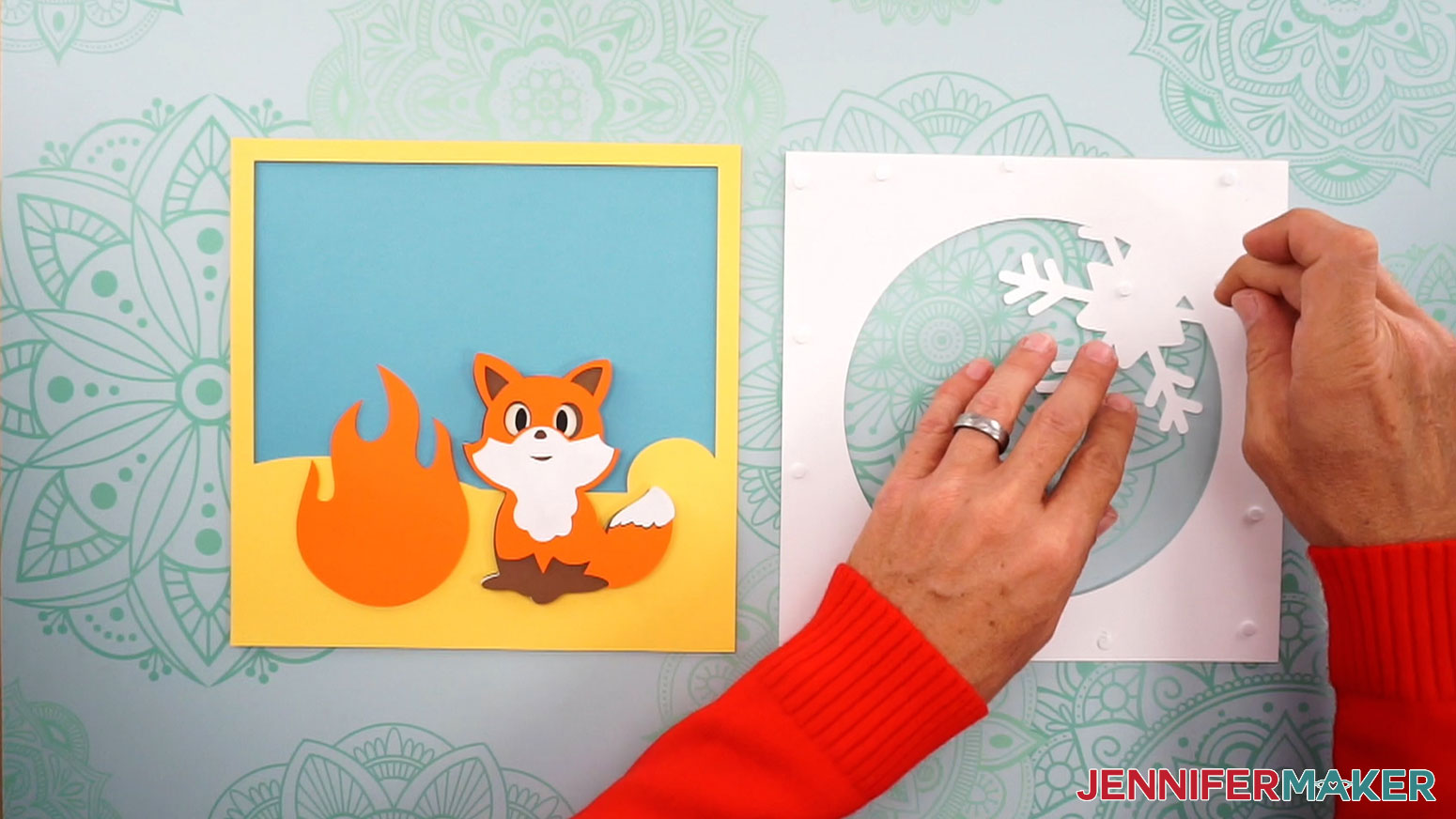 Place it on top of the others. Again, only press lightly in case you need to adjust anything. Once it looks right, press down.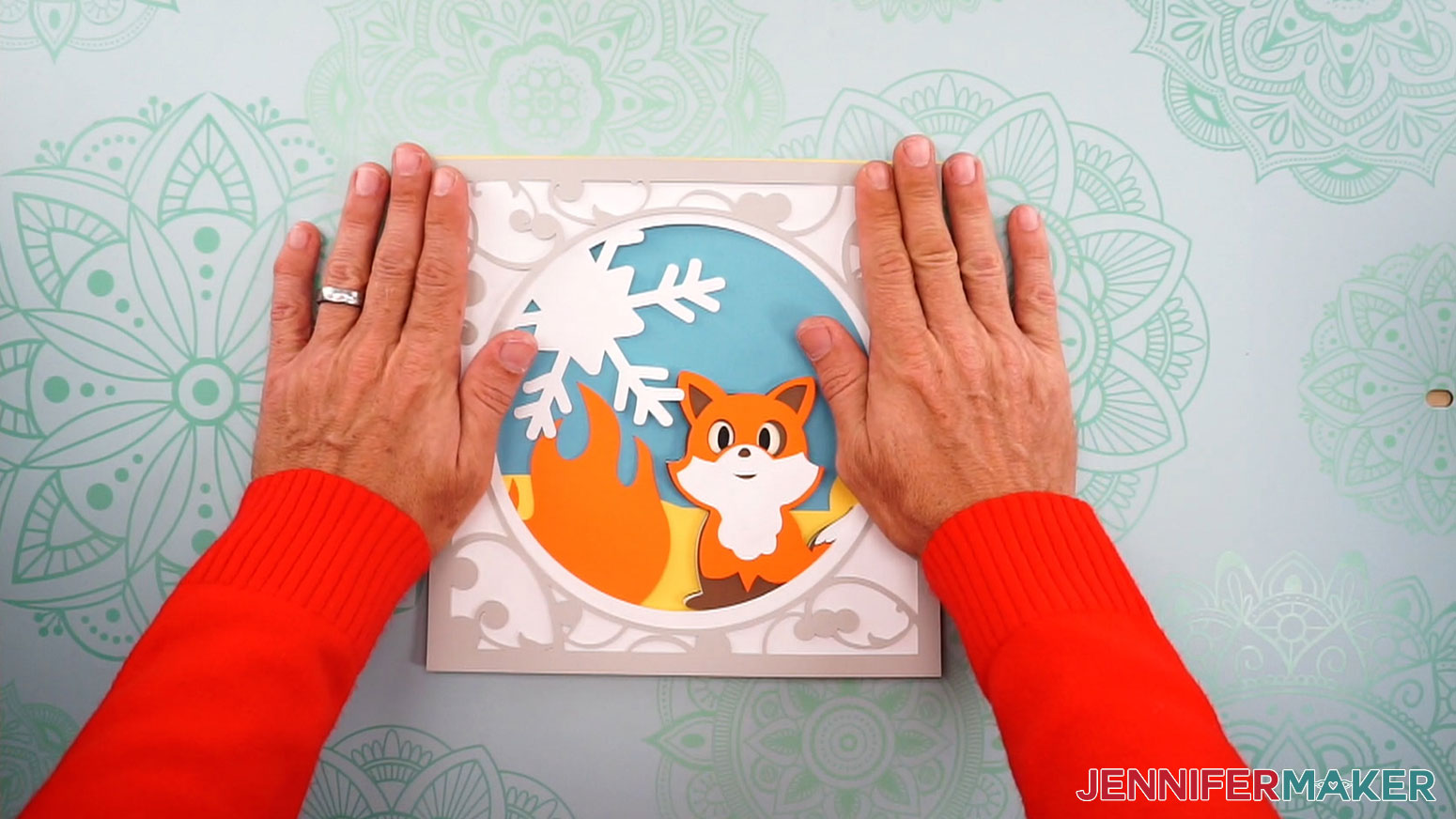 STEP 5: ADD YOUR LAYERS TO THE SHADOW BOX
Take out the assembled layers to check for smudges or dust in the shadow box. Wipe down the glass again with alcohol and a lint-free cloth if needed.
With your assembled layers face down, add a few foam dots around the edges and in the middle.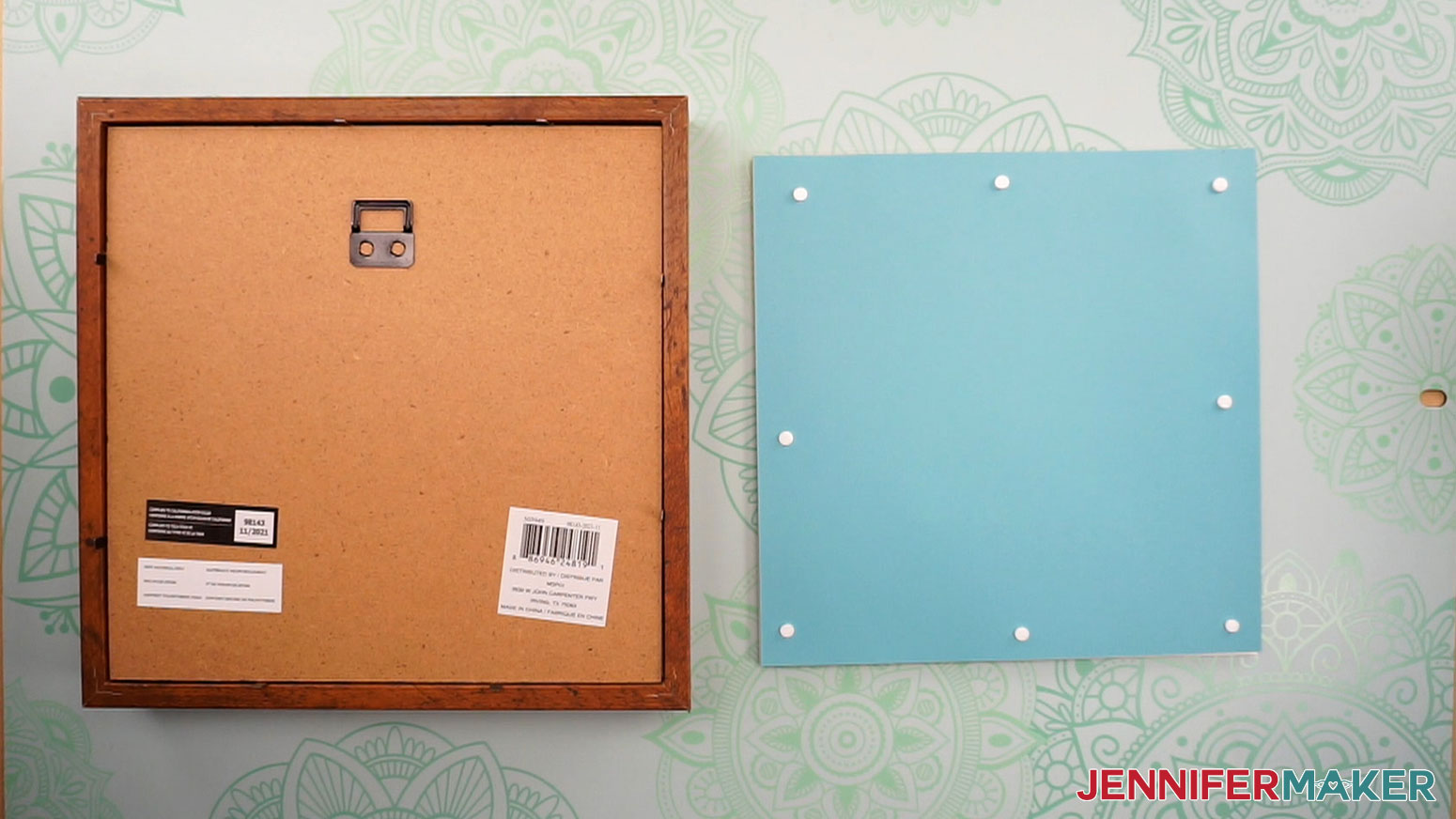 Then, flip the design over and line it up over the smooth surface of the backer. If there's hanging hardware, make sure your fox will face the right way! Press it down when it looks right.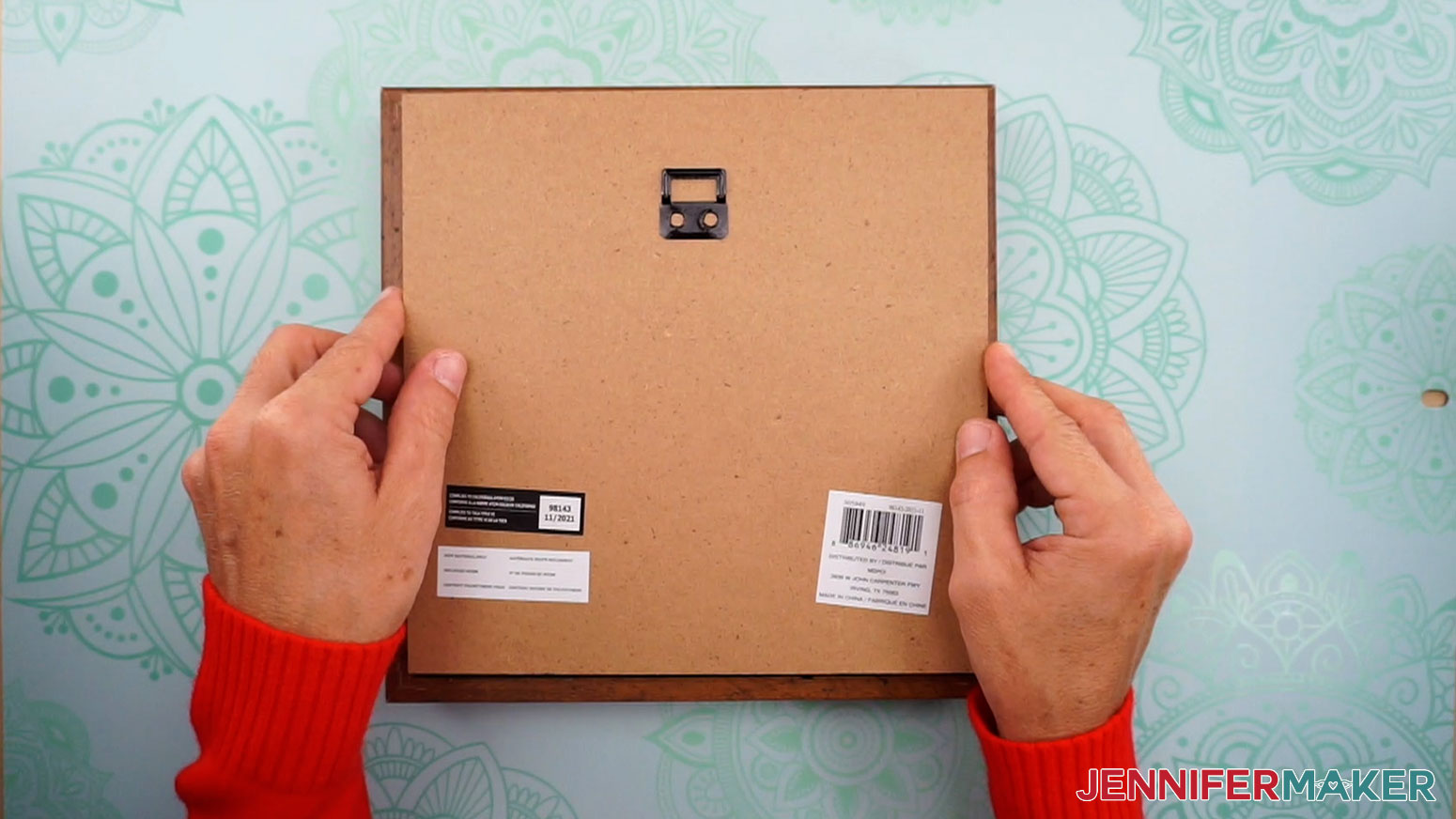 Place the design and backer in the shadow box and close it up.

Now, put your 3D Woodland Animals Shadow Box back together and there you go!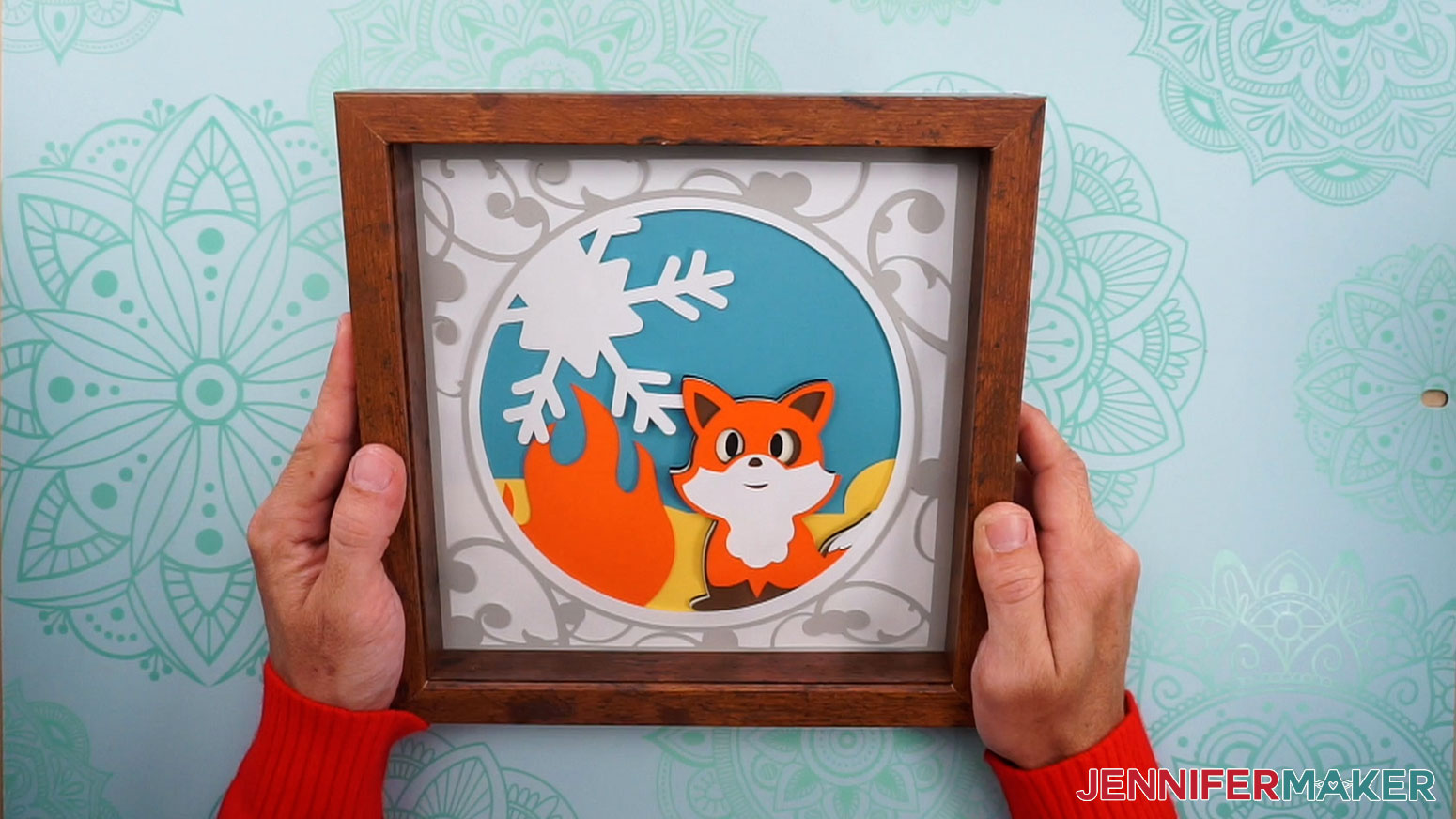 STEP 6: SHOW THEM OFF!
Hang your shadow boxes and enjoy decorating for each season!
Notes
Cricut Design Space cuts the layers based on color, not layer stacking order. Here is a list of the Cut Order for each scene once the SVG file is brought into Design Space as well as the paper needs:
Fall Fox Shadowbox

10 sheets of cardstock
Display area: 8.85"
Cut order in Design Space
1-White- frame, Fox
1-Gray- frame
1-Black- Fox
1-Orange- foreground
1-Dark Brown- background
1-Dark Brown- Fox
1-Dark Yellow- background
1-Tan- background
1-Tan- Fox
1-Blue/Teal - background


Winter Mouse Shadowbox

8 sheets of cardstock
Display area: 8.85"
Cut order in Design Space
1-White- frame, Mouse
1-Black-Mouse, Stick
1-Gray - Mouse
1-Pink - Mouse
1-Dark Orange- Flame
1-Dark Yellow- background Sun
1-Tan - Mouse
1- Blue/Teal - background Sky


Spring Skunk Shadowbox

9 sheets of cardstock
Display area: 8.85"
Cut order in Design Space
1-White, frame, Face
1-White, Skunk
1-Gray, frame
1-Dark Orange- frame
1-Dark Brown- background
1-Dark Yellow- background
1-Blue/Teal- Sky
1-Dark Blue-Water
1-Black-Skunk


Summer Chip Shadowbox

11 sheets of cardstock
Display area: 8.85"
Cut order in Design Space
1-White- frame
1-White- background
1-White- Chip
1-Gray - frame
1-Dark Orange- background
1-Dark Brown- Chip
1-Dark Yellow- background
1-Tan- Chip
1-Blue/Teal- background Sky
1-Black- background
1-Black-Chip
Recommended Products
As an Amazon Associate and member of other affiliate programs, I earn from qualifying purchases.
Answers to Your Questions About 3D Woodland Animals
Q. Can you do 3D on Cricut?
Yes, you can create 3D layered designs with cardstock using a Cricut using a minimum of effort! Just cut out your layers and stick them together in order using adhesives with some height, like the adhesive foam dots I use in my 3D woodland animals tutorial.
Q: What kind of paper do I use for a light box?
You can really use any 65 lb or higher cardstock to make your 3D woodland animals. Therefore, you can use the realistic colors I chose, or make fantasy versions with other hues and textures! There's a world of possibility in papercrafting!
Q: How do I keep my layers stuck together?
I used double-sided adhesive foam dots to keep most of the layers together and added the details with good-quality craft glue.
Q: My cardstock keeps ripping on the intricate cuts. What can I do?
Be sure you're using a clean and sticky machine mat, good-quality cardstock, and a clean blade to cut out your 3D woodland animals. Also, see my Cricut Cutting Problems post for all the comprehensive tips I use to get a clean, accurate cut every time.
Q: Do you have more 3D animal-themed projects?
Yes! Here are some favorites from my free resource library!
Make an owl family in different sizes!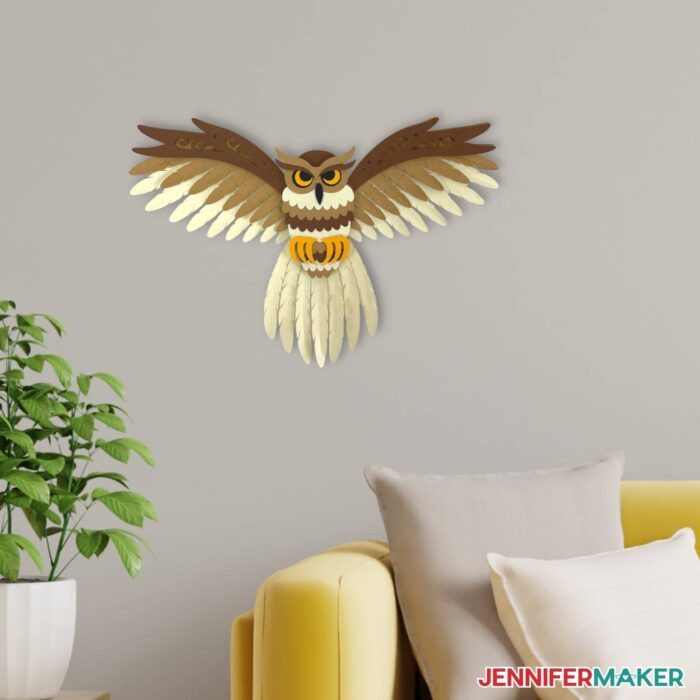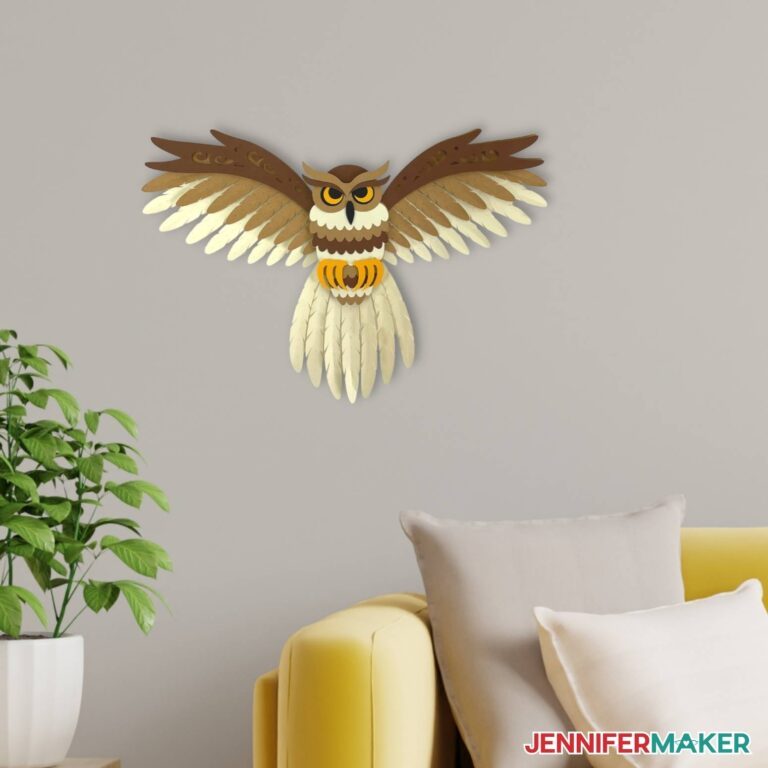 Or, add a detailed cardinal to keep an eye on your 3D woodland animals.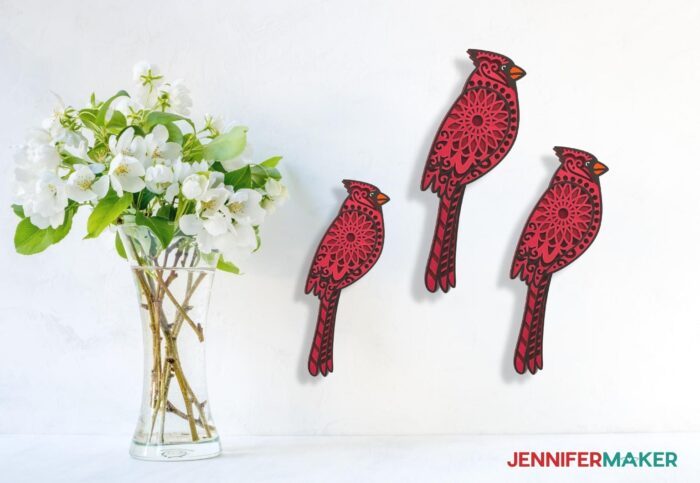 Get my free download of the 3D woodland animals SVG cut files here:
If you make any 3D Woodland Animals projects, I'd love to see them! Please share your paper cut light box tutorial results in my Cricut Crafters & Makers group where you'll find hundreds of thousands of crafters like you, sharing their tips, projects, and inspiration.
By the way, you're free to use my free digital files to create physical items to sell — I just ask that you share that you used one of my designs on your listing or with your product.
Love,