You can glamp in style and luxury using these beautiful and unique DIY glamping ideas!
For the past seven summers, I've gone glamping. I spend two weeks "glamour camping" in Pennsylvania with a canvas tent. Among my many glamp amenities are a four-post bed, "upholstered" chairs, and a chandelier. And despite not having access to plumbing or electricity, we have lights, a sink with running water, lights, and a kitchen. No, we're not staying at some 5-star glamping resort; instead, we made it and set it up ourselves using lots of great DIY glamping ideas.
What is Glamping?
Glamping is essentially camping with creature comforts. Instead of "roughing it" in a nylon tent with sleeping bags and air mattresses, you camp with style, luxury, and amenities. Glamping is a growing trend as those of us stuck at desks long for the outdoors without having to sacrifice things like comfortable beds.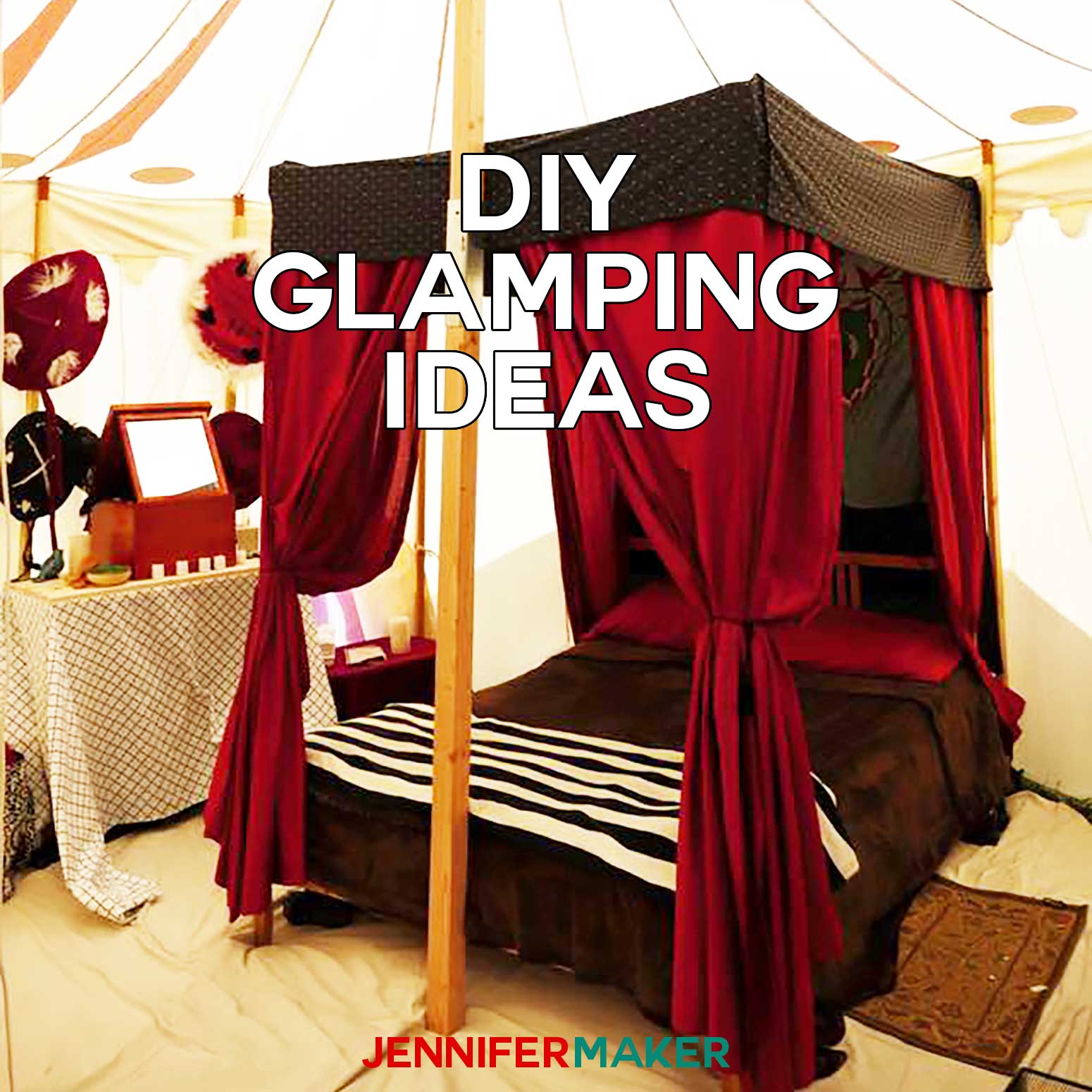 Glamping is also a way to enjoy unusual places and experiences in comfort. Some people glamp in yurts in the mountains. You can also glamp in treehouses, tipis, gypsy wagons, eco-lodges, and campers. I've chosen to glamp in a painted canvas pavilion with seven-foot walls.
Why Do I Glamp?
Remember how I mentioned glamping can allow you to experience something unusual in comfort? Every summer I go to a very unusual outdoor event called Pennsic. You don't HAVE to camp, but most of the 10,000 attendees do. And it's just more fun that way. I spend two weeks here and I want to be as comfortable as possible. Sleeping on an air mattress is fine for a weekend camping trip to a state park, but it gets old during such a long camping stint.
So over the years, I've been making more and more creature comforts. It started with a table and benches, and we've expanded into beds, chairs, sinks, kitchen counters, wardrobes, and more. Many of my friends have made some pretty ingenious glamping accessories, too. And since we're creating our own glamping experience, these things are all transportable and easy-to-setup.
So let's look at some amazing and beautiful DIY glamping ideas. This post contains some affiliate links for your convenience (which means if you make a purchase after clicking a link I will earn a small commission but it won't cost you a penny more)! Read my full disclosure policy.
Unique DIY Glamping Ideas
Here are a few of my DIY glamping projects that you can use for inspiration!
"Upholstered" Camp Chairs
One of the simplest ways to glamp up your camp is to "upholster" a basic camp chair. I like to use the square frame camp chairs, rather than the bag chairs, because they look so convincing when you're finished. Here's a photo showing a basic camp chair, and the same chair "upholstered" and ready for glamping.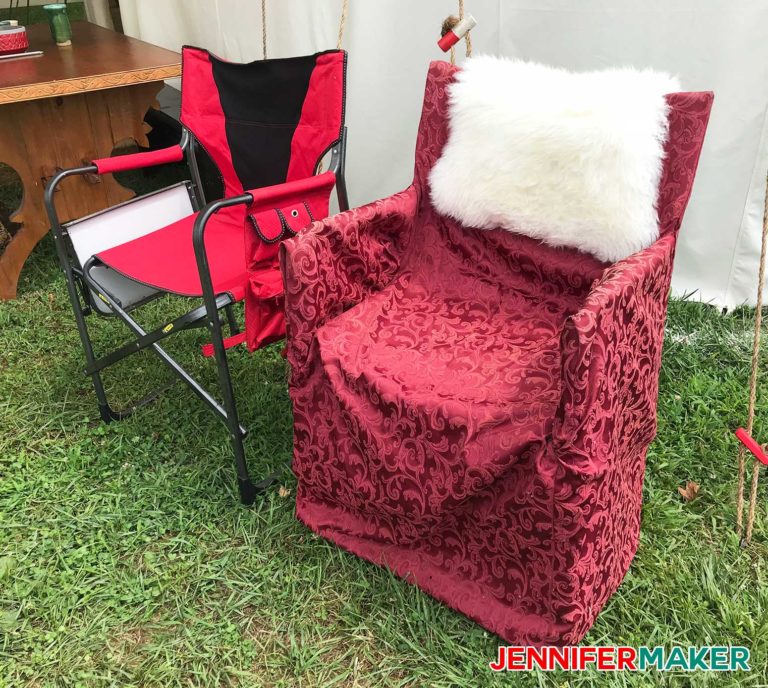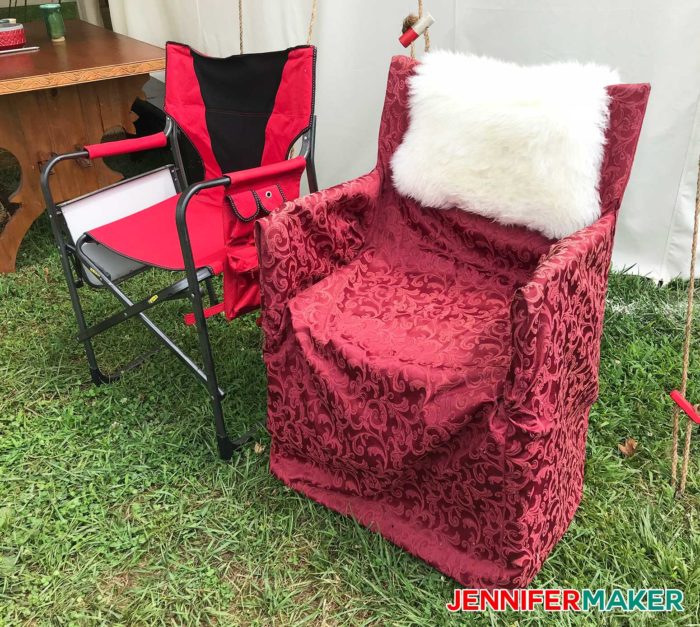 Of course, this isn't really technically upholstered, but it is covered with a nice upholstery fabric that completely disguises the fact that it is a simple, foldable camp chair. A faux sheepskin from IKEA thrown over the back completes the comfort and look. We have three of these and they are practical and pretty!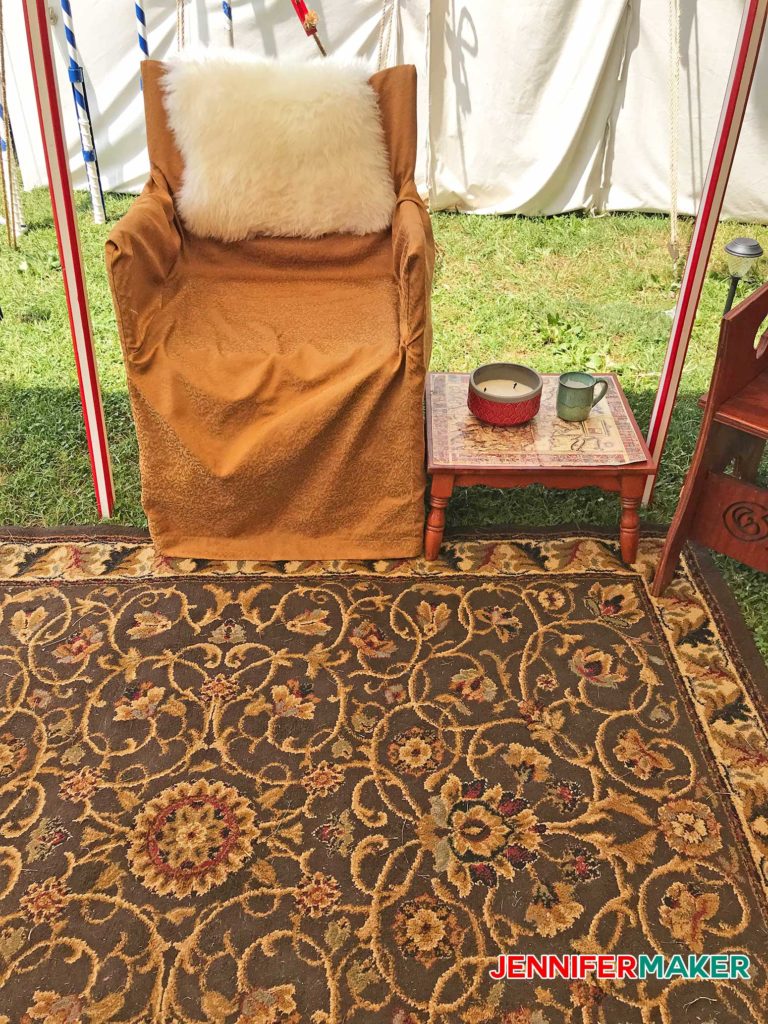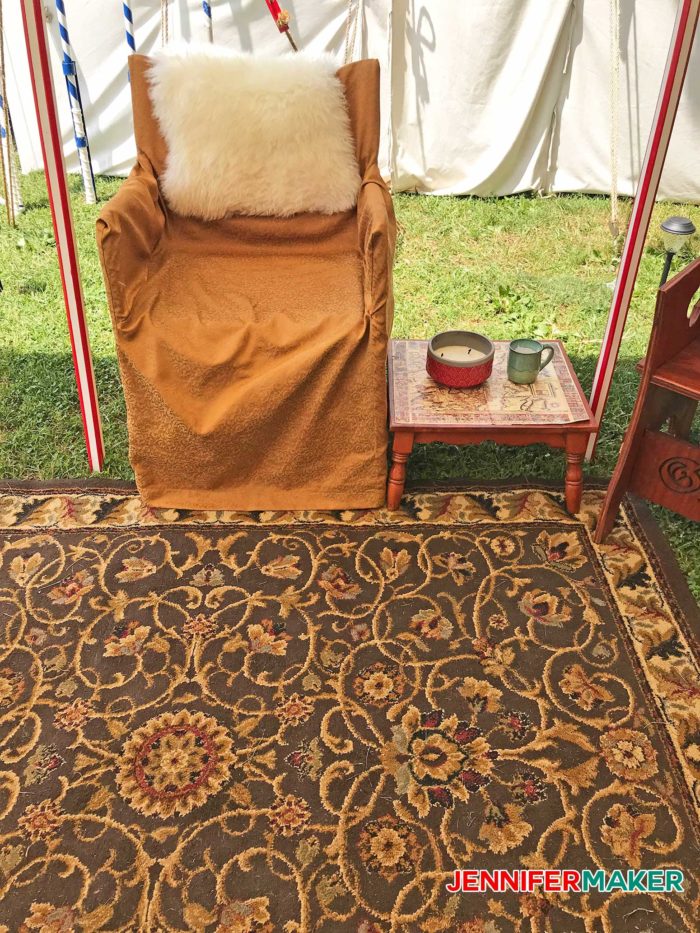 To upholster a camp chair, you just cut and pin pieces of fabric together to cover the flat surfaces of the chair. You essentially make a cover for it inside out, draped over the chair. Once it's all pinned together, you just pull it off and sew all the places where the fabric needs to be attached. Turn it right side out, put it on your chair, and you're done! Here's one of the chairs with the fabric inside out so you can see how it was pieced together.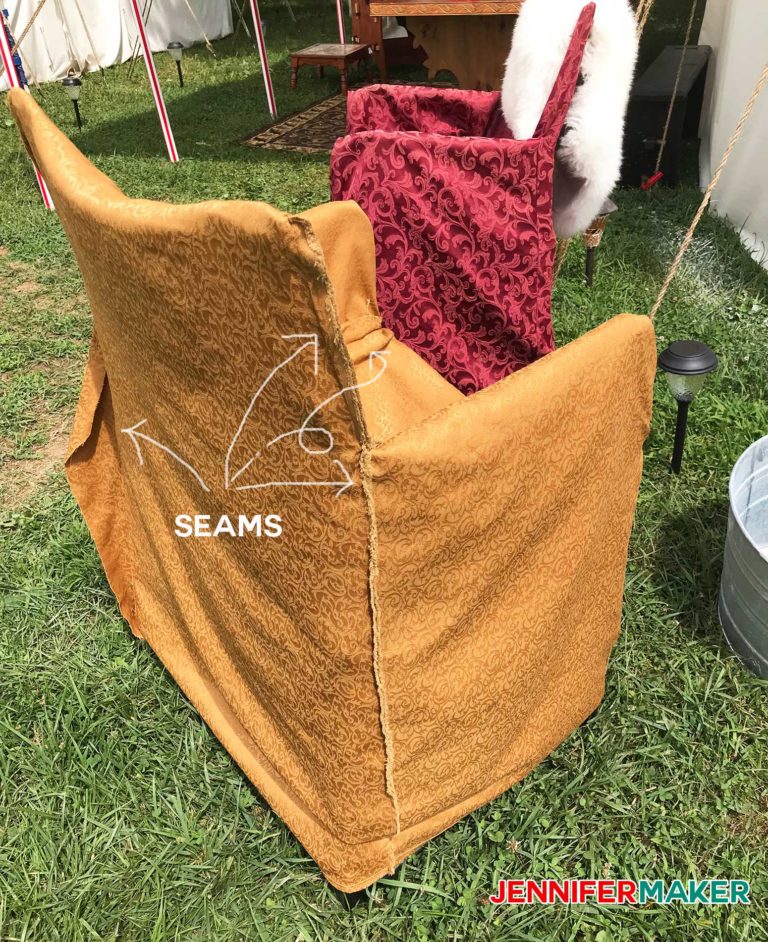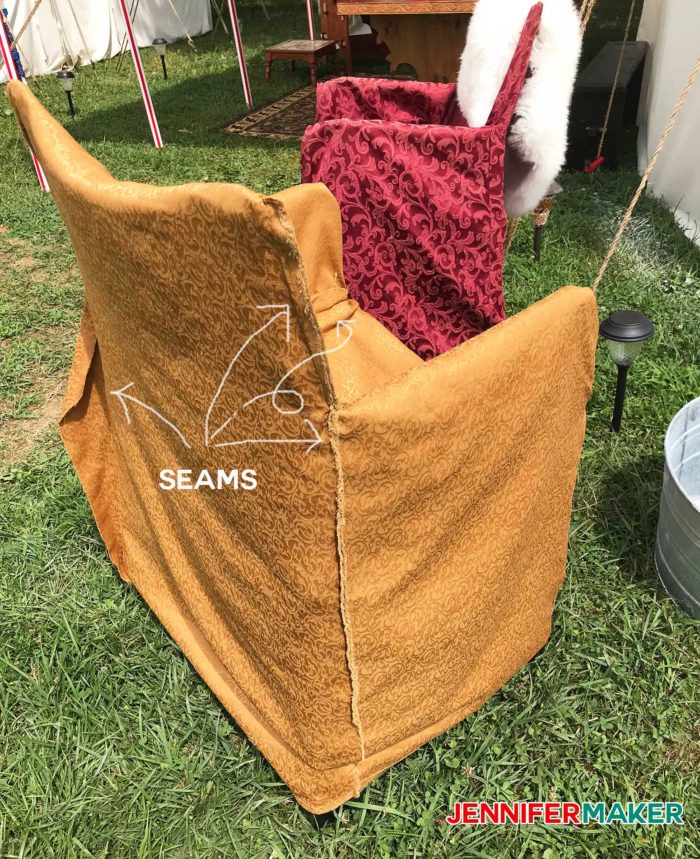 These upholstered camp chairs are a super easy DIY glamping idea! We use these chairs year-round when we go to other events, or even when we just need an extra chair for company.
Glamping Chandelier
A chandelier is one of my favorite glamping accessories because it's just so decadent yet simple. All you need is a patio chandelier, a pulley, some rope, and some LED tea light candles.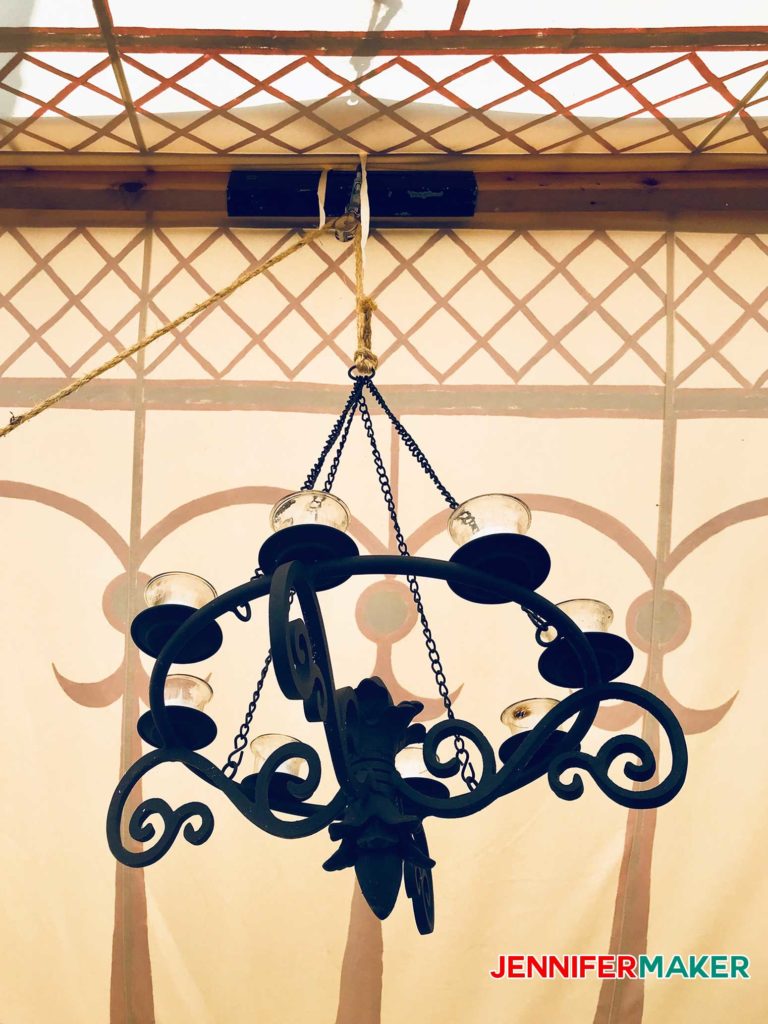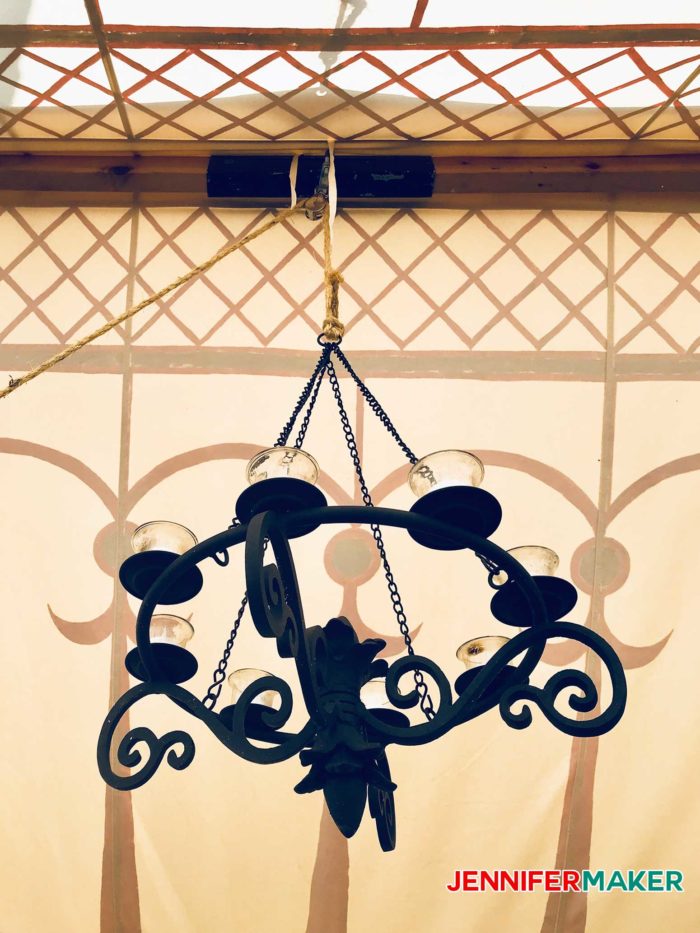 The trick to really amazing glamping chandelier is to use LED tea lights with a remote control. Then you can just turn them on and off whenever you please. And it's just such a beautiful touch. Here it is lit up at night.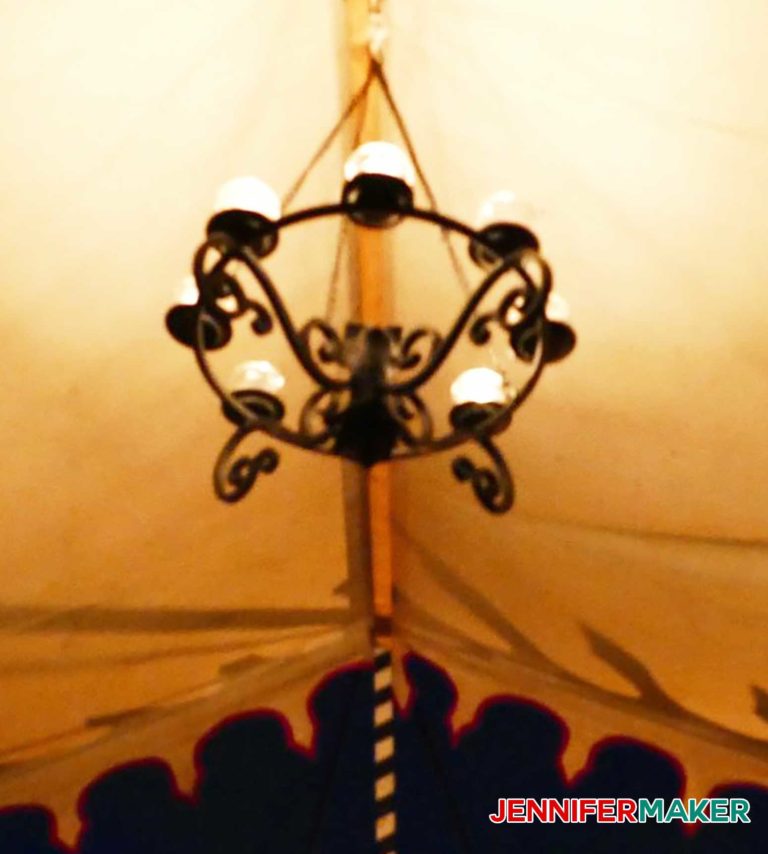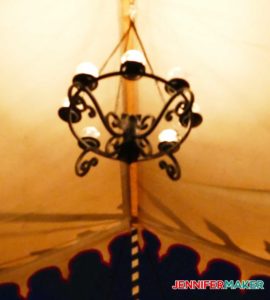 Nothing Says Glamping Like a Real Bed
Talk to people about what they like about camping and usually the first thing you'll hear is how they hate sleeping bags and air mattresses. I agree! And that's why I glamp with a real bed. And it's easier than you think. We just bring a wood bed frame from IKEA, a simple foldable mattress (also from IKEA), and a memory foam mattress pad.
Here's what my first glamping bed looked like: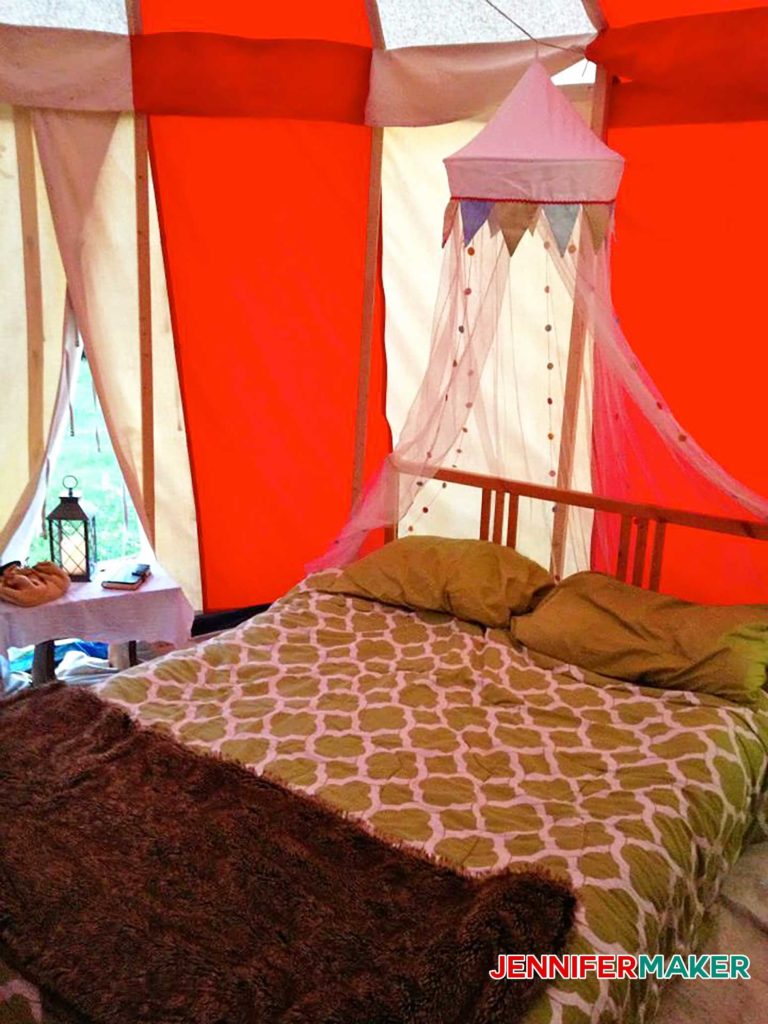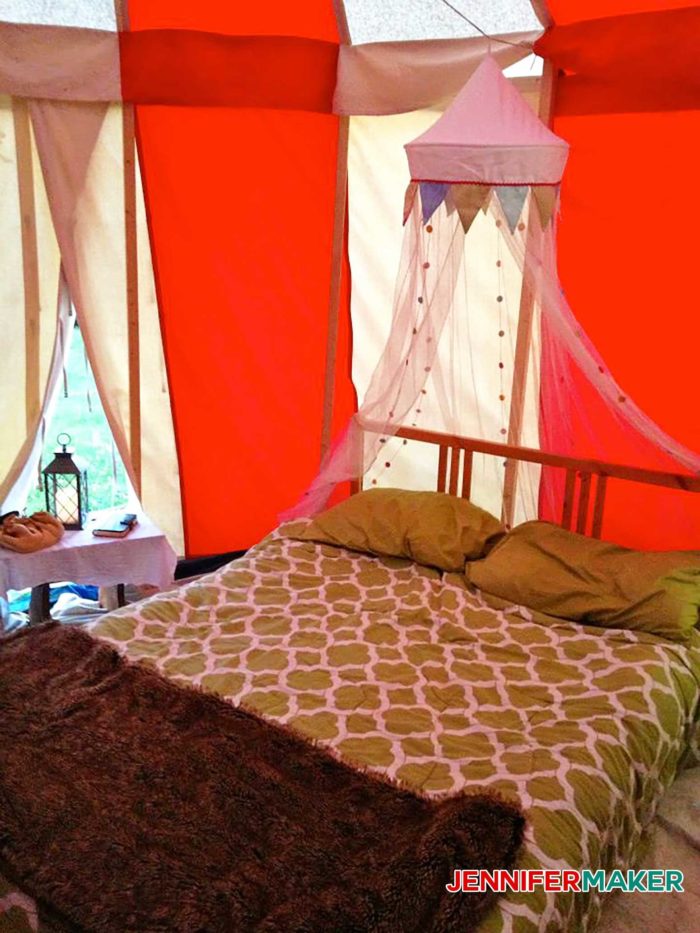 Here's what my glamping bed looks like now: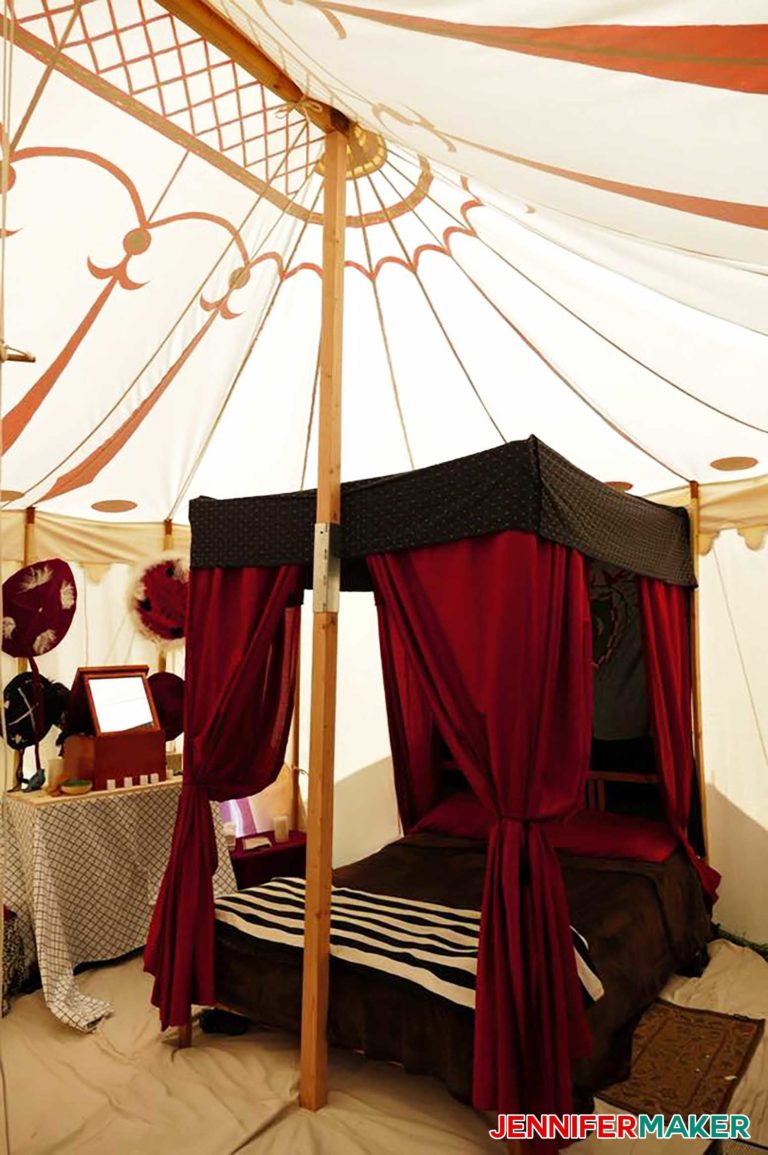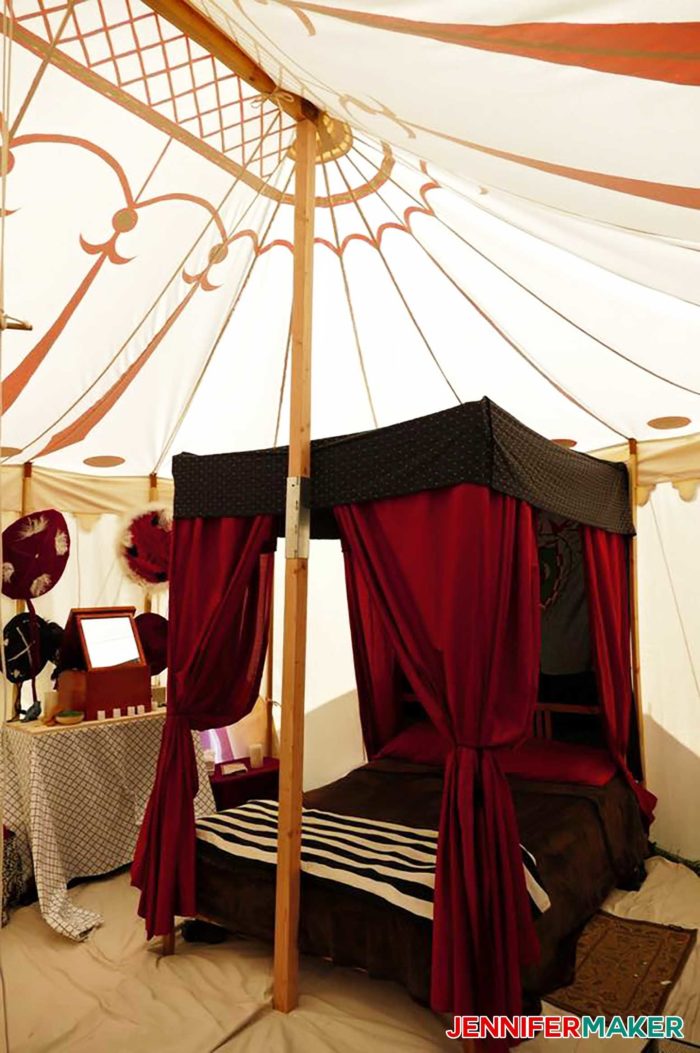 Yes, we turned our wood IKEA bed into a four-poster canopy bed. And, sure, it looks amazing, but it's also quite practical. The canopy keeps the light out in the morning (so you can sleep in a little longer) and keeps the heat in at night (to help you stay more comfortable). Here's a closer look at the inside of the canopy: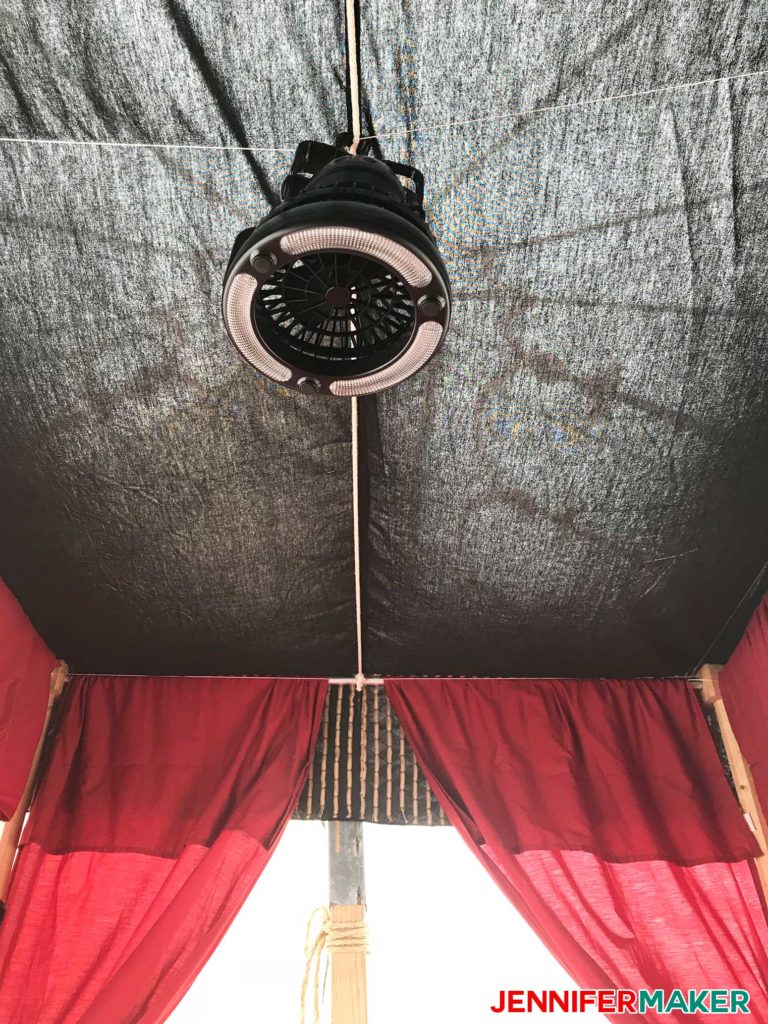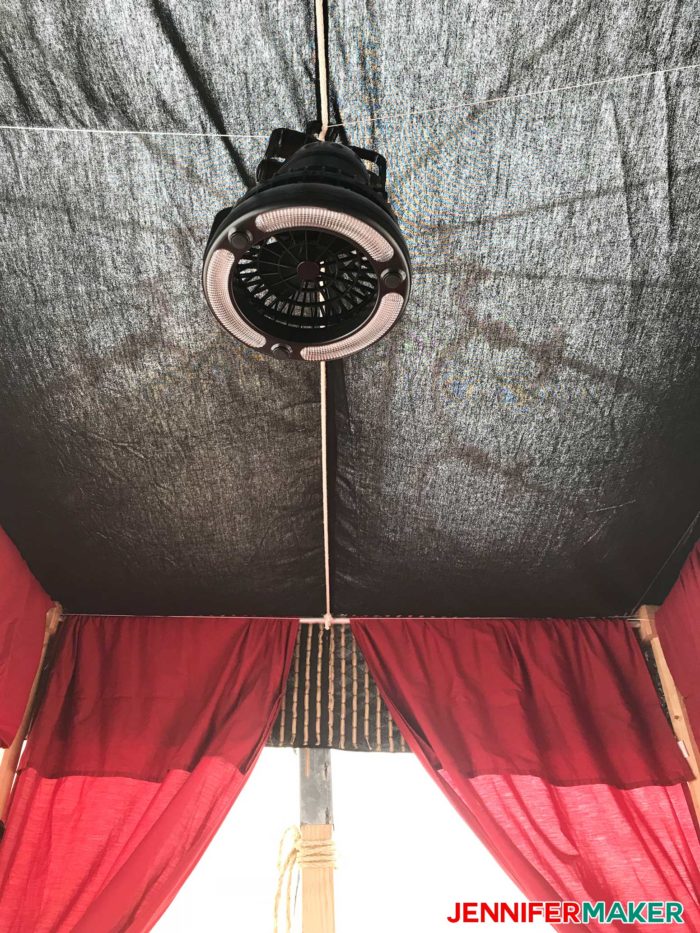 Yes, that is a fan/light we attached to the inside of the canopy!
To make this, we simply attached 2×2 poles to each corner of the bed with removable pegs. At the top of each pole is a wood block with two holes drilled into two adjacent corners. Aluminum poles fitted between the wood blocks create the canopy frame. And we keep it all stable by tying it together with rope and string.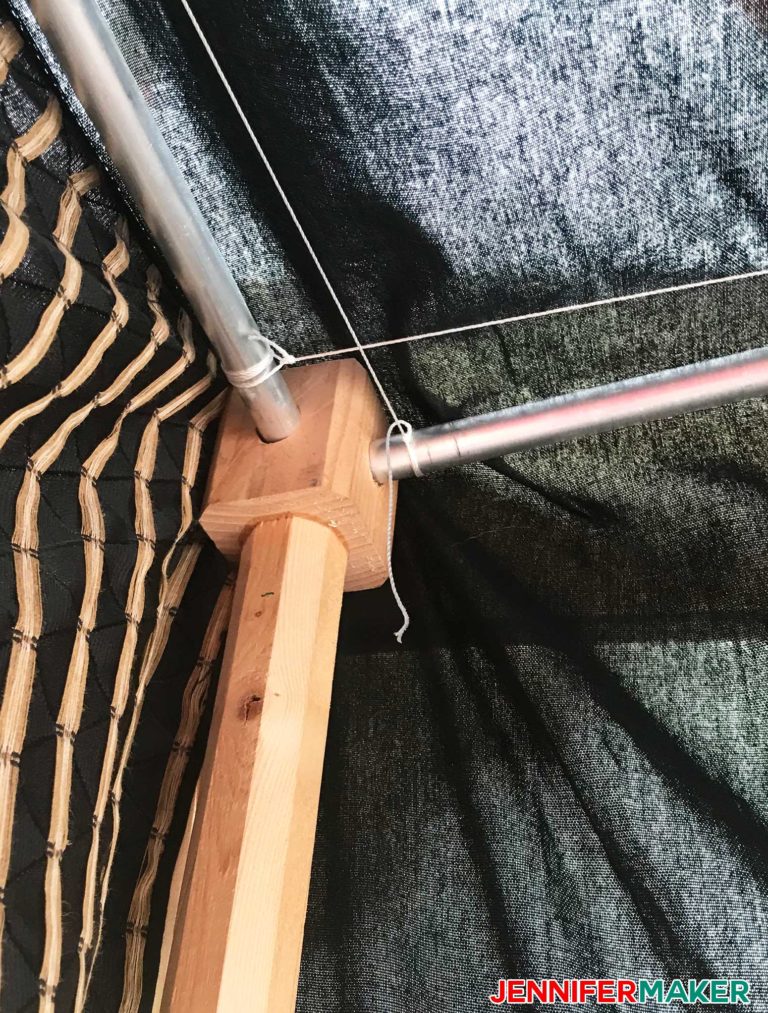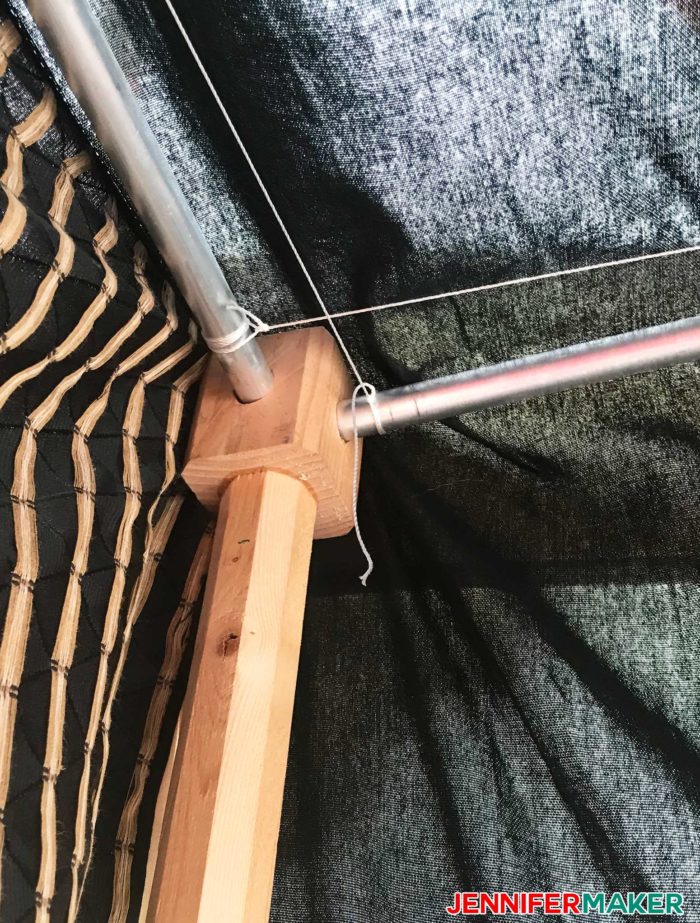 The canopy itself was made with canvas and upholstery canvas. I even put some pockets near the headboard for holding reading material and phones!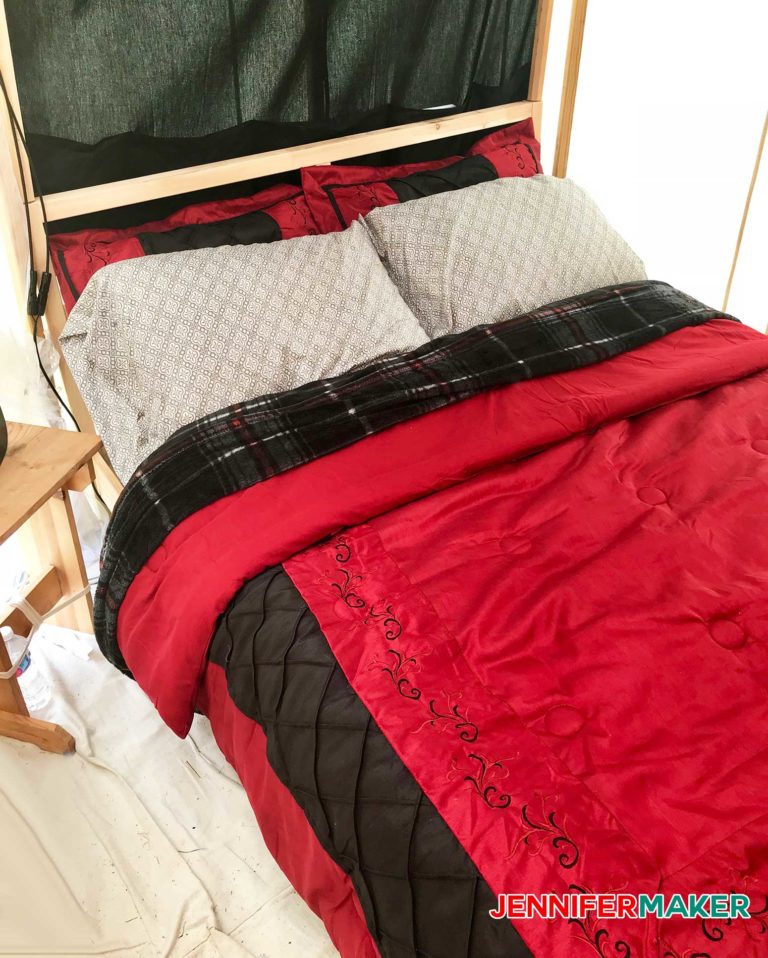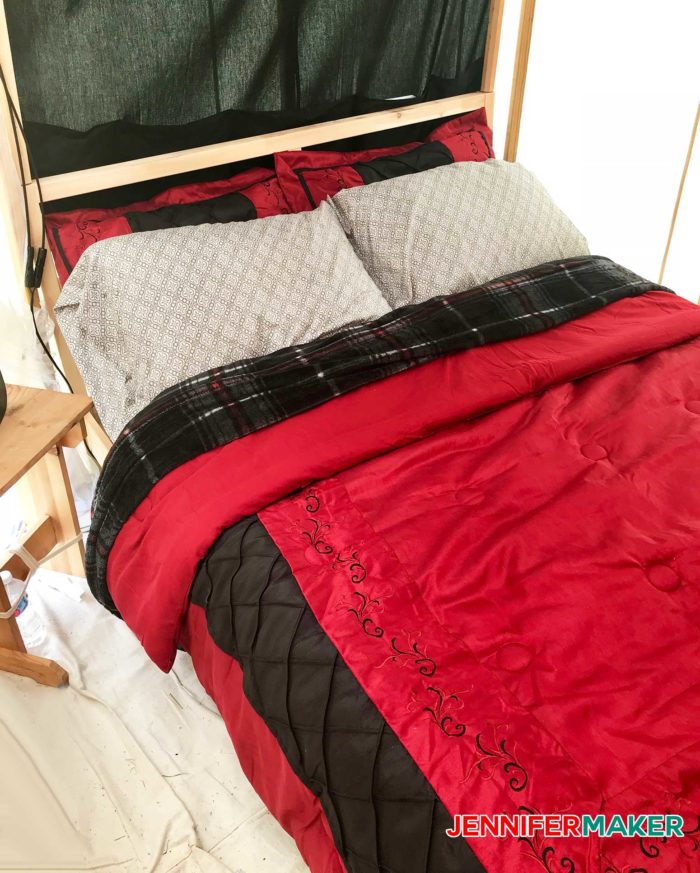 A Glamping Workspace
I'm writing this blog post from my glamp site, and I couldn't be more comfortable. I cover a basic folding table with a pretty table cloth, get power for my laptop and fan from a solar panel, and Internet from my phone's hot spot. Solar lights around the perimeter give me a little extra light in the evenings. This area doubles as my "pantry" and storage area, too.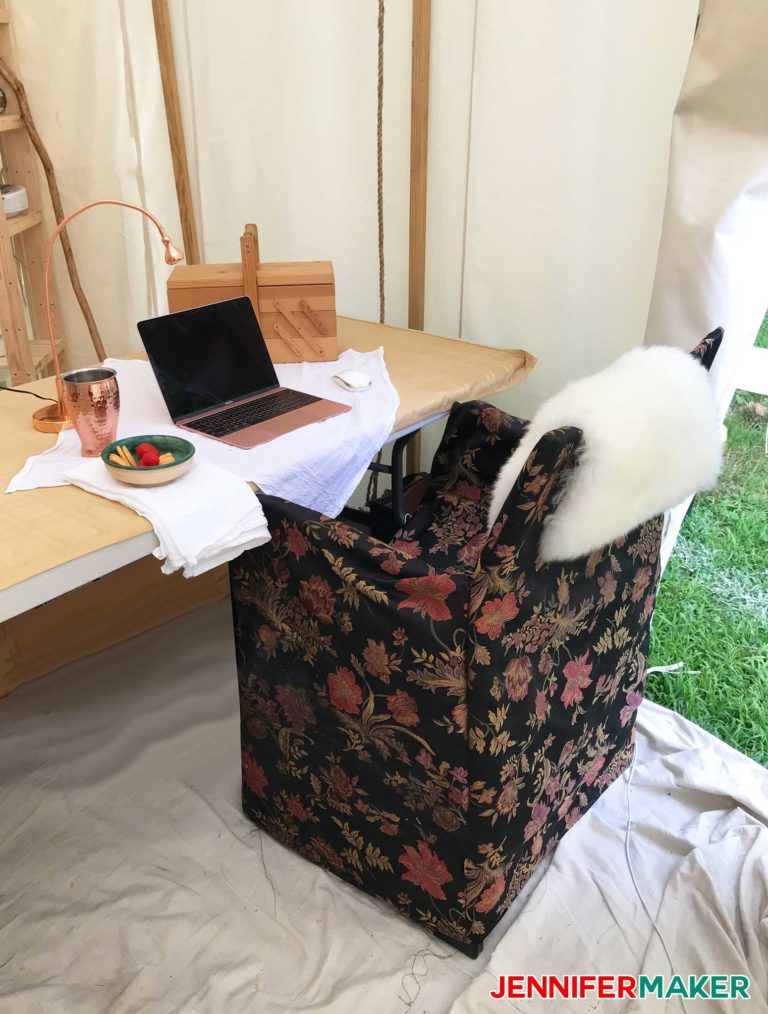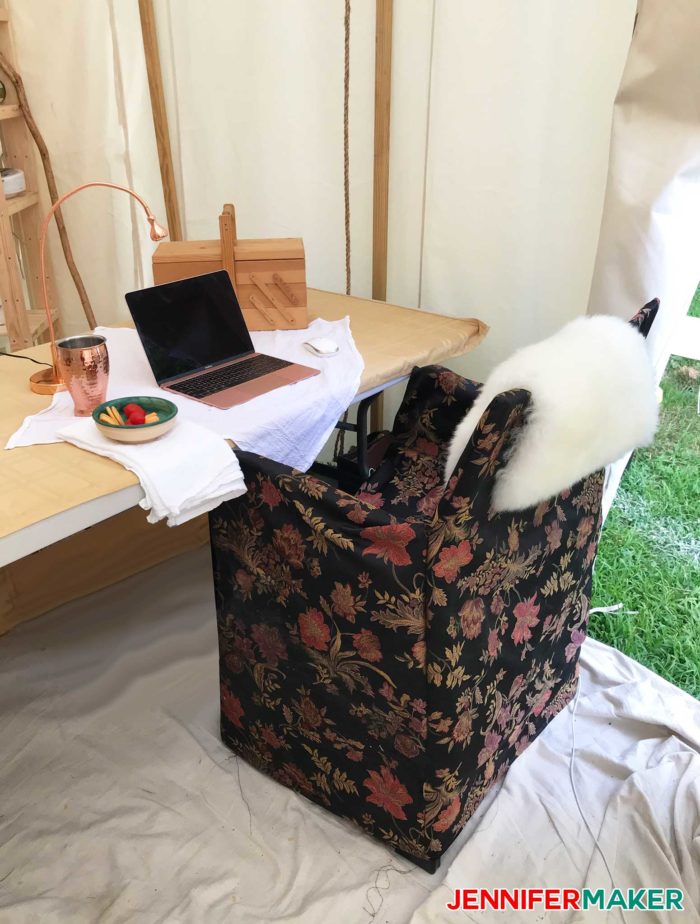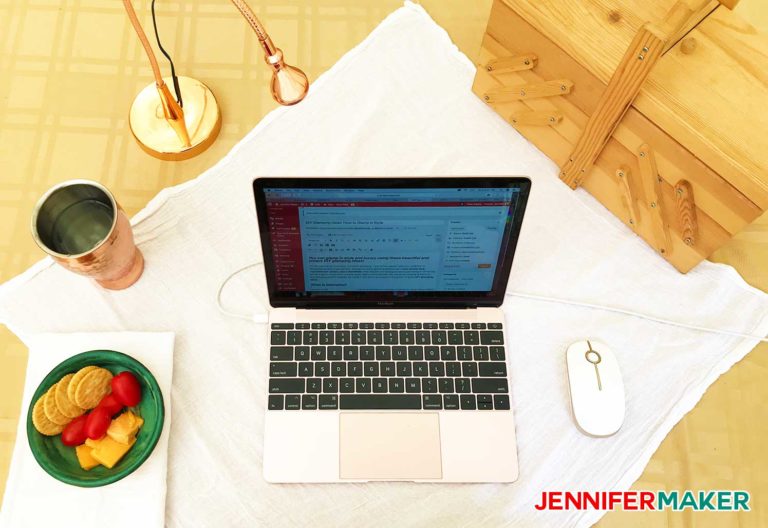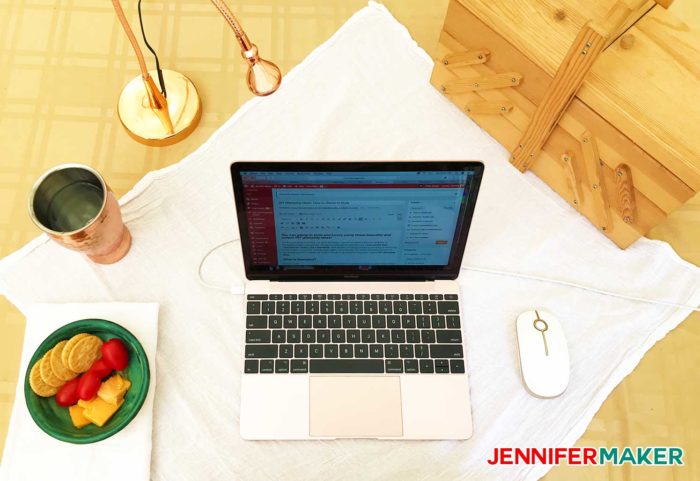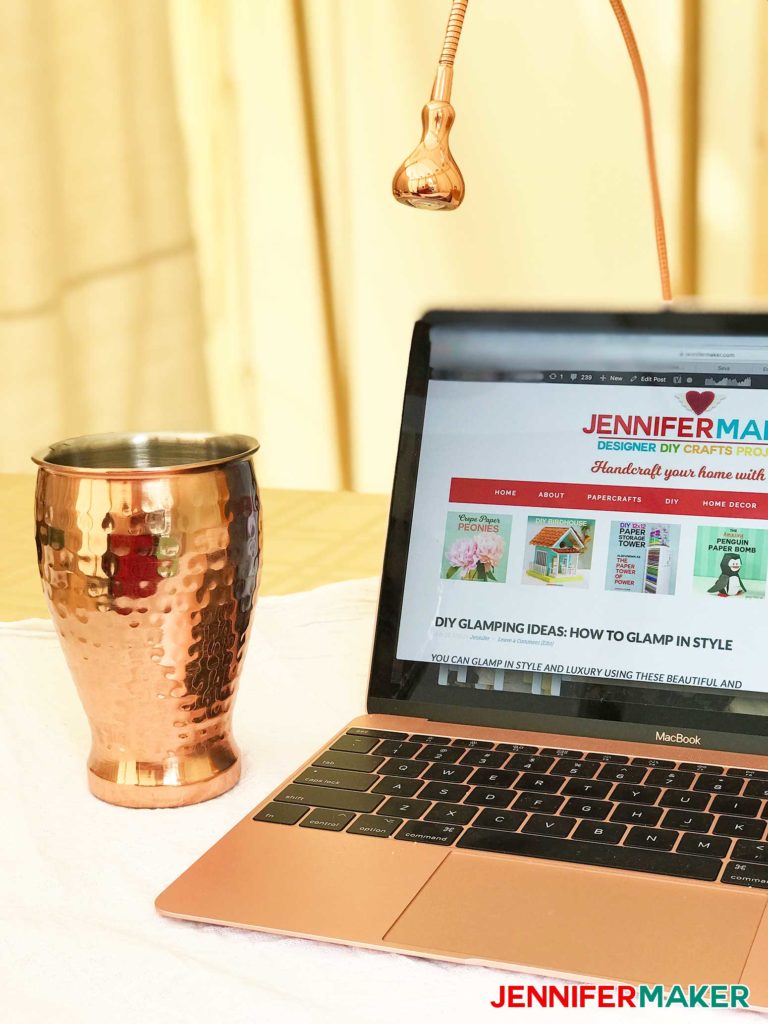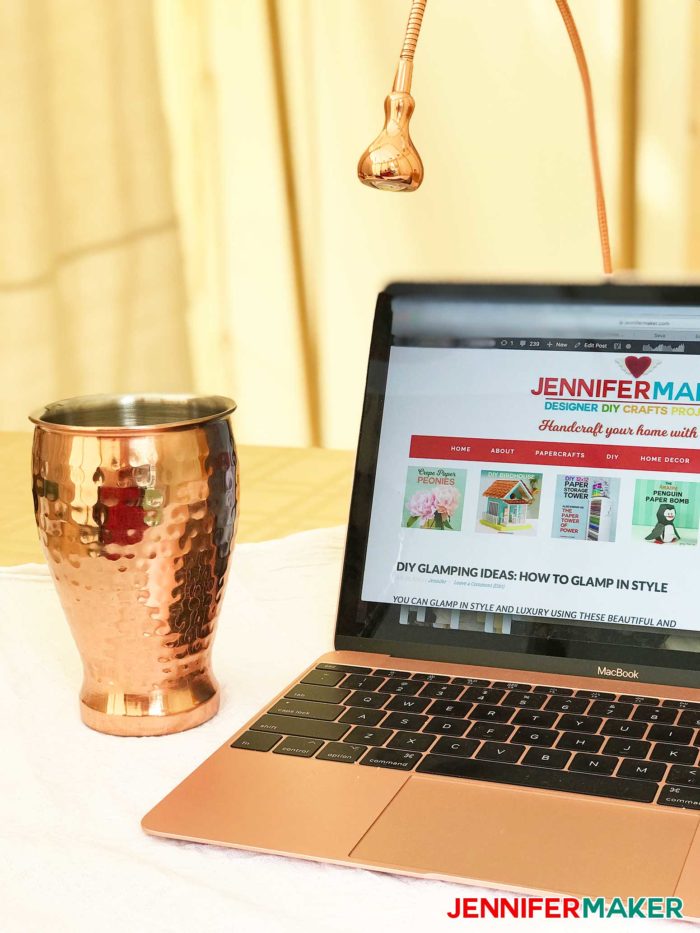 It's a balmy 77° F today and it can get hot in here. To cool things off, I pull back the sides of my canvas pavilion to get the breeze and hook a camp fan up to my solar-powered battery. I position the fan in the perfect spot by hanging it from my portable clothes dryer.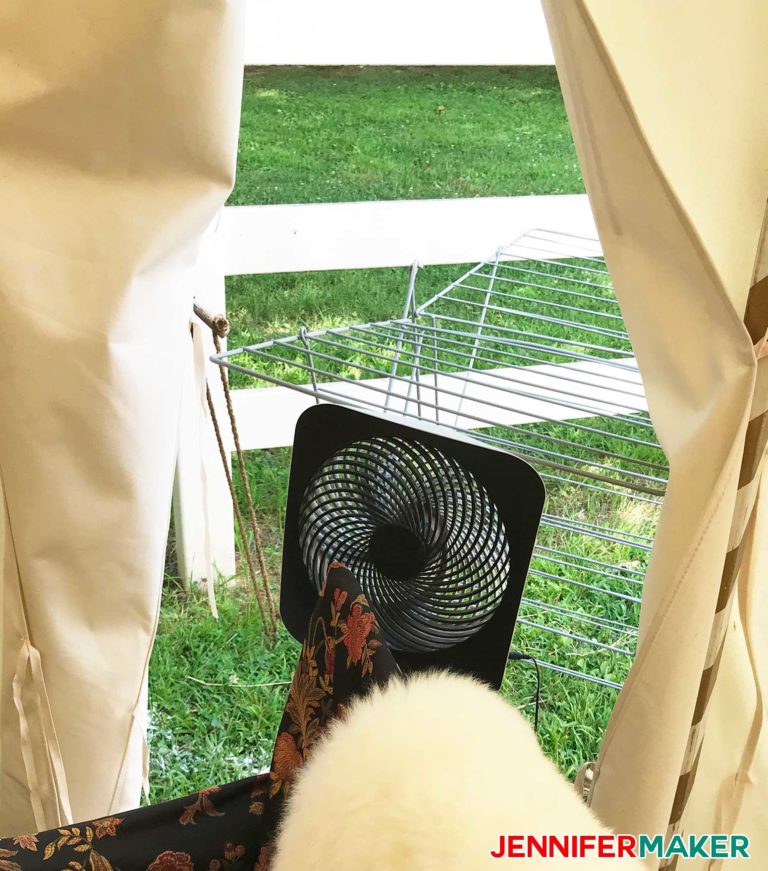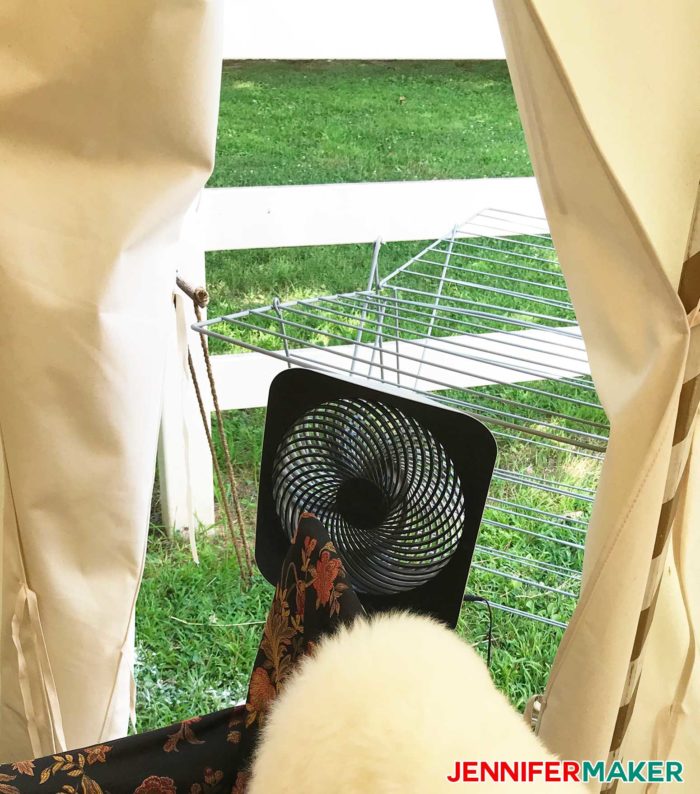 Glamping Storage
To get storage in my glamping pavilion, I use a variety of lightweight storage solutions that can break down flat. I have a wood shelf from IKEA, a hanging canvas shoe organizer, and cloth covered plastic tubs. I even made a wooden wardrobe for hanging my clothes!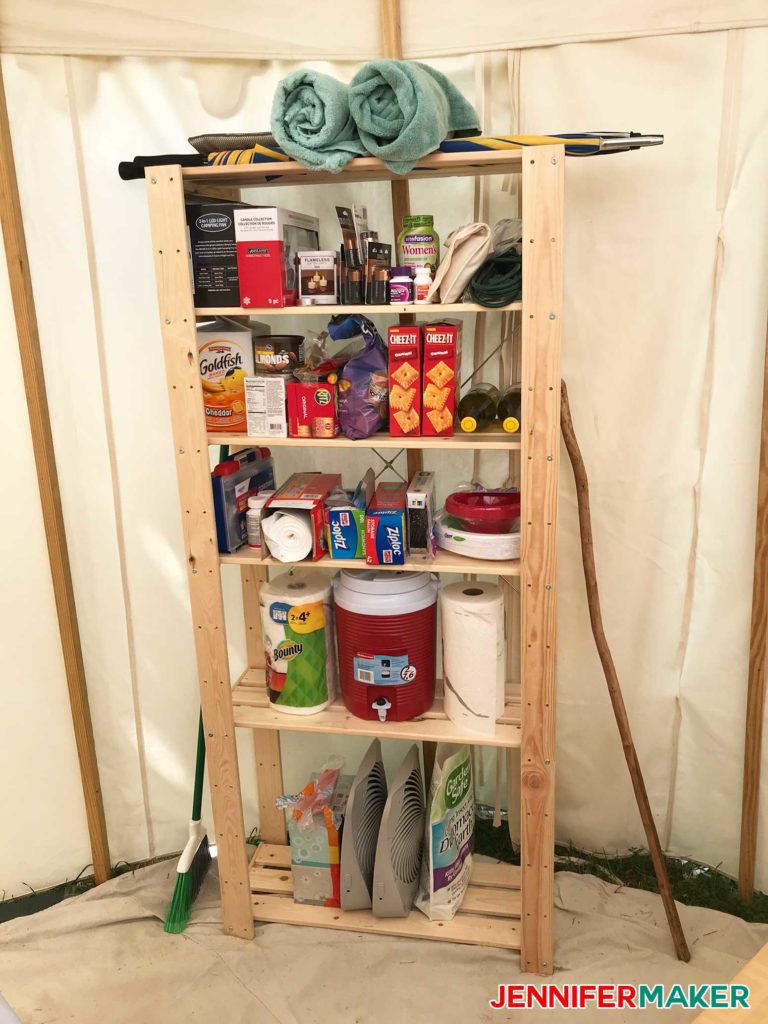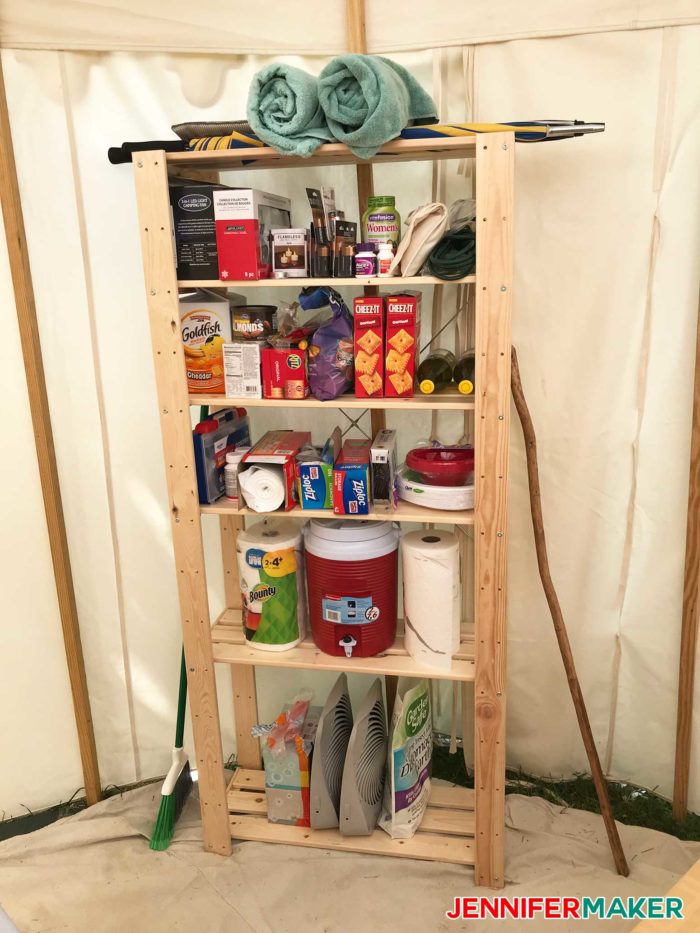 These are my favorite easy DIY glamping ideas and projects!
I have more glamping ideas that require a bit more effort, like a trestle table, fancy gothic-style chairs, and my pavilion itself. If you're interested in these, let me know and I'll share more details. Here are some photos for fun!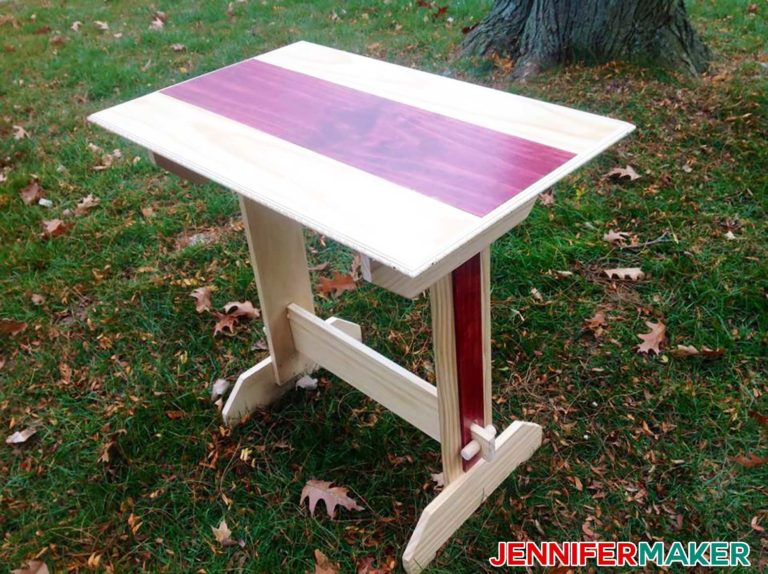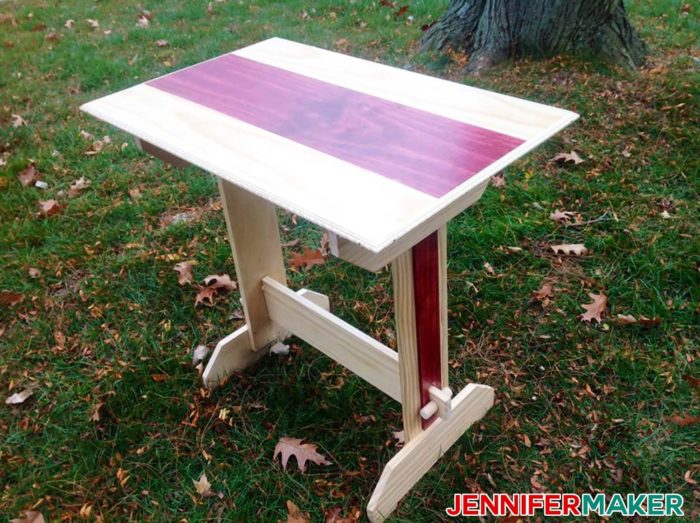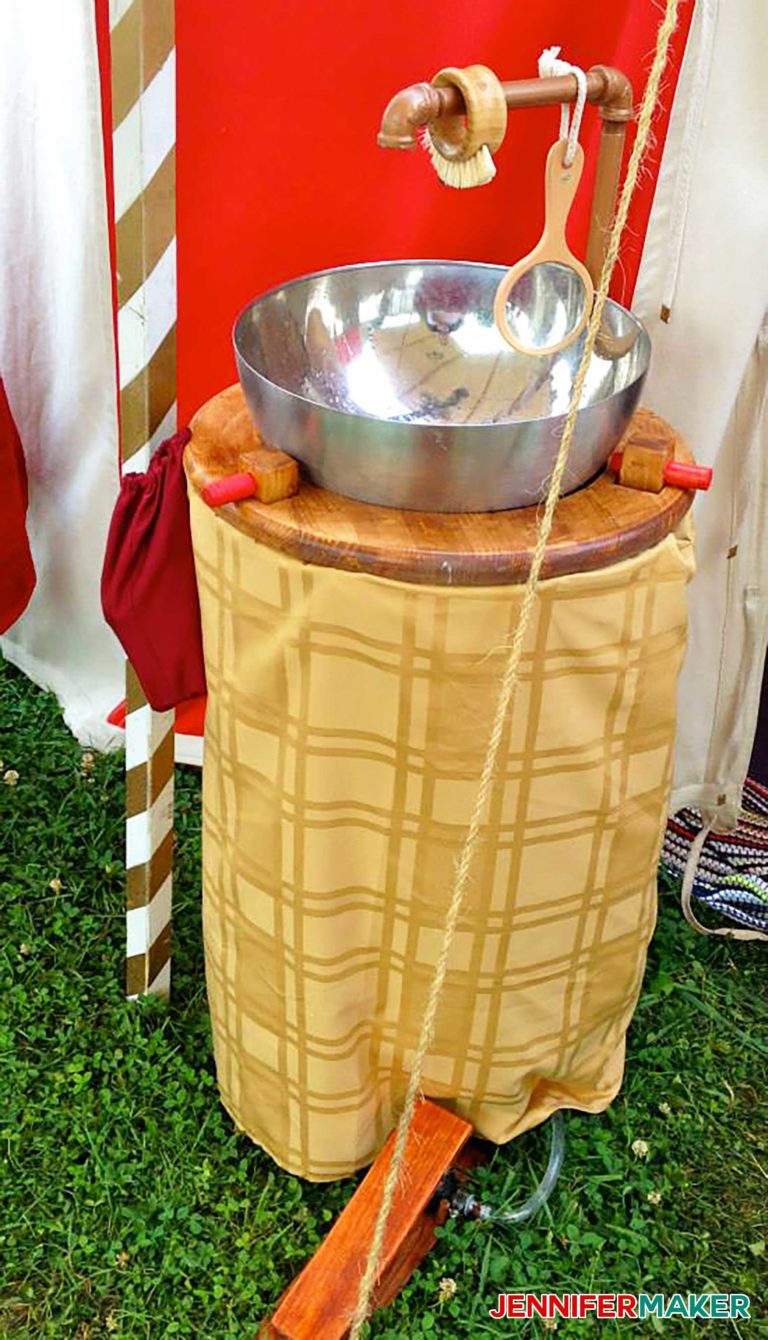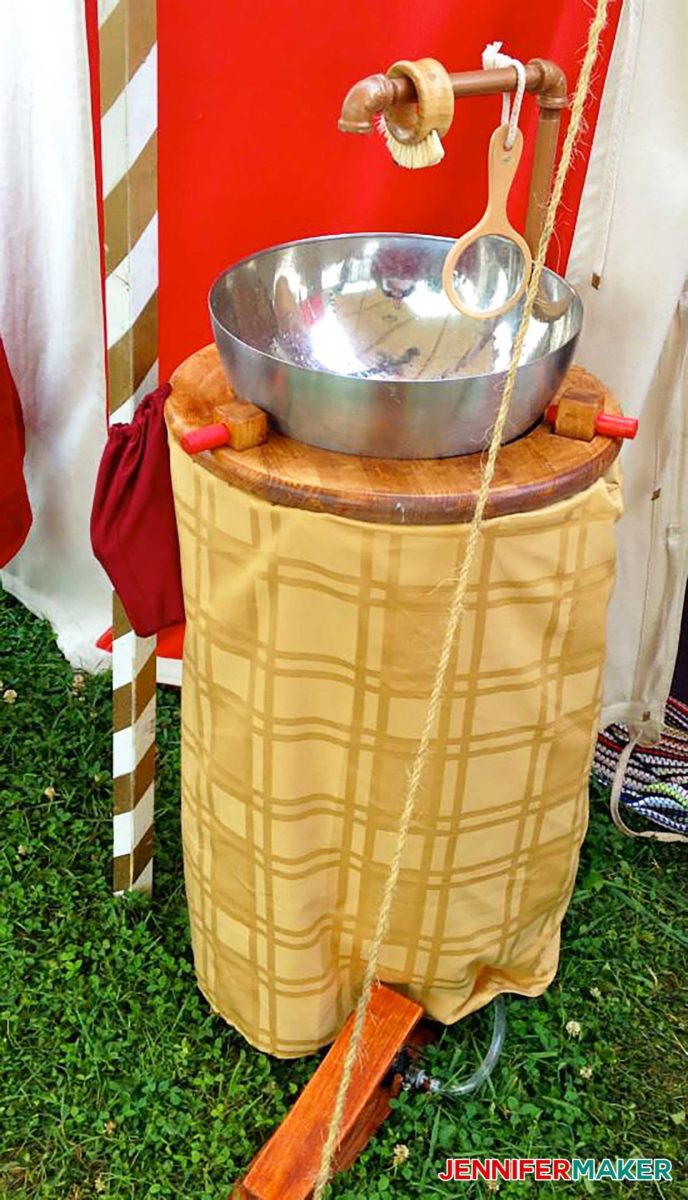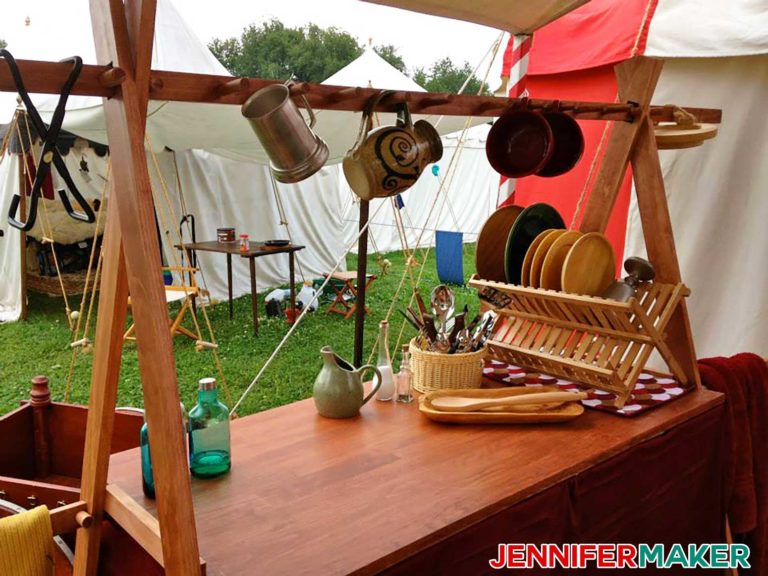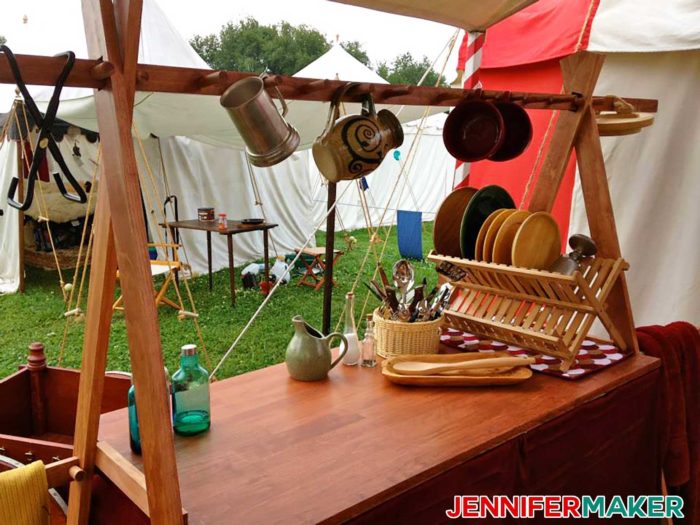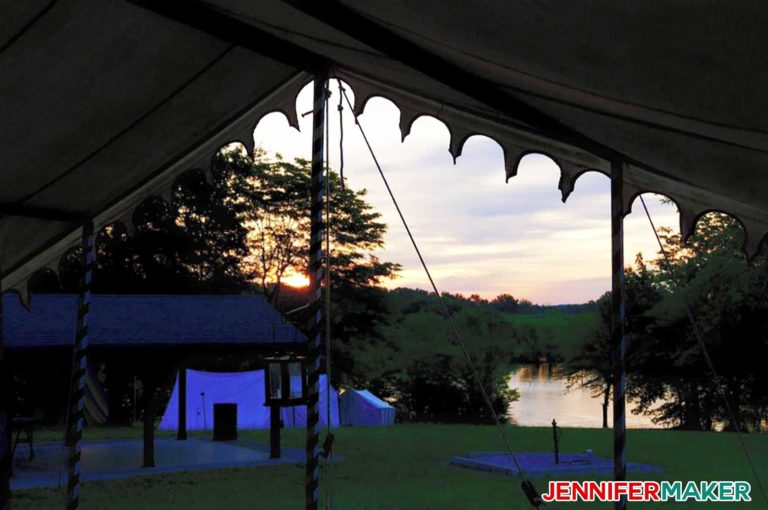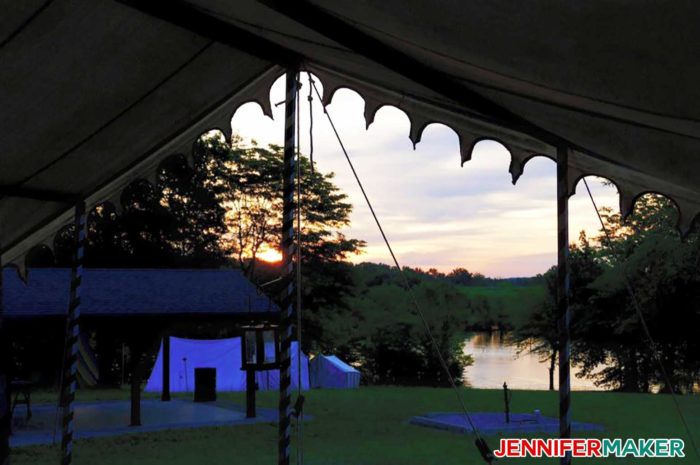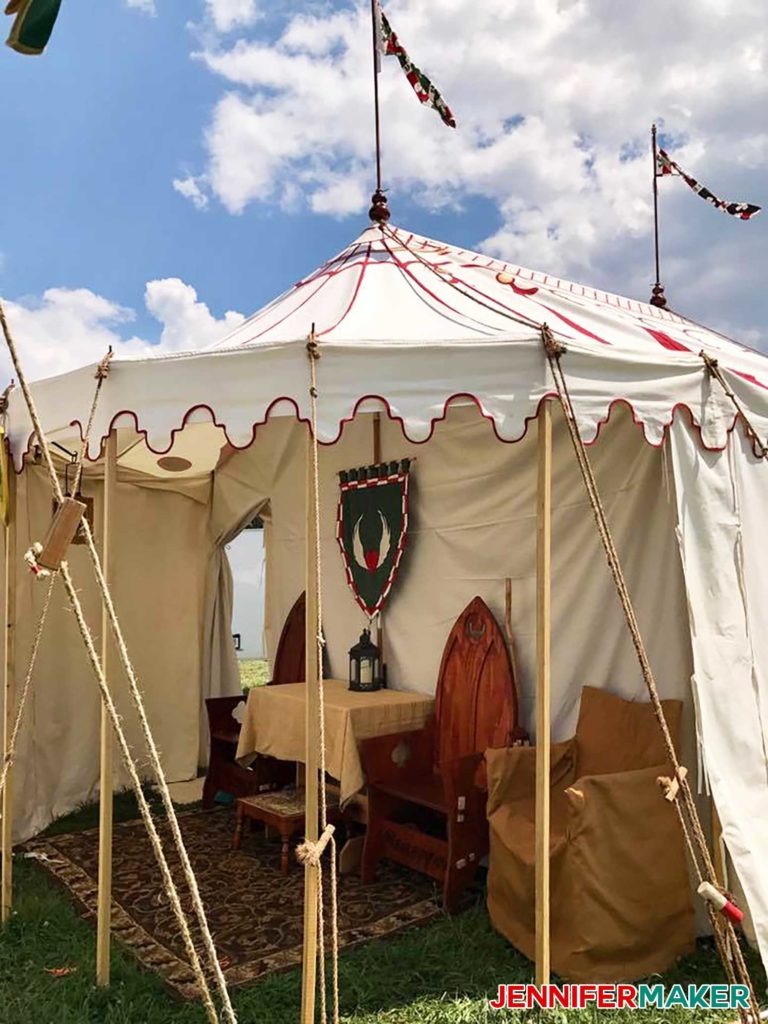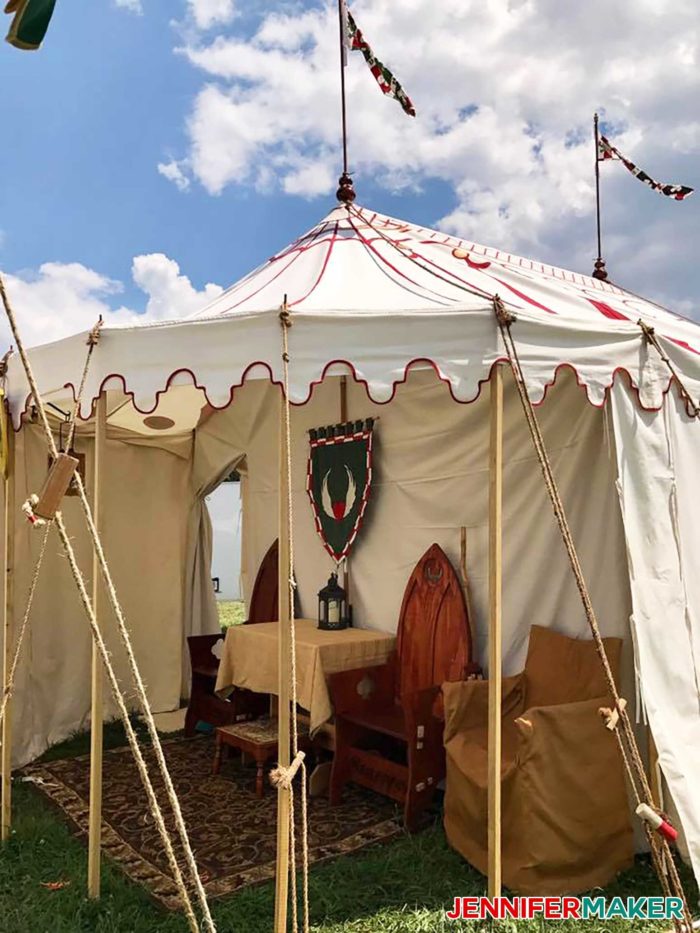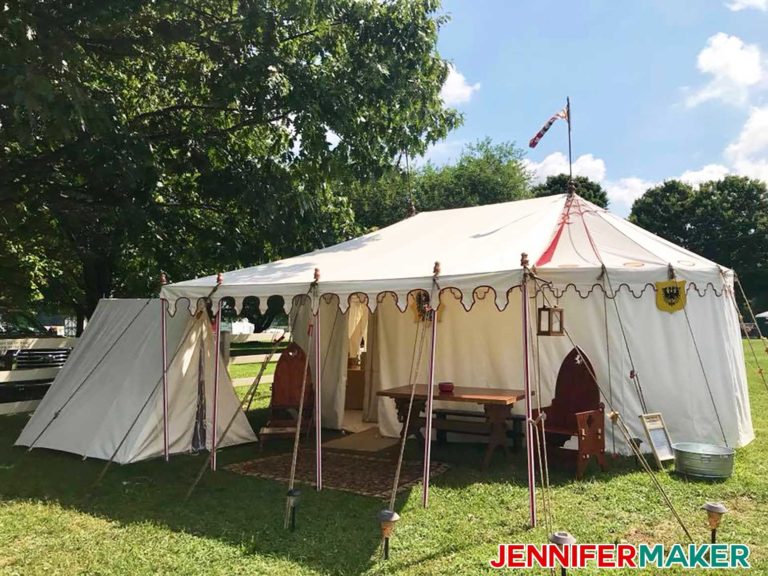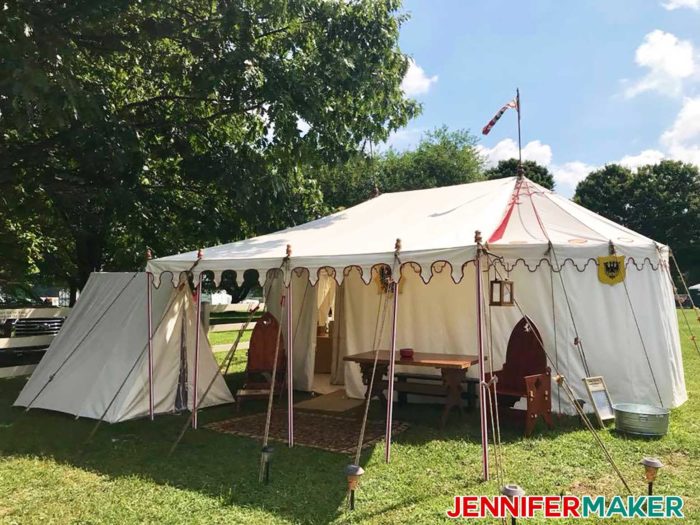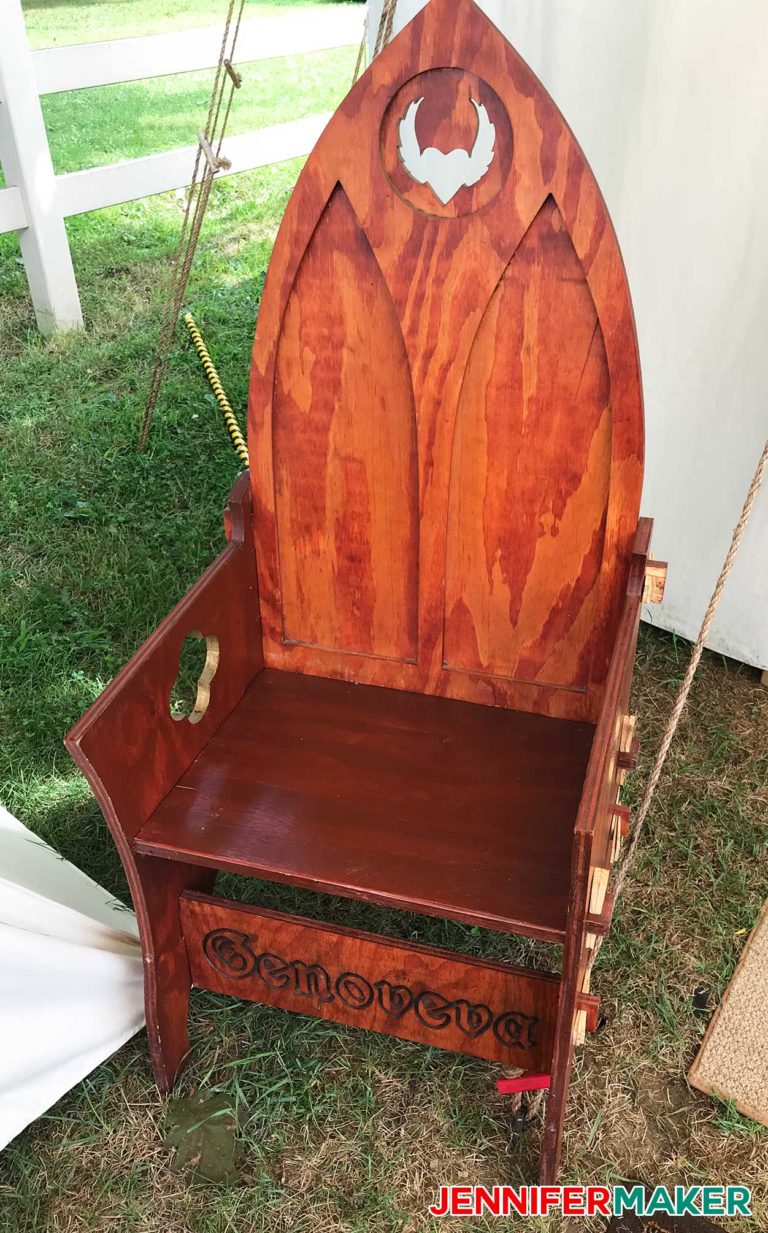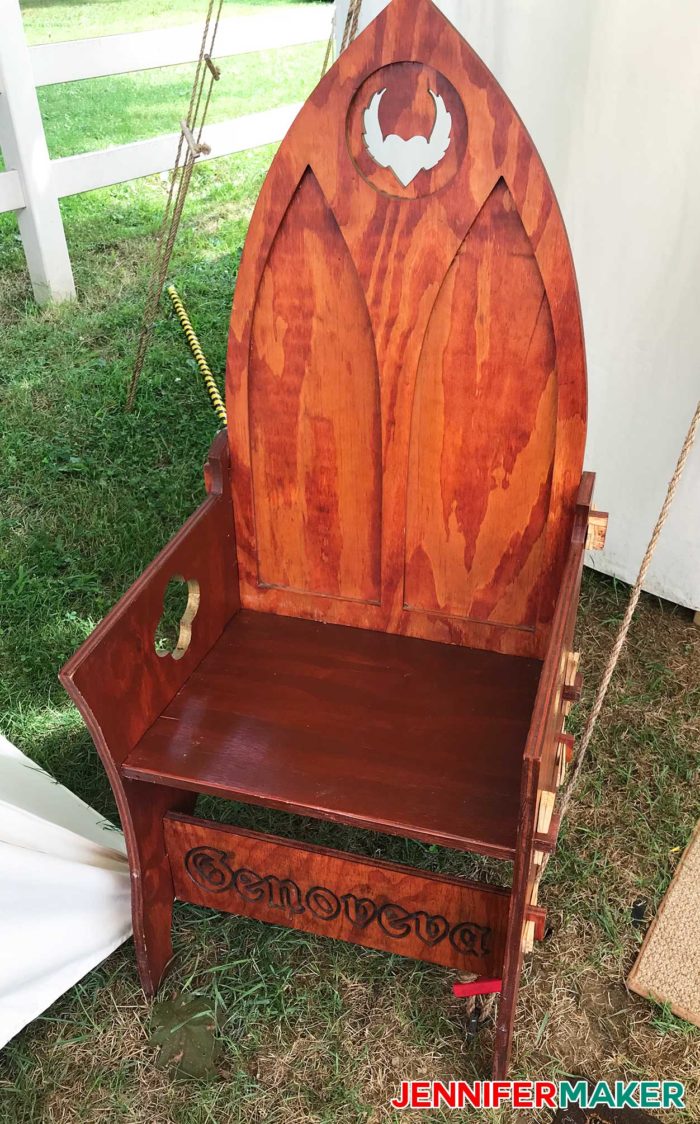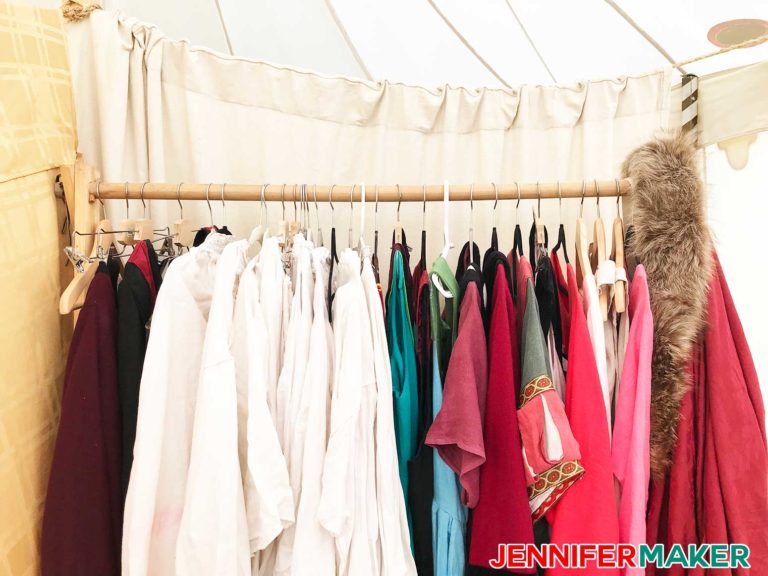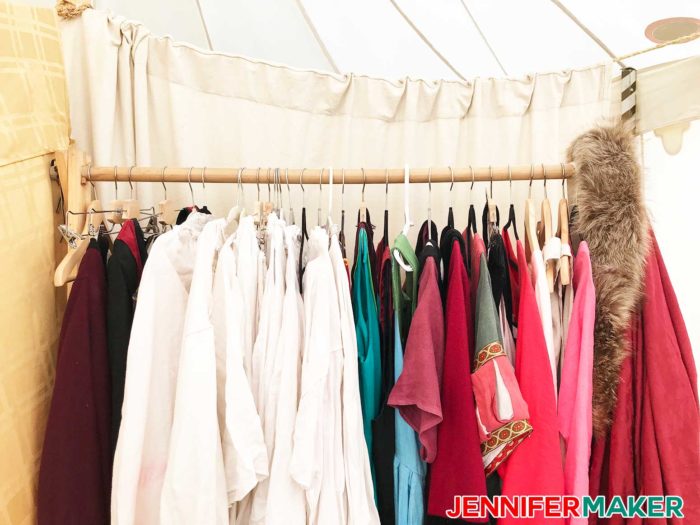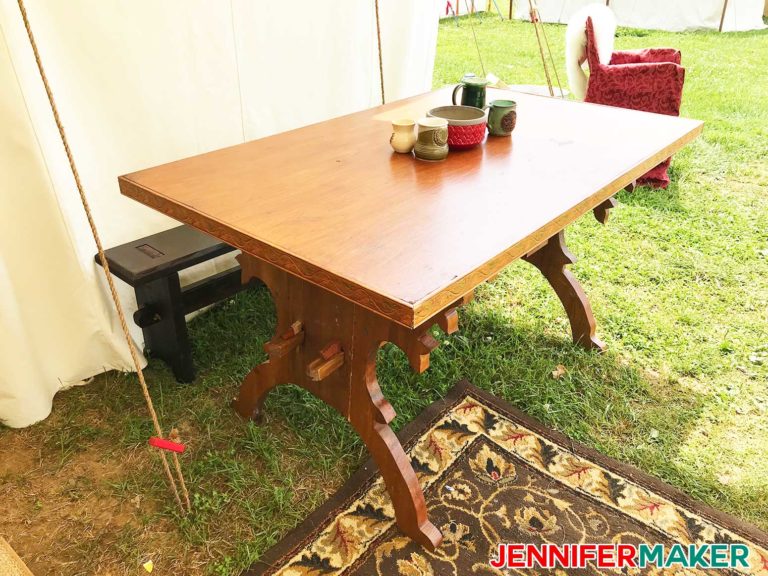 If you've ever gone glamping, I'd love to see photos of your setup! You can send them to [email protected] or tag me on social media with #jennifermaker.
Love,