Learn how to make a gorgeous heart layered SVG shadow box with perfectly aligned cardstock layers.
3D Layered paper designs are one of my favorite papercraft projects to make. I've designed and freely shared dozens of layered paper designs over the years. BUT it can be tricky cutting the intricate designs and getting all the layers to line up just right. Which can turn what you thought would be a beautiful layered design into a frustrating mess. But I'm going to let you in on a little secret. I have a surefire way to get all the layers to line up just right so you get the perfect layer alignment every time! And to teach you how to do this, I've designed a beautiful heart layered SVG for you to make!
Watch the full step-by-step tutorial video on how to cut and align the layers of this layered heart design!
Something I really love about 3D layered designs is that they don't require a lot of materials. You usually only need some good-quality cardstock and a way to attach your layers together. Plus, my "secret tool" for aligning your layers. So let's go over each step one by one for this project so I can show you how it goes together effortlessly.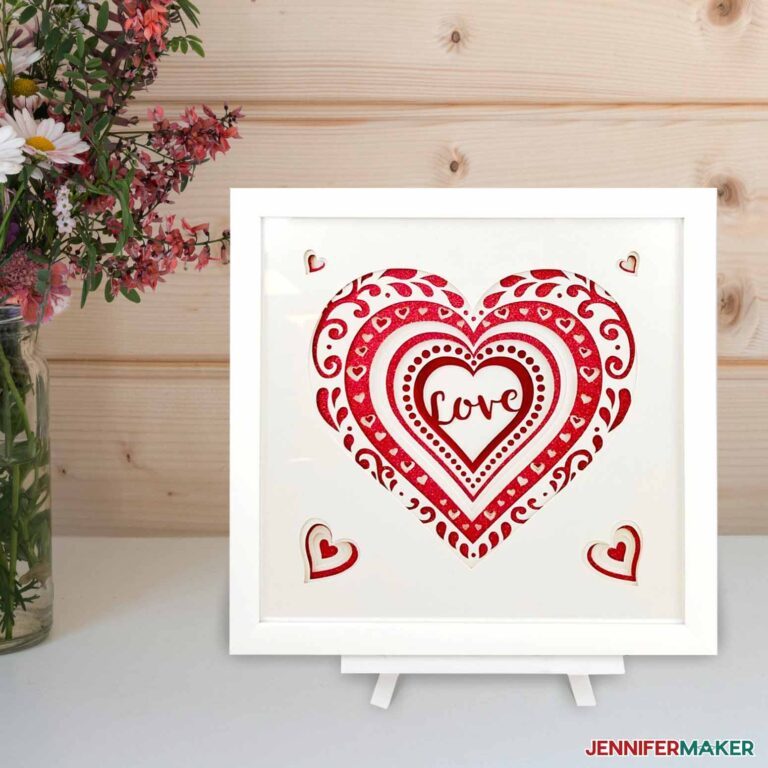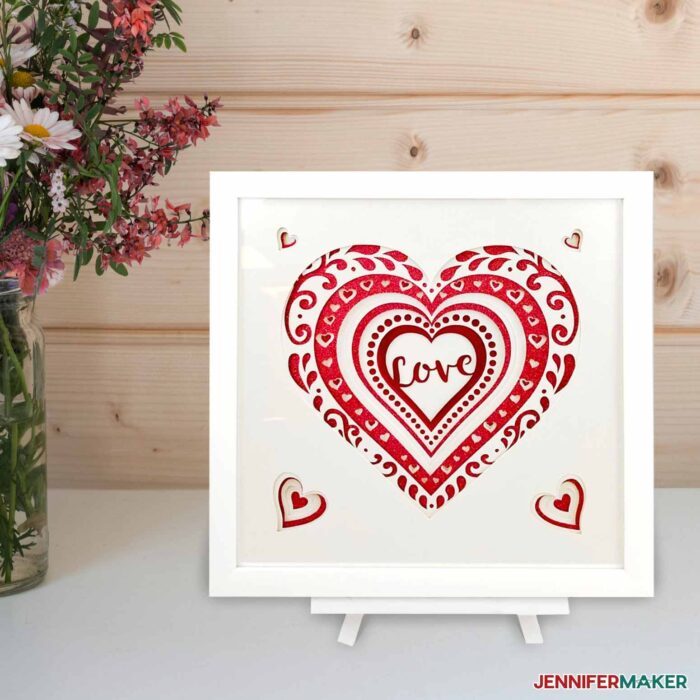 First, I used a variety of good-quality 12″ x 12″ cardstock for this layered heart design. Specifically, a few sheets of pearlescent white cardstock (which has a really pretty sheen to it!), a few sheets of glitter cardstock, and a pretty reflective or mirror cardstock. But you can use ANY cardstock as long as it's of good quality so that it cuts well. Check out my materials list below to see exactly what I recommend.
Now, to attach your card stock layers together and give it that three dimensional look, I used adhesive foam squares. They're easy to use as they are already sticky on both sides and give your layers lift!
My secret trick for aligning the layers is easy — just use a frame or shadowbox as you place each layer!! I demonstrate how this works in our video and explain it in the tutorial below. I used a 12″ by 12″ shadow box and my design fit perfectly.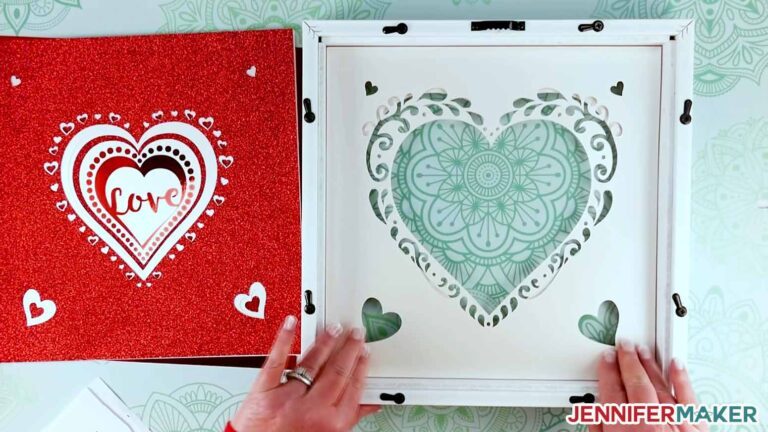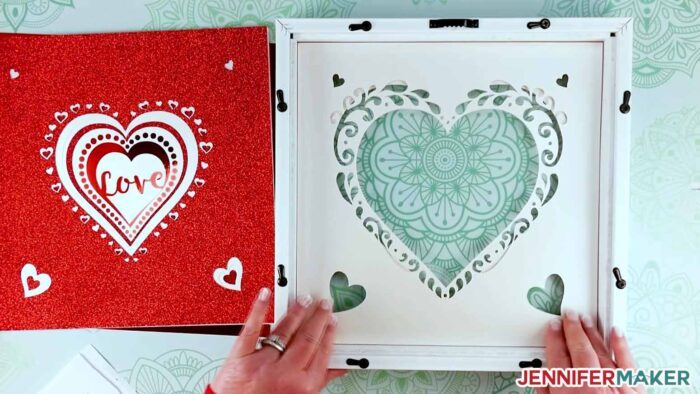 Many 3D layered designs are simply layered cardstock, but you CAN add a little light to your design for added depth and interest. I included a couple strings of fairy lights to my 3D layered heart design to give it a pretty glow, but this is completely optional.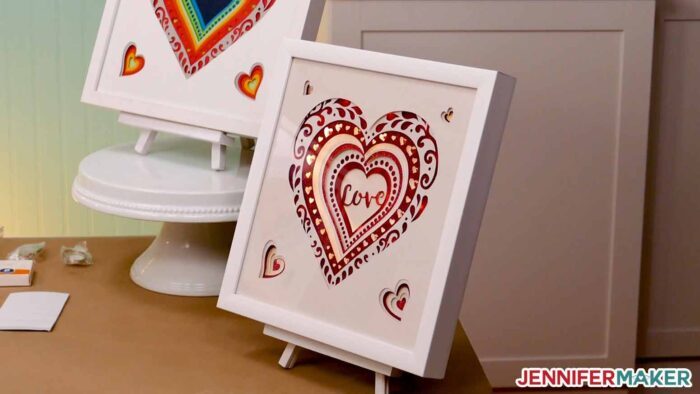 Something else you can do with this design is to add a picture in the middle and turn into a photo frame. If you do add a photo, just make sure your image is at least 5″ by 6″ so that it fills the whole heart.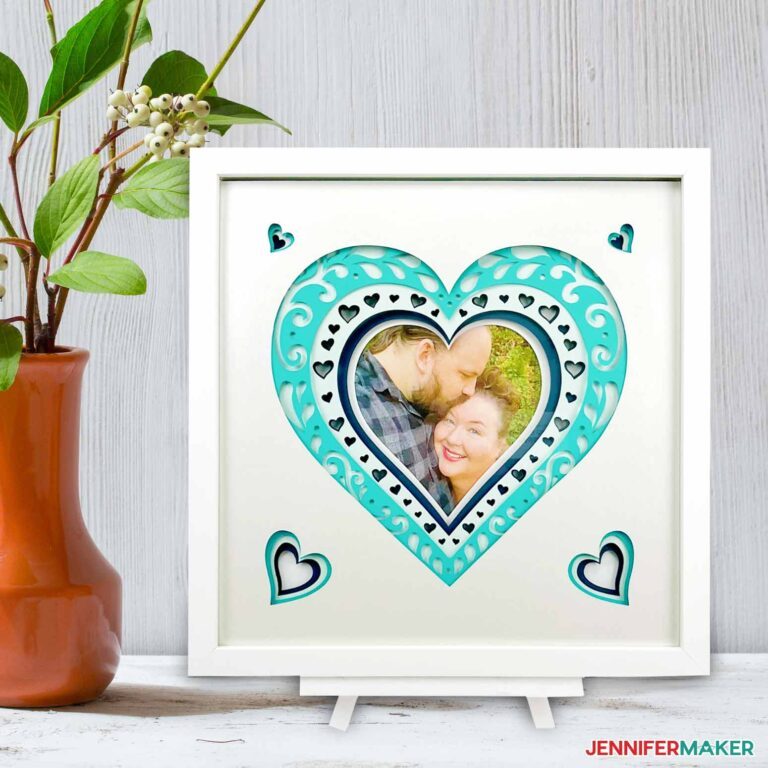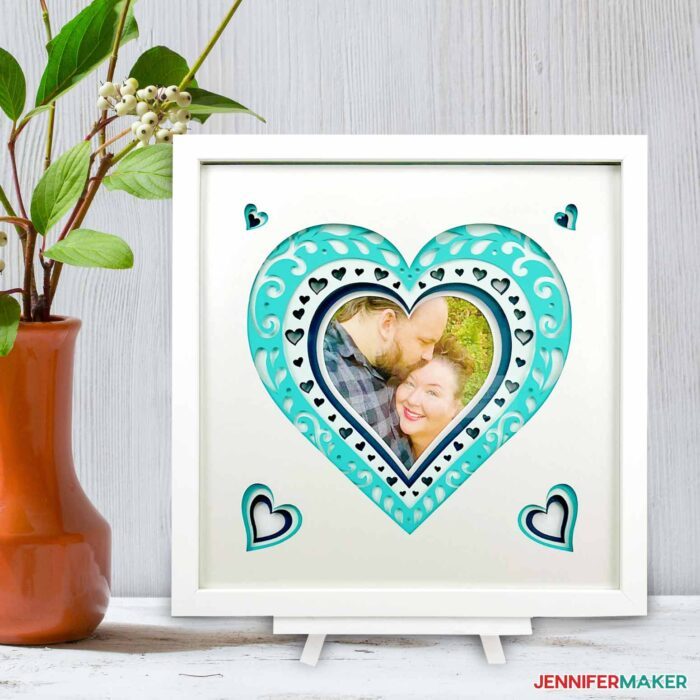 To get the lovely intricate cuts of this layered project, I used a cutting machine — specifically my Cricut Maker 3. All you need is a fine-point blade and blue or green machine mat. Of course, you can also use the original Maker or any of the Explore series of machines. I also found an extra-large scraping tool helpful for removing the little bits of card stock left behind after the cuts.
So that's really all you need! Now, let me show you where to get this beautiful layered heart design, and then I'll teach you how to cut and align it perfectly.
Ready to make this gorgeous layered heart SVG? You're going to love this! This post contains some affiliate links for your convenience (which means if you make a purchase after clicking a link I will earn a small commission but it won't cost you a penny more)! Read my full disclosure policy.
Materials to Make a Heart Layered SVG Shadow Box
How to Make a Layered Heart Design in a Shadow Box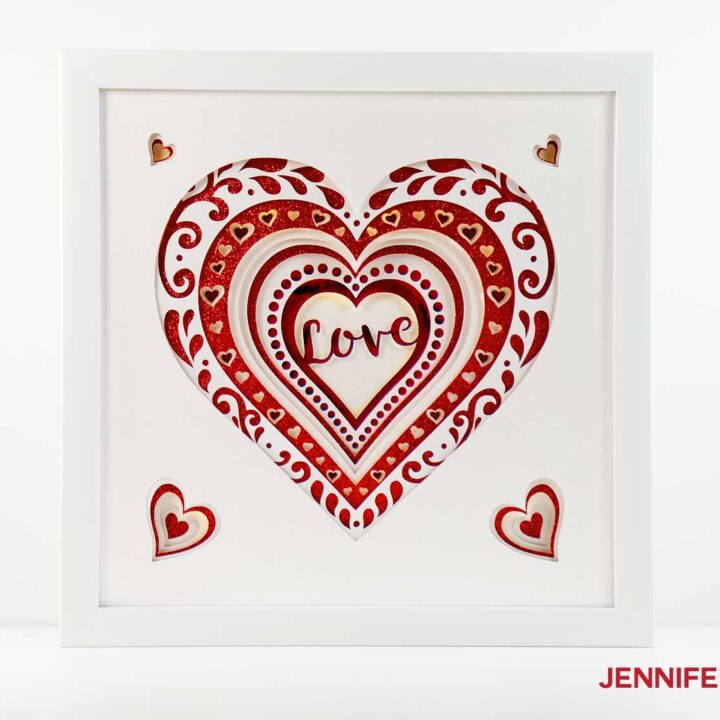 Layered Heart Design
Active Time:
1 hour
30 minutes
Total Time:
1 hour
30 minutes
Light up your walls with this personalized heart layered SVG shadow box!
Questions About Cutting and Aligning Cardstock in the Heart Layered SVG
Get my free SVG files for the Heart Layered SVG!

I'd love to see your layered heart designs! If you make a shadow box or anything else with this design, please share a photo in our Facebook group, email it to me at [email protected], or tag me on social media with #jennifermaker.
Love,