DIY decorations are always in high demand and this wine bottle art is an incredibly versatile project that can be used as a centerpiece for parties, weddings, or in your own home!

I have come across some really beautiful wine bottles and I hate just recycling all of them because they can be so pretty! Instead, I have decided to repurpose them, creating gorgeous Wine Bottle Art with fairy lights! They can become beautiful centerpieces for any event, or just to enjoy in your own home, and they tie in beautifully with my wine bottle serving tray! This is an excellent project for any level of crafter and will not take a lot of time to create from start to finish!
Want to save this project? Enter your email below and we'll send the project straight to your inbox.
Watch the Wine Bottle Art assembly video here: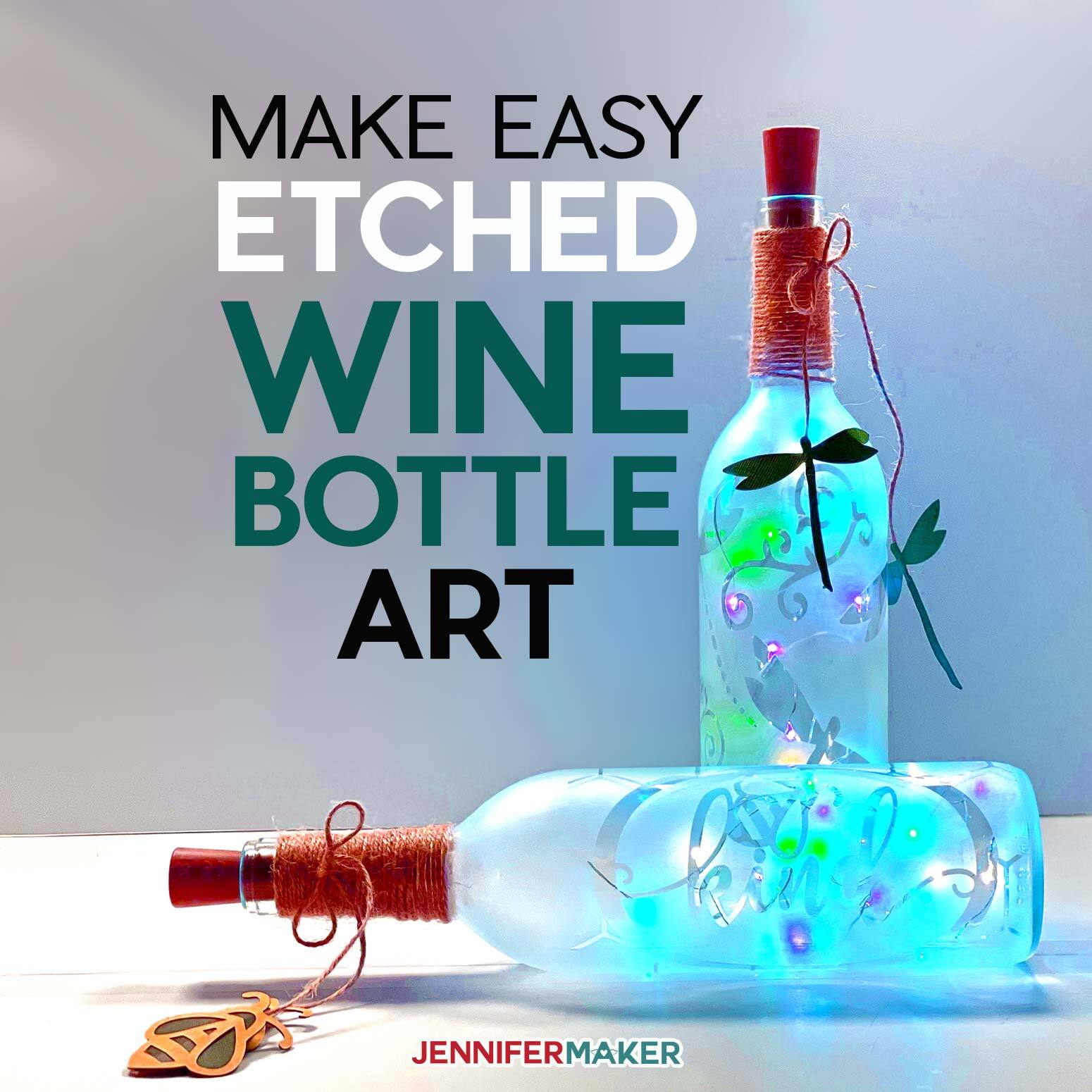 If you haven't tried your hand at etching yet, Wine Bottle Art is a really great design to try it out on! It doesn't take much time to do, and you can even use wine bottles you have on hand to save money! If you use a bottle with a darker tint, I want you to know that the fairy lights will not shine through as brightly as with a clearer wine bottle. I have seen some beautiful etching on dark wine bottles, though, and can't wait to see what kind of Wine Bottle Art you create, clear or dark!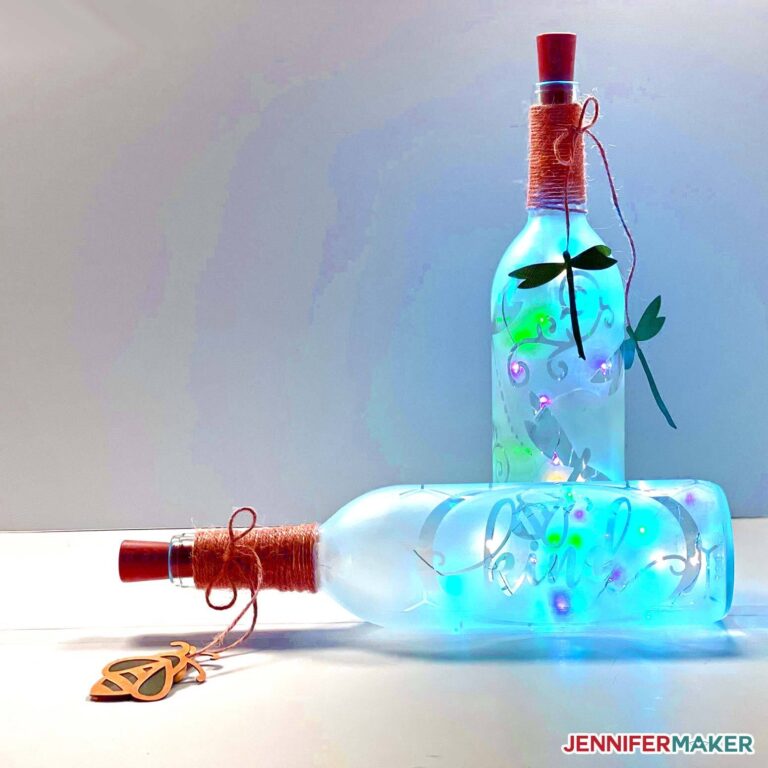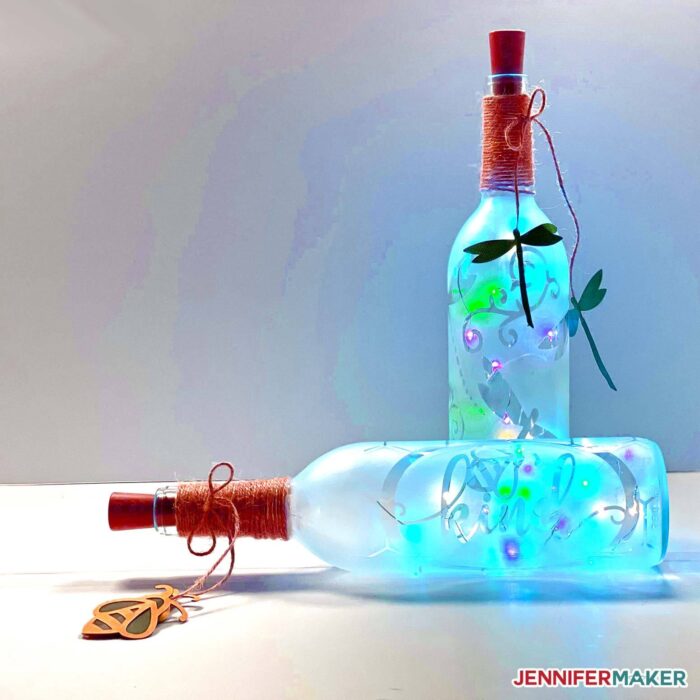 I used one sheet of Cricut Premium (permanent) Vinyl and cut the design out on my Cricut machine. After weeding the image, I chose to use painter's tape instead of transfer tape on this project. Why? Since the bottles are rounded, I knew that trying to mold transfer tape around them would be difficult. Since painter's tape has more flexibility than transfer tape, it would allow me to have more control over the application process!
The beauty of my Wine Bottle Art is that you have two options for creation! You can either etch the design into the bottle using a special etching cream, or you can leave the vinyl on the bottle as a permanent design! How cool is that!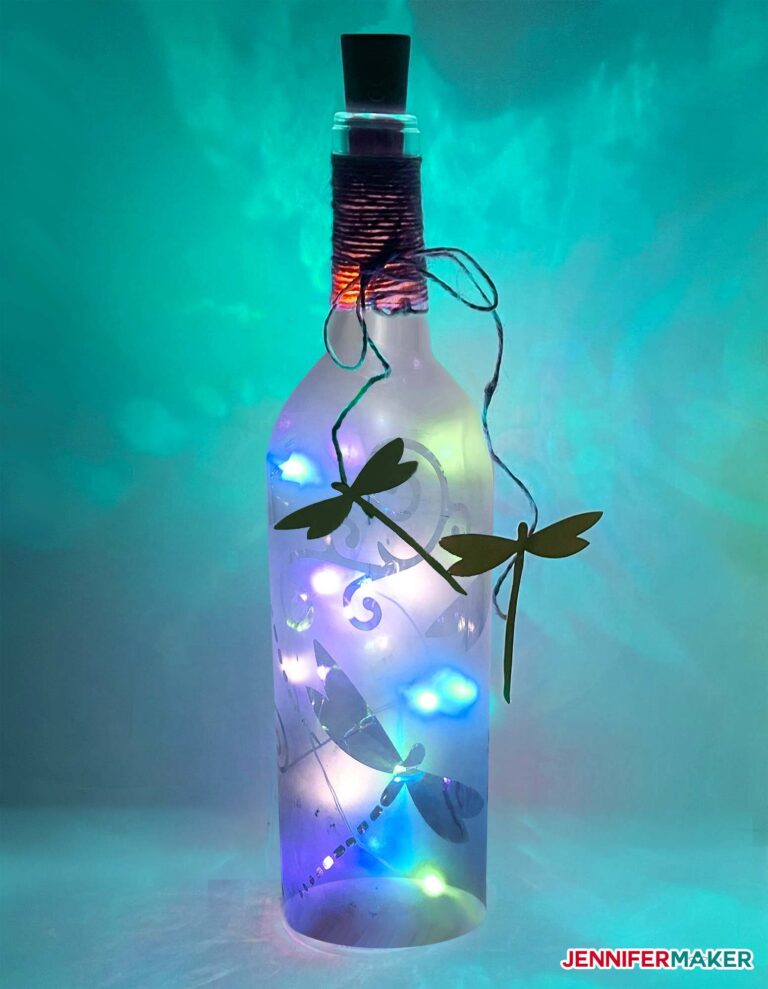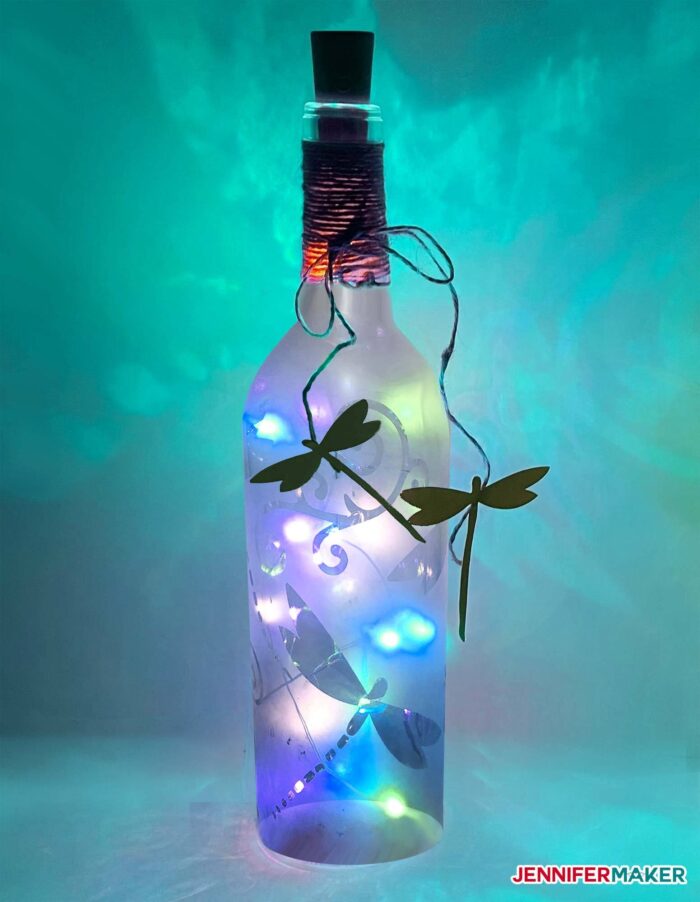 Etching is very simple but there are a few precautions that I urge you to put into place. Since etching cream is caustic, it is important to wear gloves to protect your hands and goggles to protect your eyes in case of any splatter! It is also important to work in a well ventilated area as well! Once you have these safety precautions in place, using etching cream is really very easy.
Paint the entire bottle being very generous with the etching cream. If you are applying twine to the neck of the bottle, you will want to apply etching cream just to where the bottle neck ends. If you plan to leave off the twine, apply the etching cream over the entire bottle. It's completely up to you! Let the etching cream sit for at least five minutes before rinsing it off with cold water.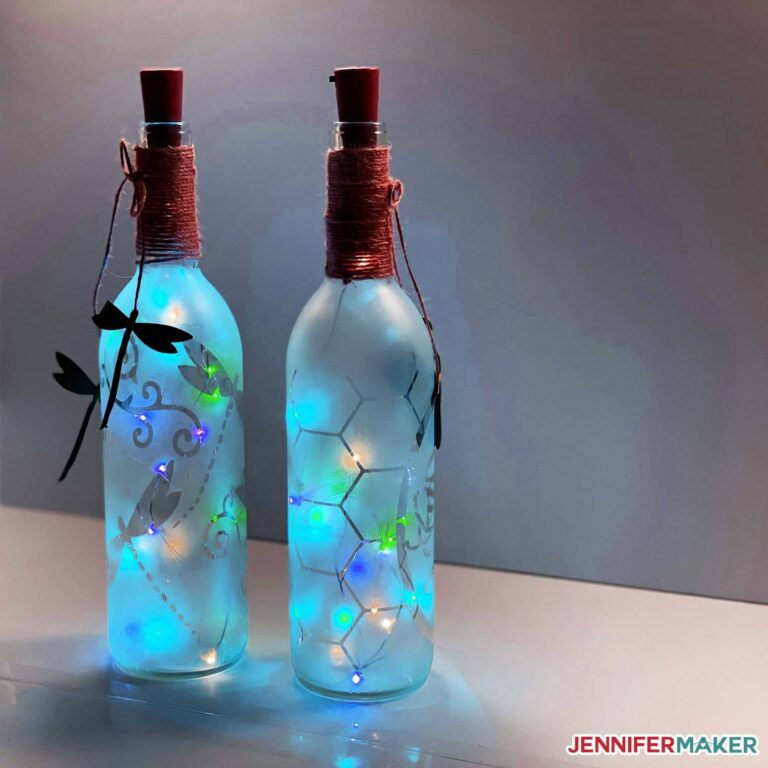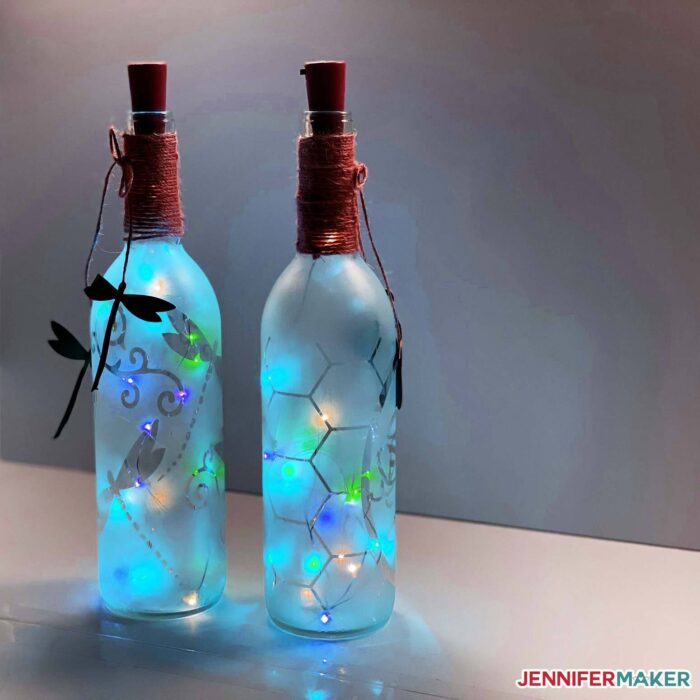 Now you can add your twine or ribbon or any other personal touch you want to add around the neck of the bottle, securing the material with a small dab of hot glue. Using another piece of that same material, I tied a bow around the neck for an added fun touch! Then, I used scraps of cardstock to cut the bees and dragonflies, and attached them with a small drop of hot glue to the end of of the bow.
I used my Cricut cutting machine to cut the vinyl and cardstock, along with the Fine-Point Blade and StandardGrip Material Mat.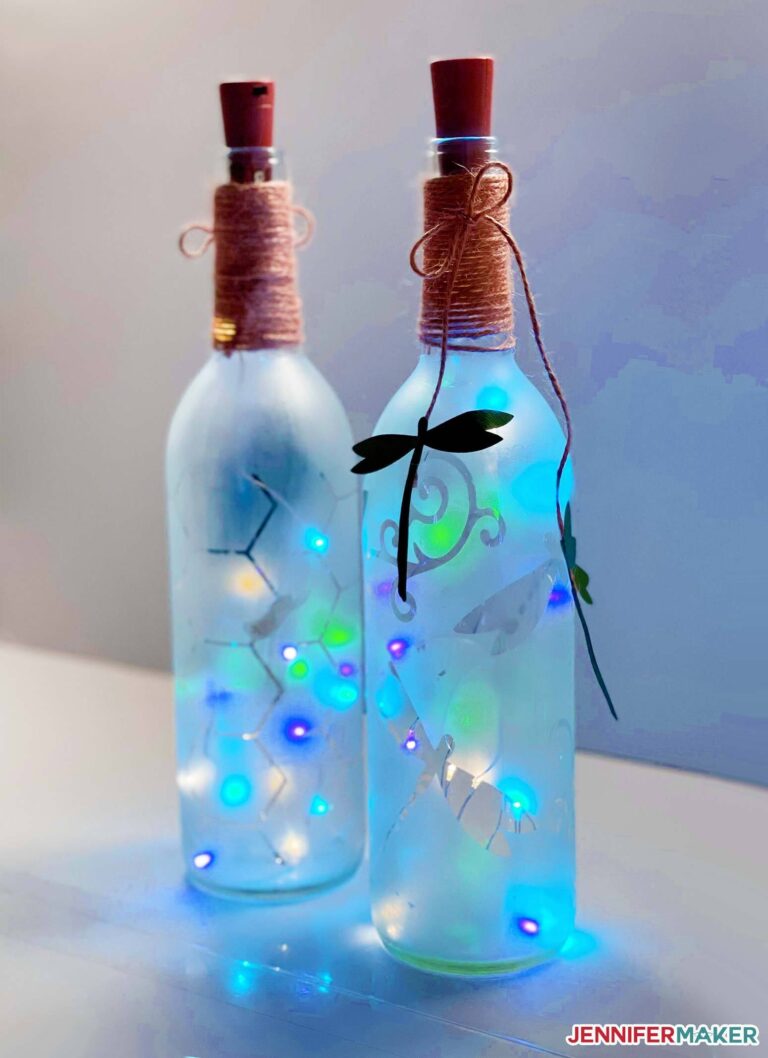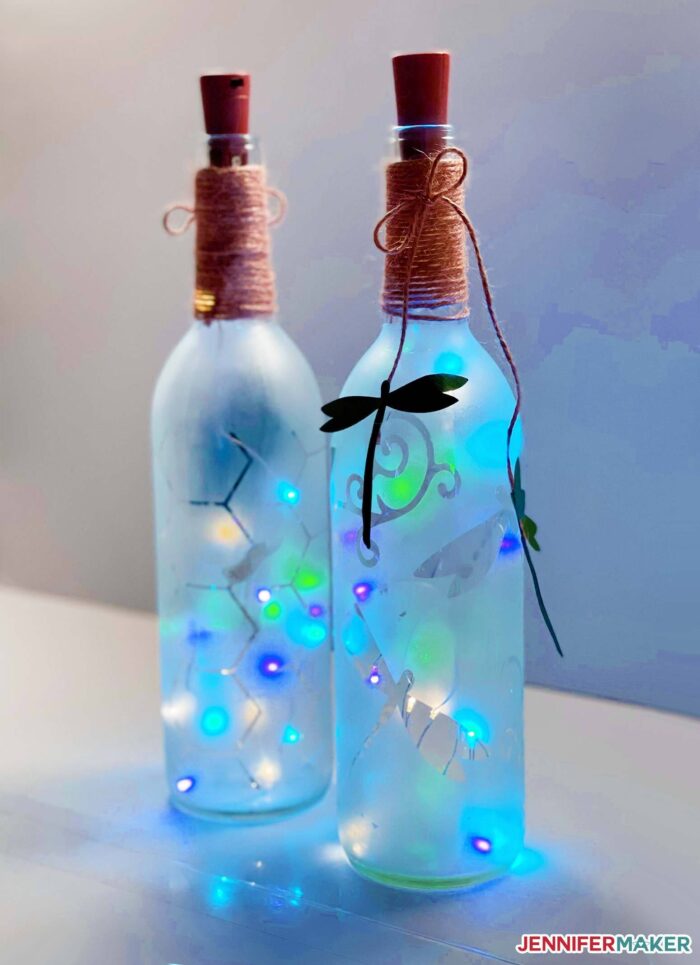 Let me show you how to make wine bottle art. This post contains some affiliate links for your convenience (which means if you make a purchase after clicking a link I will earn a small commission but it won't cost you a penny more)! Read my full disclosure policy.
Materials to Make Wine Bottle Art with Armour Etch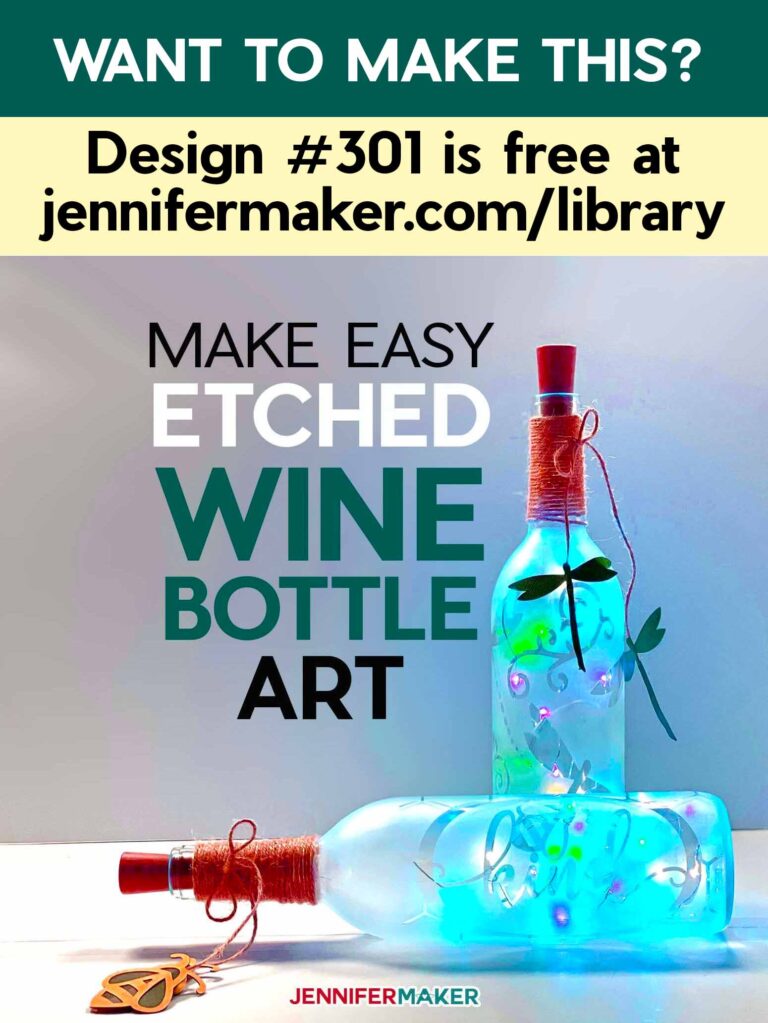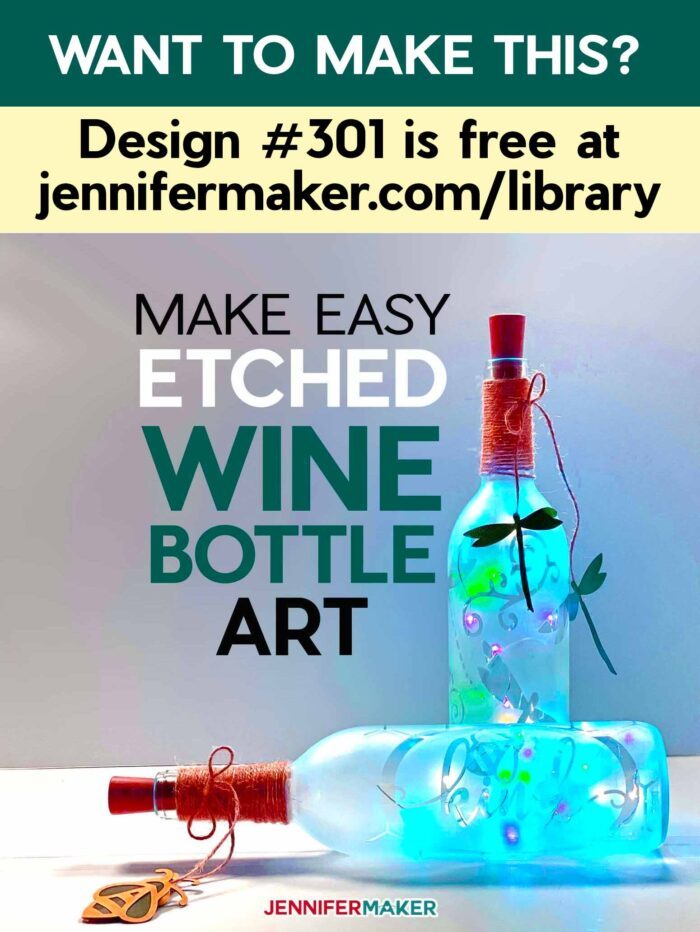 How to Make Etched Wine Bottle Art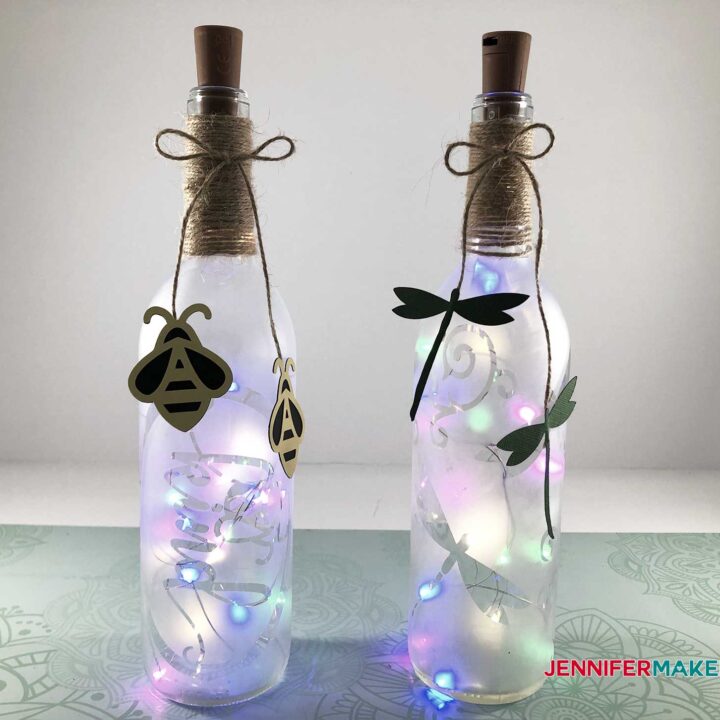 Wine Bottle Art
Difficulty:
Easy to Medium
Estimated Cost:
$12 - $38
Wine Bottle Art is a fun way to upcycle empty wine bottles! Or purchase a bottle or two and try your hand at creating some awesome art. Add some fairy lights to your creation for an extra special touch.
Answers to Your Questions About How to Etch Your Wine Bottle Art
Q: Can I use dark wine bottles instead of the clear bottles?
Absolutely! There are so many beautiful wine bottles out there, definitely use what grabs your attention! Keep in mind that the darker the bottle, the less the fairy lights will be visible, but etching on dark bottles is beautiful!
Q: I don't have twine. What else can I use?
You can use any kind of ribbon or burlap, or any material you'd like! It's completely flexible and you can even choose to add no material to the neck of the bottle! If you choose this option, just make sure to add etching cream all the way to the top!
Q: Does the color of vinyl I use make a difference?
Only if you will be leaving it permanently on your Wine Bottle Art! If you are using the etching cream option, then the vinyl acts only as a disposable stencil. You can use whatever color you may happen to have sitting extra around your house!
Q: What is the difference between Cricut Premium Vinyl and Cricut Permanent Vinyl?
They are the same. Just different wording!
Q: Can I use removable vinyl to make the Wine Bottle Art?
For the best results, I recommend that you use permanent vinyl. It adheres more firmly to the bottle and will give you cleaner, crisper edges than removable vinyl will give you!
Q: Won't permanent vinyl be "permanent" so it will be hard to remove?
As long as you remove it quickly after washing off the etching cream, you shouldn't have a problem! Permanent vinyl doesn't reach it's maximum bond for a few days after you actually adhere it to a surface. And, you want to see your pretty new bottle right away, anyway, don't you?
Q: Your SVG uploaded to Design Space way too small! Is there something wrong with it? Or did I do something wrong?
No, on both counts! You must be using an iPad or an iPhone! For some reason, Design Space will sometimes make iOS files smaller. It's easy to fix! All you need do is to make the file larger again. For the Wine Bottle Art, I ask you to measure the size of the bottle you're using to make sure the design will fit, anyway, so you would have probably needed to do some adjusting up or down in any case! If you aren't clear on how to resize an SVG file, I have some help in my resizing guide to help you along!
Get my free SVG files to make Wine Bottle Art
I'd love to see YOUR etched wine bottle art! Please share a photo in our Facebook group or tag me on social media with #jennifermaker.
Love,