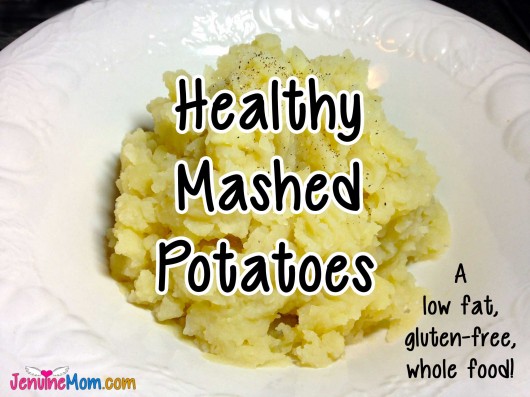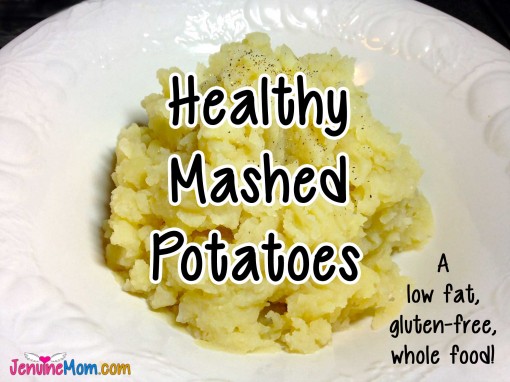 Before our recent whole food diet kick, we ate a lot of mashed potatoes. Not the good kind, with real potatoes, milk and butter, but the insanely easy boxed kind. You know, just add boiling water! What can I say … easy was the operative word here. Boxed mashed potatoes are now out, though, and potatoes made with skim milk is B-O-R-I-N-G. Bleach. Boring food is not good for any diet.
I did a little research and stumbled across a wonderful way to make healthy mashed potatoes with nothing more than the potatoes and a box of chicken broth. The mashed potatoes made this way come out so flavorful that they don't taste "diet" or "healthy" — just really good. You could totally serve this to people who do not know any better and I'll bet they'd love it. It's so good, it makes me wonder why we don't all just make mashed potatoes this way all the time.
Healthy Mashed Potatoes: A Delicious, Low-Fat, Gluten-Free, Whole Food!
Delicious low-fat, gluten-free, whole food recipe for mashed potatoes
Ingredients
6 large russet potatoes, cut into 1 inch pieces
32 oz. (1 box) of chicken broth
black pepper to taste
Instructions
1. Wash, peel and cut potatoes into 1 inch chunks
2. Place potatoes in saucepan and cover with the broth
3. Cook over medium-high heat until it comes to a boil
4. Cover and cook for 10 minutes, or until the potatoes are tender.
5. Place a bowl under a colander and drain the potatoes, catching most of the broth in the bowl.
6. Put the drained potatoes in a large bowl and pour 1 to 1 1/4 cups of the saved broth over them.
7. Mash with a fork.
8. Season with pepper to taste.
Notes
100% Simply Filling / WW PointsPlus = 4 per serving
https://jennifermaker.com/healthy-mashed-potatoes-a-delicious-low-fat-gluten-free-whole-food/
One caveat: First time I made these I used an organic, free-range chicken broth and I thought they were a bit bland. Subsequent times I just used the chicken broth on sale at Kroger (I think it was Swanson brand) and it boosted the flavor quite a bit, and it wasn't just the sodium — they both had the same amount. Of course, if you want gluten-free, choose your broth wisely as some brands add things you don't want.
Step-by-Step Photos
Get your ingredients together: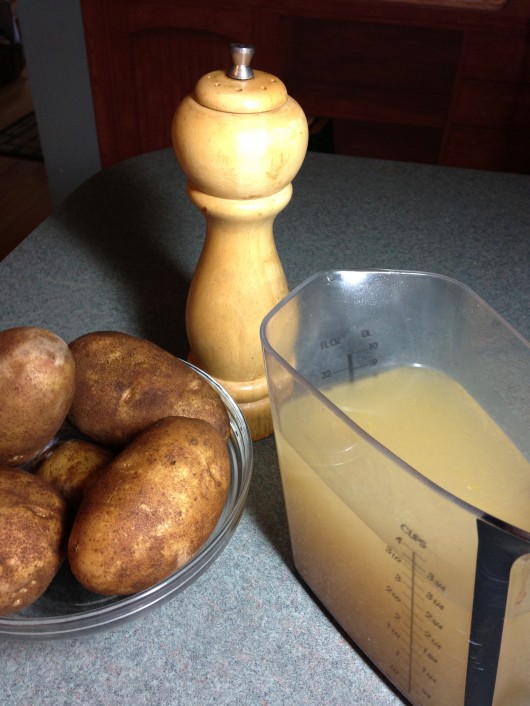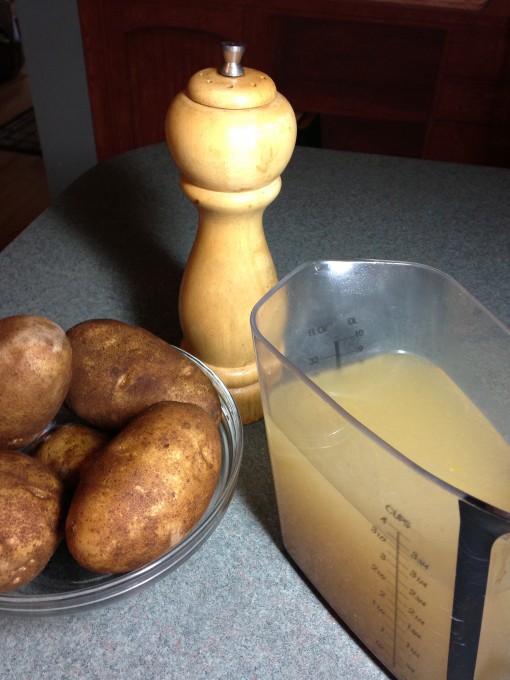 Wash, peel, and chop your potatoes: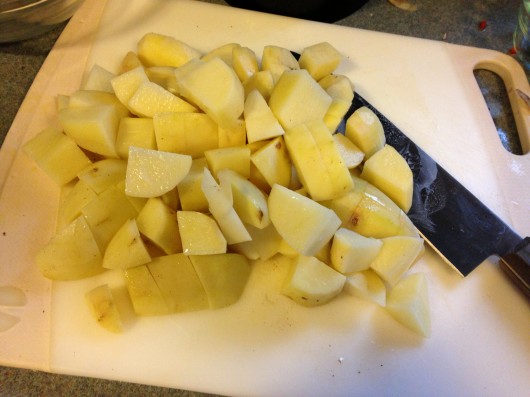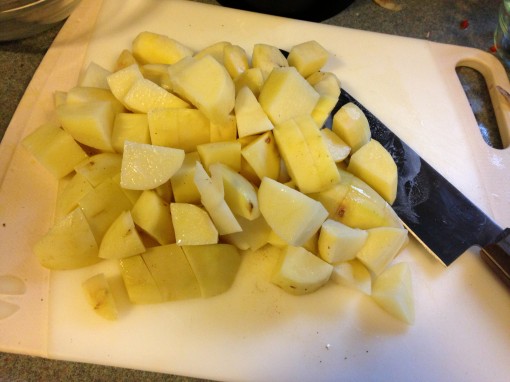 Boil the potatoes in the broth until tender: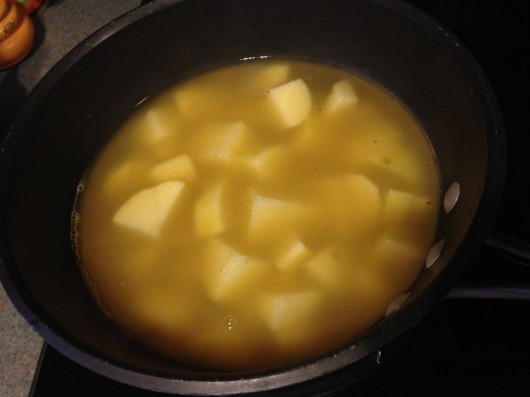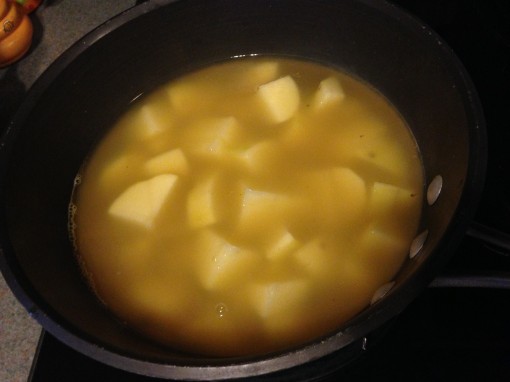 Drain the potatoes — don't forget to put a bowl underneath to capture the broth (you'll need some):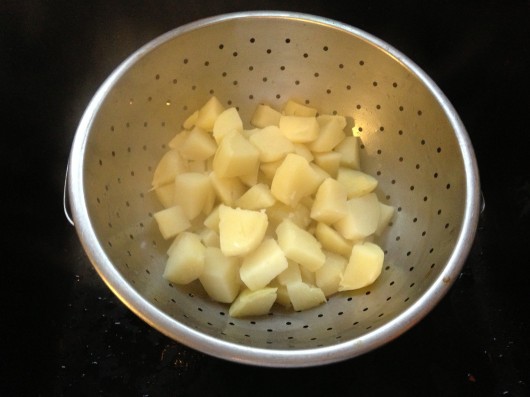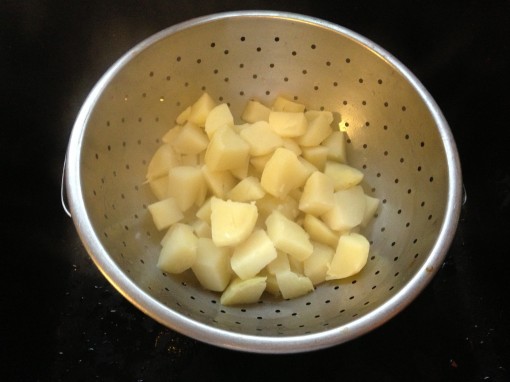 Put the drained potatoes in a bowl and pour 1 to 1 1/4 cups of the broth over them: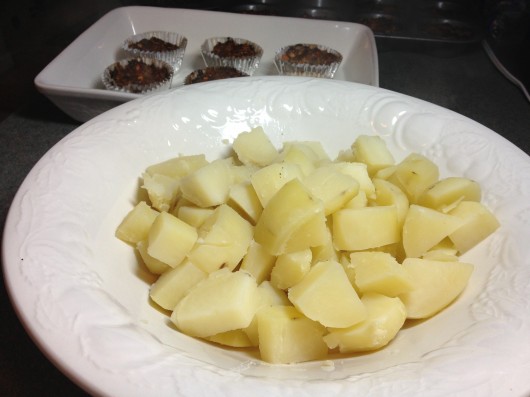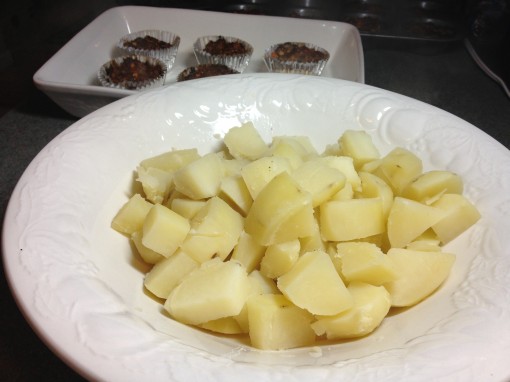 Mash up with a fork: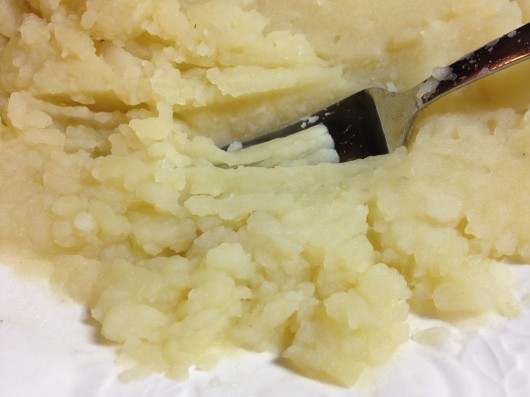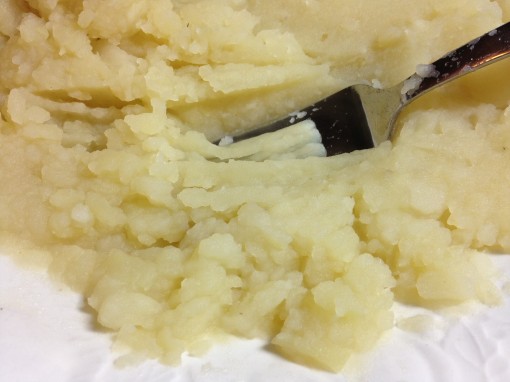 Season with some black pepper and enjoy!