Learn how to make your own customized vinyl car decals with my simple tutorial and fun designs!
Love decorating your car windows, but just can't find the right saying? You can make your own vinyl decals! I have tutorials showing you how to Make Vinyl Decals for Instant Pots, make a Vinyl Mandala for your Macbook, and even Large Vinyl Wall Decals. But what about cars? Can you put vinyl on windows? What kind? I get you — and I can help! So let's focus on the sorts of vinyl decals you can make for your car windows. Vinyl car decals are a fun way to personalize your vehicle and to show the world what you care about. It's fun and so much easier than you think to make these vinyl car decals!
Want to save this project? Enter your email below and we'll send the project straight to your inbox.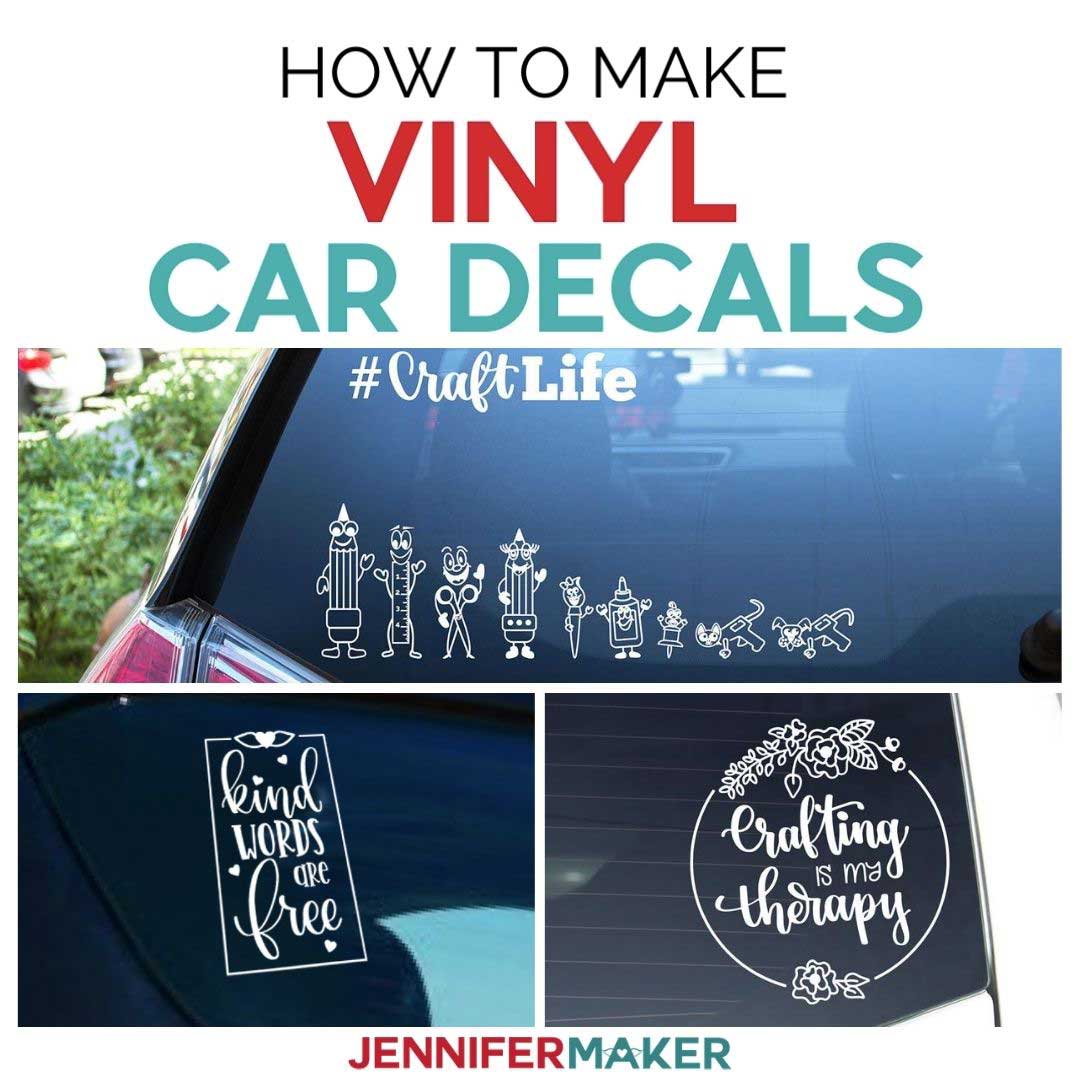 Many people have vinyl car decals to show support for their favorite cause, sports team, or family. There is an unlimited number of different designs you can create. Now, these aren't your typical "bumper sticker" with the printed text on a rectangular white background. These vinyl decals are designed to be placed on the outside of your car window. And they last a surprisingly long time. I put one on my SUV over three years ago and it's still there!
To show you how easy these vinyl car decals are to make, I've created four free designs for you to try out! First, we have the #CraftLife decal, along with the crafty "stick figure family" collection for all my fellow Makers out there! We've got stick figures that look like pencils, rulers, scissors, glue, pushpins, and more! And look, the pets are glue guns!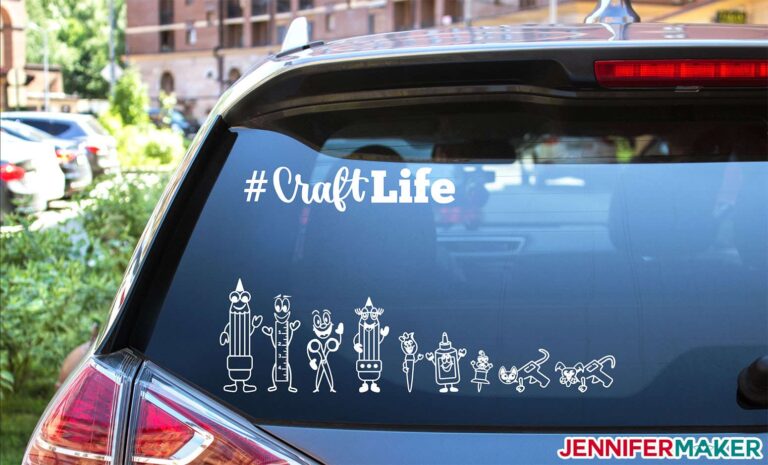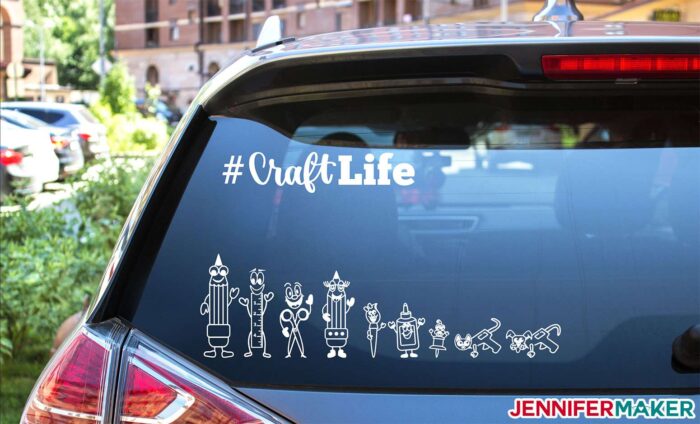 Next up is my personal favorite — "Crafting is my therapy" with some pretty flowers. Imagine how great that would look in your back window?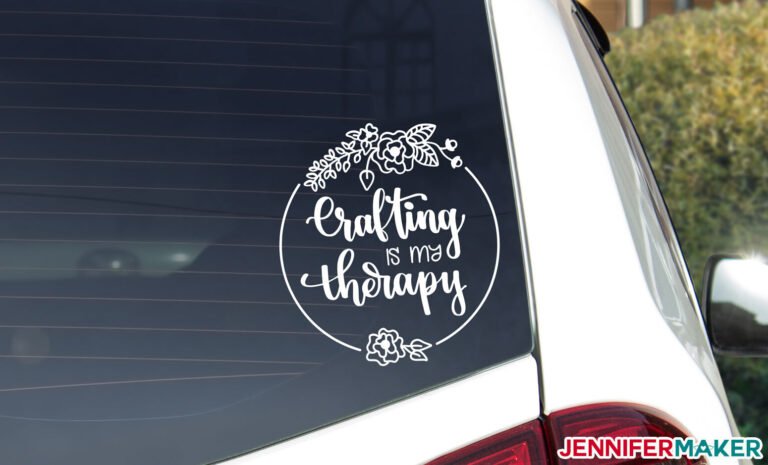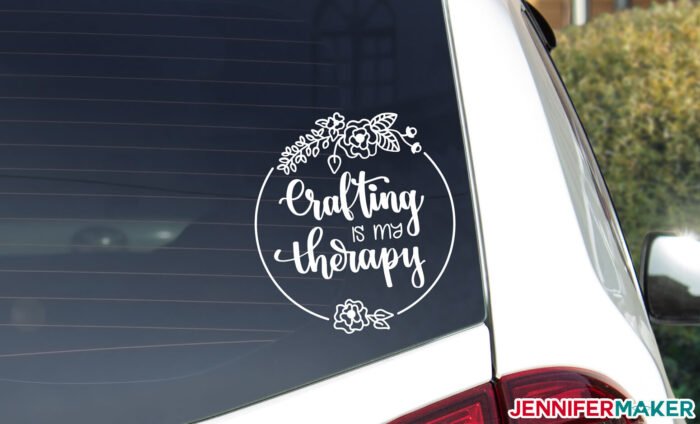 And last but not least, this wonderful "kind words are free" decal …so true!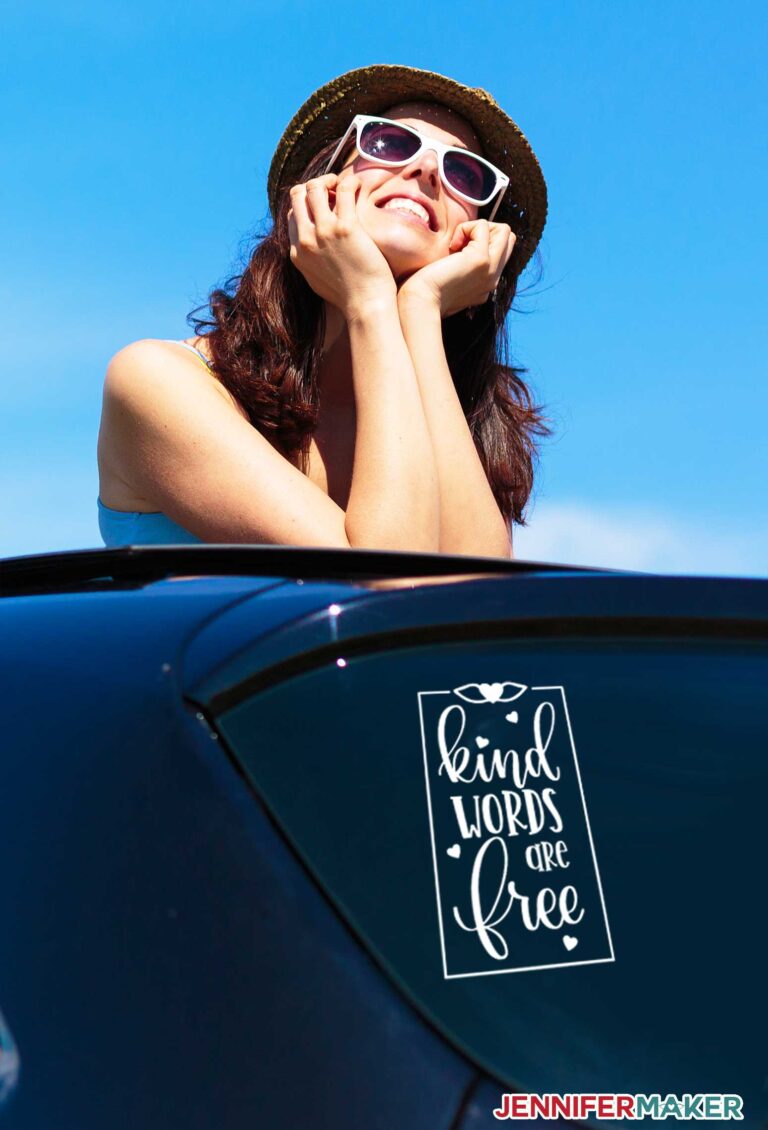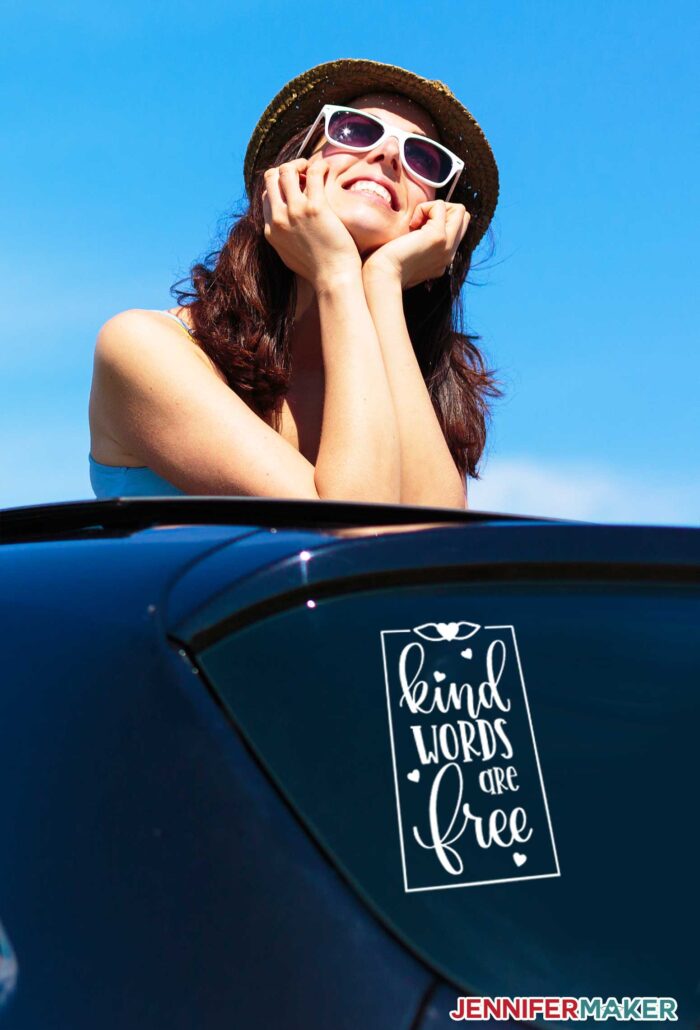 June 2023 Update:
I've added more vinyl car decals for you!
The SVG now includes a layered rainbow design.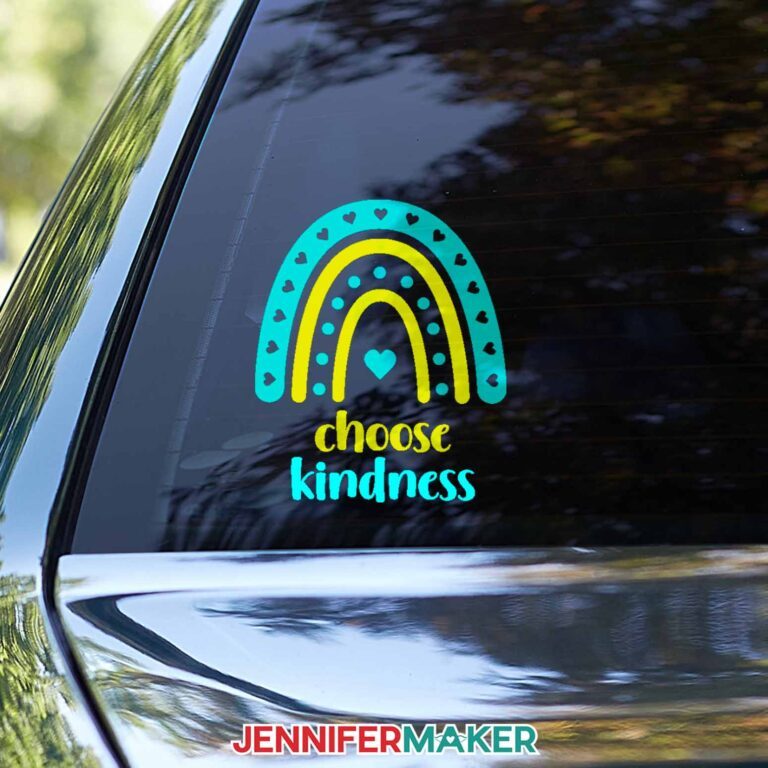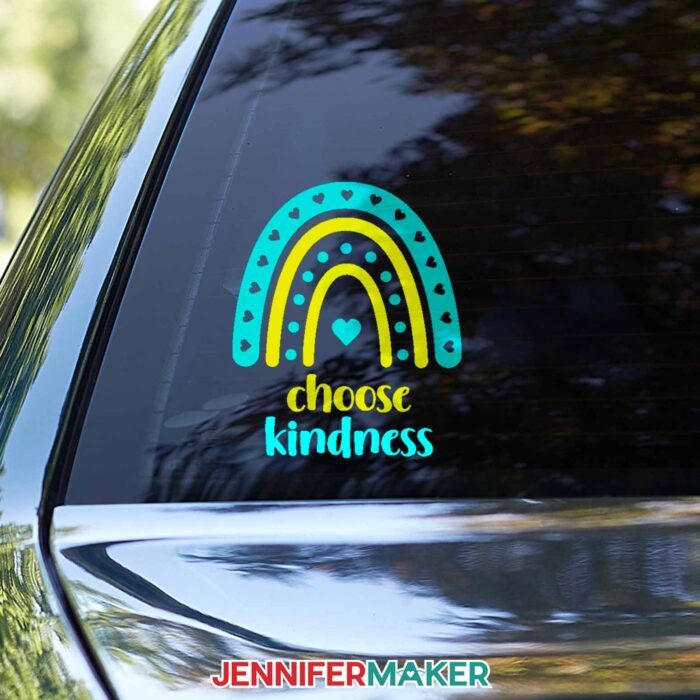 Then there's a simple statement: "All aboard the hot mess express!"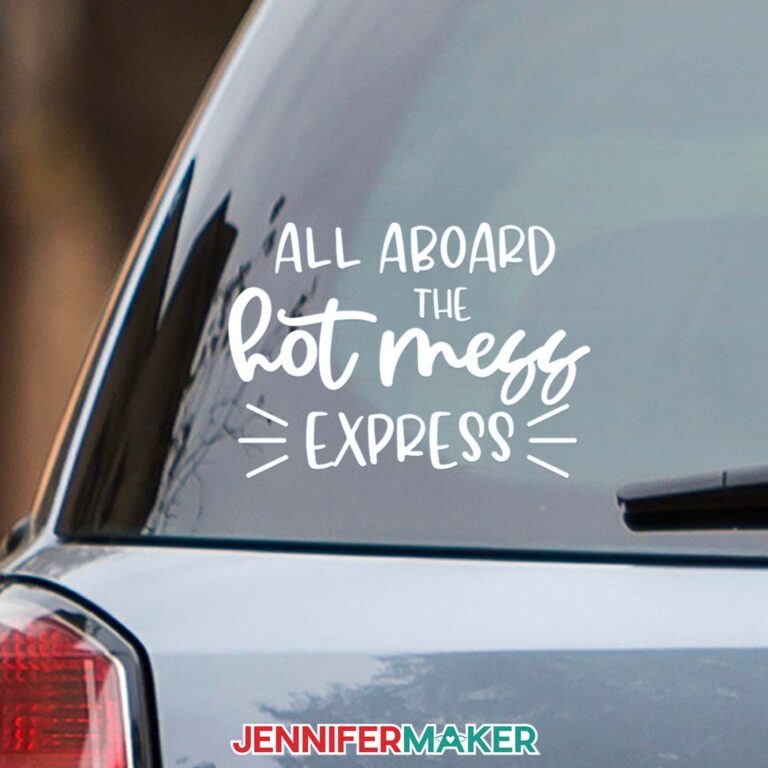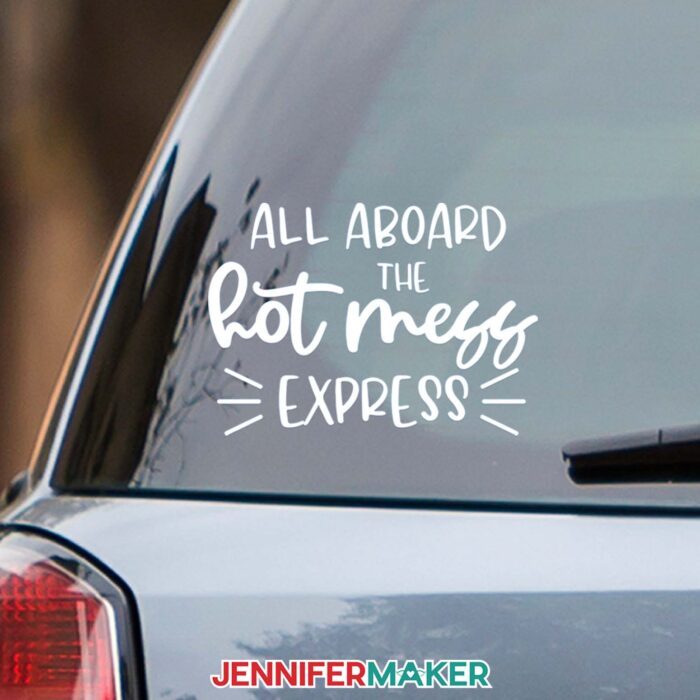 Another one that some of us might identify with: "Probably late for something."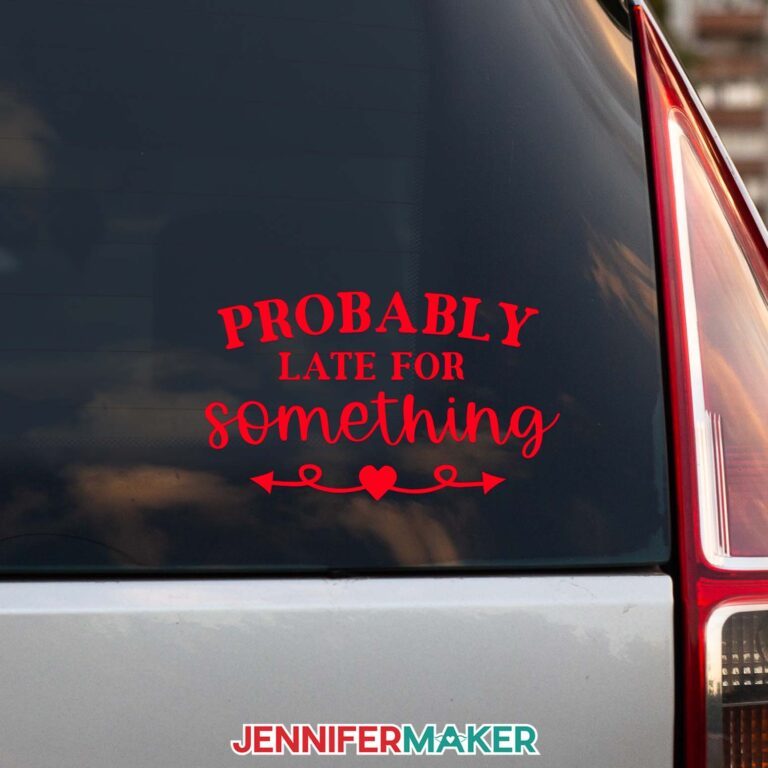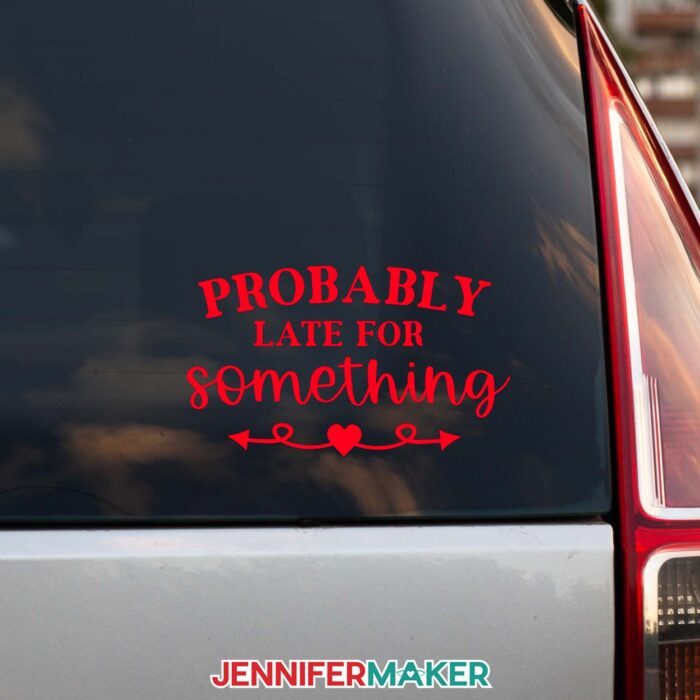 And a lovely mountain scene with "Adventure awaits."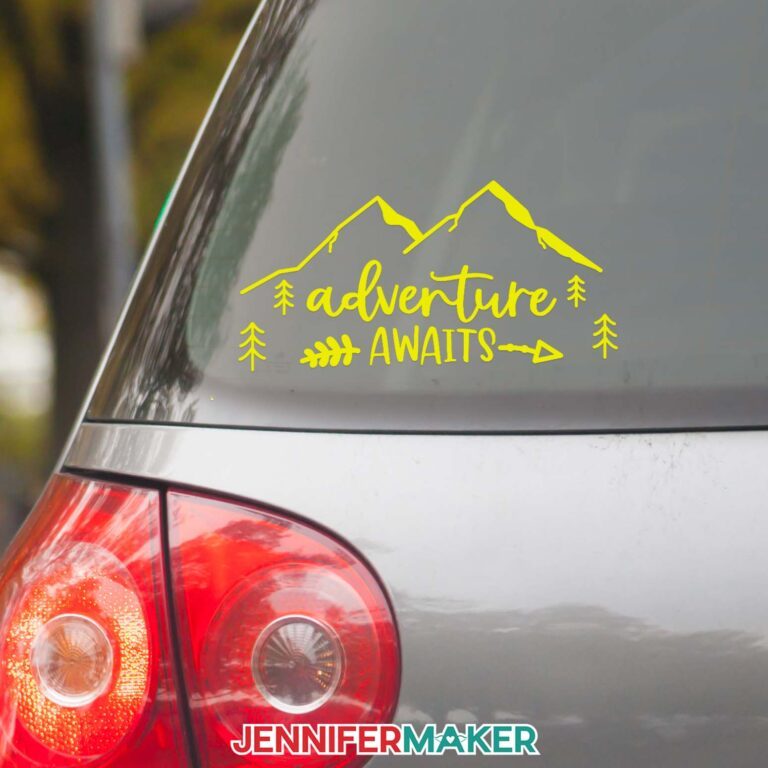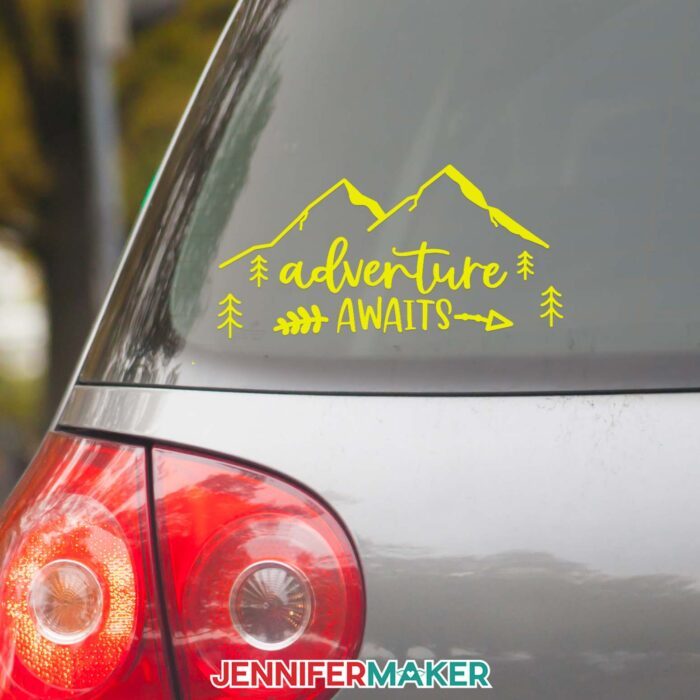 Let me show you how easy it is to make these vinyl car decals! This post contains some affiliate links for your convenience (which means if you make a purchase after clicking a link I will earn a small commission but it won't cost you a penny more)! Read my full disclosure policy.
Materials to Make Vinyl Car Decals
How to Make Vinyl Car Decals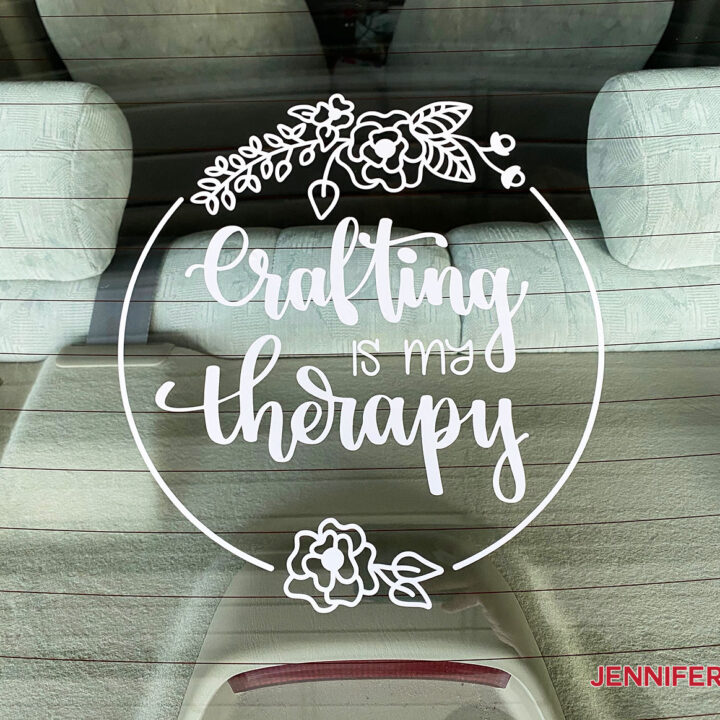 Vinyl Car Decals
This fun project shows you exactly how to make vinyl car decals with your Cricut.
Answers to Your Questions About Making Vinyl Car Decals
Q: Can I put this on my car bumper?
A: No, you should not put permanent vinyl on any painted surfaces of your car. You only want to use these car decals on your car windows.
Q: Can I use a glass cleaner to clean my window?
A: Many glass cleaners leave a residue behind so we recommend cleaning with rubbing alcohol.
Q: How do I remove the vinyl from my car?
A: You should be able to remove these custom car decals from your window with just a little elbow grease. It might be helpful to use a flat plastic item like an old gift card, old credit card, or the Cricut Scraper to get under the edges.
Q: Can I put my vinyl decal on the inside of my car?
A: You can. Note that if you have tinted windows, it will be harder to see your design. For information on doing this, you'd follow the steps in my Customized Serving Tray tutorial. If you have harsh weather conditions, putting your custom vinyl car decals inside might be the perfect choice.
Q: Can I go through the car wash with my vinyl?
A: I have and the custom decals held up fine. However, your experience may vary based on the type of car wash.
Q: Will the rear windshield wiper ruin my vinyl decal?
A: Windshield wipers often get dirt and debris on them, so it is possible that the wiper might scratch your design or cause it to start peeling. If you notice that, you may want to replace your decal.
Q: Can I remove my vinyl decal and stick it on another part of my car?
A: You can try; however, you might have better results just cutting a new design.
Q: Can I use glitter vinyl, removable vinyl, or a different type of vinyl?
A: You can certainly try using different types of vinyl with the exception of iron-on vinyl or HTV. But we had the best success with our vinyl sticking when we used the Outdoor Premium Vinyl. Permanent Vinyl will also work well for outdoor use.
Q: What is the difference between a vinyl decal and a sticker?

A: Car stickers are better for bumpers while car window decals need a very smooth surface, like rear windows. Pick the best option for your own design and custom stickers or custom vehicle decals! Whichever you choose, use high-quality materials like permanent outdoor vinyl.
Q: How can businesses use vinyl car decal?
A: Custom car decals are an affordable way for businesses to connect with potential customers by adding a company logo, vinyl lettering, unique designs, or custom graphics to company cars! You can even add customer service and contact information to company vehicles so people can contact you for business purposes. An auto decal is a great way to add a personal touch to the exterior of your vehicle!
Get my free SVG files to Make Vinyl Car Decals
I'd love to see your vinyl car decals! If you have any questions about crafting with vinyl, take a look at my free Ultimate Guide to Vinyl. That guide answers all of the questions I get asked about vinyl. If you want to learn how to customize any of my designs, consider enrolling in my Custom Cut workshop. And please do share a photo of your vinyl car decals in our Facebook group or tag me on social media with #jennifermaker.
Love,