Amazon Prime Day is a once-a-year HUGE sale at Amazon — like, 100,000 items get put on sale. It's bigger than Black Friday for Amazon. I'm a Prime member (and you have to be to get these deals) and I've been shopping Prime Day for a while now. But I recently learned that it is possible to find out in advance what things are going to go on sale. I looked and I found some really interesting DIY & CRAFT deals I'll be adding to my shopping list for myself and my family — and I thought you might like to know about these Amazon craft deals, too. And every year they've had Cricut cutting machines on sale and I expect them to appear again this year, too! But be warned — it's addicting.
This post contains some affiliate links for your convenience (which means if you make a purchase after clicking a link I will earn a small commission but it won't cost you a penny more)! Read my full disclosure policy.
Prime Day 2023 was July 11-12, 2023! This post was updated hourly beginning July 11, just as I've done for the past six years! And, cool thing, this year I was invited to a Prime Day preview event where I got an even better look at what's coming up for sale! Woohooo!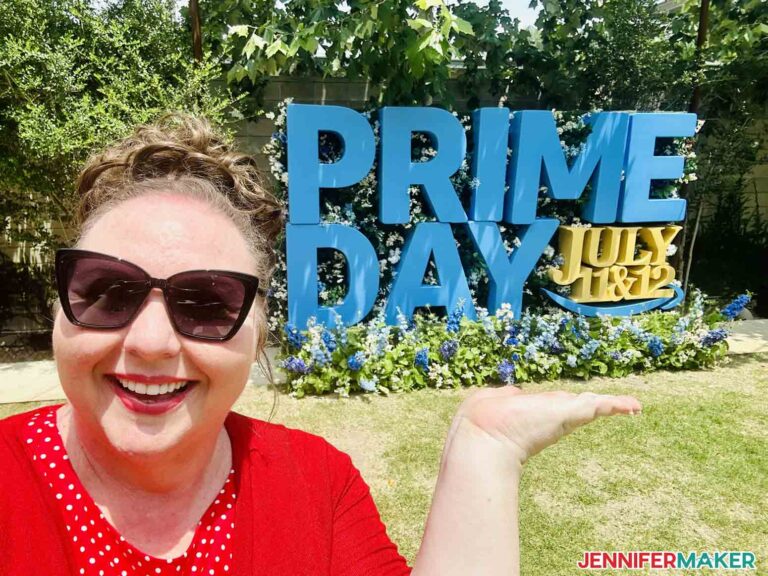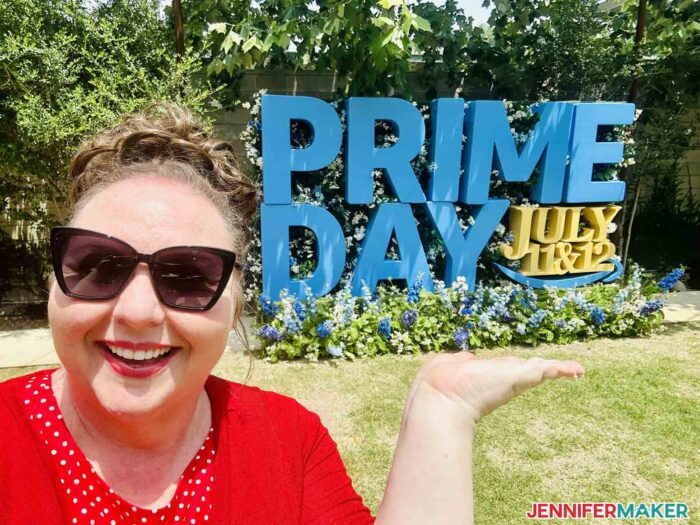 What was for sale during Prime Day 2023?
There were Cricut machines, tools, and supplies on sale as Prime Day Deals — up to 30% off machines and heat presses, and up to 51% off select Cricut accessories
Prime Day 2023 Deals
These items are no longer on deal, but we're leaving them there so you can see what they look like and plan for Prime Day 2024
Cricut items on sale in this list:
I also have a list of Amazon Deals for our Canadian Crafters.
Cricut Deals for Prime Day 2023
To take advantage of Prime Day, make sure you're a Prime Member — learn all about it here: Amazon Prime is a GAME CHANGER for Crafters!
Amazon Prime Day 2023 Craft Deals (in order of sale time):
Note that everything listed and not crossed out is available — once the deal is over or sold out, I cross it out.

These items are on sale during Prime Day 2023 on July 11-12, 2023:
25 PCS Clear Plastic Drawer Organizer Set

Lya Cutting Mats

– 8 Pack Variety Cutting Mats

HTVRONT Cutting Mat for Cricut

, 8-Pack – 12"x12"

ReArt Cutting Mat Variety Pack

– 3 pack of Strong, Standard, Light, 12"x 12" and in 12" x 24"

Sublimation Blanks Mason Jar Tumbler – this is one of my favorite tumblers to use while I'm working
Stainless Steel Insulated Tumblers – 20 oz Skinny Straight in an (8 Pack White) from D·S OR
Stainless Steel Insulated Tumblers – 20 oz Skinny Straight in an (8 Pack White) by ZONEGRACE
Sublimation Blanks Mason Jar Tumbler – this is one of my favorite tumblers to use while I'm working

Glow in the Dark Sublimation Tumblers

from

Tswofia

Bulk Sublimation Keychain Blanks

– 120Pcs

Desktop Tape Dispenser
Printers Jack Sublimation Ink – 4x100ml or
HTVRONT Heat Resistant Gloves Kit – 2Pcs Heat Gloves for Sublimation, 8 Pcs Silicone Bands for Sublimation Tumbler, 1 Pcs Heat Tape for Sublimation, 20Pcs Shrink Wrap for Sublimation Tumblers
Epson EcoTank ET-2800 Wireless Color – many members of the JenniferMaker team have this printer converted for Sublimation and love it


Water Bottle/Tumbler Organizer

– we've been making so many tumblers this is a great way to organize them

Mini Tabletop Trash Can

(for weeded vinyl and cardstock bits, etc.)

6 Pack 13oz Glitter Rainbow Sublimation Glass Can Tumbler

(in Purple, Teal, and Green)
Prime Day Category Links
These links will show you everything in particular categories you've been asking me about:
Heat Presses with Prime Day deals
Craft and Sublimation Blanks with Prime Day deals
LED Lights with Prime Day deals
Wood rounds for ornaments and signs
Social Media Blogger/Vlogger Deals (in order of sale time):
Dell Monitor – 27 inch with Comfortview
Apple 35W Dual USB-C Port Compact Power Adapter
Overhead Phone Camera Mount with Ring Light
Smartphone-Controlled Wired Lapel Microphone
2 Pack Smartphone-Controlled Wireless Lapel Microphones
Large Dry Erase Calendar for Scheduling Posts
LED Clip-On Light for Smartphone
Canon EOS R50 Content Creator Camera Kit
2 Pack Double-Sided Photo Backdrops
Vlogging Selfie Mirror for iPhone
Auto Face Tracking Phone Holder
Multi Plug Outlet and USB Surge Protector
Vlogging and Podcast Equipment Bundle
Logitech for Creators Blue Yeti Nano Premium USB Microphone
Smartphone Selfie Stick and Tripod
Samsung 4T External Hard Drive
Other Prime Day Deals I Just Think Are COOL:
Yes, this might be things I am thinking of buying for myself… 🙂
Black+Decker Powerseries+ 20V MAX Cordless Vacuum
Black+Decker Furbuster Handheld Vacuum for Pets, Cordless
Echo Show 15 with Alexa Voice Remote
Shark AV2610WA AI Ultra 2in1 Robot Vacuum & Mop
Note that you need to be a Prime member to take advantage of these deals. But the good news is that Amazon Prime offers a free 30-day trial to those curious about trying the service. To access it simply click this link and follow the on-screen prompts. This is how I ended up with Prime — I signed up for a free trial and stuck around because of the free shipping and free movies. Tip: Anyone with a valid .edu email address can sign up for a 6-month free trial for Amazon Prime Student here.
Tip: I recommend you click "Watch Deal" for anything that interests you. Then you can monitor your deals on this page.
I will add to this list as I find more deals I think could help you. Set your alarms and have fun shopping! Let me know what you scored.
Get more notifications of Prime Day Deals as I find them:
Sign up for my free email newsletter and I'll send a note about more awesome Prime Day deals if I find ones that really stand out, like more Cricuts or other machines we might like!
I hope this list helps someone! I know it's helping me.
Love,