Amazon Prime Day is a once-a-year HUGE sale at Amazon — like, 100,000 items get put on sale. It's bigger than Black Friday for Amazon. I'm a Prime member (and you have to be to get these deals) and I've been shopping Prime Day for a while now. But I recently learned that it is possible to find out in advance what things are going to go on sale. I looked and I found some really interesting DIY & CRAFT deals I'll be adding to my shopping list for myself and my family — and I thought you might like to know about these Amazon craft deals, too. And every year they've had Cricut cutting machines on sale and I expect them to appear again this year, too! But be warned — it's addicting.
This post contains some affiliate links for your convenience (which means if you make a purchase after clicking a link I will earn a small commission but it won't cost you a penny more)! Read my full disclosure policy.
Prime Day 2021 started yesterday, Monday, June 21 at 12:01 am ET and ends tonight, June 22 at midnight! I will be updating this list hourly, just as I've done for the past four years!
And YES, there are currently TWO Cricut cutting machines available as Prime Day Deals:
There's a Cricut Explore Air 2 in MINT (which I have and love) — CLICK HERE TO GET IT!
And there's a Cricut Maker BUNDLE with 20 sheets of removable vinyl and 6 sheets of permanent vinyl — CLICK HERE TO GET IT!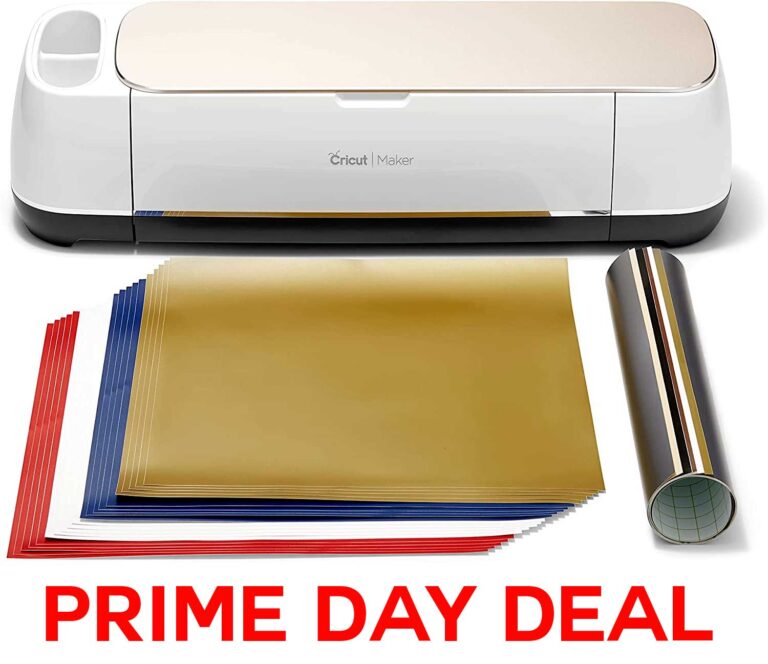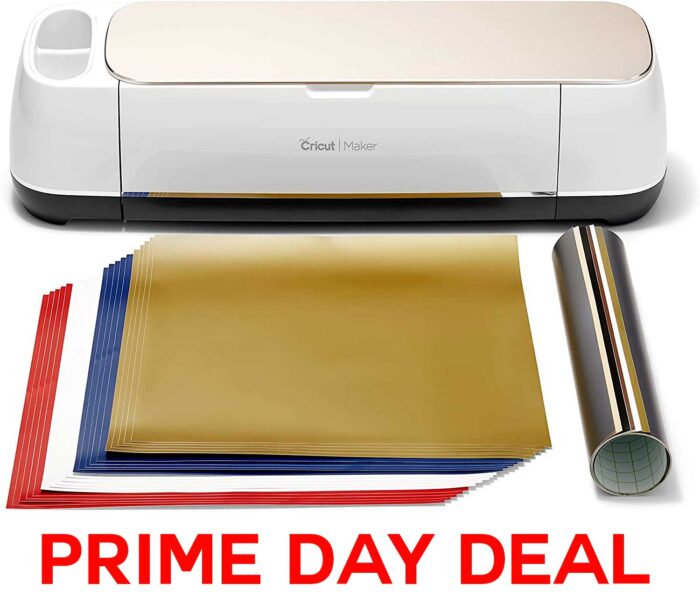 If you're wondering if this is a good deal, here's the price history for the entire lifespan of the Cricut Maker on Amazon (source: camelcamelcamel). Today's price is at its lowest ever, and you get bonus vinyl: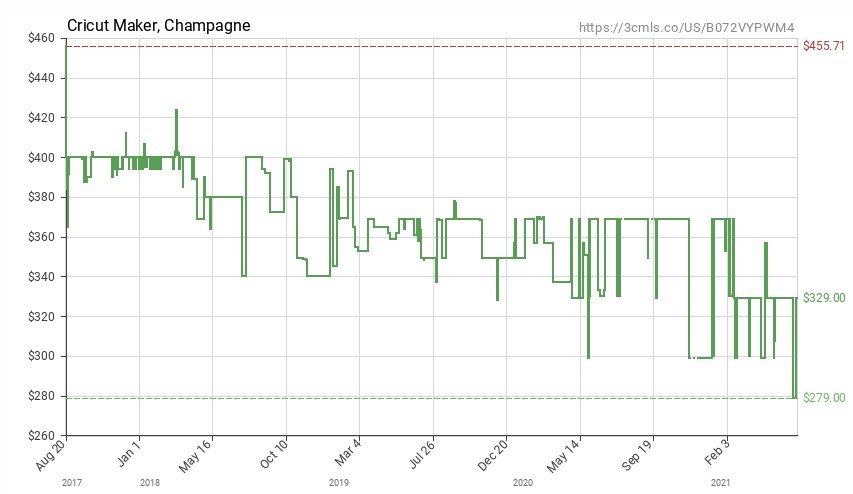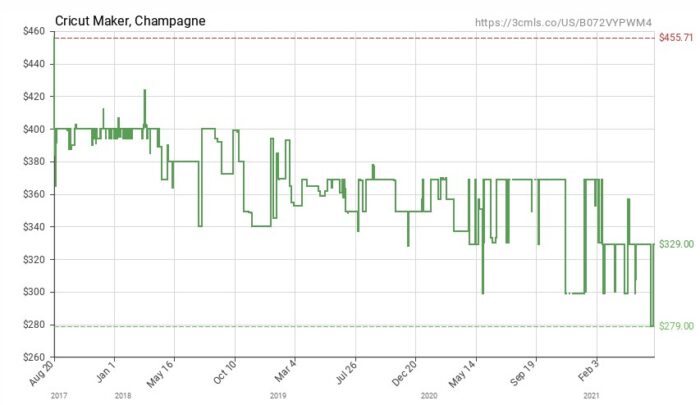 To take advantage of Prime Day, make sure you're a Prime Member — learn all about it here: Amazon Prime is a GAME CHANGER for Crafters!
Craft Deals (in order of sale time):
Note: I'm updating this list on a regular basis as I find more great deals. REMEMBER, THEY WON"T GO ON SALE UNTIL THE TIME NOTED. All times listed here are in ET (Eastern Time). You are interested in these items, I recommend you add them to your cart NOW as it will make it much easier to grab them when they go on sale! Just remember you won't see the special price until the deal actually begins. When a deal is live, add the item to your cart immediately. Some offers sell out quickly! Once it is in your cart, you'll have 15 minutes to decide whether to complete the purchase.
Note that everything listed and now crossed out is now available — the whole time thing was for when Prime Day was not almost over.
These items are on sale during Prime Day on June 21-22, 2021:
Prime Day Category Links
These links will show you everything in particular categories you've been asking me about:
Blogger Deals (in order of sale time):
Other Prime Day Deals I Just Think Are COOL:
Note that you need to be a Prime member to take advantage of these deals. But the good news is that Amazon Prime offers a free 30-day trial to those curious about trying the service. To access it simply click this link and follow the on-screen prompts. This is how I ended up with Prime — I signed up for a free trial and stuck around because of the free shipping and free movies. Tip: Anyone with a valid .edu email address can sign up for a 6-month free trial for Amazon Prime Student here.
Tip: I recommend you click "Watch Deal" for anything that interests you. Then you can monitor your deals on this page.
I will add to this list as I find more deals I think could help you. Set your alarms and have fun shopping! Let me know what you scored.
Get more notifications of Prime Day Deals as I find them:
Sign up for my free email newsletter and I'll send a note about more awesome Prime Day deals if I find ones that really stand out, like more Cricuts or other machines we might like!
I hope this list helps someone! I know it's helping me.
Love,