Learn how to decorate a graduation cap with vinyl, cardstock, and personalized designs!
Graduation Day is a special day to recognize students for their achievements! But between the long gowns and mortarboards, it's hard to get recognized in that crowd. Luckily, I have the perfect solution. Today, I'll share my best graduation cap ideas that you can make! You can customize these projects with different materials (like layered vinyl or even a plastic folder!) or use the techniques as inspiration to create your own designs. I'll share my best tips to light up the stage during your graduation ceremony!
Watch the full step-by-step tutorial video on how to decorate your graduation cap on my YouTube channel!
There are many different ways to decorate graduation caps, but these three designs are definitely my favorites.
My Sports Jersey grad cap decoration design uses layers of permanent vinyl for a fast, easy approach. It's the perfect way to decorate if it's the night before the ceremony!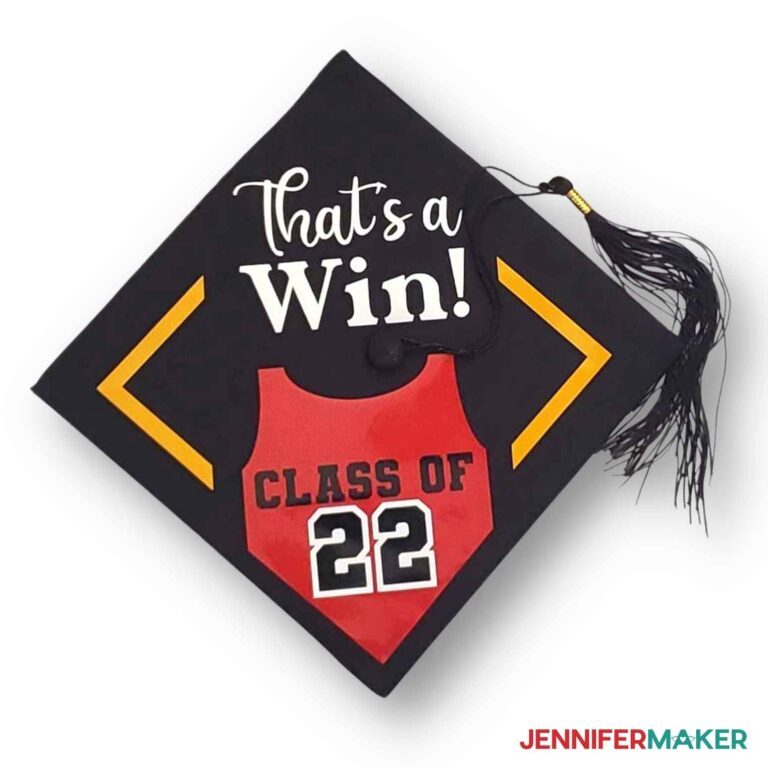 The Roses design is more involved and uses layered glitter and foil cardstock to focus all eyes on you! This design is easy to customize with your own quote, graduation year, or school colors. You can use different materials, but the flowers are super pretty with a little sparkle!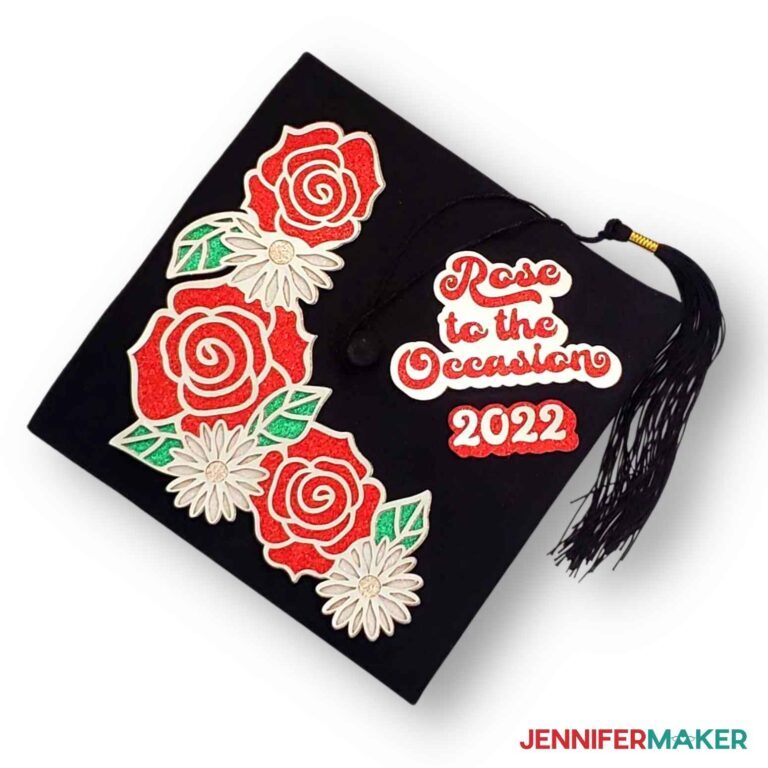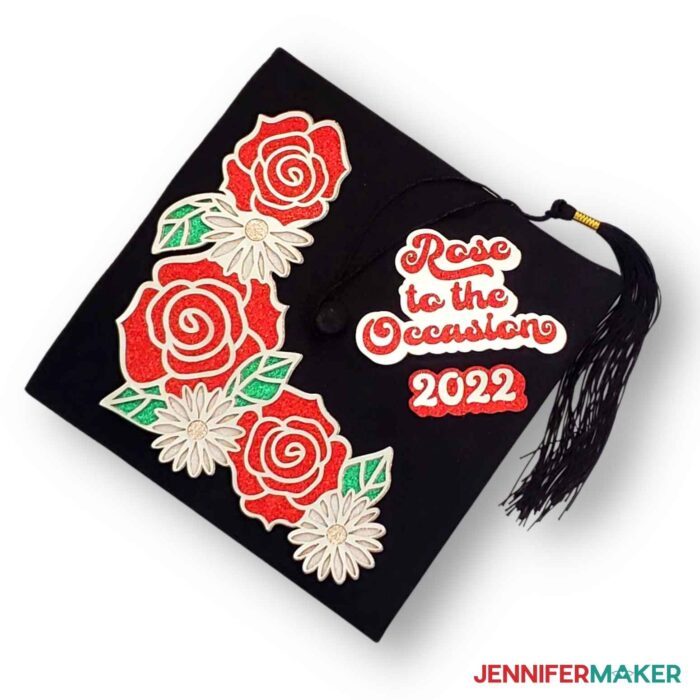 Finally, my Stars graduation cap topper is a real attention-getter! I'll show you how to combine cardstock, plastic folders, vinyl, and fairy lights to make this stunning decoration. Best of all, the whole topper can be removed from the cap and displayed in a shadow box. I'll show you how in my video!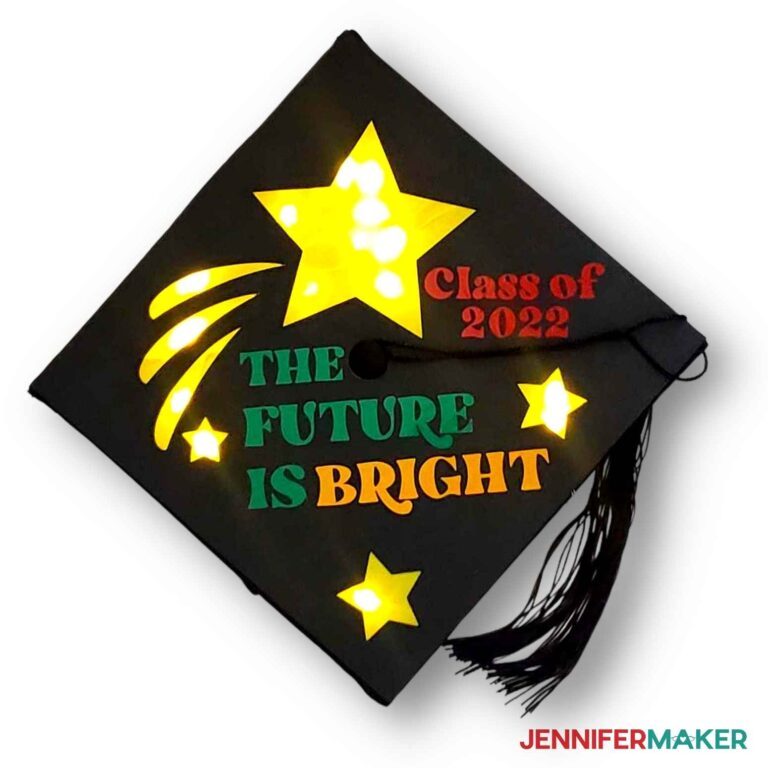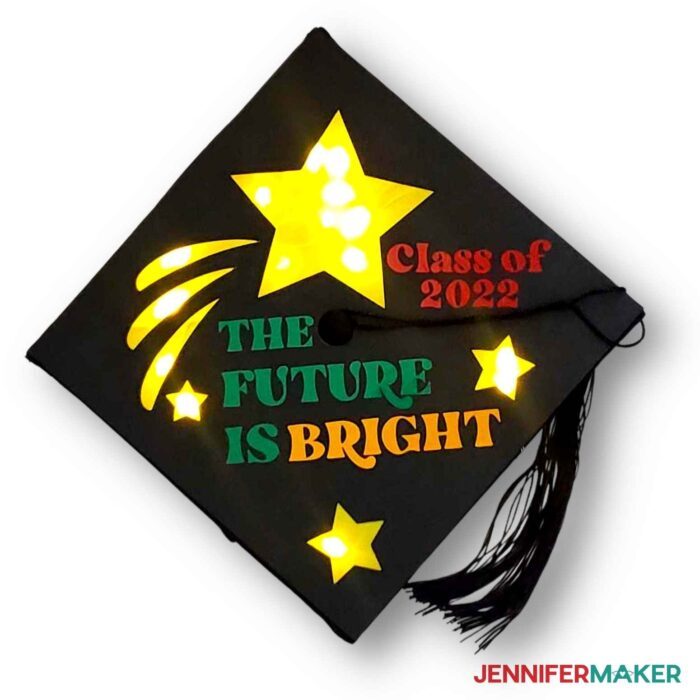 Planning ahead will make the project go easier! First, make sure cap decorations are allowed and check for guidelines. Not all schools allow cap decor. If not, you might be able to make a topper to wear for photos!
My graduation cap ideas use a mix of 3D Clear Adhesive dots, craft glue, and transfer tapes, but you can adjust most steps to fit the supplies you have available.
These designs don't take too many tools. I found a brayer, weeding tool, spatula, and scraper helpful for most steps. If you're making a topper and find your tassel button is off-center, I'll show you a workaround using scissors and hot glue.
Since you want to look your best, I recommend using a ruler or measuring tape to keep your decorations straight and aligned.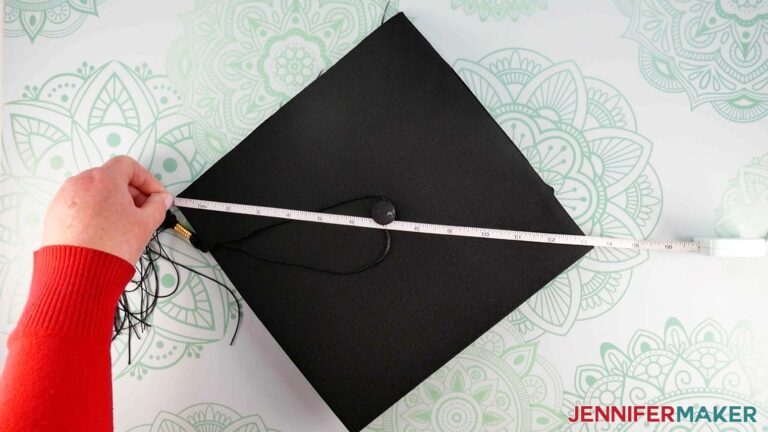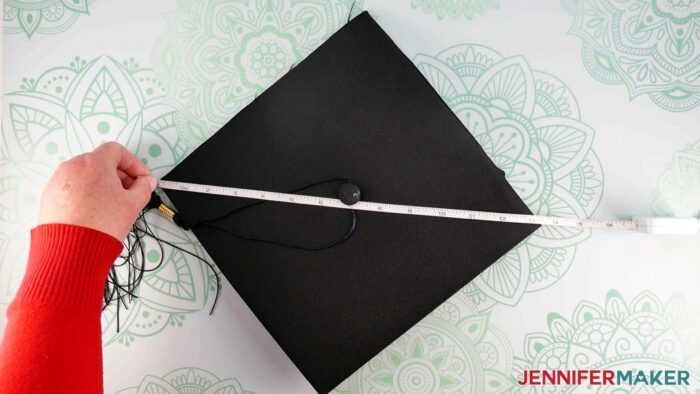 Now, about those tassel buttons. We found that – just like graduates – no two graduation caps are alike. Some are not quite square, others curve, and many have their buttons off-center. For most graduation cap ideas, that's fine! Just shift your design elements. That's one of the great things about DIY projects!
But, if you want to craft a topper, its hole needs to line up with the tassel button. If yours isn't, follow my video to remove the button and reattach it once the topper is complete. It's so easy and looks good!
However, if your button isn't removable, the written instructions will help.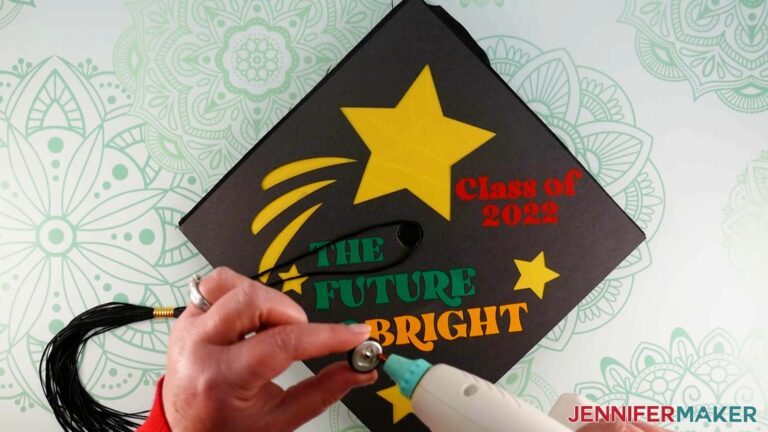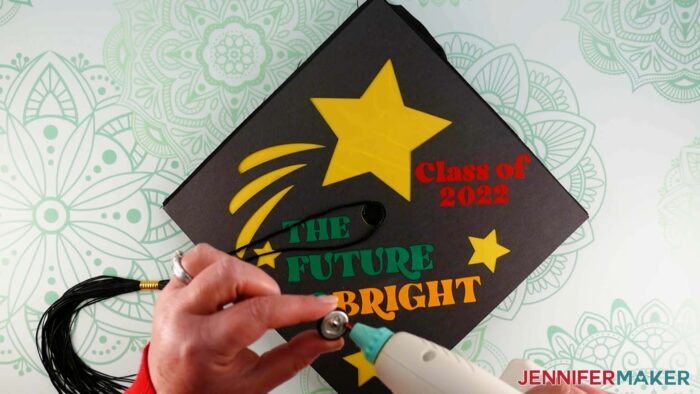 Making all three styles was a breeze with my Cricut Maker 3. You can also cut these designs on an original Maker or an Explore series machine. If you stick to smaller vinyl or cardstock words, quotes, and shapes, you can even personalize your awesome graduation cap ideas with a Joy! The standard blade that comes with each machine will work fine, just follow my material settings in the tutorial. A StandardGrip Machine Mat works for most materials – especially with painters' tape for added security – but you may want a StrongGrip Machine Mat nearby just in case.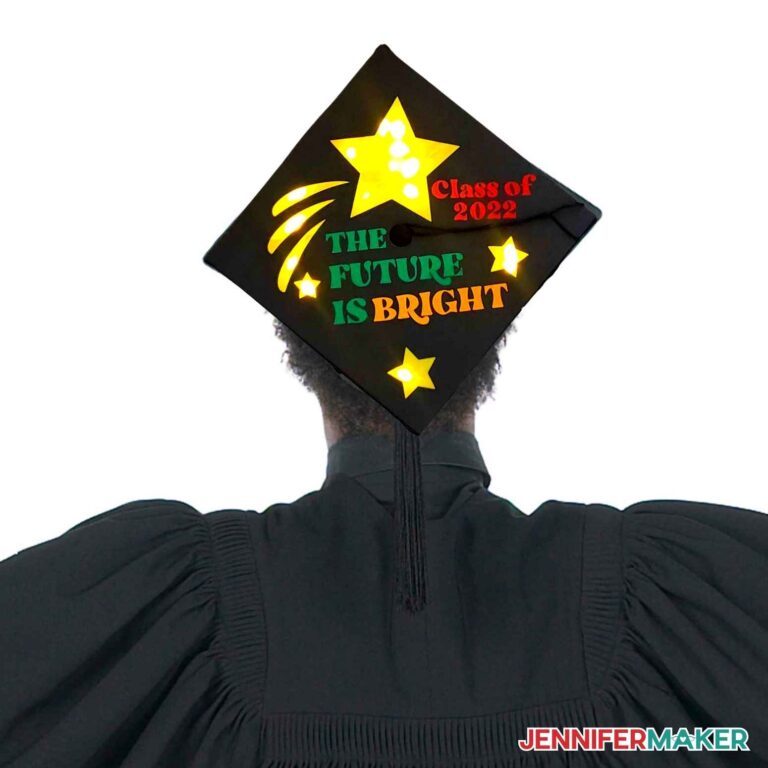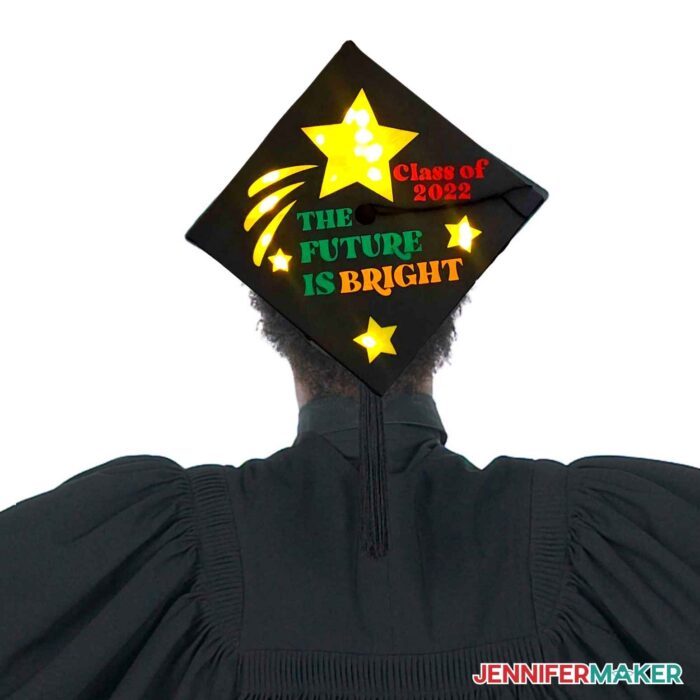 Now, let's put your Cricut skills to the test! I'll show you how to make the Stars design as well as share a few tips for the other graduation cap ideas.
Ready to make these awesome graduation cap decoration ideas? You're going to love them! This post contains some affiliate links for your convenience (which means if you make a purchase after clicking a link I will earn a small commission but it won't cost you a penny more)! Read my full disclosure policy.
Materials for DIY Graduation Cap Ideas
How to Make Graduation Cap Ideas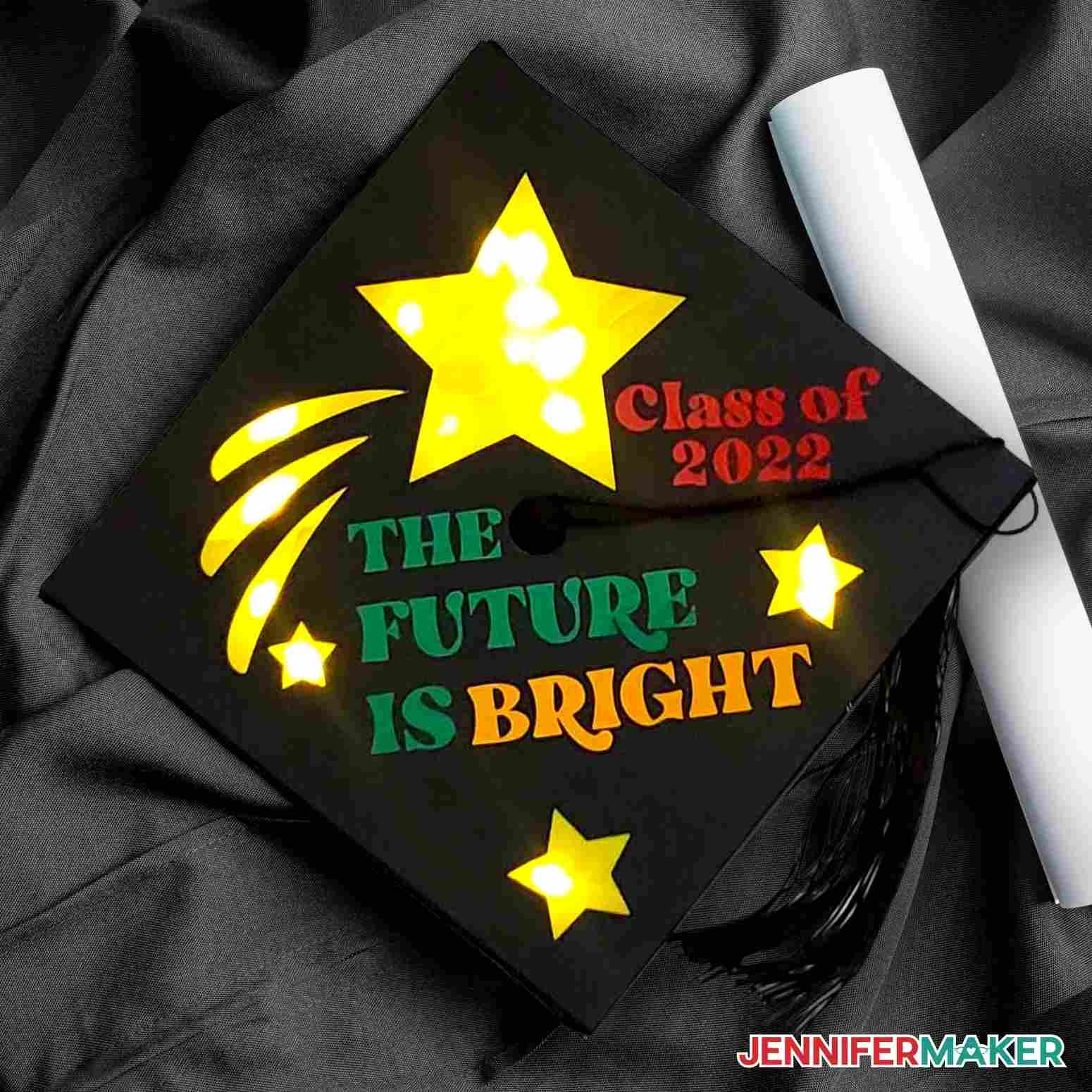 DIY Graduation Cap Ideas
Yield: 1

Active Time: 1 hour

Total Time: 1 hour

Difficulty: Easy

Estimated Cost: $20-$35

Learn how to use different materials to make your graduation cap stand out from the crowd!
Answers to Your Questions About Graduation Cap Decoration Ideas
What should I write on my graduation cap?
You can add anything you like! Graduates add inspirational quotes, lines from a favorite book or favorite movie. Quotes from a favorite character or TV shows are also popular. You can add anything that you feel sums up your college experience, really. I've seen some cute matching best friend cap ideas, too.
How do you decorate a graduation cap last minute?
Graduation season is busy, so last-minute cap decorations are very popular! If you don't have much time to personalize your own graduation caps, I recommend sticking to a simple design. Design a quick decal in Cricut Design Space using some existing shapes or a short quote in a bold font and use permanent adhesive vinyl right on the cap. Simple can still help you stand out!
Should I decorate my graduation cap?
It's totally up to you, but decorating your mortarboard is a fun way to celebrate your years of hard work! A custom cap is a nice personal touch for your big day!
What do you put on a high school graduation cap?
You can use any ideas for college graduation caps for high school, too! I love seeing custom caps from kindergarten to graduate school.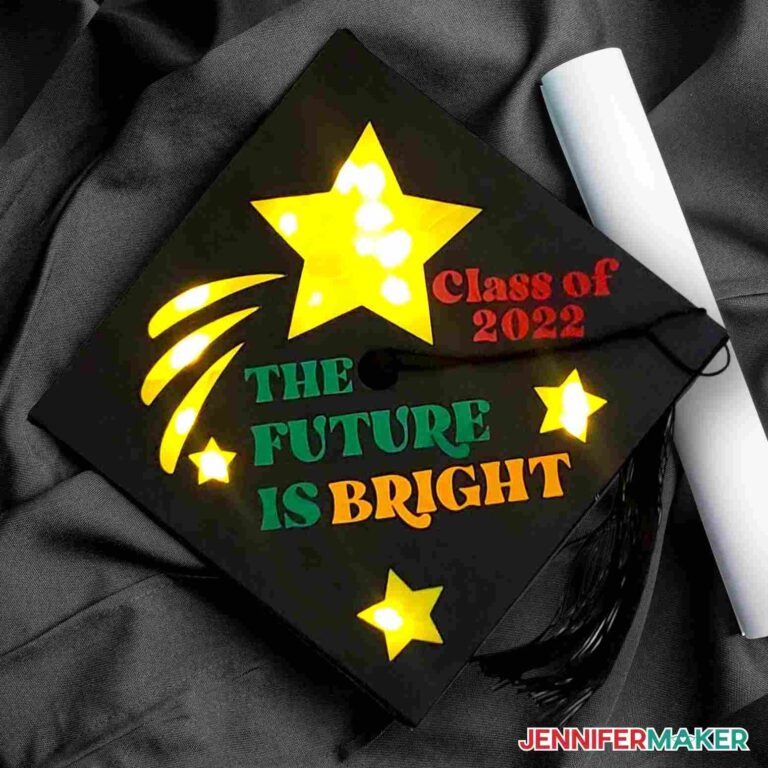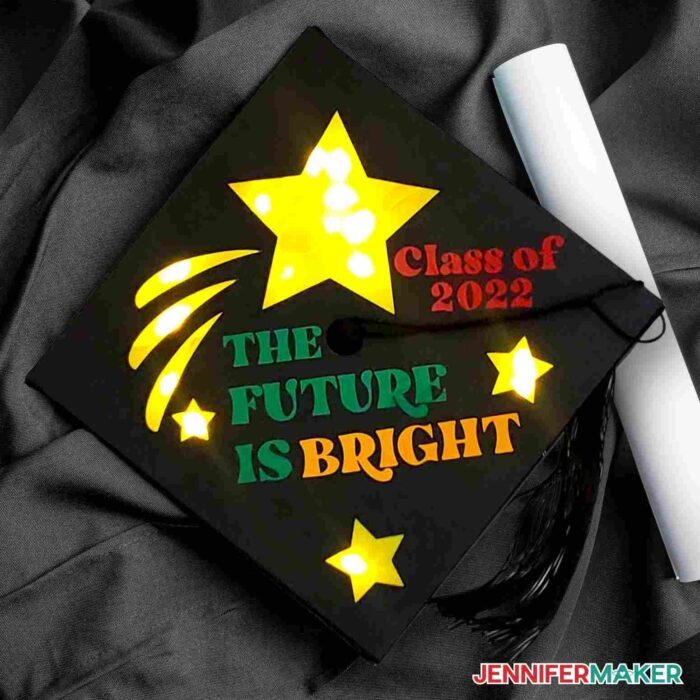 How do you decorate a graduation cap with cardstock?
Cutting some simple designs or shapes in cardstock with a Cricut is a super easy way to decorate your graduation cap. After cutting out your design, just stick the cardstock to the cap with craft glue or double-sided adhesive foam for a bit of depth.
What glue is best for graduation caps?
I recommend different glues depending on how you plan to decorate and preserve your graduation cap. If you want to decorate the cap for your big day and then be done with it, you can use craft glue for permanent adhesion. Glue dots can be removed pretty easily, so they're a good option if you want to remove the designs to save or need to return the cap without damage.
How do you put letters on graduation caps?
I highly recommend cutting letters from cardstock or adhesive vinyl with a Cricut for your cap. If you don't have a Cricut, you can also buy pre-made letters from a craft store and glue them on for easy grad cap designs.
What if my school doesn't allow graduation can decorations?
Always check the rules before crafting for an event! Different school have different requirements. If you aren't allowed to decorate for the ceremony, maybe make a topper to use in photos! If you aren't allowed to decorate the cap at all, you can buy one from the materials list and decorate your own cap as a memento.
Get my free Graduation Cap Ideas SVG files!

I'd love to see your graduation cap decoration ideas and results! If you make a topper, shadow box, or anything else with these designs, please share a photo in our Facebook group, email it to me at [email protected], or tag me on social media with #jennifermaker.
Love,