Learn how easy it is to make 3D layered heart mandala paper art that looks amazing! These mesmerizing multilayered designs look stunning but are surprisingly easy to make.
3D layered mandalas are everywhere all over the place recently. Paper mandalas are very popular and I think this layered heart mandala will fit in perfect with my 3D layered mandalas and my Easter egg mandalas as well. One of my favorite things about this layered heart mandala is that it is SO easy to put together! This heart mandala is so popular that I decided to put a similar design on a shirt as well!
What makes it so easy is that your Cricut cutting machine does most of the hard work for you in cutting out the little details — all you have to do is stack the layers and attach them together. 3D paper mandalas are really much easier than they look and carry an impressive "wow" factor to friends and family!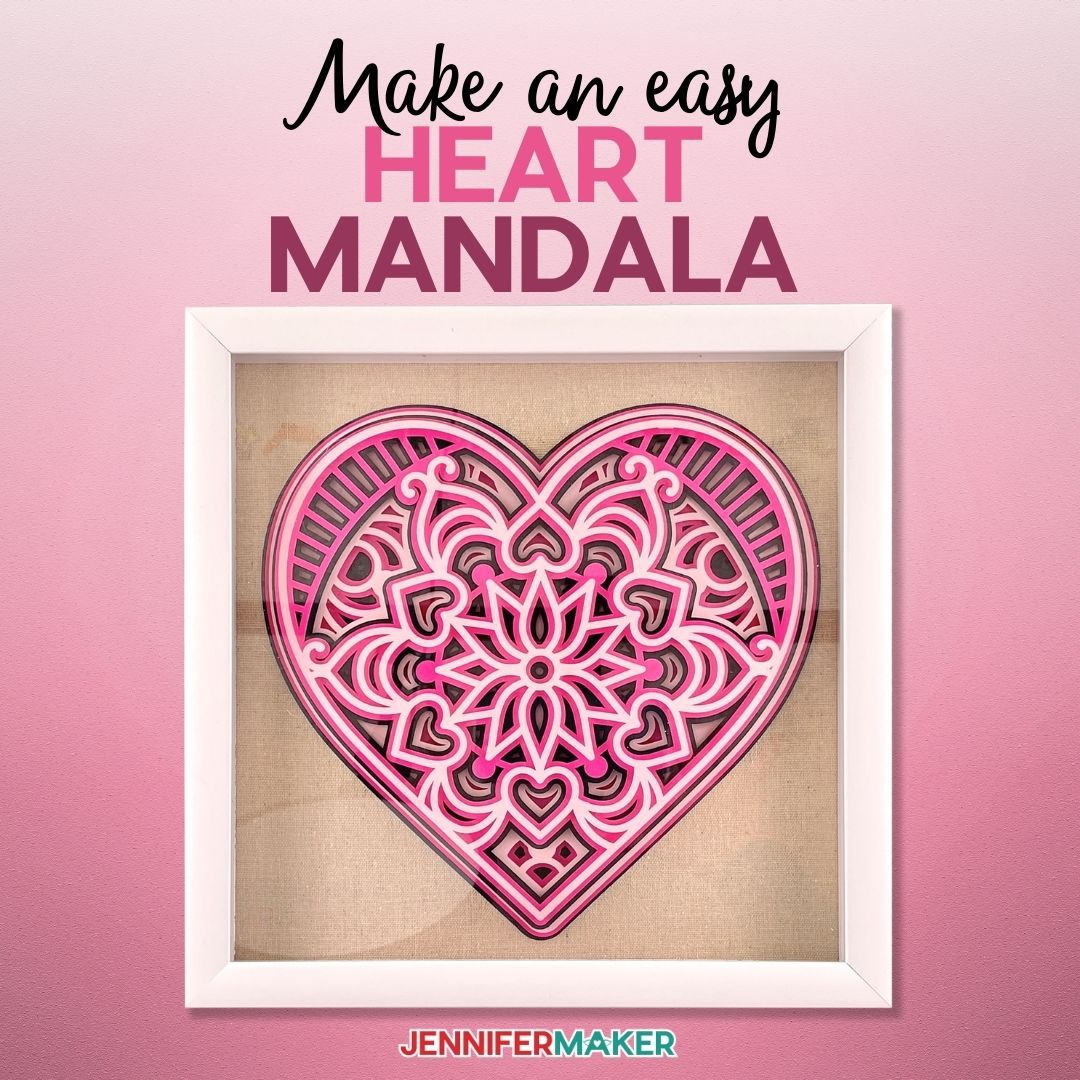 Watch the layered heart mandala assembled in just six minutes in this quick video: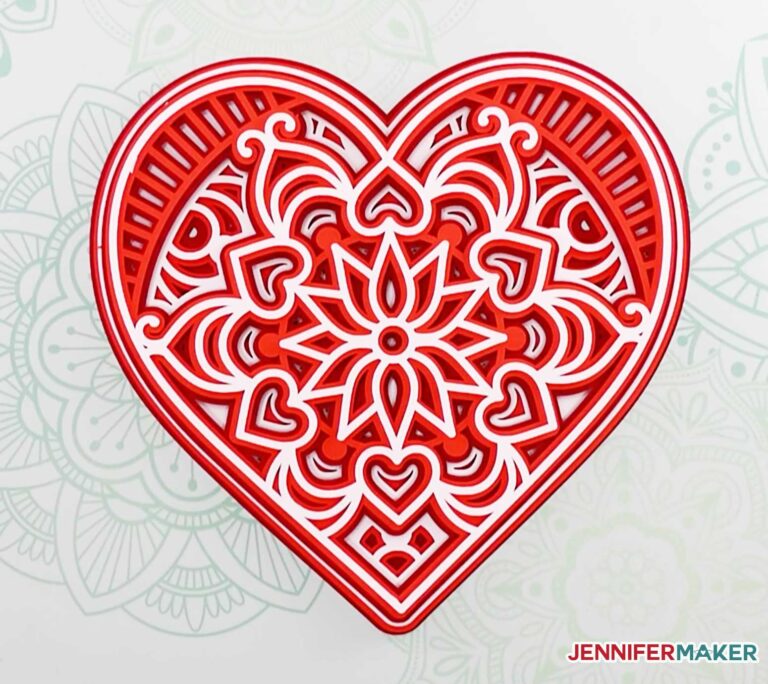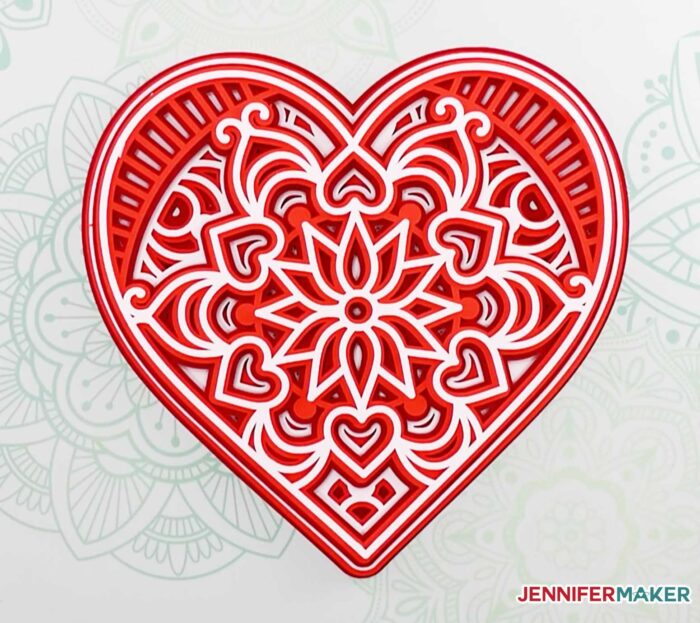 You can make the 3D paper layered heart mandala big or make them small. I've made them as big as 11.5″ wide and as small as 4.5″ wide. You decide! I have included two different size mandalas so you have even more flexibility.
All you need is basic cardstock and a way to keep them together, like glue or spray adhesive. If you want to get the 3D look, you use spacers in between the layers — you can use foam mounting tape, pre-cut adhesive foam circles or squares, or just bits of cut cardboard, craft foam, or layered cardstock.
The secret to getting a beautiful look is to apply the spacers to the underside of each layer — that way you won't see the spacers peeking through once it's all put together.
I used a Cricut cutting machine to cut my cardstock, along with the fine point blade and a standard grip cutting mat.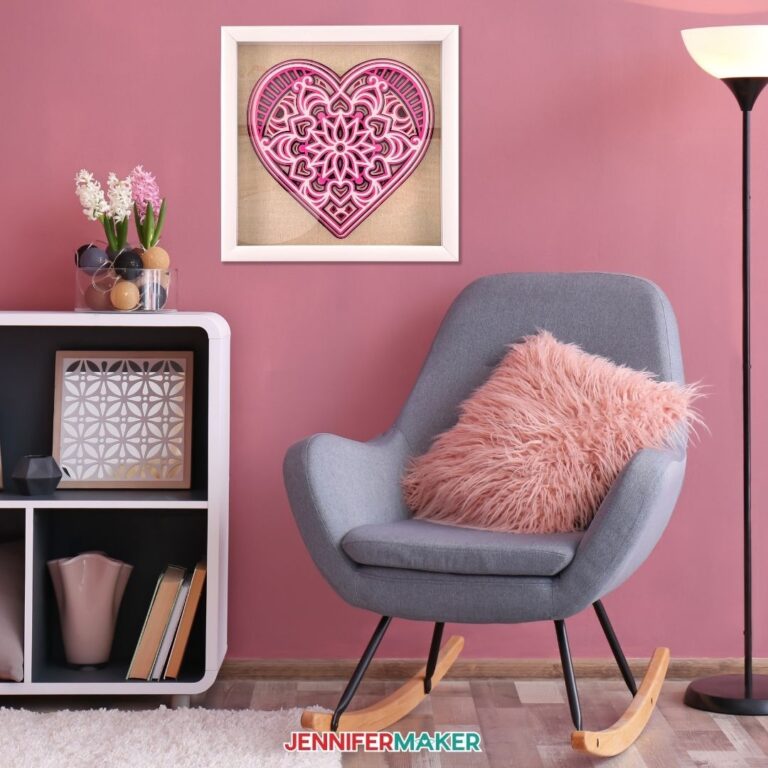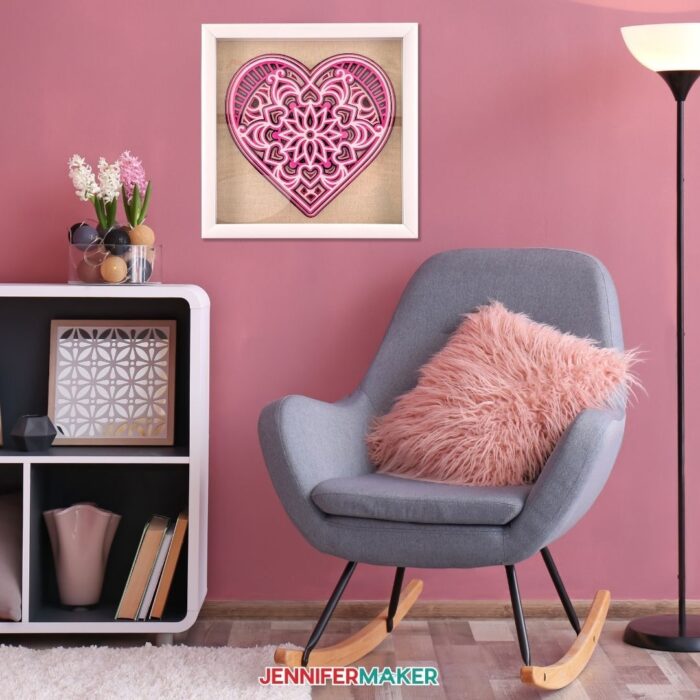 And that's all you need.
Let me show you how easy it is make my layered heart mandala! This post contains some affiliate links for your convenience (which means if you make a purchase after clicking a link I will earn a small commission but it won't cost you a penny more)! Read my full disclosure policy.
Materials to Make a Layered Heart Mandala

See my Amazon shopping list for this project here!
How to Make a Layered Heart Mandala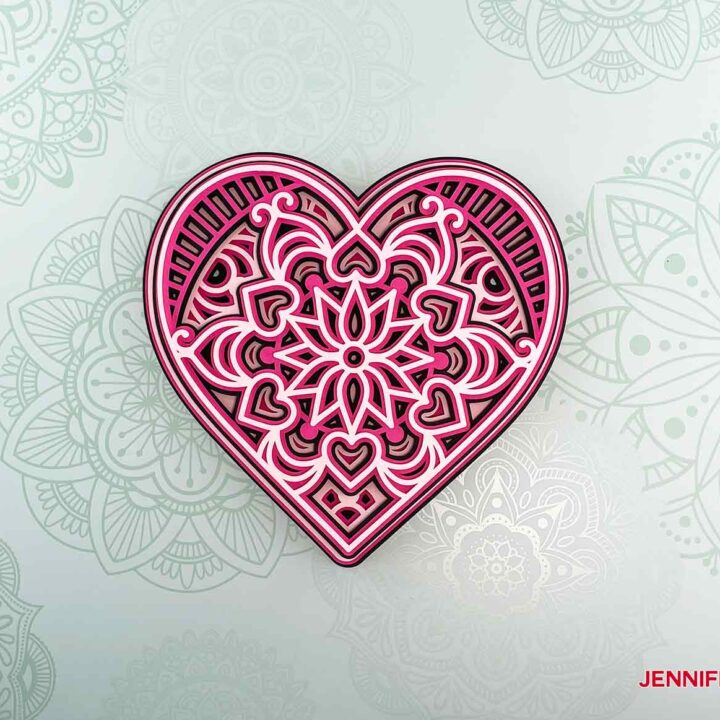 Heart Mandala
Total Time:
1 hour
5 minutes
Instructions
STEP 1: GET MY FREE HEART MANDALA FILE
First, download design #282 which is my free Heart Mandala SVG/DXF/PDF from my free resource library. If you're going to cut it on your cutting machine, upload the file to your design software. This is what the Layered Heart Mandala SVG file looks like in Cricut Design Space.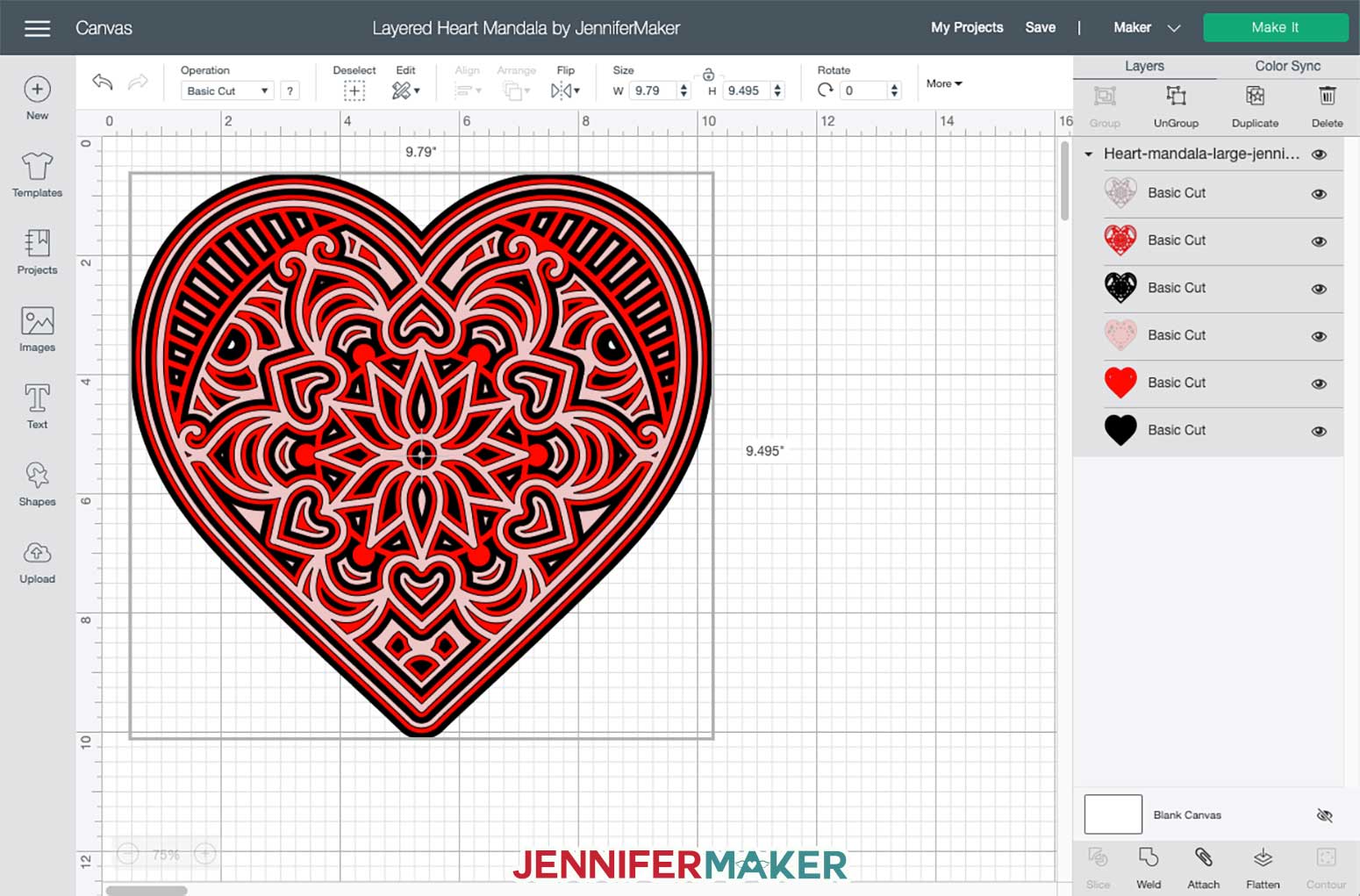 Tip: If you're not sure how to upload an SVG cut file to Cricut Design Space, watch this helpful video training series I made. If you're on an iPhone or iPad, here's how to download and upload SVG files to the Cricut Design Space app.
STEP 2: CUT THE HEART LAYERS
In Cricut Design Space, click the green "Make It" button to begin cutting your heart mandala. I used 80 lb. cardstock setting for all layers except razzleberry. For that cardstock I selected heavy cardstock 100 lb. I always choose more pressure for everything I cut.
STEP 3: ASSEMBLE THE HEART MANDALA
The layered heart mandala design consists of six layers. Gather your cut pieces, foam adhesive, and a weeding tool to remove any pieces that may be stuck in the cut design.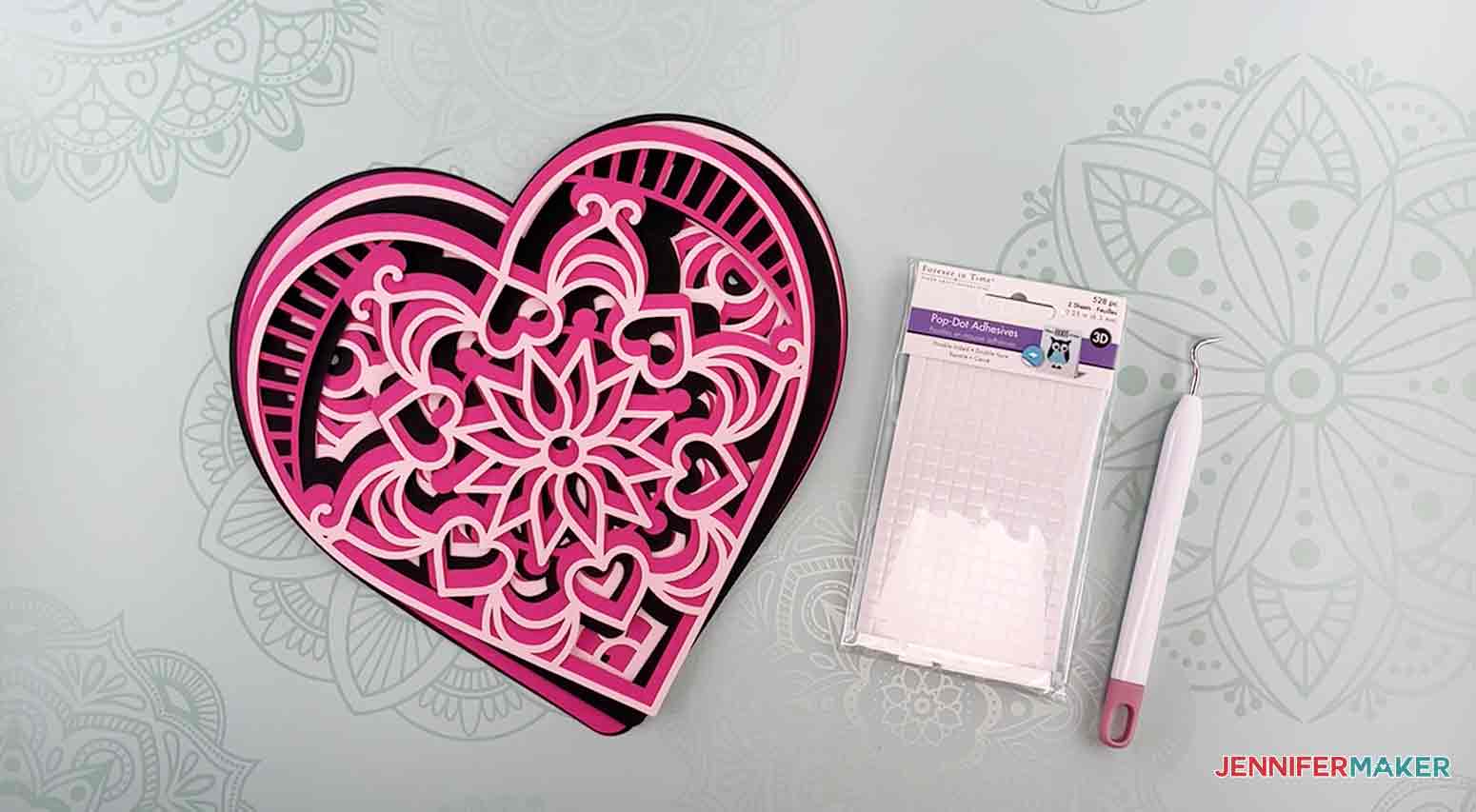 Begin by placing the foam adhesive squares on the back of the fifth layer.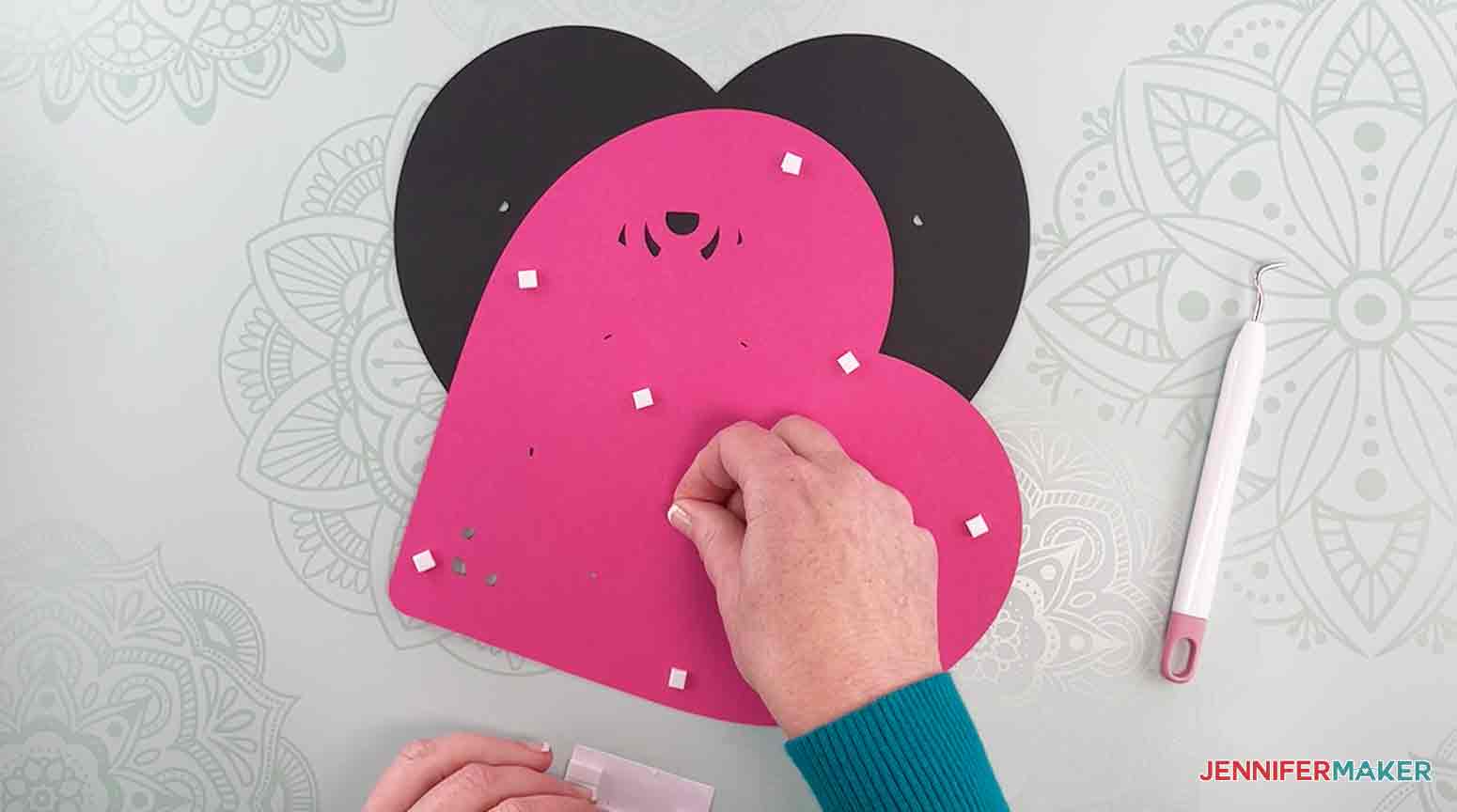 Place layer five on top of layer six.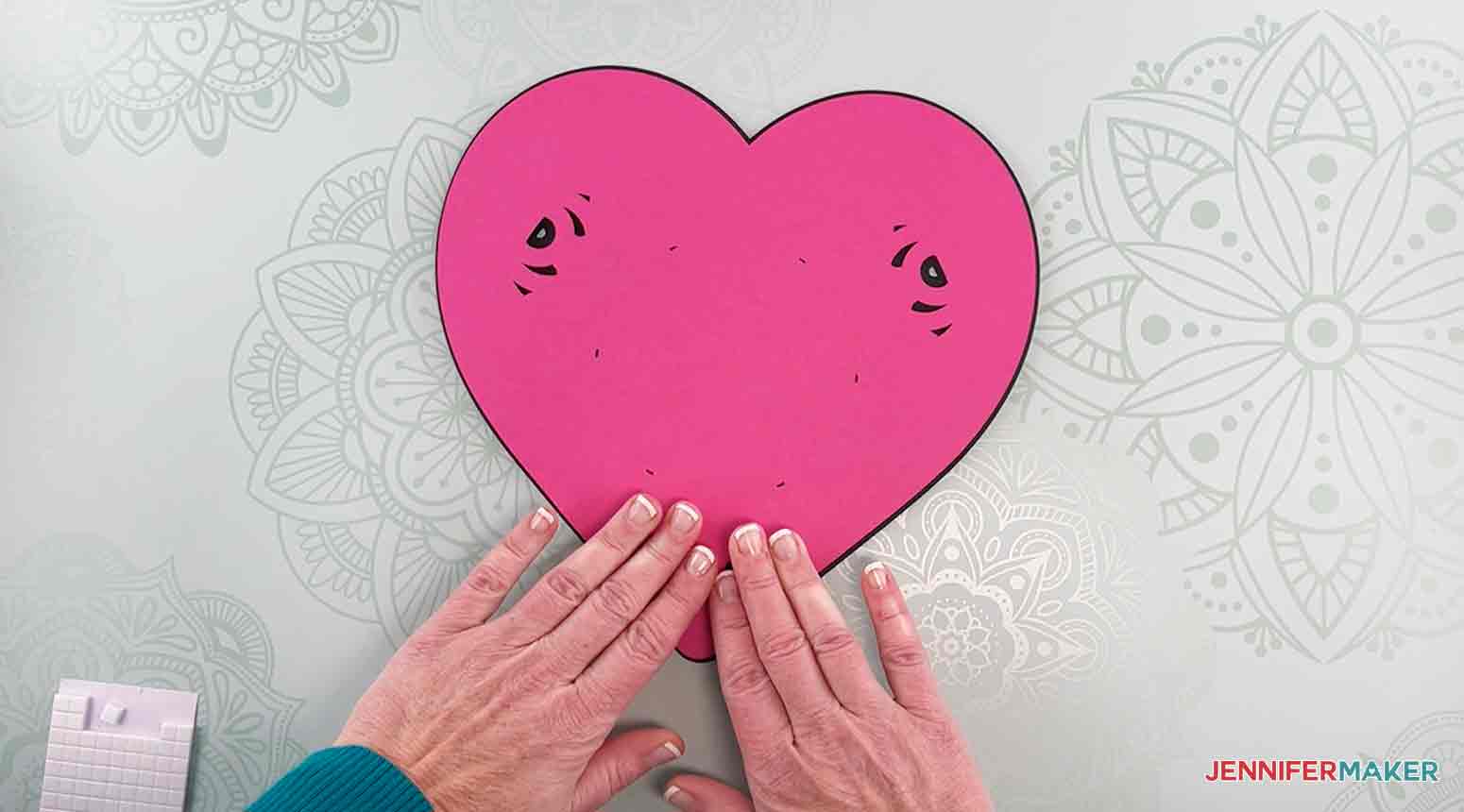 Get layer four and add foam adhesive squares.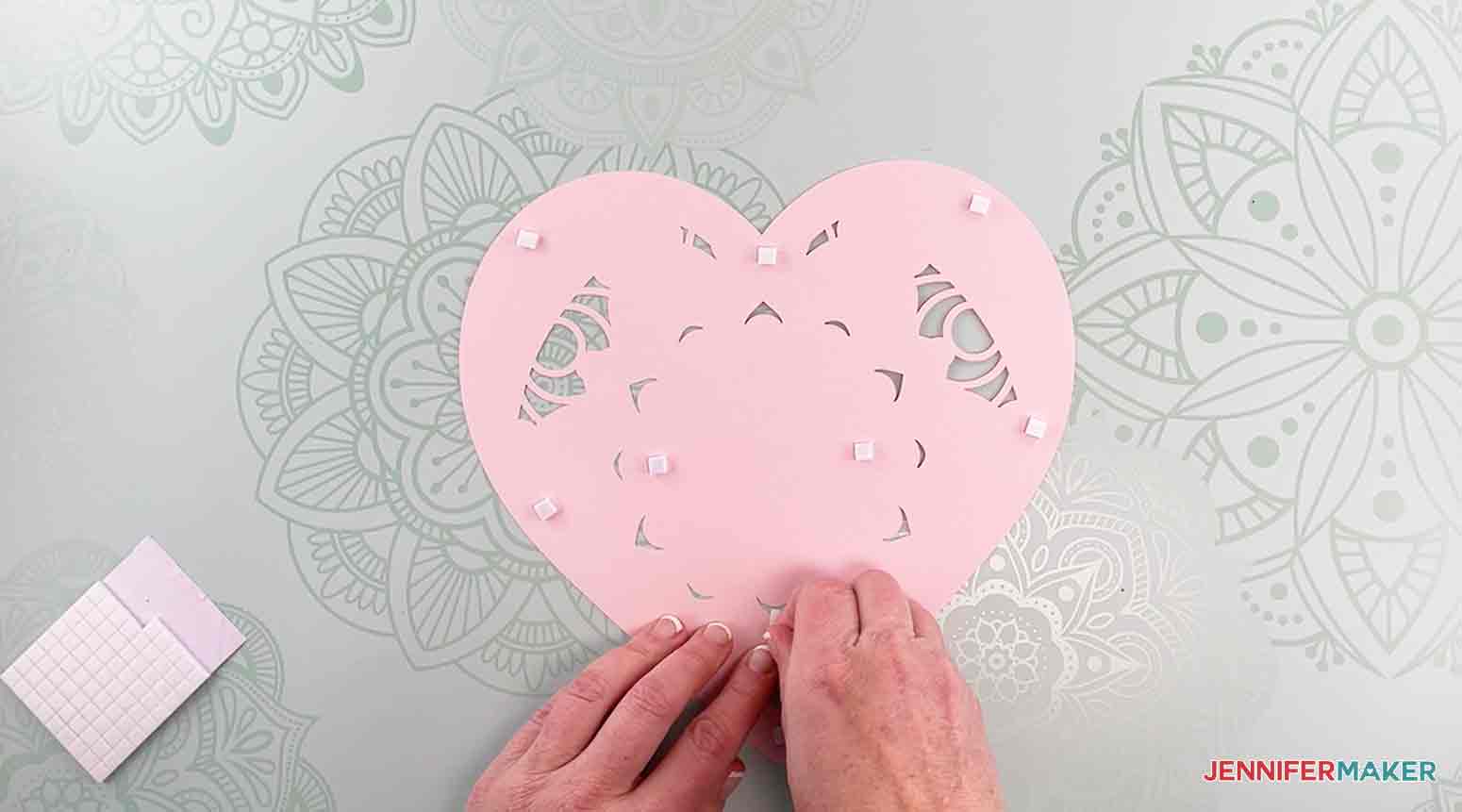 Place layer four on top of layer five.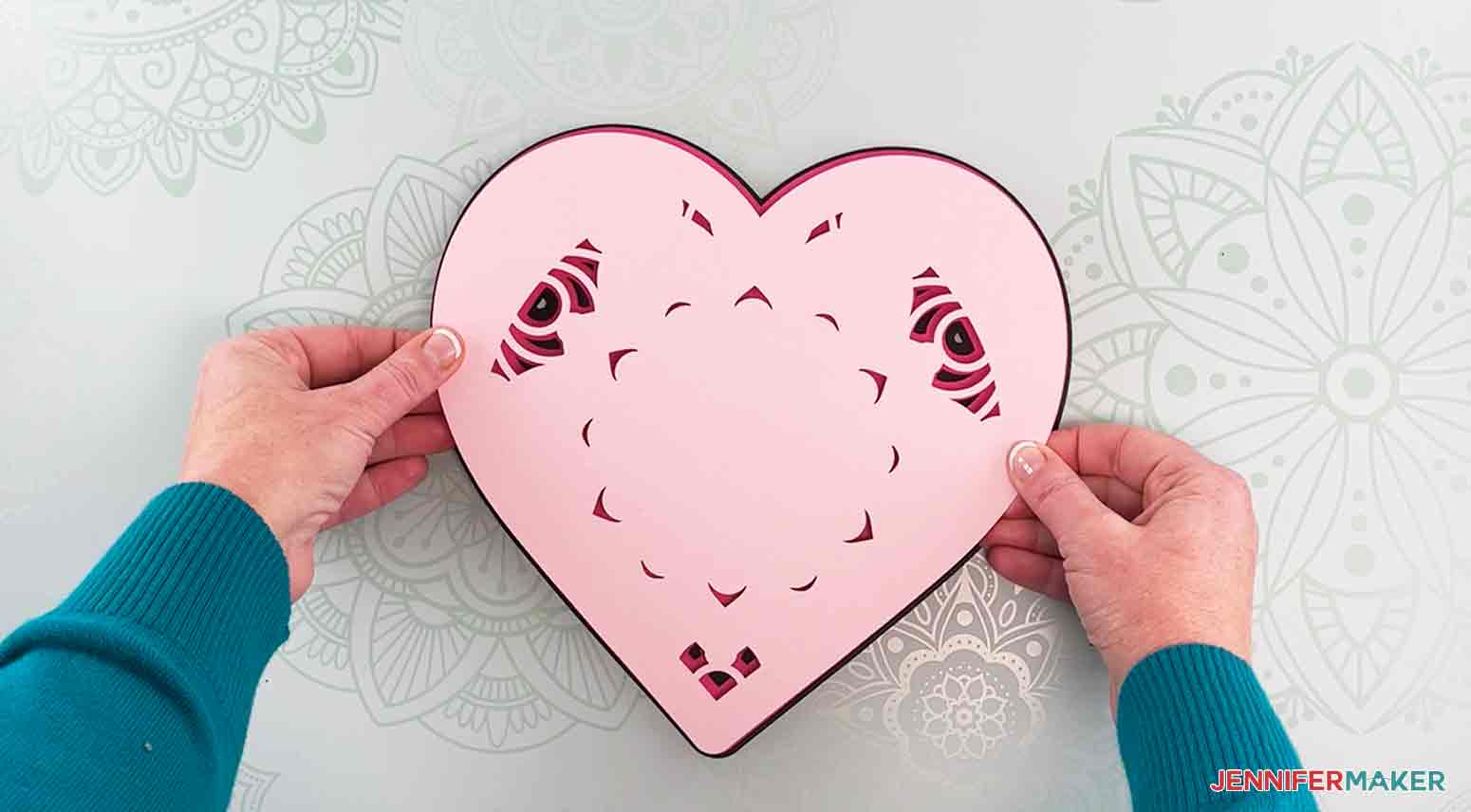 Add foam adhesive squares to the back of layer three.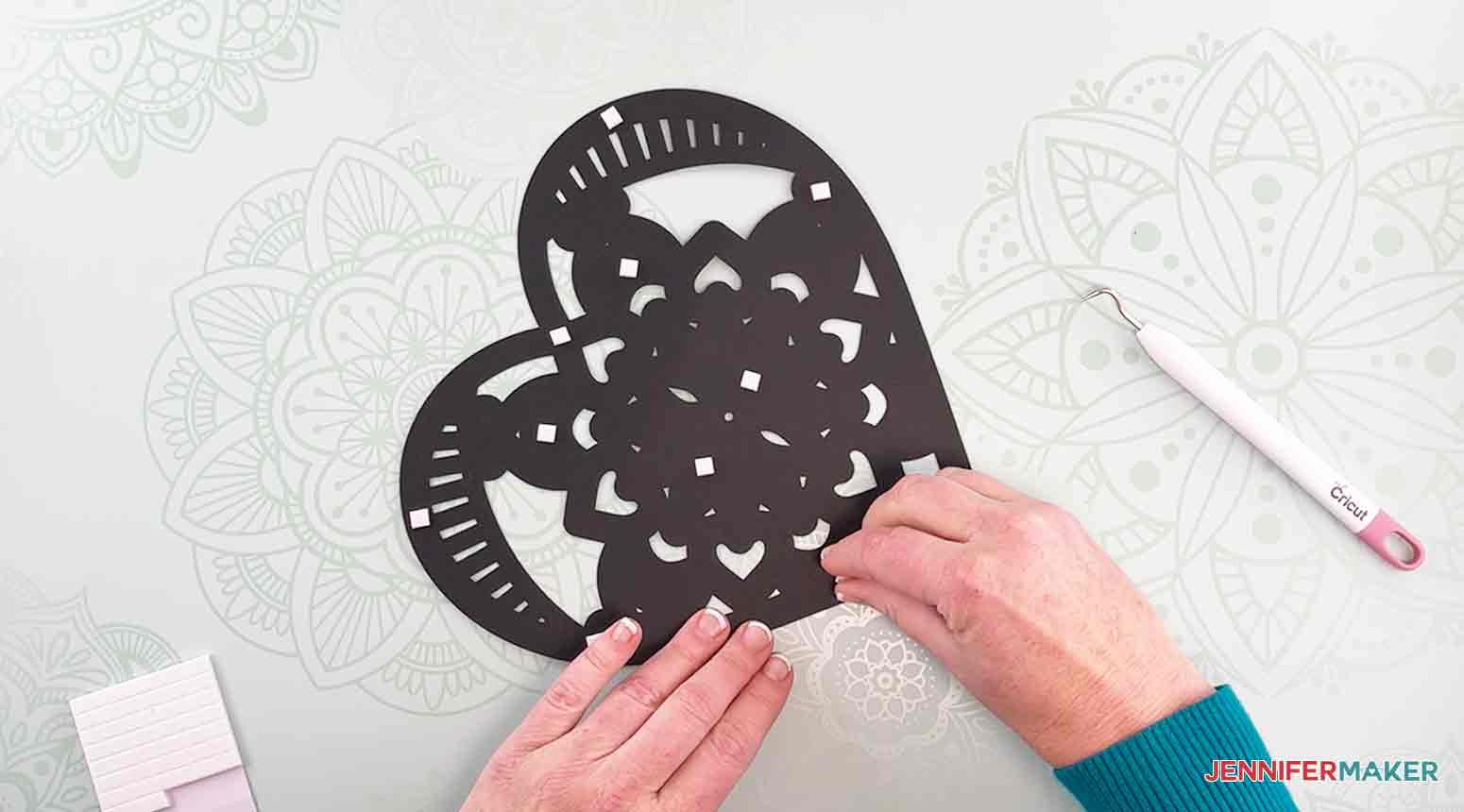 Place layer three on top of layer four.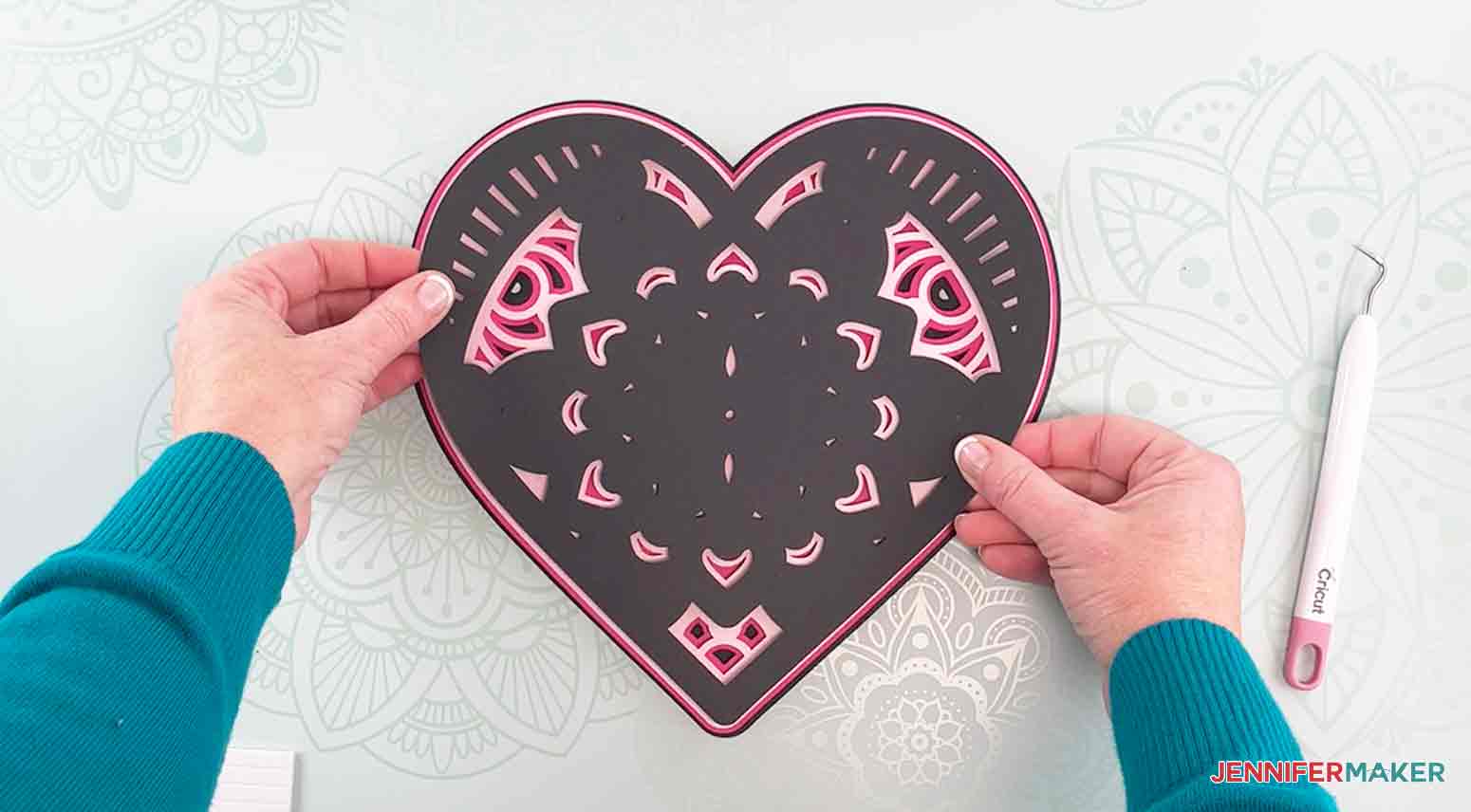 Add the foam adhesive squares to the back of layer two.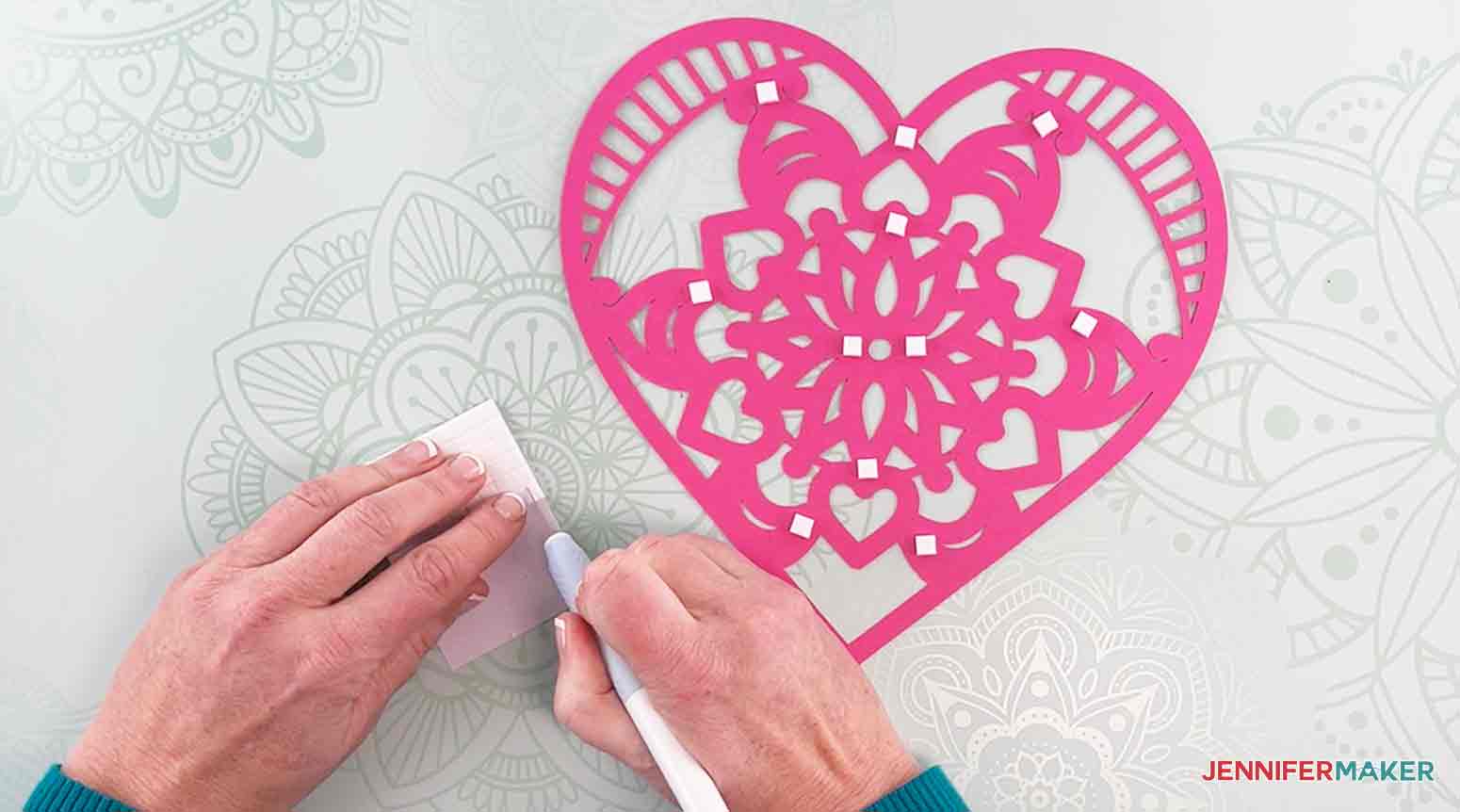 Place layer two on top of layer three.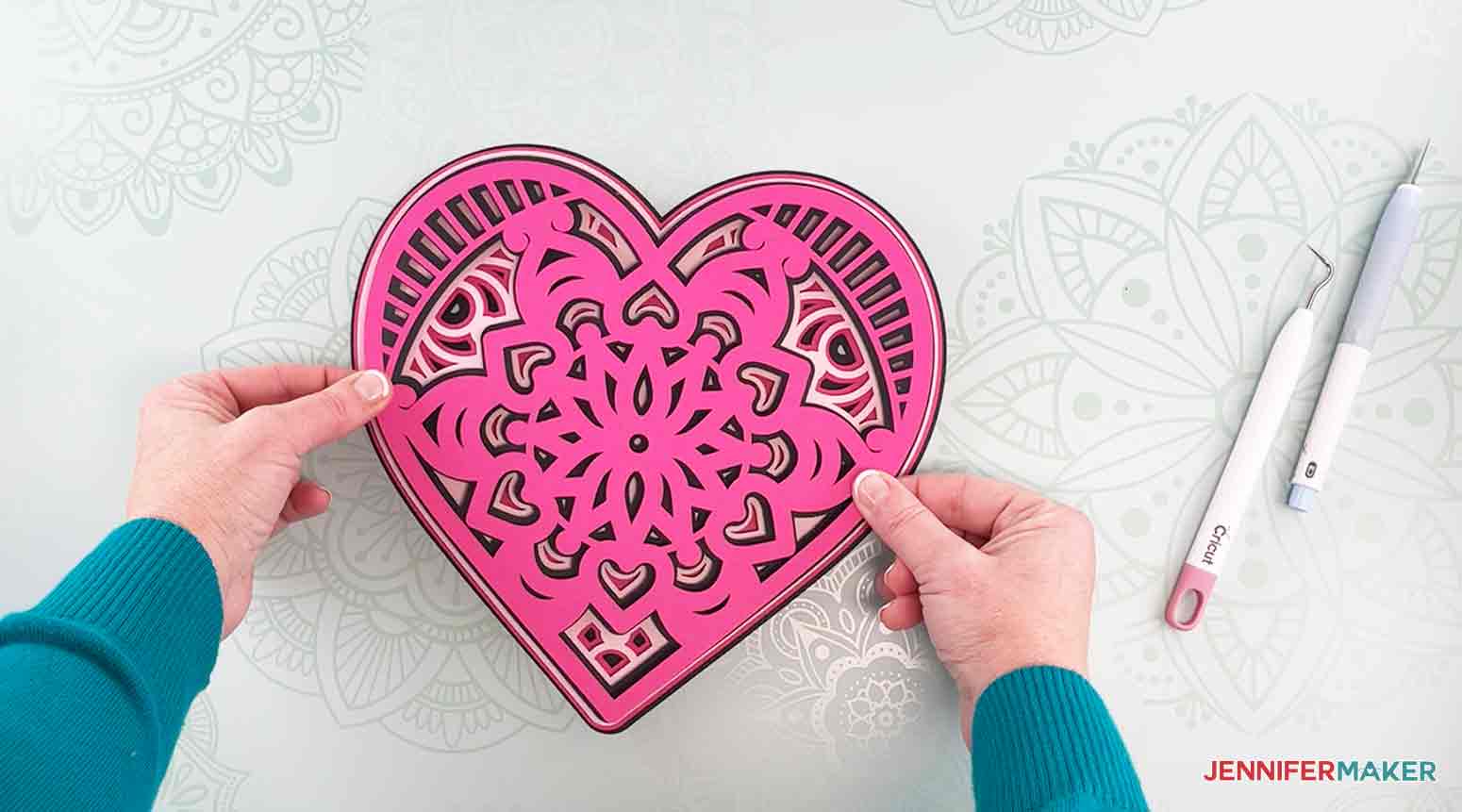 For layer one, you will find it necessary to cut the adhesive foam square using a craft knife to make thin strips so the foam adhesive does not show.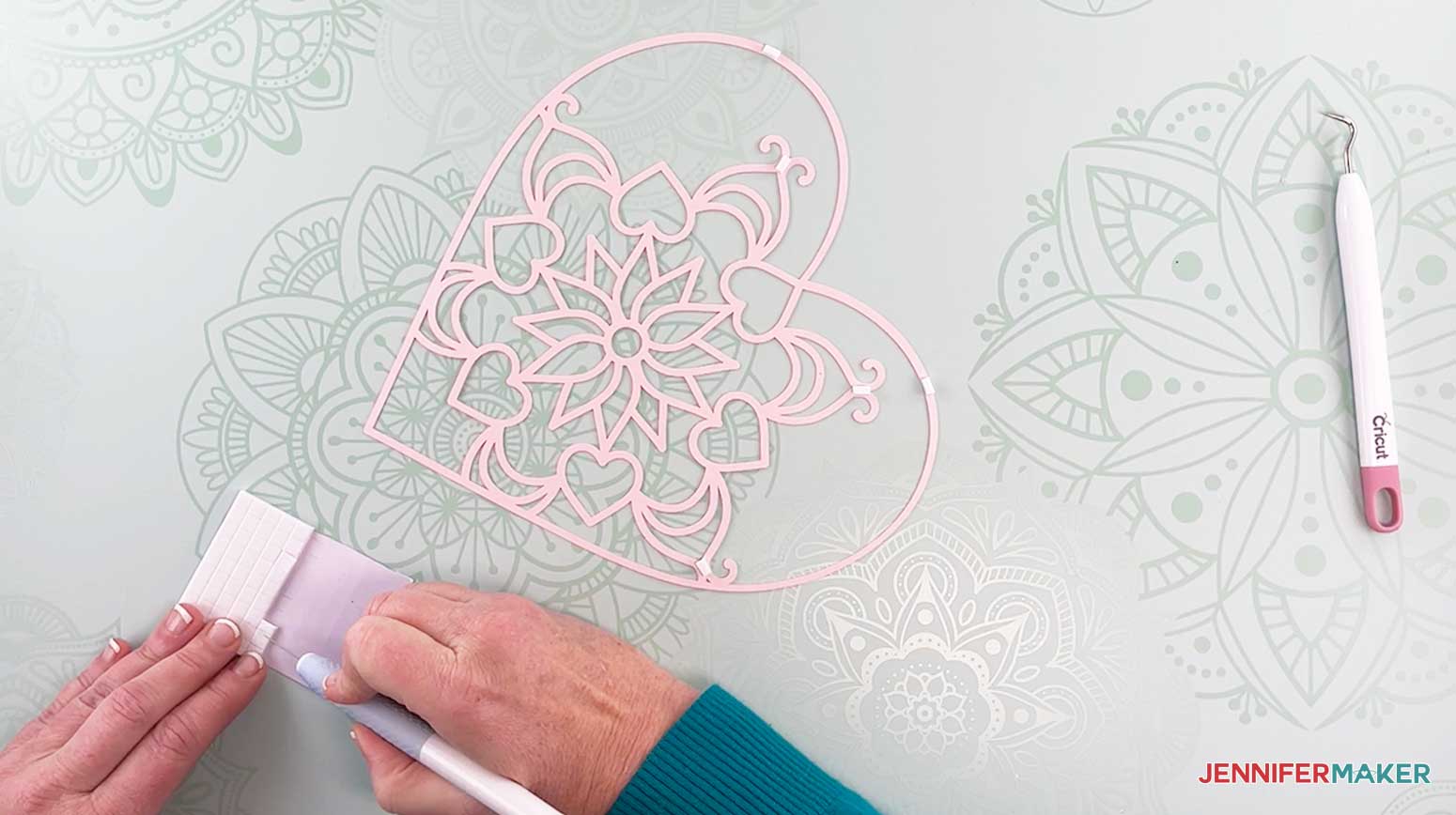 Align and place layer one on top of layer two.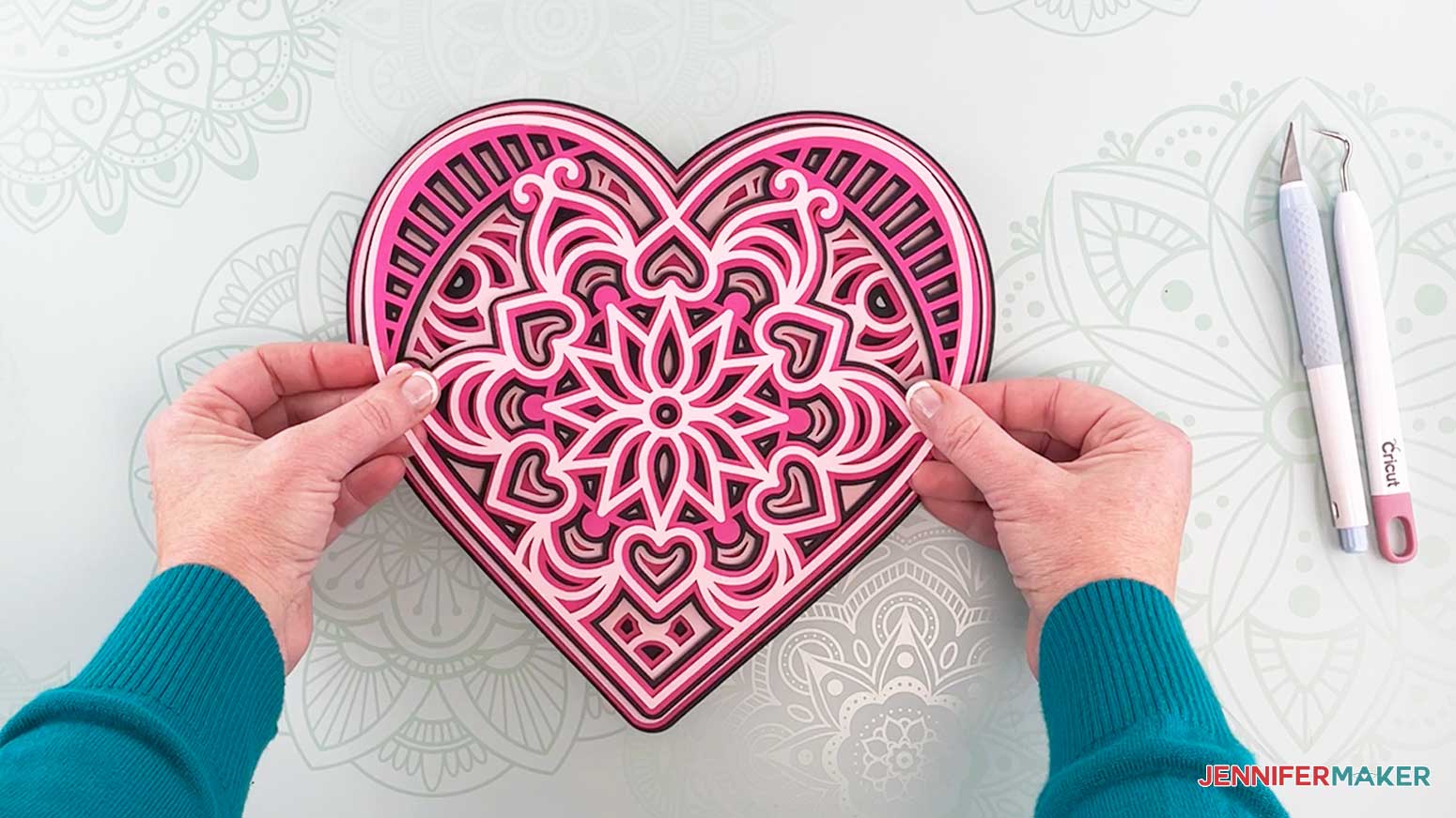 I added my heart mandala to a shadow box frame. I used the same adhesive foam squares and added them to the back of the mandala.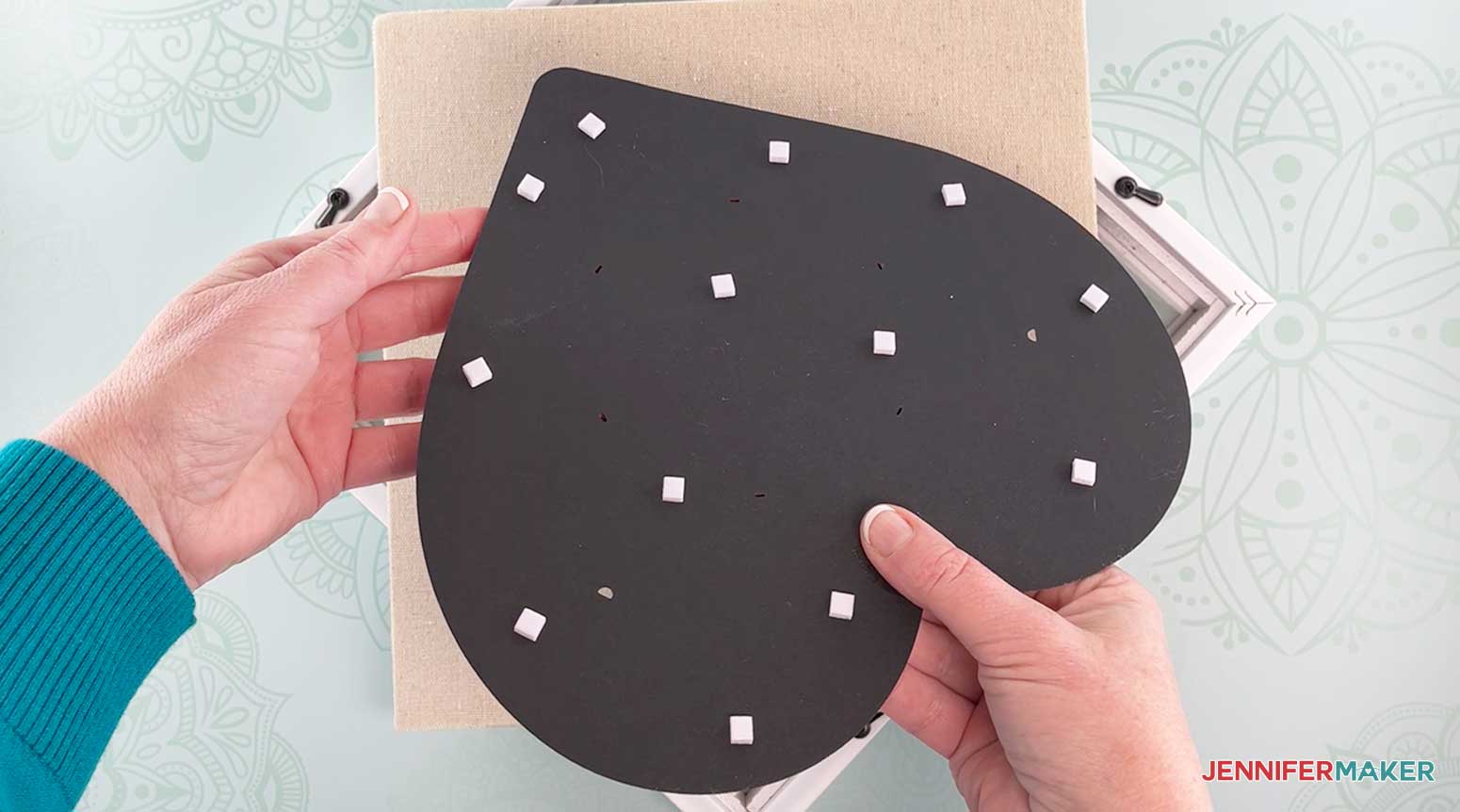 Note: You may want to use more than I did, as I noticed later that my mandala had slipped a little. So be really generous with the adhesive!
I then centered the heart mandala onto the back of the frame.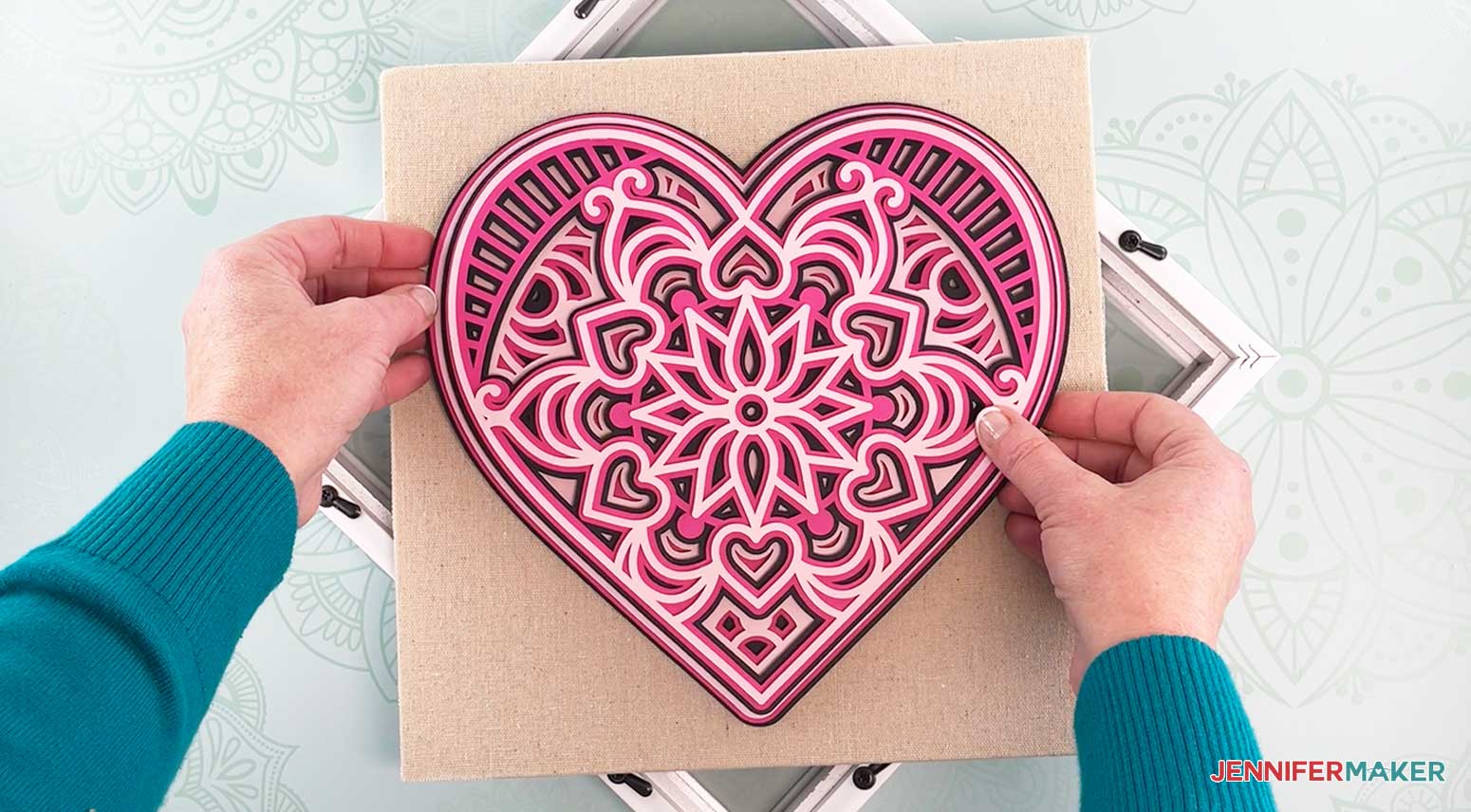 And this is what my finished Layered Heart Mandala looks like framed.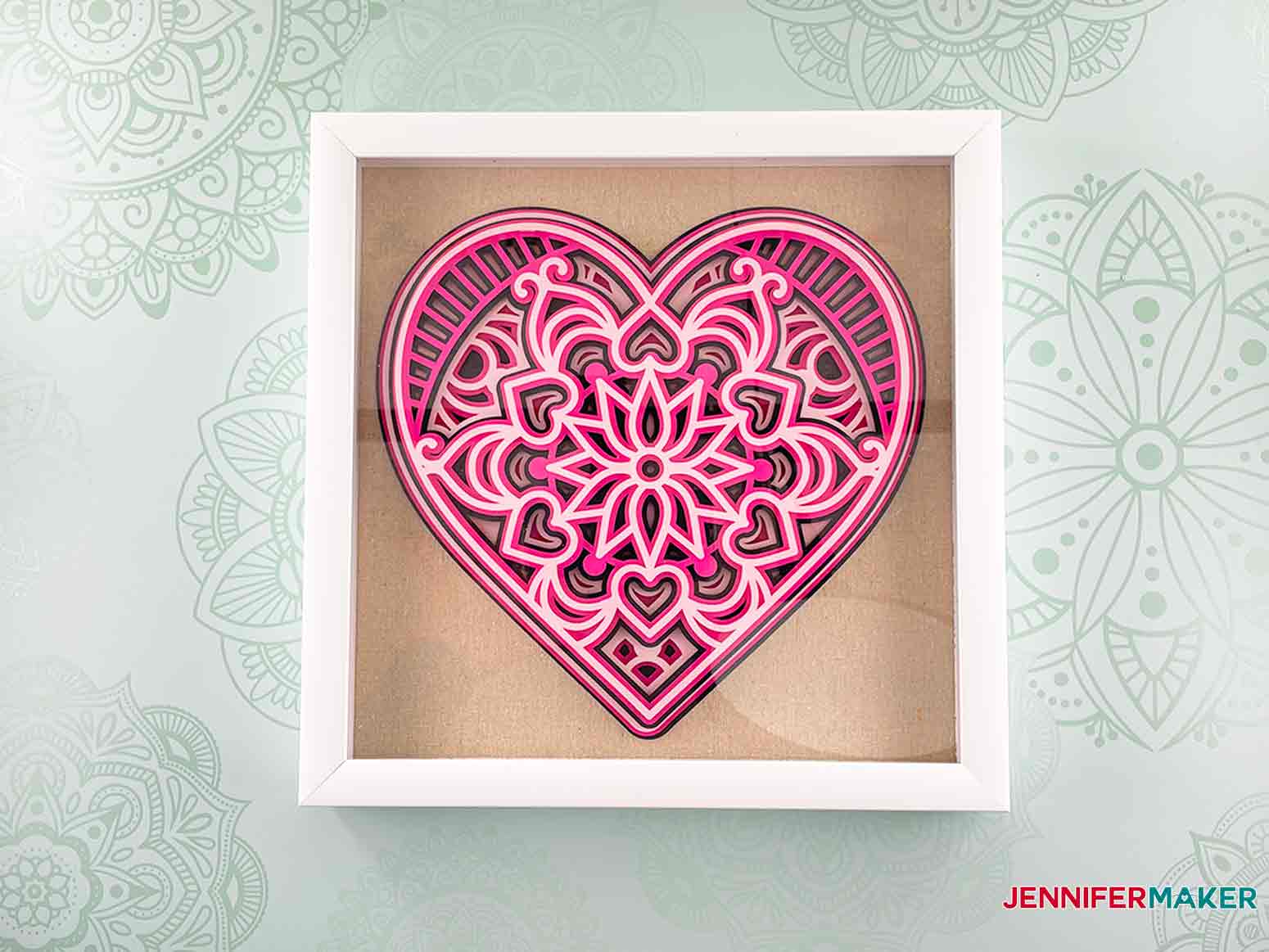 I've also included design files to cut four smaller heart mandalas. Here is what these look like. Which do you like better?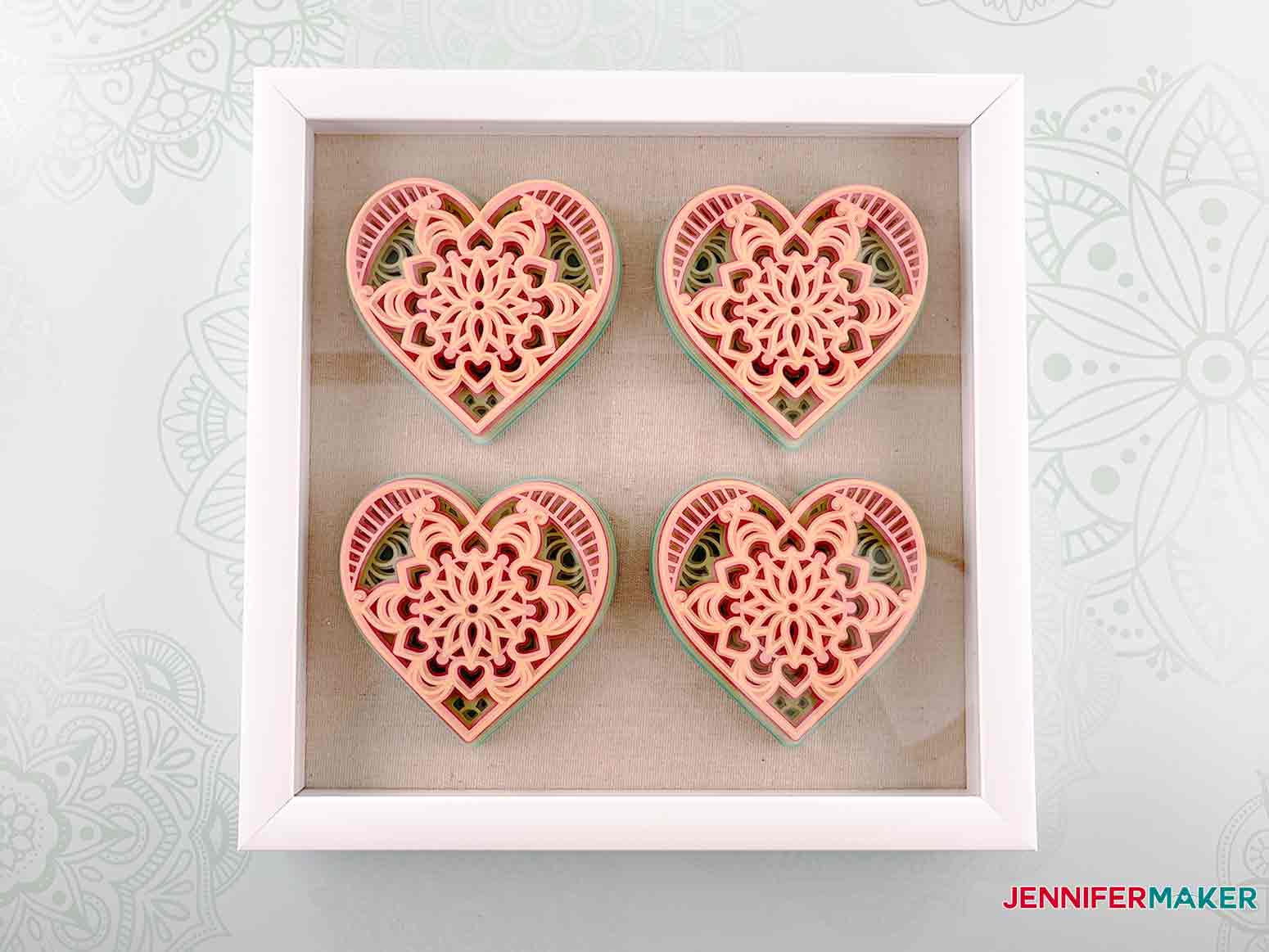 For the smaller heart mandalas, you'll need to cut the foam adhesive extremely small for the first layer using a craft knife. As an alternate you could glue this layer instead.
STEP 4: Show it Off
Where will you display your heart mandala? This project makes a nice gift for a special loved one.
Notes
Finished size of the large mandala is 9.79" wide by 9.495" high
Finished size of the four smaller mandalas as a group are 9.241" wide by 9.027" high

ACKNOWLEDGMENTS
Special thanks to the JenniferMaker Design Fairy Team, specifically Design Fairy Caitlin, for helping me design and assemble this awesome design.
Recommended Products
As an Amazon Associate and member of other affiliate programs, I earn from qualifying purchases.
Answers to Your Questions About Making a Layered Heart Mandala
Q: Would this layered heart mandala work on any other cutting machines like a Brother Scan N Cut?
Yes, our patterns work on ANY cutting machine that can read SVG or DXF files — many people with Scan 'N' Cut machines have cut my designs.
Q: Can I cut this on a Cricut Joy?
Yes, just resize the grouped layers in the large file (they are grouped by default) to 4.5″ or less and you can cut it on your Joy!
Q: What kind of cardstock can I use for the heart mandala?
You can use any quality cardstock. I used 80 lb. cardstock for this project but you can use anything from 65 lb. to 100 lb. cardstock.
Q: How do you know what colors to use?
This is a perfect project to bring out your personality and creativity! Have fun and see what combinations you can come up with that fit your home and style! Experiment in Design Space to find the color combinations you like best.
Q: What kind of adhesive will work best?
I used foam mount on this 3D paper layered heart mandala. Glue dots ("zots") or foam tape can work too! You just want something with some depth so it stands up off each layer.
Get my free SVG files to Make a Layered Heart Mandala
I know you're going to LOVE this layered heart mandala, and I can't wait to see all of your color variations! Please do share a photo of your mandala in our Facebook group or tag me on social media with #jennifermaker.
Love,