Make a fun explosion box card to surprise someone special! This is a great way to share memories and even hide cash surprises inside the "exploding" box!
An explosion box is a paper box that "explodes" open when you lift its lid. What that really means is when you open it up, the sides fall down, usually revealing little notes, photos, or sentiments. I've had a number of you ask me to do a tutorial on explosion boxes because they seem complicated, but — good news! — they are actually quite easy. Explosion boxes come in many different shapes, sizes, and styles. I have another great themed explosion box to check out, too, depending on what you want to make! Today, I'm sharing a basic explosion box card tutorial and template that you can use to make many different types and styles.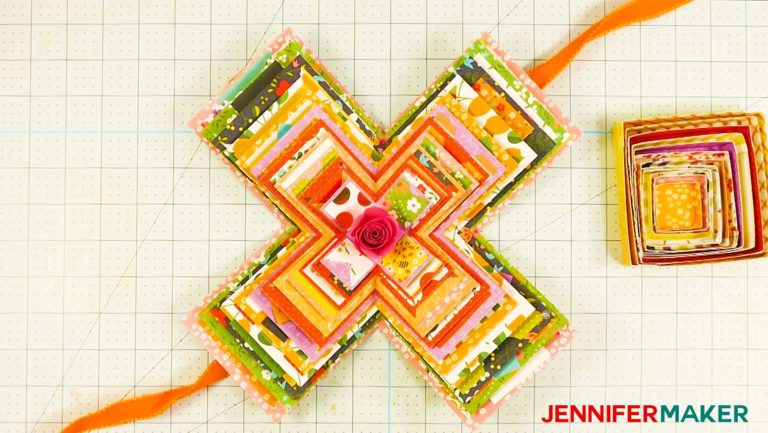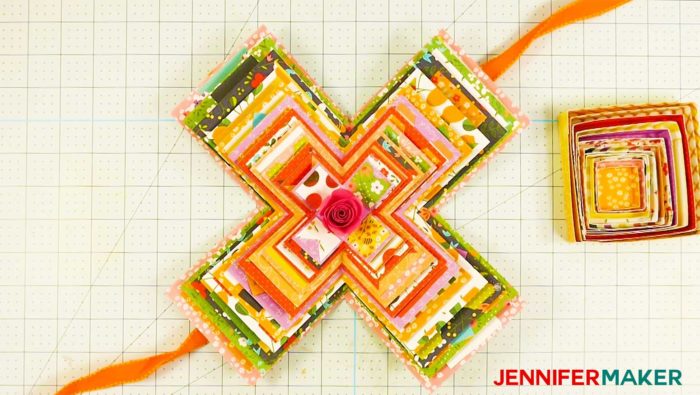 In fact, to make my explosion box as useful as possible to you, I've created what I'm calling the Endless Explosion Box. So the idea is that when you lift the lid, you find another box, and another box, and another box, and so on. My design has 12 boxes in all. So you can make them all and stack them together, or just pick and choose the sizes you want.
A special request I received for this project was to make it so the lid actually fits the box. So I paid particular attention to this and engineered each lid to fit each size box perfectly — nothing is too tight or too loose!
One of the best things about an explosion box is its just made of paper and glue. My favorite way to make explosion boxes is to use these pads of coordinating cardstock, especially ones like this double-sided stack. Not only do I know all the patterns and colors go together, but these paper stacks often include little cards and sentiments that I like to use for decorating the boxes. And I can get 3-4 endless explosion boxes out of one pad with 36 sheets of 12 x 12 paper.
Many thanks to the readers and viewers who requested I design an exploding box card (Donna B., DJarris, Pamela J., Cathi N., Julia, Theresa, Aurora M., Shawna, Chris P., Janice H., Randi Mi., Dawn W., Bonnie P., and Rosemarie M.).
Key concepts taught in the video tutorial include how to set score lines, how to sync colors, how to consolidate elements on fewer mats, how to prepare mats for cutting faster, and how to assemble an exploding box.
See exactly how to make an explosion box card in this step-by-step video below:

NOTE: I updated the SVG cut file since this video was made and it's now a simple upload-and-go project — the score lines are already set and attached to the layers. There's no need to do anything other than possibly resize the project if you wish.
Let's make an exploding box card! This post contains some affiliate links for your convenience (which means if you make a purchase after clicking a link I will earn a small commission but it won't cost you a penny more)! Read my full disclosure policy.

Materials for Exploding Box Card
At least 8 sheets of 12″ x 12″ cardstock (I recommend getting a stack of double-sided coordinating cardstock — I used this exact stack of cardstock)
Tacky glue
A way to cut your paper (I used the amazing Cricut)
Design #131 – My free SVG/DXF/PDF cut files/patterns (available in my free resource library—get the password at the bottom of this post)
Note: If you want to put a paper rose in your smallest box as I have, you'll find my rolled paper rose pattern and tutorial here.
How to Make Explosion Box Cards
First, download my exploding box card design (Design #131) from my free resource library (you can get a password for it by signing up at the bottom of this page). If you're going to cut this card on your cutting machine, upload the file to your design software. If you're not sure how to upload an SVG cut file to Cricut Design Space, watch this helpful video training series I made. If you're on an iPhone or iPad, here's how to download and upload SVG files to the Cricut Design Space app.
NOTE: When you insert the image in Design Space, please verify the design size before you ungroup. (If you are using an iOS device, you need to edit the design size.)
Size: 16.996″ W x 11.317″ H
IMPORTANT: The video linked above explains that you will need to set and attach the score lines, but that is no longer necessary — I updated this file and pre-set and pre-attached the score lines for you, so now all you need to do is upload the SVG, check the size (and resize if you wish), and click "Make It Now."
To learn more about how to create the exploding box card, watch the
video
linked above!
Get my free SVG cut files for the Explosion Box Card
If you use my exploding box card design, please share a photo in our Facebook group, email it to me at [email protected], or tag me on social media with #makershowandtell.
If you love exploding boxes and are ready for a new challenge, check out my heart explosion box template!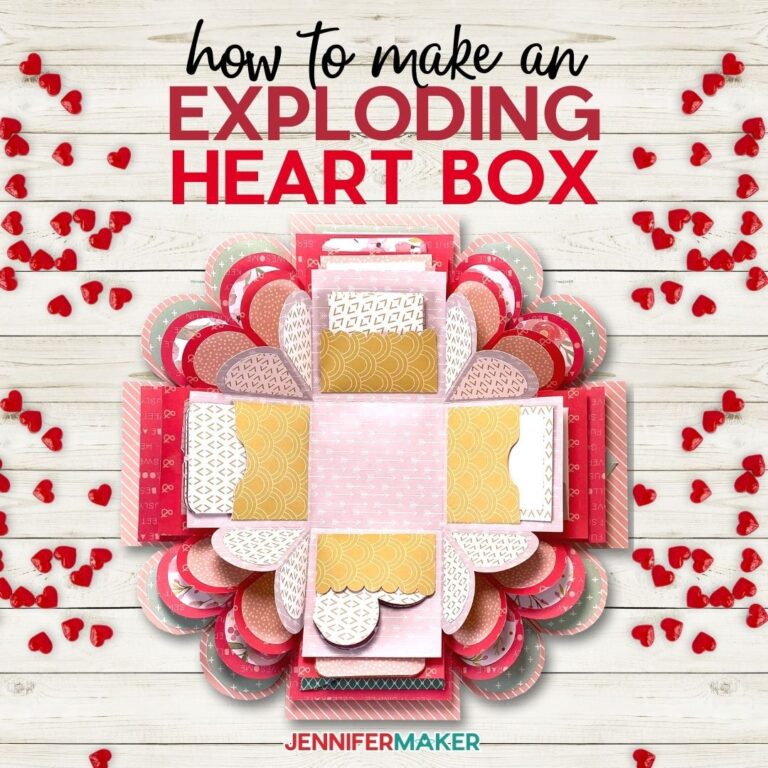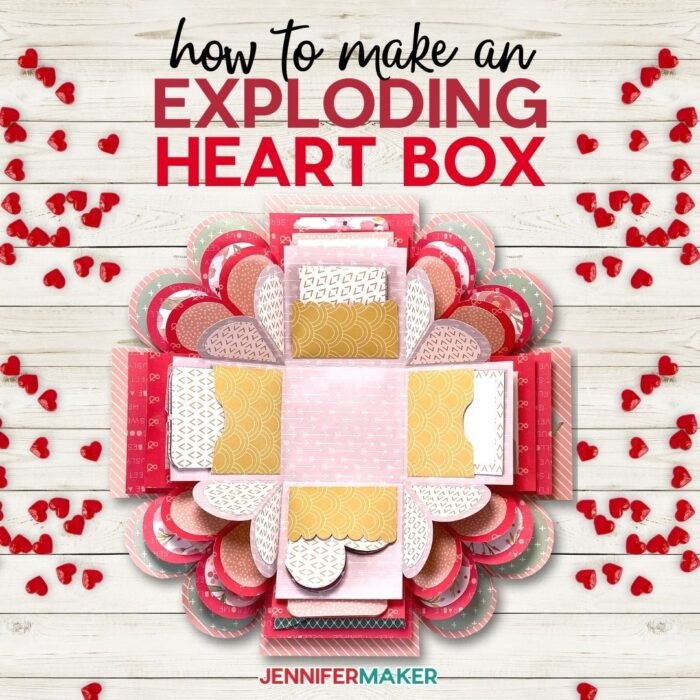 Love,