I'm going to show you how to transfer a photo or favorite print to wood! It's a super inexpensive way to make a beautiful project that's sure to impress!
And because I love to test things, I tried a bunch of different types of wood, printers and methods, and I'm sharing the exact supplies, tools and techniques for the BEST photo transfer results every time.
I'll also show you how to take it a step further by adding a little vinyl message to your wood!
This project is SO budget-friendly, beginner-friendly and the best part, I promise, whoever gets it will be super impressed! I mean, seriously, how can you not be impressed with a photo transferred into wood?
Here's what I'm talking about. Isn't this so cool? It's a picture of Greg and I on a beautiful piece of wood!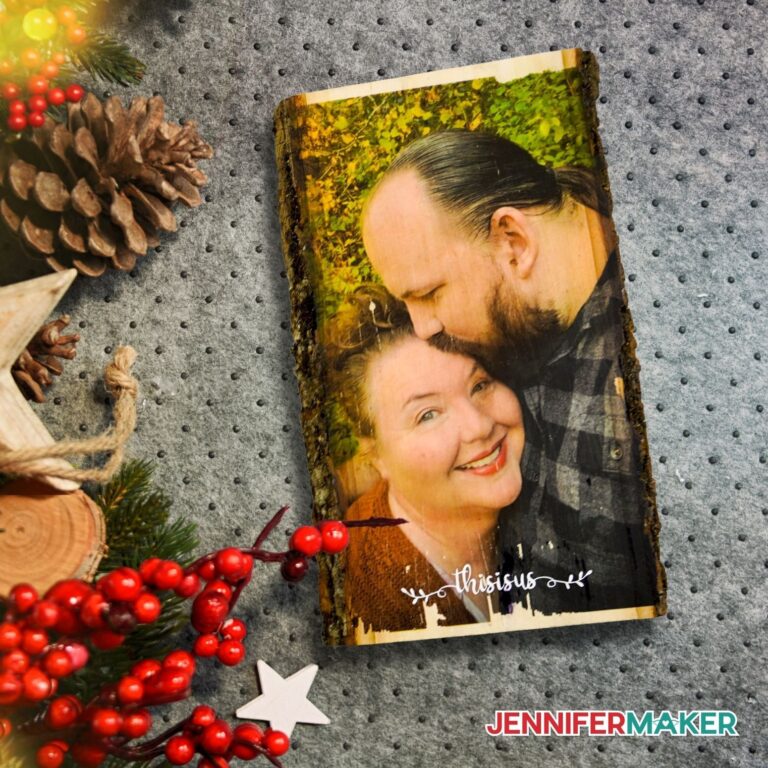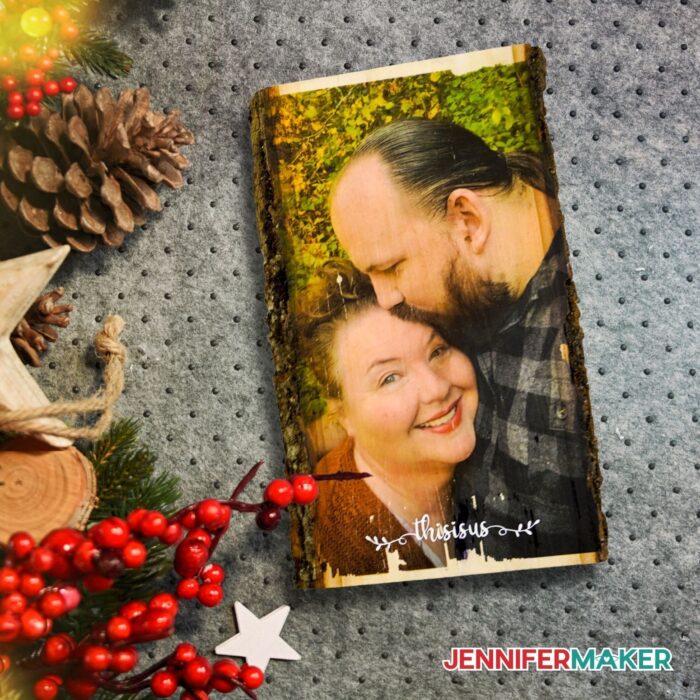 It doesn't get more personalized than this! And you are not going to believe how easy this is to do.
But you can use this technique with ANY image. Here is a snowman sign I made in the same way — it's super cute as a gift for the holidays or even to hang in your home for some festive holiday decor!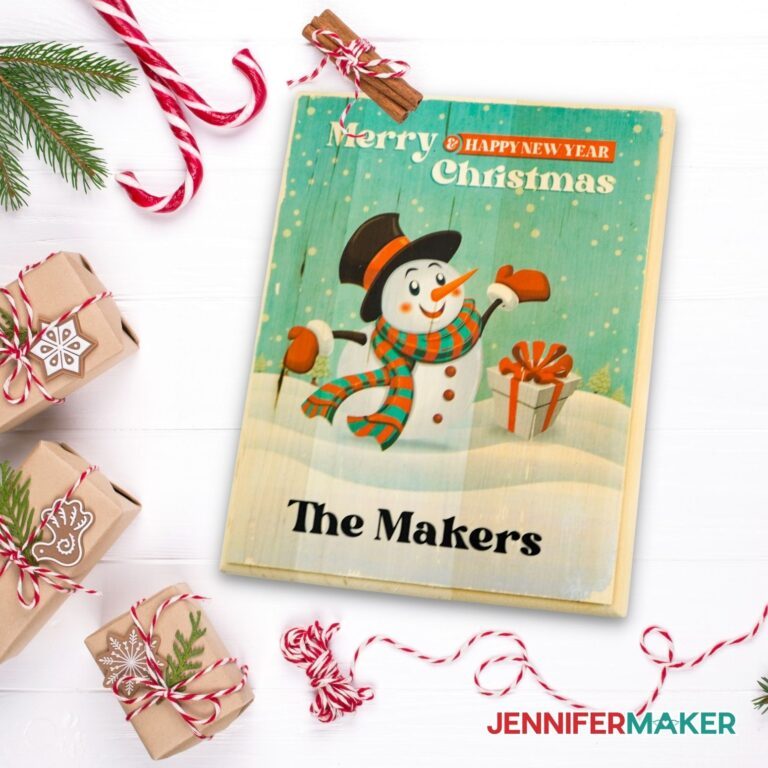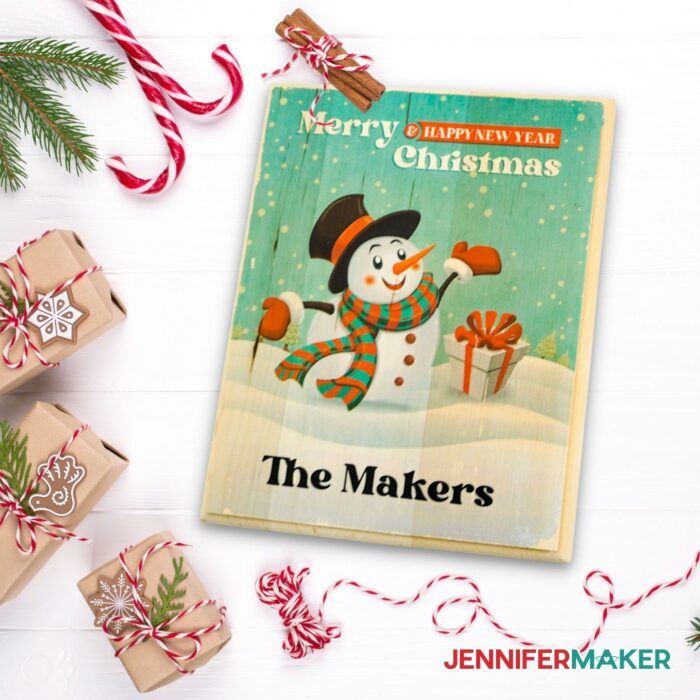 To make this project, we will first need a piece of wood. And the type of wood is important, you don't want to use wood with any type of finish or your image won't transfer. It's best to use soft wood. I'm using basswood, but you can also use natural pine. The most important thing is that your wood is unfinished. You will also need an image, like a special print or photo, printed on light-weight 20 lb. white copy paper.
To print my photos and images, I used a color laser printer. You can use an inkjet printer, but with less vibrant results.
Another super important part of this project is Mod Podge which is one of my favorite craft supplies because there's just so much you can do with it!
And you will need a spray sealant like Krylon UV sealer spray to seal the wood and give it a nice finish.
And let's not forget, whenever we use chemicals I always recommend using safety equipment like goggles, gloves, and a respirator if you have one — make sure to use the spray in a well-ventilated area.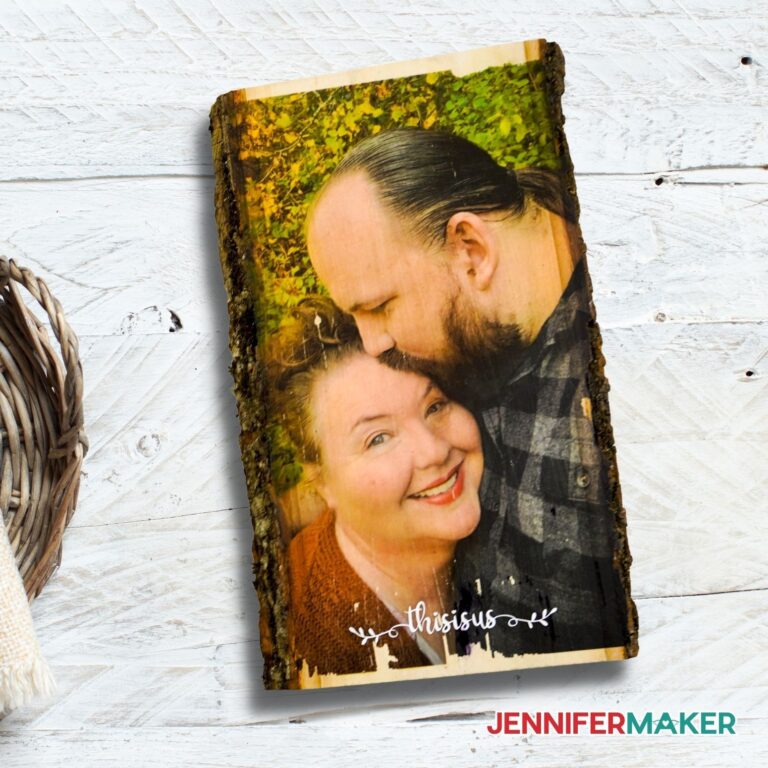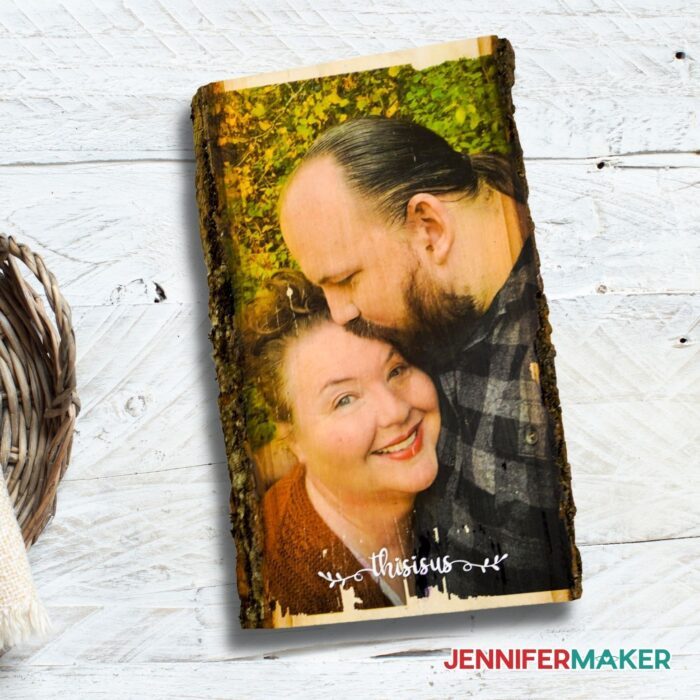 To make my project extra special I'm going to add a personal touch with a nice saying made from permanent vinyl. I will be using my Cricut Maker 3 for this, but you can use any Cricut cutting machine. And of course we will need a cutting mat, transfer tape, weeding tool, a brayer and scraper tool. If you want to speed up the drying process you can use a heat gun or hair dryer, but these are optional.
Let me show you how easy it is to make this beautiful transfer photo to wood project with my free SVGs! This post contains some affiliate links for your convenience (which means if you make a purchase after clicking a link I will earn a small commission but it won't cost you a penny more)! Read my full disclosure policy.
How to Make Your Own Transfer Photo to Wood Project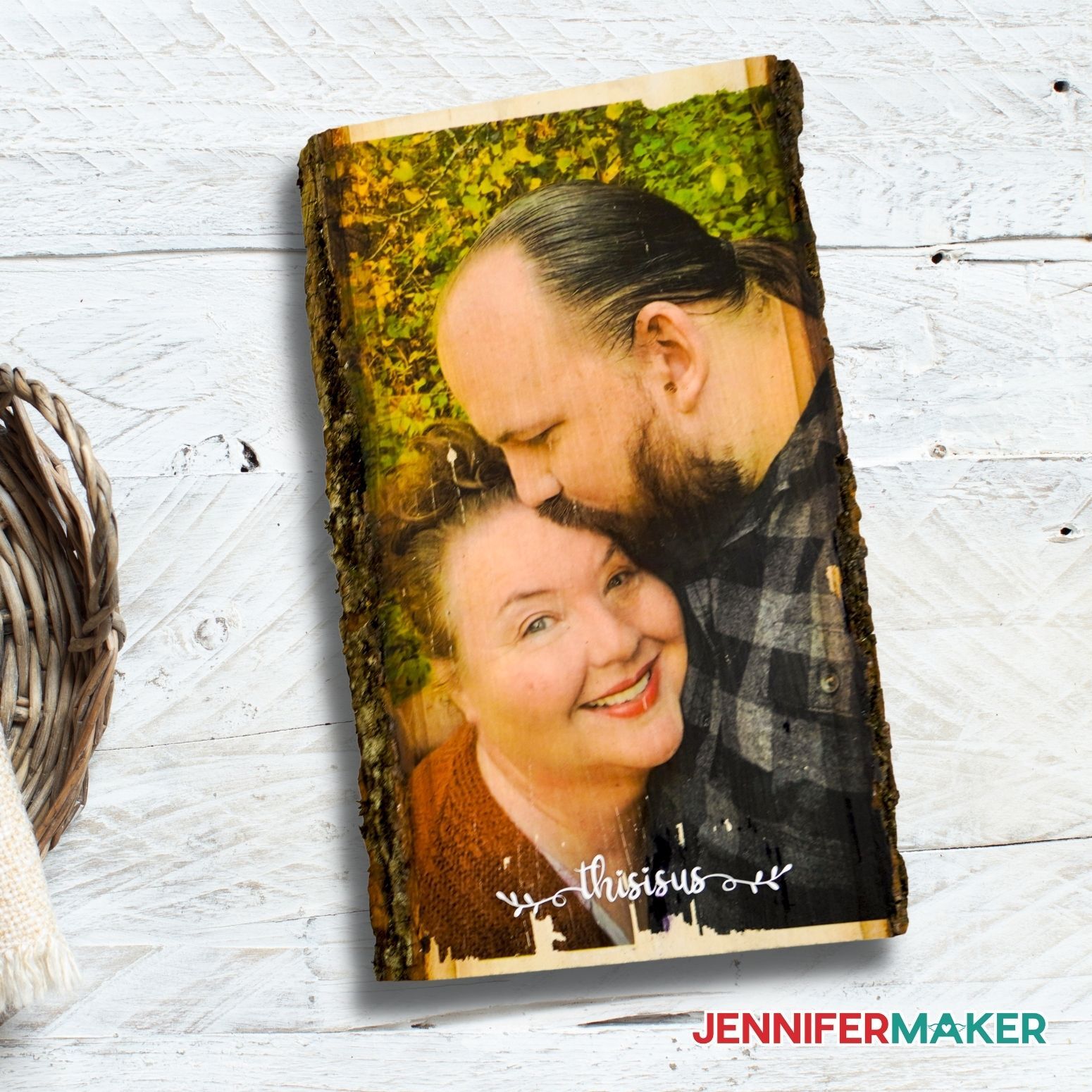 Transfer Photo to Wood
Additional Time:
13 hours
Total Time:
13 hours
40 minutes
Difficulty:
Easy to Medium
I'm going to show you how to transfer a photo or favorite print to wood! A super inexpensive way to make a beautiful project that's sure to impress!
Answers to Your Questions About How to Make a Transfer Photo to Wood Project
Q: What kind of printer paper do I use for my photo?
You need to use a plain 20 lb. paper, not photo paper or premium paper or cardstock. In order for this technique to work, you need light and thin paper.
Q: Can I use an old photo on regular photo paper?
No, the photo paper is too thick and the ink is different.
Q: Do I have to use Mod Podge for this technique?
Yes, this is how your ink is being transferred from the paper to the wood.
Get my free SVG files to create beautiful Transfer Photo to Wood Projects
I love seeing what you make with my designs and how you use them! Please share a photo of your Transfer Photo to Wood project in our Facebook group or tag me on social media with #jennifermaker.
Love,