Learn the tricks to sublimate on slate!
Slate rock is dark, uneven, and soaks up liquid, so it's can't be fun to sublimate, right? Wrong! As long as you pick the right sublimation slate blank and use the right steps, you can create beautiful custom decor! Slate is a wonderful way to show off your favorite photos, designs, and images of every kind. Let me show you how to make it work.
Want to save this project? Enter your email below and we'll send the designs and project straight to your inbox.
See the
full step-by-step video tutorial
on how to sublimate a slate blank:
I won't deny it, sublimation slate blanks have their challenges! The natural sedimentary stone blanks aren't made with polished slate. They have chiseled imperfect edges and other natural imperfections, which I think makes them more interesting! But even with the sublimation-ready coating added on the main imprint area, the natural texture can distort images, especially full color photographs. But that's ok, adjusting your design's size and placement gives you control over the finished look.
If you're using an image with uneven edges, like my free cactus designs made using an AI art generator, leaving some of the white coating plain will create a nice border between the transfer and the rough edges of the natural stone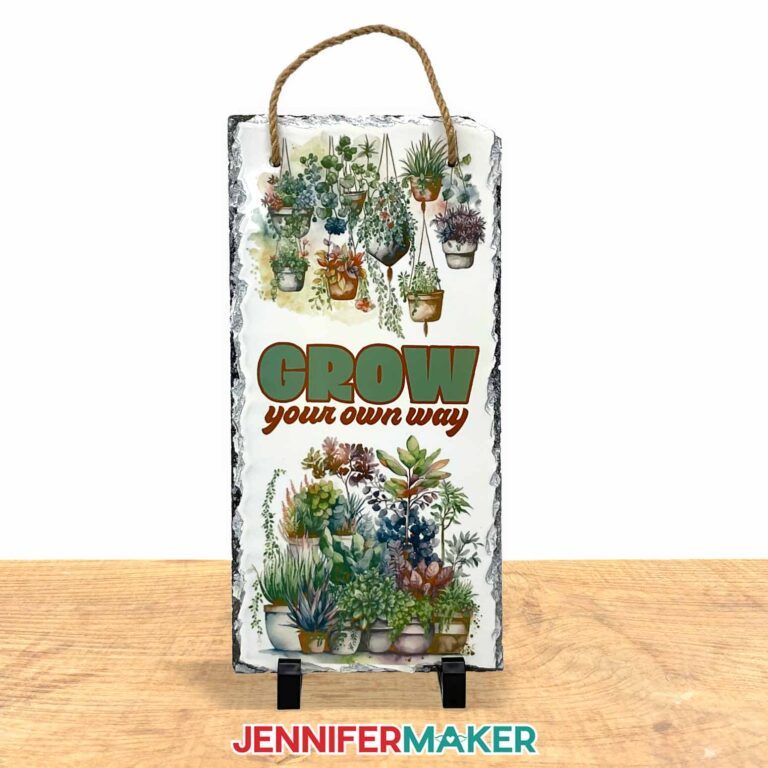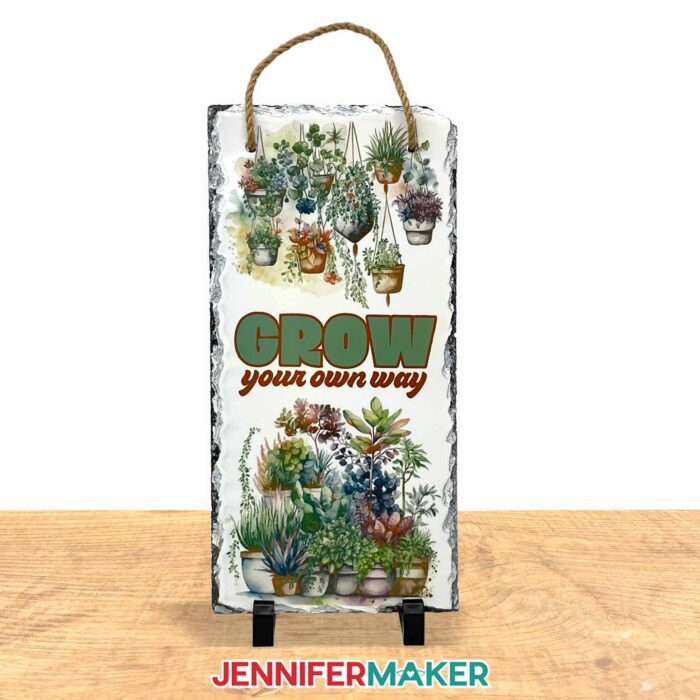 The free download includes versions with and without text so you can pick your preference.
Or, if you're using a full coverage design like a photo, print the sublimation transfer so the subject will stay on the imprint section, but the less important sections go all the way off the slate. The background ink will naturally shape to the uneven slate edges, covering all the white.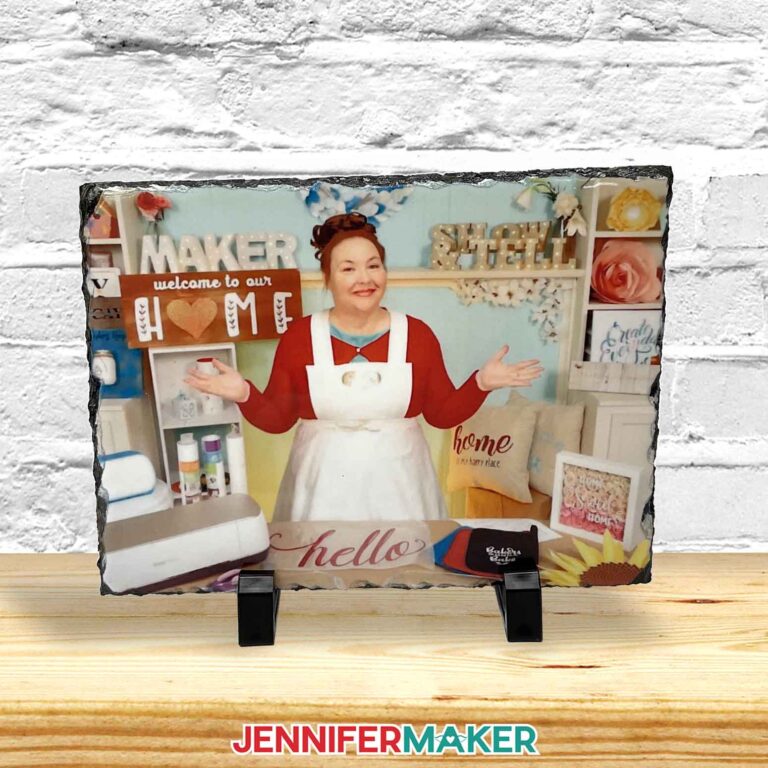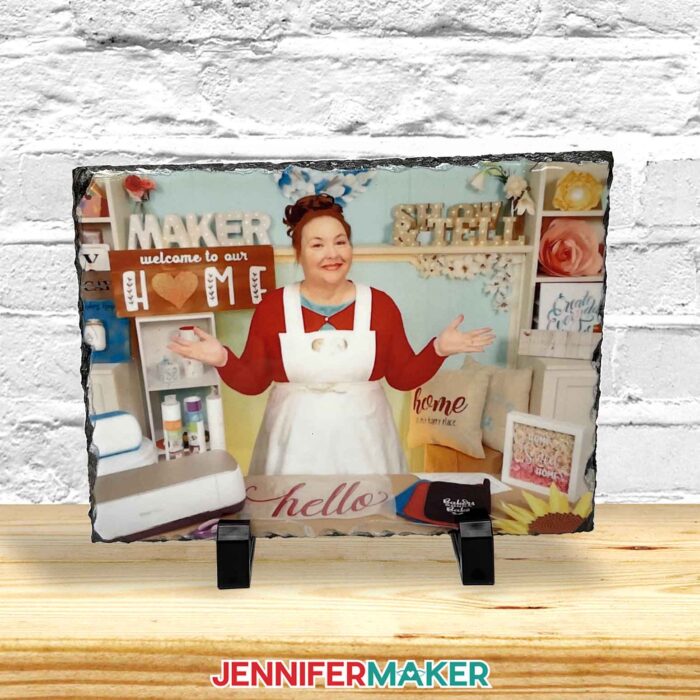 It's also important to pick the best slate size for your project and tools. While you can tile designs on sublimation slate blanks, it will be easier to overheat sections that way. That can distort the colors, unfortunately. Pressure is also important when sublimating on slate, so I tried three different heat press machines.
Pressing with the 9″ x 9″ EasyPress created crisp results, but only if I added bodyweight, which can get uncomfortable during a 7-minute press!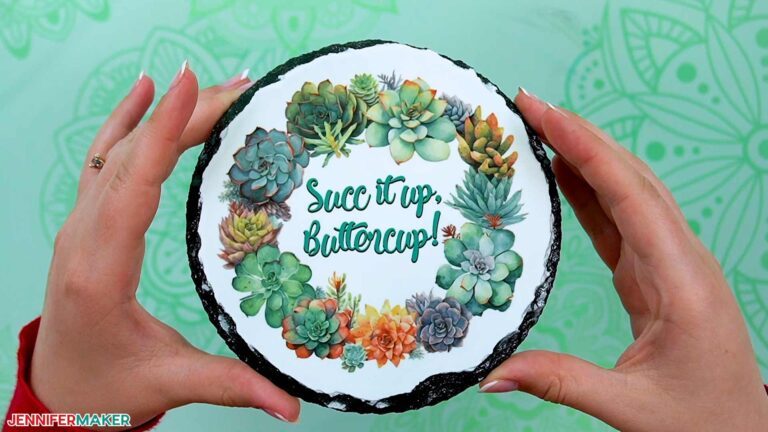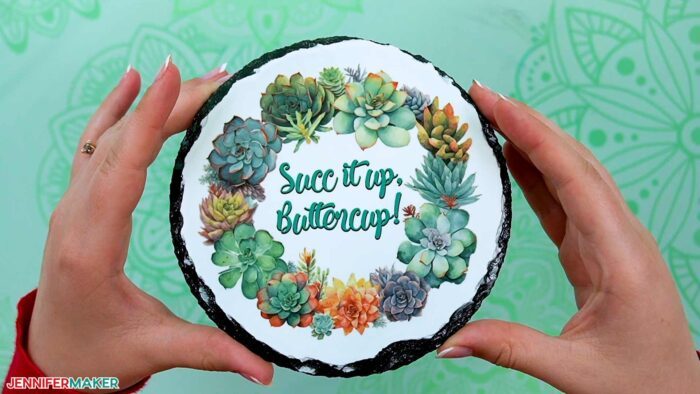 The 12″ x 10″ EasyPress is 5.5 lb heavier and created the same results without any added weight!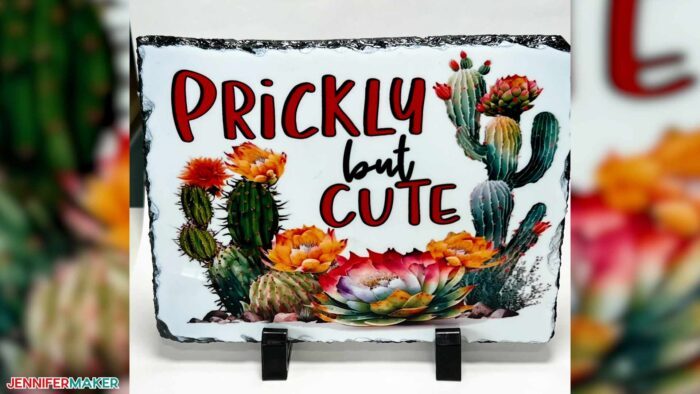 And the Cricut Autopress also produced nice results without additional weight, but I liked the concentrated heat from the portable presses a bit more.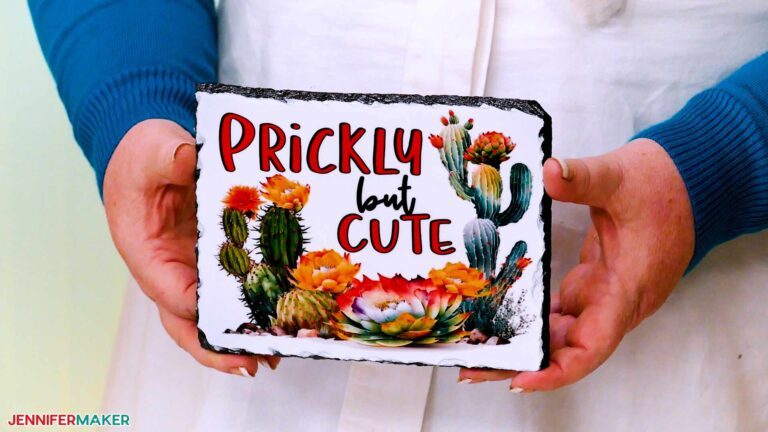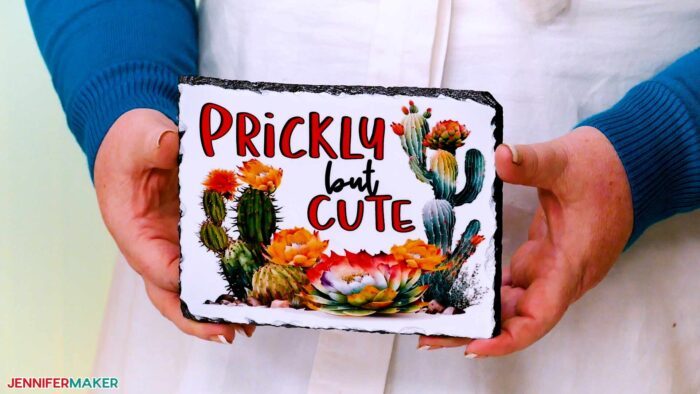 I also tested the green heat-conductive mat that is recommended for sublimation slate blanks. While I didn't get drastically different results, the mat might help even out heat if your press seems to have hot and cool spots.
I used my Epson Eco Tank sublimation printer ( a regular inkjet printer I converted into a sublimation printer) along with the best sublimation inks and paper (in my opinion) to create the high quality prints for my projects.
So, how can you personalize sublimation slate blanks? Let's learn how! This post contains some affiliate links for your convenience (which means if you make a purchase after clicking a link I will earn a small commission but it won't cost you a penny more)! Read my full disclosure policy.
Materials & Tools for Sublimation Slate Blanks
How to Personalize Sublimation Slate Blanks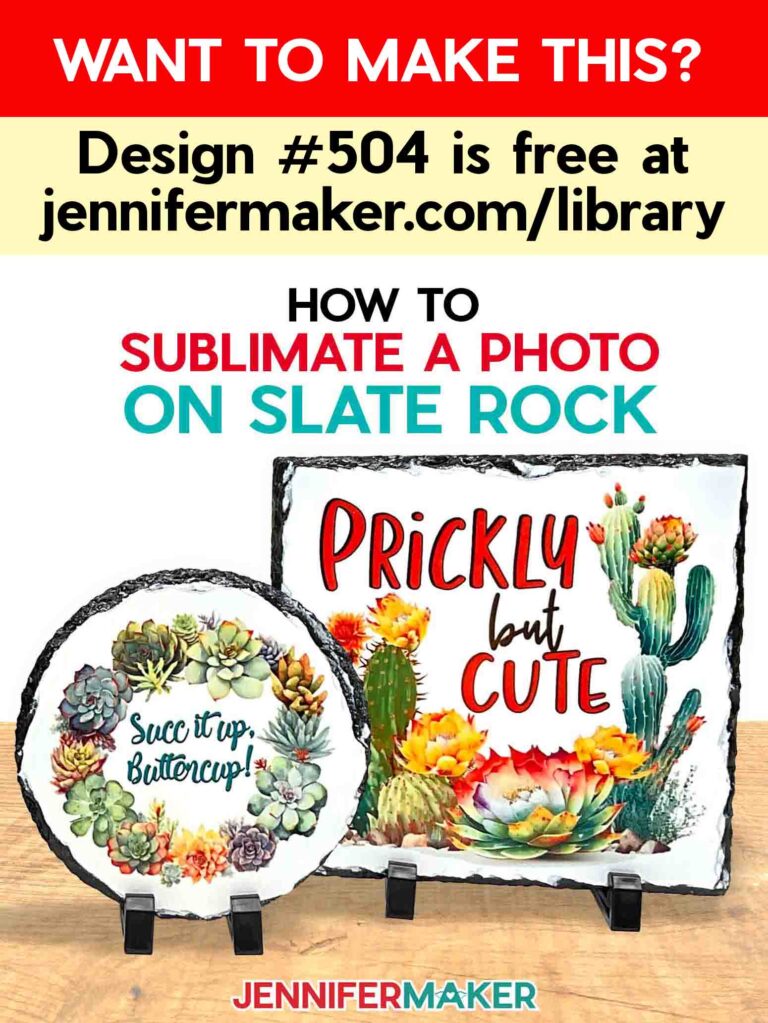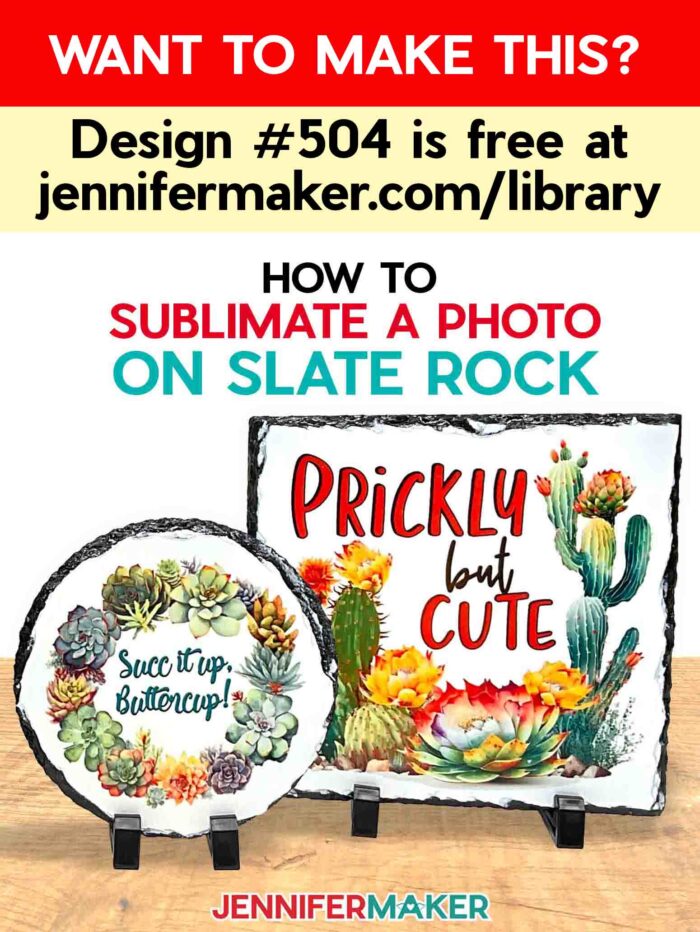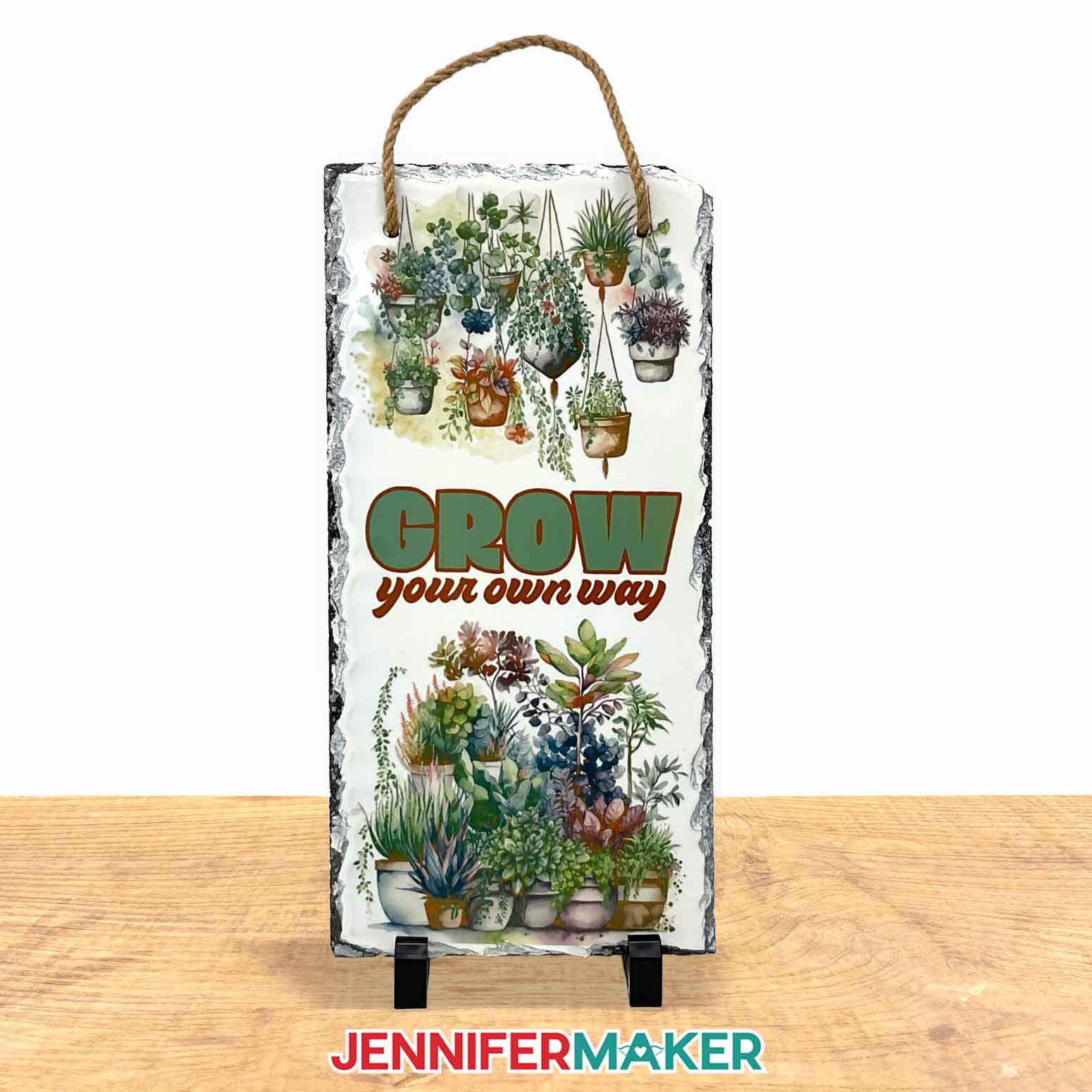 Sublimation Slate Blanks
Yield: 1

Prep Time: 10 minutes

Active Time: 10 minutes

Total Time: 20 minutes

Difficulty: Easy

Estimated Cost: $10-$20

Learn how to use sublimation slate blanks with your favorite designs or images.
Answers to Your Questions on Sublimation Slate Blanks!
Q: Can I sublimate on slate?
A: Yes, as long as the slate has the proper sublimation-ready coating applied, you can sublimate on it.
Q: How long do you heat slate for sublimation?
A: The time can vary, but I found 7-8 minutes worked best for most sublimation slate blanks.
Q: What is the coating on sublimation slate?
A: There is a polymer-based substance added to slate rock plaques that makes them work with sublimation ink.
Q: Do you sublimate slate face up or down?
A: I tried several approaches with different heat presses and liked sublimating with the slate face down on the printed designs or full color photos the best.
Q: How do you heat press rock slate?
A: Glass is an excellent conductor of heat, so when it gets hot it gets REALLY hot! It also stays hot for quite a while after heating. Always use heat-resistant gloves when handling hot glass from heat pressing. you'll use a heat press to apply your printed image from sublimation transfer paper onto the material, just like any other sublimation project!
Q: Can you overheat sublimation?
A: Yes, if your colors transfer to the sublimation slate blanks but look dark or otherwise wrong, it's possible that the ink or blank was overheated. This is more likely to happen if you press an area multiple times, like where a tiled design slightly overlaps.
Q: Can you do sublimation on regular slate?
A: The sublimation slate blanks have a special coating, which is what the sublimation ink bonds to. Normal slate will not show sublimation ink.
Q: What materials can you not sublimate on?
A: If the surface isn't made of or coated with a polymer like polyester, it likely will not hold sublimation dye. There are a few exceptions (like wood – though I did get the best results when it was coated with paint), but for the most part you want to make sure the material is made of or coated with a polymer. When in doubt, look for blanks meant for sublimation, and follow the manufacturer's instructions for recommended temperature and other details for a successful sublimation. Popular choices for sublimation blanks include garden flags, T-shirts, tumblers, mugs, even socks!
Q. Will my sublimation design fade in sunlight?
A. Prolonged exposure to UV rays (like those from the sun) will eventually cause your sublimation design to fade, whether it's on slate, glass, or any other surface. So keep that in mind if you plan to hang your sublimation slate blanks in sunny areas.
Q: Are sublimated slate boards food safe?
A: No, since the sublimated surface isn't protected, it isn't food-safe. The sublimation slate blanks are for decoration only.
Get my free PNG files to use sublimation on slate blanks!
I'd love to see YOUR beautiful sublimation projects on slate! Please share a photo in our Facebook group or tag me on social media with #jennifermaker.
Love,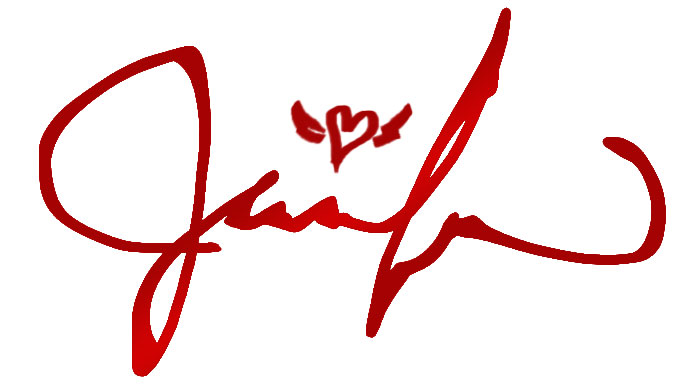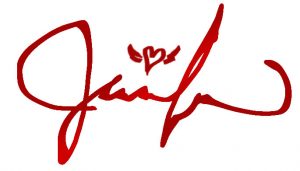 Want to remember this? Save this tutorial on How to Sublimate on Slate Blanks to your favorite Pinterest Board!