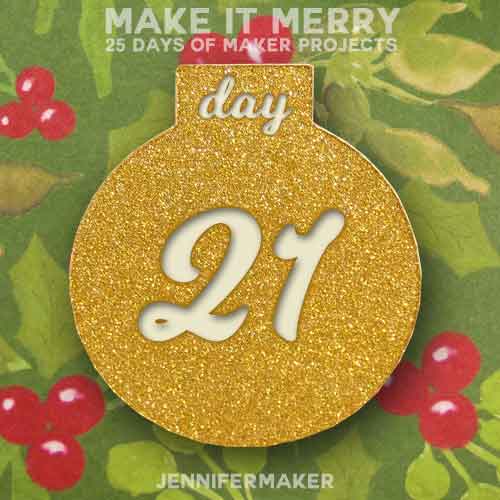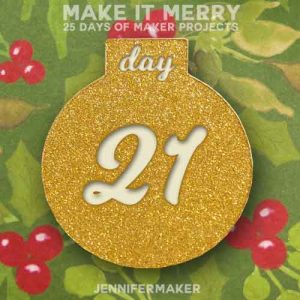 We have a fun tradition in our family. Since before Alexa was born, I've been buying "Christmas crackers" during the holiday season. For those who don't know what they are, these are not the things you shmear cheese on—they are little tubes that "pop" when you pull them and contain little treats and treasures! So for Day 21 of the MAKE IT MERRY: 25 Days of Maker Projects Christmas, I've designed my own Christmas crackers and party poppers that I can make with whatever pretty paper I want. And best of all, I can fill them with the treats and treasures I think are cool—the crackers and poppers you buy in the store have boring and wimpy treats, in my opinion.
Christmas crackers are a tradition in England. I learned about them simply because I found a package for sale back in the late '90s and was intrigued by them. You have to hunt to find them in the U.S., but they are becoming more common. This year I saw them at Target!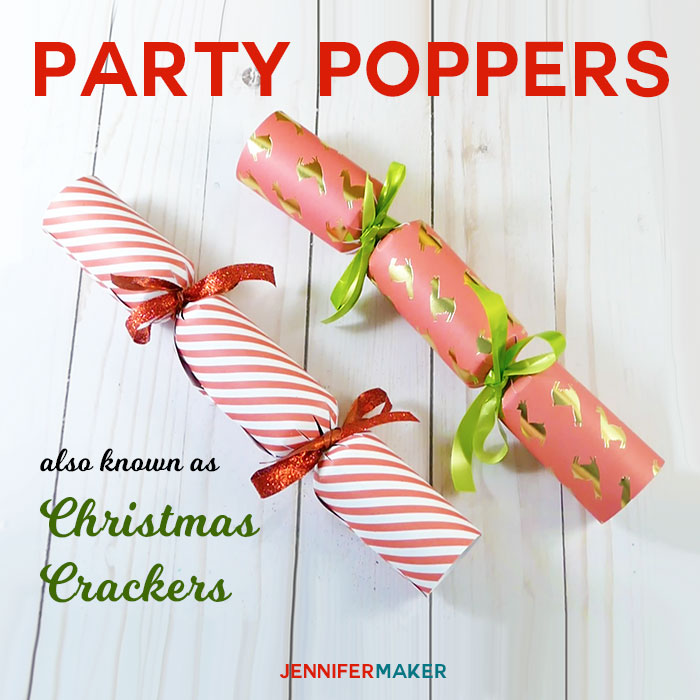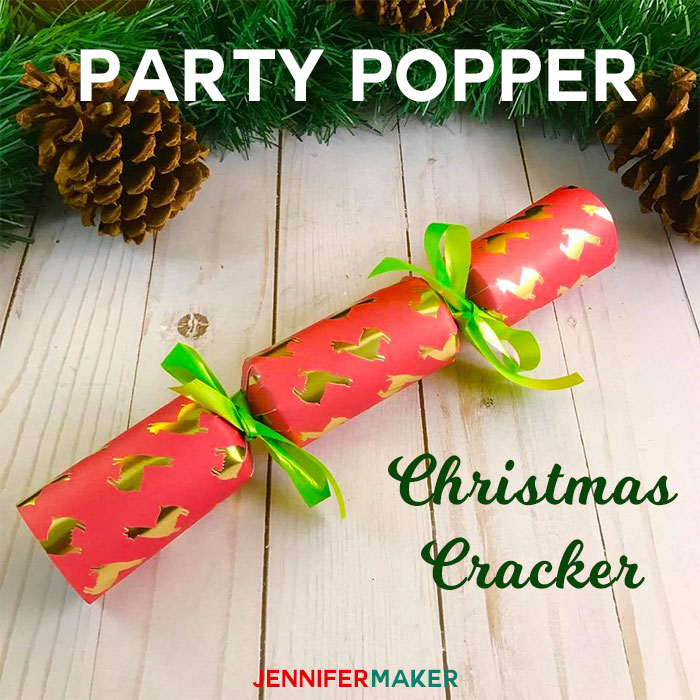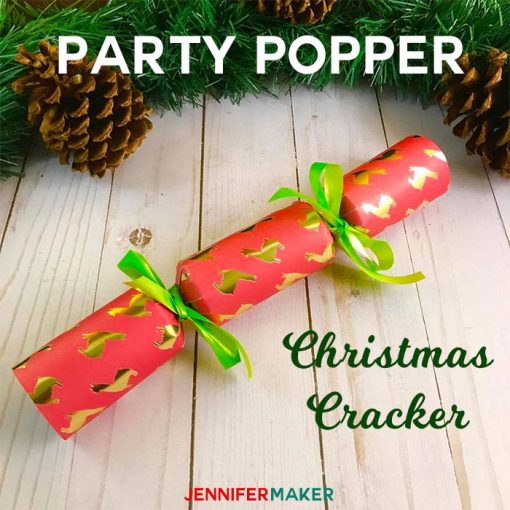 To get the loud "pop' when you pull on it, you'll need to attach cracker snaps. They can be hard to come by (just order them online). If you can't get them, don't worry. The crackers will still snap open when pulled, even without the snaps—one end will pull right off with a paper snap sound and you'll get access to the treats!
These crackers and poppers aren't just fun during the holidays—they make great gender reveals and birthday/wedding favors, too! Finding the cracker strips is not easy, so I recommend you just order them online if you can.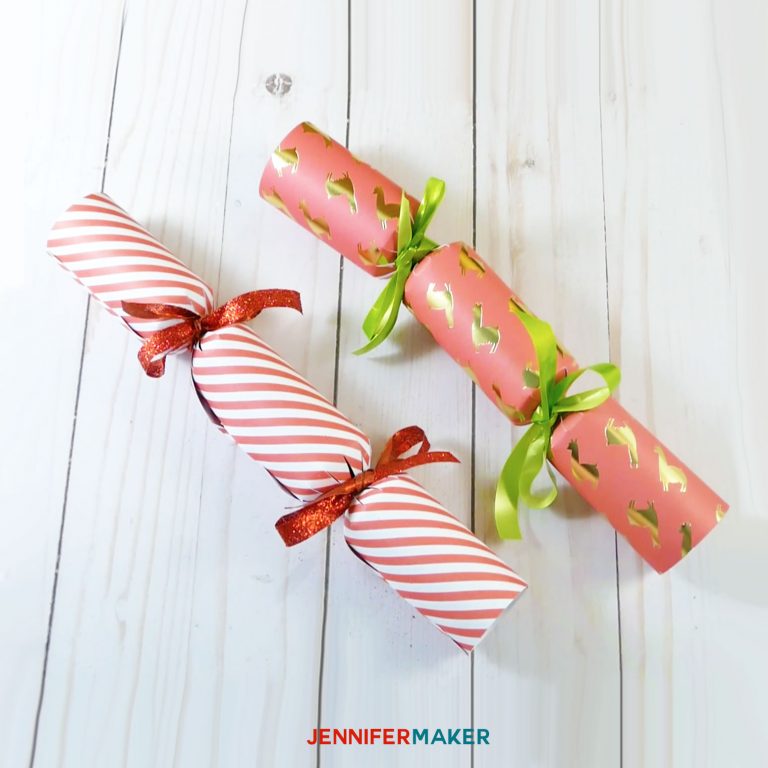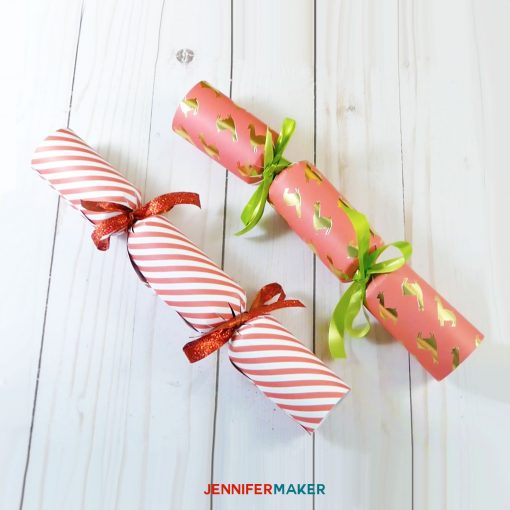 Let me show you how to make your own Christmas Crackers and Party Poppers This post contains some affiliate links for your convenience (which means if you make a purchase after clicking a link I will earn a small commission but it won't cost you a penny more)! Read my full disclosure policy.

Materials for the Christmas Crackers and Party Poppers
65lb. 12″ x 12″ cardstock
Cracker snaps (optional)
Glue (to glue the cracker snap in place)
Ribbon
Little treats and treasures to put inside your cracker/popper (nothing longer than 3″)
A way to cut your cardstock (I used a Cricut)
Design #84 – My free SVG cut files/patterns (available in my free resource library—get the password at the bottom of this post)
How to Make Your Own Christmas Crackers and Party Poppers
First, download Design #84 which are the patterns for this project from my free resource library. If you're going to cut it out on your cutting machine, upload the file to your design software. If you're not sure how to upload an SVG cut file to Cricut Design Space, watch this helpful video training series I made.
Note: If you cut out the crackers and snaps using Design Space, you'll need to change the layer with several parallel lines from "cut" to "score" and attach everything together before you cut it out. If you aren't going to score, hide or remove that score layer completely.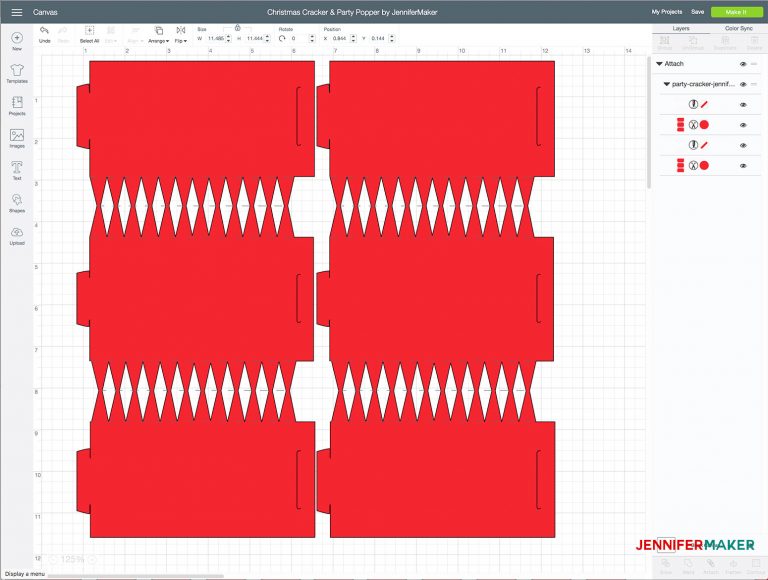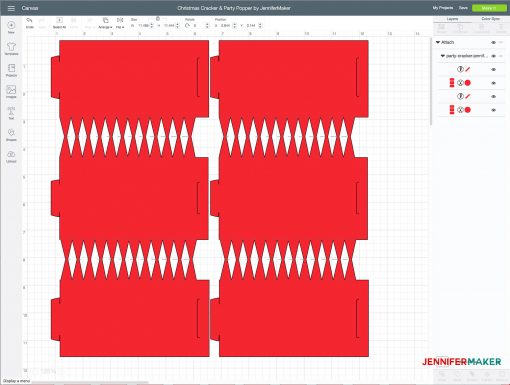 Cut out your cracker/popper pattern. It's all one piece and my pattern allows you to fit two of them on one piece of 12″ x 12″ cardstock.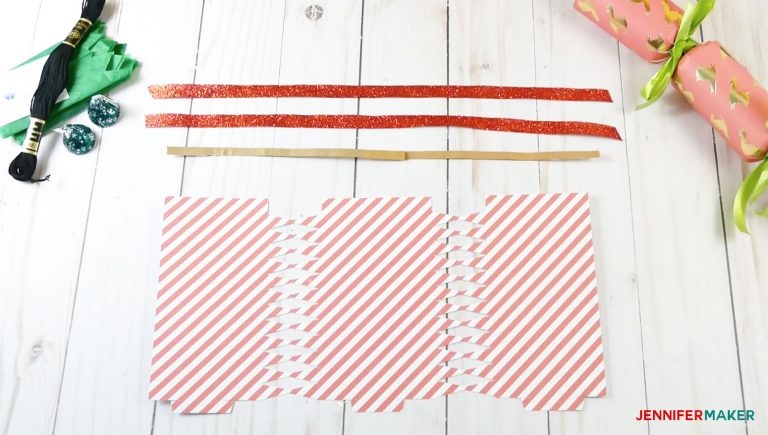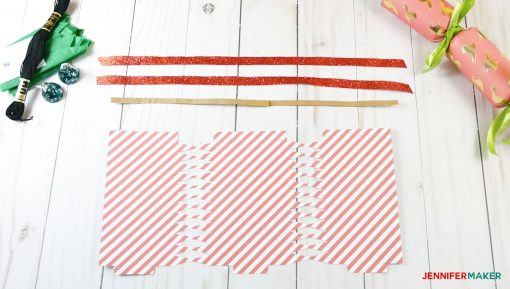 Roll your cardstock into a tube but don't close it yet — just roll it up to train the paper.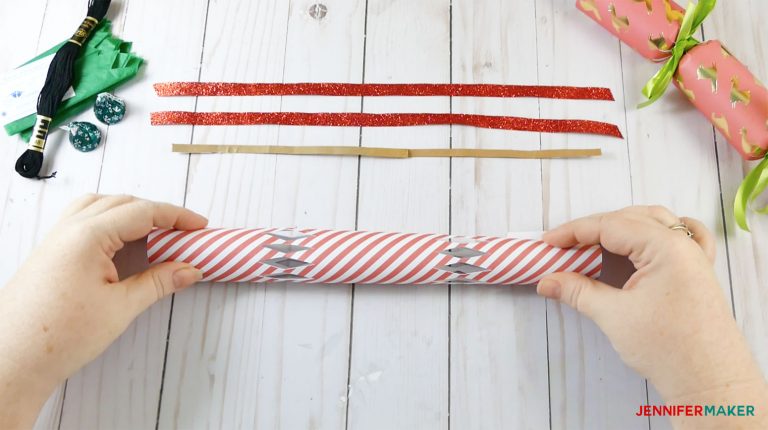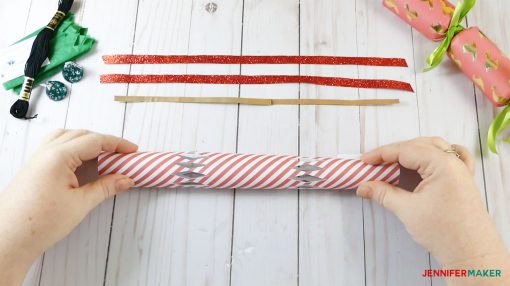 If you have a cracker snap, place it longwise on your cardstock and glue it at either end to the cardstock. (Don't glue it in the middle.)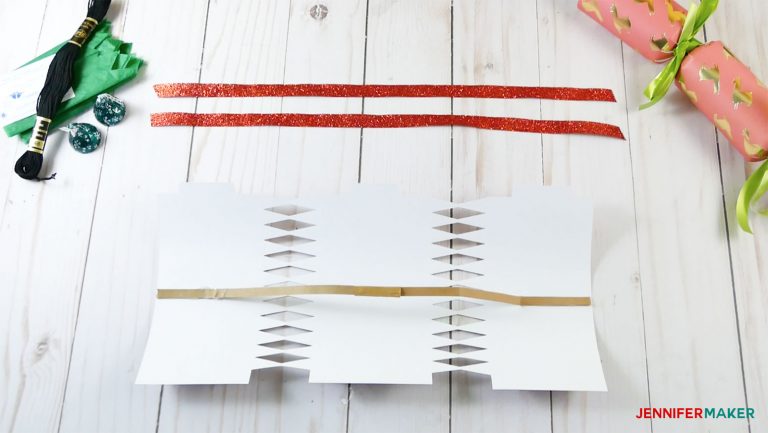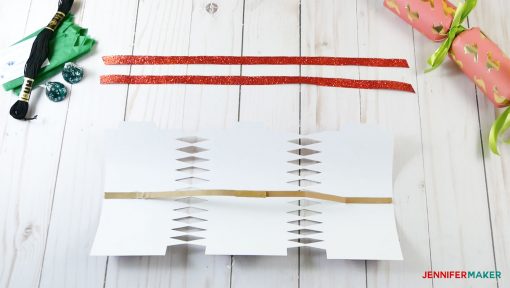 Roll the cardstock up into a tube and slide the tabs into the slots on the ends and in the middle.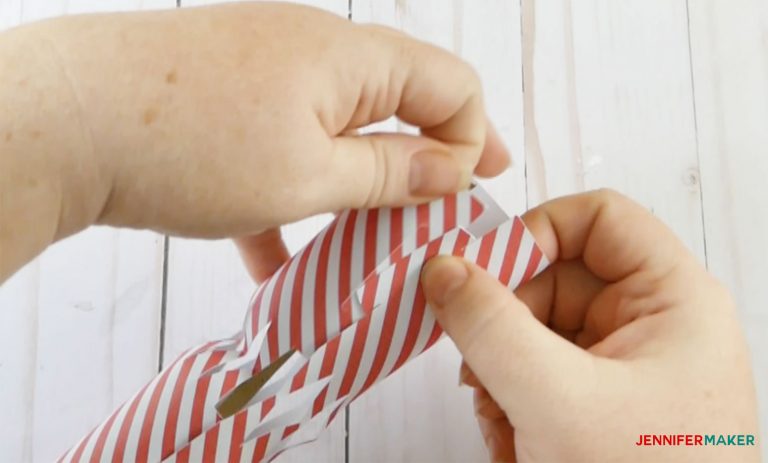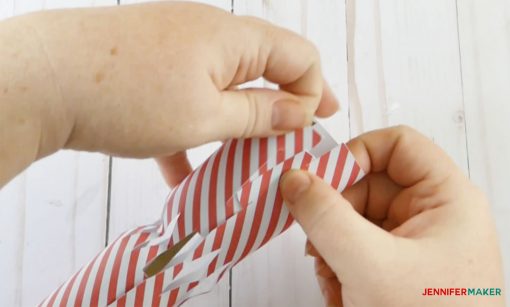 Cut off two lengths of ribbon (about 12″) and tie each one between the middle and one end of the tube.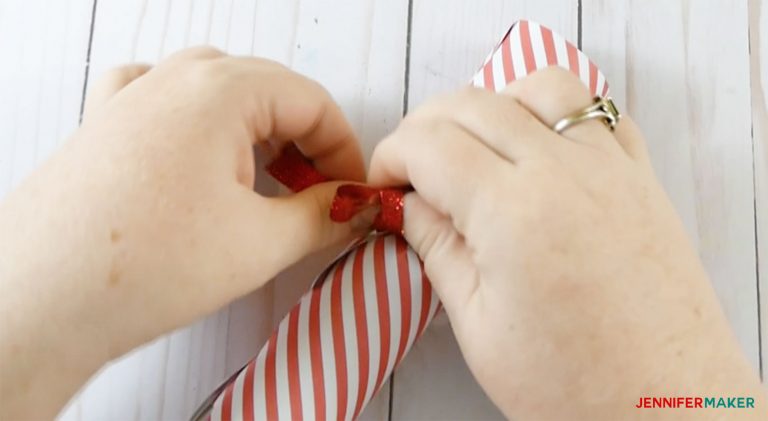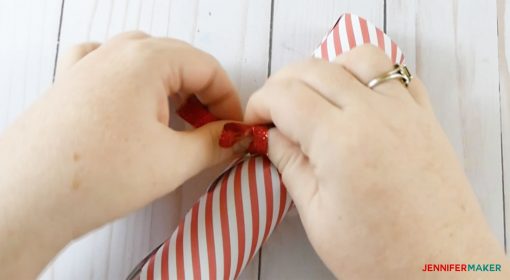 Fill your tube with trinkets, jokes, whatever you want to put in.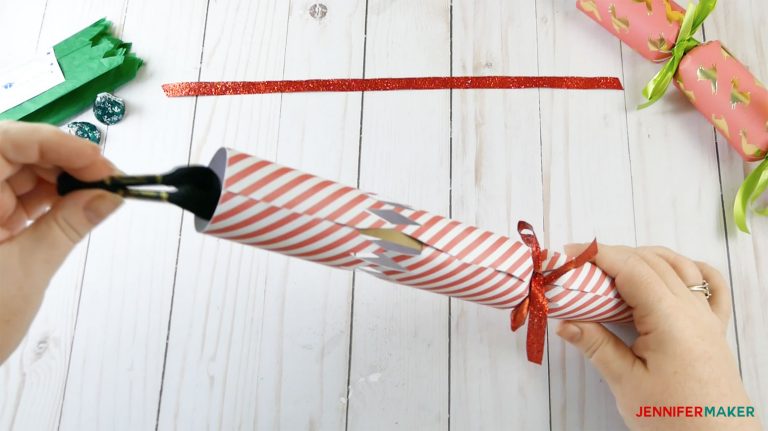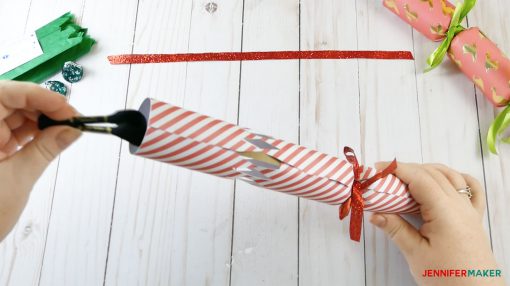 Tie the other end of your tube with the other length of ribbon.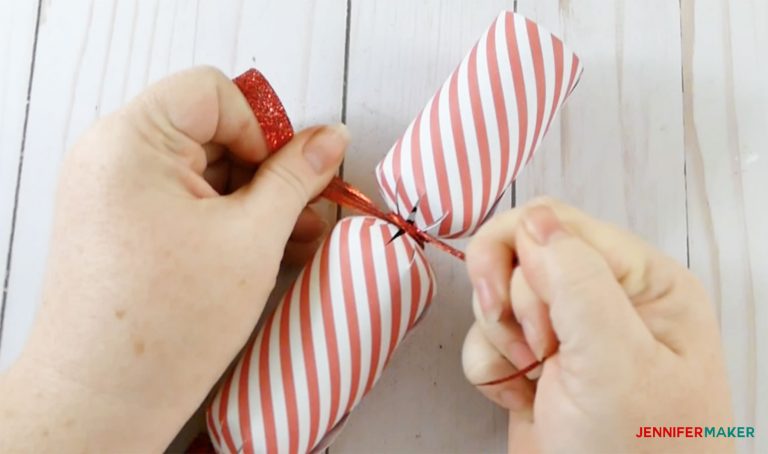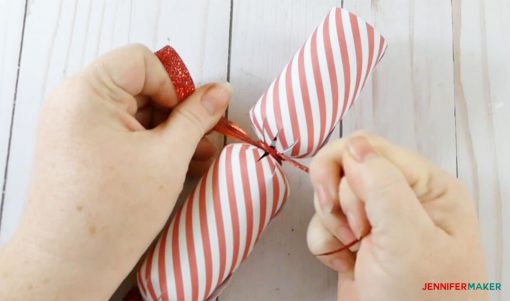 And that's it! When you're done, hold the cracker snap and pull hard! (If you have no cracker snap, just pull hard!)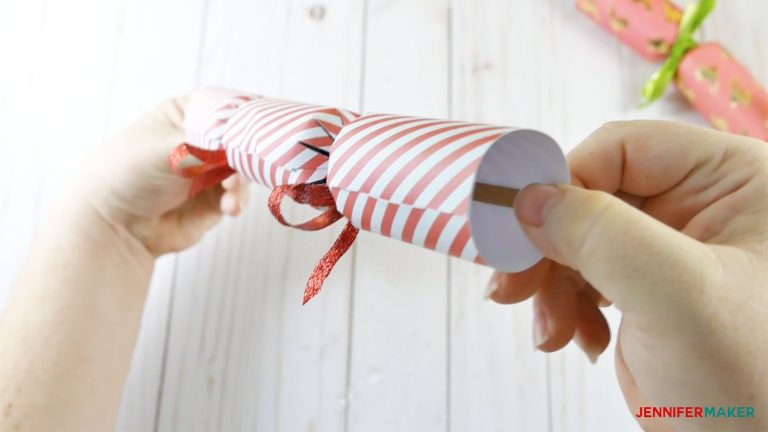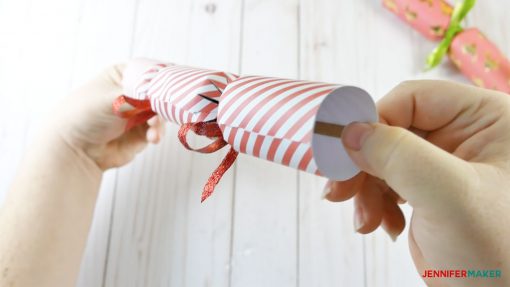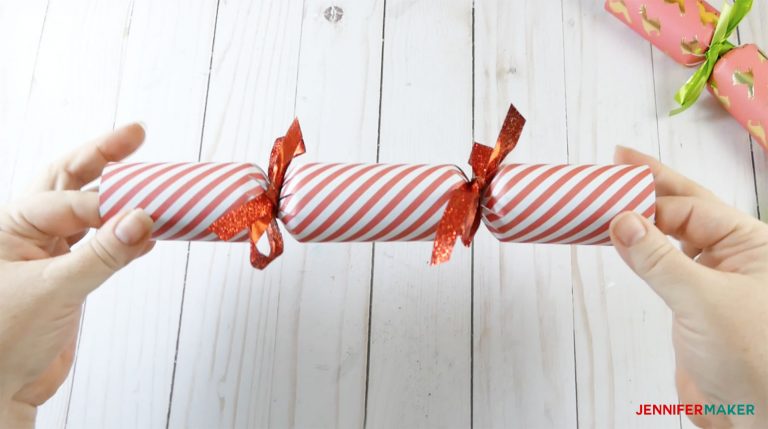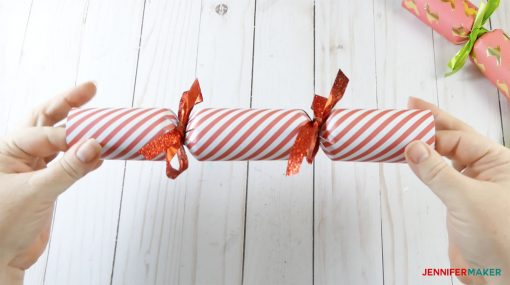 Here's what the Christmas Cracker & Party Popper looks like inside: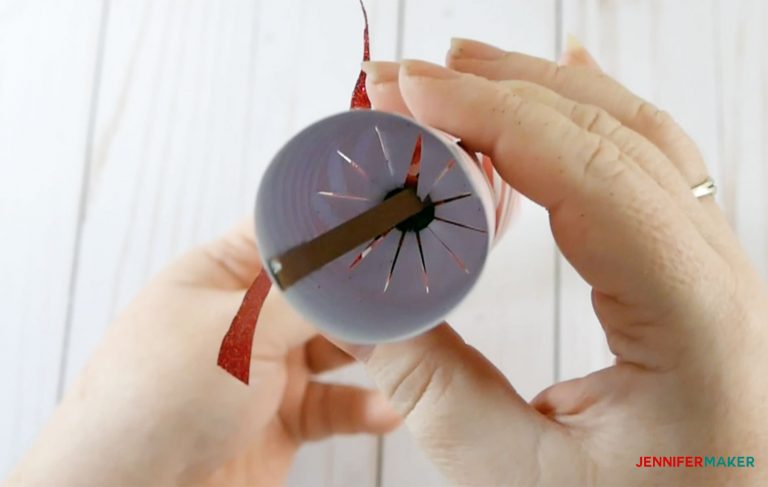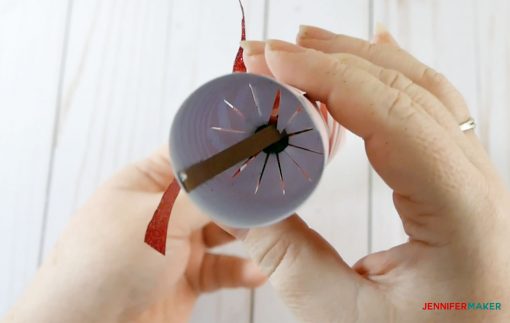 Get my free cut files for the Christmas Crackers and Party Poppers
If you make a Christmas cracker or party popper, I'd love to see it! Feel free to send a photo to me at [email protected] or tag me on social media with #jennifermaker.
See all of the tutorials and free designs in my MAKE IT MERRY: 25 Days of Maker Projects Christmas!
Love,