Learn how to make beautiful home decor with Dollar Tree canvas ideas!
Stretched canvas is a great way to use your Cricut to make custom decor, but framing can get expensive. Did you know they often come with their own frame? It takes some work, but reverse canvas projects can save you time and money in the long run. Especially if you use my Dollar Tree canvas ideas and free SVGs! I'll show you how to make a general canvas project and one with a holiday theme that is part of my Dollar Tree DIY Christmas Decorations collection.
Watch the full step-by-step Dollar Tree canvas ideas video tutorial: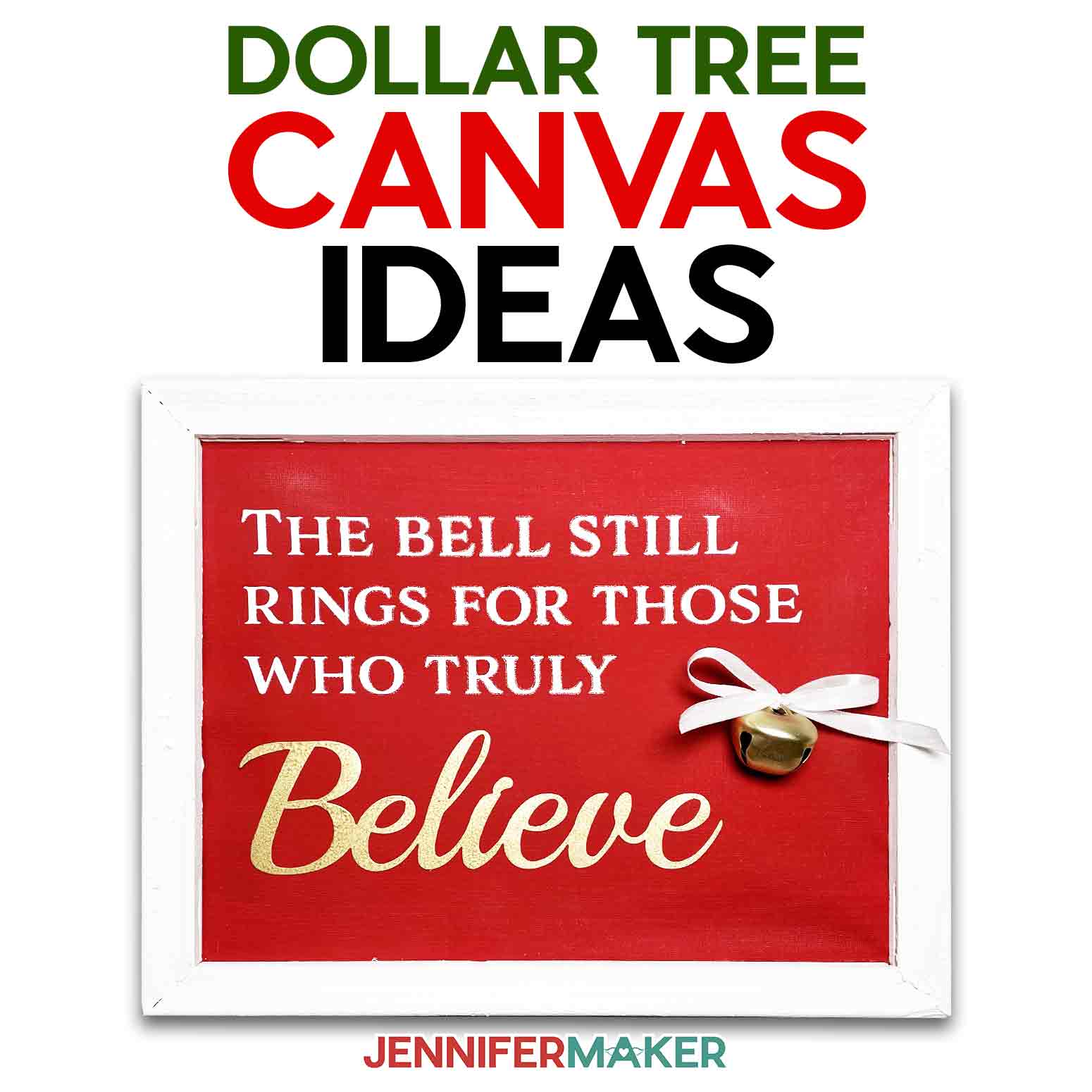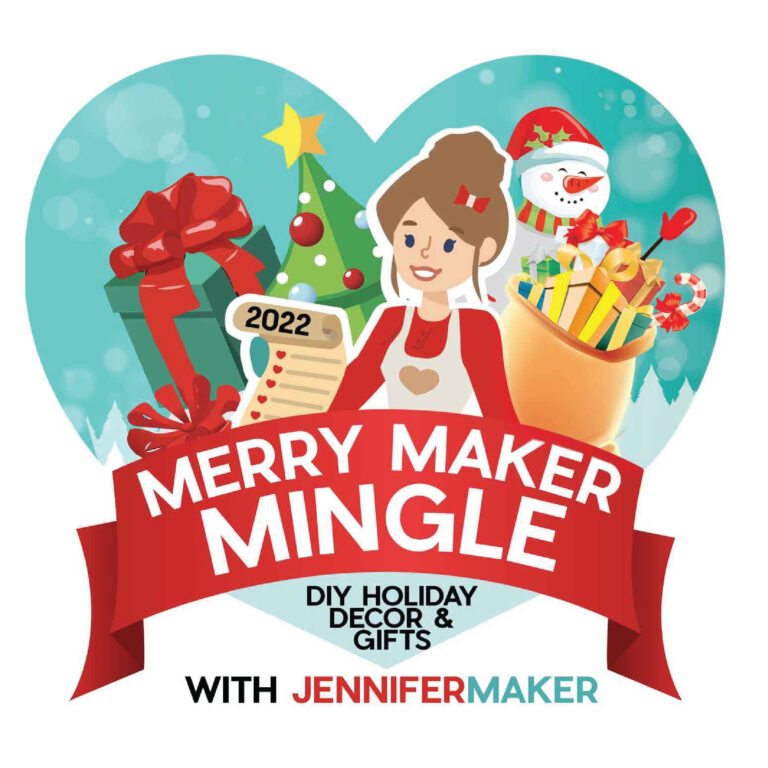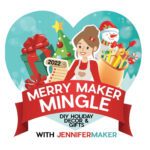 What is the Merry Maker Mingle?
This is an
annual tradition
here at JenniferMaker! Every day for the first 25 days of December, we gift you with a brand new project, design, tutorial, and video for something YOU asked us to make. On top of that, we host a giveaway with 25 days of prizes. Some of the amazing prizes are
Cricut cutting machines
, sewing machines, gift cards, and beautiful
print editions of our popular Cricut Coach Playbook
. You can even earn bonus entries for sharing photos of the daily projects!
Click here to learn more about the Merry Maker Mingle!
Once you try the reverse canvas frames technique a few times, it will be fast and easy! Then you can make wall decor for every holiday and occasion!
All you really need is a stretched canvas, Xacto knife (craft knife), hot glue gun, and some great ideas! The other materials and tools really depend on the Dollar Tree canvas ideas you want to make. I've included some free SVGs for inspiration, but you can use this technique with all sorts of craft projects and design styles.
First, I'll show you how to remove and prepare the canvas with lots of options, like different paints. We'll also use sandpaper to clean up the wood frame and discuss paint or wood stain ideas. If you get your canvas frames from the Dollar Tree, make sure they are stretched over wooden frames instead of cardboard. The depth of the wood frame is necessary! It's not always easy to tell when shopping online, so I've also included a link to other options I know will work well!
Then we'll plan designs in Cricut Design Space using my free SVGs. I'll show exactly how to size your design for a canvas frame and leave the right amount of space for dollar store items, like the metal words and holiday decor I used.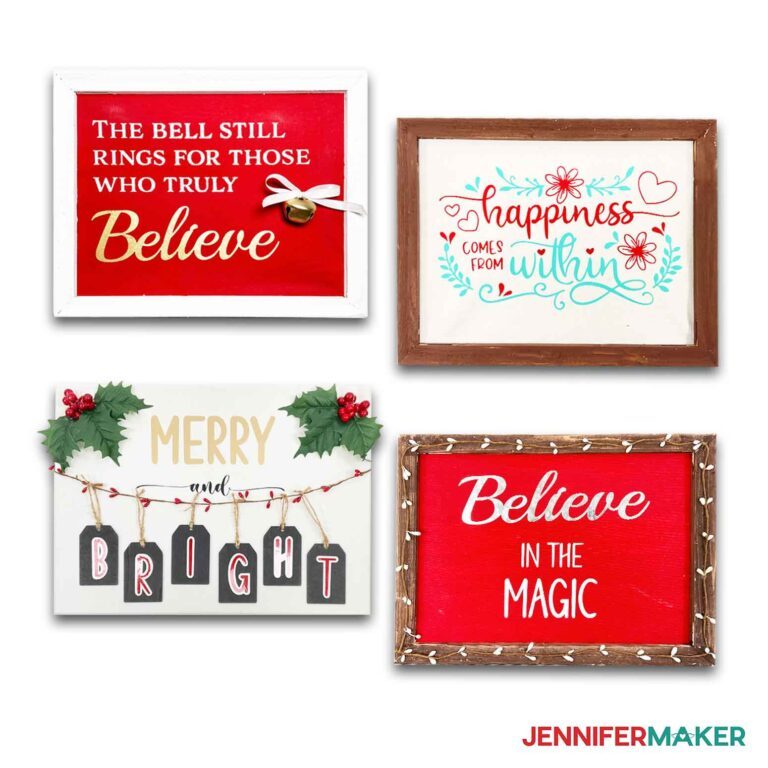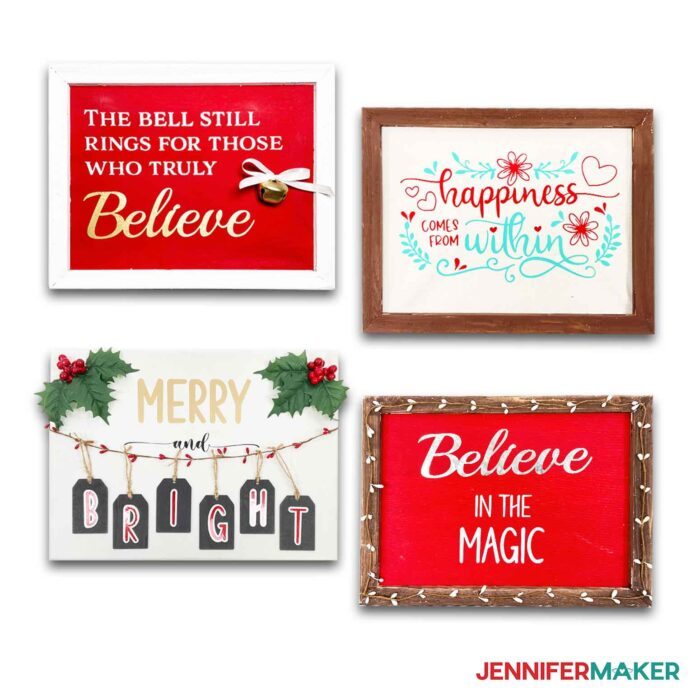 I'll cut different colors of iron-on vinyl using a Cricut (mirrored correctly!) and show you my favorite way to adhere them to the canvas. Then we'll put the pieces back together as a reverse canvas and finish the decorations!
If you can't get to a Dollar Tree store, don't worry! Most of the items are available through their website. Also, these projects are meant to inspire you, so you don't need the exact same items as I used.
Visit your local dollar store with these craft ideas in mind and I'm sure you'll find inexpensive craft supplies that work. Or, use some of the online shopping links I've included with alternate items. Sometimes, dollar store crafts supplies aren't the cheapest options, so it's worth comparing prices. You might find some good gifts for under the Christmas tree, too!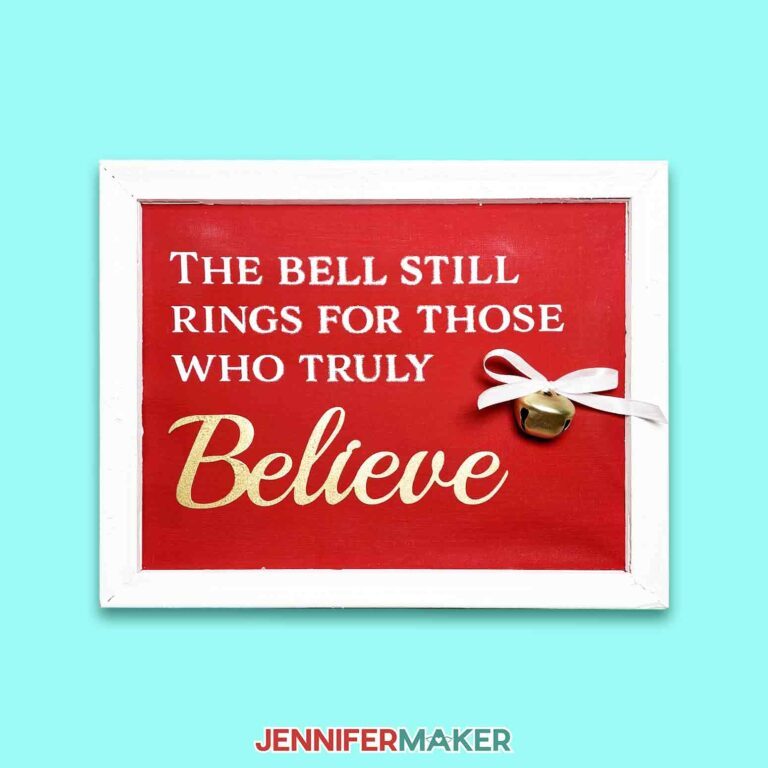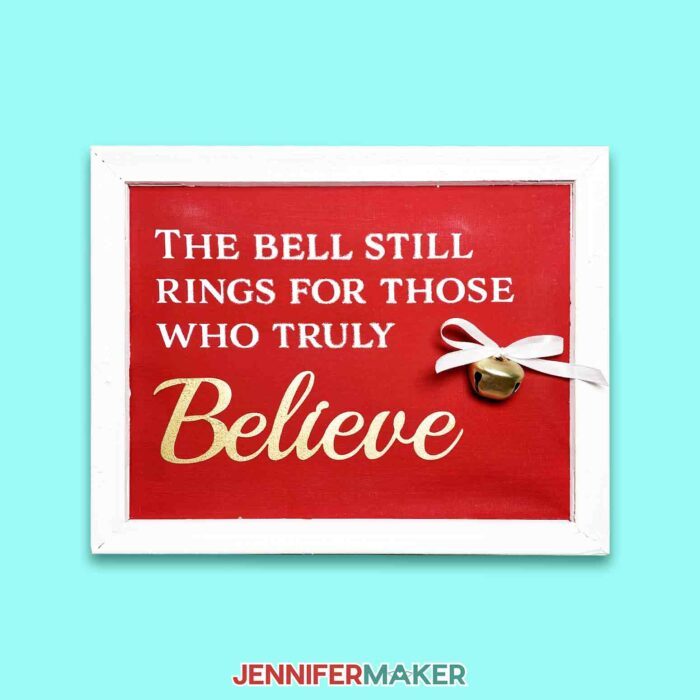 Let me show you how to use my Dollar Tree canvas ideas! This post contains some affiliate links for your convenience (which means if you make a purchase after clicking a link I will earn a small commission but it won't cost you a penny more)! Read my full disclosure policy.
Dollar Tree Canvas Ideas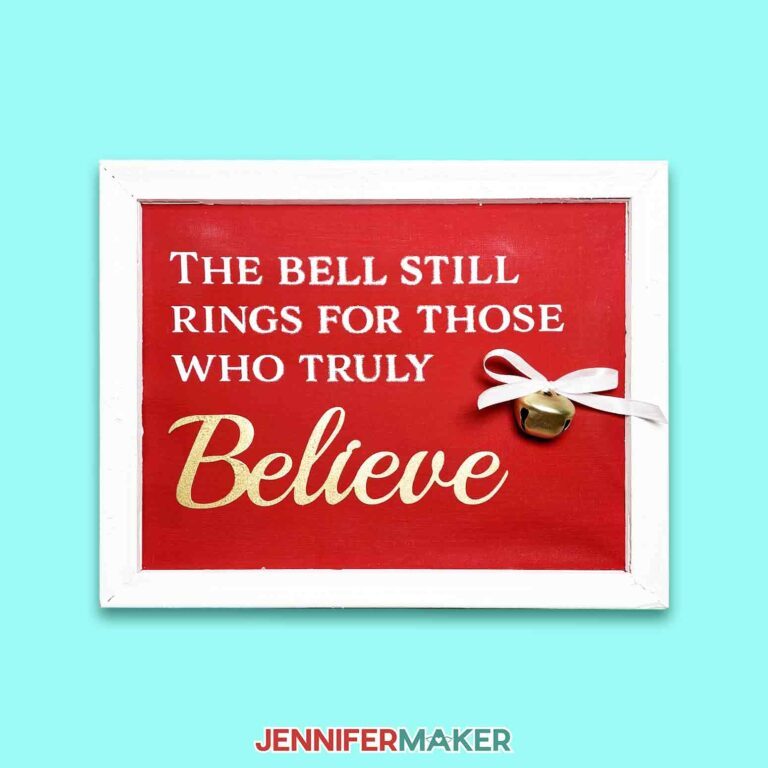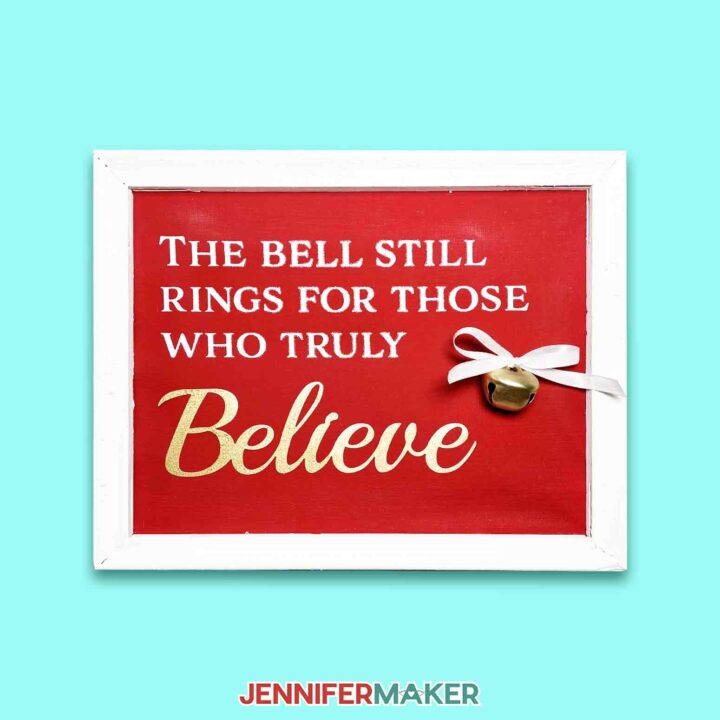 Dollar Tree Canvas Ideas
Total Time:
2 hours
30 minutes
Learn how to make a reverse canvas with these Dollar Tree Canvas Ideas!
Instructions
STEP 1: PREPARE YOUR CANVAS
Before beginning, lay a piece of butcher paper down to protect your work area.
Turn the canvas over and use a pencil to lightly trace the size inside the frame.
Then, use your TrueControl knife or an exacto knife to cut along the canvas, around the outside of the staples.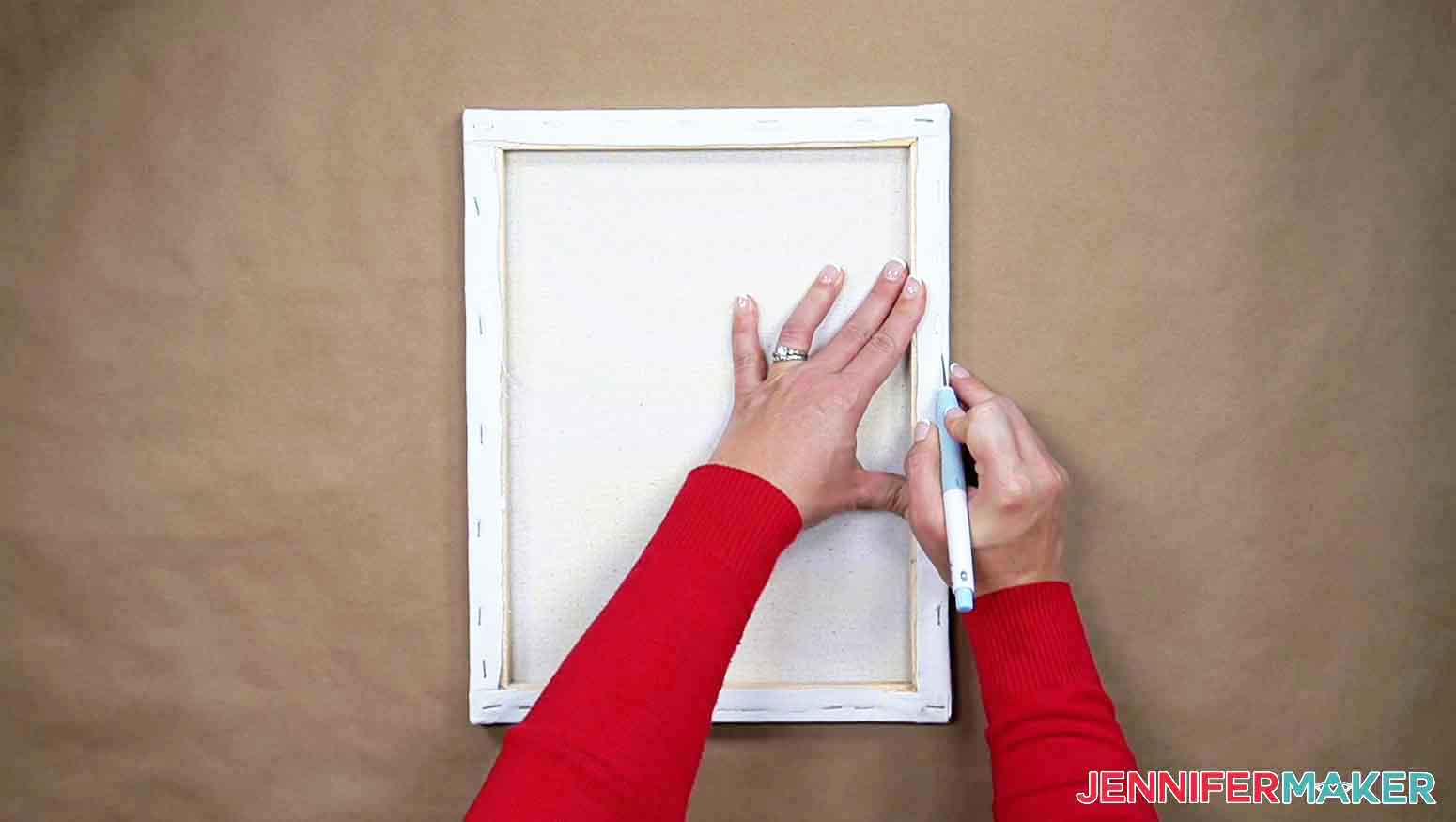 Remove the canvas from the wood frame.
Lay the separated canvas face up on your work surface. Measure the pencil shape. Mine are 10.5" x 13.5" since I'm going to decorate it in landscape orientation.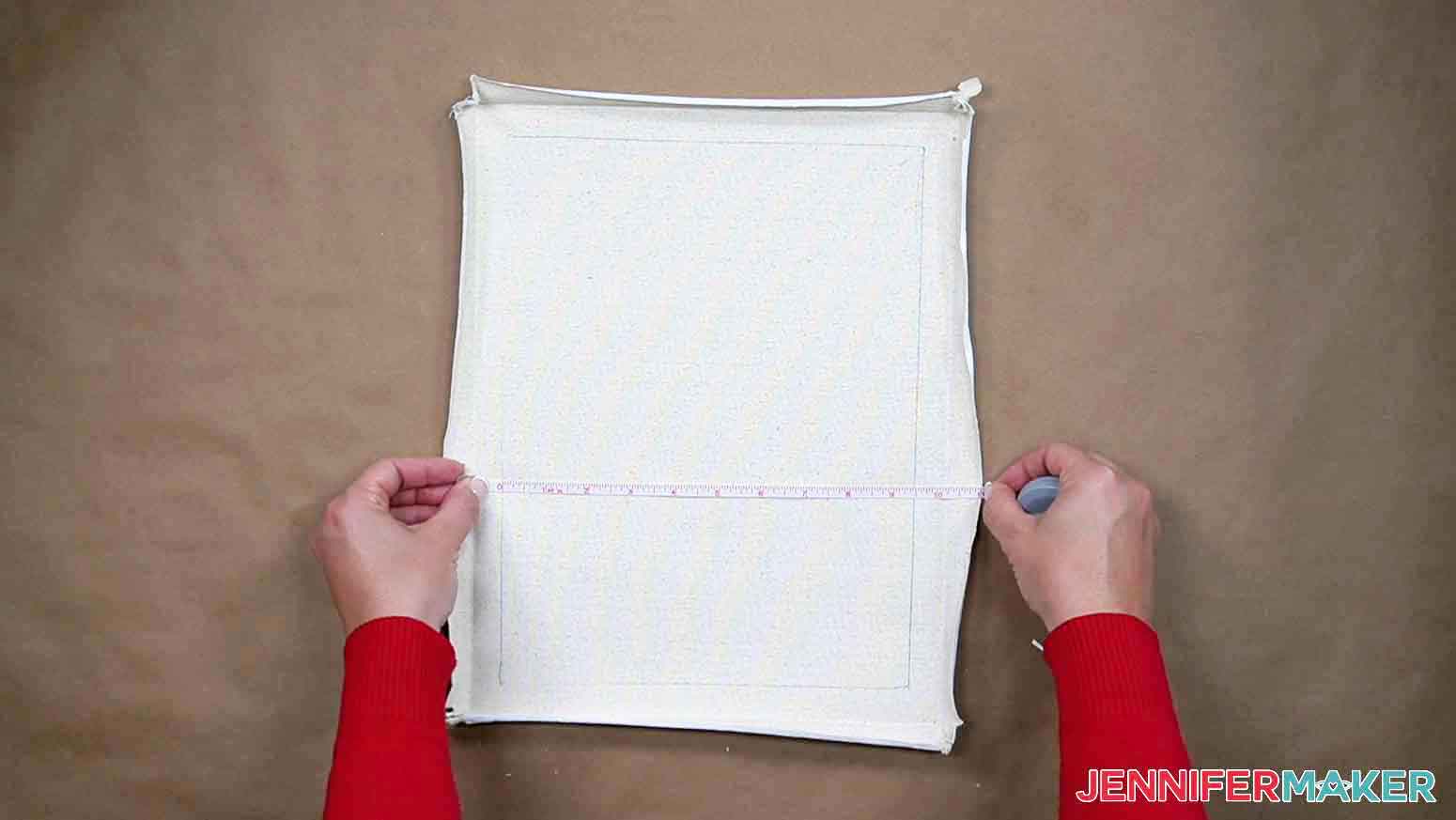 Smooth out the canvas, then paint the front if you'd like. I used red chalk paint with a foam paint brush. Paint side to side OR up and down instead of switching your strokes for a nicer look. This covers the pencil lines nicely, but two coats will look best.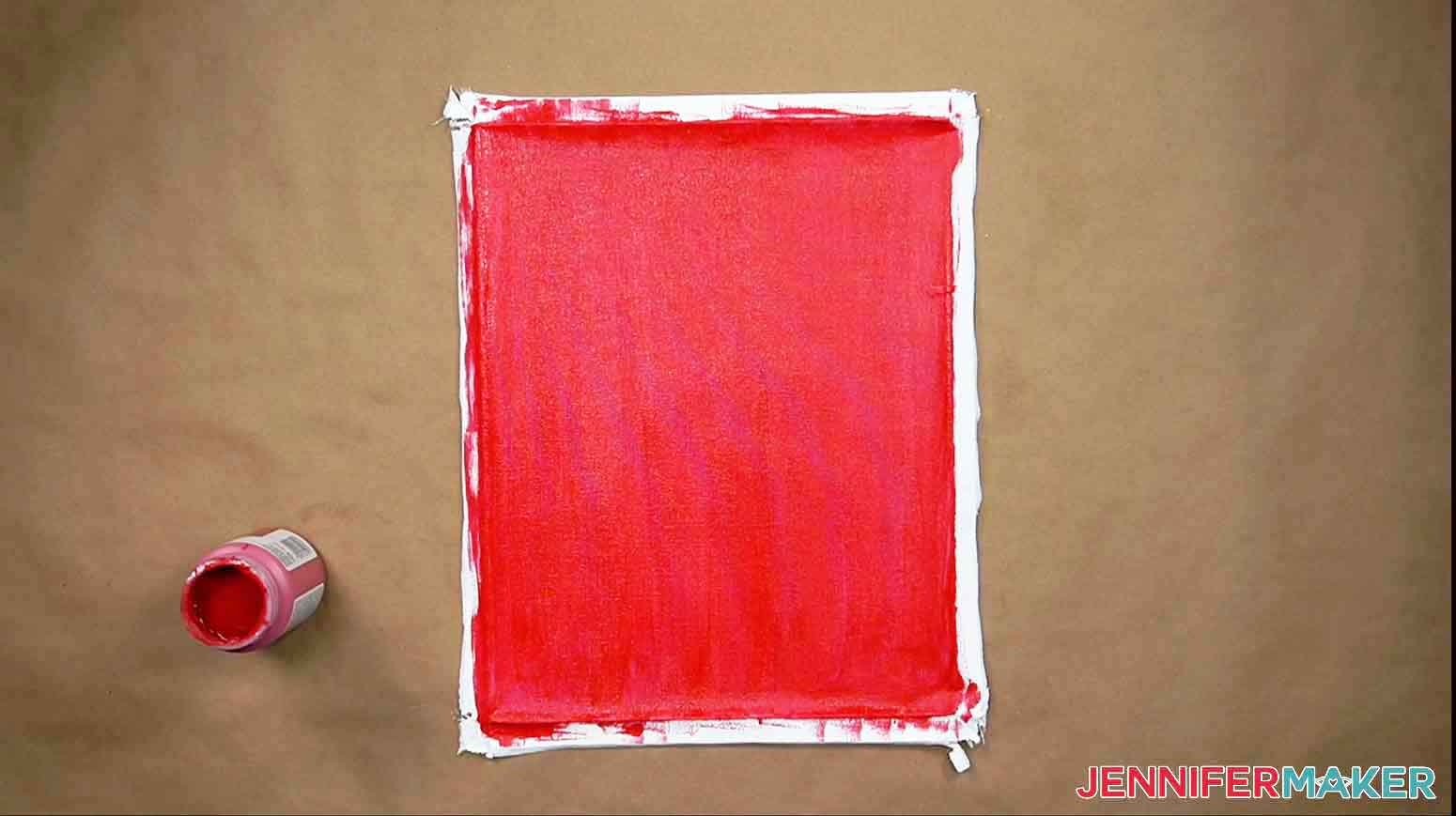 Let it dry for about an hour. Add the second coat!

Now for the frame. All canvases are made differently and you may or may not need to sand the wood to smooth out the surface.
I used white chalk paint, but you can use another color.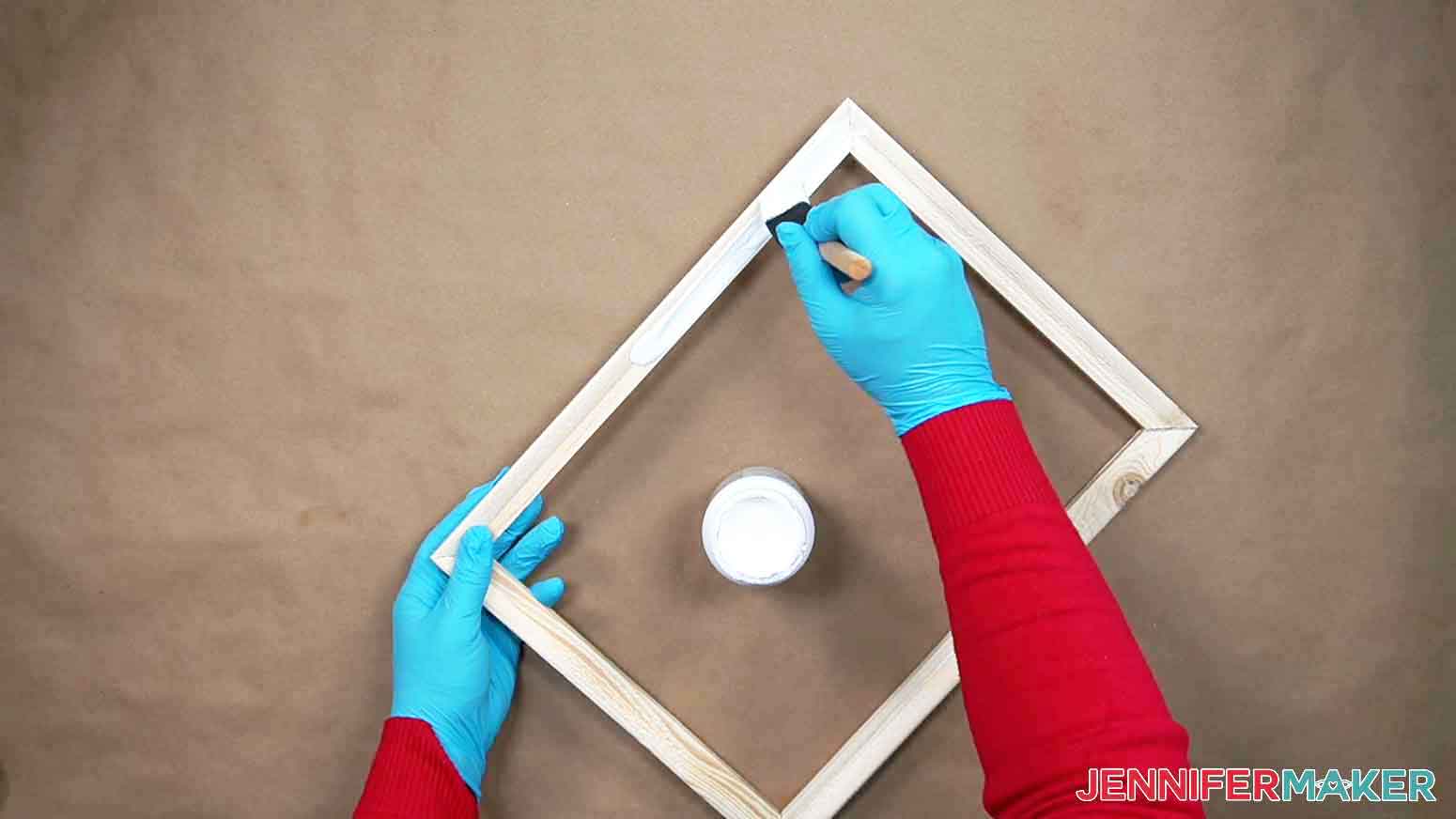 You can use a baby wipe to rub part of the frame for a weathered look. Or, use baby wipes to apply the paint to achieve a faux-stain look. Add a second coat if you'd like.
While the canvas and frame dry, let's make the decorations!
I'm going to add some metal letters to one canvas in addition to the vinyl. They're pretty as they are, but I also painted some with a metallic gold acrylic paint and a small round foam brush. If you use a dabbing motion all over, it makes them look like hammered metal!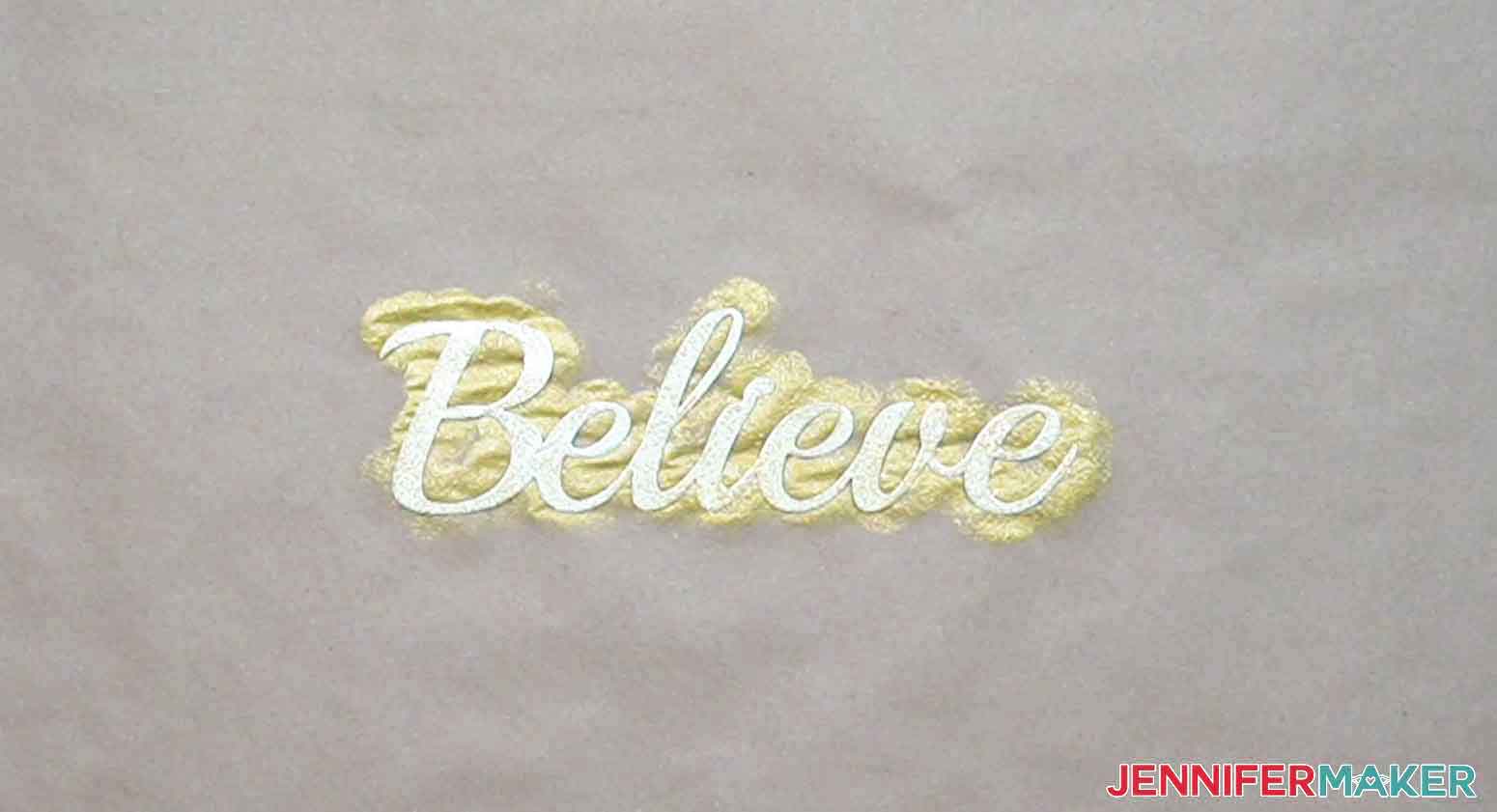 Let that dry, too.
STEP 2: GET MY DOLLAR TREE CANVAS IDEAS DESIGNS
First, download my Dollar Tree Canvas Ideas designs from my free resource library -- it's design #445. You can cut the PDF by hand, or use the DXF with another cutting machine, but I'll show you how to prepare the SVG to cut on a Cricut.
The collection includes several options. Upload it and add it to your Canvas. Or, you can use these steps to prepare a different design.
TIP: If you are not sure how to upload an SVG cut file to Cricut Design Space, watch this helpful video training series I made. If you are on an iPad or iPhone, here is how to download and upload SVG files to the Cricut Design Space app.
STEP 3: PREPARE AND CUT YOUR DESIGNS
Here is how the design collection looks on my Canvas. You can zoom out to see all of it by clicking on the minus (-) sign on the lower left.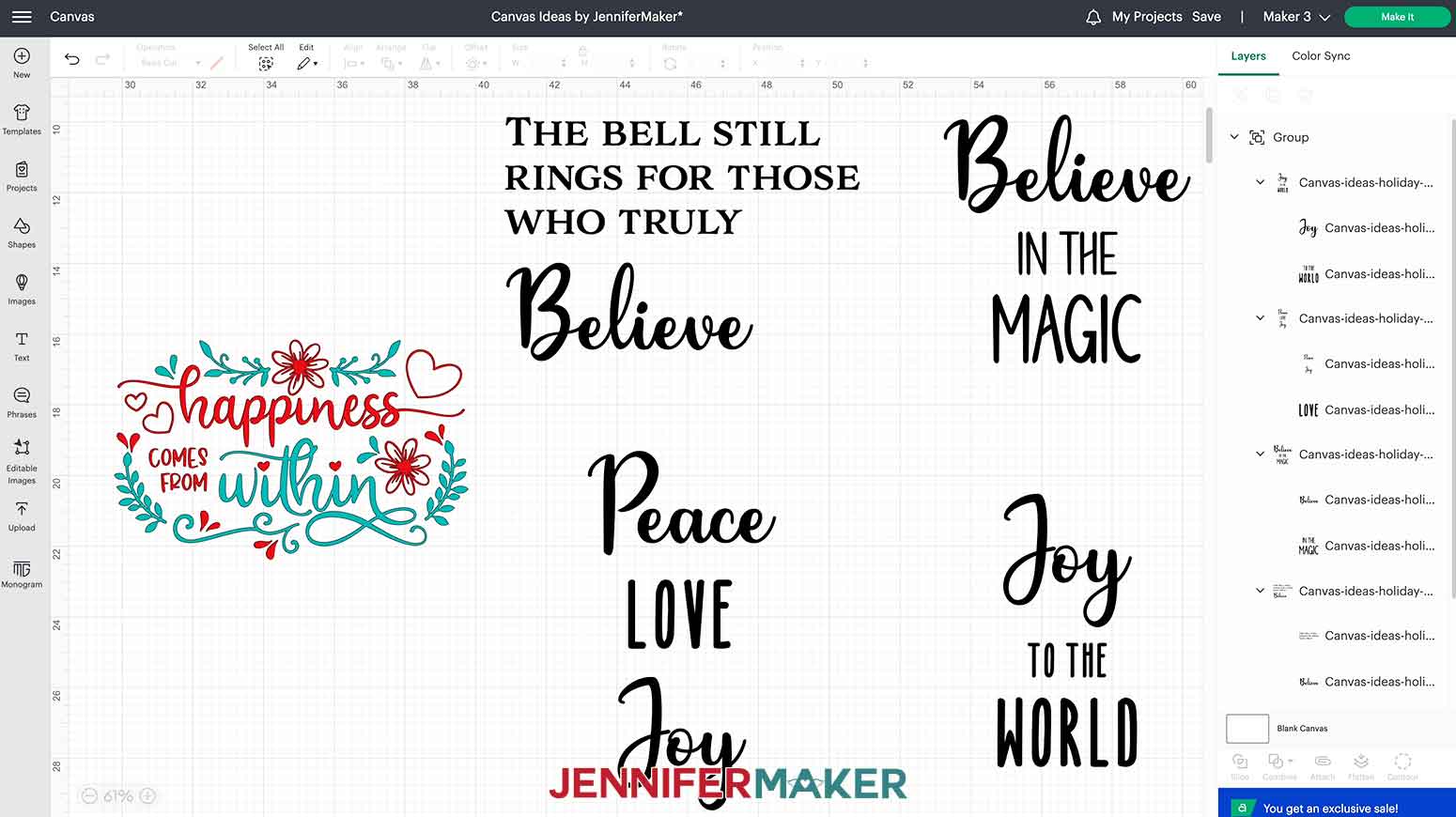 Click Ungroup, then delete any designs you don't want to use.

Let's make the magic one. We'll replace "believe" with the metal word I decorated, but leave it for now.
And I'll make the "Happiness Comes From Within" just with vinyl.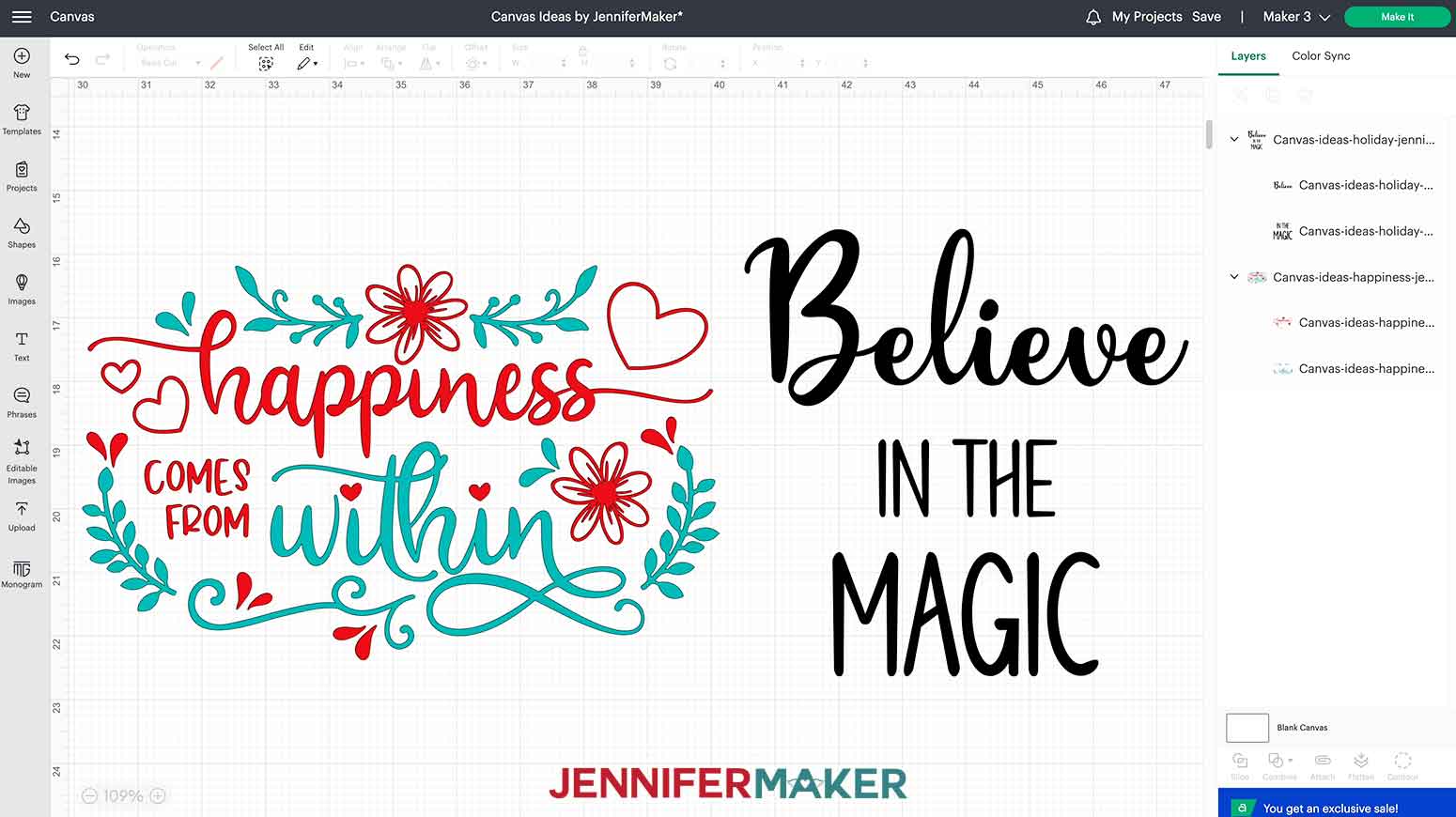 There's an easy way to visualize the whole project on the screen! I'll show you with the Believe design, but it also works for the others.

Click the Shapes icon to the left and select a square to add it to your Canvas. Open the lock icon at the top, then type in the dimensions for inside the frame pieces. I'll put 12.5 for the width and 9.5 for the height, but yours might be different. Now it's a rectangle!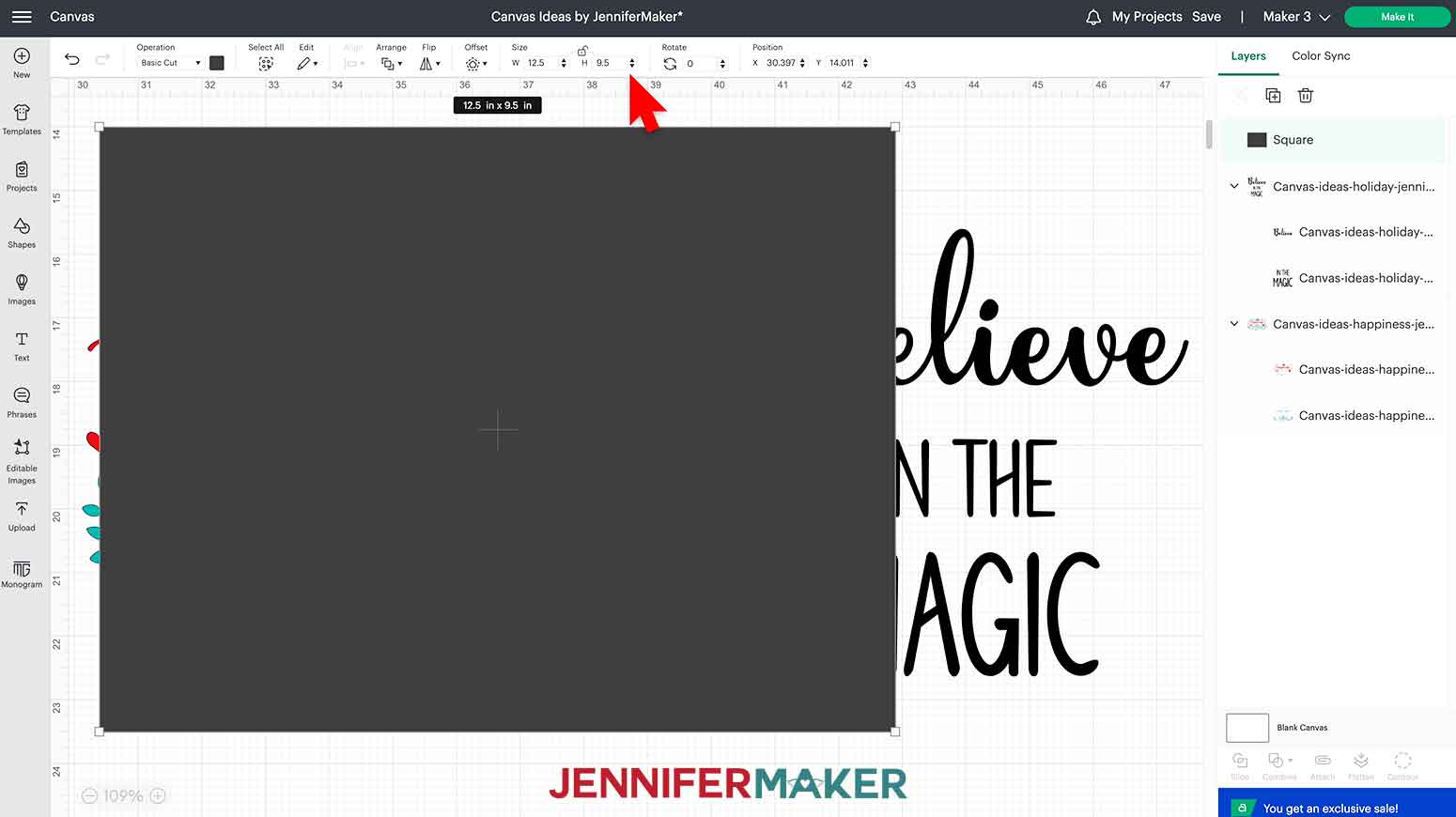 To make sure this shape won't be part of the design, use the Operation menu to change it to Guide. It's still visible, but you can see everything else.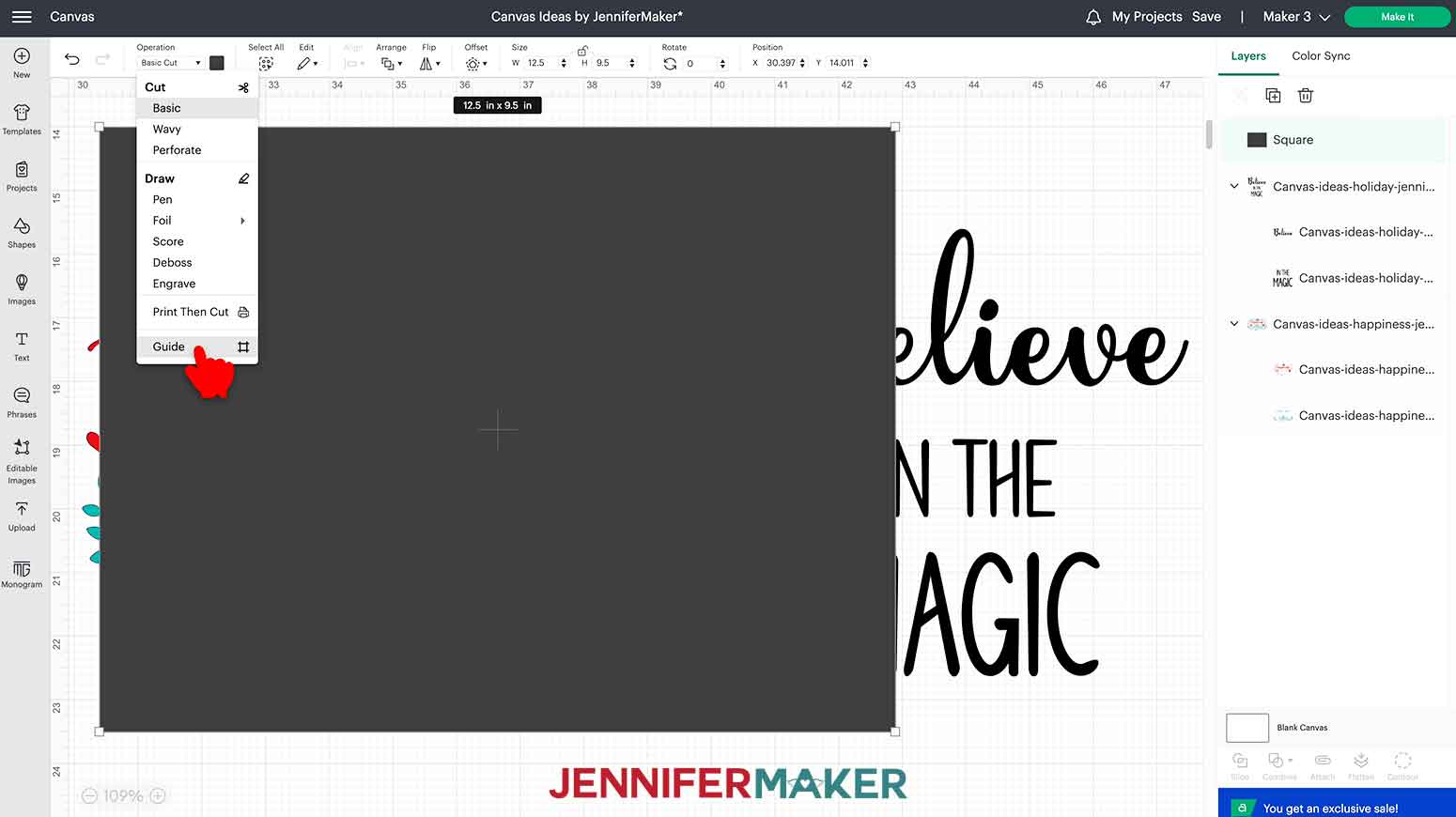 Drag your design into the guide where you think you want it. If you want to make it bigger or smaller, make sure the lock icon is closed and drag a corner of its bounding box.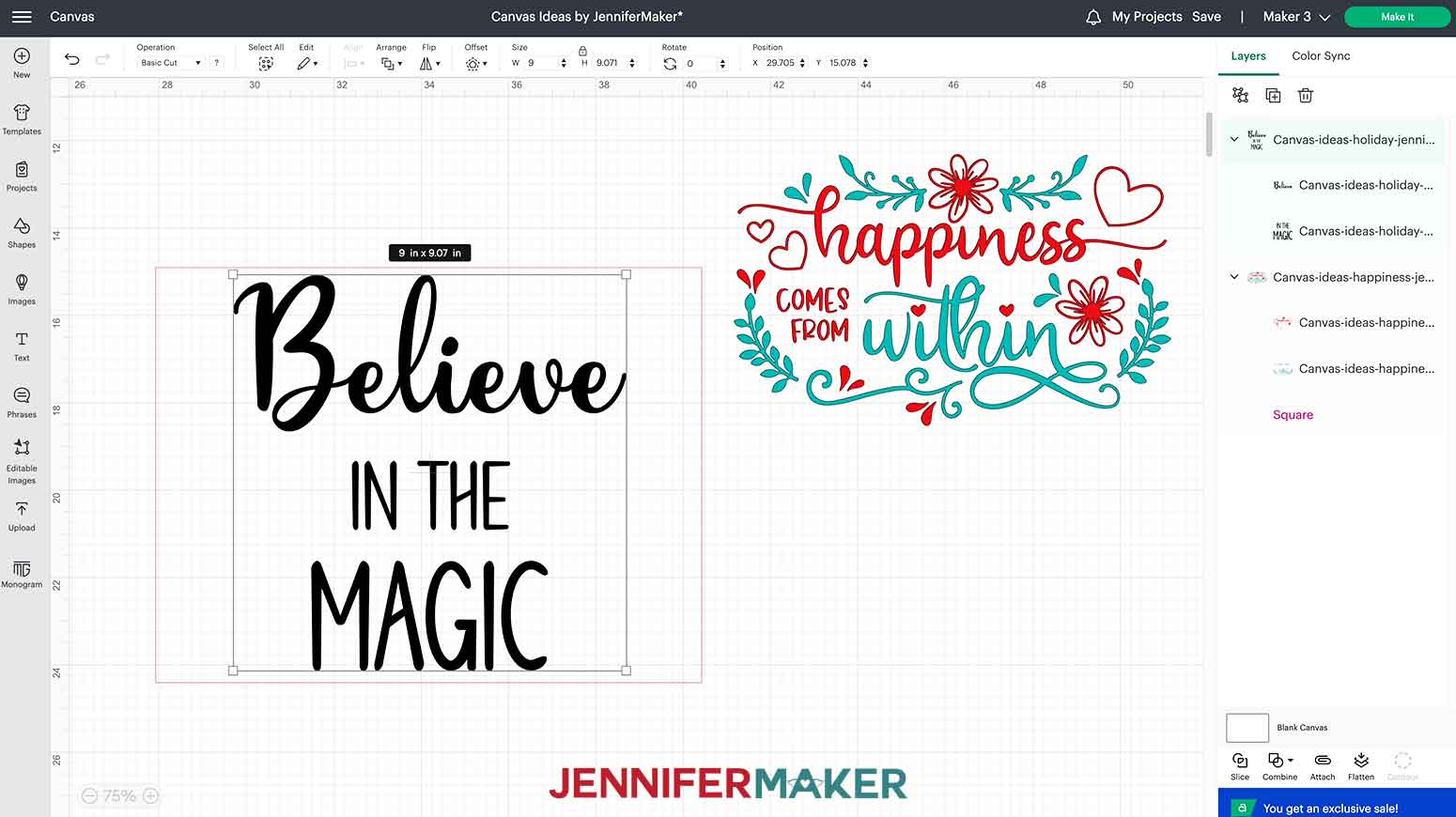 I want to see how big it will be when believe is the same size as the metal version, so I'll set the width to 9.5.

That will work well! I can adjust the layout a bit during assembly.

Since I'm not cutting vinyl for "believe," I'll use the eye icon to hide just that layer. I'll change the color of the rest to white.
I'll cut the Happiness design in the colors. Move the first design to the side and click and drag the "happiness" design in the guide to resize.

Now it's ready to go!

Select the correct machine in the top menu and click "Make It" to move to the Prepare screen.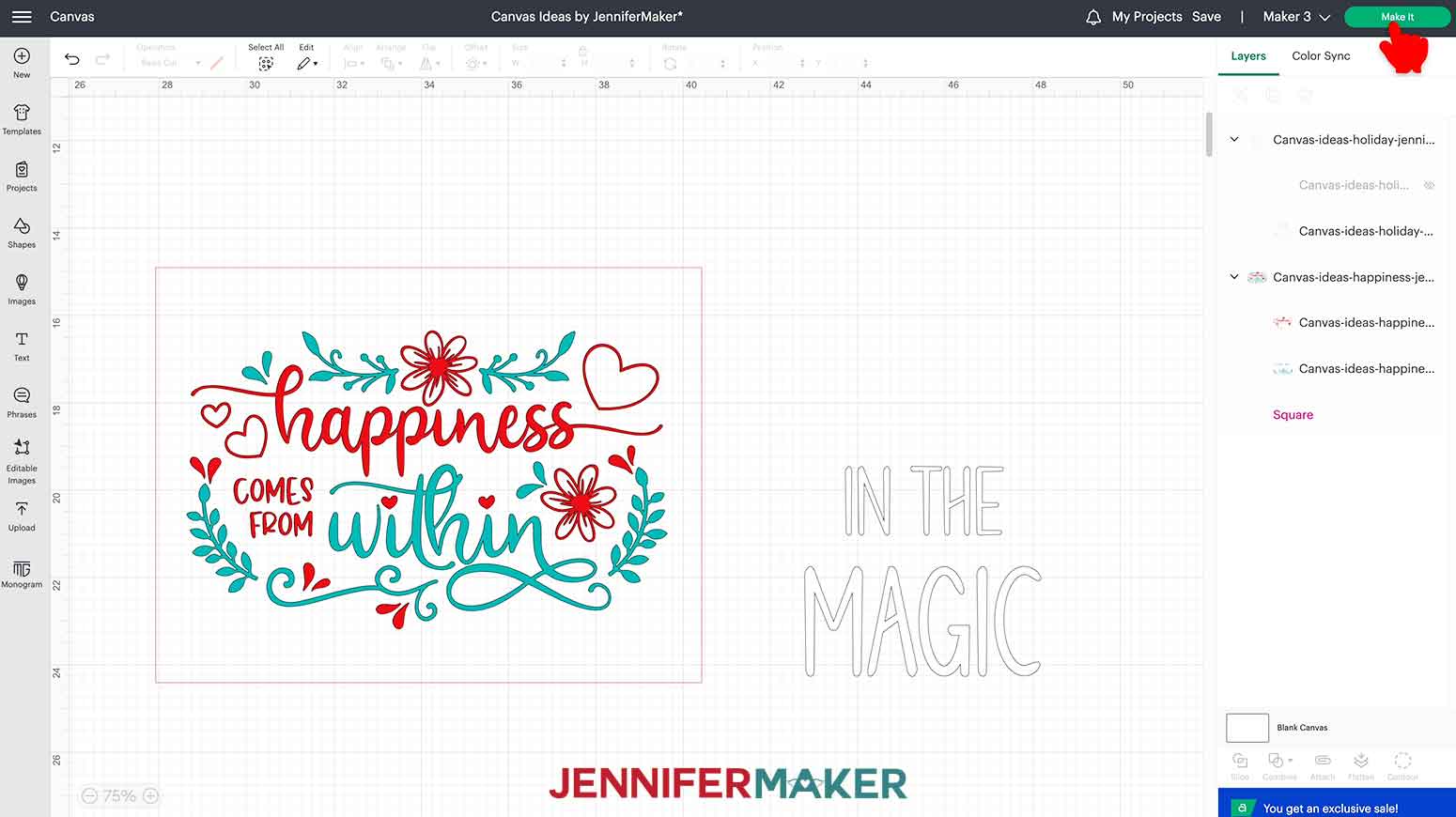 A pop-up window might appear. Select "On Mat," "12 x 12" and click "Confirm".

On the Prepare screen, make sure your designs look right. Then, because we will be cutting on the back of the vinyl and transferring it to the canvas, turn on Mirror by clicking the green toggle underneath each mat.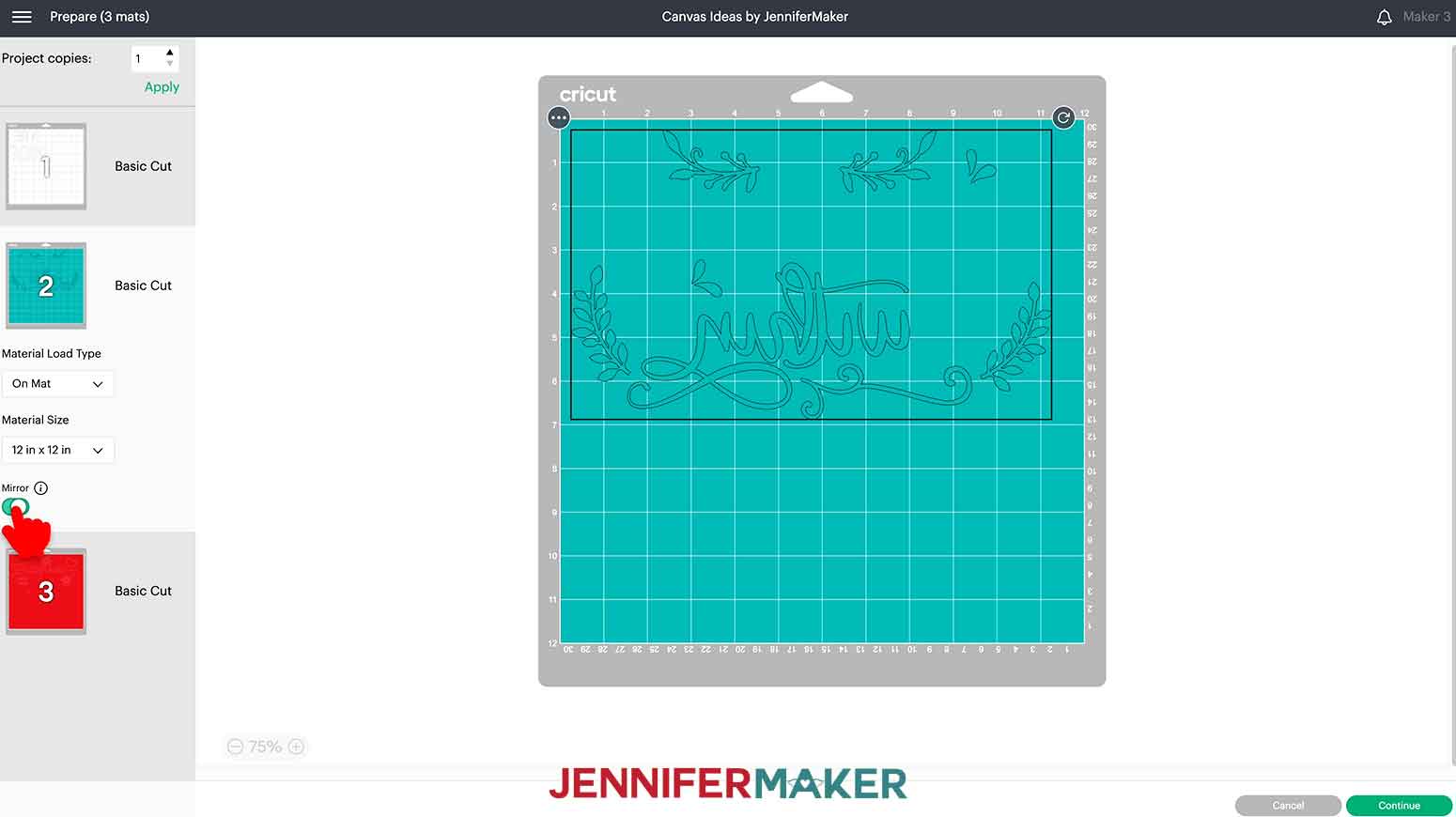 Click back on the first mat, then click "Continue" to move to the Make screen.

Under Set Base Material, I am choosing "Everyday Iron-on". I always change my Pressure to "More" for a cleaner cut. Make sure your Cricut Fine-Point Blade is clean and in Clamp B as indicated on the screen.

Put your firt mat's vinyl shiny side DOWN on a green StandardGrip machine mat. Use a brayer to get the vinyl as smooth as possible.

Then, load the mat into your Cricut and press the flashing button to begin cutting.

When the cut is complete, do not unload your mat right away – instead check that your blade cut through the vinyl by putting up on a corner of the vinyl from the clear liner carefully.

If it did not cut well, press the vinyl back onto the liner and tap the middle button again to have your Cricut re-cut your design in the exact same position. Once you know your vinyl has cut properly, go ahead and unload the mat. Flip it over and peel back the mat to release the vinyl to avoid wrinkling and creasing it.
Repeat for the other mats.

Trim the excess vinyl, then weed around the letters. Don't forget to remove the middle of letters, too!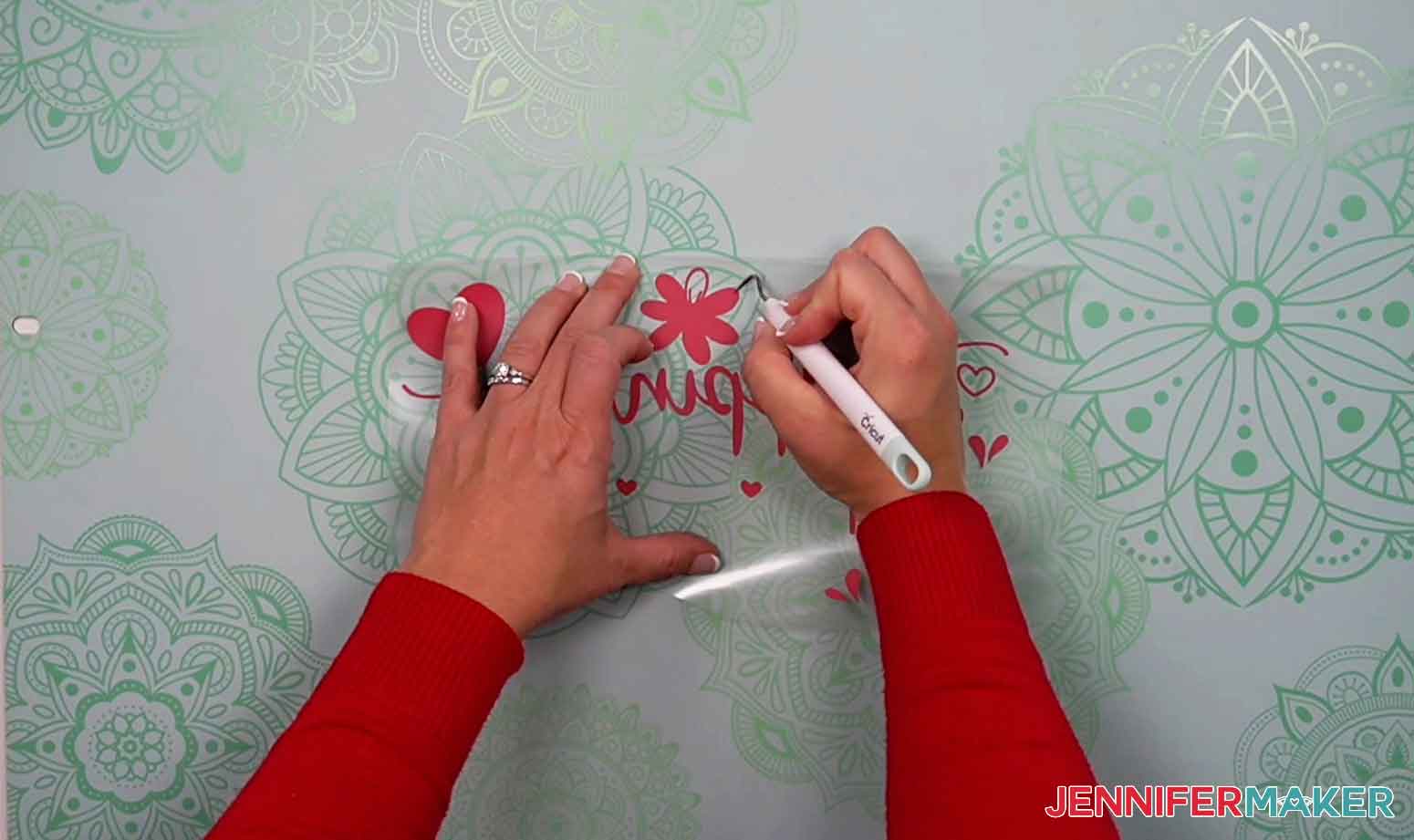 STEP 4: ASSEMBLE YOUR REVERSE CANVAS
We'll add the vinyl before putting the canvas back on the frame. I'll show you with the Believe design.
Plug in and turn on your heat press. I'm using an EasyPress. Check the Cricut Heat Guide for your settings. I chose "Everyday Iron-On/Lite/Metallic" under Heat-Transfer Material and "Cotton Canvas" under "Base Material."

Once you click Apply, Cricut will let you know what settings to use with your press. For the iron-on vinyl, I set my temperature to 340 and 30 seconds.

Let's clean up the canvas edges.

Using a pen or pencil, trace the outer edge of the frame on the canvas. Then cut the excess canvas with scissors.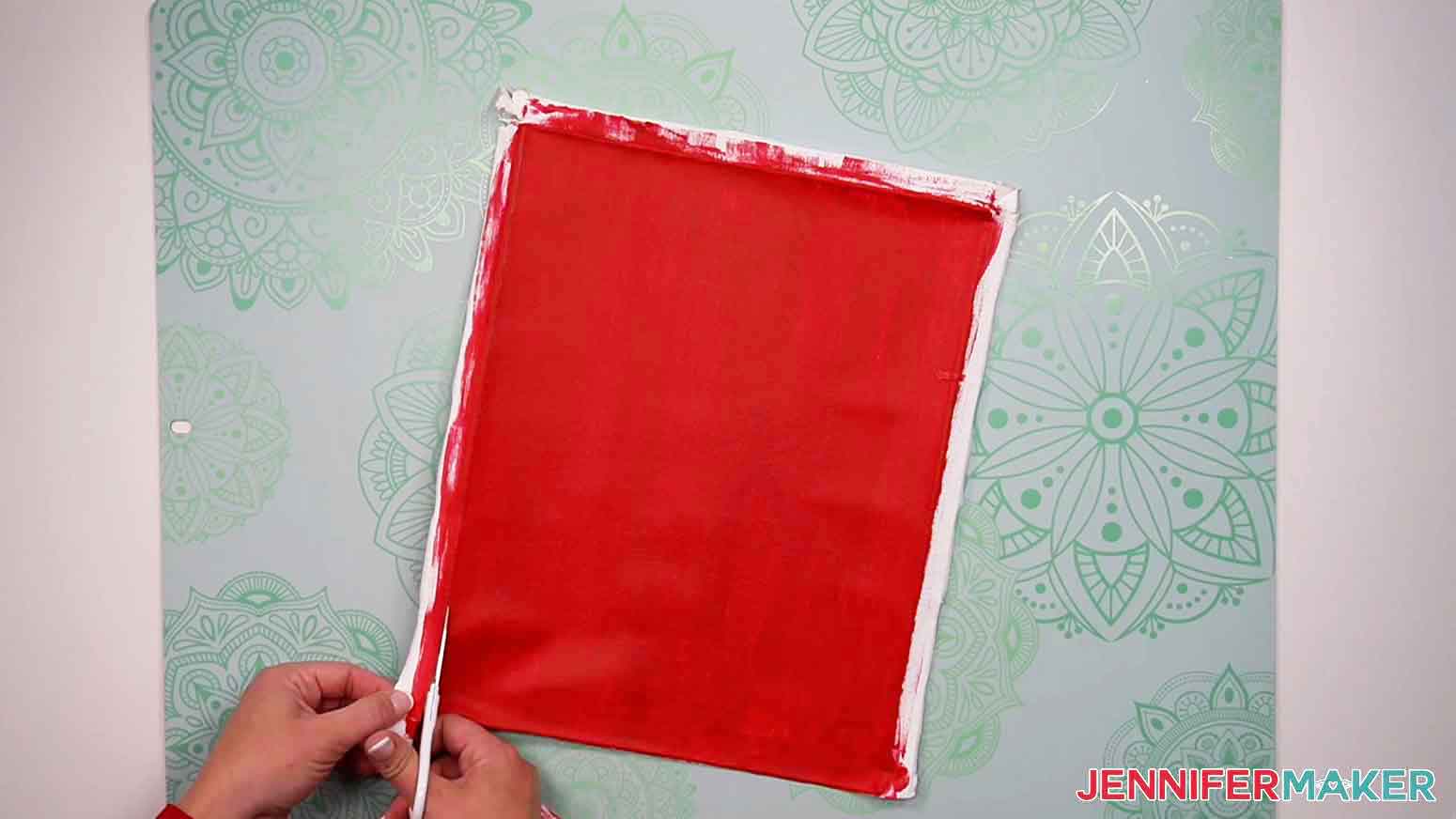 Place the canvas face up on the heating mat and lint roll the design spot to remove any debris and lint.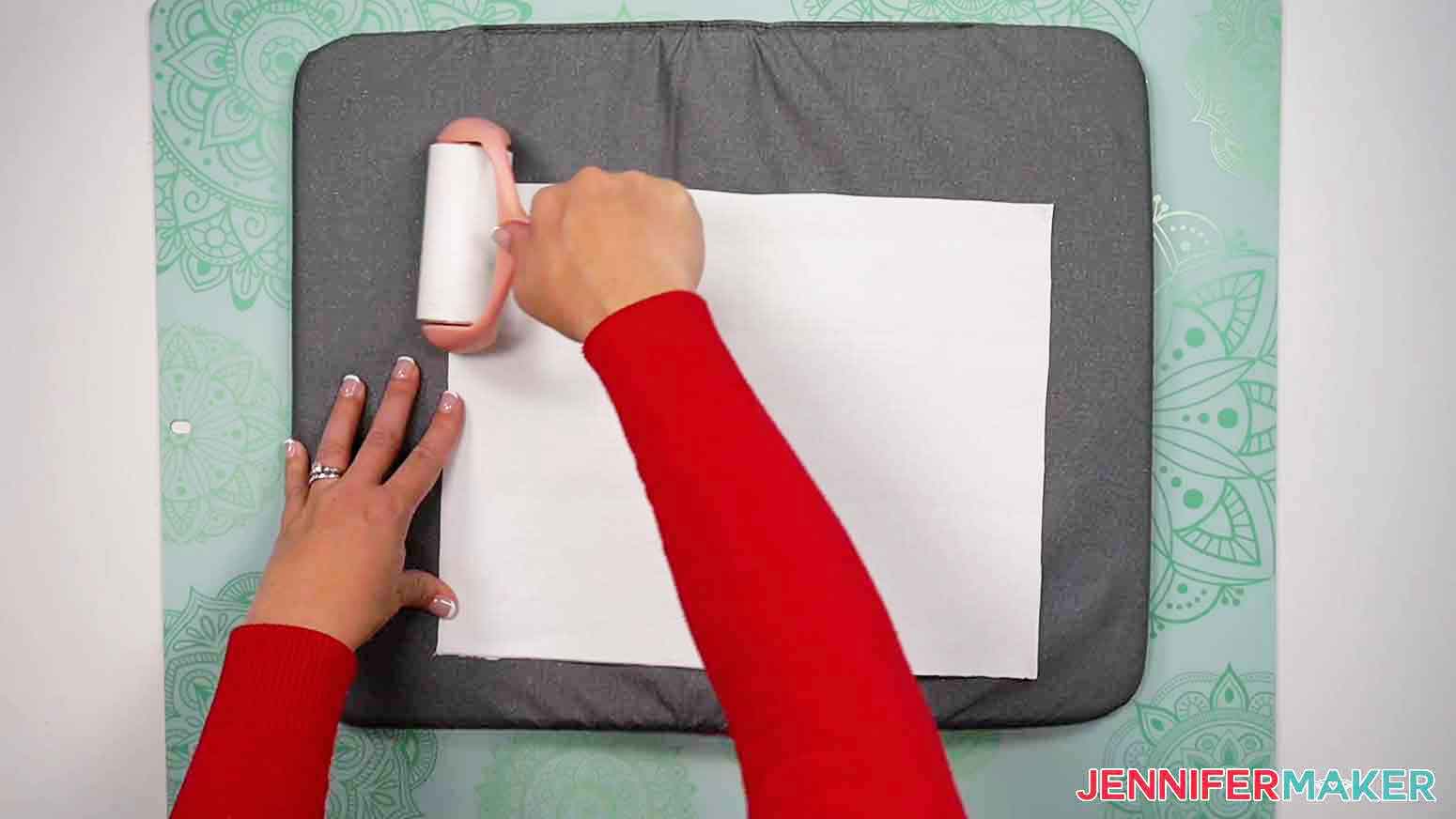 Once the press is ready and the light is green, cover the area for the vinyl with butcher paper to protect your press from the paint. Preheat it for five seconds to remove any moisture.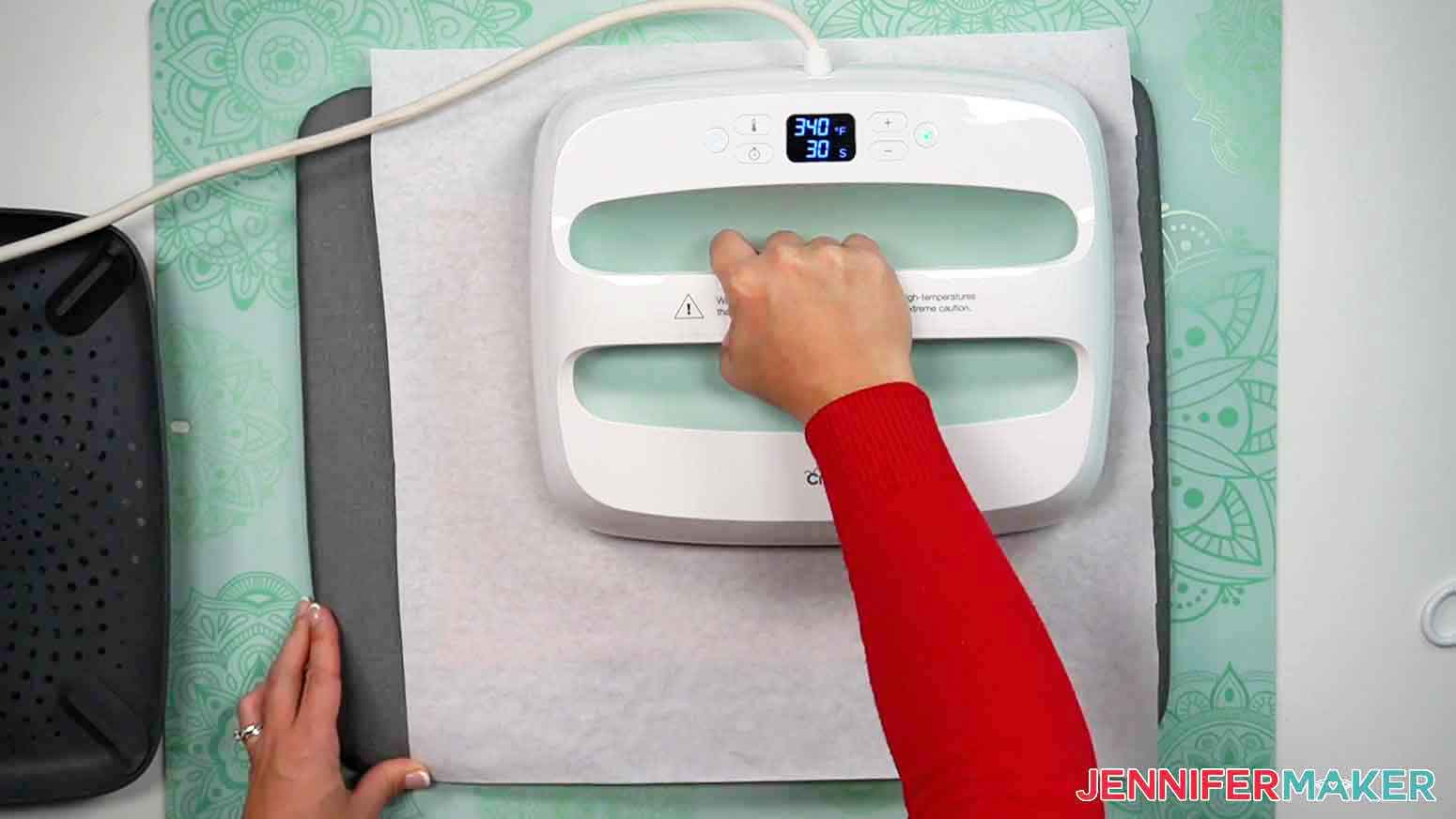 Remove the butcher paper, then gently fold the canvas in half both ways, so you have light creases and a center point.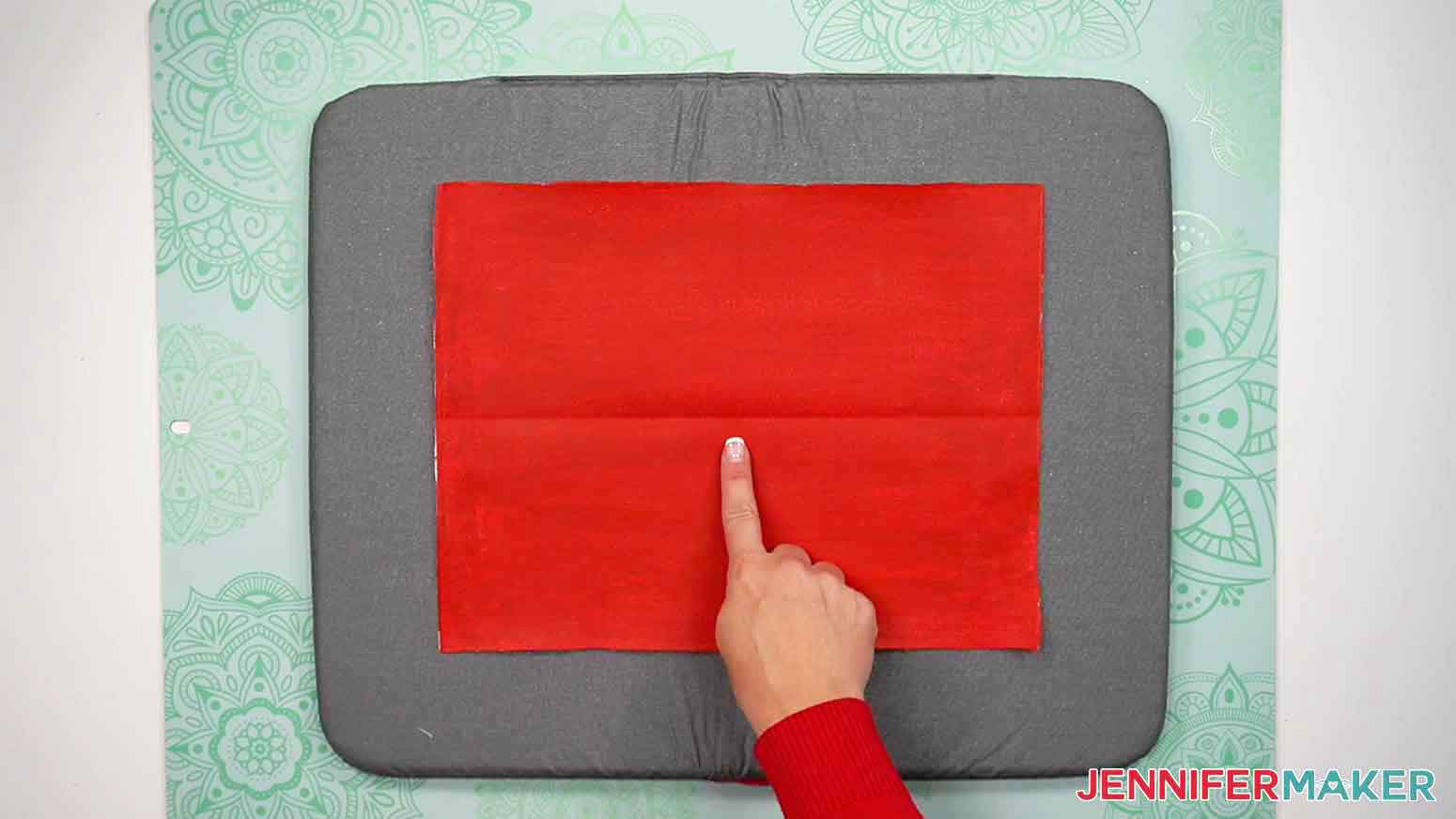 Check your design for any stray or missing pieces! Then, carefully bring the sides together, matching up the vinyl edges. Lightly crease the liner at the top and bottom. Don't worry, it won't hurt the vinyl.




Place the weeded design where you want it, liner side up. You can put the frame, metal word, and any other decorations into position so you can see the end result. You can line up the creases to help keep the words even.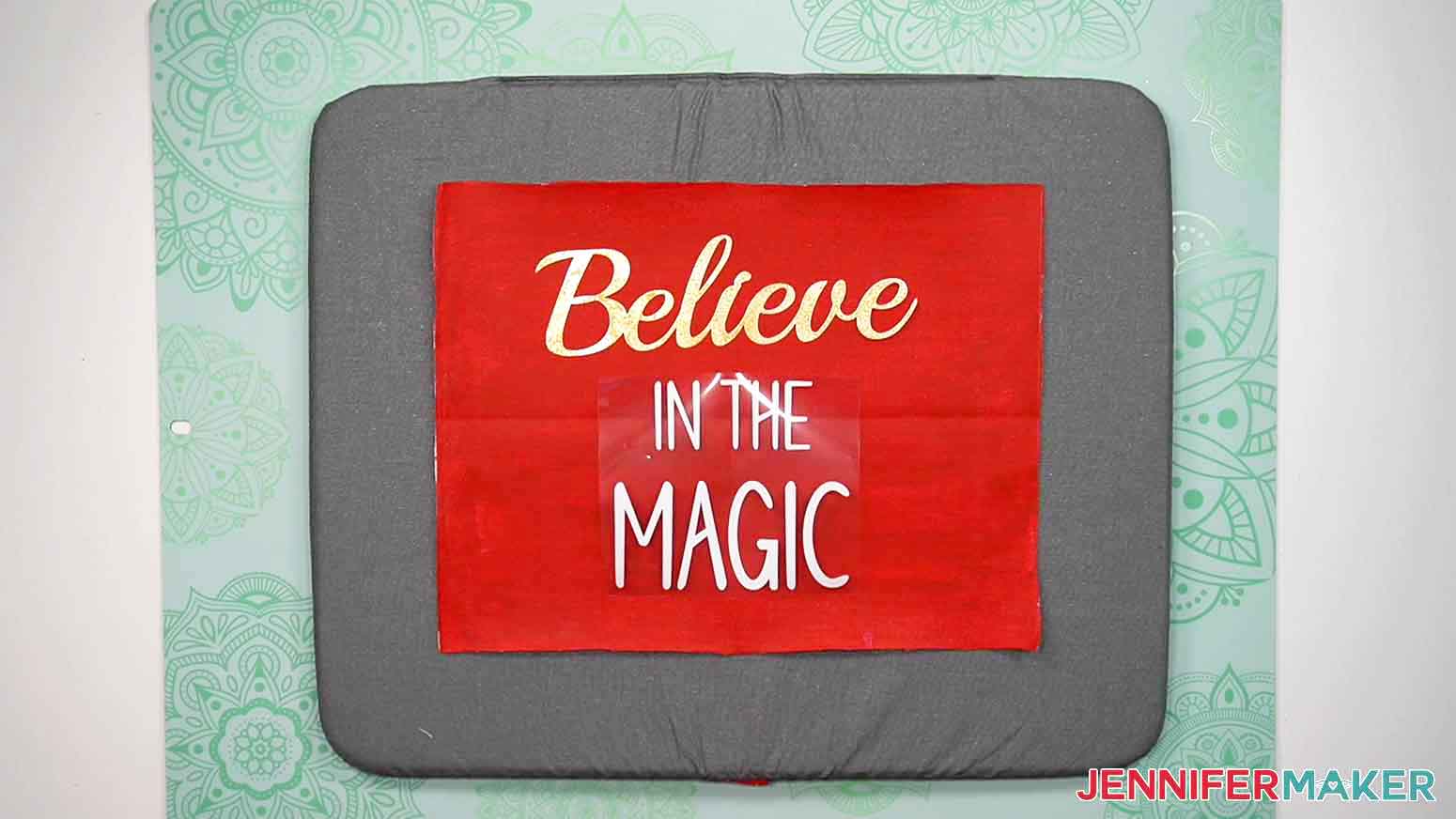 Remove everything but the decal, then replace the butcher paper, and press for thirty seconds.

Flip it over and press for another 15 seconds.

Once the liner feels cool to the touch, you can carefully remove it.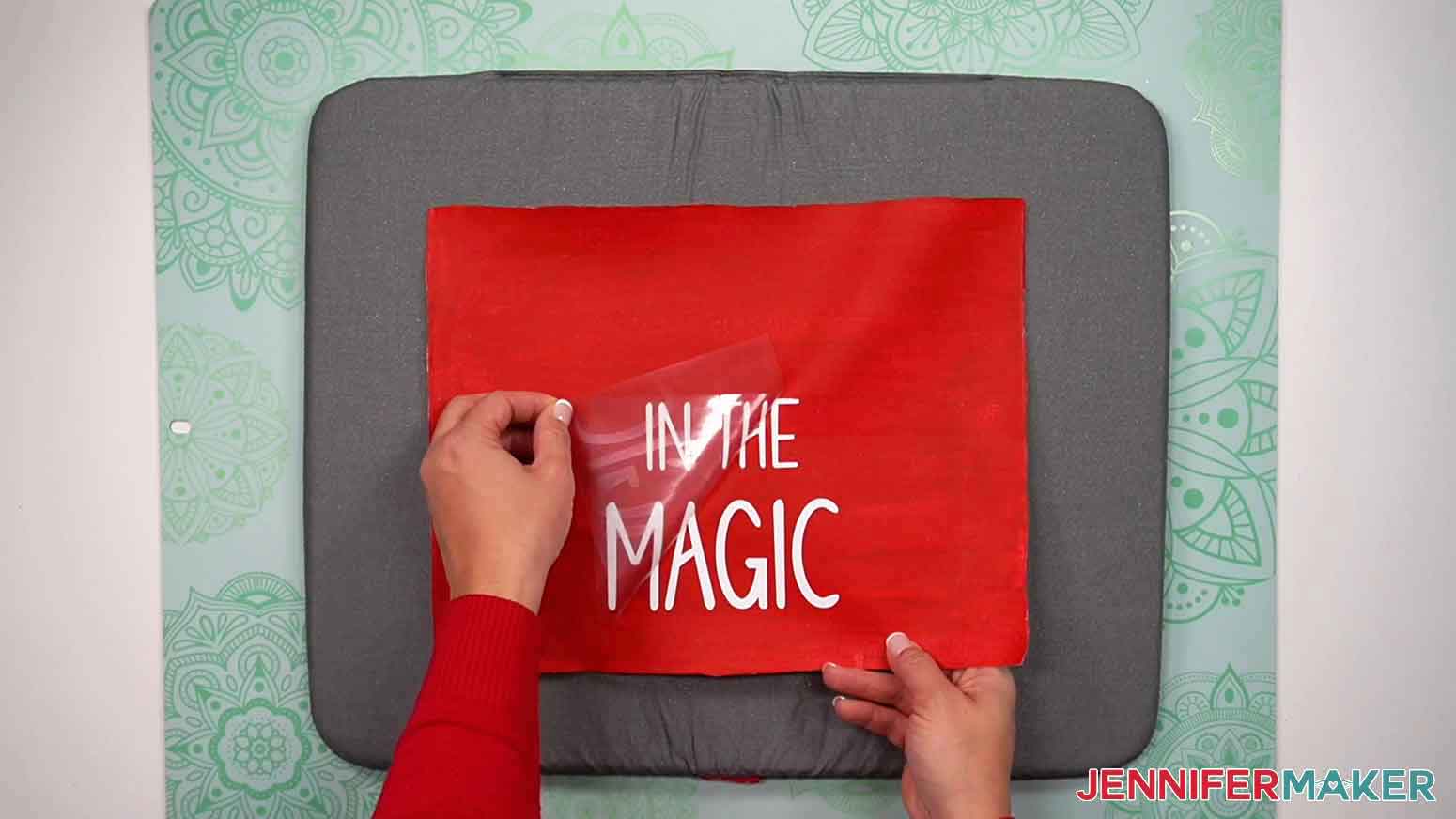 Now to put it back together!

Lay your frame face down, and using your hot glue gun, make a line of glue on the top edge of the wood. Lay the canvas face down on the glue. Hold it until it sets, making sure the canvas is centered and there are no wrinkles.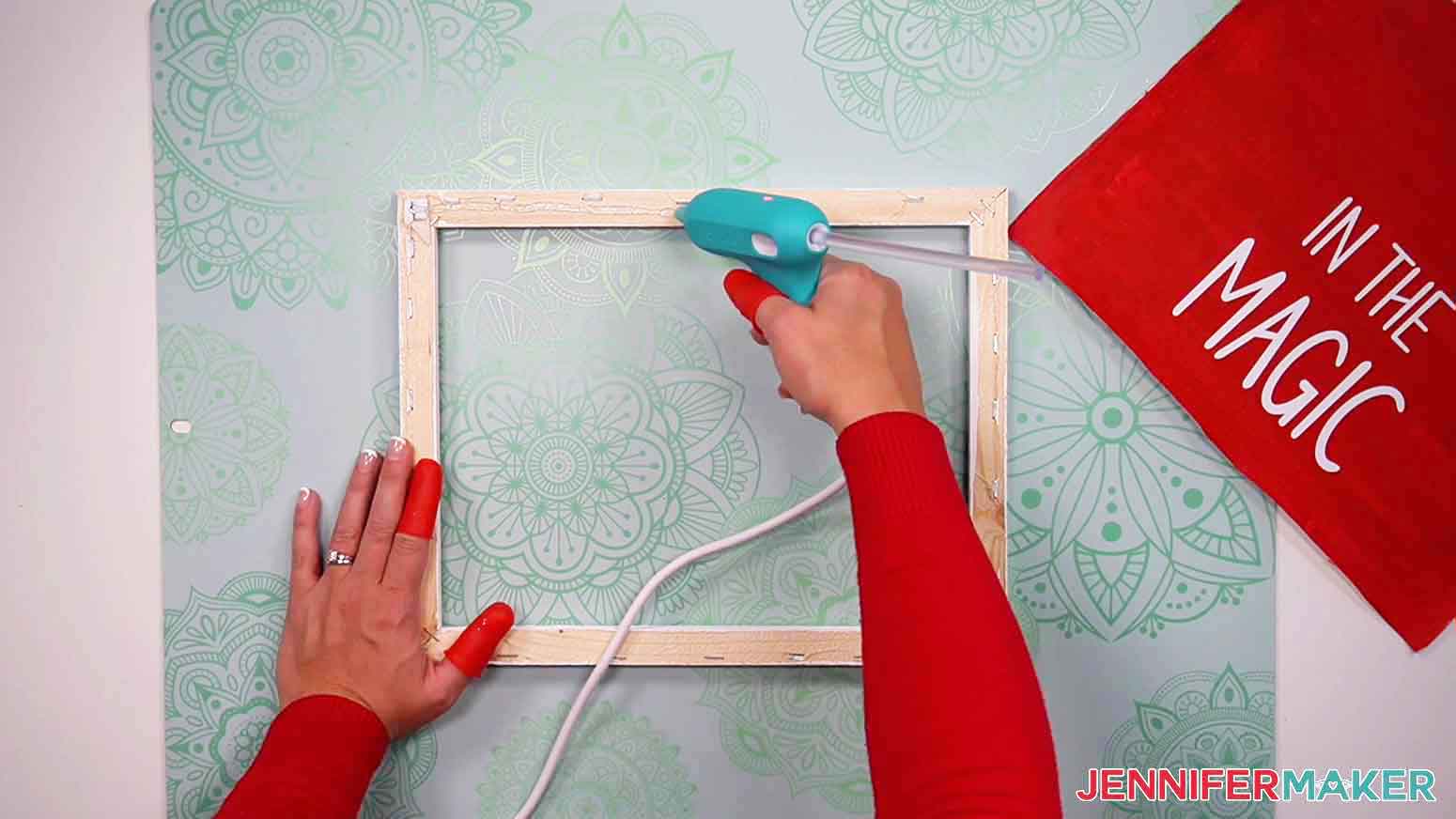 Glue your way down the sides, keeping a bit of tension on the canvas so it's taut in the frame.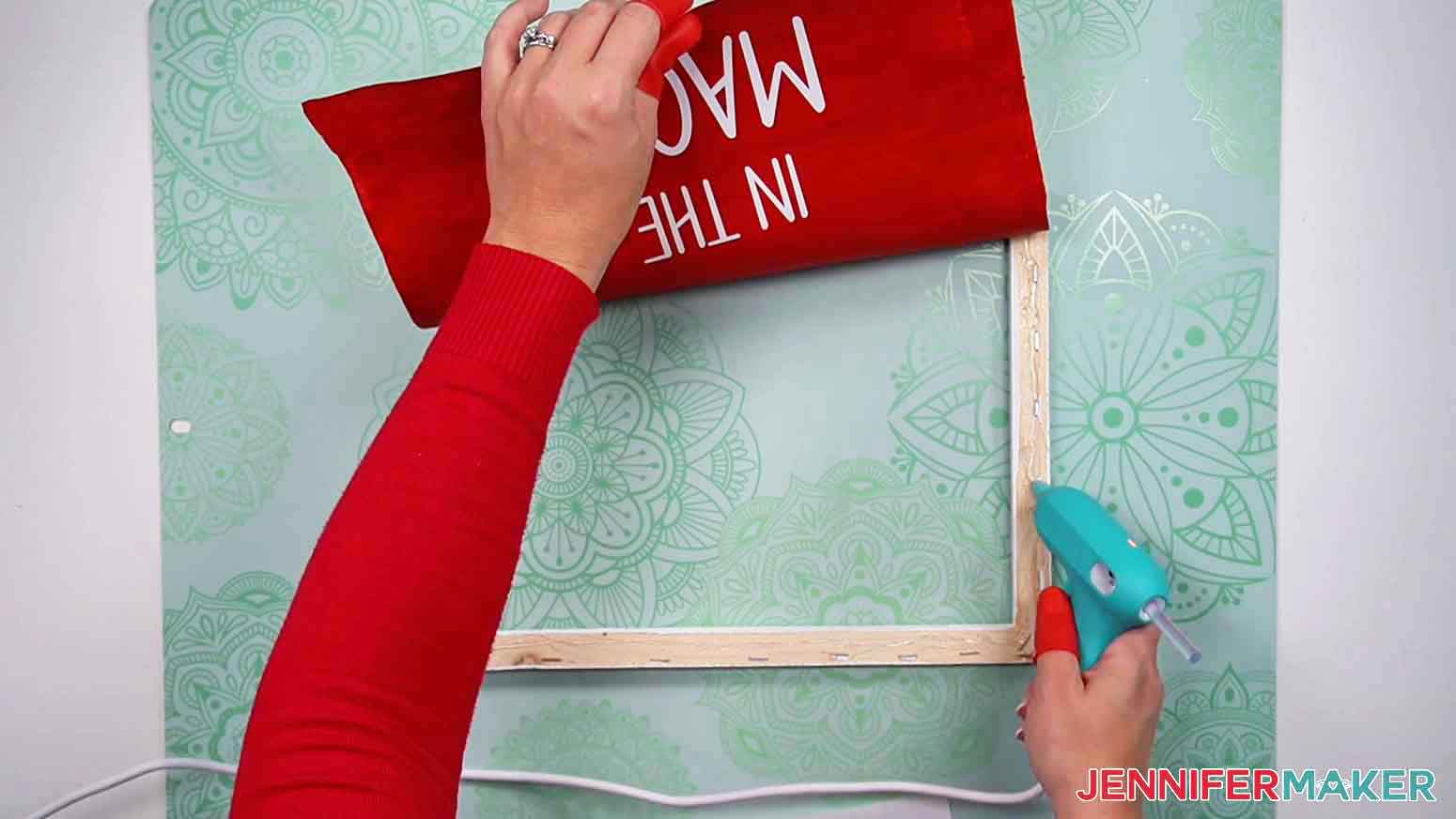 Then glue the bottom edge.

Once dry, flip it over and you should be able to see your design through the front of the frame.

Add the metal word in place using Bearly Art Glue. Hot glue dried too quickly on the metal to adhere well to the canvas. It made a mess!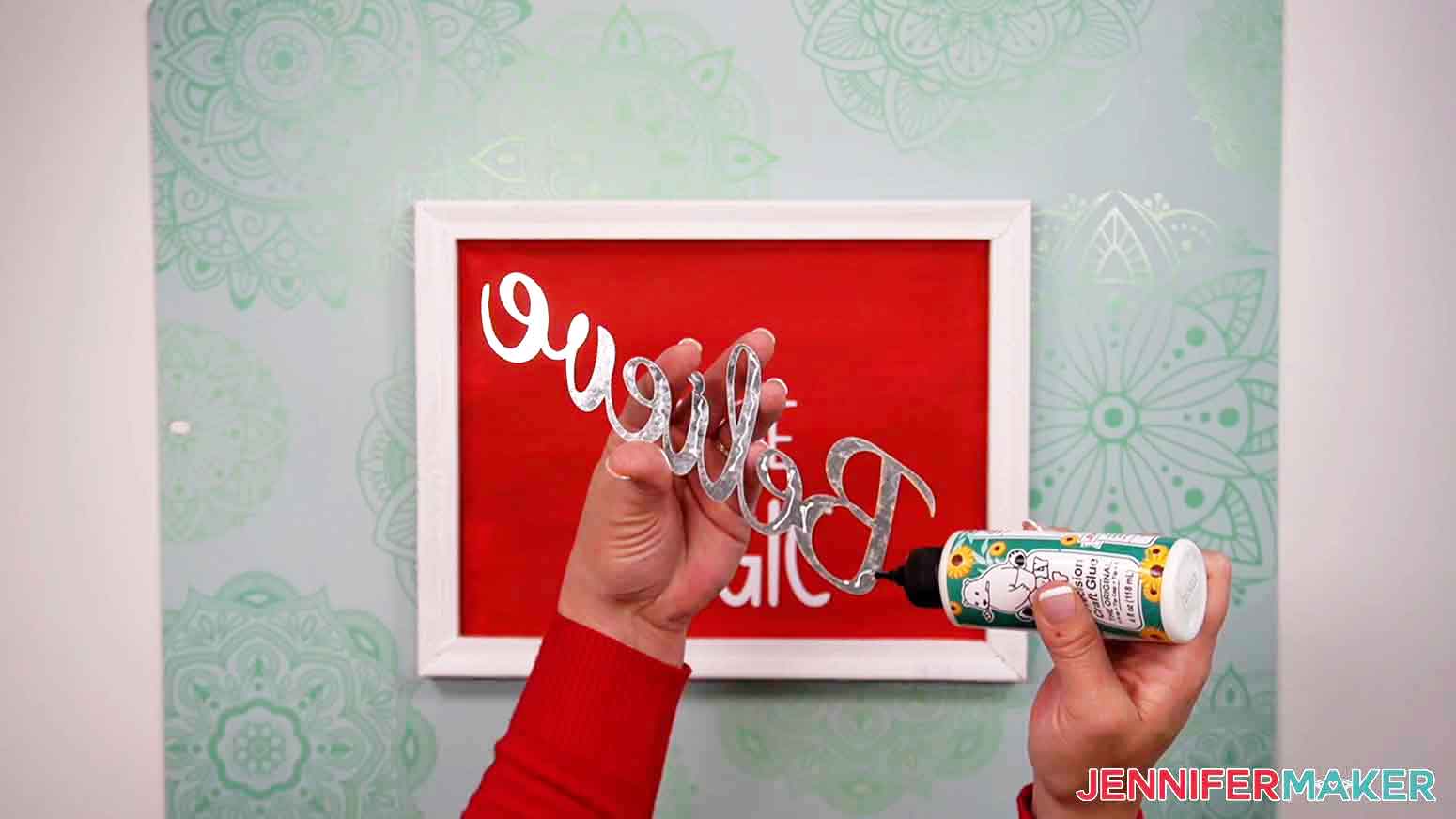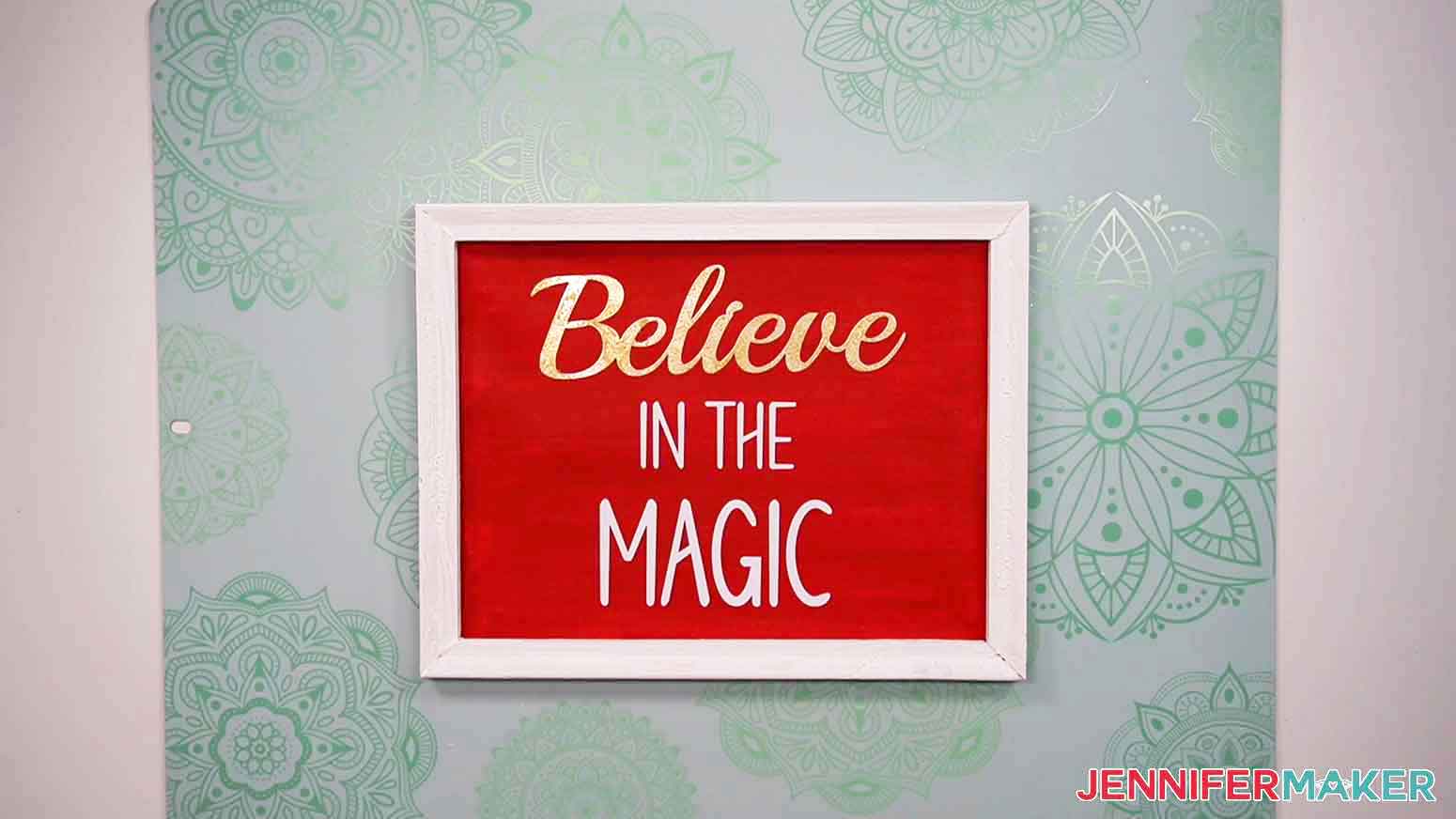 Cut apart the other decorations using wire cutters and hot glue them wherever you like! I added some holly to the corners.

NOTE: If you're making a simple layered image like my Happiness design, follow the steps below, The pressing instructions are a little different than our other layered iron-on vinyl projects but we found this technique most successful.
Align and press the first layer for 30 seconds at 340°.
Allow the carrier sheet to cool before removing it. When using Cricut iron-on vinyl on cotton canvas, I found that a cool peel had the best results for the vinyl adhering to the canvas.
Save the carrier sheet from this first layer.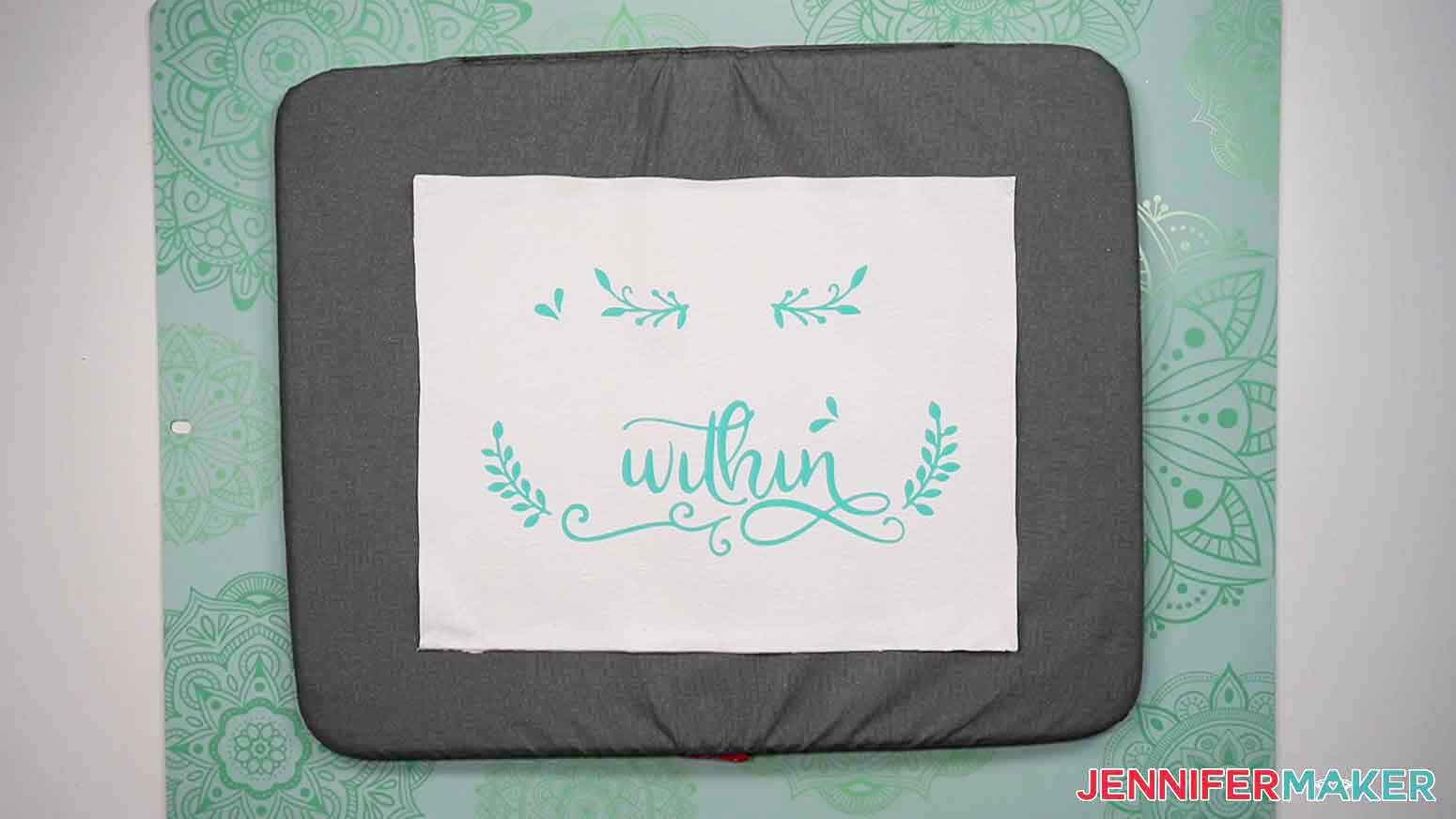 Now take your next layer and position it over the bottom layer. You'll note that the bottom layer has shrunk just a little bit. This is totally normal for iron-on vinyl; the more you heat it, the more it shrinks. A little shrinkage isn't that big of a deal.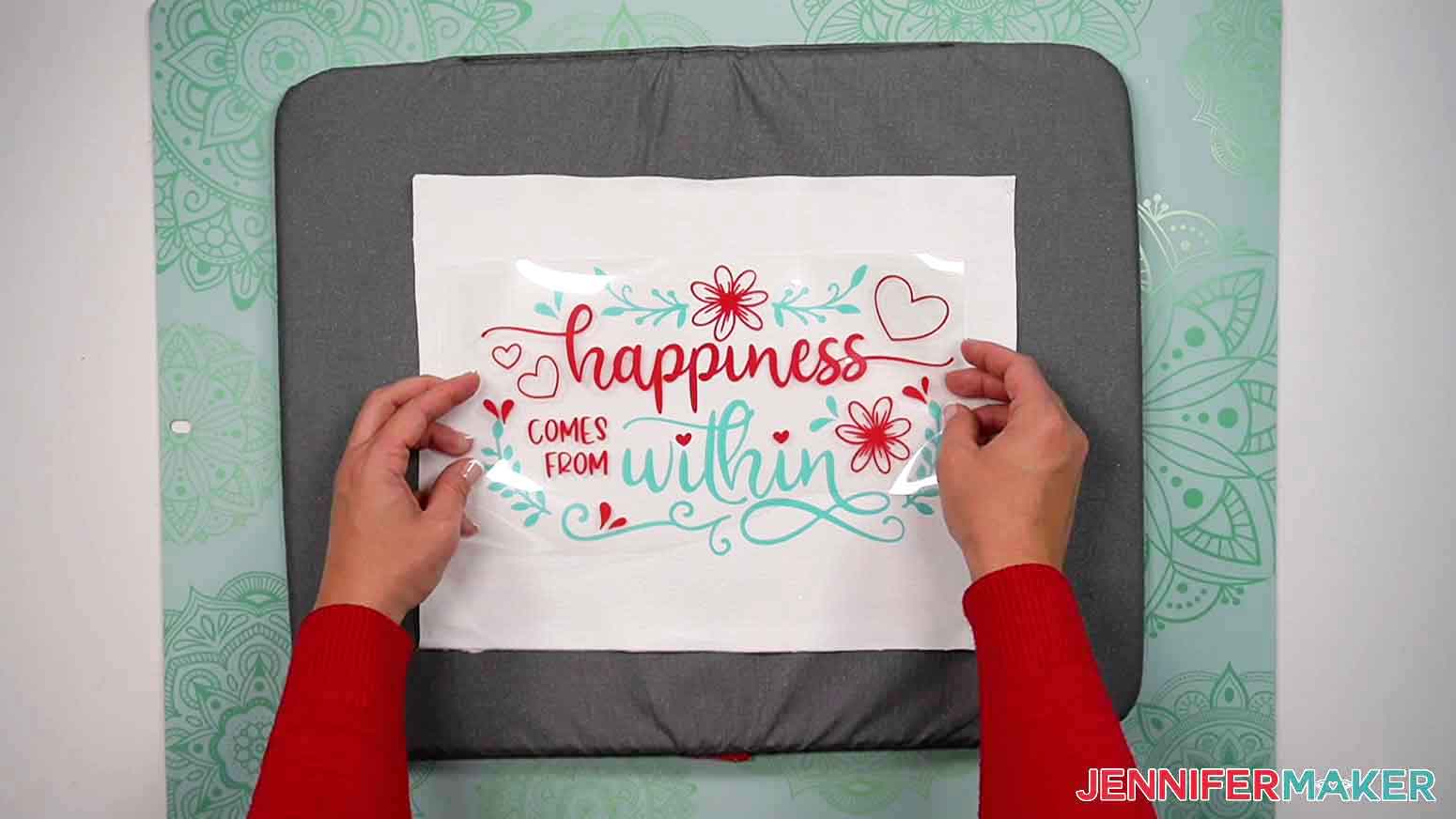 If any of the first layer's vinyl isn't covered by the carrier sheet, use the piece you saved to extend the protection. Make sure all the vinyl is covered and won't touch your EasyPress. Then follow the usual directions.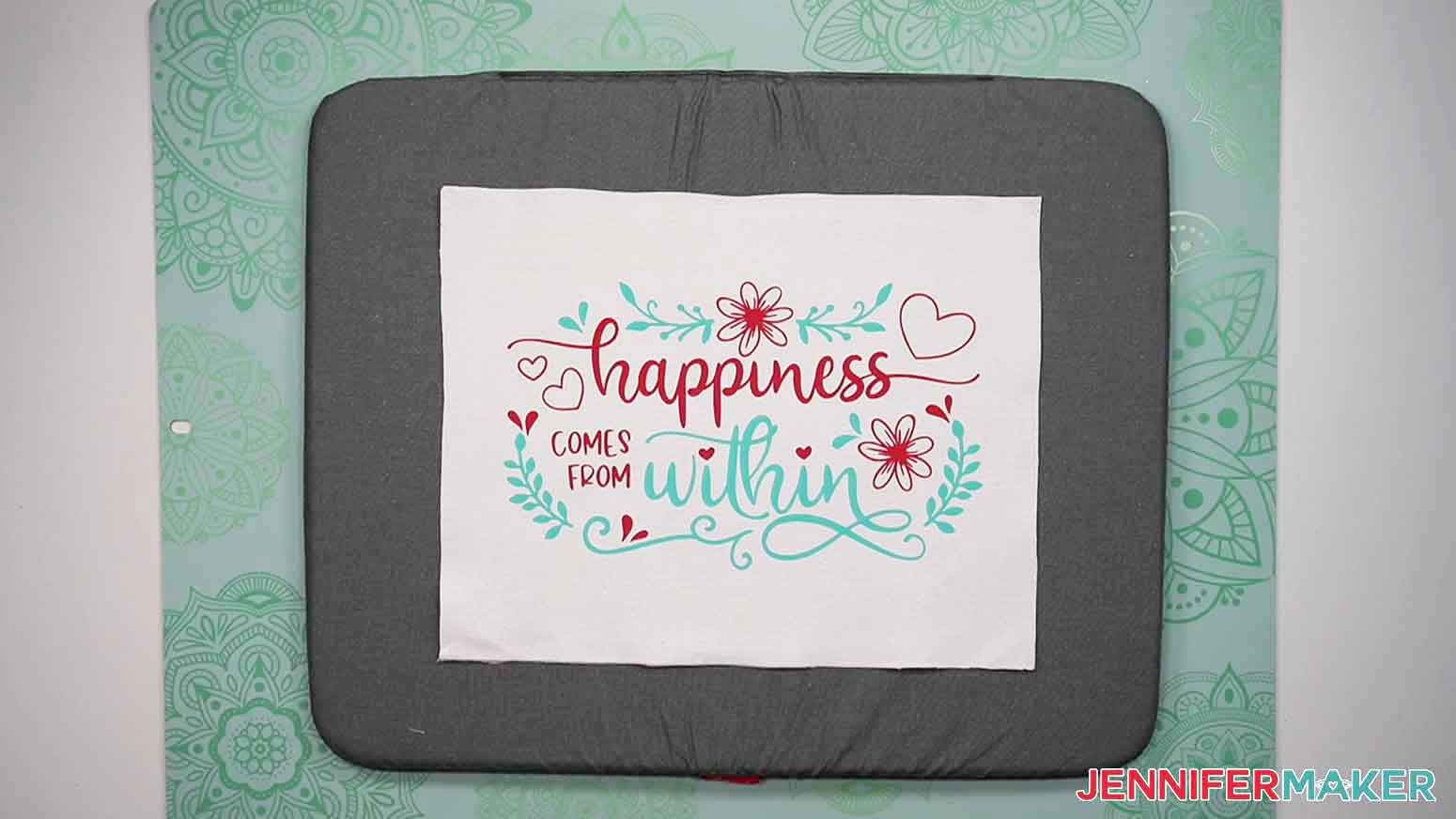 For more tips on layering iron-on vinyl, see my main tutorial!
STEP 5: SHOW THEM OFF!
These decorated canvases look great leaning in a shelf, but you can also add a picture hanger to the back if you'd like!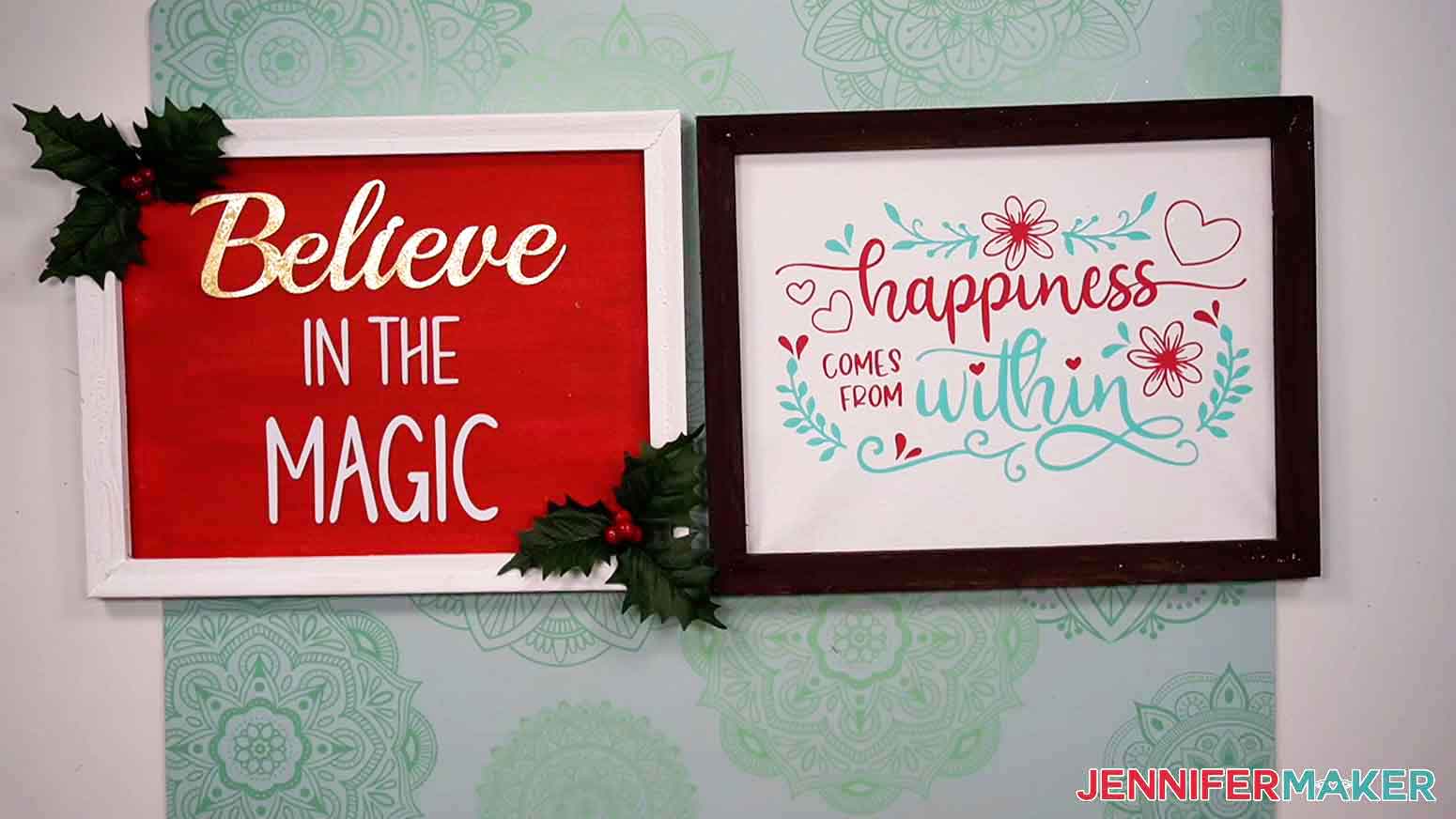 Answers to Your Questions About Dollar Tree Canvas Ideas
Q: What can I do with my blank canvas?
A: Visiting the dollar store (instead of the craft stores) is a great way to get great inspiration for inexpensive wall art and canvas projects! See what they have for supplies, but also what's on display. You might get an idea for a design! Sometimes different stores have different things in stock, so check around.
Q: How can I decorate my canvas?
A: DIY projects are fun because they're up to you! Even if you don't have a Cricut, with basic craft supplies, you can paint the canvas, then trim and glue on Dollar Tree florals.
Q: What can you make out of Dollar Tree stuff?
A: I have lots of ideas for holiday dollar store diys that don't take much money! You can make projects with a mason jar, snow globe homemade ornaments, wine glasses, and etched or clear glass ornaments!
Q: What works best on canvas?
A: Acrylic-based paint and iron-on permanent vinyl are a great starting point for Dollar Tree canvas ideas.
Q: Can I cut this canvas project on a Cricut Joy?

A: Yes, if you resize the Dollar Tree diy idea so that the largest piece fits on the Cricut Joy machine mat. See our Resizing Guide for more details.
Q: What is Merry Maker Mingle?
A: Each day in December leading to Christmas, I present you with a brand new "gift" — a project to craft, make, or do. You can make these projects on a Cricut cutting machine or by hand if you don't have one. Most of our Merry Maker Mingle projects will come with a fun video with yours truly, a step-by-step printable photo tutorial, and a free pattern/SVG cut file. Sign up to get daily updates and prizes!
Get my free SVG file collection to create Dollar Tree Canvas Ideas!
I love seeing what you make with my designs and how you use them! Please share a photo of your Dollar Tree canvas ideas in our Facebook group or tag me on social media with #jennifermaker.
Love,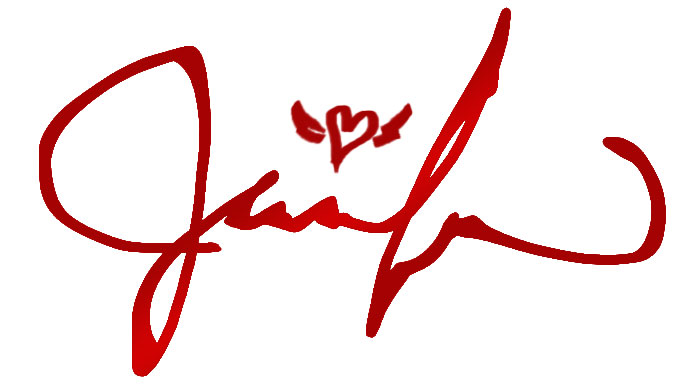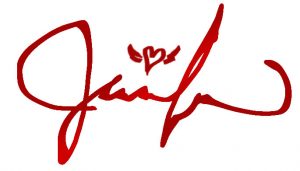 Want to remember this? Save this how Dollar Tree Canvas Ideas Tutorial to your favorite Pinterest Board!