Learn how to create festive etched glass ornaments with pretty metallic coloring to hang on your tree or give as gifts!
Glass ornaments are a special and unique way to commemorate the holidays. Store-bought ornaments are nice, but there's nothing quite like a homemade ornament, especially one that you made yourself! But how about an etched glass ornament? You've all told me how much you love etching glass and I totally get it — it's like magic! For these ornaments, I wanted to combine some popular themes and new etching techniques I've tried. Ornament crafts are super popular during the winter holidays so I thought this etched glass ornaments project would come in really handy to help you prepare.
Watch the full step-by-step video showing you exactly how to create personalized etched glass ornaments with a VIP pass to Maker Academy Weekend 2022!
Another thing I love about etching projects is that once you've gathered the supplies for an etching project, you'll be prepared for several more since the materials stretch so far. You make a great personalized project and have left over supplies to make many more. Sounds great to me!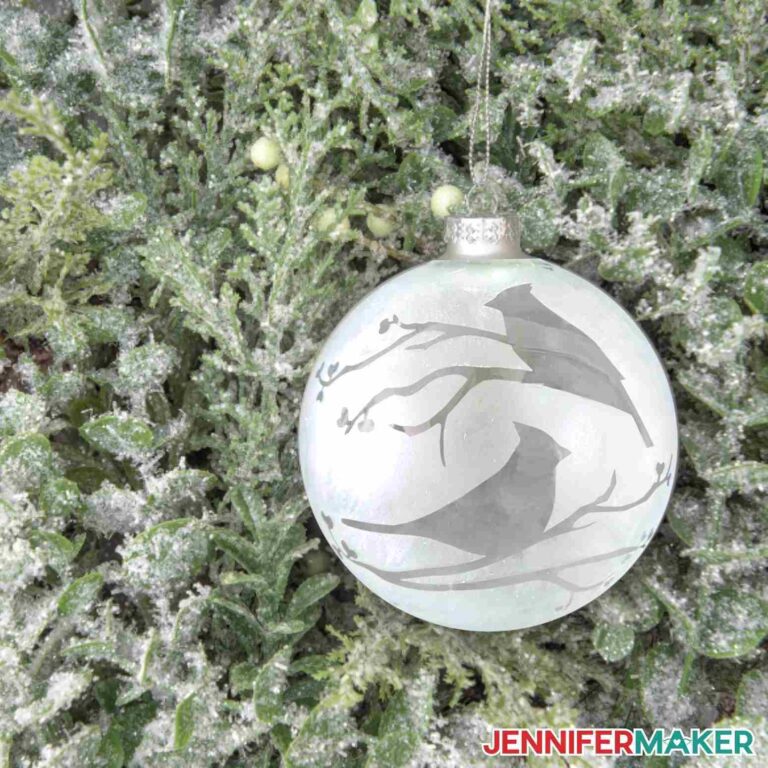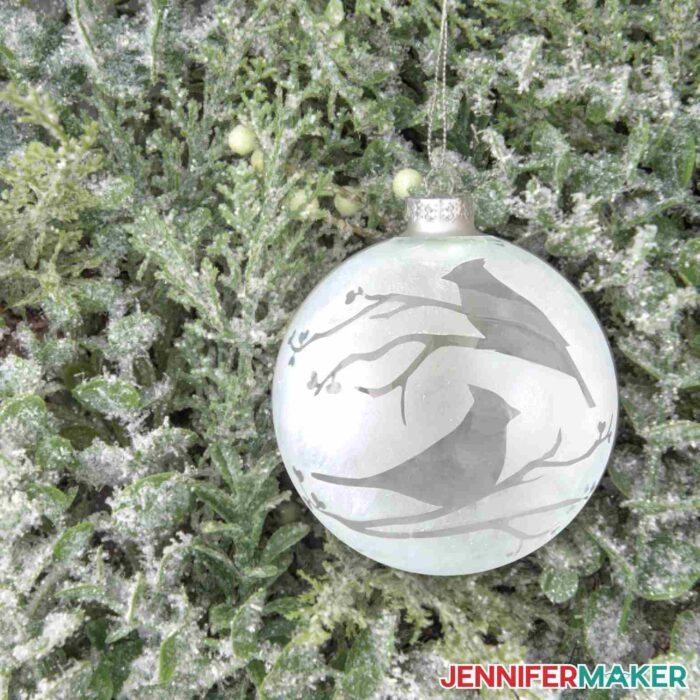 Glass etching is a fun and easy way to add a personal touch to your holiday decorations. All you need is some etching cream, a few stencils, and a little bit of time.
When it comes to etching ornaments, the key to make the etching successful is to get your stencil stuck really well to the surface, especially if its curved like these ornaments. Any wrinkles could let the etching cream seep, making your design hard to see. My tutorial shows you my best tips for perfect etching results. Seriously, you don't want to miss it!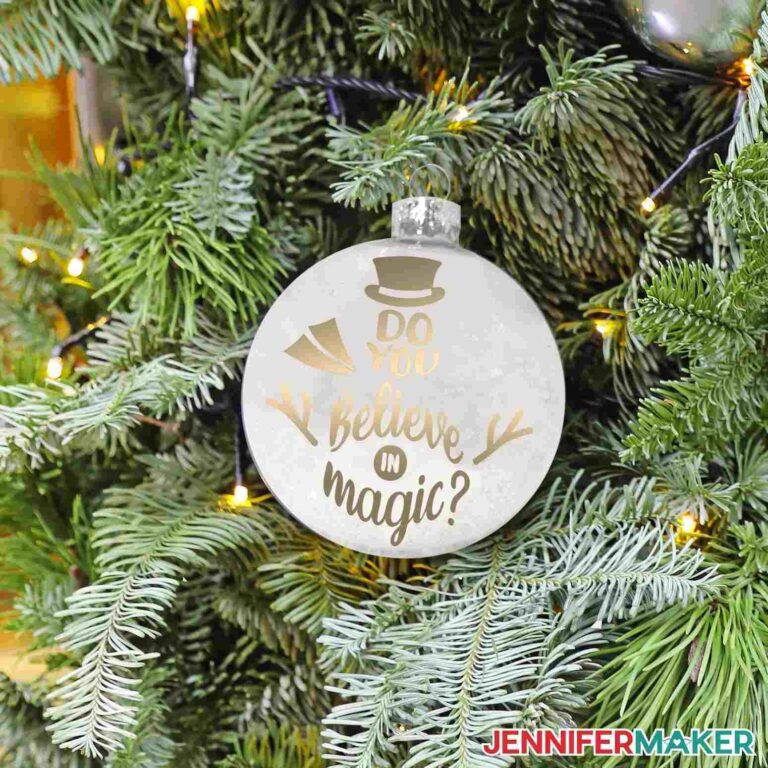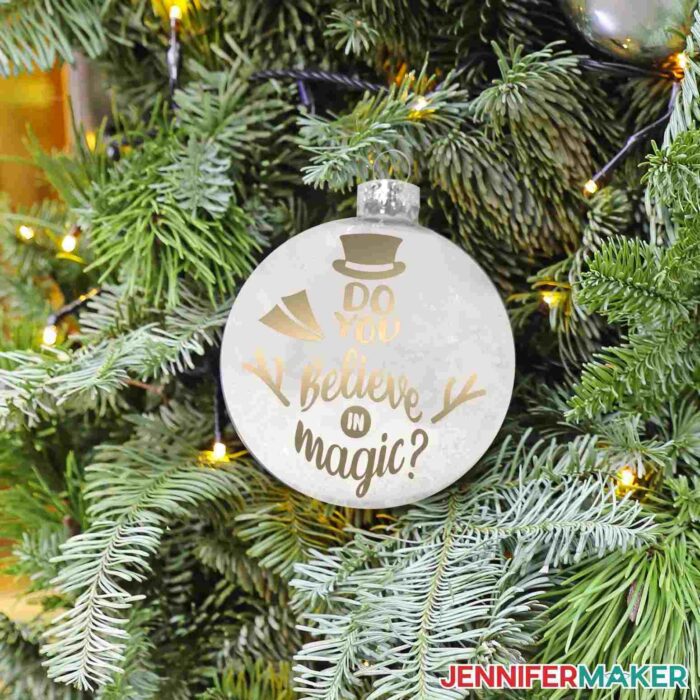 Look at how cute this ornament looks! I love a good pop of color to add that extra special touch. These etched glass Christmas ornaments would also make perfect personalized gifts for the holidays and they're sure to be cherished by the receiver.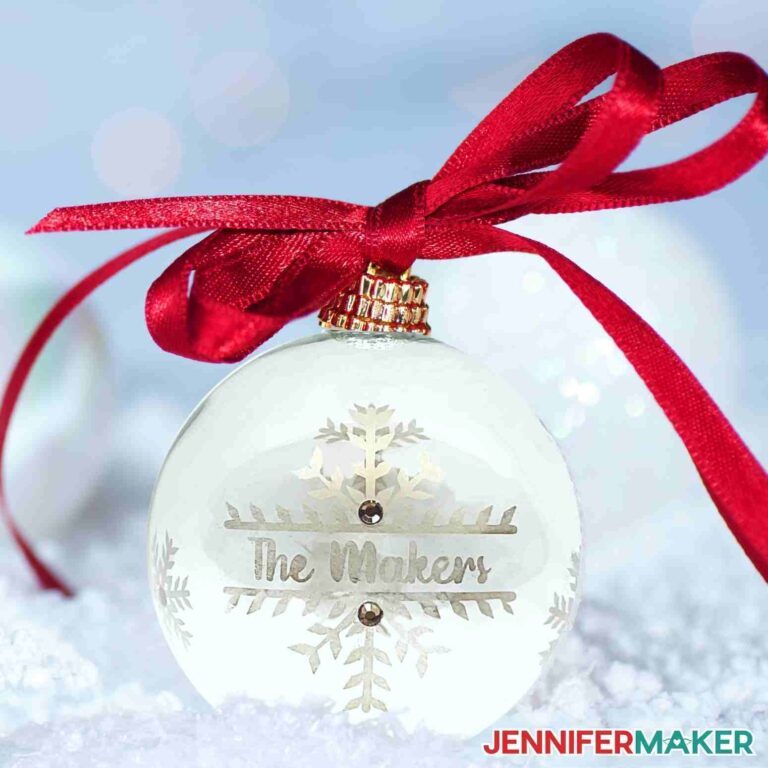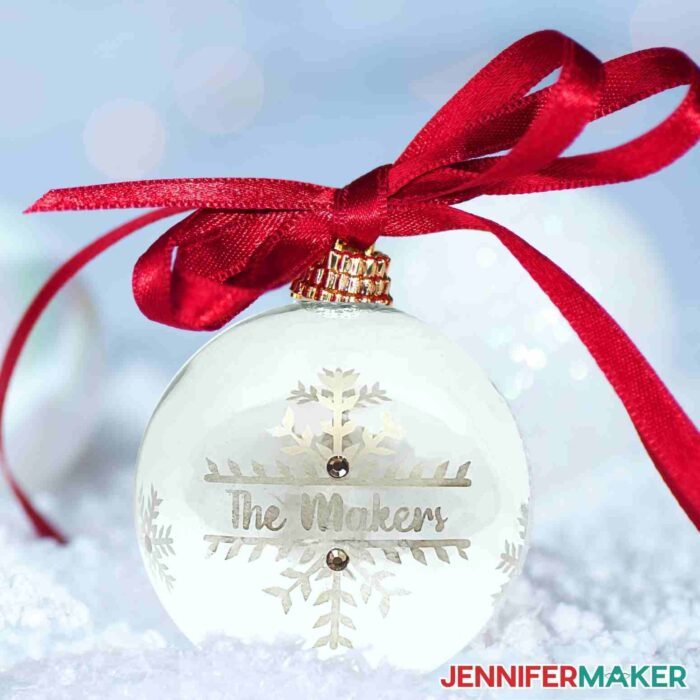 Here's a supply list of what you need to make custom etched glass ornaments! This post contains some affiliate links for your convenience (which means if you make a purchase after clicking a link I will earn a small commission but it won't cost you a penny more)! Read my full disclosure policy.
Materials to Make Custom Etched Glass Ornaments
View my Amazon shopping list with the exact items we used to make this project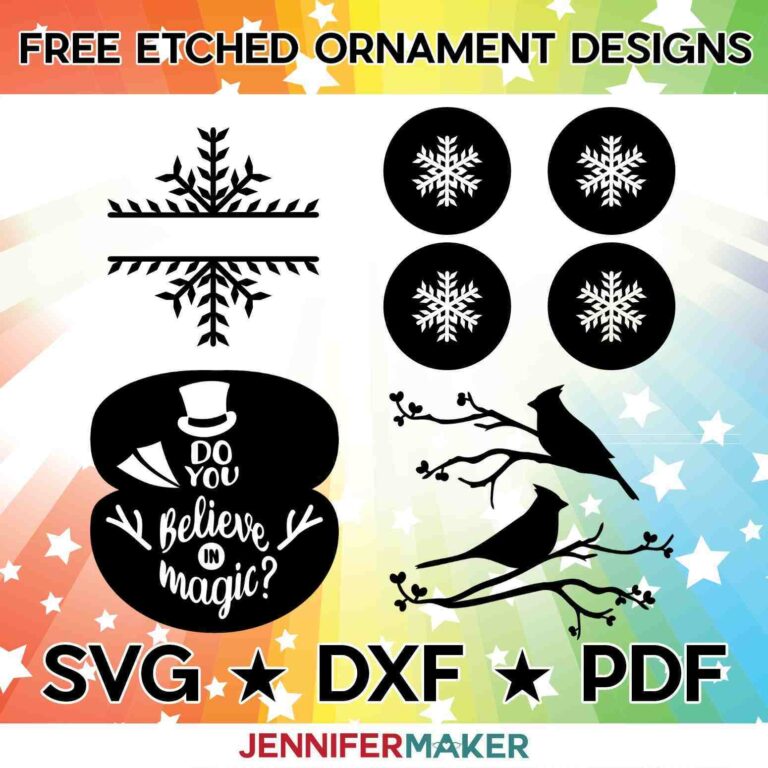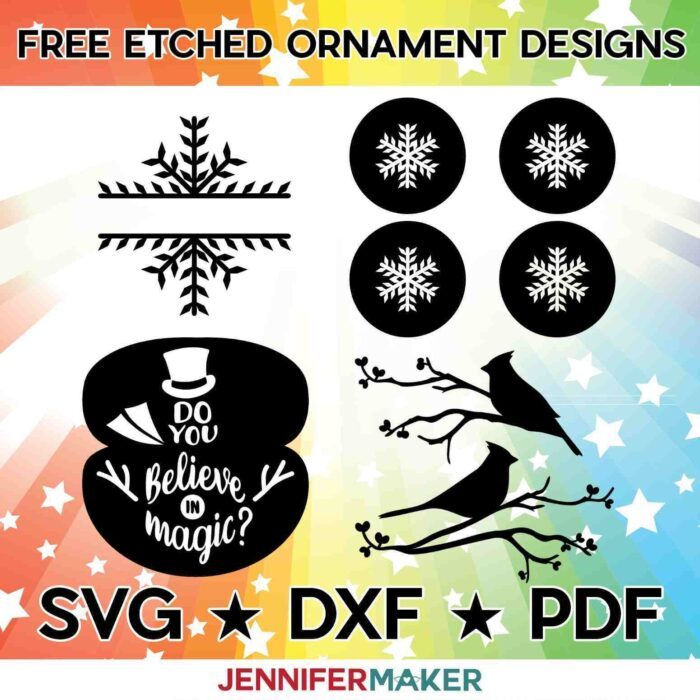 How to Make Your Own Etched Glass Ornaments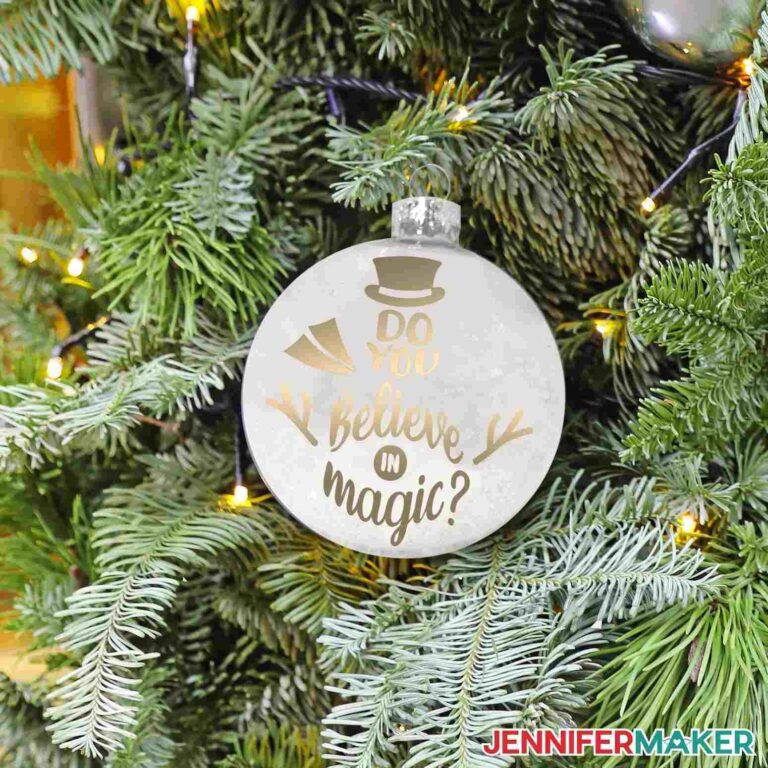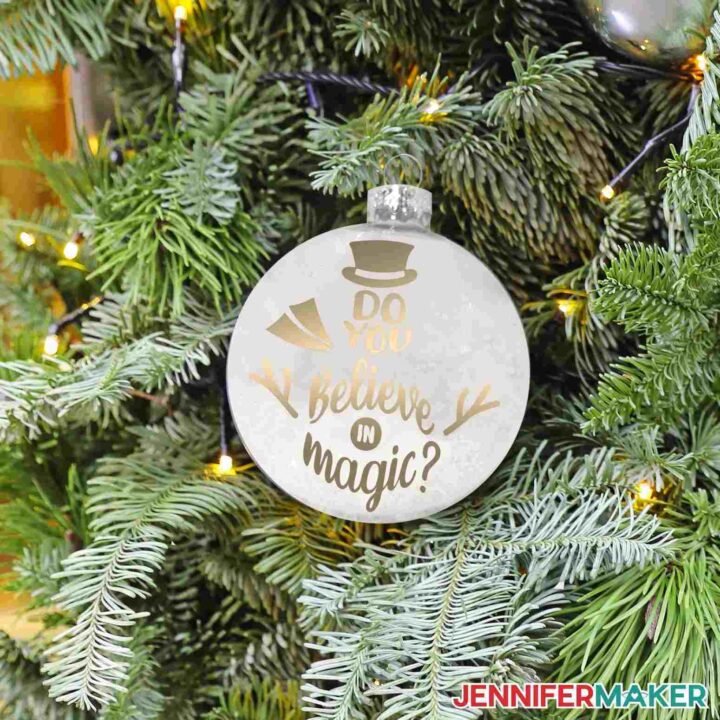 Etched Glass Ornaments
Yield: 1

Prep Time: 10 minutes

Active Time: 45 minutes

Total Time: 55 minutes

Difficulty: Easy

Estimated Cost: $5-$10

Learn how to create festive etched glass ornaments with pretty metallic coloring to hang on your tree or give as gifts!
The detailed step-by-step assembly video on how to create etched glass ornaments debuted during Maker Academy Weekend 2022, held online November 3-6, 2022. Get an on-demand pass to watch all 20+ workshops, each with a printable handbook, transcript, audio files, design files, and support with a VIP pass below:


One important note I want to mention is how important it is that the ornaments are made of glass, not plastic. Etching does not work on plastic so the material is super important when it comes to making this awesome project. Look at just how stunning this one came out!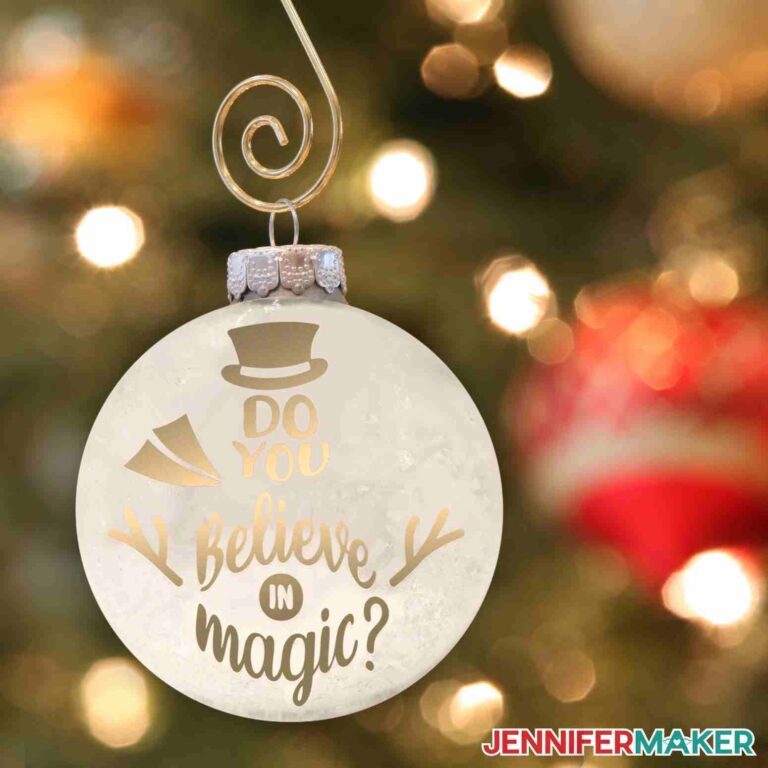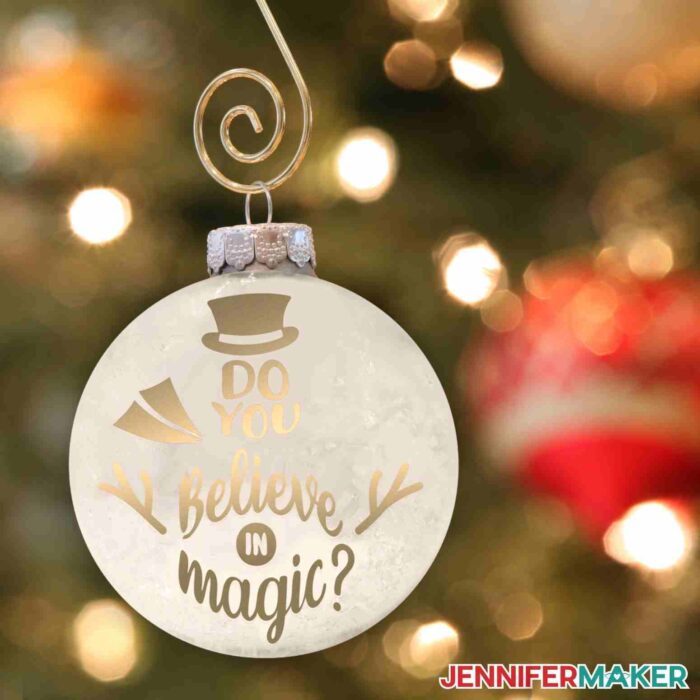 Answers to Your Questions About How to Make Etched Glass Ornaments
Q: Where is your tutorial for this project?
This is a special project we made for our free Maker Academy Weekend 2022 event! A complete and detailed step-by-step video premiered during the event November 3-6, 2022 — specifically, this tutorial video was available to watch for free for 24 hours beginning November 4 at 3:00 pm ET! You can get access to the full video, the printable handbook that details how to make this beautiful project if you get a VIP Pass to Maker Academy Weekend 2022, which comes with other perks and bonuses, too!
Can you etch a plastic ornament ball?
No, we tried several times and could not find a way to etch the plastic ornament. Armour Etch etching cream is for glass, not plastic.
How do you stencil on glass ornaments?
The best way to do this is to create vinyl stencils, place them on your glass ornament as smoothly as possible, then apply your etching cream.
What kind of vinyl is used for glass etching?
Use permanent adhesive vinyl or stencil vinyl to create stencils for chemical etching on glass. I recommend you avoid removable vinyl, as it won't form as tight a seal and may allow the etching cream to seep underneath.
Does this technique work on colored glass?
I haven't tried it yet! You might get a striking effect with a daub of white Rub n Buff on etched colored glass.
How can I test the etching process and stencil?
If you want to try out a stencil for etching glass, you probably have some suitable glass jars in your recycling bin! Just clean the surface of the glass extra well.
Can you make frosted glass ornaments?
You can put etching cream all over your glass ornament EXCEPT in certain spots, and that will produce a lovely frosted glass ornament. My cardinal ornament is frosted like this, and I show you how to create this look with stencils in the tutorial.
How do you get pictures in clear ornaments?
Those are what I called Floating Ornaments and you can do it with a little twist! Here's a tutorial on how to make floating ornaments!
Get my free SVG files to create these beautiful etched glass ornaments!
I love seeing what you make with my designs and how you use them! Please share a photo of your etched glass ornaments in our Facebook group or tag me on social media with #jennifermaker.
Love,