Learn how to make these beautiful DIY personalized engraved acrylic ornaments, perfect to give as a gift or to decorate your tree!

If you're looking to give that special holiday gift this season, this is a great project to make. And it's easy now that we can engrave acrylic at home using the Cricut Maker and the engraving tool. These simple, but beautiful DIY personalized engraved acrylic ornaments are a great way to personalize the perfect gift for friends and family. So for Day 7 of The Great Maker 25-Day Gift-Away Challenge, I am showing you how to make DIY acrylic ornaments!
See exactly how to make your own engraved acrylic ornaments in my tutorial video (or keep scrolling if you prefer a printable step-by-step photo tutorial):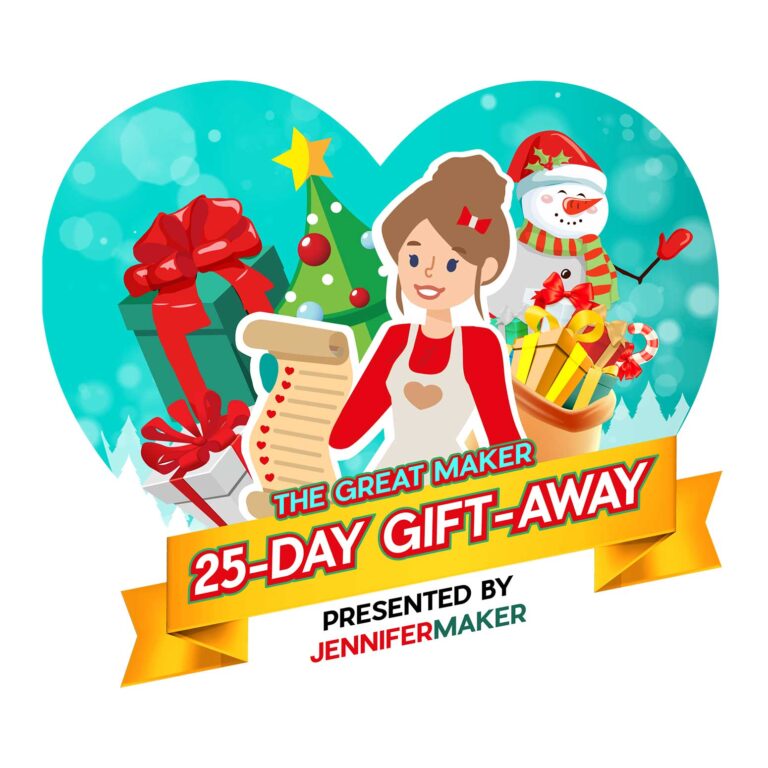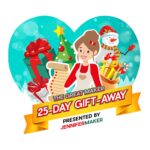 What is The Great Maker 25-Day Gift-Away?
This is an
annual tradition
here at JenniferMaker! Every day for the first 25 days of December we gift you with a brand new project, design, tutorial, and video. On top of that, we host a giveaway with 25 prizes. Some of the amazing prizes are
Cricut cutting machines
, sewing machines, gift cards so you can get materials for popular JenniferMaker projects, and beautiful
print editions of our popular Cricut Coach Playbook
. You can even earn bonus entries for sharing photos of the daily projects!
Click here to learn more about The Great Maker 25-Day Gift-Away!
Ever since the engraving tool came out for the Cricut Maker this summer, I've been engraving ALL the things. And now that the holidays are upon us, I can't help but engrave some ornaments, too! It's just SO easy now. These simple, beautifully engraved acrylic ornaments are a great way to personalize the perfect gift for your friends and family.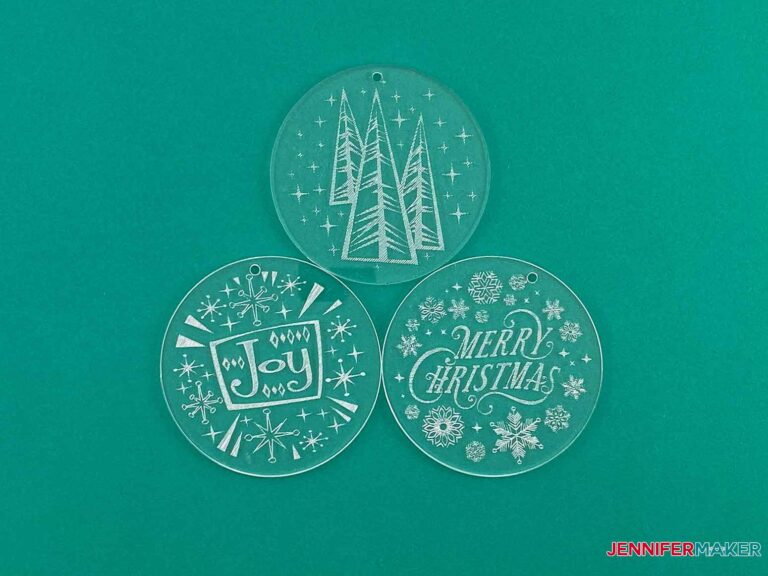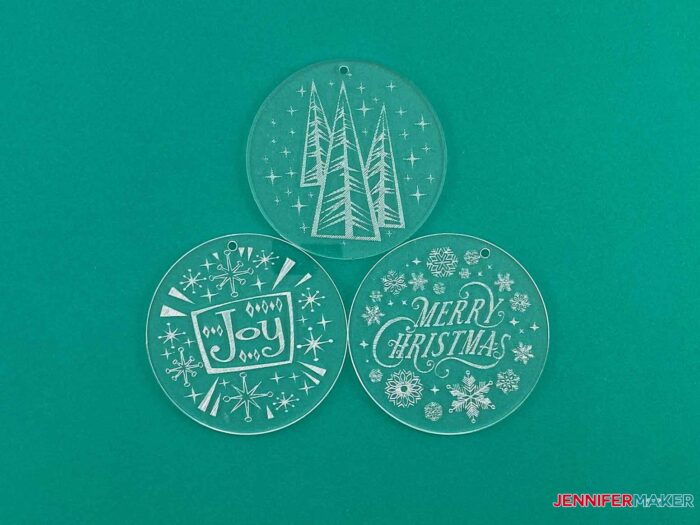 Now, to engrave acrylic, you need the engraving tool, which only works on the Cricut Maker cutting machine at the time I'm making this video. The engraving tool goes into clamp B on your Maker and does all the hard work for you!
It is important that whatever acrylic you use, it's two millimeters or thinner — that's one sixteenth inch or less. Any thicker, and it won't fit in your machine. Or if it does, you will see scratches appear on it because parts of your machine drag on it. Not good!
I'm using three inch acrylic blanks for this project.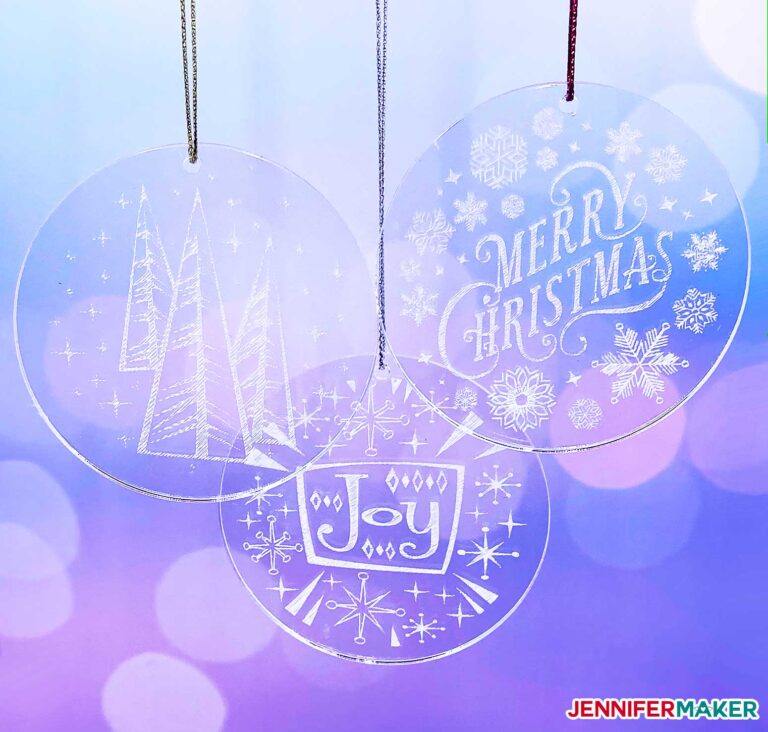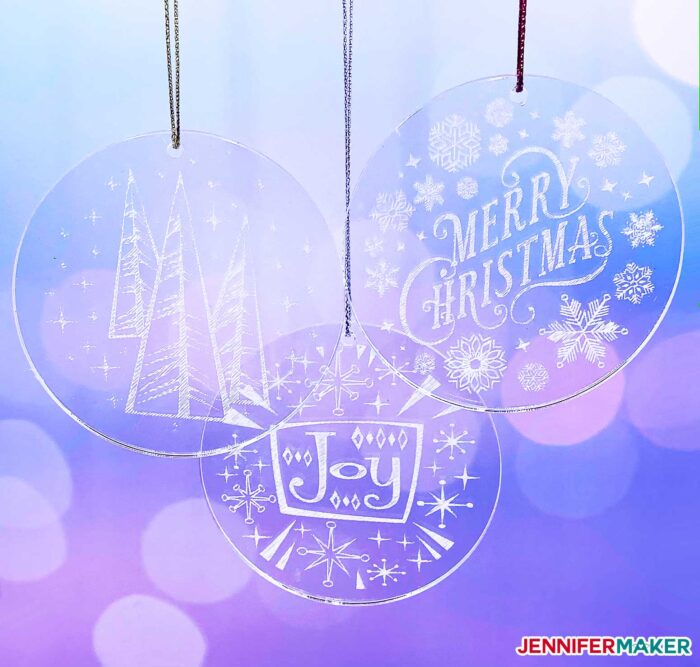 In addition to the engraving tool and acrylic blanks, you'll need some painter's tape to keep your acrylic blank firmly on your mat. And then all you need some ribbon, string, and/or ornament hooks to hang your super cool acrylic ornaments on your tree.
The only other thing you need is a design! You can make your own in Cricut Design Space, or use my free designs. The cool thing about my engraving designs are that I've enhanced them so your engraving tool fills them in and the design is bolder!
Note that I've also added a couple of "custom" designs to the design download with places for you to add your own name or a year!
So let me show you where to get my free designs and then how to use them to engrave your acrylic ornaments! This post contains some affiliate links for your convenience (which means if you make a purchase after clicking a link I will earn a small commission but it won't cost you a penny more)! Read my full disclosure policy.
Materials to Make an Engraved Acrylic Ornament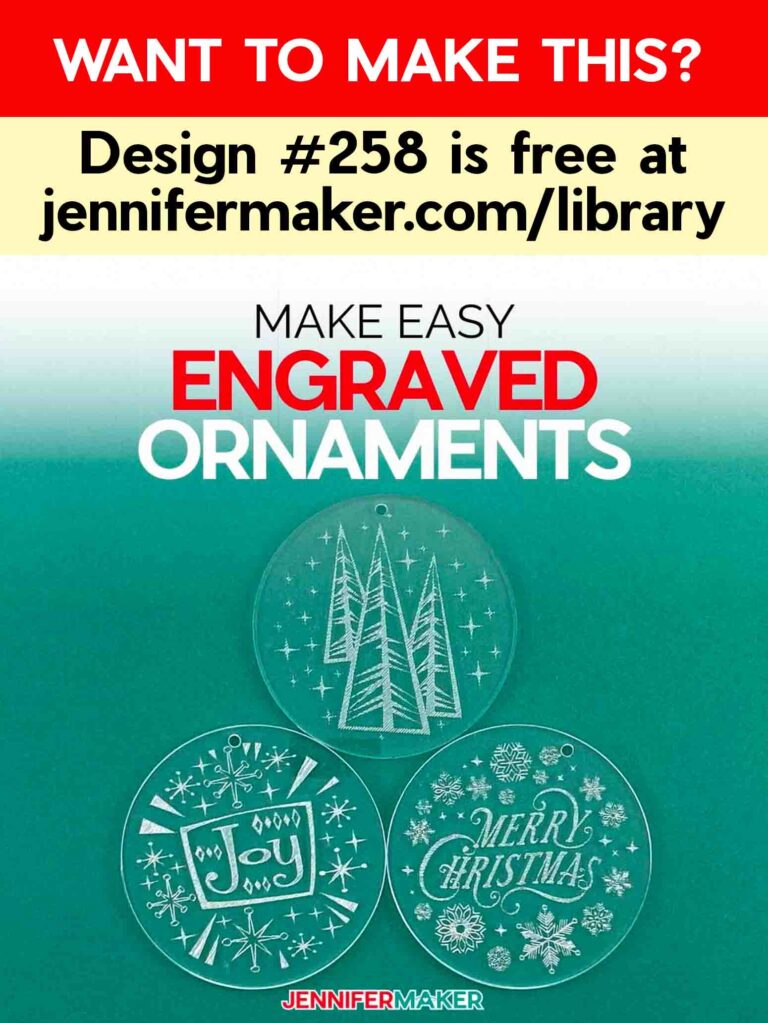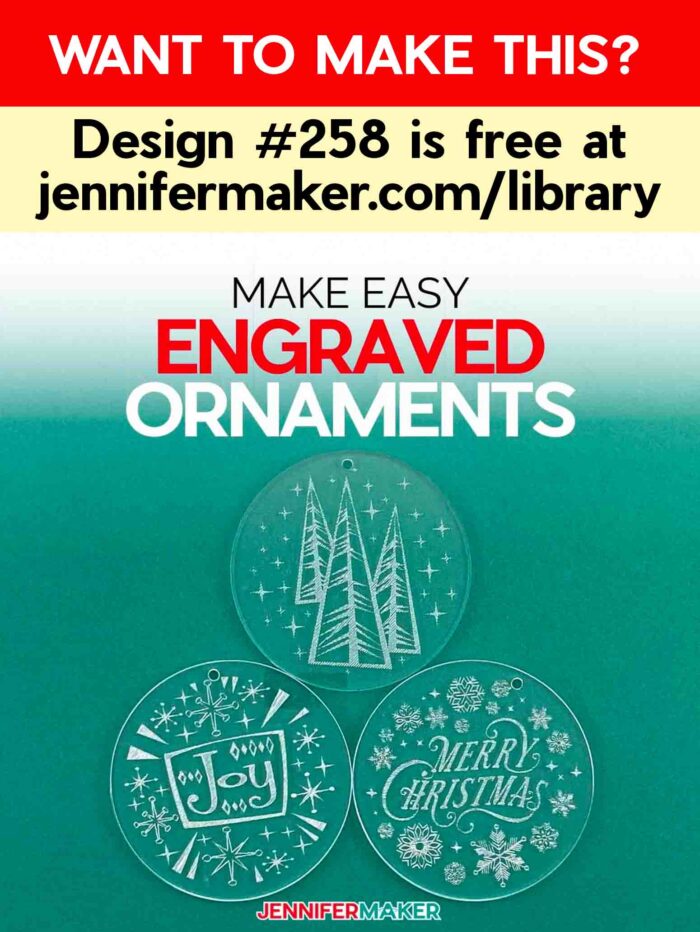 How to Make Engraved Acrylic Ornaments
Engraved Acrylic Ornament
Yield: 1 ornament

Prep Time: 15 minutes

Active Time: 15 minutes

Additional Time: 3 hours 2 seconds

Total Time: 3 hours 30 minutes 2 seconds

Difficulty: Easy

Estimated Cost: $7

Get out your engraving tip and join me in making some fun holiday ornaments.
Tools
(Optional) Drill with drill bit (if your acrylic discs do not have a pre-drilled hole)
Instructions
STEP 1: GET MY FREE ENGRAVED ACRYLIC ORNAMENT FILE
First, download Design #258 which is my free Engraved Ornament SVG/DXF/PDF from my free resource library. If you're going to cut it on your cutting machine, upload the file to your design software. This is what the Engraved Ornament SVG file looks like in Cricut Design Space.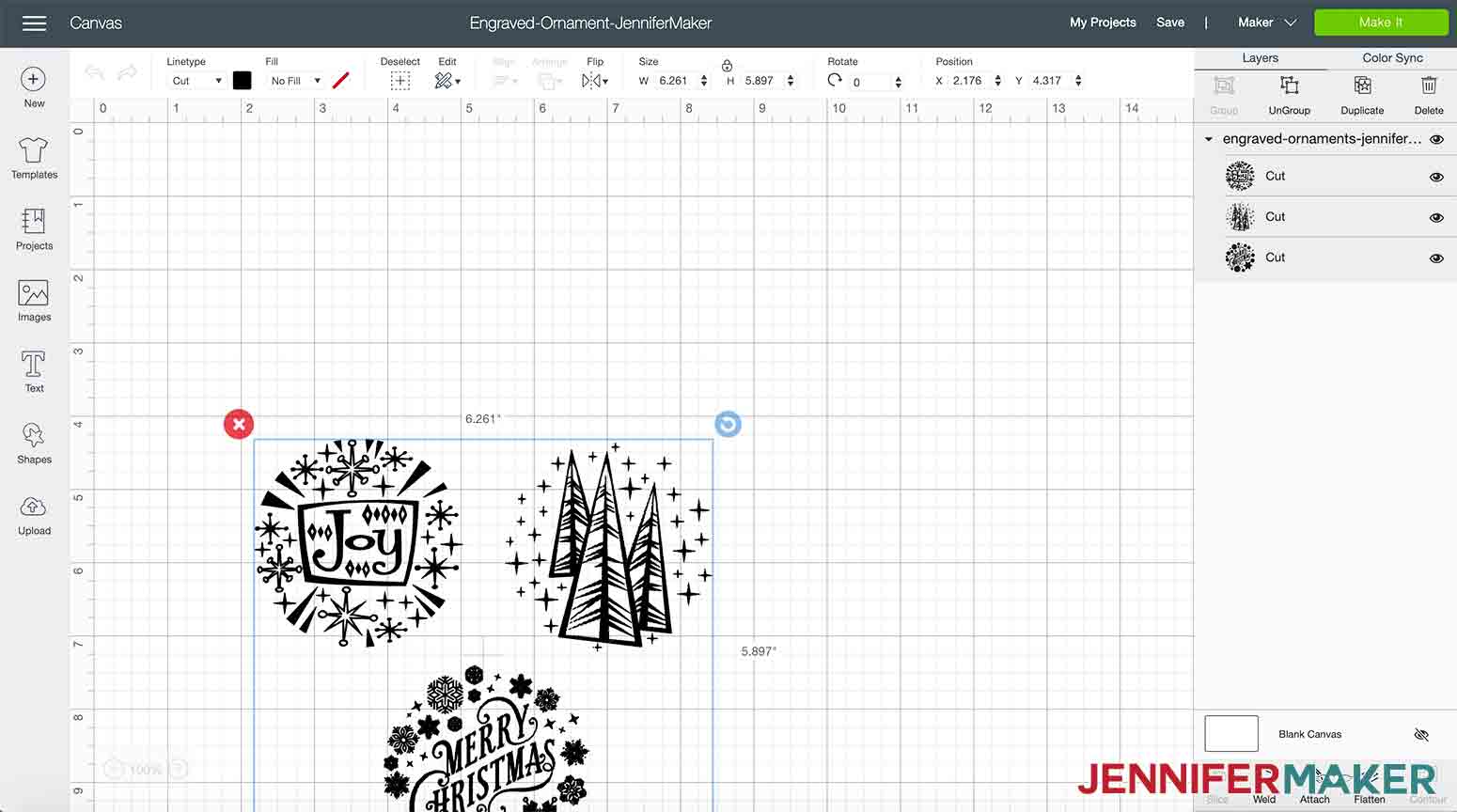 Tip: If you're not sure how to upload an SVG cut file to Cricut Design Space, watch this helpful video training series I made. If you're on an iPhone or iPad, here's how to download and upload SVG files to the Cricut Design Space app.

IMPORTANT: Depending on the design you choose to engrave, one ornament can take 90 minutes to 3 hours to engrave. Make sure that you are prepared by ensuring you have a good internet connection and that you turn off any auto sleep or screen saver functions on your computer. These functions will stop the engraving process and you will need to start over.

NOTE: If your acrylic disc did not come with a hole pre-drilled, I recommend you drill it now BEFORE you engrave on it, just in case you have any issues or accidentally damage your acrylic disc -- it is better to have the hole in place before you engrave.
STEP 2: PREPARE THE MAT TO ENGRAVE THE ACRYLIC
Grab your cutting mat, acrylic disk, painter's tape, and cutting knife.
Use a cutting knife to help remove the protective backing from the acrylic disk.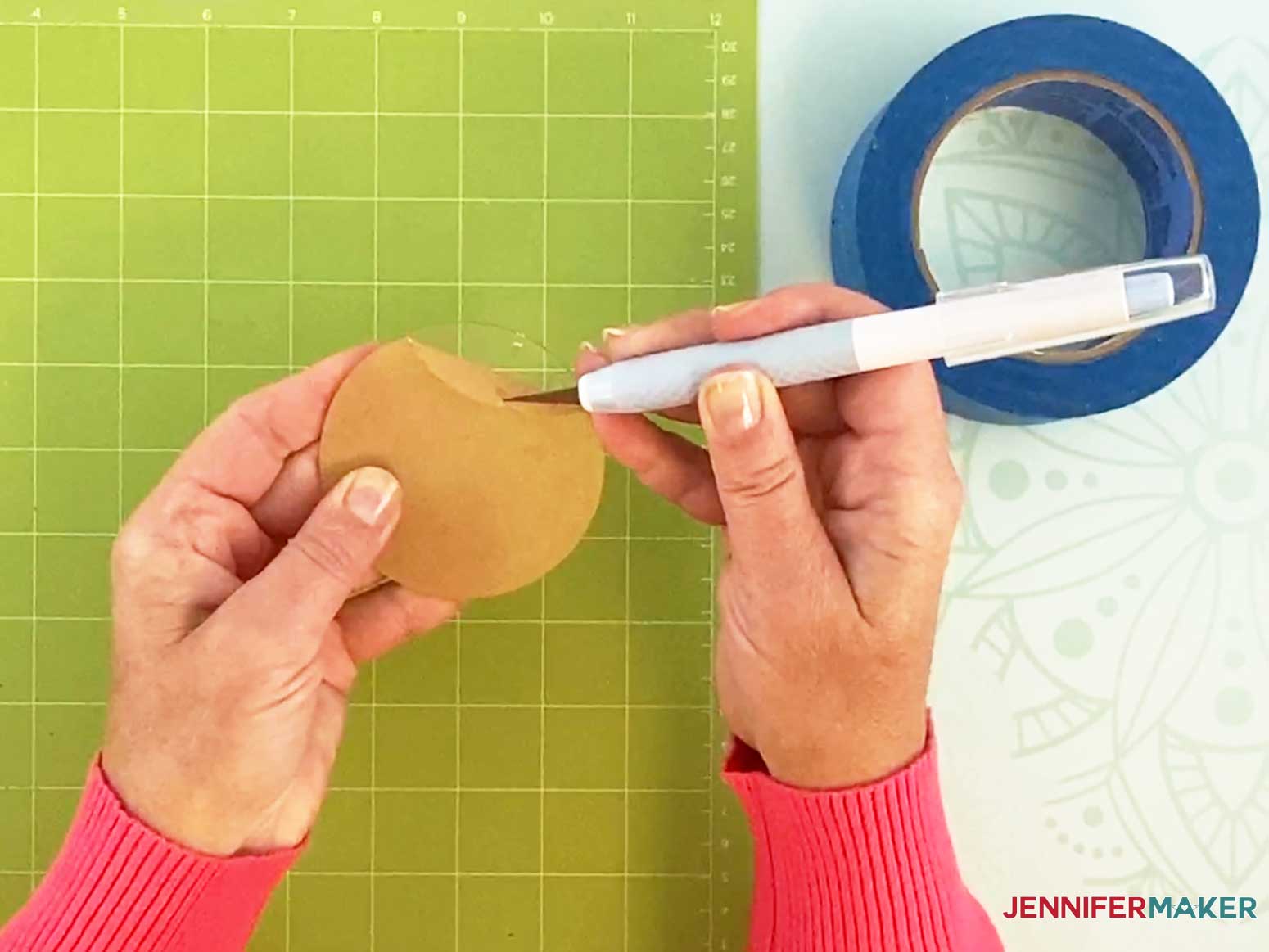 Pull the protective backing from the acrylic disk.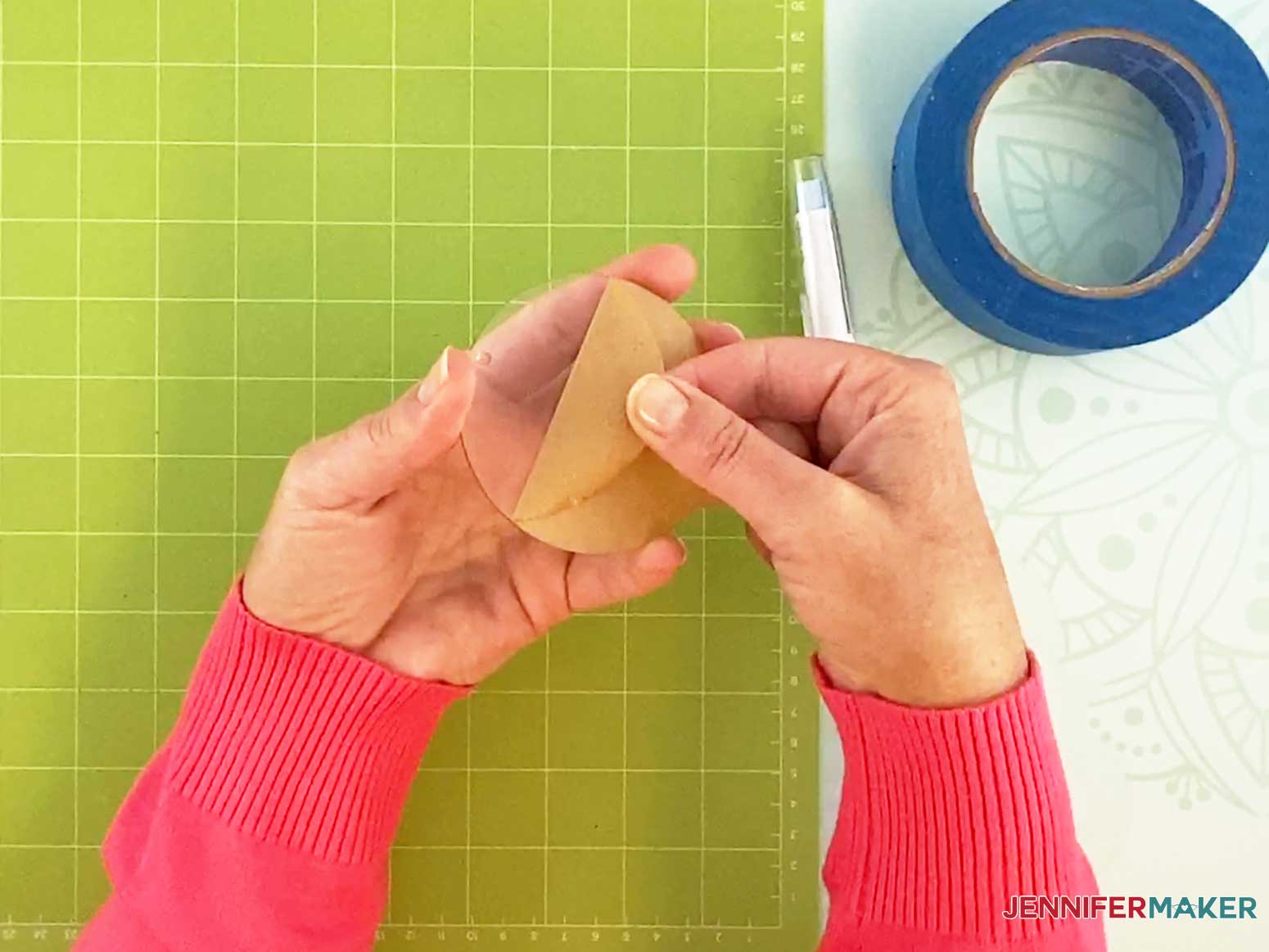 Keep the side where the protective backing was removed face up and center the acrylic disk on the cutting mat.
Once you have the acrylic disk centered on the mat begin taping the disk to the mat using painter's tape.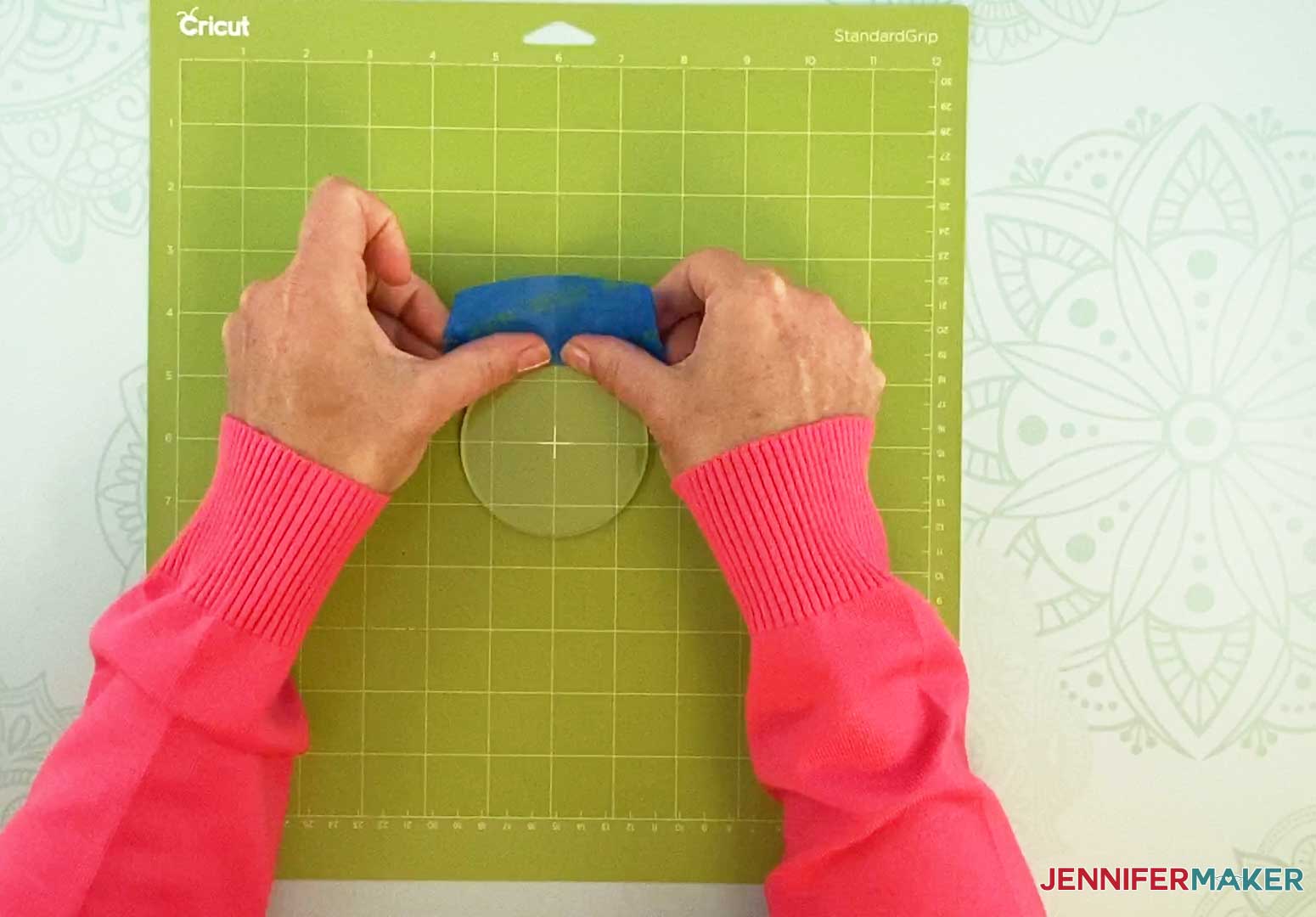 Add a piece of tape to the bottom of the disk.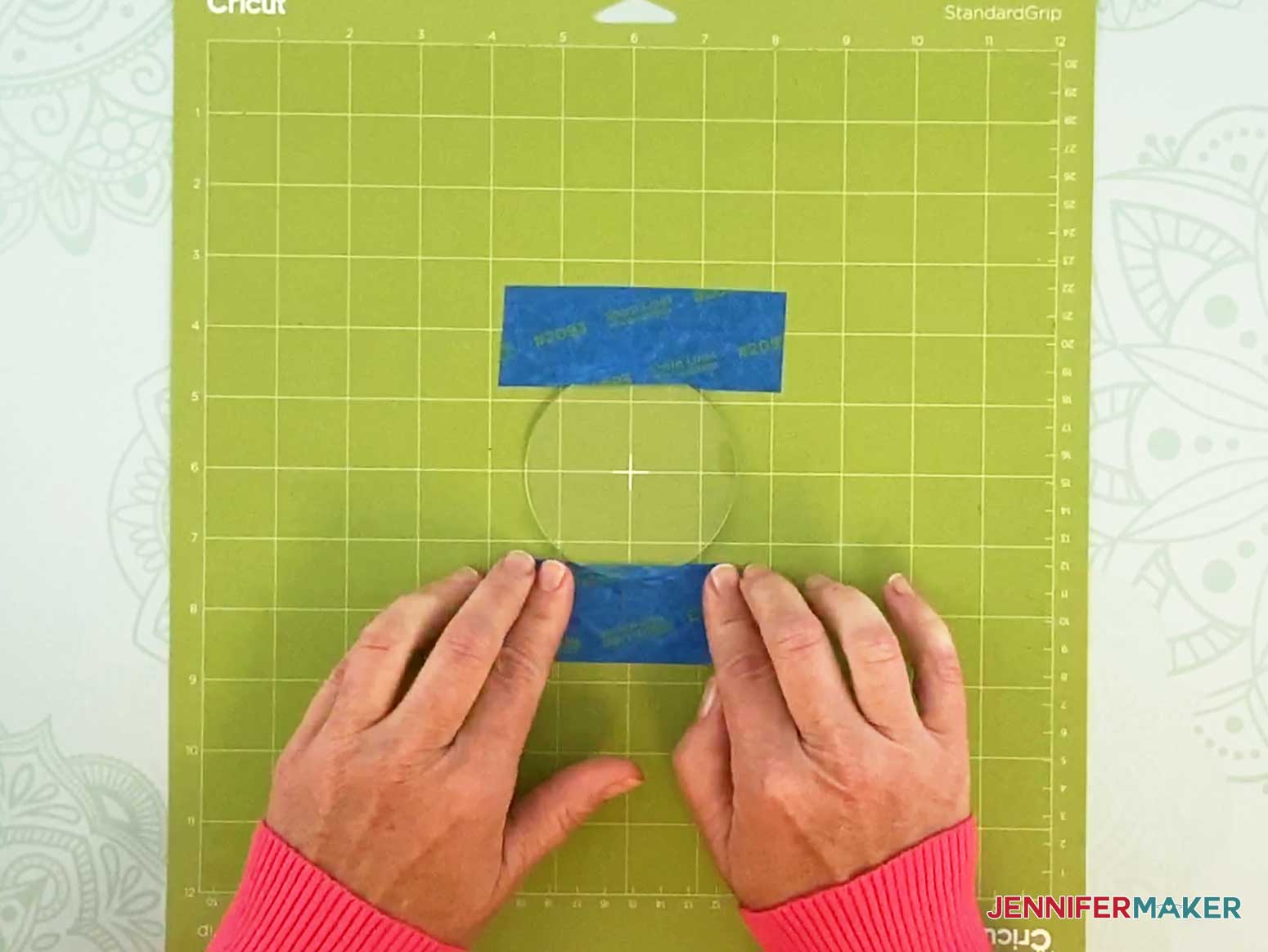 Add a piece of tape to the right side of the disk.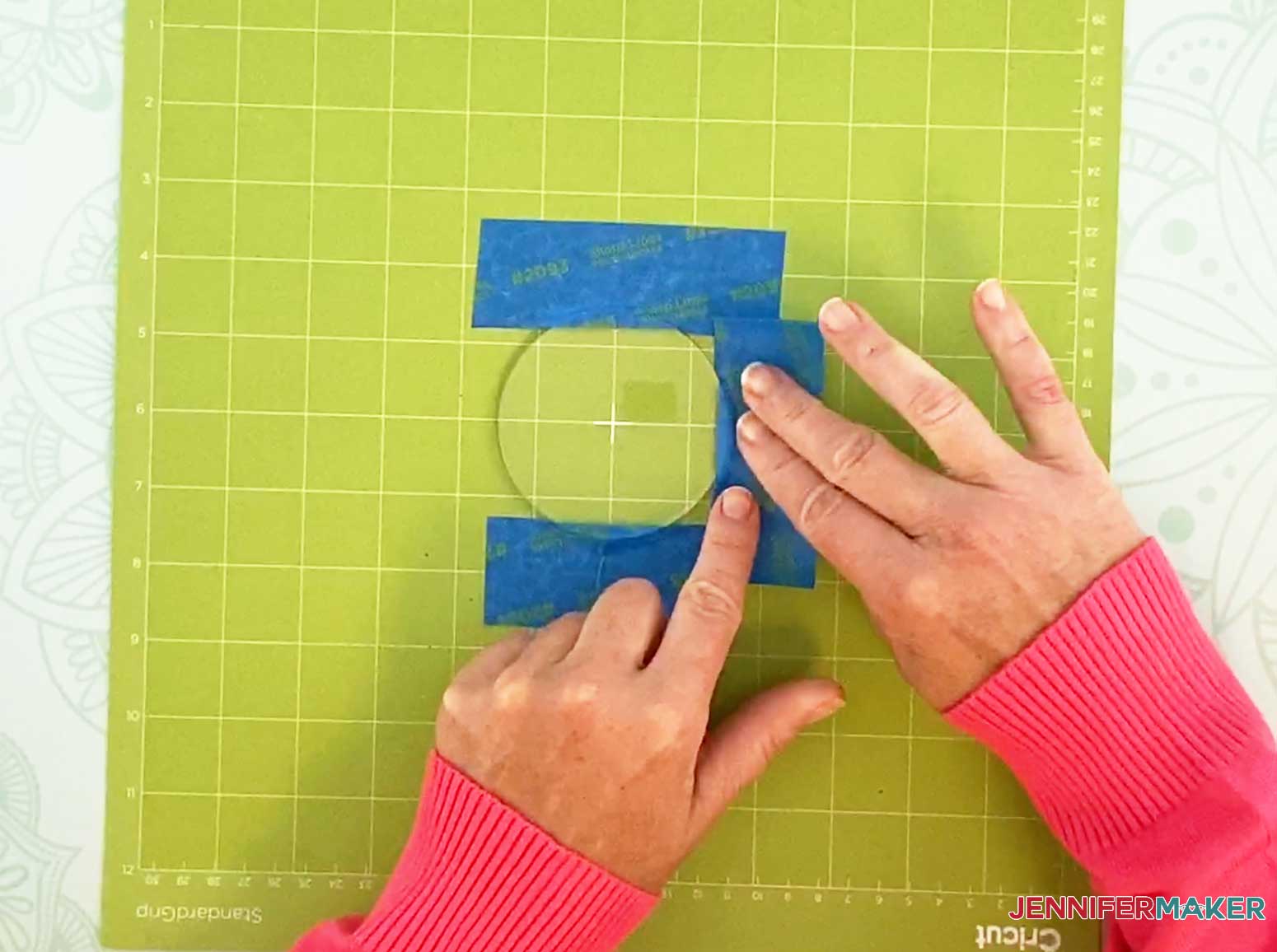 Add a piece of tape to the left side of the disk.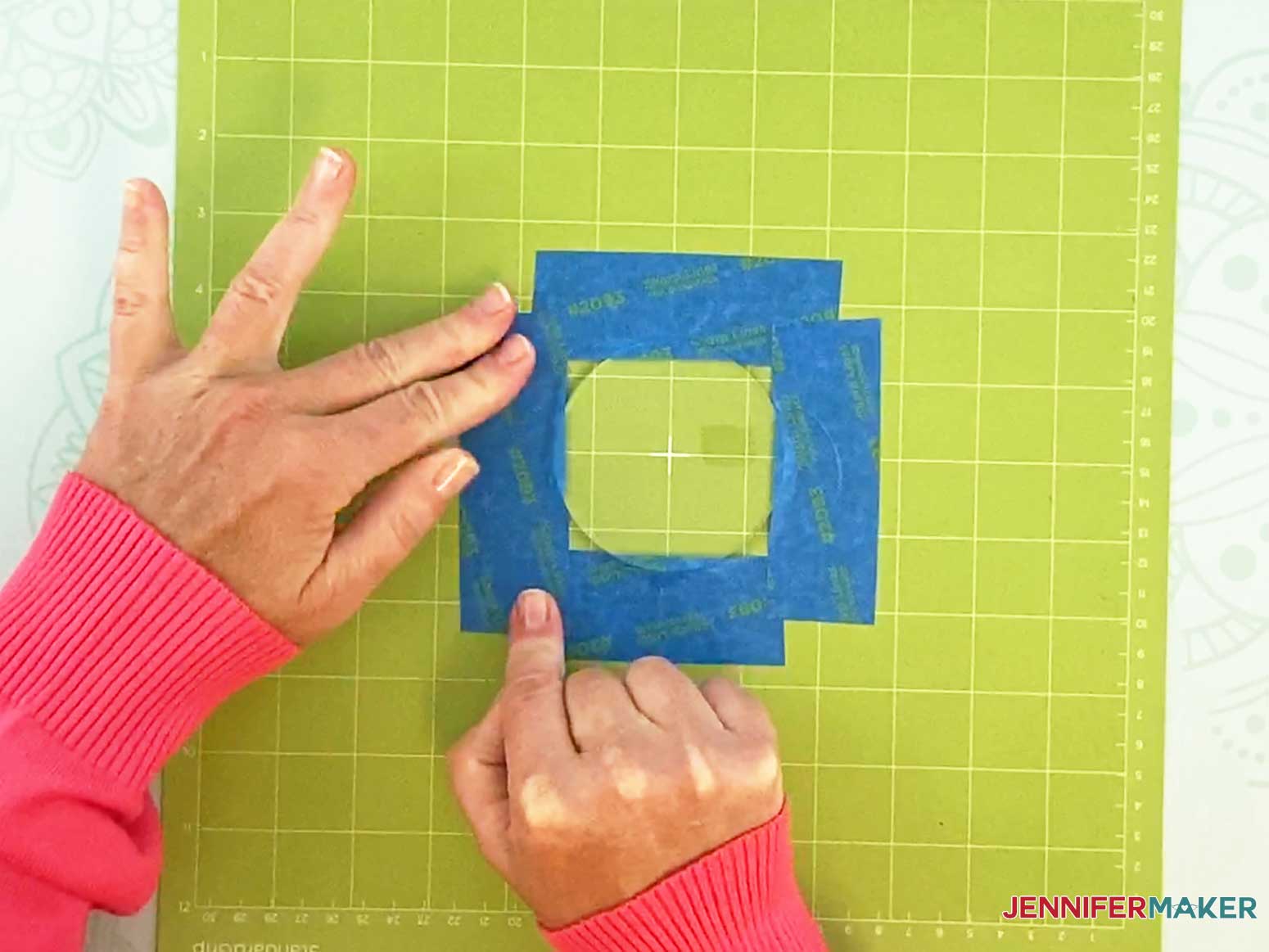 Continue by adding tape in the four corners of the disk so that it is securely taped to the cutting mat.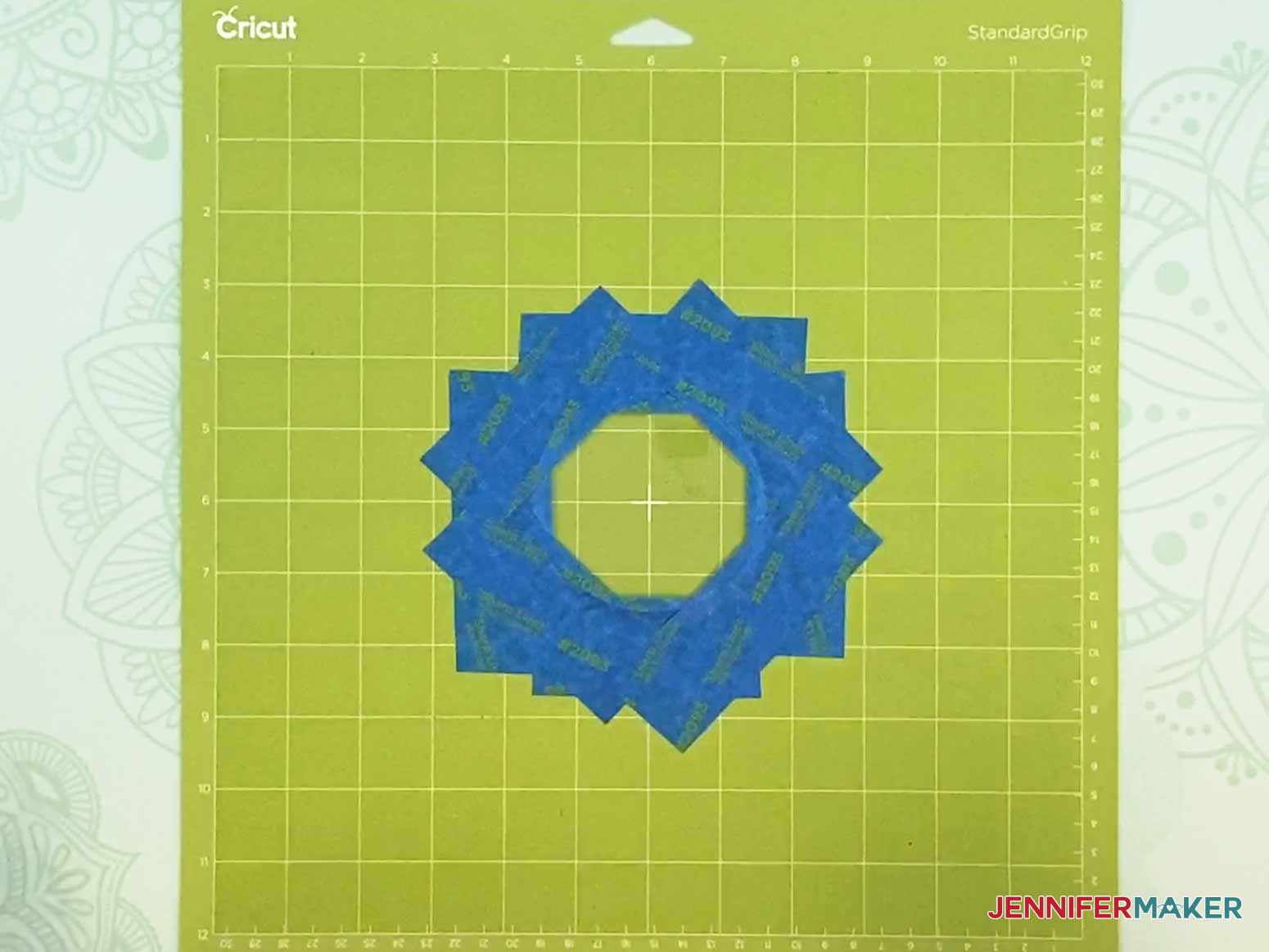 Measure the width of the available engraving space on the acrylic disk.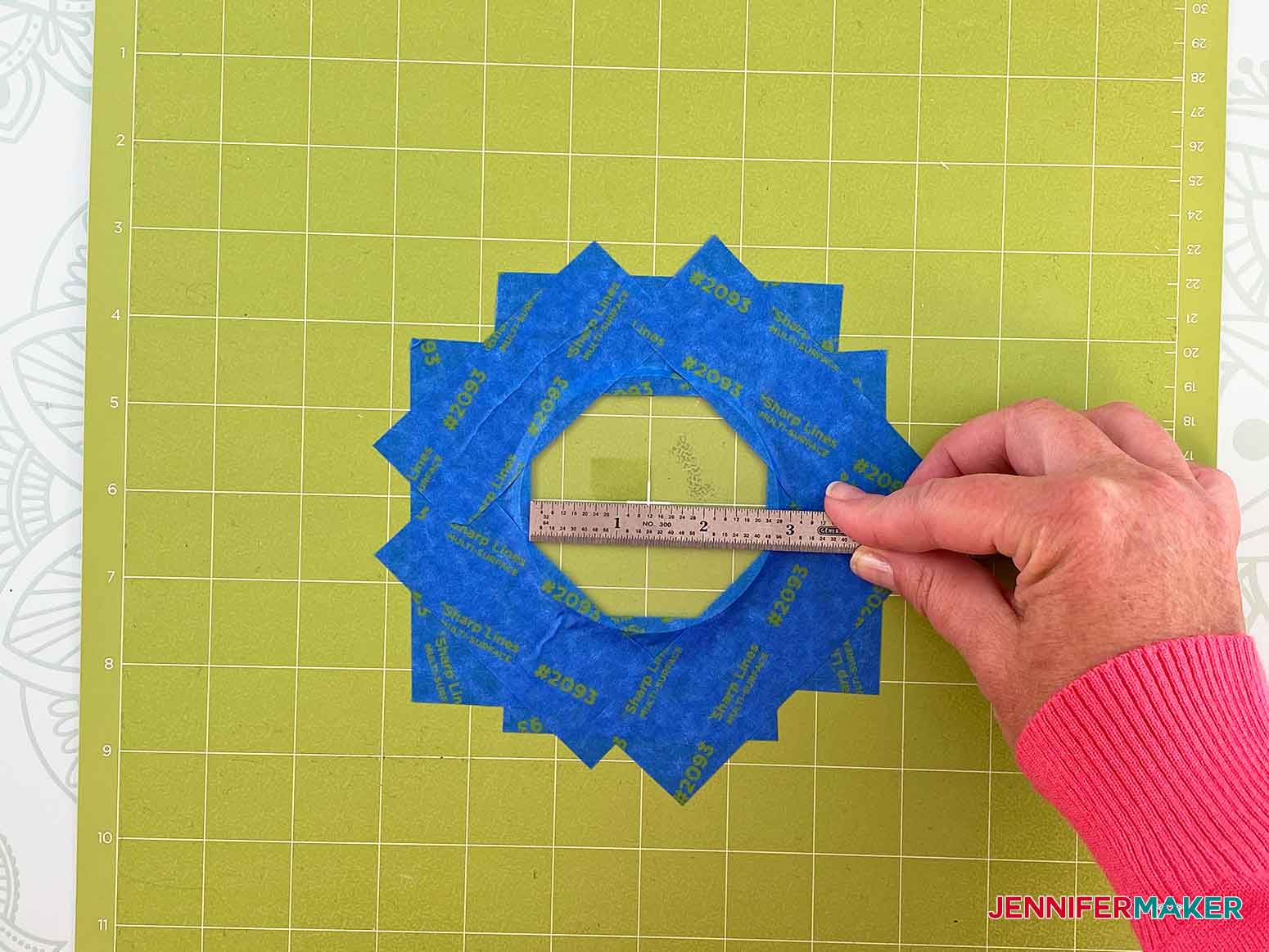 Measure the height of the available engraving space on the acrylic disk. Keep these measurements in the event you need to adjust the size of the engraved design in Design Space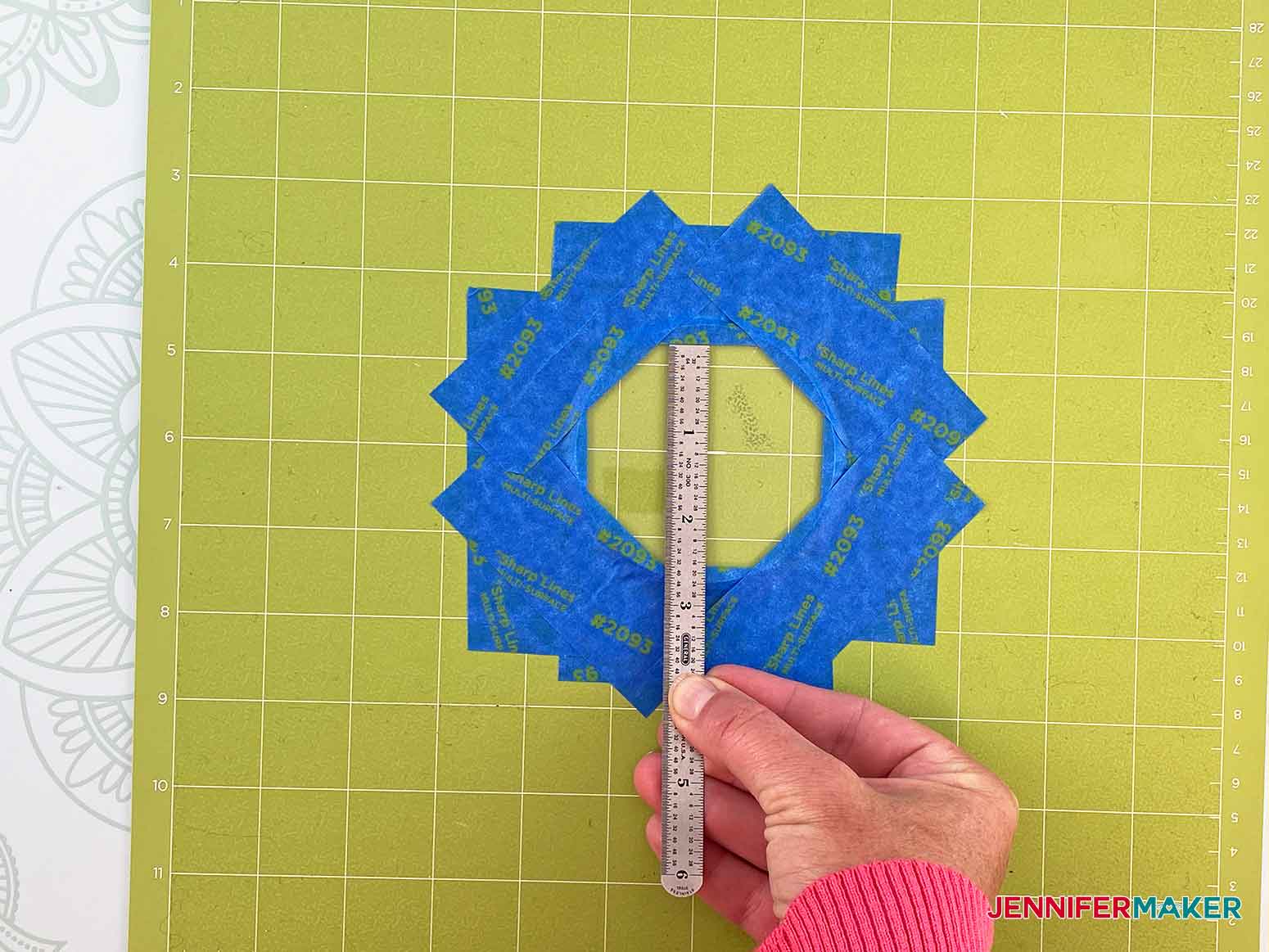 STEP 3: ENGRAVE THE DESIGN
Now that your mat is prepared for engraving, select the design you would like to engrave and hide the other two designs. Click Make It in the upper right corner.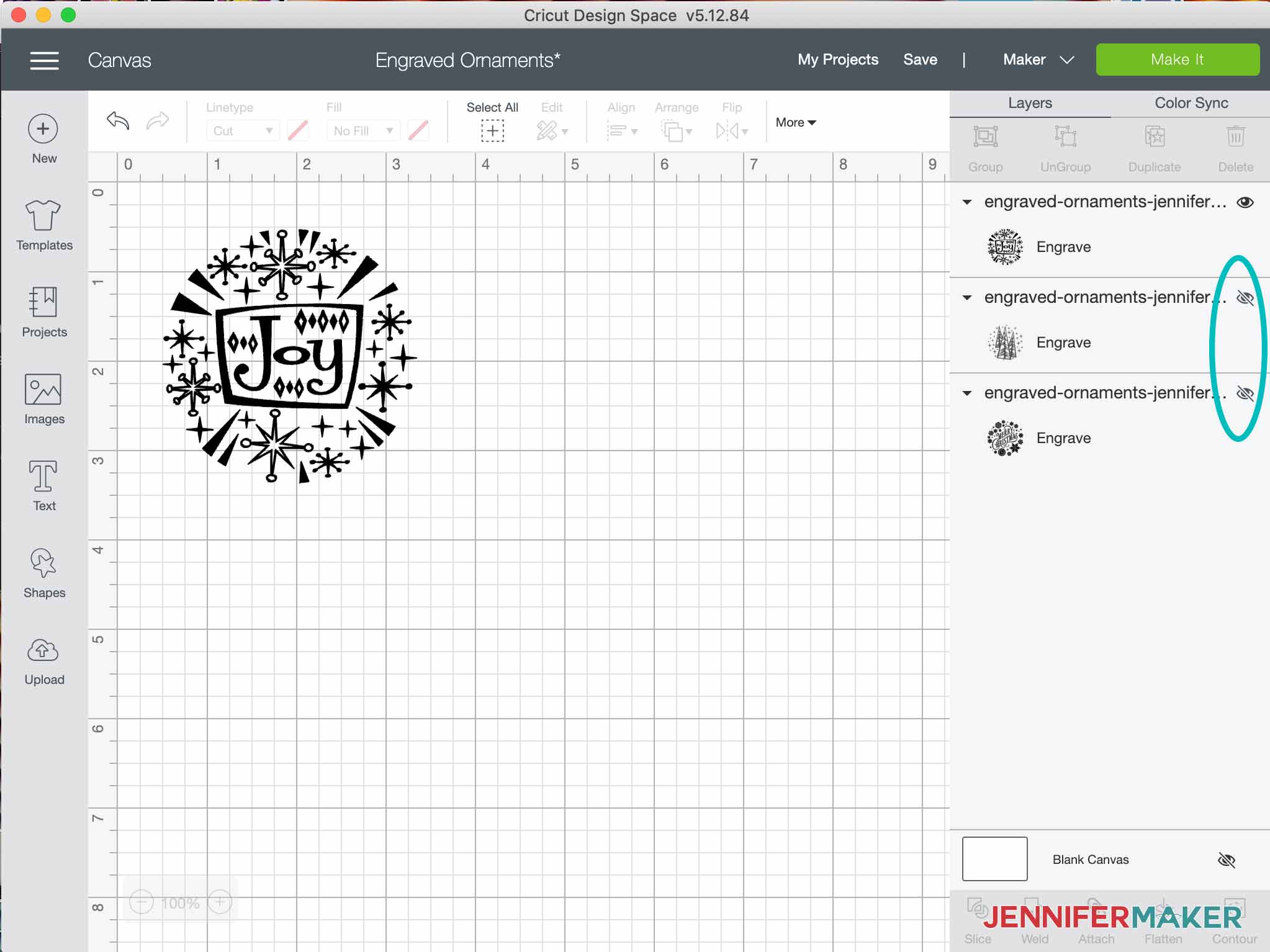 Center the image on the cutting mat in Design Space by clicking and dragging the design and click continue.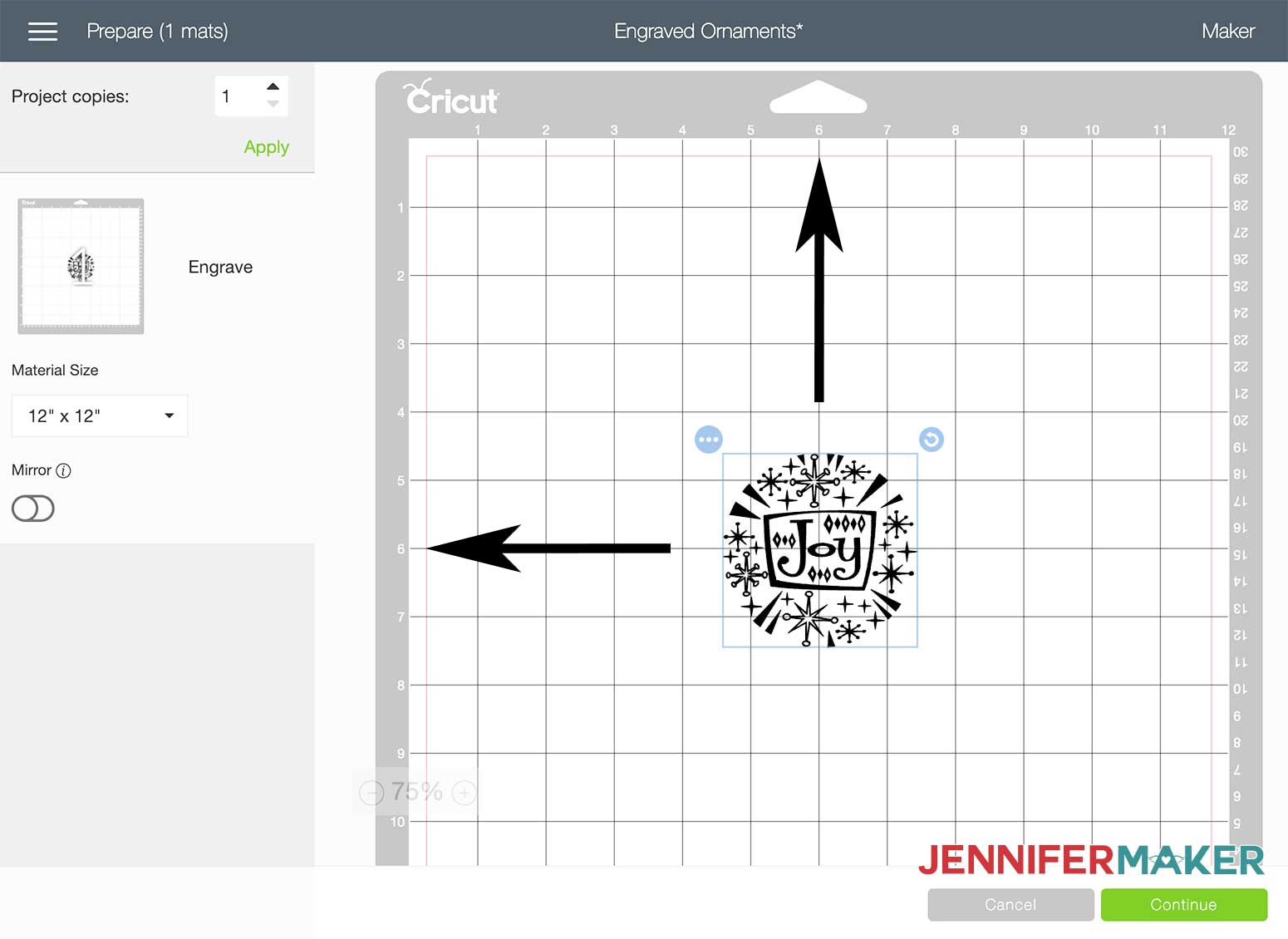 Click browse all materials.

Select Acrylic Thick (2 mm).

Load the engraving tip into your machine.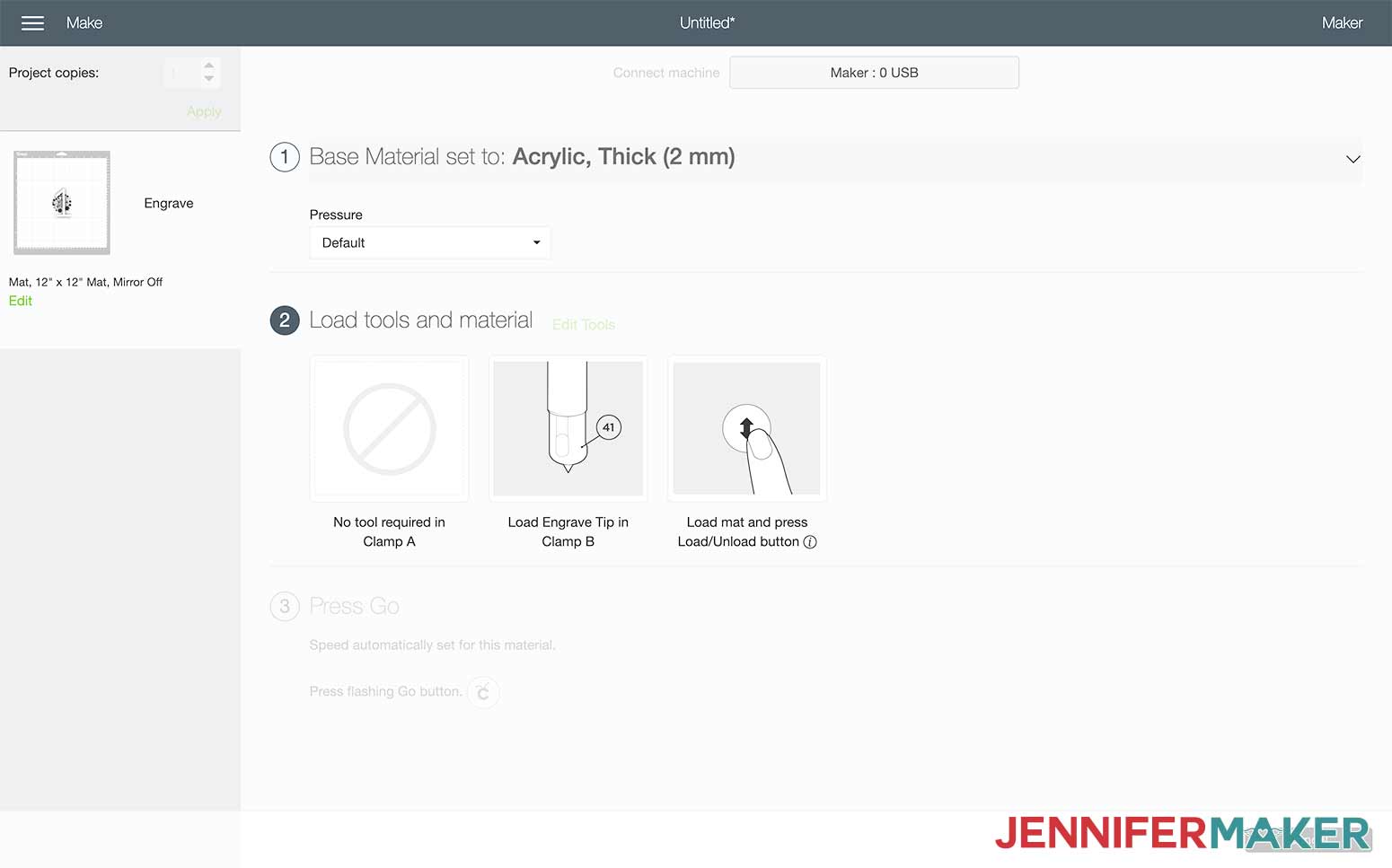 Move the four star wheels all the way to the right, insert your mat into your Cricut machine, and begin engraving.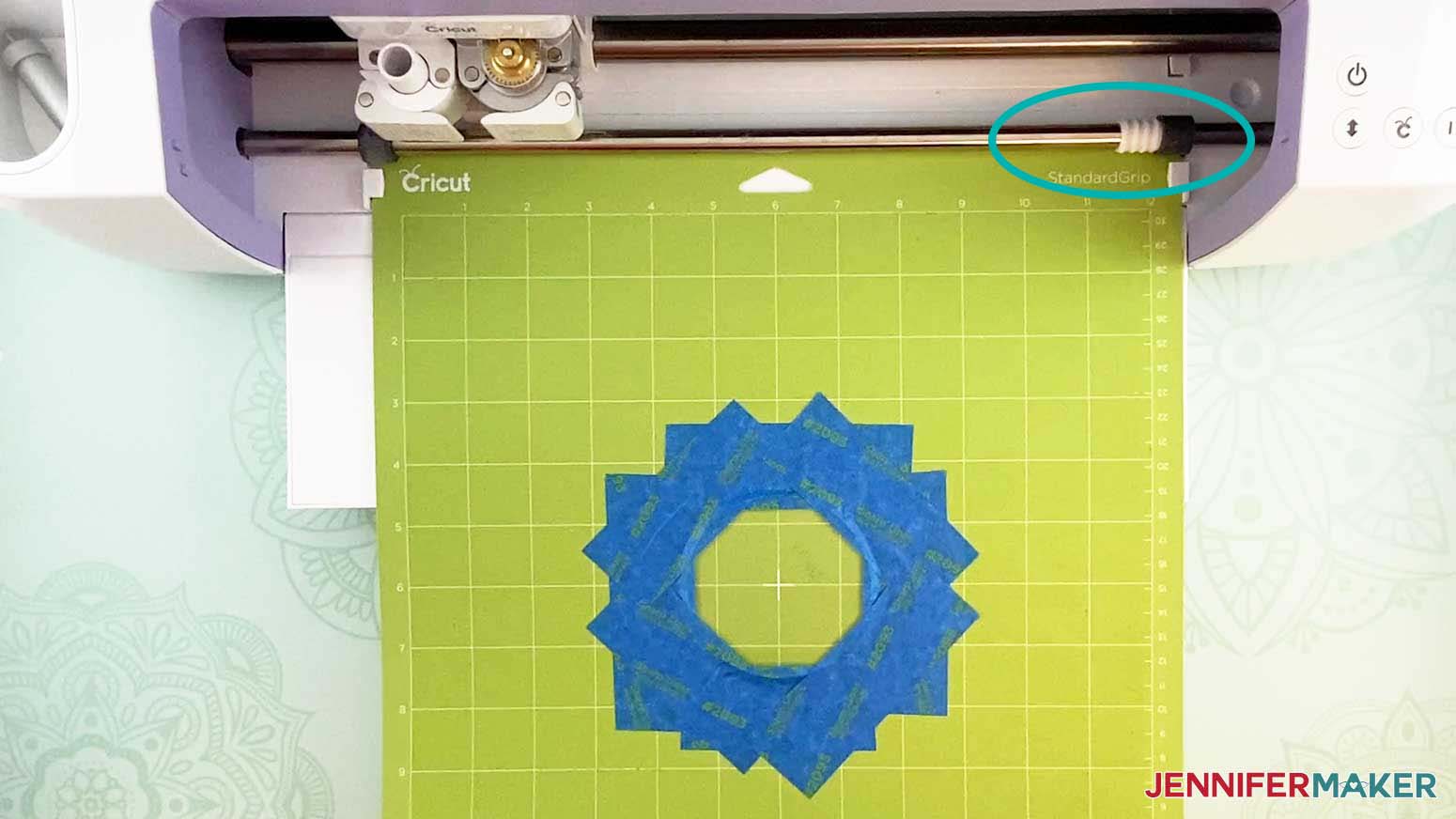 During the engraving you may notice this message on your computer screen. It's just a note to let you know that if your engraving tool starts lifting and spinning you shouldn't be alarmed, that's totally normal.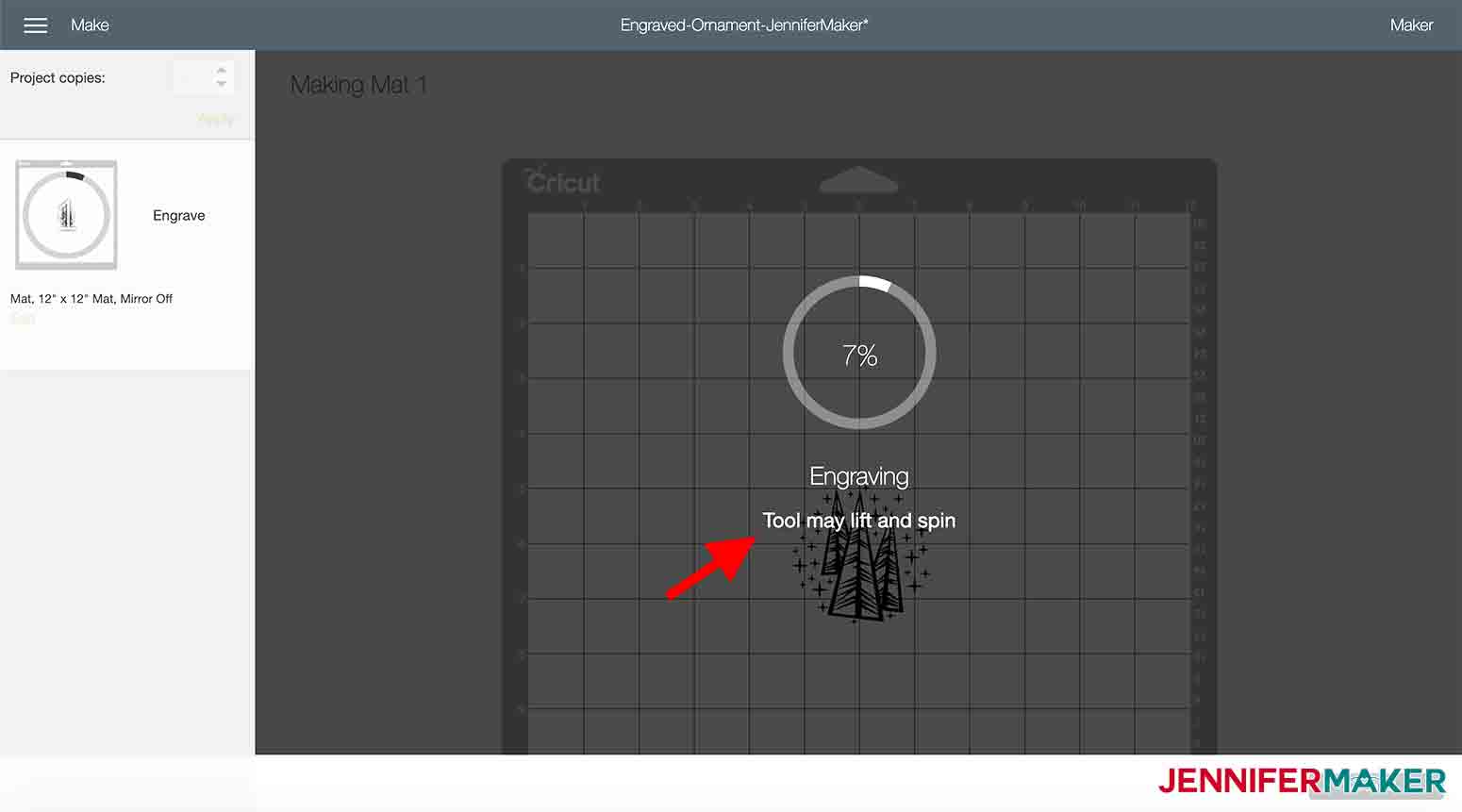 When your machine has finished engraving, remove the acrylic disk from the mat. Use a soft cloth to remove the debris from your acrylic disk. To remove debris from your machine use a soft cloth or a can of compressed air.

And this is what my finished engraved ornaments looks like.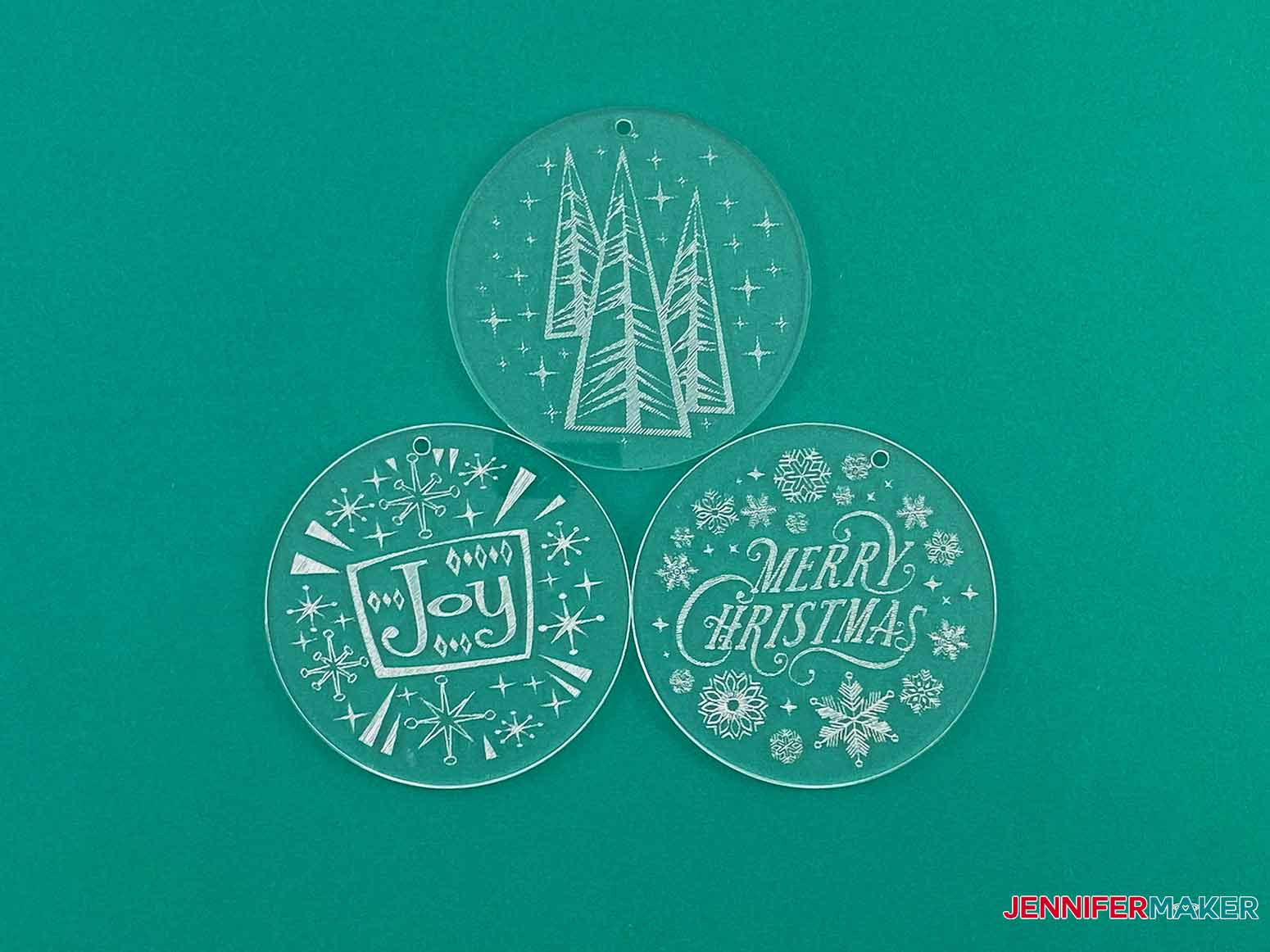 STEP 4: Show it Off
I'd love to see your engraved acrylic ornament! If you make one, please share a photo in our Facebook group, email it to me at [email protected], or tag me on social media with #jennifermaker.
Notes
ACKNOWLEDGMENTS

Special thanks to the JenniferMaker Design Fairy Team, specifically Design Fairy Caitlin, for helping me design and assemble these special engraved ornaments.
Answers to Your Questions About Using The Engraving Tool on Acrylic
Q: Can you engrave acrylic on a Cricut Explore Air 2 as well?
To engrave, you do need a Cricut Maker because the Engraving Tip requires the power and the drive mechanism that is built into the Cricut Maker Adaptive Tool System.
Q: What materials can I use with the engraving tip?
I have tested several different products with the engraving tip and created a post detailing my results. This will give you an excellent starting point of what materials work the best for the Cricut Maker.
Q: What mat should I use with the engraving tip?
The material you're using determines the best cutting mat. Since we're engraving acrylic, you should use a standard or strong grip mat and to be safe I use painters tape to hold down my project.
Q: What is the thickest acrylic I can use?
You don't want to use any acrylic larger than 2mm as it will not fit into your Cricut Maker.
Q: Can I design ornaments that are filled in like yours in Cricut Design Space?
Yes, I recommend you check out CleverSomeday.com which has an excellent guide to engraving on the Cricut for help with this!
Q: Can you engrave pictures?
Yes, you will need to turn your image into an SVG first, though! If you are interested in learning how to do that, we have a workshop that can teach you the steps involved!
Q: Where can you get the LED light base?
These light bases can be picked up at Amazon.
Q: My acrylic ornament got weird scratches on it when I tried to do this. What happened?
A: Your acrylic was thicker than 2 mm, or 1/16th of an inch. While some machines have the tolerance to handle this, not all do. Use 2 mm thick or or thinner to avoid those scratches.
NOTE: The Cricut Maker needs the acrylic to to be 2 mm — that's 1/16th of an inch — or less to engrave without scratching the surface. While some individual Makers can tolerate acrylic that is tad thicker, like 3 mm, not all can. Keep this in mind when viewing other people's projects and what they tell you they used. Also be aware that while we link to an acrylic disc that is 2 mm in this tutorial, the actual acrylic disc CAN change without our knowledge — it's the supplier who controls that, not us. So always double-check that what you're ordering is the correct size and thickness. We cannot guarantee the links we provide for your convenience in this tutorial, so please be cautious.
Get my free SVG files to make Engraved Acrylic Ornaments
I'd love to see your Engraved Acrylic Ornaments and how you personalized these! These are thoughtful gifts to give for the holidays. Please share a photo in our Facebook group or tag me on social media with #jennifermaker.
See all of the projects, tutorials, and free designs in The Great Maker 25-Day Gift-Away Challenge!
Love,