Sew and customize an easy kitchen boa pattern with sublimation or Infusible Ink!

Crafts can be more than cute, they can be functional! This kitchen boa pattern is the perfect example. The scarf keeps handy towels at easy access and looks nicer than a rag over the shoulder. With some simple sewing and sublimation steps, you can make the perfect gift for your favorite chef — especially if that's YOU! We'll cover both Infusible Ink and printed sublimation designs, so you can pick the technique you prefer. I'll share free files for both! Sublimation is a great way to customize your kitchen boa so you can wash the scarf without worrying any design bits will get damaged.
Want to save this project? Enter your email below and we'll send the project straight to your inbox.
Watch the full step-by-step kitchen boa sewing and decorating tutorials:
I really love how easy it is to make a kitchen boa pattern and all the ways to use one! In an evening, the scarf can go from fashion statement, to wearable kitchen towel or oven mitts, be folded into a hot pad, and end up a dish towel. That's multitasking!
Even if you're a beginner sewist, you can absolutely make your own kitchen boa using my tutorial. I'll show you how to measure, cut, and sew your fabric pieces in just a few minutes with a straight stitch! We'll cover helpful tips like identifying the right sides of the materials, working with directional printed fabric, adding seam allowances, hiding every raw edge, and much more. I used the same tools as most of my sewing tutorials, which you can find listed below.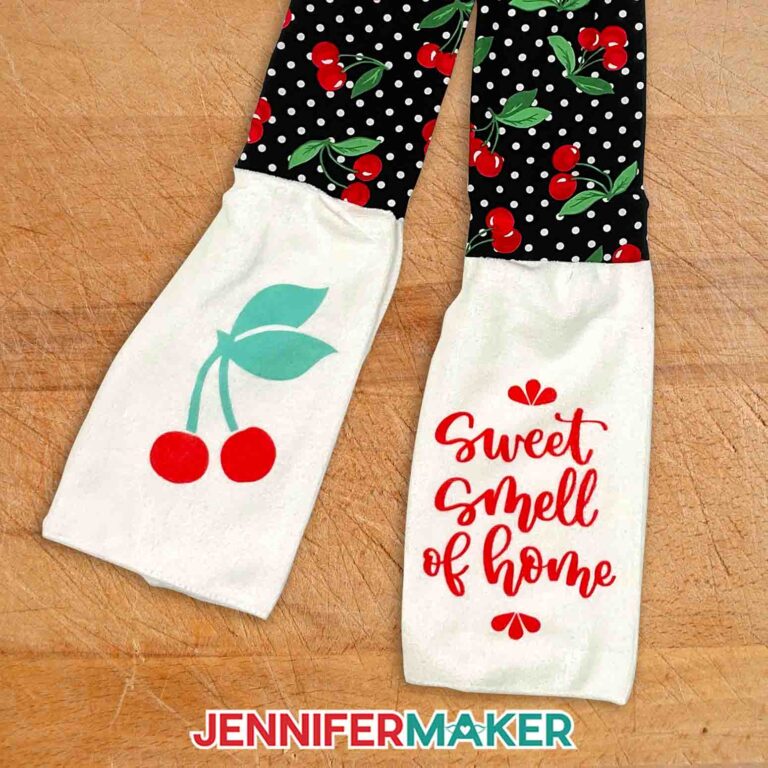 Cotton fabric is best for the boa middle and a cut white polyester kitchen towel goes on each end of the scarf. You can use other kinds, like tea towel pieces, but use a cloth like mine if you want to incorporate sublimation with me.
A simple kitchen boa is is a great gift, but adding custom sublimation designs bumps them up to wonderful gifts! I'll show you how to use my free files with both Infusible Ink transfer sheets and printed sublimation images. You can use the fruit designs and sweet messages in the download, or follow along to make your own in Cricut Design Space.
I used a Cricut Maker 3 to cut my Infusible Ink Transfer Sheets on a green StandardGrip Mat. You can use any cutting machine large enough for your design, or even use my printable PDF to cut them by hand. Weeding and combining the sheets takes some patience, but the result is great! Your brayer, weeding tool, and scissors will be very helpful.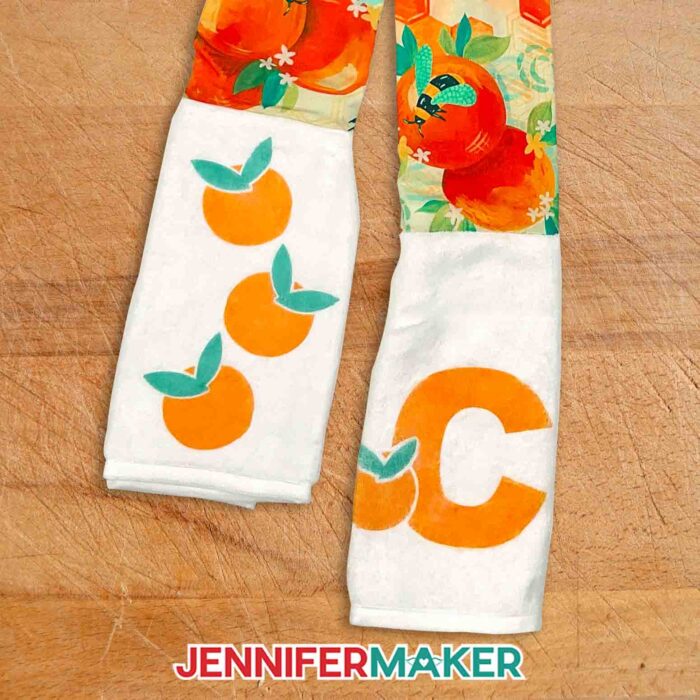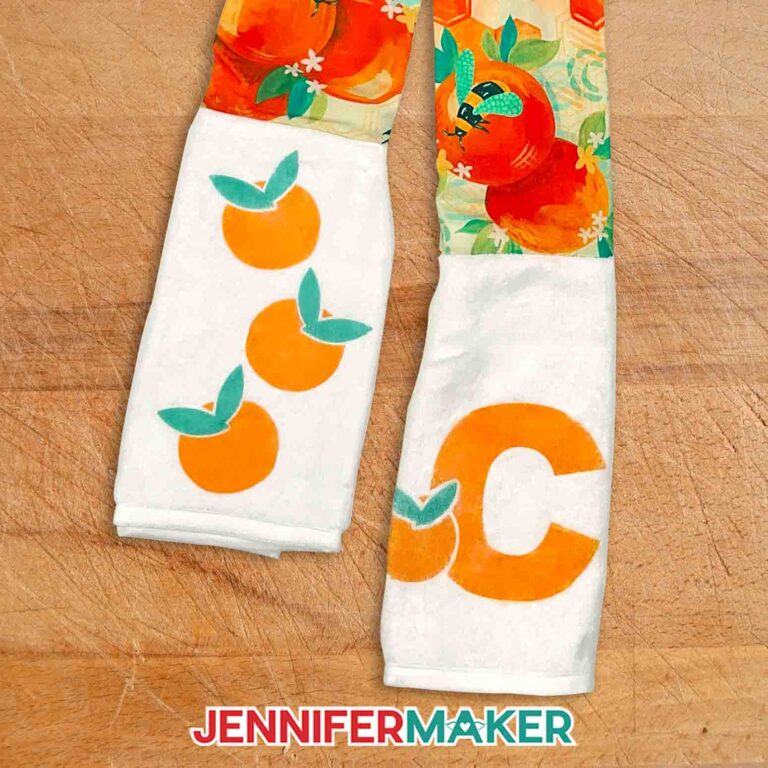 For the PNG files, I printed my designs on a Sawgrass sublimation printer with compatible ink and paper. When you compare my two orange-themed kitchen boas, you can see that the cut transfer sheets and printed designs create very different looks. If you're getting started with print sublimation, my Sublimation for Beginners Ultimate Guide will help you pick the best tools and supplies.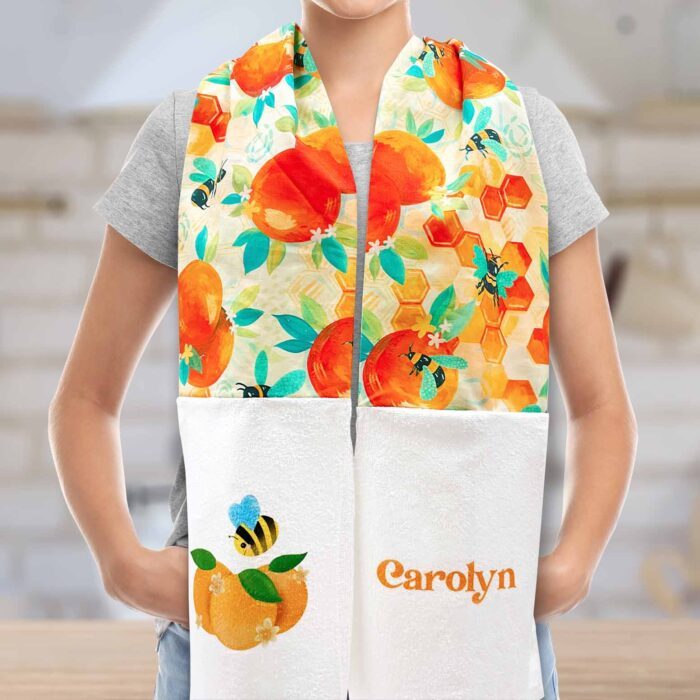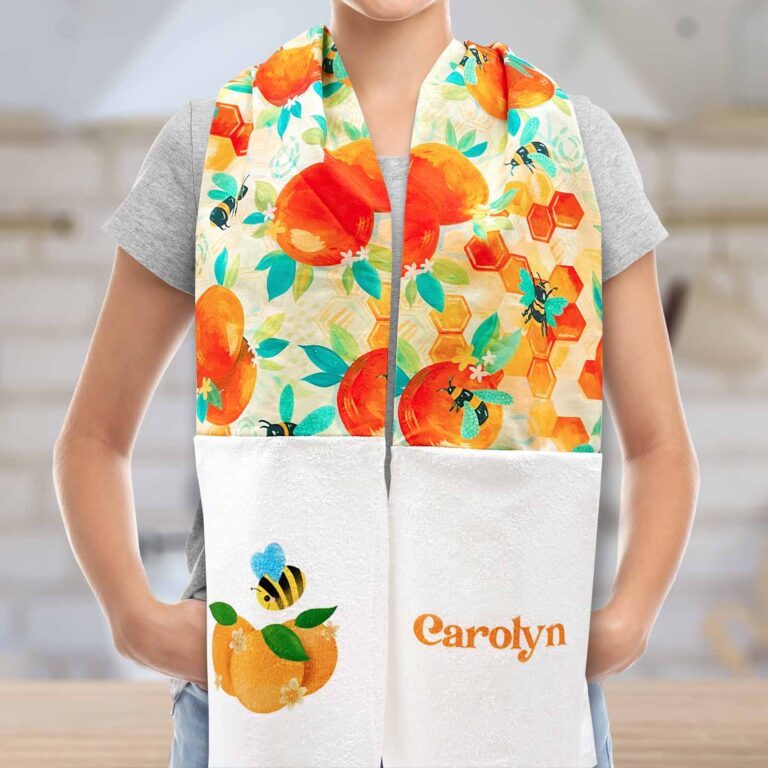 I used a Cricut Autopress to transfer both kinds of sublimation materials, but you can also use an EasyPress with pressing mats. White cardstock and butcher paper and heat resistant tape are important, but see my full list of materials and tools below. Remember, a home iron will work for making the scarf, but even a very warm iron won't get hot enough for a sublimation project.
Good ventilation is necessary any time you use a sublimation process. Have your windows open and a fan going to help the fumes from sublimation dyes dissipate quickly. And don't breathe in very close to the project while it's still warm.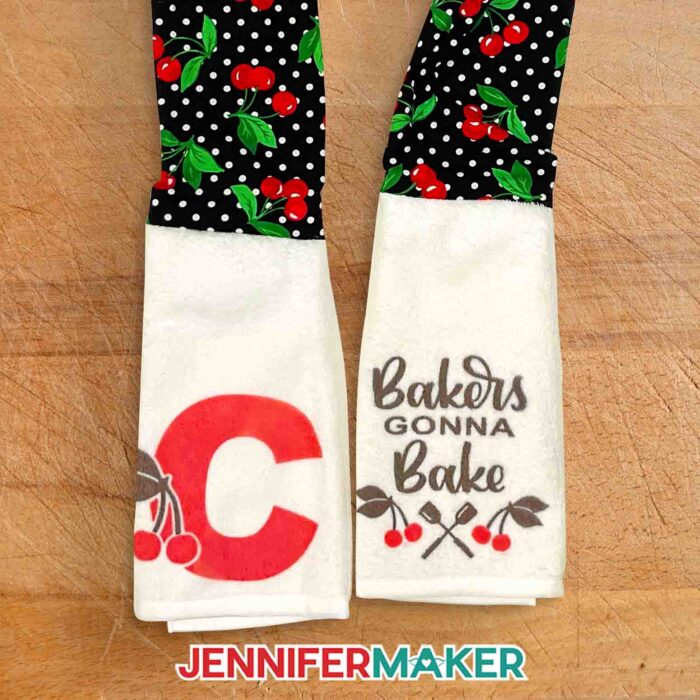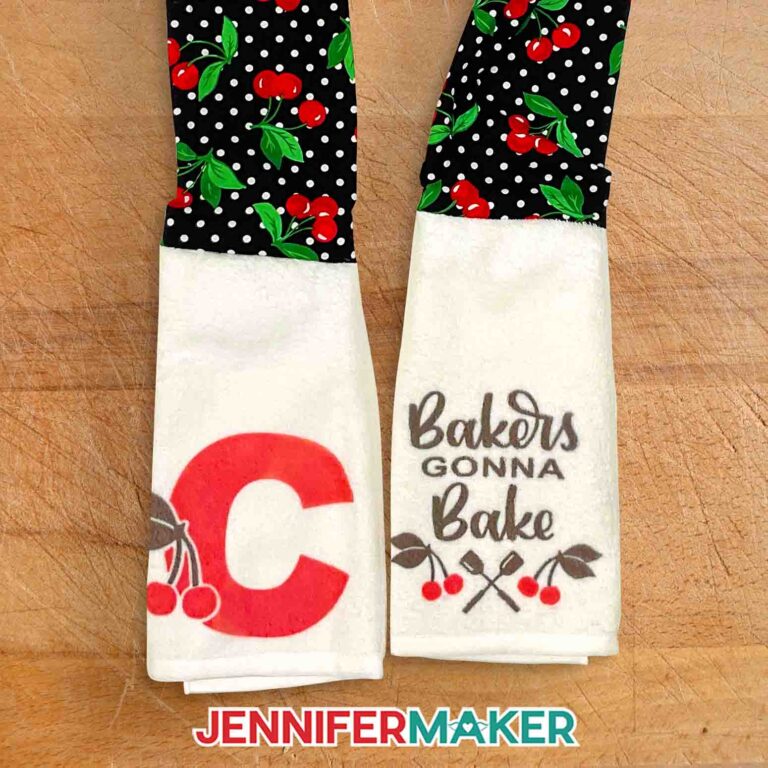 My kitchen boa pattern is such a fun project, I can't wait to see what you make for yourself or your friends and family members!
Let me show you how easy it is to make a kitchen scarf boa! This post contains some affiliate links for your convenience (which means if you make a purchase after clicking a link I will earn a small commission but it won't cost you a penny more)! Read my full disclosure policy.
How to Make a Kitchen Scarf Boa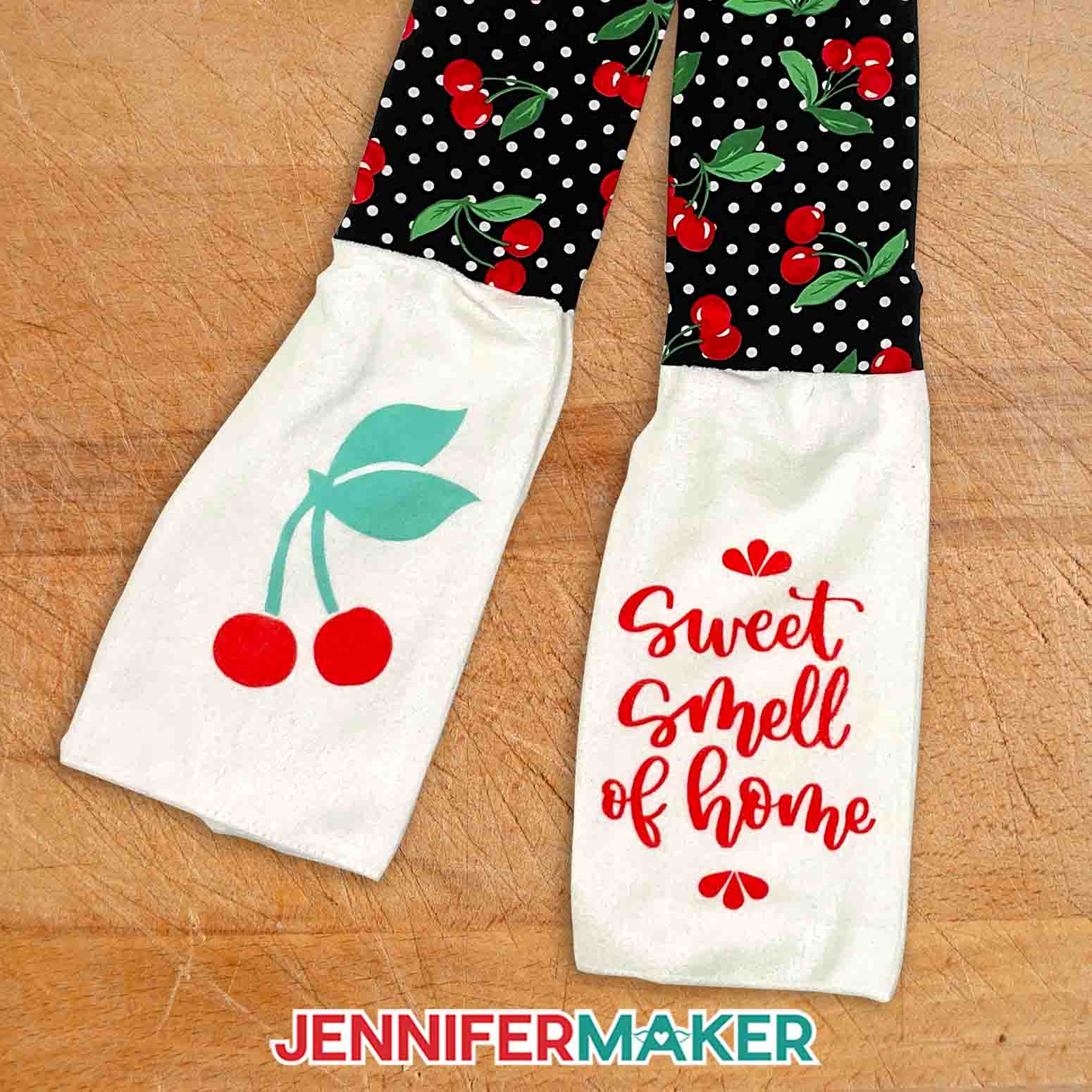 Kitchen Boas
Yield: 1

Prep Time: 20 minutes

Active Time: 30 minutes

Total Time: 50 minutes

Difficulty: Easy to Medium

Estimated Cost: $10

Make easy kitchen boas with sublimation or Infusible Ink designs!
Answers to Your Questions About My Kitchen Boa Pattern
Q: What is a kitchen boa?
A: Most often, a kitchen scarf boa is a simple scarf with two halves of a kitchen towel at the ends, worn over the neck. It's a unique kitchen accessory!
Q: How much fabric do I need for a kitchen boa?
A: A DIY kitchen boa pattern uses less than a yard of cotton fabric and a simple dish towel.
Q: What are the dimensions of a kitchen boa?
A: You can use my kitchen boa pattern as a starting point for dimensions and make the cotton section longer or shorter to fit yourself or your recipient.
Q: How long is the fabric for a kitchen boa?
A: While you can adjust the length of your kitchen boa pattern, make sure it's long enough to easily grab the towel parts.
Q: Which fabric is good for kitchen work?
A: I recommend cotton for the boa center and polyester towels for the ends.
Q: Where can I find images to create my own full color printed designs?
A: In addition to my free resource library, check out Cricut Design Space, Adobe Photoshop, Design Bundles, Silhouette Studio software, Creative Fabrica, Creative Market, Font Bundles, and other online marketplaces for ready-made designs and assets to make your own files for your sublimation projects.
Q: How long will my sublimation project last?
A: There are many variables, but if you follow my tips, your sublimation project should last a long time!
Q: Is print sublimation better than vinyl?
A: It all depends on your preferences and goals! Dye sublimation is fast, flexible, and permanent, but it requires some extra equipment that heat transfer vinyl doesn't. It's comparable to Infusible Ink, but more customizable. Both materials work well for a kitchen accessory that will need to be washed frequently.
Q: Can I use a sublimation printer for regular prints, too?
A: No, a high-quality sublimation printer (whether purpose-built or converted) only prints in sublimation ink. And you cannot really switch a converted printer back to being an inkjet printer without a LOT of effort and wasted ink. An Epson Ecotank printer is an inexpensive option to convert.
Q: What kind of paper do I use?
A: I really recommend you use special sublimation paper for the best and most vibrant results and ink transfer. I used A-SUB paper during my tests.
Q: What kind of ink do I use for print sublimation?
A: You must use special sublimation ink to create printed sublimation projects.
Q: How do I test my sublimation prints for vibrancy and color?
A: Use my free subliflower design to see how your colors look on the special paper! It's Design #385 in my resource library!
Q: How do I learn sublimation for beginners?
A: Join Sublimation Startup for a logical, step-by-step guide to getting setup for success with sublimation! You can ask questions and feel confident that you'll get help! The Sublimation Startup mini-course is also great for those who enjoy learning from Jennifer Maker's easy-to-understand, calm, and clear method of teaching. This is a no-fluff, no-mess, no-distraction workshop … it's like sitting down with Jennifer in her craft room to learn directly from her! We work in logical steps to build your understanding and confidence with sublimation, and then provide support to keep helping you as you continue on your journey! Register now!
Get my free SVG and PNG files to create a Kitchen Scarf Boa with sublimation designs!
I love seeing what you make with my kitchen boa designs and how you use them! Please share a photo of your kitchen boa scarf in our Facebook group or tag me on social media with #jennifermaker.
I also have a group just for sublimation crafting where you can get help and tips from other crafters who love to sublimate, too! Come join us at jennifermaker.com/sublimationgroup to ask questions, share ideas, and get inspired!!
Love,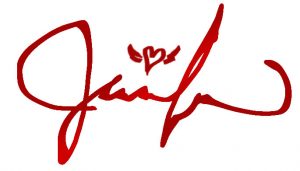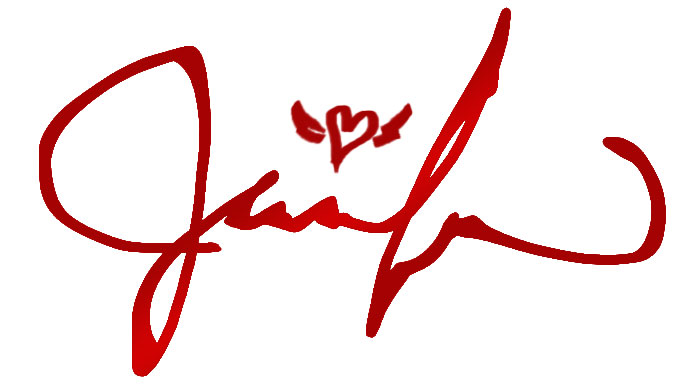 Want to remember this? Save this Kitchen Boa Pattern Tutorial to your favorite Pinterest Board!