Create custom designs using your favorite photos and phrases for sublimation projects!

Editing photos into letter designs may look intimidating, but it's easier than you think with the right tools! I'll show you how to fill letters with photos in Cricut Design Space using the text tool, the best free fonts, the slice tool, letter spacing, and an offset outline. You can add your designs to anything, but I'll decorate some pillows — including one with sequins! We'll hack the Print then Cut feature to make a custom sublimation design, so you don't have to use any extra software.
Want to save this project? Enter your email below and we'll send the project straight to your inbox.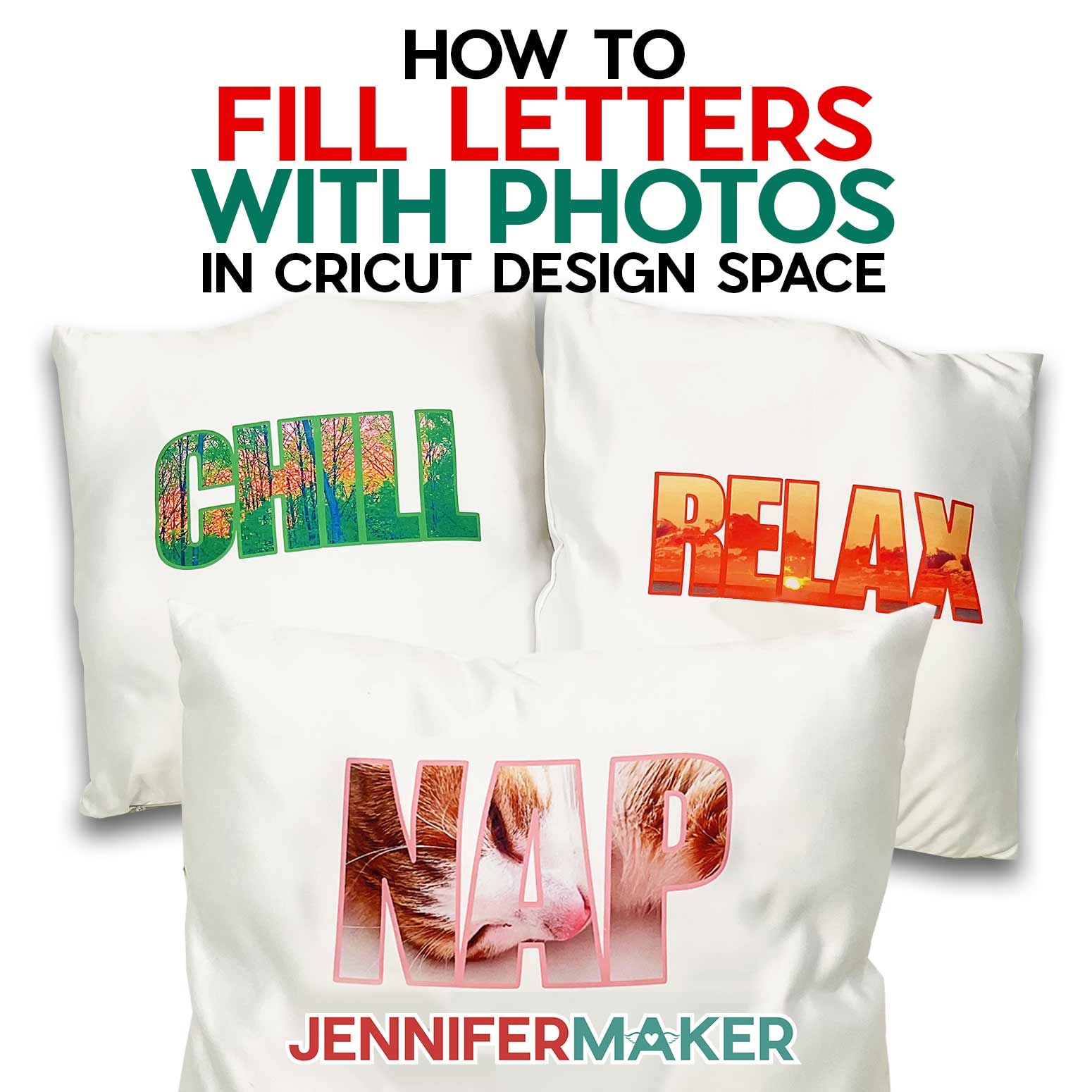 Watch my complete step-by-step tutorial on how to fill letters with photos in Cricut Design Space:
If you have a favorite photo you'd like to feature on decor or clothing, combining it with letters is a fun, easy project. Especially if you can make them into a sublimation design! You can use my free designs, or follow my steps to make your own for great results.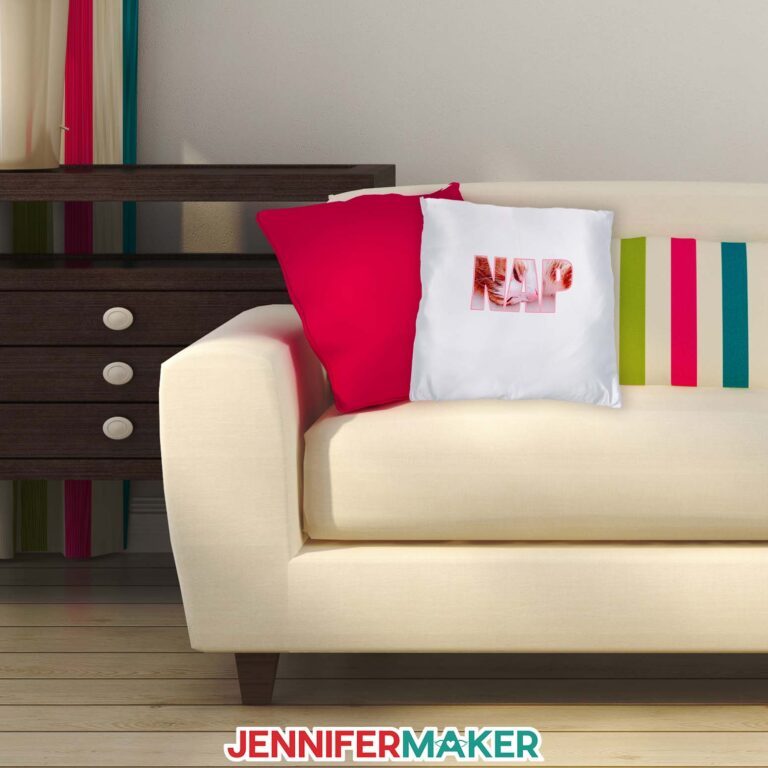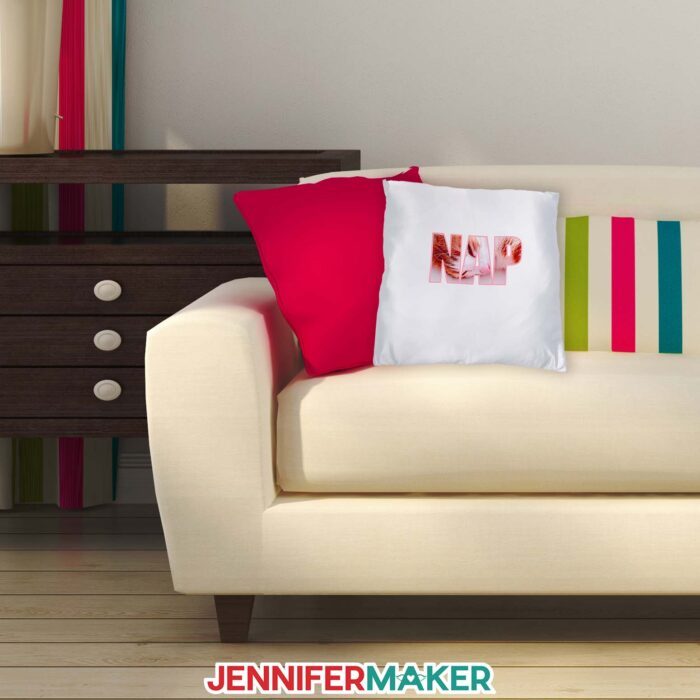 Selecting the right photo is very important. Pick a photo that will be recognizable even if you can only see some parts of the subject. Landscapes work really well when you're first learning how to fill letters with photos in Cricut Design Space, but you can also feature people and pets with a little bit of planning and extra time. See the video for some helpful tips!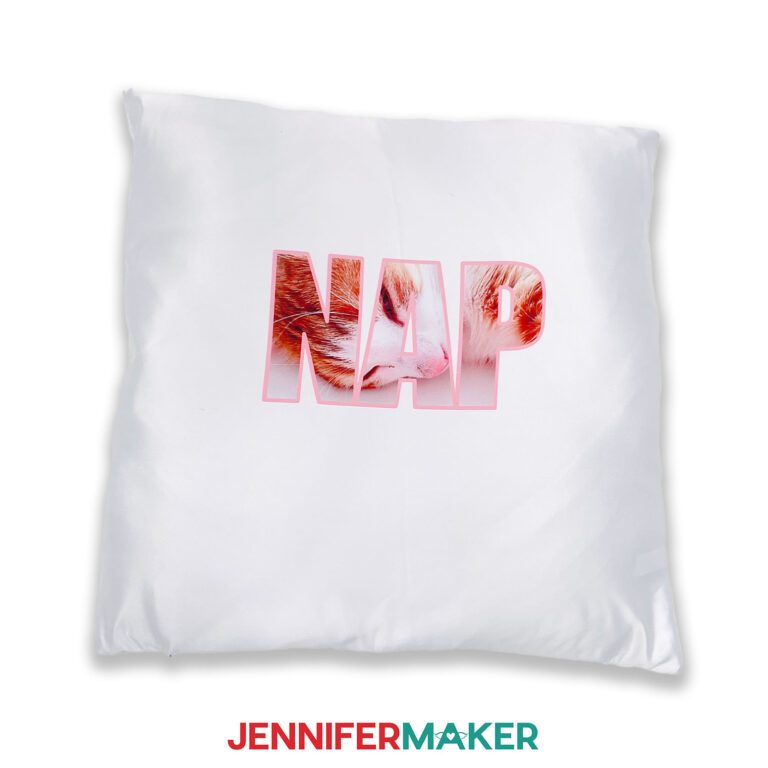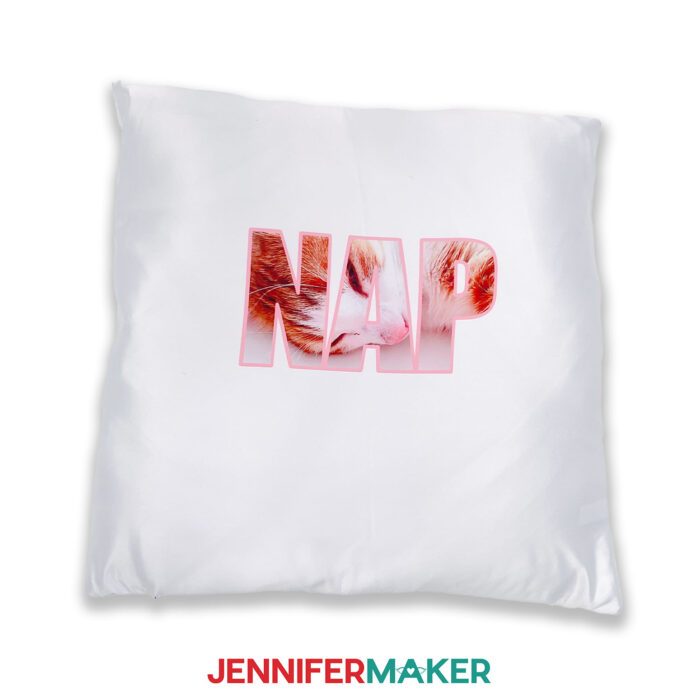 When you're ready to create your own designs, font selection is very important. There are tons of free fonts available in Cricut Design Space under the font menu, but how do you pick the best one? Here are a few easy ways to decide:
First thing, don't use a writing font (or select the writing style) since they are intended to be drawn and so they have a single line. That means there's no space to fill with photos!
Bold, consistent fonts will be easier, especially while you're learning how to fill letters with photos in Cricut Design space. Script fonts or a cursive font will be tougher with their curves and thin areas. Once you have the process down, I'd love to see you try it with fancier, different fonts!
Kerned fonts are designed with good letter spacing, so they're easier to work with when learning how to fill letters with photos in Cricut projects.
If you've downloaded a font but can't find it in the main Cricut fonts menu, remember to check the System Fonts area for options on your computer and use the search bar.
Want to experiment with more styles once you know how to fill letters with photos in Cricut Design Space? You can find many of my favorite fonts in my Cricut Font Finder cheat sheets!
Once you've created an image, I'll show you how easy it is to print sublimation designs right from Cricut Design Space with one click in the operation menu. We'll approach it like a Print then Cut project with a few hacks to save time! I used a Maker 3, but you don't need a specific machine since it's a sublimation design, which is different from the SVG files we often use. Sublimation is my favorite way to decorate with photos because you can get the best result with so many different colors.
To make the sublimation print, you'll need a sublimation printer with compatible ink and paper, scissors, and a ruler. Then, to transfer the design, you'll use a heat press, heat resistant tape, white cardstock, and white butcher paper. A fan and lint roller are also helpful when sublimating your own projects. You can find the full details and my recommendation in the tool and material list below.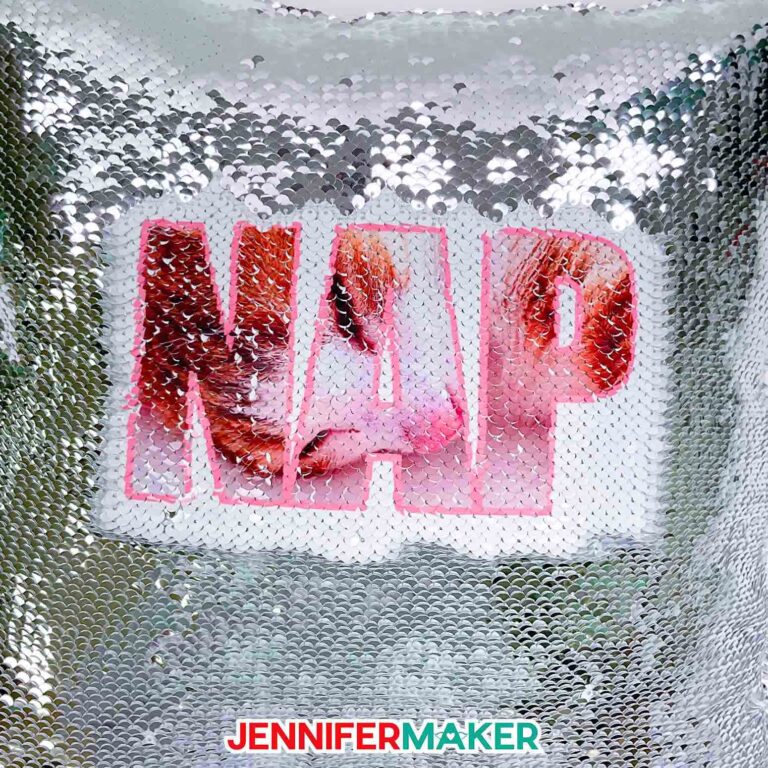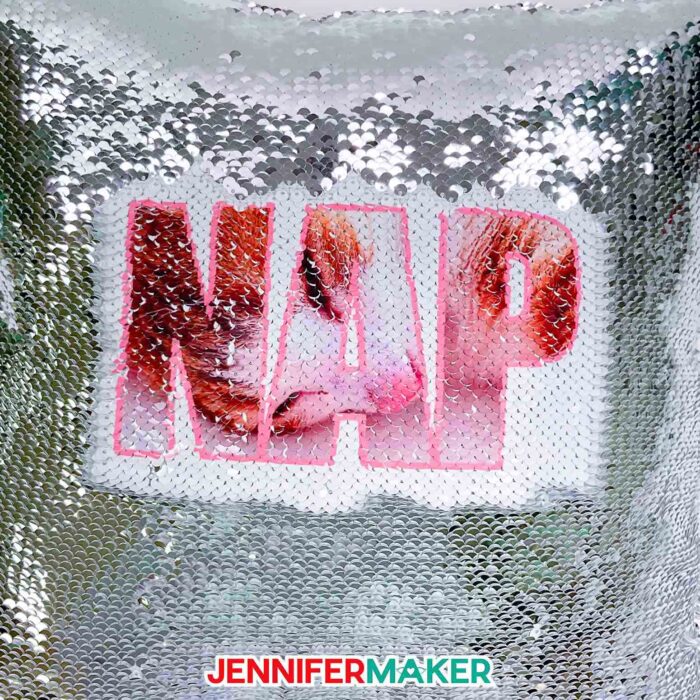 And since we're using a sublimation design, you can also decorate non-traditional materials, like sequins! I tried out the process on a pillow cover with double-sided sequins. I'll show you how to add the filled letters design on the white side. You can hide and reveal the design by smoothing the sequins one way or the other.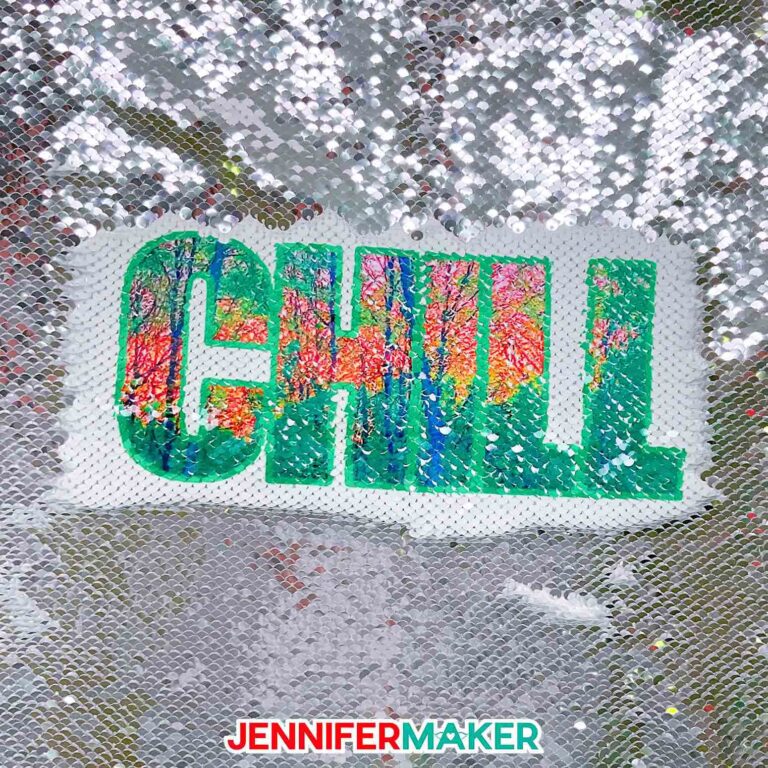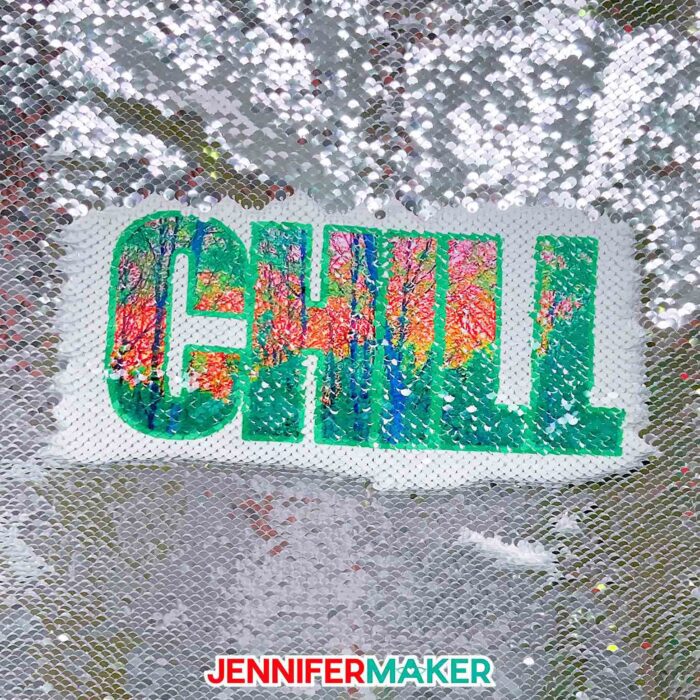 Whichever item you decorate, I hope you'll love learning how to fill letters with photos in Cricut Design Space and the end result!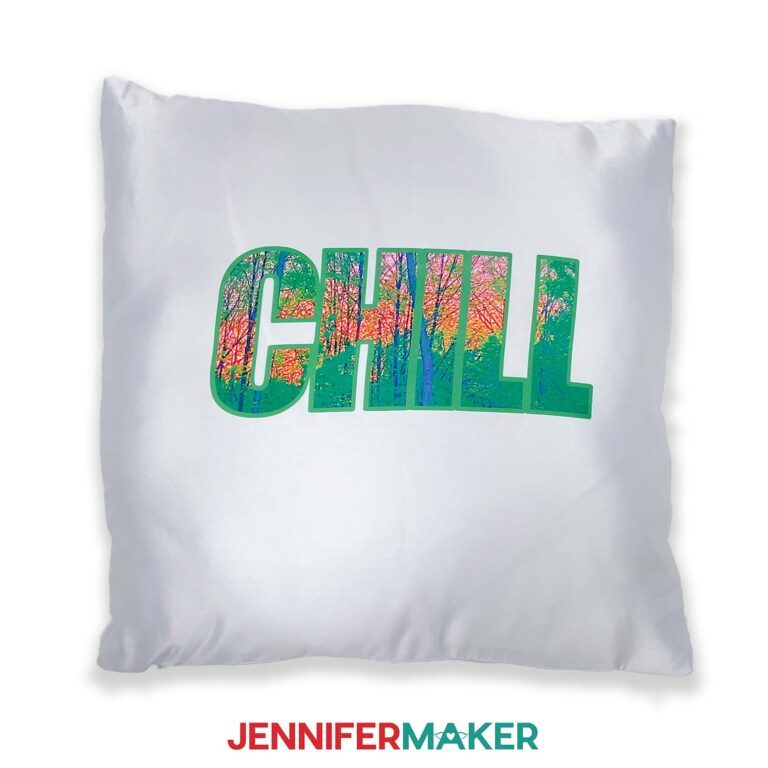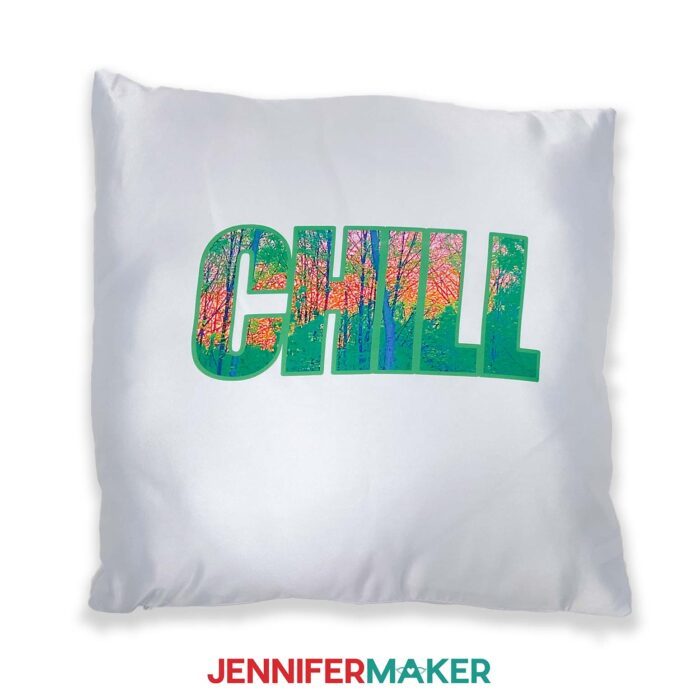 Ready to learn how to fill letters with photos in Cricut Design Space? I'm super excited to show you how! This post contains some affiliate links for your convenience (which means if you make a purchase after clicking a link I will earn a small commission but it won't cost you a penny more)! Read my full disclosure policy.
Materials for How to Fill Letters With Photos in Cricut Design Space
How to Fill Letters with Photos in Cricut Design Space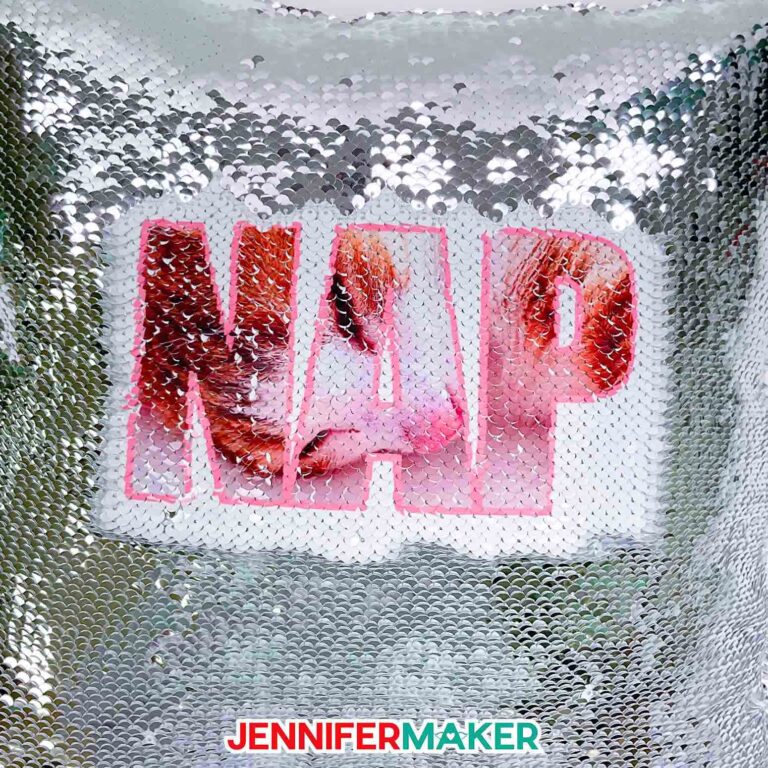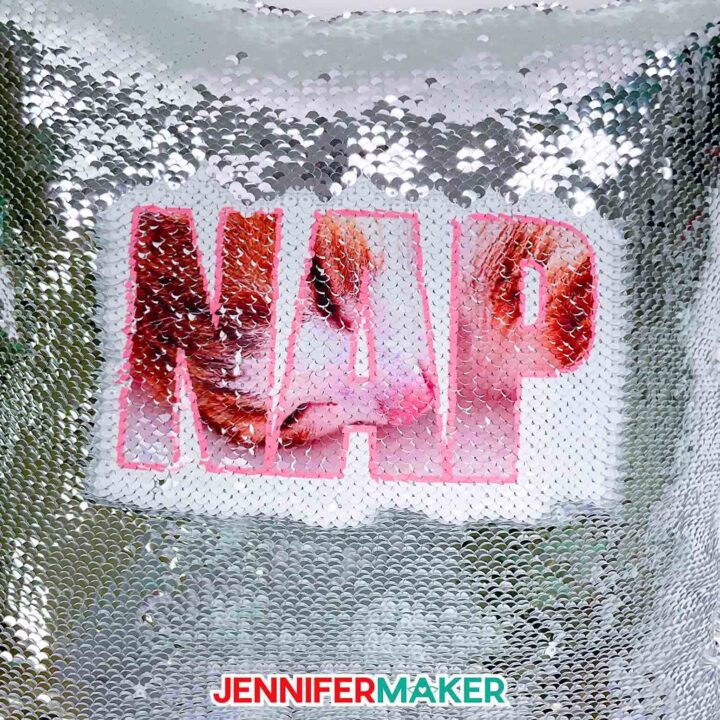 How to Fill Letters with Photos in Cricut
Difficulty:
Easy to Medium
Learn how to fill letters with photos in Cricut Design Space.
Answers to Your Questions About How to Fill Letters With Photos in Cricut Design Space
Q: How do you fill letters with pictures?
A: If you want to put separate photos in individual letters, resize your word in the text box, then use the Ungroup to Letters feature to put each letter on a different layer. Then, use my slice technique to work with each pair separately. Once everything is shaped, use Flatten to put them back together before printing.
Q: How do I crop a picture into letters?
A: In Cricut Design Space, the easiest way to shape your pictures into letters is to slice the two layers.
Q: How can I remember the fonts that work well to fill with photos?
A: Bookmark it! In the font menu, just click the flag icon next to a font you want to remember. Any bookmarked fonts appear under Bookmarked for you to find quickly.
Q: How do you fill in text when drawing on Cricut?
A: There are several ways to fill in font designs with your Cricut machine, but the best technique depends on the tool you're using. My How to Fill Letters tutorial covers using Cricut pens, the foil transfer tool, and engraving.
Q: Where can I find images to learn how to fill letters with photos in Cricut Design Space?
A: In addition to my free resource library, check out Cricut Design Space, Adobe Photoshop, Design Bundles, Silhouette Studio software, Creative Fabrica, Creative Market, Font Bundles, and other online marketplaces for photos.
Q: Where can I get free fonts for Cricut projects?
A: My favorite place for free fonts is Dafont. I have a tutorial to help you get their fonts into Cricut Design Space easily! You can also find free high-quality fonts at Font Bundles– just go there and click on the Free tab, but they change all the time. There are also free fonts over at Creative Fabrica under Freebies > Free Fonts. The nice thing about the free fonts at FontBundles and CreativeFabrica is that they offer some commercial license fonts free, too.
Q: What kind of paper do I use for sublimation?
A: While some people will use just regular laser paper, I really recommend you use special sublimation paper for the best and most vibrant results and ink transfer. I used A-SUB paper during my tests.
Q: What kind of ink do I use for sublimation?
A: You must use special sublimation ink to do sublimation projects.
Q: How do I test my sublimation prints for vibrancy and color?
A: Use my free subliflower design to see how your colors look on the special paper! It's Design #385 in my resource library!
Q: How do I learn sublimation for beginners?
A: Join Sublimation Startup for a logical, step-by-step guide to getting setup for success with sublimation! You can ask questions and feel confident that you'll get help! The Sublimation Startup mini-course is also great for those who enjoy learning from Jennifer Maker's easy-to-understand, calm, and clear method of teaching. This is a no-fluff, no-mess, no-distraction workshop … it's like sitting down with Jennifer in her craft room to learn directly from her! We work in logical steps to build your understanding and confidence with sublimation, and then provide support to keep helping you as you continue on your journey! Register now!
Q: Can I make this with a Cricut Joy or a Cricut Explore?

A: Technically, yes! Normal Print then Cut Cricut projects don't work with the Joy because it doesn't have the correct tool to read the registration marks and avoid making the cut lines in the wrong spots. However, I recommend cutting these sublimation designs with scissors, so you can just set your Design Space machine to a Maker to trick it into letting you print the design no matter which machine you have.
Q: Can I use a sublimation printer for regular prints, too?
A: No, a high-quality sublimation printer (whether purpose-built or converted) only prints in sublimation ink. And you cannot really switch a converted printer back to being an inkjet printer without a LOT of effort and wasted ink. An Epson Ecotank printer is an inexpensive option to convert.
Get my free download of the practice and finished files to learn how to fill letters with Cricut Design Space here:
If you make any projects using this technique, I'd love to see them! Please share your results in my Cricut Crafters & Makers Facebook group where you'll find hundreds of thousands of crafters like you, sharing their tips, projects, and inspiration.
By the way, you're free to use my free digital files to create physical items to sell — I just ask that you share that you used one of my designs on your listing or with your product.
Love,