Learn how to use your home iron to press iron-on vinyl the right way!
Did you know, getting the best results for an iron-on vinyl project doesn't require a fancy heat press? That's right, you can use a regular iron with heat transfer vinyl! I'll share tips and tricks for success while we learn how to iron on Cricut vinyl and create custom t-shirts. I have a fun, free cut file to get you started, but you can use these steps on your own design, too!
Want to save this project? Enter your email below and we'll send the project straight to your inbox.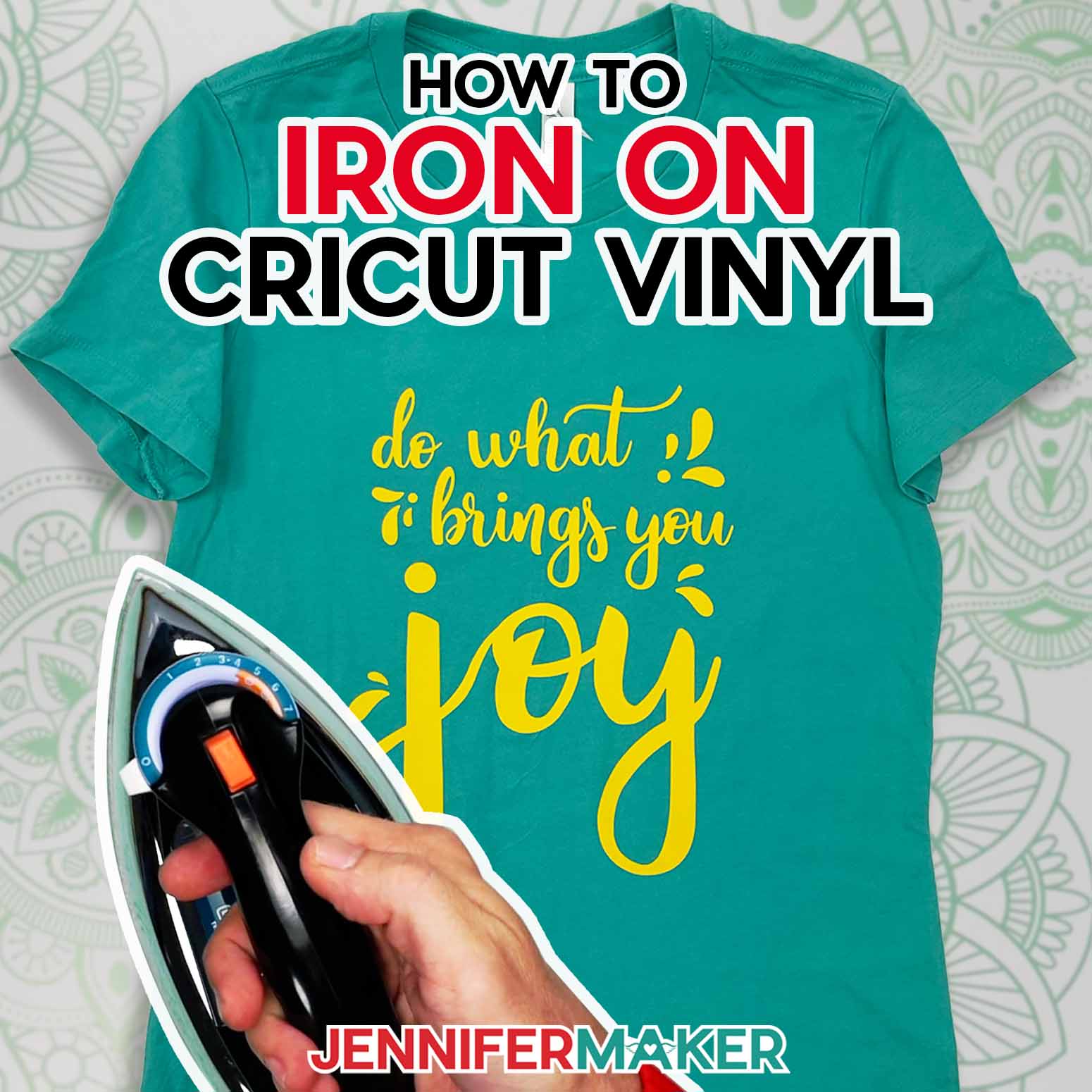 Watch the full step-by-step tutorial video on How to Iron On Cricut Vinyl coming soon to my Youtube channel!
Iron-on vinyls are some of my favorite materials to use with my Cricut! There are so many colors, styles, and ways to use iron-on vinyl (also known as heat transfer vinyl or HTV) I always have it in my craft room. I've made A LOT of projects with this vinyl over the years, and have LOTS of tips in my tutorial video. But here are my top two to get you started!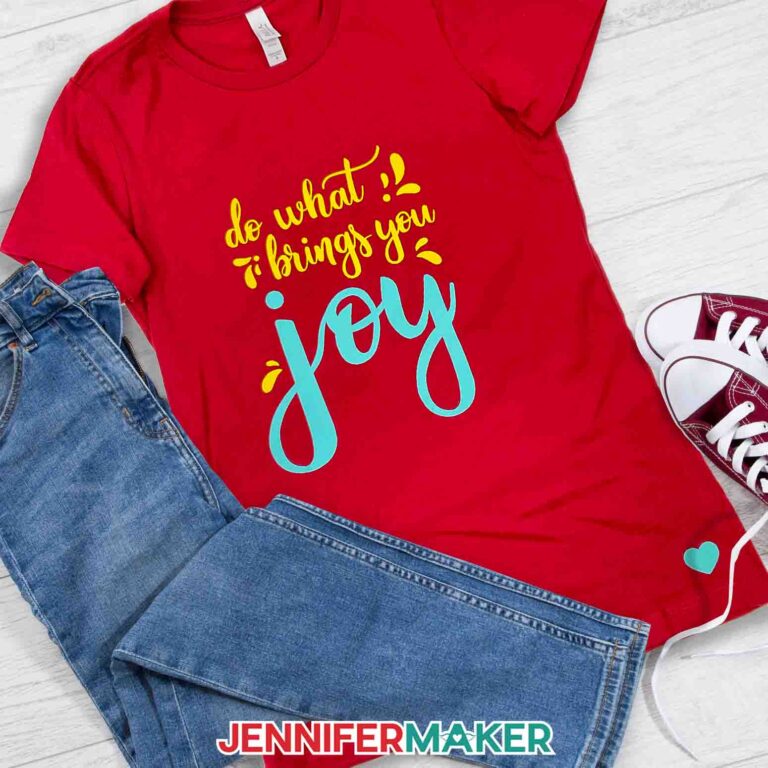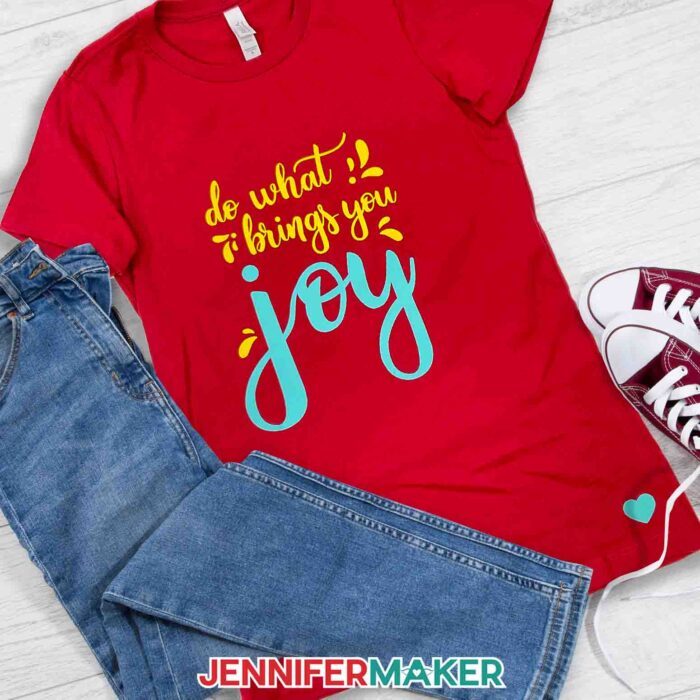 How to Iron On Cricut Vinyl: Top Tips!
1. Mirror, Mirror!
Unlike adhesive vinyl and its paper backing, iron-on vinyl comes attached to a shiny plastic carrier sheet and the exposed side will stick to the project. So, remember to mirror your cut files before cutting so they will look right when you iron it down. Also, since you want the clear carrier sheet under the vinyl to stay intact during cutting, you'll put the vinyl shiny side down and make a kiss cut just in the top layer.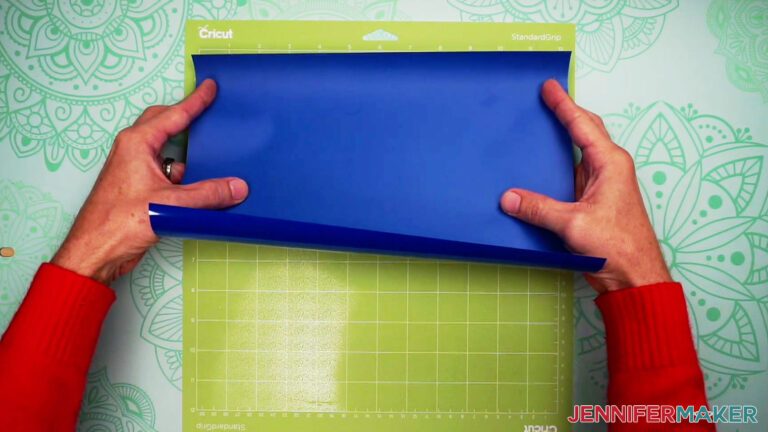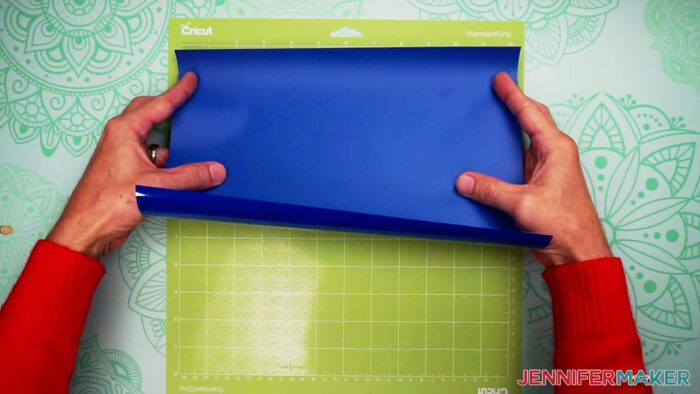 Careful preparation and correct cut settings are important for any iron-on design!
2. Testing Saves Time and Money
Any time you use a new material or technique, conduct a test cut and application to check your results. It only takes a few minutes and can save you a lot of time and materials, especially when you're learning how to iron on Cricut vinyl.
The right temperature, time, pressure, and cooling times are very important for iron-on vinyl projects. I've included some test shapes so you can test out your vinyl and surface combinations with your home iron or heat press. If it doesn't work perfectly, make some notes and try again!
Unlike a heat press, you usually can't set the exact temperature on a home iron. Instead, you'll pick a fabric setting depending on your vinyl and base material combination.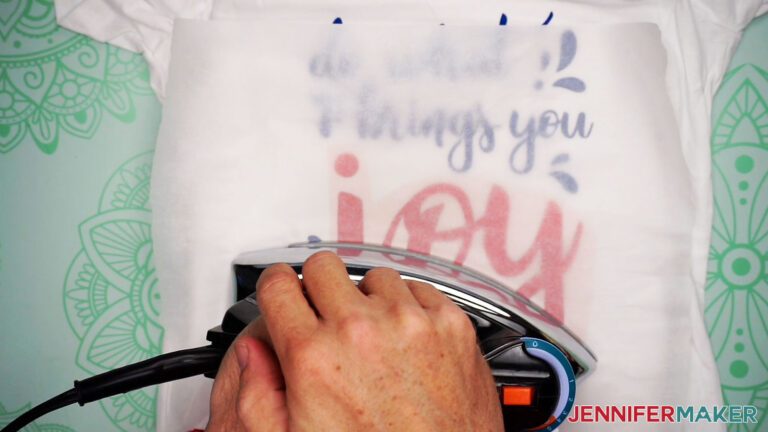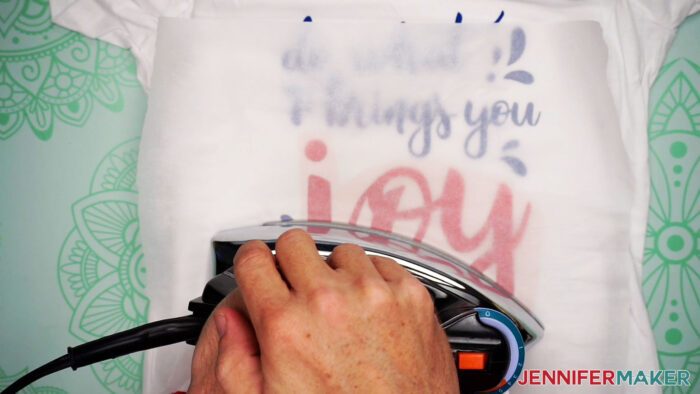 I used my Cricut Maker 3 to cut my design, but you can also use an original Maker or Explore machine, including a Cricut Explore Air. I've also included a version that you can cut on a Cricut Joy. A Green StandardGrip Machine Mat, fine-point blade, and brayer are all you need for perfect cuts!
Scissors are helpful to cut away the excess vinyl before you weed the designs with a weeding tool. A few more standard tools are in the list below!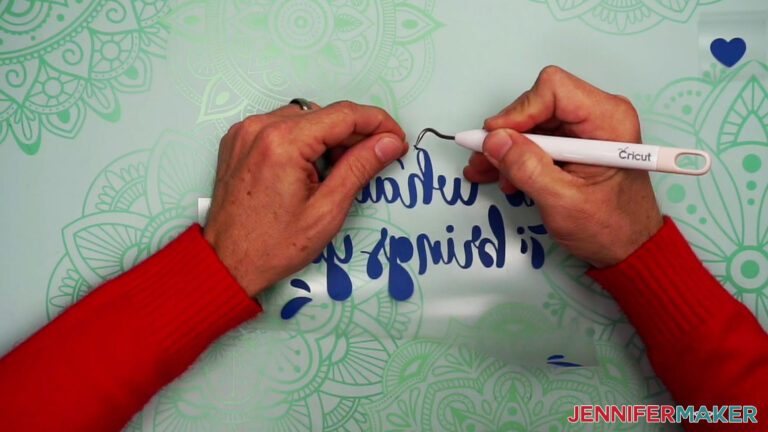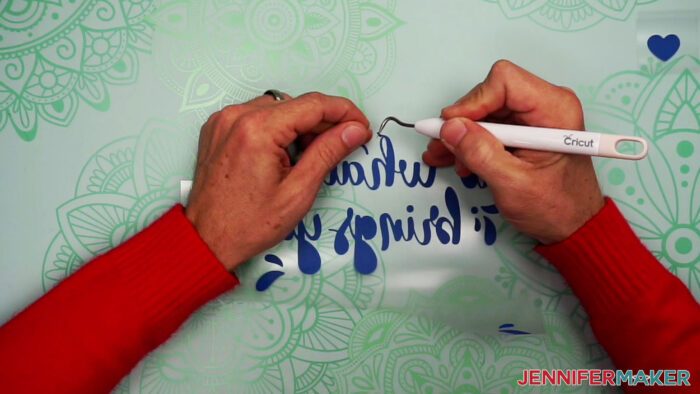 And whichever heat source you use, have a heat safe surface like a pressing mat, towel, or wooden cutting board ready when it's time to complete the project!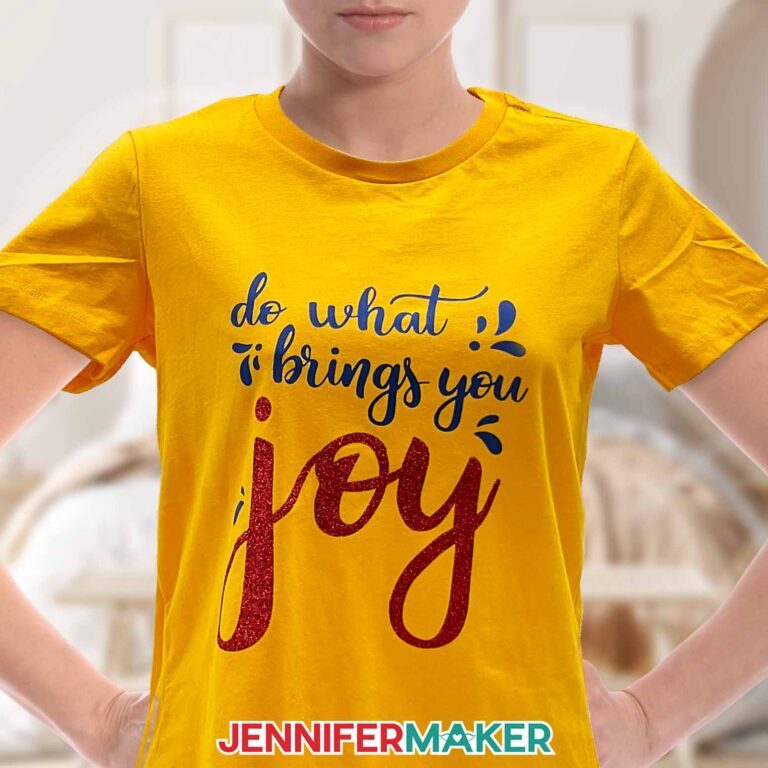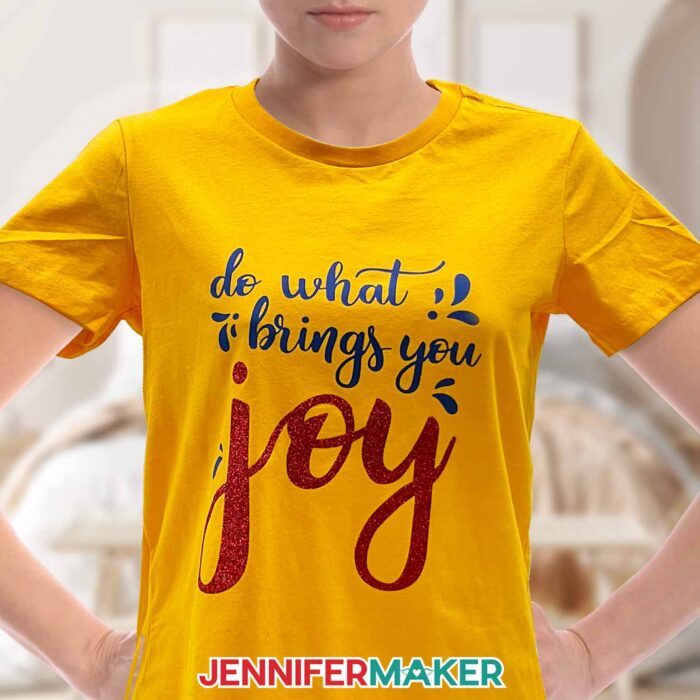 Ready to learn more about how to iron on Cricut vinyl? I'm super excited to show you how! This post contains some affiliate links for your convenience (which means if you make a purchase after clicking a link I will earn a small commission but it won't cost you a penny more)! Read my full disclosure policy.
Materials for How to Iron On Cricut Vinyl
Cricut Everyday Iron-On Vinyl -I used cornflower blue, bright teal, and yellow -OR-
Cricut Glitter Iron-On Vinyl – I used red -OR-
Cricut Foil Iron-On Vinyl – I used red
A t-shirt – I used Medium Bella Canvas Women's Long Length Favorite Jersey T-Shirts in cardinal, teal, gold, and white
A method to cut your vinyl – I used the amazing Cricut Maker 3, with the Fine-Point Blade but you can use any Maker or Explore, or even a Joy with the correct SVG file
DIY T-shirt Ruler Guide – optional, but helps with alignment
Cricut EasyPress Mat, towel, or a wooden cutting board
Digital Kitchen Timer or Cell Phone with Timer app
Design #475 – My free SVG/PDF/DXF design files are available in my free resource library (get the password by filling out the form at the bottom of this page)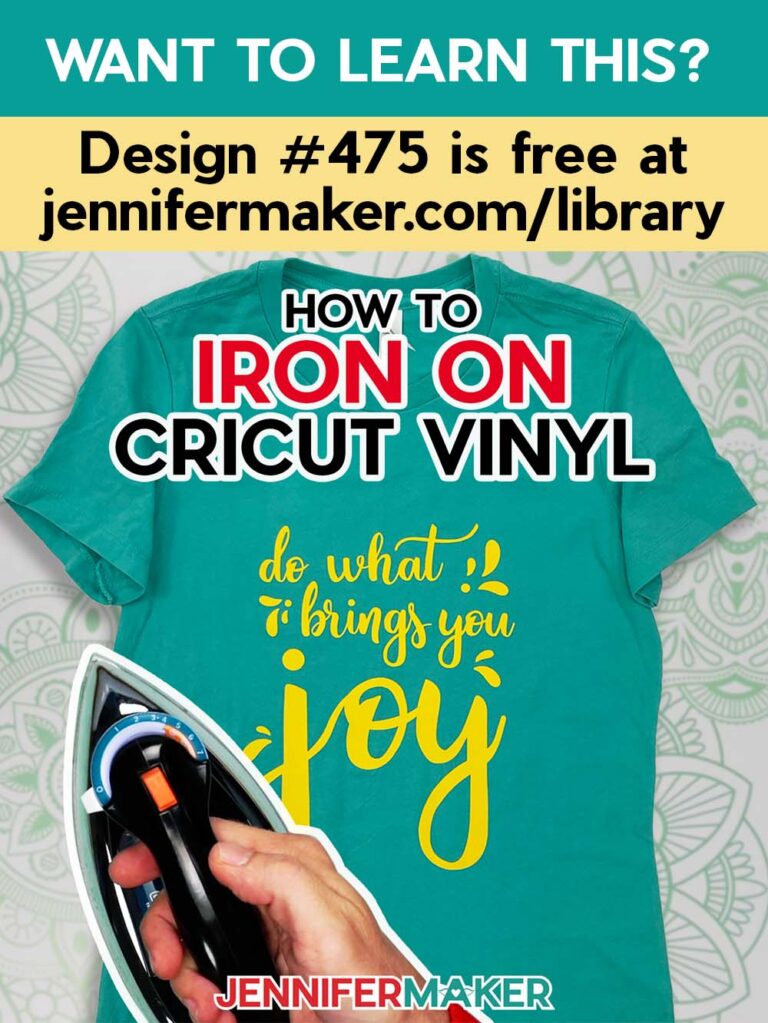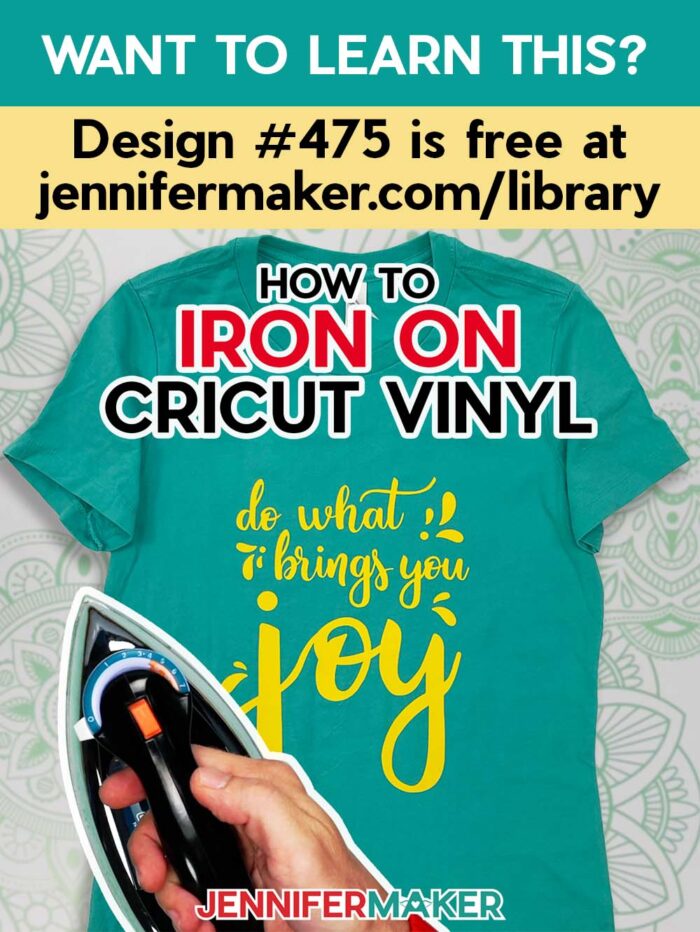 How to Iron On Cricut Vinyl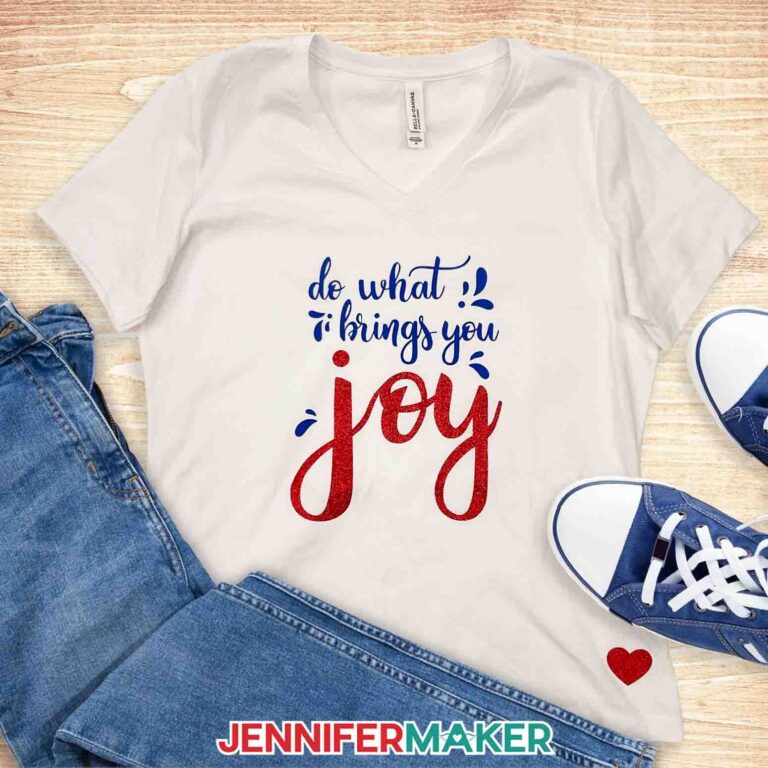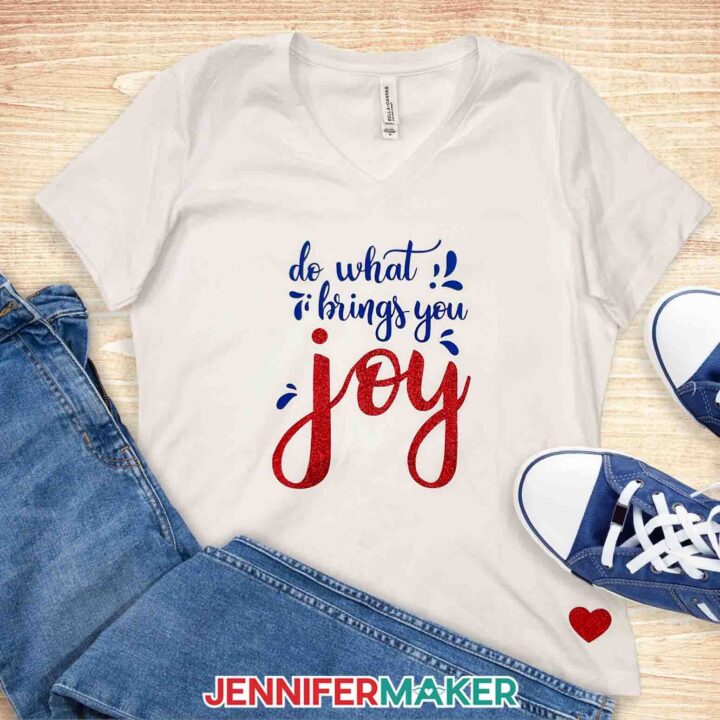 How to Iron On Cricut Vinyl
Difficulty:
Medium to Difficult
Learn How to Iron On Cricut Vinyl with a home iron.
Answers to Your Questions About How to Iron On Cricut Vinyl
Q: How do you iron on vinyl with a regular iron?
A: Some people use a Teflon sheet to protect their iron, but I find parchment paper works just as well.
Q: Which side of Cricut iron-on vinyl goes down?
A: You want the blade to cut the vinyl, not the carrier sheet. So, place the shiny side on the mat so the dull side without the carrier sheet is cut by the blade.
Q: What temperature should I iron my Cricut vinyl?
A: Use the Cricut Heat Guide to get the correct settings for your project's materials and tools.
Q: How do you heat transfer vinyl on Cricut?
A: Place the weeded design on the item so the image looks correct through the clear plastic liner. Then, press the entire area with your household iron or heat press using settings from the Cricut Heat Guide. Remove the carrier when it has cooled to the correct heat level.
Q. What does shiny side down mean Cricut?
A: When you look at iron-on vinyl, there is a shiny side and a dull side. The shiny side is the side of the vinyl that will face up after you transfer it to your item, but it's covered by the plastic carrier sheet, which is what makes it shiny. The dull side is the one that will adhere to the item's surface. Since you'll place the cut design dull side down on the item to apply the heat through the carrier sheet, always remember to cut iron-on designs mirrored with the dull side facing up and the shiny side (carrier sheet and the front of the vinyl) attached to the Cricut mat.
Q. Do you peel the back off vinyl before cutting?
A: No, leave the carrier sheet in place during cutting and make sure it's not touching the blade. It keeps the pieces of vinyl together until you're ready to weed them.
Q. What should I put vinyl on?
A: The options are almost endless! My favorite thing about vinyl is that it makes customizing your surrounding so easy!
Q. How do you make a vinyl project on Cricut?
A: The first step is to get an SVG or other cut file – I have lots to choose from in my free library! After adjusting the SVG in Cricut Design Space or another cutting machine's software, use the machine to make it out of the vinyl, weed the excess, prepare your item, and transfer the design with heat! You can even make your own designs, especially with Cricut Access and the library of images, fonts, and tools!
Q. What do you need for Cricut vinyl projects?
A: You really just need a Cricut machine, fine point blade, a cutting mat, vinyl, a weeder, transfer tape for adhesive designs or a heat source if you're using HTV, and a compatible item to decorate for an easy project! Some vinyls work better with different mats, so check for any notes before jumping in.
Want to learn even more about the different types of vinyl? Check out my Ultimate Guide to Vinyl!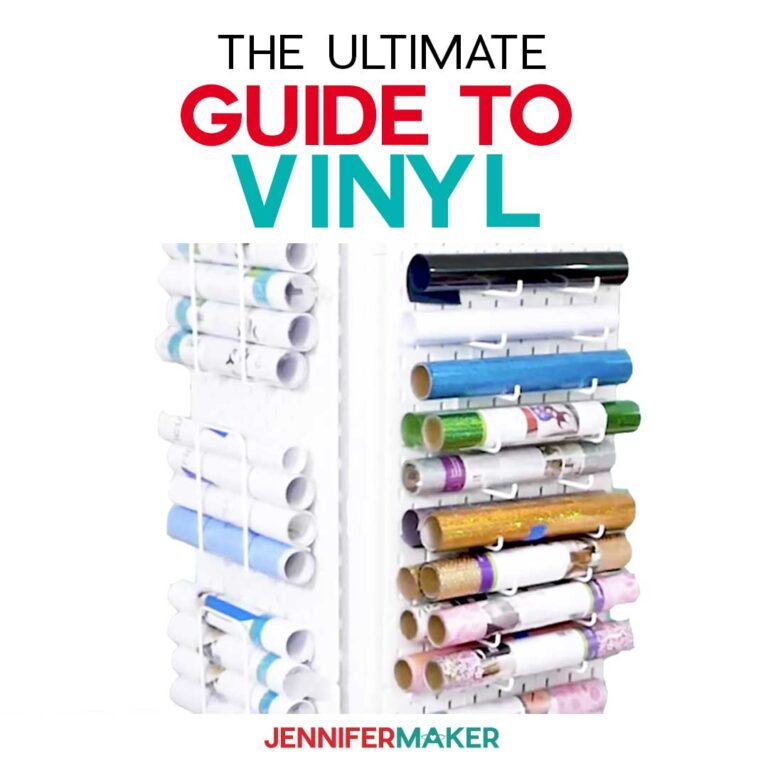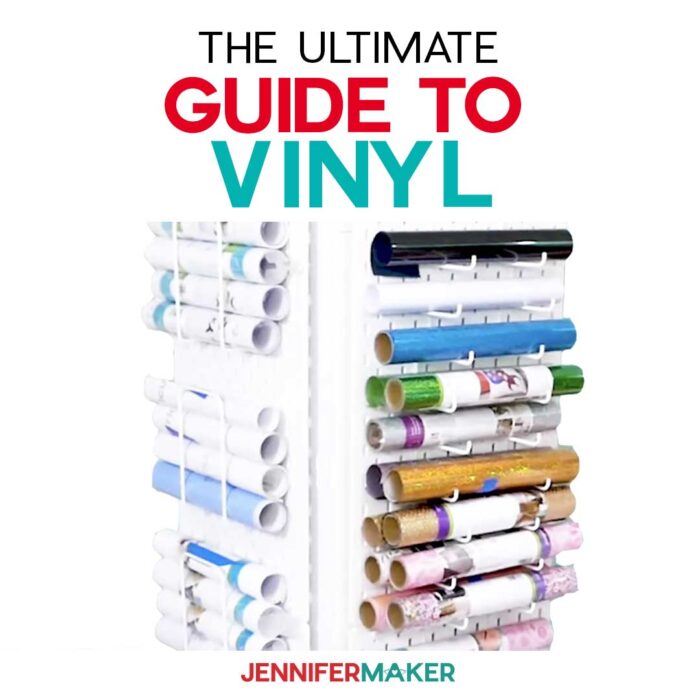 Ready to learn more vinyl tips and tricks? Here are some of my favorite projects with more advanced techniques!
Nautical Vinyl Projects – learn how to layer different kinds of iron-on!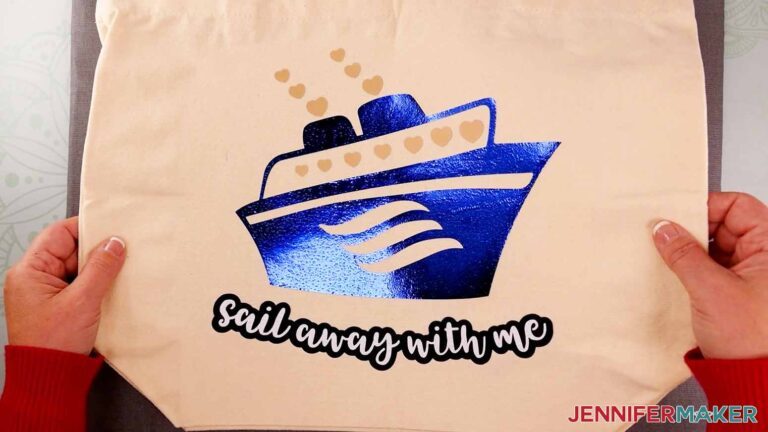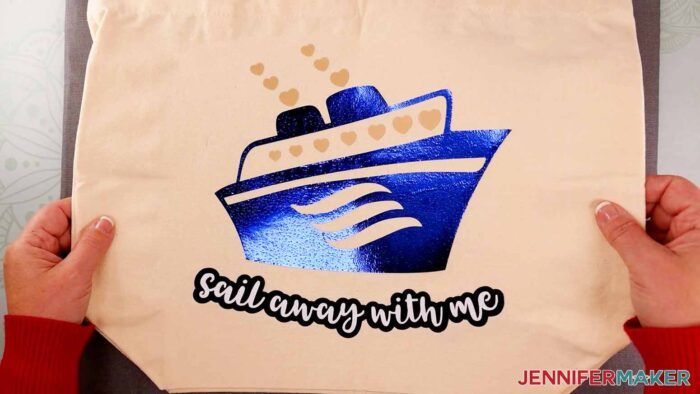 DIY Beach Towels with Smart Iron-on Vinyl – with Smart materials, you can work bigger, faster!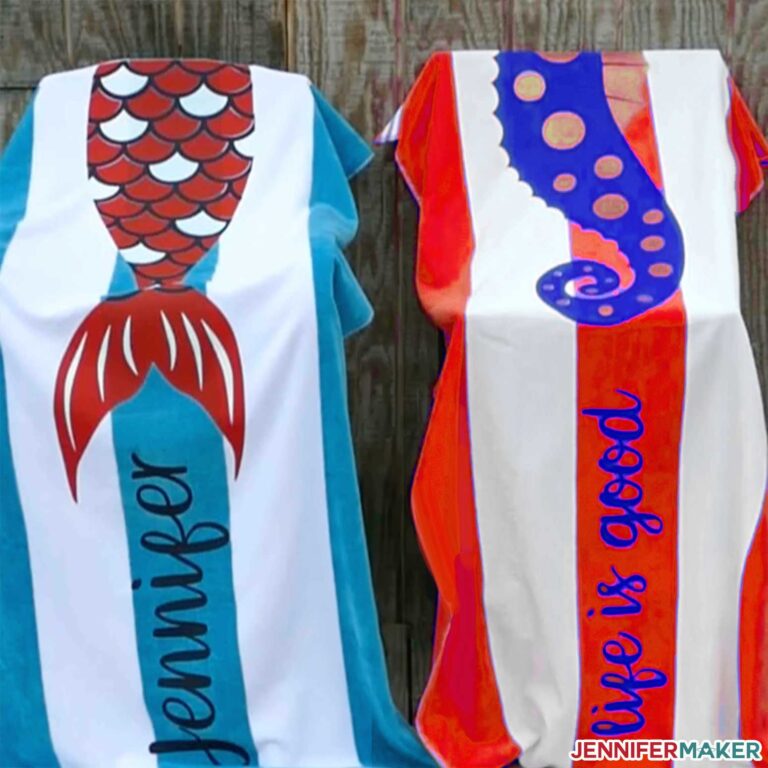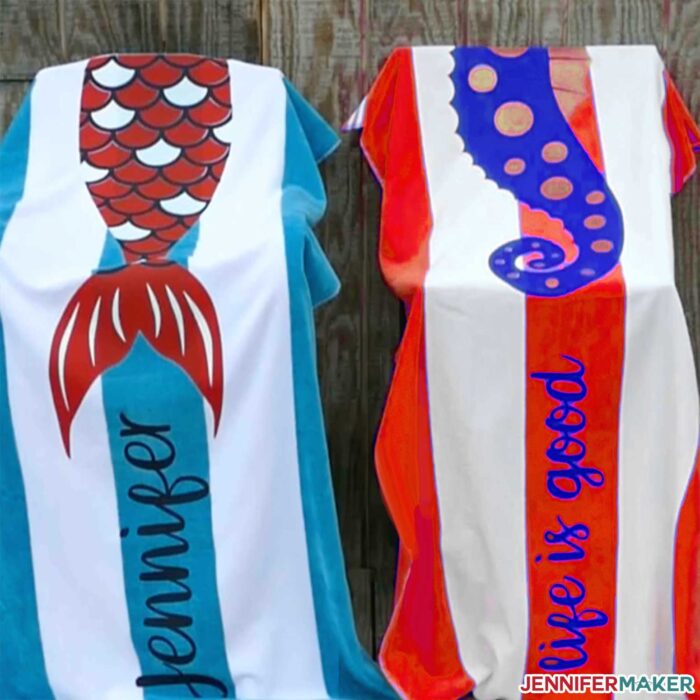 Glitter Iron-On Tips for Detailed Designs – weeding the tougher material takes patience, but the result is worth it!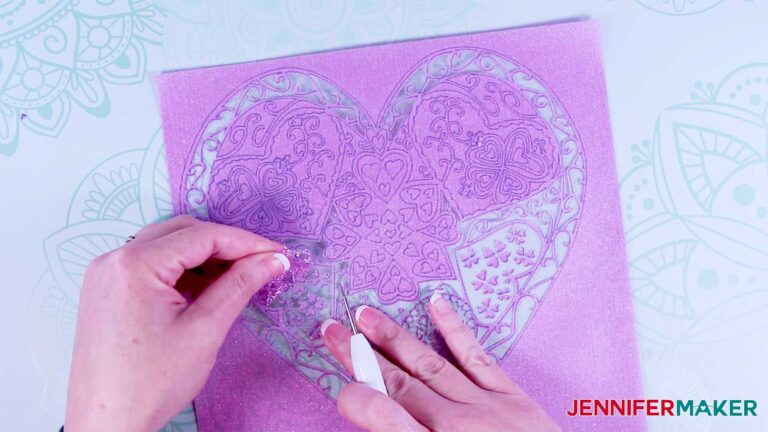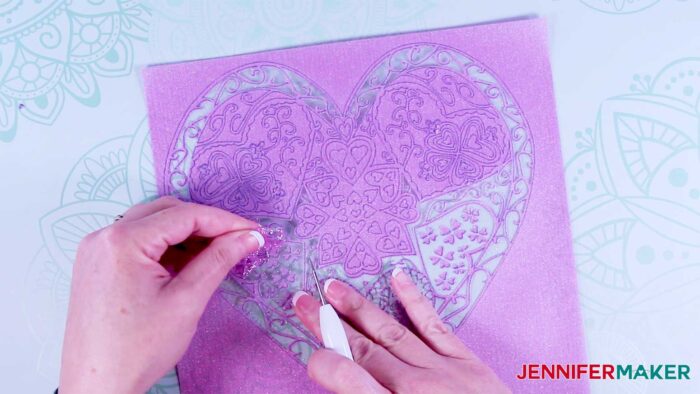 Get my free SVG files to learn How to Iron On Cricut Vinyl!

Now, I'd love to see your projects while you learn how to iron on Cricut vinyl. If you make anything with these designs, please share a photo in our Facebook group, email it to me at [email protected], or tag me on social media with #jennifermaker.
Love,