Learn how to make a paper hydrangea with this quick and easy tutorial!
I definitely love paper flowers. I have Giant Paper Flowers, Rolled Paper Flowers, and fun designs like my Paper Flower Dress Canvas. Paper flowers are a wonderful way to decorate and bring beautiful color into my home without having to worry about watering and caring for a live flower. One of the flowers that I've always wanted to recreate is a hydrangea. There are so many different kinds and colors of hydrangeas. The most common of the hydrangea bush is the Bigleaf variety, and they are truly impressive. So this tutorial will show you how to make a paper hydrangea flower to decorate your home and brighten your day.
Want to save this project? Enter your email below and we'll send the project straight to your inbox.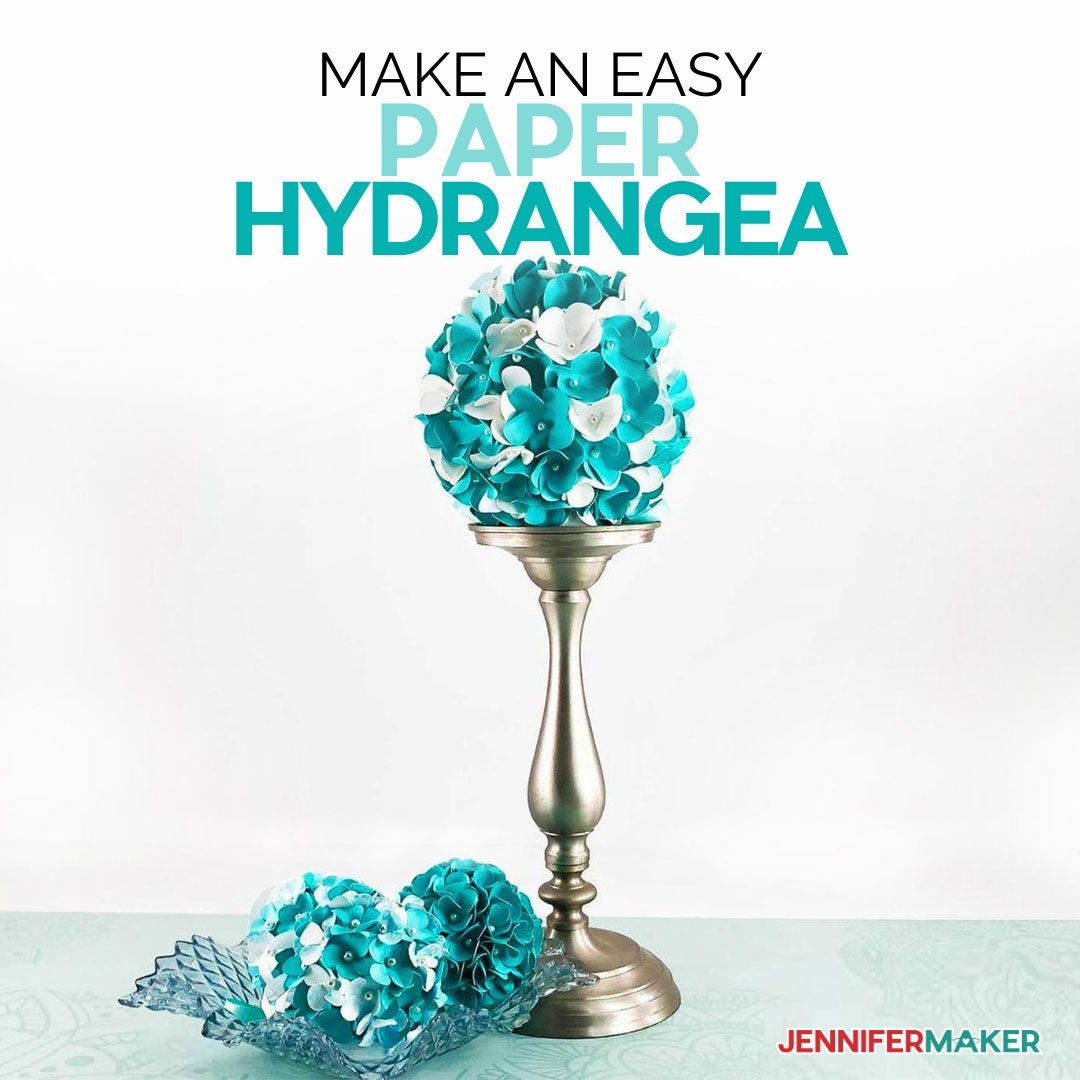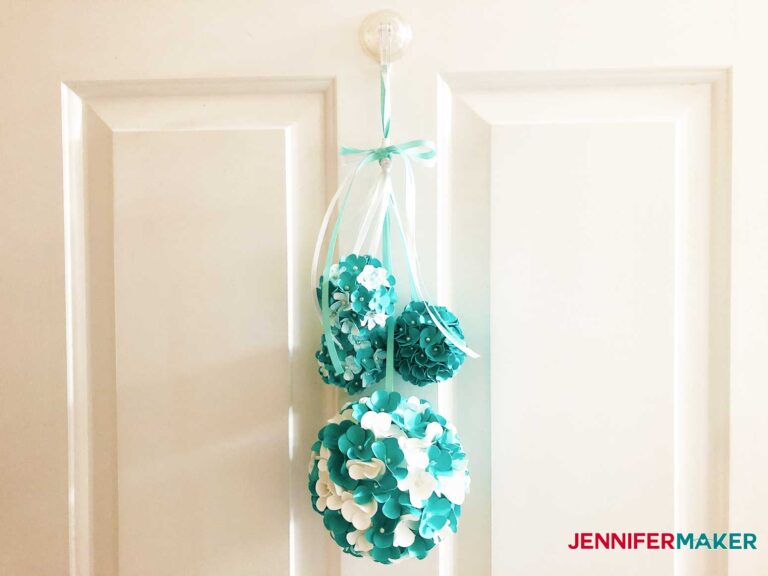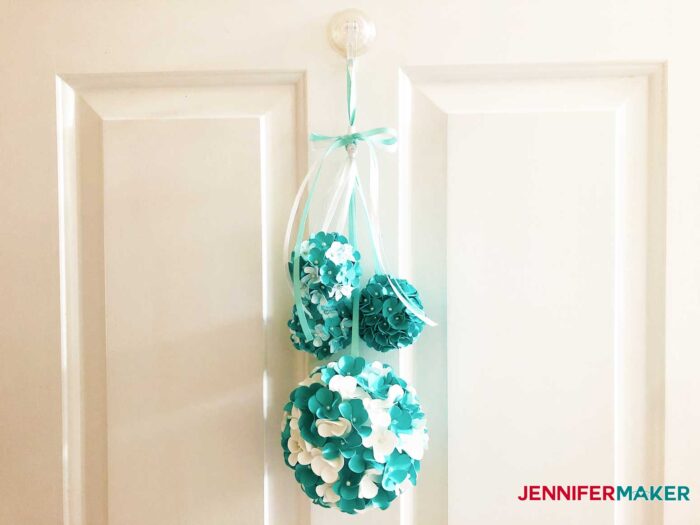 Let me show you how to make a paper hydrangea, it's so easy! This post contains some affiliate links for your convenience (which means if you make a purchase after clicking a link I will earn a small commission but it won't cost you a penny more)! Read my full disclosure policy.
Materials to Make a Paper Hydrangea

How to Make a Paper Hydrangea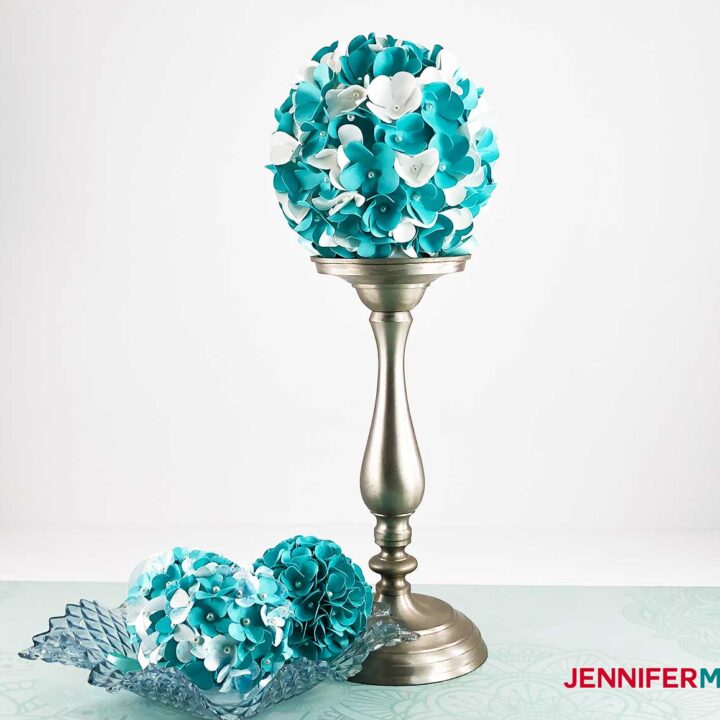 How to Make a Paper Hydrangea
Total Time:
1 hour
20 minutes
Let me show you how to make a paper Hydrangea centerpiece. This is so fun to make and can be used for so many purposes - weddings, home decor, and even change up the colors and use it for a kissing ball at Christmas. You are only limited by your imagination!
Materials
Instructions
STEP 1: GET THE PAPER HYDRANGEA DESIGN
To make a Paper Hydrangea, you will need to get the free Paper Hydrangea SVG (Design #236). The file is free for you to download from my resource library (get the password to the library by completing the form at the bottom of this page.)
Here is what my free paper hydrangea design file will look like when you upload it to Cricut Design Space: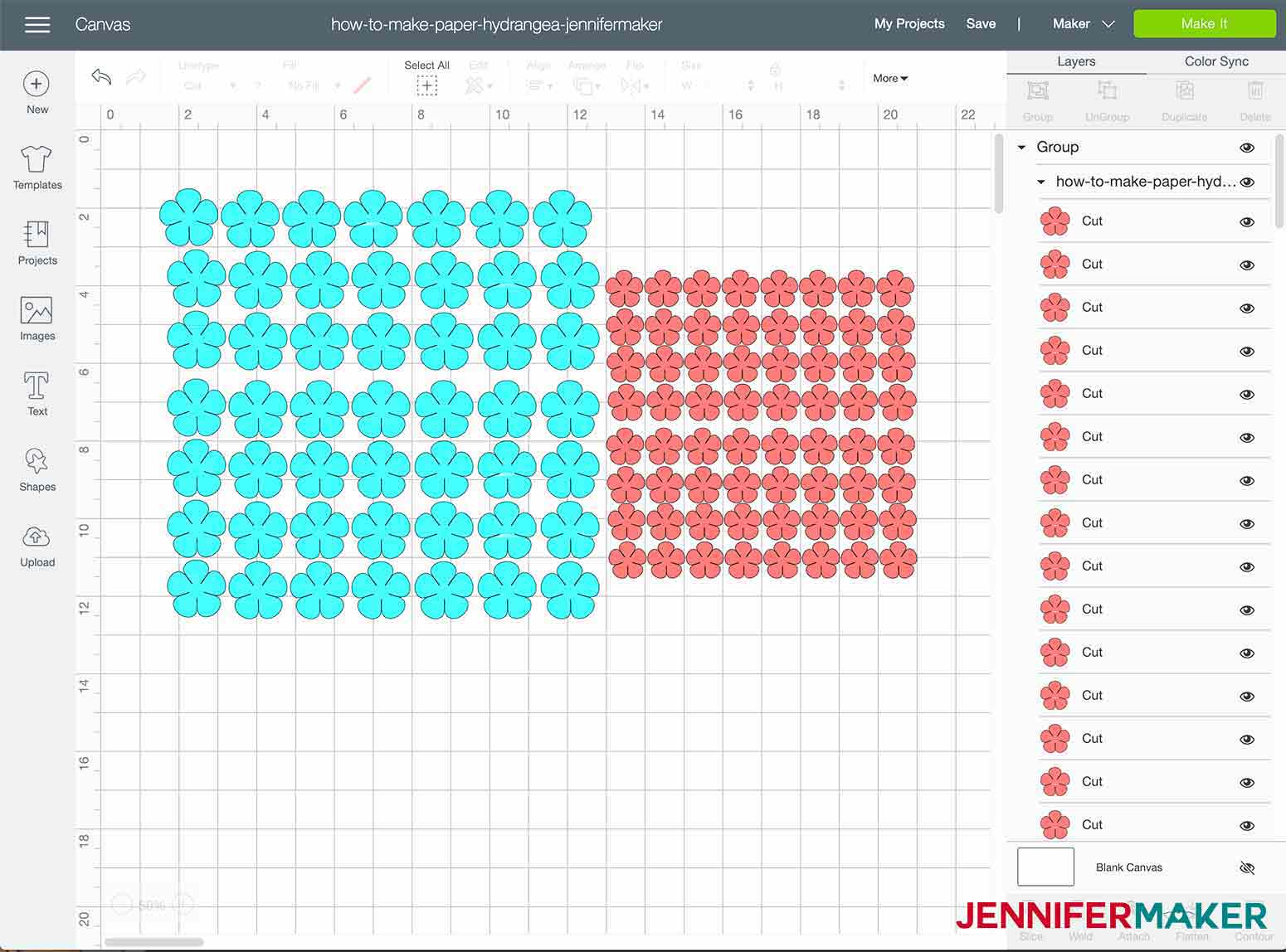 Tip: If you are not sure how to upload an SVG cut file to the Cricut Design Space, watch this helpful video training series I made. If you are on an iPad or iPhone, here is how to download and upload SVG files to the Cricut Design Space app.
STEP 2: CUT YOUR PAPER HYDRANGEA DESIGN
For this paper hydrangea design, I used 2-inch and 4-inch styrofoam balls. The Paper Hydrangea SVG design has both large and small petals. For the larger size paper hydrangea, use the large paper hydrangea petals with the 4-inch styrofoam ball. Use the smaller size hydrangea petals with the 2-inch styrofoam balls to make a smaller paper hydrangea.
Ungroup the design and hide or delete the petals you do not want. For the 4-inch paper hydrangea flowers, I cut around 100-125 petals. I used 3 sheets of 12" x 12" paper.
To make the smaller paper hydrangea flower, I cut around 50 petals. You'll need 1 or 2 sheets of 8 1/2" x 11" paper to make all of the petals. The number of petals you will need will depend on how closely you place your petals on the styrofoam ball.
If you are using an 8 1/2" x 11" paper, you will need to change the material size in Design Space.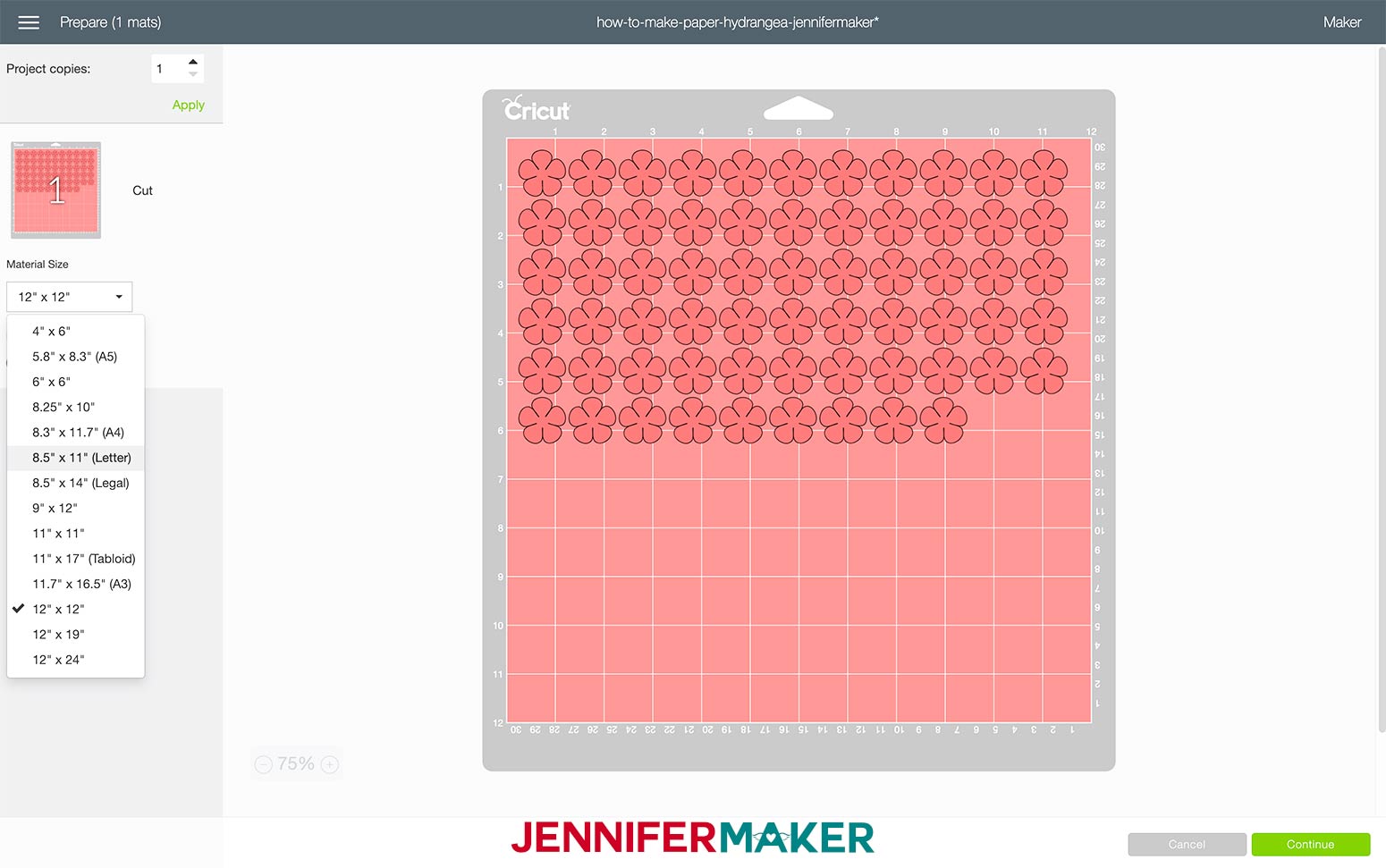 I used the Medium Cardstock material setting with More Pressure. Put the cardstock on a StandardGrip green mat and use the fine-point blade.
If you have any issues cutting, check out my Cutting Problems Guide because it tells you all the tips I use to get clean cuts consistently.
To remove the paper hydrangea petals from the Cricut cutting mat, you can use the Cricut Scraper to scrape them away from the mat.
STEP 3: ASSEMBLE THE PAPER HYDRANGEA BALL
I used a combination of white and colored paper for my paper hydrangea to give it a variegated look. If you choose to you can take an ink pad and ink any white flowers with a complimentary color. Simply lightly dab some color onto the white flowers after cutting.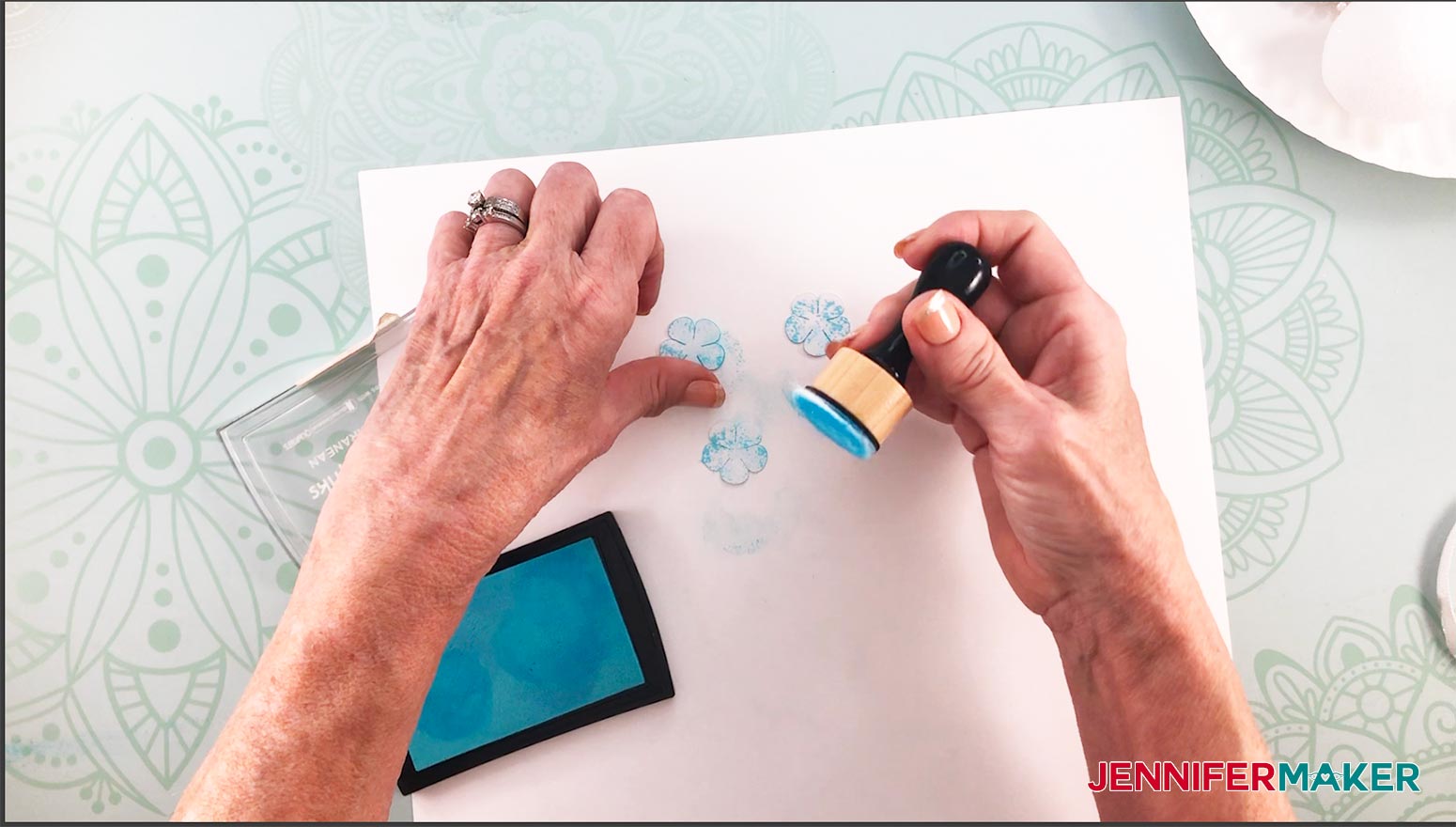 Depending on how you are going to use your Paper Hydrangea Flower Ball, you may or may not want to add ribbon. If you decide you want a ribbon on your ball, cut a piece of ribbon the desired length, and glue it to your ball first before you begin to add flowers.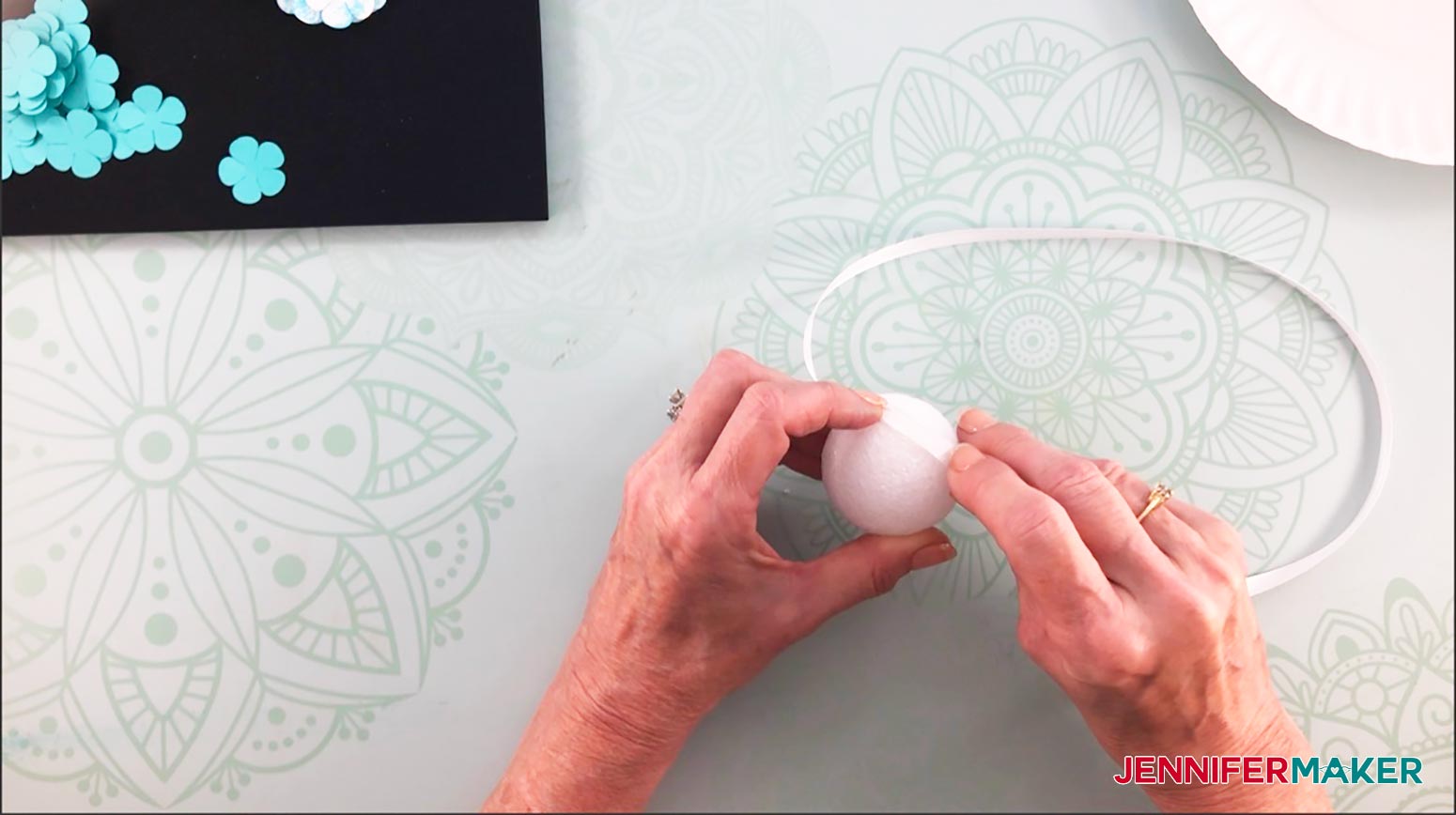 To make your paper hydrangea, you want to shape the flowers prior to sticking them onto the styrofoam ball. To do this, gently crease the petals on each flower with your fingernail (I just pressed my fingernail in the center of each petal and curled it around) to give your petals some shape, then scrunch up each flower to give it some depth.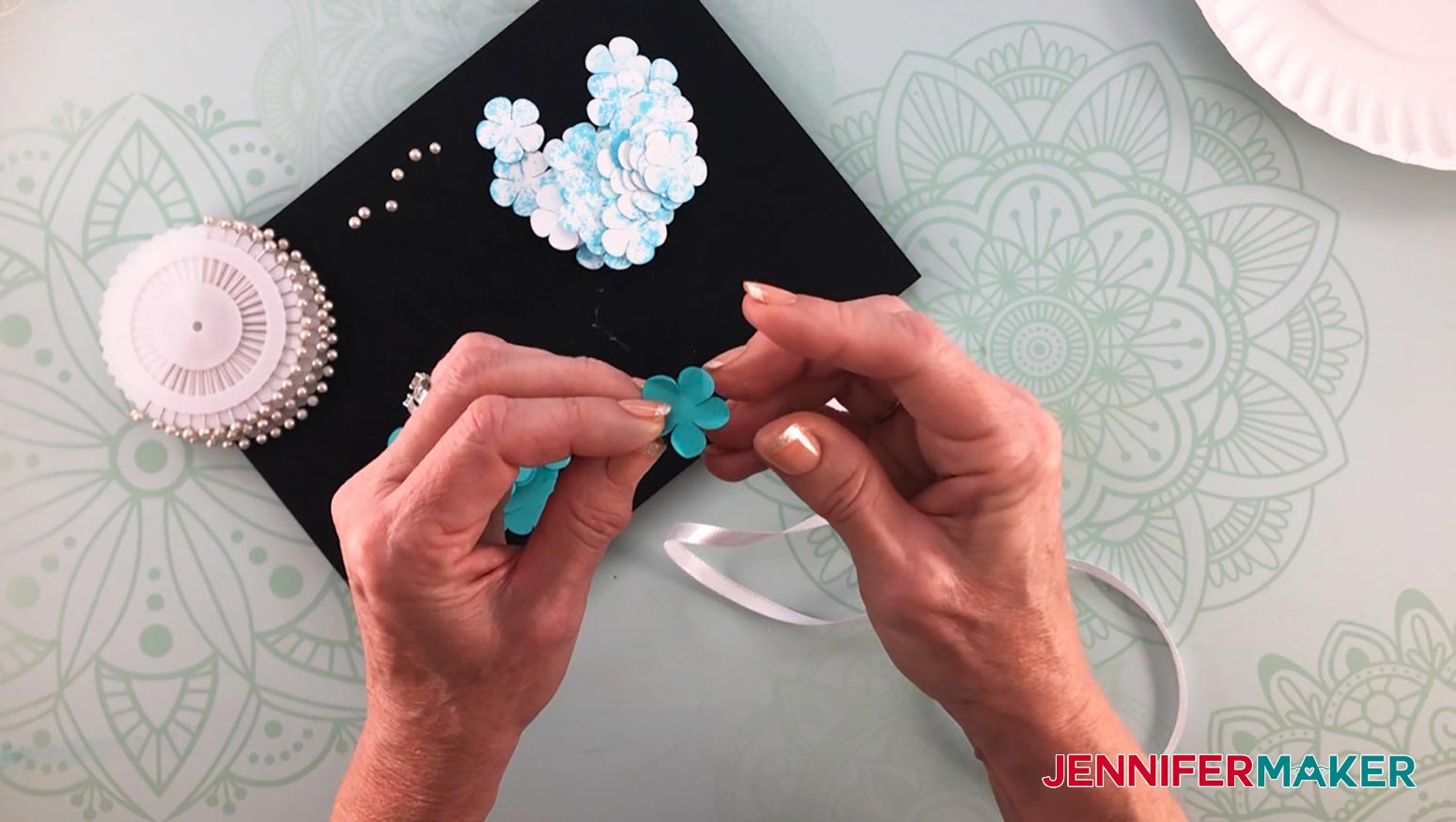 Once the flowers are shaped, lay the flower on a mouse pad or some type of foam pad and stick the pin into the center of the petal first. Pull the petal up to the top of the pin and scrunch it around the pinhead a bit to give it some shape.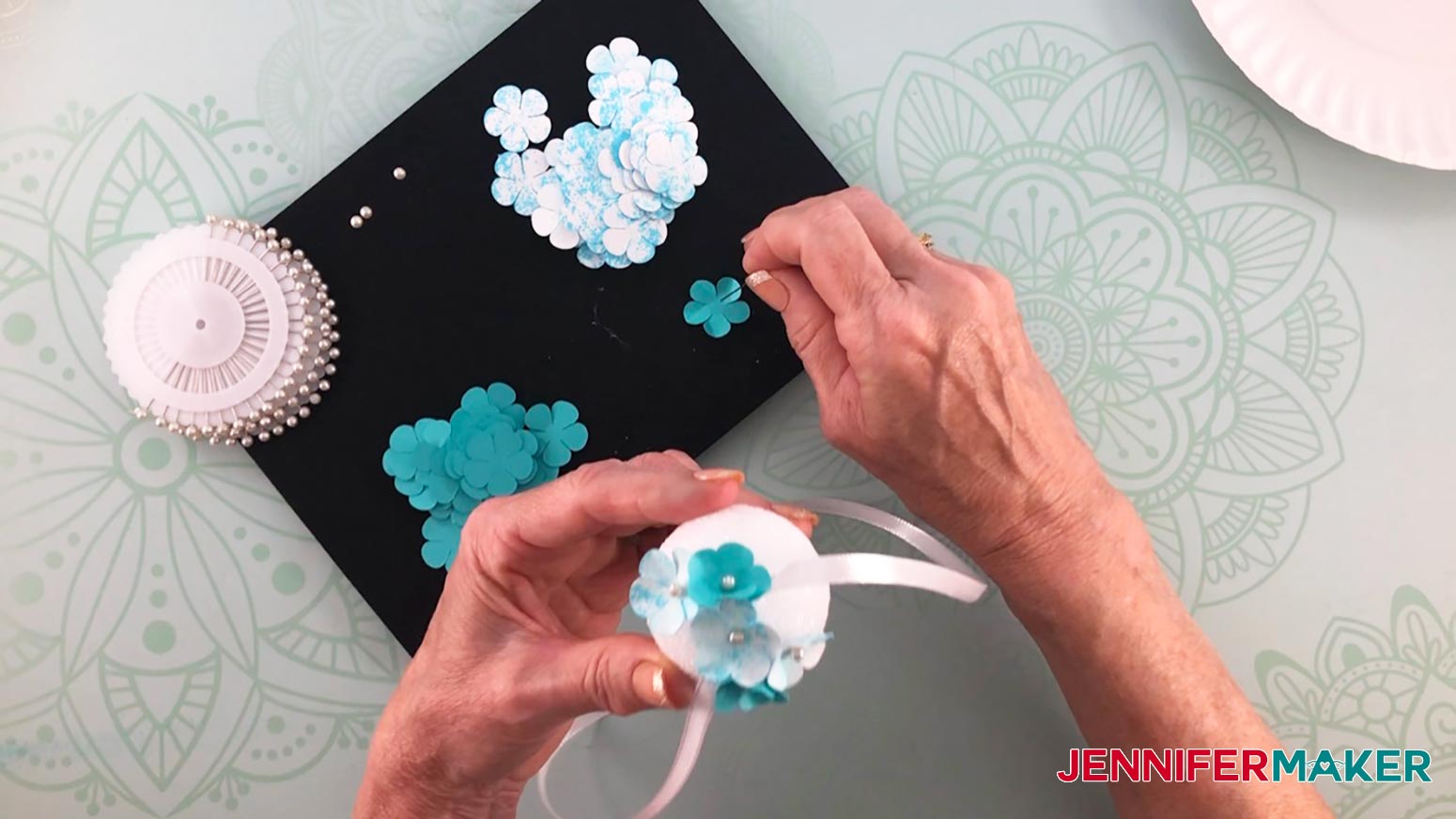 Then stick the pin and flower petal into the ball. There are no rules for design, just start placing the petals on the ball in a way that is pleasing to your eye. Experiment with your spacing to determine if you like a tighter or looser look to your flower ball.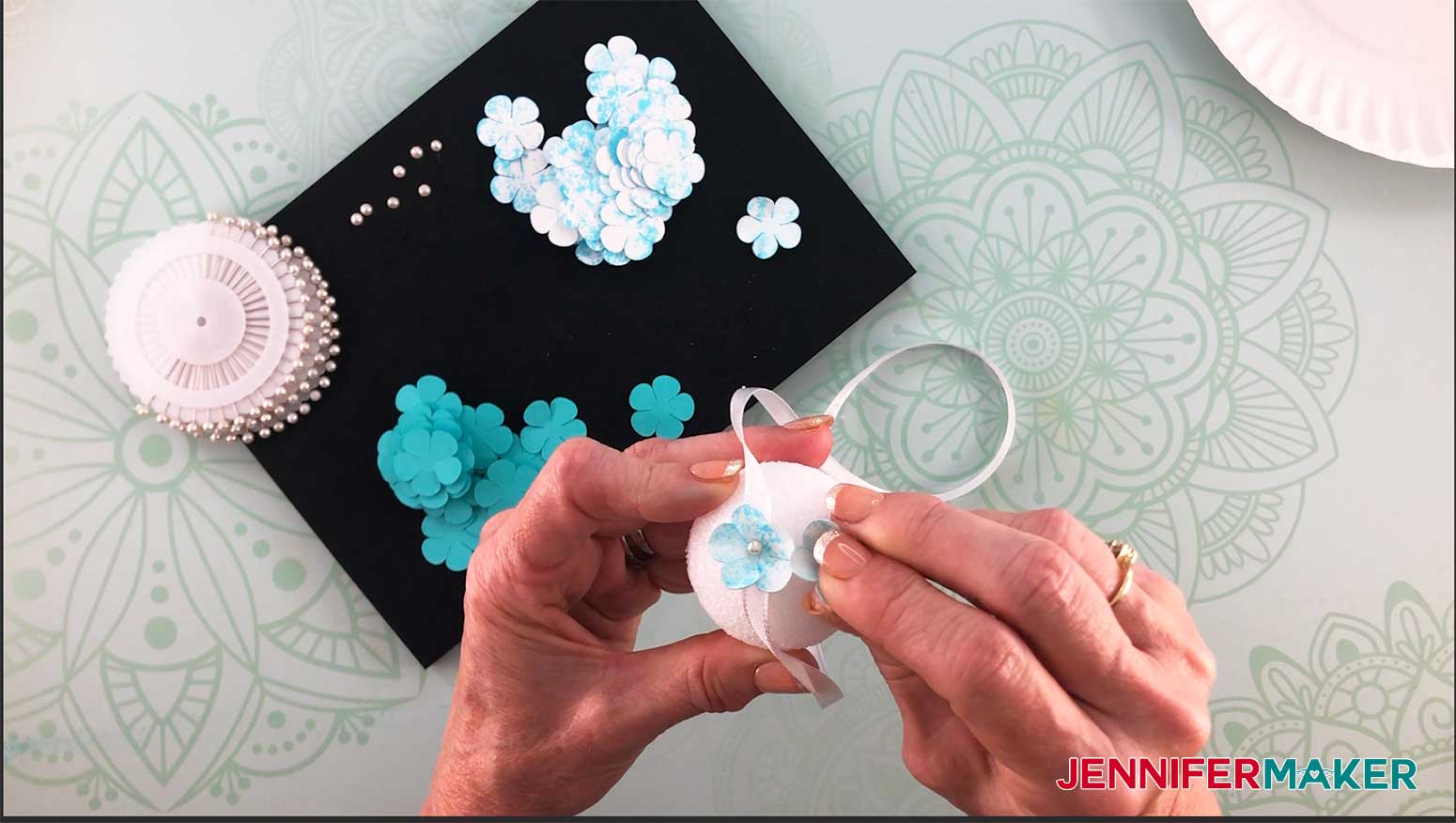 STEP 4: SHOW OFF YOUR PAPER HYDRANGEA
This is such a fun and easy project to make. And there are so many possibilities for use...from sitting as decor in a bowl, sitting on a candlestick on a mantle or a table, or hanging at a wedding or in a little girl's room. If you change up the colors you could use it as a mistletoe ball or kissing ball for Christmas! Have fun with it!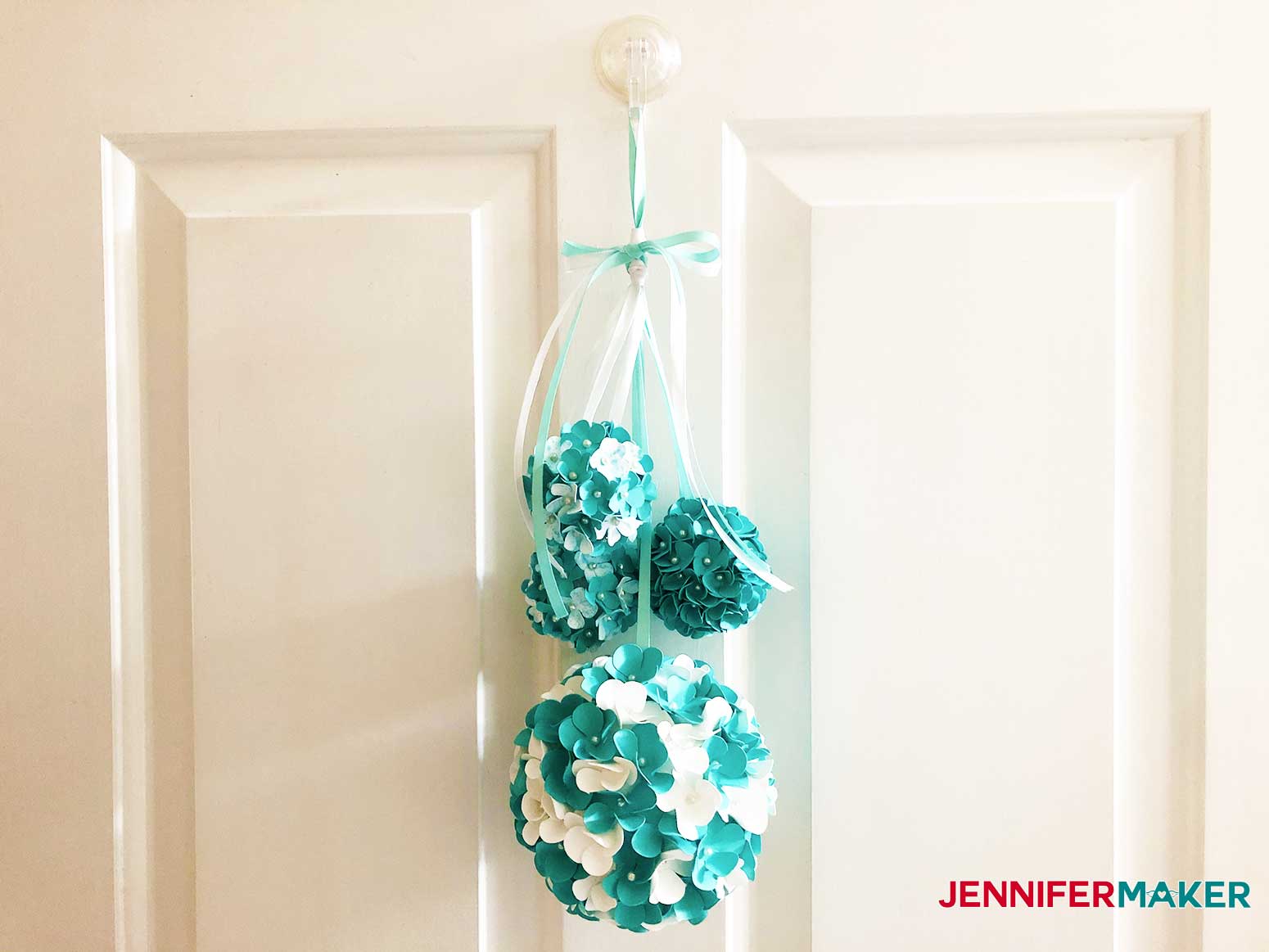 Notes
Special thanks to the JenniferMaker Design Fairy Team, specifically Design Fairy Vicki, for helping me design and make this paper hydrangea flower.
Recommended Products
As an Amazon Associate and member of other affiliate programs, I earn from qualifying purchases.
Get my free SVG files for this tutorial showing How to Make a Paper Hydrangea
I hope now that you've learned how to make a paper hydrangea you are making beautiful flowers. I would love to see your paper hydrangeas. Please share a photo in our Facebook group or tag me on social media with #jennifermaker.
Love,