When I moved into my house, I found something crazy in my basement. The previous owners had mounted a pegboard to the wall above a workbench and painted it bright orange. Yikes. I ignored it. Fast forward a few years and we're ready to use the workbench. But it was covered with stuff. We looked up, saw all the little pegs on the pegboard and began hanging stuff up on the pegboard. The SURFACE WAS CLEARED OFF IN MINUTES. Since then, I've become a believer in pegboards. And I just installed a very LARGE framed pegboard in my craft room, before which I'd researched them extensively. So I present my Ultimate Pegboard Organization Guide for Craft Rooms!

This post contains some affiliate links for your convenience (which means if you make a purchase after clicking a link I will earn a small commission, but it won't cost you a penny more)! Read my full disclosure policy.
Why Does Pegboard Organization Rock So Hard?
Pegboards are super affordable

You can get a pegboard at Lowe's pre-cut for under $20. I just bought a full 4 foot by 8 foot white pegboard panel for $17.

Pegboards are versatile
Pegboards are customizable

Cut it to the size you want.
Paint it to match or complement your room.
Put a pretty frame around it.
Stencil it.
Combine smaller ones to make an arrangement. The possibilities are endless.

Pegboards come in different varieties

Pegboards are traditionally made of hardboard, but you can also get them in plastic and metal, too!

Pegboards make it easy to organize

Amazon sells pegboard organization accessories, as do home improvement stores.
You can create your own DIY organization accessories, too!

Pegboards look super cute

A well-organized, pretty pegboard is a sight to behold!
You can decorate them to go with any style.

Pegboards give you easy access to your stuff

It keeps your tools and supplies visible so you can get to them faster.
When you can see everything, you're more creative and inspired!
Great Pegboard Organization Ideas and Inspiration
Check out these amazing pegboards from my fellow craft bloggers. You can get so many great ideas by just looking at how others have set up their pegboards.
Look at this pegboard from Sisters, What! — I love how they've put their spools of thread up on the pegboard! I also like the pretty arrow decorations up at the top.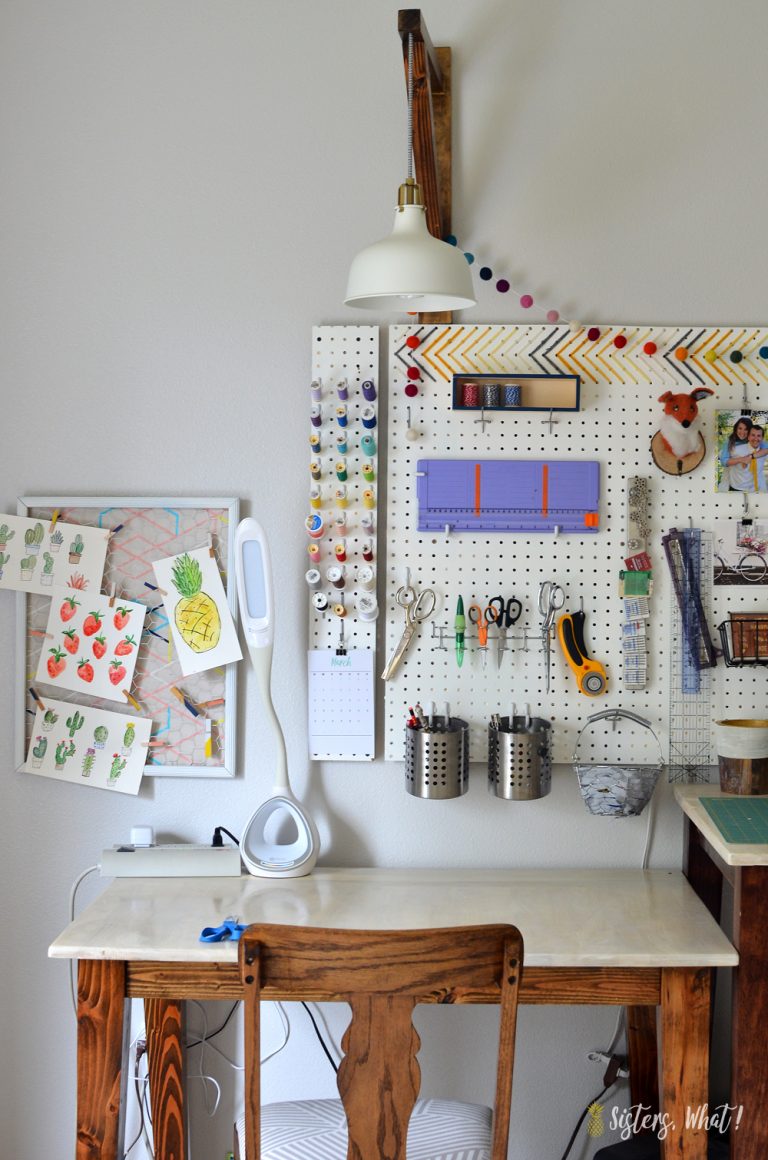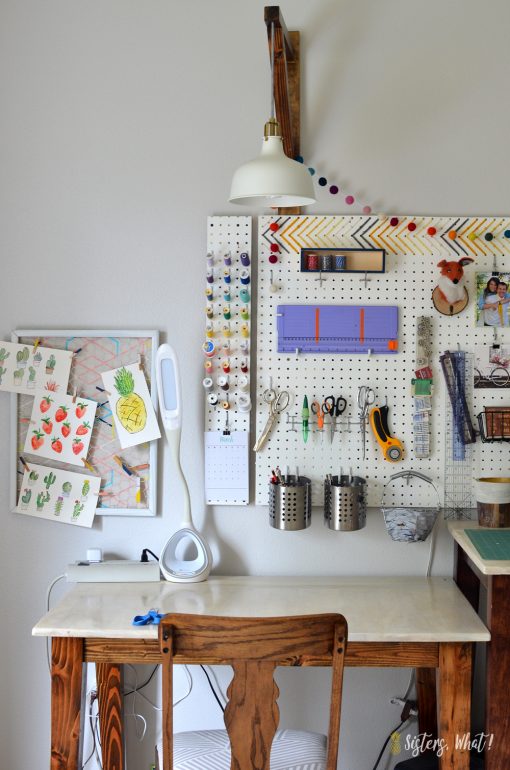 I love this extra large pegboard from Honeybearlane. That metallic frame around the pegboard is really classy! And look at how she put frames ON her pegboard for a more interesting and organized look. I love this and it makes me want a copper-frame pegboard in my room!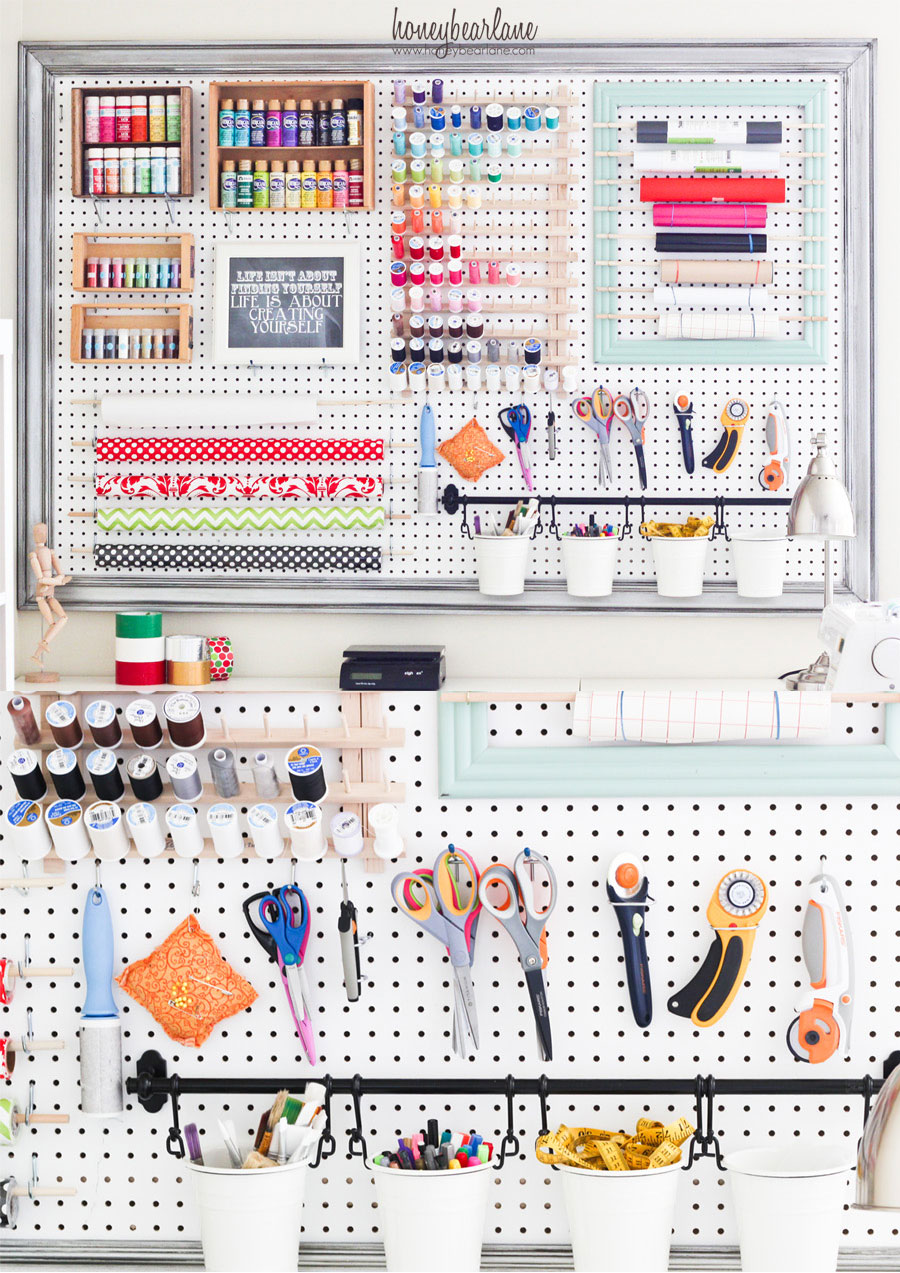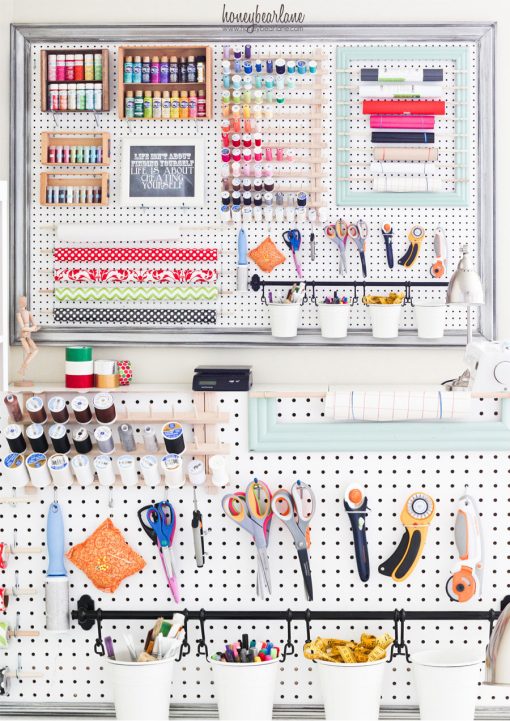 This cute pegboard from Just a Girl is painted very creatively with big polka dots. And look at how there are clips on it to make it really easy to hang papers and other flat things!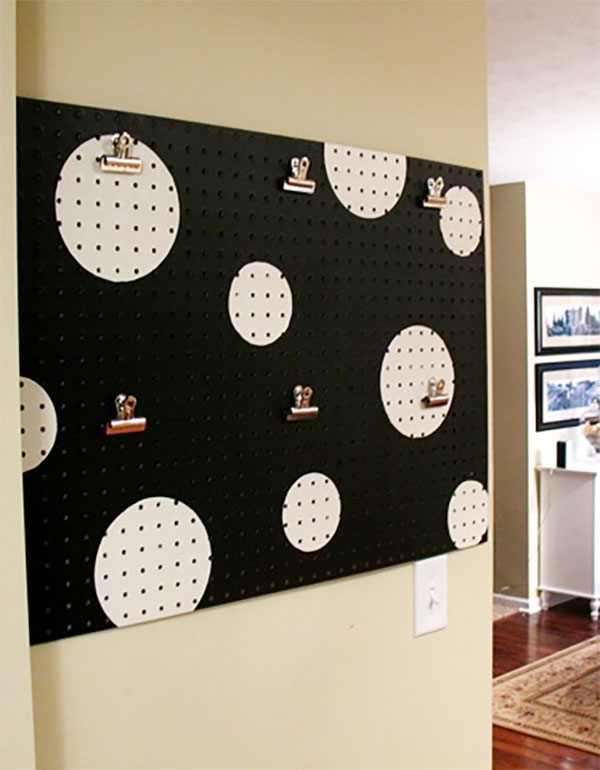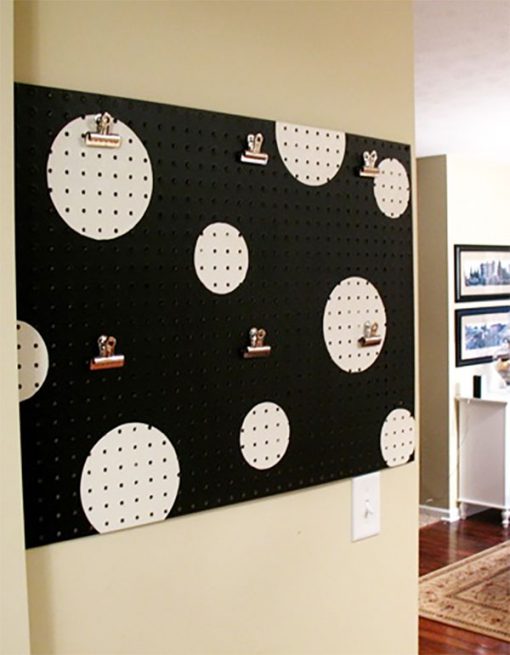 And if you love pegboards, consider a whole wall craft room pegboard like the one made by Houseologie. This is an organizer's dream come true… so many places to put things!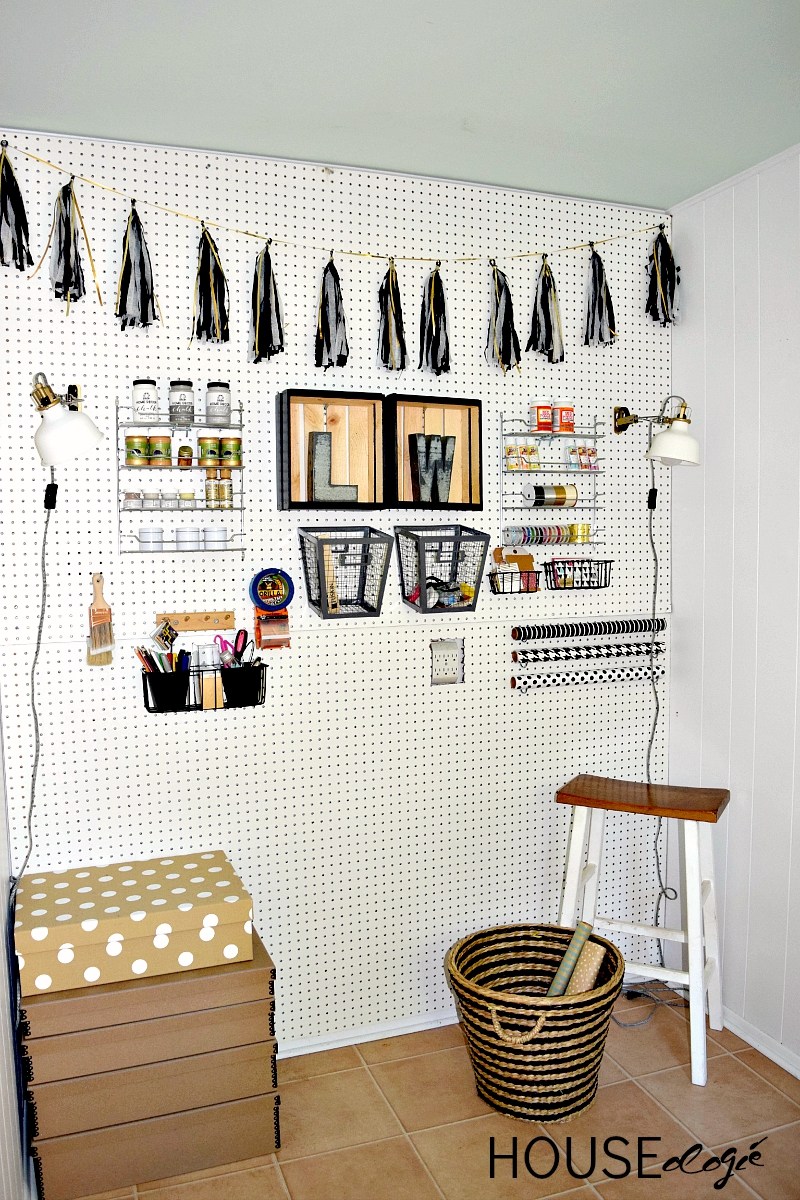 Remember how I said having your supplies up on a pegboard can make them easier to access AND inspire you to craft more? This DIY pegboard yarn organizer is a great example … and so pretty, too!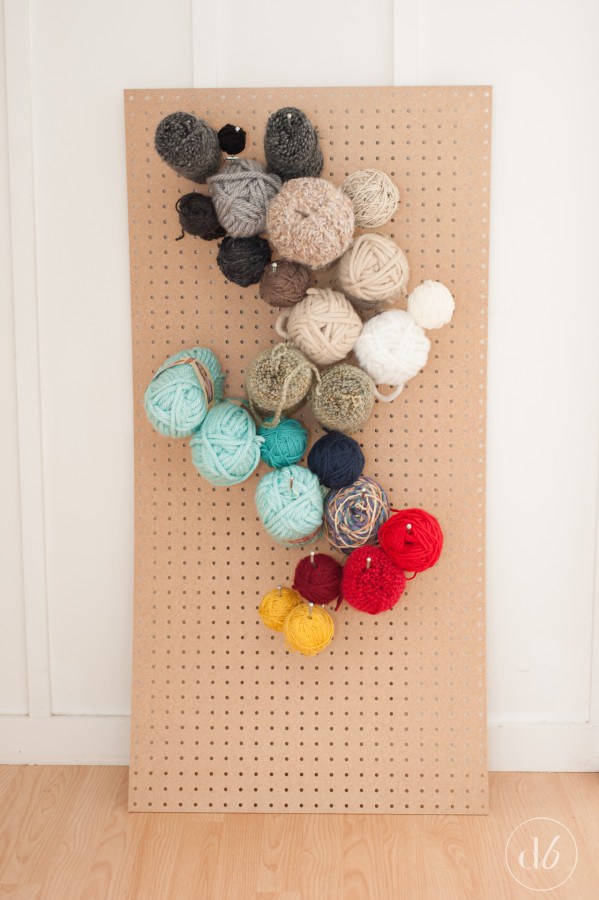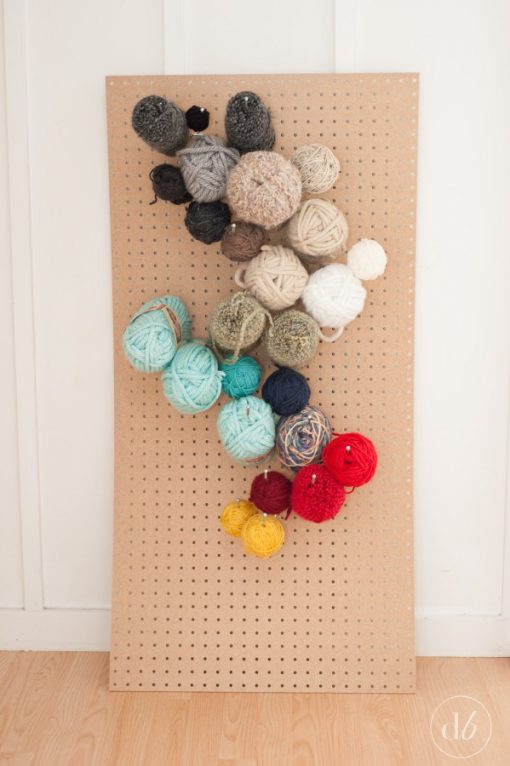 I'm a big fan of color, so I lovelovelove this Project Runway inspired colorful pegboard from Mad in Crafts! She got the idea from one of the workrooms on the show that has this paint chip color treatment. This also inspires me to paint my pegboard a pretty color.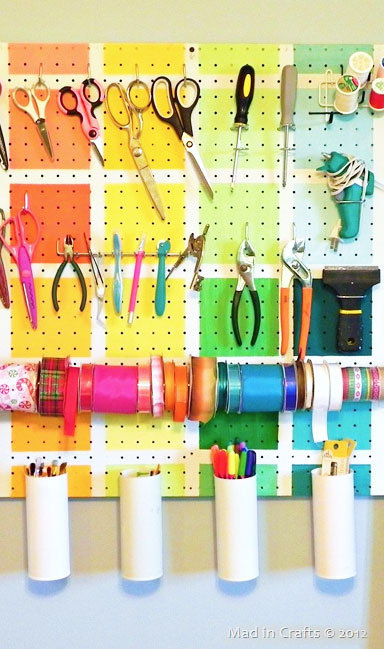 The holes in your pegboard make the perfect grid for designs! Look at this adorable pegboard made by reader Barbie Rodriguez — that cat is too cute! Barbie used a Sharpie marker to draw these designs. She says she can remove them with rubbing alcohol if she ever decides she wants a different design — brilliant!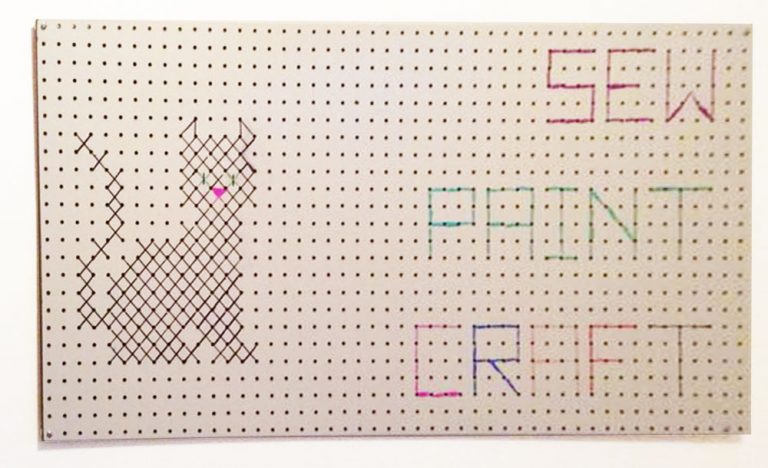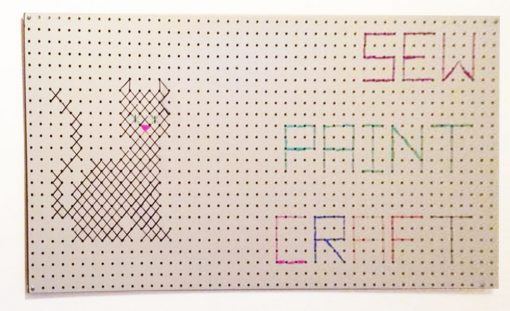 How to Make Pegboard Organizers
There's more than one way to create a pegboard organizer! The trick to properly hanging a pegboard is to make sure there is space behind your pegboard to accommodate the pegboard hooks which stick out a bit. Here are the four ways I've made effective pegboard organizers before:
Pegboard with 1″ x 2″ Boards (Furring Strips)
For this method, you just need two 1″ x 2″ boards that are at least 2/3″ the length of your pegboard. You then screw these into the wall and then mount your pegboard onto it. This is how I am mounting my giant framed pegboard that I'm working on right now. This is the method you'll want to use if your pegboard is particularly large and/or needs to support a lot of weight.
Pegboard Made with Washers
To mount a pegboard with washers, you'll need long screws (about 2″ long) and a bunch of washers that will fit on the screws. Put one end of the screw in your pegboard (from front to back), then put 8-10 washers on the screw, and THEN screw it into the wall. The washers will keep your pegboard offset from the wall enough to allow for the extra space you need.
Pegboard Made with Spacers
You can also just buy a pegboard mounting kit that comes with spacers. The kit includes six #8 sheet metal screws and six rubber spacers.
Pegboard Mounted into a Frame
This is how I made my Framed Pegboard Tool Organizer. You just need a frame that has a lip on the front to inset your pegboard and is deep enough to give you space behind for your pegs. Most frames will work! You can see the full tutorial at DIY Framed Pegboard Craft Organizer for Tools.
Where to Find or Make Pegboard Organizer Accessories
Basic Pegboard Hooks
First off, you'll probably want the basic pegboard organizer accessory: HOOKS! I recommend a pack of J- and L-shaped hooks, as these will work for most of your tools and hanging accessories. I also recommend you get the WHITE plastic ones because, well, I think they look a lot nicer on styled pegboards. The stainless steel ones are easier to find, but they also look very industrial—this is fine if this is your look, of course. If you can't find white hooks, you can paint them, too.
Pegboard Ribbon Storage
Pegboards are great for storing spools of ribbon. The easiest way to do this is to simply get some lengths of dowel rod and rest their ends on two long L-shaped hooks. Then you can put your ribbon spools on the dowels and just rest them on L-hooks on your pegboard. Another idea is to hang white gutters on your pegboard, and then rest the spools of ribbon inside them! You can also make my Ribbon Storage Frame (see tutorial)
Pegboard Paint Storage
The best way to store small bottles of paint on a pegboard is with a little shelf that rests on L-hooks. You can also buy floating shelves and mount them directly onto your pegboard if you prefer. Alternatively, you can buy a spice rack that fits your paints, then hang that on your pegboard.
Pegboard Brush and Marker Storage
I like to store long, thin items like pens, pencils, markers, and brushes on a pegboard with hanging cups. Nearly any cup will do if you're able and willing to put a hole in and hang it from a J-hook. But if you want a cup with a hanger on it, IKEA has some great ones, like this white flatware caddy. If you want a DIY solution, clean out an old aluminum can, drill a hole about 1/2″ from the top, cover it in pretty paper of vinyl, then hang from your pegboard!
Pegboard Custom Storage
The great thing about pegboards is how easy it is to hang things from them. Just drill some holes in the back of the thing you want to hang (properly spaced, of course), and up it goes onto your pegboard.
My Giant Pegboard Tutorial
I created a large framed pegboard for my craft room — it's over six feet long and over three feet high! It has a lovely moulded frame with pretty flower rosettes on it. I came up with several ideas on what color combinations to paint it. Here were my ideas: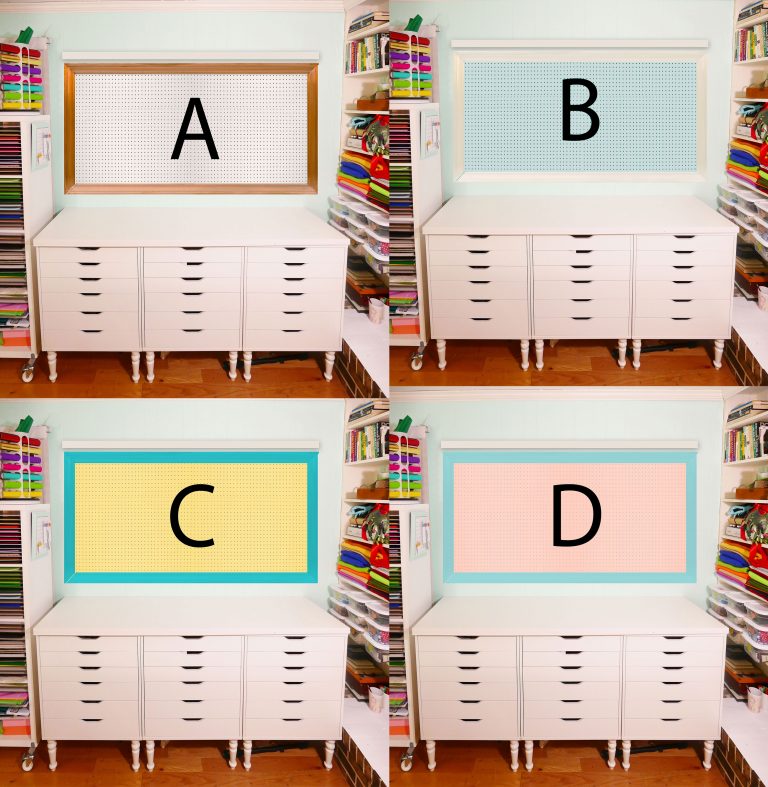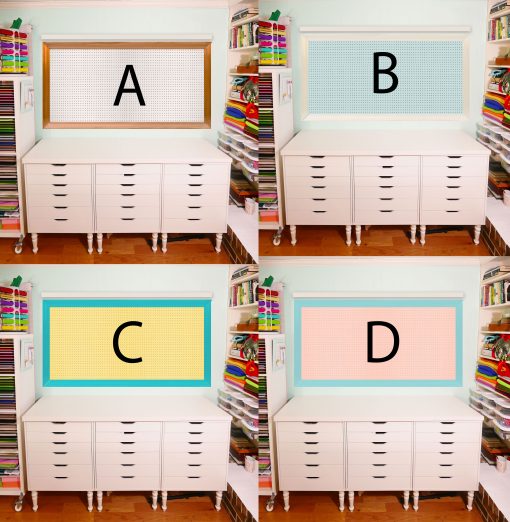 I ended up picking B — white frame with a light turquoise blue pegboard. I like the monochromatic nature of it. Once I put all of my tools, ribbons, and other things on the pegboard, it's going to get real colorful, real fast.
So go check out my awesome new pegboard tutorial here! See my craftroom pegboard accessories here!
Remember, I love seeing your ideas—please share your pegboards over at my Craft Room Organization Facebook group!
And if you need help organizing your craft room, do sign up for my free 30-Day Craft Room Organization Challenge. It'll walk you step-by-step through creating, cleaning, and organizing your craft room so you can retake your creativity!
Please let me know if you have any questions!