Learn how to make a 3D pumpkin lantern out of paper!

The subtle change of the light, slightly cooler temperatures, and a few more leaves on the ground can only mean one thing … fall is almost here. And that means it's time to decorate! The JenniferMaker community has been busy talking, and one thing is clear: Light-up paper pumpkins are THE hot craft this fall! I wanted to create my own design — so, naturally, I ended up making four. Plus, I'm going to show you how to design your own 3D pumpkin lantern!
Want to save this project? Enter your email below and we'll send the project straight to your inbox.
If you haven't already begun decorating for autumn, this is the perfect craft to get you started. Why? Because it's so easy with so few materials that you probably already have in your craft supplies. That's right, my 3D pumpkin lantern design is made almost ENTIRELY out of paper! I'm not kidding — there's no glue, no tape, nothing other than cardstock, some copy paper, and a battery-powered LED light.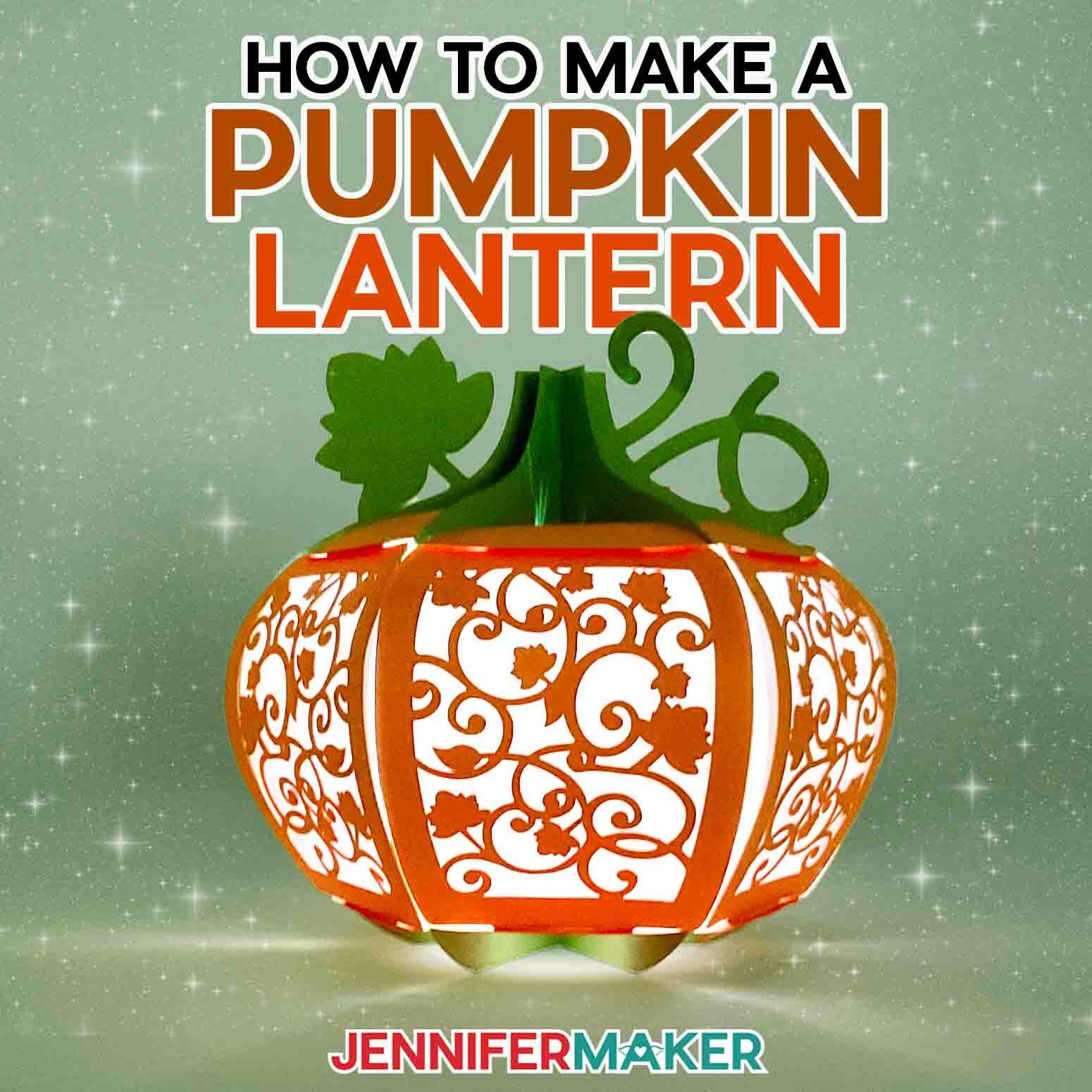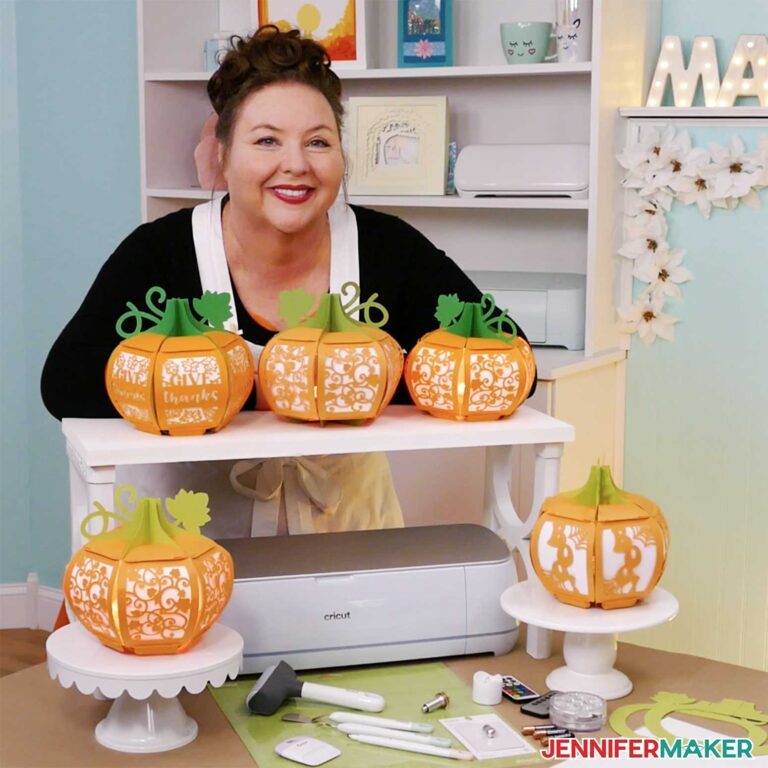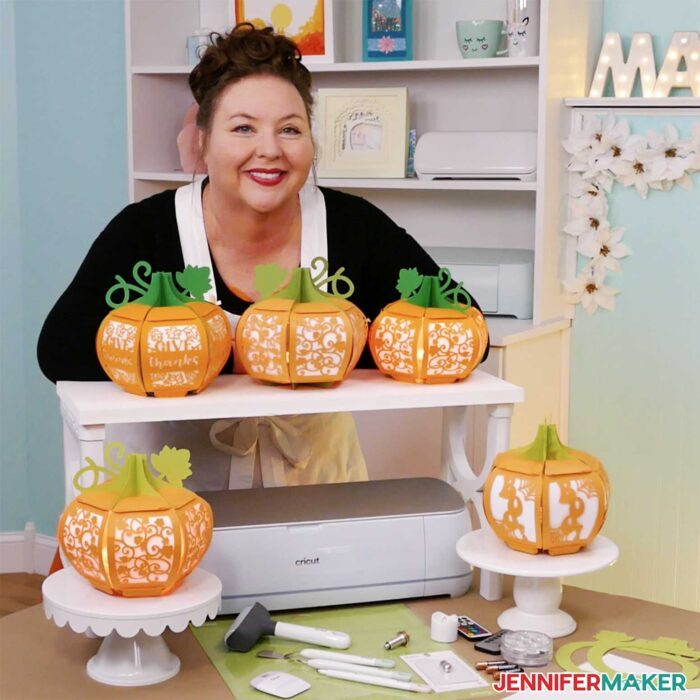 Sometimes, the hardest part of a craft project is simply getting started. It can be nice to have a quick crafting "win" to inspire us to keep creating!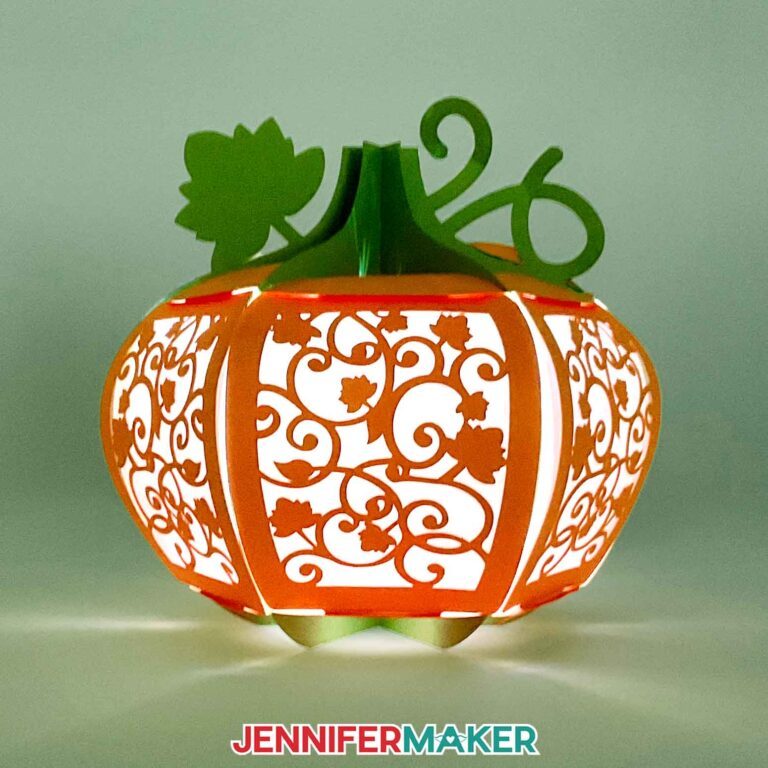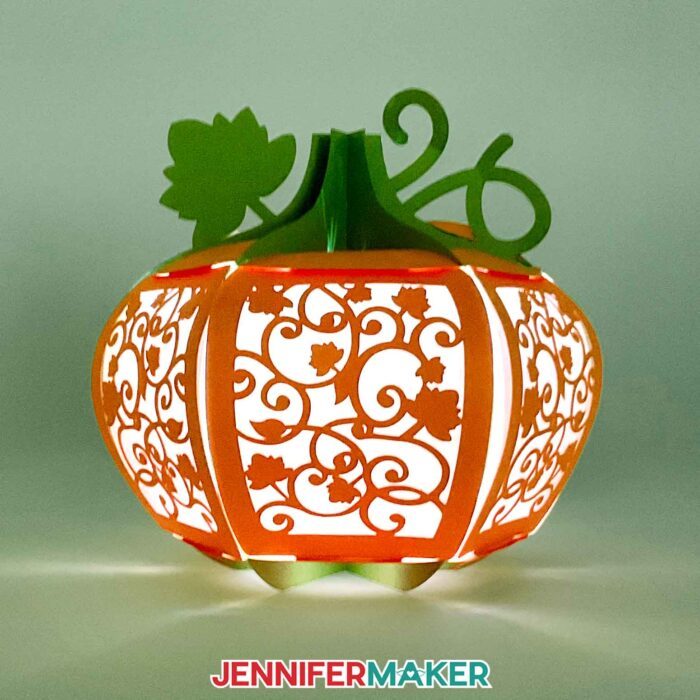 That's why I love these paper pumpkins. Besides the fact that they're really beautiful, you only need four sheets of 12″ x 12″ cardstock and an LED light to make them! I'll show you how you can diffuse the light with some copy paper, too — but that's totally optional.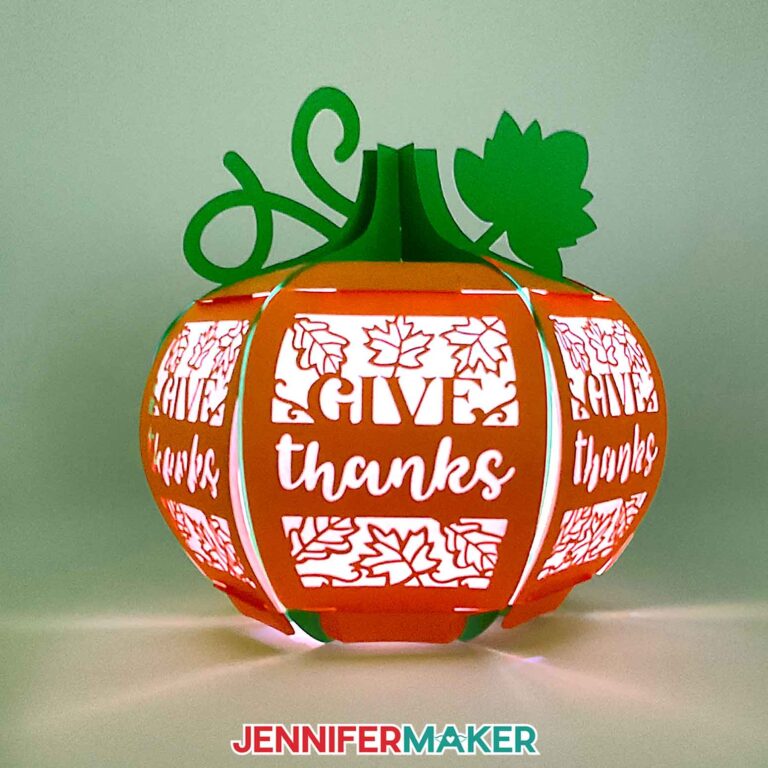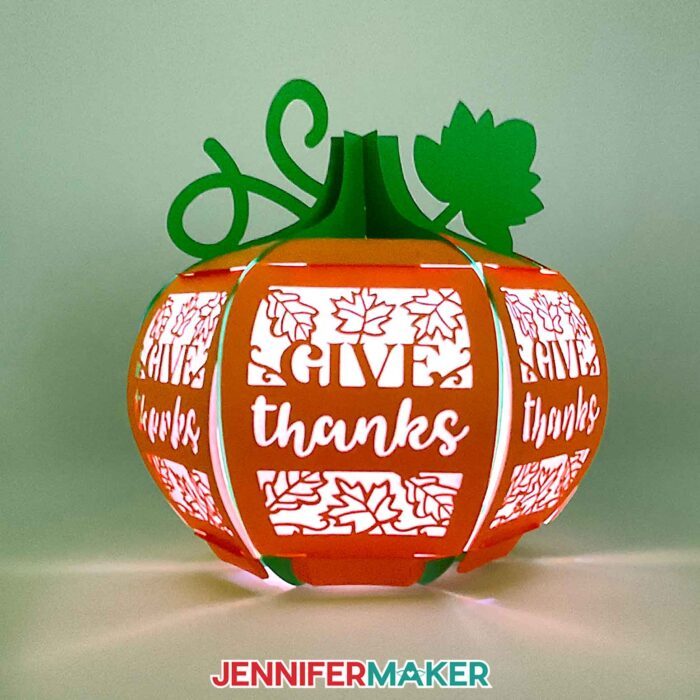 I want to note that I was inspired to design this pumpkin lantern by the many different pumpkin lanterns being made and shared by the members of my Cricut Crafters & Makers group, who found their designs originally on Etsy. There, you'll find many wonderful pumpkin lantern designs available from Etsy sellers in a wide variety of styles and themes. I do want to note that my design is not the same as theirs, so you should expect some differences.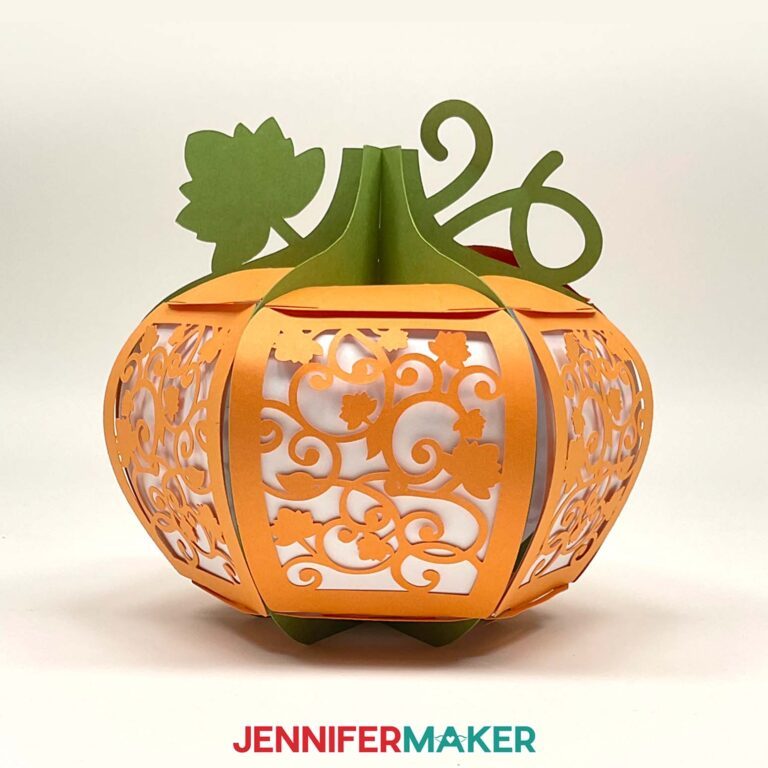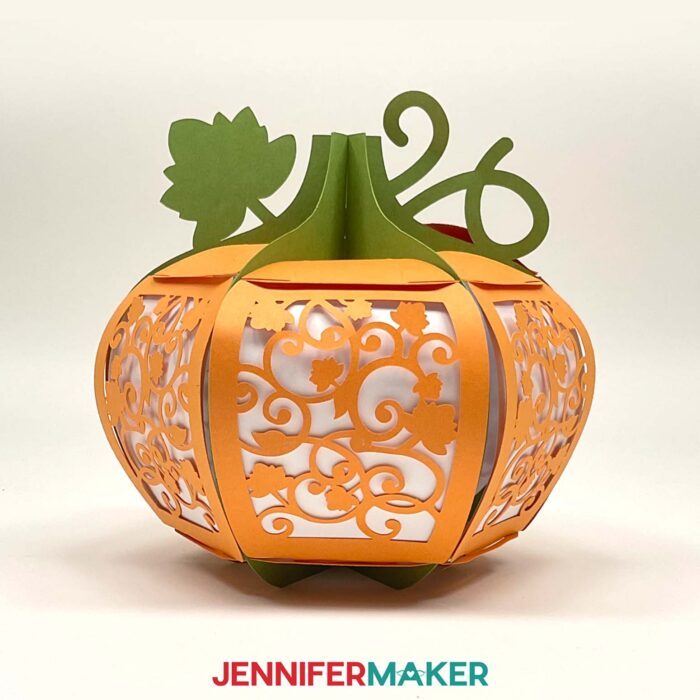 Aside from cardstock, some optional copy paper, and an LED light, you just need a cutting machine and a few basic tools. I've got a full list, plus links to where to find them, in my materials section below.
You also need some designs to cut! As far as these awesome paper pumpkins go, I've got four different designs to share with you! There's a filigree leaves design, a floral filigree design, a "Give Thanks" design with fall leaves, and a "BOO!" design with spiderwebs.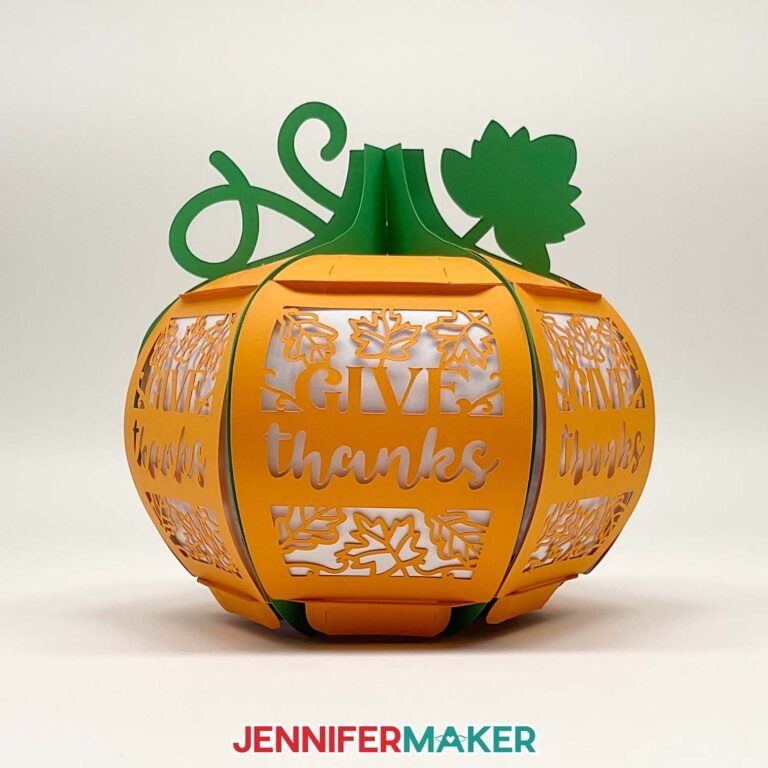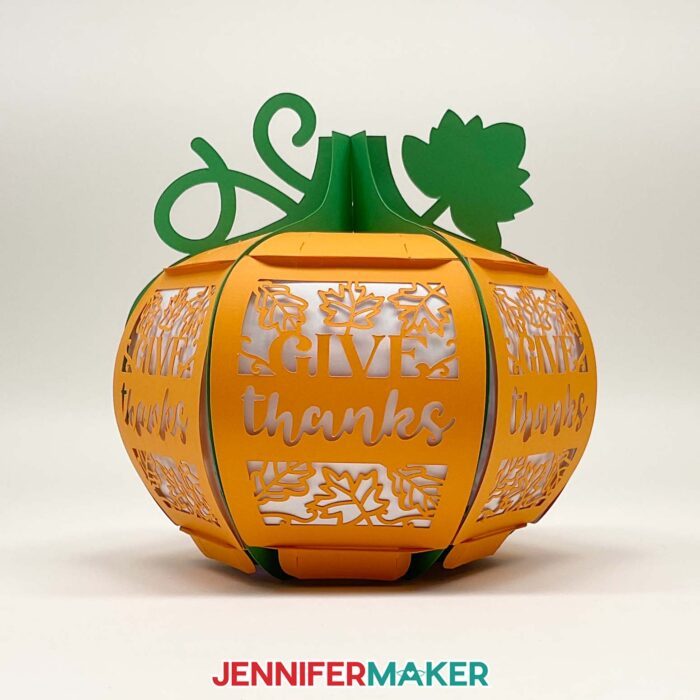 Inside the download folder, there are SVG and DXF files for each design that you can use with a cutting machine. There are also PDF files if you'd like to try cutting them out by hand. I would highly recommend using a cutting machine, though, because the small cuts and details will be very difficult to cut with scissors or a craft knife. Cricut machines are powerful tools, which can do all those intricate cuts for you!
In this tutorial I use a Cricut Maker 3 to cut the pieces for my lantern, but you can also use the original maker, any of the Explore series machines, the Venture, or the Cricut Joy Xtra for this project. If you have the smaller Cricut Joy, you'll find a folder with files to make a Joy-sized version, too!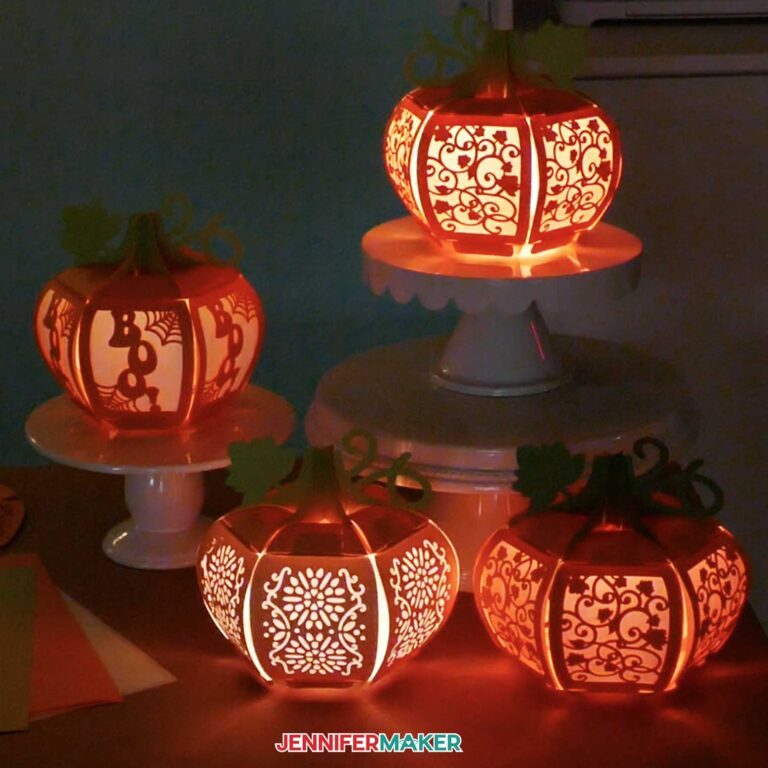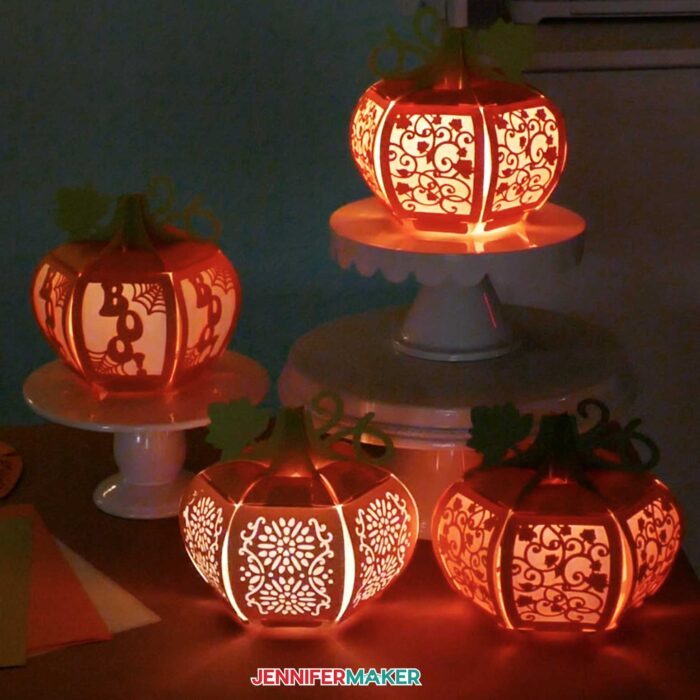 But what if you want to create your own design? Then, the second part of the tutorial is the best match for you! There, I'll walk you through adding a word and elements to a blank panel so you can custom design each and every panel of your own unique 3D pumpkin lantern.
I always recommend working with the latest version of Cricut Design Space, so be sure to make any necessary updates before beginning this project.
For the best results, I recommend using the score lines version to make your custom design. I'll show you how to locate the score layer and set up the panels to make for easier folding. The good news is that it's not difficult at all with my step-by-step instructions!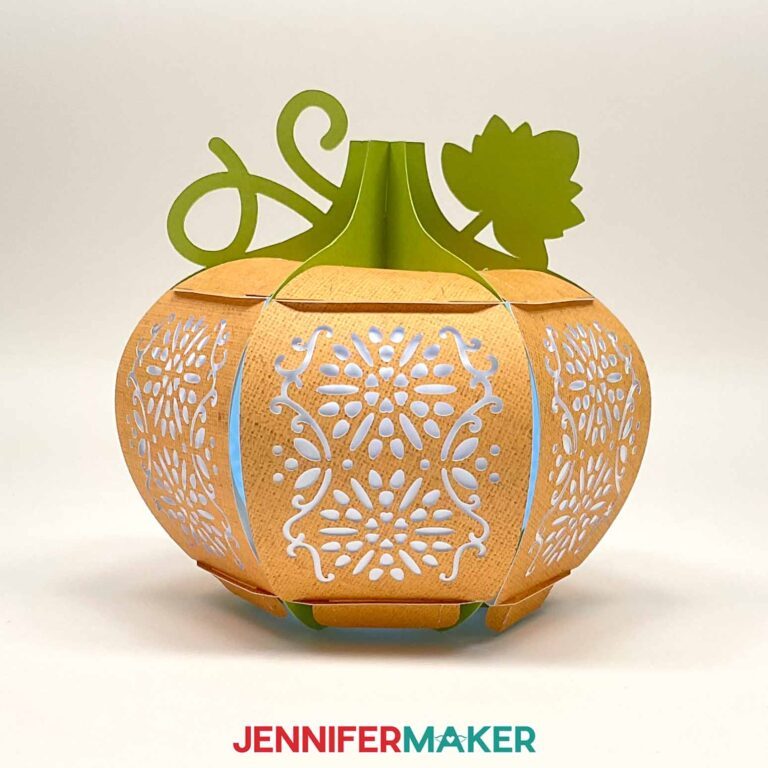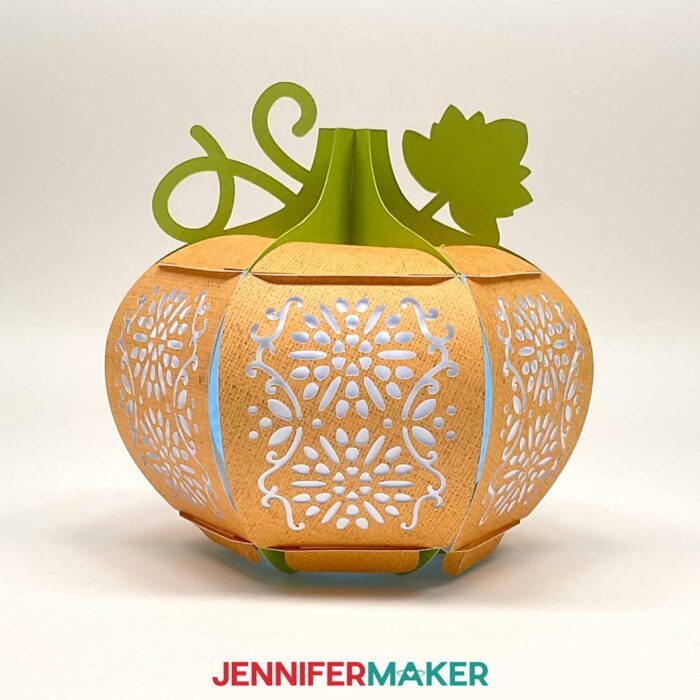 Cutting the details of the panel designs will take a little while, so I recommend putting on a fun fall movie or your favorite show while your Cricut does its magic. With this project, I highly recommend cleaning your blade with a balled up piece of aluminum foil between each mat. It will help your Cricut perform at its best and create the cleanest cuts.
After your 3D pumpkin lantern pieces are cut, removing them from the mat can be tricky because of the intricate details. Be sure to have your spatula handy to lift finely-cut areas, and use a weeding tool to poke out any "holes" that didn't stay behind on your mat.
When you get to the frame pieces, take extraordinary care to not tear the cardstock at the delicate notches. Go slow, it's worth it!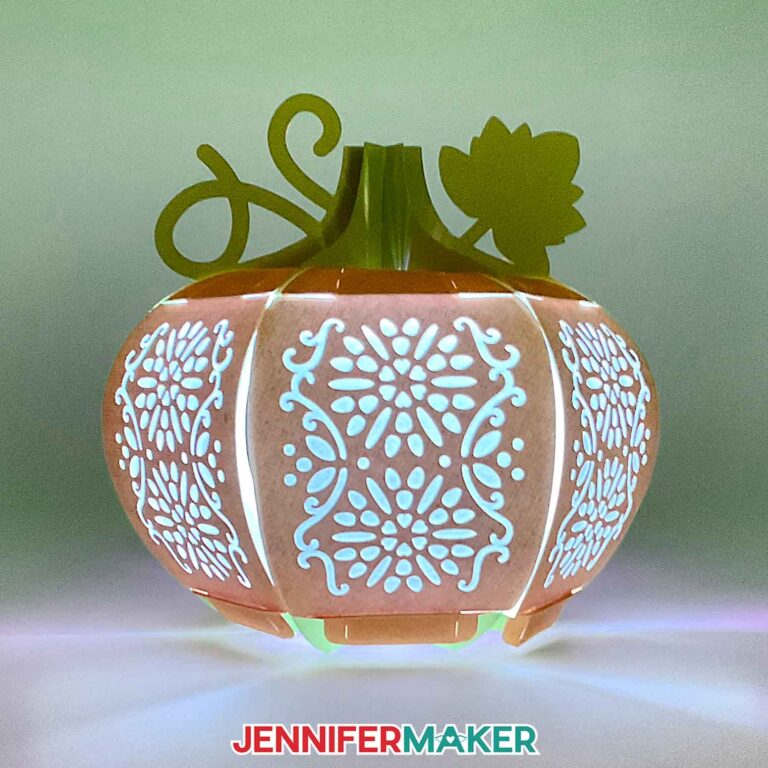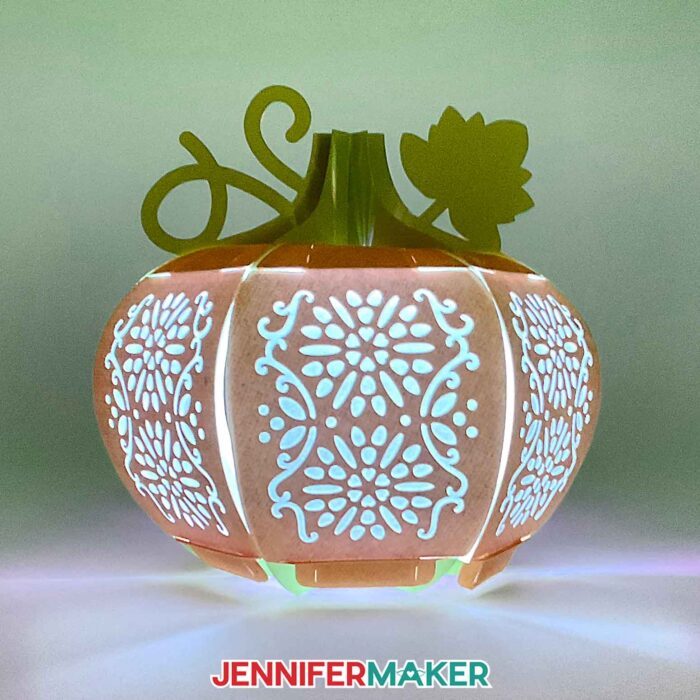 After all your pieces are cut, it's time to assemble your 3D pumpkin lantern. Again, be extra careful not to tear the cardstock, especially as you insert the hexagon-shaped pieces inside the pumpkin's frame.
Because the decorative panels end up being slightly curved when put together, small pieces of the design may stick out after your pumpkin is assembled. To help avoid this, you can gently roll each panel lengthwise to create a soft curve. You can use a cylindrical object, such as a tube of vinyl, to help.
To customize these further, you can use different colored cardstock of course, but also patterned, glitter, or even holographic cardstock! Just be sure to only use it on the panels if it's one-sided, because the white backs will show on the stem and leaf parts.
I love how these are so simple and easy to put together — they only LOOK complex! Plus, the fact that they're made from paper and ONLY paper makes them that much easier. Who doesn't have some cardstock around, right?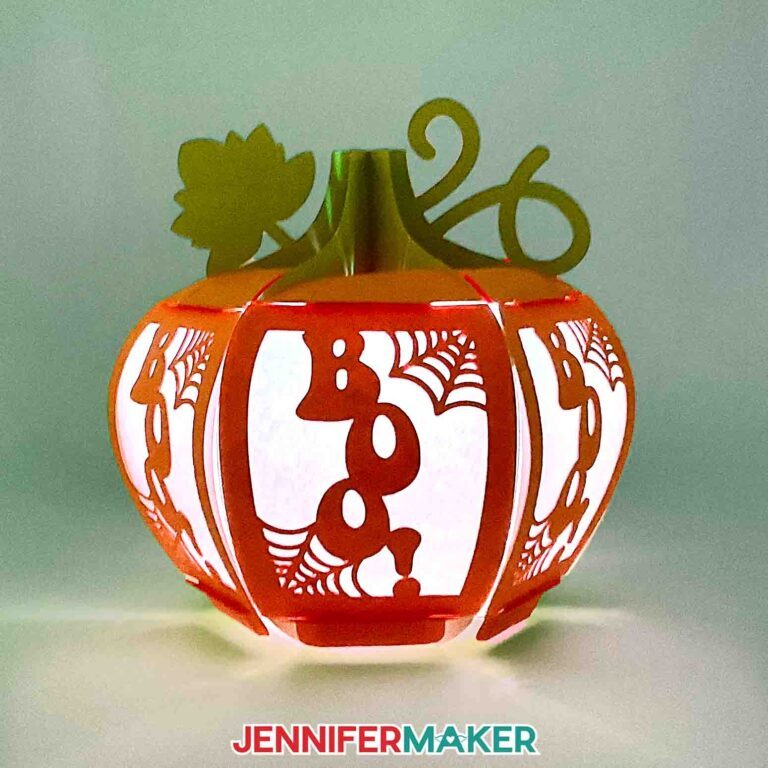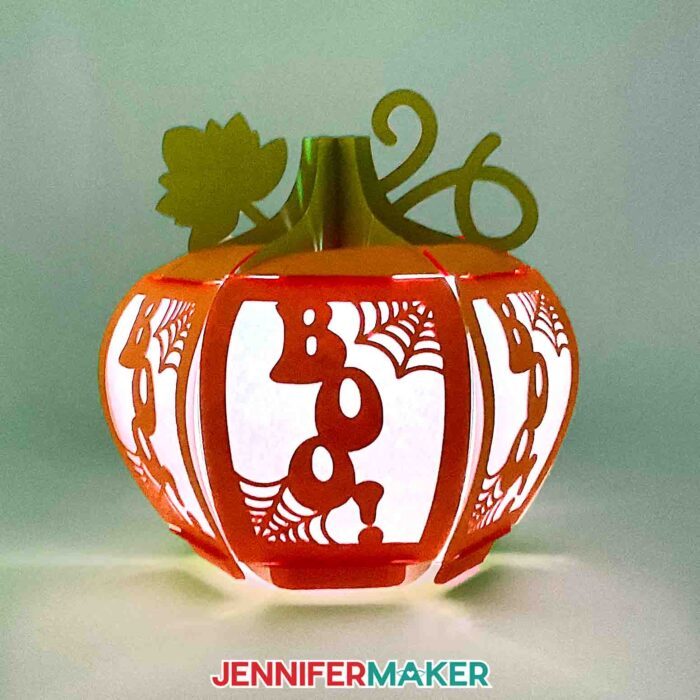 Ready to learn how to make a 3D pumpkin lantern? This post contains some affiliate links for your convenience (which means if you make a purchase after clicking a link I will earn a small commission but it won't cost you a penny more)! Read my full disclosure policy.
Materials And Tools to Make a Paper Pumpkin Lantern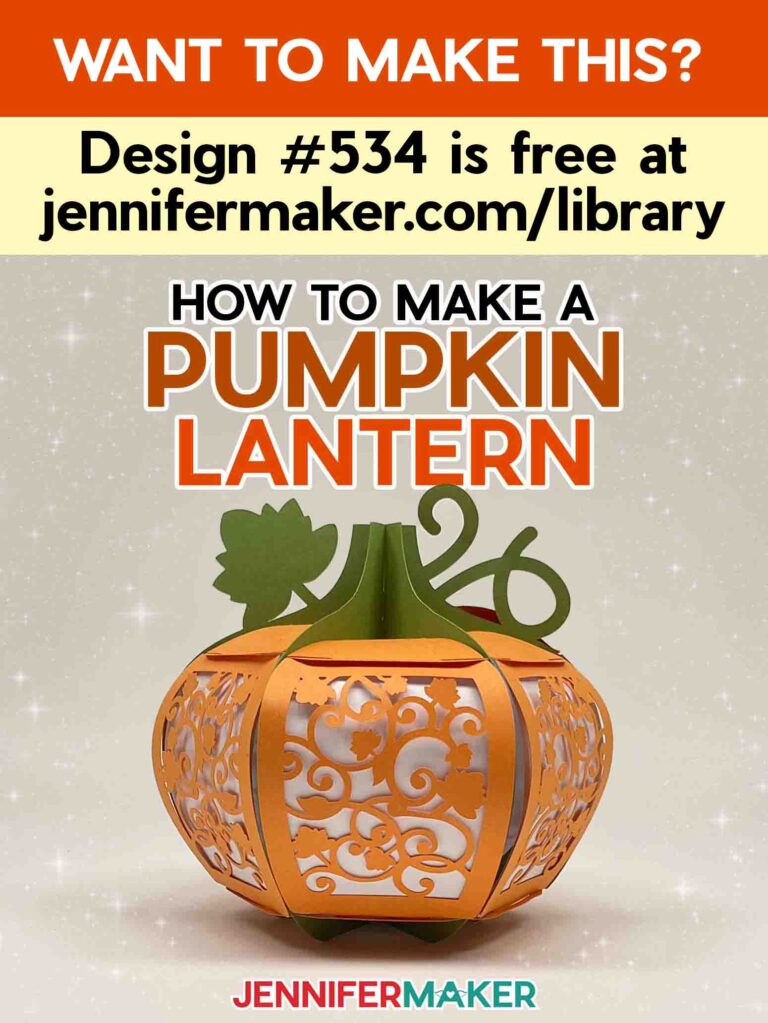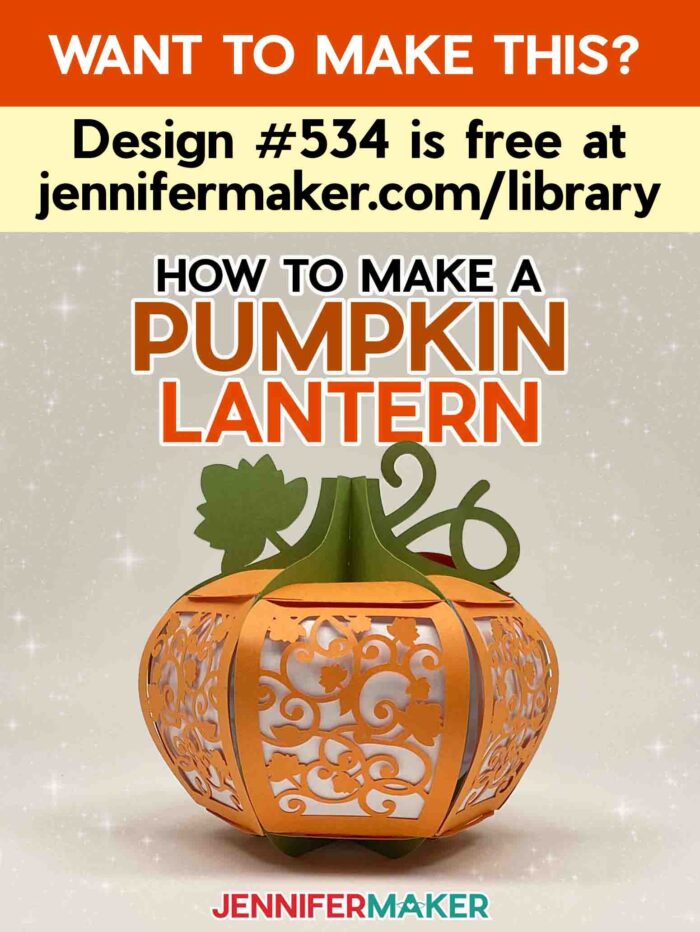 How to Make a 3D Pumpkin Lantern!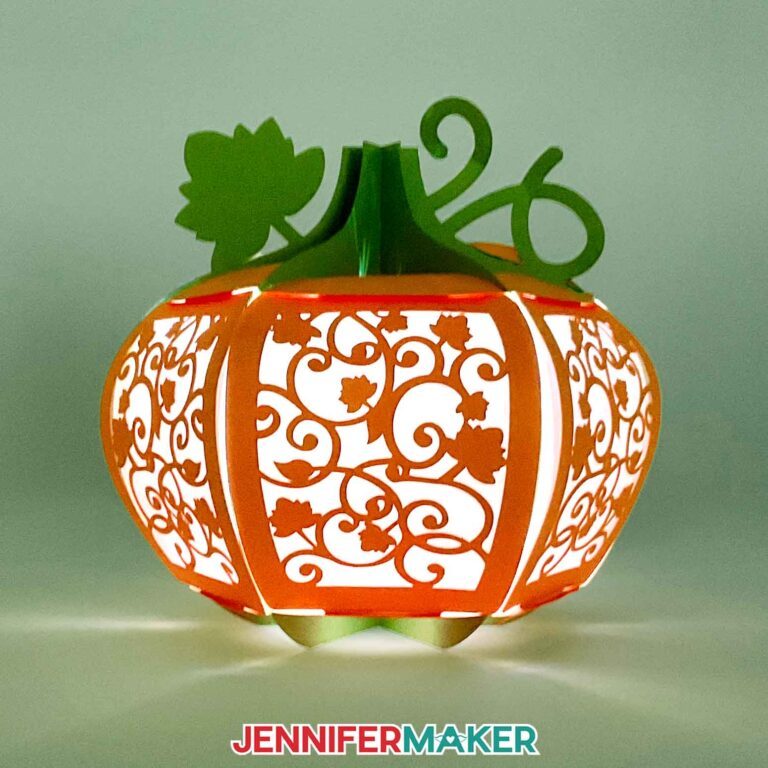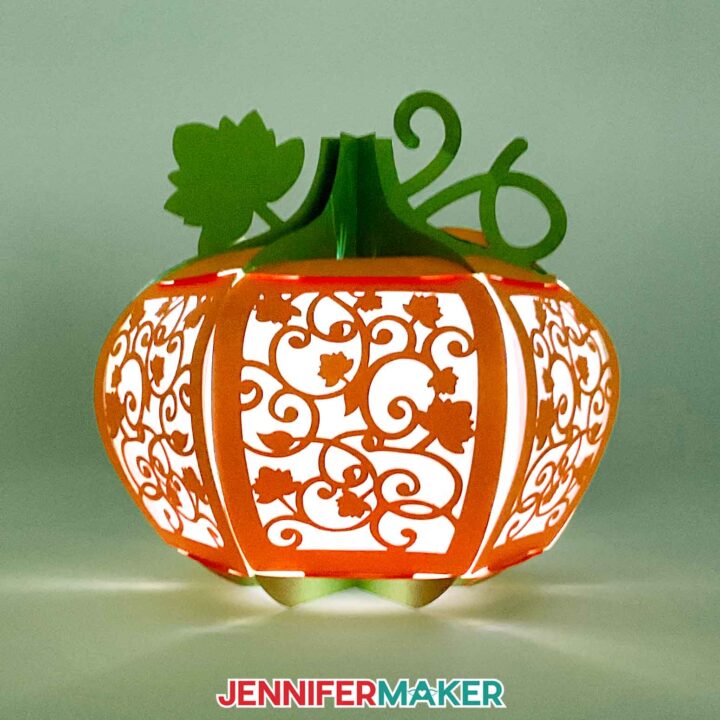 3D Pumpkin Lantern
Learn how to make a 3D pumpkin lantern completely out of paper with no glue or tape required!
Answers to Your Questions About How to Make a 3D Pumpkin Lantern
Q: How do you make a 3D pumpkin out of paper?
A: Making a 3D pumpkin to add to your Halloween decor is easy with my tutorial, a Cricut cutting machine, and a few supplies and tools. Just get my free downloads, follow the steps in this post, or watch my video to learn how.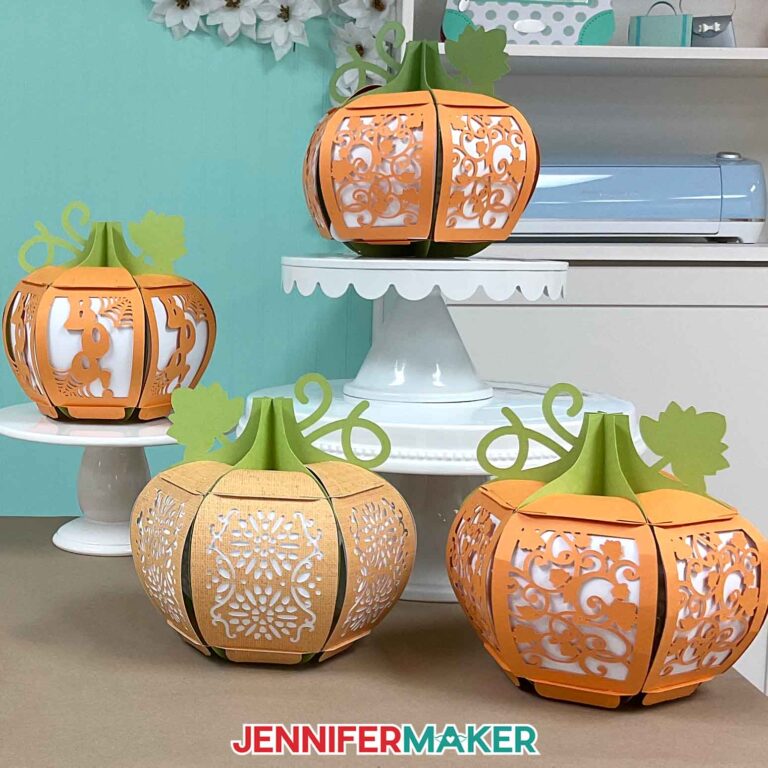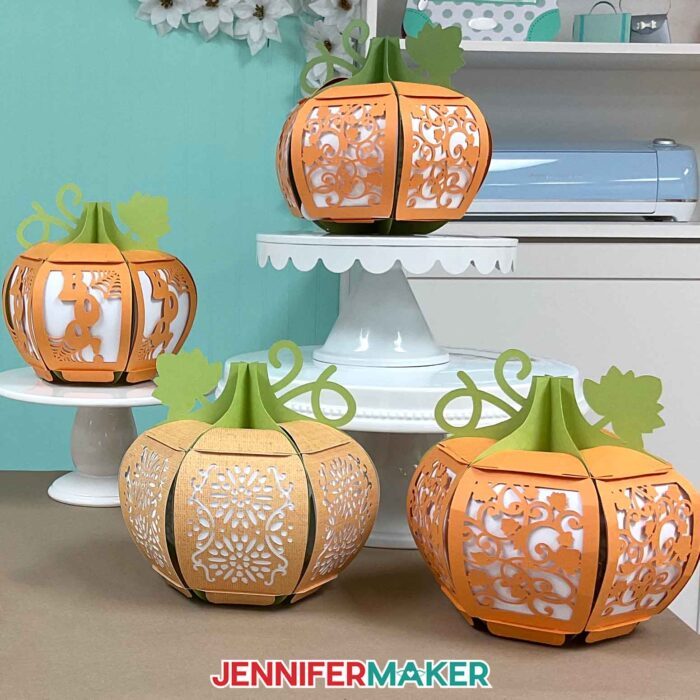 Q. How do you make a pumpkin luminary?
A. After you make your pumpkin lantern following this tutorial, turn it into a luminary by adding an LED tea light or puck light! Or even fairy lights! If you've already completed the pumpkin, carefully remove one of the panels from its top slot, then insert the LED light inside. Replace the panel, and now you can reach up through the bottom of the pumpkin to turn the light on and off.
Q. What is a pumpkin lantern called?
A:Traditionally, a lantern made from a cut and hollowed-out pumpkin is known as a jack-o'-lantern. This Halloween tradition was born from Irish, Scottish, and English folklore in the 19th century, and often involved using candles to make lanterns out of gourds, turnips, and other root vegetables. Since we're making paper pumpkins in this tutorial, I'll just stick to calling it a lantern for now.
Q: How do you make a simple paper lantern?

A: My 3D pumpkin lantern is pretty simple and easy, but if you're looking for something even easier, I have several beginner lantern and luminary tutorials here on my blog. I've got super simple cylinder paper lanterns, a winter luminary with diffusing panels, and a fall leaves luminary that is super easy to make and only requires one sheet of cardstock!
Q: Can you show me how to make pumpkin decorations for Halloween?
A: With my tutorials, you can create one of a kind items to decorate your home all season long with creative goods. Your Halloween party guests will be so impressed by all your amazing handmade pieces and spooky decorations!
Q: Do you have more designs for the pumpkin lantern?
A: I don't, but you'll find many more designs on Etsy. Check out these awesome designs and designers:
Q. What other pumpkin crafts do you have? Will Cricut vinyl stick to pumpkins?
A. I have a whole host of other pumpkin and Halloween crafts for you to check out! Smashing pumpkins, pumpkin SVGS, and even (felt) pumpkin pie!
And to answer your question, yes — permanent vinyl will stick to real pumpkins. Make sure your pumpkin is room temperature, and also clean and dry before you apply the vinyl. Use transfer tape and don't expect the application to be perfect — pumpkins are not flat and smooth, after all! Or, make a faux carved pumpkin using my 3 D model!
Q. Where can I find help with this and other crafts?
A. Join my Facebook group just for Cricut crafters and makers! Our unofficial "help center," my group is a vibrant community of real people who love to support, inspire, and share ideas! You can meet and learn from hobby crafters who are learning and fine-tuning new skills, as well as creative entrepreneurs making amazing and special goods for their small businesses. Plus, you'll have the opportunity to get expert support from our team here at JenniferMaker!
Get my free SVG files to make a 3D pumpkin lantern!

I'd love to see YOUR amazing paper pumpkin lanterns! Please share a photo in our Facebook group or tag me on social media with #jennifermaker.
Love,