IKEA furniture can be turned into wonderful craft room tables and desks that are affordable, customizable, and full of storage!
Your worktable or desk in a craft room is a BIG deal. You need lots of space to spread things out and get things done. But if you've ever looked at craft room tables, you may get frustrated — they may not quite fit in your space, look the way you want, or provide enough workspace. That's where putting together your own table, to your own specifications, using IKEA units comes in SO handy! I happen to think IKEA craft room tables and desks are the most versatile!
Several of the ideas in this post are from my own craft room, but many come from the awesome women over at my Craft Room Organization Facebook group. Are you in this group yet? If not, come on over — it's bursting with amazing craft room ideas!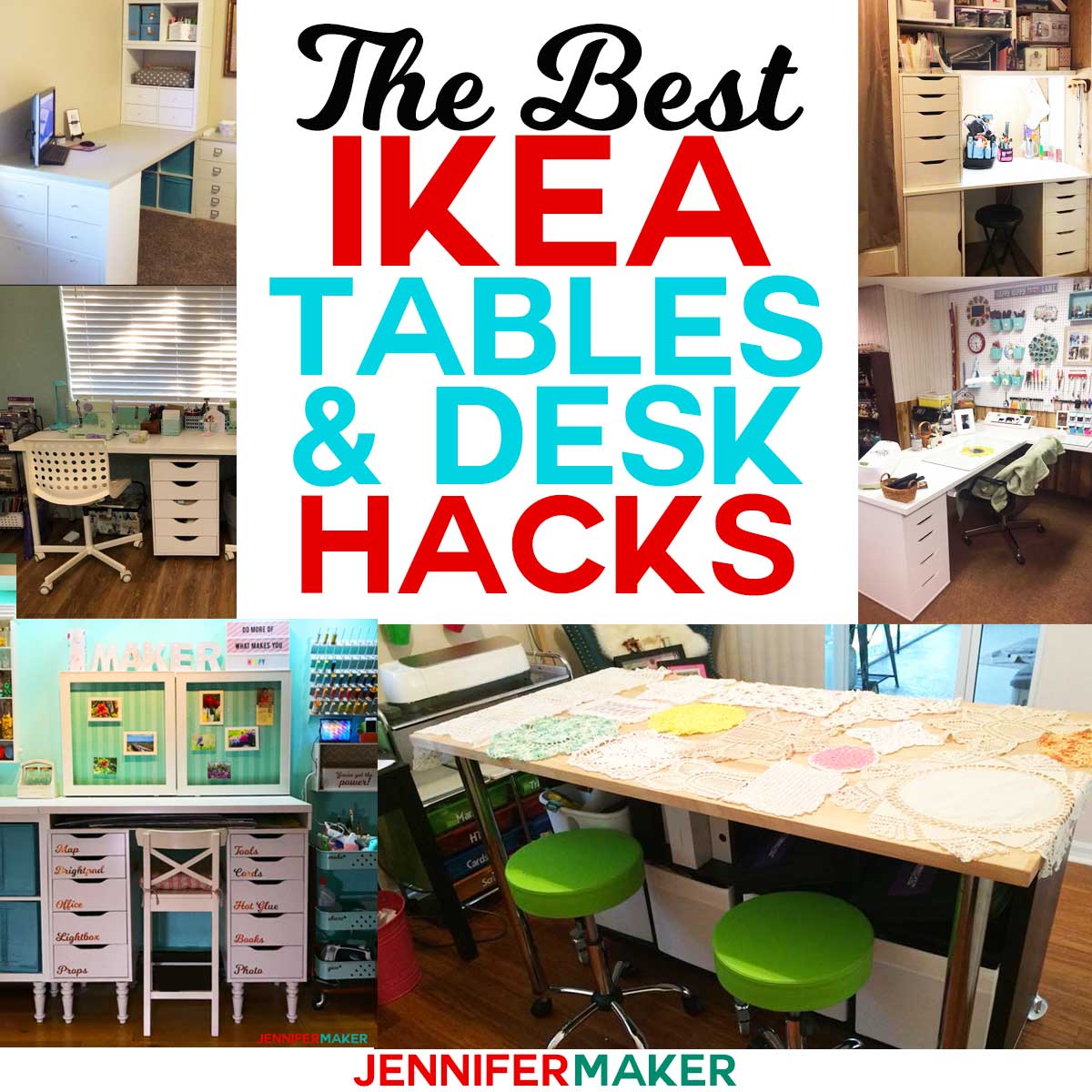 If you're going shopping for an IKEA craft room table or desk, popular units to create tables and desks include:
Linnmon tabletops (different sizes)
Kallax units (they come in a variety of configurations)
Alex drawers (different heights and widths)
Variera bag dispenser (to hold rolled tubes)
Tip: Before you go to the store, check out my IKEA Shopping Tips and Tricks post! You may also enjoy The Best IKEA Craft Room Storage Ideas, too!
Let's take a look at the best IKEA Craft Room table and desk hacks and ideas I've found so far! This post contains some affiliate links for your convenience (which means if you make a purchase after clicking a link I will earn a small commission but it won't cost you a penny more)! Read my full disclosure policy.
IKEA Craft Room Tables and Desks
I created my large, 25 sq. ft. craft table from IKEA units, which you can see here. I love how much storage this craft table has — I've got storage on all four sides (cubbies, doors, and drawers), plus there's room for three people to sit at it. Here's the full tutorial to make the IKEA Craft Room Table with Storage!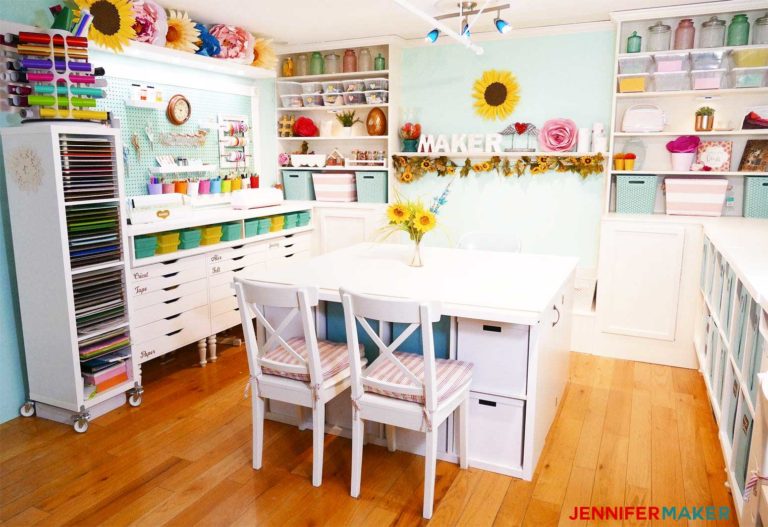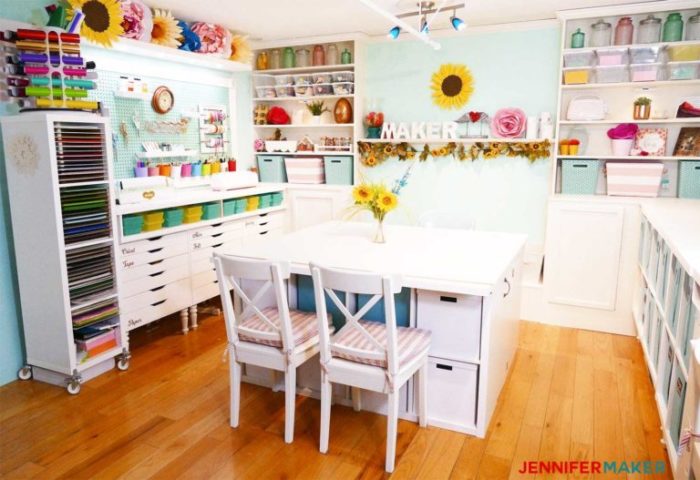 I also made this tall desk (you can stand at it or sit in the IKEA bar stool) using Alex units and a Linnmon tabletop. Note the storage area just under the tabletop for large mats and paper. I put IKEA legs on IKEA Kallax units and Alex drawers to get them up to the height I wanted and give them a little extra flair! You can read exactly how I attached the legs to the IKEA craft room storage in this tutorial.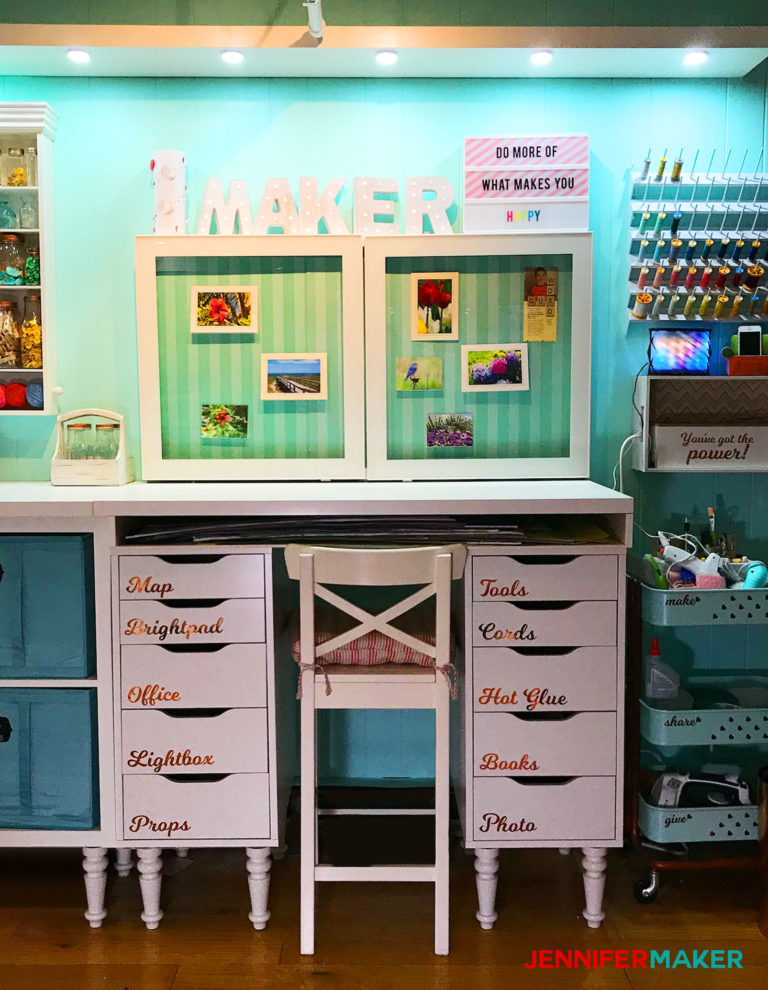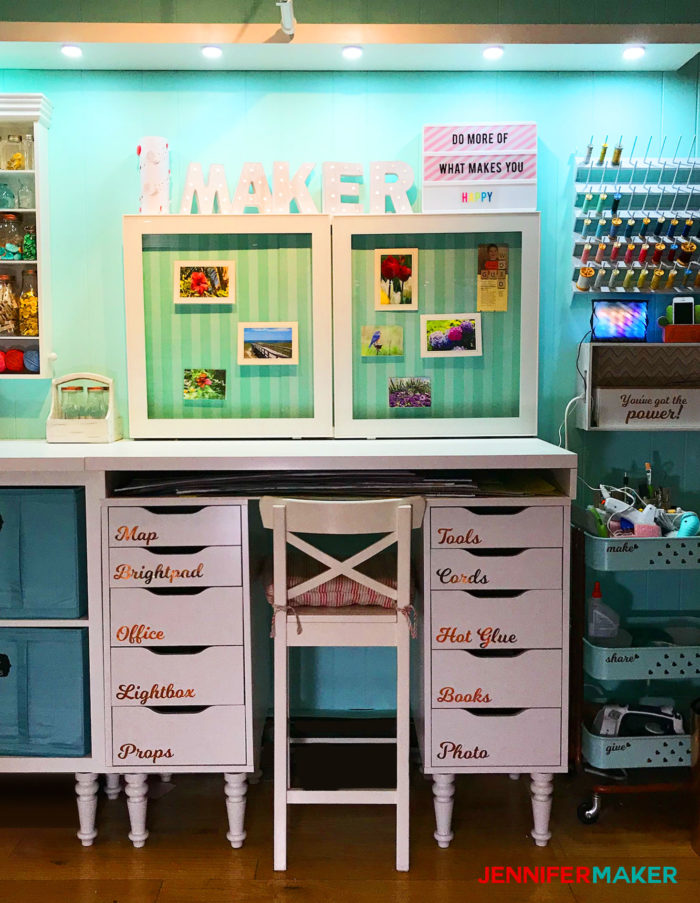 This IKEA craft table was put together by reader Cindy Reinert with a set of Alex drawers and two Linnmon tabletops and table legs. To make this, her husband braced the two tabletops together and screwed the top to the Alex drawer unit. She says, "there is a .75" frame inside the top you can screw into."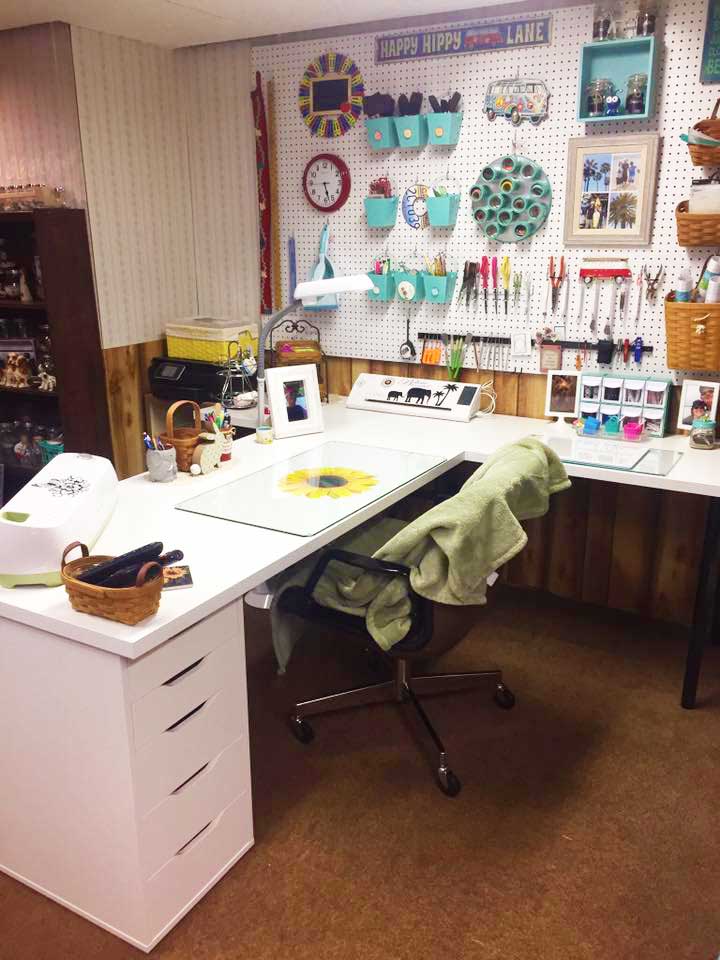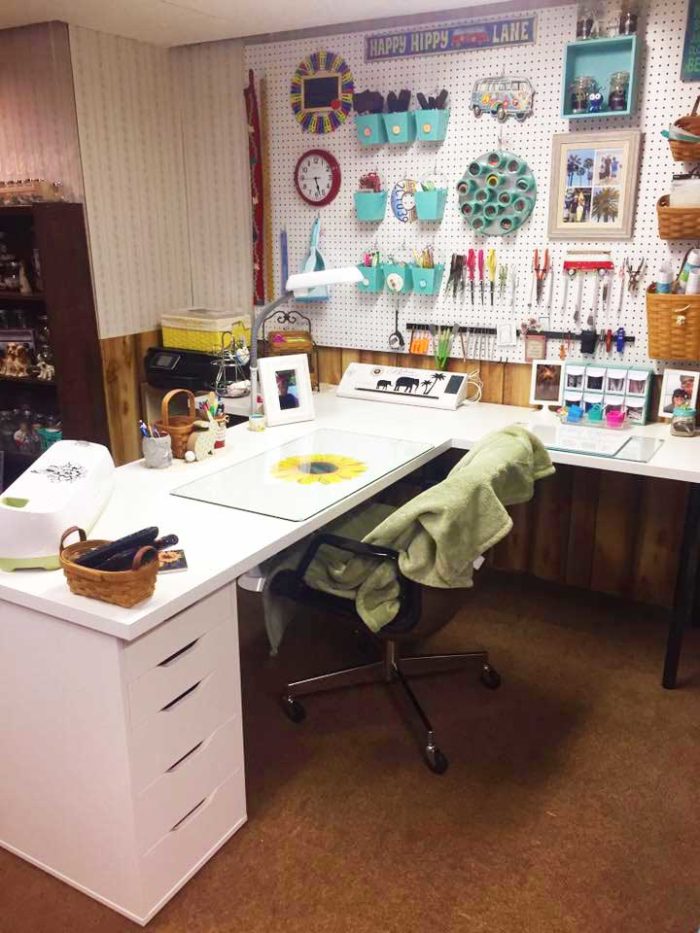 Another view of Cindy's IKEA craft table: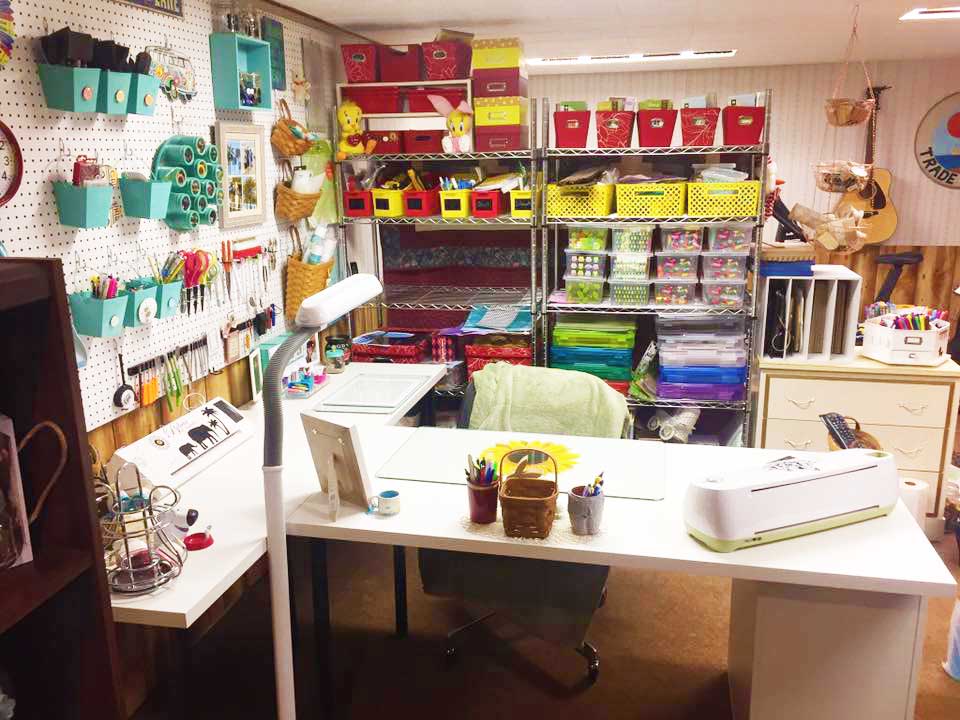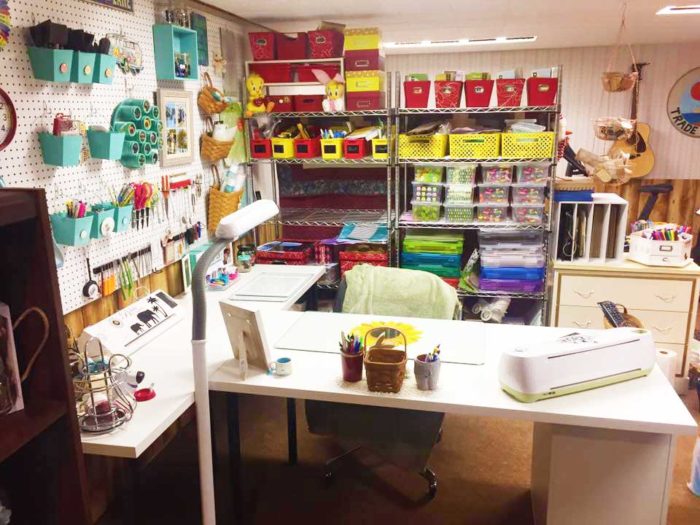 This is Michelle Jacques craft table. She made it with two Linnmon desks – (1) 39.5" & (1) 47.25". She says, "the desks are joined underneath with brackets and wood to create a small L-shaped desk without having legs everywhere."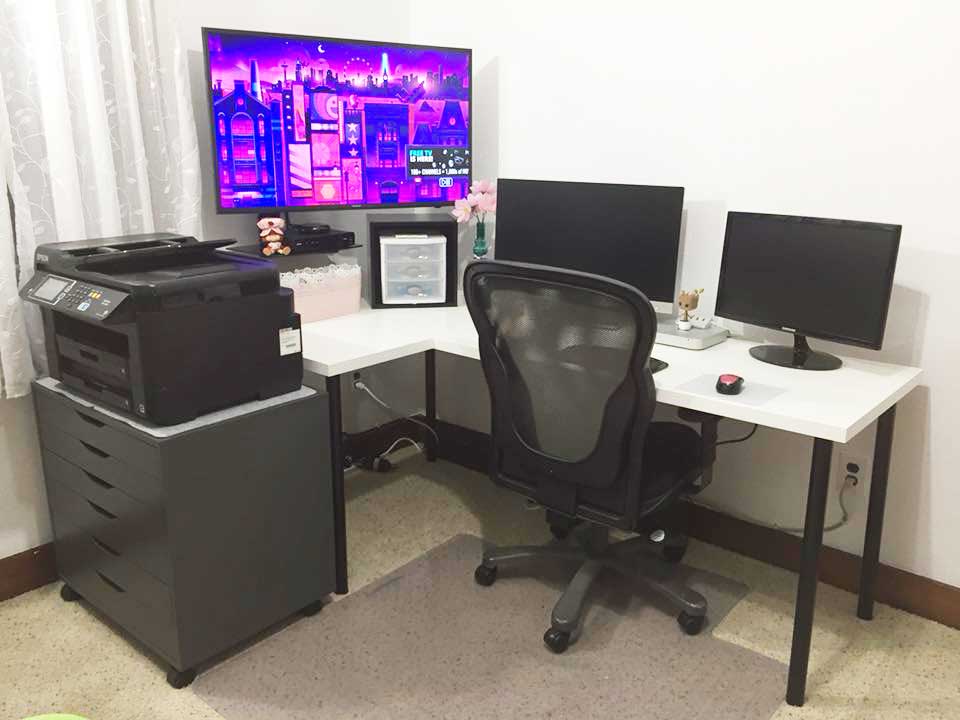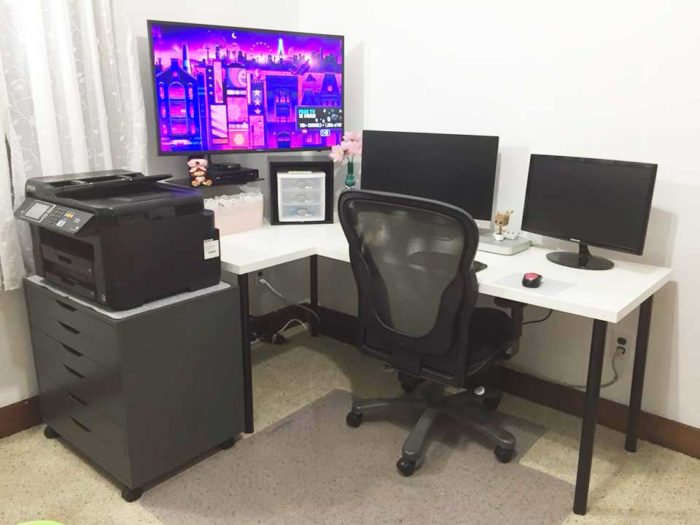 Here is Donetta Byrd's IKEA craft room desk. She used four Alex drawers and three Linnmon tabletops to create this cool L-shaped desk.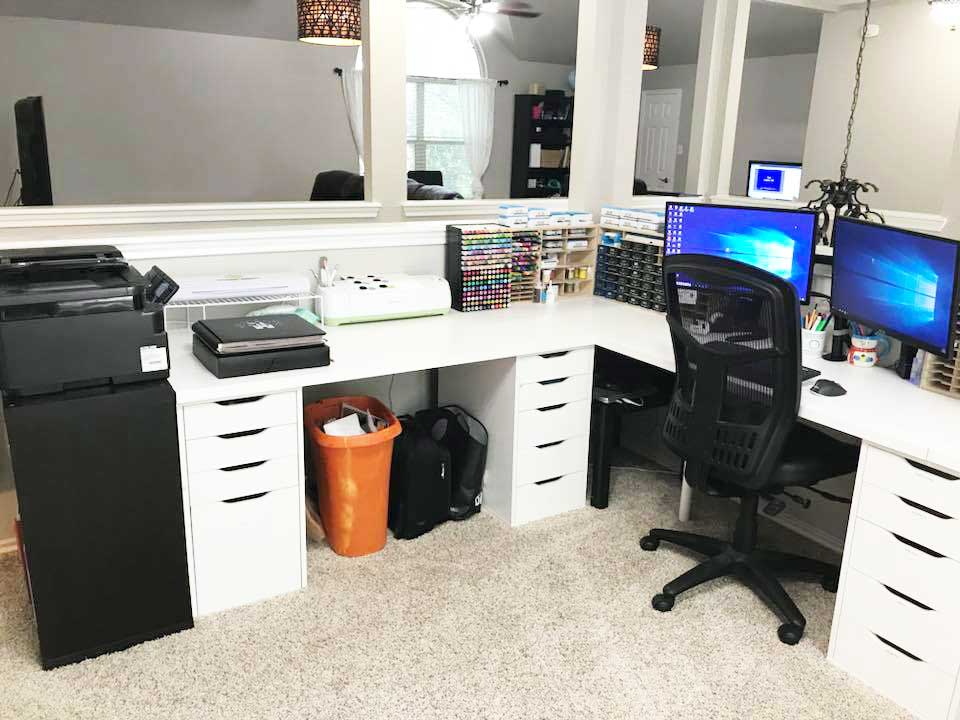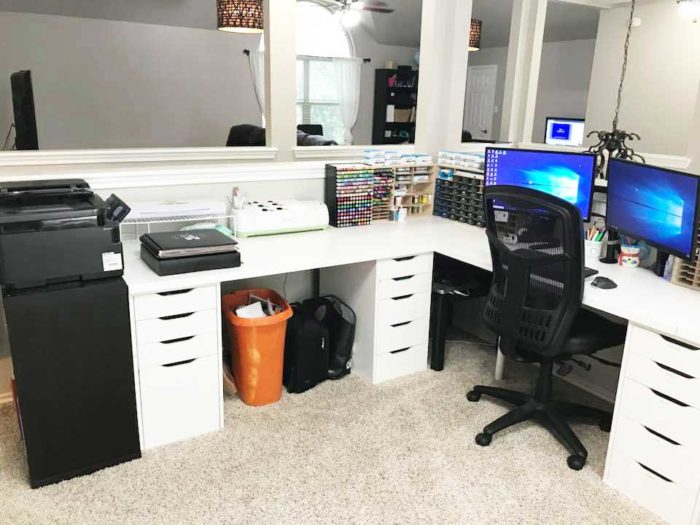 Heather Carter's sunny craft room uses the Linnmon desk with the Alex drawers in each side. She says, "I love the size and drawer space!"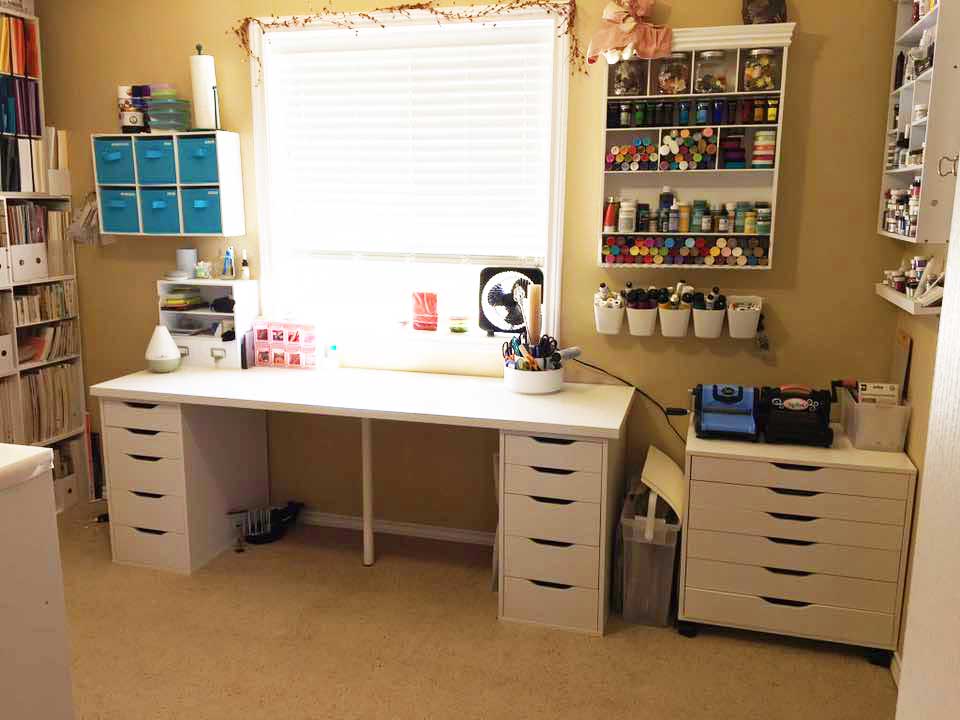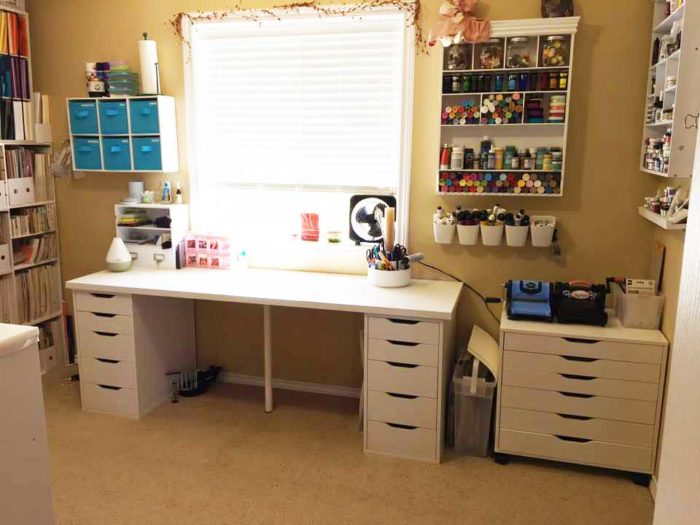 Reader Patricia Coleman made a cool Kallax and Linnmon craft table combination for her craft room! And — get this — she made it mobile with wheels on the bottom! She says, "The wheels also make the table more counter height for those who want a higher table to stand and work on. I also used another mobile Kallax four cube unit to store all my cutting machines and supplies which you can see in the background with the Silhouette machine on top. Having the craft table and cutting station mobile makes group crops at my house great for everyone to use!"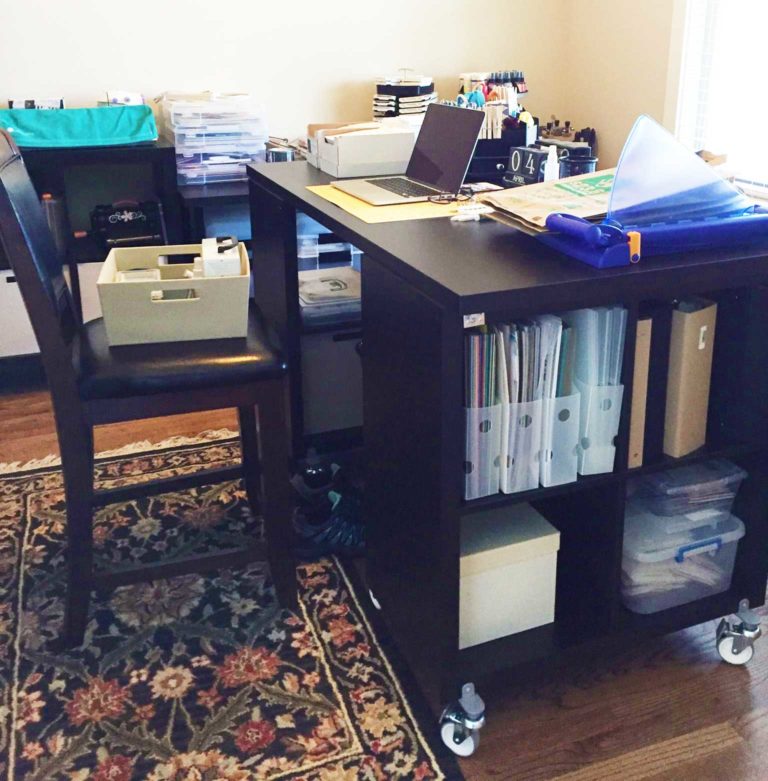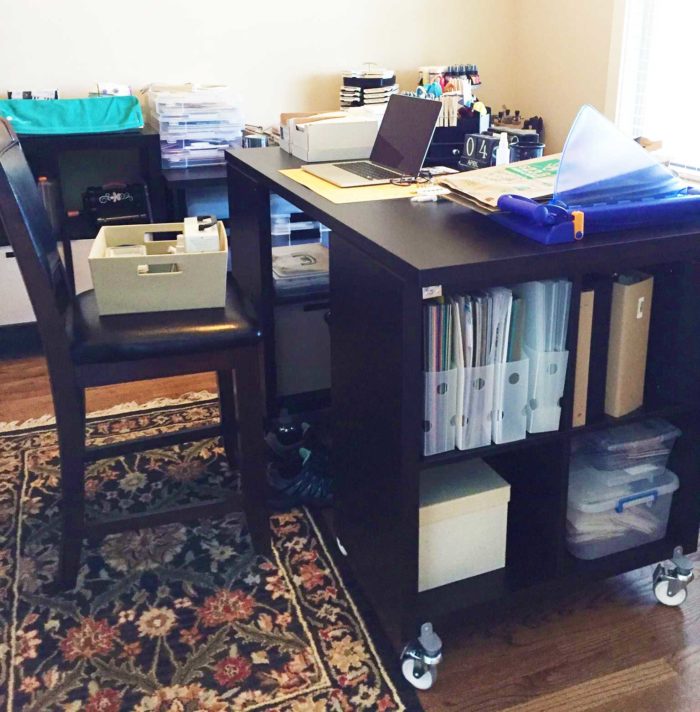 Carrie Hammond says, "we bought our IKEA Alex cabinets eight years ago and used them in our RV for storage while we traveled full time. Now they are part of my craft corner in our tiny home. They have held up wonderfully."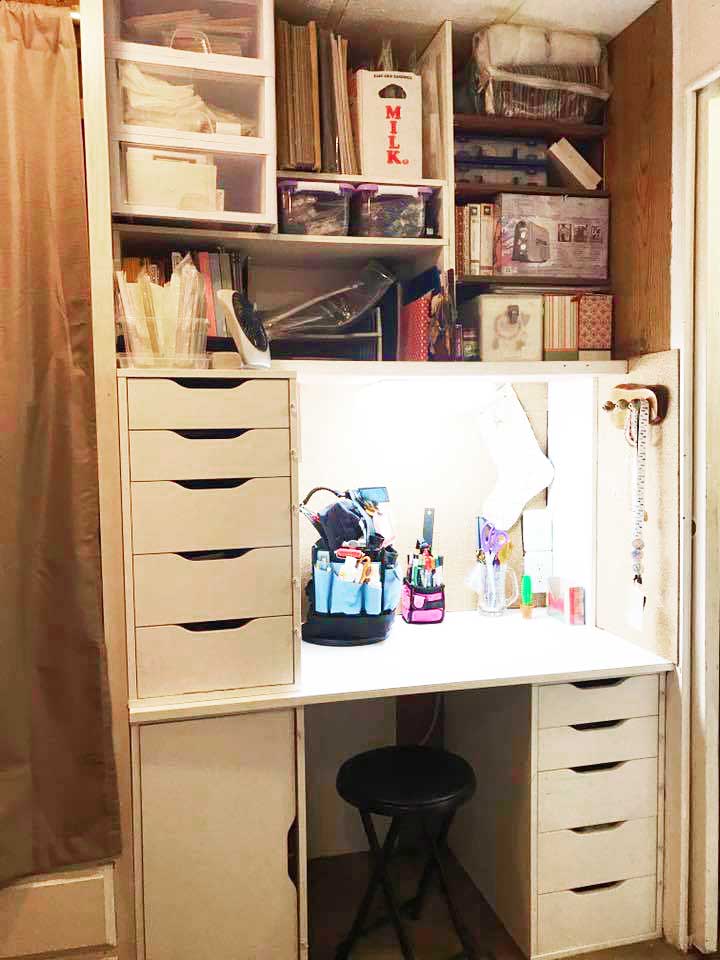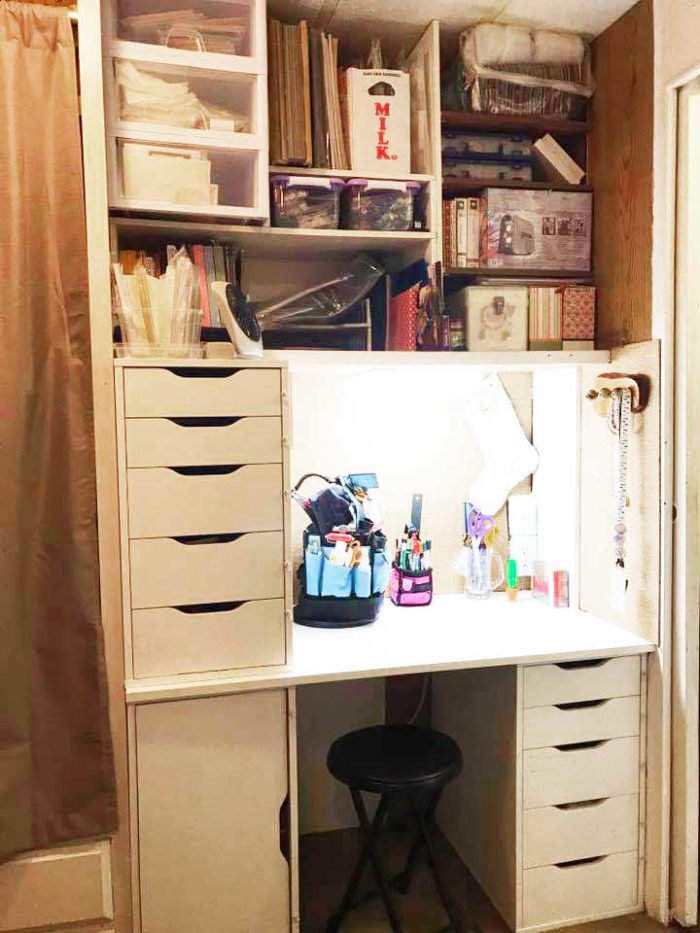 Here reader Alisha Lovett used Kallax cubes and a DOOR for the desk top for the main desk.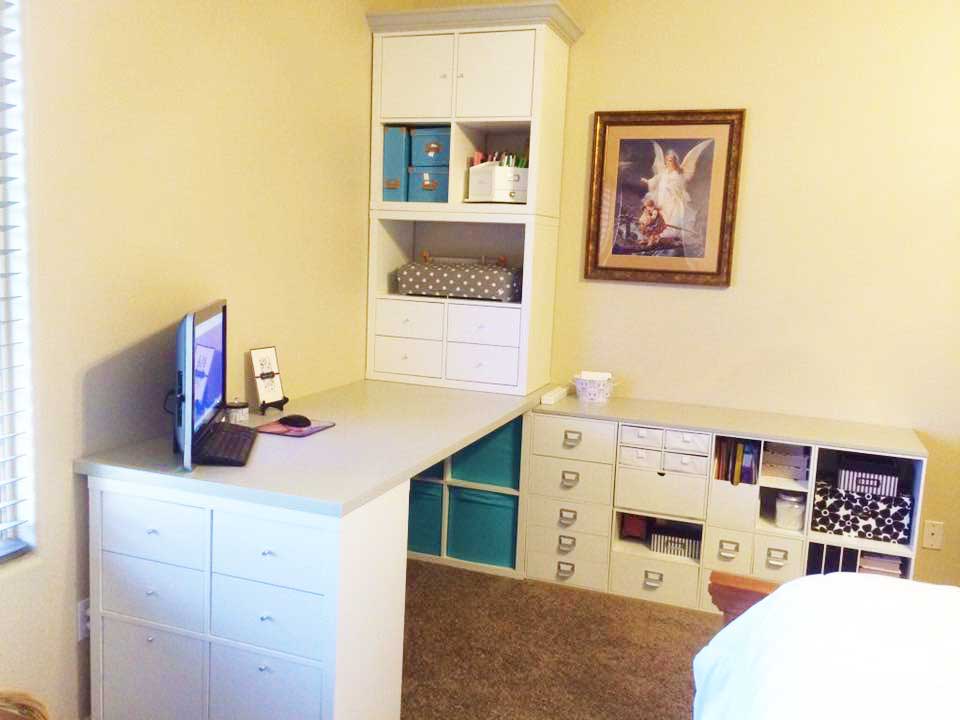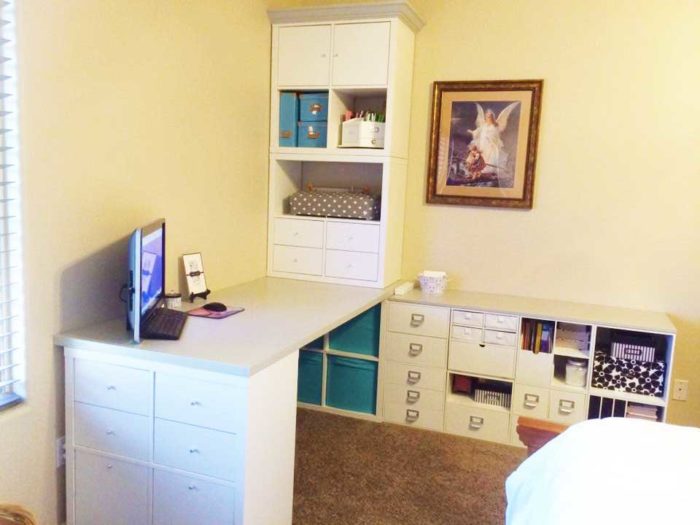 Aimee Landry's sun-filled craft room has a big table made with Alex drawers. She used the counter tops (two rectangular ones and one corner piece) to give herself lots of storage and workspace!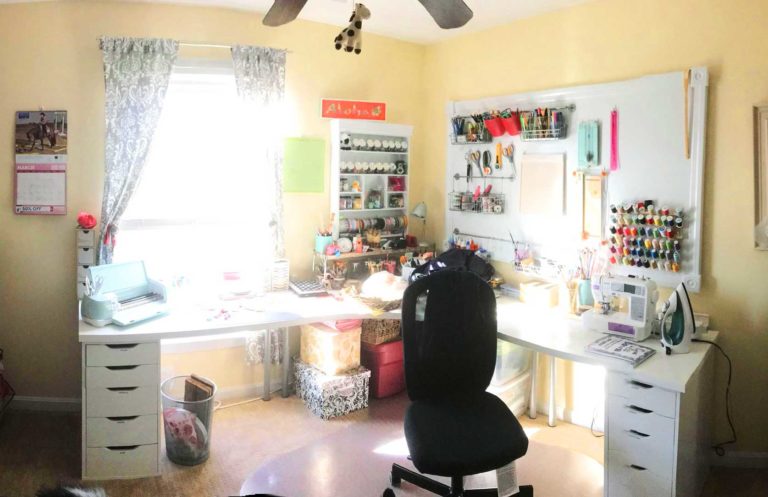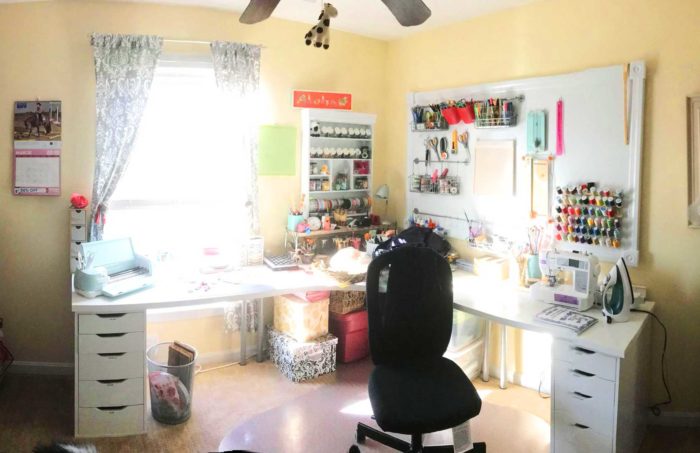 Here's another look at Aimee's craft space in use!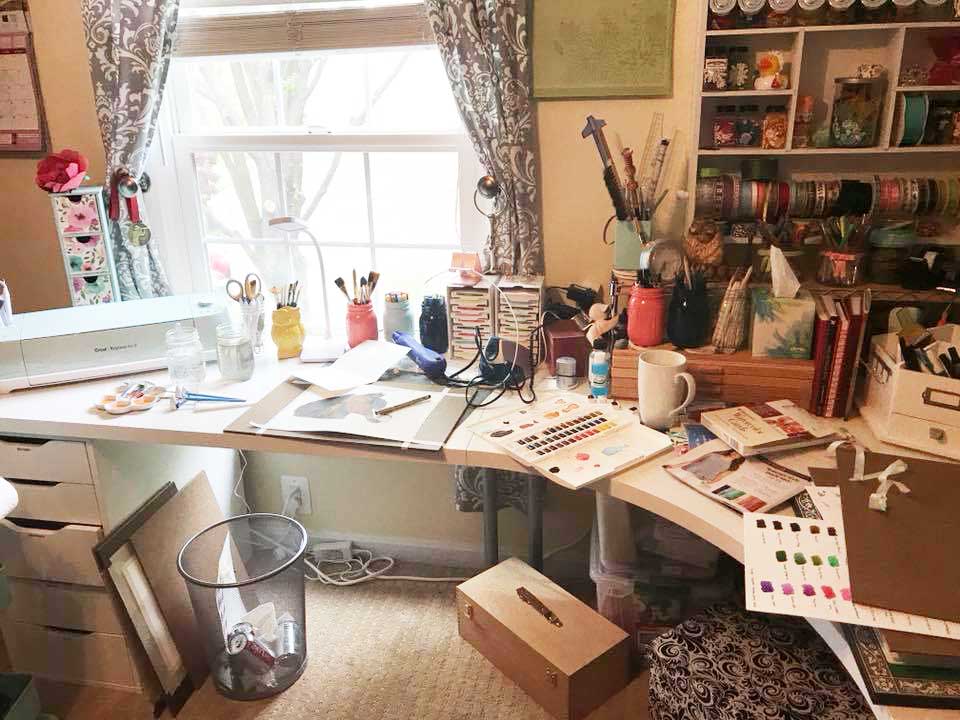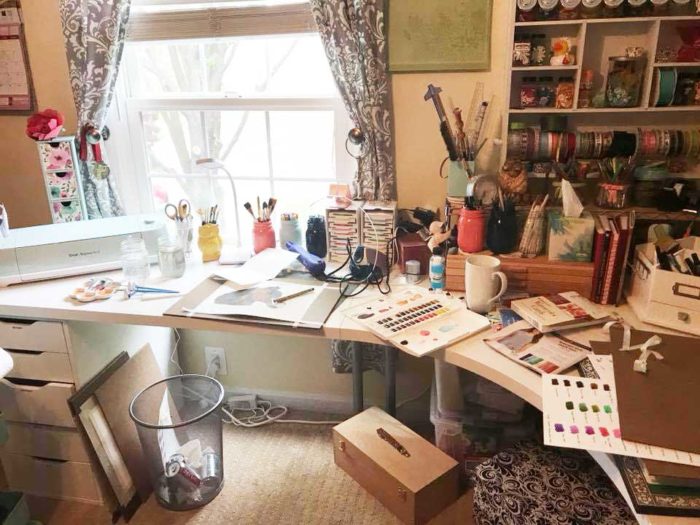 Kerry VanScoik created this mobile craft room table with a Kallax unit (2×4) on its side with three sets of casters, two Gerton adjustable legs, and Gerton butcher blocktable top. Love it!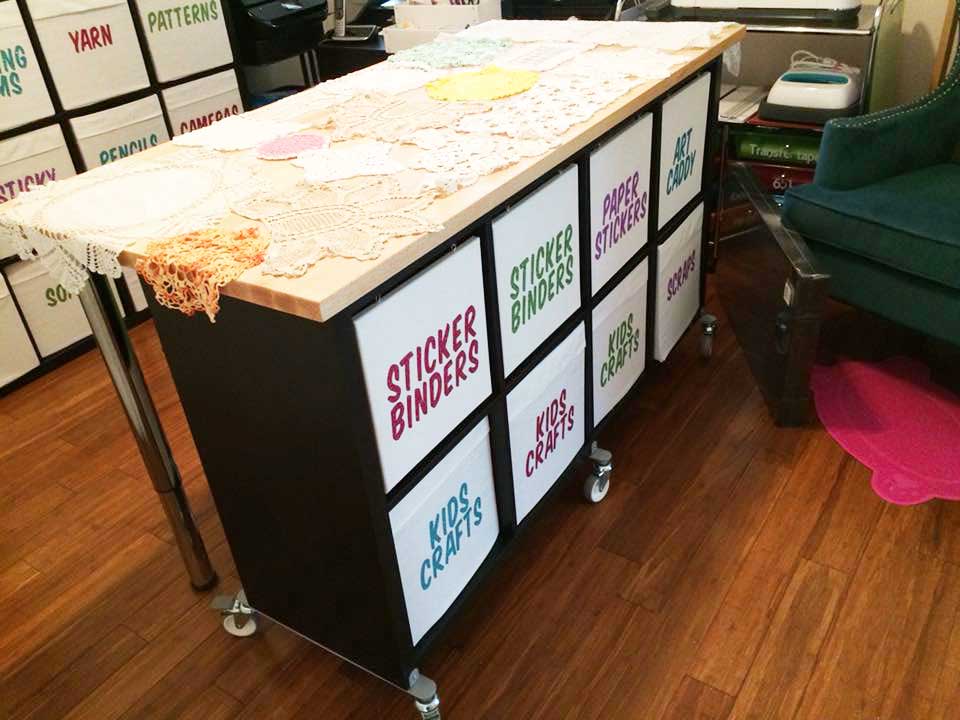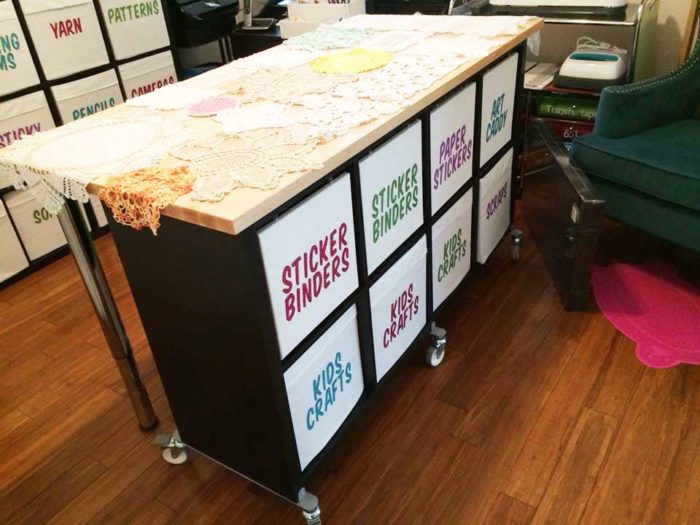 This is the back side of Kerry's mobile craft table.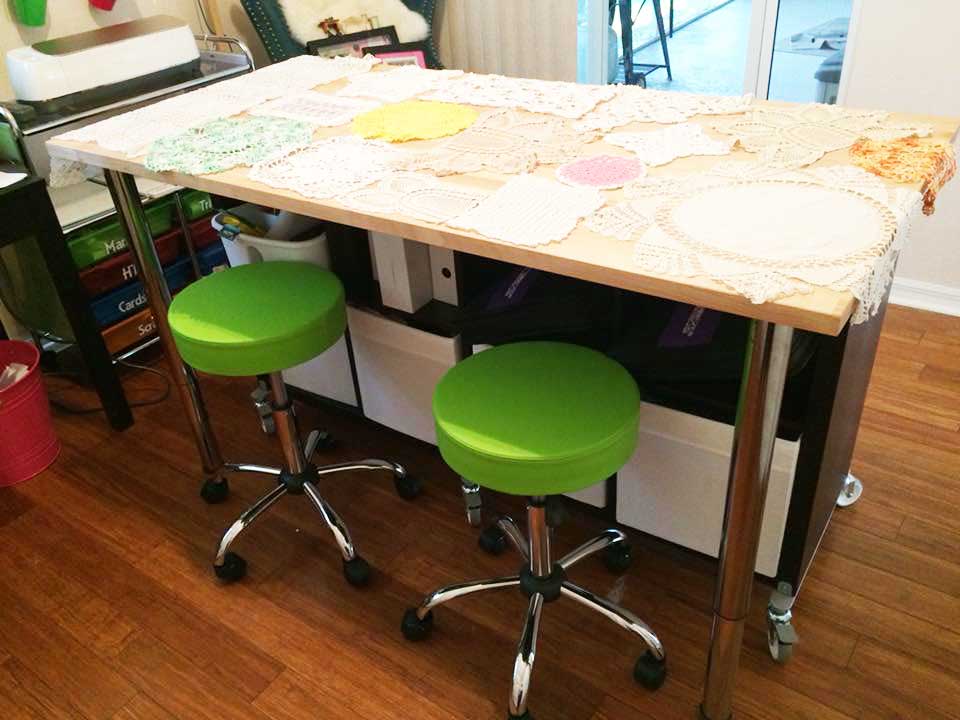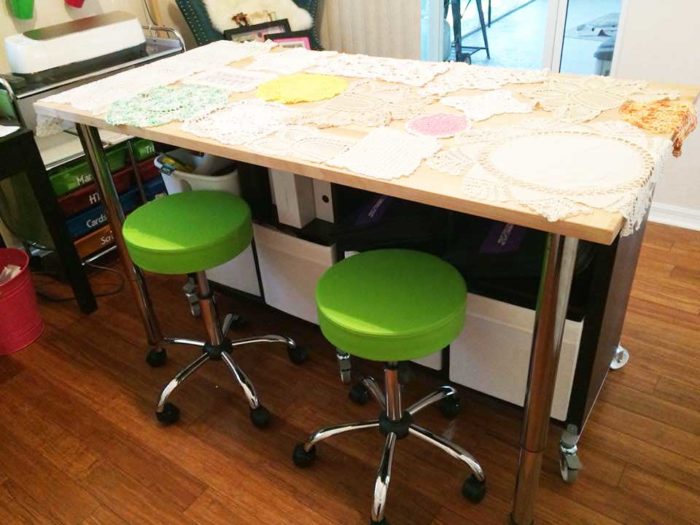 Reader Shelly Brooks created her IKEA craft table with a used IKEA kitchen countertop and two Alex drawers.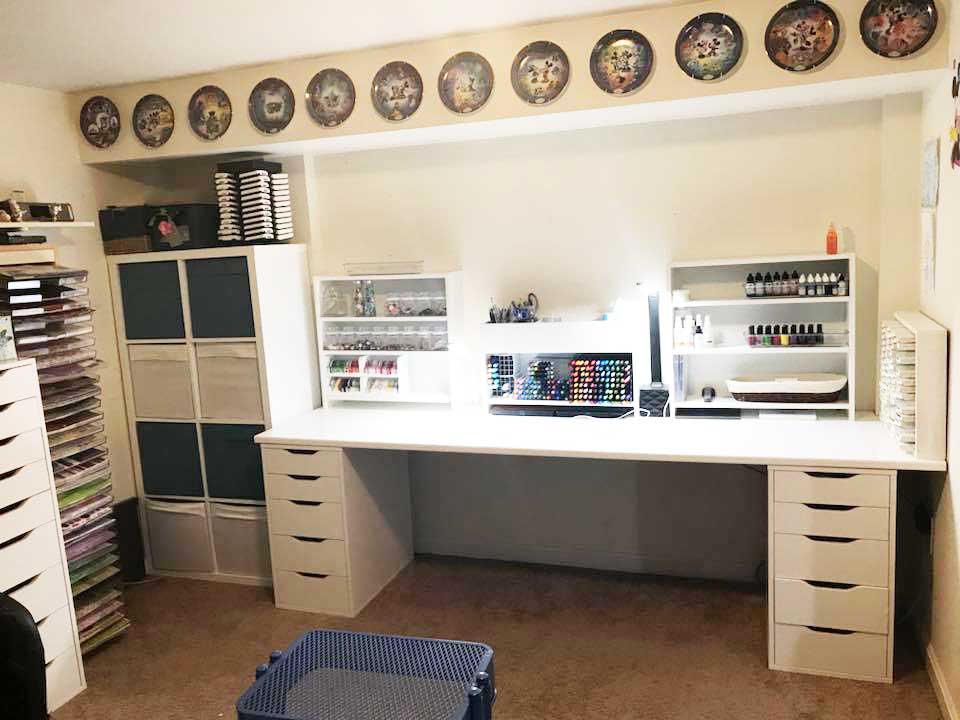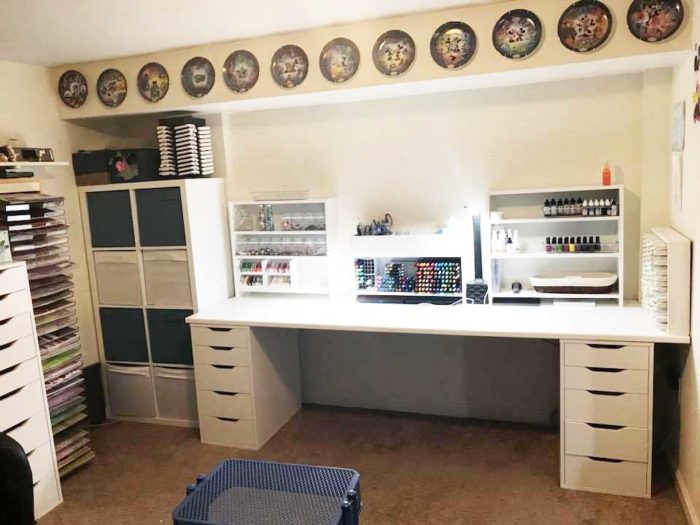 Nancy Smith used an Linnmon table top, legs, and a center Alex drawer unit.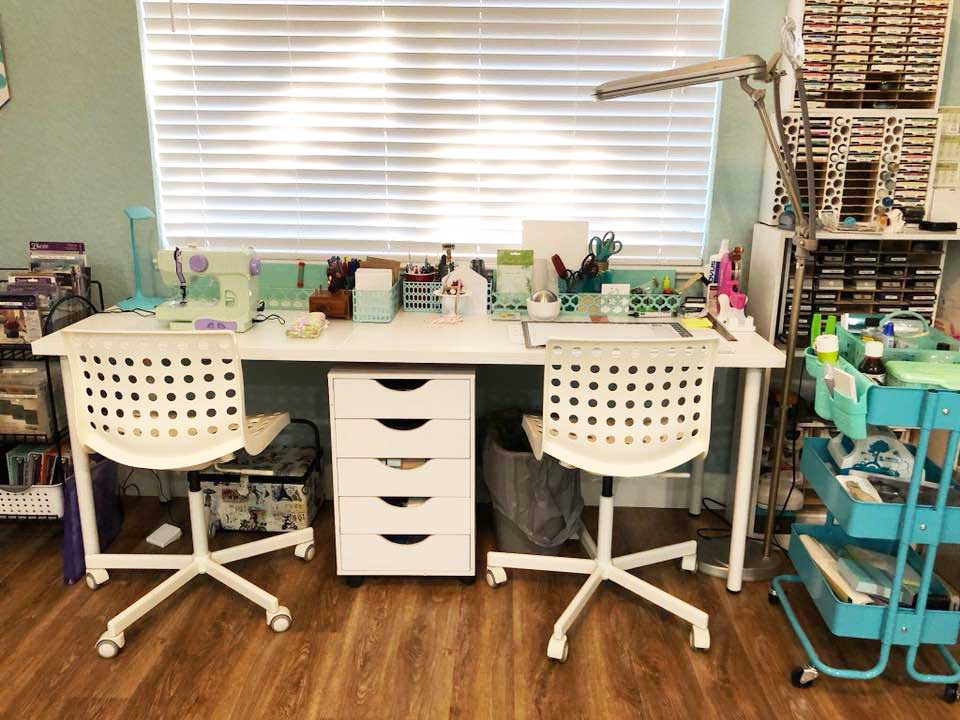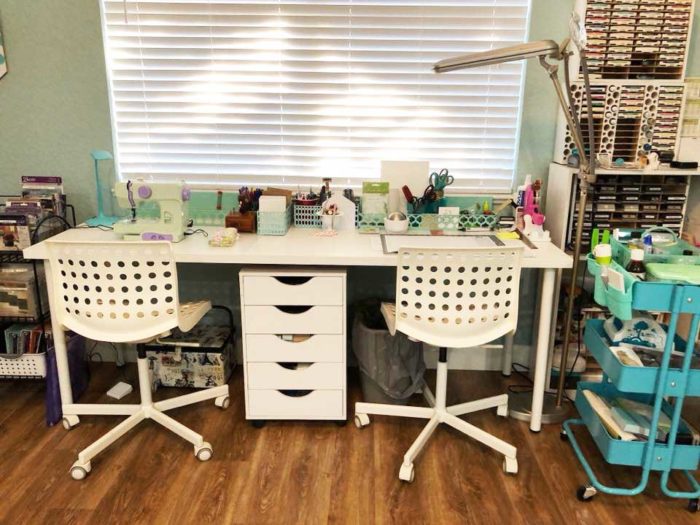 Sonya Moreau made her craft work table with two slim Alex cabinets and two Linnmon table tops.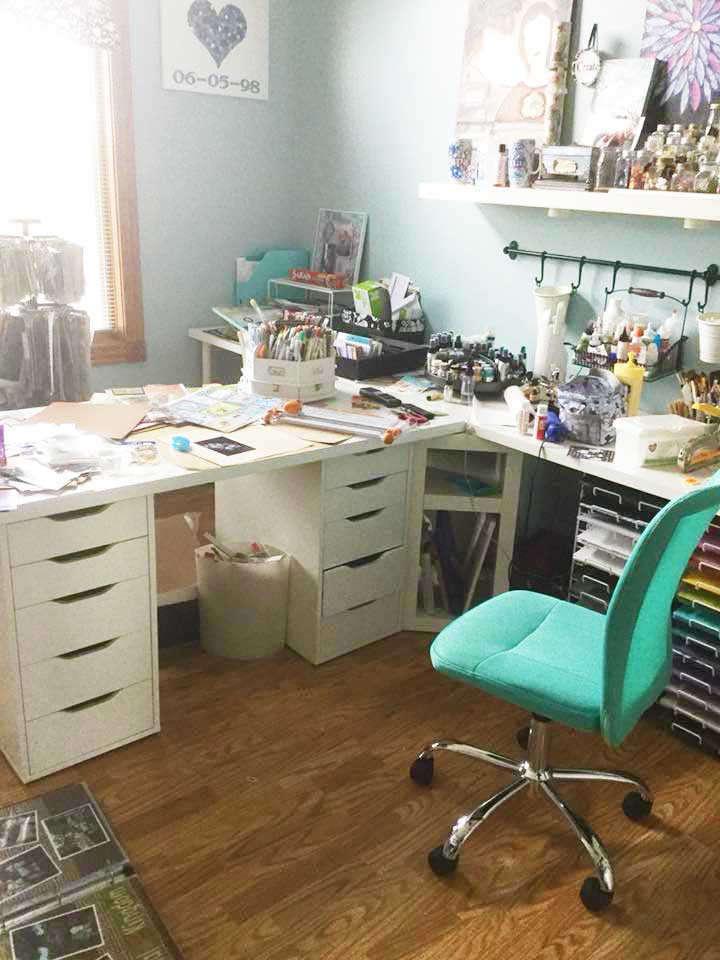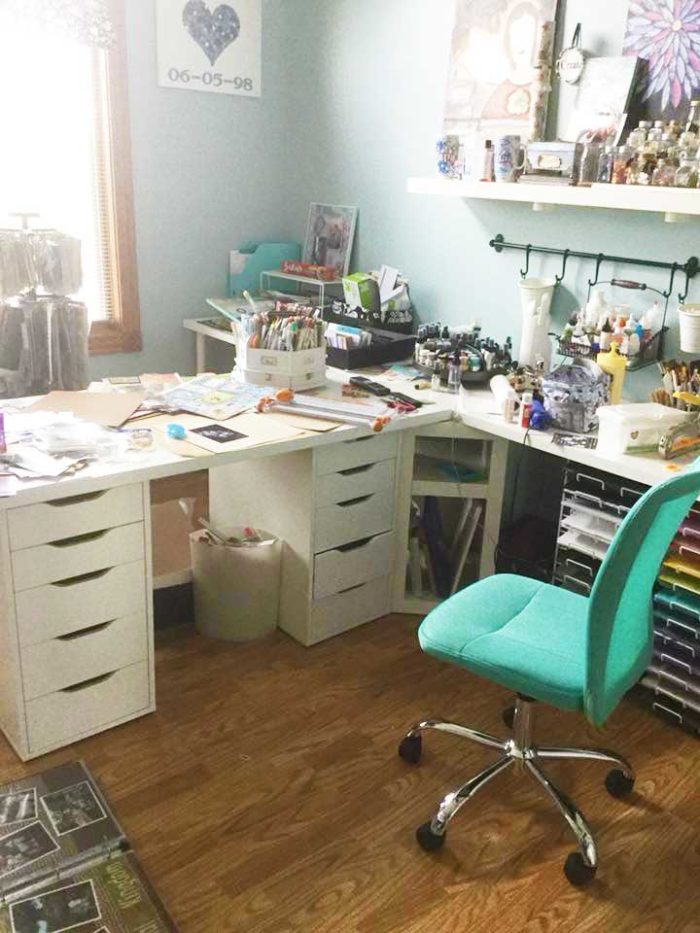 And Tracy Gooch created a huge IKEA craft table a Kallax unit and two Linnmon tabletops!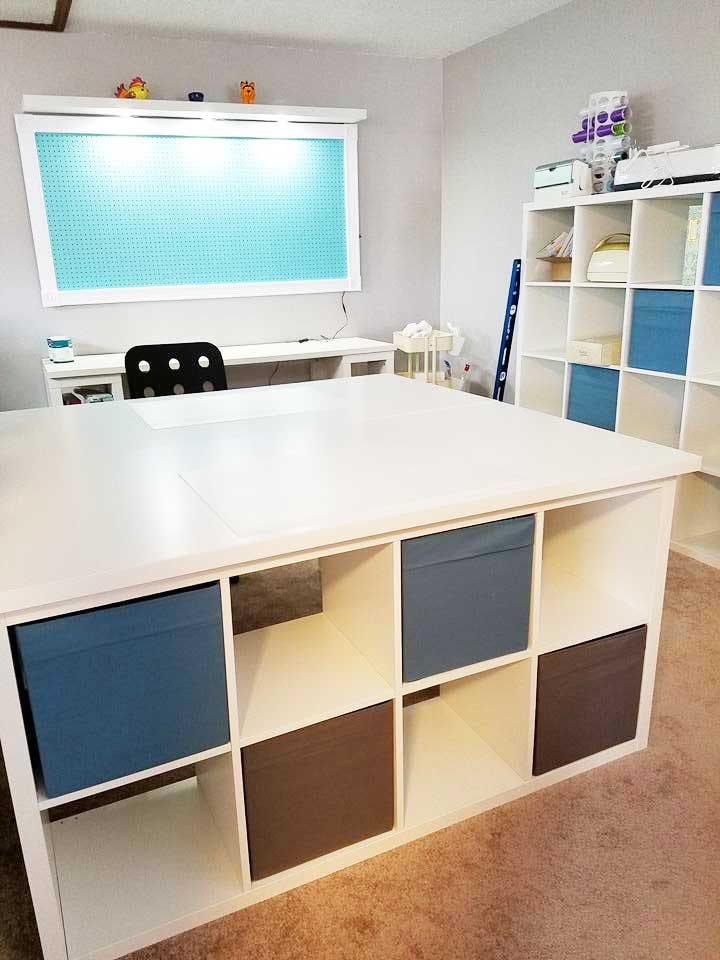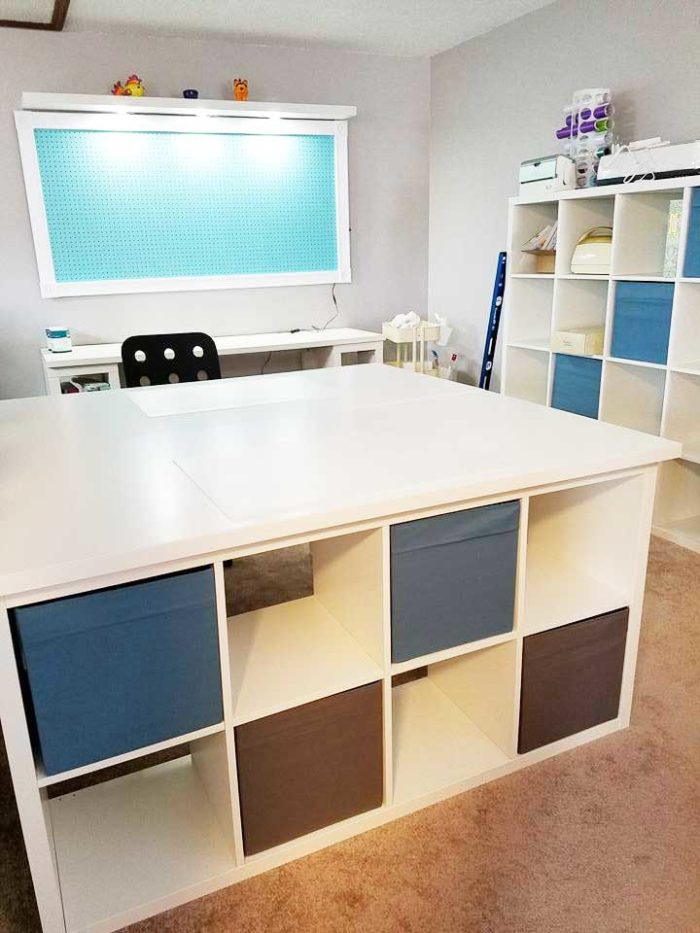 I just love the variety and the many different ways you can make a craft table that meets your needs. IKEA craft room tables rocks!
If you use IKEA to create any part of your craft room, please share a photo of what you did with me! You can send it to [email protected] or tag me on social media with #jennifermaker.
Love,