Read these IKEA Shopping Tips & Tricks BEFORE you go to save time, money and frustration!
IKEA and I go way back. I first heard about IKEA more than 20 years ago, when it was a mystical shopping experience many hours away from me. I happily drove six plus hours each way to go, bringing back amazing furniture I couldn't get in my hometown. (I still have that furniture in my living room and it still looks great.) I now have an IKEA just 20 minutes away and visit frequently. I love to hack IKEA furniture! Let me share my IKEA shopping tips and tricks for an easier, productive, and faster shopping trip!
IKEA Shopping Tip #1: Know Before You Go
Use the IKEA.com web site to research what you want before you ever arrive. I always measure my space and pretty much know exactly what I need before I step into the store. Their web site has all the colors, dimensions, and details I need to make that decision. And it will tell you BEFORE you go if the item you want is in stock. This makes it SO easy to find what I need—sometimes I can completely skip the showrooms and go straight to the warehouse, because you can look up all of the product locations online in advance.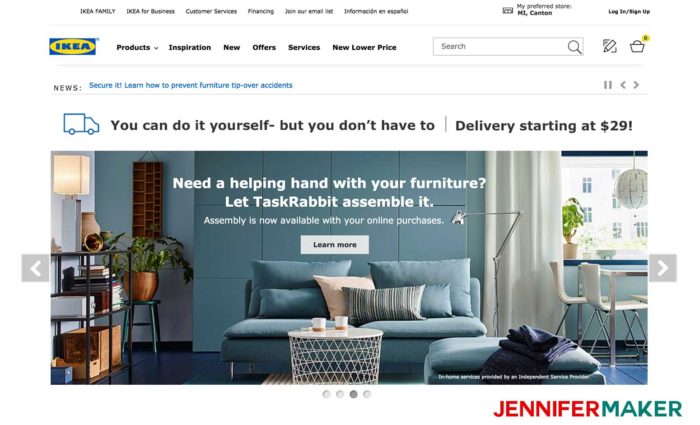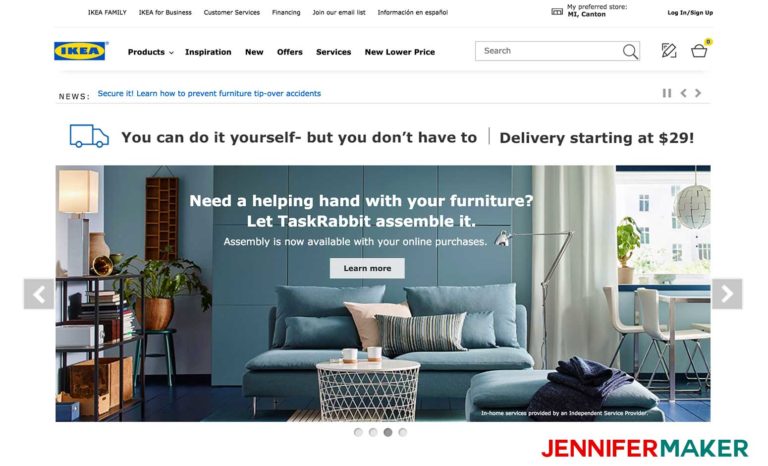 IKEA Shopping Tip #2: Bring a Printed Shopping List
In keeping with our first tip, you need a printed list of what you plan to buy. Why printed? Because I find I can't rely on my smartphone at IKEA. The store is so large that my phone's reception drops to zero and I can't Google or search the IKEA web site when I'm deep in the store. I find it helps a lot if I use the IKEA.com web site before my visit, add items I want to the shopping list, then print the list before I leave home. You can choose to sort it by warehouse location, which I think is the most useful! You also have the option to email the shopping list to yourself—just be sure you've opened that mail and have it saved on your mobile device before you enter the store.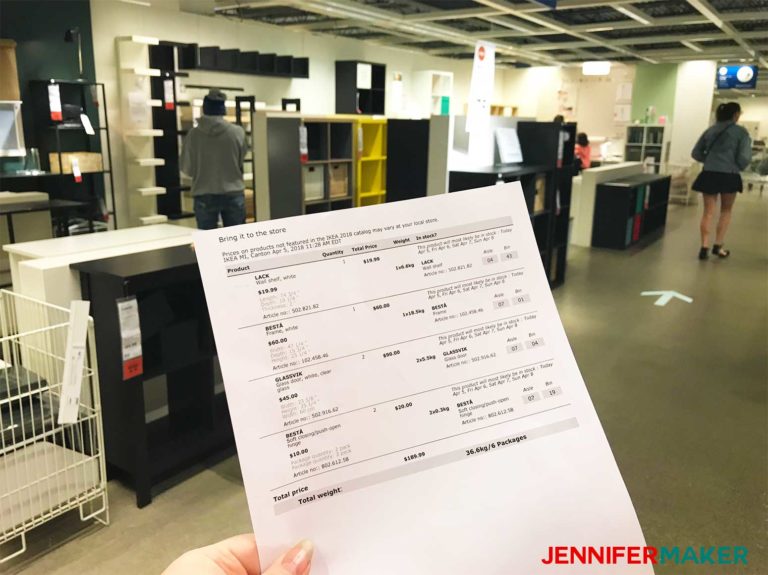 IKEA Shopping Tip #3: Eat BEFORE You Shop
IKEA has a cafeteria on its top floor (it'll probably be behind you as you get off the escalator). Stop and eat something before you go shopping. Trust me. IKEA shopping trips are longer than you expect and grumpy people make bad decisions. I've learned this lesson the hard way! Even if you don't want to eat at IKEA (which is quite tasty and inexpensive), eat somewhere else before you get to IKEA. For us, it's a ritual to have a meal BEFORE we begin shopping. This ensures we make it through the store quickly and productively. Those times we skipped food usually meant we couldn't make decisions or just left in frustration.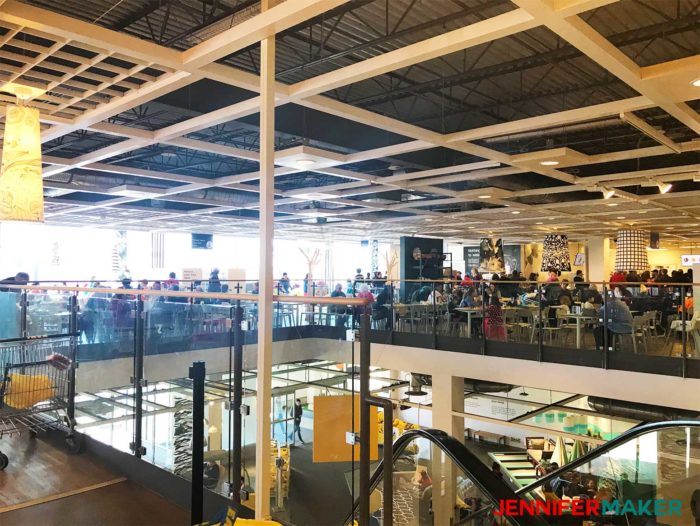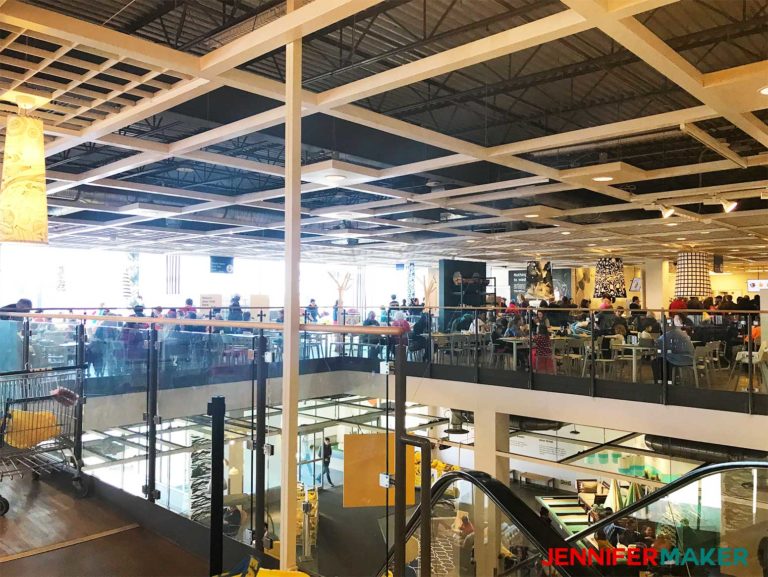 IKEA Shopping Tip #4: Skip What You Don't Need
The biggest issue I have with IKEA is the way its showrooms are laid out. You start on the top Showroom, following a laid-out path that meanders through each department. Then you go to the Marketplace on the bottom floor, again following the twisting and turning path. By the time you finish both floors, it's been hours and you're exhausted. So if you know what you want and aren't going to browse, skip what you don't need! Either don't go to those floors, or take the shortcuts through departments (see the next tip).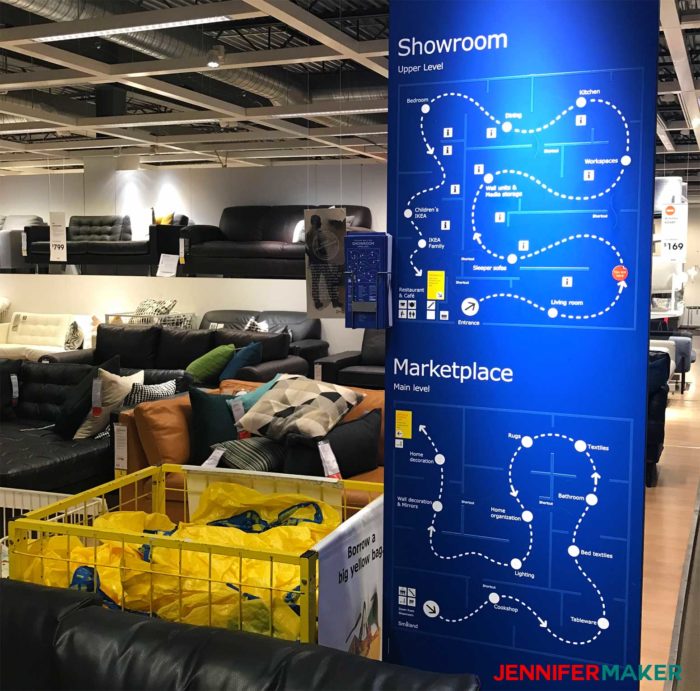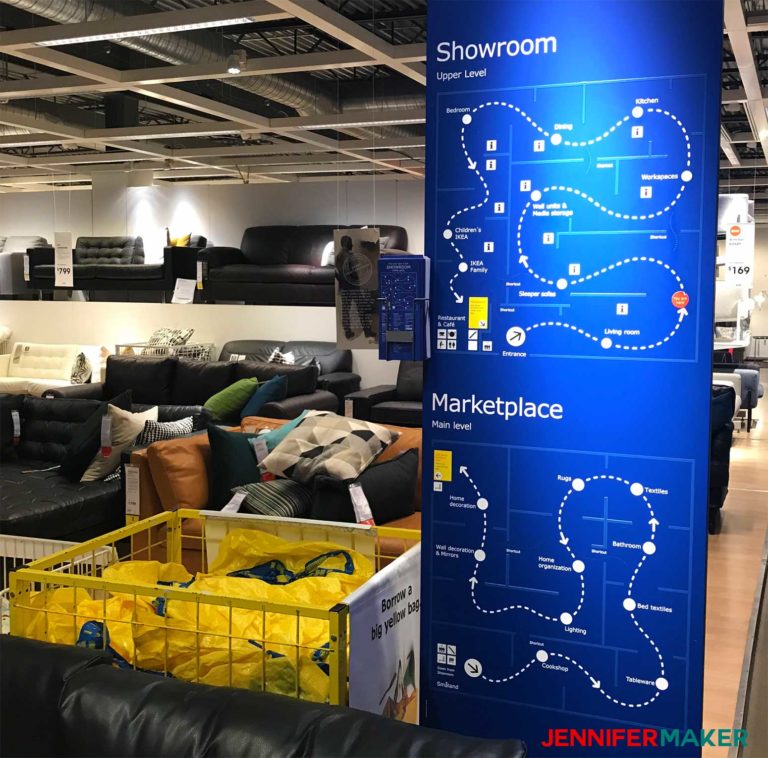 IKEA Shopping Tip #5: Check the Maps and Take Shortcuts
When you arrive you'll be herded up the escalator to the Showroom on the top floor. This is fine if you want to see all the furniture on display, but just understand that you'll be lead through the entire floor. If you want to see a specific section, check the blue maps posted all over the place to see what's coming up so you don't miss it. If you want to skip ahead (or go back), you can always see what shortcuts are available by checking one of those blue maps, then look for the blue overhead signs that indicate the shortcut.
You can see the shortcuts indicated on one of the blue IKEA floor maps here: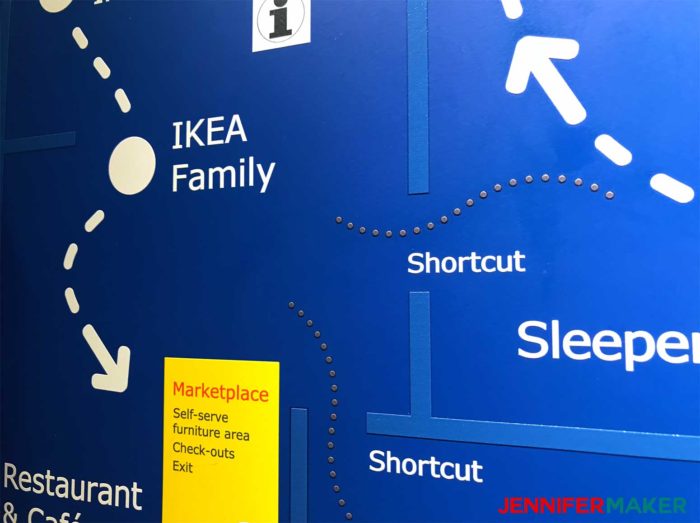 And here's what the actual shortcuts look like. These shortcut signs are a bit easy to miss (unfortunately)—the word "shortcut" is in very small type. IKEA doesn't really want you using the shortcuts as you'll miss all the stuff.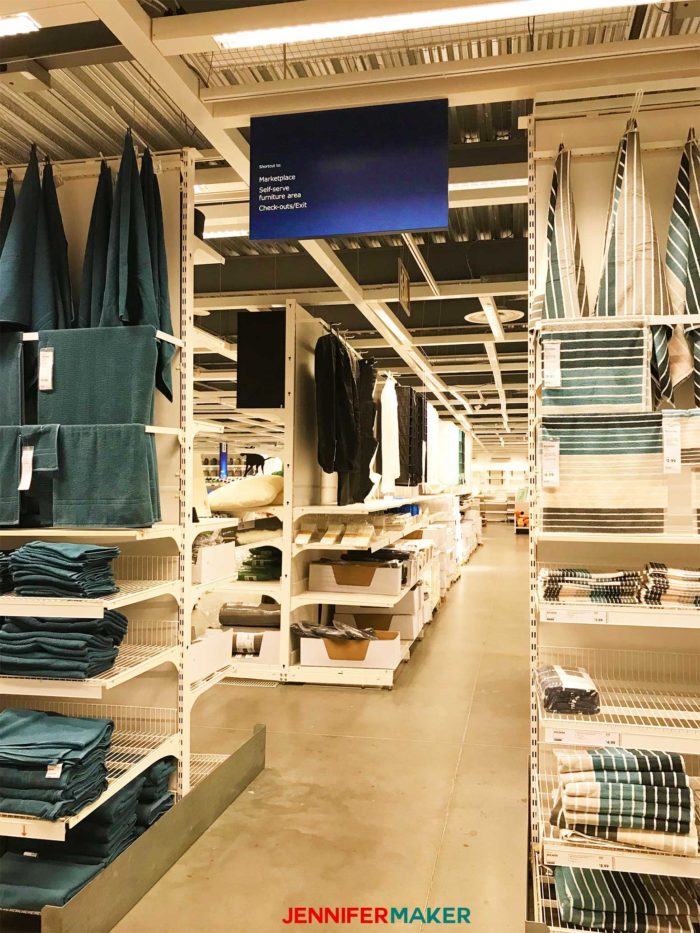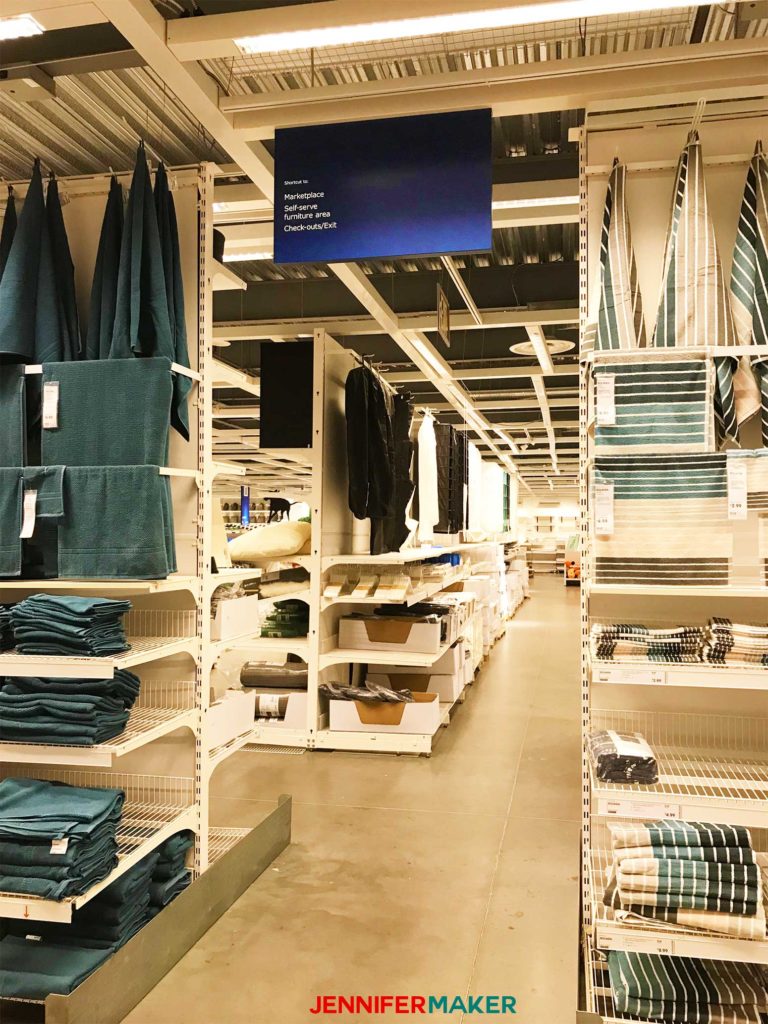 IKEA Shopping Tip #6: Skip the Bag, Get the Cart
When you first arrive in the Showroom, IKEA conveniently provides big yellow bags to borrow. Skip these—anything you see on the Showroom is available below in the Marketplace. No need to lug around a big bag if you don't need to, right? Instead, grab a cart when you get down to the Marketplace. They are located right at the foot of the stairs as you enter. Note that the carts IKEA uses have unidirectional wheels, so while they will move in any direction (including sideways), they can be hard to steer—don't let the kids try to push them or you'll have a disaster on your hands!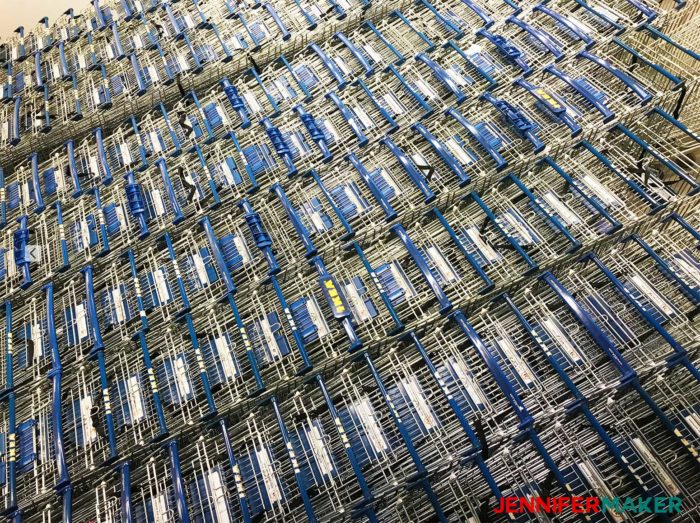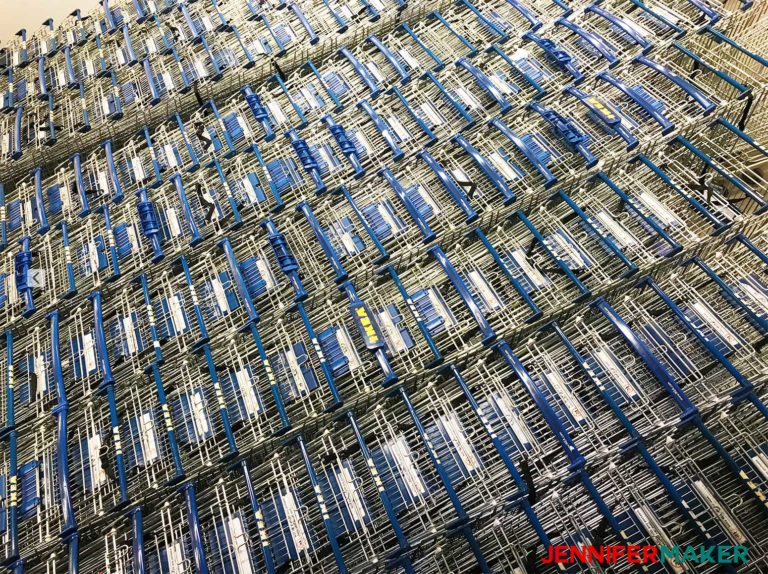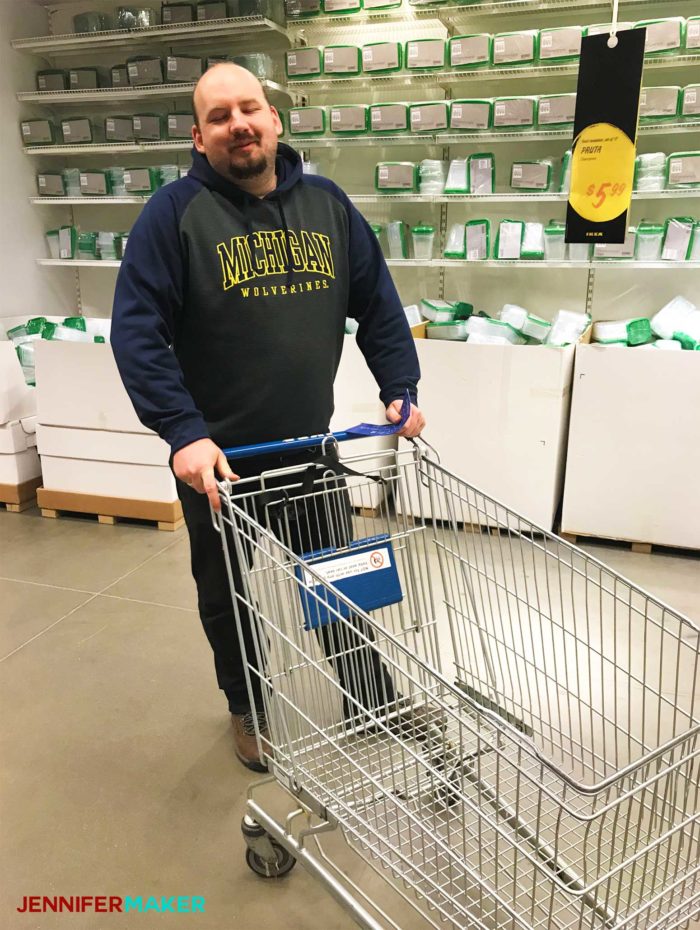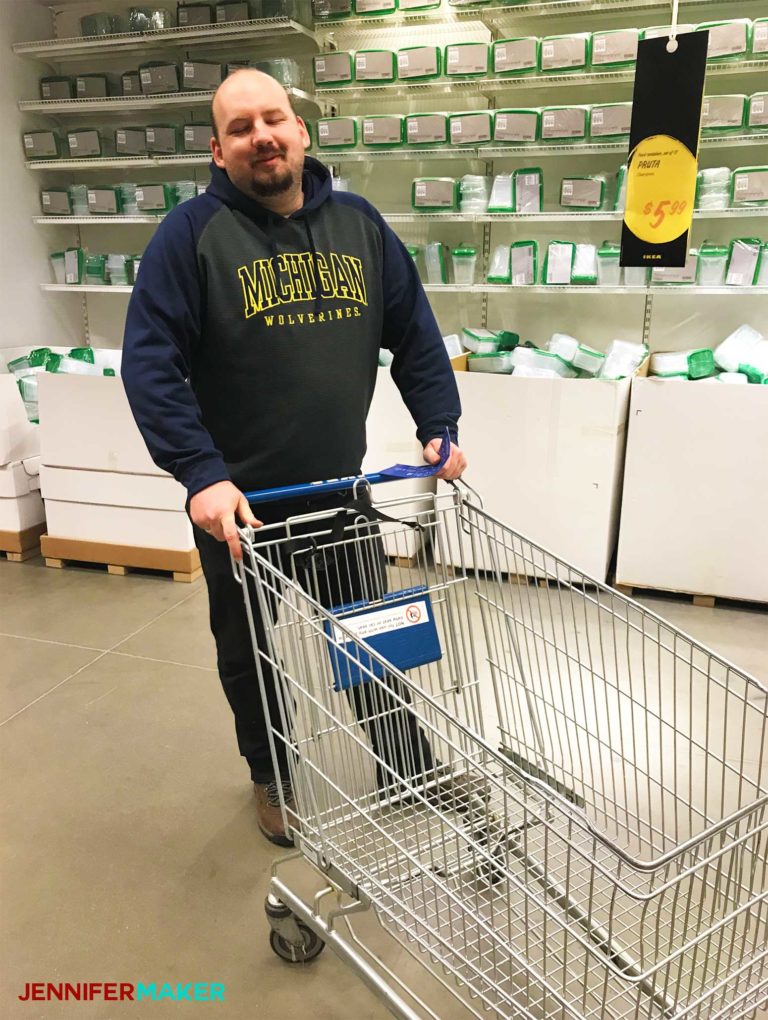 Tip: If you find big things in the Marketplace, like maybe a bunch of large trash cans or picture frames, there are larger flat-bed carts about halfway through Marketplace. If you can't locate them, ask an IKEA employee for assistance.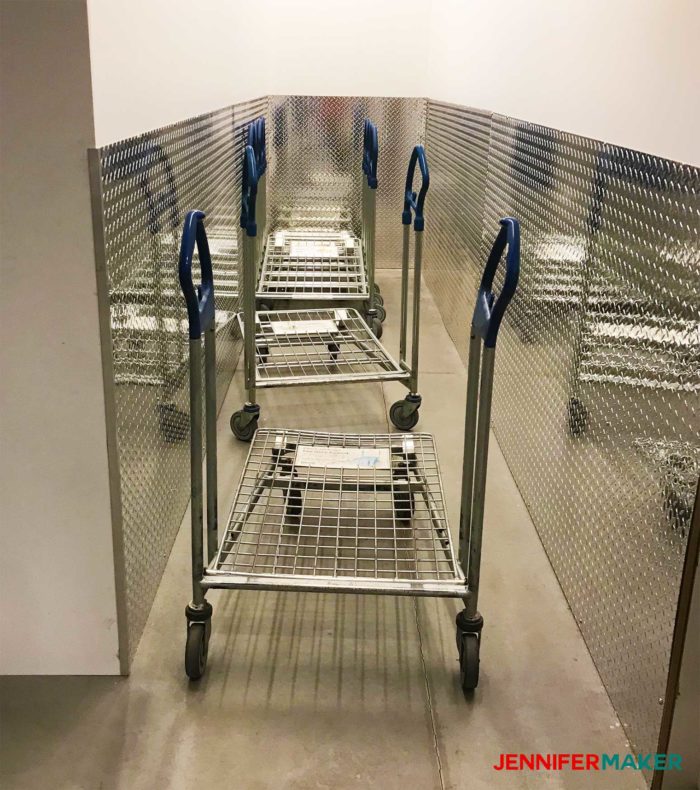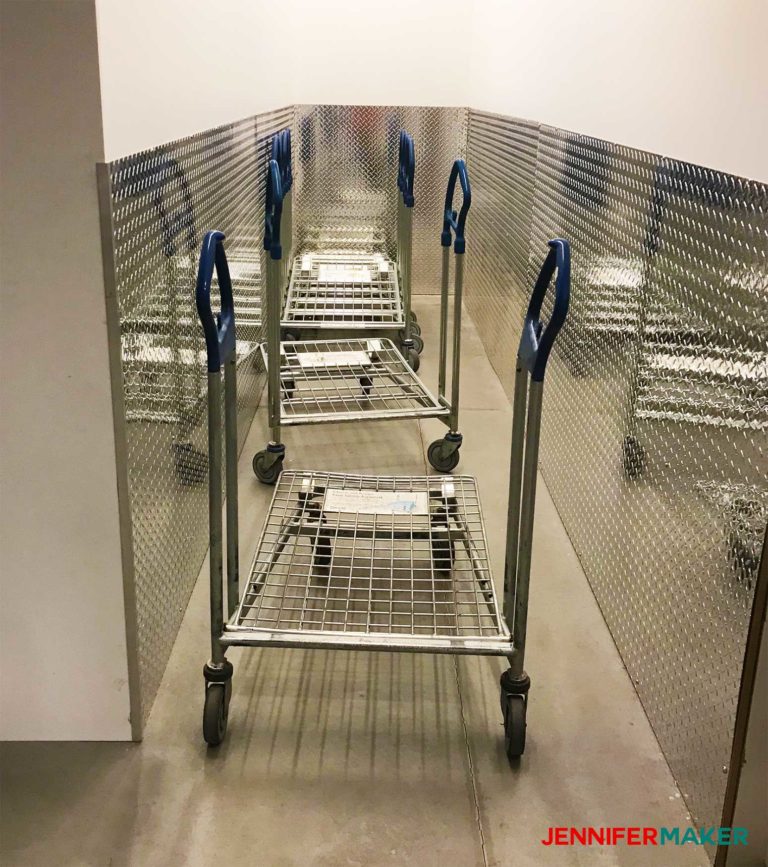 IKEA Shopping Tip #7: Know Your Warehouse Numbers
When you find something you like in the Showroom, take a photo of its tag—the red part at the bottom of the tag shows the item number as well as the location in the Self Serve Area (the "warehouse") where you can find it. No phone? Grab a map and a pencil (available at the map boards around the store) and write it down.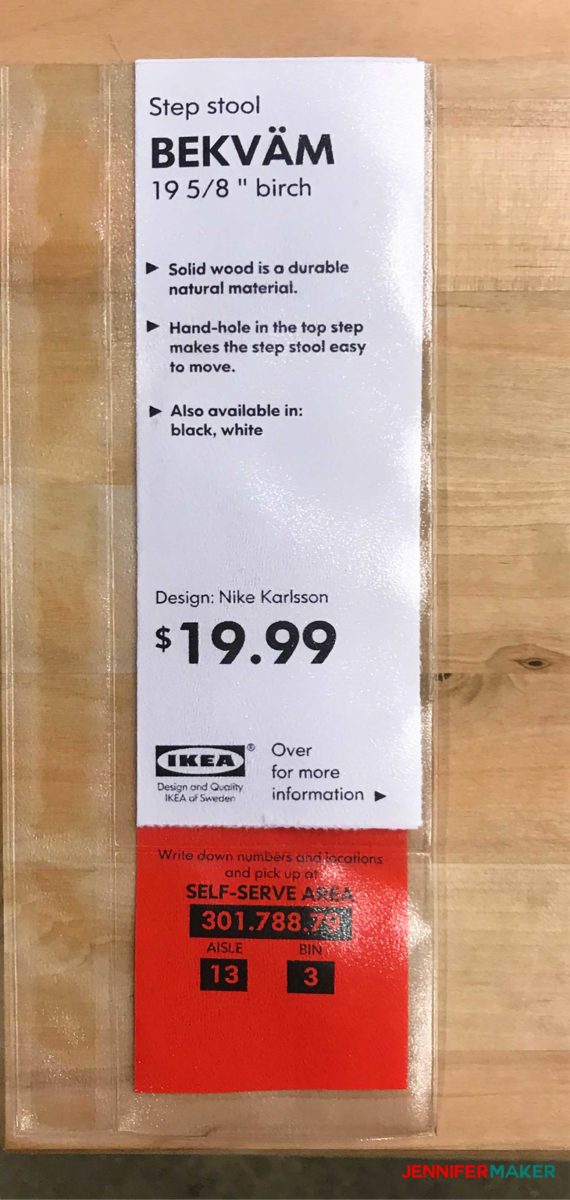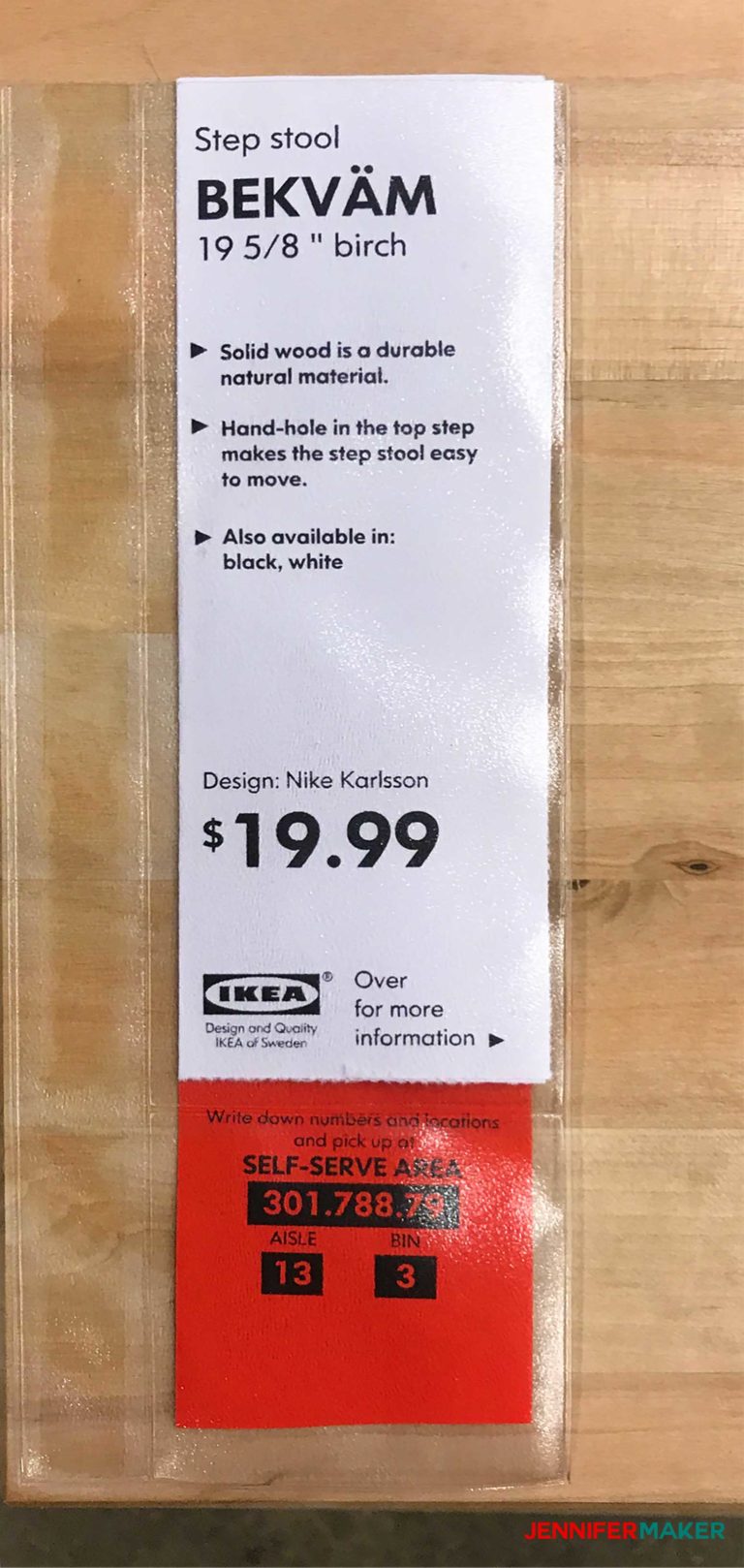 I hope you found these IKEA shopping tips helpful! Let me know if you have questions or if I missed anything.
Love,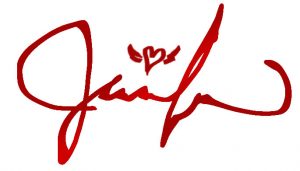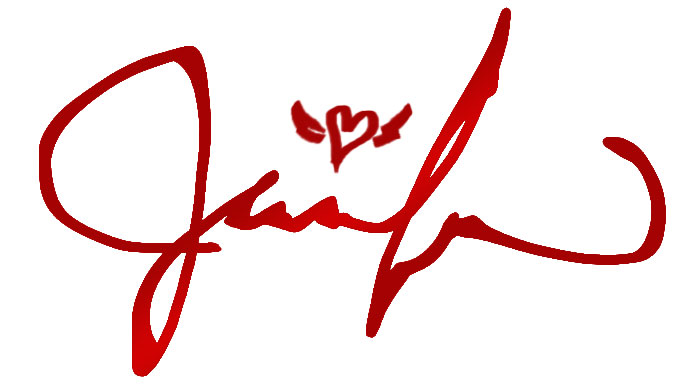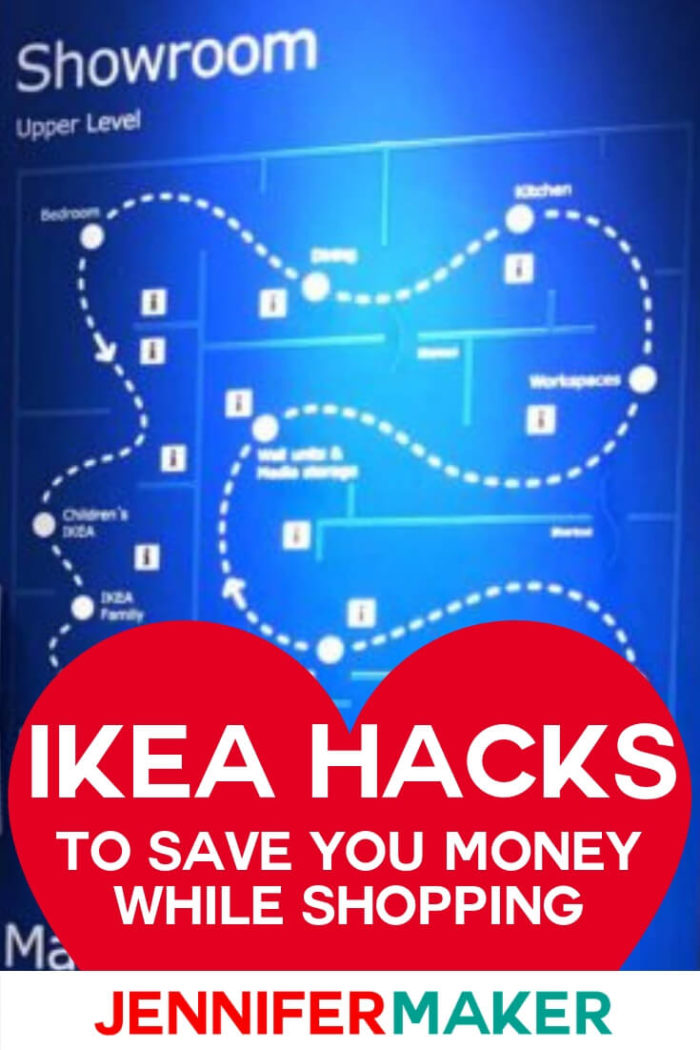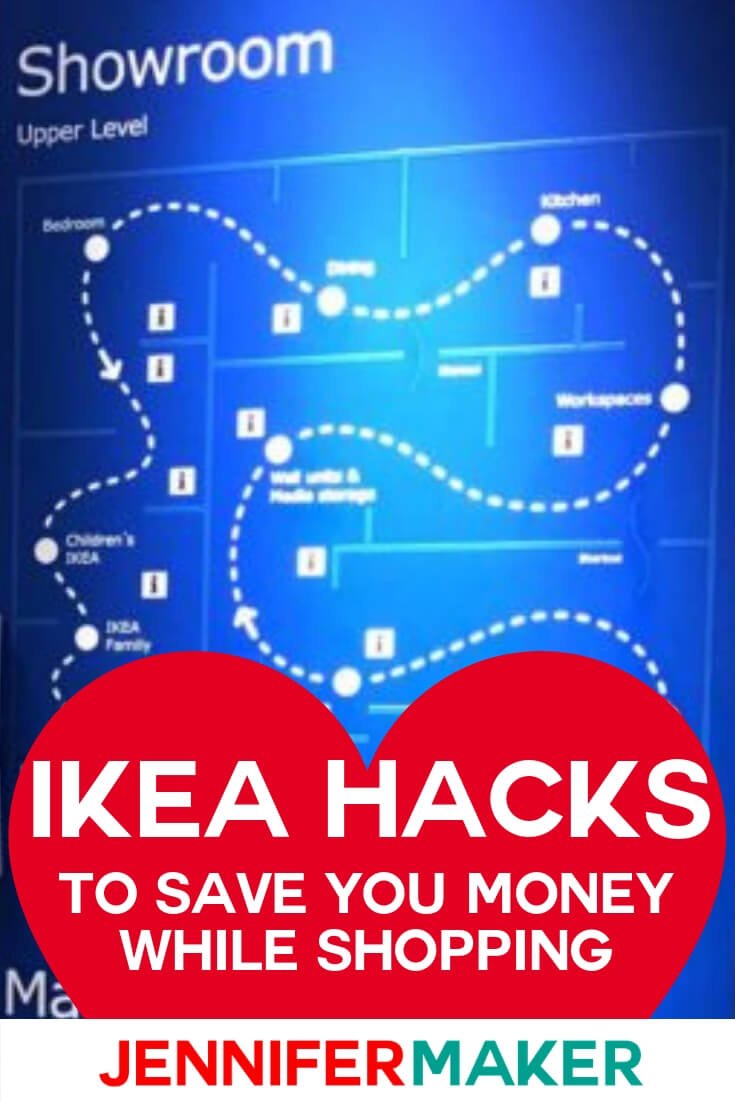 These IKEA shopping tips & tricks will save your sanity!